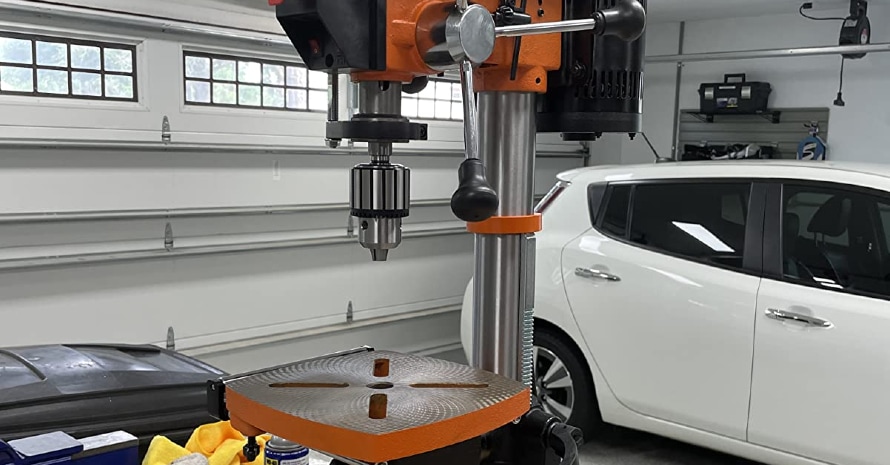 Whether you are an enthusiastic DIYer or someone with a specific passion for the metalworking, a drill press can add another dimension to your workshop experience. There are many ways in which the somewhat bulky device can be helpful. From ensuring superb accuracy for drilling, deburring, tapping, threading, and much more, to preventing accidents, a drill press that's well suited for your purposes is a promising investment.
Pros
The laser guide is very effective
The tool won't leave a hole in your budget
This is a very inexpensive model
Top Pick
Pros
The laser guide is very effective
Runner-Up
Pros
The tool won't leave a hole in your budget
Great Value
Pros
This is a very inexpensive model
Unfortunately, choosing the best drill press for metal can be a challenge. The metalworking tool market is so big these days that perusing metal drill press reviews would take more time than someone itching to get their hands dirty could reasonably afford.
Look no further if you can't resist the urge! WEN 4214 is a highly versatile and dependable drill press for steel that's very unlikely to leave you disappointed but won't cost you an arm and a leg. Just stick around to learn why it stands out.
There are more first-hand metalworking drill press reviews plus a buyer's guide section in case you feel like making a truly informed decision given your specific purposes.
Best Drill Press for Metal Models, Reviewed
This section focuses on a selection of the best metalworking drill press options that most metalworkers will find extremely helpful. While all products featured here deserve your trust as a buyer, remember to take into account your preferred settings as well as budget when you choose one to meet your needs. For guidance on the criteria, see the buyer's guide below.
1. WEN 4214: Best Drill Press for Metal Overall (Top Pick)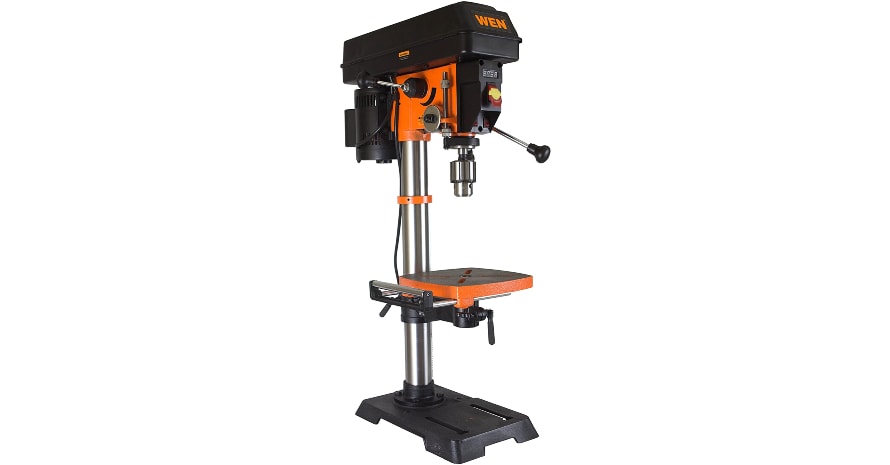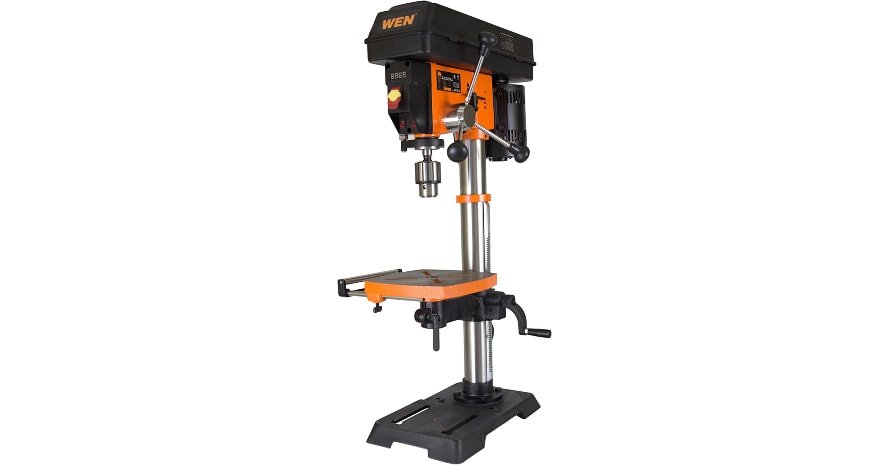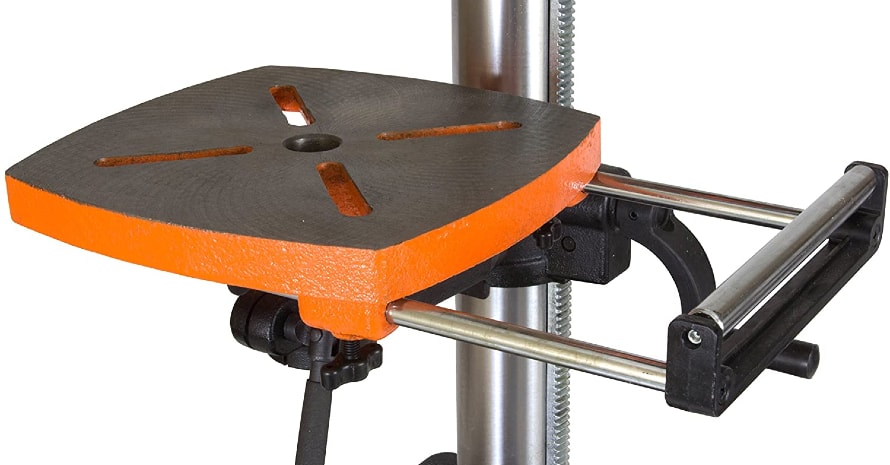 If versatility is your number one priority when it comes to drilling operations, this WEN drill press is very likely to meet your needs at an affordable cost. Model 4214 belongs to the benchtop category of drill presses. It is a great solution for those who lack space in their workshops, except it, could be even better if it was smaller in depth and weight.
The unit is just 36-1/2 inches high with a tilting working table of 9-1/2 x 9-1/2 inches. Yet, its 5 Amp induction motor gives it enough power to drill holes up to 3-1/8 inches deep in most materials. This is achieved through variable speed settings ranging from just 580 to 3200 RPM, which is enough to cover most serious DIYers' needs.
Digital indication of the current speed is a pleasant addition that really improves your experience as a user working with this tool. A laser guide is included for effortless precision. Further modern features include on-board key storage space, a 120V bulb work light for better visibility, and a table roller extension to accommodate a broader range of potential workpieces.
The chuck will accept bits with a diameter of up to ⅝ of an inch. With a 12 inch swing that's paired with decent hole depth (assured by an easy-to-use depth lock), the tool is truly versatile. It's also a breeze to set up.

---
PROS:
The model is a moderately priced drill press
The speed range of 580-3200 RPM ensures versatility in operation
A lot of convenience features are included
You can drill holes up to 3-1/8″ deep with great accuracy
The laser guide is very effective
CONS:
The unit is rather heavy
The depth of the drill press itself is not particularly space-saving
---
2. SKIL 3320-01: Runner-Up Best Drill Press for Metal Work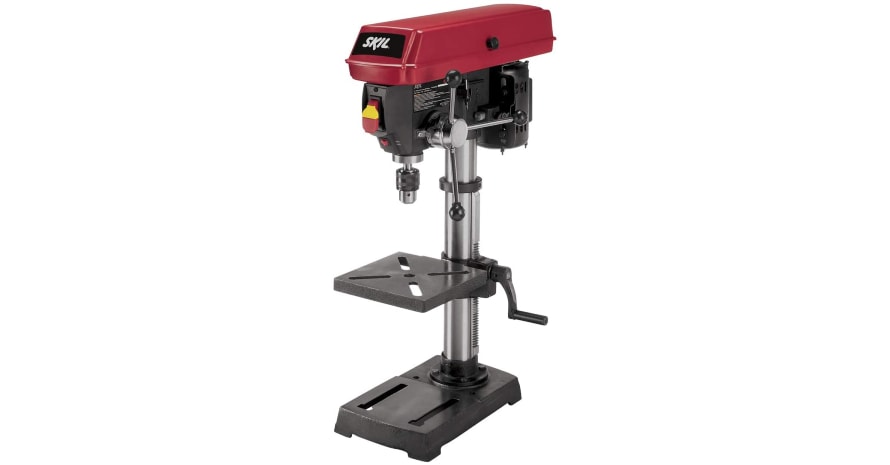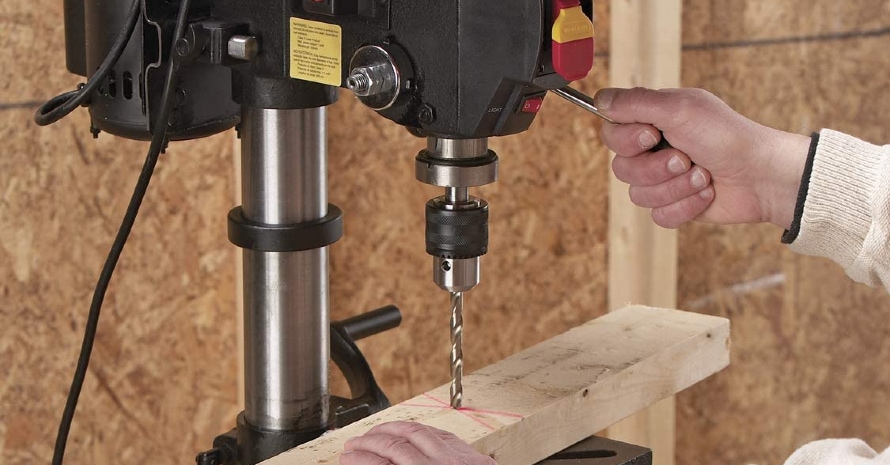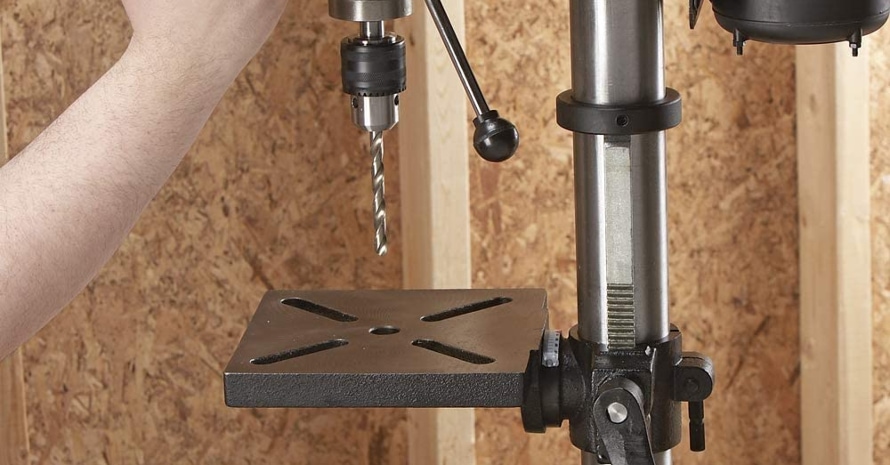 Another well thought out affordable model on my list, the SKIL 3320-01 drill press, appears to be even more space-saving than the top pick, with a weight of just 50.8 pounds and measuring 21.75 x 15.25 x 9.75 inches.
Powered by a 3.2 Amp motor, the unit can achieve a rotation speed of 570 to 3050 RPM. There's a total of five-speed settings available, unfortunately, with no automatic switching often at the press of a button which could save the user a lot of time when batch working on a series of different workpieces. Still, the set ensures great versatility. I think it's safe to say that the tool is suitable for wood as well as metal.
The chuck accepts bits of no more than ½ inch in diameter. This model boasts a 45-degree tiltable working table for ease of use with various workpieces. It also has a valuable safety feature that's described as a bump-off switch.
The term relates to a mechanism that prevents children from turning on a serious, potentially dangerous tool. Finally, there's a twin laser precision tool that's powered by a pair of AA batteries rather than the general AC.
All in all, the modestly priced drill press by SKIL is reasonably easy to get the hang of and versatile enough for most garage workshop owners who like to combine wood and metal. Given its small dimensions, it's no wonder it lacks the power of its Wen counterpart. Still, this is an option I can recommend to nearly any DIYer who's not planning to use it too much.

---
PROS:
The tool won't leave a hole in your budget
Five speed settings starting at 570 RPM make the unit suitable for various materials
The working table can tilt right and left for convenience
A safety bump-off switch is included
The laser system favors accuracy
CONS:
You need AA batteries to feed the laser
No automatic speed switching is provided
---
3. WEN 4208: Great Value Steel Drill Press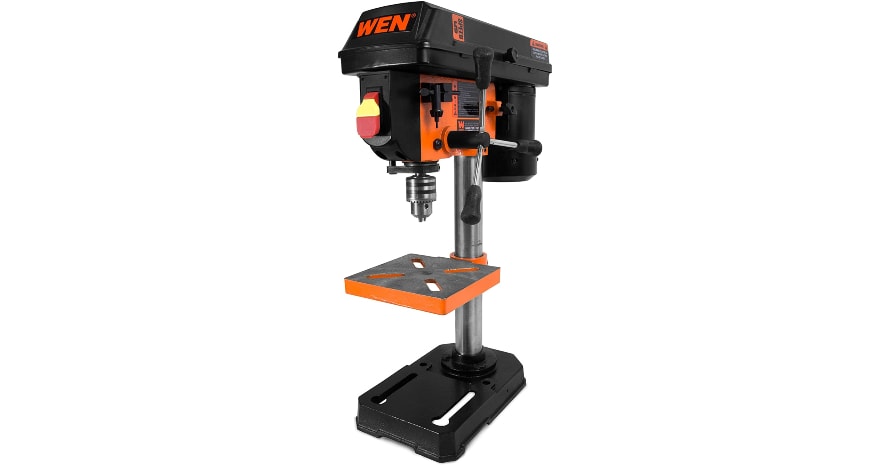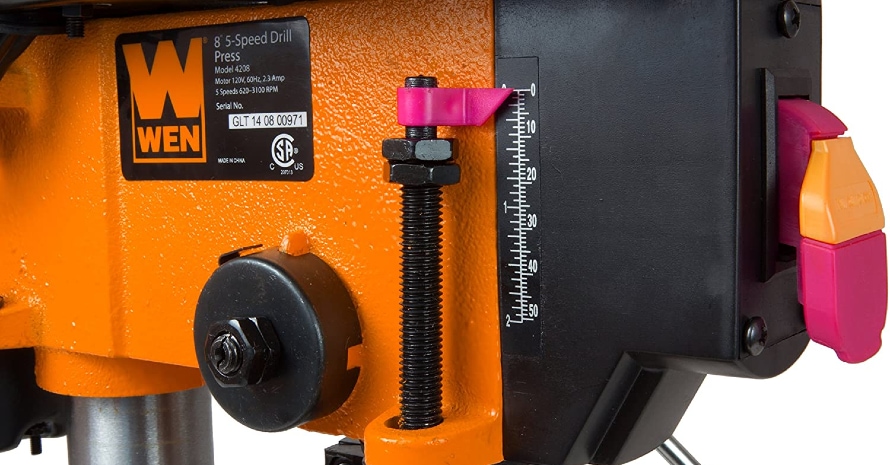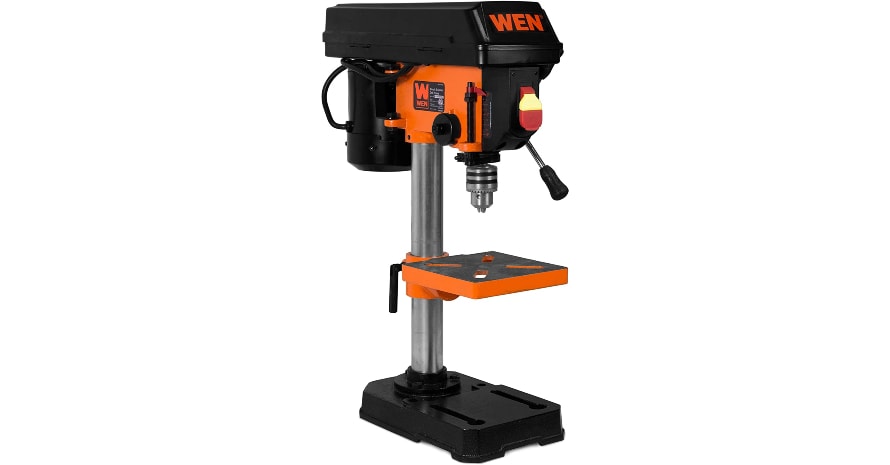 If you are looking for a dependable entry-level tool that will solve basic metalworking problems for you really smoothly, this WEN 4208 8 inch drill press is most probably a safe bet. By looking at its price, one might expect a flimsy device. However, the drill press is reasonably well made of solid, durable materials, and the structure is stable. It measures as little as 7.5 x 22.88 x 11 inches and naturally belongs to the benchtop category. In order to further save space in a cramped workshop, the unit offers onboard key storage space for keys to fit its ½ inch chuck.
A total of five speeds are available. These range from 740 to 3140 RPM and ensure a big enough scope for smaller DIY projects, although the lower end seems too high for really thick workpieces made of dense material. In fact, the ⅓ HP motor wasn't meant to handle thicker than average objects. Some users report stalling in operation when working on something big, which can be limiting. The maximum hole depth you can achieve is 2 inches, and the parameter is very easy to regulate due to a convenient depth lock.
The slotted working table tilts right and left, making it a comfortable press to work with. Quite naturally, the budget-friendly model has neither laser nor other frills, but I wouldn't expect any given the price.

---
PROS:
This is a very inexpensive model
The tool has a variety of speed settings starting at 740 RPM
The overall structure is both stable and durable
Depth adjustment is a breeze
The tilting table adds to user convenience
CONS:
This drill press isn't suitable for thick metal workpieces due to high speeds and a weak motor
Occasional motor stalling has been reported
---
4. Shop Fox W1848: Best Drill Press for Metal and Wood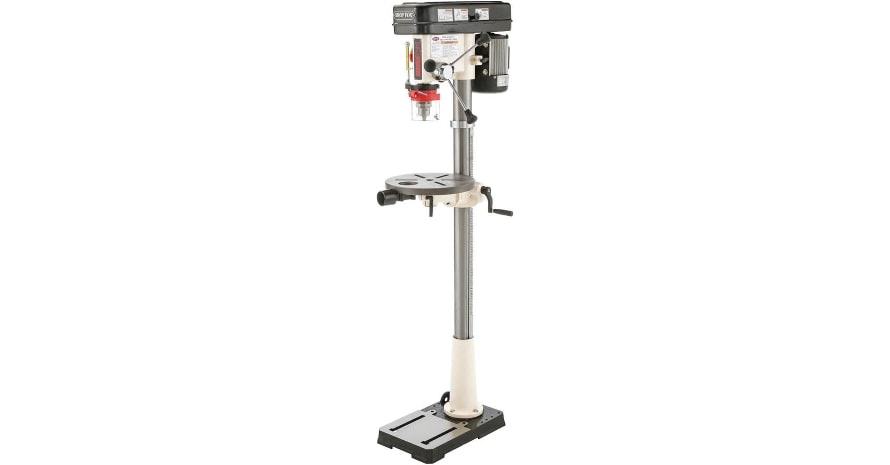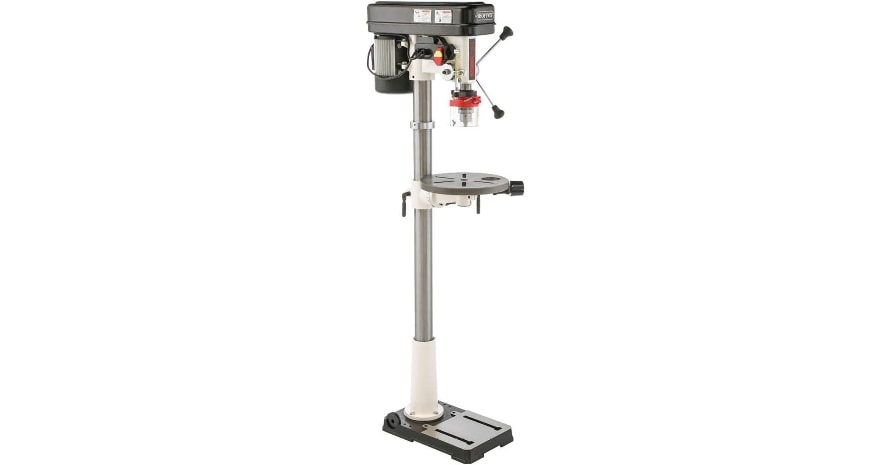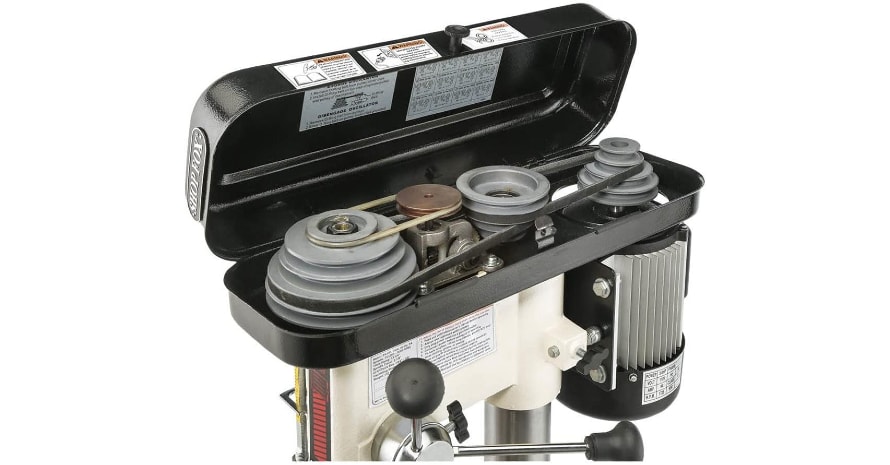 Unlike the above models in my list, this Shop Fox stands out due to its imposing size and considerable power. It's definitely not the best choice for those seeking to take a space-conscious approach when choosing a drill press, but it does make up for this by its versatility and nearly infinite potential.
The unit is a 120 plus pound floor-mounted giant. Its ¾ HP motor provides for a swing of as much as 13-¾ inches and a spindle travel of 3-¼ inches – a valuable feature if you expect some bulky pieces to land on your work table (which, by the way, can tilt as much as 90 degrees both ways).
With this standalone drill press, you'll have as many as twelve-speed settings to choose from. These start at 250 RPM for the thickest workpieces, 3050 RPM being the highest possible. There is 3-¼ impressive oscillating mode that helps blend sanding operations with the actual drilling for really smooth, splinter-free holes.
Moderately priced for its size group and well built, this Shop Fox drill press could be nearly perfect, except it doesn't have a laser alignment system. While many users traditionally think of it as something unnecessary, a twin beam guide has almost become the standard by this time, so doing without it can be a challenge where precision matters above everything.

---
PROS:
This is a powerful floor-mounted tool that can handle really big workpieces
A minimum rotation speed of 250 RPM makes it suitable for thick and dense workpieces
The work table is 90 degrees tiltable
The unit combines high swing with a deep spindle travel
CONS:
The model comes with no laser precision tool
This drill press takes up a lot of space and is all but immovable
---
5. JET J-2500: Best Standing Drill Press for Large Workpieces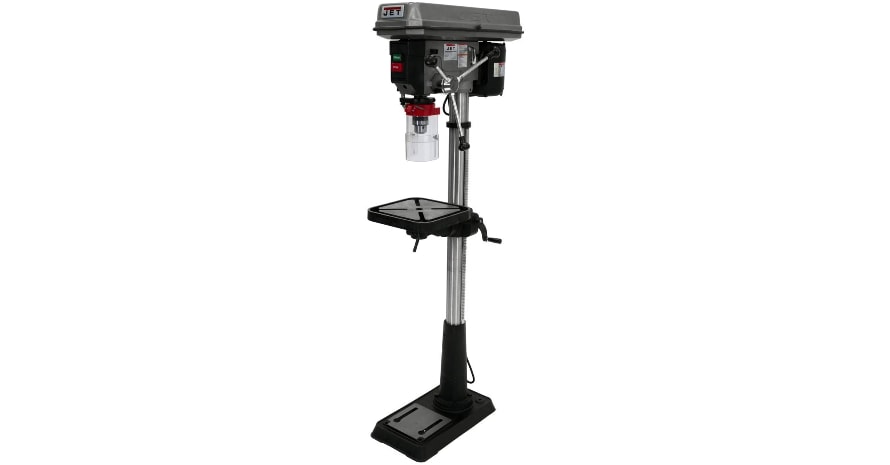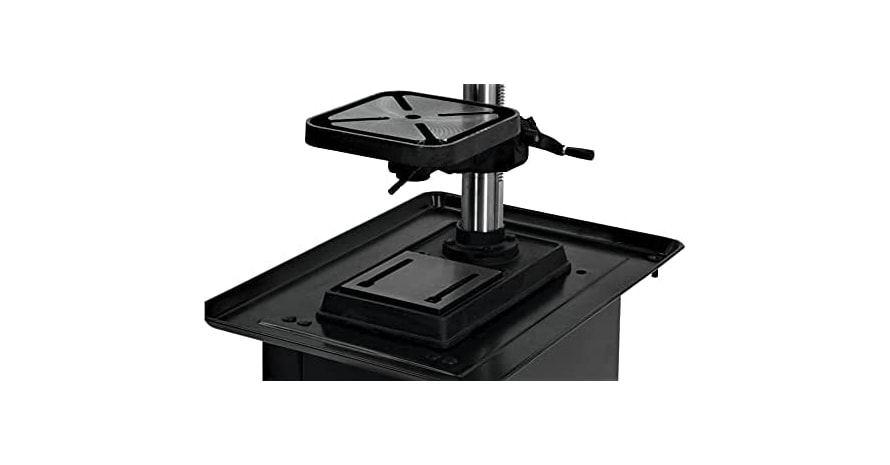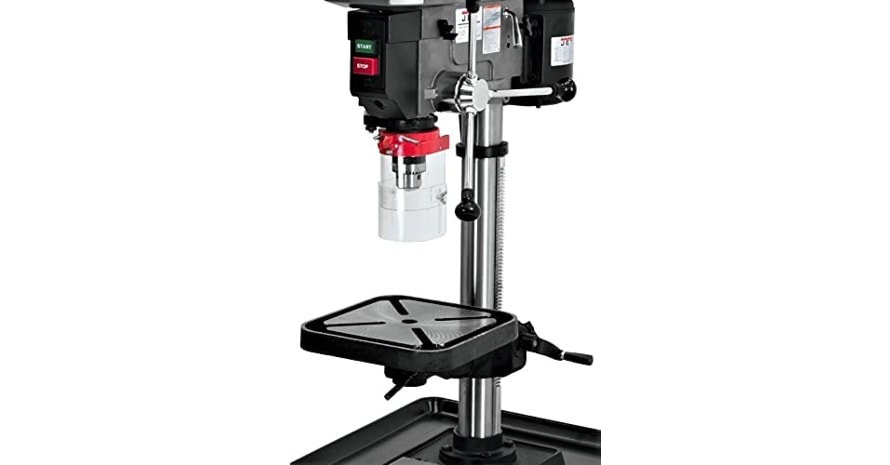 If you feel like the Shop Fox big boy above isn't big enough for you, here's a drill press that's meant to deal with oversized workpieces. Priced considerably more heavily than most counterparts, the floor-mounted model measures 54 x 20 x 10.5 inches and is as heavy as 167 pounds.
The fully adjustable, 45-degree tiltable work table is 11.5 x 11.5 inches that can be lit with a working light in case you need to operate the tool in a poorly lit area.
The 3/4 HP powerful motor feeding the 15 inch drill press gives it enough power to drill through most materials at a maximum depth of 3-⅛ inches. 16 speeds from 200 to 3630 RPM are available for outstanding versatility in terms of workpiece material and dimensions.
The enclosed spindle assembly in this model features permanent lubrication through specially designed ball bearings and bears an extendable telescopic guard for enhanced safety.
Unfortunately, this JET model doesn't come with a laser alignment guide, which would be a welcome addition for an all but pro-grade tool like this.

---
PROS:
This floor drill press has enough power for nearly any workpiece,thicker-than-average regardless of its thickness
15-inch swing is combined with a spindle travel of 3-⅛ inches
The unit has 16 speed settings from 200 to 3630 RPM
The spindle assembly comes with permanent bearing lubrication and a telescopic guide
The model features an enlarged 45 degree tilt working table
CONS:
Not everyone can afford a drill press like this
A laser guide would be welcome
---
6. Sunex 5000A: Best Floor Drill Press for Metal on a Budget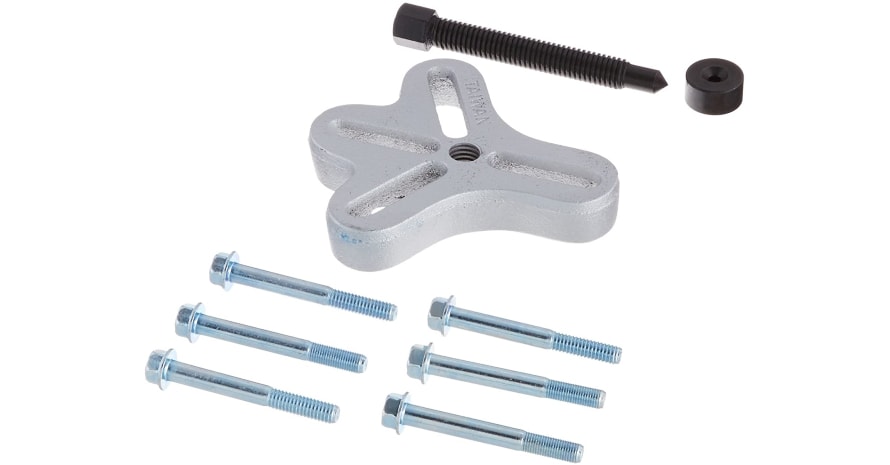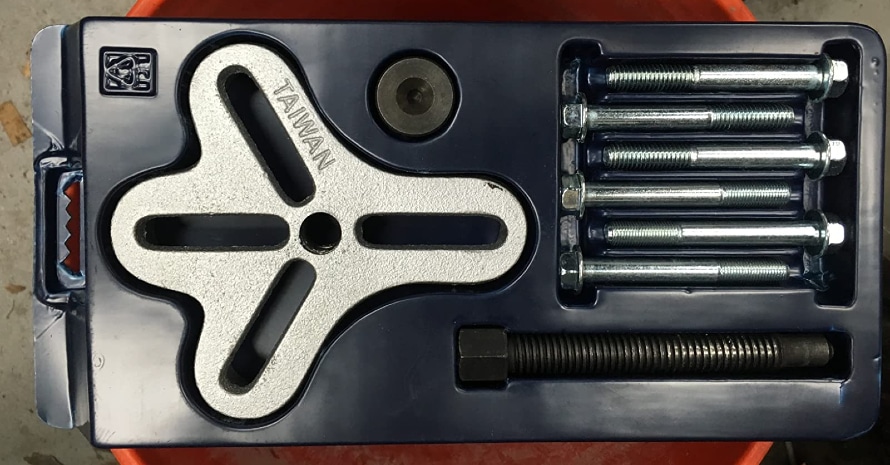 Floor-mounted drill presses usually fall on the expensive side of the spectrum. However, Sunex 5000A offers you the power and scope associated with the standalone form at a reasonable cost.
The unit's dimensions are 45.13 x 18.5 x 10.88 inches with a weight of 138 pounds. With a drilling capacity of ⅝ inch and 16 speeds starting at 200 RPM and reaching as much as 3850 RPM, the 3/4 HP unit has enough power and versatility to deal with most workpieces that the average metalworking enthusiast is likely to come across in their practice. The maximum spindle stroke is the standard 3-⅛ inches for making deep holes.
This model offers a swing of 13 inches, so it's not the best option if throat distance is your top priority. It has few frills except for the regular 11.5-inch working table that rotates 360 degrees and tilts 45 degrees in both directions.
Neither a laser guide nor a light is included, which is hardly any surprise given the modest price tag. What I do find frustrating is the flimsiness of certain parts, such as the belt guard. Speaking of belts, the unit uses a convenient tension lever, which makes speed shifting really quick. Another major drawback is higher than optimum vibration.

---
PROS:
This is a money-saving option if you absolutely have to get a floor drill press
The device has as many as 16 speed options, 200 RPM being the lowest
The motor is powerful and works smoothly with any workpiece
Speed transition is effortless
The tilting work table is very convenient
CONS:
The drill press has no bells and whistles like a laser guide
The unit generates more vibration than it should
---
7. JET JDP-20MF: A Premium Stand-Up Drill Press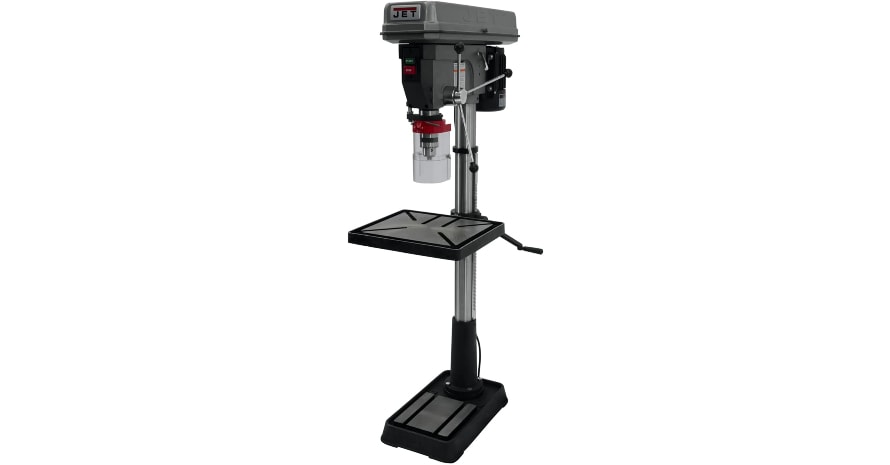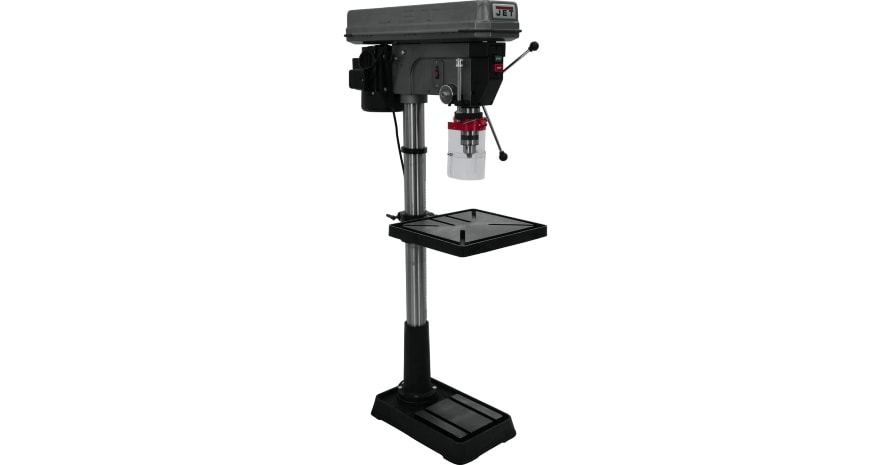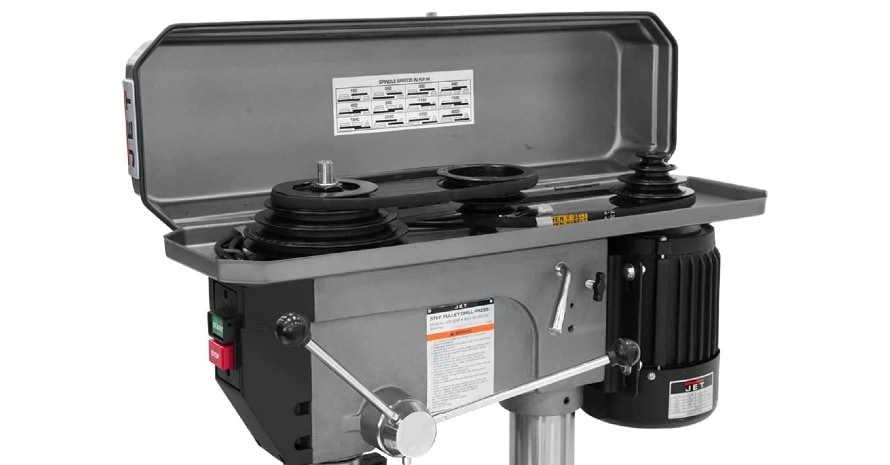 For the most demanding users interested in maximum versatility and reliability, this JET model has it all: a super powerful 1-1/2 HP motor producing a swing of 20 inches for really big workpieces and twelve speeds ranging from 150 to an impressive 4,200 RPM.
The 282-pound unit measures 18.5 x 31.5 x 66 inches and is very unlikely to save your space. This of it as the cost you pay for the incredible scope of use and convenience, brought about by a whole bunch of helpful features such as a left and right 45-degree tiltable working table, controlled by a quick release crank, a built-in work light, and a fast adjustment depth stop for effortless repetitive operation.
Please note that, just like many pro-grade tools, this model comes with no laser guide.

---
PROS:
The unit is extremely solidly built
There are twelve speed options from 150 to 4200 RPM
Time-saving mechanisms are used for quick settings
The 45 tilt work table is easy to manipulate
CONS:
This is a premium-priced piece of equipment
No laser system is included
---
A Buyer's Guide to Choosing the Best Drill Press for Metal Work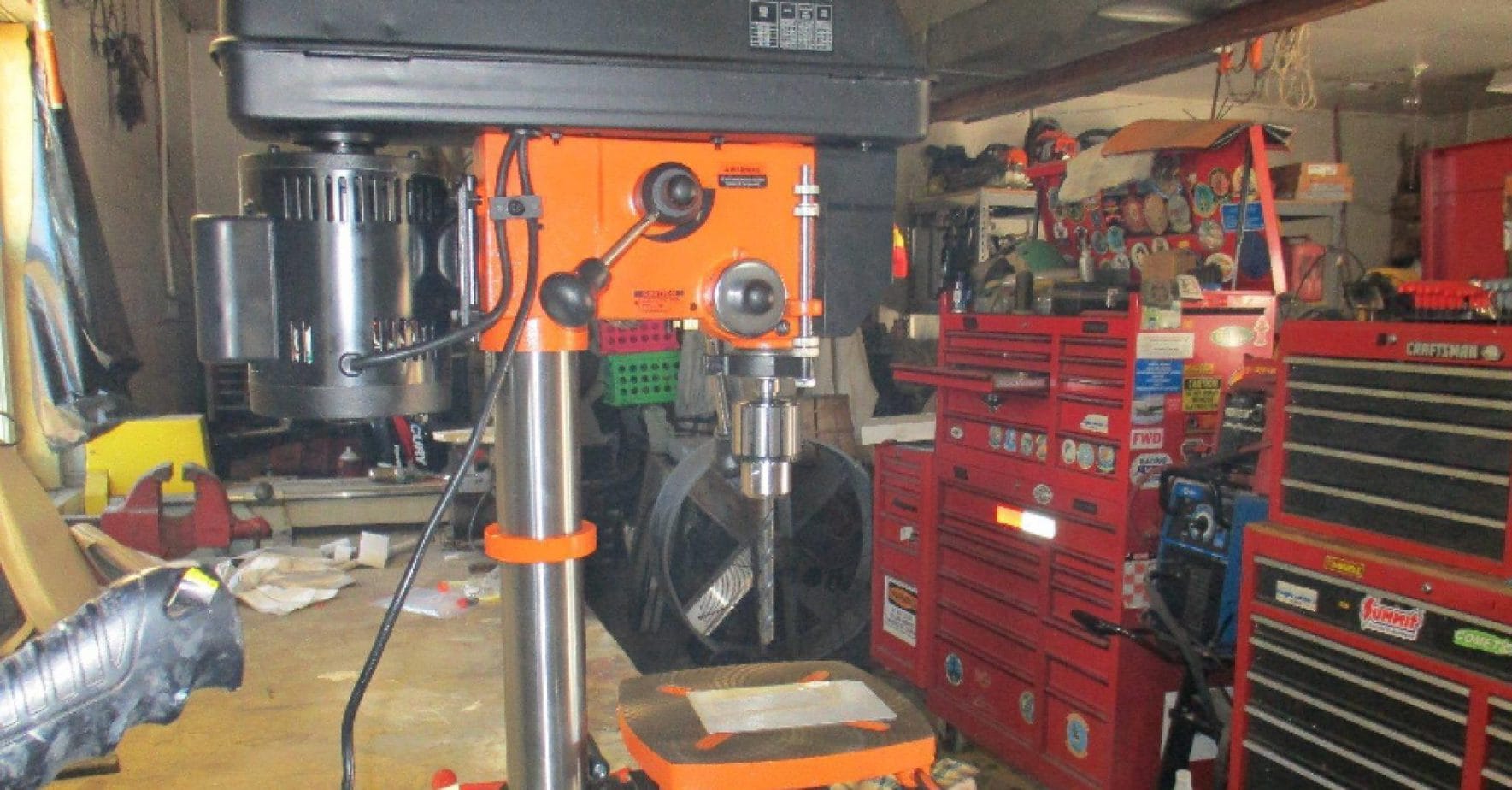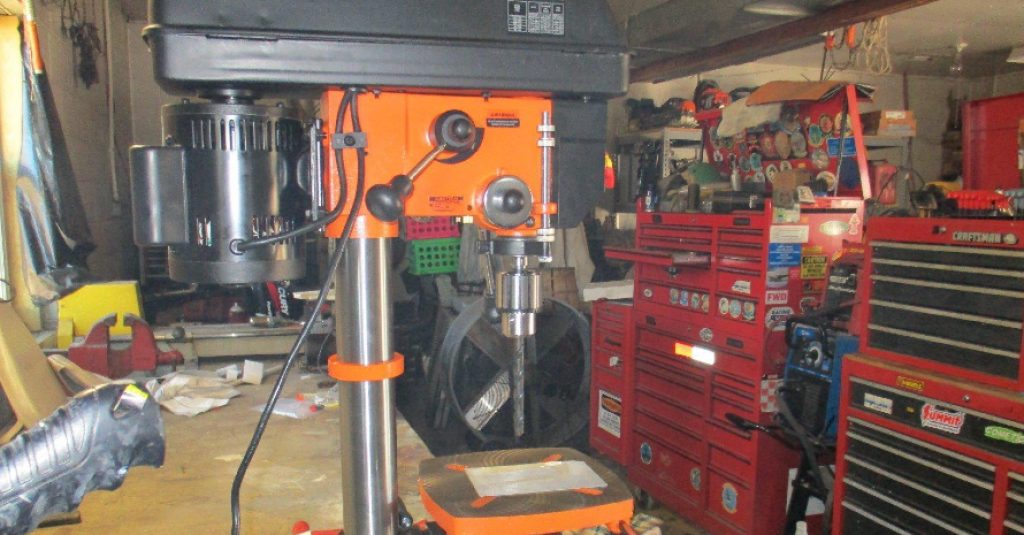 Here's a concise guide to the no-fail metal drill press shopping, as well as the many uses that this tool can have in your workshop.
What to Look for in a Drill Press?
Not all drill presses are created equal. While some parameters such as engine power seem to be self-explanatory (the more heavy-duty uses you expect, the more you need), others might be confusing to navigate. Don't fret, though. Here are the essential shopping criteria in a nutshell.
Drilling speeds
More speed settings mean greater versatility. Although this might sound counter-intuitive, you need lower speeds to drill through thick workpieces.
Dimensions
The unit's dimensions naturally determine how much space it will take. Drill presses largely fall into floor and benchtop models, the former falling on the bigger size.
Swing
Measured in inches, swing translates to the diameter of a disk in the center of which you can drill a hole using your device.
Spindle travel
This parameter limits the maximum depth hole that can be achieved.
Table size
Always make sure that the table in your drill press can accommodate your workpieces.
Laser
Laser guides are used on some models to ensure increased precision. A popular and much-appreciated feature is the twin-beam laser crosshair for accurate hole positioning.
Price
The prices of drill presses that can handle metal workpieces range from around a hundred USD to over a thousand. The key to saving money is to cut down on the bells and whistles and choose the minimum viable size and speed range.
How to Use a Drill Press
In case you are new to drill presses as a type of equipment, I'd like to share brief introductory instructions for smooth operation.
Drilling metal
When working on a drill press, you put the workpiece on the table (its position is adjustable in most models). The chuck accepts various drill bits. Insert one that fits the material and dimensions of your workpiece and set the speed to a not-too-high value when working with metal.
Machine table vise
Drill presses can produce a lot of torque that's applied to the workpiece. It's, therefore, a bad idea to hand-hold the object you are working on; instead, use an appropriate vise or clamp the piece to the table.
Caring for your drill press
Remember to check your drill press for signs of spindle and chuck wear regularly. Lubricate the latter (a bicycle lubricant will do). Listen carefully for abnormal noise and/or vibration as you work, and don't forget to align your laser guide every once in a while if the press has one.
Metal Drill Press FAQ
In this section, I briefly answer a set of very common questions that people ask when it comes to shopping for a metalworking drill press.
What should I look for in a metal drill press?
This largely depends on your intentions. Not-so-compact floor-mounted models with big swings and high horsepower ratings favor larger workpieces and frequent use but suffer from compromised portability.
Accuracy should be your top priority if you often work on intricately shaped objects or those that demand precision. Variable speed is very welcome.
What is the best drill press for the money?
I highly recommend WEN 4214 as a reliable entry-level solution with a decent speed range of five settings and a reasonably powerful motor. The model will work well for relatively small workpieces.
What is the difference between an 8 and 10 drill press?
The numbers here refer to the so-called swing. Swing equals twice the distance between the center of the spindle and the edge of the support column that's closest to the spindle. The key difference is that an 8 drill press can be used to drill a hole in the center of an 8-inch disk, while one rated 10 can handle a piece that has a diameter of 10 inches.
How do I choose a drill press?
Take into account the space that you can afford as well as the average size of the objects that you are going to work on. Choose models with a bigger swing for larger workpieces. Make sure the drill press you are considering provides for slow drilling if you'd like to use thick plates of metal.
Not Your Regular Drill!
A highly accurate, metal-friendly drill press to depend on is a tool much prized for its versatility. It offers a lot more than a hand-held drill in terms of control and precision. This said, my advice to anyone who's into metalworking is that they should treat themselves to a quality drilling machine like today's top pick, WEN 4214, which combines excellent speed variability with a bunch of advanced precision tools for ultimate versatility and comfort.
How are you going to use your metal drill press? Share your ambition in the comments section!