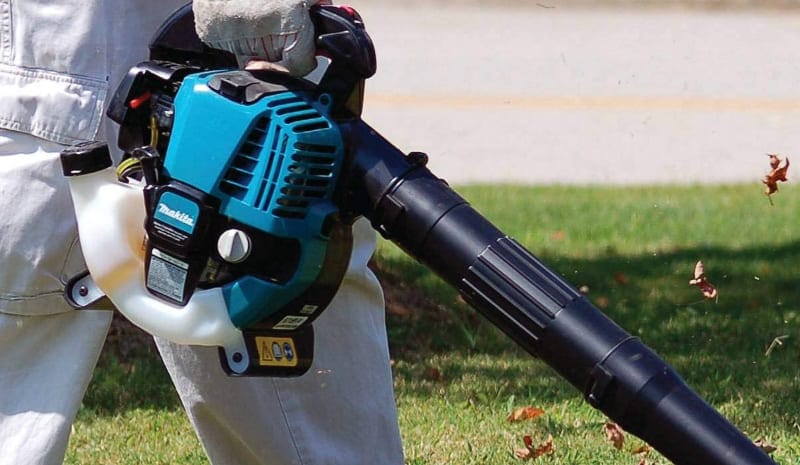 I bet that many of you took more care of your property during this lockdown time. Speaking about gardens and lawns, I went through my garden cleaning tools and decided to refresh my tech, specifically the air leaf blower. A good-looking garden and a clean green lawn near the house is the dream of any homeowner or enthusiastic gardener. Of course, you may prefer the old-fashioned way and do the cleaning with a rake or a broom. Or you can buy a special gasoline leaf blower and make housekeeping much easier. But which model to choose? And who makes the best leaf blower?
A good gas yard blower is a small handheld tool that successfully replaces a conventional rake. The most powerful leaf blower easily cleans your favorite lawn from foliage, conifers, and dry weed. It also helps to clean up the parking lot, garage, sidewalk, or any activity field. There are many models and manufacturers of leaf blowers to choose from. And I'm going to help you by giving gas leaf blower reviews and some useful and proven tips.
The Best Gas Leaf Blower Deals to Check
Keeping your property clean is much easier now, thanks to modern manufacturers. They offer a variety of appliances that greatly simplify household routines.
Whatever the weather, homeowners have to do something all year round to keep their property looking good. One of the main tasks is cleaning the territory, and here's where a garden leaf blower will come in handy. So, there are several options that I consider to be the best on the market.
1. Hitachi RB24EAP – Top Pick Lightweight Leaf Blower
Specifications:
Power Source: Gas Powered
Engine: 23.9 cc
Speed: 170 MPH
Air Flow Capacity: 441 CFM
Item Weight: 8.6 Pounds
What's included:
Hitachi handheld leaf blower, taper nozzle, owner's manual
The Hitachi RB24EAP is a gas-powered leaf blower that earned its 1st position on this list as one of the most reliable and durable options available today. The product has a commercial-grade engine that suits best for cleaning lawns, gardens, backyards, and terraces.
The manufacturer also provides you with a 7-year long guarantee of service, which makes this Hitachi leaf blower an amazing option to consider — equipped with an engine that uses the NEW Pure Fire system, which produces less exhaust and saves fuel. The speed of the blown air reaches 441 CFM, which helps clean inaccessible places. This tool is quite convenient to hold thanks to an ergonomic handle with controls, which makes it one of the best handheld leaf blower models.
---
PROS:
Ergonomic handle for secure tool holding;
Lightweight gas blower;
Fast velocity.
---
2. Makita 24.5 cc – The Most Powerful Leaf Blower for Professionals
No products found.
Specifications:
Power Source: Gas Powered
Engine: 24.5 cc
Speed: 145 MPH
Air Flow Capacity: 356 CFM
Item Weight: 9.8 pounds
The Makita BHX2500CA gasoline leaf blower is a high-performance tool equipped with a super powerful 4-stroke 75.6 cc engine. Of course, this device is more suitable for commercial landscape designers or people living in rural areas who need intensive cleaning.
What's included:
1

 of Makita BHX2500CA 24.5 cc MM4 4-Stroke Engine Blower

1

 of Makita 195282-8 Blower Vacuum Kit
The device provides very convenient operation and includes high safety and operating features, which makes it a good assistant in maintaining the cleanliness of your site. A powerful 4-stroke engine is the main stunt of the product since it provides a smooth and performance along with economical fuel consumption. By filling a full tank once, you can work on the site for two hours.
---
PROS:
Commercial grade 4-stroke engine;
Professional device for processing extremely dirty areas;
Convenient design.
CONS:
Gets hot if you use it for a long time.
---
3. Craftsman B215 25cc – Best Gas Leaf Blower for Powerful Cleanings
Specifications:
Power Source: Gas Powered
Engine: 25cc 2-Cycle
Speed: 200 MPH
Air Flow Capacity: 430 CFM
Item Weight: 6.33 pounds
The Craftsman brand was created back in 1926 and is a quite famous manufacturer of hand-held gardening devices. All Craftsman blowers are made of high-quality materials in compliance with all international standards, so don't skip this option. This Craftsman device was my garden-caring assistant for quite a long time, and I can tell it has amazing service durability.
What's included:
Craftsman B215 25cc 2-Cycle Engine Handheld Gas Powered Leaf Blower – Gasoline Blower with Nozzle Extension, 2-CYCLE ENGINE OIL
The Craftsman B215 handheld blower is a fantastic tool for quick and effective tidying of a personal garden plot. This model is also equipped with an Easy Start technology for the best performance. Automatic speed control and the cruise control function will simplify the routine greatly. Simple electronic speed control, extra-powerful engine, and convenient control characterize the Craftsman tool is suitable for any user. The blower has a low noise level and protects the hand of the operator from vibration, thanks to the design of the gadget.
---
PROS:
Speed cruise control;
Easy start technology;
2-cycle engine.
---
4. Backpack Strongest Leaf Blower: Husqvarna 360BT Backpack Blower
Specifications:
Power Source: Gas Powered
Engine: 50.2 cc
Speed: 8100 rpm
Air Flow Capacity: 494.41 CFM
Item Weight: 23.2 Pounds
Husqvarna is a popular Swedish brand that always puts its products' quality first; therefore, it is considered one of the most reliable brands in the world. I use this model now and I like it a lot, but there are some things that didn't allow me to put it in the first place of the list. However, this product is definitely worth your attention.
The Husqvarna 350 BT is the most durable professional backpack blower model of the manufacturer. It is equipped with a powerful X-Torq engine in combination with E-TECH II exhaust emission control technology. The leaf blower is easy to operate thanks to the ergonomic backpack mount and conveniently located controls.
What's included:
The ergonomic handle provides ease of use. A comfortable backpack mount with soft shoulder pads and a belt allows the operator to work without feeling extra tension on their shoulders.
---
PROS:
E-TECH II exhaust emission control technology;
A rather powerful engine
Convenient design.
---
5. Poulan Pro PR48BT –  Gas Blower for Your Lawn
Specifications:
Power Source: Gas Powered
Engine: 48cc 2-Cycle
Speed: 200 MPH
Air Flow Capacity: 475 CFM
Item Weight: 22 pounds
The Poulan Pro blower cleaner is an ideal tool for cleaning lawns from fallen leaves and dry weeds. With a 48CC 2-stroke engine, the blower provides high speed and an impressive air flow rate. The low vibration ratio makes the blower a good option for processing large areas like lawns. Poulan Pro has high performance and convenient handling.
What's included:
Backpack mounting allows you to adjust the straps for more comfortable usage. By the way, the backpack mounting is a perfect choice for both women and men. Due to the equitable distribution of cargo on the back of the operator, it's not difficult for you to work with this tool at all. I recommend you to take a look at this product if you have a big territory to process.
---
PROS:
Extremely convenient for processing large areas;
The 2-stroke engine easily deals with debris and fallen leaves;
Adjustable straps for convenience.
---
6. Gas Air Blower with Vacuum Function: Remington RM2BV
No products found.
Specifications:
Power Source: Gas Powered
Engine: 27cc 2-Cycle
Speed: 205 MPH
Air Flow Capacity: 450 CFM
Item Weight: 12.58 pounds
This is a versatile handheld model that is designed for both leaf blowing and the collection. Fitted with a special vacuum accessory, it can be used for collecting sawdust, trash, dry weeds, and fallen leaves. The powerful engine facilitates a comfortable operation, whether you process lawns or yards.
What's included:
The RM2BV Ambush 2-in-1 blower/vacuum

Vacuum Kit

2-cycle oil

Operator's Manual
As I said earlier, the Remington RM2BV device offers two operating modes for your convenience. You can use this blower's direct purpose or turn it into a vacuum. The tool has a rather powerful ration of intake, so it won't be a problem for you to blow the leaves and debris and get rid of it immediately.
---
PROS:
Comfortable handle that excludes any vibrations;
2-for-1 device;
Powerful airflow.
CONS:
Might be a little weighty.
---
So, to summarize, what you need to pay attention to if you decide to buy a blower, use this simple checklist:
First, evaluate and predict the volume and complexity of the proposed work in order to choose the right type of blower with the corresponding power and performance indicators;
Secondly, check the functionality of the gas-air blower. Blowing, suction, the presence of a bag for collecting garbage, and the possibility of grinding garden garbage. The more features, the higher the price of a garden tool. Not always there is a need for any of the options, so why pay more?
Thirdly, decide who will work more often with a garden blower, what the transportation requirements are, and how to evaluate the distance from the power source.
Blowers do not have cutting blades or hot surfaces, but they can also be harmful if you are not careful when using them. It is necessary to protect the eyes and ears – make sure to wear special goggles and headphones. Besides, when cleaning, check whether objects flying away from the device do not injure people and that others are at a safe distance.
Buyer's Guide

How does a leaf blower work?
A standard gas yard blower blows off small debris and fallen leaves. It is suitable for cleaning yards, lawns, sidewalks, driveways, and utility workers manage to blow ice from the roofs of houses in winter.
When choosing the best gas blower for you, two characteristics are important:
The amount of air that the blower moves is expressed in cubic meters per hour (m3/h). Each blower is equipped with a turbine that moves air at a certain speed and in a certain amount. The ratio between these two performance indicators determines what task the tool is able to accomplish. How much debris it is capable of moving directly depends on the performance of the blower.
The airspeed of the turbine is measured in miles per hour (MPH). The high airspeed allows you to move garbage to a greater distance, so you will clean a large area in less time. In addition, the high airflow rate facilitates the movement of objects and debris of greater mass, displacing even compacted debris. A blower with a high airflow rate can move wet leaves, snow, ice, fragments of tree branches, and even small stones.
So, it is important to understand how productive this or that tool is. Always the stated indicators in the first place, cause they are responsible for device usefulness. The higher these indicators, the more powerful the gasoline leaf blower is, and the faster it blows or collects leaves, including hard-to-reach places.
How to choose a powerful blower?
Other main parameters of choice include functionality, type of fuel, design, and operating time. It is important to consider the type of fuel your new leaf blower. The operating time of gasoline units depends on the fuel consumption and the volume of the fuel tank. The large capacity of the tank and battery extends the operating time.
You already know that leaf blowers and vacuums are different tools, but sometimes the manufacturers tend to combine these functions in one device. Other possible functions of a gas air blower include grinding (mulching). It helps to reduce the number of contents in the trash bag, and the waste itself is converted into fertilizer material or mulch. However, this option is more typical for garden vacuums.
Making a purchase offline or online is a matter of one to two days. However, do not rush into decisions without first thinking about some additional parameters of the device.
Are gas leaf blowers better than electric?
Leaf blowers are available in two versions: electric and gasoline. The electric technology is more environmentally friendly, as it does not emit harmful substances during fuel combustion. It has enough capacity to work on typical adjacent residential areas. However, its attachment to a source of electricity is contraindicated to use in high humidity.
The gasoline leaf blower is more powerful, nimble, and comfortable to use. Gasoline yard blowers are a professional class of blowers used in industrial production but can easily be used in households as well. With a gasoline garden leaf blower, you can quickly clean a large area of foliage, branches, and dry grass. This tool is characterized by high performance, long-term durability, and reliability. For gas-based blowers, the weight and reliability of operation are extremely important characteristics, which is why blowers of this type are equipped with two-stroke engines. Unlike electrical blowers, the operator is not tied to a power source, which makes it easy to process large areas.
What is the best handheld gas leaf blower?
To answer this question, you have to figure out the purpose of using the gas-air blower first of all. Based on the configuration and design, leaf blowers are classified into handheld, backpack, and wheeled. For example, if you need a tool for processing a summer cottage or a country house, your best solution is the handheld option. This tool is lightweight, easy to operate, has a pleasant price, and is quite effective.
Backpack units are more powerful than handheld ones. Due to its considerable weight, the engine is placed in a satchel and is worn by the operator behind his back during the cleaning. Such a tool is perfect for cleaning park areas or gardens with lots of trees and shrubs.
Wheel blowers are used by professionals, which determines their great power, large weight, and more complex design.
As mentioned above, a handheld blower is the best option to be used on lawns and gardens. Which one is the most powerful leaf blower? I'd still recommend the Hitachi RB24EAP Gas-Powered Leaf Blower. This product combines all features of a reliable gas leaf blower that will serve you for a long time.
Tips for using a gas yard blower:
It is best to do the cleaning using the gas-air blower in good, dry weather;
If you use a device that contains blower and vacuum functions, start with blowing all the garbage and debris and then switch to vacuum mode and proceed;
Keep the blower's nozzle at a distance from the surface;
Don't forget to secure yourself.
Without a gasoline leaf blower, cleaning a large area will not be an easy task. Using rakes and other tools slows down the process. Buying a special garden leaf blower will allow you to keep the area around your house clean and tidy and spend much less effort doing it.
Models of blowers that occupy the top of sales ratings are distinguished by the optimal price-quality ratio, which is especially important for an economic buyer. They have a long time of service, so these products are reliable assistants for cleaning garbage in the garden.
Fallen leaves are not only beautiful decorations for photos on social networks but also a headache for private residential owners of cottages. To deal with fallen leaves, get a gas yard blower that quickly solves the task. With the help of a powerful stream of air, the leaves are simply blown into the required place, where they can be easily folded and disposed of.
FAQ

How to start a gas leaf blower?
Refuel the engine. Stand back at least 10 feet from the place of refueling. Place the product in the start position, as shown. Make sure that the nozzle of the garden vacuum cleaner is not aimed at people, animals, glass, or hard objects. Install the product only on a clean and hard surface. Rubbish such as stones, sand, dirt, and grass – may be drawn in by the air stream and thrown out through the nozzle, causing serious injury to the person who uses the machine and the people around.
How to mix gas and oil for a leaf blower?
The manufacturers usually specify the proportions of oil and gasoline for the fuel mixture in the operating instructions of the purchased tool. The most widespread mixture recipe includes 1 part oil / 25 parts gasoline, sometimes it can be 1/50. Make sure to carefully measure the amount of oil and gas you put in the mixture.
Even small miscalculations can lead to serious problems and engine breakdowns.
What kind of gas does a leaf blower use?
Most modern leaf blower manufacturers recommend using unleaded gas with an octane rating of 87 or higher, and an ethanol mixture of 10 percent or less.
Are electric leaf blowers any good?
When it comes to electric blowers, I can say that they weigh less and are rather cheaper than gas blowers. The second type of blower is more powerful, so you will get the cleaning routine done faster. Of course, there are electric leaf blowers that use a battery to operate, but as a rule, they can't handle the amount of work in a simple garden or backyard. So, probably this type of leaf blower isn't a suitable option if you have a large area to keep up with.
However, electric leaf blowers have some advantages you may like. These tools are usually lightweight and quiet when you operate them. I'd say they're a good choice if you need a simple leaf blower for casual use.
What's more important – MPH or CFM?
Cubic feet per minute or CFM measures the volumetric velocity of air passing through the blower in one minute. In other words, the speed at which your device blows off leaves and debris depends on this value. However, the air volume does not make sense if it does not move fast enough; therefore, MPH is also important. In other words, this is the amount of air pushed through the nozzle of the blower. For example, a 300 cubic meter leaf blower blows 300 cubic feet of air every minute through a nozzle. A higher CFM number means that the blower will have more power to move things. Some blowers have a very high CFM rating.
Garden vacuum or blower: what's the difference?
First, it's worth clarifying that electric or gas air blower and garden vacuum cleaner are two different things, although in everyday life and even in marketing, these concepts have become synonymous. So, let's make it clear.
As its name says, a garden vacuum cleaner has an inflow function, i.e., it works like your normal vacuum cleaner. It collects debris in a special bag, or mulches it.
This is quite helpful because after going around the site with such an assistant, you can no longer return to cleaning. But if there are a lot of leaves or debris, you will have to spend more time cleaning.
A garden leaf blower is a device that blows debris away with a powerful stream of air. Using such a device, you won't need to carry a heavy bag. It's perfect for processing residential sites quickly. Often the functions of a blower and a vacuum cleaner are combined, so the device can simply be switched to the desired mode.
Which is better: a vacuum cleaner or a blower?
A garden vacuum cleaner works just like the one that we use to clean our homes. The vacuum cleaner sucks in the air along with dust and debris that fall into the waste bin. This waste bin is made in the form of a canvas bag with a volume of several tens of liters, which is much more capacious than the dust collectors of household vacuum cleaners.
Blowers, as their name suggests, blow off debris with strong directional airflow. For these products, the flow ratio is an important technical characteristic. The gas yard blower models with an airflow rate of 200–300 MPH are the most widespread.
Which type of tool to choose depends on the specific task. The vacuum cleaner is designed to collect a relatively small amount of dry foliage from the sites. If there is a lot of foliage or it is wet, then you need a blower. However, many models combine garden vacuum and blowing functions.
Who Makes the Best Leaf Blower? – Final Thoughts
Innovations have improved cleaning equipment, and the use of modern devices has made the process of cleaning outside areas much easier. These devices eliminate the need to waste time and energy in cleaning routines. As you can see, there are so many leaf blowers, including gas yard blowers and electric models. Each of them has its pros and cons. So how do you choose a gas air blower?
To summarize, when choosing the best gas blower, be sure to consider the size of the treated area, the weight of the device, and the performance of the model.
Depending on the power and airflow rate, you can also assume the level of noise the device will produce. Do not be lazy to check for customer reviews; trust a well-known manufacturer. Maybe you've already tried one of the products listed above. Feel free to share your advice!
The most reliable, time-tested, and powerful tools are Bosch, Husqvarna, Makita, and Hitachi products. They will not fail even in the most difficult situations. Before moving on to choosing a suitable blower option, I recommend consulting a specialist. After weighing all the advantages and disadvantages, select the most powerful leaf blower for you. Was this the ultimate guide to the best gas leaf blowers helpful? Please, let me know if I've missed something important in the comments section below!