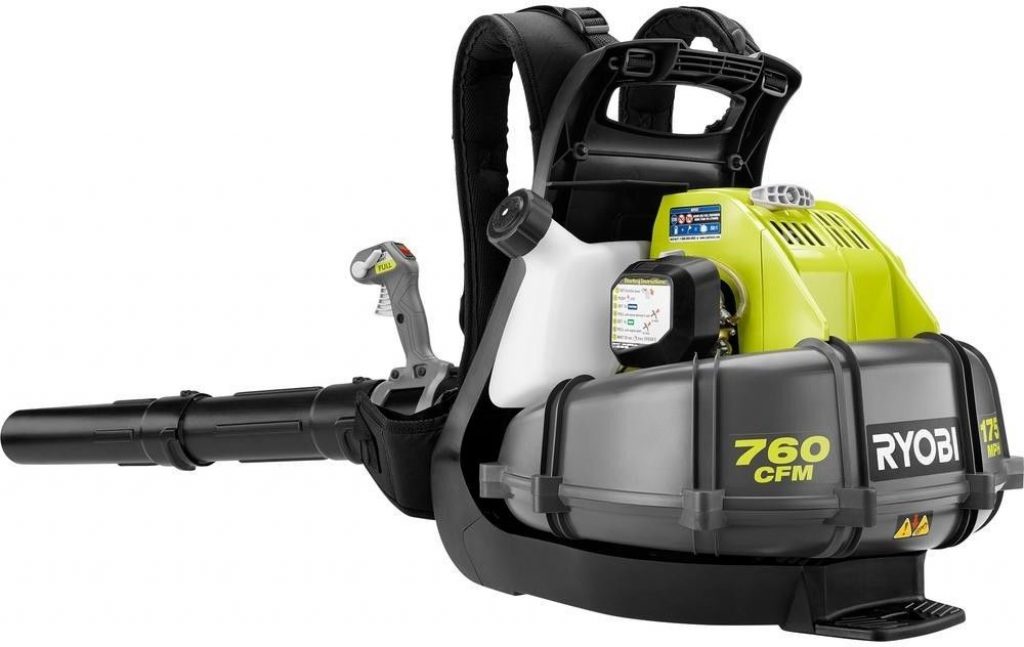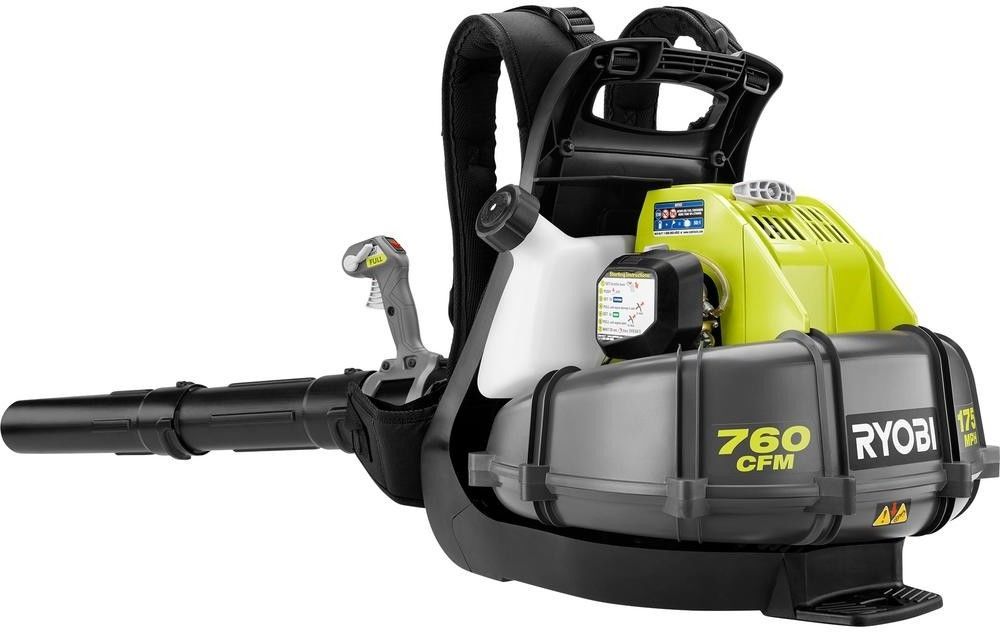 The Ryobi 2 Cycle backpack blower is the most powerful residential backpack blower on the market. The new and improved, patented fan design delivers a best-in-class 760 CFM and 175 MPH. The large 38cc engine provides more clearing power and is uniquely positioned for increased efficiency. This blower features a variable speed trigger and cruise control, giving you the ability to conveniently adjust the speed for each task. Enjoy comfort and support no matter how long you work, with the adjustable shoulder straps and contoured back.
2 Cycle 38cc engines
Best in class 760 CFM and 175 MPH
Unique engine position for increased efficiency
Features a variable speed trigger and cruise control
Added comfort with adjustable straps and a contoured back
Product Depth (in.): 14.09 in
Product Height (in.): 18.97 in
Product Width (in.): 15.86 in
Blower Type: Backpack Blower
CA (CARB) Compliant: CARB Compliant
Commercial: No
Engine Displacement (cc): 38
Engine Type: 2 Cycles
Features: Adjustable Speed, Anti-vibration, Interchangeable Nozzle Connections
Fuel Tank Capacity (oz.): 38
Included: No additional items or accessories are included
Maximum Air Volume (CFM): 790
A maximum airspeed (mph): of 170
Noise rating (dB): 65
Power Type: Gas
Product Weight (lb.): 18 lb
Refurbished: No
Returnable: 60-Day
Start Type: Recoil Start
Certifications and Listings: ANSI Certified, CE Certified
Manufacturer Warranty: 3-Year Limited Warranty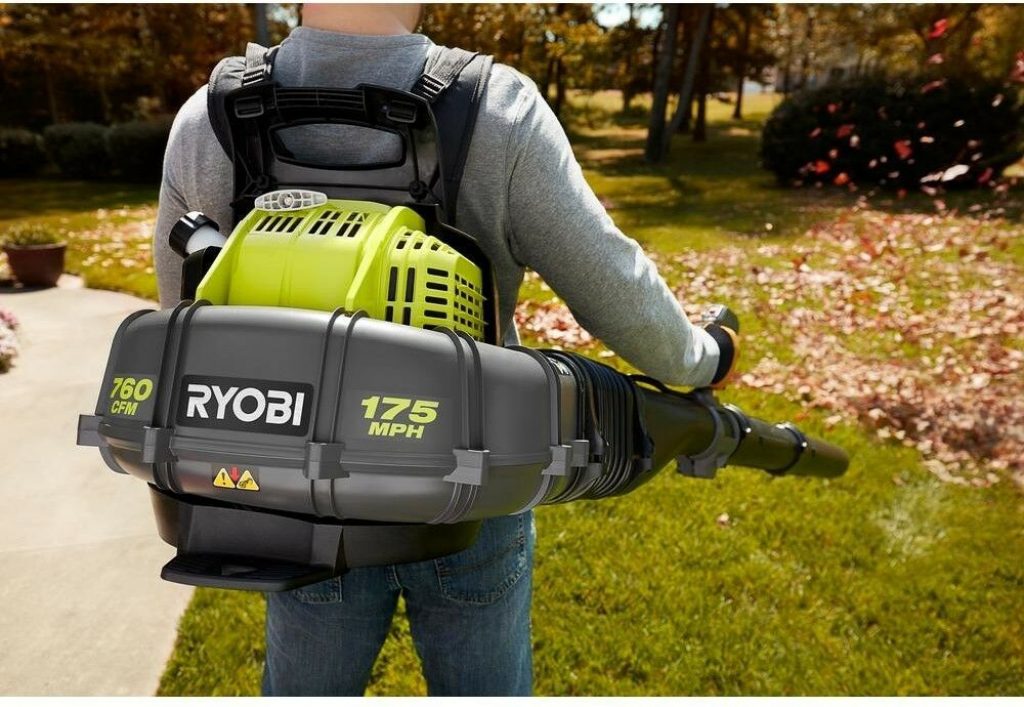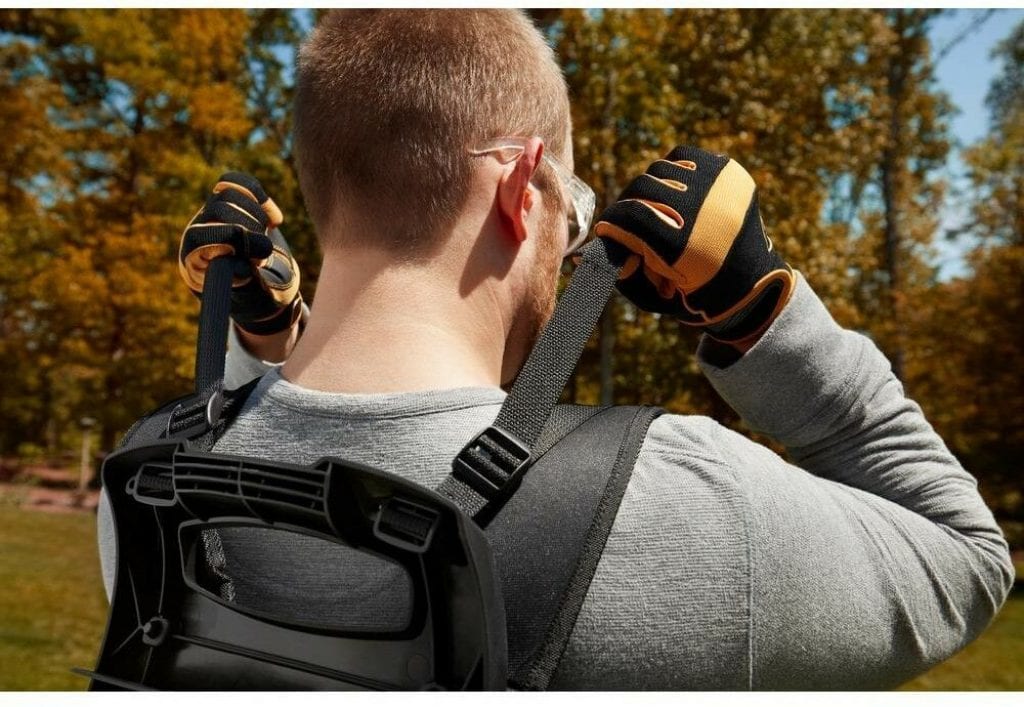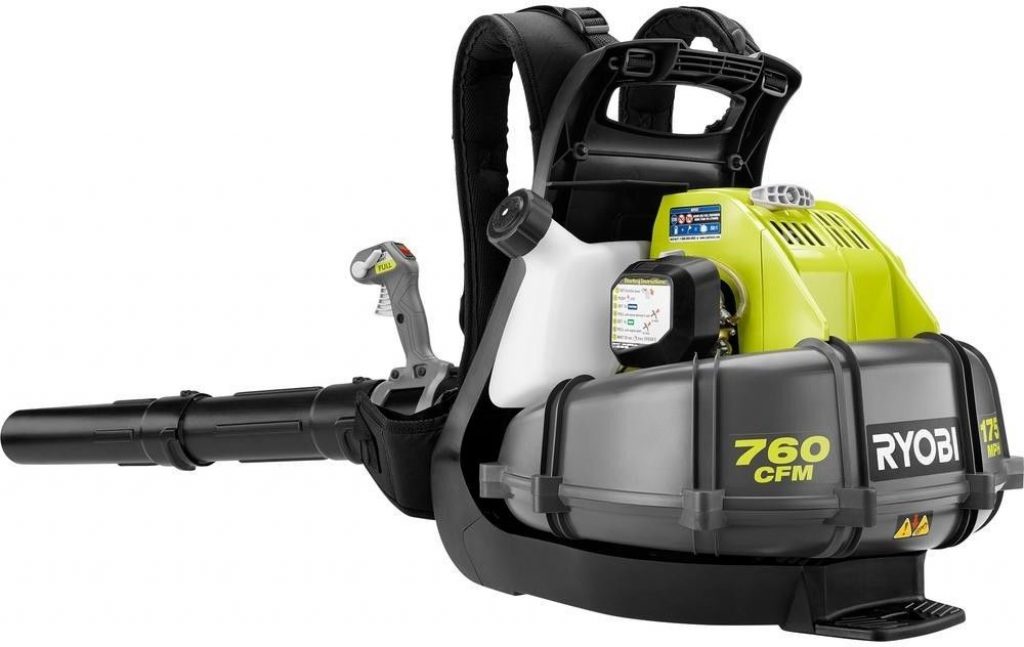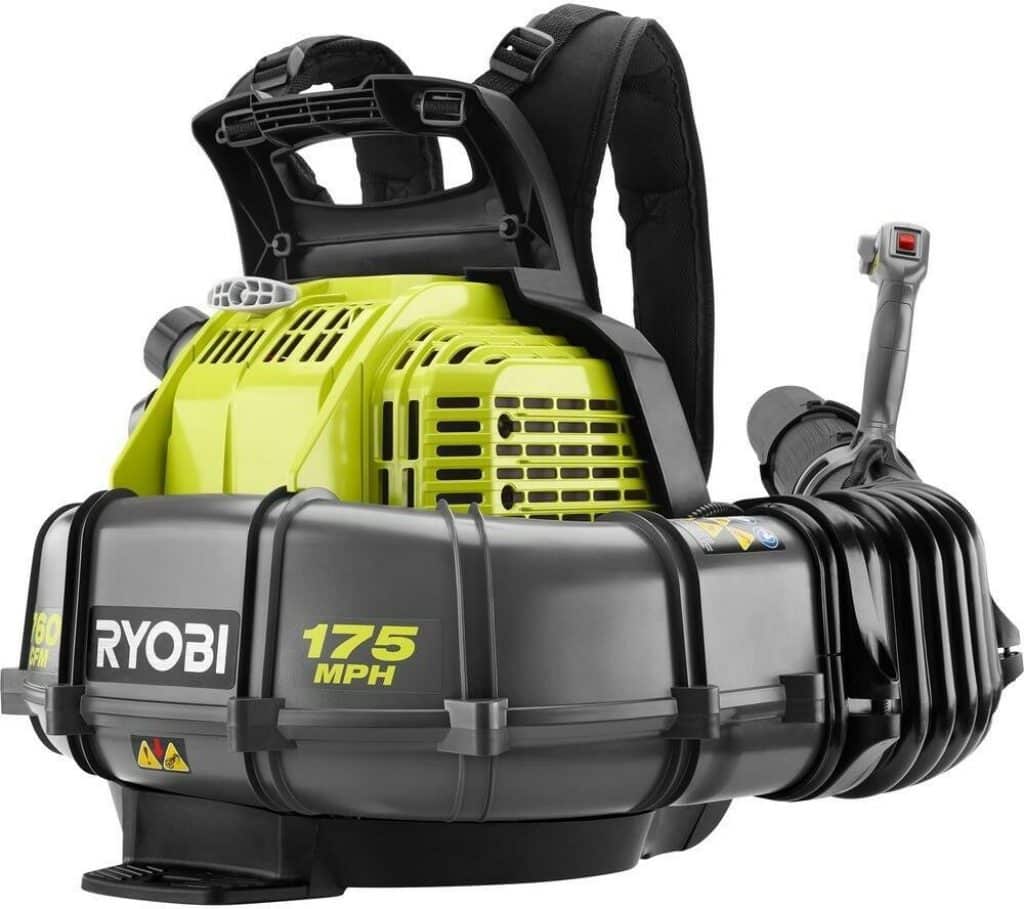 I had the older model Ryobi backpack leaf blower for three years and it was a very reliable, excellent machine (I mistakenly drove over it.) I replaced it with the new model and if you're wearing a weave or toupee, watch out, this thing has power!! HUGE difference in power, and an excellent machine for clearing pea-sized gravel and overall debris, it seems a bit louder, however, with the 760 CFM I get why. I HIGHLY recommend buying 50:1 premixed fuel (HomeDepot sells it, in a red can.) The 50:1 will prolong the engine and small parts of the machine. 
abc2xyz
So I bought this backpack blower today and put it together in 5 mins. Added fuel-primed bulb and started on the second crank! I tried it out moving leaves and small branches from live oak in my backyard! It actually surprised me that it had that much power! Can't wait to bring it to my camp and clean up there also it should cut my cleaning time in half! It's not very heavy and pretty comfortable on your back! 
RAT2424
It is a good blower; however, it is too big for me, I am a 5'3″ petite woman, and it just fit me funny, it is def built for a larger framed person, it was heavy too, and there is no way I could have used it for any length of time. They need a reducer for the end b/c I found that it was not targeted enough, as in it blew everything it came across, lol. Also, my hubby used the hair dryer to heat up the end like someone submitted earlier in the reviews and it worked like a charm! 
DixxieBelle
Super easy to put together. Incredibly comfortable to wear. I'm in the Professional Landscaping Business (Selling not Operating) but am very familiar with all our equipment and have used our Pro Husqvarna Blowers. Have to say that I was impressed by the overall quality and power of this Ryobi.