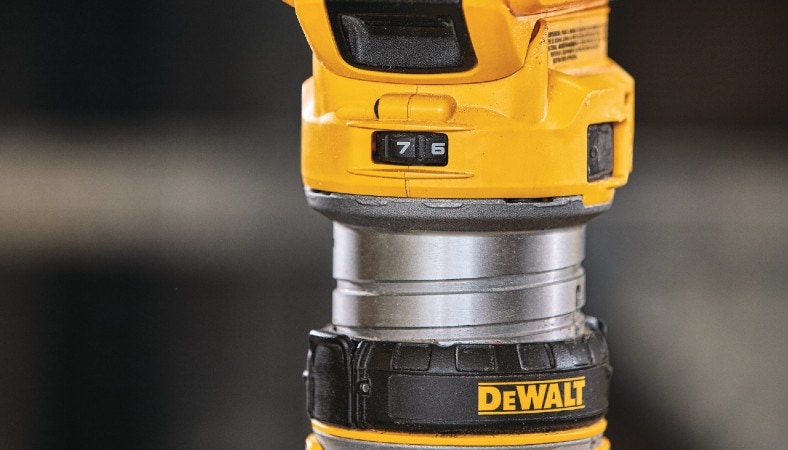 A wood router lets you perform complex artistic and simple cutting, flat, and profile processing of wood and other materials. Every master wants to have such equipment, but it is challenging to choose a worthy option for a home workshop among the many types and models. I find the Makita RT0701C to be the best compact wood router of all the tools on the current market. Of course, it is just my opinion, and there are those ready to challenge it. Therefore, in order not to limit your choice to a single product, I have compiled 10 reviews on other excellent models. Hopefully, everyone will find a tool that suits them on this list.
Pros
Constant speed under load
Has a nozzle for a vacuum cleaner
Top Pick
Pros
Constant speed under load
Great Value
Pros
Has a nozzle for a vacuum cleaner
For a handheld wood router to cope with all the necessary tasks effectively, you should know how to choose the right device, as well as understand its design features, technical characteristics, and types of accessories that may come with it. You can find this and more info in my comprehensive buyer's guide after the reviews section. As a result, you will be able to develop your own strategy for finding a wood router that suits your needs best.
Top 10 Compact Router Reviews
Routers were originally designed as woodworking tools. Modern devices can work with plastic, non-ferrous metals, plexiglass, artificial stone, and other materials, but wood is still a priority. Here are the top 10 products to look out for.
1. My Top Pick: Makita Compact Router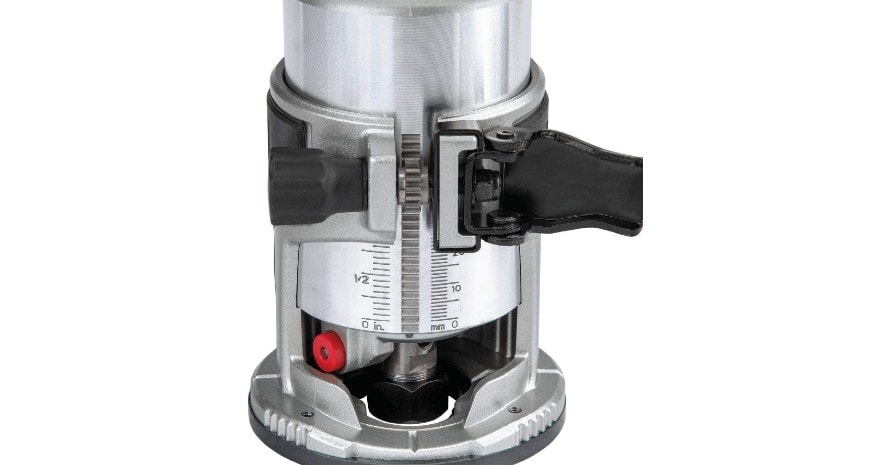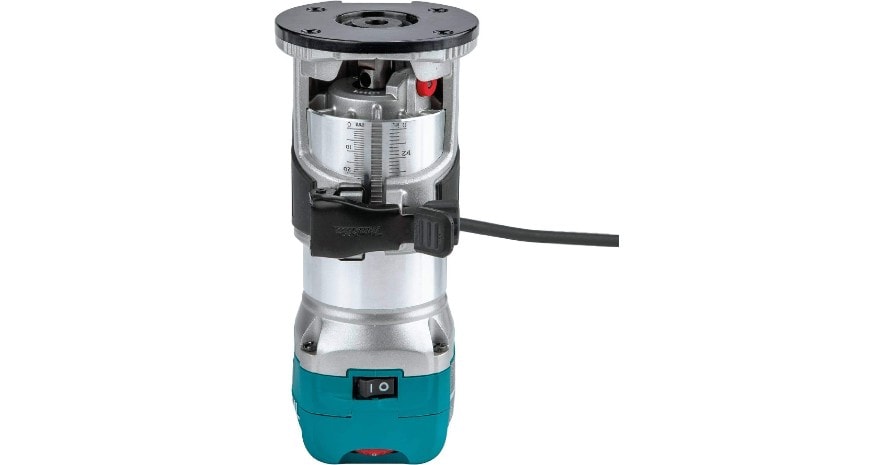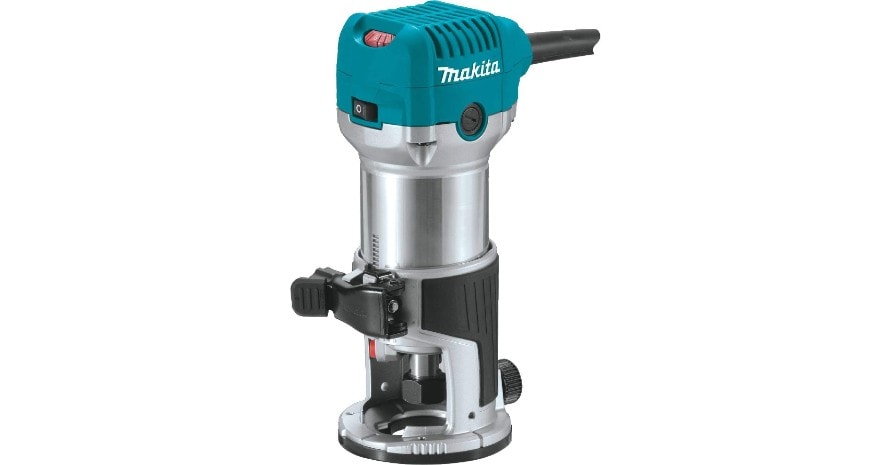 Makita RT0701C combines all the features you need for woodworking at a great price, making it the best compact router overall. The powerful 1.24HP / 120V motor is capable of speeds up to 30000RPM. Simultaneously, the number of revolutions can be adjusted from 10000 and more, depending on your tasks. It makes the tool versatile and allows you to work with different materials. An electronic regulator is responsible for maintaining a constant speed. The set number of revolutions will remain unchanged even under load.
I like that this unit is equipped with a soft start system, which is essential for powerful motors. This model uses bits of 0.25 inches. The depth of a bit is adjusted using a convenient rack and pinion method. With a convenient cam lock system, you can easily remove and put back its base. The tool comes with a 0.25-inch collet, a straight cut guide, and two different sized wrenches.
The design of a case allows you to see where you are pointing the instrument, thus avoiding curved cuts. However, this model is not equipped with a large plunge base and is not compatible with standard templates. To use them, you will have to purchase an additional adapter. But unlike many other models, there is a shaft lock function, thanks to which you can quickly change bits.
Overall, it is a simple and easy-to-use handheld device. It weighs only 3.9 pounds and has a compact body. It fits comfortably in a palm and is easy to operate with one hand. The only thing I would recommend the manufacturers to add to this model is lighting. It would greatly facilitate complex tasks.
---
PROS:
Constant speed under load;
Universal;
Convenient depth adjustment;
Ergonomic body.
CONS:
You need an adapter for standard templates;
No lightning.
---
2. Great Value: Avid Power 6.5-Amp Router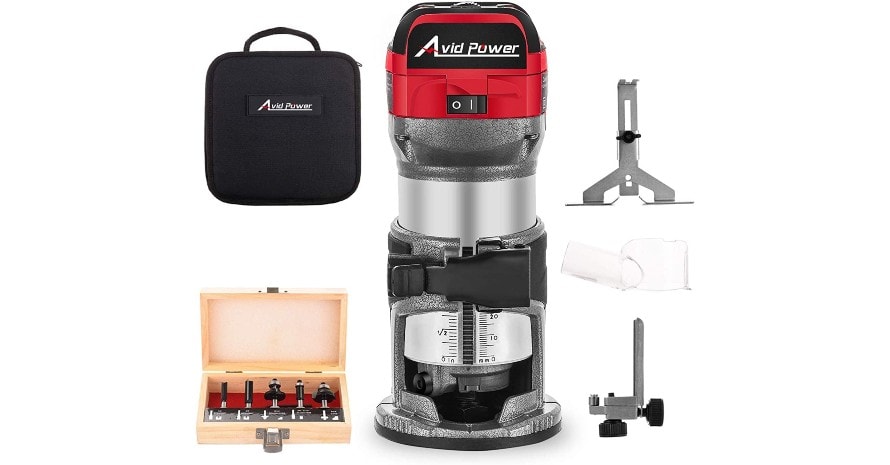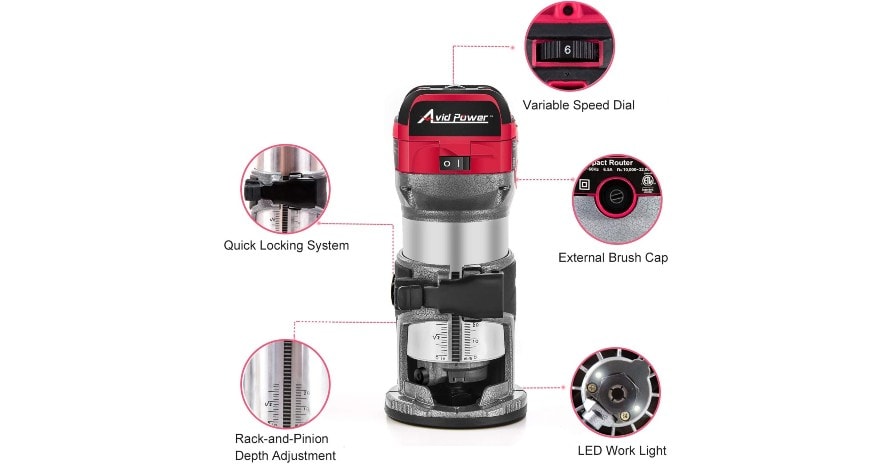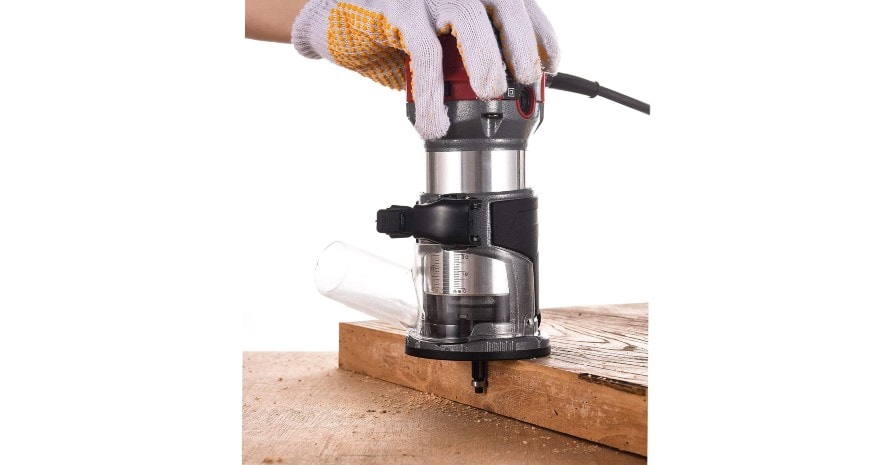 This item is an excellent choice for beginner wood craftsmen. The set comes with many extra accessories that will surely come in handy for your work. There are two different guides, a wrench, bits of different sizes and shapes, two collets, a brush, and even a bag for storing and carrying the tool. And all these you can get at a very budget-friendly price.
The 6.5Amp / 1.25HP motor is capable of even more speed than the first item on my list. You can adjust the RPM from 10000 to 32000. This amount of power is good for the solid wood species. For perfect cuts, there is a handy depth adjuster and straight and roller guides in the kit. Also, this device is equipped with two LED lamps for even more precise operation.
With the quick lock function, you can change a bit or base without completely shutting down the tool. Conveniently, it also comes with a vacuum cleaner attachment. You can connect a hose and collect dust to keep your work surface clean. The device has a small compact body that is comfortable holding hands thanks to a non-slip rubber coating.
This router has a lot of undeniable advantages in comparison with many analogs. Its main disadvantage, in my opinion, is its slightly flimsy construction. I do not mean that it will break in the process; it is a reliable device. However, it emits quite a lot of noise and vibration, which can be harmful to your health. Also, if you use it for a long time, the router may become warm. After using it for an hour, you should give it a break for about 15 minutes.
---
PROS:
Many accessories;
High RPM;
Has a nozzle for a vacuum cleaner;
Affordable price.
CONS:
Noisy;
May get warm during operation.
---
3. Premium Pick: DEWALT 20V Max XR Router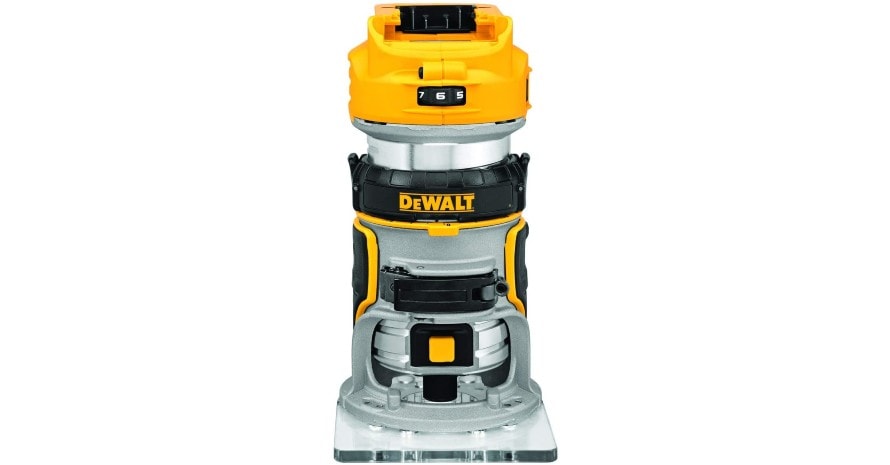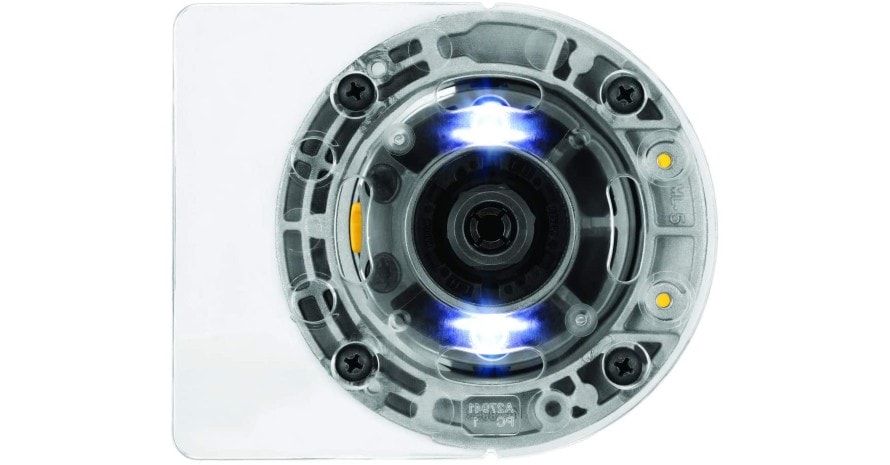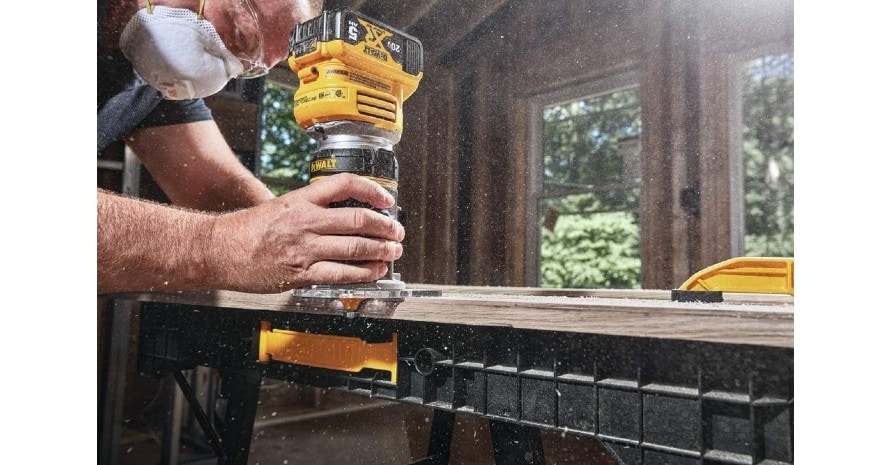 It's a cordless router from the well-known American company DeWALT. It has a fairly powerful 20V battery that can be used with other instruments. The speed ranges from 16000 to 25500 RPM. It is sufficient for small cuts of different types of wood. Simultaneously, due to its compactness and absence of a power cord, it is convenient to work with this router in confined spaces. The weight is also great for mobile work at only 2.6 pounds.
I also like that the motor starts smoothly and is easy to control during operation. It stops instantly, which is especially useful in an emergency. The height ​​is also easy to adjust, but it is where the first drawback lies. The height switching ring can be accidentally pressed during operation and, thereby, changes a bit of height. The rest of the design looks solid.
Another advantage of this cordless router is LED lights that illuminate the working area very well. Therefore, it was convenient for me to work even in dimly lit places. At the same time, the device is held securely on the working surface and does not vibrate even at maximum speed. And it is pretty lightweight at 2.6 pounds. I also liked that the router does not make a lot of noise, so your ears do not get tired even after hours of use.
As a disadvantage, I have noted that the router's design does not provide for wood dust suction, which can have a negative effect on your health. Compared with previous models, the price is higher, but it is due to a mobile battery. Besides, this router's build is high-quality, and, therefore, with proper care, the device will last quite a long time.
---
PROS:
Portable;
High-quality build;
Dual LED lights.
CONS:
Relatively high price;
Easy to switch the height accidentally.
---
4. Smallest Wood Router: Bosch PR20EVS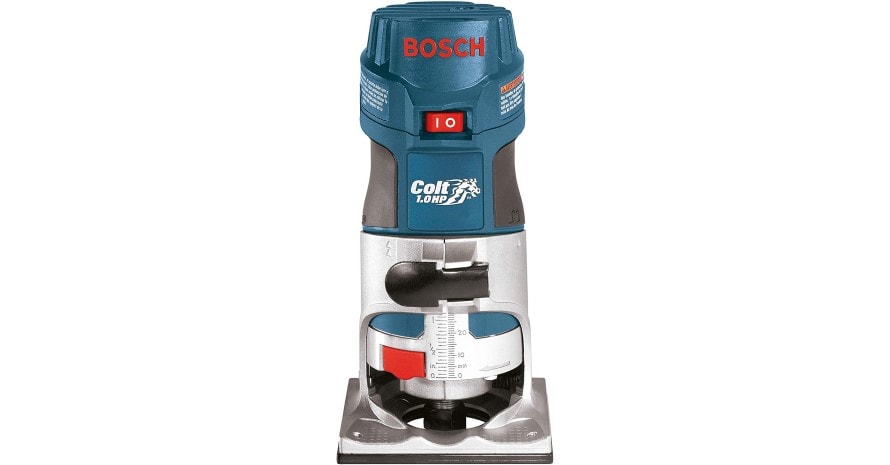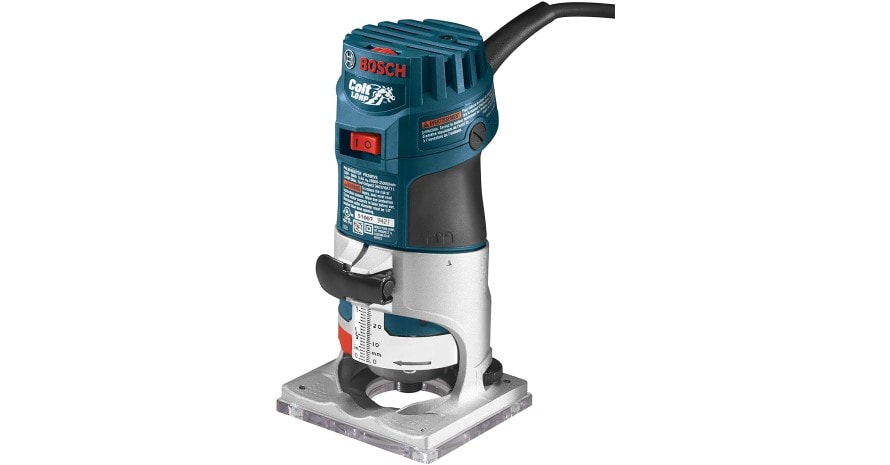 Bosch has been one of the world market leaders for household and construction equipment for many years. Its Colt Router PR20EVS is a tool with a powerful 1.0HP 5.6-Amp motor. The rotation speed ranges from 16000 to 35000 RPM. Simultaneously, the router is equipped with a special response system, which maintains a constant rate regardless of the load. As in the previous model, the motor starts up smoothly, so there will be no problems with holding the tool.
The manufacturer has also paid attention to the depth adjustment. First, it can be done in two modes: macro (inch) and micro (mm). Secondly, the clamping system lets you fix the motor at the desired height quickly and securely. Its fixed base is made of aluminum, which ensures the durability of the structure and, at the same time, allows the more reliable installation of the router on a wooden surface. Despite the presence of metal, the instrument weighs a small 3.3 pounds.
Special finger pockets guarantee additional stability. In general, this model's design seemed convenient to me because it allows you to work in narrow spaces. At the same time, its 10-inch cord does not interfere because it is attached at an angle. It's short, and you have to keep an outlet nearby, but there is no risk of tangling the cord.
What I had a little trouble with was changing bits. Although the manufacturer claims it to be quick and easy to change, the procedure requires two wrenches or one wrench and a spindle lock, and some skill. At the same time, all keys are included. Another disadvantage is the lack of a dust extraction system and backlight.
---
PROS:
Robust build;
Convenient constant response system;
Low price.
CONS:
No lightning;
No dust hood.
---
5. Most Affordable Small Router: CtopoGo Trimmer Wood Tool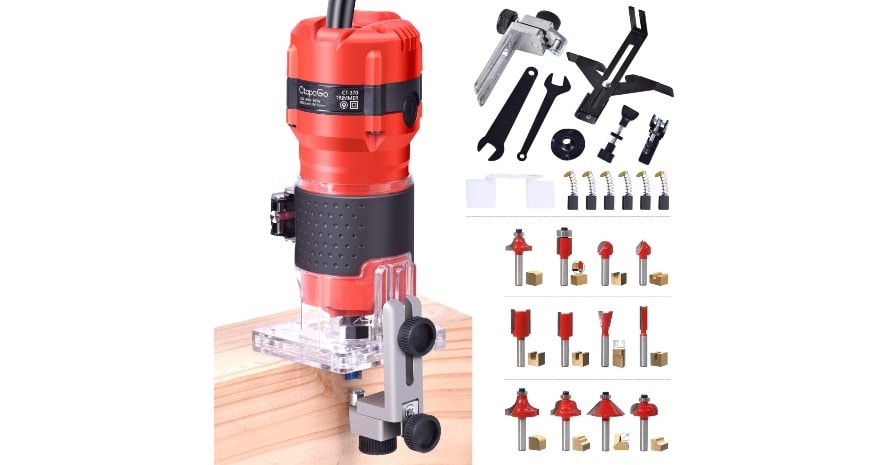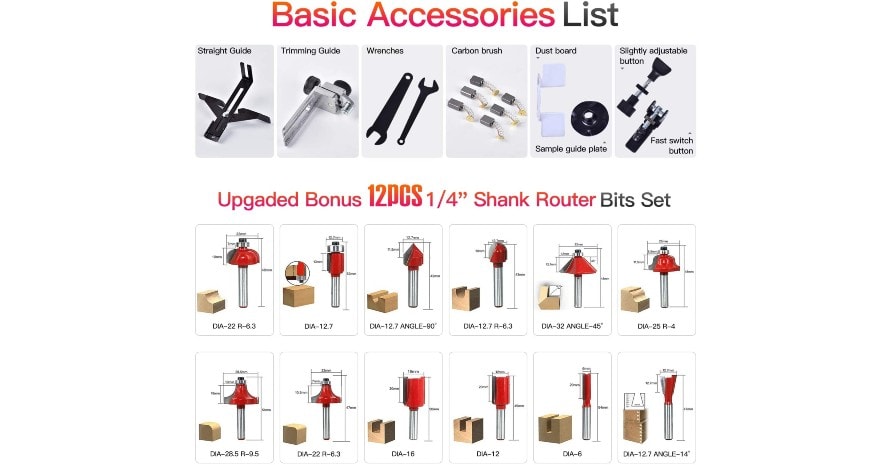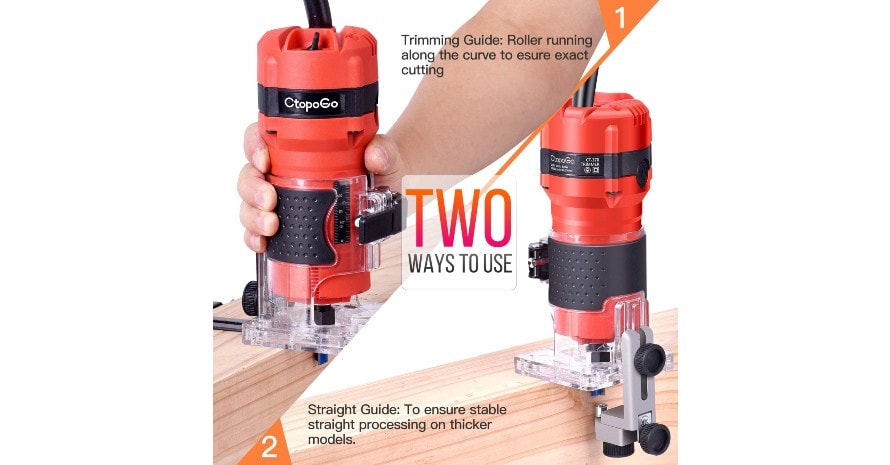 For those looking for a budget-friendly model, I can recommend the CtopoGo Trimmer Wood Tool. Of course, the lower the cost, the less functionality the tool has. I would say this product is more suitable for home use. It is not very versatile because it has no speed settings. The 110V / 800W motor is capable of a speed of 30000RPM. That's quite a lot, though, so you can work with wood, plastic, and even thin metal. Nevertheless, for more subtle tasks, it's better to be able to change the speed.
In addition to the trimmer itself, you get a fairly large set of accessories for this price. There are two kinds of guides, two wrenches, six replacement brushes, one bolt and screw, and a kit of 12 bits. Their quality really pleased me, but I had to use my own wrenches, as the ones included in the kit seemed too thin to me. In general, the kit contains everything a beginning woodworker might need.
The immersion depth can be changed in two ways. You can turn a wheel to slightly change the distance or use the fast switch button to switch the height quickly. The instrument is supplied with a transparent plastic base. It is quite strong and stable, as its aluminum counterparts. But the transparent material gives you a better view. Although there is no backlight, you can see the work surface perfectly.
Despite its low cost, the device has a robust aluminum housing. It means it makes little noise, doesn't vibrate or overheat. Since it is quite lightweight and compact, it is comfortable to hold in your hand, and it does not slip thanks to the rubber coating.
---
PROS:
Transparent base;
Very inexpensive;
Replacement brushes included.
CONS:
No speed controls;
Poor-quality wrenches.
---
6. Brushless Compact Wood Router: Makita XTR01Z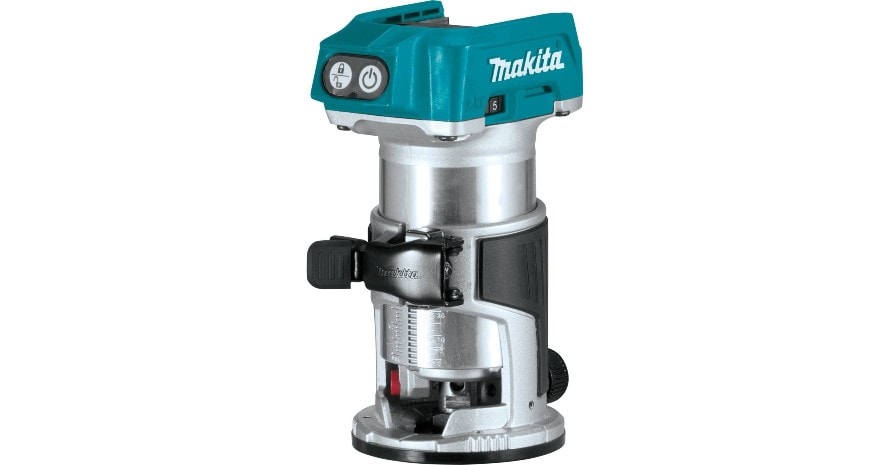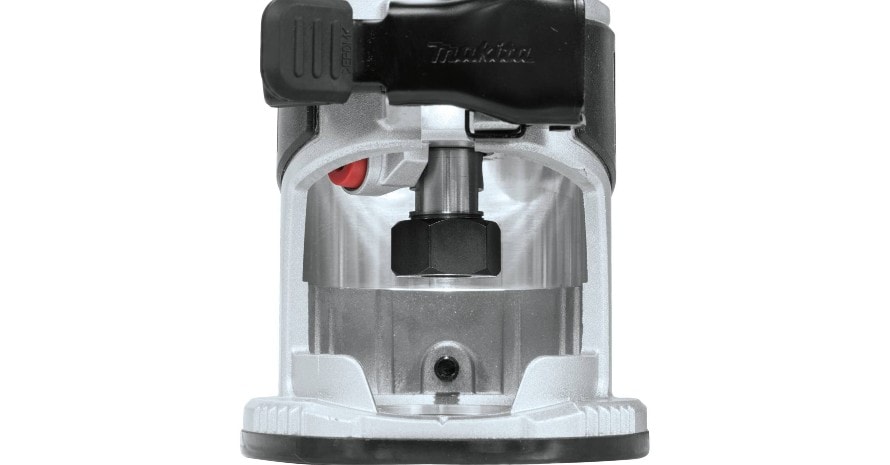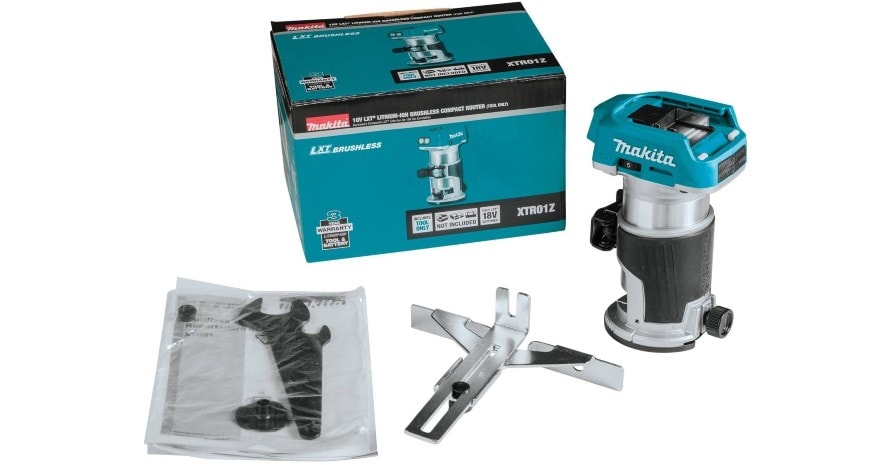 Makita tools are always characterized by the high build quality and excellent performance. And Makita XTR01Z is no exception. It is a powerful and reliable instrument that professionals and hobbyists alike will find handy. This model is a bare tool, and you will have to purchase a battery, charger, and accessories yourself. It is a good option for those who already own one of Makita's cordless rechargeable tools.
This device has all those functions and characteristics that are needed for delicate and precise work. It is equipped with a brushless motor, which makes the work of a cordless tool more efficient as it is energy efficient. It needs an 18V lithium-ion battery to work, which you can take from another product. The motor is capable of speeds from 10000 to 30000RPM. There are several settings here and electronic constant speed control under load.
The router is equipped with a smooth start function and a lock button that protects a user from an accidental start. The battery and motor are protected from overloads and overheating by proprietary technology. I like that you can use the router to the last. When it is discharged, it will simply turn off, rather than gradually slowing down.
The depth is adjustable with a rack and pinion, and a convenient lock allows you to change the base quickly. It is aluminum here; however, two LED lights are built into the body for a better view. The device comes with a fixed base; if you need a plunge one, you will have to buy it separately. The body itself is very comfortable, and there are notches on the handle so that the device does not slip. It weighs 4.53 pounds, which is quite a lot considering that it's the weight without the battery.
---
PROS:
Brushless motor;
Efficient;
Suitable for professional use.
CONS:
Quite heavy;
The battery is sold separately.
---
7. Mini Wood Router for Chamfering: PORTER-CABLE Laminate Trimmer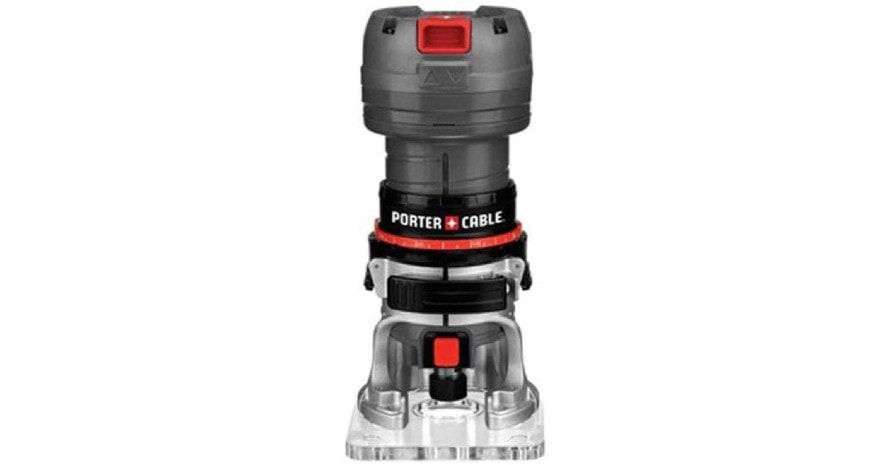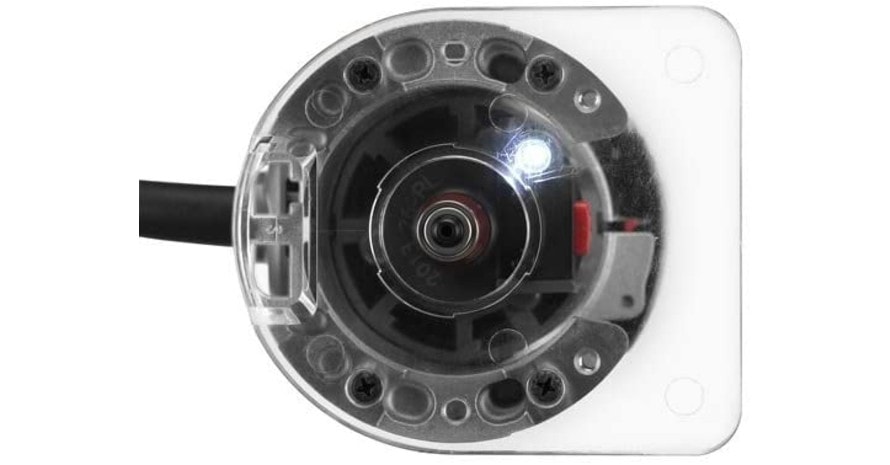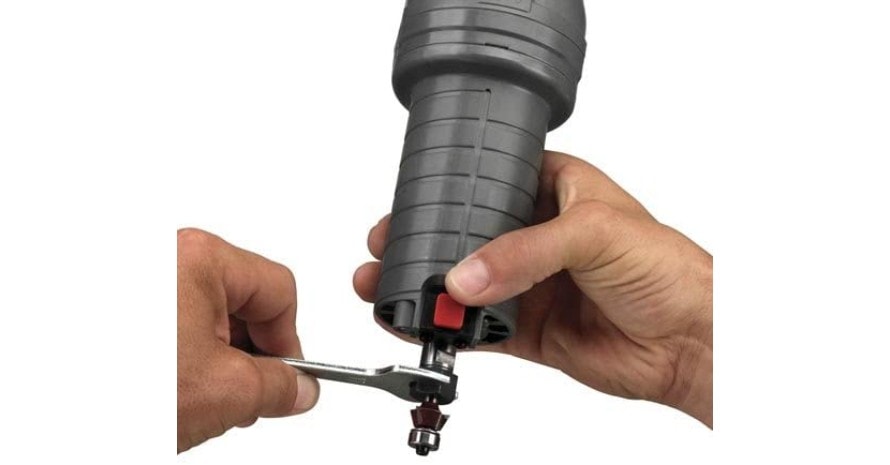 If you're looking for a simple, classic home appliance, check out the PORTER-CABLE Laminate Trimmer. As the name suggests, it is primarily designed to work with laminate and veneer products. Such models are also called edging tools since their main task is to make grooves, chamfers, and shallow notches.
This device operates on a 120V mains supply. The 4.5Amp motor develops a speed of 31000RPM. It is slightly more than many other models on my list, but you cannot adjust the speed and set a lower number of revolutions. This router has an unusual implementation of a bit height change system. Traditionally, a pinion and rack are used, but here a ring is installed on the case for that. You just need to turn it in the right direction to increase or decrease the height.
The trimmer is supplied with a fixed base from aluminum, which is made using precision-machining. It guarantees its reliability and accuracy. It has a transparent base that allows you to see the working surface and control your tool's movement. It glides smoothly over a laminate sheet and leaves no marks or scratches. This router is also equipped with one LED lamp; however, in my opinion, it is not bright enough to make any difference.
The case is not bulky; it fits well in hand, even though there is no rubber coating on it. It absorbs vibration and noise, making it really comfortable to use. The device weighs only 3.6 pounds and is not very long, which makes it easy to operate with one hand.
---
PROS:
Perfectly smooth base;
Reasonable price;
Convenient depth adjustment system.
CONS:
Dim backlight;
Only one speed.
---
8. Compact Wood Router with Ergonomic Handles: Ryobi R1631K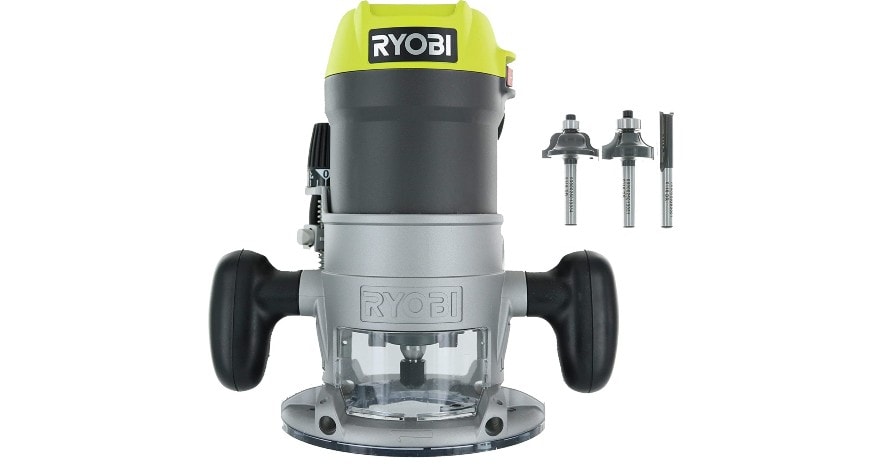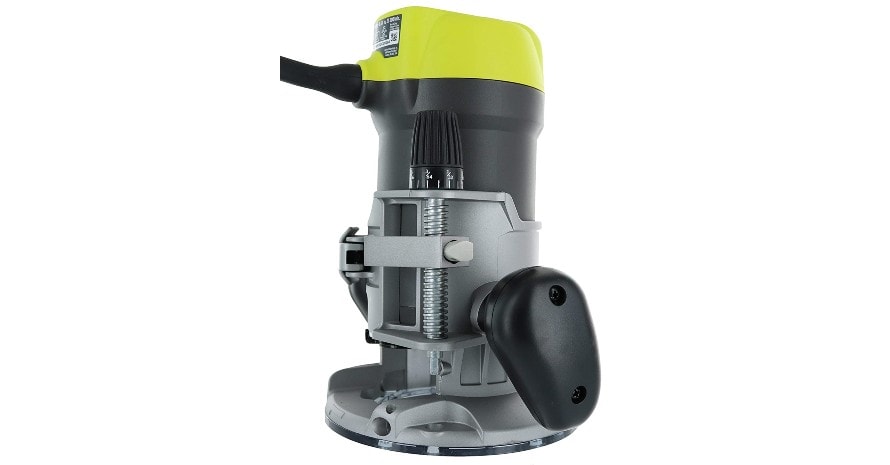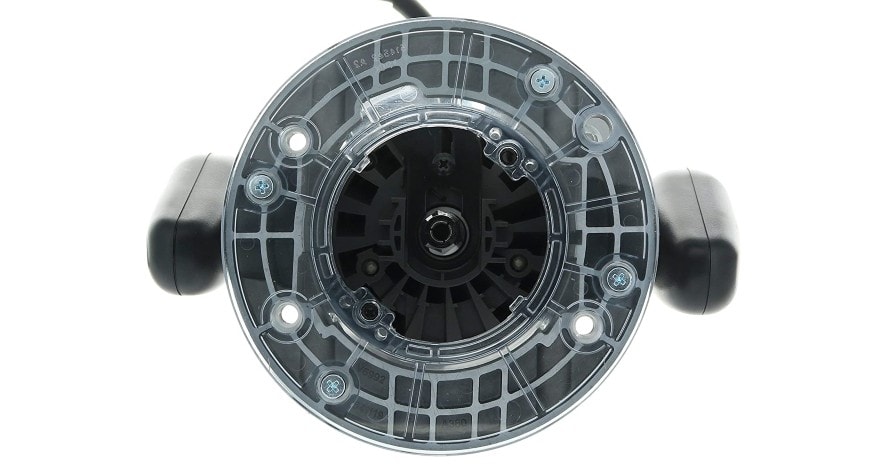 This model stands out from the other small woodworking routers on my list for its design. In contrast, the Ryobi R1631K has two handles on its sides and is controlled not with one but two hands. This option is suitable for those appreciating the utmost precision of work. Although this design has its drawback: the tool is bulkier than one-hand-held devices. It may not be suitable for working in tight spaces. It also weighs slightly more than most models (6.5 pounds).
Its ball-bearing 8.5Amp / 110V motor has 1.5HP power and a speed of 25000RPM. The router has only a one-speed setting, which is sufficient for light to medium tasks. The bit height is adjusted with a knob, which allows the reading to be zeroed for more precise adjustment. The instrument comes with only one collet measuring 0.25 inches.
The base is made of die-cast aluminum. It is really solid and can withstand any load. At the same time, it has a convenient design that allows you to monitor work progress. On the one side, it has a protective screen that prevents chips from flying towards the user. There are three LED lights built in to improve your precision. They are quite bright and illuminate the surface perfectly.
While there is only a one-speed setting here, this tool handles most woodworking tasks. If you want and have a router table from Ryobi, you can make it stationary and work with more complex pieces.
---
PROS:
Bright backlight;
Ergonomic design;
Simple controls.
---
9. Quiet Small Router: Darhoo Laminate Trimmer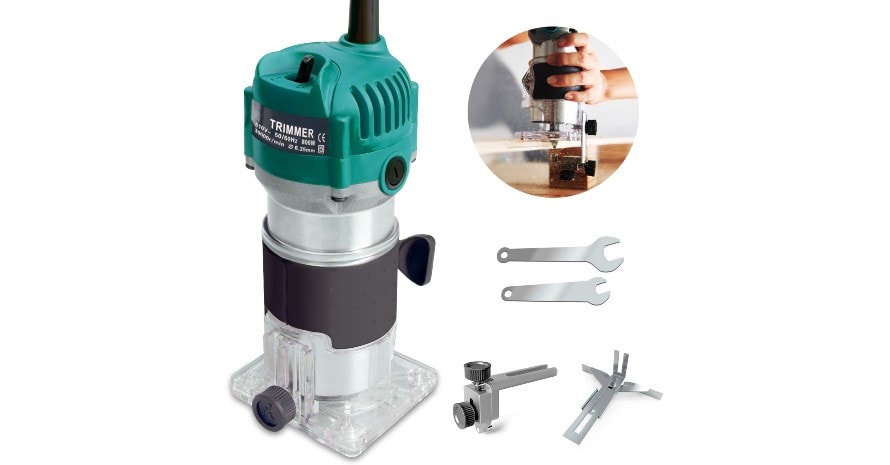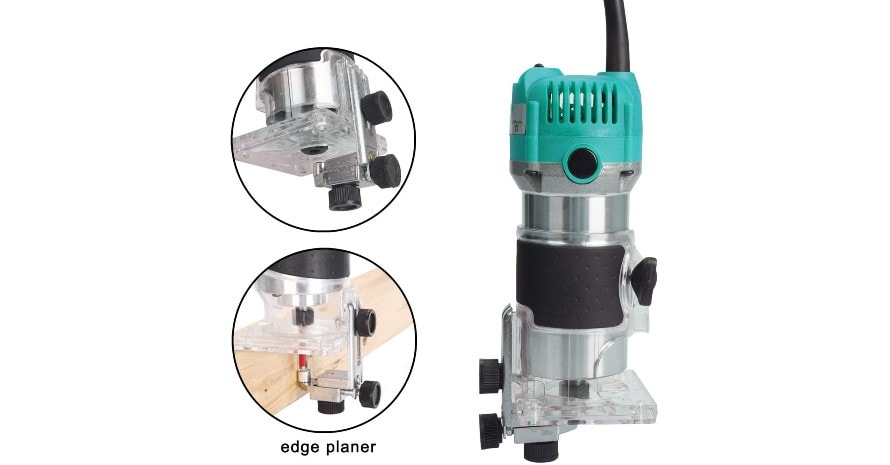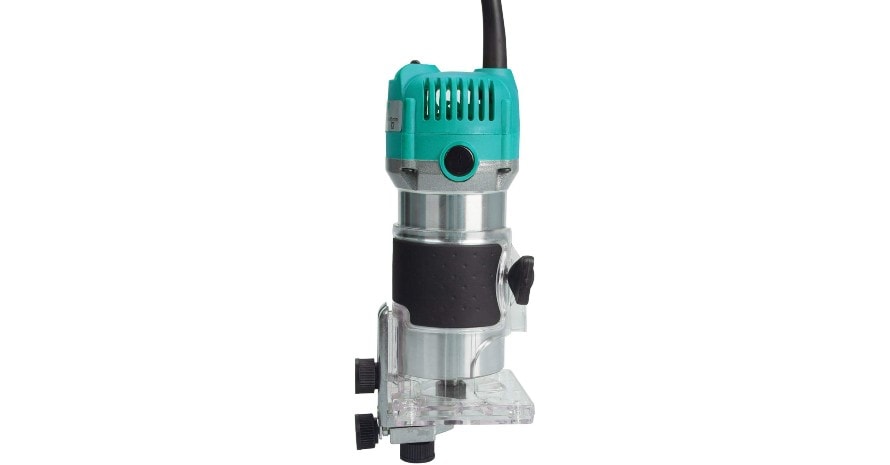 I liked Darhoo Laminate Trimmer because of its transparent base. Since this device does not have LED lighting, this feature greatly simplifies working with wood. Thanks to the completely transparent base, you can clearly see your moves' direction and not make mistakes during the work.
In terms of functionality and power, this device is definitely designed for home use. It has all the features you need for occasional small tasks. The device operates from 110V mains, has a power of 580W, and is capable of speeds up to 30000RPM. Unlike the more advanced models, there are no speed adjustments. From a professional's point of view, it can be called a disadvantage, but it is enough for light-duty tasks.
The tool comes with a bolt, a screw, two guides of different types, two wrenches, and replaceable brushes. It is not a plunge router but a trimmer for trimming boards and laminate edges. The height adjustment system here is implemented using not a rack and pinion but a knob. In my opinion, it is not very convenient. Vibration or accidental movements may cause the height settings to be lost. However, due to the lack of a large number of complicated settings, it is an easy-to-use device that even a beginner can handle.
To reduce vibrations, the manufacturer has made an aluminum case. The product emits an acceptable level of noise and does not vibrate very much. The durable casing and copper motor ensure that the router does not overheat due to long-term operation. Overall, I would say it is a good lightweight (3.8 pounds) device for home studio use and DIY products.
---
PROS:
Pretty quiet;
Does not overheat;
Transparent base.
CONS:
No speed settings;
Weak height adjustment.
---
10. Small Router Tool for Beginners: Enertwist Compact Router Kit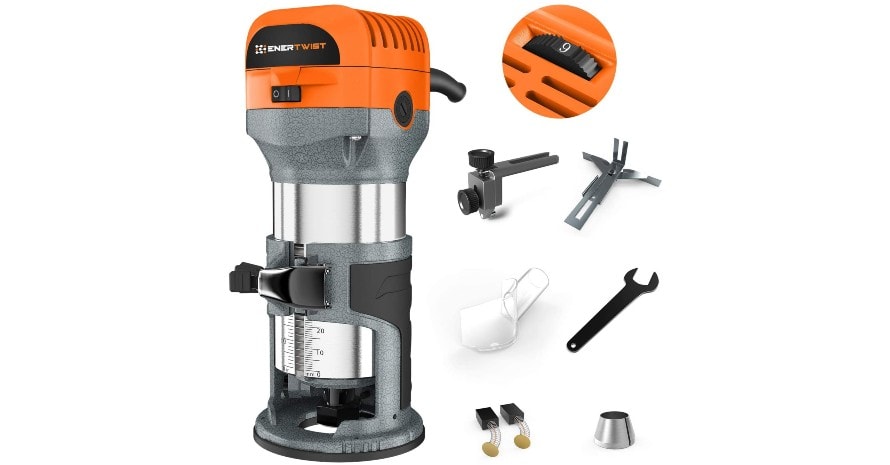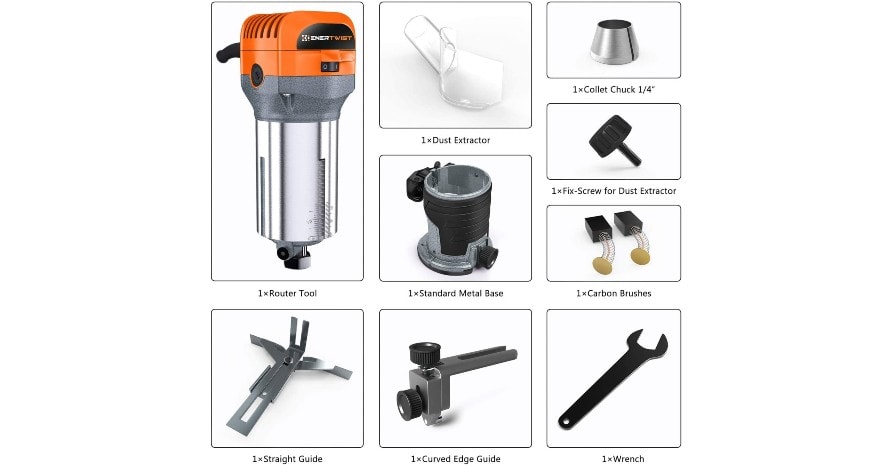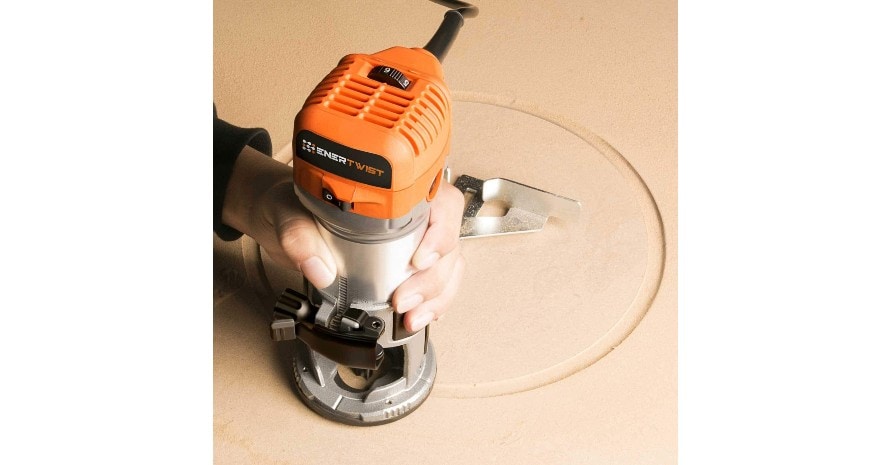 Just because the Enertwist Compact Router Kit is the last on my list does not mean that it is the last to be considered. It is an excellent kit for beginners or those for whom woodworking is a pleasant hobby. I like the device itself is very versatile. You can use it for trimming, edge, or circular cutting, and can even flip and use it with a router table for tricky workpieces.
This wood router is a compact device with 1.25HP / 120V motor. It is powerful enough to reach speeds up to 32000RPM. There are six-speed settings here from 10000RPM and up. The product comes with two different guides, a vacuum cleaner attachment, a wrench, and two collets of 0.375 and 0.25 inches. Moreover, the manufacturer has also included carbon brushes in the set, which you can install instead of the factory ones.
The device is equipped with a soft start and a simple height adjustment system. The speed is kept constant under any load thanks to electronic control. To prevent overheating and overloads, a special protection system is installed here. The tool is quite comfortable to hold in hand and guide along with a wood sheet since a rubber pad is located almost at the base. It ensures better control over every movement.
The manufacturer claims that this product has a durable housing that reduces noise and vibration. However, in my opinion, it is not done very well since the device works louder than competing models. It also vibrates quite perceptibly in hand, and there is a possibility that after hours of use, the lock, which fixes the height, may move because of that.
---
PROS:
Perfect for beginners;
Inexpensive;
Many accessories.
CONS:
Vibrates quite strongly;
Not for heavy tasks.
---
Mini Wood Router Buyer's Guide
Now you know which models I consider to be the best in their category. In this section, I would like to tell you how to choose the perfect tool for your needs, how to use it, and share my professional tips with you.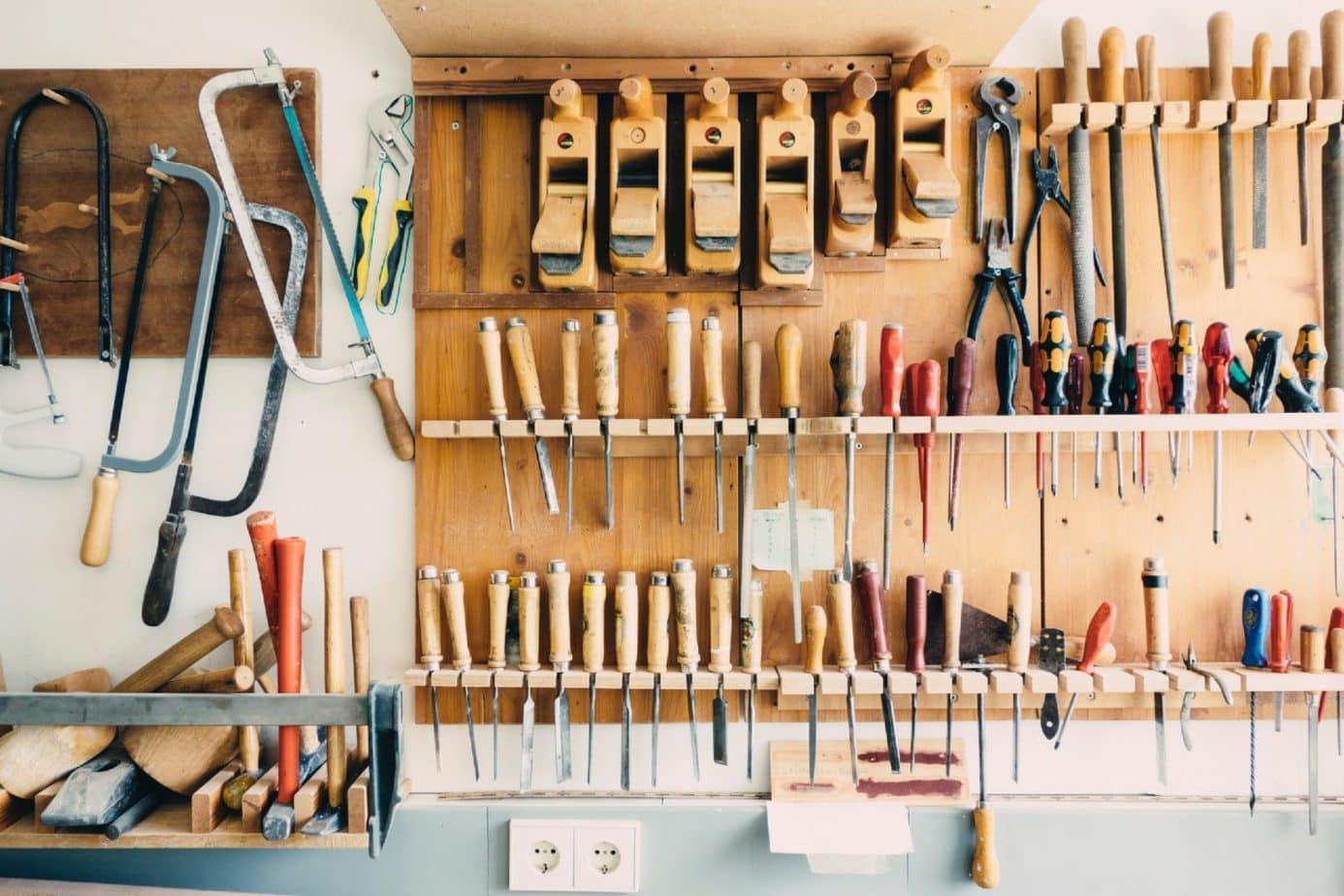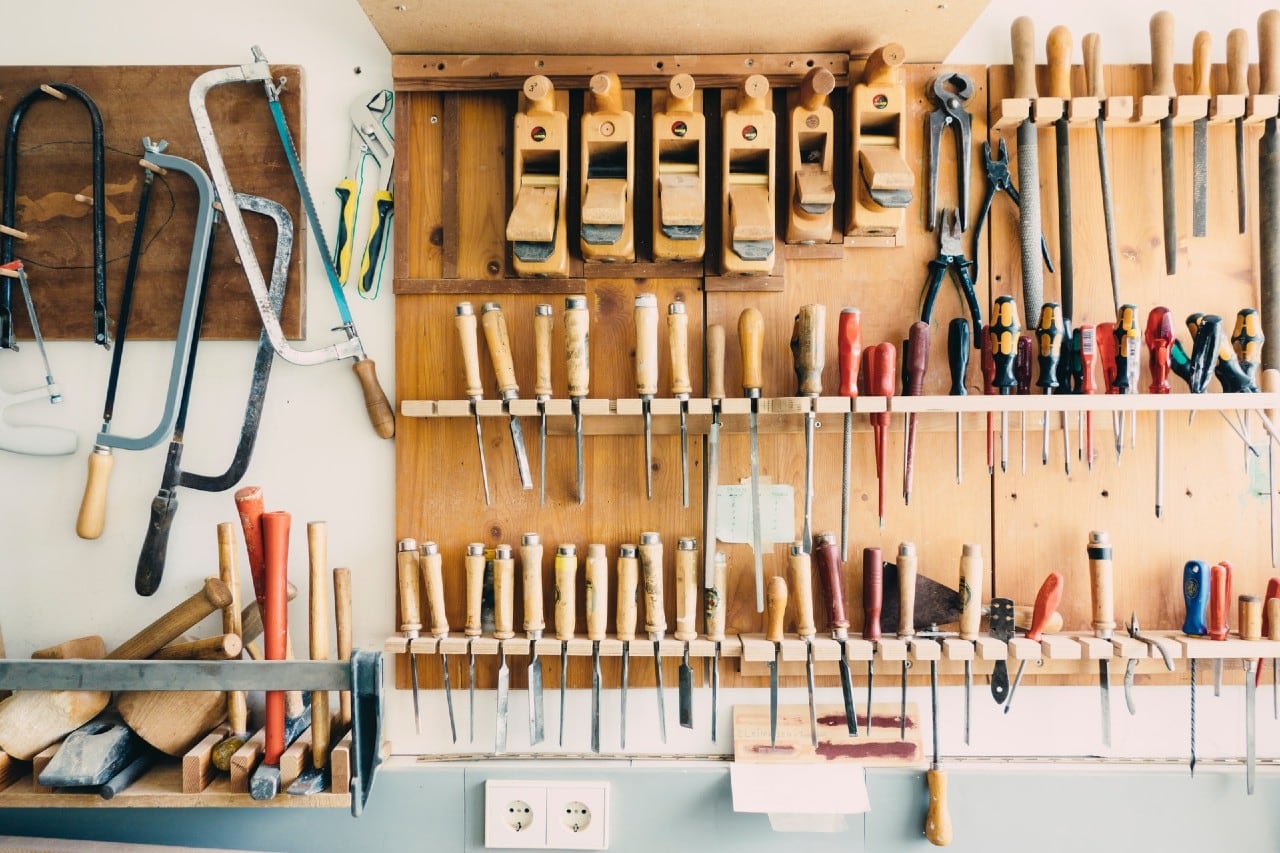 How to choose the best compact wood router?
Obviously, the functionality of a wood router makes it equally useful for DIYers and professionals. If talking about the application areas, I can say it is almost irreplaceable equipment of any carpentry workshop. But choosing the right device can be difficult. Here's what you should look out for:
Adjustable height. For plunge (vertical) models, it is a crucial parameter that makes a device versatile and allows you to perform different work types.
Power source. Manual wood routers are corded and cordless. If you plan to do a small amount of work, you can take a battery-powered model. If you use your appliance regularly throughout the day, a wired tool is more suitable.
Dimensions. They are essential, especially when doing delicate and fine tasks. Large tools are usually very powerful, but they are challenging to operate. At the same time, small devices may not be potent enough. Therefore, it is important to find a balance between compactness and horsepower.
Weight. Since I'm talking about handheld routers, weight is essential, like dimensions. It is directly proportional to motor power: the more powerful it is, the heavier the device.
Materials. A tool such as a wood router should be made of quality materials and have a sturdy body. Otherwise, it will make a lot of noise and vibrations.
How to use a compact wood router?
Although such a tool is quite easy to use, be sure to study its manual before getting started. Always follow basic safety rules when using handheld devices.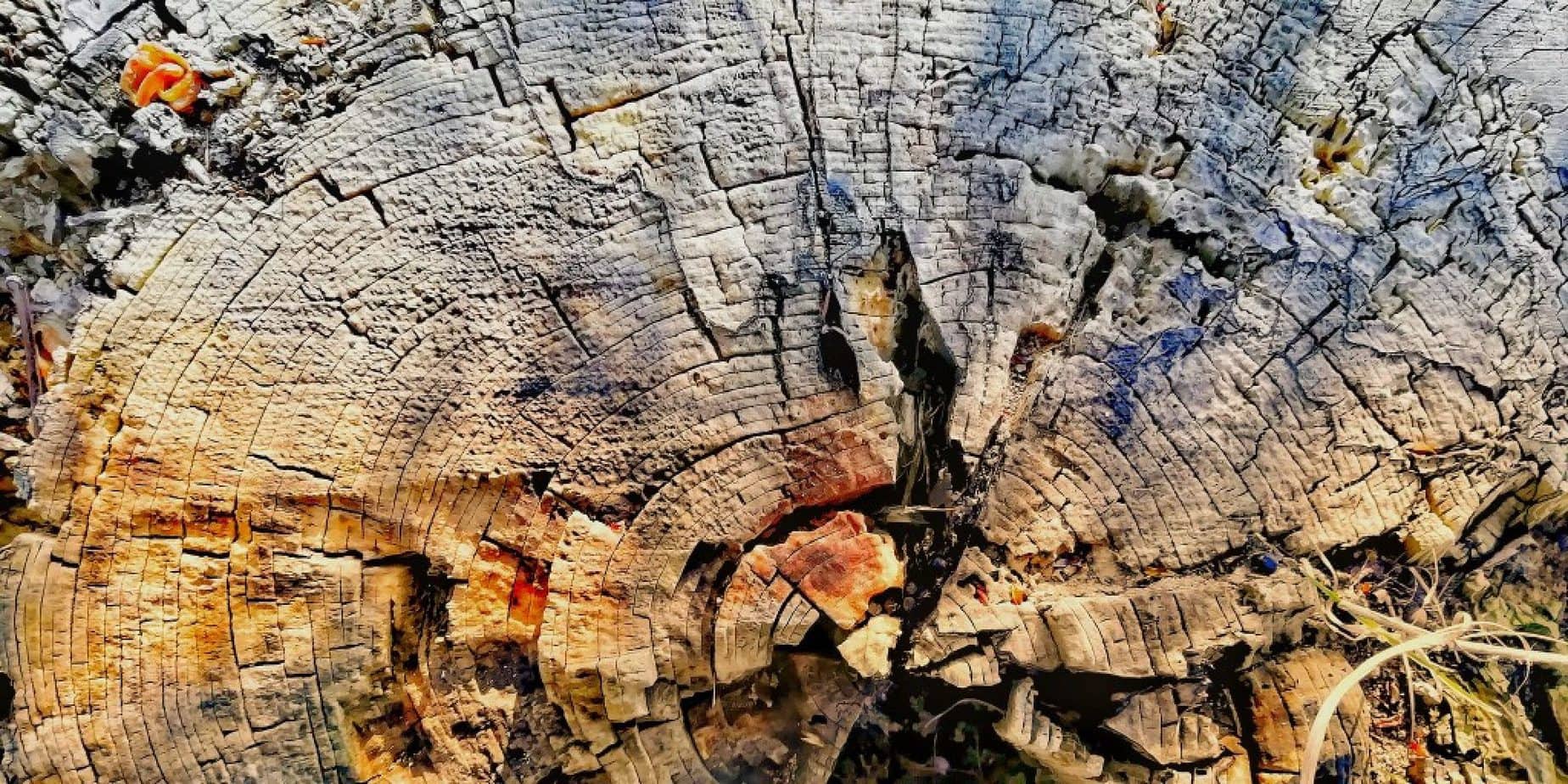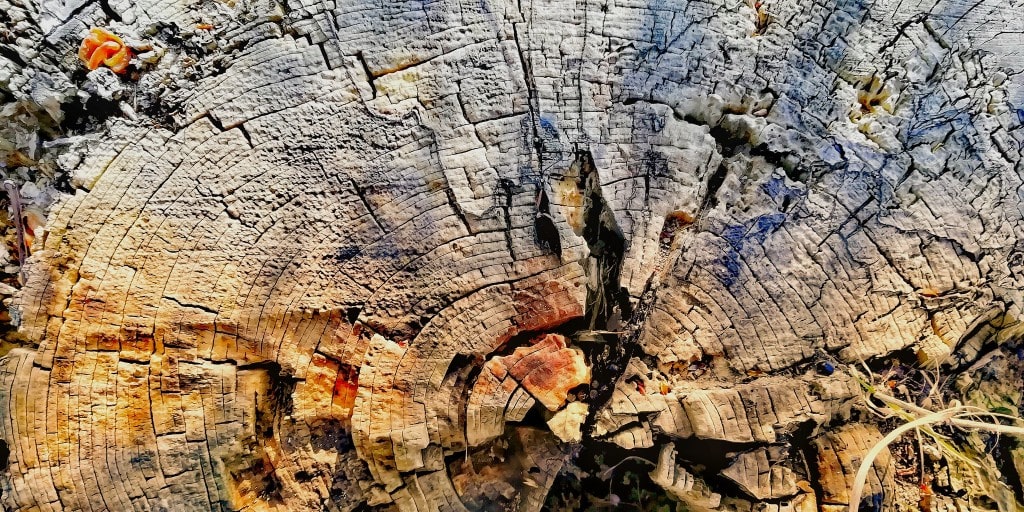 Choose the speed
Set the speed control to the position required for your current task. With an increase in the bit diameter, the number of revolutions should be reduced to avoid rejects during milling. If you just learn how to work with a wood router, it is better to choose low or medium speed.
Install collet and bit
Set the appropriate collet and bit depending on the work you plan to do. It should be performed when your tool is completely turned off. To replace bits, wrenches are usually supplied in the kit with a device.
Choose height
This parameter is also set depending on the task being performed. Never attempt to plunge deeper (more than 0.1 inches) at one time as it can damage a workpiece and even your tool itself.
Use guides
You can use straight guides to make straight lines. They attach to the instrument and the edge of a sheet and help you guide your router smoothly. You can also make perfectly rounded cuts with roller guides. But to perform complex curly work, it is better to draw a line with a pencil directly on the work surface.
Secure the material
Never handle a loose sheet of wood. It is better not to hold it with your hands but to fix it with clamps securely. It will prevent possible injury and material damage.
Get started
Turn on your wood router and start working after it reaches the required speed only. Failure to do so may result in chips on a workpiece or injury to a user.
Palm router vs trim router
It is not to say that palm routers are better than trim ones, and vice versa. Rather, they differ in functionality. So the choice of the right tool depends on the amount of work that you perform daily. Palm tools are considered versatile and designed for different tasks: forming holes and grooves, chamfering, etc. Trim routers have a narrower range of the application. As a rule, they are used by professional carpenters only since you can get a more versatile device for simple household chores.
Durability tips
The way you use small routers for woodworking determines their work duration and the quality of the tasks performed. Follow these simple steps to extend the life of your appliance.
Regular inspection
Before starting your work, check the power cord for integrity and mechanical damage. It is also advisable to inspect the reliability of screws and bolts before each use. Tighten loose parts as necessary.
Cleaning and maintenance
Clean the appliance regularly from dust and pieces of wood. Also, do not forget to lubricate the moving parts with suitable products. It is not recommended to use thick lubricants as chips and other debris stick to them quickly. Many models are sold with storage and carrying bags. When you do not use your device, put it in the case to prevent dust from settling on it. Since routers are power tools, do not expose them to water. Otherwise, it is fraught with electric shock or damage to the instrument.
Sharpened bits
Use only well-sharpened cutters. You can infer sharpening from the cut quality. Insufficiently sharp edges of a bit can crack the material and damage the device itself. To move through the wood, the motor has to make extra efforts, which causes overheating.
Follow the manual
The rotation speed is set depending on the materials with which you work. As a rule, technical datasheets always indicate the device's operating parameters, depending on its technical specs and characteristics of the surfaces to be processed, as well as bits used.
Work in several steps
If you need to make a very deep cut or indentation, do not try to do it in one go. It increases the load on a bit and tool, which can lead to overheating and breakage. It is better to remove material little by little, gradually increasing the bit height on the device.
Small Router Tool FAQ
In this section, you will find answers to questions that often arise when choosing handheld wood routers. Do not forget that you can always ask me your questions in the comments section below if something remains unclear after reading my article.
What is the difference between a router and a trim router?
These two devices are similar in many ways. I would say trim routers are a narrower variety of regular ones. They are used for edging and chamfering products. It is possible to process not only straight but also curved surfaces equipping a trim router with attachments of various types. In particular, using such a device and corresponding bits, you can make skirting boards and process curly coffers. You can also do similar work with ordinary routers, but they have more functionality and, therefore, are universal.
Do you really need a router table?
The answer to this question depends on the amount of work that you have to perform. Manual and stationary tools are similar in the types of tasks performed, but the latter can do it in much larger quantities. Its peculiarity lies in the fact that you do not move the device itself, but a sheet of material with which you work. As a rule, router tables are more powerful than compact devices. They also make it easier for you to complete some complex tasks like making a dovetail or working with very small pieces.
Can you use a router without a router table?
Handheld routers and router tables are two different types of appliances. Compact models are designed for independent use on any horizontal surface. They are primarily useful if you work with a large wood sheet that will not fit on any table. Stationary instruments are better suited for demanding jobs and heavy-duty tasks. However, some handheld models have a special mechanism that allows you to attach them to a table. However, this function is optional, and you can use handheld appliances without a table.
Are palm routers any good?
Of course, they are good. By and large, their only drawback compared to full-size or stationary devices is their lower power. However, it does not make them worse. Moreover, because they are lightweight and compact, they are easy to move and operate. Although handheld tools are usually less stable, it is not the case with palm routers. They are equipped with a sturdy base that prevents the device from tilting to the side. Also, many of these models have LED lights that illuminate the work surface.
Do you push or pull a router?
Standard safety practices are that you should push your device, not pull. If a tool moves towards you, there is a possibility of injury because of a mistake or careless action. Also, you should remember to push a wood router against the direction of a bit rotation. They turn clockwise, which means you should move from right to left. This rule applies when working with straight edges. If you have to work with holes, simply push your instrument counterclockwise.
Do I really need a compact wood router?
If you are looking for an easy-to-use, handy, and multifunctional tool that is easy to carry from place to place, then you definitely need a compact router. If you think that it, like most mini-tools, is low-powered and only suitable for light-duty tasks, you're wrong. It has impressive power, is capable of over 30000 RPM, and handles most joinery tasks perfectly. Of course, professionals prefer to have both compact and stationary models. However, for home use, a handheld wood router will be more than enough.
Achieve Perfect Results with the Best Handheld Router
Now the market offers a huge variety of models with different parameters and functionality. When choosing the right device, remember that a high price does not always mean high quality. It is better to buy an inexpensive tool that will fully meet the stated technical characteristics than to purchase an expensive model and then be disappointed in its effectiveness. After testing many products, I can confidently say that Makita RT0701C is the best. I hope my palm router reviews will help you make the right choice.
If you just start to master this type of tool, I recommend practicing machining on workpieces, hone your skills, and only then start working on a large project. To ensure that your appliance will last you a long time, inspect and clean it regularly. Also, don't forget to take care not only of your router but also of yourself. Wood processing is always associated with the formation of large amounts of dust and shavings, which are a severe health hazard. Always wear suitable protective equipment.
Tell me, which tasks do you use your wood router for? Which model do you find the most and less effective? Please share your experience with other readers!