WEN 56200i Review & Buyers Guide
About the WEN 56200i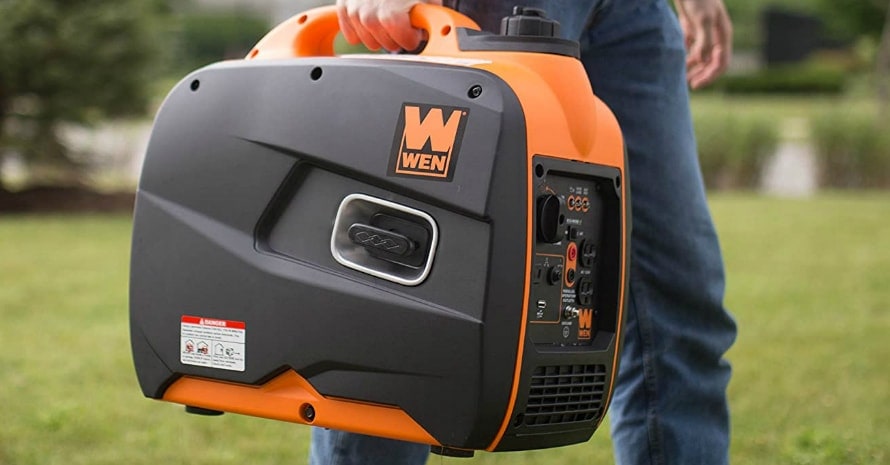 In this part, I provide a detailed WEN gas generator review with explanations of everything you need to know before making a purchase.
Performance
The WEN 56200i 2000 Watt inverter generator has a very low THD (total harmonic distortion) rate due to its design. Due to this aspect, the machine is totally safe for powering up sensitive electronic devices, such as smartphones, handy cams, and even laptops and portable gaming consoles.
The brand promises a steady sine wave and even provides a direct USB port that lets you charge gadgets without adaptors.
However, I recommend checking out the voltage of the default adapter of your gadgets and plugging them via the standard 120V socket. I noticed that some devices require 2 and 3 volts, and manufacturers recommend using only standard chargers.
The surge voltage of this model is 2000 Watts, so it falls into the category of 2kW generators. The running wattage is 1600. It's an average output level for generators of this type.
There's also an outlet for parallel operation so that you can easily double the power of the unit with a parallel (WEN 56421). It will add 1 RV AC 120V and 1 AC 120V socket with a combined wattage.
The small tank of this model provides smooth operating for 6 hours at 50% load. This is an excellent result for such a small tank. It also means that emission reduction technology really works. You need to clean the tanks as soon as you notice a downgrade or in advance.
You need to measure not more than 1 gallon of fuel to fill the tank to the full. Adding more than that will cause the fuel to spill even through a closed cap.
The engine in this model is a 4-stroke 79.7-cc unit. Fortunately for avid campers, it's EPA III and CARB compliant, which means that you are free to use it in protected national parks all around the US. But what does the 'inverter' word stand for?
This means that the generator features an electronic throttle control that lets the machine adapt the output power automatically, depending on the current load, except for running at max power all the time. This type of throttle control also reduces the number of emissions, fuel consumption, and noise pollution.
I recommend using only fresh unleaded gas with at least an 87-octane rating. You can use a mix with up to 10% ethanol, but ethanol-free gas will keep the motor much healthier. And never use mixes with more than 10% ethanol as it will kill the engine quickly. Mixing oil with gas is also prohibited for this model.
The cool fact is that the generator produces totally clean power with a low THD of just 1.2% when all the outlets are active.
Noise Level
The noise level is also very moderate and doesn't get over 55 dB at 75% load. I compared that to an average conversation with my friends in the camp, and my decibel meter showed 63 dB, so the generator is even quieter.
You can use it in public areas during permitted hours, and you won't disturb anyone. The only portable generator that wins the low-noise competition is Honda EU2200i (see detailed comparison below the specs table). Other devices, including best-sellers by Briggs & Stratton and Westinghouse leg behind these two.
Usability
Talking about the usability of the generator, I want to mention its low weight first. The fueled machine weighs 49 pounds, so it's quite easy to carry.
However, I don't recommend carrying it around with a full tank. Drain it before transportation and storing. It's 2 pounds heavier than Westinghouse 2200, which is considered the lightest portable 2000-Watt model at the moment.
Controls
Next, you are probably interested in controls. All of them are located on the front panel right next to the outlets. The large valve is responsible for Off, Run, and Choke positions, while you can also turn the engine off by toggling a manual shut-off switch.
There's no need to worry about the right switch-off time, though. Despite the relatively low price, this model comes with an automatic low-oil and low-fuel switch-off. The LED lights on the top of the dashboard will help you to understand the reason for a sudden stop.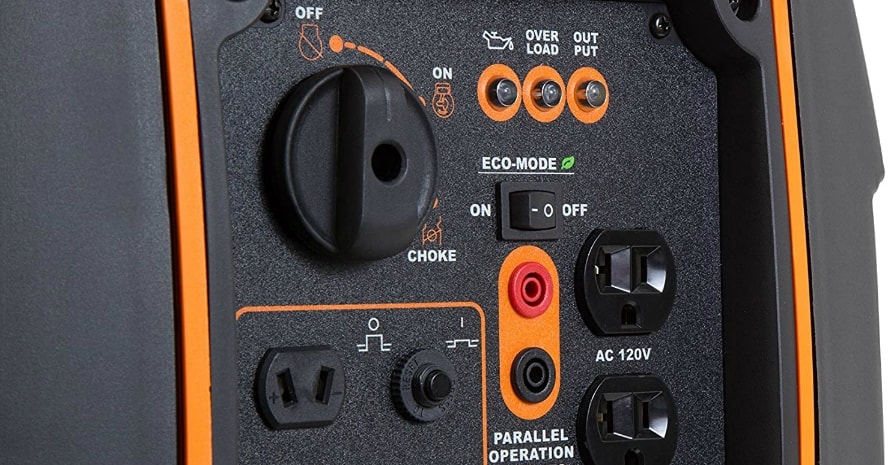 There's a yellow LED for low oil, and red for overload (eject one of the plugged appliances). There's also a reset button if the system fails to run properly for no visible reason.
All power ports are also placed on the front panel. They include 2 AC 120Vfull-size outlets with grounding, and 1 DC 5V USB socket with 1A & 2.1A ports for devices with different requirements.
By the way, the eco mode is also manually activated, so don't forget to turn it on.
Similar to larger generators, this model comes with a grounding bolt, but grounding is optional. I recommend it in all situations except when you're boating as there's no option to ground on the water.
How to Use It?
What about the starter? Similar to other manufacturers, WEN offers you to use a conventional recoil system. The engineers did their best to make starting almost effortless. You have to pull the cord gently until you feel some resistance and make just a short rough pull to start it. That's very easy to do.
After several minutes of idle running, you can start connecting devices. When the engine is warmed up, you can also enable the Eco-Mode. This feature activates smart electronics that can regulate engine speed (and fuel consumption), depending on the wattage of connected appliances.
I recommend keeping this system on to prolongate the running time of the generator on a single fuel tank load. But always keep an eye on the total wattage of connected devices as this mode has to be turned off when the load is 1350 Watts and more.
For some reason, it doesn't turn off automatically, and the engine may stop because of overload.
As you see from my description, this is an excellent choice for the cost. It's lightweight, quiet, and compliant with all the national park regulations. It doesn't have enough power to be used as a home backup generator until you parallel it with a more powerful one, but for all recreational purposes, it's perfect, especially if you compare the pricing and features with other popular solutions.
WEN 56200i Specs
Product Information
Details
Running Watts vs. Surge Wattage
1600 Watts / 2000 Watts
Engine Type / Power
4-stroke engine / 79.7 cc
Ports / Outlets
5 volt USB port (1), 1A & 2.1A for different devices.
3-prong 120 volt AC outlets (2).
Starter Type
Recoil system
Parallel Ready?
Yes. With a Kit (not included)
Fuel Type
Gasoline
Tank Capacity
1 gallon
Run time
6 hours at 50% load
Weight
48 pounds
Noise Emissions Level
51 dB at 25% load; 55 dB at 75% load.
Is grounding needed?
Recommended for shock safety, but not necessary, so it's ok for boating.
Waterproof
No. Protect it from water.
WEN 56200i vs Honda EU2000i (EU2200i since 2018)
EU2000i is the biggest competitor of 56200i. This inverter generator is even quieter than WEN, even at 100% load. Actually, the figures shown by the dB meter are nearly the same, but Honda's noise is softer, so to say. It doesn't exceed 48dB at 50% load and reaches 58 dB only at 100%.
The tool has the same running wattage as WEN but offers a different configuration of outputs. There are only two 120V sockets and no direct USB ports.
Well, that's not a huge problem, but they could include such a tiny thing for the extra $550+ they take. The engine is very stable and has the same THD as the WEN's alternative, so USBs are a must.
On the other hand, they offer extra 200 Watts on the output. It's a useless increment in most cases but can be crucial for some users as well. Surprisingly, the 121-cc engine doesn't drain the fuel tank notably faster – all due to the Eco-Throttle mode that works the same as WEN's.
The run time at 25% load can be over 8 hours. That's a substantial performance increment compared to WEN's 6 hours. It weighs 46,5 pounds, though. It's 1.5 pounds lighter. The stated number of emissions doesn't exceed any regulations, which is confirmed by the CARB compliance certificate.
Another cool feature added to the updated EU2000i is Bluetooth connectivity. You can download the app for your iPhone or Android and monitor the generator when you're within the active Bluetooth range of your smartphone.
One more handy extra is the CO Minder. This sensor monitors the CO level around the generator and can alert you if the level gets hazardous.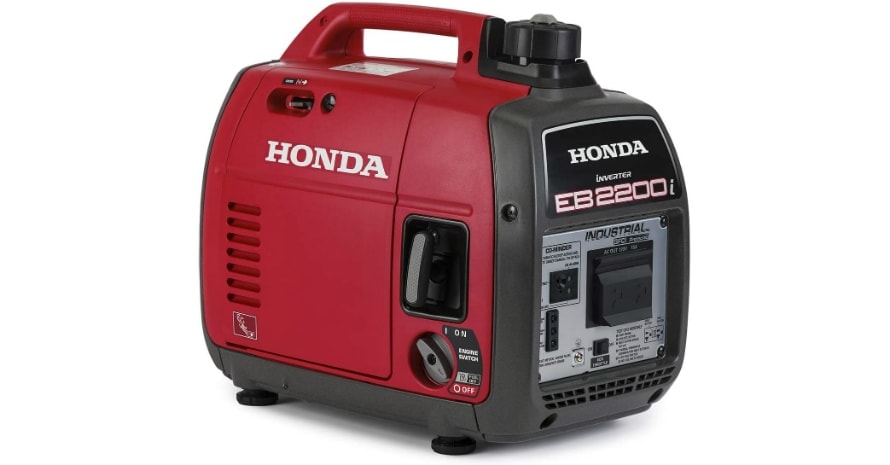 Honda EU2000i shows rapid progress of the manufacturer that invented inverter engines for portable generators back in 1999. It's the quietest model in the category as well as the most feature-stuffed one. If you don't mind spending an extra $550+, this machine will satisfy you.
However, be ready for the absence of USB ports and the fact that you win only 200 extra Watts. Finally, don't forget that this model is now renamed EU2200i. It costs the same as the older one, but it works a bit better and has some more features.
WEN 56200i vs Champion 100692
It's a bit more difficult to choose from the WEN vs Champion generators, as these two are both quite affordable, compared to Honda's alternative. The 100692 inverter generator comes with almost the same 79-cc 4-stroke engine and 2000 Watts of surge power. However, it outputs 100 Watts more than WEN's engine.
Moreover, it consumes fuel much more efficiently and runs up to 11.5 hours at 25% load, while the fuel tank is only 0.1 gallons larger. It seems that Champion's Eco Power mode wins in competition with Honda and WEN.
The noise level is 53dB at low load but gets slightly above 60 dB at 75%, so, yes, it's notably louder.
The outlet set is very nice and includes 2 AC 120V 20A sockets and a single DC 12V 8A cigarette-lighter-style socket that can be used for quite a lot of things, including the dual-port USB adapter that's included in the package.
Along with an oil bottle, funnel, and cables for charging batteries, it justifies the extra $100+ for this machine. The funnel is the best bonus as this tool is almost impossible to fill without spilling the fuel all around.
It also looks quite attractive for campers who hate heavy stuff as it weighs only 39.5 pounds with an empty fuel tank. That's a nice bonus. Another small aspect that I like is that all the sockets and controls are isolated. You won't need to clean the debris out of them, and moisture won't get inside. That doesn't mean that the rest of the tool is waterproof, though.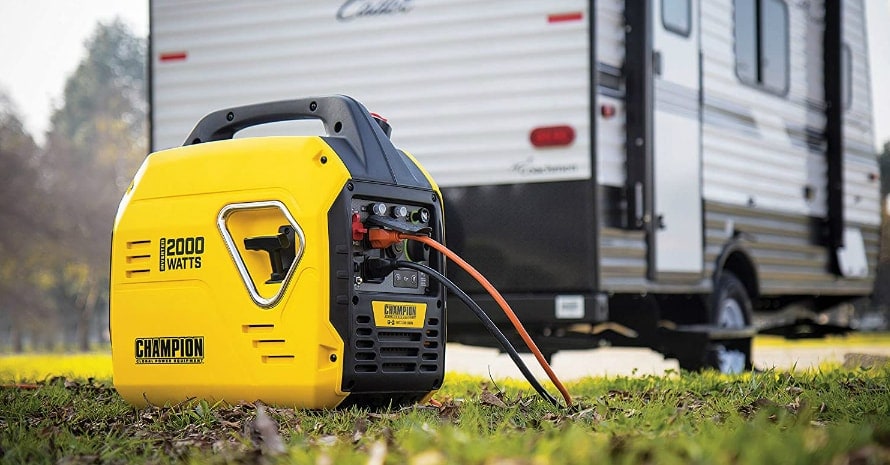 Unlike WEN's tool, this one comes with a 3-year warranty instead of 2 years, so you can expect a bit longer lifespan. If the bonuses offered for an extra $100+ seem necessary to you, I would recommend considering this model. You can use it anywhere across the States and enjoy relatively quiet operation and low fuel consumption at moderate loads.
WEN's alternative is still a winner when it comes to pricing, noise levels, and THD, so think twice.
Advantages and Disadvantages
I like this tool, but like any other mechanism, it's not totally perfect. Below are all the pros and cons that you have to consider before purchasing one for your purposes.
Pros
The first advantage that everyone notices are the price of this item. It's one of the cheapest models in the category despite the brand name and American roots of the manufacturer. You can check out the current price on the official Amazon page of the tool, but I haven't seen it for over $440.
Next comes the low weight. The whole thing is just 48 lbs and has a convenient handle in the middle of the upper panel. It's broad enough and doesn't cut into your fingers when you have to carry it for a long time.
The bright third side is the noise level. The compact gas engine makes 51 dB at 25% load and only 55 dB at 75%, which is an insignificant increment. I tested noise levels with Extech Digital Sound Level Meter, in case you're interested. Such a low noise level is due to the WEN's patented eco-mode that reduces noise and filter emissions.
If you worry about direct connection quality, you will also like the 1.2% THD rate that makes this motor one of the cleanest portable energy sources. You can use it with any personal gadget due to a 5-Volt USB port. Actually, the number of ports is quite good, and it's very easy to connect.
Finally, it has an automatic low-fuel and low-oil shutoff as well as a smart circuit breaker, which are features that many brands don't include to keep the price low.
Cons
The first disadvantage that you may notice is the length of the warranty term. Unlike the majority of devices by other big brands that offer from 3 to 5 years of warranty, this one gives you only 2 years. In addition, some buyers on Amazon complain that problems with the generator start right when this term ends. I'd really like it to be longer, but I guess it will become more expensive too.
The second thing that I didn't like is the diameter of the fuel cap. It's quite small, so refueling without a funnel is a real challenge. Unfortunately, the funnel isn't included, so consider ordering it alone if you don't have one yet.
Cleaning the fuel and oil tanks is also a time-taking task as it cannot be done without disassembling the entire item. You have to do it every few months if you use the tool frequently.
Finally, I found some complaints with photos of generators that came with broken exterior parts. The packaging is really not protective at all, so the chances that you receive a tool with cracks or dents are quite high. Mine came perfect, though. You can replace the tool quite quickly if something's wrong.
FAQ
Below are some brief answers to the questions readers ask me about WEN generators most frequently. Don't skip it if you want to know more about the brand and the reviewed generator model.
Who makes WEN generators?
WEN conducts research and develops all models of their generators and other tools in the US. However, all the machines are manufactured in China. The motors used in WEN generators are very similar to Yamaha generator motors but have some performance differences.
Is WEN 56200i quiet enough to use at the campgrounds?
WEN 56200i super quiet 2000-watt portable inverter generator is designed specifically for camping and hunting trips as it's almost effortless to carry around. The noise level is 51 dB at 1/4 load and only 55 decibels at 3/4 load, which is very quiet, especially if you put it aside from the campsite.
You should also remember that permitted hours for generator use, according to national rules, are from 10 AM to 8 PM. Idle engine work is prohibited, so use it only if necessary, and don't violate the schedules. Respect other campers!
Can I run the WEN generator in parallel with another inverter generator?
WEN 2000 Watt generator is ready for paralleling, but you have to purchase a parallel kit compatible with the 56200i model to enable the double power output. You can parallel this item with generators by other brands and with different output power. As a result, you will get a significant surge in wattage and become able to run larger appliances.
Does WEN 56200i need to be grounded?
The manufacturer recommends grounding this generator to reduce the risk of electric shock. You can ground it by tightening a grounding wire around the grounding nut (placed on the front panel). The best solution is to take the standard No.12 AWG copper wire. Connect it to a copper, steel, or brass grounding rod that's inserted into the earth. And don't forget about OSHA grounding requirements. You can also use this portable generator without grounding if you're on a boat, but don't touch it without gloves then.
Can I use it during rainy weather?
Similar to other portable generators, this one isn't protected from water damage, so the WEN 56200i manual recommends setting an umbrella or any other protective structure to avoid damage to the system and short-circuit damage to the connected appliances. Avoid covering the generator with contacting objects, such as cloth or tarp, as it may choke the motor and even set the tool on fire.
Ready to Pick?
I hope my WEN inverter generator review clarified all the aspects for you, and you can make a considered choice now. Don't forget about WEN comparable products as they may offer features that are more important to you than WEN's features. Look through the tables of main features once again and compare them with all the models offered on the market.
Have you ever used any of these or other portable generators? Other readers and I will be happy to know about your experience and read your opinion about the reviewed device. If you need more reviews of generators and outdoor power tools, keep clicking through my blog.