Duromax XP4400E Review & Buyers Guide
About Duromax XP4400E
Duromax 4400 generator reviews itself is an Ontario-based company, California, US. It was founded in 2003 and now is considered to be one of the leading companies in the technology of portable fuel generators. It provides generators of high quality that are suitable for different kinds of uses. Their assortment includes not only generators but also engines, pumps, pressure washers, and different accessories. The Duromax generators are well-known for their pretty long runtime and sturdy design.
Another specialty of the Duromax products is their affordability. In comparison with some other generators of different brands with the same quality, they are on the cheaper side of the price range. Some of the most popular Duromax models on the market are Duromax XP4850EH, Duromax XP12000EH, Duromax XP10000E, Duromax XP4400E, Duromax XP5500EH, and Duromax XP4000S.
Duromax XP4400E is the kind of generator that is indispensable if you suffer from a constant power outage. Its power and runtime can guarantee you that it can run your household devices for several hours straight in the case of an emergency. The engine of Duromax XP4400E is the Duromax OHV 4-stroke one. It is 7hp powerful, can cycle between 120 and 240V, and runs on gasoline. The running wattage is 3,500 watts with a peak wattage of 4,400 watts.
Generators are usually very loud, so knowing the noise level of one is pretty important before buying it. Too loud generators might be unsuitable for some purposes, overnight usage in particular. To understand the decibel ratings better, you need to know that while increasing in 10dB, the noise becomes 10 times louder. So the 70dB generator is 10 times louder than the 60dB generator. Most of the generators are 75-80dB, so those that have a noise level of less than 70dB are considered to be quiet. The noise level of Duromax XP4400E is 69dB, which is not louder than some background music.
The starting mechanism includes not only the standard pull-start system but also an electric key start, which is so much easier to use. All you need to do to start the generator is to check oil and gasoline levels, ground it, turn the fuel valve to the "on" position, shut off the choke button and turn the key. Don't forget to shut down the choke button later on. And if you have some problems with using the generator, you can always consult the manual or call the technical support service.
The fuel capacity of Duromax XP4400E is 4 gallons. It allows you to run the generator for more than 8 hours at a 50% load. In comparison to other generators of this class, like Champion 100573, it's not that much. The 100573 model can run up to 17 hours due to its more powerful engine.
The duromax xp4400e portable generator review is not small; its dimensions are L24 x W17 x H17 inches with a weight of 100 pounds. Even though it is considered to be a portable generator, it will not be suitable for tailgating or camping. But its heavy and bulky design will not be a problem while using it at your worksite or home for some household purposes. Its portability is ensured by the wheel kit and a folding handle.
You can control power output without any problem since a handy voltmeter is included in the control panel. Another great feature is the light indicator, which will inform you if the oil level is insufficient. Thus there will be fewer problems with starting the generator since you'll know if you have to add oil before trying to start it. And there also is an automatic low oil shut-off for security measures.
The package includes the generator itself, Duromax XP4400E manual, a tool kit, a small funnel, and battery charging cables. You can also purchase some additional accessories like the special rain cover.
Duromax XP4400E Generator: Technical Specs
| Product Information | Detail |
| --- | --- |
| Running watts | 3,500 watts |
| Surge watts | 4,400 watts |
| Engine horsepower | 7.0 hp |
| Starting method | Electric and manual |
| Generator dimensions | 24 x 17 x 17 inches |
| Weight | 100 pounds |
| Tank size | 4 gallons |
| Fuel type | Gasoline |
| Noise level | 69dB |
| Runtime | 8 hours (at 50% load) |
| Certification | EPA |
The main features of Duromax XP4400E are its powerful engine, reliability, low noise level, automatic low oil shut-off, and easy electric start. Let me tell you a little more details about all of them. First of all, its engine: this generator is powered by a 7hp Duromax OHV 4-stroke engine. It is powerful enough to operate lots of electronic devices in your home for a few hours. Secondly, such a powerful engine provides this generator's reliability. It's important to mention that its efficiency and construction are guaranteed. The wheel kit makes it convenient to move the generator, thus using it for different purposes both indoor and outdoor.
Thirdly, everyone would like to have a quiet generator. And the noise level of the Duromax XP4400E is very low. 69dB is low enough not to distract you while you are busy with your daily operations.
Also, automatic low oil shut-off is a very useful feature, as in the case of oil running low, it will prevent any damage to the unit. And lastly, all you need to do to start the generator is push the button and turn the recoil key. Easy, right? Just like with a car.
Duromax XP4400E vs. Champion 100573
Champion is a popular brand that provides power equipment. One of the top-rated tools on the market is the Champion 100573 model of a portable generator. Let's compare it to Duromax XP4400E and find out what differences they have and which one is better.
Power and run time
As I have already mentioned, the engine of Duromax XP4400E is 7hp, which is 208cc. It offers a peak wattage of 4400W and a running wattage of 3500W. The level noise is rated as 69dB, which is less loudly than some of the average generators. The starting mechanism includes the pull-start mechanism and an electric starter. The fuel capacity, which is 4 gallons, can run for more than 8 hours at 50% load.
Speaking of the Champion 100573 model, its engine is 224cc, which provides a peak wattage of 4000W and a running wattage of 3500W. Its noise rating is 64dB. Besides having the same starting mechanism as Duromax XP4400E, Champion 100573 can also be started remotely. This generator can run up to 17 hours.
Portability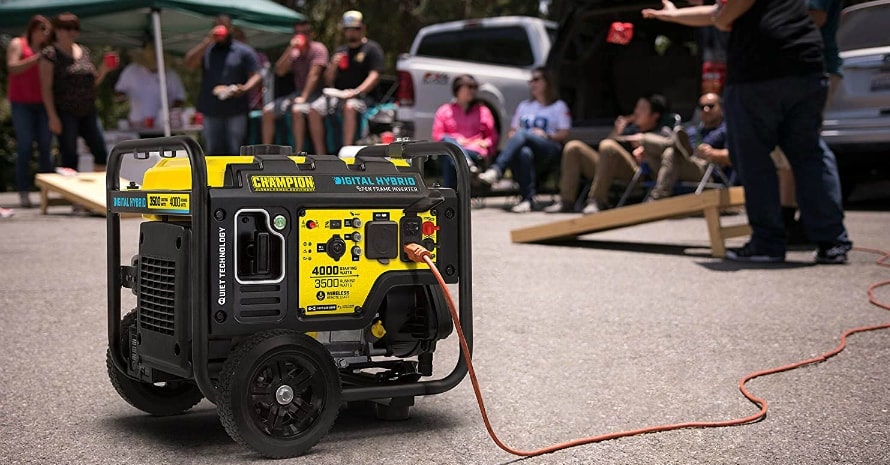 Duromax XP4400E is a little smaller than Champion 100573. Its dimensions are L24 x W17 x H17 inches, while the Champion's are L23.5 x W24.8 x H20.5 inches. Even though both of them are considered to be portable, they are designed to be used mostly at your worksite.
The weight of Champion 100573 is 96.8 pounds, which is almost as much as Duromax XP4400E — 100 pounds.
Price
If you compared Duromax XP4400E to some similar generators of 3000-4000W, you would see that its price is much lower. While the price of Champion 100573 is the average price for these kinds of generators.
To sum up, in the battle Duromax vs. Champion generator, the second one presented itself as stronger. The main differences between these generators are the more powerful engine of Champion 100573, which provides longer runtime. This model is also more convenient to use due to the remote start system. The noise level and sizes of these models are not very different. And Duromax XP4400E is cheaper than the Champion generator, but both of them offer good value for money.
Duromax XP4400E vs. WEN 56475
In recent years WEN generators are becoming more and more popular on the market. WEN 56475 is both potent and cheap. Let's compare some of the technical specs and the price of this generator with Duromax XP4400E.
Power and runtime
The engine of WEN 56475 is a little more powerful than Duromax XP4400E. It's 223cc, and it offers a peak wattage of 4750W and a running wattage of 3750W. Due to its engine, this generator is considered to be one of the best ones to buy in case of emergencies.
The noise level of this model is not that different from the Duromax one. It's 67dB, which means it sounds pretty much like some background music.
The starter mechanisms of both the WEN 56475 and the Duromax portable generators are alike. They both include a traditional pull-start mechanism. But the one from WEN has a keyless electric starter. It is very convenient and easy to use, but it is not considered to be better than the electric key start.
With the same fuel capacity, which is 4 gallons, WEN 56475 can run longer. At 50% load, it can run up to 10 hours, and that is 2 hours more than the Duromax one.
Portability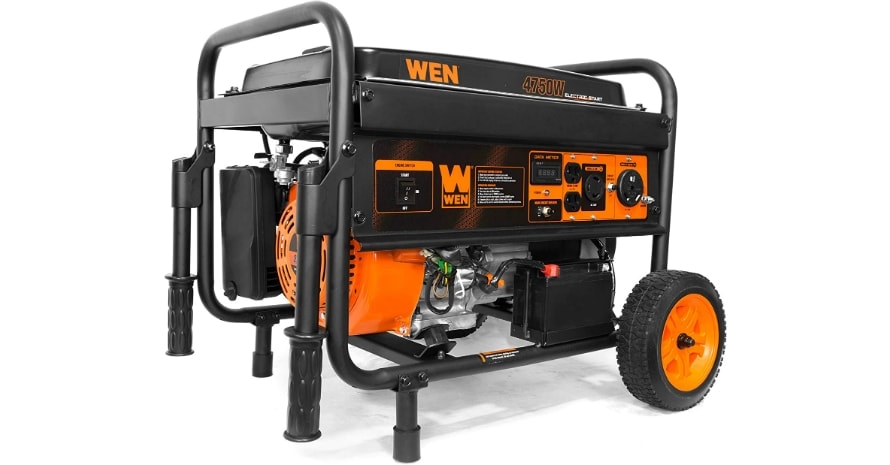 The WEN 56475 generator is not that large; it's almost the same as Duromax XP4400E. Its dimensions are L26.6 x W17.1 x H17.3 inches. It is suitable for some heavy outdoor use and tough environments, just like the Duromax one. Its weight is 112.5 pounds. And with this weight, this generator fits the expected weight range of these kinds of generators. Even though both of these generators are considered to be portable and have wheel kits to make it easier, they are not designed for something more than household purposes.
Price
On the price range of 3500-4500W generators, WEN 56475 is on the cheaper side, so it is pretty affordable.
Summing up, the main feature that makes a difference if choosing Duromax vs. The WEN generator is the power of the engine as well as the runtime. WEN 56475 can run for 2 hours longer. The differences in the noise level, size, and starting mechanisms are not that significant. And for the price, WEN 56475 costs a little less, but both of them are considered to be pretty cheap.
Advantages and Disadvantages
Every generator has its own flaws, but the point is to understand whether they matter more than all the advantages. To sum up, all the information about Duromax XP4400E, let's analyze what of the features mentioned above should be considered as pros and as cons.
Advantages:
The price of Duromax XP4400E is one of its biggest and most important advantages for most people. If you compare the average 3000-4000W generators' prices, you will find out that Duromax XP4400E is one of the cheapest models on the market. But its quality does not match its price in a good way. So this generator is a very affordable and beneficial deal.
It is essential to have a reliable generator in case of some natural disaster or a simple, unexpected power outage. This generator can easily be described as reliable since its 7hp engine provides the machine with enough power to easily run some heavy domestic devices. It can cycle between 120 and 240V. Not to forget that most of the other Duromax 4400-watt generator reviews found it one of the best and most valuable generators.
A great design for outdoor and indoor usage is another amazing feature of this generator. It's not that large. Its wheel kit will help you to move the model around the worksite, so even though Duromax XP4400E is pretty heavy, it still is portable enough. Another feature that helps with the generator's portability is its folding handle. So the design of Duromax XP4400E has solved this 'lack of maneuverability' problem very well.
Low noise level is an extremely important feature since most of the generators are very noisy. It doesn't mean that you will not notice it's working, but it means that its sound won't be a problem. The reason for its low noise level is that it has a muffler that is designed and usually used for larger vehicles.
Electric start can't be overrated; it's so much more convenient than its alternatives. It makes the generator easy to operate, as all you need to do to start the Duromax XP4400E generator is push the button and turn the recoil key.
This generator is EPA-compliant. It means that Duromax XP4400E gives less exhaust than some other units. Still, it's not safe to use it in all 50 states since it is not approved by the California Air Resources Board. However, this purchase would be more eco-friendly than some other generators of this fuel capacity.
Disadvantages:
A pretty important Duromax generator problem is that since Duromax XP4400E is not CARB-compliant, citizens of California will not be able to purchase this generator legally.
The disadvantage is the absence of the remote start. Of course, the electric key start is convenient enough, which is already a great plus. But having the remote start on the generator would be a big deal and would offer further convenience. As I have already mentioned, the starting mechanism of the Champion 100573 generator includes one, and that is a huge plus.
Duromax XP4400E can run for more than 8 hours at 50% load. That is a pretty decent runtime, but in comparison to other alternatives, that is not so impressive. Already mentioned Champion 100573 and WEN 56475 can run longer. So Duromax XP4400E is not quite suitable as a whole house generator, and you also can't use it overnight, which is an important disadvantage.
According to the Duromax generator reviews, the customer services of Duromax are not very responsive and helpful. That's a real con since, despite the fact that this device is pretty easy to use, some people have problems with it. The Duromax XP4400E manual that comes with the generator is not that clear, so there might be some questions. And in this case, or the case of any other question about the generator, you're unlikely to receive help from the customer service.
Frequently Asked Questions
There are a huge number of questions that interest the potential buyers of Duromax XP4400E. Some of them are related to the usage of the generator, while others are about the Duromax company itself. Here are the answers to the most common ones.
Who makes Duromax generator engines?
Duromax generators are produced by a company called DuroPower. This manufacturer of power tools and engines is based in California, US. The brand is known to produce affordable and reliable products. Its unique feature is that they make engines on their own to ensure the quality of their products. They have more than 20 different models and 2 unique designs for such kinds of engines as single, triple, and four-cylindered.
How to replace the battery on Duromax XP4400E?
The electronic key start of this generator is battery powered, which means that it doesn't last forever, and sooner or later, you will have to replace it. The Duromax XP4400E battery replacement is quite a popular request, so the answer should be enlightened.
You can easily find the Duromax generator battery for replacement in some online stores. But I've discovered that lots of Duromax 4400 watt generator reviews do not recommend buying them. The reason is that it does not actually fit in the generator. After doing some research, I found some alternatives: FirstPower FPM7-12 and Mighty Max YTX5L-BS batteries.
How do I start my Duromax XP4400E generator?
Starting Duromax XP4400E is pretty easy: all you need to do is push the button and turn the key. Plus, the whole process is supposed to be described in detail in the manual, so it should not be a problem. But if you did find it difficult to start the generator, please, follow these instructions:
add oil into the crankcase;
add gasoline to the fuel tank;
ground the generator;
turn the fuel valve to the "On" position;
turn the choke lever to "Closed";
check if the battery is charged;
turn the key into the "Start" position and then put it back into the "On" position;
turn the choke lever to "Opened".
How much oil is in the Duromax generator XP4400E?
To operate properly, the generator requires oil. The engine oil capacity of Duromax XP4400E is 20 fluid oz. Before starting the generator, you need to put some oil into the crankcase and add it every time when needed. To add it, follow these instructions:
ensure that the device is on a level surface;
unscrew the dipstick cup;
add the amount of oil needed;
replace the filler cap.
Can I use Duromax XP4400E during rainy weather?
Typically, it is not safe to use any kind of generator during wet weather. So you can't use it during both rainy and snowy days. However, the weather won't be a problem if you have a special cover for your generator. Then you can shelter it from getting wet, but you have to be very careful. Wet conditions can cause some kind of explosion or electrocution. Also, remember that in case of any natural disaster, it is not safe to use the generator very close to your house.
Duromax XP4400E: High Quality for Affordable Price
If you suffer from a constant power outage or live in an area that is most likely to be the place of some natural disaster, having a portable generator is a necessity. But looking for one and choosing between lots of other options on the market is not so easy. There are different types of generators and lots of features to be considered while purchasing one.
Generally, the Duromax XP4400E generator is one of the best portable generators of its class. The products of this brand are praised for their good run time and powerful design. This model has its disadvantages, like not that long of runtime or the absence of the remote start. But if we consider all the advantages and special traits, we'll see that it has a lot of features of a high-quality generator. And being one of the most affordable models on the market, its reliability and quality have even more value. Therefore, Duromax XP4400E is a great choice.