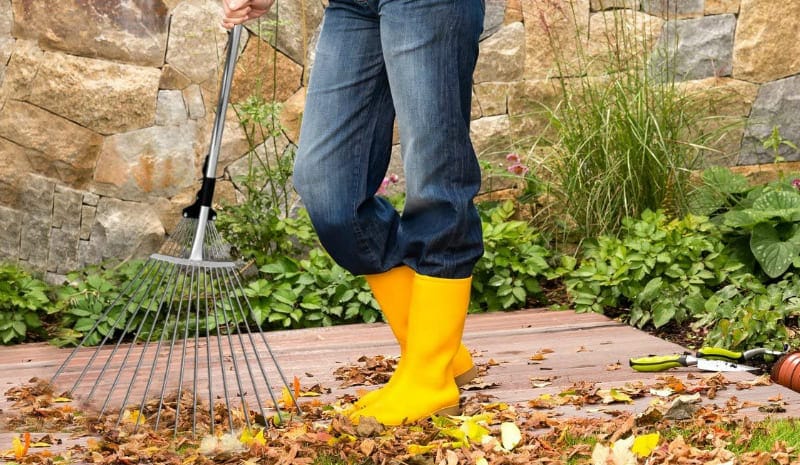 Humble as it may seem, the rake remains key to efficient gardening and lawn keeping. By using it to remove fallen leaves, you can keep your property neat and clean while also ensuring that your vegetation gets enough fresh air, which is crucial to its growth. Even though leaf blowers can be a viable alternative, it's the time-tested rake that most people are still inclined to.
The rake is as eco-friendly as a gardening tool can be. It doesn't require gas nor electricity to power it, relying instead on the user's muscle power. This means raking leaves can be regarded as healthy exercise — or a chore, if you have the wrong equipment.
Works well in tight areas
Budget Choice
Works well in tight areas
A well-made yard rake should be ergonomic. That is, you want it to fit your hand well for maximum comfort and save your energy as you use it. It's also important that the tool should last. Unfortunately, these parameters are hard to estimate while shopping online. That's why I've made a list of nine leaf rake reviews to help you make the right decision.
The models below differ in many aspects, from size to budget, so feel free to choose the model that best fits your needs.
Nine Best Leaf Rake Models
Below are my reviews of some of the best garden rakes that the market has to offer. Please mind that each product stands out in its way and make sure to set your priorities before you go shopping.
Bully Tools 92309: Simply the Best Leaf Rake in My Humble Opinion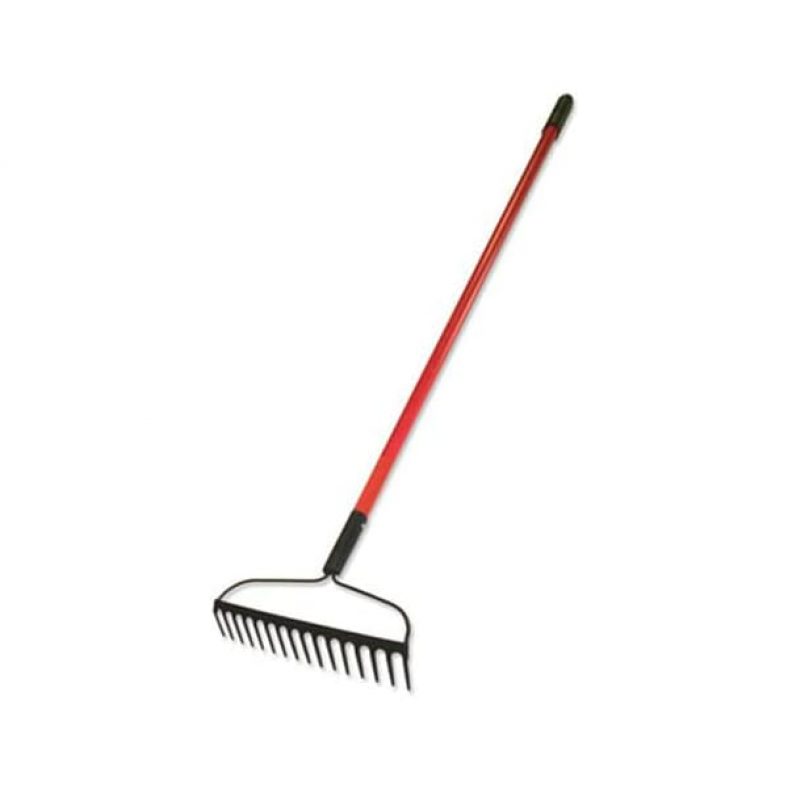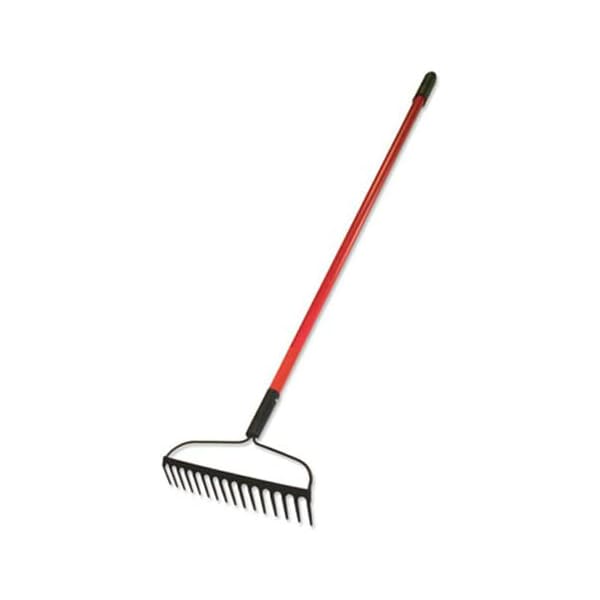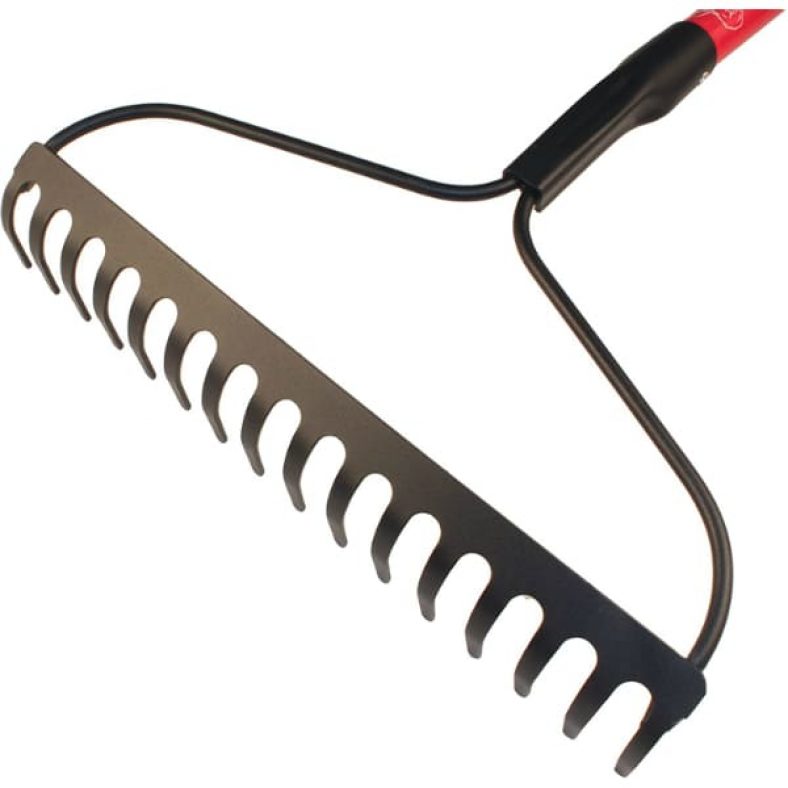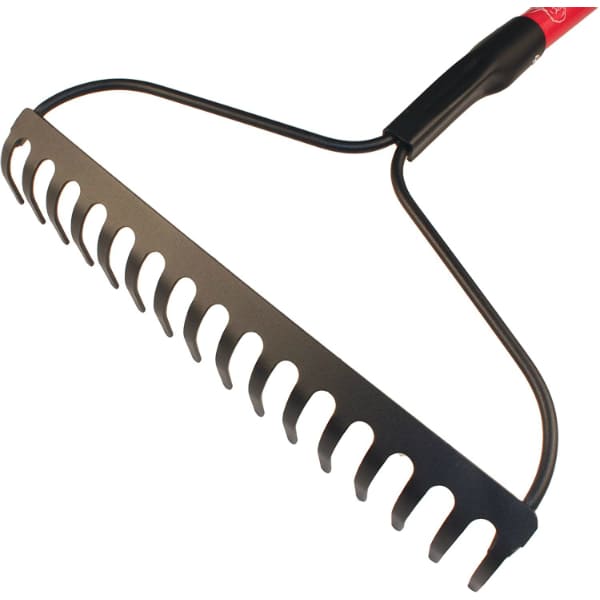 Founded in 1994, Bully Tools is a US lawn and garden tools manufacturer that attaches special importance to producing reliable heavy-duty equipment. The company's plant in Steubenville, Ohio combines many material treatment techniques to ensure failure-free performance.
The model under review is advertised as commercial-grade, which means it will withstand tough operation as well as frequent use. The rake is made out of sturdy 10-gauge steel, which corresponds to a thickness of 0.135 inch.
The 16-inch-wide head comes with ten tines of the same material, which is generally enough for a modestly sized garden, while bigger properties can require a wider head. The moderate head width also helps reduce rake weight, making it less tiresome to use it. This is paired with a rubber grip on the handle for maximum comfort during prolonged use.
The handle itself is strong fiberglass covered in polyester for increased durability. To make the rake even tougher, all the joints have been over-welded using robotic equipment to prevent cracks.
I find this rake to be very efficient due to its ribbed teeth that have ridges in the middle to increase their digging efficiency.
---
PROS:
Extra durable handle
Efficient head shape
Strong head material
Over-welded connections
CONS:
Might be too narrow for big areas
---
Gardena 3395 Combisystem 12.8-Inch Thatching Cutter Rake Head: The Best Rake for Grass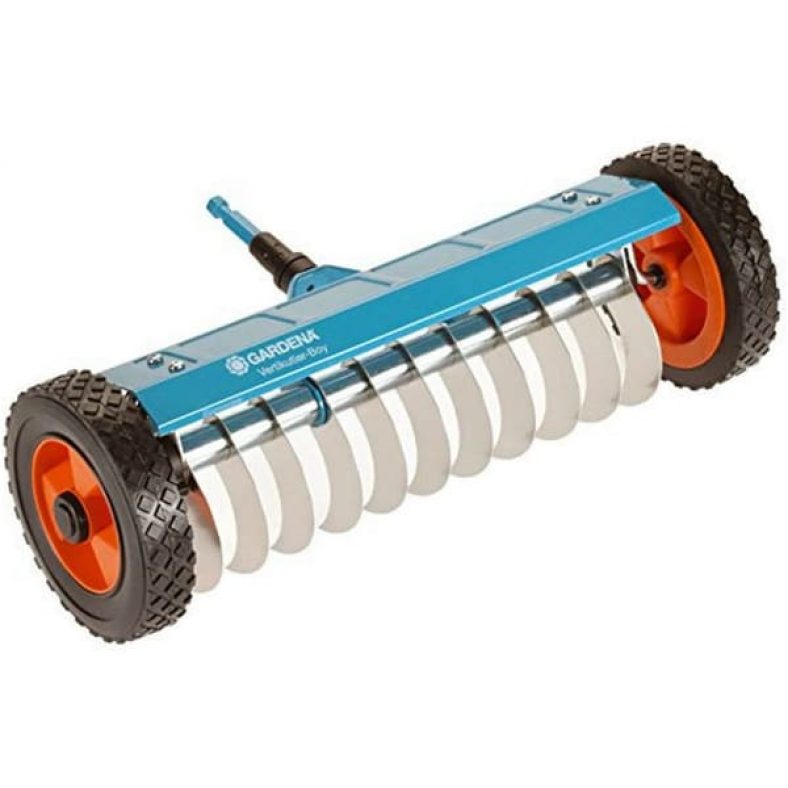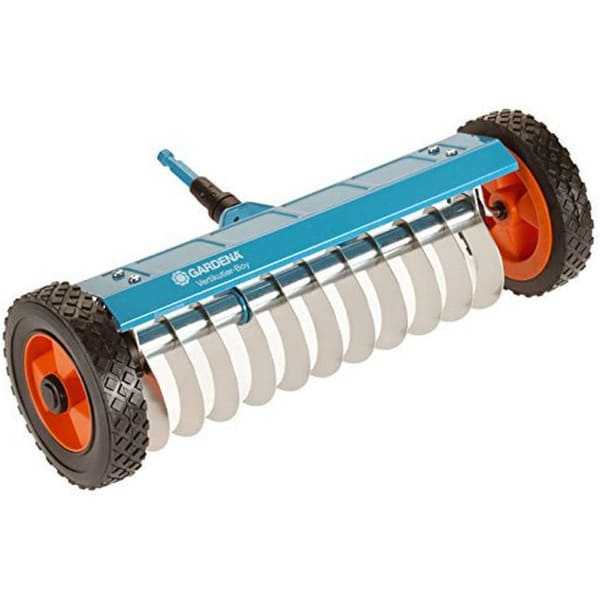 Gardena was initially a German-owned company founded in 1961. As a member of the famous Husqvarna Group since 2007, it focuses almost exclusively on gardening and lawn care equipment.
Gardena 3395 is a rake head rather than a rake assembly, meaning that you'll need to purchase a handle separately. The good news is that the brand offers multi-purpose handles that fit a wide variety of Gardena tools. Unfortunately, attaching the handle is not an easy task.
This is a pricey piece of equipment. It's also more efficient than the traditional rake as it uses a pair of wheels and a supporting axle for the tines to cut long grass.
You'll probably find yourself missing a patch or two occasionally if you simply move ahead, but circular motion ensures almost perfect coverage.
The head is roughly 12.5 inch wide, meaning you can use it around shrubs and in other tight areas. Given the efficient raking mechanism, it's not a problem in terms of larger gardens.
The tines are made of high-grade stainless spring steel that's known for its high yield strength, and Gardena offers 25 years' warranty for this rake head.
---
PROS:
Durable stainless-steel tines
Effort-saving raking mechanism with wheels
Can be used with multi-purpose Gardena handles
CONS:
Not inexpensive
The handle can be a pain to attach
---
TABOR TOOLS J16A Telescopic Metal Rake: An Adjustable Rake on a Budget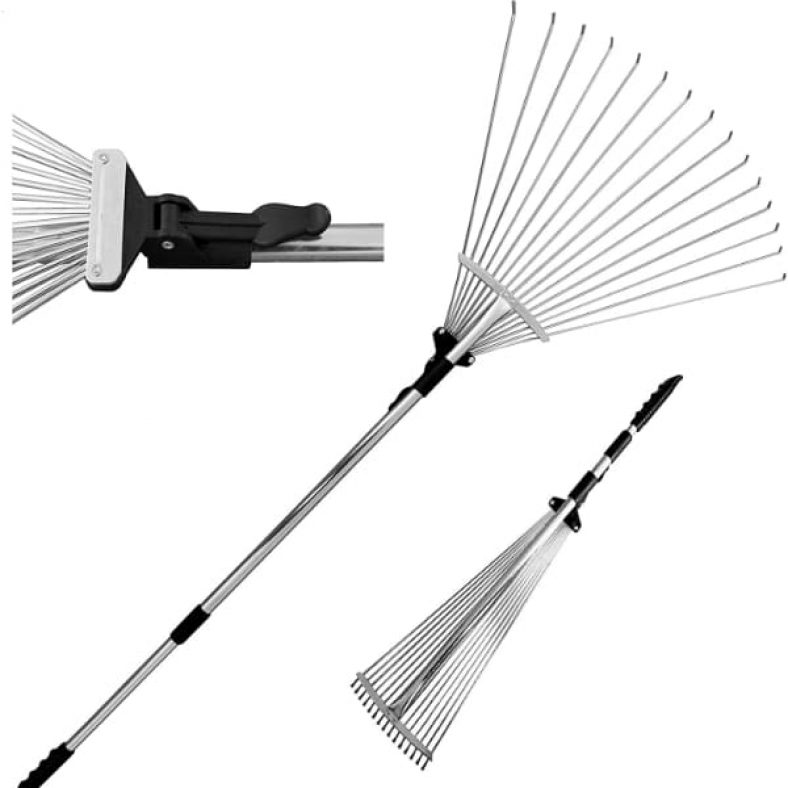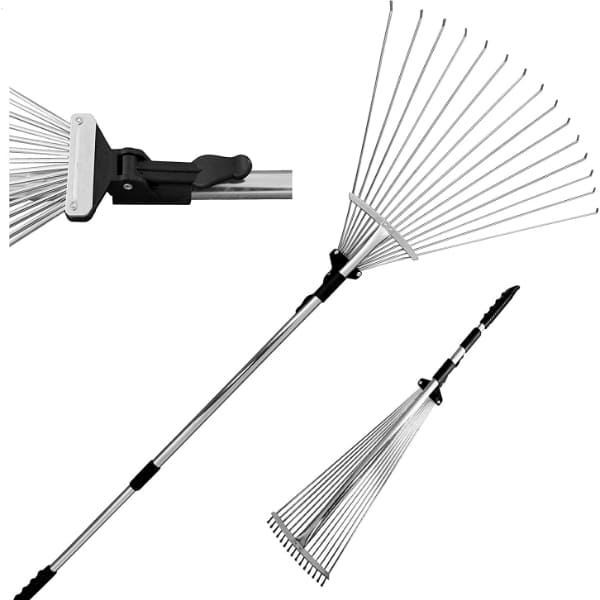 Tabor Tools is a manufacturer of gardening and outdoor products with a history of over three decades. The company uses Taiwan-based plants with additional quality control, enabling it to offer reliable tools at an affordable price.
This model boasts an adjustable width head that can be as big as 23 inches, with a minimum width of 8 inches for hard-to-reach areas such as under shrubs. It comes with a lightweight telescopic handle that also adds to its flexibility as it can be as short as 32 inches when folded, potentially extending to 63 inches and every position in between. Unfortunately, eventual slippage does happen, so I wouldn't recommend abusing this adjustment feature, but the rake is very well-built otherwise.
The teeth are sharp and galvanized for rust protection. The shape works well in terms of leaf removal, both when folded and expanded. As a bonus, the handle comes with a very comfortable plastic grip.
---
PROS:
Highly affordable
Adjustable head width
Works well in tight areas
Telescopic handle
Sturdy teeth
CONS:
Handle length lock can slip
---
ROOT ASSASSIN RK-001 58-Inch Yard & Garden Rake Multi-Tool: A Mix of Several Garden Rake Types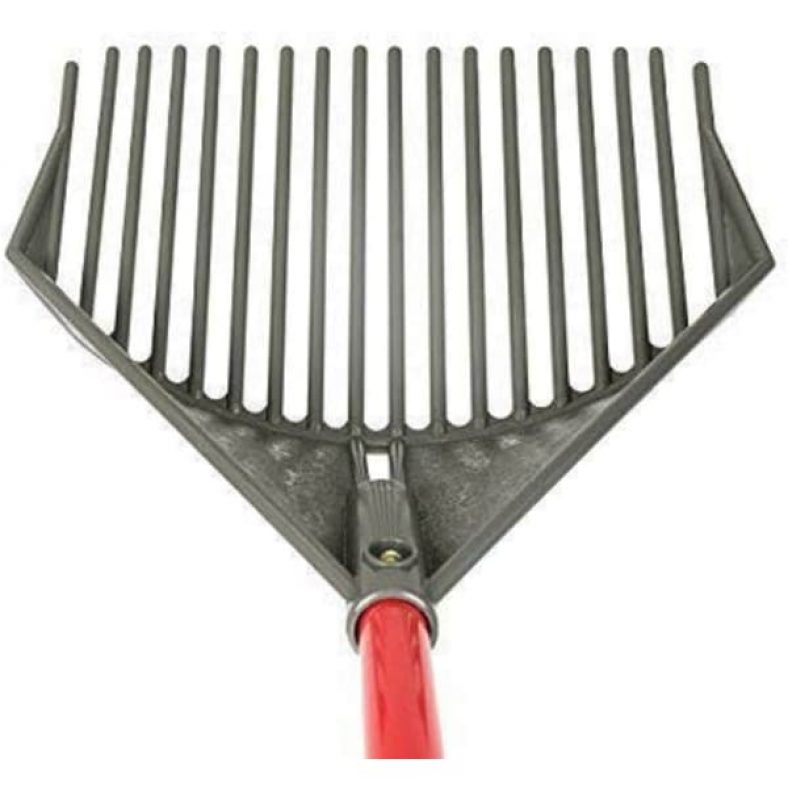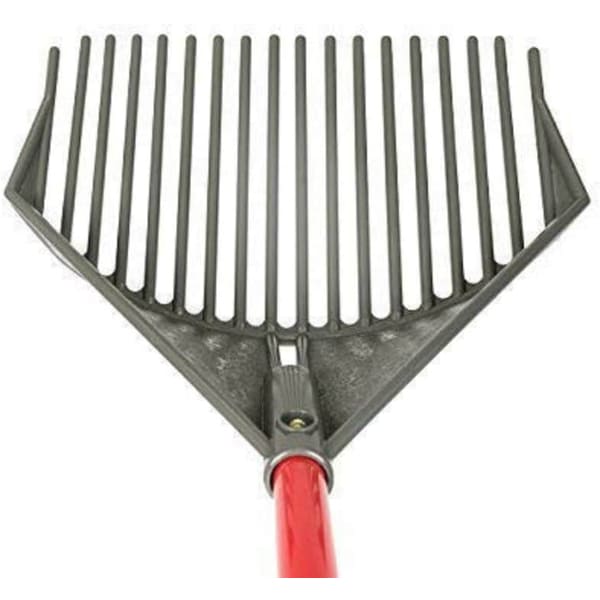 A relatively young gardening tools company founded in 2014, Root Assassin targets hobby gardeners and professionals alike with a focus on making versatile and reliable equipment.
The Multi-Tool under review combines a 15-inch rake head with what might be described as a shovel or scoop. That is, the head is angled so that you can also use the tool to turn your compost pile.
Although lightweight with a total weight of 1.75 lbs, the unit is reasonably sturdy. The straight plastic tines are moderately efficient at collecting fallen leaves as well as fruit and litter, and the head shape helps hold them together. However, it's relatively narrow and might turn raking into a tiresome process if you have a big area to clean.
The rake comes with a plastic plus aluminum handle that consists of two parts for portability and features a comfortable D-handle. It's an easy-to-use versatile tool that will work well if you only rake leaves occasionally and have other work about the garden to do.
Sale
---
PROS:
Multi-purpose (can double as a scoop)
Lightweight
Portable 2-pole handle design
Comfortable D-grip
CONS:
Narrow head
Not the most efficient tine design
---
Gardena 3103 Combisystem 12-Inch To 20-Inch Adjustable Metal Fan Rake Head: The Best Lawn Rake for Basic Tasks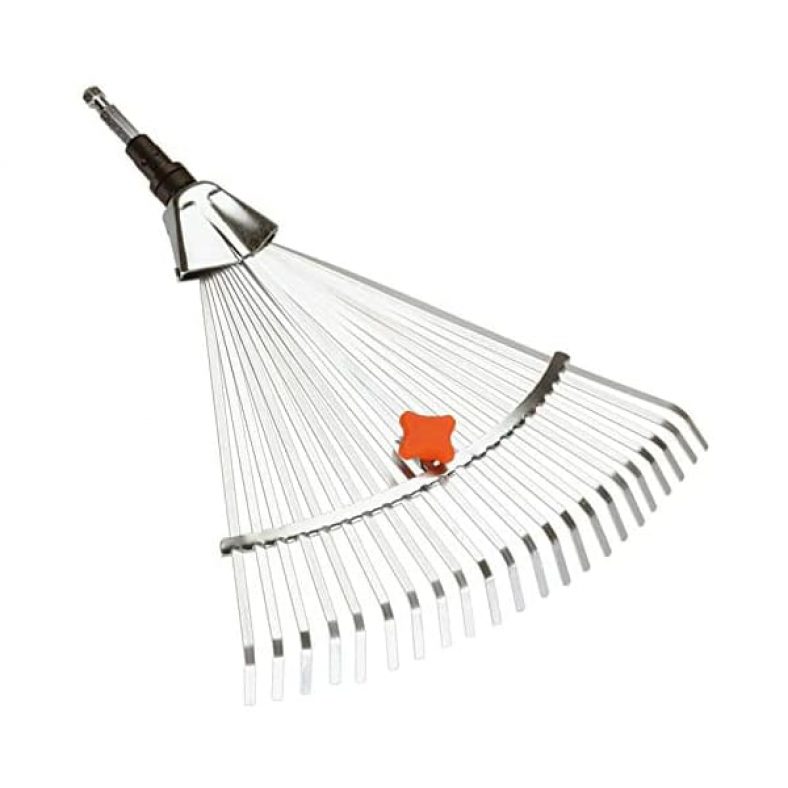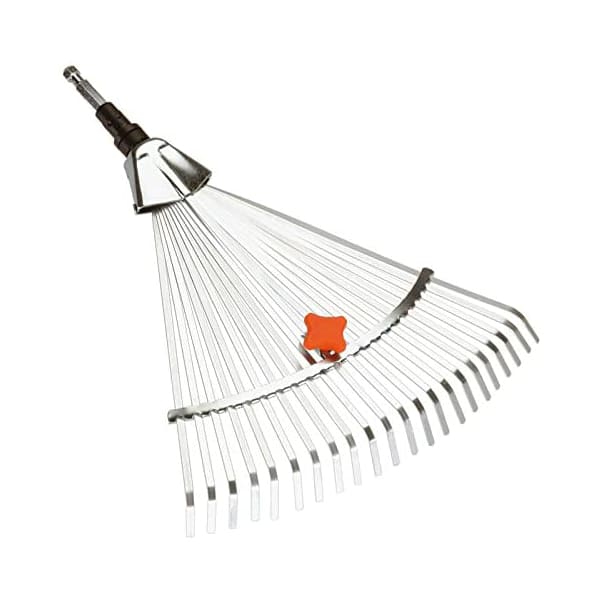 Another product by the well-known Gardena, this rake is a great entry-level solution for those who want to deal with hard-to-reach places like between and under bushes as well as larger heaps of leaves without investing in multiple tools.
The fan-type rake head has adjustable width within the range of 12 to 20 inches, which can be time-saving if you have a very large area covered in leaves but is generally enough for routine raking. The prongs are durable due to zinc plating, supported by Gardena's 25 years' warranty.
Just like the other rake head by this company on the list (see above), this tool doesn't come with a handle included. You can purchase one of the brand's multi-purpose tools additionally.
The only flaw I've found with this rake is that it does feel springy when setting to the biggest width, which some people might find annoying.
---
PROS:
Adjustable fan width
Durable zinc-coated tines
Can be used with multipurpose Gardena handles
Fair price
No slippage
CONS:
No handle included
Springy feel at the widest setting
---
Corona RK 62060 Fixed Tine Shrub Rake: A Sturdy Small Rake for Hard-to-Read Areas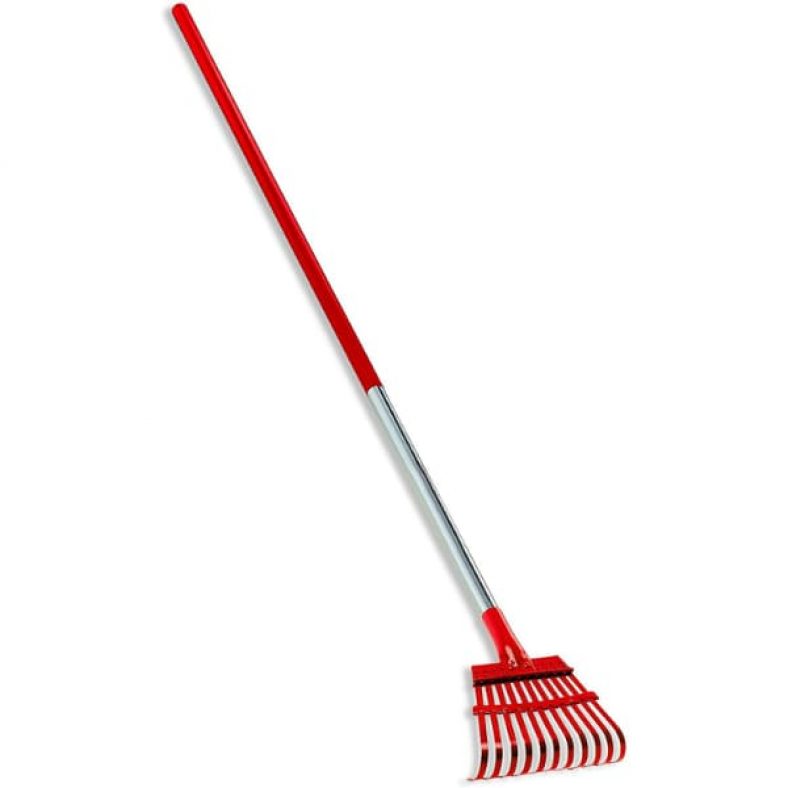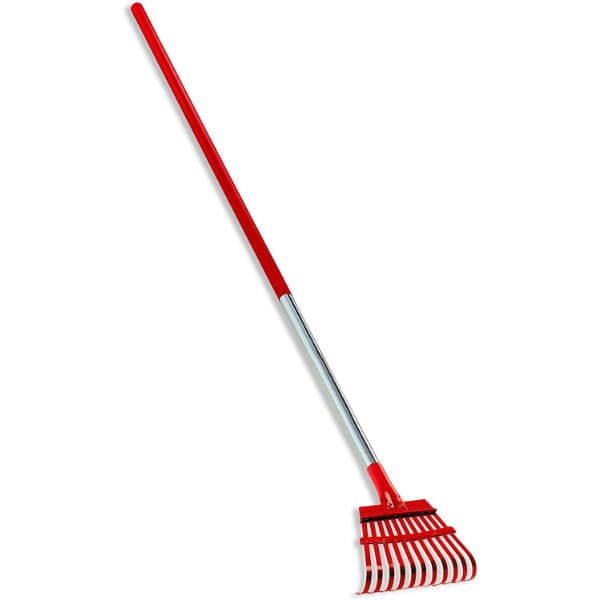 Based in the city of Corona, California, Corona Tools has been making highly specialized gardening equipment and accessories since 1928.
RK 62060 was designed specifically for removing garden debris such as clippings and dead leaves from under shrubs. The 8-inch head consists of eleven extra-wide teeth shaped and positioned in a way that prevents them from damaging the plant's feeder roots during cleanup. The bi-curved bow design ensures that the pressure on all tines is equal, which also adds to cleaning efficiency.
The rake comes with a lightweight aluminum pole that's encased in an anti-slip vinyl case. Although it works well to prevent slipping, an ergonomic grip would be a welcome improvement. Fortunately, this is the only disadvantage of this well-made, durable narrow rake.
---
PROS:
Reasonable price
Lightweight handle
Effective tine shape
Root damage prevention
---
GardenHOME Garden and Yard Leaf Scoops Hand Rakes: The Best Leaf Rake on A Budget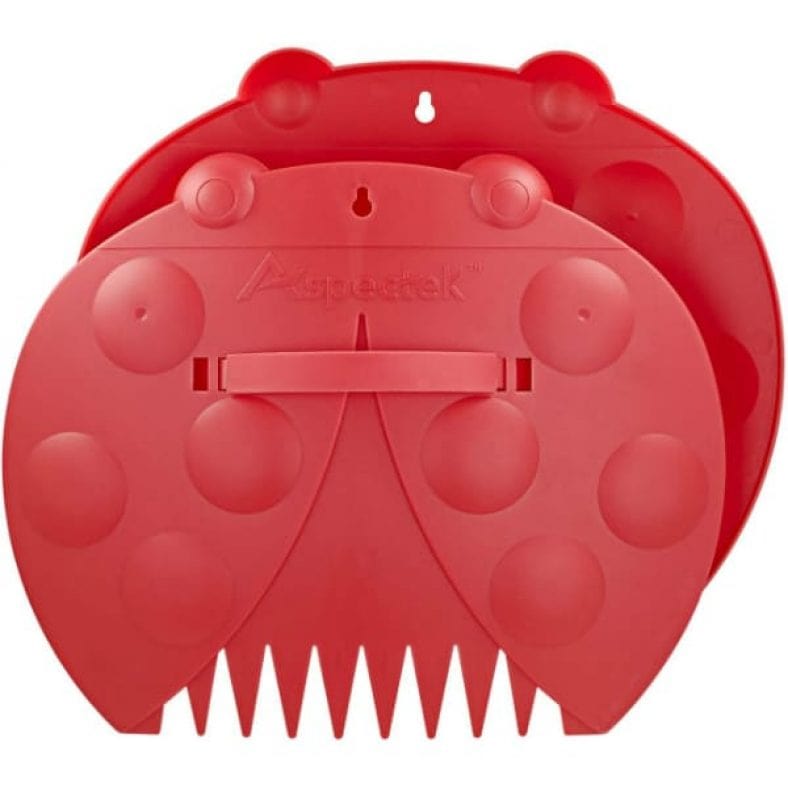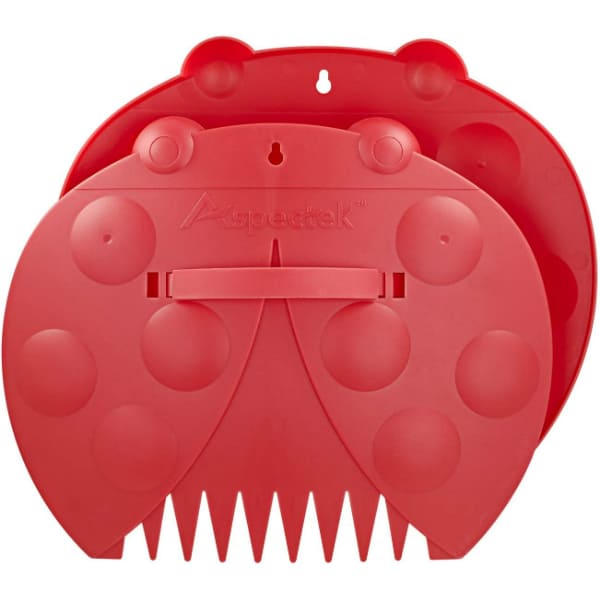 Produced by a no-so-famous home and gardening brand, these hand rakes can be more efficient than you probably think.
Shaped to resemble a ladybug (if you choose the red version), this tool consists of two halves that act like a leaf rack where you can store the garden debris as you pick them. Both halves have plastic pointed tines along the bottom edge and come with a plastic hand strap. This strap is adjustable in size so that kids, as well as adults, can use it. It's also designed to fit over gardening gloves and mittens, leaving enough room for a large man's hand.
With each claw measuring 15" x 12" x 1", these hand rakes efficiently collect large heaps of leaves. The manufacturer also advertises this product as fit for picking other garden debris, such as litter, grass clippings, and even twigs.
Made of polycarbonate, the rake appears to be rather sturdy except for the handle.
The design includes two hanging holes for storage.
This product is a good entry-level solution for those who don't want to overinvest in their gardening toolkit or people whose kids would like to help. It does the job quickly enough and is safe to use.
---
PROS:
Affordable price
Picks a lot of leaves
Kid-safe
Easy to store
Generally well-made
CONS:
Flimsy handle (an elastic strap would be welcome)
---
Gonicc 63 Inch Professional Adjustable Garden Leaf Rake: A Cleverly Designed Small to Wide Rake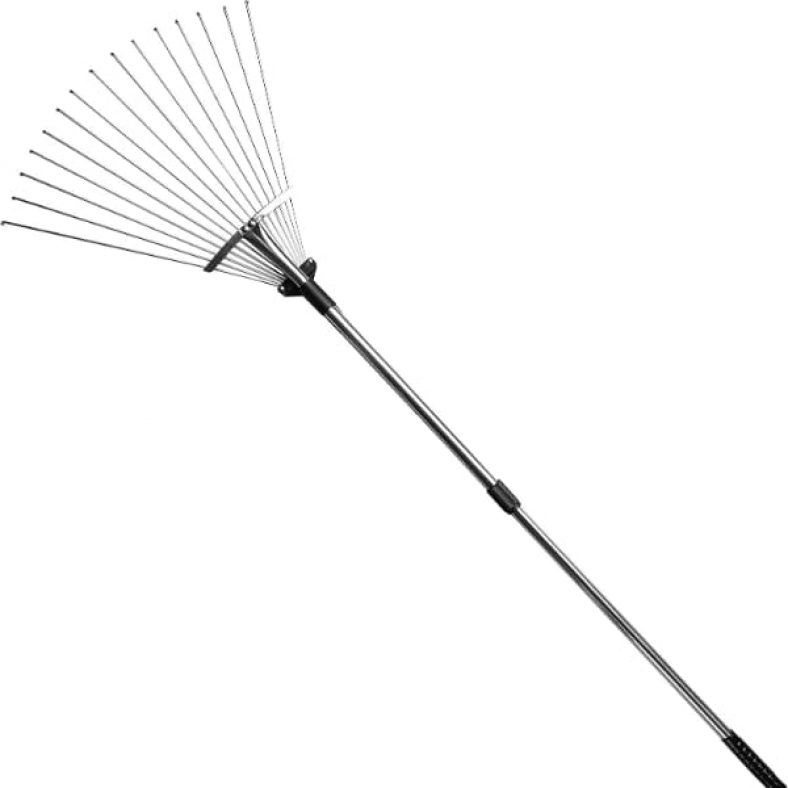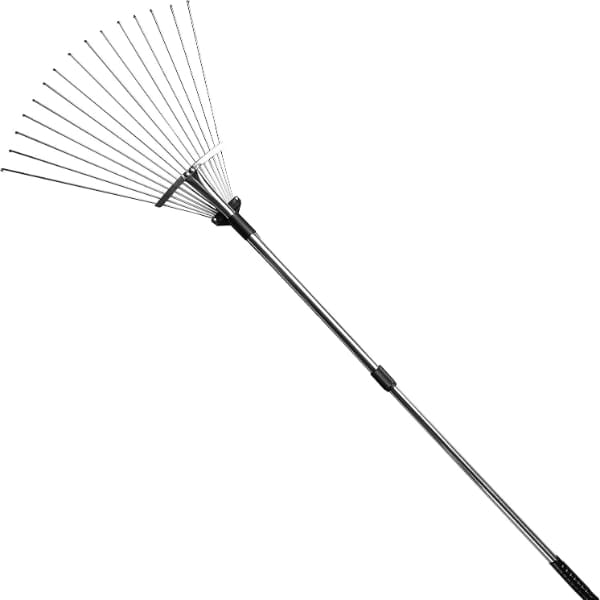 Gonicc offers a wide variety of products in categories such as pet care, sports and outdoors, and gardening with a focus on efficient design at a relatively affordable price.
The rake under review belongs to one of the most versatile types of rakes, as it has a width-adjustable fan head that expands from 7 to 22 inches. This means you can use the tool for cleaning in hard-to-reach corners and under shrubs without damaging plant roots as well as for routine raking of larger areas. The width lock is located on top of the fan and is a breeze to use.
Apart from the adjustable head, this rake features a telescopic handle that can collapse to a total length of just 32 inches for storage, tines included, while measuring 63 inches when expanded. An additional 45" position is provided for as well. The lock is easy to use as all you do is rotate the handle at the joint. A plastic grip is included for extra comfort, featuring a hanging hole.
One disadvantage of this clever tool is that it's not what you call a heavy-duty rake. The plastic fan lock appears flimsy, and the tines might bend a little if you use it to do a tough job. On the other hand, the prong design is very effective, so you can collect a lot of leaves at a time.
---
PROS:
Telescopic handle
Storage length of 32 inches
Adjustable 7 to 22-inch fan width
Easy-to-use head lock
Efficient tine shape
CONS:
Not the sturdies tines you'll find
Flimsy lock
---
TRG GK102R The Groundskeeper II Rake: An Ergonomic Rake That Will Last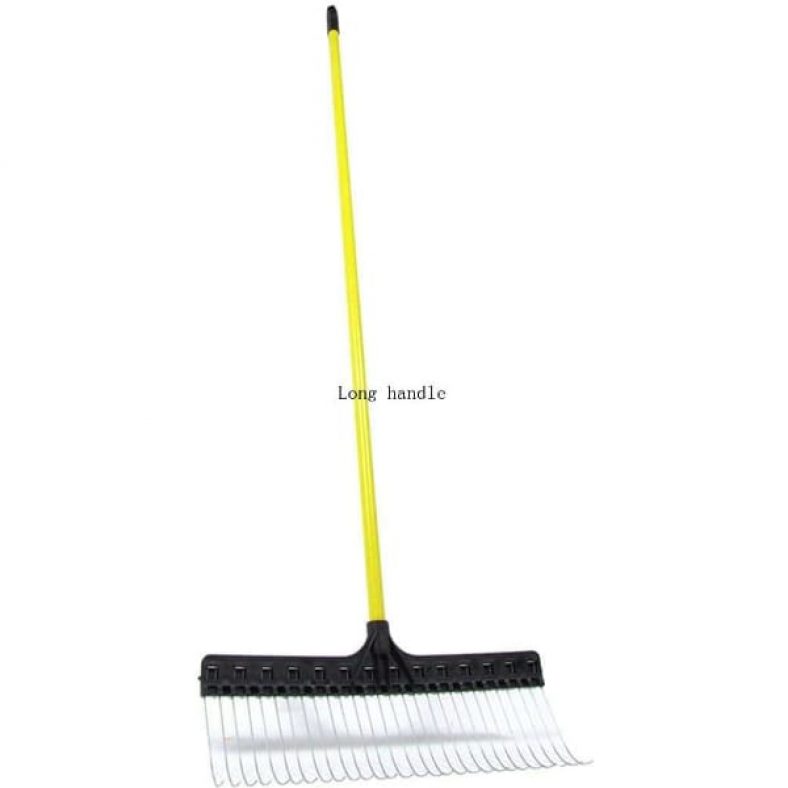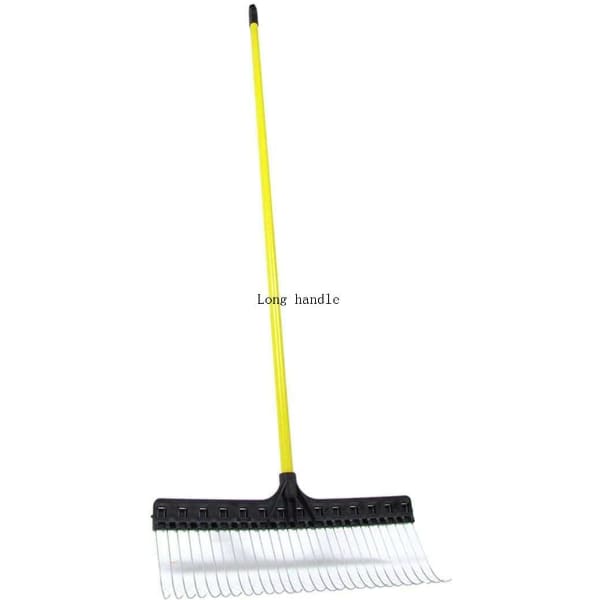 A US-based company specializing almost exclusively on rakes, TRG Inc. describes this model cleverly as "not your average rake".
Indeed, the tool is made to last. This is one case of reliability over versatility — with a head as wide as 21 inches, this rake is hardly the optimum tool for cramped spaces such as under or between shrubs. It's meant for cleaning large areas routinely and without unnecessary effort due to its 28 pointed steel tines that boast around section and a characteristic bend for increased raking efficiency. Most impressively, TRG also sells tines in case they break at some point, so you won't have to invest in a whole new tool.
The stiff prongs are good for raking any kind of debris from leaves to sticks to gravel and everything in between without damaging green stems.
The model comes with a 55-inch fiberglass handle with no joints, which means it's not the most space-conscious solution but rather a sturdy, heavy-duty piece of equipment. A plastic ergonomic grip is included for ease of use.
---
PROS:
Sturdy stiff tines that can be purchased separately
Efficient round tine shape
Long durable fiberglass handle
Comfortable grip
---
Bond Manufacturing LH022: The Best of Metal Rakes for Weeding (Bonus)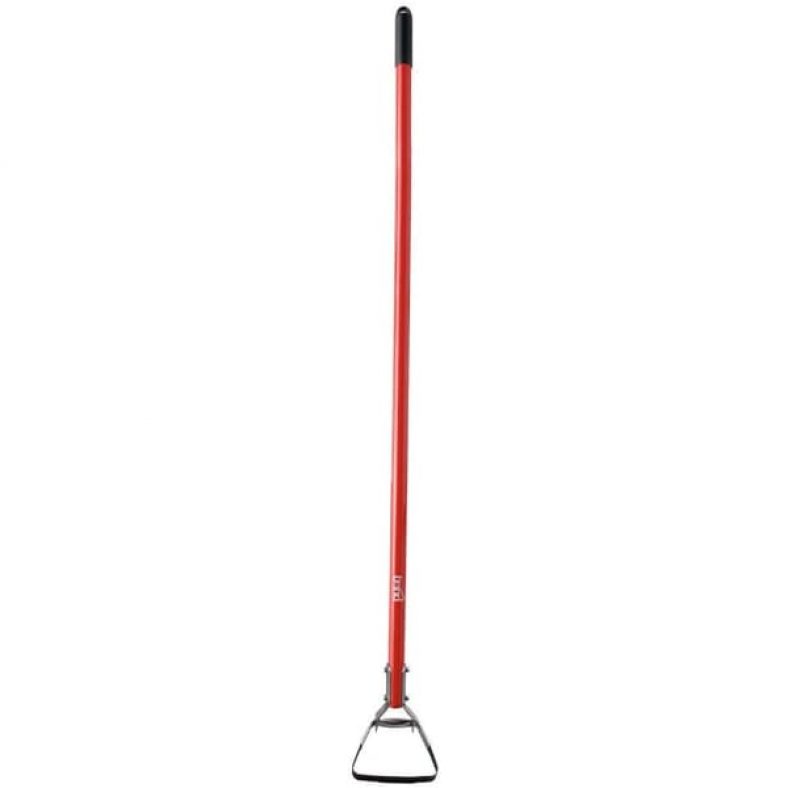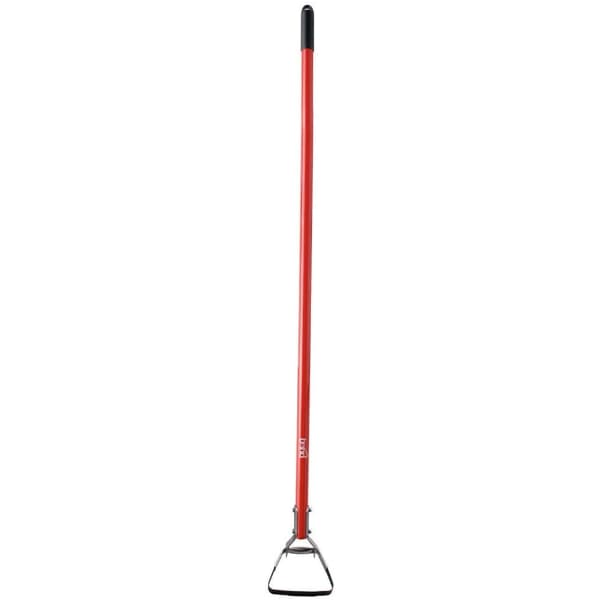 Although not exactly a leaf rake, LH022 does deserve to be mentioned here as an effective, easy-to-use weeded. Instead of conventional tines, it has a D-head with sharp edges for penetrating and loosening the soil where weeds are rooted. The head wiggles to facilitate the removal of unwanted plants.
With a tempered steel head and durable fiberglass handle, this tool is built to last. A plastic grip is included to give you improved leverage, making the rake even more labor-efficient.
Please note that raking leaves is not part of the tool's intended scope. I include it as it stands out in another rake category that many gardeners find useful.

---
PROS:
Efficient weeding
Sturdy fiberglass handle
Durable tempered wiggle head
CONS:
The plastic grip is somewhat flimsy
---
Buyer's Guide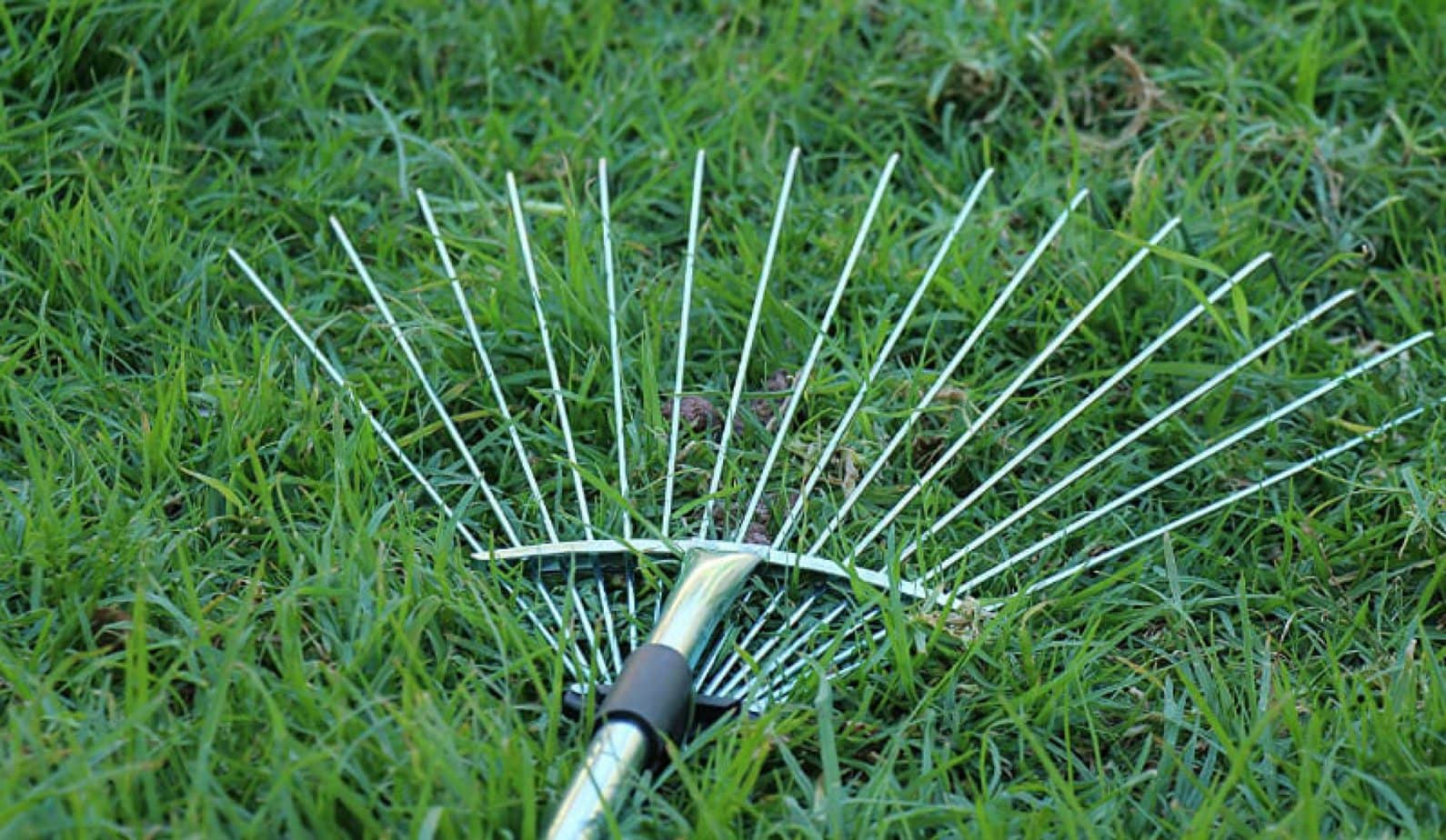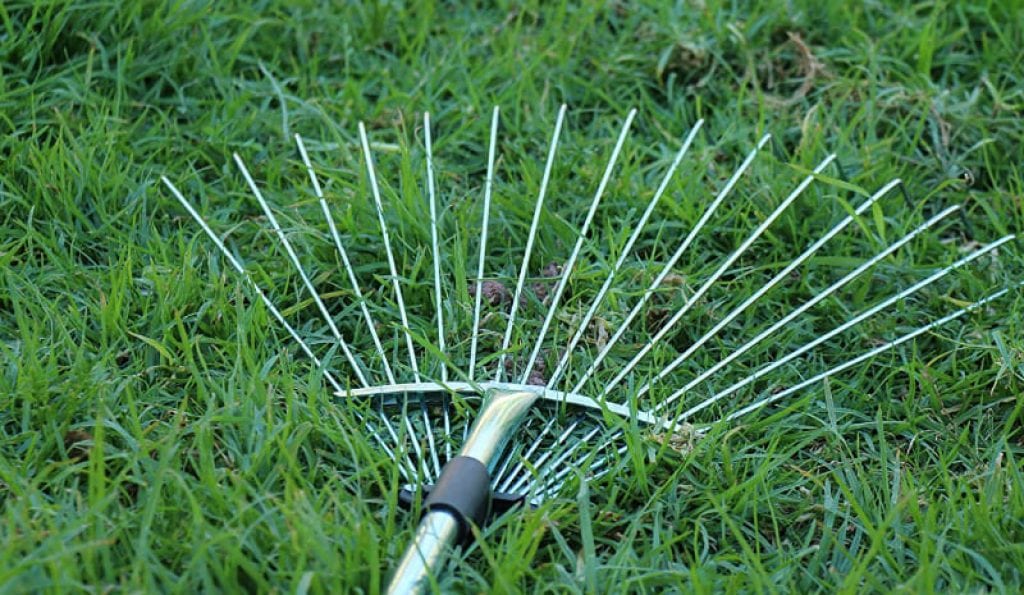 "How do I choose the right rake?" is a question that many gardeners find hard to answer. With the market full of seemingly similar products that still differ in price and performance considerably, shopping for a quality leaf rake can indeed be a challenge. Here are the key aspects to consider while looking for one that will truly do the job.
What type of tines is the best for leaf raking?
Tines vary in shape and material. The number of tines, as well as head width, also differs from model to model, depending on what task it's designed for.
Smaller leaf rakes are generally good for cleaning up small, tight areas such as under shrubs, where fallen leaves tend to accumulate a lot. If this is what you are looking for, it's crucial that the prongs should not damage the stems of your plants.
A wide head can make keeping your garden clean way easier by covering a larger area at a time. Sharp-pointed tines work fine in this situation as you don't run the risk of hurting a plant's stem or roots. A ridged profile is also welcome since it increases the number of leaves that the rake can potentially collect.
There are fan-type rakes with adjustable head width than work well for either task, which can be a viable budget-friendly solution but normally comes at a cost. Most often, the adjustment lock will either be a pain to use or turn out flimsy.
As for material, there's always a tradeoff between weight and durability, and the choice will largely depend on the rake's geometry as well as your preferences.
Heavier models are generally more tiresome to use, while lightweight options such as plastic can't withstand the hardships that the heavier steel is tolerant too.
Aluminum can be a balanced solution provided that it has an anti-rust coating, but tines of this material might bend occasionally or feel springy if the head is wide.
What should it weigh?
There's no simple answer to this question, as it largely depends on the durability requirements. If raking leaves is your sole intention, I recommend looking for a model that's under 2 pounds or even lighter as it will save you a lot of muscular work.
On the other hand, there are heavy-duty rakes as heavy as four pounds or more. These can be used to collect litter, twigs, and even gravel, making the tool way more versatile but also adding to your fatigue.
It's not just tine material that influences rake weight. Handle material and length are other factors to take into consideration.
What handle to choose?
Fiberglass is probably the most common material nowadays as it combines relatively lightweight with durability. However, some people like to rely on old-school wooden handles, which often have the same merits with the exception that they aren't water-resistant.
One thing to pay attention to when regarding a rake handle is how well the joints, if any, are made. Portability is often a valuable feature, but it also tends to compromise strength by introducing a more complex design.
Finally, a comfortable anti-slip grip is a key to success as it prevents you from developing sore hands and blisters. Ergonomic handles are also efficient in terms of leveraging the tool, relieving the stress on your back and joints.
How long a handle is ideal?
As a rule of thumb, longer handles are preferable for tall people, while shorter individuals will probably feel comfortable using a more compact model.
Most rakes measure from roughly 35 to 65 inches (and more). It's usually best to choose one that will reach the bridge of your nose while standing up, but minor adjustments are possible by positioning your hands differently on the handle.
A handle that's too short for you will cause you to bend down too much, meaning you'll spend too much energy raking leaves and might end up with pain in your back. Longer models can be difficult to balance, potentially leading to inefficient cleaning and sore hands.
Nowadays, it's not uncommon for leaf rakes to come with telescoping handles. While increasing portability and providing for space-conscious storage, these also make the tool more flexible, allowing people of different body shapes to comfortably use it. As I've said before, this can make the design more vulnerable by introducing joints, so make sure to choose an extremely well-made tool if you opt for an adjustable handle.
In case you've been wondering whether a time-saving alternative to the good old rakes has been invented, consider a leaf blower. Most are backpack-mounted units that rely on gas or electrically powered engines to blow away garden debris rather than power leaf rakes. Walk-behind varieties also exist for tough jobs.
FAQ

What is the best rake for leaves?
Bully Tools 92309 is my personal favorite as it combines efficiency and reliability at a reasonable price. Strong head material and over-welded handle joints make this 16-inch rake the perfect model for everyday use. Although you might want a wider head for large areas or a smaller one to access hard-to-reach places, the size provides for both uses. Those who want a space-efficient solution, however, should consider foldable models instead.
Is a metal or plastic rake better?
If you only have left to remove, a well-made plastic model is perfect as it's lightweight but sturdy enough for the task. Mulch and twigs, however, might require a more durable material, such as aluminum or stainless steel. The latter is extremely durable but adds a lot of weight to the tool, making it less easy to maneuver. I recommend aluminum with an anti-rust coating if you don't mind springiness.
Is it better to rake leaves wet or dry?
Either way has its benefits. If you choose to rake leaves when wet, there's no risk of a gust scattering them across your garden. Some people also use this method to produce leaf mold as a way to fertilize their soil. Yet, wet leaves are slippery and require extra caution. They also take up more space in bags.
Summing It Up
The perfect leaf rake is ergonomic, lightweight, and efficient in cleaning up your garden. You also want the tool to be sturdy and reliable. Versatility and compact storage options are always a welcome bonus, too.
This said it's up to you to choose which parameters to prioritize depending on the task at hand. As with most gardening accessories, weight vs. sturdiness remains the key dilemma. Comfort is another crucial aspect when it comes to physical work like raking leaves, so make sure to get a rake that has the right length.
What's the biggest problem that you've experienced while raking leaves? Please share in the Comments section!
Related Post: Leaf Mulcher.