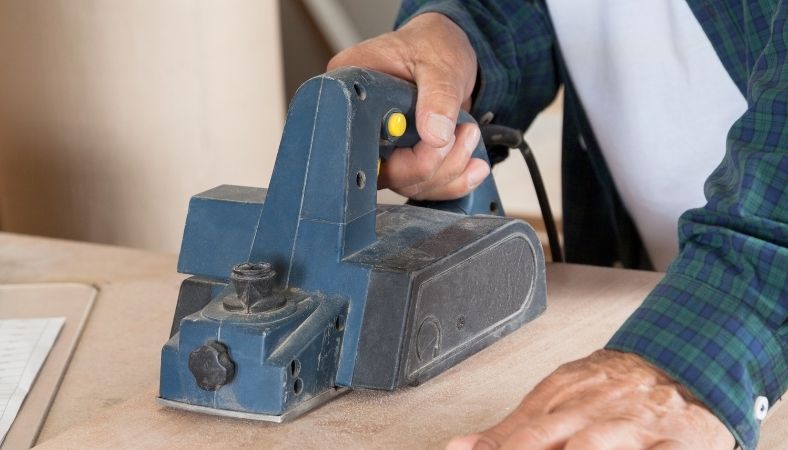 An electric wood planer is a great tool for everyone from DIYers to experienced woodworkers. It has many advantages over traditional wooden and metal plains, mainly that they save an incredible amount of time. A decent electric hand planner tool will make your work more efficient and the best electric hand planer can deliver the same precise and intricate result with half of the effort and time one puts into a manual planer.
Handheld planers are used for many tasks, from shaving off the thickness of the doors that don't close properly, to chamfering and joining, preparing wood for the finish, and decorating edges and strips.
When it comes to choosing the best hand planer for you, there are many things to take into account, from how easy it is to operate to how portable and powerful it is. We'll look into the list of best handheld planers and compare them in terms of what they offer, how they perform, and what impression I or my friends got after using them in our work.
Here is my pick of the best electric hand planers with reviews and recommendations.
Pros
The powerful motor delivers more than 3,400 cuts per minute
Very stable and easy to control due to 5'' aluminum shoe
Long battery life and excellent power
Top Pick
Pros
The powerful motor delivers more than 3,400 cuts per minute
Runner-Up
Pros
Very stable and easy to control due to 5'' aluminum shoe
Premium Pick
Pros
Long battery life and excellent power
7 Best Electric Hand Planers
1. WEN 6530 electric wood planer
When it comes to power tools, WEN is the brand you always want to consider. They've got decades and decades of experience in producing top power tools, so it's really not surprising that they always come on top of the electric hand planer reviews.
We start with the best hand planer on the list. This model has a powerful 6 amp motor that is able to deliver more than 3,400 cuts per minute to your surface. It has a cutting width of 3 ¼ inches and a maximum depth of ⅛ inch as well as 16 positive stops that allow you to adjust the depth in increments of 1/128 inch.
This model also has a reversible dust chute that can be easily attached to the left and to the right side, as well as a kickstand that prevents accidental contact of the blade with the workpiece.
Let's talk about its performance. The time that it manages to save on cutting is truly amazing. It surprised me the first time I used it, it surprised some of my friends too. The tool is relatively lightweight and very easy to use.
Ergonomically it's incredibly comfortable and intuitive in use. It took me a little time to calibrate the depth setting, and in the more shallow setting, it acts as the better version of a belt-sander.
Price-wise, this model is the best in terms of price/value and is incredibly durable and reliable.
---
Positives
It's incredibly easy to use and is very ergonomically built;
The powerful motor delivers more than 3,400 cuts per minute;
16 increments as small as 1/128 inch which allows you to adjust it to the perfect depth you require;
Works incredibly fast and remains consistent after long use;
Best price/value ratio.
Negatives
Not as effective on the hardwood;
Calibrating is a little difficult.
---
2. PORTER-CABLE (PC60THP) electric wood planer
This is also a corded hand planer tool that has a heavy-duty 6 amp motor. It's also equipped with a dual-side dust extractor as well as 3 chamfering grooves that give you more options for edge chamfering.
This double-bladed hand planer tool has an 11.5-inch cast aluminum shoe that provides added control and better finish quality, as well as an over-mold depth knob with 10 positive stops that also improve stability and allow for different depth settings. The depth capacity of this model is 5/64-inch which is meant to let you make fewer passes.
PORTER-CABLE is an American power tools manufacturing company that is well-known for pioneering portable tools that don't sacrifice power and quality. They're solid in terms of their performance and offer an excellent value for the money.
PORTER-CABLE (PC60THP) is very easy to use and I found it to provide good stability and accuracy. The maximum speed it allows is 16,500 rpm, and it makes the working process incredibly smooth and fun, especially if you have the bonus of the attached Bluetooth speaker.
In terms of adjusting the depth, as with many models, an over-mold depth knob takes a bit of practice to get perfect, and sometimes it can be not as precise. What I've found missing in this one is a kickstand, which would've prevented some costly mistakes, especially if you're working with more expensive wood.
In terms of price though, this is another brilliant option in terms of value for your money. The material of the 5'' aluminum shoe is excellent and provides great stability. This is both good as a starting tool and as a reliable precision tool for more experienced woodworkers.
---
Positives
Great value for your money;
Very stable and easy to control due to 5'' aluminum shoe;
Dual dust extraction;
Three chamfering grooves;
Rabbet edge and guide;
Bluetooth option.
Negatives
No kickstand;
The depth knob sometimes needs readjusting.
---
3. BOSCH PLH181B electric wood planer
BOSCH Bare-Tool PLH181B cordless planer is one of the best power planers in terms of the work it can do.
It has a powerful 6.5 amp motor with a high-speed rotation of 16500 RPM, powerful enough to handle any type of hardwood without sacrificing precision and finish. The 12V battery also has a long life, so you can achieve any planning tasks you want with it.
The model comes with an edge-guide fence: this ensures consistency in planning over the entire workpiece. It also has a dual-mounted fence with a protective shield which makes planning door edges easier. There's also a plastic overshoe that prevents any marring of the surface.
In terms of design and engineering, BOSCH is one of the best manufacturers of electric power tools out there, and the BOSCH PLH181B electric wood planer is no exception. It has features like an electronically counterbalanced single-blade design system which positions the blade at an ideal angle and reduces drag, makes the operation overall faster, and gets more smooth cutting. It eliminates misaligned blades and achieves a very even planning.
As a cordless model, it's a great option for door planning and makes the process very comfortable, as I don't have to worry about running out of cord mid-stroke. Compared to its corded counterpart, the latter is, naturally, more consistent in the amount of RPM it offers. However, with a fully charged battery, this cordless hand planer tool achieved about the same performance while offering portability and more convenient use compared.
For me the only flaw was that it doesn't come with an exhaust bag, though it could be purchased separately, it does have a chip-ejection switch feature that allows you to change sides for more convenience.
All in all, this hand planer is definitely a step up in terms of performance, portability, and the result. Of course, it comes at a higher price too, but this should be seen as an investment because BOSCH handheld planers are known for their durability and quality.
---
Positives
Long battery life and excellent power;
High precision and finish;
Portable and easy to use;
Excellent for working on doors;
Cordless.
Negatives
Doesn't include a dust bag;
Quite expensive.
---
4. Makita XPK01Z hand planer tool
This is another excellent cordless model. The manufacturer promises the power range of a corded electric wood planer with the convenience of cordless. The motor delivers an impressive 14,000 RPM, designed specifically for fast stock removal. It has a 2-blade cutter head and double-edge carbide blades for added performance and a smooth finish. The adjustment knob helps you to regulate your depth between 0" to 5/64" for precise depth adjustment.
Makita tools are incredibly durable and long-lasting and offer a great selection of products and accessories for them. One thing I also like about this manufacturer is the really good warranty they offer on all their products.
Friends of mine that used this model note how comfortable it is in use. A spring-loaded stand elevates the base and protects the blades and the workpiece. This electric wood planer has a very ergonomic design, so the grip feels very comfortable. Another feature my friends note is how easy it is to install and change the blades, as well that the ones it comes with last for a good amount of time before you need to change them.
The Makita XPK01Z might be an excellent option for professional contractors who are looking for a cordless option with the most to offer in its price range. This is also a good option for enthusiastic DIYers and other woodworkers, it offers great maneuverability and finishes.
Makita is a company well-known for the quality of the tools they provide. In many ways, Makita is considered a step up in quality compared to other brands, and the price reflects that too. The 18V battery it operates on does not come with the planer. The bare tool can cost anywhere between 150-180$, but the added battery can more than double this price, so this model is definitely on a higher price end.
---
Positives
Excellent engineering for maximum ease of use;
The adjustment knob is very easy to use;
Construction is sturdy and the grip and handle are very comfortable;
Powerful motor;
Machined aluminum base.
Negatives
Quite expensive, especially when you have to buy a battery;
No double venting system for dust.
---
5. CRAFTSMAN(CMEW300) hand planer tool
The CRAFTSMAN (CMEW300) model has some of the best electric hand planer reviews in this list.
It has a powerful 6 amp motor, so it's good for cutting both hardwood and softwood. It also has 16,500 RPM for fast material removal. The planer comes with an 11.5-inch cast aluminum shoe, so the added control and stability ensure a better finish.
The over-mold depth knob offers 10 positive steps for easy depth adjustment. It's also equipped with a dual-site dust collector for a more flexible working arrangement.
The point I've noted when using this hand planer tool is the quality of the carbide blades. They stay sharp for a very long time and might be very good on clean wood and in general a great option for fine woodwork.
I wouldn't use it on a very hard and rough wood that needs lots of bits taken out, as carbide blades are designed with finer work and finish in mind, and using them like that might fracture the blades. For more tough work it's better to opt for steel blades that brands like Makita and Bosch offer.
Among power planer reviews this model has been noted for the quality of the finish it provides for a very reasonable price. The price/quality ratio is a very important point, as this model can be sold for anywhere between 70-100$.
However, in my experience and the experience of my friends, CRAFTSMAN handheld planers often lack additional accessories in complectation. It could do with more accessories for storage and transportation as well as a kickstand and parallel fence bracket.
---
Positives
Carbide blades that are durable and suitable for finer woodwork;
Powerful 6 amp motor;
Fast material removal at 16,500 RPM;
Dual-side dust collector;
Easy to use, ergonomic and allows great maneuverability.
Negatives
Not a great complectation: lacks a kickstand, transportation and storage accessories and parallel fence bracket.
---
6. Ryobi HPL52K hand planer tool
The Ryobi HPL52K corded electric wood planer is one of the most ergonomically designed planers on the market. It features a rubber bolding over the grip called grip zone overmold which allows very precise handling even in slippery conditions.
It also has a lock-off button that prevents accidental activation. This is a useful feature, as nobody wants to ruin your work by accident, hurting yourself or damaging equipment. Another feature for safer use is a plastic rear-mounted kickstand that prevents scuffing and marring your work surfaces. This model also features a dual-side dust collector, allowing you to keep your workspace clean.
As a brand, Ryobi is incredibly popular with DIYers and homeowners, rather than professional woodworkers. Their products are great in terms of value/price, sitting somewhere in the middle of the price range. But one thing that attracts many buyers is the excellent warranties they offer: from 3-5 years to a lifetime warranty for selected products.
Woodworkers I know compliment this planner on great adjustability. It has 1/96" inch increments that allow you to change depth from 0-1/8″ inch. It's very versatile and has great precision, so it's very useful for a big range of woodworking projects.
At the same time, they note that blade change could be improved because at times it could be quite tricky. Dustbags also could be a little bigger, because they fill up quite quickly. The model is corded, but a 6-foot cord allows for quite comfortable use and a range of space.
In terms of value for money and ease of use, Ryobi HPL52K is among the best in electric hand planer reviews. This model can cost anywhere from 90-120 $ and is one of the best options for non-professional woodworkers. It could also be a very good starting hand planer tool because of how easy and safe it is to use and handle.
---
Positives
Gripzone overmold which gives very precise handling;
Lock-off button for safer use;
Dual-side dust collector;
Good adjustability;
Rear-mounted kickstand.
Negatives
Blade change could be improved;
Dust bag fills quite quickly.
---
7. SKIL PL2012-00 electric wood planer
The SKIL PL2012-00 corded electric wood planer comes with a 6.5 amp motor and a high speed of 16000 RPM, powerful enough to tackle any hardwood. The model has a standard cut width of 3 ¼ inches and a depth of 5/64-inch.
The SKIL hand planer tool comes with a dual-side dust exhaust. It also has a good complectation: aside from the planer you also get a parallel guide, a rebate fence, dust bag, spanner, and adapter.
SKIL is an American brand of electric power tools and accessories, whose parent company is Chevron, based in China. This specific hand planer tool is manufactured in China and comes with the necessary adaptors for US electric outlets.
This electric wood planer also has a smooth kickstand to prevent you from scratching your workpiece when you're resting the planer. Safety is incredibly important in handling power tools. This planer comes equipped with a lock-off switch to prevent any accidental starts of the planer and ruining your work. It also has an aluminum shoe for better control.
When it comes to how it performs, power planer reviews note that it deals well with a wide range of tasks in your workshop. It's good for flattening and powerful enough to tackle hardwood.
For its price it provides you with a full complectation and gets the job done, though it might not be as durable as other more expensive planers, nor are its blades, so they will need to be changed soon if you use it frequently.
---
Positives
6.5 amp motor and high speed of 16 000 RPM;
Dual-side dust exhaust;
Good complectation: comes with a parallel guide, a rebate fence, dust bag, spanner and adaptor;
The model has a kickstand;
Aluminum shoe for better control and stability;
A lock-off switch to prevent accidental turning on.
Negatives
Not as durable as other options;
Blades need to be changed quickly.
---
Buyer's guide on best electric hand planer and some of the commonly asked questions about handheld planers
We've looked at the list of the best handheld planers and some of the electric hand planer reviews. Now let's go over the list of things you should keep in mind when you're choosing the best power planer for yourself.
What's the advantage of an electric hand planer?
All the electric hand planer reviews agree on one thing: it saves a tremendous amount of time that you would've otherwise spent with a manual planer. An electric wood planer offers you amazing power and speed, making leveling and shaving of doors and other planning tasks fast and easy.
Many power planer reviews I came across note that an electric hand planer tool allowed them to do big projects like building a boat or restoring a 200-year-old wood. It can help you do lots of other jobs like flattening a slab of wood, though it might take some adjustment and getting used to. It also works well as a thickness planer.
If you're not as experienced in woodworking, finding the best hand planer you can afford might help you tackle a difficult project that requires a lot of precision.
How to choose the best electric hand planer: step by step guide.
Step 1: depth and width of the cut
The standard width of 3 1/4″ inches will let you do most of the household tasks that might require a planer.
The depth of the handheld planers determines how thinly or thickly it can shave off the wood. The blade or blades of the planer is mounted on the metal shoe that allows you to adjust the front part with a knob that has increments, to increase or decrease the depth. The best hand planer can allow you to adjust the depth to as little as 1/128 inch and the maximum cut depth of about 3/32 an inch. These knobs don't always work perfectly, so check the electric hand planer reviews specifically for the information on how well it works.
An electric wood planer can shave off up to ⅛'' of wood in a single pass.
Step 2: blades
There are 2 main types of blades used in handheld planers: steel blades and carbide.
Steel blades are well suited for softwoods like pine and older, rougher wood. You can sharpen them to make them last longer, and in general, they're easier to replace.
Carbide blades are able to deal with hardwood and synthetic woods. They keep their edge for longer and because they're double-sided, you can prolong their use. To resharpen them you'll require special tools, which are quite expensive, so the more realistic option will be to buy new ones. Keep that in mind when choosing the best hand planer for you and your needs and be ready to add an extra $20-$50 for extra blades.
To adjust your blades you can tighten or loosen the gauge plate and secure them with the adjusting screw.
Step 3: the electric wood planer itself and all the extra features it can have
Handheld planers come with a range of features and accessories like storage boxes and portable cases.
If you're looking to find a cordless hand planer tool, make sure to check whether it includes the battery in the price, as in a lot of cases it does not.
You can find many planers on the market that get the job done, but the best electric hand planer can offer you many additional features that make your job easier: double-side dust chutes, a lock-off button, a kickstand for resting your planer.
FAQ
Now, let's look at some of the most frequently asked questions about the use and maintenance of electric hand planers.
How to adjust electric hand planer blades?
Before you start adjusting the blades of your planer, you should clean them. After that, start turning the screws in the gauge between the blades. To do that you need to turn them anticlockwise and keep doing that until they touch the end of the notches. The gauge plate can be tightened or loosened to your preference. After you've finished that, secure all the screws both inside and at the top of the adjusting screw.
How much wood does a hand planer remove?
In a single pass, an electric hand planer can remove from ⅛ inch of wood to 3/32 inch.
Can you flatten a slab with a handheld planer?
You can do this and it will be much easier than if you use a sander. A good handheld power planer can do this job. Though depending on your board, you might have to repeat the steps a couple of times to get the whole length of the board flat.
Can you use an electric hand planer as a thickness planer?
While the best thickness planer is probably a dedicated benchtop planer, it's possible to use an electric hand planer to do this job. Though because of its size, it will be much more finicky and will take more effort.
Let's sum up
An electric hand planer is a fantastic tool to have in your house as it allows you to save a lot of time and power to achieve excellent results. There are many planers on the market that range in prices anywhere from $40 to 300$ and can help you deal with all your tasks: from straightening doors to making bigger projects like building a boat or restoring old wood. They also have a range of features and blades that suit specific types of wood and work.
Have you ever used an electric wood planer? Let me know in the comments below about your experience.