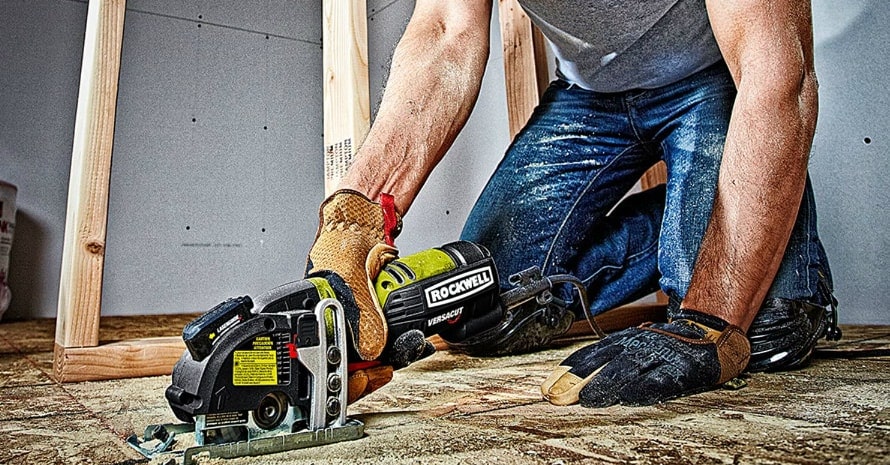 A circular saw is a fairly versatile and multifunctional tool. In the renovation or carpentry, you definitely cannot do without it. But what if you don't need a device of great power and capable of cutting even reinforced concrete? In this case, a mini-appliance will be the best choice for you. In my opinion, TACKLIFE TCS115A is the best compact circular saw overall. But in order not to limit you to just one product, I've tested different models and compiled my personal top 10 great products that deserve your attention.
Compact tools are great if you don't have to do heavy-duty tasks or need to saw off something in a tight spot. When choosing mini-products, the most important thing is to find a balance between good technical characteristics and an acceptable price. You don't want to buy a cheap instrument that has to be chilled every five minutes due to its small size; it will be ineffective. A saw should be powerful enough to cope with everyday tasks at your house. In this article, you will find a comprehensive guide to help you choose the perfect tool for your job.
Top 10 Compact Circular Saw Reviews
The best selection of small models is found among hand-held, corded and battery-powered devices. As a rule, their power does not exceed 800W or 20V. When choosing the right tool, consider a bit more power than you need, as it will extend a saw's life. Of course, it will slightly increase its weight, but it will improve the work process's efficiency.
1. My Top Pick: TACKLIFE TCS115A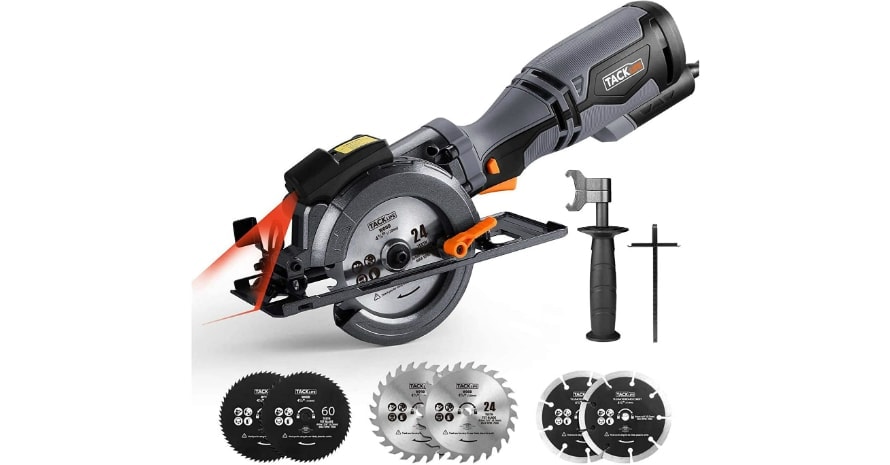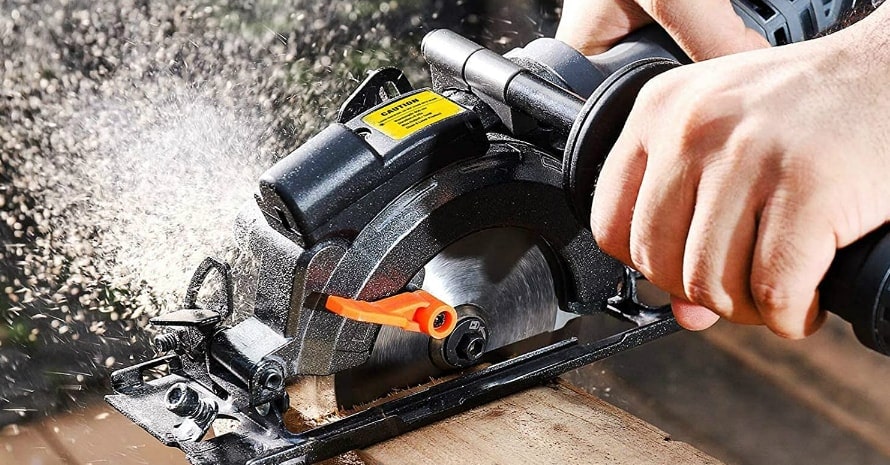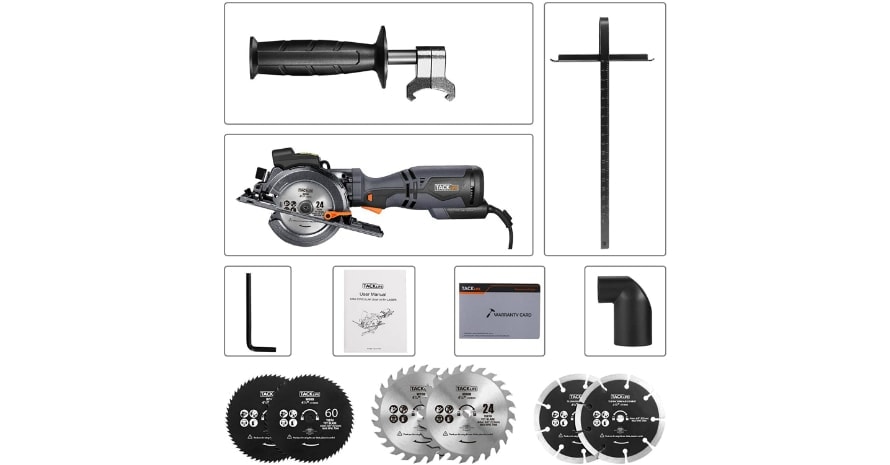 TACKLIFE TCS115A is an ultimate saw for casual use. Aside from its great features, I like the fact that there are three protection levels: motor postposition, non-slip handle, and double switch. Not every tool has this level of security. So if you are new to woodworking, this appliance is a great choice. The device has a low price, but it offers good power.
It has a 5.8A motor (710W) that can make a blade spin at 3500 RPM. The product weight is 8.27 pounds. The suitable blade diameter should be 4.75 inches. By the way, in a set with this saw, you get six replacement blades for different materials: wood, soft metal, and tiles. If necessary, you can make not only perfectly straight cuts but also bevel ones up to 45°. In this case, a cut depth of a saw will slightly change: the depth of a straight cut can reach 1.7 inches, the depth of an inclined cut is 1.3 inches.
An outlet powers the instrument, and the cord is 10 feet long. With an included adapter, you can attach your vacuum cleaner to collect sawdust while you work quickly. It is a very important feature as dust is a serious health hazard. This model has a left-sided design, which gives a user a better viewing angle. And a laser guide guarantees smooth and precise cuts. It is worth saying that the guide runs on batteries, which will have to be changed from time to time.
No products found.
---
PROS:
Excellent power;
An affordable price;
Safe;
Replaceable blades included.
CONS:
The guide is battery operated.
---
2. Compact Circular Saw Cordless with LED Backlight: WORX WX531L.9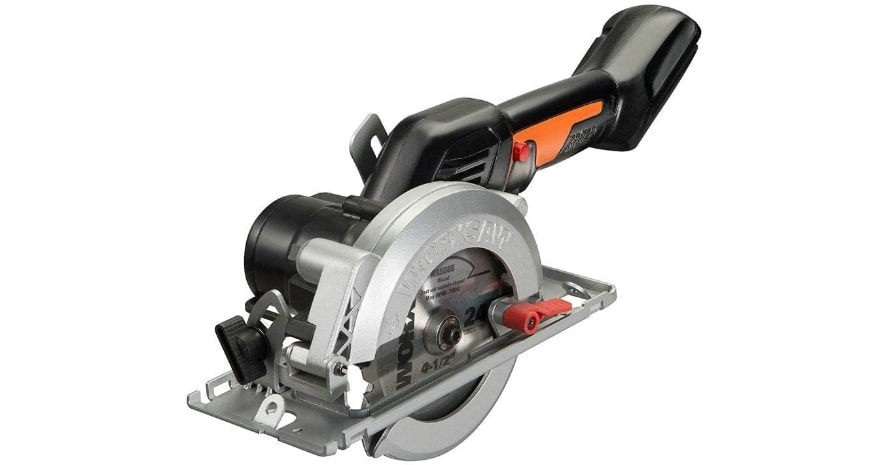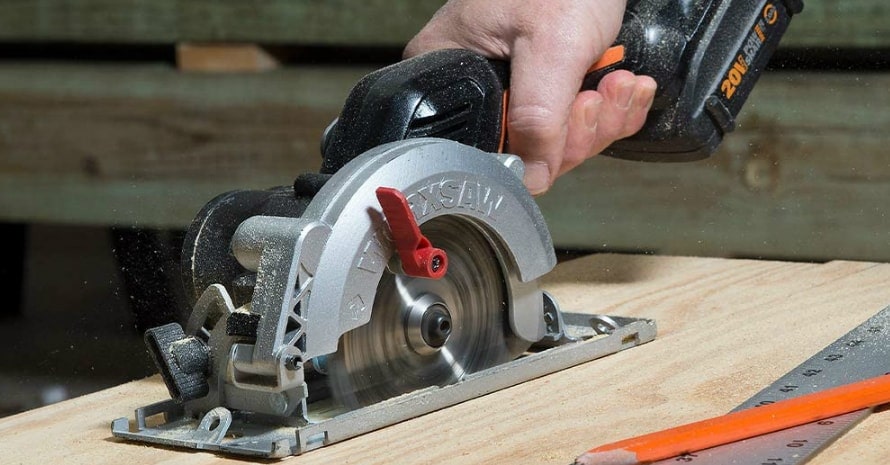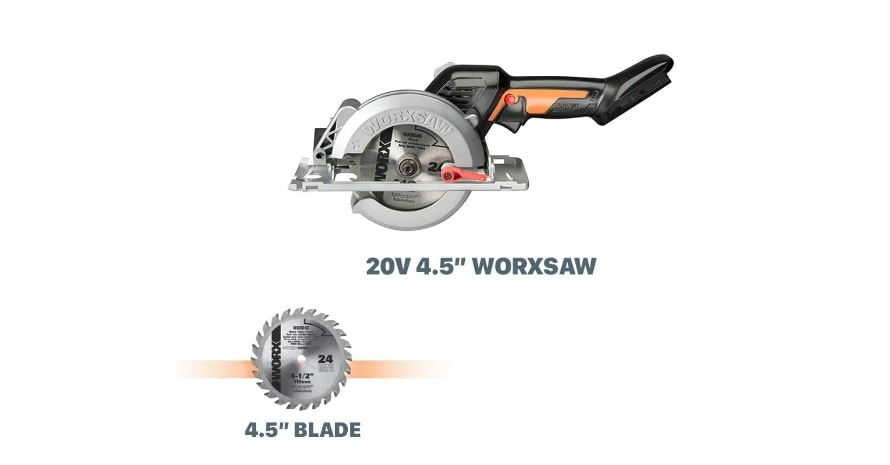 This model is more similar in power to ordinary hand saws, but still, it is not so bulky, so it falls into the category of compact tools. The saw is cordless and runs on a 20V battery. Since this particular item is a bare tool only, battery and charger are omitted. It is convenient for those who already have one of the WORX devices. If you don't, you will have to buy these parts separately, which will increase the cost of the device (by about $50 or so).
A brushless motor is installed here, which can reach speeds of up to 6900 RPM. This high rotational speed is due to a reduced arbor diameter, which allows the motor to rotate a 4.5-inch blade twice as fast. I like that this device has several features at once that guarantee a smooth cut: LED backlighting, dust port, left-sided design, and a guide. You can also easily adjust the cut depth (up to 1.68 inches) and the inclination angle (up to 45°).
To start the device, you need to press two buttons. It was done to avoid accidental activation. In this model, the mechanism is implemented very conveniently; you do not have to adapt to press two buttons at once with one hand. The device has a rather comfortable handle with a system that damps all the vibrations, making your work safer. Also, it is well balanced and weighs 6.49 pounds (average for compact models).
---
PROS:
High RPM;
LED backlighting;
Convenient controls.
CONS:
A battery is not included.
---
3. Best Cordless Mini Circular Saw: Makita SH02R1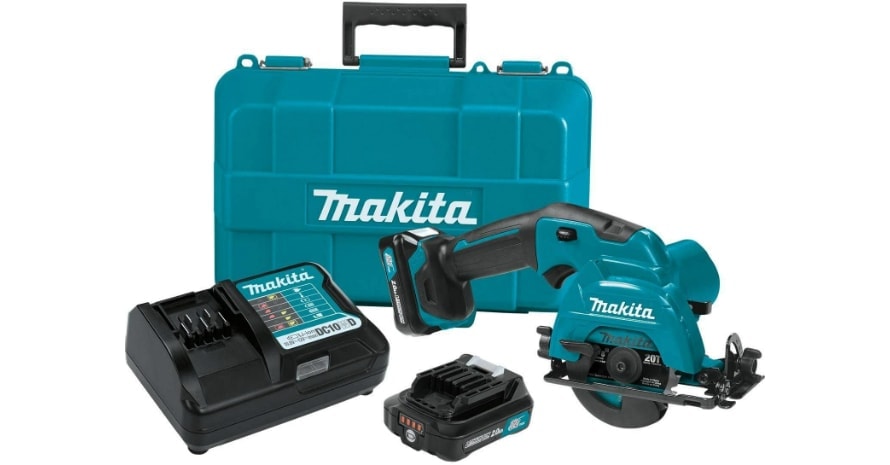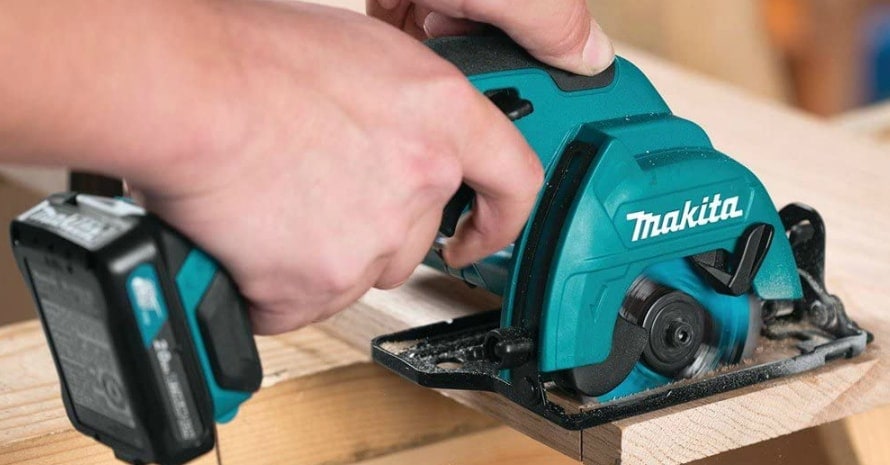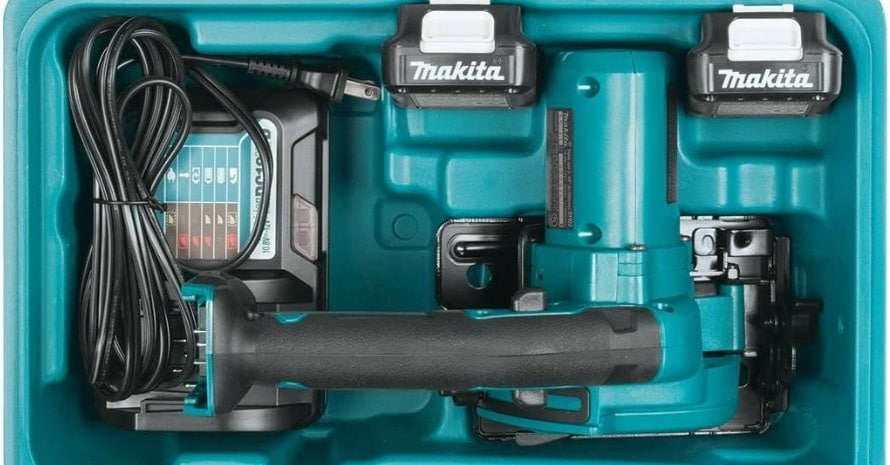 Small and lightweight Makita SH02R1 is perfect for light-duty jobs. The manufacturer made it much smaller than standard hand-held models on purpose so that users can work comfortably in tight spaces and use the saw even overhead. It weighs just 3.5 pounds (with battery) and has a built-in dust trapping mechanism.
The tool is equipped with a small motor powered by two 12V batteries. It is capable of speeds up to 1500 RPM. The manufacturer has implemented a special circuit that protects the batteries from overheating and overloading. A LED indicator will show when you need to recharge your device. With this saw, you can efficiently cut drywall, MDF, plywood, and other soft materials. Thanks to the integrated dust collector, you will always get a perfectly straight cut on any surface.
The blade measures 3.3 inches in diameter and can cut up to 1 inch deep at a right angle. You can make bevel cuts from 0° to 45°, with a maximum depth of 0.6 inches. The blade remover wrench is included and fits comfortably in the tool's grip, so it is always at hand. Overall, the saw has an ergonomic design and a non-slip handle for long-lasting comfort. I like that this saw comes in a special case for safe storage and carrying.
---
PROS:
Ideal for tight spaces;
Extra lightweight;
Has a built-in dust collector;
Supplied in a case.
---
4. Small Handheld Circular Saw for Really Light Tasks: WEN 36704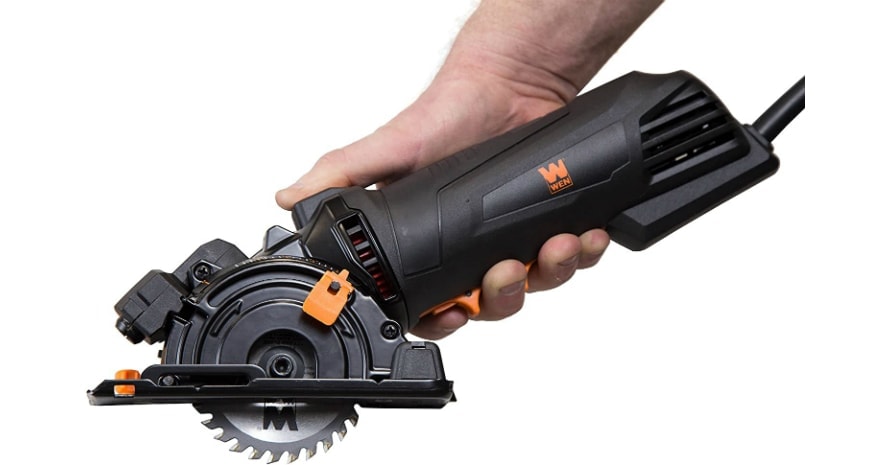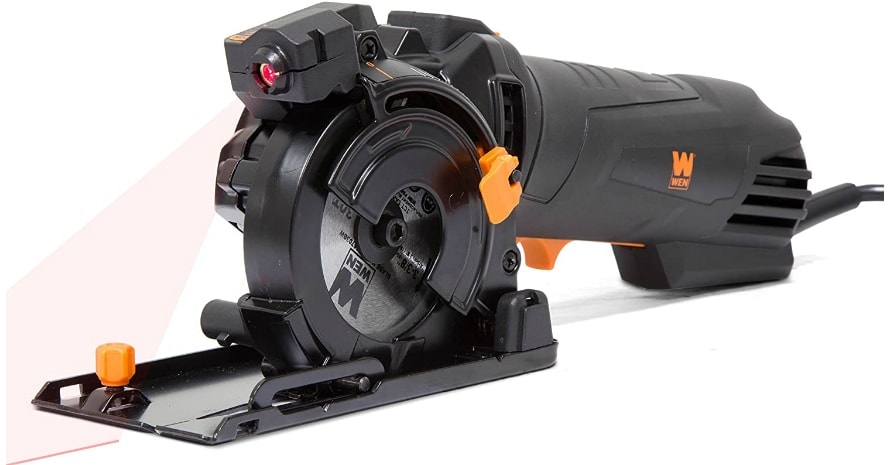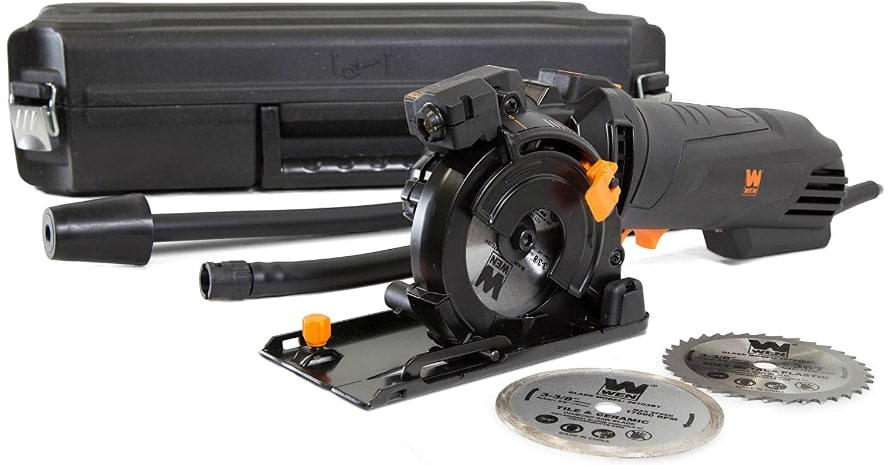 WEN 36704 can be called a truly miniature saw, primarily due to its design and a small diameter of a blade (3.3 inches) used here. With this tool, you can make cuts even with very limited maneuverability. It is lightweight (4.5 pounds) and designed so that you can crawl anywhere.
A motor here is far from the most powerful (504W/4.2A), but for small tasks, this is what you need. With it, you can easily cut drywall sheets, ceramic tiles, plastic pipes, and even sheet metal. Maximum no-load motor speed reaches 4500 RPM; excellent performance for a compact hand tool. You can adjust the depth with a metal fence. The maximum possible depth is 1 inch. Unfortunately, this model only gives 90° straight cuts.
The tool kit includes three replaceable blades for wood, metal, ceramic, a hose for a dust collector, a laser guide, and a compact case for transporting the device. The disadvantages of this appliance include not the most convenient arrangement of buttons and its control system. For example, the manufacturer has placed a run switch at the bottom of a handle, actually under the device. Moreover, the handle itself, in my opinion, is quite thick and may be inconvenient for those with small palms.

---
PROS:
Ideal for small jobs;
High speed;
Very compact.
CONS:
For straight cuts only;
Inconvenient location of buttons.
---
5. Best Mini Circular Saw for the Money: BLACK + DECKER BDCCS20B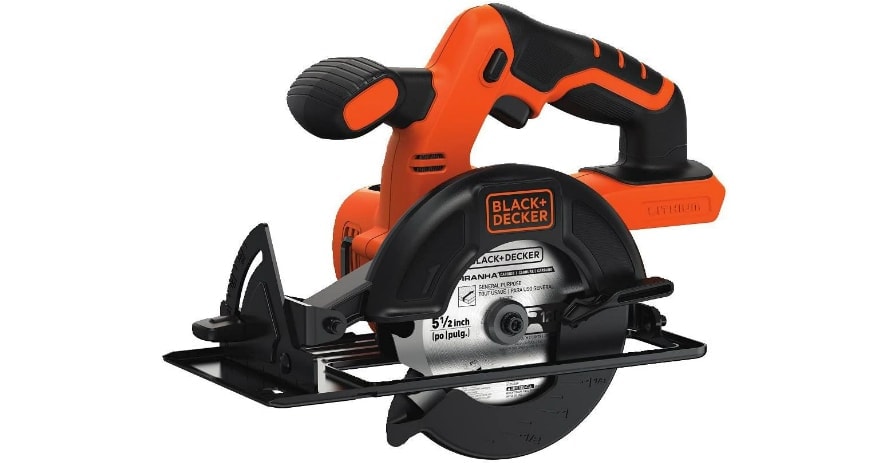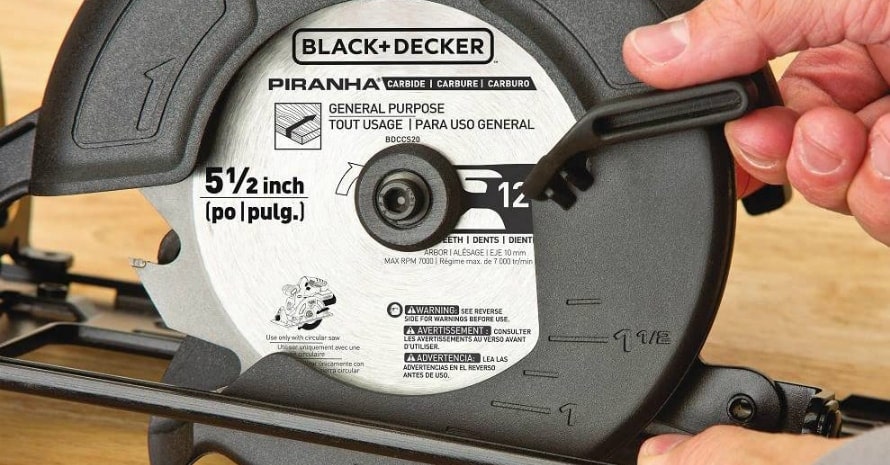 If you are a beginner woodworker or just looking for an inexpensive saw to use occasionally for small cuts, then BLACK + DECKER BDCCS20B is worth a look. It is one of the cheapest models on my list. It has a sturdy and durable construction and is easy to use. However, a 20V battery is not included in the package, so you will have to purchase it separately. Or, if you already own a BLACK + DECKER instrument, you can use its battery.
This model is equipped with a high torque motor, which can reach speeds up to 3700 RPM. While it is not the most impressive figure for mini saws, it is sufficient for light-duty finish tasks. The required blade diameter is 5.5 inches, and the maximum cutting depth is 1.75 inches. In this model, you can also adjust a tilt angle and set it in two positions 90° or 45°. Among the disadvantages is the short operating time of the tool. If you plan on using it for a long time, e.g., for long cuts, you will need to recharge its battery really frequently.
Since it is an inexpensive saw, it does not have any special features that would enhance the experience of using it. It's just a good quality and small (6 pounds) device for simple jobs. Since a small motor is installed here, the device works quite quietly compared with analogs.

---
PROS:
Great price;
Quiet;
Suitable for beginners.
CONS:
Short working time;
No additional functions.
---
6. The Most Durable Little Circular Saw: Bosch CCS180B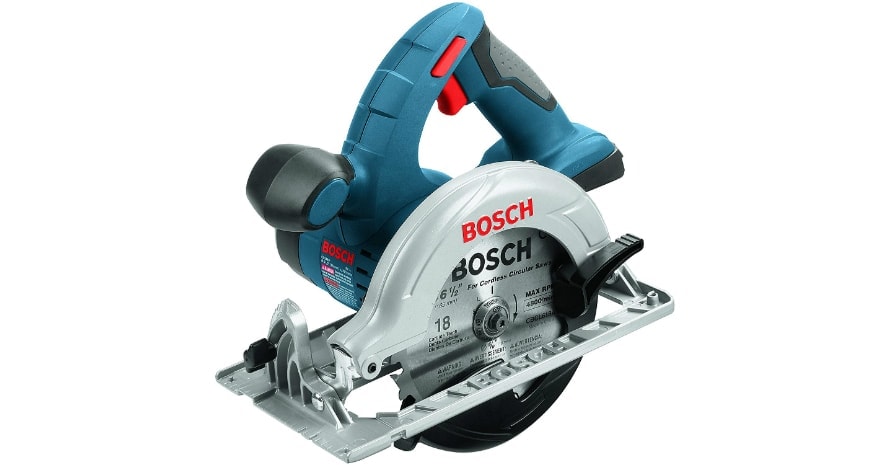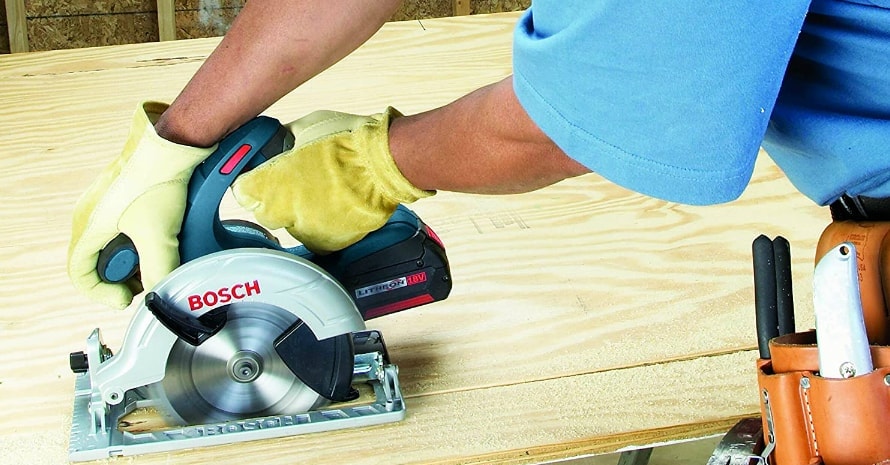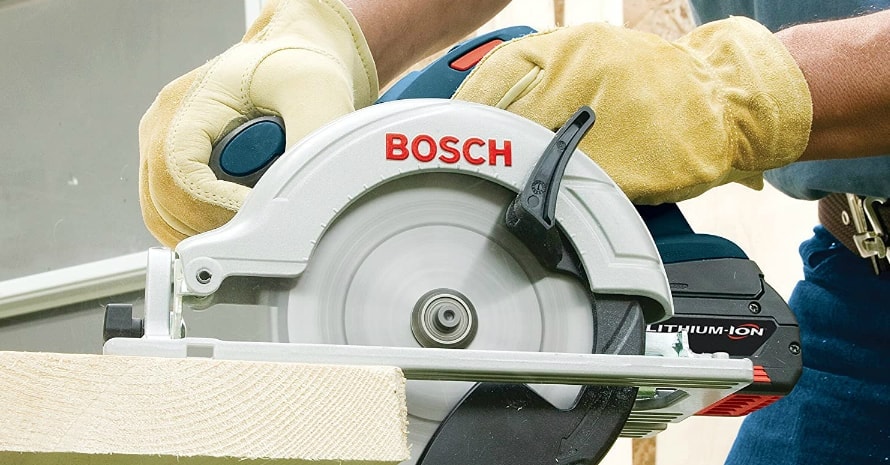 Bosch CCS180B is a model for those looking for a good tool from a trusted manufacturer. Like the previous product, it does not differ in any special characteristics or functions, but it does its job well. Although compared with similar products, it is worth noting that this saw is somewhat overpriced. However, since all the tools from the German brand Bosch are proven to be durable, you can be sure of the model's reliability.
This cordless saw is powered by an 18V lithium-ion battery and is capable of speeds up to 3900 RPM. The blade measures 6.5 inches in diameter and can cut to a depth of 2 inches. When you change the inclination angle to 50°, the depth (1.5 inches) also changes. The tool is equipped with an electronic brake system for quick stopping during operation. To ensure perfectly straight cuts, the manufacturer has also equipped it with a proprietary sole that glides smoothly over any material and protects against a snag.
Like all Bosch products, this saw has a simple yet user-friendly design. Changing the angle or adjusting the cut depth is easy. However, the model does not offer any auxiliary functions, such as a built-in dust collector or a laser guide. That is all that one would expect for such a cost. Besides, a battery and charger are not included.

---
PROS:
User-friendly design;
Easy to use;
Sturdy.
CONS:
A bit overpriced;
No dust collector.
---
7. Battery Mini Circular Saw With Cooling System: SKIL СР540602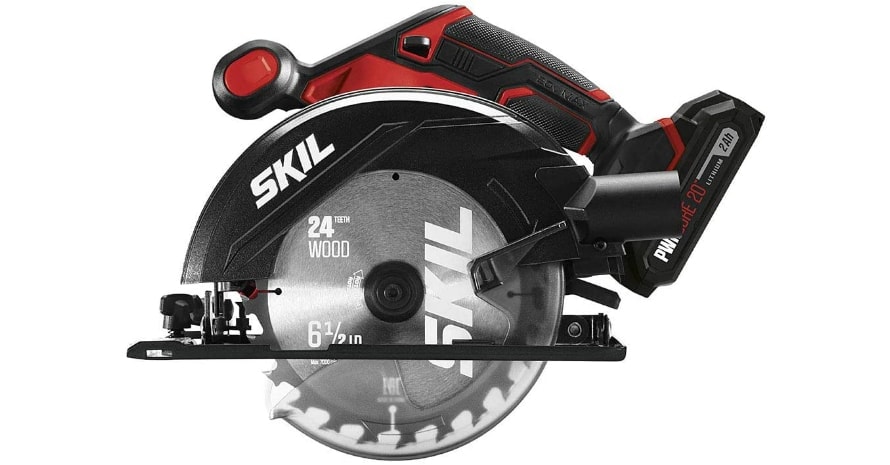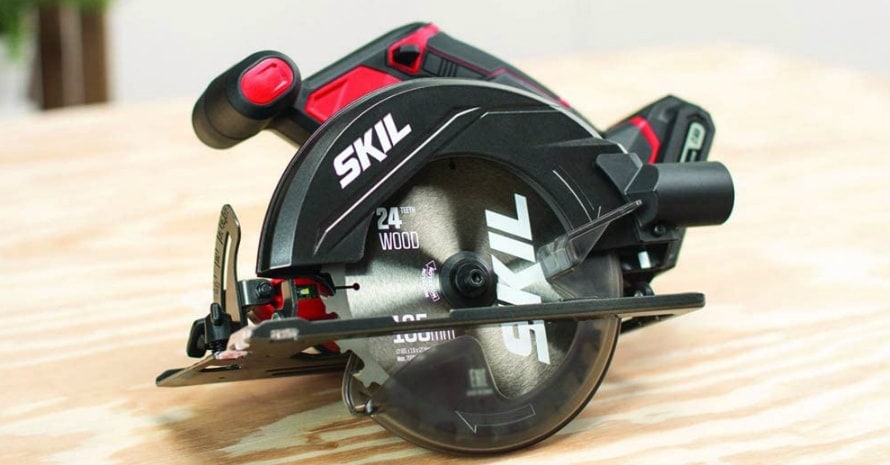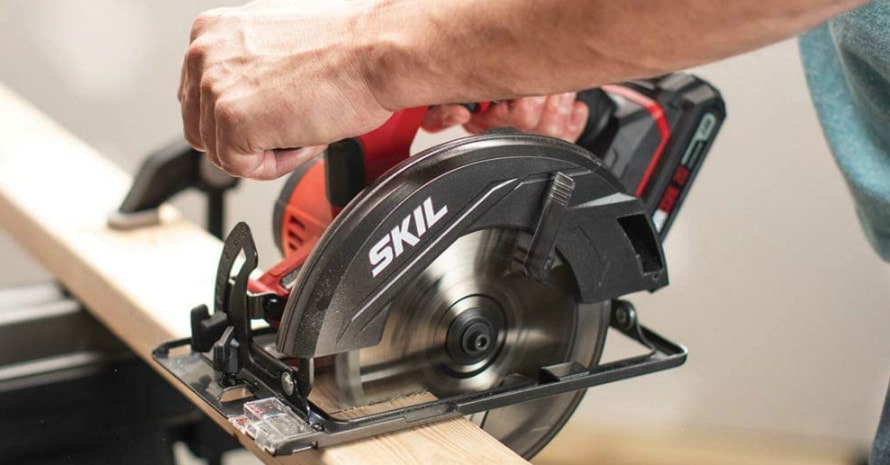 This wood saw is battery operated and has a 50° blade tilt. It is perfect for different household chores, like making shelves. The kit includes a PWR core 20V lithium battery equipped with a unique temperature control system. Thus, the battery is constantly cooled, which increases not only the battery life but also its service life in general. Unfortunately, as it turned out in the bright sun, the battery heats up much faster, which you will have to consider when working outdoors.
To charge the battery, use a certified device that charges it in 50 minutes. By the way, the charger itself can be mounted on a wall. Motor power provides up to 4500 RPM. A 6.5-inch ultra-thin blade has a carbide tip, so it will last for quite some time. The 90° cutting depth is 2.12 inches. A special kerf visor ensures a straight cut.
Also, for your convenience, the manufacturer has added a green LED charging indicator. Another advantage is compatibility with any SKIL 20V tools. Separately, I would like to note the ergonomic design and a comfortable handle with a built-in lock button, making it convenient to work with the saw even for a long time.

---
PROS:
Battery cooling system;
Ergonomic design;
Affordable price.
CONS:
Only suitable for wood;
The battery heats up faster when operating in the sun.
---
8. Universal One Handed Circular Saw: POPOMAN MTB80B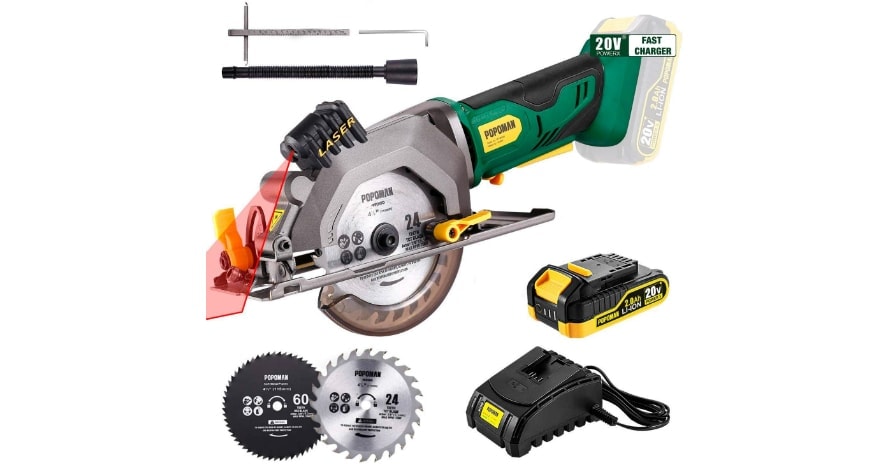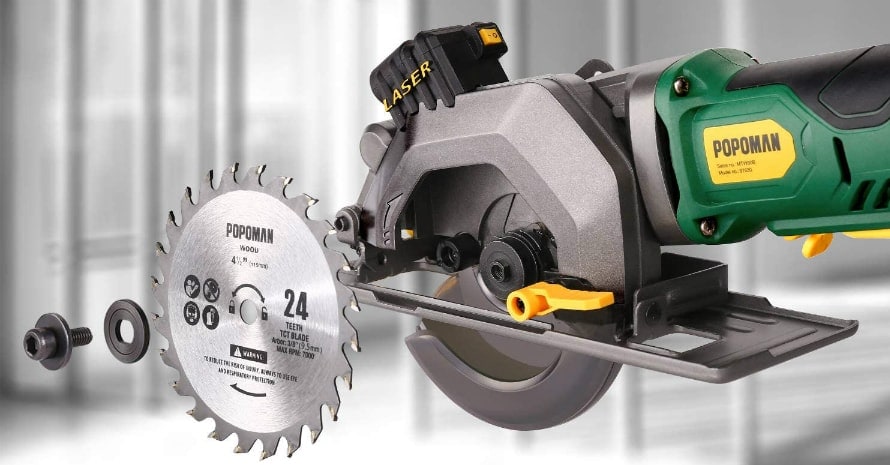 It is an all-round saw suitable for cutting wood, plastic, drywall, and soft metal. I liked that the kit includes two blades at once: one for wood and soft metal. They are easy to change using the tools supplied with the saw. The POPOMAN MTB80B is powered by a rechargeable battery (2A) and comes with a charger. A full charge takes 1 hour. Its maximum RPM is 3500.
Thanks to its portability, the saw is suitable for stand-alone operation, including on the road. But the battery is discharged rather quickly, so it is better to have a spare battery in the kit for long-term tasks. Also, the saw does not have a special container, so you should be careful in positioning it in the trunk of your car. The manufacturer was also concerned about the safety and installed a protective visor over the blade.
The item weighs 4.8 pounds, and the battery is positioned to maintain a balance between the front and rear. Therefore, during long-term work, your hand will not really get tired. And it is important for control over such a dangerous tool. You can cut materials at different angles. The 90° cut is 1.68 inches, and the 45° cut is 1.37 inches. There were no problems with the cutting angle adjustment; moreover, the saw design allows you to see the cutting line clearly.

---
PROS:
User-friendly design;
Works with different materials;
Two blades are included.
CONS:
Quite a high price;
Fast battery drain.
---
9. Lightweight Portable Circular Saw: Rockwell RK3440K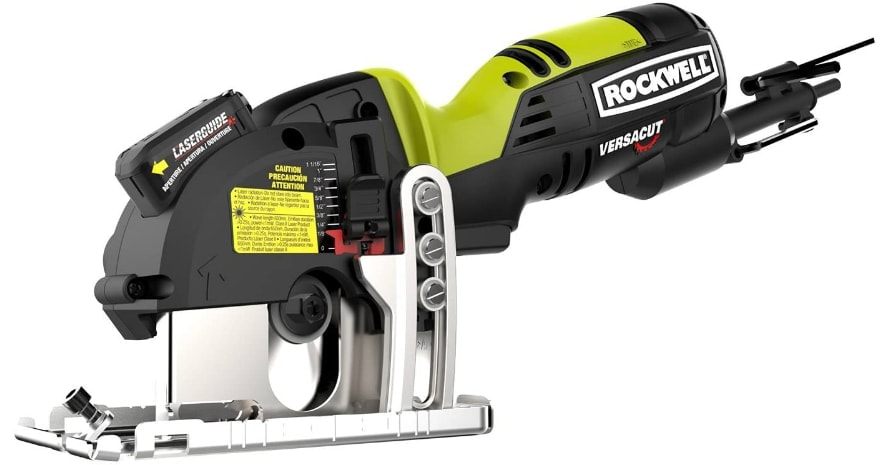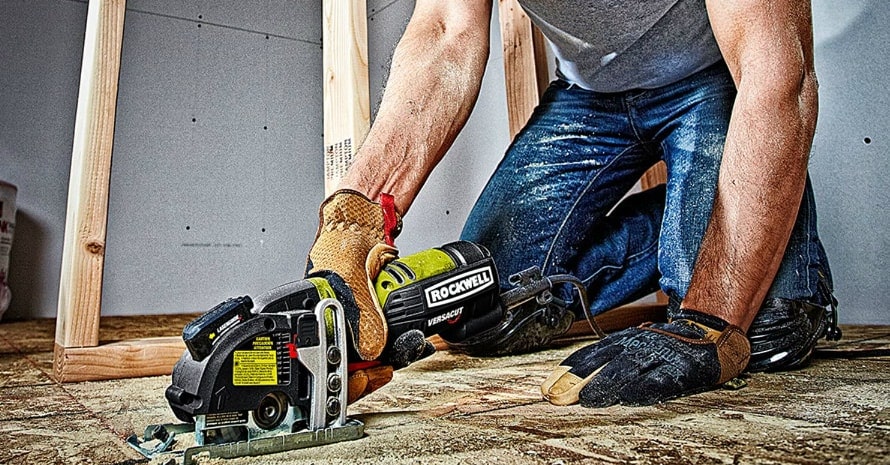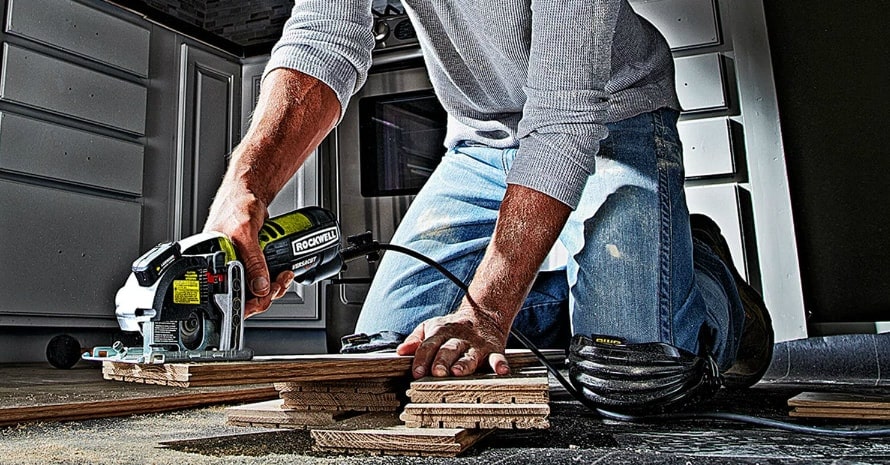 Rockwell RK3440K is a compact saw with a small motor (4A) that is easy to operate even with one hand. It weighs only 4 pounds and is suitable for cutting wood, aluminum, ceramic tiles, plastic, and slate. An outlet powers the tool. Unlike many other mini models, this product is suitable for cutting materials thicker than 1 inch. The maximum cutting depth is 1.06 inches, and the blade size is 3.37 inches. The cut depth is manually adjustable, and the lever is so comfortable that you can move and fix it right in the process. The maximum number of revolutions per minute is 3500.
Conveniently, the kit includes three blades for different types of materials, including a diamond blade for cutting ceramics and concrete. A plastic case can be used to protect an edge. Among the kit elements, there is a bag, which is very convenient when transporting the saw. The main part of the product body is made of metal, which also guarantees the instrument's best safety.
As a downside, it's worth noting the lack of bevel cuts feature. But thanks to Laser guide technology, this model can be used to make perfectly straight long cuts. There is also a special nozzle for dust extraction, which provides a good view of the cutting line.

---
PROS:
Compact design;
All-purpose;
Has a bag and a plastic case for the blade.
---
10. Sturdy Small Electric Circular Saw With Copper Motor: TECCPO TAPS22P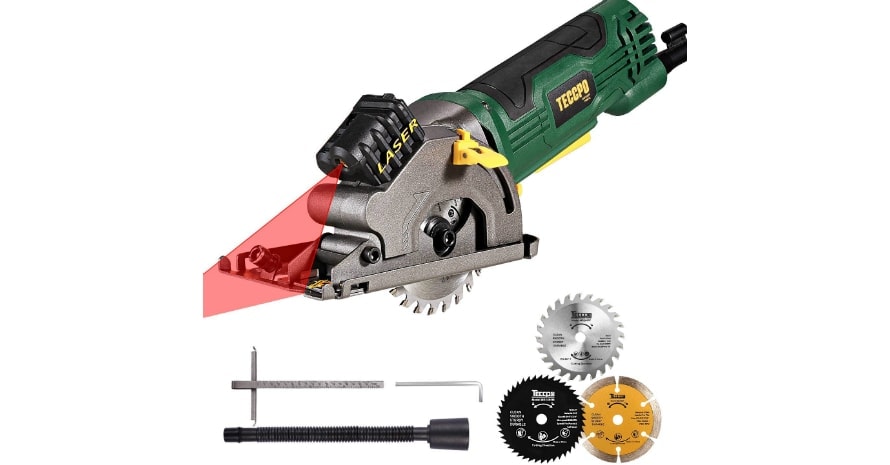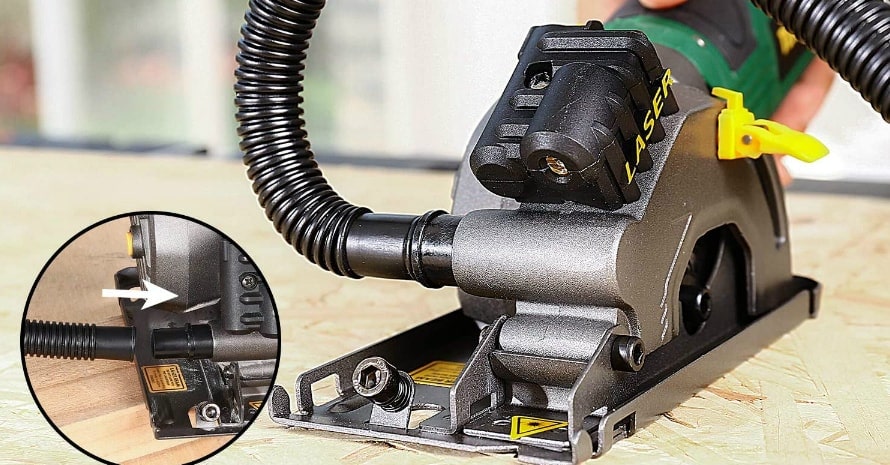 TECCPO TAPS22P is a quite powerful mini hand saw (480W/4.8A). One of the model features is a motor made of copper, which makes it heat up more slowly than standard aluminum engines with copper plating. The maximum speed is 3700 RPM. Therefore, the saw is excellent for cutting wood, plastic, ceramics, and aluminum.
The item can be operated with one hand, although it weighs 5.25 pounds. On the one hand, it is less than that of traditional circular saws, but on the other hand, there are analogs with lower weight on the market. However, I personally felt comfortable working with it, thanks to a convenient grip, which perfectly fits my hand. As with several other models on my list, it has a laser guide for precise cutting. To maintain a good view, you can use a dust extraction nozzle; simply attach the vacuum cleaner.
A cut depth depends on the material. For wood, it is 1.06 inches, for tiles 0.31 inches, for aluminum just 0.13 inches. The set includes three blades for different surfaces. Of the minuses, I note that the depth adjustment lever is made of plastic and protrudes quite strongly, so there is a risk of breaking it. However, the manufacturer offers a 24-month warranty for its items.

---
PROS:
The motor is made of copper;
A dust extraction is included;
Suitable for different materials.
CONS:
A plastic depth lever is too long.
---
Portable Circular Saw Buyer's Guide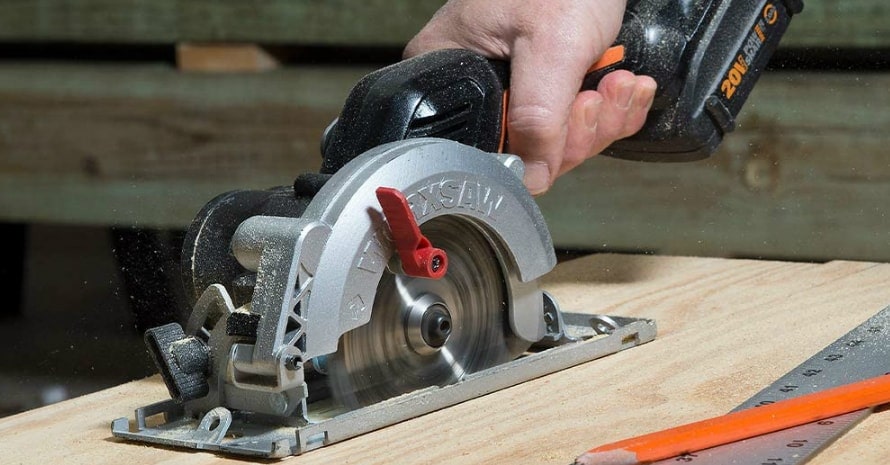 So that you do not get lost among a huge variety of compact models and can quickly find the one that suits you, I have compiled a comprehensive guide.
How to choose the best compact circular saw?
A miniature saw can be an excellent helper in everyday household and garden chores. However, you should correctly assess such a device's capabilities and understand that it is unsuitable for heavy-duty tasks. To not be disappointed after the purchase, first estimate the scale of upcoming work and, based on the factors described below, select the appropriate tool.
Power
Small motors, especially those that do not run on gas, do not have the highest power ratings. On average, compact instruments are rated at up to 800W, 4-6A (for corded), and 20V (for cordless). Also, one of the indicators of power is revolutions per minute. Of course, the more powerful a motor, the higher its rotational speed. In my experience, 3000 RPM or so is sufficient for simple tasks. The efficiency and speed of your work will depend on these values.
Blade size and depth of cut
The choice of blade diameter directly depends on the thickness of the materials you work with. The standard size is considered to be about 4 inches; these devices are most often found among compact hand-held models. However, for smaller and finer jobs, you can find 3-inch blades. A cutting depth should not be less than 1 inch. And you should be able to adjust a cut depth based on your needs.
Materials
Versatility is, in my opinion, an indicator of a useful tool. It is important that the saw you choose can handle different types of materials with ease. Of course, mini-devices will not be able to cut reinforced concrete. However, they should be able to cut a sheet of thin metal as well as plywood. Compact saws will make a smooth cut without cracks or burrs in wood, tile, drywall, and metal with sufficient power.
Ease of use
Any saw is a tool of increased injury risk. A device should have an ergonomic design, thanks to which you can cut for a long time without getting tired. Besides, many models have special protection against accidental starting, so to turn on a saw, you need to press two buttons at once. They should be conveniently located so that they can be pressed with one hand. And if you regularly work with different materials, you will need to change a cut depth, incline, and blade frequently. All this should be implemented simply and as functional as possible.
Accuracy
I think that talking about the fact that a saw should make perfectly even cuts is not worth it. After all, accuracy is one of the most valuable qualities that such a tool has. Of course, many depend on a user themselves, but most manufacturers equip their devices with auxiliary functions to make a task easier. Modern models have built-in metal or laser guides to help you guide a saw clearly along the cutting line.
Extra features
The availability of additional functions depends little on the size of a tool. Even the smallest models can be equipped with a blade tilt adjuster, a vacuum cleaner attachment to effectively remove sawdust, LED backlights, replaceable blades, and water protection for plumbing. Of course, the more options there are, the higher the final price of a saw.
Safety
Different companies equip their tools with varying systems of protection following OSHA standards. No matter how small a saw is, it still poses a severe danger. Compact devices must be protected against accidental switching on, voltage surges, possible kickbacks, have emergency shutdowns, etc.
Warranty
Any self-respecting brand gives a guarantee for a sold product and accessories. In the event of a manufacturing defect, a company may replace, repair a device, or return the money to a buyer depending on the situation.
Corded vs. cordless
When choosing between corded and cordless appliances, you need to understand which features are your priority. Cordless saws are more portable; you can easily take them with you on a trip. However, they have a short run time and are generally less powerful than corded saws. You are limited by the length of a power cord with corded tools, but you can get the job done faster and more efficiently.
Safety tips
When working with compact saws, the same safety standards should be observed as with conventional tools:
Work only in buttoned or close-fitting clothing to keep it away from a cutting surface. And be sure to wear safety glasses.
You should confidently stand with two feet on the floor, keep your balance, and not try to reach with a saw to some far point.
Stand slightly away from a cut line in case of kickback.
Do not set a cutting depth more than necessary. A blade should not protrude too much from below.
Check a saw before every use. Make sure bolts are tight, and a blade is still sharp.
Inspect a tool only after it has come to a complete stop. Never place a saw on a table while its blade continues to move.
If you find a malfunction, do not try to fix it yourself. Always contact a service center.
What can you do with a compact circular saw
By and large, with a compact circular saw, you can do everything you can with a regular tool, only in smaller volumes and with less "tricky" materials. With it, you can do rip, miter, bevel, and crosscuts. While compact tools are generally considered highly specialized, in fact, they are quite versatile in their field.
Portable Circular Saw FAQ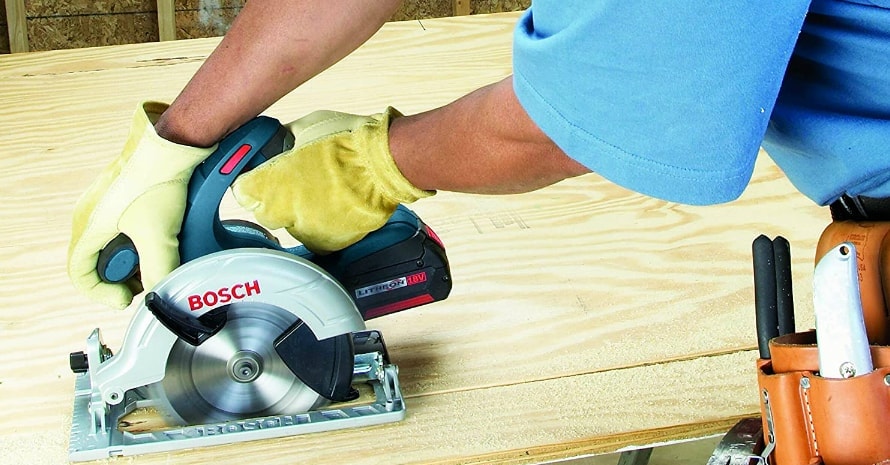 In this section, I have answered several popular questions from my readers.
How to cut angles with a compact circular saw?
Almost all compact models are equipped with a special fence, with which you can easily change the angle of a blade and make a bevel cut. In most cases, you can choose any tilt from 0° to 45° (sometimes up to 50°). Just set the angle you want and proceed as usual.
Can I cut metal with a mini circular saw?
Yes, among compact devices, there are powerful enough to cut metal. Use a diamond blade to metal, and you can cut rebar, tubing, sheet metal, and conduit.
How to change a blade on a compact circular saw?
After disconnecting a device and unlocking an arbor locking mechanism, unscrew a nut using a wrench. Pull back a guard and remove an old blade. Then install a new blade, aligning its teeth as shown by an arrow on guard, and tighten the retaining nut.
How to get straight cuts with a small circular saw?
A laser or metal cutting edge guide will help you with this. Be sure to measure and mark a cutting line with a pencil correctly; I recommend gluing it with masking tape to avoid chips and cracks. Support the material you work with securely and guide your saw smoothly and without tugs.
Get Yourself the Best Compact Circular Saw Right Now
Don't underestimate miniature saws. Despite their small size, they can be very productive and functional. Of course, compared with standard devices, they have less power, but many users do not need much for their daily activities. They handle cutting wood, tiles, and even soft metal with ease. And thanks to their small dimensions, you can work in the tightest of spaces.
I hope my mini circular saw reviews and guide can help you find the right tool. Before buying, carefully read all the advantages and disadvantages of each model to make an informed decision. In my opinion, TACKLIFE TCS115A is the best in its niche and offers excellent value for money. However, the other nine products are not much inferior to it in quality. I think that every reader can find the perfect device on this list. If in doubt which one to choose, ask me in the comments section below the article.
If you already have experience with compact saws, please share it with my readers and me. Which one do you find most effective, and why? What other models have you tried before? What do you use a compact saw for?