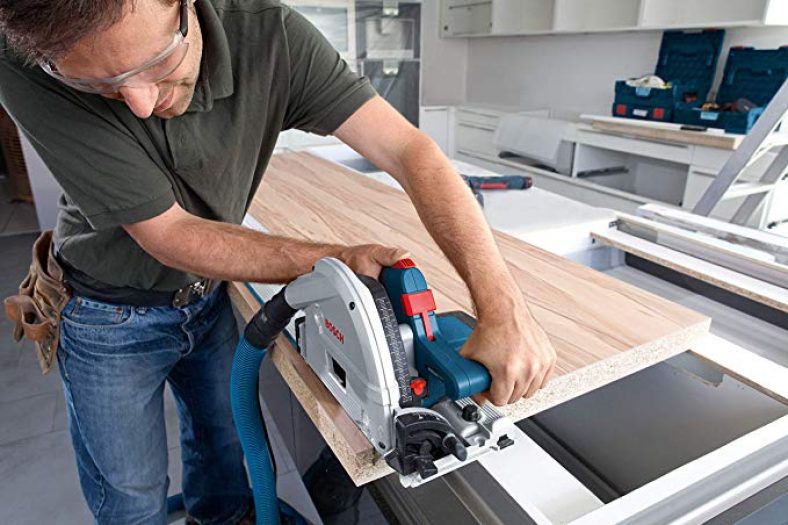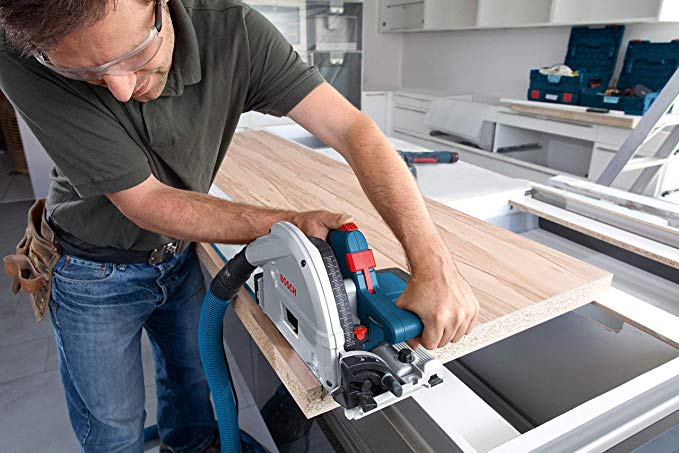 As a woodworker, I always find a track saw a handy tool for almost all wood projects in my workshop. It is a reliable power tool for cutting through sheet materials. This item works exceptionally well when I am targeting to make long, accurate, and precise cuts. I am here to ensure you pick the most suitable tool for your use. With a background knowledge of different models, I can save you a great deal.
Before landing my expertise in this field, I also used to wonder how a track saw functioned and can benefit my work. I was used to a traditional table saw until I tried a track saw and understood how easier and cleaner some cuts can be done. Currently, I have a wide knowledge of the different brands and companies which manufacture the most reliable saws. Here you can find an up-close personal experience with saws.
Lightweight model, Variable speed dial control
My Choice
Lightweight model, Variable speed dial control
I want to note that first and foremost, I recommend to always check on the motor power, bevel capacity, and RPM when choosing saw. In this overview, I will take you through the top 10 track saw models which I had the experience to work with. These models are the preferred choice for many professionals and amateurs due to their fast, long, and clean cuts.
So, check out some of the best saw track options available in the market today and why I believe they will be a great addition to your work.
10 Best Track Saws Reviews
Below I have compiled a list of the best models and brands of track saws for all seasoned professionals and enthusiasts. The track saw reviews include top manufacturers that are guaranteed to provide you with smooth and clean cuts on your sheet materials. I have dug deep to describe the types of blades used and how they can do light work on lumber and other materials. I have also included my personal favorite, which I have been using in my workshop for quite a long time.
1. Makita SP6000J1
Makita is a Japanese brand founded in 1915 and originally specializing in electric motor sales and repair. Today, this is a dominant manufacturer of power tools and accessories, recognized by professional users in more than 40 countries. No matter which power tool you need – the Makita track saw will have it, focusing on providing its clines with more compact items that have lower vibration and are comfortable to work with a 6-½ in blade.
Makita rail saw you will receive a cutting system delivers precise with fewer tear-outs, combining a powerful 12 AMP motor and lightweight design, manufactured with magnesium inputs that make this cordless track saw less heavy and, at the same time, easier to control its speed during the work. Thus, you can make smoother cuts and mirror finish your work without splinters. It has a close-to-wall cutting feature, with 11/16-inch cutting, and can make a preliminary cut of 1/16-inch before the final cut-through of the whole material.
This plunge saw has an excellent bevel capability: from -1° to 48°, and it has positive stops at 22.5° and 45°. Another feature is variable speed dial control that helps you to choose a perfect speed depending on the application: you can easily adjust the right constant speed from 2,000 to 5,200 RPM. To protect the motor from burn-outs, this plunge saw with guide rail has a built-in torque limiter.
---
PROS:
Lightweight model
12 AMP motor
Torque limiter
Variable speed dial control
---
2. Festool S575389
This model is not a standard circular saw, as it features a guided trail where the saw rides, thus providing precision and accuracy. It is lauded among the most advanced panel saws, miter saws, and cabinet saws in the world. If you know a thing about cutting hardware, you will definitely acknowledge this saw's capabilities at first glance.
I am advantaged to have worked with the Festool S575389 at one point in my life. I was impressed with how it was able to produce precise, glue-ready, splinter-free, and quick setup. The item works on various occasions, including cutting sheet materials and obscure angles. You no longer have to design a complicated shape or even locate heavy materials for your workshop equipment.
This saw guarantees seamless work fitted with the parallel rail which comes in different sizes. The flat housing nature of the saw also ensures that you carry out flush cutting. Additionally, the saw is backed up with a riving knife for preventing kickbacks with up movements of the materials.
As a woodworker, I know how hard it is to deal with splinters each time at the workshop. However, with this model, you can create splinter-free cuts of any lengths. This can be performed with any material you are working on and at different evasive angles because of the dual splinter guards fitted on both sides of the blade.
If your workshop often looks untidy and you, like me, hate cleaning up after working on any material at work, this saw is what you have been looking for. This model features a dust extraction interface, which means that there is little cleanup afterward. The dust extraction system will only work well if you take good care of it. Dispose of dust in the collection bag often, and you won't damage it.
Either way, a saw with a sawdust disposal system is always great. It cleans up your working area making it easier to perform complex cuts. It also means that you don't have to jerry-rig a vacuum to the saw to handle your cleaning as you cut pieces.
Even when working on different materials with different thicknesses, the blades fitted on the equipment vary with speed. This helps to adapt to the material and the style in a matter of seconds. No matter how tough the material you are working on is, you can perform an excellent job thanks to the slip clutch. You will, however, need some getting used to this tool before you can learn all of the saw features and start pushing it to the fullest.
The depth cut level usually varies with the type of equipment and the thickness of the material being used. I managed to create a 2-3/4 cut when I was working on hardwood material with this model.
A lot of customers have been interested if I could visit their place with gardening and wood-crafting workshops. This could be difficult, you know, especially when you have a heavy-duty machine. However, with this item, it is not a case. The lightweight and compact size of this model can fit perfectly into the passenger seat of your car.
This tool can work as an easy-to-carry option if you have a truck. This makes it the perfect saw for a handyman or professional who is always on the move. You can transport it from your workshop to the field and deploy it on short notice. You no longer have to spend hours shuttling between your work area and your garage to trim pieces to size. Now, you can easily implement them into the project you are working on.
Here are some pros and cons I want to mention additionally:
---
PROS:
Fits for professional use
Wide bevel capacity
Fitted with a splinter guard
Good for making deep cuts
Superior quality
Anti-kickback mechanism
---
3. Shop Fox W1825
Shop Fox comes loaded with many specs, which make it one of my favorite portable options. It is best suited for beginners before elevating to splurge on a plunge circular saw. When I transitioned from gardening to woodworking, it was a big step. Thus, I started with this budget-friendly, yet really useful track saw.
The saw runs with the small 9-amp motor which is a common sight for many circular saws. However, I recommend beginners to be careful, especially when cutting through thick pieces of materials. The saw is highly efficient when working on standard plywood cuts. Some of the fantastic features about the Shop Fox model include the dynamic rip capacity, enclosed dust port, powerful motor, and the maximum blade diameter.
A common difference between the Fox Shop and other saws in the market is that there is a 6.29-inch blade, unlike other smaller saws. Additionally, this model has a 0.78-inch arbor, which is also bigger than usual.
This item is also fitted with the guide rail combinations which are useful when trimming door bottoms. Moreover, it is easy to cut full sheets of material and create plunge cuts in the middle panel with this tool. A solid-built back with a robust cabinet additionally absorbs the vibrations created while making adjustments with the miters lot alignment and blade fence. The durability of the machine is enhanced through the ground cast iron table.
The 4-inch dust port is another useful feature of the Fox Shop model. With the embedded system, it is ideal for maintaining a neat working space from debris and dust. This comes quite handy when working on MDF or other highly chunky material. You don't have to do as much cleaning after woodworking as you would need to with a saw without a directional dust port.
The addition of the blade tilt also ensures ease with evasive angles. It moves potentially up to the angle you desire between 0 to 45 degrees. You can find an advanced package with an enclosed mobile case. This helps the saw increase its stability with smooth pushdown movements for any location.
Here are the pros and cons I find about this time-tested model:
---
PROS:
Budget-friendly
Portable and lightweight
Fitted with built-in dust port
Anti-back protection
High precision and accuracy
CONS:
Needs a complementary guard rail and other accessories
---
4. Dewalt DWS520K 6-1/2-Inch Track Saw Kit
Although I had some positive experience with other Dewalt equipment before, this one came as a pleasant surprise to me. The cutting of this model is smooth, accurate, and fast. It comes with a soft start motor which many woodworkers will laud due to ease in control. It has a sturdy control which is easily adjustable due to the thick magnesium base. I enjoyed the firm grip on the saw thanks to the comfortable grips fitted with rubber.
The saw is powered by a 12A, 1300W motor which can work to a maximum of 4000 RPM for the blade. Throughout my work with track saws, I have realized that with a slow RPM, you can cut through most material fast as long as the motor packs a punch. This model works the opposite way: when working with thinner material, a high RPM helps to increase the accuracy of the cuts.
The Dewalt track saw is fitted with a 59-inches guard rail which makes for heavy-duty equipment. I prefer this kind of guard rail, especially when I am working on cutting long materials simultaneously. You can also create customized angles on your materials thanks to the 47-degree bevel capacity.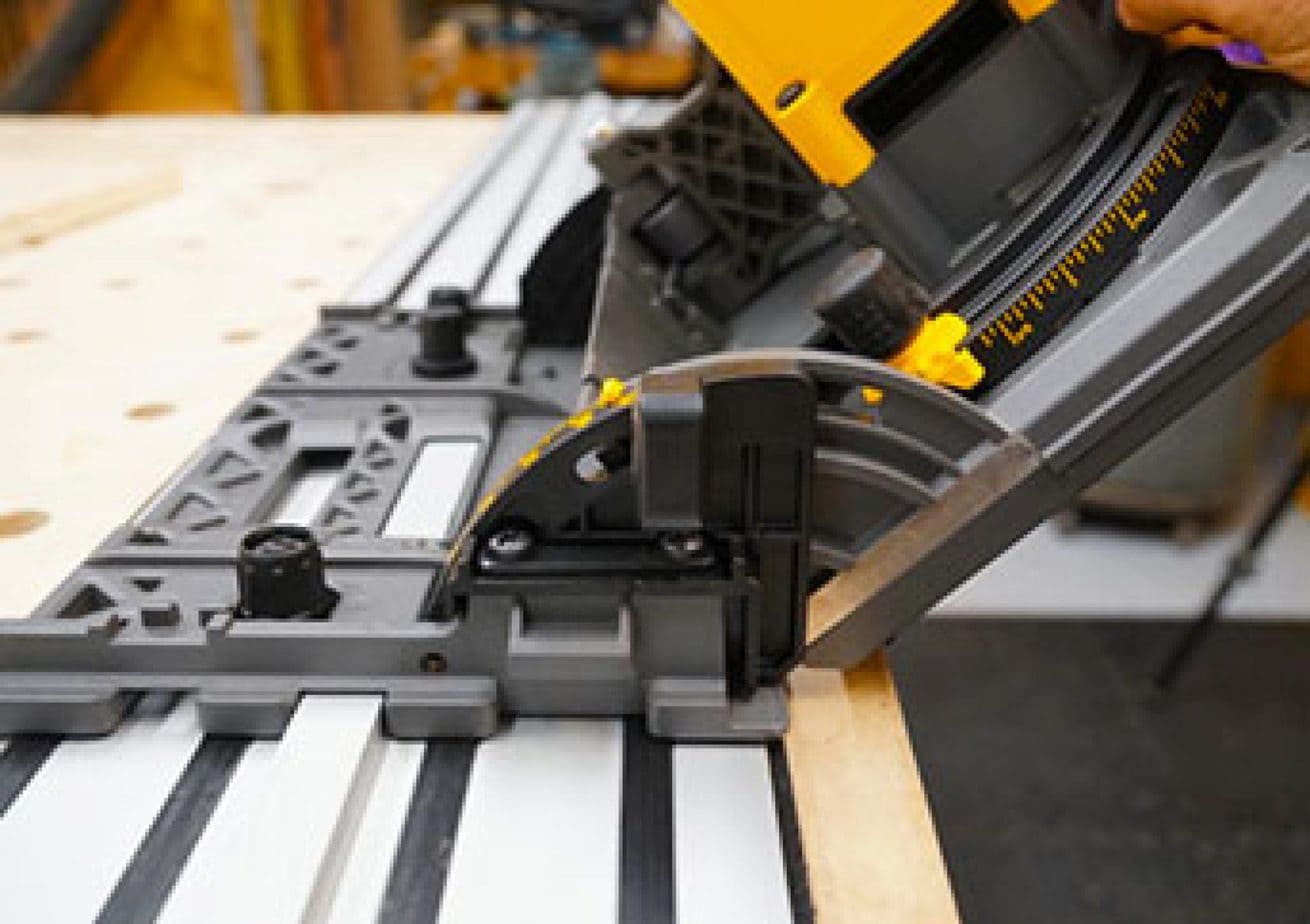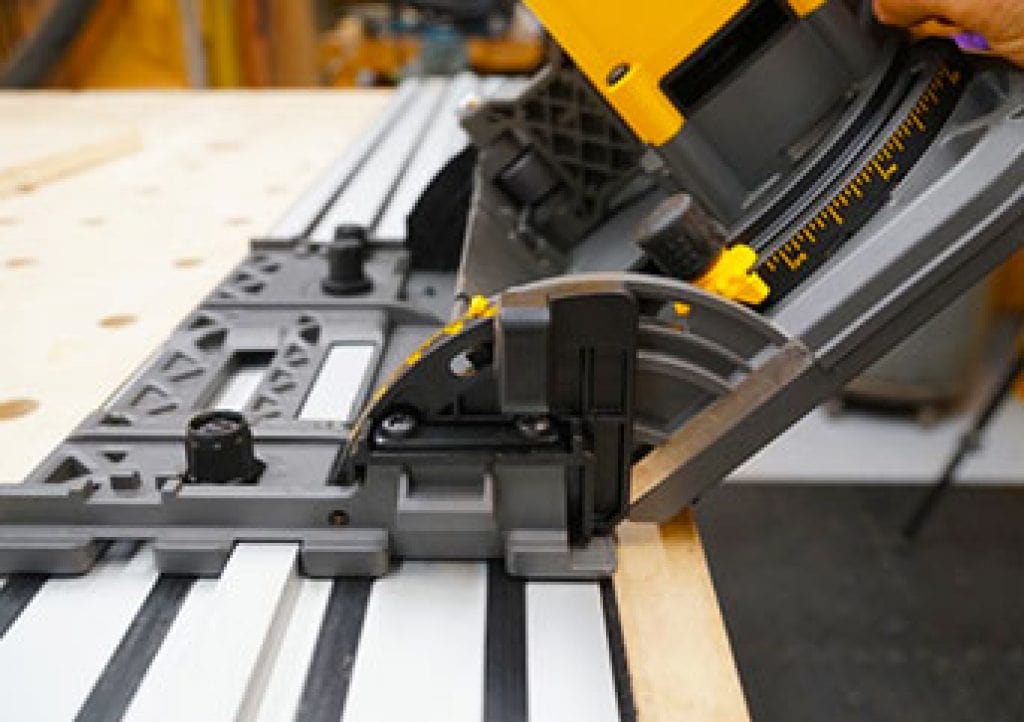 A common problem I faced working with other track saws is the backward movements upon releasing the knob. However, the Dewalt item is measured up to perform without such movements due to the installation of the anti-kickback catch. The track is thrust against the base of the saw. The base is fitted with a spring-loaded wheel at the center groove.
Most of the Dewalt models come with a 6.5-inch diameter blade. This applies to the DWS520K, which fits the universal blade. I want to note that I continuously faced hard times when working with this model, especially with the installed blade shifting system. This is highly discouraging for beginners since it features an eight-step procedural guide in locking and unlocking the levers.
If you can look beyond these initial complexities, you will find this Dewalt saw quite delightful to work with. It will continuously chow down whatever you send its way. This is coupled with the company's reputation for building long-lasting equipment. That means that you will have this saw working for years to come no matter how often you use it.
Here are the advantages and the main disadvantage highlighted below:
---
PROS:
Low profile blade guard
Dual edged tracks
Zero clearance cutting system
Anti-kickback continuous mechanism
Hugh precision and accurate cuts
CONS:
Non-friendly blade changing system
---
5. Bosch GKT13-225L 6-1/2 inch
Bosch track saw is filled with a lot of pro features. It has a soft start for the reduction of wear on the motor. When it is in operation, the electronics help in maintaining the speed even when under heavy load. That is why, if you have been looking for a professional tool or if you are constantly working with precise square shapes, take a closer look at this Bosch model.
It took me some time before I mastered the plunging feature. This is because it comes with a standard trigger for the motor. Also, there is a separate release for the plunge lock to make the working process safe and smooth.
I found out that the company places a marking on the blade guard, which indicates the positioning of the blade kerf when making a plunge cut. At the front, there is a window with a red line which shows where the blade kerf position ends. When you need to cut something precisely, the markers will be useful to indicate where the saw comes.
No wonder that a lot of professionals prefer to utilize the tool for precise cuts with the exact speed needed at their workshop. With experience in my field, I have understood that the saw needs to be as good as the blade. Therefore, I highly recommend this model to wood crafters of any experience to familiarize themselves with the different blades and the changing process.
The GKT13 comes with added tension adjusters at the base plate to ensure the application of tension to the track results in precise cuts. There are also a few complementary accessories for the track, including a travel stop and a miter gauge for top performance.
It worth mentioning that this GKT13 model is compatible with Festool production. This is in addition to similar guide rails which are available in various lengths. I find it easy to combine the extended lengths of guide rails as required by the track connector.
Another added feature of this saw is the depth gauge, which indicates the depth of the cut on the guide rail. This way, you can take full control over the length and depth of your cutting performance. What is more, in a package, you get an inclusive L-Boxx for storage and transportation.
This model has been in great use for me for over two years. During this time, I haven't experienced any difficulties nor maintenance issues with this tool. Overall, I am glad to use it, and I use it quite often. However, this option is not a multipurpose one, and the more you work with wood and sheet materials, the more different tools you need. So, you can consider this one as a primary option in case you have another one with more specific features.
Here are the good and the bad about this model for you to think about:
---
PROS:
Excellent cut quality with the stock blade
Precise rail design
Useful blade change system
Inclusive L-Boxx for storage
CONS:
More expensive than other brands
Not multipurpose
---
6. WEN CT1065 – Powerful Saw With Compact Design
WEN is a skilled power tools manufacturer, founded in 1951 in Illinois, and is now regarded as one of the leading professional power tools developers for both professional and home use.
WEN CT1065 plunge saw model effectively combines a powerful 10AMP motor and compact, easily portable design. It has a 6.5-inch blade with 24 teeth and carbide tips that can reach the speed up to 5500 RPM.
It has 3 blade settings:
plunge cuts;
scoring cuts;
blade changes.
This model has a 12-inch long and 6.5-inch wide base that goes together with precision gloves, helping you to make smooth cuts, gently gliding along the track without stopping. For angled cuts, the WEN track saw offers you 45° bevel and the ability to vary the cuts' thickness from ⅛ to ⅝ inches. It is also possible to adjust the depth gauge from ⅔ to ⅓ inches, so you can constantly control the depth of every plunge.
---
PROS:
Compact and easily portable
Goes with precision gloves
3 blade settings
Adjustable saw plunges
CONS:
Less powerful motor compared to the competitors
---
7. Festool T.S. 75 E.Q. Plunge Cut
The Festool brand is famous for the most powerful plunge-cut saws globally. This model has enough power in slicing through thick materials without a burn market or swirls. Apart from the circular saw cutting, it is also able to ensure high precision and accurate cuts without splintering. It is an easy-to-use and lightweight model, thus, highly portable one. As an additional top off, there is an enclosed dust collecting system which ensures the cleanup afterward.
Festool track saw has a guide rail for creating accurate cuts on your material. This gives you full control over the cut lines. It can cut to 2 and 1/8 inches at a 45-degree angle or to 2 and ¾ inches at a 90-degree angle. This is crucial, especially when attempting to make bevel cuts at a specific angle.
Using the guide rail, you can maintain the tool above the cut line. You can also avoid cases of splintering through the rubber lip engraved in the rail. This way, you can prevent instances of clamping the guide rail because it stays exactly at the same place. If you want to continue working with even larger pieces of material, you can make use of the added connectors to connect the join rail sections. Other related features include safe and splinter-free cutting.
This tool weighs around 13.6 pounds, and it features the impeccable blade fitted with 32 teeth with the carbide tips of 81/4 inches each. Therefore, it can process a wide load of speeds between 1350 to 3550 RPM.
Moreover, this tool is comfortable and much safer compared to other models thanks to the FastFix system, which helps in changing the blades. The power switch and arbor are locked together during the working process, so you don't need to worry about your safety.
The splinter-free cutting is possible with the replaceable splinter guard placed on both sides of the blade. There is also a protection from evasive strands of materials while the knife makes a clean cut. Such protection from splinters is not only fine for your fingers but also great at keeping your surfaces clean. With this so, you won't need to spend a long time rounding or sanding rig smoothing off very rough edges of your cuts before you finish up your work.
The riving knife makes it additionally safe when cutting any material. This detail retracts into its housing during each plunge cut. The cut kerf is opened as well to ensure that the material is not harming the blades. This way, you gain complete control over all operations taking place without fear of getting kickbacks.
I enjoyed the ease of use of this tool with its ability to change the depth of cuts. It gave me the chance to monitor how the blade exposes only partially when cutting. The unique plunge-action option does not come with a rotating lower guard in comparison with regular circular saws. However, the blade pivots at the bottom base making it safe to use.
Here are the good and bad points I see about this model:
---
PROS:
Great accuracy
Portable and easy usability
Good with deep cuts
Superior quality
CONS:
Costly
A bit technical for beginners
---
8. Worx WX530L ExacTrack 20V 6-1/2″ – Circular Saw System
Gone are the days I have been frustrated when working with a cordless saw. Currently, most cordless circular saws are up to par with tasks compared to corded tools. There is no difference when working with the Worx WX530L ExacTrack 20V 6-1/2″ circular saw. The work received thanks to this equipment is precise, simple, and plain.
It comes with the ExacTrack flush-cut feature which further gives it a much more definitive edge. When the tool is locked, the ExacTrack flush-cut ensures that the saw is a sled. When it is unlocked, it provides the saw with an edge to skirt over the side of the guide board precisely.
You can also clamp up an inch higher of the guide while still making an accurate cut with the ExacTrack. This cuts down on time spent on taking measurements while subtracting the width of the saw guard. It should be done before setting up the guide and making the final cut. I want to mention that this feature works efficiently and precisely compared to a table saw.
From afar, the ExacTrack model may seem like there is no better saw DIY than this cordless circular tool. However, two important sections are split under the base. This results in a large central portion which acts as the base, with the other portion positioned to the right of the blade a bit higher. It additionally moves up to rest the blade of the saw close to the straight edge when you are making cuts.
This useful feature means that you no longer have to measure the distance between the end of the base and bland when clamping straight edges to make straight cuts. You can proceed with marking a line that is placed on the straight edge above the guide. Afterward, you need to lift the ExacTrack part of the base while resting the saw over the board and laying it beside the board guide. The elevated portion of the base will allow for the equipment to sight over the guide while lining up the blades for the cut line, thus cutting a flush with the guide.
This is a useful addition since, in the past, I used to clamp the cutting guide several times when making straight cuts with the circular saws. But with the ExacTrack, this becomes much simpler. Currently, I am using my table saw in case I need a precise and accurate straight cut. But if you do not have a table saw at your workshop, you can opt for such a useful circular saw and clamp the straight guides for making straight cuts.
Another advantageous addition to the ExacTrack is the rip fences fitted on the circular saw. Note that they can only make straight cuts when the edge of the guide board is in a straight position. I prefer to use this technique for cutting widths from the straight edges.
When working with larger widths, the saw extends the capability of including the rip fence for making a clamped straight edge. Thus, the saw proves to be really useful. This little addition might sound trivial, but it is one of the few things that make this saw quite versatile and adaptable to a wide range of applications.
Check out the pros and cons I have in mind about this item:
---
PROS:
High cutting ability
Good angled cuts
Adjustable guide edge
Portable and lightweight
CONS:
Small-sized blade
Low accuracy cuts
---
9. Kreg Track Saw Review of ACS2000
This Kreg track saw kit usually comes with a sturdy plunger saw that gives a remarkable performance at different speeds. What is special about this option, its motor is fitted with the electronic blade brake. This results in extremely safe plunge cuts, a tractable riving knife, a shrouded blade, and advanced anti-kickback options.
The tempered kickback means that it is possible to use the tool in tight circles and cut various patterns without applying too much energy. This is good when you are working for long hours or if you just don't love breaking a sweat when working with a saw.
The design of this tool offers remarkable cutting accuracy and complete control over the process. This plunger can boast of the high bevel cutting capability at a 47-degree angle and a 2-1/8″ cutting depth. Kreg track saw is powered with a 12-amp motor to deliver powerful cutting under brake control at various speeds. What is more, in this model, you get a dust port linked directly to a vacuum hose for cleaner work.
ACS2000 model is the best saw kit in terms of advantages for a woodworker or gardener. The kit includes an advanced plunger saw with the 62″ guide track to give precise splinter-free cuts when working with any sheet materials. This advanced cutting system takes precision which is made from aluminum with an anti-chip strip that protects from splintering. This feature also keeps the track in place without the possibilities of kicks. The glide strips also let the saw move precisely along the trail.
Aluminum might not be the hardest metal in the business, but it gets the job done just fine. This track saw DIY would suit you even if you are a beginner and haven't used such a tool before. It has easy-to-use instructions with clear pictures. However, I still do recommend reading the manual before starting to work with this tool for the first time. No matter if you are a seasoned gardener or just starting working with wood, there are always small points about new equipment you need to find out.
Other features that are part of the package include the zero-offset design which is aligned at the edge of the track with the cutline. This ensures that there is accuracy when it comes to positioning. With the help of a cord manager, you can guide the saw cord when cutting and collecting dust hose at the same time.
The package also contains a project table that reflects the functionality of the Kreg Adaptive Cutting System. With the table in place, you can keep the track mounted to ensure that the saw can quickly make cuts. It comes without chances of re-clamping the track to the material with each new cut. It happens because the material is captured between the table surface and track.
The first time I saw the Kreg Project table, it reminded me of the EurekaZone Working Center. The only difference was with the simplification of the current model for beginners. The holes positioned in the table, including the guides and stop, can ensure that the material is placed precisely. Therefore, I recommend this tool for beginning gardeners and wood crafters as one of the most affordable and universal options.
Here are a lot of the pros and the only one con about this item:
---
PROS:
Powerful for cutting plywood and sheet materials
Useful since it delivers splinter-free cuts
Efficient in deep cuts
Fitted with guide kit
Can be a great option for beginners
---
10. Grizzly T10687 – The Most Reliable One
This model is ranked among the top-tested track saws over the globe. It is a great combination of functionality and power, which are expected from pricier models in the current market. It has a durable build backed with the 12.9 lb. that can be of use for a couple of years for sure.
The item is lightweight, making it very portable. There comes 9A 120W motor which can create a cutting speed to 5,500 RPM. This item can easily cut through sheet materials of any thickness. Thus, it is one of the most popular options among professional wood crafters and amateur gardeners.
This tool also has a few options of cutting depth, which can go as deep as 2 5/32″ at a 90-degree angle. It proves that with this saw, it is possible to cut through thick materials simply and precisely, even when cutting various workpieces simultaneously.
It also has a riving knife which is in charge of avoiding pinching of the material. You won't experience any kickbacks from specific movements with this tool. The angle cutting together with the dust port ensures total debris control. Here you can see a well-built tool which I strongly recommend for any woodwork. My last experience with the T10687 track saw resulted in smooth plunge cuts. Thus, you are guaranteed a reliable and functional tool with the T10687, which can give you years of service.
You will still need a few days of practice before you get used to this tool. If you use a Grizzly for the first time, make sure you have checked the user manual. Also, it is worth watching a couple of tutorial videos on how to make different cuts with this tool. You will be surprised how much good knowledge of the saw functionality can benefit your work in quality and time spent.
There are sliding surfaces mounted on the guide rail for easy and effective machine operation. It has a non-slip backing to ensure that there is a secure point on the workspace. I was impressed personally with the riving knife which prevented the wood from closing up behind the blade during the working process.
It is worth noting a specific feature of this model. The blades start to spin faster when cutting through the material. They are also carefully placed in the item, hence making cuts infrequent and small bites compared to other saws. The cutting speed, however, stokes many different models available in the market.
The T10867 model is pretty stable thanks to its base plate. There is a thick and webbed plate which is made of magnesium. With a similar design, it gives it more stability compared to other stamped metal bases. It additionally has mounting points for fixing the rods on both ends.
Here are the advantages and disadvantages of this model that are worth taking into consideration:
---
PROS:
Budget-friendly
Deep cutting depth
Long-term guarantee
CONS:
Not the most accurate one
Risk of kickback from underpowered motor
---
Buyer's Guide
What is a track saw?
Also known as plunge cut saw or rail saw, track saw is a type of a circular saw that works on a guide rail, sliding during the operation. This allows producing long, smooth cuts on any workpiece. Track saws plunge into the material to a chosen depth, producing fewer splinters or tear-outs.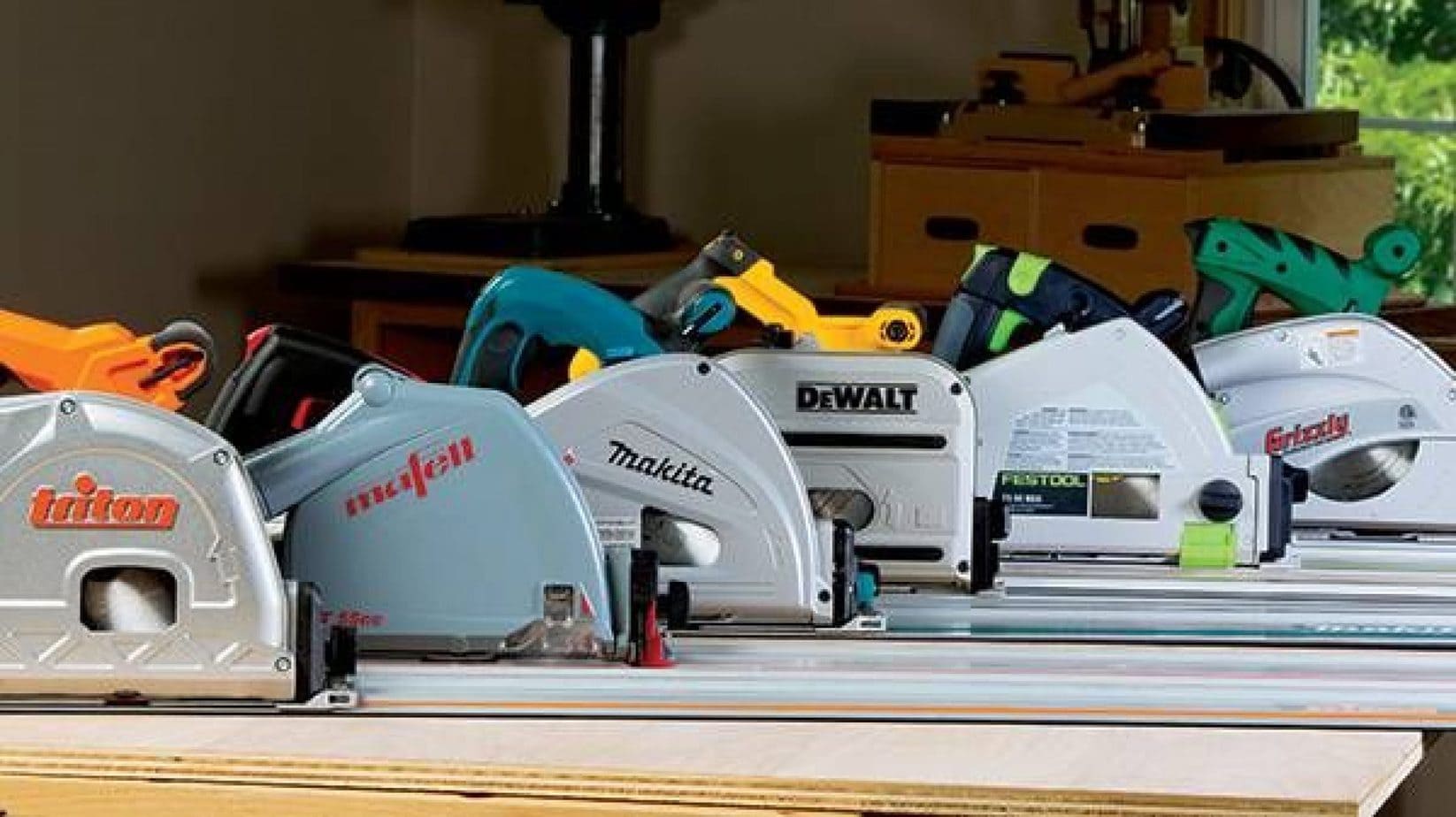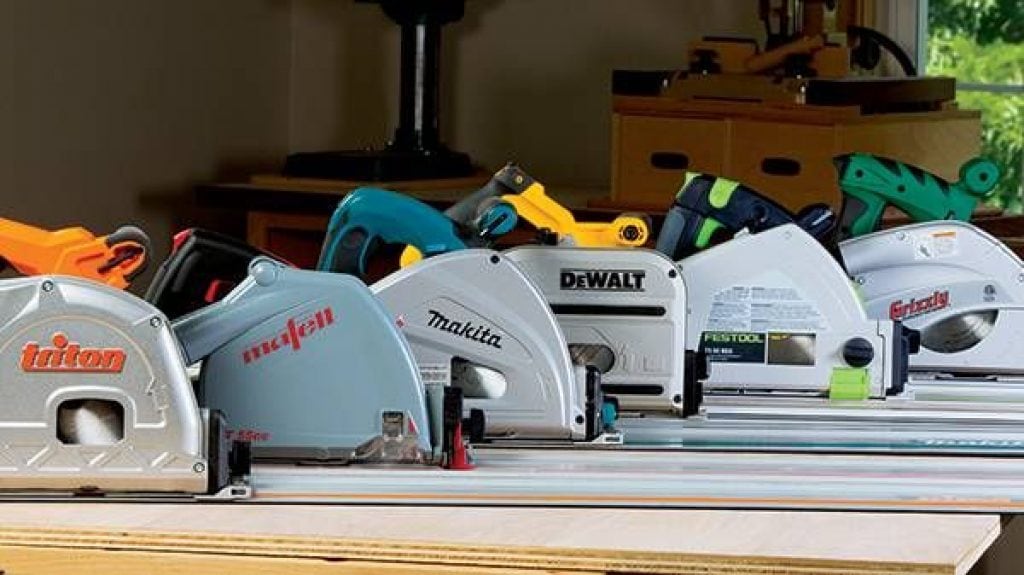 Track saws can be used as a circular saw, panel, or table and its main advantage is that it cuts objects with no necessity to move them – the track saw moves itself, making long, straight cuts.
Table saw vs Track saw
Both saw types are excellent for a particular work. Track saws are similar to circular saws, having a track they run on while cutting the workpieces. This saw will help you make a completely straight cut without following the previously drawn lines and keep the wood still without moving, giving you better control over the process. Table saw works when the wood runs past the stationary blade emerging from a working table.
Here, you have to move the wood, and thus you have less control and can't guarantee to have a perfectly straight cut. A track saw is also a leader in making splinter-free, perfectly straight cuts. Thus, it is better to work with a track saw for better cutting quality with fewer efforts.
Things to Consider When Choosing a Track Saw
A track saw is an essential tool for your work station. With a saw, you can make precise and accurate cuts on different materials without wasting time and much effort. I hope that you have already noted one of the time-tested tools reviewed above.
But let me stress that when you are shopping for a track saw best suiting your current need at work, there are essential factors to consider. Some of the things to take into consideration before choosing your saw, including the bevel capacity, cord length, and the maximum speed. Here is an in-depth look at the essential elements you need to check before picking:
RPM range
RPM or revolutions per minute defines the speed of the saw's blades and can also be regarded as the identifier of the saw's motor power. The average model of a cordless track saw has a minimum of 2,000 RPM that is enough for easy slicing the thinner workpieces without getting stuck. However, track saw has to be a universal tool for various work, and thus you should look for better RPM characteristics.
To be sure your plunge cut track saw can cut a wide range of workpieces, look for models that have a wide range of RPM, making it applicable to different materials. A lot of good track saw models have an RPM range starting from 3,000 to 5,000 RPM and thus effectively working with thicker workpieces.
Bevel capacity
This characteristic defines the ability of the track saw to cut at an angle. While some models with the limited features allow you to make only a 90° angle, a lot of modern track saws have the option of creating various angled cuts. Such models usually have a range of angles from -1° to 48°, making your saw more universal and allowing you to create a real masterpiece.
In case your track saw can offer you something more than simple straight down cuts, you can use it for a variety of objects and materials and save your time and efforts that you might spend creating a beautiful angle yourself.
Length of the cord
Cord length is another track saw a feature that has to be taken into account. While working with a saw, you will move along the floors and walls, and it is extremely inconvenient to find out you can't finish the cut because of running out of cord or just having some issues trying to work with a special extension cord. This will take your time and provide another task to be completed before coming back to work.
I recommend you to define an optimal cord length you will need in your work and look for the track saws with the closest parameters. There are a lot of track saw models with 96-inches cords, but in case you are looking for something bigger, some track saw cords can be up to 170-inches long.
Motor power
Motor power defines the overall strength and durability of your track saw. For sure, you want your tool to be as powerful as possible, effectively cutting the toughest materials. Good efficiency is demonstrated by the track saw models with a motor power starting from 9AMP and higher. This is a key parameter to look for when choosing the best tracks saw for work.
The more powerful motor you choose, the higher the price will be, so take this into account when defining your budget. In case you are looking for a powerful professional tool, choose the models with 12-13 AMP motors, as they will be able to cope with the toughest materials.
Track length
There are track saw models with a pretty different track length, which defines how long will your cut be. However, for shorter tracks, it is possible to purchase a track extension. When working primarily with a 12-inches bord, you won't need a 48-inches track, but in case you are ripping a plywood sheet, take into account how complicated it will be to reset the track in the middle of the cutting.
Track resetting also increases the risks of possible cutting errors. For a job site work, a perfect option is track saws with modular tracks that can be used to cut smaller pieces and snap them together. For the workshop, it is better to choose track saws starting from 25-inches and up to 100-inches.
Blade length and material
Choosing the right size and material of the blade, you have to take into account the larger blade that can cut deeper into a workpiece, and thicker material will allow you to cope with tough tasks. Steel blades are easier to sharpen and more affordable, perfectly suiting for work with solid wood. Carbide-tipped blades are more expensive, harder to sharpen, but they are also 50 times more durable and better for hardwood.
The average plunge cut saw model has 6 ½ -inches blades that allow it to cut the 2-inches thick workpieces. For more serious tasks, there are saws with 8 ¼ -inches blades that are used for cutting materials up to 2 ¾ -inches thick. You can find miniature track saw models with 4 ½ -inches blade length that can cut workpieces no thicker than 1 inch. For such materials as plastic or non-ferrous metals, you have to choose a tempered steel blade with carbide or carbide-tipped teeth.
I highly recommend looking around for features that can suit your needs before choosing a corresponding item. Before picking your tool, you must prior specify the nature of the material you are working on. Then, you can analyze the best track saw features according to your needs. Each factor has a useful addition in making your work easier.
For instance, if you need it for a home project, there is no necessity of spending all your budget. And otherwise, if you need a track saw for professional use, it is worth purchasing a highly accurate one from the very start. What I also always advise people is to go for the time-proven track saws from reputable brands in the market.
Do you need help in choosing the best track saw system? Don't worry. I will be glad to help you out. Just ask your question in the comments section below, and I will answer promptly and assist you with selecting the perfect saw for your needs and budget.
FAQs
How to work a track saw?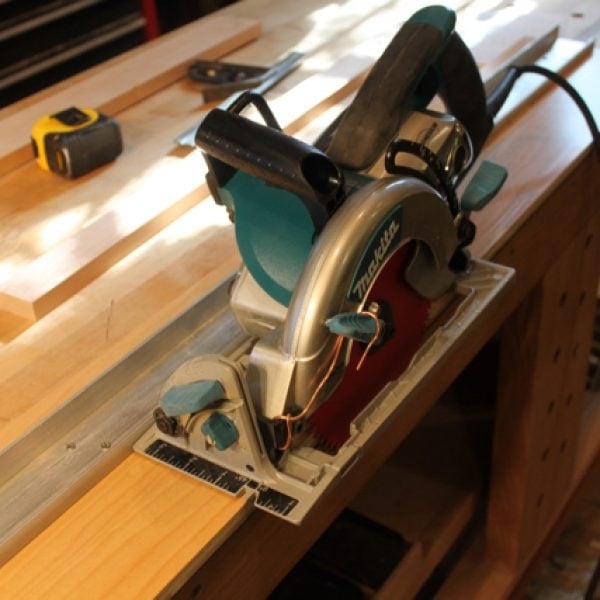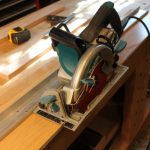 To start the work of your saw, you have to enable the plunge release and power trigger. Start with hitting the plunge release, getting the blade out of the housing, and then press the trigger that will turn on the saw's motor. When you have enabled them, you can turn the motor on and start working with your pieces.
Don't forget to choose the right speed by pulling the trigger and waiting until the blades will reach an optimal speed to make smooth, straight cuts with no damages. The track saw works by sliding on a track, making adjustable cuts of your workpieces.
What blade do you need for a track Saw?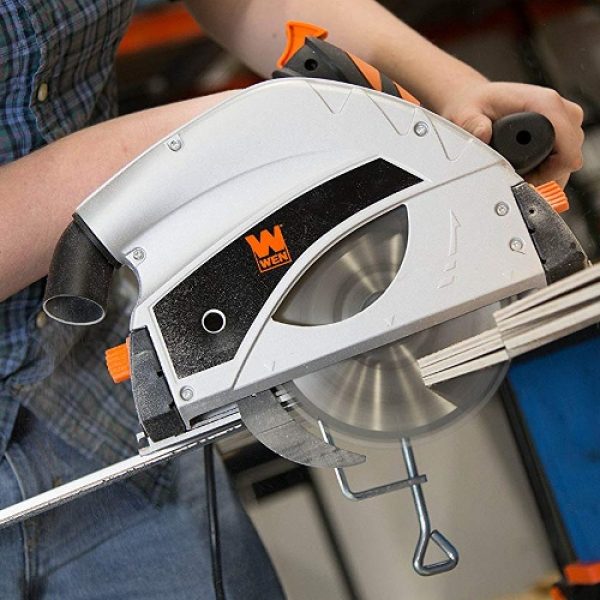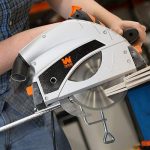 Choosing the blade, you have to define the materials you plant to cut, the required depth of cut, and the overall amount of work. Caride or carbide-tipped blades make clean, straight cuts, are good for softwood and hardwood cuts, as well as non-ferrous metal pieces, plastic, and plexiglass. They are more expensive and durable but harder to sharpen. In case you are planning to work with multiple softwood pieces or want something less expensive and more lightweight—it is better to choose HCS (high-carbon steel) blades.