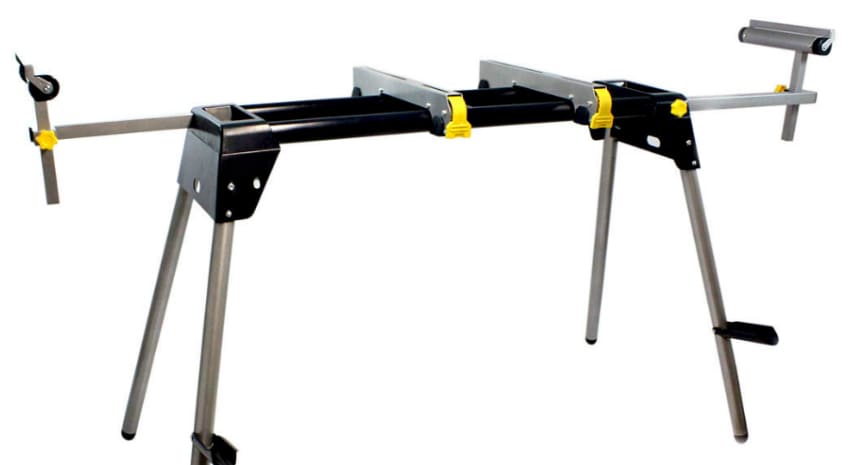 Many customers who are looking for the best miter saw stand is confused with the wide range of products on the market. Although the multiple stands from well-known developers provide you with increased possibilities, they also may turn your searching into a nightmare. To find the most suitable tool for you, I suggest focusing on your personal demands and the miter saw you are working with. And keep in mind that the cheapest stand is not always the best one. I've gathered 10 most popular choices and my favorites here. Read a detailed review and use the tips I share in the buyer's guide.
Pros
Handles up to 300 pounds of weight.
Top Pick
Pros
Handles up to 300 pounds of weight.
Top-10 Stands for Miter Saws
Here is my collection of the best stands for saws. I checked them out before doing the review and found numerous features that may be interesting for you. Read the description, and pay attention to the table of pros and cons.
1. Dewalt Miter Saw Stand – Compact and Adjustable Miter Saw Stand with Wheels
This stand is the top product I personally admire for its durability and ease of use. It looks like a transformer with advanced features. The whole construction is pretty solid as it is made of high-quality steel. There are adjustable outfeed and infeed roller and mounting rails, so you can put any kind of miter saws on it. And the maximum capacity of 300LB allows you to place even the heavyweight saw on the stand.
Stand's specifics:
Dimensions of the stand:32.5 inches height x 98 inches width in the expanded form, and 17 inches height x 59.5 inches weight in the folded condition;
The weight is 67 lb;
Two wheels with a wide rubber grip guarantee the mobility of the stand.
Dewalt is a well-known developer of hand tools, power tools, and accessories. They provide top products on the market. This stand is not only strong and durable but also mobile and flexible.
---
PROS:
Durable steel;
Mobility;
Easy to adjust to the height and weight of any miter saw;
Handles up to 300 pounds of weight;
Affordable price.
CONS:
You may need to tighten the cable so it would not collapse.
---
2. Bosch GTA3800 Miter Saw Stand – Universal Folding Saw Stand with High Weight Capacity
The stand has folding legs for better mobility. It is also a universal tool where you can put miter saws of any developers, just make sure these tools are not wider or heavier than the stand can handle. However, there is an extended wide roller for bigger saws.
Features of stand:
It weighs 58 pounds;
Dimensions: 32.5 inches height x 62 inches length x 32.5 inches width. The extended length is 153.0 inches, and vertical height is 32.5 inches;
It has sliding rails which can support 16 feet material;
There is a comfortable handle.
This tool is transportable, not only because of its lightweight but because of the carry handle made in ergonomic design. Bosch is a famous developer of various tools for professionals and amateurs. Its products are highly durable and checked by millions of customers around the world.
---
PROS:
High-quality materials;
Universal size;
Ergonomic handle;
Adjustable height and width;
Well-known developer.
CONS:
The price is slightly high compared to other stands.
---
3. BORA Portamate Heavy Duty Miter Saw Stand – Quickest Set Up Among Miter Saw Stand Reviews
This stand can be set up in no time. Although it may not feel like its main advantage, the time may be crucial in case you have to work on a big project and start immediately. This stand can also be used with chop saws. The stand is made of high-quality tubular steel and can handle up to 500 lbs. The tool handles 12 inches miter saws. To set it up, all you need is to push the legs out of the table and secure them with pins in the position you need. After the work is done, you may fold it up or leave it to stay this way.
Features of Bora stand:
Dimensions: 43.5 inches width x 20 inches diameter x 5.5 inches height;
It weighs 30 lbs;
The working height is classic 36 inches, which is usually preferred among professional woodworkers.
Bora developers are known for their tools for woodworks. They make professional instruments for everyone. There is a 1-year guarantee on this tool. I like this stand mainly because of its simplicity and reliability. But if you want to buy extra mount sets, you can do it separately from the same developers.
---
PROS:
High-quality steel;
Universal size;
Strong grip;
Easy to set up;
Affordable price.
CONS:
Does not include specific tools in the pack.
---
4. ToughBuilt Gravity Miter Saw Stand – Universal Table for Miter Saw with Wheels and Tool Mounts
This stand fits greatly with any saws, no matter of the brands. It is mobile and can be moved with the saw on it thanks to the 8.8 inches never-flat rubber tires that are attached to the table. There is a 10-feet extension for wider miter saws. The whole stand looks reliable and solid, mainly due to the fact that it is made of high-quality steel and has 2.4 inches frames to hold it.
Features:
Dimensions in a closed position are 28.15 inches width x 29.13 inches diameter x 57.09 inches height;
It weighs 60.63 lbs;
There are two 8.8 inches tires of high-quality rubber;
The heavy-duty steel increases the durability of the stand.
ToughBuilt is a popular developer of professional woodwork instruments. They create a wide range of tools, including stands for miter saws. This one is one of their bestsellers. Locks provide extra security, as you can fasten the saw or the material to the table while you are working.
---
PROS:
High durability;
Well-known developers;
Heavy-duty steel;
Two tires of solid rubber;
Extended arms for versatile saws.
CONS:
Slightly expensive compared to other stands.
---
5. Dewalt Miter Saw Stand – The Universal Miter Saw Stand with Extended Width
The table is universal, and it fits perfectly for any tool no longer than 16 feet and no heavier than 500 pounds. Four legs on both sides of this stand provide support for the saw. Besides, they can be easily folded out. All you need is to unfasten the locks. The whole stand is made of high-quality aluminum material, which makes the construction lightweight and durable at the same time.
Features:
Dimensions: 151-inch width x 6 inches height in a folded state;
It weighs only 35 pounds;
The table is made of aluminum;
It can handle up to 500 pounds of weight.
Apart from the lightweight and simplicity of setting up, this product has an affordable price and is made by a famous Dewalt company. This is not the first product of the manufacturers on the list, as I am a huge fan of their tools and accessories. All I can say, they create reliable items for woodwork.
---
PROS:
High-quality aluminum;
Lightweight;
Affordable price;
Well-known developer;
Universal size.
CONS:
You may need to put effort into locking the handle.
---
6. Powertec Deluxe Portable Miter Saw Stand – Rolling Miter Saw Stand with Extra Grip
The miter saw table by Powertec looks simple. To be honest with you, I did not expect much after everything Dewalt and Bosch had shown. But it turned out to be one of the best tools I've ever worked with. It is practical, does not take too much space, and lightweight, compared to other tables. I use it for miter saws, chop saws, and different instruments that require the stand.
Features:
This table is made of high-quality steel;
It can hold 330 lbs weight;
Dimensions: 49.0 inches x 16.25 inches x 8.25 inches;
The stand weighs 37 pounds.
There are two rubber wheels of 8 inches, which will be handy whenever you want to transport the table anywhere. This stand can hold up to 330 lbs. Powertec is a reliable developer of hand and power tools. You may check out its other instruments as well.
---
PROS:
High-quality materials;
Lightweight;
Can handle 330 lbs miter saws;
Universal for various tools;
Mobile.
CONS:
 It is slightly more expensive than similar products on the market.
---
7. WEN Collapsible Rolling Miter Saw Stand – The Best Miter Saw Stand with Extended Support Arms
There are three onboard outlets attached to the stand, but you can also choose the basic option, which is slightly cheaper. I still recommend purchasing this tool, as I find it extremely helpful. There are 8 inches wheels of high quality that are never flat and powerful enough to move the whole construction with the miter saw on it. There is a frame made of sturdy 1-inch steel in diameter that raises the stand 33 inches high off the floor.
Specifics of the stand:
The stand is made of high-quality steel;
There are support arms up to 79 inches long;
Two never-flat wheels of 8 inches;
Dimensions: 79.25 inches x 24.88 inches x 39.38 inches;
It weighs 38 pounds.
I like that there are support arms that can be used for boards of 10.5 feet long. Three outlets are 120V 15A. There are also rollers with adjustable height and two extensions for the table. The WEN developers offer 2 years warranty for this stand.
---
PROS:
Reliable materials;

2-year warranty;
Affordable price;
Three outlets;
Never-flat wheels.
CONS:
The miter saw must not be heavier than 330 pounds.
---
8. Evolution Power Tools Compact Miter Saw Stand – Easy to Remove Table for Your Saw
This stand is compact and can be set up in several minutes. This is the perfect option for contractors and anyone who does not like to waste time gathering working tools for an hour. This table holds a weight of 330lbs and is universal for different miter saws. However, you have to consider that the length of the table is limited up to 118 inches.
Specifics of the table:
Dimensions: 43 inches width x 29.1/2 inches height x 24 inches depth. It also has 5'11 inches extended width for bigger objects;
There are telescopic arms;
Adjust the height with rollers;
Weighs only 34 lbs, which allows you to carry it around.
Evolution is a company that produces tools and accessories for carpenters and amateurs who want to receive professionally looking results of their work. The brackets on the table are made with a quick release, so you can remove it in no time. There are no wheels, but you can simply hold the item in your hand as it is lightweight. The height of the table is adjustable.
---
PROS:
Easy to set up;

Comfortable to hold;

High-quality materials;

Extra width;

Holds up to 330 lbs.
---
9. Makita Compact Folding Miter Saw Stand – Lightweight Solid Place for Your Project
This stand allows you to carry it around, holding the item with one hand. It weighs 33.7 lbs, which makes the transportation process extremely easy. But don't think that this weight makes the whole construction unreliable. On the contrary, it handles 500 lbs weight on it, the results that not every stand can offer.
This stand also has two rubber wheels so you can easily ride it.
Features:
Dimensions: 45.28 x 29.53 x 33.46 inches;
Weighs 33.7 lbs;
Made of aluminum;
Contains 2 wheels attached to the legs.
Makita is a well-known brand that develops versatile power and hand tools. This product is made of aluminum. There are bracket levels you can adjust during the installation process.
---
PROS:
Lightweight;
Handles up to 500 lbs;
Two rubber wheels;
Transportable.
CONS:
Slightly more expensive than similar products.
---
10. Metabo Miter Saw Stand – Reliable Construction of Metal Steel with Rubber Wheels
This stand is easy to set up, or you can keep it in your garage already unpacked and ready for work. All you need is to put the legs in the positions you need and lock them securely. The legs can be easily locked. You can decide which width you need by extending the table.
Features:
Dimensions: 60.25 x 24.30 x 35.40 inches;
Weighs 63 pounds;
The stand can hold 12 inches miter saw of any brand.
The stand can handle up to 300 lbs. It is made of heavy-duty steel. There are brackets that can be simply adjusted and removed after you finish work on the stand.
---
PROS:
Simple to set up;
Heavy-duty steel;
Easy to carry around;
Universal.
CONS:
More expensive than similar products on the market.
---
Buyer's Guide and FAQ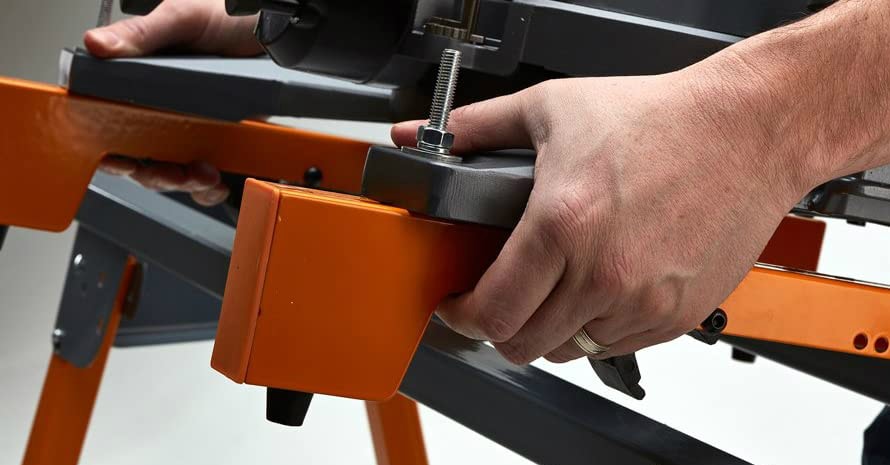 The main task of the stand for the miter saw is to give it additional support and make your woodwork more comfortable. You can put your instruments and materials on the table while you are working. It is up to you which one to choose. I've gathered my top favorites, and I hope you will manage to choose one of them based on my reviews.
Types of the miter saw stands
Not all the stands are equal in their characteristics. On the contrary, they are different in many ways.
You have to find the one that suits your purposes.
Traditional stand
This stand is one of the most popular products nowadays. It is usually made of the wooden plant on sawhorses from the same material. There are no wheels or additional locks. Yet, it is practical, cheap, solid, as it can handle even hefty objects.
Tabletop stand
It is similar to a traditional stand when it comes to the lack of mobility. You can work on the stand while sitting on the workbench. It is more comfortable to work when you can change your position.
Rail stand
This stand is lightweight, transportable, and made of metal. It is compatible with numerous models of miter saws. Check out the weight it can handle before buying this item.
Folding stand
This one is perfect for workers who need to transport the stand after or before work. The legs of the stand can be folded out. Many of them have two wheels attached. This is one of my favorite types. Portable and handle heavyweight of miter saws.
How to choose the best miter saw stand
Once you check out my list of top 10 tables, you may notice that I paid attention to multiple various features. I recommend taking a close look at them too. There are numerous factors to consider:
Stability is a key factor you need to keep in mind. Pay attention to the locks and other fasteners that provide a secure stand for better safety when you work with a miter saw. You don't want the whole construction to fall down while you are working;
Compatibility. All products on my list are universal. You still have to check the weight of the miter you are using and the weight that the table handles;
Weight capacity is extremely important if you have heavyweight miter saws and want to order a lightweight stand. The weight of the stand usually is not its capacity, so you need to read how many pounds the table can hold;
Weight of stand. If the stand is lightweight, you can transport it with ease, even without using wheels. Make sure that it is strong enough to hold the miter saw and materials of your work. Setup ease is incredibly important when you choose the stand. Pick the one that does not require additional tools to set it up and fold out;
Mobility. The stand must be simple to set up. If you need wheels to carry it around, check out whether the stand has them before you buy it.
How to make a miter saw stand?
If you prefer to make a saw table on your own, I don't see any particular reason why you can't do it. It will not be as comfortable as the one made by professionals; however, you can make it reliable and durable. Here is a step by step guide on making a traditional wooden stand:
Pick the durable wood and cut it 2 x 4 inches length;
Build frames on the right and left sides. There must be 4 legs frame on the right, and 4 legs frame on the left. Install the stretchers;
Put both frames together. Place them 24 inches apart from each other and fix them with stretchers and screws;
Install the plywood shelves. After that, take care of the work surface. Measure everything carefully before attaching to each other;
Mount the miter saw at the place in-between table' surfaces. Make sure it answers all safety demands.
Do all stands have a quick connect system?
No, not all stands have this kind of system. Some require additional tools to adjust the saw to the table. However, all the products on the list have universal brackets. To avoid any possible injuries associated with saws, check twice the reliability of these brackets.
Is it necessary to remove the saw from the stand when storing it?
No, it is not necessary. It is a time saver if you can place the setup stand somewhere in your workshop. If you don't have enough space for the table, you will have to fold it out every time you finish your work.
Is there a stand that is compatible with all saws?
Stands with universal mounts fit perfectly with different models and brands. The tables on my list are compatible with various saws as well. All you need to know is whether the weight capacity is good enough for the tool or not. However, each of these tables can handle the average miter saw.
Which Miter Saw Table to Choose?
If you feel mild anxiety when it comes to making a choice, take a deep breath, and check out my top favorites. I have reviewed Dewalt Miter Saw Stand before others, mainly because it is my own perfect choice. But the rest of them are also great and may suit your demands. At this point, you probably have read all the reviews, and are aware of their specific features.
It must not be that hard to find what best for you now. If you have tried one of these tables or several of them before, please express your opinion about them in the comments below. How do you like it? What features are the most beneficial for you?