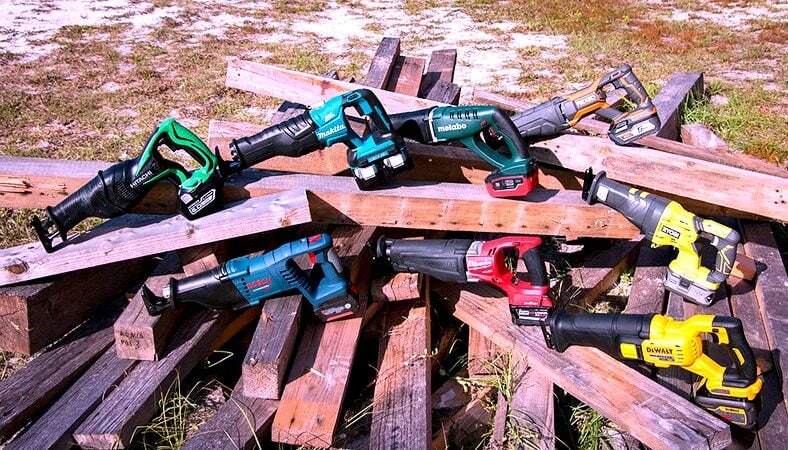 While demolition has been the primary use for reciprocating saws, or recip saws for short, there are many more applications for this tool, making it a highly sought-after device among novices as well as professionals. But how do you choose the best reciprocating saw?
Since models differ greatly in design as well as performance, picking one that will do its job without hurting your budget too heavily can be a challenging task.
High versatility of cuts and materials
Very lightweight and compact
Runner Up
High versatility of cuts and materials
Great Value
Very lightweight and compact
I've made up my personal top 10 lists of recip saws to help you navigate the market. There's a comprehensive review of every model featured with a focus on what it's good and not so good for and who is likely to benefit from it.
A shopping guide is included below the review section. This is meant to guide you as you make the right decision based on your preferred application and performance priorities as well as your budget. Finally, in the FAQ I briefly answer some questions that people commonly ask about this tool.
Top Ten: Reciprocating Saw Reviews
Knowing how difficult it can be for users to pick the right model, I've spent some time researching the recip saw market and come up with an absolute favorite plus nine alternatives, which might appeal to some people depending on their priorities. Feel free to choose what works for you!
1. DeWALT DCS367B Recip Saw: Top Pick
A US-based company with nearly a century's experience in power tool manufacturing, DeWALT is widely popular among hobbyists and professional contractors alike. The brand offers a variety of saws that target different user groups. I find the DCS367B to be the most versatile and simply the best reciprocating saw overall, and here's why.
This compact, although two-handed, tool is extremely fast with a stroke length of 1-1/8 inches and a variable speed of 0 to 2,900 SPM. A trigger is used for speed control during operation, which is quite intuitive.
This superior cutting speed is provided by a powerful brushless motor powered by a 20 V max battery, which translates to 18 V of nominal Voltage. Please mind that neither the battery nor the charger is included with this saw. The motor runs very cool and undoubtedly helps reduce the weight of the unit to 5 pounds. The 14.5-inch long design makes the tool easy to grip and maneuver.
The DCS367B recip saw comes with a pivoting shoe that plays a stabilizing role for accurate cutting and increases control. A LED light is included to improve cutting performance in poorly lit areas. Finally, the grip features an anti-slip design for an improved operator experience.
Changing blades is a breeze with this DeWALT reciprocating saw since it features a lever-action 4-position blade clamp that requires no key at all. The design also adds to the tool's versatility.
The only considerable drawback of this model is not-so-perfect vibration control, which might cause increased fatigue over time. Still, I highly recommend DCS367B as a versatile, easy-to-use recip saw. DeWALT's limited 3-year warranty applies.
Please note that the tool comes bare, with no blade or other accessories.
---
PROS:
Swift blade replacement;
Powerful and cool brushless motor;
Compact design;
Extremely fast;
Comes with a 3 years' warranty.
CONS:
Vibration control could be better;
Sold bare.
---
2. DeWALT DWE304 Corded Electric Sawzall: Runner-Up
Another well-buit reciprocating saw by DeWALT, DWE304, is a considerably more affordable product as compared to my absolute favorite. The 10-Amp motor installed on this model gives it enough power for most applications, although it's not as fast as the cordless No. 1. It has the same stroke length of 1-1/8″ and variable speed, potentially reaching 2,800 SPM. You can control cutting speed with a speed trigger right under the easy-to-hold non-slip handle.
The product measures 19.25 x 9.38 x 4 inches and weighs approximately 8 pounds. This means it doesn't qualify for a compact recip saw but is relatively lightweight and offers sufficient portability for most applications without causing too much strain on your arms.
It is designed to cut through a wide range of materials, including wood, wood with nails embedded into it, heavy-gauge metal, fiberglass, plastics, composites, rubber, plaster, and more. This makes it a versatile heavy-duty tool for those with a lot of work waiting to be done. The model isn't prone to much vibration.
DeWalt's no-key blade release clamp is used on this model as well. This can save you a lot of time and effort replacing blades, and the four-position design brings about a potential for flush cuts.
The product is backed up with DeWalt's warranty that offers limited coverage for three years. It comes with no blades, leaving it to you to decide which one will fit your setting best.
---
PROS:
Quick, tool-less blade replacement procedure;
The high versatility of cuts and materials;
Easy-to-use speed controls;
Fast at cutting;
Covered by a 3 years' warranty.
---
3. Black+Decker BDCR20C Small Reciprocating Saw: Great Value
Another company that hardly needs to be introduced, Black+Decker Inc. is an American manufacturer of power tools and equipment, hardware, accessories, and more founded as far back as 1910.
The BDCR20C recip saw is the model I'm most inclined to recommend to people with back issues as well as those on the petite side. Measuring 15 x 3 x 7 inches, the cordless tool only weighs 4.5 pounds and is quite ergonomic.
The saw offers as many as 3,000 strokes per minute at its maximum setting, adjustable with a handle trigger. However, the length of one stroke is only 7/8 inch, meaning it's still less quick than the previous two models. It's a relatively fast tool for cutting wood as well as harder materials, though, provided that the battery has its full power.
The rechargeable battery included with this recip saw is 20 V max or 18 Volts of nominal voltage, but it only has 1.5 AH. The charge might be enough if you have a bunch of small tasks to do. I still wish the original battery lasted longer, especially for those who work on a larger scale. When the battery starts to run out of charge, the power and efficiency of this saw drop considerably. You can invest in a battery with a bigger AH number as a viable upgrade, though.
A pivoting shoe is included for increased control over cutting direction. Apart from this, you can use any blade up to 12 inches wide, and the replacement doesn't take much time or skill as it's completely tool-free.
Black+Decker offers 2 years of limited warranty for the product. It comes with a 5-inch versatile blade as a ready-made solution for most jobs.
---
PROS:
Replacing blades is easy and requires no tools;
The decent cutting speed with a high SPM number and a stroke length of 7/8 inch;
Very lightweight and compact;
Versatile design;
Intuitive variable speed control.
CONS:
The original battery doesn't last long.
---
4. Milwaukee 2720-21 M18 Fuel: A Premium Battery Reciprocating Saw
Founded back in 1924, Milwaukee Electric Tool Corporation is yet another giant in the saw market and the one that introduced the eponymous Sawzall line of the first modern reciprocating saws. The company continues to expand and improve its product range, this time offering an intelligent model for optimized performance and protection.
REDLINK PLUS Intelligence is an advanced system that enables full-circle communication between the battery, the charger, and the saw itself. This is done to ensure non-stop monitoring of the internal network. The system enables operation conditions to be optimized on the go, protecting your investment (which I must admit is going to be quite heavy with this model).
Measuring about 21 inches long with a weight of 11.4 pounds, this is surely not the most compact or lightweight option available. It is still suitable for work in settings where there's limited room such as in cabinets.
An adjustable shoe is included to ensure improved accessibility in difficult areas as well as to increase stability. The latter fact helps the blades last longer while also making more accurate cuts possible.
Milwaukee 2720-21 M18 Fuel is one of the fastest reciprocating saws ever. It delivers a maximum of 3,000 SPM with a versatile speed control trigger and a stroke length of as much as 1.125 inches, potentially saving you a lot of time with any material. This superior performance is enabled by Milwaukee's REDLITHIUM 4.00 Amp-h 18-V batteries that power the POWERSTATE brushless motor. Overall, the tool boasts a relatively quiet, cool lasting operation.
A LED light and a key-free blade lock are included. As a bonus, the saw comes with a battery and a well-organized bright red carry case. A metal cutting blade and a charger are part of the set as well. A warranty of 5 years applies, which is considerably longer than average.
---
PROS:
Automated performance optimization;
Superior cutting speed;
Lasting battery;
Extra-long warranty;
Powerful brushless motor.
CONS:
Comes with a heavy price tag;
Relatively weighty.
---
5. Makita XRJ04T: The Best Reciprocating Saw Kit for Tight Spaces
Based in the USA and dating all the way back to 1915, Makita is a company familiar to DIY aficionados and construction pros alike. The XRJ04T recip saw kit is a vivid example of all-around professional-grade solutions it can offer, although the tool can also be purchased bare. This product is essentially a Makita version of Milwaukee 2720-21 M18 Fuel, or vice versa. It comes with a smart power control unit to protect it against overloads, overheating, and over-discharge, stopping the tool before any damage occurs.
Two proprietary LXT 18 Volt x 5.0 Amp-h batteries offer extended runtime (these come included in the kit along with the 45-min charging device). Please mind that you won't be able to use other batteries than the model designed for this saw without losing the warranty due to a design feature.
The tool is very fast with a stroke length of 1-1/4 inches and SPM ranging from 0 to 2,800. The variable speed trigger is large enough to accommodate two fingers for operator convenience, and the handle is very comfortable overall.
This model stands out in its power class because it only weighs 8.3 pounds with the batteries installed, measuring just under 20 inches. It comes with an electric bake for ease of use and safety. Besides, the case features Makita's Extreme Protection Technology to keep dust and water away in heavy-duty conditions. Finally, this model uses an improved crank design to minimize blade deflection and vibration.
The kit includes a tool case, an appropriate quick charger, 2 batteries, and a recipro saw blade. As a bonus, you don't need any keys or other tools in case you want to replace the blade.
Makita offers 3 years of limited warranty to back up its product.
---
PROS:
Relatively lightweight;
Smart power management;
Long runtime;
Quick-charging batteries;
Reduced vibration and deflection of the blade.
CONS:
Pricey;
Only accommodates Makita batteries.
---
6. Worx WX550L: A 2-in-1 Sawzall Plus Jigsaw
Finally, a non-US manufacturer on our list, WORX offers a wide range of clever lawn equipment and power tools on a budget. I say clever because look how this WX550L model combines two saw types in one!
It features a push-button pivot head design that enables you to switch between jigsaw and recip saw designs in no time. It offers considerable variety in terms of materials to work on, too, from wood to thin metal to fiberglass and even plant roots if you need it for gardening purposes.
The manufacturer proudly emphasizes enhanced compatibility. The tool will accept either 40 V or 20 V batteries due to the Power Share features and pretty much any blade, although WORX does make its own range of recip saw blades. The 20 V 1.5 Amp-hour battery included with the product doesn't last too long unless you only do small jobs, so being able to replace it easily is a valuable addition.
This model is extremely lightweight at only 4.2 pounds, making it ideal in settings where fatigue can become a problem. This comes at a cost of increased vibration, though, so it's not the most accurate and easy-to-control tool. The drawback is partly made up for by decent cutting speed at up to 3,000 SPM, which you can adjust. The length of each stroke is ¾ inches.
Untypically for an affordable model like this, the saw comes with an orbital mode to further enhance cutting efficiency.
As a special comfort feature, the WX550L recip saw/jigsaw tool features a dust blower to keep the working environment clean during operation. The LED headlight included also adds to visibility in poorly lit places. The saw comes with a battery, a charger, and as many as four blades included. Blade replacement doesn't require special tools.
Please be aware that the warranty only lasts 30 days.
---
PROS:
Saves money;
Very lightweight;
The good cutting speed with an orbital mode option;
Recip saw/jigsaw switch;
Tool-free blade replacement.
CONS:
Poor battery life;
Short warranty.
---
7. SKIL 9216-01: The Best Corded Reciprocating Saw on a Budget
SKIL Power Tools is a Chinese-owned brand that's based in Illinois, USA, and has a history of just under a century, although it's recently shifted towards do-it-yourselfers rather than professional constructors.
You will probably appreciate 9216-01 if you are looking for a robust corded recip saw that doesn't cost a fortune. This model doesn't come with too many bells and whistles. It features a straightforward design meant to withstand heavy-duty, frequent application in non-professional settings and will make a great household tool for demolition purposes as well as branch trimming (provided that the 8-feet cord doesn't get in the way).
The cord eliminates poor runtime, which is a common problem with cheap battery-powered models. The unit is moderately weighty as for a corded model at 7.1 pounds and compact, measuring 20 inches in length with the cord guard on. The soft-grip handle features a design that makes it easy to hold for a long time.
With a reasonably powerful motor working at 9 Amps, the tool can deliver 800 to 2,700 strokes per minute, one stroke measuring as much as 1-1/8 inches. This results in good cutting speed with most materials, although those working on a really large scale would probably prefer a little more power.
Equipped with a counterbalance to keep vibration in check, this recip saw also comes with a pivot shoe. Enhanced control and stability make it perfect for those new to the task. So does toolless blade replacement, which can save the user a lot of time and stress, and a highly durable casing.
The saw comes with a blade. A year's warranty applies along with a 30 days' money-back policy.
---
PROS:
Relatively affordable;
Prioritizes durability;
Reduced vibration;
Easy to use with toolless blade replacement and a pivot shoe;
Decent cutting speed.
CONS:
Might lack power for big projects;
No LED light.
---
8. Kimo ZY-EJ-DUYU-2-106: A Really Compact Reciprocating Saw
A company registered in the US that dates back to the 1990s, KIMO offers a very limited range of tools. Speaking of recip saws, the product line consists of no more than two models. The one that I'm reviewing here deserves to be on our list because it's particularly space-saving.
The 14-inch-long tool only weighs 3.7 pounds. This impressively lightweight design as for a cordless model ensures versatility and ease of maneuver in particularly tight spaces while also relieving the user's muscles of excess strain, especially in overhead applications. The handle further enhances the effect. It comes with an anti-vibration feature and is made in a way that reduces fatigue when working on demolition tasks that require a lot of effort.
Powered by a 20V 4.0 Amp-h battery, the brushless motor lasts long enough for most household tasks and stays cool regardless of operation conditions, with an optimized cooling system built in the casing to further prevent overheating. It also delivers a cutting speed of up to 3,000 strokes per minute, which can be adjusted using the variable speed trigger on the handle. Given a stroke length of 1 inch, this brings about great efficiency.
Not only do the batteries on this model have a good runtime, but they can also survive 1,000 charging cycles, while the charging device only needs an hour to top off a fully discharged battery. Both the battery and the charger come included with the saw.
The kit also includes 6 blades for wood cutting and two for metal, two lengths in each category, which can be replaced in a tool-free manner. Alternatively, the saw can be used to cut PVC or plastic tubes and pipes, fiberglass, and more.
The warranty for this product offers coverage for 2 years.
---
PROS:
Fast-charging batteries deliver good runtime;
Extremely lightweight and portable;
Ergonomic design;
Cuts material quickly;
Toolless blade replacement.
---
9. TackLife RES001: A Tiny Cheap Sawzall
No products found.
Made by a young, small-sized company, the RES001 combines affordability with a number of features that make it a good choice for inexperienced occasional users, especially those who value portability.
This is a one-handed cordless model that holds the record for being the lightest and smallest Sawzall on our list. Being only 12 inches long, it doesn't exceed 3-1/2 pounds, making it perfect for particularly tight spaces or situations where too much strain might compromise precision. The compact unit is powered by a 10.8V battery. This naturally produces less power and cutting speed than its bulkier counterparts but is still enough for softer materials and casual, quick tasks.
Its maximum SPM is 2,500, and a variable speed control trigger is included for adjustment. With a stroke length of 4/5″, this is a fairly good performance given the dimensions. RES001 comes with a battery that promises about half an hour of operation. A charger is also included, which can bring it to a full charge in just an hour. The design also features a power indicator to prevent unwanted delays when it suddenly turns out your battery is low.
A clamping jaw is included for increased friction when in operation. This makes the tool safer to use and easier to position, and a double insurance switch design further adds to operator safety. Finally, the saw boasts a time-saving tool-less blade replacement system.
The tool comes with one wood saw and a warranty card for 24 months.
---
PROS:
Highly affordable;
Decent runtime;
The most portable model on the list;
Charge indicator;
Comes with a clamping jaw.
CONS:
No LED light included;
Not the quickest recip saw.
---
10. PopoMan MTW200B: A Well-Balanced Recip Saw
Made by another Chinese-owned brand, PopoMan MTW200B has a lot of features for optimum user experience.
While not as compact as some cordless models, this saw is still manageable at 7.6 pounds with the battery included and measuring 16.34 x 3.35 x 6.10 inches. It comes with a soft rubber handle with a variable speed switch for smooth adjustment up to 2,500 SPM at a stroke length of 1-1/8″. The tool is thus reasonably quick when cutting wood as well as metal.
The model is powered by a 20V 4.0A battery, which comes included along with the charger and a set of blades for various materials. Unfortunately, large-capacity compatible batteries are not currently available for sale, although the runtime is acceptable for household tasks as it is.
The motor utilizes a brushless design that reduces noise and improves torque while also bringing about a cooler operation. However, the vibration it produces can be much more dramatic than with most counterparts.
Complete with a LED light for operating in dark environments, a charge indicator, a safety button to prevent accidental startup, the tool is novice-friendly. A pivot shoe is included for angle adjustment and stability. The saw also features tool-less blade replacement.
A 2-year warranty applies to the product.
---
PROS:
Battery runtime is sufficient for most non-pro tasks;
No tools needed for blade replacement;
Comes with a LED light;
Reasonably quick;
Durable brushless motor.
CONS:
No longer-lasting batteries available;
Generates a lot of vibration.
---
Buyer's Guide
This section is meant to help you make an informed decision when you go shopping for a recip saw and is meant for those new to the tool.

What is a Reciprocating Saw Used For
Recip saws also go under the name of Sawzall after an appropriately named brand, which might give you an idea of how much you can do with this tool. It is a saw where the cutting is done as the blade moves back and forth in and out of the material. It can be used on a variety of materials, including wood, PVC, metal, and more.
As a rule of thumb, reciprocating saws are considered rough cutters. Their most common use is in demolition. They work much quicker than a crowbar, too. However, there are many more situations where a recip saw can come in handy.
If you have some overgrown trees in your yard that definitely need pruning, use your reciprocating saw. If there's a piece of wood that you need to cut through with nails embedded in it and you don't feel like pulling these out, choose a recip saw over a circular one.
With a saber saw, that is, a reciprocating saw that uses a toothed blade like a jigsaw, you can also cut shapes in various materials, also with mediocre precision. Alternatively, use a pointed blade in a pre-drilled hole to make a plunge cut.
Finally, reciprocating saws are widely appreciated as compact tools that enable operation in cramped spaces as well as overhead applications.
Recip Saw Blade Types
Given the nearly infinite potential of the tool itself, a lot depends on the blade that you choose to use on it.
Blades differ in terms of teeth per inch, abbreviated as TPI, material, and shape. All these parameters are largely determined by their purpose.
Recip blades meant to cut wood usually have 5 to 10 TPI. These can be used for regular wood cutting purposes as well as pruning and can generally withstand nail-embedded wood, although demolition blades are the preferred type for this application (see below).
With TPI usually ranging from 6 to 11, demolition blades are aggressive enough to cut through nails as well as softer materials. They are thicker than woodcutting blades. Combo blades are meant to cut wood and metal alike and often come with a variable pitch tooth configuration such as 8/11 TPI.
Typically, made with 10 to 18 TPI but sometimes reaching as much as 24 TPI, metal cutting blades can easily cut through metal and leave a smoother finish than those with lower TPI numbers, which means you can use them for finishing cuts in wood too.
Carbide tip blades are made to cut through dense materials such as cast iron and stainless steel and usually have about 8 TPI but are the most heavy-duty option. Finally, extra heavy-duty carbide grit blades have no teeth and are meant to cut tiles, masonry, cast iron, etc.
Alternatively, frequent users might want to invest in more expensive and lasting diamond grit blades.
Speaking about length, 6 and 9 inches are the most common length, although the range starts at 3 inches. Shorter blades are generally more aggressive due to their rigidity and work best for plunge cutting. Flexible long blades are good for dismantling and making flush cuts.
Shape matters as well. The lower the blade width, the more flexible and versatile it is at the cost of stability. Sloped shapes make good plunge cuts, while edge cutting generally requires a straight blade. A notched/sloped tip can solve the dilemma because it makes the blade appropriate for both uses.
Tips for Using a Reciprocating Saw
The right blade is key, so make sure you choose an appropriate blade configuration and attach it securely. The saw should remain straight while cutting. Different techniques exist depending on the application, from an adjustment in user body position to DIY block guides.
Remember to make use of variable speed to make up for high vibration levels and always wear eye protection when using a Sawzall.
Shopping Criteria
Here are the most important parameters to decide on before you go shopping.
Corded vs. cordless models
Cordless tools are obviously more convenient to use outside or when traveling. Their downside is that they tend to lack the power that a cord can supply and cost more than their corded counterparts. Remember to factor in the runtime!
Power
More power obviously means greater potential, but it also means less control at the max setting and increased cost. Really powerful units tend to be heavy, too. Generally, 11 Amps is enough for large-scale DIY projects.
You can estimate how powerful a Sawzall is going to be by looking at its amperage. This is usually stated for corded models, while those powered by batteries use nominal voltage and amp-hours. You need to multiply the amp-hours by the voltage to get the watt-hours as a measure of power. The more, the better.
Please mind that the nominal voltage is not the same as one without a load, which should be marked V max.
Strokes per minute
This is simple. The more strokes per minute, the quicker it cuts. The same applies to blade stroke or stroke length.
Orbital action
This term refers to the elliptical motion of the blade that enables it to remove more wood at a time. It costs more, but it also makes woodcutting faster and facilitates cutting circular shapes.
Brushless motor
Only found on cordless recip saws, brushless motors are generally cooler and last longer. They are easier to maintain, too.
Controls
Speed adjustment adds a lot of comforts, so it's advisable to get a model with a dial or even smart controls (a rare feature) rather than a High/Low switch.
LED light
Although definitely in the bells and whistles category, a LED light is a welcome feature that enables accurate cutting even in darker areas.
Sawzall FAQ
Here you'll find the answers to some common questions related to reciprocating saws.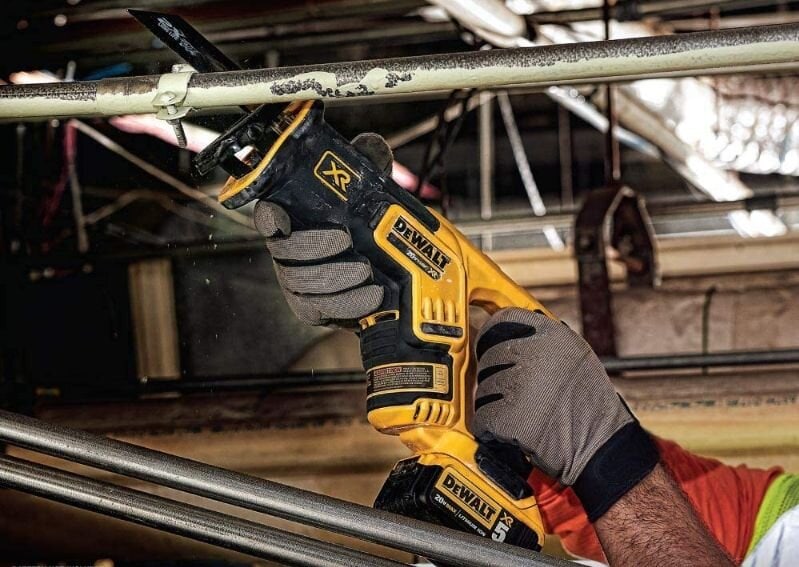 What is the most powerful reciprocating saw?
The most that a corded model can offer is 15 Amps. Look for cordless models with a nominal voltage of at least 18 Volts, such as the top pick above for optimum power.
Who makes the best cordless reciprocating saw?
My absolute favorite is DeWALT's DCS367B, which is a cordless model using 18-Volt nominal voltage batteries. See above for a comprehensive review of this tool.
What are reciprocating saws good for?
The Sawzall is most frequently used for demolition purposes. Other common uses include pruning trees, making cuts where there's not much room, and overhead applications.
Is a reciprocating saw the same thing as a sabre saw?
The two terms do not refer to exactly the same notions. A sabre saw is a reciprocating saw with a jigsaw-like toothed blade, so recip saws make a larger category. Sabre saws are generally used for finer tasks than demolition.
Getting the Best out of your Recip Saw
Now that you know the answer to the question "How does a reciprocating saw work?", you can compare reciprocating saws based on their essential parameters such as weight, motor power, strokes per minute and stroke length, and battery runtime if cordless. Don't forget to factor in your comfort when it comes to LED lights and other frills!
Alternatively, you can go and grab DeWALT DCS367B as it will do the job in most settings without being either too bulky or too expensive.
What matters to you when it comes to choosing a recip saw? Tell us in the comments!