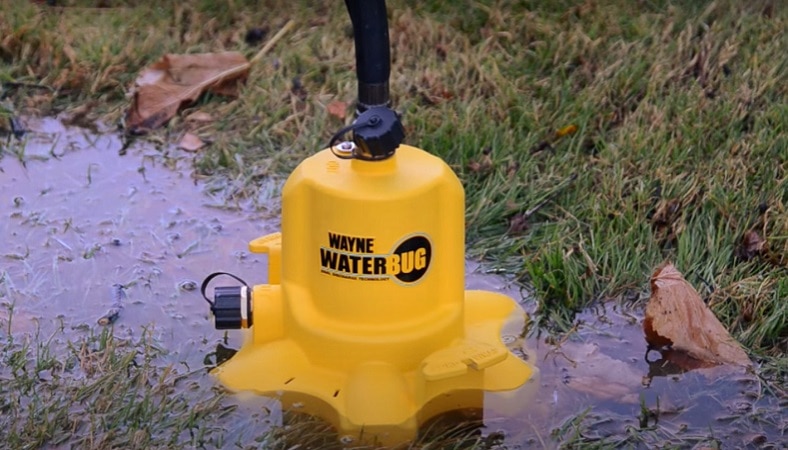 In this article, I would like to tell you how to select the best water pump with good characteristics and long-lasting features. Choosing a quality water pump might be complicated due to a large number of brands and types of equipment. Sometimes this kind of tool can pump waterway slower than expected. Thus, you pay more money for a less efficient device. However, I've picked the most effective and popular electric water pumps for houses or vehicles (Gates 45005, for example). Let's see what you should pay attention to when choosing a product.
Does not take up much space
Materials of high-quality
Runner Up
Does not take up much space
Premium Pick
Materials of high-quality
Choose the Best Electric Water Pump for Your Needs
My idea is to create a list of the best pumps that can perfectly do their job without any malfunctions. I recommend you to browse the list of products below because you will be satisfied with their efficiency if you ever decide to buy one. Let's begin with my favorite tool manufactured by Superior Pump.
1. Superior Pump 91250 1/4 HP Thermoplastic Utility Pump — The Best Water Pump Review
Superior Pump always produces high-quality products, and our first tool on the list is no exception. The company is located in the USA and was created in 1999. The price of the products is not very high, considering such amazing quality.
This product offers ¼ HP (horsepower), which is an "OK" number. Horsepower allows you to understand what performance the pump has. Among ¼ HP, there are other options available. For example, ⅙, ⅕, ⅓, and 0,5 HP. Pumps with ⅓ or 0.5 HP will pump water faster and lift it higher than the tool with ¼ horsepower. You can also find Oil-Free products that do not need oil to work properly. However, Oil-Free Pumps cost slightly higher than the regular ones.
This product is capable of pumping 1800 gallons of water per hour. The weight of the instrument is approximately 7 pounds. The price of the device is affordable compared to other products of the same quality. You will also get a 1-year limited warranty.
---
PROS:
Affordable price;
Many options to choose from;
High product quality.
CONS:
In some cases, ¼ HP cannot be enough.
---
2. Wayne PC4 — A

High

Quality

Water Pump
Wayne PC4 is one of the best tools I have ever used. It has a great performance that allows you to pump approximately 1800 gallons of water per hour. Wayne was created in 1928 by Norbert G. Berghoff. The company created different oil burners, and now it is one of the most popular and influential manufacturers of water pumps.
In my opinion, the only disadvantage of Wayne's production is the price. It is not extremely high, but it is still expensive. Nevertheless, you will definitely enjoy the quality of the tool in case you decide to buy one. Wayne PC4 weighs nearly 14 pounds. What I like about the pump is that it is assembled in the United States of America. The performance of the device is ½ horsepower. Unfortunately, you cannot choose other performance options. Thus, if you do not need such a powerful pump, you still have to pay its full price.
I think that Wayne PC4 is a great tool that will help you to pump water from flooded areas. You will also get a 1-year limited warranty. Thus, if you experience some malfunctions, you can easily exchange tools or get your money back.
---
PROS:
Materials of high-quality;
Does its job efficiently;
Offers a 1-year warranty.
---
3. ExtraUp 115Volt 330 GPH: Affordable Device for Your House
This electric water pump is not very expensive and does its job perfectly. First of all, the company that produces the device is called ExtraUp. This company specializes in pumps and different accessories that can improve the efficiency of the instrument.
ExtraUp 115Volt Pump is made of high-quality and durable materials that will expand the lifespan of the device. The performance of the tool is not the best. The instrument offers 1/10 horsepower. Thus, the maximum water flow reaches approximately 330 gallons per hour. The pump will come in handy if you want to drain your water heater or pool, for example. It is not as expensive as other products on today's list. Besides, you can try to wait for a sale to get the device even for a lower price.
The weight of the product reaches approximately 5.8 pounds. In addition, you get a few accessories in a kit. For example, a 6ft hose, a suction strainer, and other things that will help you to look after the device.
---
PROS:
The product is affordable;
Does not take up much space;
Accessories come in a kit.
CONS:
Might not be powerful enough for certain needs.
---
4. Wayne PC2 Portable Transfer Water Pump: Drain Water With Zero Effort
PC2 is another product created by the early-mentioned Wayne company. PC2 is a simplified version that allows you to drain water from pools, tanks, water heaters, etc. It offers 0.1 horsepower and drains approximately 340 gallons of water per hour. However, the manufacturer assures that the maximum flow of the device can reach 410 gallons per hour.
It is a compact surface pump that weighs 5.8 pounds. It is less expensive than PC4, but because of the high-quality thermoplastic, it is not the cheapest product. Amazon also offers a pack of 2 pumps. You can select a related option on the page. You should notice that the suction hose comes in a kit, so you do not have to purchase it separately. It should be mentioned that many people run the pump for at least 4 hours per day. Despite the load, this tool still works without any malfunctions.
---
PROS:
Has compact sizes;
Does not weigh much;
Durable.
---
5. Wayne WWB WaterBUG: A Quality Thermoplastic Pump
Another Wayne product that I like. This tool is also assembled in the USA. However, you will need an adapter and a hose to use the tool properly. The price of the equipment is almost the same as the price of the previous product. WWB offers ⅙ horsepower. The maximum water flow equals approximately 1300 gallons per hour.
The instrument offers a few discharge options. The first discharge is located on the top. You should use it in case water is located in confined spaces (for example, tanks, wells, etc.). The side discharge is intended to pump water from open areas. The weight of the WBB reaches 8 pounds.
WWB also offers a 1-year warranty. However, some people use it for over 3 years and do not have any issues with the device. Simply do not forget to look after it! The tool will work without any malfunctions, even if you drain ice-cold water. Its size allows you to easily transport it to any place you wish.
---
PROS:
The tool is compact;
Works great under different temperatures;
Offers ⅙ horsepower.
CONS:
You will need to find an adapter and a hose for the pump.
---
6. Wayne CDU980E: A Powerful Tool for a Reasonable Price
Wayne CDU980E is a powerful pump that is made of quality and durable materials. The tool weighs 12 pounds, which is slightly higher than other products on the list. Unlike previous equipment, CDU980E is made of stainless steel, which expands the lifespan of the tool.
CDU980E is also a powerful instrument. It offers ¾ horsepower and can pump approximately 5500 gallons per hour, which I think is incredible. It should be mentioned that this device is only intended to be used indoors. Despite the power and its sizes, CDU980E is quiet compared to other analogs.
The only disadvantage of CDU980E is its price, I think it is one of the highest prices among all the devices on the list. Nevertheless, the product is often on sale, so you are able to the device at a lower price.
You can also choose different kits that come alongside the CDU980E. For example, you can pick the pump and coupling with some connectors. Or you can additionally select a discharge hose kit. Browse the list of available kits and pick the one you like.
---
PROS:
Offers ¾ HP;
Is made of stainless steel;
You can pick a kit you like the most.
---
7. SeaFlo 33-Series — Affordable and Simple in Use
SeaFlo 33-Series is the last pump I can recommend to you. SeaFlo is a brand that was created in 2004. It specializes in creating various pressure systems, pumps, and accessories that will help you to look after your tools. SeaFlo offers high-quality products that work for a long time.
This water pump is not the most powerful on the list. It allows you to pump approximately 3.3 gallons per minute. At the same time, it is a compact device that weighs approximately 4 pounds. It is quiet, and you can easily move the item if needed. In addition, you can simply connect SeaFlo 33-Series to any US outlet, and it will start working properly.
Keep in mind that the tool can have various malfunctions in case it works with temperatures higher than 140° F. The price of the device is almost the same as the price of other pumps on the list. It is not the cheapest item, but also not the most expensive one. I definitely recommend you to pay attention to this tool.
---
PROS:
Is not very expensive;
Lasts for a long time;
Easy to setup.
CONS:
Not the most powerful tool.
---
8. Gates 45005 Water Pump — Extend the Lifespan of Your Vehicle
Gates water pumps are one of the most durable on the automotive market. They offer great durability and lifespan. Gates is a company that was created in 1911 by Charles C. Gates. Since then, the company constantly improves the performance of their products by making them better and better. Despite the positive aspects of Gates devices, these tools are often pretty expensive. Nevertheless, you can often get Gates production at a lower price thanks to different sales.
Gates 45005 is one of the best cooling systems for your car. The tool is being tested before appearing on the market. If you do not know if the pump fits your car, you can try a special menu on the website, where you will have to select the year of your car, its brand, and the model. After that, find the "Check Fit" button to get the required information.
---
PROS:
One of the best cooling systems for vehicles;
Often on sale;
You can check if it fits your car.
CONS:
A bit expensive if you take it for full price.
---
Buyer's Guide
Now, when you know the list of the products that will perfectly do their job, we can talk about what type of water lifting pump you need to look for under certain circumstances.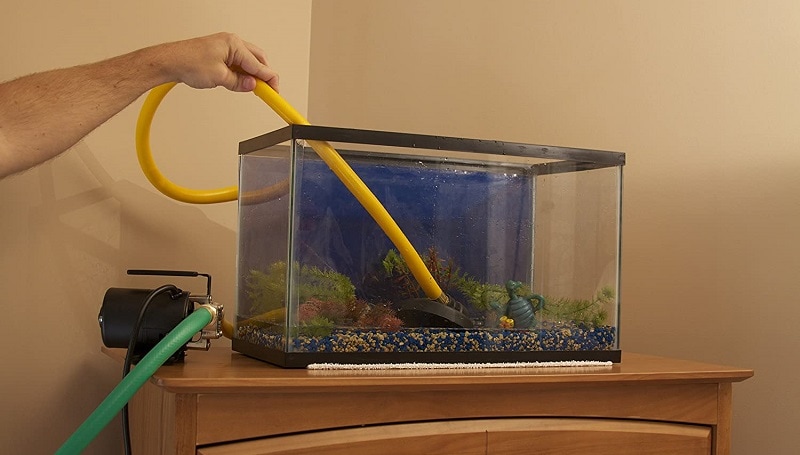 What do you need to know about water pumps?
Water pumps help you to move water from one place to another. Very often, you can use them to water the plants or crops. You can also remove the unwanted water source or, for example, fill your pool with water within a few minutes. As you can see, you can use a portable water pump in many different ways.
What should you look for when choosing an outside water pump?
When looking for the tool, you need to take into consideration the following things:
The quality of the product. First of all, you should look for popular brands that manufacture water pumps for a long time. Thus, there is a great chance that the engine will work for a long time. On our list, all the equipment is manufactured by the top brands;
Type of the pump. There are many types of this tool available on the market. For example, submersible, end suction, trash, and multistage types. The most popular for housing are end suction and submersible pumps. Consider what kind of pump you need;
Pay attention to the tool's performance. You need to know the flow rate and the maximum number of water the pump can lift. Usually, all the products mark their characteristics on the official websites. Sometimes unpopular brands specify higher characteristics to make people buy their products. On my list, all the characteristics provided by manufacturers are accurate.
FAQ
In this part of the article, I would like to answer some questions you may want to know the answer to.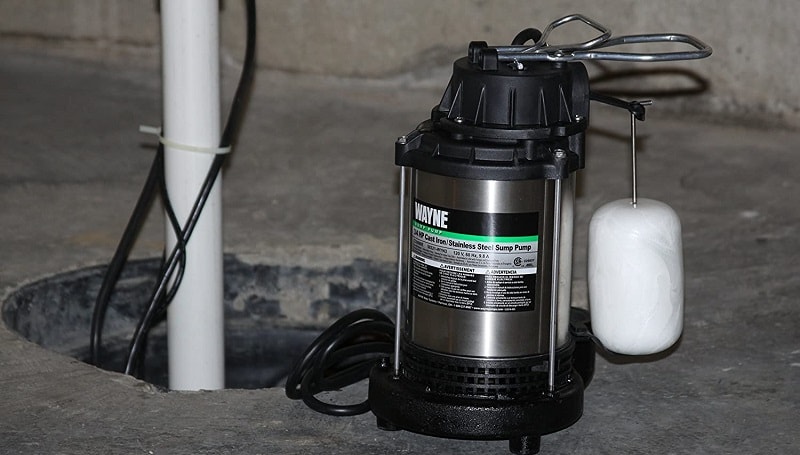 Which pressure washer type pump is best with a gravity-fed water supply?
The gravity-fed system is pretty common. You will be able to pump your system only if it is a low-pressure system. The best pump for a gravity-fed water supply is the first tool on my list. The name of the equipment is Thermoplastic Utility Pump that is manufactured by Superior Pump company.
What is the best water cleaning system for an inground pool pump?
Among the best filters for your outside water pump are diatomaceous earth filters because they are powerful, and most of them are compatible with a great number of pump systems. Wayne PC4 will do a good job if you ever decide to get a pump for your pool.
What is the best submersible water pump?
The best submersible water pump I have used is the first tool in my top list designed by Superior Pump. You will not feel any difficulties while installing the pump or using it. The tool will last for a long time because it is a powerful water pump that is made of quality materials.
What electrical is best for installing a water pump for a pond?
The safest source of electricity for your pond is GFCI outlet because it will swiftly shut off in case some water comes in contact with it. GFCI outlets are usually used when there is water nearby. I think this is the best option for you and your pond.
For how long can a water pump last?
Usually, such devices last for more than 8 years. It depends on the brand and materials that were used during the assembling of the product. Nevertheless, the pumps that I recommend you will definitely work even more than 8 years. The manufacturers carefully test their devices before selling them.
Choose Your Water Pump
I hope that you managed to find some new information about water pumps in this article. Hopefully, it will be easier for you to choose the most suitable tool that matches your needs. The best equipment was mentioned in my top list. I recommend you to pick Superior Pump tools, Gates 45005, Wayne PC4, and other products from the list.
Tell us more about your experience using a certain water pump. What is your favorite manufacturer? How long have you been using the tool? What are the pros and cons of the equipment you use? Feel free to tell your opinion in the comments box.