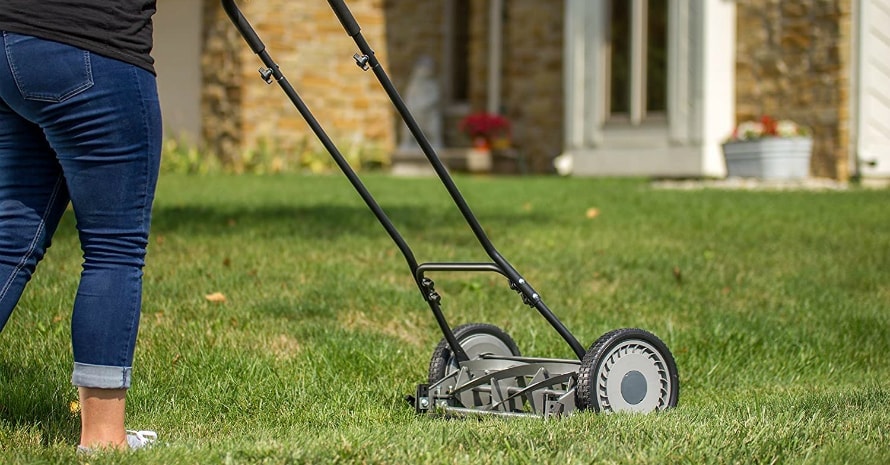 Reel mowers are becoming increasingly popular these days. Whether you are a lawn enthusiast or dread the chore and keep postponing it until your yard is dramatically overgrown, getting a modern version of the old fashioned push mower is an option worth considering.
Unlike their rotary rivals, these devices cut the grass rather than tear it. This makes it way easier to get a uniformly cut lawn, especially for those who like their grass really low. It's also a way of reducing the environmental impact of our lawn care routine. This probably makes you want to grab the best reel mower you can find.
Pros
Relatively lightweight and takes up little space
Nice cut on short to medium height soft grass
Top Pick
Pros
Relatively lightweight and takes up little space
Editor's Choice
Pros
Nice cut on short to medium height soft grass
However, the benefits all come at a cost. An unpowered lawn mower can be hard to maneuver if it's bulky or heavier than you'd like it to be, or if the design doesn't provide for a comfortable grip. Poorly thought out blades can be a nuisance, too. Those made of low-quality material will get blind in no time or simply fail to do the job for you — a mere waste of effort.
So, how do you make the right decision? Read the reel mower reviews below to find out which options you have.
Top Reel Mowers to Choose From
Below are my impressions of some of the best models out there. As always, there's no one-size-fits-all solution when it comes to tending your lawn, so be sure to make a choice based on your priorities.
American Lawn Mower Company 14-Inch 4-Blade Push Reel Lawn Mower: The Best Reel Mower on a Budget for Small Tough Lawns
Specifications:
Material: Alloy Steel
Cutting Diameter: 14-inch

Blade

: 4
Discharge Location: NA
Wheels: 8,5-inch
This model is very similar to the other American Lawn Mower Company product included in our top reel lawn mower reviews except that it has a 4-blade reel rather than one made up of five blades. While this might sound like a disadvantage, it is a very effective design for tougher grass varieties such as bluegrass, rye, and heavily weeded lawns.
Cutting height is adjustable within the 0.5″ to 1.75″ range. High-quality heat-treated alloy is used in the blades, which enables them to stay reasonably sharp for a long time. The ball bearing mount ensures a smooth operation from the very beginning. With a weight of 20 pounds and 8.5-inch composite wheels, the unit is easy to push. It comes with a cushioned T-handle, which is comfortable but offers no choice of position.
What's included:
I recommend this 14-inch mower to owners of small, tough lawns who want a compact yet durable piece of equipment on a budget.
---
PROS:
Won't hurt your budget;
Relatively lightweight and takes up little space;
Smooth;
Clean cut even on tough grass;
Easy to adjust.
CONS:
Narrow;
One hand position only.
---
Greenworks 16-Inch Reel Lawn Mower: A Clean and Adjustable Push Mower Bagger
Specifications:
Material: Alloy Steel
Cutting Diameter: 16-inch

Blade

: 4
Discharge Location: Bag
Wheels: 10-inch and 2-inch rear rollers
While many people like to leave grass clippings lying on the lawn like a layer of mulch, this approach doesn't appeal to everyone. Those who prefer bagging will probably like the Greenworks mower.
This is another unpowered reel mower on our list. With a weight of only 32 pounds, however, it's lightweight enough for younger folks as well as the elderly.
The reel here is narrower than in the models above, measuring just 16 inches, but will still cover a small lawn efficiently. One fault I've been able to find with this model is that it tends to leave patches of uncut grass on the sides of the pass. The cut is otherwise very clean and uniform unless your grass has grown too tall or belongs to a tough variety —this might cause the mower to struggle.
The model comes with an ergonomic thick foam-cushioned handle that allows for multiple hand positions. Cutting height adjusts from 1 1/8″ to 2 1/4″.
What's included:
Front Wheels

Rear Rollers
As for the bag attachment, I wish the design was more rugged. The hooks that are used to keep it on are enough on even ground. However, if your terrain is far from smooth, you might need to re-attach it often, and some clippings will probably fall out. It still spares you a lot of effort though.
---
PROS:
Makes bagging easier;
Nice cut on short to medium height soft grass;
Inexpensive;
Lightweight and compact.
CONS:
Tends to leave uncut patches;
The bag might detach on uneven terrain.
---
American Lawn Mower Company 1304-14 14-Inch 5-Blade Push Reel Lawn Mower: The Best Reel Lawn Mower on a Budget
Specifications:
Material: Alloy Steel
Cutting Diameter: 14-inch

Blade

: 5
Discharge Location: NA
Wheels: 10-inch
This is a model to consider if you don't feel like overinvesting in your lawn. It is also a compact and lightweight mower that is easy to maneuver with just 21 pounds, although in this case incomes at the cost of cutting width. The model only provides for 14-inch passes, meaning you might spend a lot of time mowing bigger plots.
The composite wheels are durable and not prone to jamming, and a 3-spider ball bearing assembly is used for the 5-blade reel, which allows it to move in a smoother manner. Cutting height can be adjusted from as short as 0. 5″- to 1. 75, giving one of the cleanest cuts you can find provided that your lawn isn't overgrown or extra tough. The heat-treated blades need periodical yet not frequent sharpening.
What's included:
Unlike the previous models, this mower comes with a T-handle where you place your hands on two cushioned grips. This is comfortable to hold but offers no diversity. As a bonus, the structure is a breeze to assemble, and you don't need any tools to do it, which might be a plus for those for whom every inch of storage space matters.
---
PROS:
Very affordable;
Clean short cut on relatively short, soft grass;
Easy to assemble;
Very lightweight;
Smooth reel operation.
CONS:
One hand position only;
Relatively low cutting width.
---
Great States 18-Inch 5-Blade Push Reel Lawn Mower: A Compact Motorless Push Mower
Specifications:
Material: Alloy Steel
Cutting Diameter: 18-inch

Blade

: 5
Discharge Location: NA
Wheels: 10-inch
The Great States 815-18 belongs to the unpowered category of reel mowers that move on two wheels. With a cutting width of 18 inches, it makes a patch wide enough for small to medium-sized lawns as it's comparable to what many walk-behind rotary models deliver.
This time- and effort-saving feature combines with lightweight and compact design to spare your energy cutting the grass. The machine is just 27 pounds — one of the lightest models of this width available at present. Those with limited storage capacity will love it, too, as it takes up little space when placed against the wall.
A specially designed ball bearing assembly is used for mounting the cutting reel. This provides for smooth, effortless operation from the very beginning, while reel mowers lacking this feature might be difficult to start. Quick spinning also translates to evenly cut grass over a wide patch. The blades are heat-treated to prevent quick blunting and might only need sharpening once a year or so.
The mower has a loop handle, padded for increased comfort, and secured against rust with powder coating. I find that it fits my hand really well. One drawback is that the wing nuts holding the handle tend to loosen over time, so you'll probably need to tighten them every once in a while.
What's included:
I highly recommend this model as the best push reel mower for anyone for whom lawn care is a kind of strenuous exercise due to its lightweight. It gives a nice clean cutover a few passes if the grass is reasonably short. However, taller grass with twigs or thicker weeds can be a problem for this affordable mower.
---
PROS:
Competitive price;
Lightweight and compact;
18" cutting width;
Comfortable grip;
No frequent sharpening required.
CONS:
The handle might come loose;
Not the best performance on tall grass.
---
Fiskars StaySharp Max 18-Inch Push Mower: The Best Lawn Mower for Bermuda Grass
Specifications:
Material: Alloy Steel/Plastic
Cutting Diameter: 18-inch

Blade

: 5
Discharge Location: NA
Wheels: 8-inch and 3-inch
A lot of engineering has gone into this premium-priced unpowered reel mower. With a weight of over 51 pounds, this 18-inch model is still advertised as being 60% easier to push compared to rivals, and I do find it to be highly maneuverable. This is probably due to the reduced friction cutting system design where the blades don't grate against each other.
The handle grip is not exactly what you can call padded but has the right non-slip texture, and the shape is ergonomic, providing for multiple hand positions.
Fiskars StaySharp Max uses an InertiaDrive reel that's designed specifically to handle tougher grass varieties such as Bermuda grass. It boasts higher-than-average diameter and blade thickness, which helps it rip through weeds effortlessly, too. The proprietary StaySharp technology is used to keep the blades in good shape for over a year.
This mower is unlikely to leave messy-looking patches of grass due to inset wheels that are used to ensure full coverage. The blades also extend over the whole cutting width. The cut is generally clean and even, the only frustration is that the grass should be up to 6 inches tall.
What's included:
The cutting height can be easily adjusted between 1 and 4 inches by using a handle at the side of the mower. While not especially budget-friendly, this is a viable solution for anyone struggling with really tough grass. It's a pleasure to use, too.
---
PROS:
Does well on extra tough grass;
Full-width 18" coverage;
Easy to push and ergonomic;
The blades stay sharp for a very long time.
CONS:
Pricey;
Long grass can be a problem.
---
Earthwise LSW70021 21-Inch Leaf & Grass Push Lawn Sweeper: A Bonus for Those with Front Throw Mowers
Specifications:
Material: Plastic
Cutting Diameter: 21-inch

Blade

: NA,

Leaf Sweeper with spinning rake-like action

Discharge Location: Bag
Wheels: 10-inch and 2-inch rear rollers
While not exactly a lawnmower, this is a valuable piece of equipment for everyone who doesn't have a bagging/mulching feature included in their tool. The unit is fitted with a 21" brush that lifts grass clippings and dead leaves off the ground as you push it. They end up in the securely attached collection bag, which is then easy to empty.
What's included:
Earthwise LSW70021 21-Inch Push Lawn Sweeper, 2.6 Bushel Collection Bag
The bristle is made in a way to prevent the pick-up of unwanted debris and rocks. What is left behind is a largely clean patch, although a second pass is often useful. The 13-pound unit is easy to push and stores well when hanged except it takes up a lot of space on the wall due to its width.
---
PROS:
Spares time;
Easy to use;
Lightweight;
Durable structure.
CONS:
One pass might not be enough.
---
Sun Joe MJ501M 18-Inch Manual Reel Mower: The Best Reel Mower Grass Catcher on a Budget
No products found.
Specifications:
Material: Metal
Cutting Diameter: 18-inch

Blade

: 5
Discharge Location: Bag
Wheels: 10-inch and 5-inch
Another push-powered reel mower, this model stands out because it has a simple open grass catcher that's attached to the back of it. It is positioned considerably closer to the reel unit than in Greenworks, making it a cleaner solution in terms of bagging. The 6.6-gallon grass catcher won't fall off on uneven terrain.
However, occasional clipping spillage is possible due to the open structure.
This mower has an impressive cutting length range of up to 2.44 inches, where it rather becomes a trimmer reel mower, with 9 possible settings. A set of five razors is used to cut through most varieties of turf, including tougher ones. Like most reel mowers, however, this model will struggle with an overgrown lawn. It does better than average on tall grass though.
What's included:
5 – 18 in Sharpened Steel Blades, 7 Gallon Grass Catcher
The 16-inch mower has a weight of just 22 pounds and is easily maneuverable. It also stores well with a modest footprint. The handle design is not exactly ergonomic, but there's a lot of room for hand placement, and the grip is padded.
---
PROS:
Many cutting length options;
Lightweight;
Secure grass catcher attachment;
Small footprint when stored;
Better than average for tall grass.
CONS:
Not the most comfortable handle.
---
Gardena 4020 12-Inch Silent Push Reel Lawn Mower: One of the Quietest of Mechanical Lawn Mowers
Specifications:
Material: Alloy Steel
Cutting Diameter: 12-inch

Blade

: 4
Discharge Location: NA
Wheels: 10-inch
If you can't stand the sound of metal surfaces gritting against each other, you'll appreciate the fact that this Gardena mower uses a no-contact technology where the reel doesn't touch the bottom blade during operation. Apart from reducing noise, this makes the mower easier to push. The model also comes with relatively large wheels with a special thread meant to make it even more maneuverable.
This 12-inch lawnmower weighs just under 17 pounds, so you might like it if you have trouble using hefty equipment. However, it also makes a really small patch, which means more passes unless your yard is really small. This is partly made up of superb cutting quality. The cutting cylinder is made of hardened still that bears a non-stick coating for smoother operation.
What's included:
The handle has no padding but doesn't feel too hard to the touch of sticky. It also provides for multiple hand positions. When stored, the handle unit can be removed to make the unit even more compact.
---
PROS:
Very lightweight;
Compact due to removable handle;
Very clean cut;
Low-noise;
Very smooth in operation.
CONS:
Narrow cutting width;
Rather expensive.
---
How to Use a Reel Lawn Mower?
Reel mowers work very much like any other pusher-type mowers. You walk behind it (remember not to run; this is dangerous!), pushing the device forward as it cuts your grass. The lawn should be dry if possible since wet grass isn't so easy to reap through. If you have a lot of weeds like crabgrass and aren't sure if your mower can handle them, try using the highest setting that's suitable for your grass variety.
With a decent reel mower, one to two passes is generally enough provided that your patches overlap on the sides a little, so there's no need to walk back and forth all the time.
How to Pick a Reel Lawn Mower?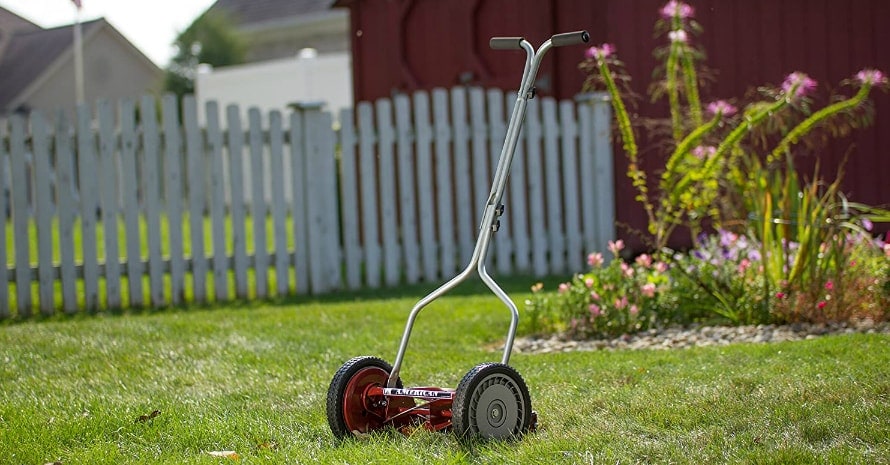 There are several aspects to consider when looking for the perfect reel mower for your lawn.
Number of blades
This is one case where the principle, "The more, the better" doesn't apply. A higher number of blades enables you to get a perfect-looking lawn, but it also means you'll need to trim it really often. With 7 blade reel mowers, for example, the average recommended frequency is twice a week. If you're just thinking about buying your very first reel mower, I recommend 4 to 6 blades. Fewer blades also mean the model will do better on tall grass.
Blade cutting height
This can be adjustable or not depending on the model. Your choice should be based on the length recommendation for the grass variety you are using and your personal preferences.
Safety
Unlike rotary mowers, it's not typical for pusher-type reel models to have built-in safety features. However, you need to choose one that's ergonomic in terms of hand positioning. A non-slip grip is a must.
Durability
The structure should be made of quality materials in general, preferably with no connections that can get loose. Special attention should be paid to the blades. Heat-treated steel is the preferred material as it needs less sharpening, which is a time-consuming operation.
Weight
The lighter, the better. This kind of generalization does work here. Of course, this shouldn't come at the cost of cutting width (see below), and durable, maneuverable wheels remain a must.
Yard size
If you have a small patch of land to work on, a cutting width of about 14 inches will be enough. Such mowers are usually very compact and lightweight. However, larger lawns require bigger patches to be covered per pass; otherwise mowing might become too much of a chore. Reel mowers are generally the less-preferred type among owners of really big yards. How clean the mower cuts and whether you need to return is another aspect to factor in here, though, as this translated to extra time and effort.
What to Consider When Shopping for a Reel Mower?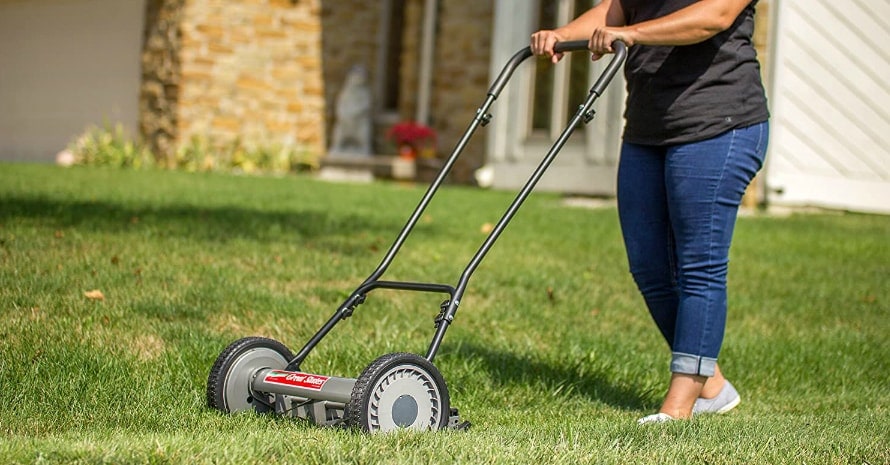 In this section, I'll tell you what to look for if you want to reel-mow your yard (and why bother). I'll also answer some of the most common questions regarding this style of mowers.
What Is a Reel Lawn Mower?
A reel lawn mower is a mower, usually unpowered, where a reel, or cylinder, of helically placed blades, spins, brushing against a bottom blade. It's at that moment of contact that the grass is cut. Alternatively, no-contact varieties are used where a tiny gap is left, which doesn't prevent the grass blade from being cut anyway. The key advantage of this approach is reduced noise and friction.
When compared to rotary mowers, reel ones cut rather than tear, which results in a neater-looking lawn with nice and sharp grass ends. It also allows for lower grass length when cut. Finally, by using manual mowers rather than models powered by gas you reduce the environmental impact of your lawn care routine and save money. Of course, this means for physical strain (read below to learn how to make up for this).
More Questions on Reel Mowers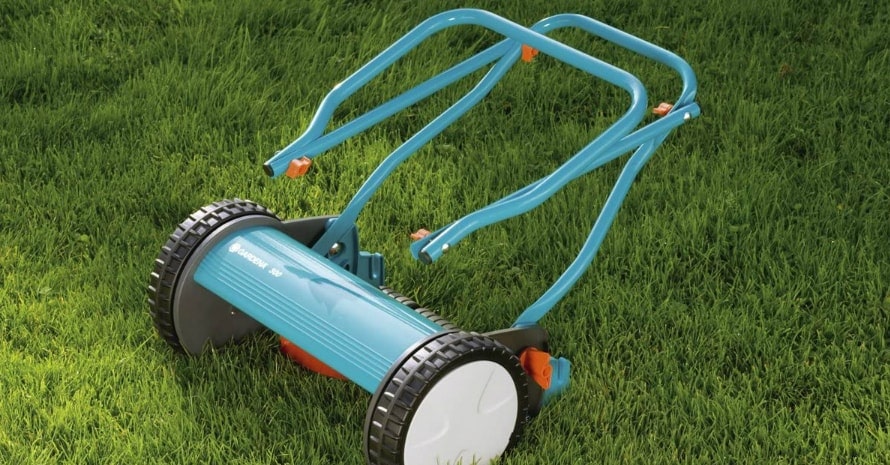 Here are some other things people often want to know about reel mowers:
How to sharpen reel lawn mower blades by hand?
Some companies sell sharpening kits that are perfect for the purpose. One example is the American Lawn Mower Company. Alternatively, you can use a file, angling it the same as the beveled edge of the blade is angled and dragging it towards the end of the beveled edge.
How to clean a reel lawn mower?
You can use your water hose to wash off any dirt as long as you let the reel dry afterward. Alternatively, get a narrow brush that will collect any dirt and debris off the blades.
What size yard for reel lawn mower is the best?
Walk-behind reel mowers work best for small to average yards. An area of up to 3,000 square feet is certainly no problem for most models. 5,000 square feet is generally doable but might take over an hour.
How to cut tall grass with a reel mower?
Use the highest setting for grass up to 6 inches tall. You can also pre-trim your lawn using a grass whip or trimmer if it's any longer and then proceed as usual.
Keeping Your Lawn Happy with a Reel Mower
Reel mowers are a great way of ensuring clean, scissor-like cut over small to average areas provided that the tool you are using is durable, ergonomic, and efficient. Tough grass can be a challenge to some reel mowers, so pay attention to this factor is you're growing Bermuda.
Apart from keeping your yard pretty, a good mower spares the environment as it is a zero-emission tool. Don't hesitate to get one if you like your grass nice and low!
To those who already have some experience with reel mowers, how much time does it take you to mow your lawn? Don't forget to mention your plot size!