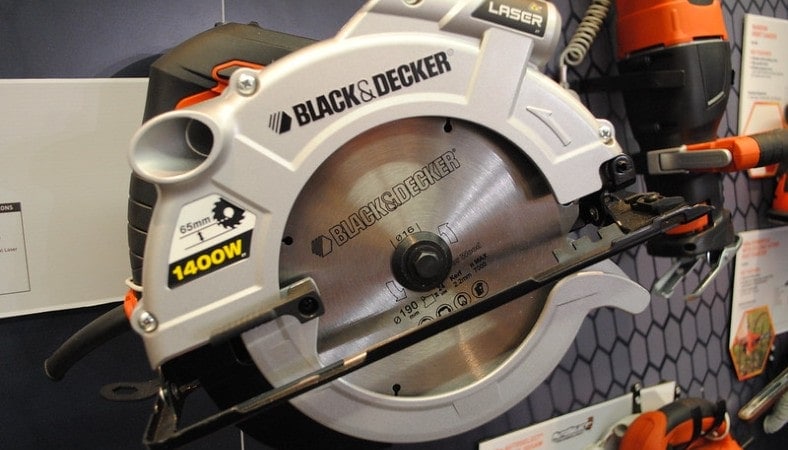 To find the best cordless circular saw is not an easy task with the numerous offers on the market. Not every product is equally good and has similar benefits. However, a cordless circular saw is a must-have for all woodworkers, professionals, and amateurs. While some experienced workers are still suspicious about the pros of the circular saw without a cord, it quickly gains trust in the USA. It has proved to be a reliable and durable tool for your household.
In my experience, which is over several dozens of years of woodworking, this saw may be handy any time you want to renew the furniture in the house or remodel your house or barn. Even though I don't use it in my home every day, I can always rely on the instrument once I need it. Besides, this is a perfect gift for carpenters. In case you are struggling with the choice, I've decided to review my favorite cordless circular saws. All of them are supreme, best-selling products. No matter which one you choose, they are all of the great quality. I checked out these saws personally and would like to share my opinion with you. If you don't agree with me, you can point this out in the comments below.
Perfect for any type of wood
The engine is protected from overheating
Top Pick
Perfect for any type of wood
Premium Choice
The engine is protected from overheating
Top-11 Cordless Circular Saws
If you are looking for a buzz saw, you may have some work on your mind. Depending on what type of work you want to perform with this tool, you may find the most suitable one for you. Pay attention to the dimensions, weight, materials, power, price, and developers of saws. Read both pros and cons, before making an order.
1. Dewalt DC391B 6-1/2 Inch Cordless Circular Saw – The Best Cordless Circular Saw for Cross and Rip Cuts
This saw is a powerful and durable tool for woodworking. It offers 5150 RPM for cuts. The blade is made of carbide and provides a 2x cutting capacity of 45 and 90 degrees. The blade is 6 ½ inches wide. The saw is extremely durable because of the upper guard and magnesium shoe of high strength. The bevel capacity of 0-50 degrees increases extra efficiency for numerous applications. I like the fan inside the instrument that cools the motor, making the tool more durable and powerful.
This instrument was produced by Dewalt, a manufacturer with a rich history and millions of clients around the world. They produce power and hand tools, outdoor equipment, and accessories. This tool weighs 7 pounds. Its dimensions are 10.00 inches x 15.00 inches x 8.00 inches. Pay attention to the fact that this instrument does not come with a charger or battery. It is compatible with DW9117 15 minute charger and 20-volt XRP battery.
---
PROS:
Powerful instrument;
High durability;
Extremely sharp;
Perfect for any type of wood;
Affordable price.
CONS:
It does not contain a battery or charger in the pack.
---
2. Black and Decker Cordless Circular Saw – One of the Bestsellers Among Cordless Circular Saw Reviews
The motor of the saw is 5 ½ inch of high speed. There is a wide range of cuts you can perform with this motor. This instrument offers an adjustable depth of cut. It increases the speed and power depending on whether you choose 45 degrees or 90 degrees angle. The 12T blade is made of carbide and offers quick cuts on versatile materials. This saw is durable and ideal for everyday work. I like that I can choose the depth of the cut.
Black+Decker producers offer 2 years warranty for this saw. They also make tools for home and garden, home cleaning instruments, housewares, and versatile small appliances. Besides the saw itself, you receive a charger and a 20V battery. The dimensions of the saw are 14.25 inches x 8.38 inches x 9.25 inches. The whole pack weighs 7 pounds. If you need an extra lithium-ion battery for this instrument, you can order it from the same company. However, I believe the one battery that is included is more than enough for you.
---
PROS:
Powerful motor;
Adjustable depth of cut;
Battery and charger are included;
2 years warranty;
Affordable price.
CONS:
It is not the most lightweight saw on the list.
---
3. Makita SH02R1 Cordless Circular Saw Kit – The Most Equipped Set Among Battery Powered Circular Saw Reviews
The saw by Makita provides a 1500 rpm speed maximum. It uses a battery of 12 volts. The instrument weighs 3.5 pounds. The dimensions of the saw are 14.5 inches in length x 8 inches in width x 10.2 inches in height. Despite the fact that this is not the fastest saw on this list, it is a pretty compact, well-equipped, and powerful tool for daily work. Its maximum depth that you can receive from a 3 3/8 inches blade is 1 inch at a 90-degree angle, and 5/8 inches at a 45-degree angle. Bevel cuts' tilting base is from 0 degrees to 45 degrees.
This saw cuts not only plywood, but pegboard, MDF, melamine, particleboard, and drywall. There is an inbuilt dust blower that significantly increases the durability of this saw and eases your work. The handle is covered with soft rubber for a comfortable hold. The battery is protected from overheating and overloading. Makita is a well-known manufacturer of garden and woodworking equipment. It also sells chargers and batteries native for their tools. I also enjoy the tool case where I keep the saw, battery, and charger.
---
PROS:
Compact model;
Comfortable grip;
The engine is protected from overheating;
Battery and charger are included;
Affordable price.
CONS:
Not the fastest saw on the list.
---
4. Bosch Bare-Tool Ion Circular Saw – Compact Battery Powered Saw
The blade of the saw is 6 ½ inches, and it cuts through the material of 2 inches thick at 90 degrees. It copes with 1-9/16 inches of material effectively from 50 degrees. You can use a no-load of 3900 rpm for this saw. This product weighs only 6.6 pounds, which is lighter than many similar products. This means that the saw is transportable and you can take it with you to your countryside house. I personally like the design of this tool. It is left-blade, so you will see all your work clearly, holding the tool in your right hand. There is a level that is easy to read and gauge to check out the depth of freshly made cuts.
Bosch is a legendary company that produces household and woodwork tools from amateurs and professionals. The quality of their products is undeniable. This saw is also durable, has an aluminum foot and upper guard. The manufacturer provides a cell and motor protection from overheating installed in the saw. I have used this saw for years, and it still looks and works like new. There are an electronic brake and anti-snag lower guard to ease the work for amateurs.
---
PROS:
Lightweight model;
Electric brake;
Heavy-duty aluminum upper guard and foot;
Affordable price;
Well-known developer.
CONS:
The charger and battery are not included in the pack.
---
5. Milwaukee M18 Lithium-Ion Cordless Circular Saw – With Attached Cordless Circular Saw Guide Rail
No products found.
The guards on the tool are made of magnesium of high quality. The wood cutting blade has 24 teeth from carbide, and the blade is 6.5 inches long. As for the dimensions of the saw, they are 8 inches x 12.20 inches x 10 inches. It weighs only 1 pound, which is unique for such a powerful tool and provides additional benefits for your work. The latter includes simple transportation and the ability to work for many hours without feeling tired. The comfortable handle is not slippery.
This tool has electric brakes to stop it anytime you want. Therefore, you don't have to wait for the blade to slow down. The speed of the blade is 3500 rpm. The top and bottom of the blade are surrounded by magnesium guards that protect the blade from bumps. There is no battery, but it is compatible with an 18-volt lithium-ion battery. The Milwaukee company has been producing powerful tools for carpenters for many years. It features a reliable reputation and high praise from critics.
---
PROS:
Lightweight tool;
Compact size;
Well-known producer;
Affordable price;
The 3500 rpm speed.
CONS:
It does not contain a battery; you have to buy it separately.
---
6. Makita XSS02Z Cordless Circular Saw with 3700 rpm Speed
This saw is sold separately from the battery, so you need to order 1 lithium-ion battery together with the instrument. The dimensions of the saw: 9.65 x 14.09 x 10.98 inches. It weighs 7.5 pounds. The speed of the tool is 3700 rpm. It has extended durability and 50-degree angle capacity.
This instrument was created by Makita, a company known for its power instruments. This brand also produces batteries for saws. The blade can cut up to 2 ¼ inches deep. I like the soft but steady grip made of rubber. There is built-in protection against overheating and overloading.
---
PROS:
Lightweight saw;
High-speed performance;
Affordable price;
Comfortable grip;
Well-known developer.
CONS:
You have to buy the battery separately.
---
7. Craftsman Cordless Circular Saw Kit – Fully Equipped Cordless Compact Circular Saw
The kit contains 1 lithium-ion battery, a saw blade, a fast lithium-ion charger on V20, hex wrench. It weighs 10.2 pounds, which is heavier than some saws on the list. Take it into consideration in case you will need to hold this tool for a long time. Its dimensions are 14 inches x 8.75 inches x 11.25 inches. The blade is suitable for cutting and ripping 2 inches of material. The motor offers 4 200 rpm speed, which is incredibly fast. This blade is for angle cuts as well.
The saw has a durable metal shoe. The company developer offers a 3-year warranty. The saw was manufactured by Craftsman, a popular name on the market of tools. They offer devices for cars, gardens, woodwork, power appliances, storage, garage tools, and hand tools. Apart from the stylish design of this saw, I also like the outstanding speed of its motor. The handle is also comfortable to hold.
---
PROS:
Powerful engine;
High-quality materials;
Comfortable to hold;
It already contains everything you need;
Outstanding speed.
CONS:
It is slightly more expensive than similar kits.
---
8. Skil PWRCore Circular Saw – Powerful Cordless Hand Held Circular Saw with Battery and Charger
This is a kit that contains a 4.0AH lithium battery, a brushless 6-1/2 inch circular saw, and a PWRJump charger. So, basically, you are buying a fully equipped saw. All you need to do is to start using it. The battery has an advanced coverage that cools it while the saw works. It helps to increase hours of its work up to 25 percent without the need to stop the tool. The charger is advanced as well and does not need more than 5 minutes to charge the battery completely. The blade has 24 teeth and is made of ultra-thin carbide.
SKIL is a well-known brand among powerful electric instruments. It also produces charges and additional batteries for their tools. The line on the wood stays visible thanks to the dust blower that is built into the saw. This way, you will not miss it. The brushless motor is durable. There is an electric brake that stops the blade immediately. The dimensions of the saw are 12.60 x 10.20 x 5.90 inches. As for the weight, It is 9.07 pounds.
---
PROS:
Comfortable to use;
The kit includes everything you need;
Savvy deal;
Deep cuts;
High durability.
CONS:
May require the second battery after some time of use.
---
9. Porter-Cable 20V Cordless Circular Saw – Lightweight Cordless Electric Saw for Daily Use
This circular saw has a 6.5 inches blade. It is powered by a battery that you have to buy separately. It weighs 0.01 pounds. The dimensions of the saw are 15.25 inches x 9.63 inches x 8.38 inches. This tool has a reliable and high-speed motor that offers 4000 rpm. The blade with teeth is made of carbide. It provides 2-1/8 cutting capacity. You can use a beveling shoe under the 50 degrees angle. The molded handle prevents your hand from sliding down or up. It is comfortable and easy to hold.
The saw is produced by Porter-Cable, a manufacturer with 100 years of history. They provide tools for carpenters, engineers, woodworkers, tradesmen, both professionals and amateurs. To operate the saw, you need 20 Max System batteries that can be bought separately. The angle of the saw allows you to get to the various surfaces and cut through them. This tool has 3 years of warranty. Despite the compact size, you will quickly find out that this instrument is highly durable.
---
PROS:
Powerful engine;
High speed of work;
Well-known developer;
Affordable price;
3 years of warranty.
CONS:
You will have to order the battery separately.
---
10. EnerTwist Cordless Circular Saw – the Best Battery Circular Saw that is Fully Packed
Apart from the saw itself, you receive a lithium battery of 4.0Ah, charger, parallel and laser guide, cutting blades for wood and plastic, and vacuum adaptor. This is a real deal for woodworkers who do not want to waste their time ordering everything separately. The length of the blade is 4.5 inches. The speed of this instrument is 3500 rpm. I have found it extremely convenient to use this saw with a single hand. It requires a 20 Volts battery and cuts 2 x 4 inches in one pass. I recommend using it not only for wood, but for plastic, drywall, and even soft metal. The depth of cutting is adjustable, 90 degrees angle provides a 1-11/16 inches cut, and 45 degrees angle offers 1-1/8 inches.
I advise you to use either laser or parallel guides that are preinstalled for precise cutting. As for the brand, EnerTwist is the manufacturer of powerful tools for your house and garden. It offers professional instruments for everyone. The dimensions of the saw are 15 inches x 8 inches x 3.5 inches. The handle grip is ergonomically made for long hours of work. The saw has 2 years warranty and 90 days of full-price compensation.
---
PROS:
Quick speed;
Comfortable hold;
Powerful engine;
Affordable price;
All the additional items are packed inside.
CONS:
You have to watch for overheating of the instrument by yourself.
---
11. Galax Pro Cordless Circular Saw – Laser-Guided Cordless Saw
This saw is already packed with a lithium battery. It has a speed of 3400 rpm. It cuts through wood, tile, plastic, drywall, and soft metal. The size of the blade is 4.5 inches. The package also includes not one, but two blades with a different number of teeth. One is with 24 teeth, and the other has 60 teeth. You can change the blades whenever you need them. The cutting angle of this blade is adjustable. There are a 45 degrees angle for 1-1/8 inches depth and 90 degrees angle for 1-11/16 inches depth. I like this saw because it is comfortable to use, and even without an extra fence, you will make perfect lines, using the laser guide, installed in the tool.
The instrument was created by Galax Pro, the company that produces power tools for amateurs and professionals. They offer a 24 months warranty. This saw comes completely equipped with a battery, blades, charger, instructions, vacuum adaptor, hex key, and rip guide.
---
PROS:
Two blades on 24 and 60 teeth;
High speed of blade;
Affordable price;
Comfortable to hold;
Laser guide.
---
Buyer's Guide and FAQ
Nobody tells you that it is easy to choose one saw from millions of options. This is why you have to consider the important features of each tool. I hope my tips will be helpful to you.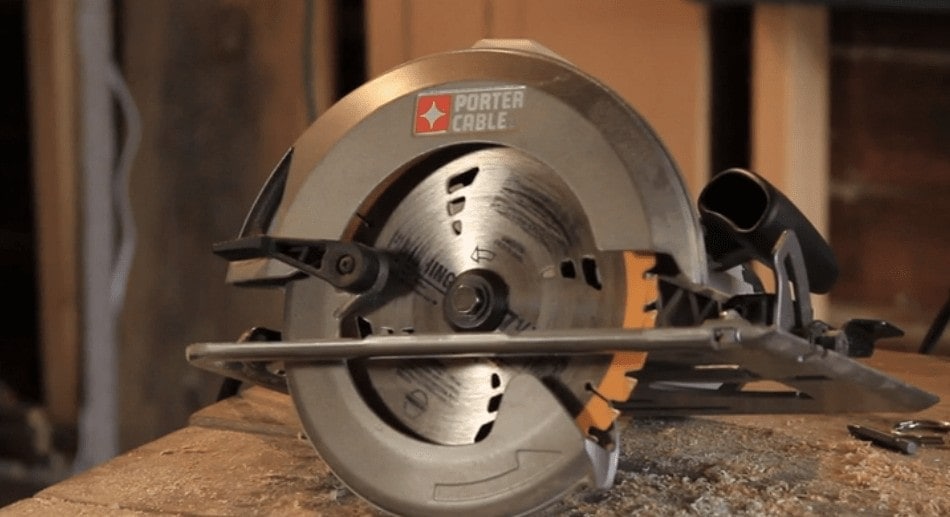 How to choose the best cordless circular saw
Pay attention to the main characteristics of cordless circular saws. Read the pros and cons of each of them. And remember, I have gathered the best products which are more beneficial for different demands. Pay attention to their differences as well as similarities.
Battery
Check out whether the battery is included in the pack, or you need to buy it separately. Pay attention to the native batteries of saws. They must be charged quickly, work without overheating at the maximum speed that the developers offer. There are ion lithium batteries for the saws of 18 or 20 V.
Motor power
Pay attention to the motor power of the saw. It does not have to be just fast. The device should be capable of working for a long time. It means that inside of it, there must be overheating and overloading control. It has to handle the constant turning of the blade. You need to have extra brakes that will stop the motor immediately.
Speed
Speed is the first aspect you have to pay attention to. I have compiled the fastest and the most reliable saws on the list. Some of them are slower than others, and some are outstandingly fast. I do not recommend using saws of the highest speed for newcomers, as you will not be able to keep up with its pace.
Weight
Just imagine that you have to work holding the saw in one hand for quite a long time. If the project is big enough, you will need to use the saw for hours for several days. You have to make sure that you can handle the weight of the tool.
Safety
Safety is a feature of utmost importance. Saw blades are sharp, thin, and can cut all your fingers at once. This is why you have to make sure that the handle is made of rubber or has a strong grip. There must be a braking system that will help you to stop the engine immediately. Also, pay attention to the overheating preventive system inside the saw.
Price
This is not the last thing to consider while choosing the saw. I don't recommend you to go for the cheapest option, as there is a possibility that you will use this instrument for quite some time. If it breaks, you'll have to buy a new one, overpaying significantly. I have mentioned the affordability of the instrument, but you can check out all the tools on your own.
Developers
In this review, I have picked only reliable brands. They are all well-known on the market and have a great reputation. All of them produce tools, batteries, and chargers for them, in case you need additional details.
Cordless circular saw vs track saw
A track saw is a circular saw you hold in hand that has a rectangular rail, called the track. It works on the rail which creates precise cuts. Besides, it is easy to follow your progress without the rail guard blocking the view.
Appearance
A circular saw is a tool with a disc blade. The blade has sharp teeth on its surface. There is a safety guard that protects your hands while you are working.
Mobility
A cordless saw is supplied with a rechargeable battery. This tool is versatile, transportable, and allows you to reach the places that track saw can't.
Differences
A circular saw does not have a track, unlike a track saw;
A circular saw is portable and compact, which is opposite to a track saw;
A circular saw usually makes rip and crosscuts, while a track saw can make cross cuts, rips cuts, and angle cuts.
FAQ
Here are the most common questions about circular saws. I hope they will help you to learn more about the tool. Read them before you will buy the instrument.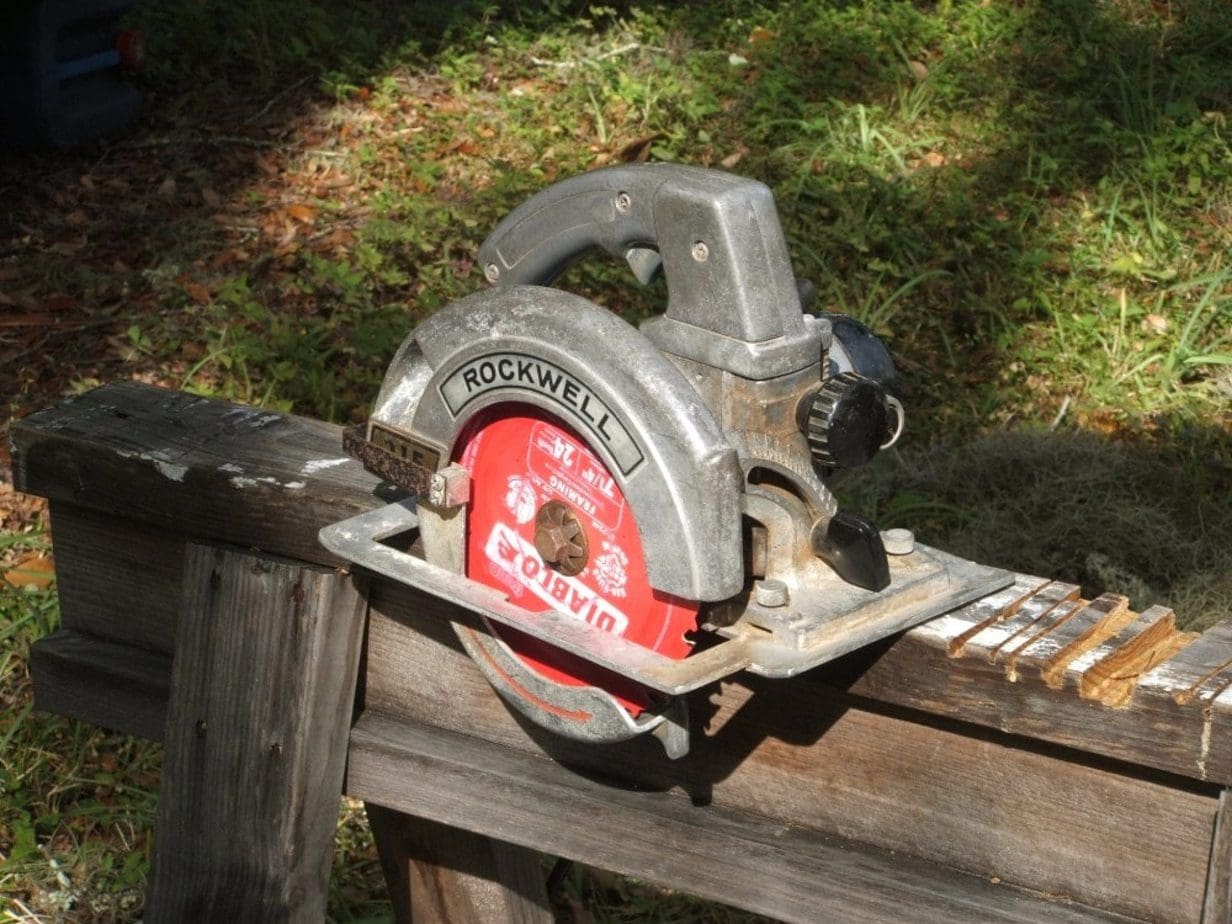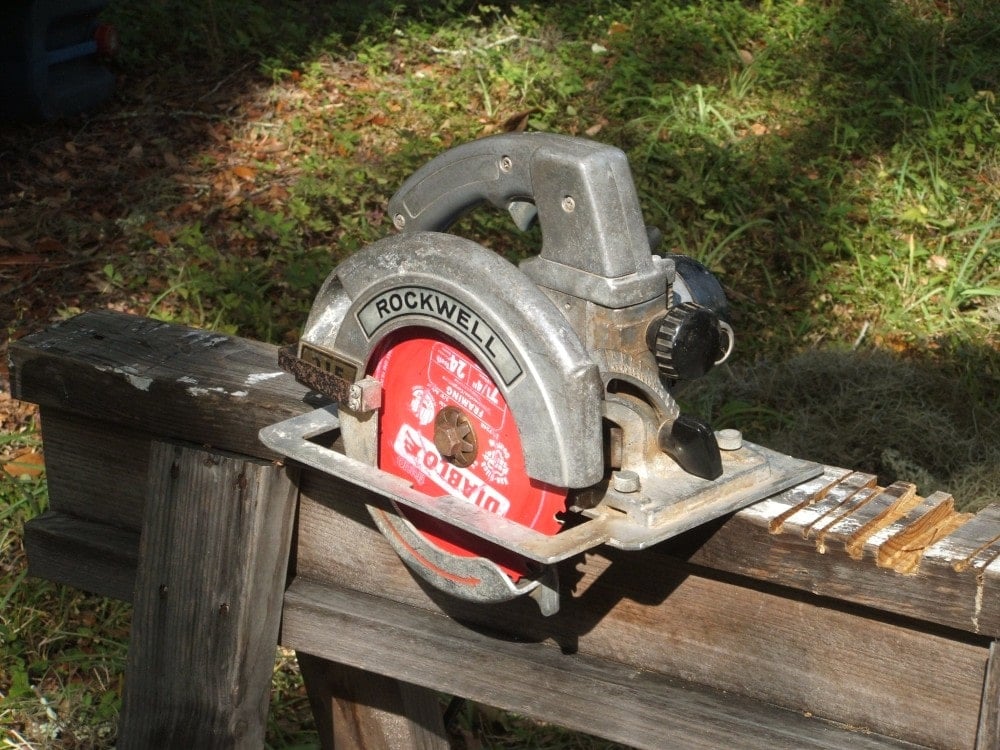 How to use a cordless circular saw?
The circular saw works great on versatile wood and soft metals. Before you turn on the engine, put the glasses on. Don't forget to mark the line, even if the saw has a laser guide. Turn on the laser guide to see it more clearly. Do not rush. In case you need to stop immediately, you should use the breaks.
How long does a cordless circular saw last?
It actually depends on the quality of your saw. Typically, it lasts for many years. However, you may need to change the battery. Pay attention to whether it is charged fully or not. Check out the charger. To extend the life of the saw, I recommend keeping it in a dry place, unreachable for others. Pay attention to the blade; if it is dull, you have to buy new.
How to change the blade on the cordless circular saw?
You have to change the blade when it is dull or damaged. The first thing to do is to make sure that the battery is removed, as you don't want to cut your fingers accidentally. Order the suitable blade. Expose it, and engage the lock on the arbor, securing the blade guard. Get rid of the arbor nut and slide the blade out. Replace the old blade with a new one. Tighten the nut.
What size of the cordless circular saw should I pick?
It really depends on your own preferences. The most average diameter of the blade is 7 ¼ inches. Saws with 6 inches or more can easily cut through the 2 inches wood. And saws that have a narrower blade can cut through 2 inches wood under 45 degrees angle. Make sure your saw is not heavy, and you can hold it comfortably while you work.
Choosing the Right Cordless Circular Saw
I hope that all the tips I have shared will help you to choose the most suitable saw. Take a precise look at every instrument I have mentioned on the list. Make sure you know what you will do with the saw and which type of wood or other material you will cut through. Do not rush taking this decision. There are different benefits of each saw I've described; however, they all still have some cons.
Now, I want to gather my readers' opinions. If you have ever used one or several circular saws from the list, can you share your thoughts about them? Did you like them? What is most beneficial about the saw? And what were the aspects you did not like? Don't worry about expressing even the negative experience in the comments; I will highly appreciate your honesty.