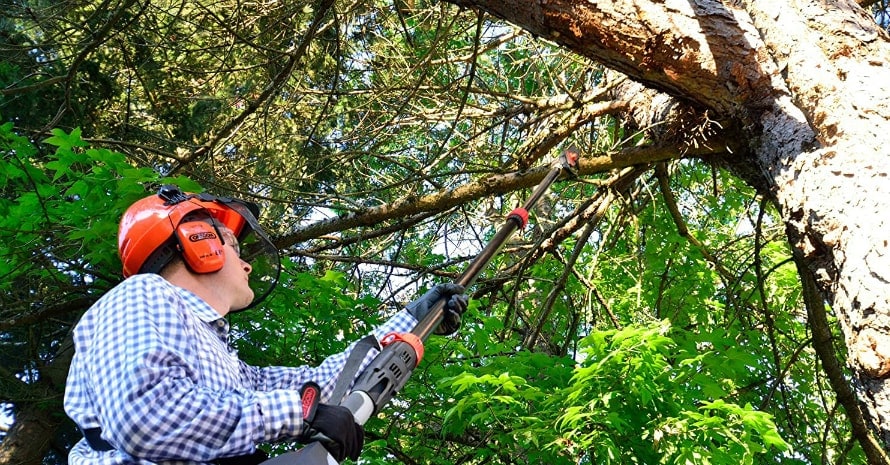 Are you looking for the best electric pole saw? But do you really know what you need it for and how to choose it? These seemingly simple and secure devices are actually quite dangerous and require specific knowledge to be used properly. I made this long guide with reviews to clarify the real purpose of pole saws and help you choose one of the best electric models or go further and look for a gas-powered tool. Everything will become transparent for you after reading.
In this article, I included detailed reviews of the most reliable electric pole saws that I tested, along with useful information that every pole saw operator must know to work safely and effectively. I covered all the aspects, so you wouldn't need to google for more information.
What is Electric Pole Saw?
Pole saws are power tree trimmers designed for cutting thick branches on trees safely and without the need to climb up a tree. The construction of this saw includes a power source (sometimes with the engine) on the back end and a small chainsaw blade bar on the front end of the pole (can be with the motor as well).
As a result, the back end works as a counterbalance and a remote controller, while the pole serves as a large handle and lets you reach high branches without the need to climb up a ladder and balance on it. The pole can be adjusted to the needed length, which makes it so easy to cut branches on different levels from a safe distance.
Electric pole saws are available in 2 types. The first one is a corded pole saw. This device has an electric motor and can be turned on only if you plug it into an outlet with an extension cord. The second is battery-powered. It can be heavier but offers greater mobility as no cords are needed. You will find a more detailed description, and comparison of pole saw power sources below.
Top 10 Best Electric Pole Saw Reviews
Below are the detailed reviews of 10 corded and cordless tools that worked the best during my tests. You can trust them or not, but I like the tools below. Choose wisely and don't fall for brands as not only top-rated electric pole saws are good.
1. Greenworks 20192 – Best Corded Electric Pole Saw
Specifications:
Bar length: 8″
Power Source: Corded Electric 6.5-amp motor
Item Weight: 10,5 pounds
Safety: –
Telescoping: Pole extends to 8 ft.
Greenworks is probably the greenest power tool manufacturer in the US and the world. The brand offers a wide range of instruments for building, cleaning, gardening, and repairing. The cool thing is that all the brand's products are either corded or cordless. It doesn't offer gas-powered tools at all, while the productivity of particular models is equal or even higher than conventional tools provide.
The 20192 model is the only corded pole saw by the brand, and it's really worthy for several reasons. It's a relatively compact and lightweight tool. It's quite easy to make the pole shorter or longer if necessary.
The pole isn't telescopic, so you have to attach or remove the middle tube of the shaft. It's made of sturdy stainless aluminum, by the way. The full length of the tool is 8 feet, which is enough for most cases. You can order an additional extension pole, but it will reduce the cutting power.
The full weight of the tool with the full oil tank is slightly over 10.5 pounds. The weight is evenly distributed over the length of the pole, but a slight overweight on the saw side is tangible. That's not a big issue anyway.
What's included:
1 of Greenworks 6.5 Amp 8 inch Corded Electric Pole Saw 1 of Greenworks ECOA010 Accessory, 50′
The tool comes with a high-quality medium-powered high-torque 6.5-Amp motor and an 8'' blade bar. This combo cuts really well and doesn't limit you on work time. The chain tensioning system of this tool model is manual, so you should check out the user manual to use it right and avoid chain slipping. The oiler is automatic so that you don't have to lubricate the chain every time you want to start cutting.
---
PROS:
The pole is extendable to 8 feet;
Automatic oiler;
Toolless chain tensioning;
8-inch blade bar length;
3-year warranty.
CONS:
Manual tensioning system;
Bar oil is sold separately (use synthetic for longer life).
---
2. Remington RM8EPS Ranger II – Great Telescopic Corded Pole Saw
Specifications:
Bar length: 10″
Power Source: Corded Electric 8-amp motor
Item Weight: 12,75 pounds
Safety: Scabbard
Telescoping: to 10 ft.
Remington is one of the oldest power tool manufacturers in the US and the world. The company was founded almost 100 years ago in 1921. Since then, the brand has gained a good reputation as a manufacturer of fair heavy-duty tools for professional and home use. The line of electric power tools, including pole saws and chainsaws, was started in the 1990s and remained one of the best-selling categories.
For less than $90, the Ranger II pole saw offers a unique ergonomic design that lets you convert the tool and adjust it for different needs really quickly. The pole of this saw is telescopic, which means that you don't have to disassemble the tool to extend or shorten the bar length. Just flip the lock and adjust it to the needed level. Holding the tool chest level, you can reach the branches that are up to 15 feet above the ground.
It's also very easy to convert it from a pole saw into a full-value electric chainsaw. Both handle and saw parts are easily detachable from the pole. You only need to press the lock button and slide the parts out. Next, slide the handle onto the saw slot and start cutting the longs on the ground right away.
The 8-Amp motor paired with the 10-inch blade bar lets you cut thicker branches than the Greenworks 8-inch pole saw does. It's also heavier, though. The tool weighs 12.75 pounds, which is a bit more than most alternatives, so I recommend you try it before purchasing to ensure that you will be able to hold it right long enough.
What's included:
Other convenient features include an automatic oiling system that saves up some time, a handguard for hand chainsaw mode, a coated non-slip handle, and an extra handle for better grip while logging.
---
PROS:
Let's you cut up to 15 feet high;
2-in-1 pole saw and chainsaw;
15 feet – top reach;
Telescopic tool-free pole adjustment;
Powerful 8-Amp motor & 10-inch.
CONS:
2 pounds heavier than most alternatives.
---
3. Sun Joe SWJ806E – Lightweight Long Reach Electric Pole Saw
Specifications:
Bar length: 8″
Power Source: Corded Electric 6.5-amp motor
Item Weight: 8,4 pounds
Safety: Scabbard
Telescoping: 8.6 ft.
Sun Joe is another young green brand from the US. Similar to Greeworks, this company is focused on the production of corded and cordless outdoor tools. It's particularly popular for highly efficient snowblowers, but other tools, including pole saws, are also very good. The SWJ806E isn't as affordable as my favorite product by Greenworks, but it offers some bonuses for extra money too.
This chainsaw comes with a powerful 8-Amp motor that rotates the chain on an 8-inch blade bar. Doing some simple math, we can conclude that such a proportion of motor power and bar length provides slightly higher cutting power than 8-Amp with a 10-inch bar and better performance than a 6.5-Amp unit with an 8-inch bar.
The motor of this saw is placed on the front end of the pole, so it feels a bit heavy, but not too much as the overall weight of the tool with a pole is reduced to 8.5 pounds.
That's a great option if you're looking for an effective 2-in-1 pole saw with a good reach. The telescoping pole is extendable from 6.3 feet up to 8.5 feet, letting you reach branches that are up to 15 feet high (depending on your height). When the trimming is done, you can easily convert the pole saw into an 8-inch electric chainsaw and chop the branches into smaller pieces.
What's included:
The tool has all the safety features needed for logging, including a hand protector and a safety switch that makes accidental starting impossible. The blade cover and an automatic oiler are also included. I only don't like that the 'dog teeth' near the blade are a bit too short and may slip from a log easily.
---
PROS:
Telescopic pole with a rubberized cover for better grip;
Powerful 8-Amp motor with an 8-inch blade bar;
The Max pole length is 8.6 feet;
Super lightweight design (8.5 pounds).
CONS:
The head of the tool is quite heavy.
---
4. BLACK+DECKER 20V (LPP120) – Well-Made Lithium Pole Saw
Specifications:
Bar length: 8″
Power Source: Battery Powered 20V
Item Weight: 10,13 pounds
Safety: Scabbard
Telescoping: 6.5 feet or 10 feet
BLACK+DECKER is one of the world's oldest power tool manufacturers. Founded in 1910, the brand has been among market leaders all its way. Although B+D had started as a gasoline tool manufacturer, it added a line of green tools to its production line. Cordless lithium-ion batteries by the brand are amongst the most effective today. The pricing for cordless devices is also competitive.
LPP120 is an 8-inch pole chainsaw powered by a 20V li-ion battery. This combination provides up to 375 chain rotations per minute for the 8-inch blade bar, which is a very good result.
A single full battery charge is usually enough for cutting around 90 1,5-inch pine branches. The result may vary for hardwood. It's not as many cuts as gas, and corded saws can make, but these are totally emission-free cuts that you can make at any distance from an outlet.
It takes around 80 minutes to recharge the battery, so I recommend purchasing an extra battery pack if you want to cut over 90 thin branches without interruptions. Just do the simple math to see if you need it.
The pole length is extendable with an extra pole section, which isn't as convenient as adjusting a telescoping pole, but lets you reach up to 14-15 feet of branches if you're high enough.
What's included:
1-20V MAX* Pole Saw with Extension1 – 20V MAX* Lithium Ion Battery20V MAX* Smart Battery ChargerBlade Guard, Oil Bottle and Wrench
As a bonus, the brand delivers the tool with a small bottle of synthetic oil and a wrench. The battery pack and charger are also included, so the price for this tool can be considered really low.
---
PROS:
Makes up to 375 RPM (up to 90 cuts per charge);
20V Battery pack, charger, oil bottle, and wrench are included;
Affordable cordless tool;
It's pretty lightweight (10.4 pounds).
CONS:
The number of cuts per charge is enough only for small yards.
---
5. CRAFTSMAN V20 (CMCCSP20M1) – Lightweight Battery Powered Pole Chainsaw
Specifications:
Bar length: 8″
Power Source: Battery Powered 20V
Item Weight: 5,97 pounds
Safety: –
Telescoping: Up to 14-foot reach with an extension pole
CRAFTSMAN was founded as a Sears house power tool brand in 1927. Not so long ago, in 2017, CRAFTSMAN became a subsidiary brand of BLACK+DECKER. I can't say that this fact affected the quality of the tools manufactured under the brand's name as well as the pricing. These are still affordable tools with 3-year warranty support.
I've been using tools by this brand for around 10 years already, so I know what I'm saying. By the way, if you're an owner of CRATSMAN's Versatrack wall organization system, this device is compatible with it.
The tool itself is very simple. It has a long pole that can be extended with an extra pole section. It lets you cut branches that are up to 14+ feet high, given that you're around 5.11 feet high.
The item comes with a V20 4Ah battery that rotates the chain on an 8'' chain bar. That's very similar to the tool by B+D above, but you should consider the battery capacity. 4Ah are nominally enough for up to 320 cuts on 2×2 pine. I tested it on different logs as I didn't have pine branches, and the result was very close to the claimed number of cuts, which is an exceptionally good result for a battery-powered cutter like this.
What's included:
(1) CMCCSP20 V20* Pole Chainsaw (1) CMCB204 V20* 4.0 Ah Lithium Ion Battery (1) V20* Lithium Ion Charger (1) Extension Pole (1) Oil Bottle (1) Wrench
It's also one of the lightest devices in the category. It weighs just 6 pounds and has a highly convenient rubberized handle. The only disadvantage is that you cannot convert it into an average chainsaw. It seems to be the price for extremely low weight and extended battery life.
---
PROS:
3-year warranty support;
Up to 14-15 feet reach;
Highly convenient handle;
Angled head and blade make it more comfortable to cut;
It weighs only 6 pounds!
CONS:
Not convertible into an average chainsaw.
---
6. Worx WG309 – 10'' Electric Chainsaw With Extension Pole
Specifications:
Bar length: 10″
Power Source: Corded Electric 8-amp motor
Item Weight: 8,4 pounds
Safety: Scabbard
Telescoping: to 10 ft.
Worx is a relatively young power tool brand founded by the Chinese power tool giant. Positec Tool Corporation. Although it's not a European or American manufacturer, it gained popularity all over the world due to its high quality and relatively low prices.
The WG309 tool is a bit strange but actually works very well. While all other brands decide to make their 2-in-1 pole saws with detachable handles and blades, Worx made it much simpler. You can just remove the pole and continue working with on-ground projects using it as an average chainsaw.
They installed the entire saw on one end of the pole, while the end that's closer to you is just a bare handle with a button. The benefit of such a construction is that you can swiftly convert the tool. The downside is that the cutting end is notably heavier than on other models.
What's included:
8 Amp 10" Chainsaw, 8-foot Extension Pole, Chain, Chain Bar, Blade Protection Cover
The 10-inch blade is driven with an 8-Amp motor that provides excellent performance even on 9.5-thick branches. The cool thing is that you can just sit and go due to an automatic oiler and chain tensioning system. Both elements extend the motor and chain life by reducing the stress on the entire system. The tensioner eases down the chain if it's overtightened.
---
PROS:
Easy to convert into an average chainsaw and back;
It provides 10-feet reach;
Powerful 8-Amp motor + 10-inch blade;
Automatic oiler and chain tensioner.
CONS:
The head of the tool is heavy.
---
7. DEWALT 20V (DCPS620M1) – Sturdy Pro-Style Electric Pole Tree Trimmer
Specifications:
Bar length: 8″
Power Source: Battery Powered 20V
Item Weight: 9.8 pounds
Safety: Scabbard
Telescoping: to 10 ft.
DEWALT is another BLACK+DECKER brand that has an almost 100-year history in the US. Today it's considered one of the best manufacturers of professional heavy-duty power tools in the world. DEWALT's brushless motors are highly efficient and powerful, so the cordless chainsaws by the brand are really good.
This pole saw is definitely a more expensive option amongst non-convertible battery-powered tools, but it offers the sturdiest construction of all. It weighs 15 pounds, which is probably too much for many of my readers, but the pole of the tool is a bit thicker than average, while the main part of the head is made of heavy-duty metal alloy. This means that the chances to break the tool head by accident are significantly lower. Arguably, that's a must-have feature for commercial use.
The tool comes with a 20V battery that lets you make over 90 cuts on 4×4 pine. This time I had an opportunity to check this claim on thick pine branches, and the result was very close to the promoted number.
What's included:
(1) Pole Saw; (1) Extension Pole; (1) DCB112 Charger; (1) DCB204 Battery; (1) Multi-tool; (1) Sheath; (1) Manual
Finally, I really like the large safety trigger that makes it totally impossible to start the engine without pressing both triggers simultaneously. Unlike other saws, it doesn't exhaust your hand.
---
PROS:
A heavy-duty tool with a metal head;
Metal tree hook and bucking strip;
Over 90 cuts on 4×4 pine per charge;
Low-kickback bar and proprietary chain.
CONS:
Keys required for tensioning;
Quite expensive for personal use.
---
8. Oregon Cordless PS250 – Longest Electric Pole Saw With Mid-Mount Motor
Specifications:
Bar length: 8″
Power Source: Battery Powered 40V
Item Weight: 10.8 pounds
Safety: Scabbard
Telescoping: to 10 ft.
Oregon is a native-American manufacturer founded in 1946. The brand doesn't copy ideas by other manufacturers and always offers something unique and attractive. For example, in this pole saw, they implemented my old dream to have a pole saw with a mid-mount engine.
Such a construction offers the highest control stability as the largest part of the mechanism is placed close to the handle instead of the tool head. They also thoughtfully supply it with a free shoulder strap that makes it a lot easier to work long hours. Although the chain is rotated with a long in-pole pin, it cuts really well.
What's included:
You can order the tool with 3 battery capacities, including 2.6 Ah (default battery) to make around 325 2''-3'' cuts, 4 Ah for around 500 cuts, and 6 Ah for over 700 cuts. All the battery packs are 40V, so the cutting power is also higher than average amongst cordless pole chainsaws.
---
PROS:
The mid-mount engine reduces fatigue;
Support strap included;
Up to 700 cuts per charge, depending on the battery pack model;
The telescoping pole provides up to 15 feet of reach.
CONS:
It's an expensive option.
---
9. Scotts Outdoor Power Tools PS45010S – Excellent Model With Adjustable Head Angle
Scotts is a popular manufacturer of lawn care products. I was surprised when I saw a line of power tools by the brand. I'd rather neglect it, but the pole saw with an adjustable head angle attracted my attention, and I got it immediately.
The tool appeared to be really worth the money. It weighs just 7 pounds, has a telescoping pole that lets you reach those high 15-feet branches, and cuts them with a pro-grade 10-inch blade bar. While these features are available on many corded saws, the real distinctive feature is the adjustable-angle head.
With the press of a button, you can choose 5 different cutting angles within a 30° amplitude. That's a great deal when you cannot reach some of the branches. The tool also has a very convenient handle with a large trigger and an automated oiler.
---
PROS:
Adjustable head angle (30° amplitude/ 5 positions);
Excellent Oregon 10'' bar and chain;
3-year warranty;
One of the lightest tools (7 pounds);
Convenient handle.
CONS:
Requires a key for tensioning.
---
10. VonHaus 40V – High-Quality Corded Tool
VonHaus is a British multi-directional brand that makes furniture, kitchen appliances, pet products, and a variety of other things, including power tools. The 40V pole saw by this manufacturer has excellent characteristics.
It's an affordable device that comes with a powerful 40V battery, an easily adjustable telescoping pole, and an 8-inch blade bar. The default battery is 4Ah, so it takes around 400 cuts on 2-3-inch branches. In addition, the package includes a thick shoulder strap for fatigue reduction. The tool weighs almost 12 pounds, so it's a great add-on.
---
PROS:
Telescoping pole;
Affordable and powerful;
Makes up to 400 cuts per charge;
Comes with a 4Ah battery and charger.
CONS:
It's quite heavy (but a strap is included);
A rather short reach (10 feet).
---
Buyers Guide – How to Make the Right Choice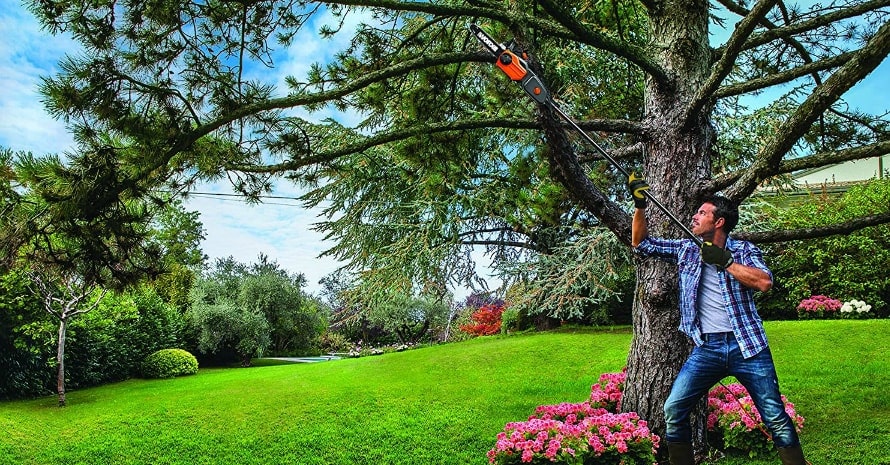 In this cumbersome section, I provide a comprehensive knowledge base that you need to get the most effective gardening instrument for your needs and budget and get the most out of it. Read on and make notes.
How to choose the best electric pole saw?
Below are the essential considerations that will help you to choose a tool that matches your requirements. Be attentive as each spec may affect the final price of the instrument and its efficiency.
Power source
Similarly to most other outdoor tool types, there are three power source options for pole saws as well:
Gas-powered – these are great machines for those large yards with many trees to trim. This type makes a lot of noise, but the efficiency and mobility of a gasoline engine are still unbeaten by compact modern li-ion battery-powered electric motors.
Another downside is that gas saws are significantly heavier and may reach 20 pounds and more. Still, it's the most preferred option by professional gardeners and owners of large households. Commercial models can run for hours and cut thick branches (up to 8 inches) almost effortlessly. The power of gas pole saw engines is measured in cubic centimeters and fluctuates between 20cc and 40cc (sometimes more). Take a larger engine if you need as much power as possible. The costs vary from $100 and $300. For more difficult tasks, take a conventional heavy-duty chainsaw, for at least, look below.
Corded electric – this is the cheapest pole saw type, running roughly $65 – $135, depending on the brand and specs. The only big 'BUT' about this type is that you cannot use the saw if there's no direct access to an electricity line. Your radius of reach depends only on the length of the extension cord you have. Compared to other types, this one rarely weighs more than 15 pounds.
It's also relatively quiet as there's no exhaust. The power of these tools is measured in Amps and usually varies from 6 to 10 Amps. That's enough for trimming 2''- 5'' branches, but rarely more.
Cordless (battery-powered) – this type of pole saw is available at nearly the same price range as fuel-powered models ($150-$300) and offers almost the same level of mobility. There's no cord so you can take it anywhere around the yard. Still, they're usually a bit lighter than gas models (12-17 pounds). The power of average cordless pole saws is usually enough for cutting 3''- 8'' branches, which is great. However, battery time is shorter than a full tank of fuel, so I recommend you consider buying a tool with at least 2 batteries to be able to work without interruption.
Cutting Bar Length
You should remember that the bar length determines the highest diameter of the branches you can cut. It varies from 6'' to 12'', and the most common option is 8''.
But how to choose the right length? The rule is simple: look for a tool with a bar that's at least 2 inches longer than the average diameter of the branches you are going to cut. Try to find the thickest branch that you will work with, measure it, and take a saw with a longer bar. By the way, 12'' saws are mostly fuel-powered as they require more power.
Weight
The weight of pole saws varies from 7 to 20 pounds. Even if you buy a lighter model, it becomes really hard to hold it after some work, so I recommend taking short breaks every time you start feeling overstrained in your muscles. I know how easy it is to overwork, so be attentive to your feelings.
Oil Tank Capacity
The average oil tank capacity of a pole saw varies from 80 to 100 cubic inches. The more, the better, but it shouldn't be too heavy for you as well.
Extras
Manufacturers fight for your choice by offering various additional features. Here are the most common them:
removable saw – this killer feature lets you detach the saw from the pole and use it as a conventional chainsaw. That is a great option if you want to chop branches into smaller pieces before disposal;
vibration reduction – it's a must-have if you use the saw frequently as constant exposure to vibration can be harmful to your body;
non-slip grips – this one adds up stability and makes operating the saw a bit safer;
auto-oiler – this one came from conventional chainsaws and lets you forget about oiling the chain every now and then. Just fill the oil tank and keep working.
Motor
Gas-powered motors work the best if you need to cut thicker branches, but you should mind exhaust fumes, noise, weight, more maintenance, and smelly fuel mixing. Corded motors are good enough if you have a small yard and need a medium amount of power for your trimming tasks. Cordless motors are nearly the same or a bit better when it comes to efficiency, but it's much easier to take them around. Don't forget about lithium-ion battery guidelines anyway.
Warranty
It's quite important to look for products with a warranty as even the most popular and high-quality brands fail from time to time. There's always a probability that you will receive a broken or wrong product. A good warranty will help you to avoid potential problems and get a refund/repair service if needed. Be attentive to the terms of the warranty to see if it's worth the price of the tool or not. All warranties have limited manufacturer responsibility.
How to use an electric pole saw?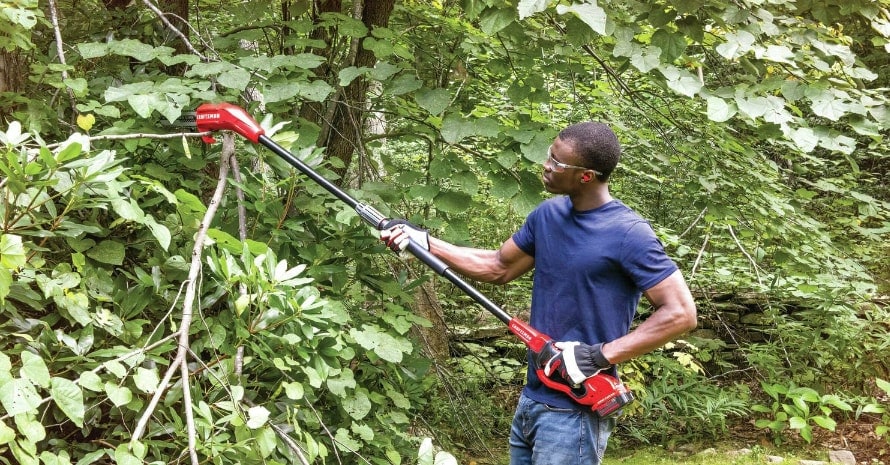 Although these tools may look quite simple, you should learn the exploitation rules before you start cutting. Here's a concise step-by-step guide:
Clear the area – remove all the property that can be damaged by falling branches. You should also be able to move freely and without tripping. Use stripes or fences if you work in a public area;
Plan each cut – inspect every tree and decide which branches you will cut. Don't start before you do so;
Lower branches first – the rule of thumb is to cut lower limbs first to make it easier to reach the higher ones. If there's no way to do so, you should plan where the branches will fall and stand away from the place on time;
Position yourself – don't stand directly under the branch you cut. Always stand off to the side;
Adjust pole length – you should be able to reach the lowest branch when you hold the tool at the chest-height level. That's the most convenient and safe pole length;
Position the blade – take the tool with both hands and ensure that you have enough control. Place the blade so that it rests on the branch.
Make a cut – start cutting slowly to make a deep groove and speed up the blade only when you feel that the blade won't sleep out of the groove. If it slips, stop immediately and start over.
Finish – before you finish cutting a branch, you should stand aside as much as possible and get away quickly when the branch starts falling to avoid injuries.
Clear the area – always take away the fallen branches to avoid tripping over them.
Safety Tips for an electric pole saw
The way to safe tree trimming lies through following strict rules from the previous paragraph and other professional guides. Never start cutting until you make sure that the branch you are going to cut won't damage anything or harm anyone, including you. I also recommend wearing protective glasses as chips may hurt your eyes and earplugs for hearing protection.
Gas vs Electric powered pole saw?
You probably already have an opinion about both types after reading previous sections, so let's sum up the point in plain words.
The advantages of gasoline-powered tools include:
the best mobility – a full tank of gas provides longer work time than battery-powered models do and lets you reach any location no matter how far it is from outlets.
most powerful motors with the highest cutting power;
Longest poles and blade bars.
Disadvantages of gas pole saws include:
Exhaust fumes;
Loudness;
More intensive vibration;
Higher weight;
More complicated maintenance.
Advantages of electric pole saws include:
Lower weight;
Simpler maintenance;
Lower price (corded models);
Zero emissions;
Less intensive vibration.
The downsides of electric pole saws include the:
Lack of mobility (corded models);
Generally shorter cutting bars;
Shorter work sessions between recharges (cordless models).
FAQ on Best Electric Pole Saws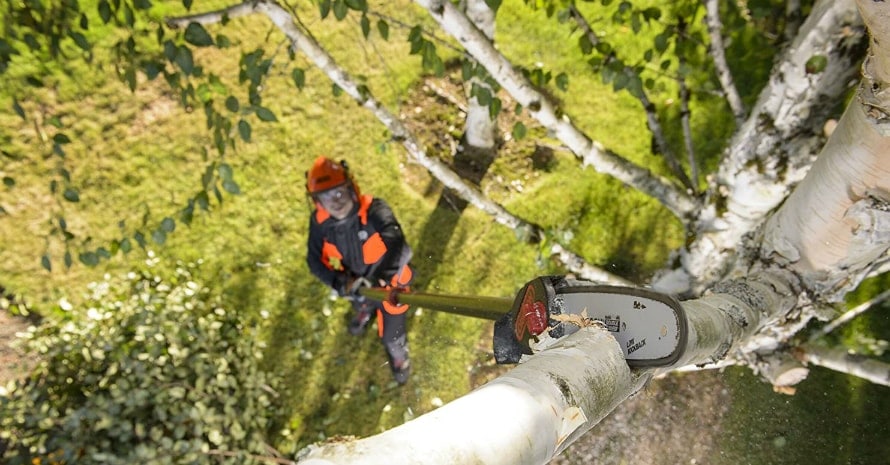 Can chain saws be used as pole saws?
I don't recommend you experiment with this. Chainsaws and ladders are a bad combo as there's always a chance that you fall and hurt yourself badly with a saw that falls right above. Just use pole saws for cutting those higher branches and keep safe. Engineers wouldn't invent pole saws if they were useless.
What are pole saw shafts made of?
Many driveshafts for pole chainsaws are made of steel. This material provides good vibration absorption, durability, and rust resistance. It's also quite lightweight, which is very important for a tool of this type. There's also a wide range of models with aluminum poles that are a bit cheaper but have almost the same characteristics.
Do electric pole saws emit smoke?
Electric pole saws don't emit exhaust fumes as they don't burn gas to work. That's what makes them more environment-friendly. If your electric device starts to emit smoke, you should turn it off immediately, unplug the cord or detach the battery and stop the fire using a proper fire extinguisher. In most cases, your tool will turn itself down if it detects motor overheating, but things happen anyway.
How often can I sharpen my pole saw?
You should sharpen the chain of your tool as soon as you notice that the cutting power becomes lower. It's not difficult to notice as it would take longer to make cuts. You can sharpen it before every session to avoid such moments or just when the time comes.
To The Great Projects!
Having all these useful facts in mind, you can make a perfect choice almost effortlessly. I recommend you to be attentive anyway as modern brands have so much high-quality marketing that doesn't necessarily refer to a respective quality of products. The reviews I provide are all test-based, and I'm responsible for them with the reputation of my blog amongst thousands of leaders, so there's no promotion.
Make a list with bullet points to simplify the task if you want to shop in a local store, and don't forget to read other user reviews under each product to have a more objective image of each product.
Have you ever used pole saws before? Was it a positive experience, and what model did you try? If it was one of the tools from my listing, I'd be happy to hear what you think about it. If it is your first tool of the type, don't neglect to ask me questions on aspects that aren't clear enough. You can also compare this instrument to other saw types on my blog for a better understanding of your needs.