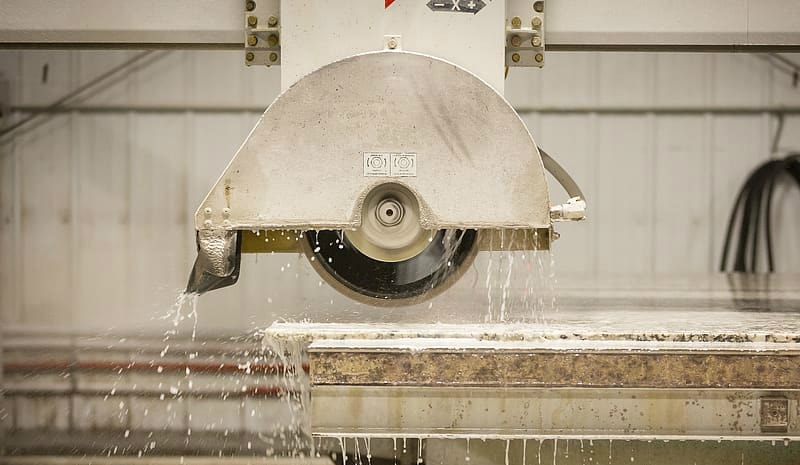 Planning to redesign your sweet home? New tiles are vital for making that striking change that resonates with your overall home decor. The only difficulty is that they typically sell standard-sized tiles, which means you will most likely have to cut them down to make them the most suitable size for your needs. That's where a solid wet tile saw comes into play.
Are you on the hunt for a top-notch tile saw for extensive tile cutting? I've put as many wet tile saws through their paces as I could find, thus, saving your time and providing you with a fine collection of 8 best tile saw reviews. I believe that the tile cutters reviewed below are more than worth buying for your projects. With their precision and efficiency, you will enjoy renovating your home on your own without having to splurge on professional services.
Perfect for your home DIY projects
Features adjustable splash guards to prevent getting wet
Good Choice
Perfect for your home DIY projects
Well-Made & Nicely-Sized
Features adjustable splash guards to prevent getting wet
Whether you're an expert mason or a weekend warrior who's just seeking the best tile saw to complete occasional home improvement ventures, today's your lucky day. In this post, I've put together an extensive list of some of the best table tile saws on the market. So keep reading my best tile saw reviews below and enjoy finding the right equipment for you.
Top 8 Best Tile Saw Reviews & Buying Guide
I'm sure you are aware that home improvement projects that involve tiling require considerable financial outlay, as well as lots of time for their completion. Even professional constructors with those huge industrial tile saws often fail to get the tiles right or work them into ideal shapes without breaking. These days, there are a lot of exceptionally user-friendly tile saws. Diamondback tile saw is cost-effective and overall great for home use. Below, I will cover all the aspects you need to be aware of to pick the best equipment for your needs.
1. SKIL 3540-02 Wet Tile Saw: My Top Pick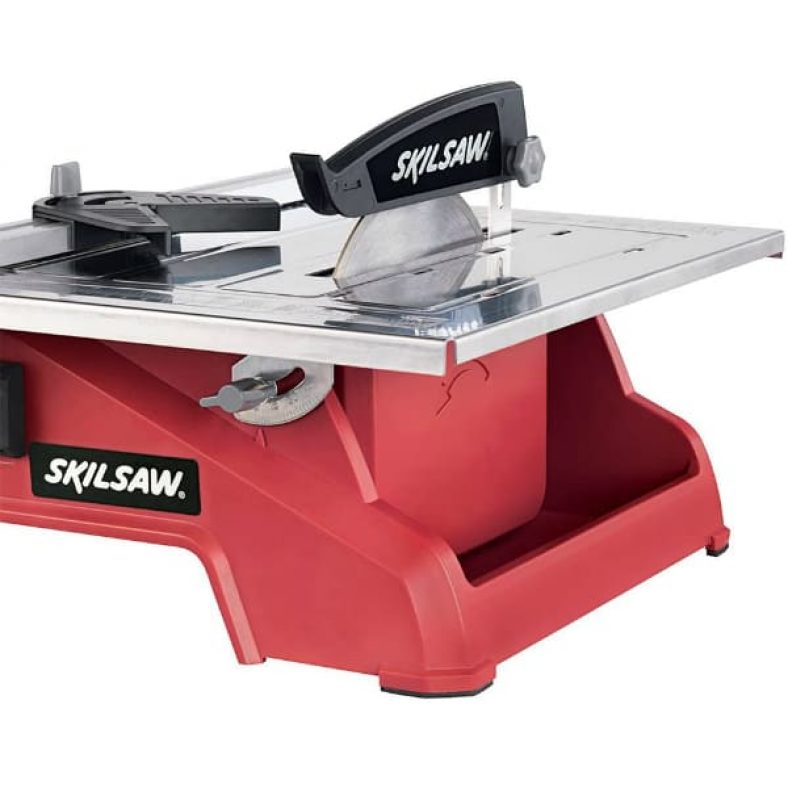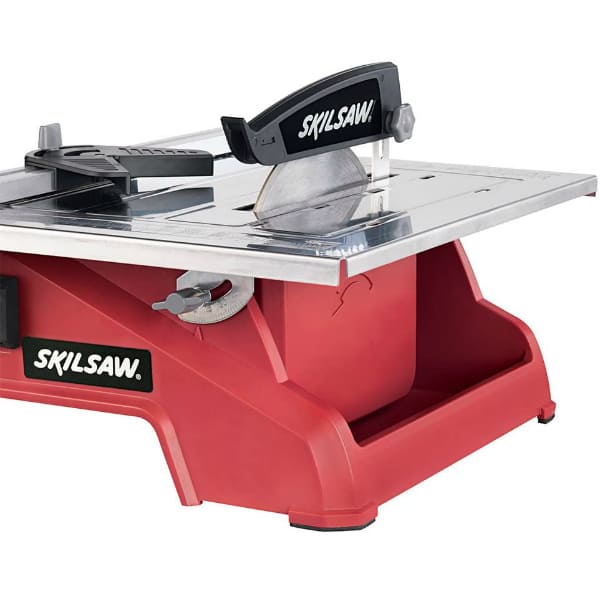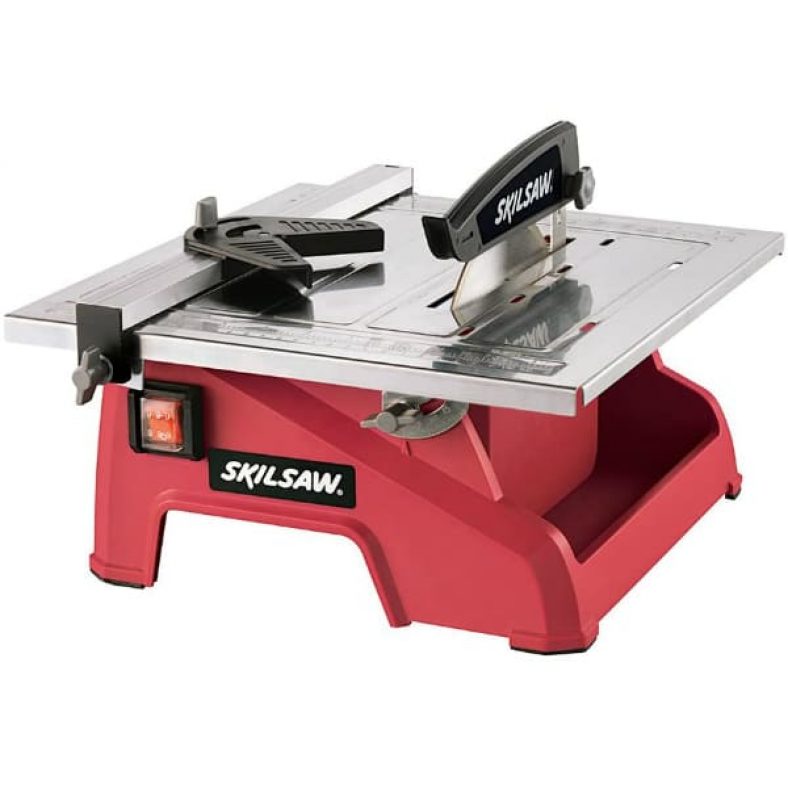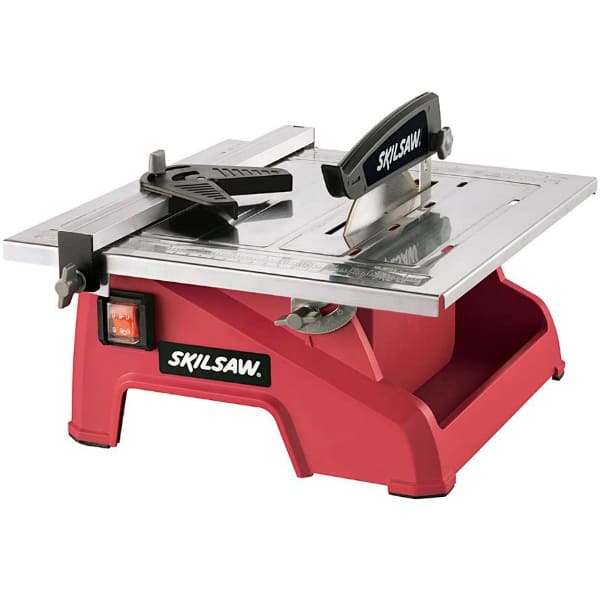 If you're on the prowl for the best overall, I recommend the SKIL 3540-02 corded and electric wet tile saw because it offers first-rate performance, impeccable portability, and impressive functionality. This fine tile cutting tool is a combination of splendid features, sharp performance, and impressive affordability.
The saw features a 7-in. diamond blade and excels in cutting tiles seamlessly through the majority of tile types and variations. In addition to this, the machine comes with a super smart blade cooling water container that assists you in avoiding excessive heating. Also, this feature makes the tool dirt- and waste-resistant.
This wet tile saw is not the strongest baby on the scene, but it's an efficient workhorse for your DIY tiling projects. So, if you're not hunting for a commercial tile saw but rather need a tile cutting tool to use around the house, and if you're seeking something that won't disappoint you or break the bank, this SKIL saw might be your best bet.
---
PROS:
Sturdy, durable construction;
Rust-proof stainless steel tabletop;
Compact and ultralight;
Ideal for occasional home use;
Reasonable price.
CONS:
Not the best wet saw for heavy-duty tiling projects;
The water container runs out of water pretty quickly.
---
2. DEWALT D24000 Wet Tile Saw: My Premium Choice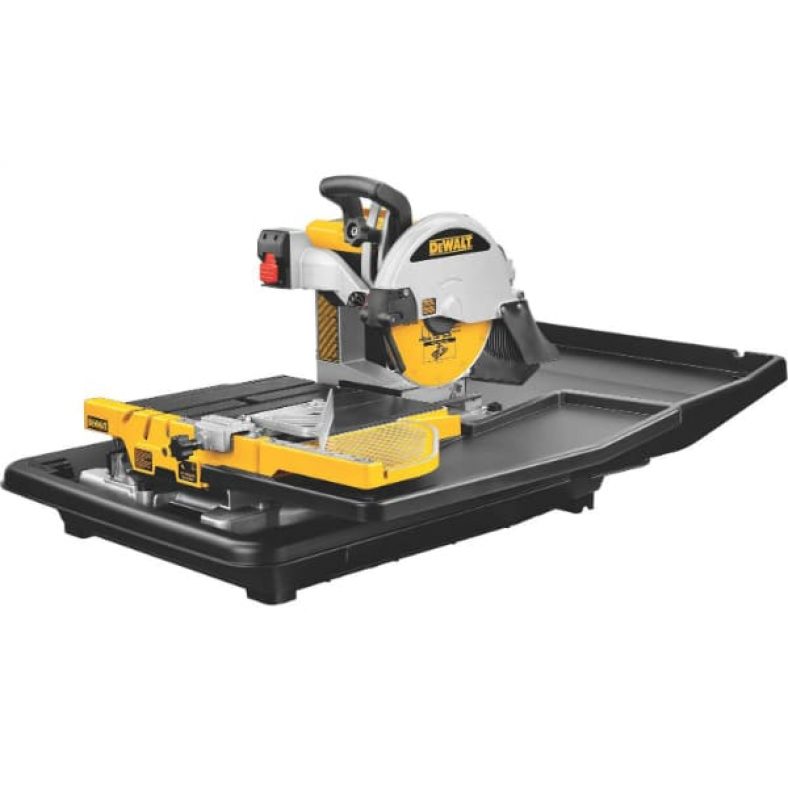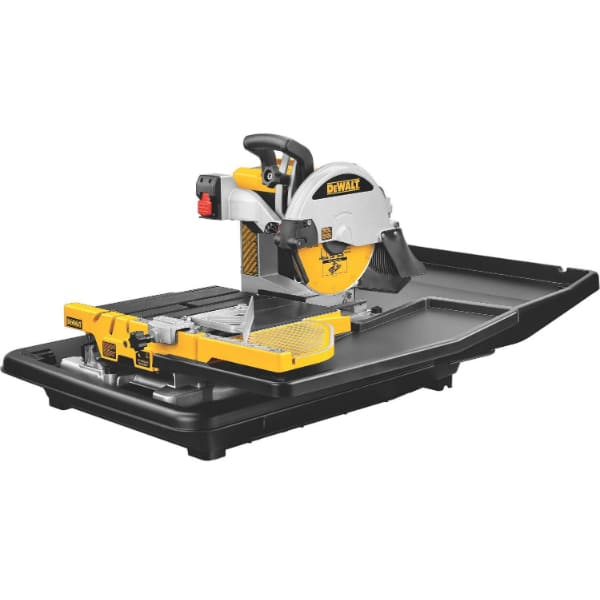 The D24000 is a must-have for tile pros. As a matter of fact, it's among the best-rated tile cutting beasts that Dewalt has produced so far. It's super powerful, sturdy, features a perfectly sharp blade, and effectively cuts through even the thickest tiles with buttery-smooth ease.
It boasts the top-level design and sits comfortably in your hands. Yet, no doubt, the biggest advantage of this item is its power. The machine is capable of effortlessly cutting through the porcelain, stone, and most tile variations. 1.5 horsepower speaks volumes about the baby's performance capabilities.
This saw is rather heavy, but still a breeze to install and utilize. It makes impeccably straight cuts and works flawlessly. In addition to this, the tool handles floor renovations like a champ. So, if you're aimed at purchasing a wet tile saw that's made for tradesmen, then the D24000 might be exactly what you need.
---
PROS:
Well-crafted and long-lasting;
This tile saw is exceptionally easy to utilize;
You will be amazed by its power and accuracy;
It makes fantastic diagonal cuts;
It comes with a 3-year warranty from the manufacturer.
CONS:
This wet tile saw is rather noisy and bulky;

It's a bit on the expensive side, but worth every penny.

B003HIWR08
---
3. SKIL 3550-02 Wet Tile Saw with HydroLock System: Great for DIY Use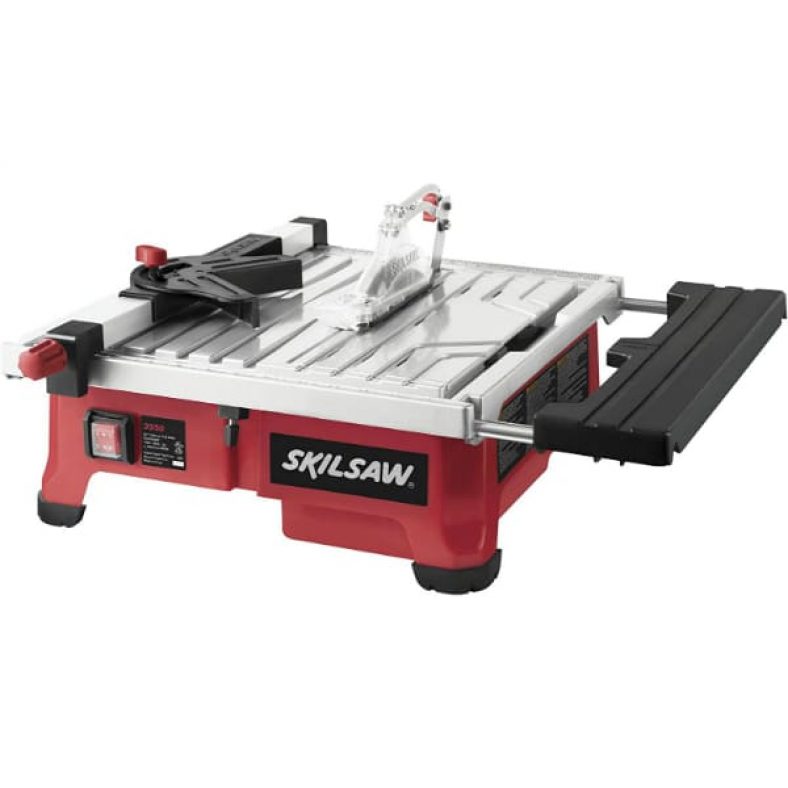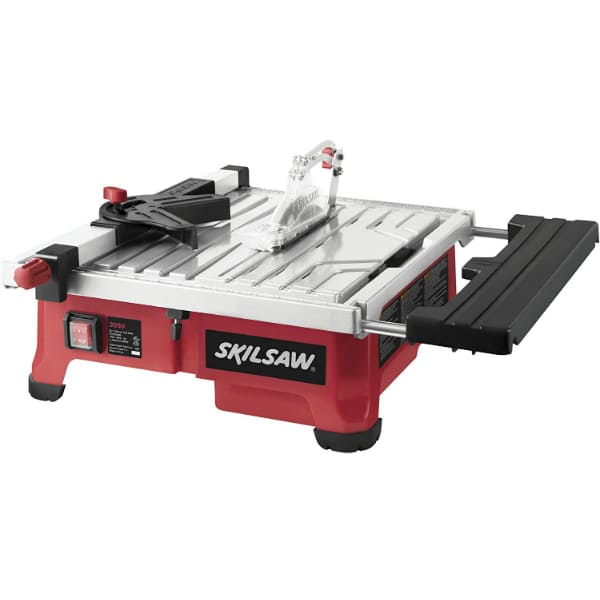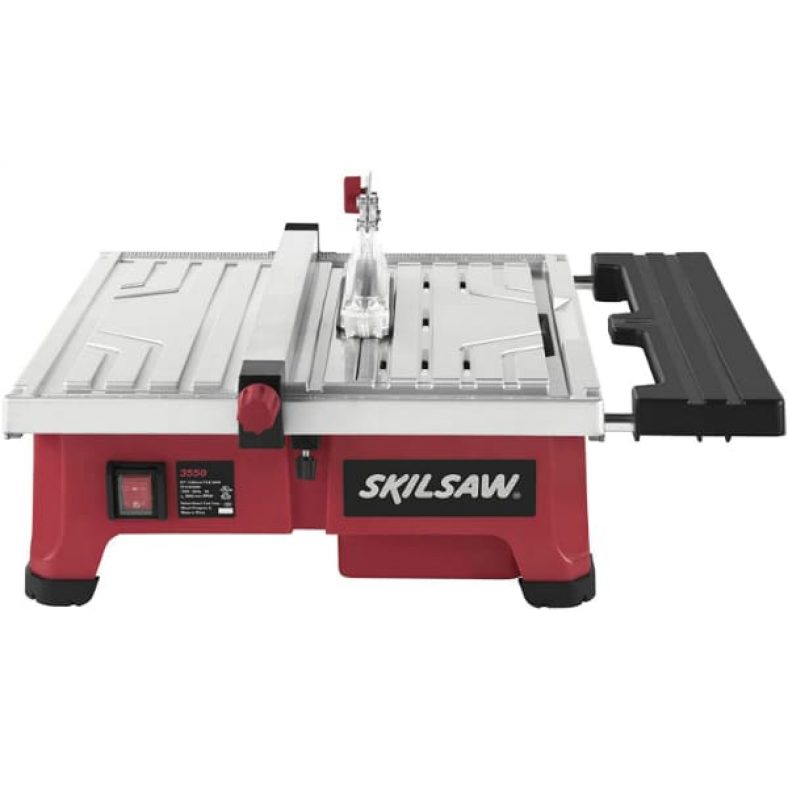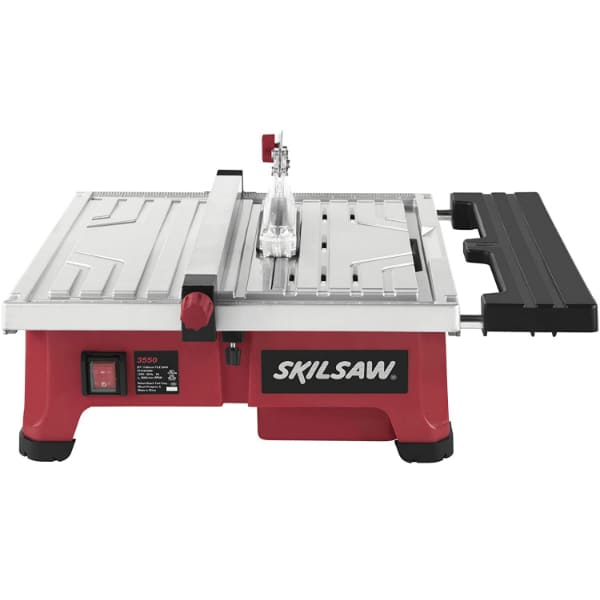 The Skil 3350-02 7-in. wet tile saw is another awesome machine that offers great bang for your buck and costs a bit less than $200, which is a little more expensive than its 3540-02 brother. So, what makes the Skil 3550-02 wet tile saw stand out? It features the so-called HydroLock System, which aids you in keeping the water contained next to the blade. As a result, you get precise performance and little-to-no cleaning in the long run.
This wet tile cutter is ultralight, which makes it a piece of cake to install, manage, and transfer. Even though it's ultralight, it's powerful enough to easily work through stone, ceramic, and porcelain. The design is decent as well, although a few users aren't fond of the fact that the fence is a little stiff and challenging to move. But the equipment comes with a 3-year warranty from the manufacturer, which is a nice perk.
Overall, Skil 3350-02 is a solid little tool that offers great value for the money. It's a perfect fit for beginners and passionate do-it-yourselfers. As a matter of fact, it's possibly one of the best-in-class 7-in. table wet tile saws. So, if you're a novice tiler with ambitious plans and want fine cuts with no chips, this excellent table tile cutter might be just the ticket.
---
PROS:
The plastic construction is surprisingly durable;
Rust-proof tabletop;
Easy to get to grips with;
Perfect for your home DIY projects;
Featherweight and portable.
CONS:
The rip fence is somewhat difficult to move.
---
4. WEN 71707 6.5A 7-Inch Portable Wet Tile Saw: Super Handy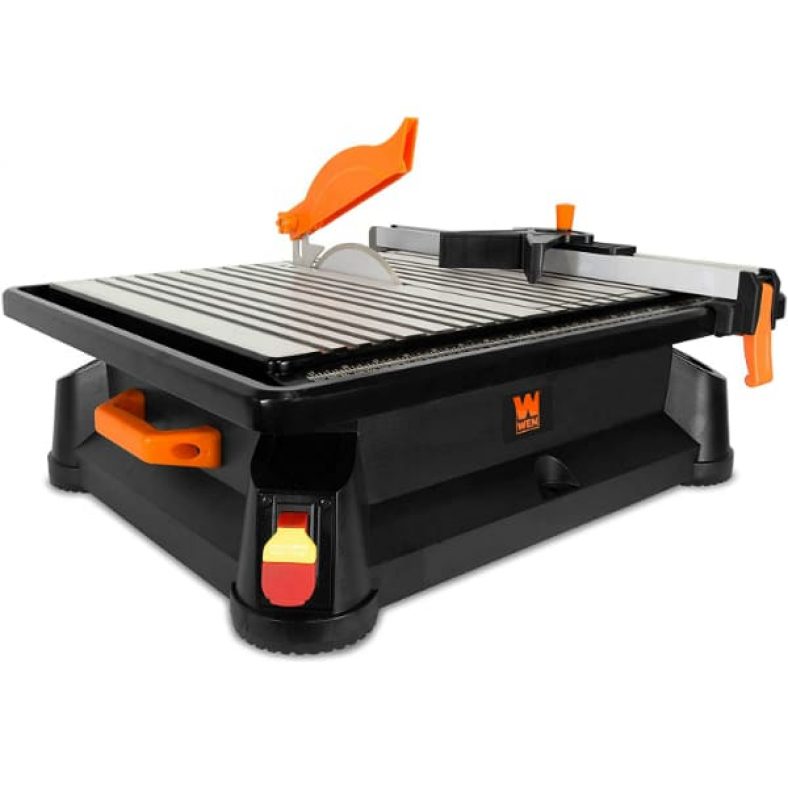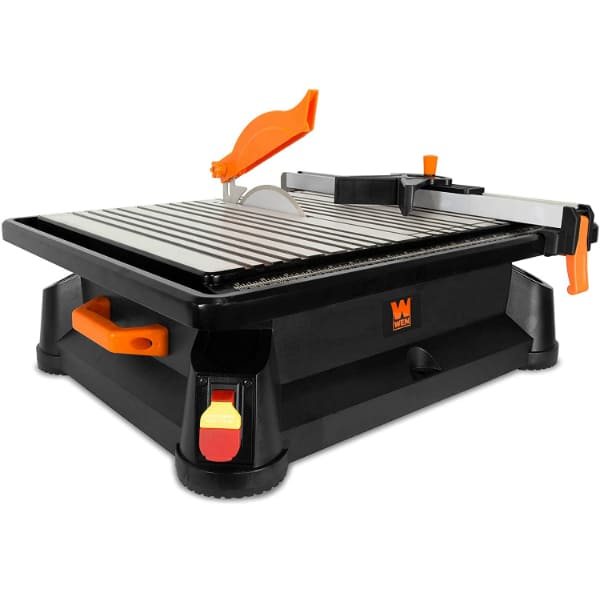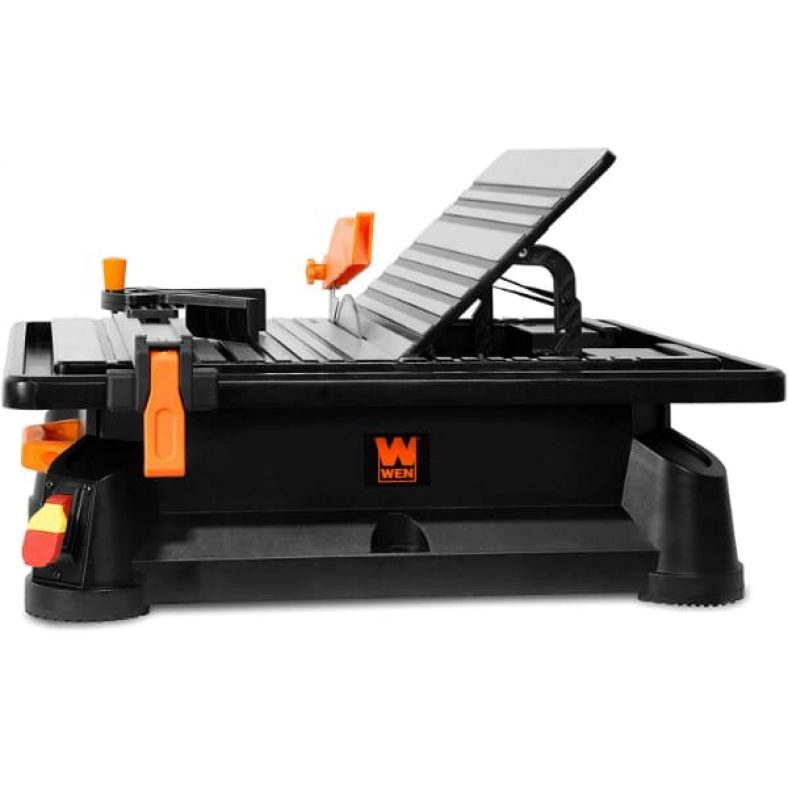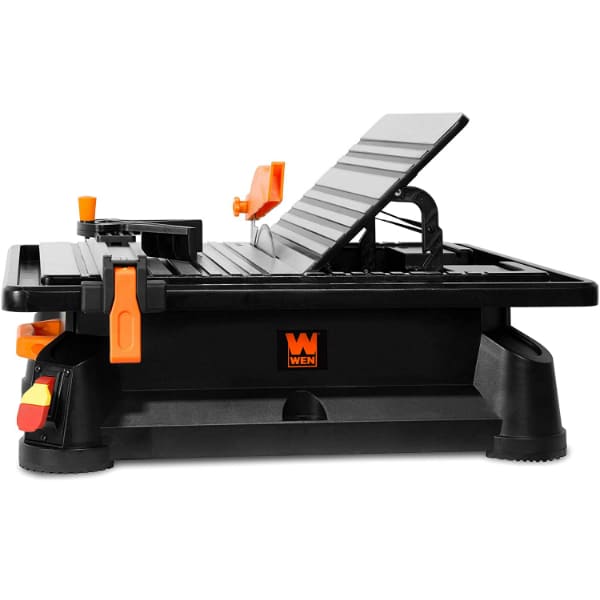 To many DIYers, this is the best wet tile saw in terms of such parameters as portability, efficiency, ease of use, and maintenance. This compact honey will easily deal with the thickest tile materials, ripping through flooring like a hurricane. Just like the Skil tile saw from the previous review, this baby flaunts an integrated water container that keeps the blade cool when it runs.
The set includes a customizable fence, along with a sliding meter gauge that aid you in creating super precise cuts and i.e. matching all the necessary dimensions. The machine's ultralight design contributes to its mobility and ease of storage. So, if you're planning to remodel your floors, redesign your kitchen or bathroom, remember WEN. It manufactures top-of-the-line wet tile saws for homeowners.
---
PROS:
The rip fence is somewhat difficult to move.The rip fence is somewhat difficult to moveThe plastic construction is surprisingly durable;
Rust-proof tabletop;
Easy to get to grips with;
Perfect for your home DIY projects;
Featherweight and portable.
CONS:
The tool may require some minor fixes during set-up, but it's not a big deal.
---
5. PORTER-CABLE PCE980 Wet Tile Saw: Well-Made & Nicely-Sized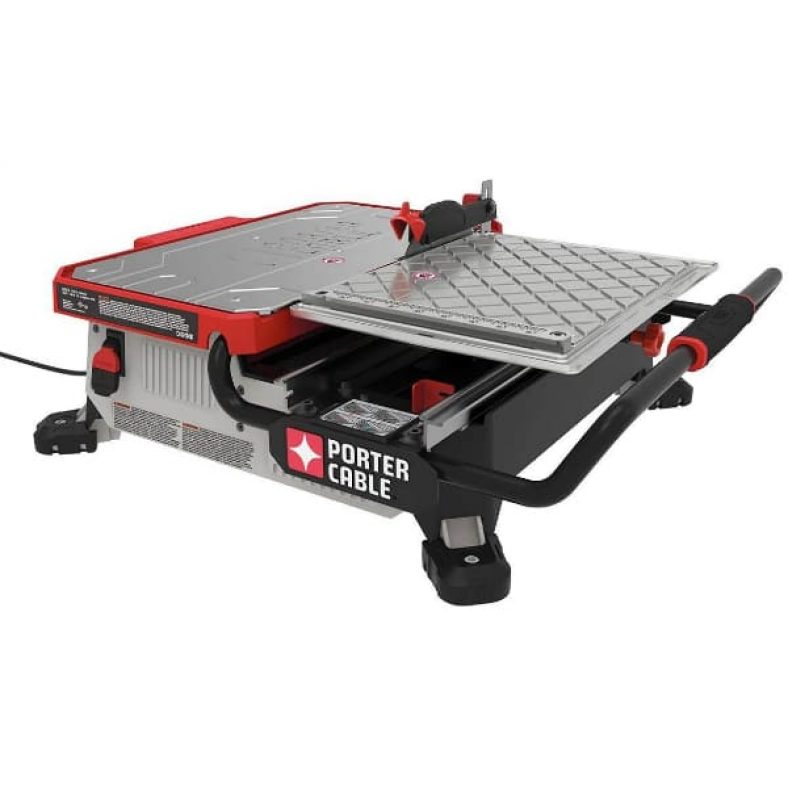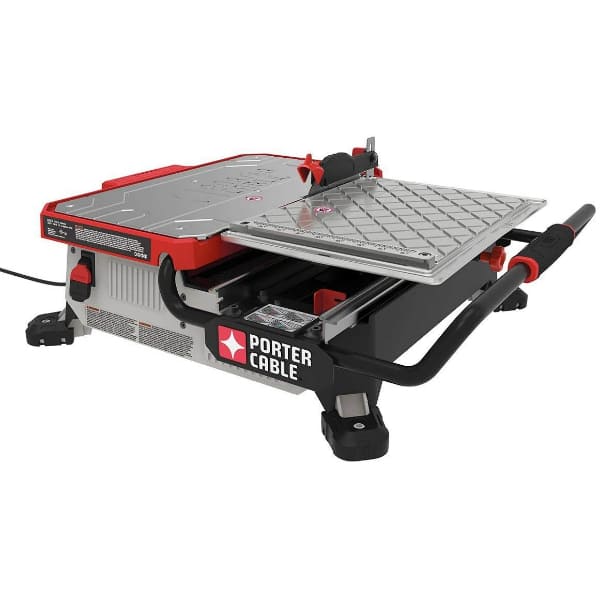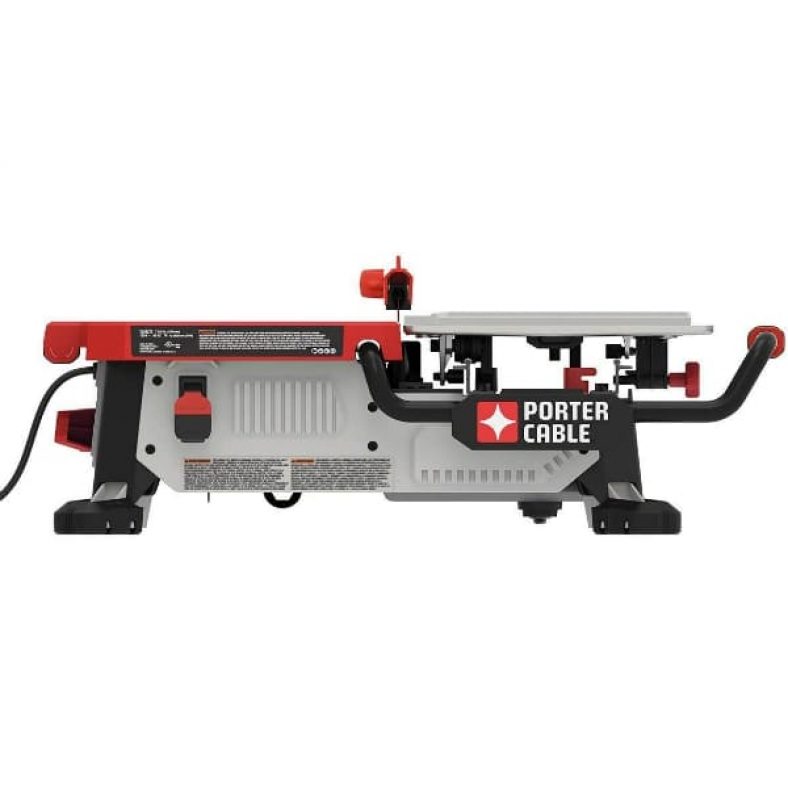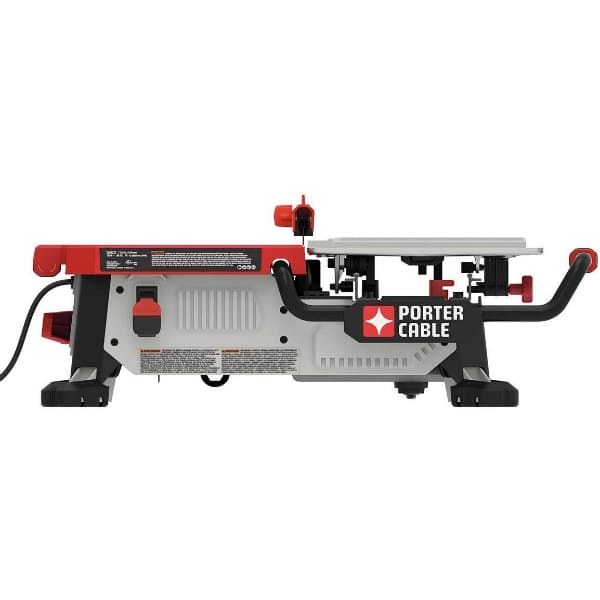 This rust-proof stainless steel honey is sure made to last. Excellent build quality, intuitive set-up, amazing portability, trouble-free cleaning… It's all about the Porter-Cable PCE980 wet saw. It makes clean straight cuts and doesn't throw water all over the place.
The thing comes with rubber foot pads that hold the machine in place when you're tiling, therefore, you achieve the highest level of safety during operation. The tile saw features a slide tray with water channels that assist you in keeping the workstation clean, as well as enhance precision.
Overall, this honey is perfect for such smaller jobs as tiling bathrooms, kitchens, and other indoor jobs. It cuts into stone and glass, as well as all other tile types. It's great for DIY, contractors, and commercial tile installers. Great value and quality for the price.
---
PROS:
Highly accurate;
Cuts tiles fast and smooth;
Features adjustable splash guards to prevent getting wet;
A breeze to transfer;
A pleasure to use and store.
CONS:
Not the most budget-friendly option on the scene.
---
6. Leegol Electric Wet Tile Saw: Works Like a Champ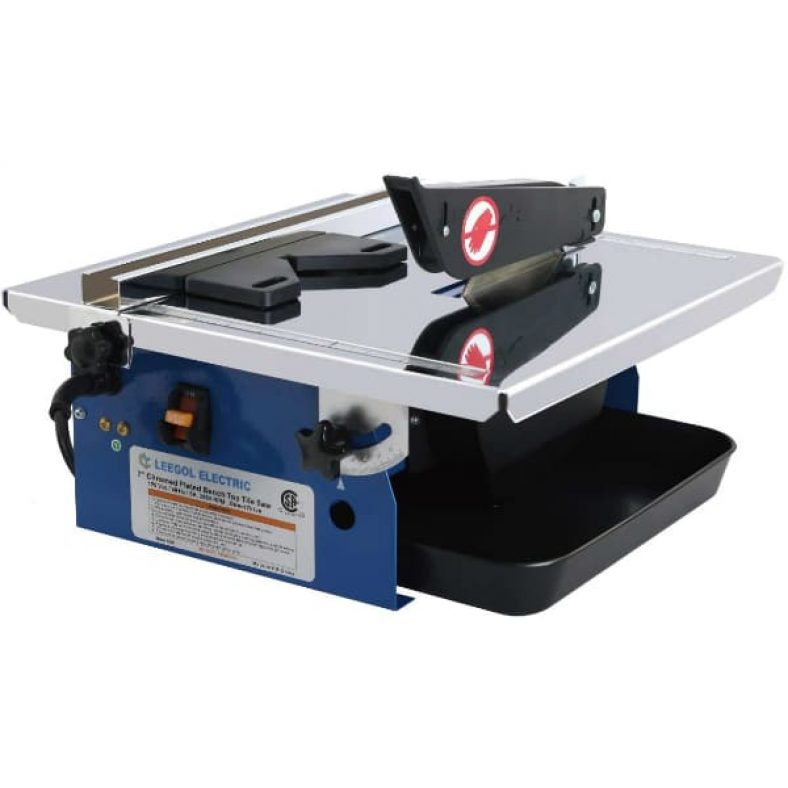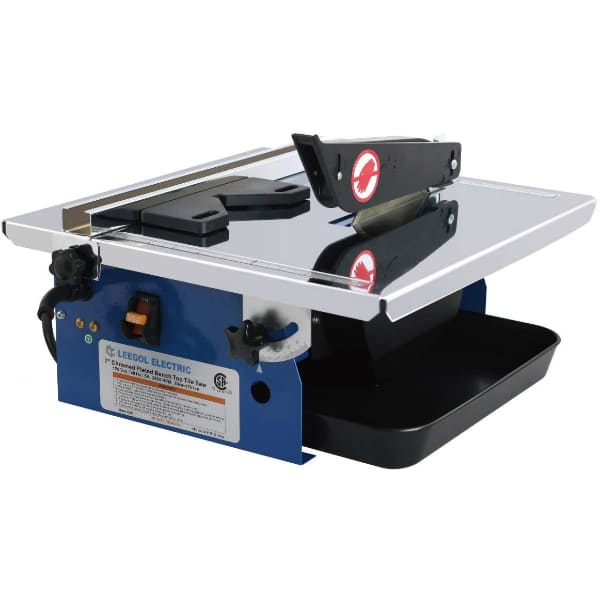 Take your tile cutting experience to a whole new level with this beautiful, compact, and handy tiling machine. First and foremost, this premium-quality yet so wallet-friendly wet tile saw from Leegol Electric is backed by a lifetime warranty. For the price, this benefit is very attractive.
Also, the all-metal construction of the wet saw is sure going to tickle your fancy. I especially liked the feature allowing you to cut at angles. It takes some time to get used to but works great. And the clean-up is a walk in the park. This honey should last you through a multitude of occasional small to medium DIY projects.
Furthermore, this baby is small-sized, which means it won't take up too much space at all. The tool is perfect for DIY tiling purposes and is not the best solution for heavy-duty jobs. Nevertheless, it delivers straight precise cuts and comes with a water container to cool the blade. On an additional plus side, this baby makes bevel cuts, too.
---
PROS:
Makes super accurate cuts;
Customizable rip fence accompanied by miter gauge;
Chrome-plated rust-resistant tabletop;
High-quality water cooling functionality;
Robust induction motor.
CONS:
The blade tends to wear out pretty soon.
---
7. FLEX CS 40: Best Tile Saw for Your Needs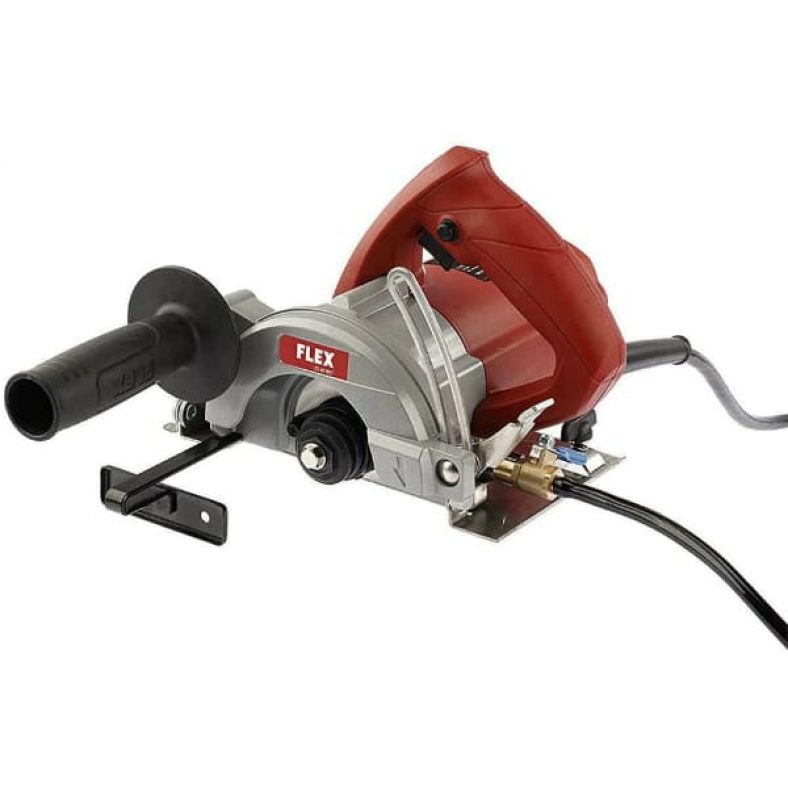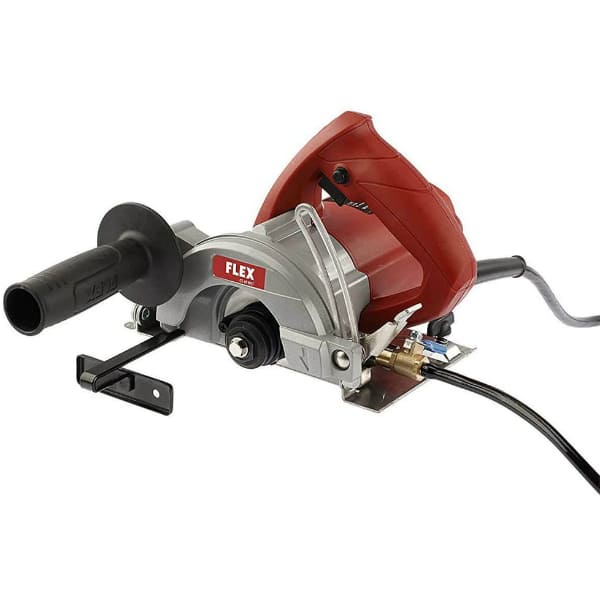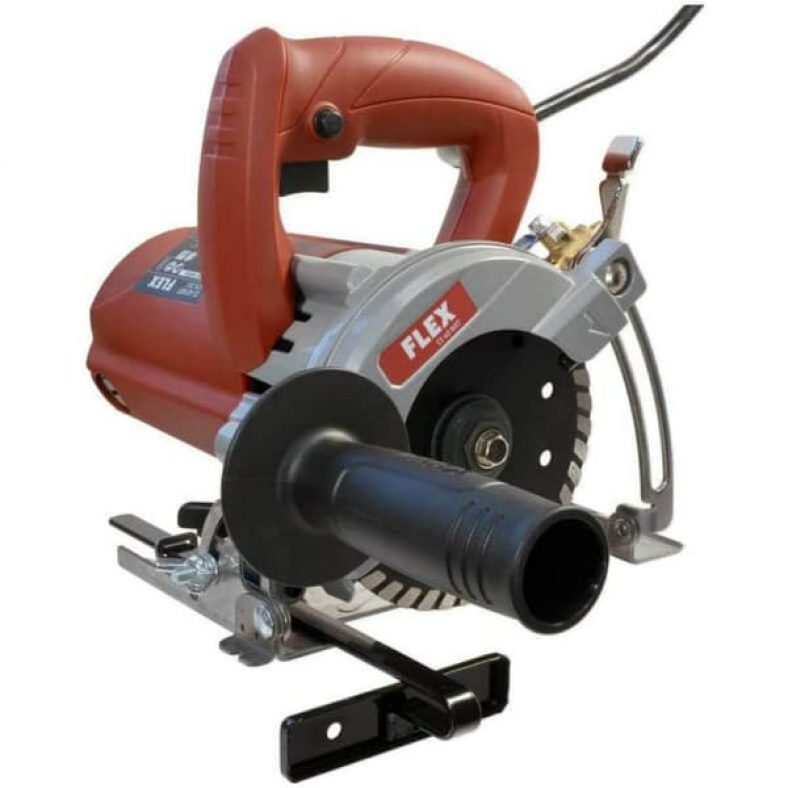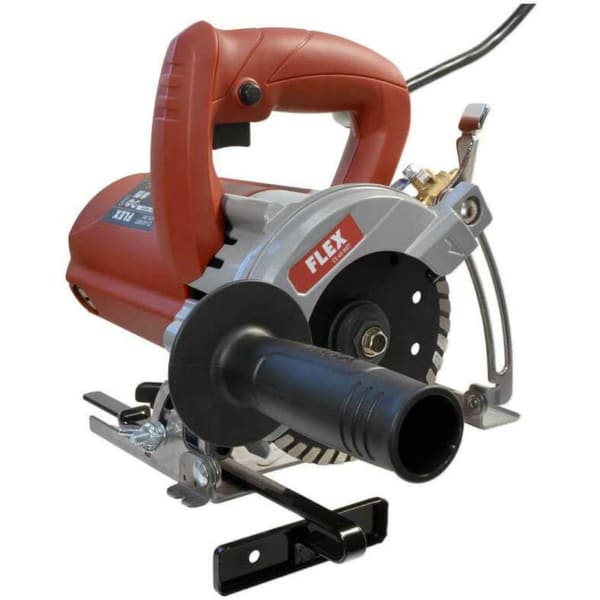 Need a high-quality and inexpensive ceramic tile cutter saw? Then this honey might be your perfect choice. With its robust 12-amp motor and a superb water-feed system, this tile cutter is sure to exceed your expectations. Despite its compact size, it cuts through stone like butter. Such a powerful game changer!
In addition to all this, this honey won't cost you a fortune. Purchasing tools that are both reliable and affordable is always a pleasurable experience. So, if you're ready to take a closer look at this wonderful tool, you're welcome to read the specs on its dedicated webpage. This baby is sure to make you happy once you start pillaging it!
---
PROS:
Cuts easily and nicely;
Impressive power and durability;
Nothing about the machine seems cheap;
Lightweight and portable;
Reasonably priced.
CONS:
You will have to install the blade manually.
---
8. Delta 96-107: 7-in. Tile Saw for Heavy-Duty Jobs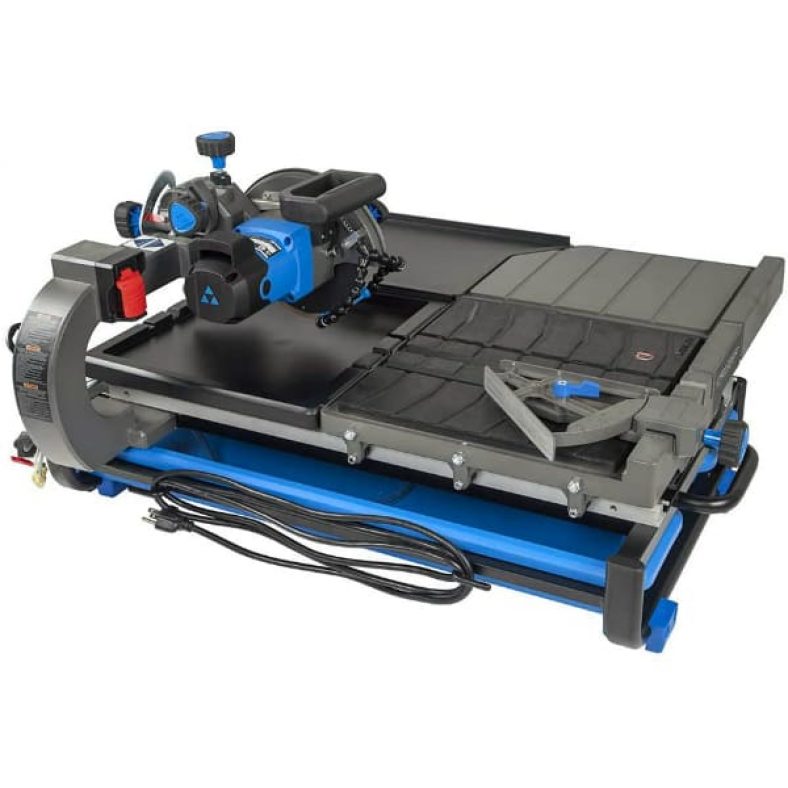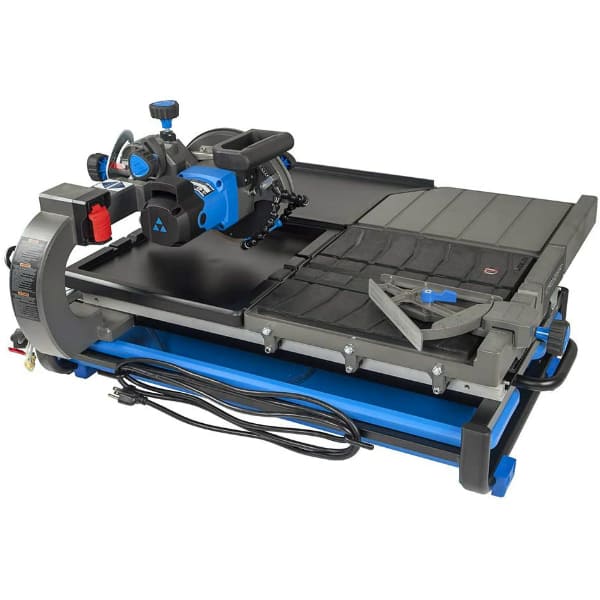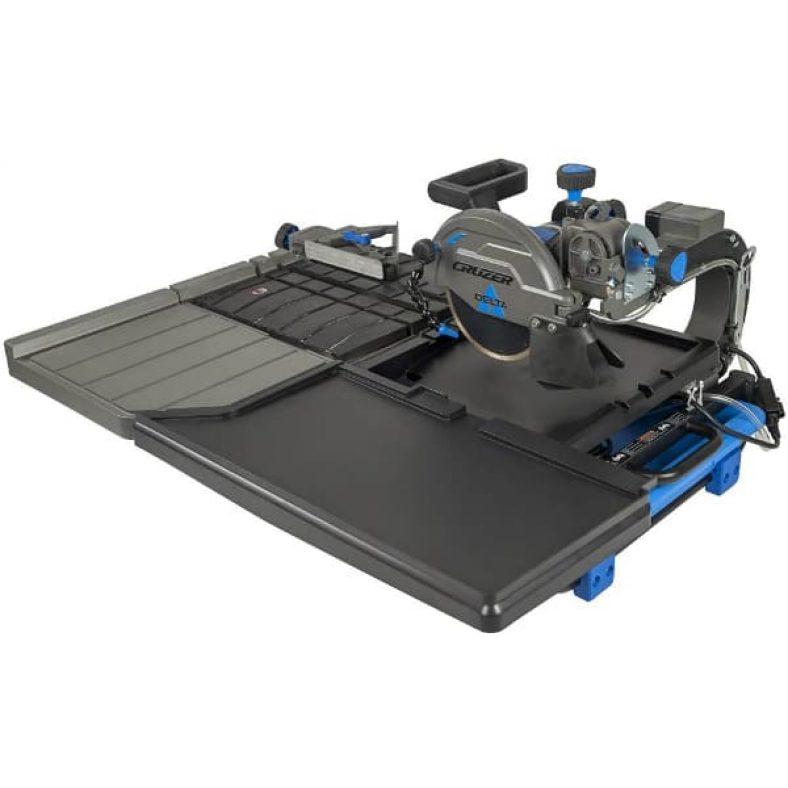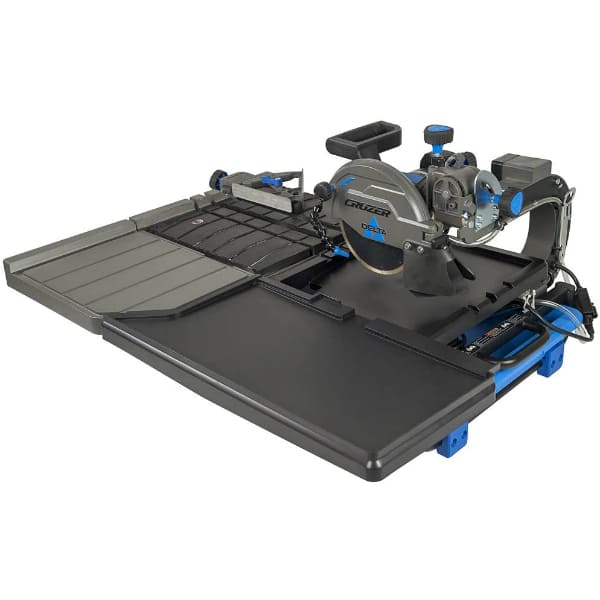 Are you in need of a sturdy and made-to-last tile saw for remarkably straight, precise, and buttery smooth cuts? I recommend Delta 96-107. Featuring the second-to-none diamond cutting blade, the machine effortlessly, safely, and cleanly cuts through a variety of stone materials. No more flimsy blades that wear out after just a few operations!
Reliable, accurate, and consistent, the Delta wet tile saw prevents wasted material, saves your time, and enhances the quality of your project. And the diagonal cutting potential of this honey is huge! That being said, this tile cutting machine is going to make your life so much easier. So, if you're on the fence about purchasing this fantastic tool, no need to hesitate any longer. Buy it, and it's going to be love at first cut.
---
PROS:
Robust 13-amp motor;
Made with longevity in mind;
Delivers straight, precise, and smooth cuts;
High-end diamond cutting blade;
Best diagonal cutting potential in its class.
CONS:
Not the cheapest tile saw out there,  but worth every penny.
---
Useful Ceramic Tile Saw Tips & More
If you're seeking the safest and most efficient tool to cut ceramic, porcelain, and stone tiles, then a fine wet tile saw is your best choice. The one from a reputable manufacturer delivers straight, smooth, uniform cuts. But getting to grips with a wet tile saw is often challenging. You're gonna have to simultaneously deal with water, electricity, and a speedily spinning blade.
However, when approached wisely, wet tile saws are great at producing a multitude of perfectly cut tiles, all based on your exact requirements and within short periods of time. So, whether you're searching for a Harbor Freight tile saw or any other specific item, you're going to need to learn how to use it first. And I'll let you in on that secret below.
How to Use a Tile Saw? Step-by-Step Guide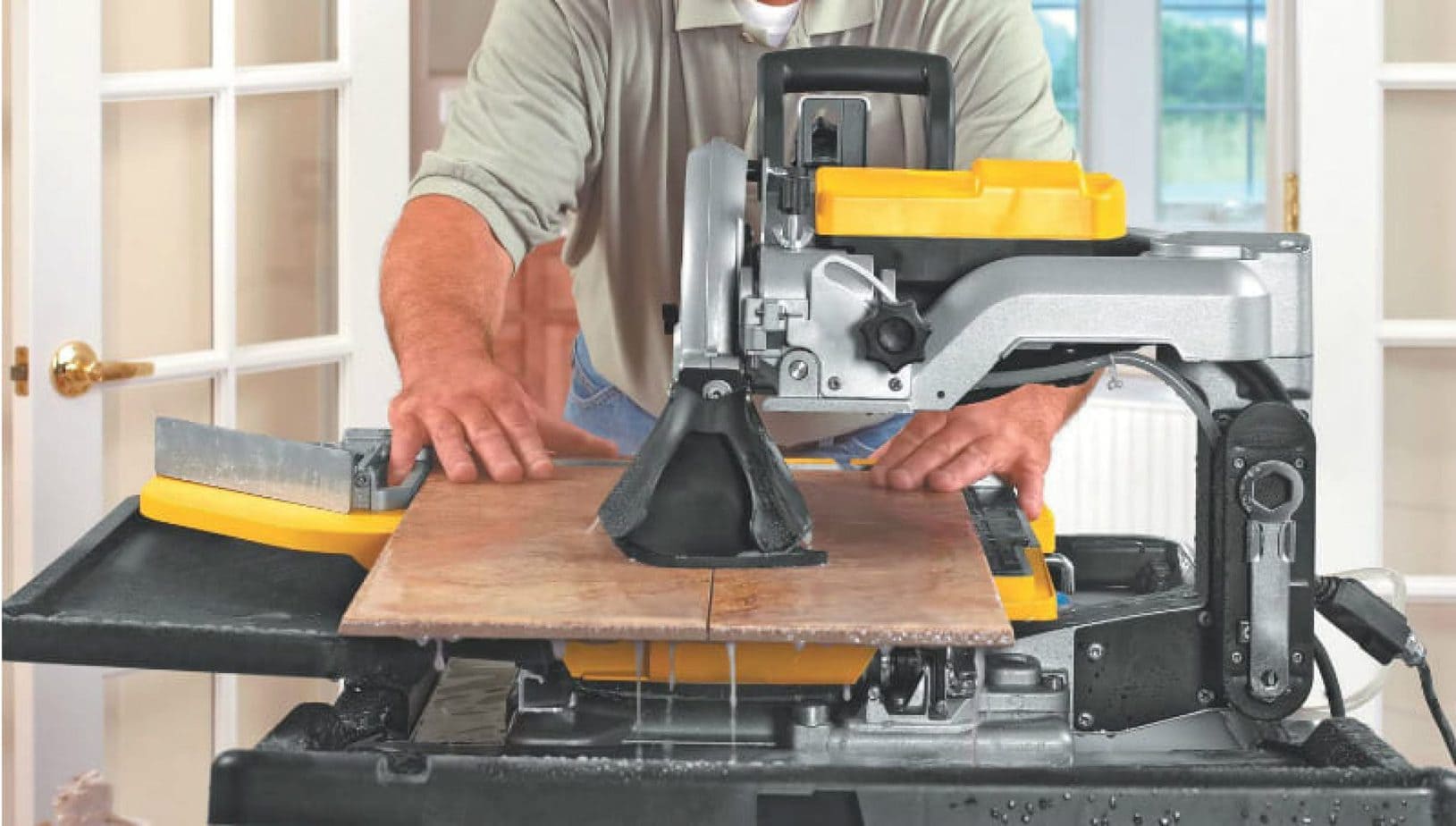 Figuring out how to use tile saw is essential, especially if you're engaged in extensive tile cutting on a regular basis. So here's a brief step-by-step guide on how to use a tile saw:
Place the tile cutter on an even surface, preferably on a sturdy table or straight on the floor. If you try using a tile saw on a flimsy surface, you will end up making poor-quality cuts or even injure yourself.
Pour some water into the machine's container. To accomplish that, you will have to either remove the container or fill it manually. Check if the pump is fully immersed in water.
Locate the tile onto the table. Keeping the widest section of the tile between the fence and the blade is the best option. That way, your body will be positioned away from the dangerous zone.
Start the tile saw, making sure that the blade is being sprinkled with water prior to processing your first cuts.
Slide the tile slowly into the blade. Avoid pushing it, for it may lead to cracking and surface deterioration.
Pull out the tile and turn off the machine. Gently pull the cut tile parts away from the blade. Switch off the tile saw, then install your next tile prior to getting the machine going again.
What is the Best Tile Saw for Home Use?
Picking the right piece of equipment for your home repair tiling jobs ensures successfully completed DIY projects. Everybody knows that the right tool equals a job well done. But with so many offers on the tile cutter scene, picking the best tile saw for home use may be quite challenging these days. Don't panic. Below, I'll provide a few tips on how to stick with the right tile cutting machine for home use.
Durability and horsepower are key. Delivering smooth cuts requires lots of horsepowers, so make sure you choose among wet tile saws with powerful motors. In addition to this, you want your tool to last as long as possible, so look for a machine with a reliable, sturdy build.
Portability is vital. You need a tile cutting tool that's easy to utilize, transfer, and store – especially if you're searching for a piece of tiling equipment for domestic use.
Precision matters. A high level of precision is a very important parameter as well. If you want the job done perfectly, neglecting this paramount criterion is a bad idea.
Versatility counts a lot. You need a tool that works with most types of materials, that's an undeniable fact.
Blade quality is paramount. Have you ever cut meat with an older knife? Then you probably know that a top-notch blade is a must for any power tool. Before buying a tile cutting machine, make sure you opt for a blade that will leave no sharp edges on your cuts. To cut a long story short, you need a diamond saw blade.
Renovating your home on a budget can be daunting and challenging. However, with the right equipment, you can cope with this task almost without breaking a sweat. You've probably heard that there are several kinds of tile saws out there. But for the purpose of saving your precious time and money, I'm going to tell you one crucial thing: wet tile saws are the best choice for cutting tile. They're almost effortless in operation and produce the finest cuts possible.
When all is said and done, investing in the best tile saw is always a good idea, for it will allow you to get your hands dirty not in vain. Today, you can just point and click your way to the best equipment on the power tool scene. However, choosing the best tile saw exclusively for your DIY endeavors is still not an easy task.
Are you still wondering what the best tile saw for home use is? Well, if you're particularly interested in brands and models, I've listed them all in my reviews above. Browse through them and choose the best equipment for your DIY needs.
What Saw Blade to Cut Through Ceramic Tile is the Best?
Cutting through ceramic tiles is best using diamond tip blades. The thing is, these blades are just thick enough to work with ceramic tiles. Also, diamond blades offer unmatched accuracy and flexibility. They truly make state-of-the-art cuts. And these blades are speedy, which means they will save you lots of precious time. So, feel free to choose the best tile saw model featuring a diamond blade out of the ones I've selected, tested, reviewed, and shared with you above.
Answering Your FAQ About Tiles Saws
Still have some questions left about the best tile saws on the horizon? No worries, I'll do my best to answer them for you below. I realize how crucial choosing the right tool is to you, therefore, I'm here to provide you with high-quality assistance and independent expert-approved advice.
What size tile saw do I need?
The exact dimensions of the tile cutting machine are not that important, especially if you have enough storage space at home. Therefore, if your job and storage sites are spacious, don't focus on the size parameter too much. Just keep in mind that the best tile saws out there are usually portable and not too heavy. Scroll up for my reviews to find the best-sized machine for you.
How to cut rocks with a tile saw?
Cutting through rocks sounds like a pretty hard job. But with the right equipment, you don't need to be a superman to cut through stones. In fact, a solid tile saw is made to cut through heavy-duty materials, including natural stone. Whether it'll get the job done well or not is (in many ways) a matter of opting for the right diamond blade.
Here's a step-by-step guide on cutting rocks with a tile saw:
Identify the hardness of a rock. Every natural stone is different, therefore, their hardness levels vary significantly.
Get your workplace ready. Prepare the necessary equipment for your safety, e.g. cut-proof gloves, safety glass, and earplugs. Never wear loose clothes or open-toed shoes when you're about to deal with sharp power tools.
Make sure the water container has enough water. That's pretty straightforward and self-explanatory.
Mark the rock with a pencil. That way, you will achieve the most precise results.
Start cutting the rock. Start by plugging the tool into the electric outlet and pushing the power button. To achieve that perfect cut, wait until the blade speed is the highest, then slowly pull the rock into the machine. Push the rock forward once the blade begins cutting it.
How to cut a tile with a wet saw?
First and foremost, read the manual with the instructions from the manufacturer. Then, place the tile cutting tool on a level surface and fill up the water container with water. Make sure you have your protective gear on. Mark the tiles to determine where exactly you want to cut. Then switch on the equipment and begin cutting. Avoid getting wet during operation. Never force the tiles into the wet saw. Instead, let the machine do its job at its own pace. Don't forget to watch a few YouTube tutorials on how to do that. Or, alternatively, ask a friend to lend you a helping hand when you're just beginning to use your brand new wet tile saw.
Cutting to the Chase: Are You Ready to Make the Right Choice?
Overall, I'm sure that this guide has made choosing the right wet tile saw a lot easier for you. So, whether you're a newbie in the tile saw realm or just want to upgrade your old tool, some of the tile saws reviewed above are sure to end up compatible with your innermost needs or even exceed your expectations.
Shoutout to all the do-it-yourselfers who have been using wet tile saws for some time already! In your personal opinion, what's the best machine out there, and why? How long have you been using your tile cutting baby? Why did you decide to stick with it? Is it durable enough?
Feel free to share your thoughts in the comment box below and get the discussion with your fellow DIY enthusiasts going. Your feedback is very important to me. Have more questions about wet tile saws? Ask away below. I will get back to you with answers as soon as possible. Cheers!