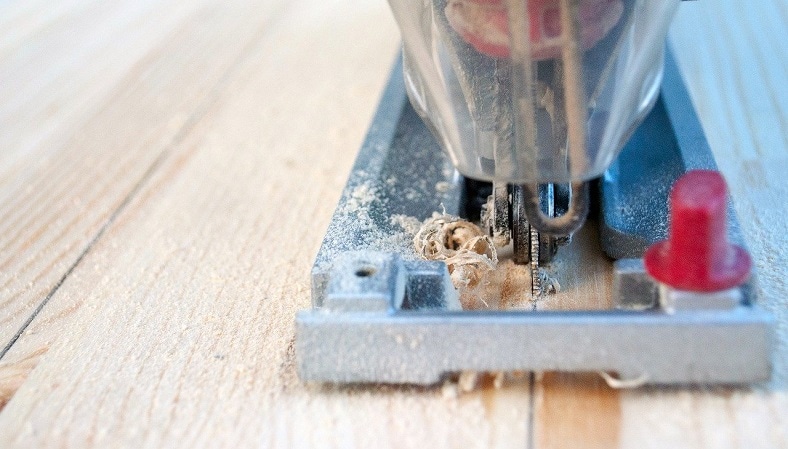 If you need to make precise, seamless cuts through various materials at work or in your home garage, a solid cordless jigsaw is your best choice. Jigsaws have powered saws that are both intricate and versatile. With the right blade, you get to cut an array of surfaces (wood, metal, ceramic, drywall, fiberglass). If you're on the fence about what to buy — corded vs cordless jigsaw, I recommend giving the convenience of the latter a try. In this post, I will let you in on the detailed 'why' of this issue.
Makes all kinds of precise cuts you need
Boasts exceptional durability
Safe and cuts pretty fast
Top Pick
Makes all kinds of precise cuts you need
Runner Up
Boasts exceptional durability
Great Value
Safe and cuts pretty fast
Laying your hands on the best cordless jigsaw is not as easy as it may seem. There's a slew of cordless jigsaw brands and models on the scene, so sticking with the right tool may seem a bit overpowering to you. No need to panic, though. I've sifted through dozens of cordless jigsaws, put them through their paces, and compiled my list of the best-performing battery-powered jigsaws. Find it below, read my reviews, and stay with the most suitable equipment for your needs.
Sticking With the Best Battery Operated Jigsaw: Read Reviews, Analyze, Act Upon It
An effective cordless jigsaw is your go-to piece of equipment when it comes to making repetitive, accurate, seamless cuts. It aids you in effortlessly cutting through a multitude of surfaces, enabling you to fully regulate the process and focus on cutting at any angle you choose.
Now, are you ready to make your jigsaw comparison based on the expert-approved reviews I've prepared for you? Keep reading and looking to learn about other tools for carpentry? Take a browse through my website. It contains lots of tips and hacks.
1. DeWalt 20V MAX XR Jigsaw (DCS334): My Top Pick
Looking to upgrade to a new, high-quality, easy-to-set-up-and-operate jigsaw? The DeWalt DCS334 might be your best bet. This powerful baby cuts flawlessly and blows the sawdust away from you and the cutting area like a champ. Furthermore, this cordless jigsaw is portable and super comfortable to use. And the battery power is sufficient, especially if you're a DIY'er.
The quick-release-blade feature makes the blade-replacement process so straightforward: you no longer need screwdrivers to swap the blades. And the possibility to effortlessly cut at a variety of angles is very handy. You will deal with no cumbersome cords at all — so very liberating! On an additional plus side, this fine piece of equipment is made in the USA.
This durable and extremely well-designed cordless jigsaw comes with one blade and a plastic cover for protection against scratches on your project surface. Low vibration, fairly lightweight, a breeze to 'steer', and works flawlessly. If you approach the blade choice wisely, you should never have a single problem with this gem of a jigsaw.
Overall, whether you're a DIY'er or a professional woodworker who's used to being rough on your tools, the DeWalt DCS334 is an outstanding beast to have on your work shelf — and a massive step in quality from that cheap cordless jigsaw you may have been utilizing before. With this honey, you get what you pay for. It's worth every dollar.
---
PROS:
Excellent size and weight: perfectly balanced;
Makes all kinds of precise cuts you need;
Settings are easily customizable;
Regulating the direction of the blade as you work is as easy as ABC;
Thanks to the LED technology, you can easily see the cut lines.
CONS:
Battery consumption is rather fast;
A bit on the expensive side but worth the money.
---
2. Makita DJV180Z 18V LXT: Go Cordless Like a Pro
Can't stand jigsaws? That's because you've never tried top-level cutting machines with solid performance. Can't stand the procedure of changing the blade on your old corded jigsaw? That's because you haven't tried this Makita baby. Put this cordless honey to the test, and it will astonish you with tons of decent cuts, as well as lots of other perks. This fine piece of equipment is more powerful and precise than your typical powered unit.
Like the previous beast, this UK-made cordless jigsaw is very powerful, cuts smoothly operate with ease and precision, and blows the dust off the cut line, and LED-lights it. The guiding light is switched on/off by the trigger. It comes with six blades. Naturally, the pleasure of not having a cord is such a great bonus. Bear in mind that this honey is good at draining the battery, so always have back-up batteries at hand.
All in all, this jigsaw is so durable, you can sit a hippo on it. It's super ergonomic, feels nice in the hand, and cuts through any material like it's cake. And it doesn't cause as much vibration and noise as its cheaper alternatives. As long as you clean this baby and approach maintenance wisely, it will last you a long time. So, if you're on the prowl for a solid battery jigsaw that's 100% reliable and a joy to use, this unit might be right up your street. Definitely worth the money it costs.
---
PROS:
Speedy, powerful, easy to utilize;
Neither bulky nor heavy;
Comes with a dust blower;
Boasts exceptional durability;
Feels great in the hand.
CONS:
A bit on the heavy side, but still comfy to operate;
More expensive than some other cordless jigsaws, but worth every penny.
---
3. Black and Decker BDCJS20C Jigsaw: Best Value
You'll be very pleased upon unboxing this B&D honey. It feels nice, sturdy, and solid. And you'll love the way it handles a variety of projects. The blade insertion process is a walk in the park, and the unit is easy to maneuver for both men and women. As a matter of fact, this honey is great to get the hang of and operate even if you're a total DIY newbie.
Boasting a robust 5 Amp motor with up to 3,000 strokes per minute, this Black and Decker unit excels in cutting through pretty much anything you need. The variable speed is effortlessly adjustable in accordance with your needs. It's a simple yet reliable machine that gets the job done very well and doesn't need any bells and whistles.
This battery-powered jigsaw features a wood blade only, so purchasing additional blades for other types of surfaces is highly recommended. That way, your Black and Decker jigsaw will cut even smoother and cleaner. In fact, if you treat this honey right, it will deliver some awesome cut-butter-with-a-warm-knife results.
To make the best of this unit without a single issue, make sure you study the instructions first. Read about the jigsaw's multiple settings and put them to the test on some scraps. That way, you will get to grips with the thing and avoid any possible problems an inexperienced user may come across.
To cut a long story short, this beast flaunts enough power for most tasks. It is compact and great for both home and (moderate) commercial use. With this unit, you will get excellent performance and reliability without overspending.
---
PROS:
Delivers easy, butter-smooth cuts;
A cakewalk to operate;
Fairly lightweight and easy to adjust;
Safe and cuts pretty fast;
Very budget-friendly.
CONS:
A bit on the loud side, but at a price like this, that's not a deal-breaker.
---
4. Bosch JSH180B 18V Cordless Lithium-Ion Jigsaw: Compact & Powerful
If you're currently rummaging the net for an awesome cordless jigsaw with excellent cutting ability, this Bosch unit might be exactly what you need. This unit is fairly lightweight and maneuverable. You will like everything about this cordless jigsaw: its power, compact size, mobility, dust blower, motor protection against overload, etc. The tool fits great in your hand and makes butter-smooth cuts even through the metal.
The dust blower does a great job keeping the line clear. You will like a small LED lighting up the tip of the jigsaw's blade to help you see where you're making cuts. The quick-blade-release-and-insert function and speed control are fantastic. On the whole, the tool may take a bit of getting used to, but once you get to grips with it, you will enjoy making the best of its solid functionality.
An additional silver lining is that this unit is made in Switzerland, which means that Bosch is stably up to their usual high standards. What's more, the Bosch JSH180 Lithium-ion 18V jigsaw is a lot safer compared to a circular saw.
This exceptionally well-made and balanced unit won't take up too much space on your workstation. It frees you from the power cord that limits your capabilities and gets hung up on stuff. And the beast is made to last, so you can expect to get many years of service from it. It even comes with a smart case for convenient storage in your garage.
---
PROS:
Compact size with superb balance;
Powerful, lightweight, and well-lit (thanks to the LED technology);
No-tools-necessary blade insertion process;
Comes with an always-on blower;
Works fast right until the battery is fully drained.
CONS:
The battery drains pretty fast if you use it for big projects.
---
5. Craftsman 5.0-Amp CMES610 Jigsaw: Solid & Smooth-Running
Are you on the hunt for a solid, smooth-running, basic yet 100% reliable cutting tool for your DIY projects? This jigsaw might fit you like a glove. It boasts more than enough power, an effortless blade replacement procedure, and a top-level variable trigger. The easy blade-change process is a pretty common benefit today, but it still feels refreshingly liberating after years of screwdriver-backed installations.
Despite being really budget-friendly, this honey cuts through multiple surfaces like a pro. The tool's variable speeds are really handy and smooth from very slow to very fast. You will also like that you can adjust the aggressiveness of the tool as you work. It feels great in the hand and is perfect for home use. Now, if you're a contractor in need of a cutting unit for heavy commercial use, you may want to consider a more beasty alternative.
Bear in mind that this Craftsman jigsaw doesn't come with that utmost convenience of a cordless tool. However, you will eagerly embrace the power and immediacy of this solid and smooth corded jigsaw. The Craftsman 5.0-Amp CMES610 corded jigsaw is an all-around solid tool that's a pleasure to use and handle.
It's a decent unit for DIY'ers who want to get something long-lasting and accurate without breaking the bank. An added bonus is that it comes with a 3-year warranty, which means Craftsman does stand behind the equipment it manufactures. Such a great buy!
---
PROS:
Fairly lightweight feels great in the hand;
No-tools-necessary blade insertion and release;
Customizable settings (based on the materials you work with);
Moderate vibration level;
3-year warranty from the manufacturer.
CONS:
Comes without a dust catcher;
The blade that comes with it is not the highest-quality out there, but considering all the perks, that's still not a deal-breaker.
---
6. Wen 33606 6.6-Amp Jigsaw: Great Addition to Your Weekend Warrior Toolbox
If you're seeking a reliable jigsaw, it's time to discover Wen. This brand may not be the most popular on the power tool scene (yet), but I can say for sure that their price-quality ratio is great. With the Wen 33606, you lay your hands on a sturdy and budget-friendly piece of equipment that's sure to suit your DIY needs.
The tool's 6.6 amp motor delivers lots of power, which means you won't come across any issue while cutting through various materials. The variable speed settings provide you with a solid portion of control (read as the possibility to make accurate cuts). Furthermore, this jigsaw comes with a blower and a shield, which means it doesn't blow sawdust into your face covering all your glasses with debris.
Naturally, this corded Wen baby is a little less versatile compared to other jigsaws reviewed in this post, but it's perfect for you if you're looking for a reliable unit for a DIY'er. All in all, this workhorse of a jigsaw is maneuverable and very effective. It won't die on you when you need it most. And it delivers smooth cutting action and great results. Just remember to opt for the right blade for the type of surface you're currently working with. Don't let the tool's affordability trick you into thinking it's flimsy. It's a gem!
---
PROS:
Robust motor and excellent safety features;
Sturdy, with a good grip and a very easy blade-changing procedure;
Exceptionally adjustable and rather precise;
Debris blower and LED add up to the perfect visibility;
Reliable and surprisingly affordable.
CONS:
Not the most lightweight item out there;
The motor is a bit on the loud side, but hey it's a jigsaw.
---
7. Porter-Cable PCC650B 20V MAX Cordless Jigsaw: Built Like a Tank!
You never were a fan of a cordless jigsaw with a battery? Well, it's time to reconsider your views on the issue. Some time ago, all this cordless stuff did suck, I agree. However, these days, cordless jigsaws are all the rage. As for this awesome powerful little beast, it is definitely going to tickle your fancy. Oh yes, it makes fantastic straight-line cuts, just make sure the blade is sharp enough.
Furthermore, this honey is well-executed, well-balanced, precise, a breeze to maneuver, and the battery life is surprisingly long. In addition to this, the thing comes with a decent blade, a nice safety lock feature, and boasts a really functional air blower. And no annoying cords getting in the way as you work, which beautifully adds up to the thing's portability. Also, the fact that you can interchange the battery with your other Porter-Cable tools is very appealing.
So, if you're in search of a solid, amply powerful, reasonably priced, and masterfully performing tool to add to your DIY arsenal, this baby might be your best bet. It works flawlessly on almost anything you need it for. Definitely worth looking into, especially if you need a cordless jigsaw for smaller to medium woodworking projects. To cut a long story short, Porter-Cable rocks!
---
PROS:
Durable and a breeze to use and swap the blades;
Impressive battery performance;
Top-notch dust blower for maximum visibility;
Very little vibration, amazing control;
Maximum protection and solid safety features.
CONS:
A bit on the heavy side compared to its brothers with similar features, but that extra weight is good for its performance.
---
8. Ryobi One+ P5231 18V Lithium-Ion Cordless Jigsaw: Perfect for Tackling Small to Medium Projects
Need a cordless jigsaw that's well-made, sturdy, powerful, swift, smooth, as well as convenient to pillage? Well, it's all about this awesome Ryobi One+ baby, so you should definitely check out its detailed specs!
Equipped with handy LED lights, an excellent debris blower, and flaunting a treasure trove of other useful features, this bad boy excels in speedy, accurate cutting. The motor of this beast is capable of working up to 3,000 strokes per minute. You get to effortlessly regulate the speed of this unit, which will give you the finish you're looking to achieve. Furthermore, you will like the tool's secure and effortless-to-handle quick-swap blade holder. The battery serves you a long time, which is always a great perk. Plus, you can always practice some useful hacks and expert tips for extending the lifetime of lithium-ion batteries.
Chances are after running this cordless jigsaw through its paces you will stop using your old corded unit forever. Even if you're a complete amateur, and your dexterity in using power tools is tentative at best, you will still manage to get to grips with this unit and even make the most of it.
---
PROS:
Strong motor and excellent weight distribution;
Sturdy and built to last;
Excellent cutting capacity and accuracy;
As non-noisy as a jigsaw can be;
Outstanding customer support service.
CONS:
A bit on the weighty side, but still nicely balanced.
---
Best Cordless Jigsaw: Tips & Hacks
Once you've made the decision that you need a cordless jigsaw, then all you have to do is stick with the right model. However, with so many power tools on the scene, the process of trying to grab that ideal cordless jigsaw may seem too daunting. Don't fret, though. Below, I will let you in on what to look for in that perfect cordless jigsaw for you.

The importance of your cordless jigsaw design
When it comes to the design criterion, you should primarily look at the unit's handle. The thing is, power tools require physical strength to operate. And if the handle is inconvenient, the thing will not feel comfy in your hand at all. Moreover, a cordless jigsaw with an inconvenient handle will cause hand fatigue after only a few minutes of use. Also, make sure that the unit is neither too bulky nor too tiny. Overall, the more naturally it feels in your hand, the easier it will be to operate.
Power & speed: they do matter
The power you need from your cordless jigsaw is determined by what exactly you need the tool for. This parameter is measured in volts (V) on a tool, so make sure you check it out prior to making a purchase. In addition to this, you should also keep in mind the unit's battery capacity (Ah). Naturally, the higher the capacity indicator, the longer you will enjoy your battery's assistance.
With regard to the speed criterion, it is defined by revolutions per minute (shortened as RPM). If you're on the fence about what to choose — a unit with fixed or variable speed, that depends on the surfaces you're planning to use your cordless jigsaw on. Generally speaking, the possibility to adjust the speed of the blade is paramount, for it determines the quality of the results you achieve.
To cut a long story short, such parameters as power and speed are vital when it comes to working with a multitude of materials (especially if they're thick or deep). If you're planning to make deep, thick cuts, make sure you opt for a cordless jigsaw with a robust motor and high RPM. So, prior to purchasing the unit that has caught your eye, always check out its voltage and RPM.
Visibility is vital
Seeing where you cut makes all the difference. Getting off track from your line equals messing up your whole project and wasting the supplies. And that's something you don't want to experience, believe me. Therefore, you're going to need to stick with a cordless jigsaw that's equipped with certain functionality for better visibility. First, your jigsaw should feature reliable LED technology and an integrated debris blower to see the cutting line perfectly clear. That way, you will be able to concentrate on achieving the exact finish you're striving for.
Portability & battery life count
Generally speaking, most cordless jigsaws are compact and portable. If you're on the hunt for a unit to carry around with you wherever you need (and not feeling fatigued), make sure you check out its weight prior to making a purchase.
Battery life is another important criterion to look into when shopping for a cordless jigsaw. Naturally, the better this criterion is, the longer you will be able to utilize the unit on your projects. If you're focusing on the cheapest cordless jigsaws on the scene, chances are long battery life is not among their perks.
The more goodies the better
Another key parameter is the possibility to effortlessly swap blades on your cordless jigsaw. Therefore, always look for a no-tools-necessary blade change feature prior to finalizing the purchase of a unit. Needless to say how much you're ready to invest in your jigsaw also matters. Make sure you opt for a model that's reliable AND reasonably priced. Yes, this combination is possible to find. Just browse through my reviews above, and you'll lay your hands on the right piece of equipment.
Cordless Jigsaw FAQ: Get the Answers You Need
Have questions about cordless jigsaws? Below, I've answered some of my readers' most frequently asked questions about these units. Take a browse, perhaps my answers resonate with your current questions. If they don't, just drop me a line in the comment section at the bottom of this post. I will get back to you as soon as possible.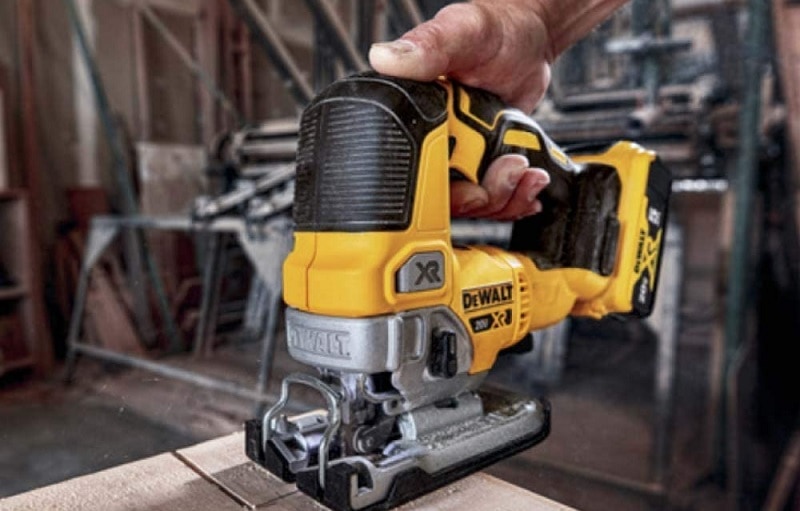 Are cordless jigsaws any good?
Yes. In fact, they're great, especially if you manage to choose the right unit for your needs, with a robust motor, suitable RPM, solid battery life, no-tools-necessary blade swap possibility, a good dust blower, and reliable LED lights.
Who makes the best jigsaw?
The best jigsaw for your needs is determined by the parameters it flaunts, not the manufacturer. However, if you're on the prowl for a reliable unit, keep the following brand names in mind: Bosch, Dewalt, Makita, Black and Decker, Craftsman, Wen, and Porter-Cable.
Which cordless jigsaw has the longest battery life?
Out of the ones I've listed in this post's reviews, Makita and Dewalt boast the longest battery life. Make sure you also look at other perks when shopping for a cordless jigsaw.
What is better: a cordless jigsaw or corded?
The answer to this question is determined by your individual needs. The most noticeable advantage of a cordless jigsaw is its convenience and portability. You get to carry it anywhere you want with you (read as to where you don't have access to a power source).
Bear in mind, however, that batteries tend to drain, which means you're going to recharge them. The harder the materials you work with, the more frequently you're going to have to recharge the battery. Therefore, if you often work with hard surfaces, you may want to consider a corded unit (you can find a few reliable corded tools in my selection above, by the way).
What does bare tool mean?
Bare tools are cordless power tools that are for sale without a battery or charger. They are a great choice for consumers who already have the batteries and don't need to splurge on another one. The thing is, batteries for cordless equipment of the same voltage are interchangeable within the same brands. It means you can power all your tools by one and the same manufacturer brand from a single battery.
Ready to Choose the Best From the Best?
As you can see, there are a wide variety of woodworking tools out there, particularly cordless jigsaws. I hope that my reviews come in handy whenever you decide to stay with the right cordless jigsaw brand and model for your needs. Any thoughts on this topic? Perhaps, you already have that perfect jigsaw? Is it corded or cordless? Which is better, in your view? Feel free to share your opinion in the comment box below. Your two cents are paramount.