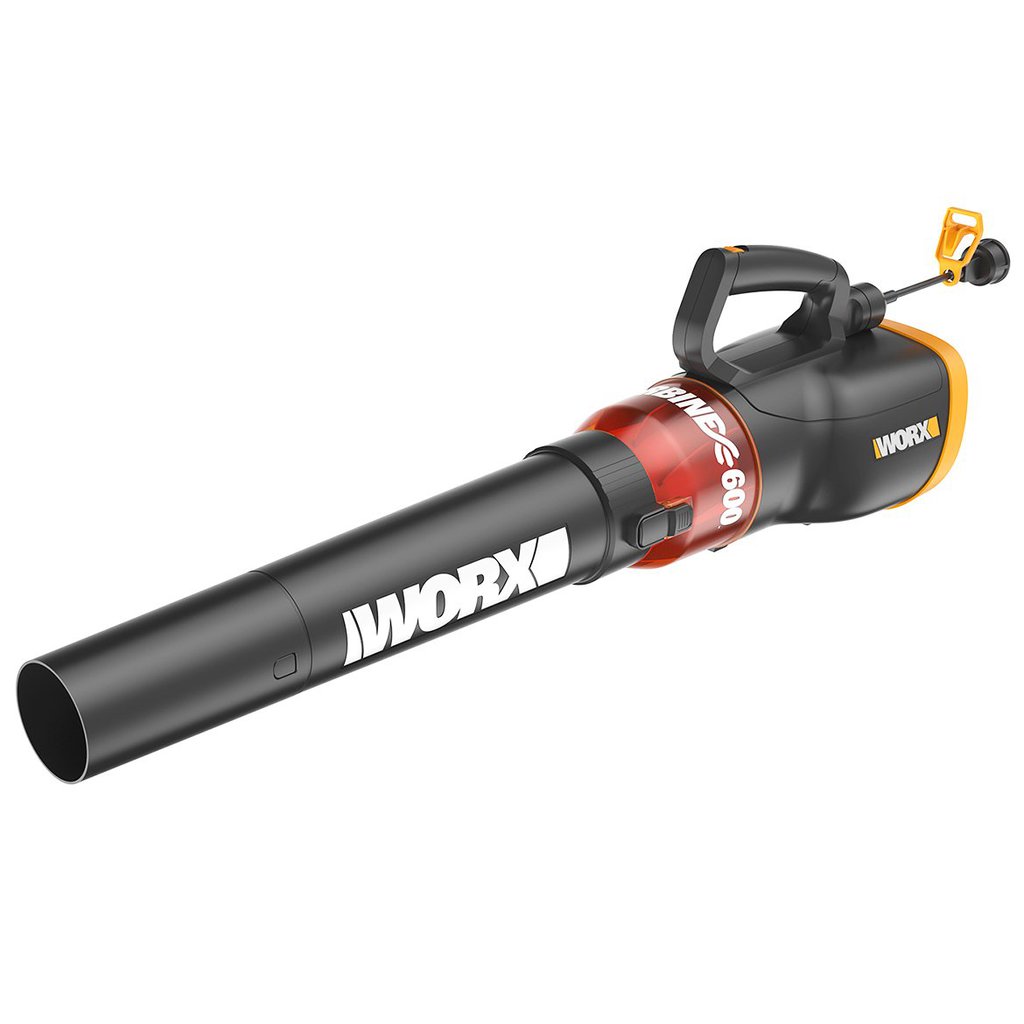 The TURBINE 600 Electric Leaf Blower with patented jet engine technology delivers extreme blowing force. Light enough for one-handed operation, the TURBINE 600 features air speeds up to 110 mph with a CFM of 600 and a hyper-stream air nozzle for extra tough conditions. The fastest way to clear your yard this season!
POWERFUL TURBINE FAN TECHNOLOGY
The WORX family of TURBINE Blowers takes leaf blowing to a new level. The all-new TURBINE technology delivers forceful, high-capacity air volume to do everything from sweep the driveway and sidewalk after mowing, to piling up those leaves on a fall afternoon. The TURBINE blowers are lightweight, ergonomic, and powerful. With three different power options, you can choose which one is right for you and your home.
In addition to the variable-speed control, the 12 Amp TURBINE 600 Leaf Blower features a hyper-stream air nozzle for extra tough conditions. Tackle leaves and debris around your yard and home quickly and with ease.
TURBINE fan technology delivers forceful, the high-capacity air volume
Up to twice as fast as professional gas blowers
Variable speed control to quickly clean up your outdoor spaces
Dynamic airflow design for maximum performance
Features a Hyper-Stream air nozzle for extra tough conditions
Cord retainer for hassle-free leaf blowing
WHAT'S IN THE BOX
120-Volt 12-Amp Electric Leaf Blower
Owner's Manual
WARRANTY
3-Year Limited Factory Warranty
30 Day Satisfaction Guaranteed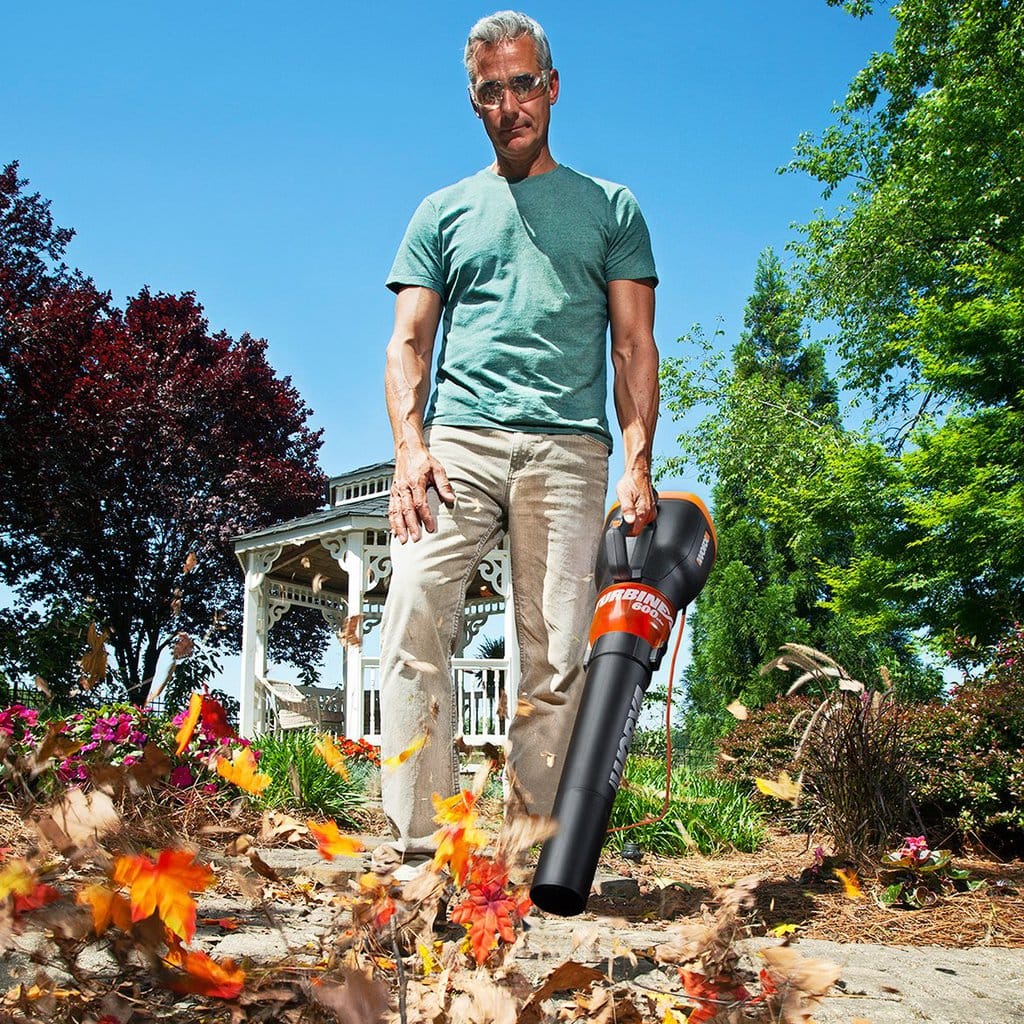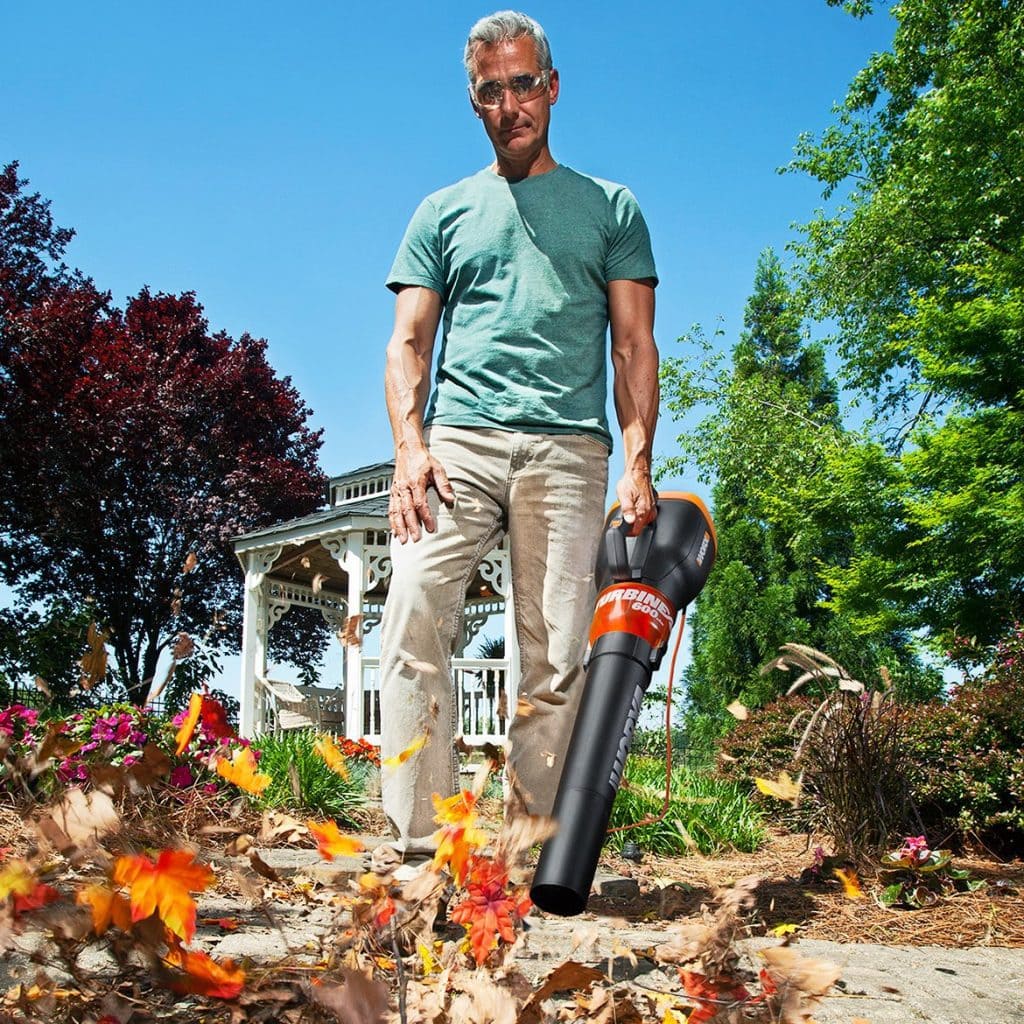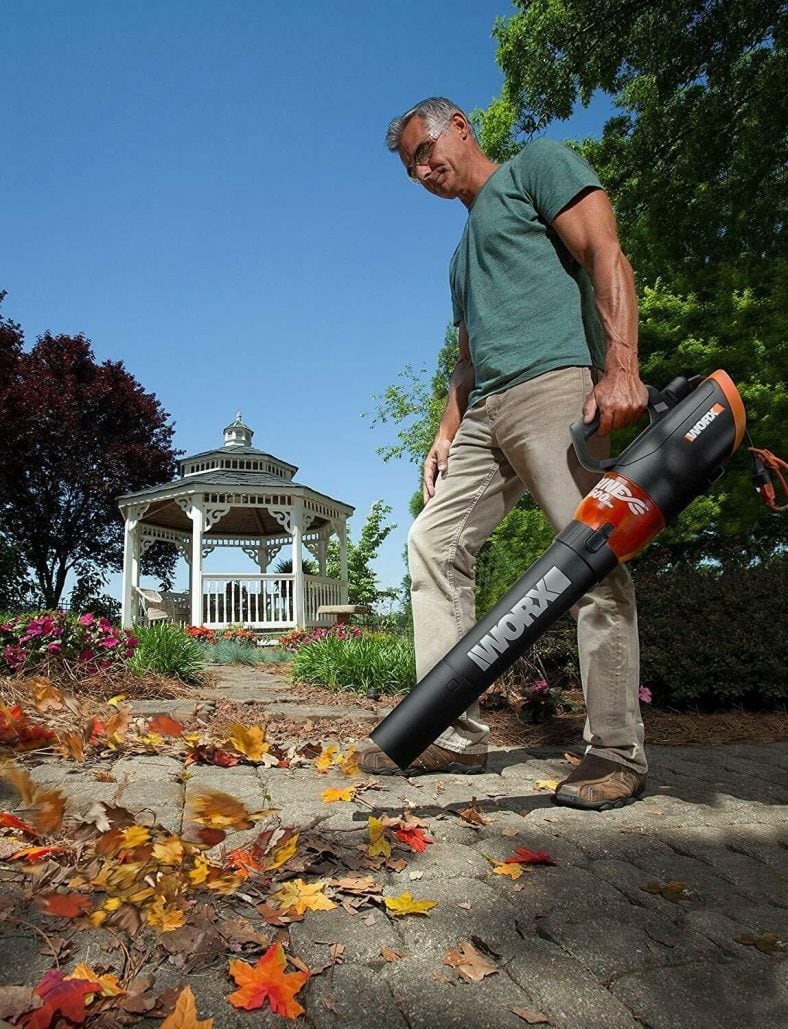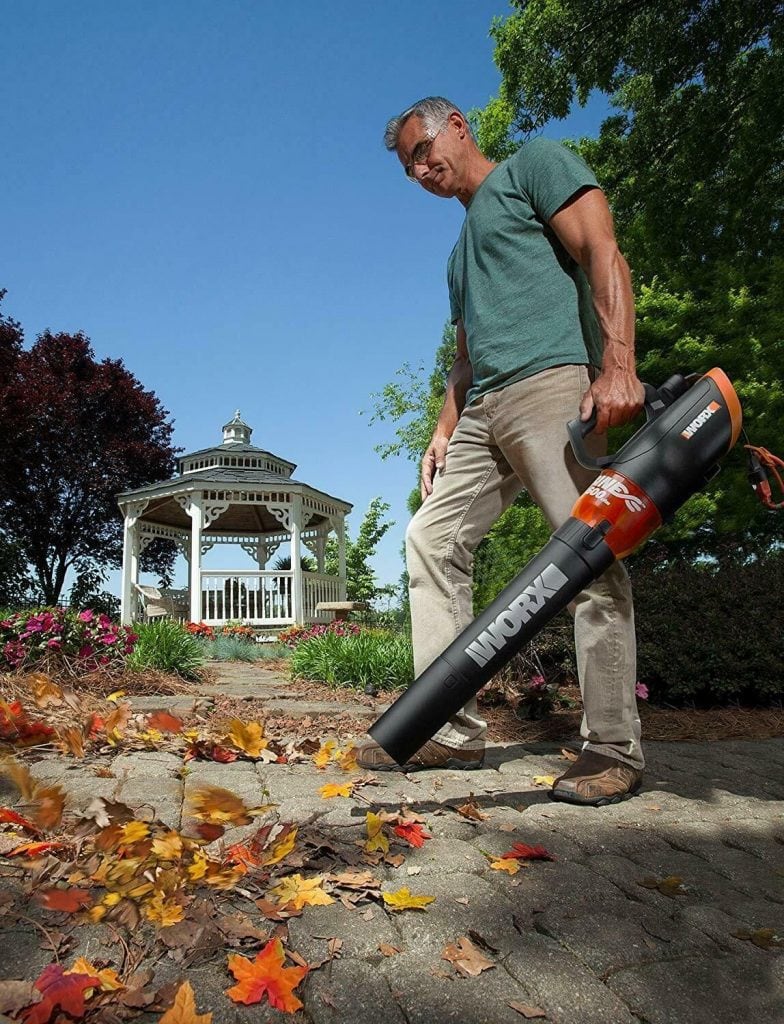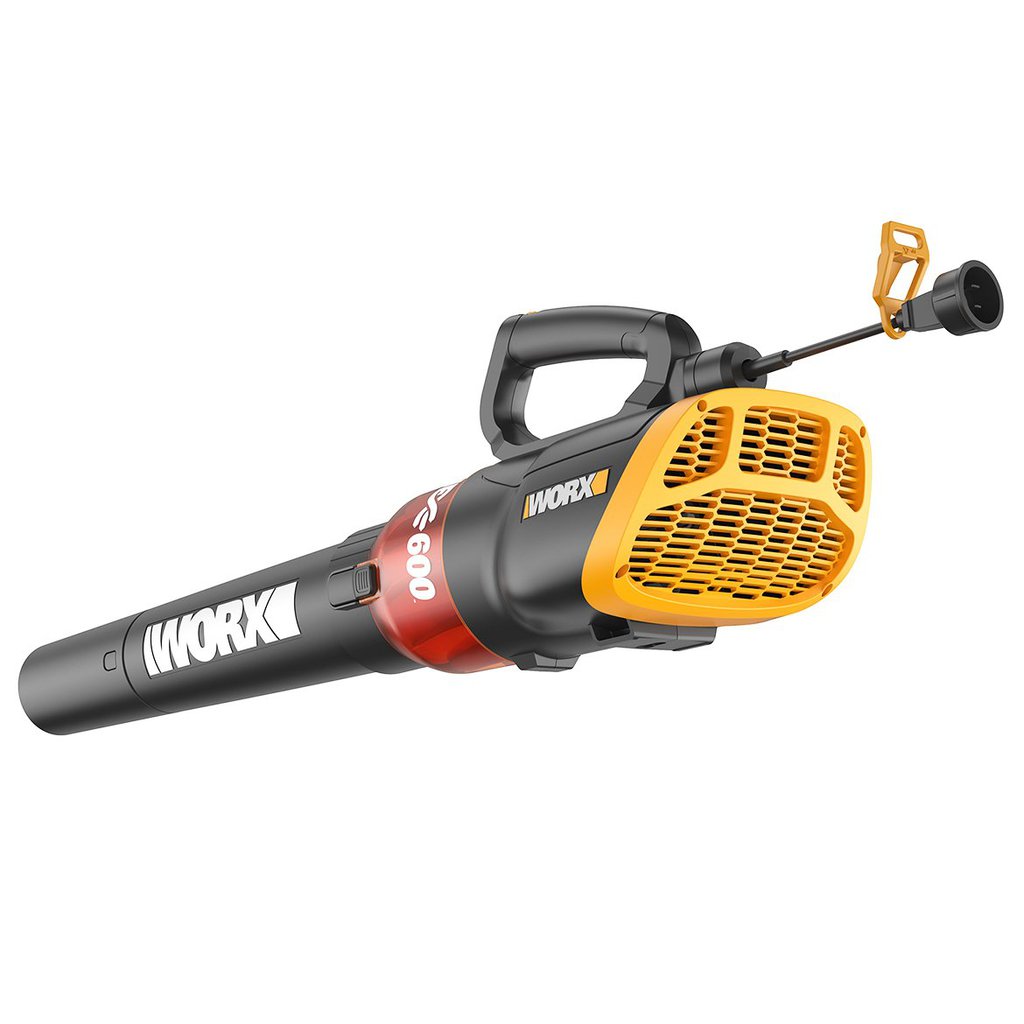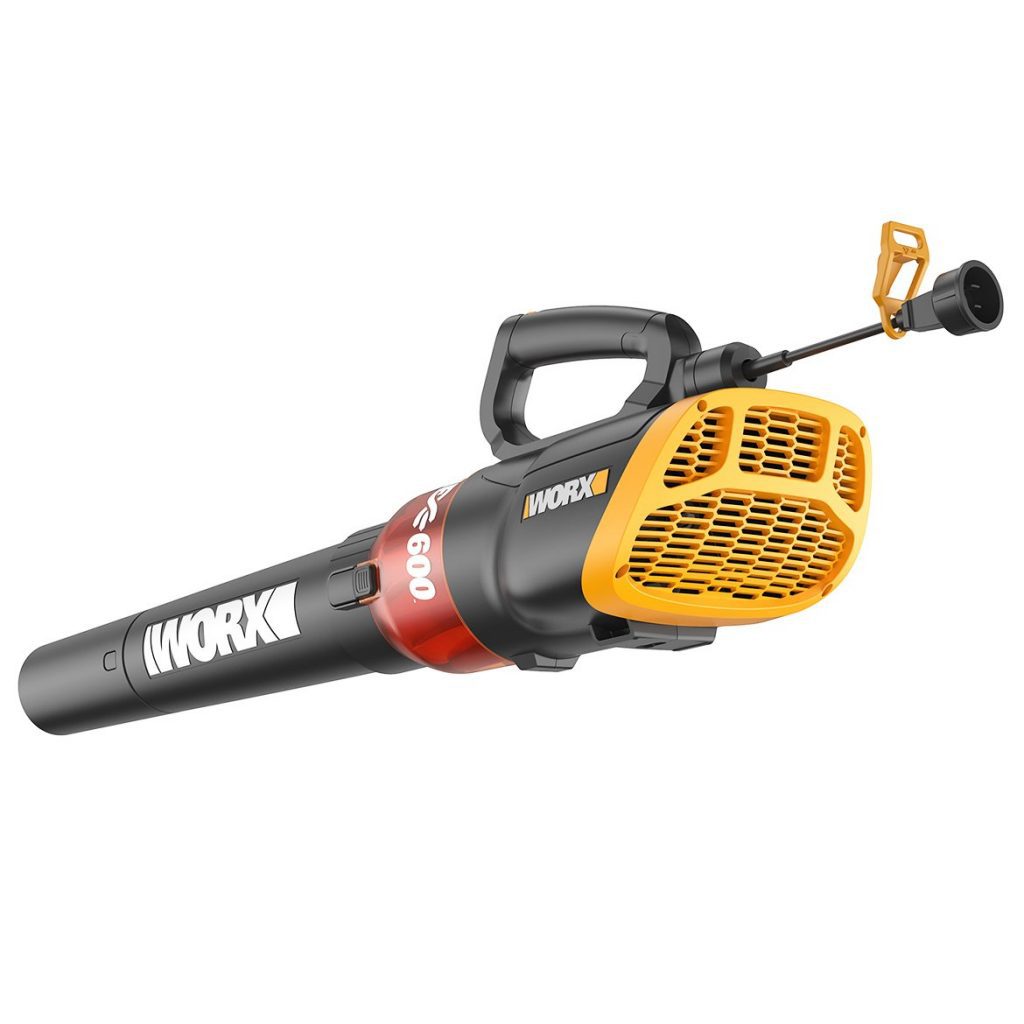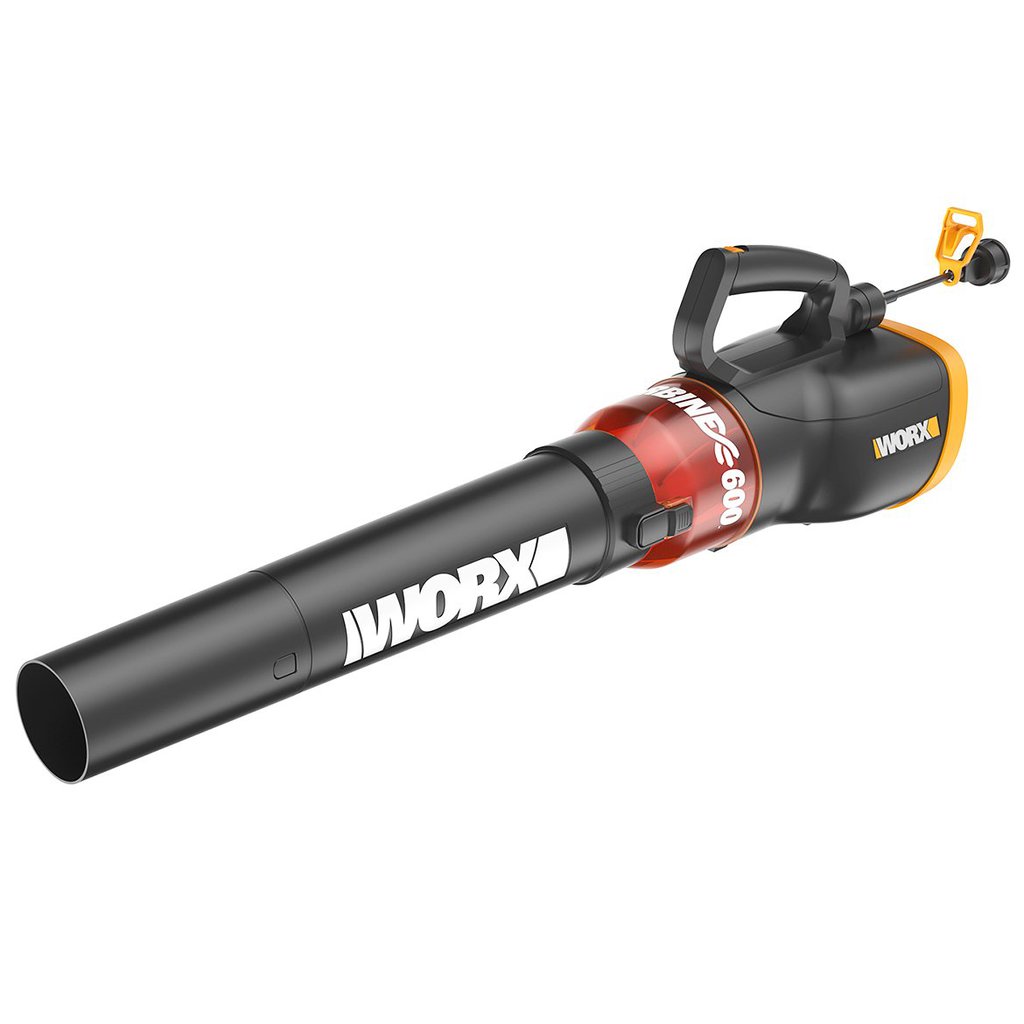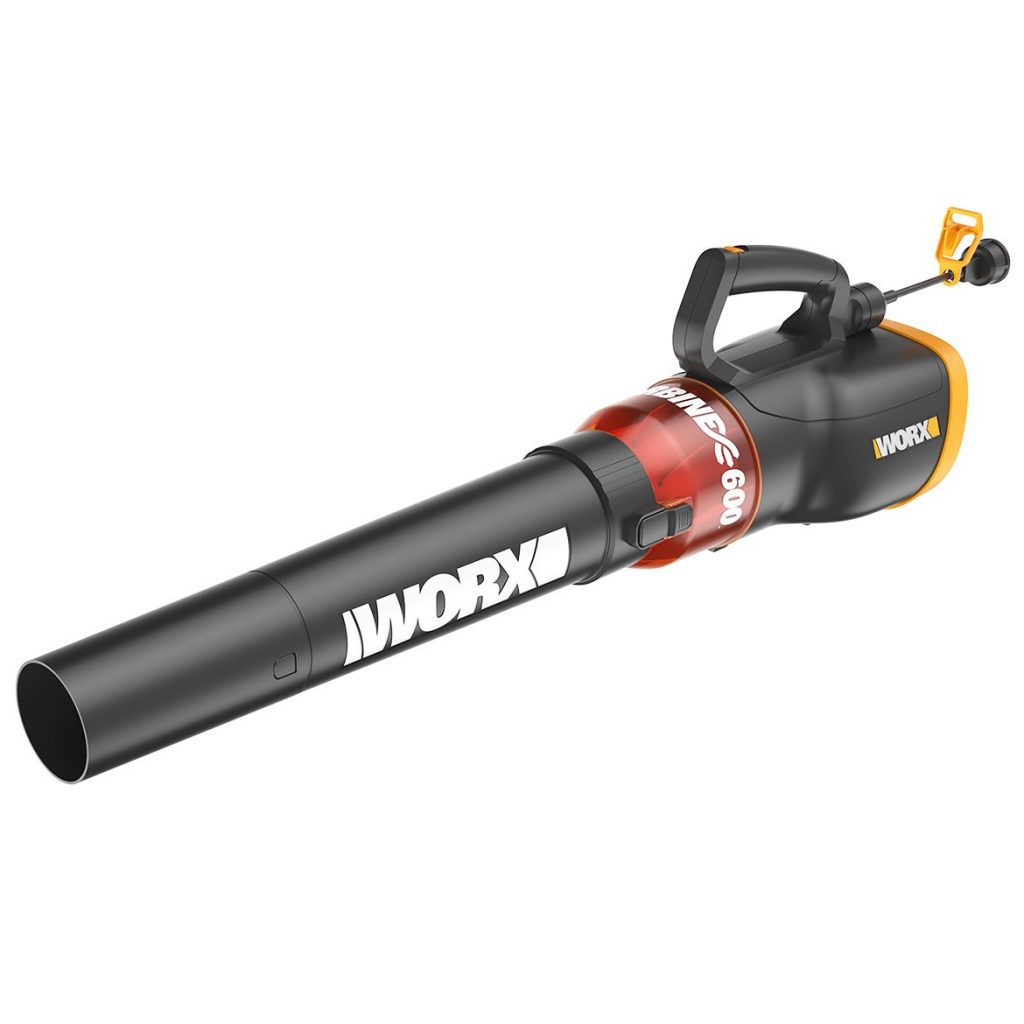 I purchased my Worx Turbine 600 Electric Leaf Blower (Model WG520) late last year (2017) after thoroughly researching it and similar leaf blowers in its class. I wanted to wait in commenting on its performance until I had used it 4 or 5 times in dry, wet, and "in-between" conditions. I have yet to use any rechargeable electric device that performed well over a reasonable length of time (before losing power and needing a recharge)–thus my decision to go with a CORDED Worx leaf blower. My property necessitates the use of (1) 100 foot, and (1) 50 foot 12 gauge/3 prong extension cords to run this 15 amp tool properly. Living on the mid-coast of Oregon, my biggest concern was dislodging and moving large amounts of compacted damp/wet pine needles from the pavement. Even when dry, these needles seem "glued" to cement or macadam. I am pleased to announce that this machine handles dry/damp pine needles, grass cuttings, leaves, twigs, and pebbles quite easily–and I have yet to use FULL POWER! Any mass of damp/wet needles that don`t budge, only need a quick brush with a push broom, then a second blow and they are GONE. I am a disabled senior man who suffers from back and abdominal issues. Although not particularly heavy, the Worx Turbine 600 Electric Leaf Blower "feels bulky" and has a large, wide, thick handgrip for my smaller hands. By the time I have finished blowing 150 feet of my fence line, my back, hand, and wrist are "strongly suggesting" that it is time to quit for the day! My BOTTOM LINE: this machine has plenty of power for most applications, performs as advertised, leaves my property looking "professionally groomed," and by doing my own yards, the Worx Turbine 600 should "pay for itself" within 5 or 6 uses. I would recommend it to anyone–especially if they have a healthy back, medium-sized+ hands, and normal energy levels. This machine is definitely not a small, lite, clickable toy; rather, a NICELY-ENGINEERED and powerful garden tool. 
sbreacain 
I did comparison tests between my older Toro electric, a gas blower, and this unit on leaves in my front and back heavily treed yard. The 600 was capable of blowing leaves from about 20 feet away, while the other models only did what was within about 10 feet; making the job about twice as fast. I also purchased the WG517 rated at 450 of airpower, which honestly proved just about equal, since the front has a small reduction piece which acts as a constrictor to increase its efficiency. I prefer the electric because it's ALWAYS going to work, without the need of recharging or replacing a battery, and gas with ethanol can go stale, or cause problems if not stored properly. I have about 1/4 acre, so an extension cord is NO problem. I also purchased the 4093 Roof Gutter Leaf Cleaner attachment, since it has the adjustment cup to fit the Turbine blowers; but haven't tried it yet (The 4092 is the same, less one piece.) I was VERY IMPRESSED with these units, their prices, lightweight, lower noise level, and SUPERIOR power!! I HIGHLY RECOMMEND THESE UNITS. I didn't enclose pictures, but my ground is level, with tall oak trees, and did this test on dry leaves, and a few days later on many wet leaves as well. Great results… I purchased a few of these units to try, and then give one to my daughter. 
Elliot
I finally got tired enough of raking and sweeping to look into buying a blower and found this beauty on Amazon for around $50. Holy Cow is it powerful! It moves anything, and I mean ANYTHING, with no effort. Don't look at MPH when shopping for a blower, only worry about air volume moved. Nothing beats this machine! Also, avoid gas, oil, and fumes by getting this corded model. I got a 100-foot extension cord and can take it anywhere. My only quibbles are that it blows so hard that it tries to fly out of my hand, and the intake tries to suck in my clothing, so I have to tuck in my shirt and hang on tight! This blower has stellar reviews, and it's well priced. You won't regret buying it! 
Dennisinflorida