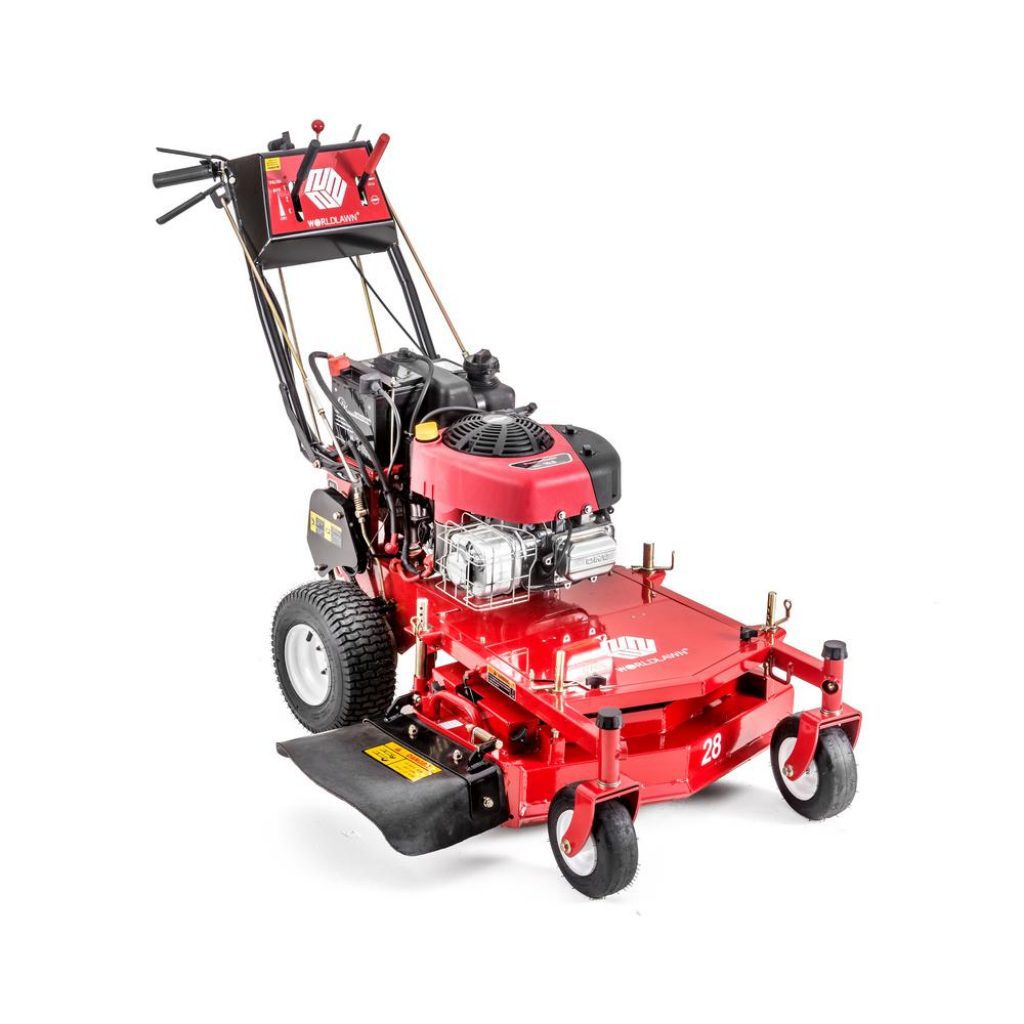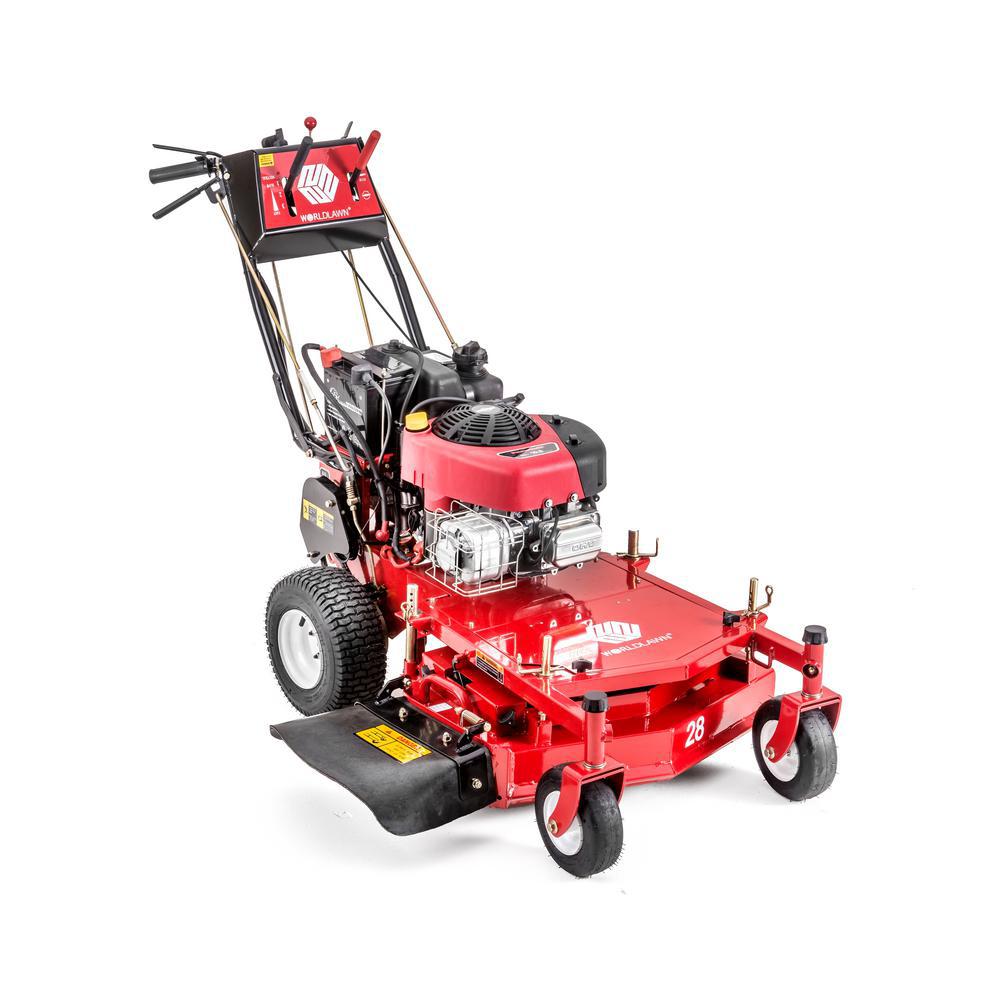 The Belt Driven Walk Behind represents cutting edge engineering and performance you can depend on. This model offers four different size options with a Briggs or Kawasaki engine that will provide each user with custom, peak performance. With this mower's efficiently designed handgrips and controls, designed to get those hard-to-reach places and a discharge, mulch, or collect option, cutting a lawn has never been so easy.
Worldlawn 28-in gas push lawn mower allows you to mulch your grass clippings putting important nutrients back into your lawn. The powerful 344cc Briggs and Stratton engine delivers the power you need for the perfect cut and features a cast-iron sleeve for durability. 4-position height adjustment allows you to change the cutting height to easily cut grass weeds and overgrowth. Welded construction commercial-grade cutting deck provides durability and allows you to cut more in one pass. Self-propelled rear-wheel drive provides more traction at the center of the mower helping you mow hilly terrain more easily. Tie-down points on all four corners.
What's In the Box?
Mower
Features:
2 year commercial or residential warranty
Ergonomically designed handgrips and controls
Promote ease-of-use and operator comfort
Easy pull pin height adjustment on floating deck
Great for hard-to-reach, narrow spaces
Discharge, mulch, or collect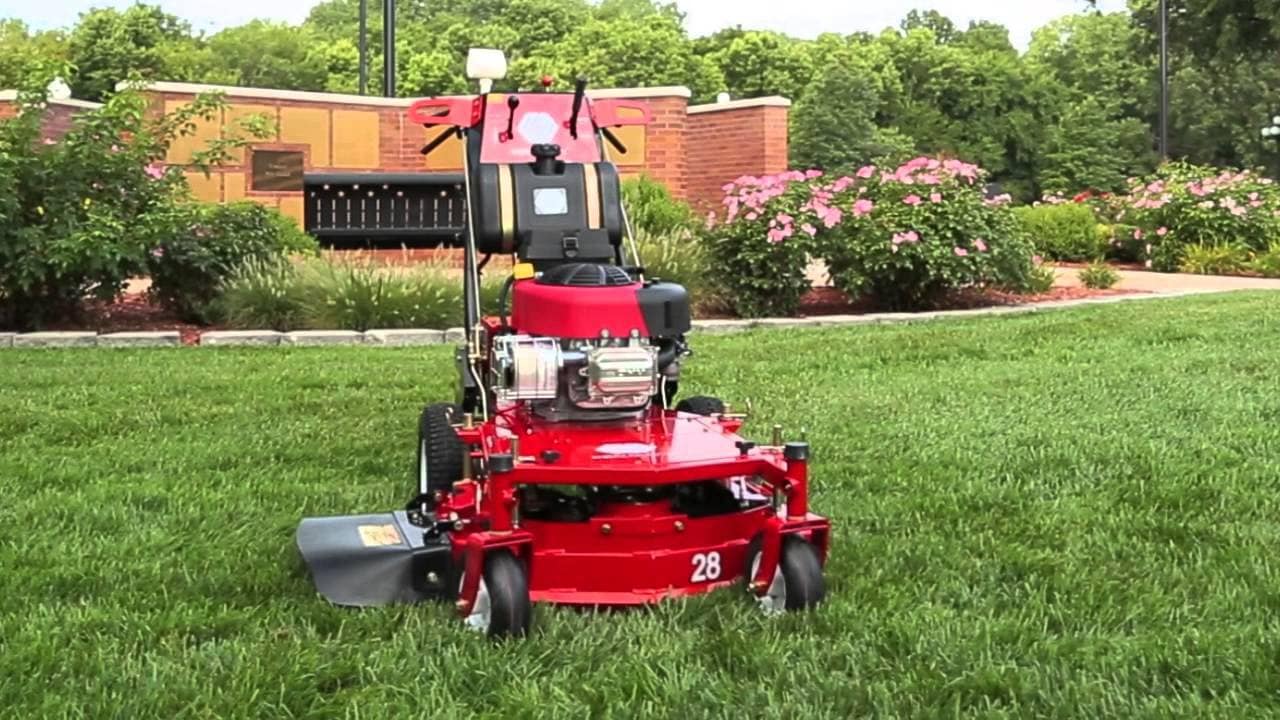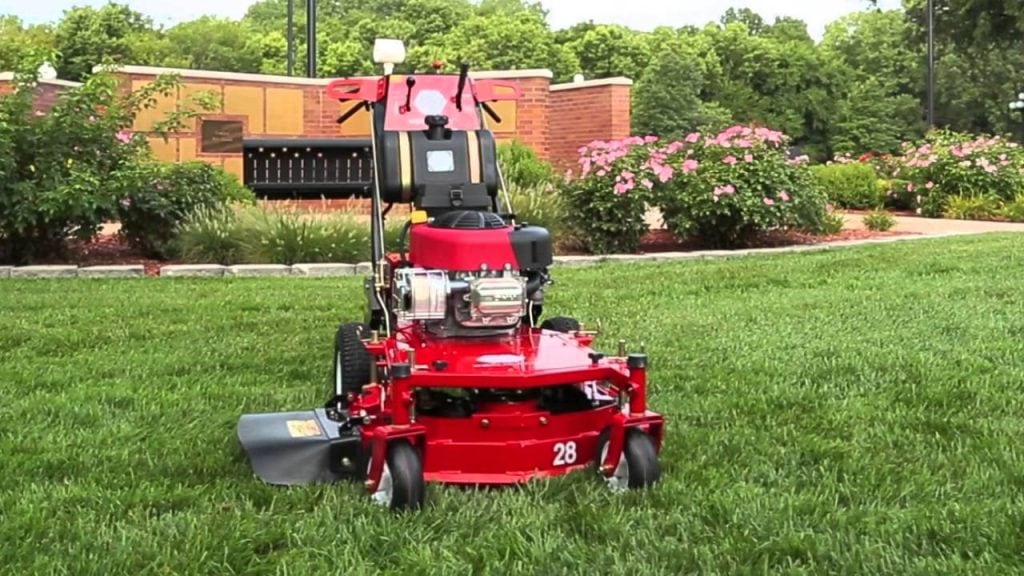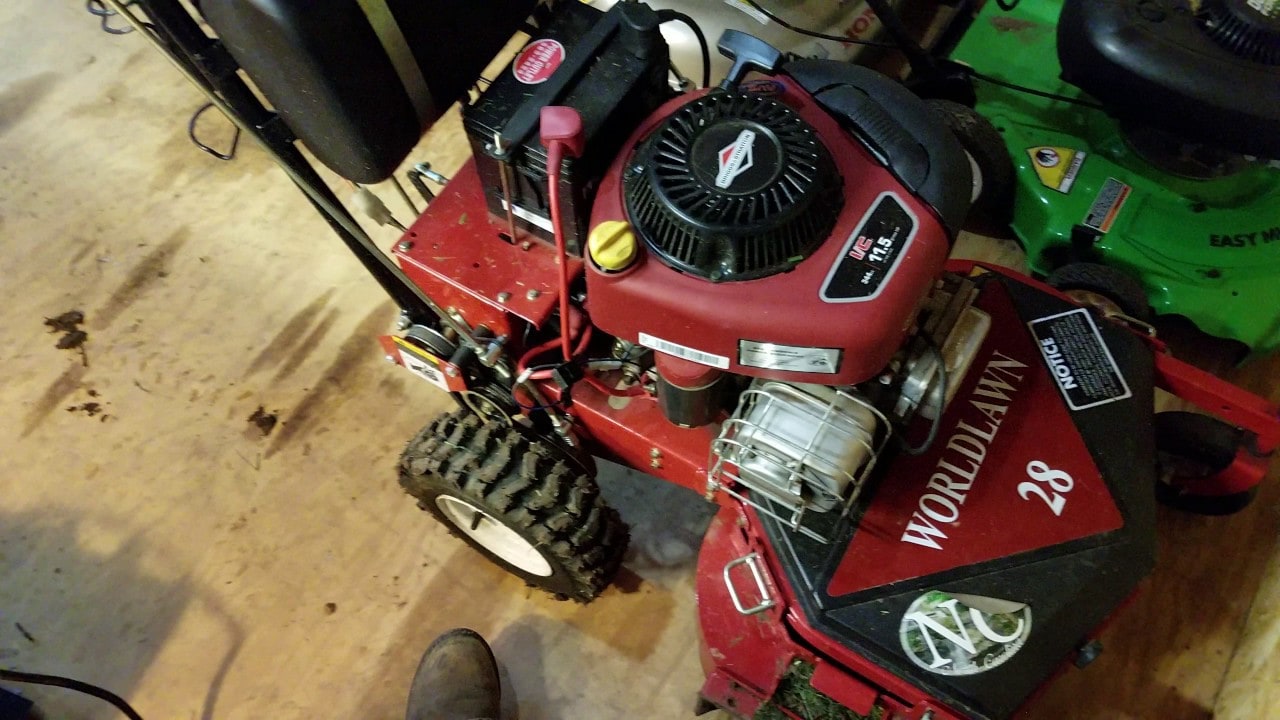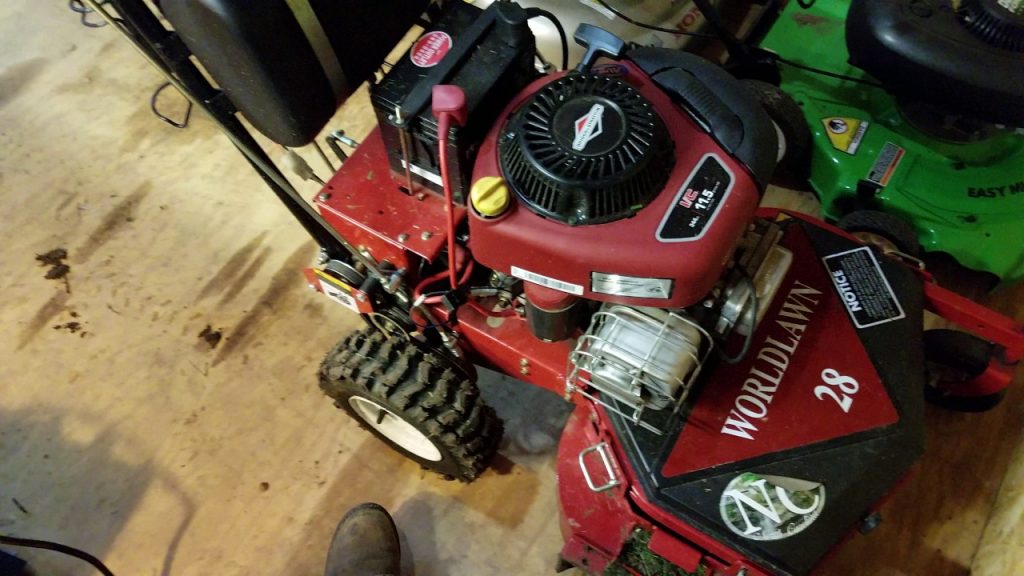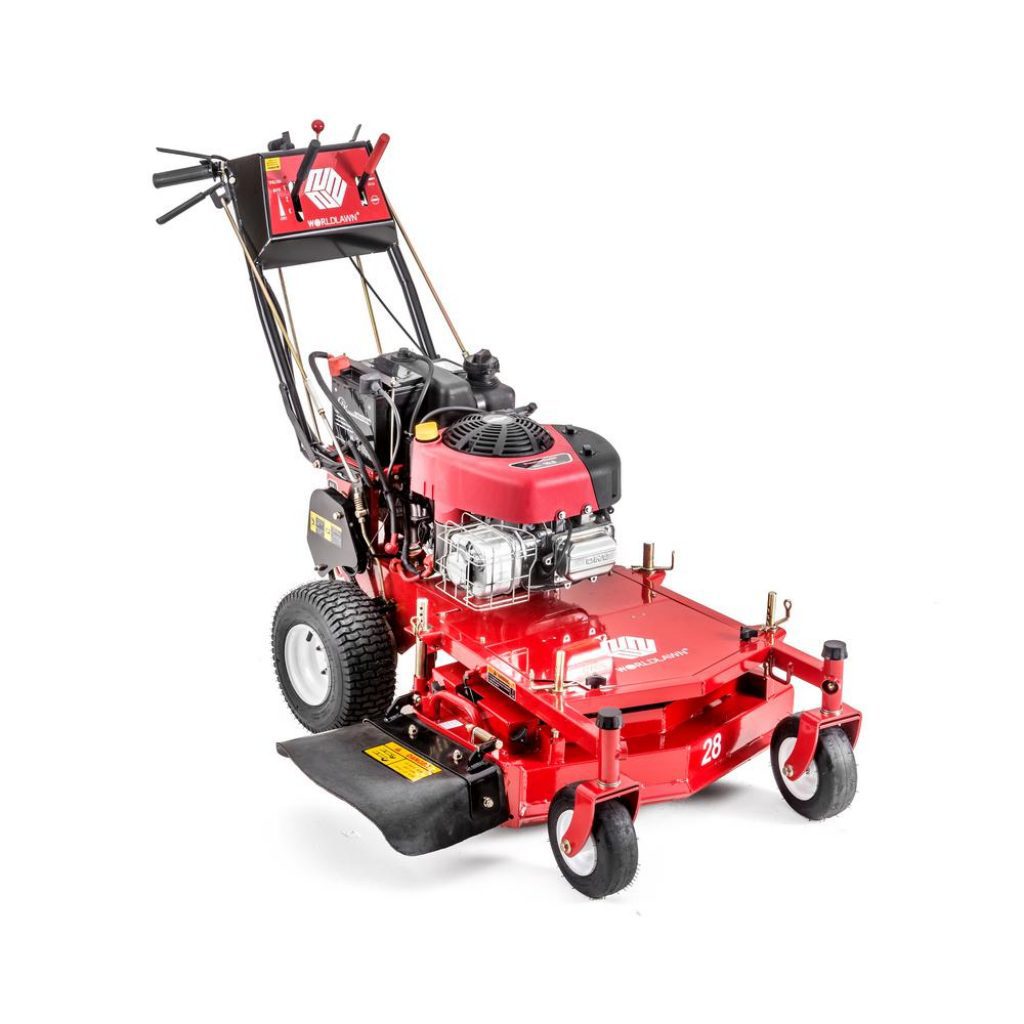 Reviews to WorldLawn 28″ Belt Walk-Behind Mower
I have just shy of 3/4 acre lot. I have a small shed and several obstacles to mow around so my yard to say the least is not a riding mowers territory however it pushes the limits of the old 21″ push mower. Enter the Worldlawn 28. I chose this unit over the other push mower style 28″ mowers because of the maneuverability and beastly construction.
I picked up the unit from my local Lowe's. It arrived in perfect condition packaged in a steel shipping crate. Although the frame and deck are manufactured in China the build quality is very good. It is solidly built and has all-welded construction. No noticeable "weld splatter" and the paint quality is excellent. Assembly was limited to 4 bolts and a few control rods. All of which connected flawlessly. No misaligned holes, loose connections, etc. The 10.5 hp USA-made Briggs engine is a beast!. Though it would have been a plus if it was a version with a spin on oil filter. If you are a commercial mower I would probably opt for the Honda version. My only real con to this mower is the lack of an hour meter from the factory. None the less I added my own basic inductive meter from amazon for about $12.
If worldlawn mower reviews are your first mower of this type I highly recommend "driving" it around your driveway with the blades disengaged to get a feel for the controls. Do not mow until you feel confident controlling it. It does control well however don't expect it to feel like a hydro-static drive.
I made my first mowing of the season cutting 5-6″ to a 3″ height. It mowed like a hot knife through butter. It didn't hesitate on the bit. I am extremely pleased especially since I ordered without seeing one in person. Since this is lesser-known manufacture I did contact my local repair shop to confirm the availability of replacement parts if needed. They have no problem getting them and also pointed out that Worldlawn now owns or is owned by Encore Equipment which is broadly known. If you are on the fence, look no more.
Mike
My worldlawn mowers reviews are about 7,500-8,000 square feet, with a fenced in the back yard. I bought this to replace a honda 21″ walk behind. I love the Honda, but it gets bogged down in damp or thick grass. Also, I wanted a wider cut to reduce mowing time. I picked this over a 30″ Toro Timemaster because many reviews of the toro complained about the lack of power.
The mower is a beast. It's very solidly built, powerful, and cuts very well with the optional mulch kit (I ordered it online from an independent Worldlawn dealer because Lowes doesn't sell the kit). I also added a cheap hours meter ($11 from Amazon.com). After getting used to how a pistol grip mower works, my yard takes 0.6 hours to mow (plus some time with the weed eater), a lot less than with the Honda.
There are two possible "negative" factors. First, parts are not available locally. In the 28″ size, aftermarket blades aren't available at all yet. However, for a homeowner, it's pretty easy to difficult to order online. Second, it's heavy. I wouldn't recommend it for someone who is frail, and when the yard is VERY wet, it ruts more than a lighter mower.
WeekendWarrior 

WorldLawn 28″ Belt Walk Behind Mower 10.5 HP Briggs Electric