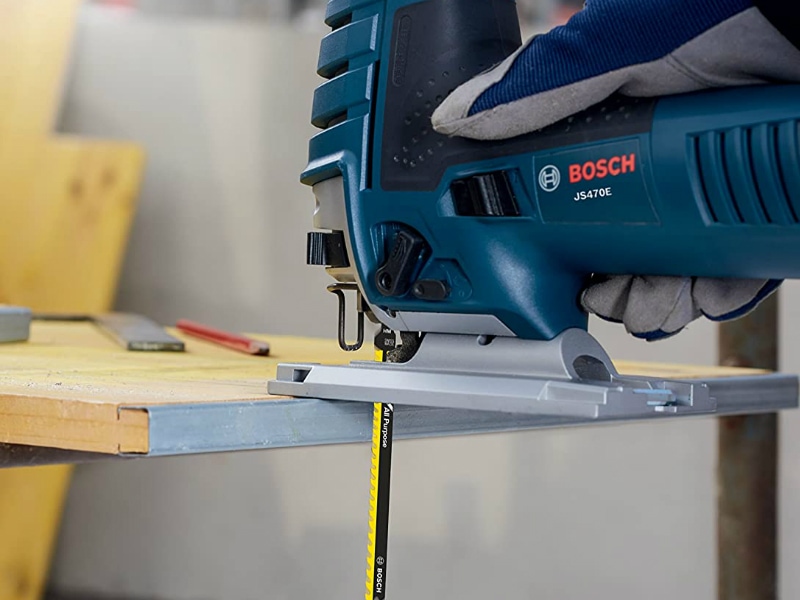 Once you decide to make the laminate flooring yourself, you will have to plan all your further steps. Woodworking is one of the most relaxing and meditating hobbies that anyone can learn with enough patience and proper tools. Professional instruments are vital in this case, even if you are a novice in the field. But how can you choose a tool if you have never worked with a saw blade before? This is a good question.
I am here to help you to choose the most appropriate saw blade. I am going to describe my top 11 favorite instruments, so you can choose one of them, depending on your budget and the quality of your wood. I will provide a detailed description of every saw blade on the list. Take a closer look at all the pros and cons I mention here before you will click to buy your preferable item.
10+ Best Saw Blade for Laminate Flooring
If you want to achieve a professional quality of woodworking, you have to use the best saw blade for laminate flooring, and I will gladly assist you. Check out this list. It contains helpful information on saw blades from different manufacturers with various benefits. After you settle on a particular tool, you may leave your considerations in the comments below.
1. Freud D0760A – Heavy-Duty Choice For Batch-Cutting Laminate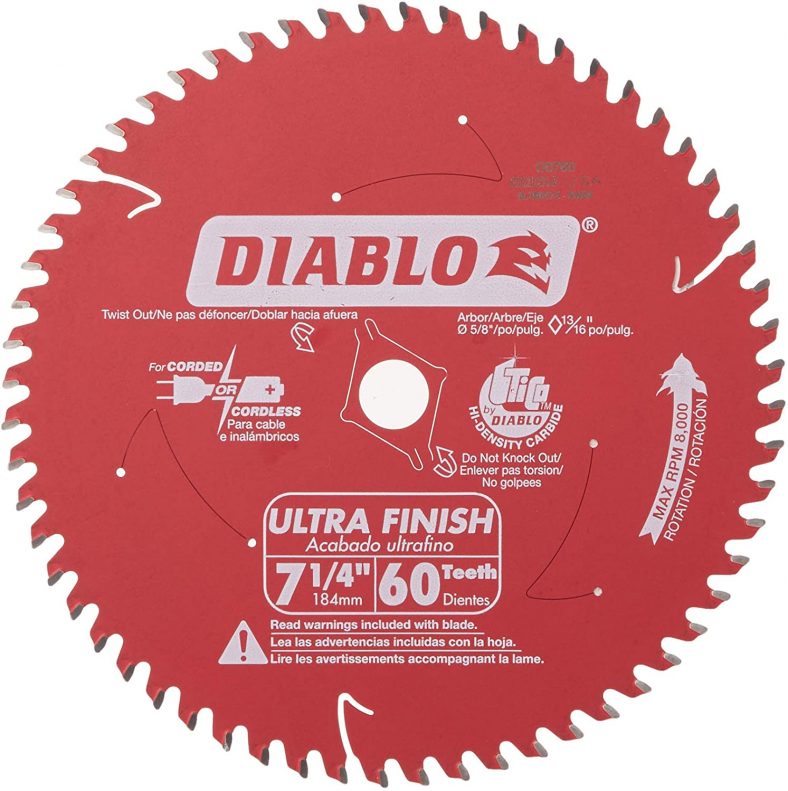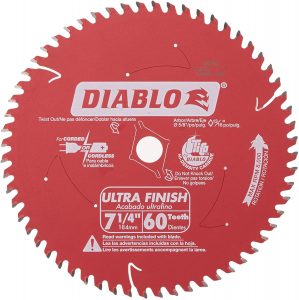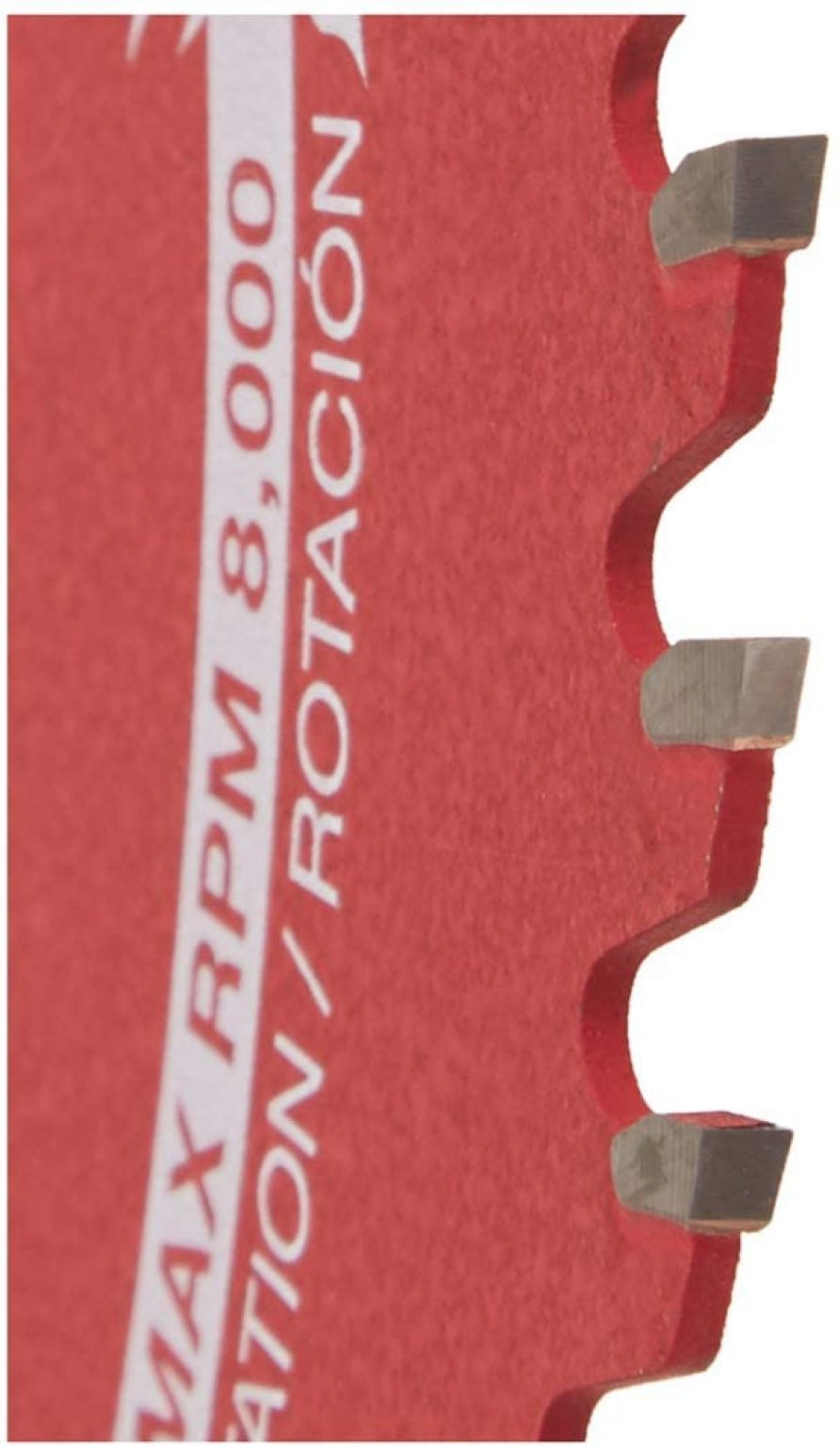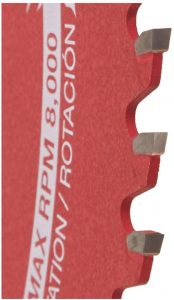 Freud's Diablo series is too good not to include one more blade in my listing. D0760A is a superb 7-1/4″ blade that's designed for making very clean cuts with a mirror finish in laminates, hardwood, and plywood.
The laminate flooring saw blade can be used with both table and miter saws that have a standard 5/8″ arbor or a 13/16″ diamond-shaped arbor. The peak rotation speed permitted for this model is 8,000 RPM, which makes it acceptable for quick batching. The proprietary high-density carbide by Diablo is well-adapted for continuous cutting without overheating too quickly. The alternating tip faces provide extra stability and maintain the same kerf of 0.059″ all over the length of the cut. Perfect kerf was achieved due to the laser cutting technology.
Why may you need this blade more than other models by Freud that I recommend? Well, it's nearly as good as the 7-1/4″ LU79R007 model, but costs around 2,5 times less due to the slightly thicker kerf and lower peak rotation speed. If you can go with 8,000 RPM, and some of the smoothest finishes available, this blade is a great choice for both DIY and professional use.
---
PROS:
Excellent finishing quality;
Two types of arbors;
A relatively affordable pro-grade option;
Aggressive design.
CONS:
Can cause chipping at low RPM.
---
2. BOSCH T503 – Universal Metal-Teeth Solution for Hardwood and Laminate Flooring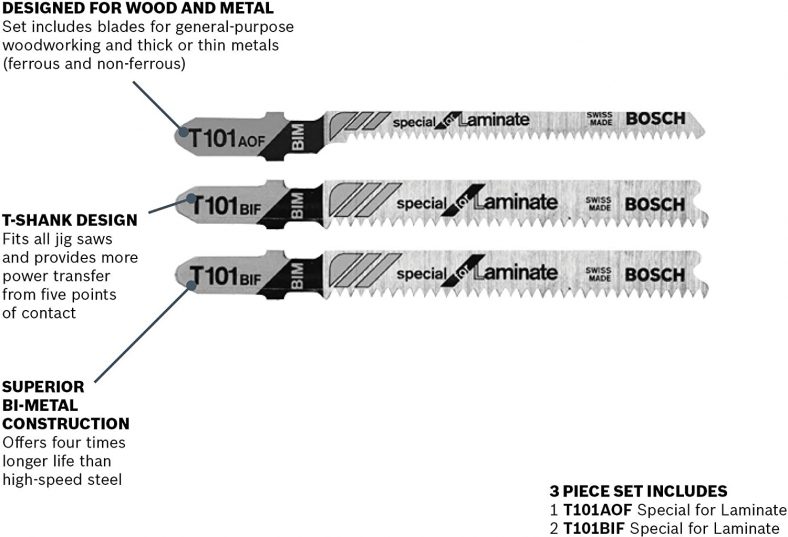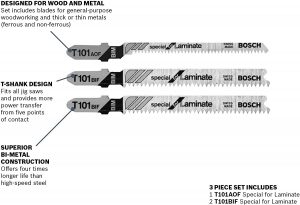 Here is one more set of excellent laminate blades for jigsaw by Bosch. Unlike the T128BHM3 kit, this one includes 1 20-TPI blade for hardwood and 2 14-TPI blades for laminate, which makes the kit more universal. All three cutters come with a T-shank so that you can install them not only on Bosch jigsaws but on any tool that requires the same shank type.
Each blade has 20 metal teeth without carbide tips. Is it a critical spec? Well, it depends. On the one hand, carbide tips can last much longer than steel tips, which lets you save up in the long run. On the other hand, steel blade teeth are cheaper, last long enough for most non-professional and professional uses. Besides, you can sharpen these blades without the need to bring them to a professional sharpener, which is also cheaper. This particular model is made of a bi-metal construction so it has a longer potential lifespan than average metal jigsaw blades.
When all the laminate is cut, you can continue to use these blades on other types of wood (even with nails), drywall, PVC, plywood, aluminum, copper, and other thin/thick metals. If it's not a universal solution then what is? I highly recommend this set to all DIYers and for medium-intensity professional use.
---
PROS:
Universal pack of three blades;
You can sharpen it yourself;
Can be used for cutting a variety of materials;
Bi-metal construction for sturdiness.
CONS:
Not the best for intensive professional use.
---
3. Makita A-93681 – High-Quality Micro-Polished 10″ Cutter for Miter Saw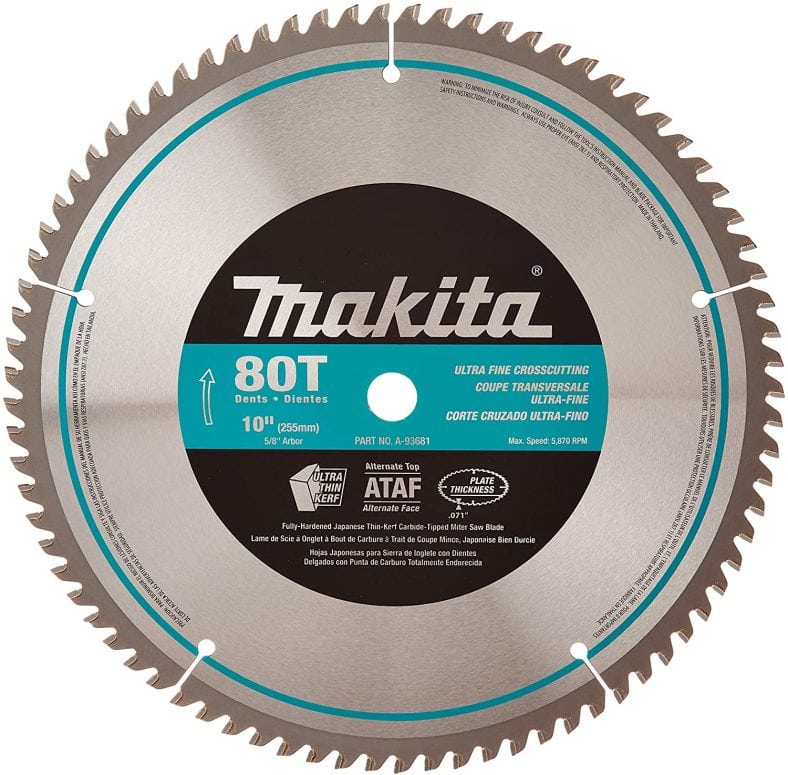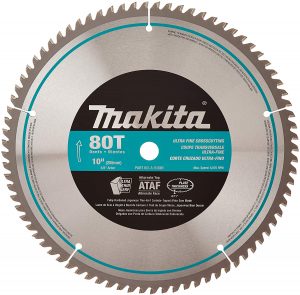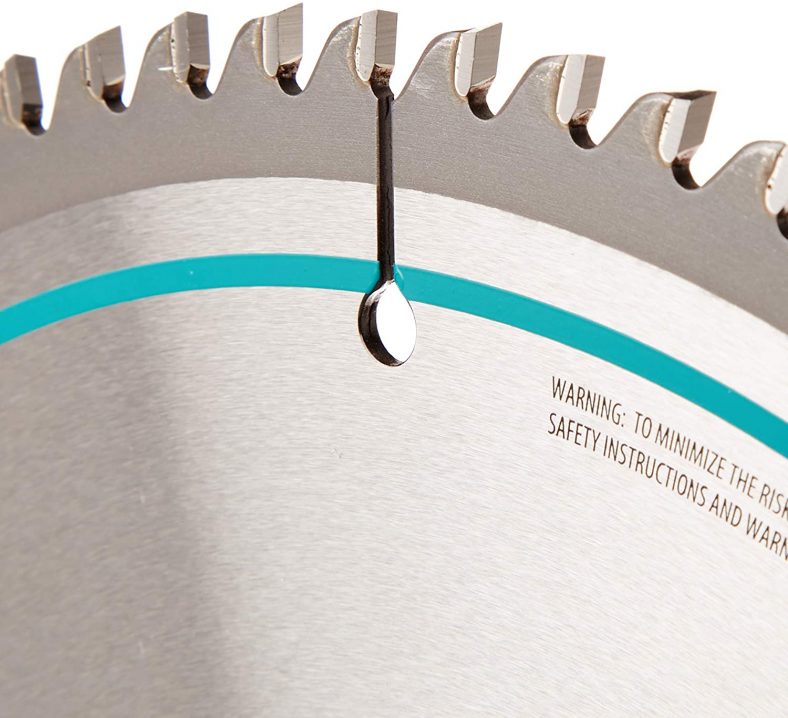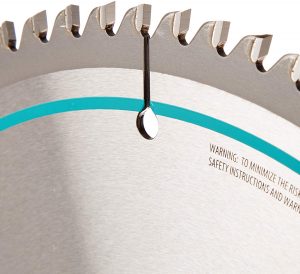 Makita is a highly trusted power tool and accessory manufacturer from Japan. It has been making some of the best saws and blades on the market since 1915, and I really like its products for durability and ergonomics. Saw blades by the brand always provide longevity and pro-grade cutting quality.
This 10″ 80-tooth blade is designed for miter saws, and it's compatible with all tools that have a ⅝" arbor diameter. All the teeth have fully-hardened thin-kerf carbide tips produced in Japan. The tips have alternating top and face for higher stability and cutting precision. Together with the high density of the teeth, this feature provides surgical precision. Besides, you get the super-thin 0.91″ kerf that reduces the cutting line thickness.
Another benefit of using this blade is its nearly glossy finish. It's achieved due to 600-grit micro-polished carbide. It has a high overheating threshold and extra endurance for professional-grade batch cutting of laminates, softwood, hardwood, and plywood. Regardless of the miter saw types you have, this blade is compatible with all types of cuts, including fine crosscutting, beveled cutting, and deep straight cuts.
The good news is that this cutter is also more affordable than the vast majority of similar items by DeWalt, Freud, Bosch, and other top brands. According to my tests, there's no significant difference in quality.
---
PROS:
Super-clean finish;
Micro-grain carbide tips;
Very thin kerf of .091″;
Perfect for fine crosscutting;
Exceptional Japanese quality.
CONS:
It's probably too pricey for most DIYers.
---
4. Freud 7-1/4 LU79R007 Plywood and Melamine Blade – the Best Saw Blade for Cutting Laminate Flooring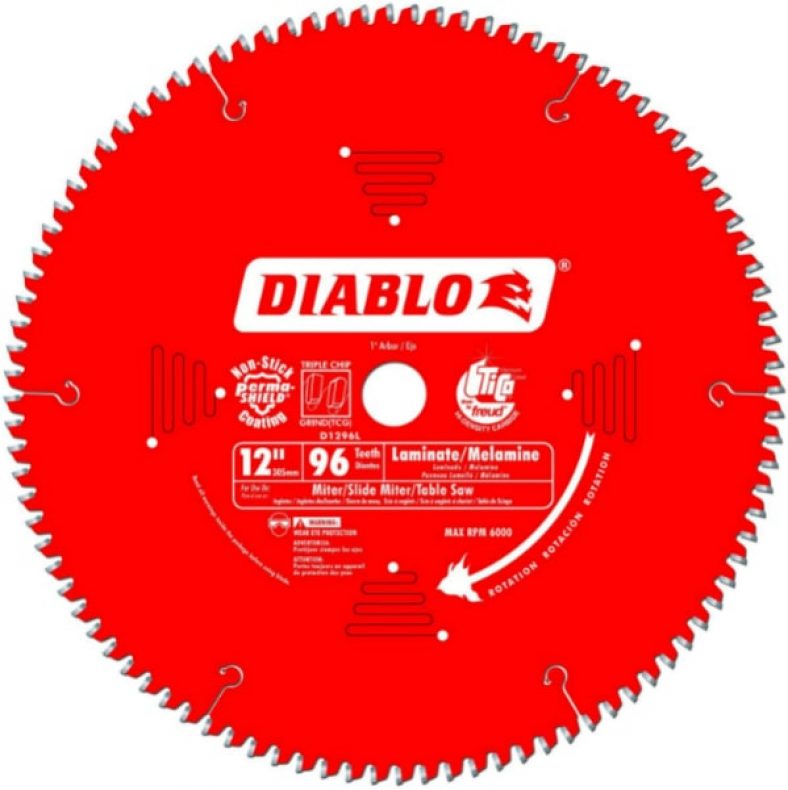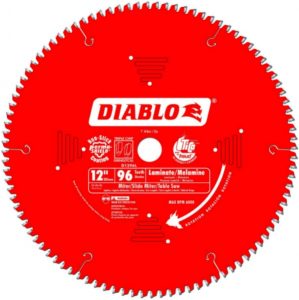 The brand Freud offers a high-quality blade with sharp teeth that make splinter-free sections. Overall, the tool has 60 teeth, providing a little 2° hook angle for your convenience, Hi-ATB Grind, and 5/6 Arbor. It is made from titanium cobalt carbide. This tool was created by Freud Company, the producer of top-quality saw blades and other instruments for woodworking. Freud is a popular seller on Amazon.
I appreciate the brand and clean cuts this saw makes. It does not create an increased level of vibrations like similar saw blades during their work. There is an anti-vibration feature that helps the user to make direct moves even when their hands are already tired. The package includes a perma-shield coating that protects your hands from the blade and the blade from outside factors. It will prevent corrosion and worn-down edges.
This instrument is an ideal choice for cutting through laminates, melamine, and plywood. It is compatible with cross-cutting hardwood as well. The saw blade can cut through the ¼ inch and 1-5/8 inch thick materials. If you need to cut through thicker wood, you may consider trying the other best blades to cut laminate flooring.
---
PROS:
Anti-vibration mechanism;
Sharpened 60 teeth blade;
Perma-Shield high-quality coating;
Convenient to use;
Affordable price.
CONS:
The blade may be too small for some types of wood;
The product may be too loud while working.
---
5. Freud D1012 LF PCD Laminate Flooring Blade – Laser-Cut Circular Saw Blade for Laminate Flooring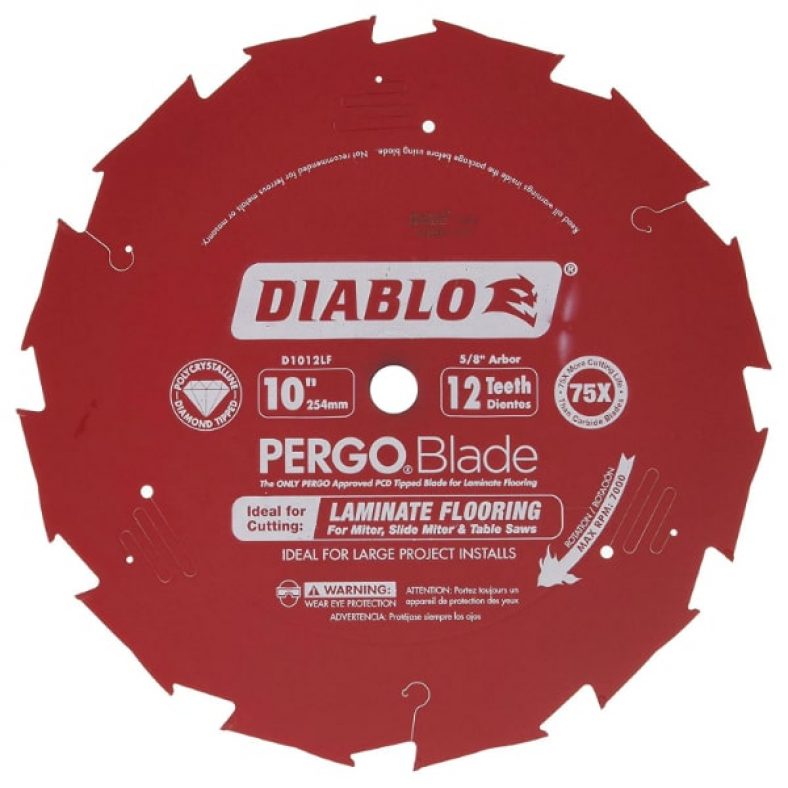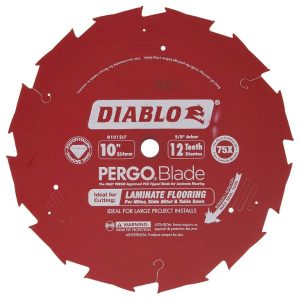 D1012 LF PCD Laminate Flooring Blade was created for experienced woodworkers. Its teeth are sharp and everlasting due to a polycrystalline diamond cover. In case you are careful enough and know how to treat saw blades, you can buy this item even for your first laminate flooring experience. As the previous tool on the list, this blade was also developed by Freud company, the top-seller of saw blades on Amazon.
This product is 10 inches long, with a 72-tooth blade. It weighs only 1.65 pounds and is protected from warn-down with the diamond cover. The blade has a laser-cut stabilizer that prevents vibration and allows making precise cuts on the wood. The tool is not loud at all, as the material absorbs the noise that the blade creates. I tried this instrument on abrasive materials, and the procedure went smoothly. The blade is still there, in my workshop, and I use it from time to time.
The saw blade cuts laminate planks of high-density in no time. It can cut through the bamboo material, as well as hardwood. It does not heat as much as a lot of similar instruments on the market due to the non-stick professional coating.
---
PROS:
72-tooth blade;
Stabilizer with a laser-cut;
Highly durable;
Absorbs noise;
Affordable price.
CONS:
The blade requires extra care;
The tool can get overheated after several hours of work.
---
6. Bosch DCB1072 Daredevil – the High-Quality Representative of Laminate Saws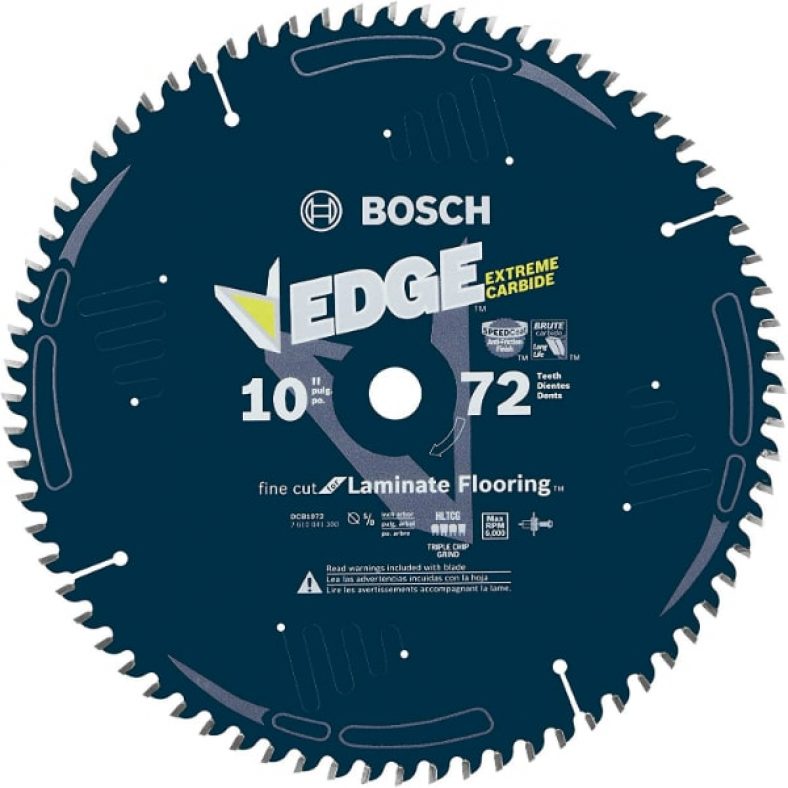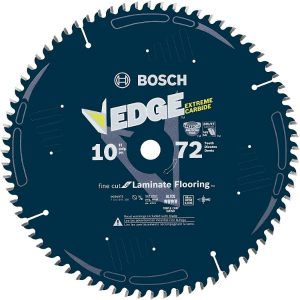 The model DCB1072 Daredevil is a 72-tooth, 10 inches saw blade, which is perfect for melamine, laminate, and bamboo materials. Many customers are familiar with this tool as it is a real bestseller on Amazon. The instrument was created by Bosch company, the reliable manufacturer of various instruments on the market that are popular around the world.
There are 24, 40, 50, 72, and 80 teeth options present on the page. I recommend you to start with 72 teeth, which is a perfect choice for laminate. However, you can always try something else. This saw blade is made from the damage-resistant material brute carbide. The shape of the triple chip grind tooth will allow you to make cuts more easily and comfortably, working with abrasive materials as well. The negative hook angle helps to protect the blade from excessive wear.
This model DCB1072 Daredevil by Bosch features a body made from durable steel of high-quality. It does not vibrate during work. You can even make thin cuts with this blade due to its narrow blade. The kerf is 0.098. However, there is no need to worry about thinner teeth. They are incredibly strong. The developers have made them thinner to guarantee you the ability to make direct cuts through the tiny line.
---
PROS:
Creative design;
Triple chip teeth;
Extra thin kerf;
Resistant to damage;
Made from brute carbide.
CONS:
The tool is not cheap;
The blade requires extra care.
---
7. Freud D1296L Diablo – Best Miter Saw Blade for Laminate Flooring with Thin Kerf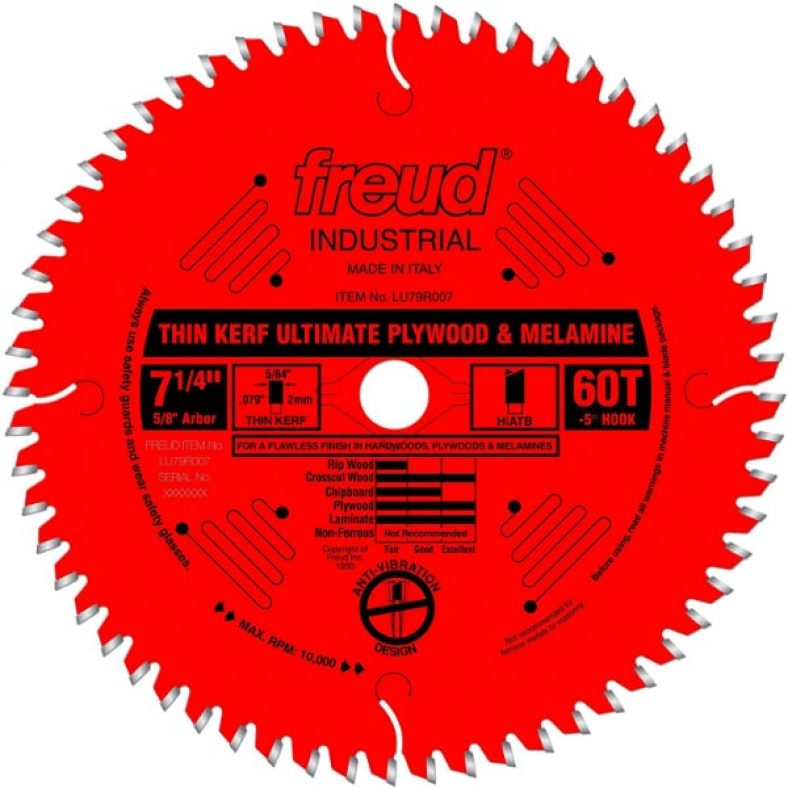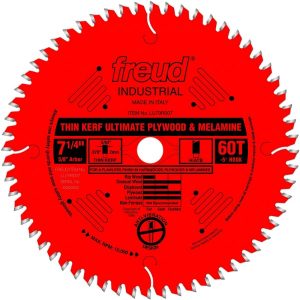 Freud D1296L Diablo offers 96 teeth and a 12-inch diameter blade. It is really useful for woodwork, especially for laminate flooring and melamine tasks. A top carbide material gives the product longevity and extra sharpness. The saw blade is made by Freud Diablo, the trustworthy producer of wood saws.
Moreover, a triple chip design of the kerf will allow you to cut even double-sided laminates without breaking the material or leaving unnecessary fractures. The material of the product is of anti-vibration type. Perma Shield coating allows you to avoid overheating and corrosion of the tool. Moreover, there are laser-cut technologies used in the blade.
As for the kerf, it is thin and durable. This type of kerf means that you don't have to press the blade against wood too hard. Therefore, it works clearer than other blade saws. Freud offers a guarantee on this product for a lifetime. It is compatible with sliding 12-inch miter saws and even with the portable table saws that guarantee you extra comfort. You can use this item for hours without feeling as tired as with other saw blades.
---
PROS:
Great quality of material;
Sharp teeth;
A coating that prevents overheating;
Lifetime guarantee;
Compatible with table and miter saws.
CONS:
More expensive than similar saw blades;
Does not work on the wood of more than 700 sq ft.
---
8. DeWalt DWA3193PCD Fiber Cement/Laminate Saw Blade – the Best Blade to Cut Laminate Flooring with Diamond Tooth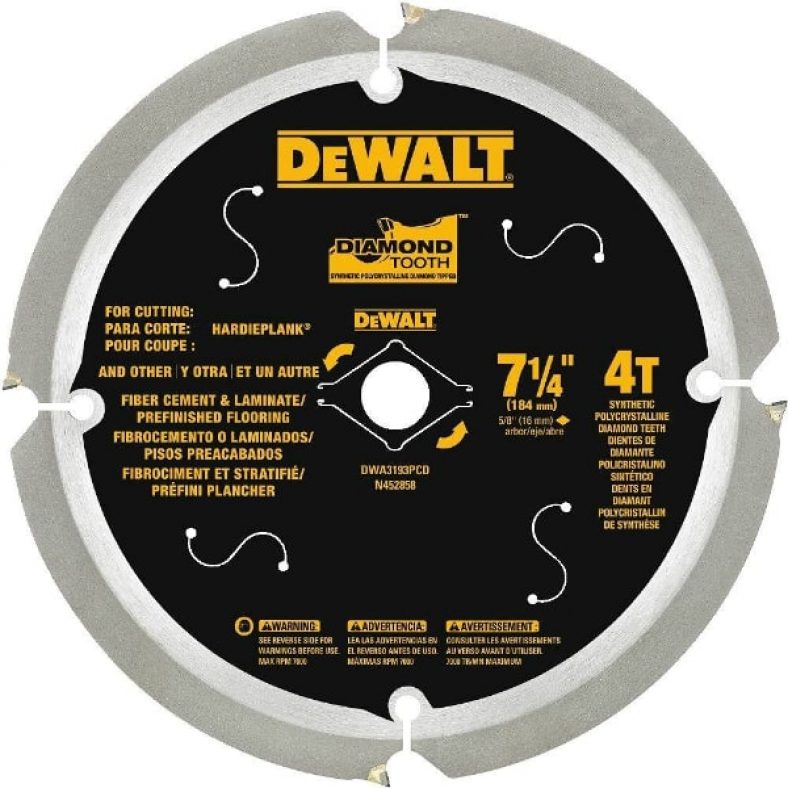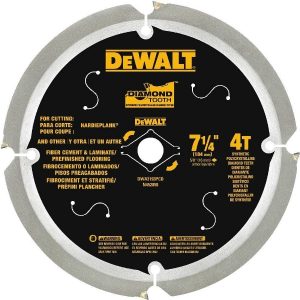 DWA3193PCD Saw Blade is a real must-have for everyone who needs to make clean cuts in the wood of different diameters. It was created to cut through fiber cement. I also recommend using the instrument on laminate flooring. The saw blade is made by DeWalt Company that produces tools and outdoor equipment for professionals and everyone interested in hand tools as well as accessories for house renovation.
This instrument was highly appreciated by clients who have ordered DWA3193PCD from Amazon. It has an average price and positive reviews on the market. Noteworthy, this tool is one of my favorites mainly because of its perfect shape and diamond-covered tooth with a unique design. It has a thin blade that leaves nearly flawless cuts. However, you have to get used to the noise while you work. The design of the blade is outstanding due to a number of features, including a 5/8 arbor, and 7 ¼ diameter.
The product weighs 4.2 ounces; rugs, you can easily carry it around the house. It cuts through different materials, even those with a thicker diameter. Due to the high-quality coating, you don't have to worry about overheating as well.
---
PROS:
The extraordinary design of the blade;
Diamond cover;
Cuts through thick materials;
Light;
Affordable.
CONS:
The saw blade is a little bit wider than a usual item on the market;
The tool requires protection from corrosion.
---
9. DeWalt DW3712H Jigsaw Blades – Top Affordable Blades for Laminate Flooring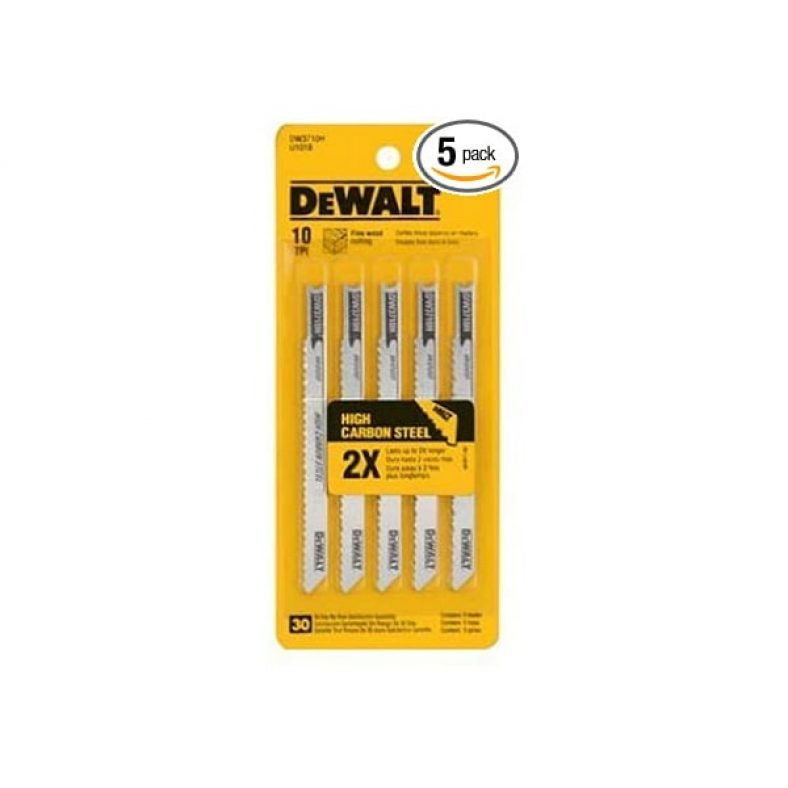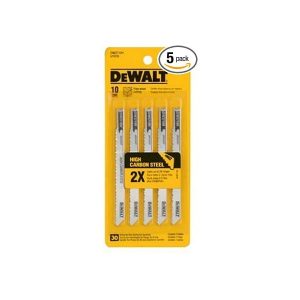 The model DW3712H Jigsaw Blades comes 5 in a pack. These blades are comfortable in use; therefore you can comfortably change them while working. These jigsaw blades were created by DeWalt, the company that produces various equipment for workers and amateurs. This brand is a top-seller on Amazon. These blades are affordable and helpful when it comes to laminate flooring.
The product is made of carbon steel of prime quality. With the numerous tiny sharp teeth, you may achieve clean and direct cuts. The cutting process is fast and smooth. The item is almost weightless. You can put it in your tool kit and forget about the blades until you need them. While the product weighs almost nothing, only 1.28 ounces, it copes with thick wood materials, including laminate flooring.
I recommend this pack of saws for both professional workers and newcomers who want to start with a reliable tool. It is a savvy deal, and you won't have to buy other saws at least for several years if you have ordered this pack. These blades cut the vinyl flooring, so you should not hesitate to give them a try.
---
PROS:
5 jigsaw blades in a pack;
Comfortable to use;
Extra sharp blades;
Multiple small teeth work faster;
Affordable for anyone.
CONS:
There is no noise isolation;
The item can easily be heated.
---
10. Bosch T128BHM3 Jig Saw Blades – Three Sharpest Jig Saw Blades for Your Laminate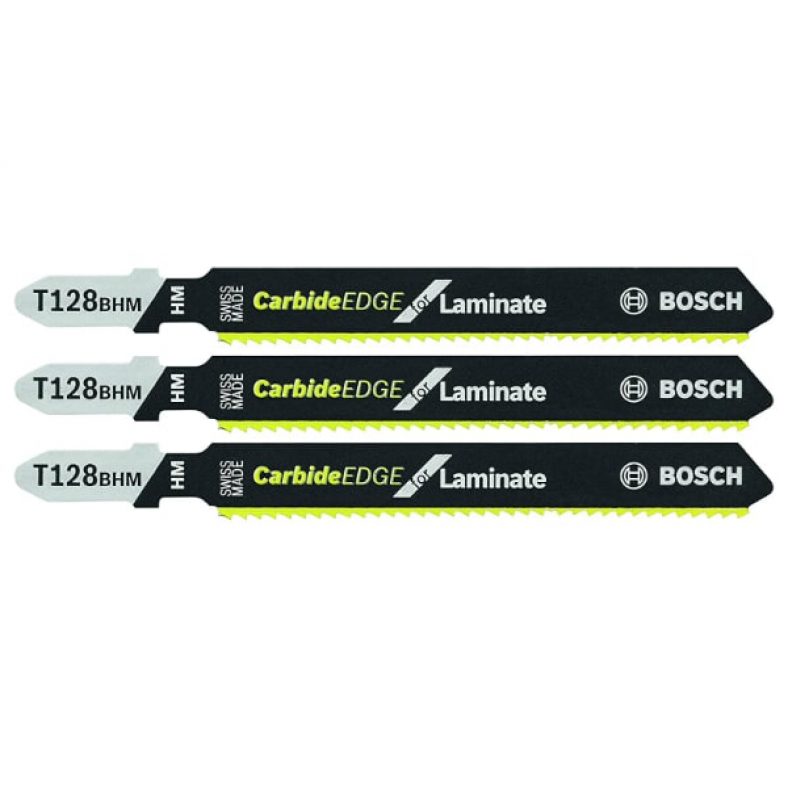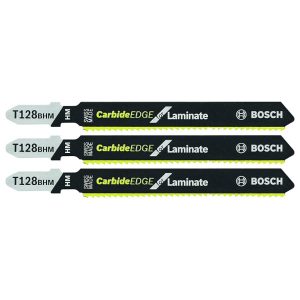 The next model by Bosch is a great and unique deal among other typical products on the market. The pack includes three blades, all sharp and made of high-quality material. They were created with the use of carbide brazing which gives all three blades extra strength and durability. These saw blades were produced by a well-known company on the market that sells professional instruments around the world.
There are various options for you to choose from on the product page. For example, in case you want to change the style, you may opt for the product intended for such materials as stainless steel, laminate, carbon fiber, or all-purpose items at once. You can also choose the size of the carbide strip. However, I recommend you to use 3-5/8 14 TPI Carbide Stip – 3 pc, you can choose 1 pc, or try other sizes. This material is strong enough to handle 10 times more tension at work than similar blades. T128BHM3 Jig Saw Blades have incredibly sharp teeth, which guarantee thin and clean cuts. Together with specifically designed thin kerf, these teeth provide smooth and easy use without overheating. There are no chips in the cuts due to the 14 TPI.
---
PROS:
Beautiful design
Savvy offer
Carbide brazing leading technology
Thin blades
The 14 TPI
CONS:
Small size
The item requires extra care
---
11. Amana Tool MA10080 Circular Saw Blade – a Perfect Choice for Plastic and Laminate Flooring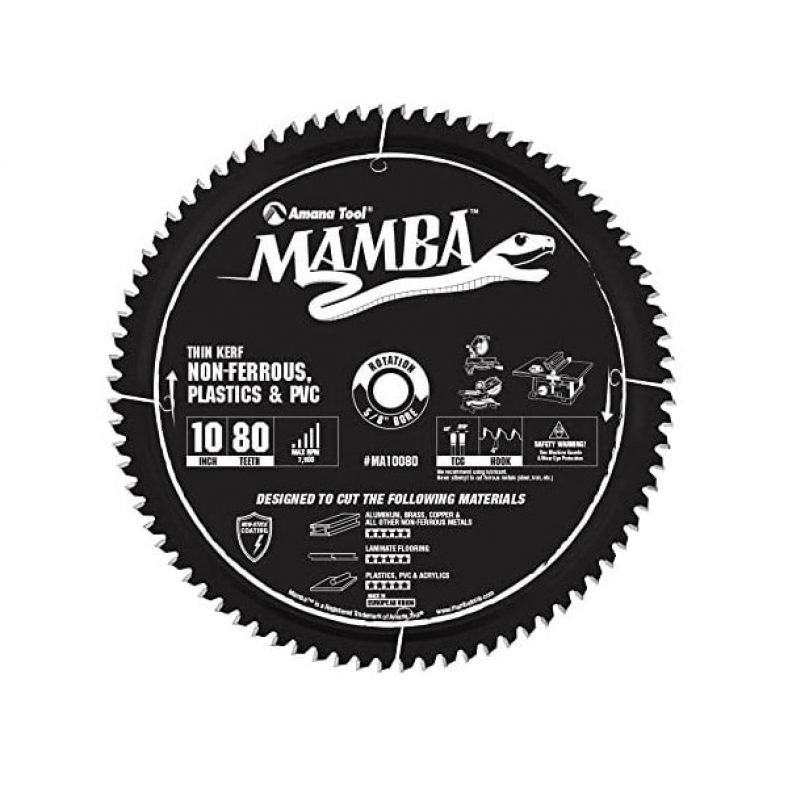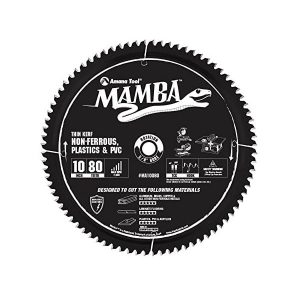 Amana Tool is a carbide-tipped saw blade that is compatible with radial arm, table, and miter types of saws. It is made of high-quality durable material. While developers claim that they have created a perfect tool for contractors, I believe that even unprofessional workers can use it. Just watch your hands while you use this item! The product was developed by Amana Tool, a company that sells instruments for woodwork. You may check all the products on their Amazon page.
There is no extra friction as the saw blade is covered with a special non-stick coating. Also, it protects the product from rust. The saw blade works well with plastics, Plexiglas, aluminum, coroplast, acrylic sheets, Teflon, and laminate flooring from plastic. This blade is made with a thin kerf so the cuts are direct and thin. There is almost no noise from the blade's work. The vibration is eliminated due to carbide material. Usually, these saw blades can be seen in professional wood workshops. They are perfect for a huge amount of work. This product is highly durable as well. Developers give a lifetime guarantee for their work.
---
PROS:
Compatible with various saws
Works with numerous materials
High-quality coating
Lifetime guarantee
---
Which Saw Blade to Choose?
Take your time and examine my review of each of these saw blades. They all are different in some way and have numerous similarities as well. I prefer to recommend products I have tried myself. It does not mean that I own them all now, but I had a deal with every item described here. Your choice may depend on several factors that you have to keep in mind:
Quality of material;
The durability of the blade;
The size of the item;
The number of teeth may be vital depending on the materials you want to cut through;
The compatibility with various saws may be important as well if you already have a saw. If you want to buy
it after you purchase blades, you'd better choose the one that is the most beneficial for it;
The type of material you are going to cut;
The price is important as well, especially if you don't have much work, and the saw will be laying in the box all of the time.
Share your personal preferences in the comments below. If you have already tried one of the saw blades on the list, express your opinion. I will be grateful for all your honest thoughts on the topic.
Related posts:
1. 8-inch table saw blade
2. 9-inch table saw blade
3. 10-inch table saw blade
4. 12-inch table saw blade