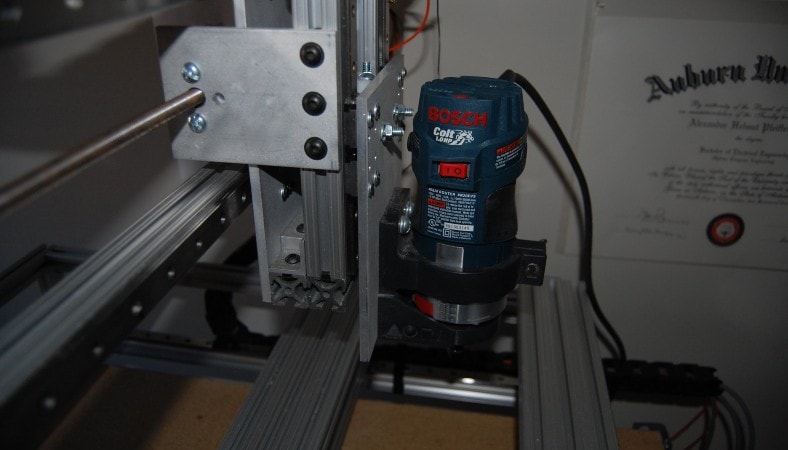 A wood router is an irreplaceable tool for any professional or amateur woodworker. It can successfully replace a file, jigsaw, drill, or chisel and will help you create beautiful wood products. A wood router was designed to work with various types of wood, but modern machines adapt to our realities and can also cope with chipboard, laminate, and other materials.
Not everyone wants to buy the most expensive models of wood routers. Sometimes you need some quality yet affordable options. But it may be difficult to choose the best budget wood router. A low price is considered to be the first sign of a poor-quality device. But that's a myth. In the rating of wood routers, some models are decent, worthy, and can be purchased for relatively little money.
Top 5 Budget Wood Routers
If you are now struggling with the problem of choosing a wood router but have a limited budget, I want to help by sharing my experience. Here I'm presenting my top 5 budget wood routers that are no worse than some of the more expensive models.
1. Makita RT0701C: Best Budget Router Tool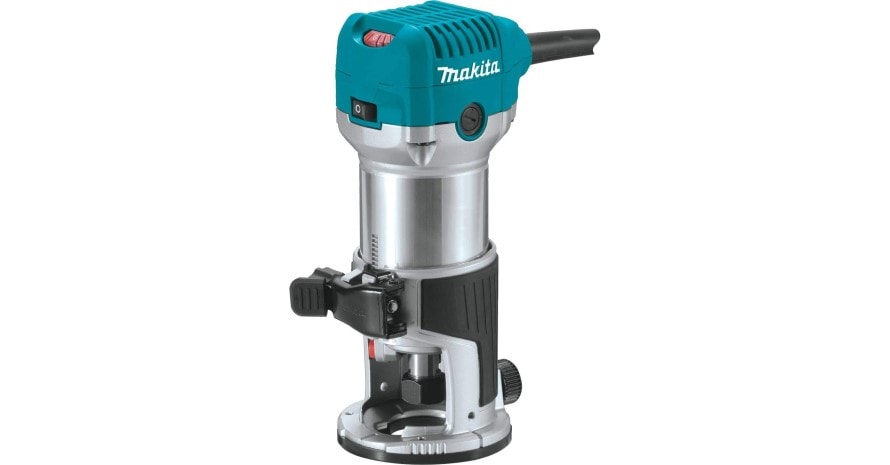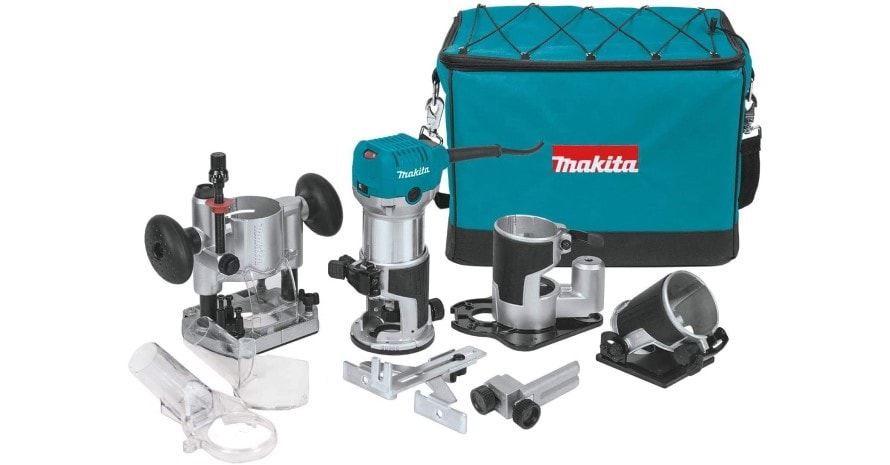 You probably have already heard about the Japanese brand called Makita Corporation. It's a worldwide-known company that has been providing power and gasoline tools for more than 100 years. They produce around 350 types of hardware tools, and Makita's wood routers are known for their quality and durability. Let's talk about the Makita RT0701C model — the best wood router for the money.
With a motor of 120V 6.5 Amps and 1.25 HP, this Makita RT0701C wood router has enough power to get the job done. Meaning that even though it is not the most powerful kind of motor among wood routers, Makita RT0701C is enough to do all kinds of work. The variable speed of Makita RT0701C is 10,000 to 30,000 RPM. So you can change the speed in accordance with the material you are working with. A great advantage of this tool is the electronic speed control.
The base plate of the Makita RT0701C model is fixed, but you can choose the plunge one if needed. This good wood router has a great and well-thought design. Its weight is only 3.9 lbs with the dimensions of 10.00 x 8.00 x 6.00 inches. The tool fits great in hand, so you are unlikely to get too tired even after working for a long time.
---
PROS:
Great design;
Plunge base;
Soft start motor.
CONS:
No LED lights;
The absence of the power switch dust shield.
---
2. Bosch Colt Router PR20EVS: Runner Up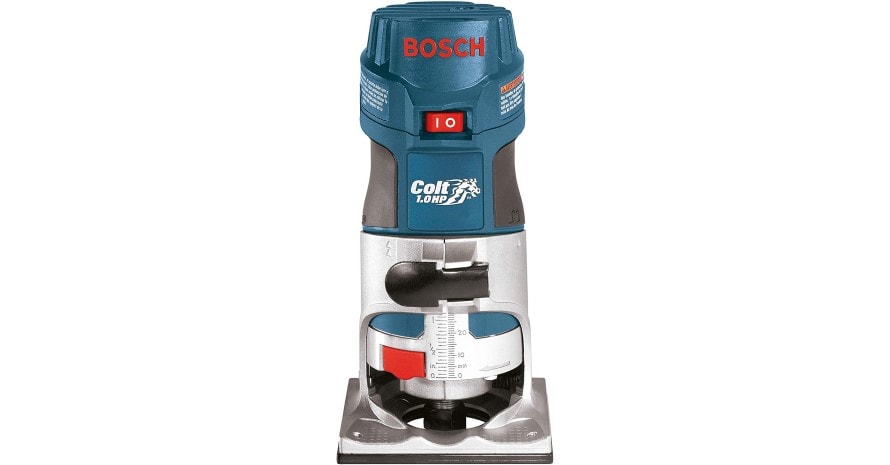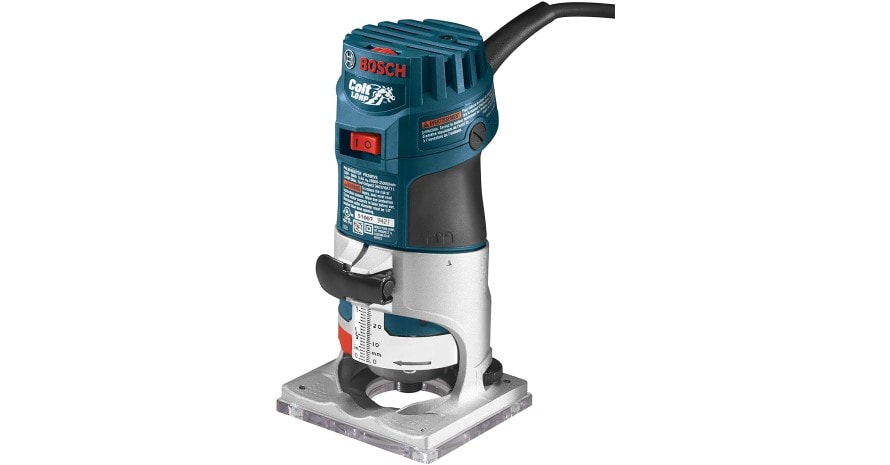 Practically everyone has heard about the Bosch company nowadays. It is a German-based technology and engineering brand. It has been providing very quality and durable products for more than a century now. Bosch Colt Router PR20EVS can often be found among top-rated woodworking routers and is considered to offer great value for money. It is indeed one of the best cheap wood routers I have worked with.
The motor of Bosch Colt Router PR20EVS features 6.5 Amps and 1 HP. For a compact tool such as a Bosch router, this amount of power is enough. The variable speed is from 16,000 to 35,000 RPM.
This wood router is extremely lightweight — only 3.3 lbs. The dimensions of this product are 9.41 x 7.43 x 4.7 inches, so it's pretty small. The aluminum fixed base of the Bosch Colt Router PR20EVS helps with the durability of the product. The depth of its cut is 1- 3/16 inches.
I have found this wood router to be a great option for both amateurs and professionals in woodworking. It has some design problems that did bother me, but the advantages of this tool prevail.
---
PROS:
Powerful enough;
Lightweight;
Durable.
CONS:
Some design flaws — the absence of the center lines on the base;
Not too comfortable to use — may be slipping.
---
3. Ryobi R1631K: Inexpensive Wood Router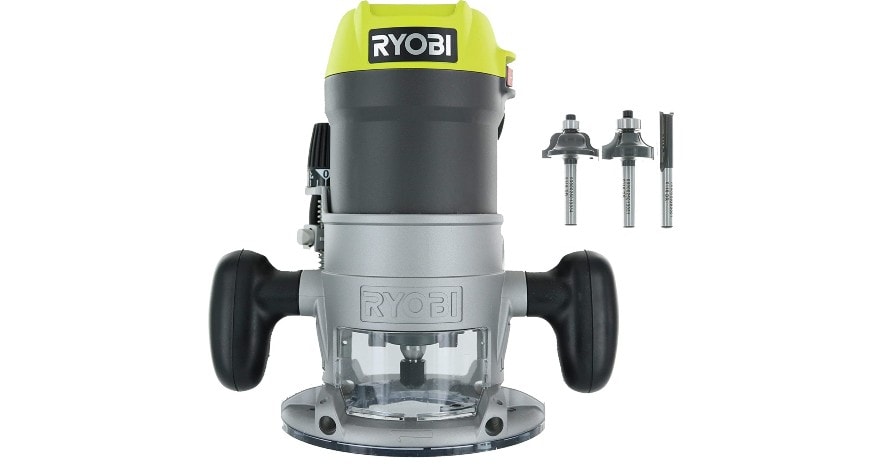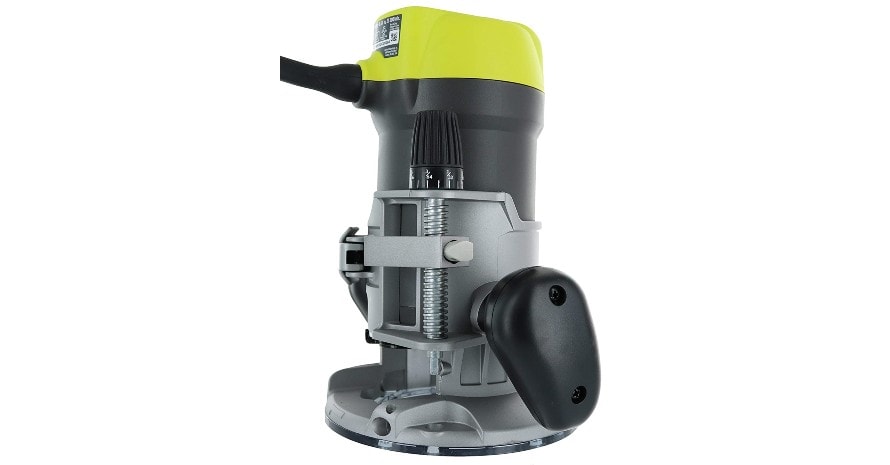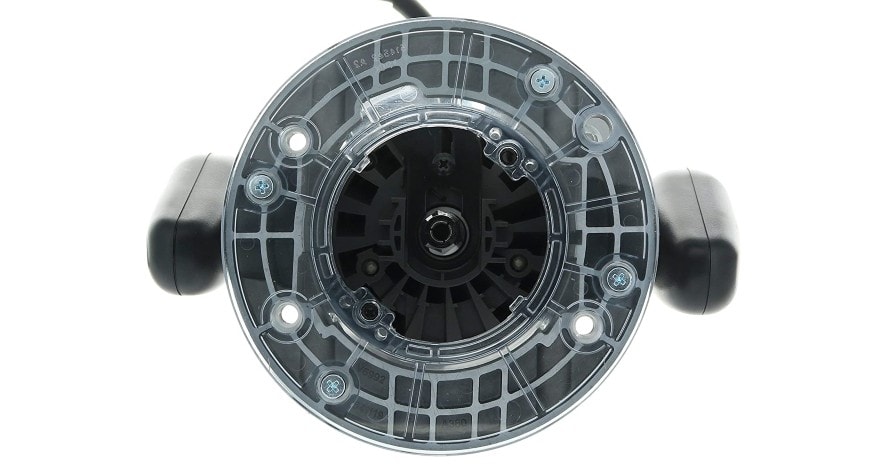 Ryobi is a popular Japanese company specializing in components for the telecommunications, electronics, and automobiles industries. Ever since its founding in 1943, it has been considered the world's largest outdoor product, builders' hardware, and power tool manufacturer. Ryobi provides great wood router deals. A very decent affordable option of great value is Ryobi R1631K.
The Ryobi R1631K wood router is an 8.5 Amps kit with a speed of 25,000 RPM. All of these and the motor of 8.5 HP guarantee enough power for doing a great job. The great design of this wood router provides built-in LED lighting that will help you to see the cut while making it. Also, dual handles make it easy to use the tool and are great in preventing the aches. It comes in two colors: black and green. The weight of the Ryobi router is 6.5 lbs, which is not that lightweight but can be forgiven considering the power of the motor. The size of the router is bigger than the previous models, too; its dimensions are 11.4 x 7.09 x 10.47 inches.
---
PROS:
Powerful;
Great design with LED lighting and comfortable handles;
Second defense layer.
CONS:
The owner's manual is a little difficult to understand;
Not lightweight.
---
4. Enertwist ET-RT-710S Router: Best Small Hand Routers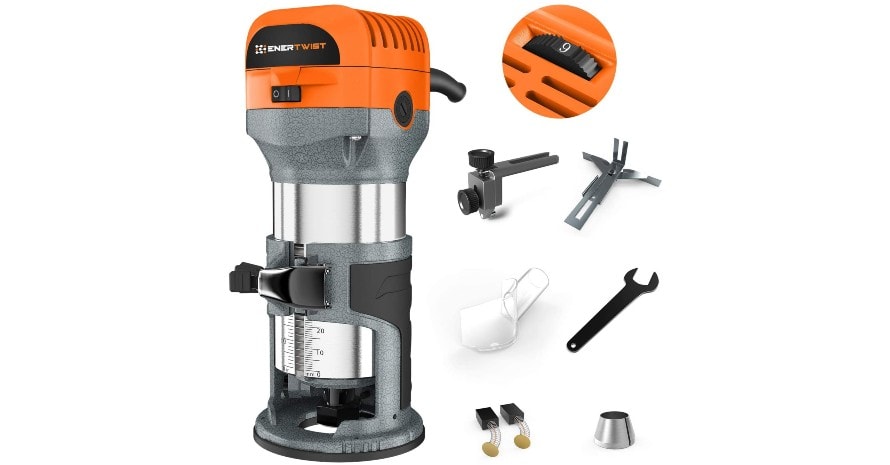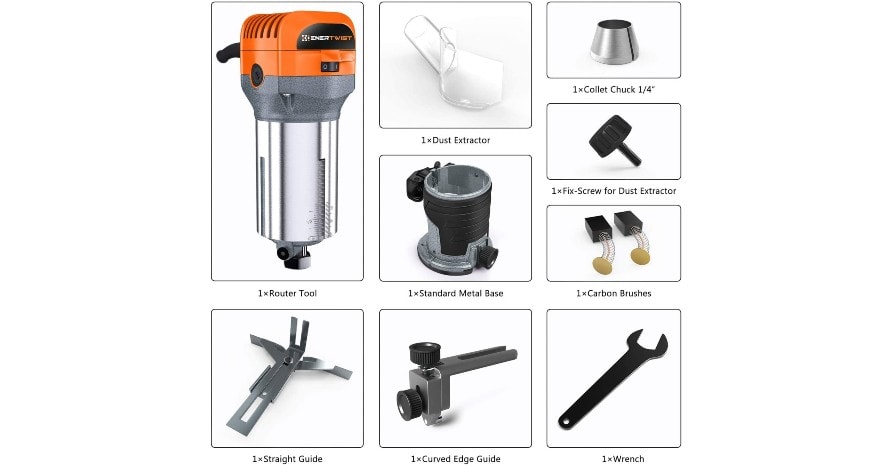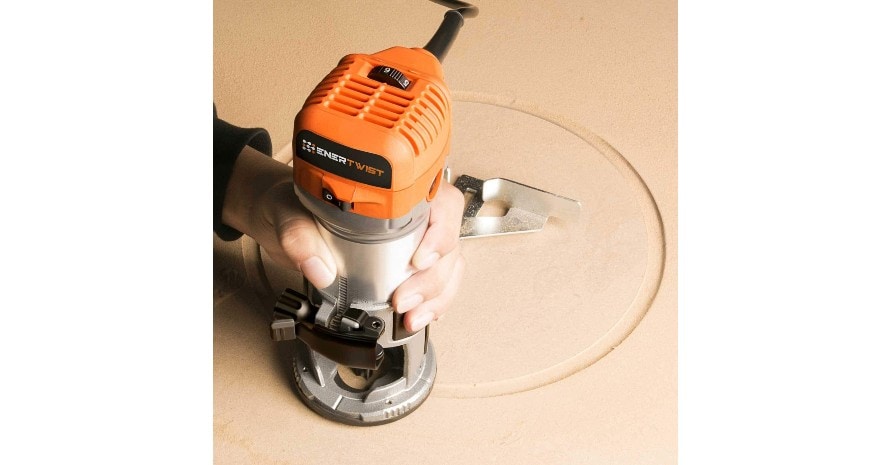 Enertwist itself is a company known for its variety of power and garden tools. Their products are considered to be very affordable and durable. One of the great models of wood routers is produced by the Enertwist company — Enertwist ET-RT-710S Router.
This option is one of the smallest ones. With a weight of 6.16 lbs, its dimensions are 10 x 8 x 6 inches. These features provide the router with portability. This compact wood router can be a perfect option for some small domestic tasks. The variable speed is from 10,000 to 32,000 RPM. It has 7 Amps and 1.25 HP. This is less power than all the previous models I've mentioned, but this Enertwist ET-RT-710S Router will still be enough for amateurs.
The cast aluminum housing of the tool provides durability, while the soft-grip handle reduces the vibration and contributes to comfort. The great design of the Enertwist ET-RT-710S Router makes the tool not only convenient but also very easy to use.
---
PROS:
Portability;
Amazing design of the tool;
Comfortable to use.
CONS:
The power is enough only for some small domestic tasks.
---
5. Goplus Wood Router: Great for Household Purposes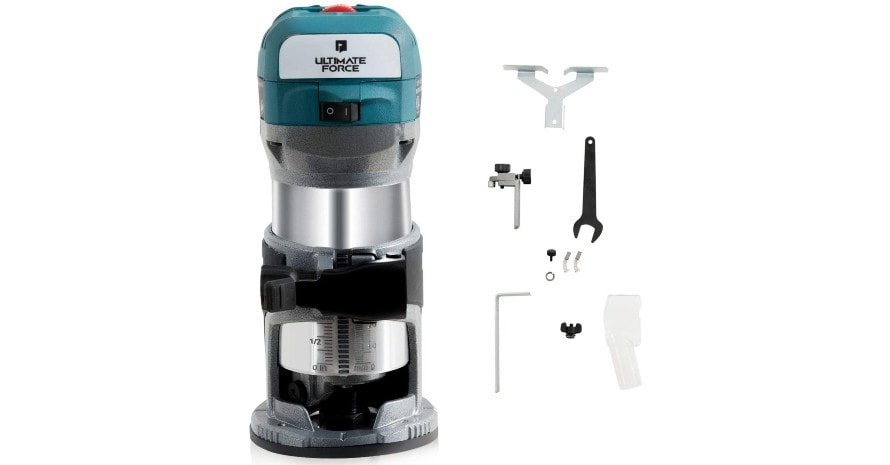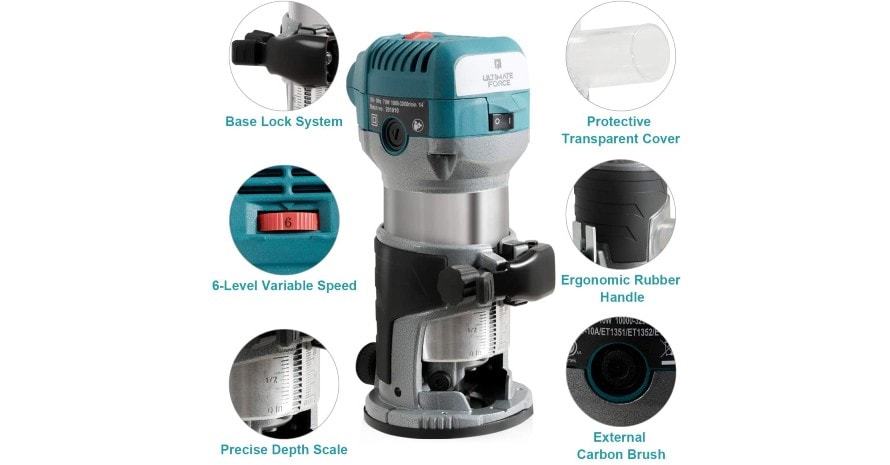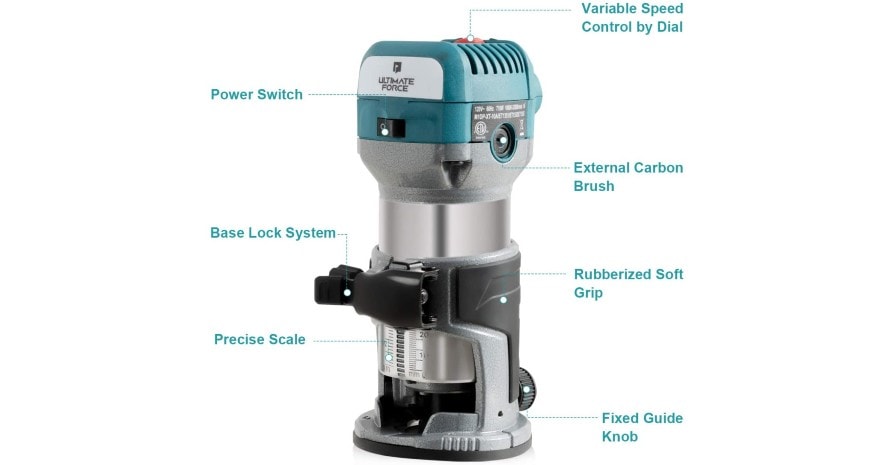 Goplus is not only a well-known supplier of different tools and automotive products. This brand also provides a great variety of seasonal, outdoor, garden, and fitness products. A great example of Goplus' reliability and affordability is the Goplus Wood Router, which has been receiving good ratings since its release.
This router is a great option: with a motor of 6 Amps and a variable speed of 10,000 — 32,000 RPM, Goplus Wood Router is perfect for household purposes. Of course, this amount of power will most likely be insufficient for some professional usage.
The router is made of high-quality nylon and aluminum, which provide the durability of the product. The weight is 30.5 lbs, which is quite a lot, so the wood router is not that easily portable with the dimensions of 10 x 8 x 6 inches.
---
PROS:
Durability;
Quality of materials;
Nice design.
CONS:
Not powerful enough;
A little heavy.
---
Buyer's Guide: How to Choose a Wood Router
For beginners, choosing a wood router may become a challenge. There are lots of aspects and features of a wood router that should be taken into consideration. In order for the tool to cope with all the tasks assigned to it effectively, you should know how to choose such a device correctly.
You should also have an idea of its design features, technical characteristics, and types of equipment that can be used with the device. It is easy for professional woodworkers. However, if you're an amateur or only starting woodworking, researching this amount of information on your own may be confusing. So I tried to gather and organize some info that will help you choose the right wood router for you.
Wood Router Types
The difference between various types of wood routers is in the design features, lifespan, purpose, and scope. Some of them are quite versatile, while others are professional devices with narrow specialization. The most popular are the following models.
Fixed base routers
Fixed base routers are usually more suitable for beginners in woodworking. These kinds of routers are easier to maneuver, so they are perfect for the newbie. As you have probably figured from its name, the fixed base router's position is fixed on a bench or special table for routers. Fixed base routers are perfect solutions for projects that require precision straight lines.
Before starting the fixed base router, you have to set the needed depth of its blade. The adjustable system allows you to set it in accordance with your projects. A great plus is that this tool does not require a lot of maintenance, so, again, this is a perfect option to choose if you're a beginner.
Plunge router
This machine is mainly suitable for experienced woodworkers and professionals in this field. The plunge router is a great choice for performing some challenging tasks. It also can easily hold a lot of loads. The huge advantage of the device is its versatility.
Just like with the fixed base one, this kind of router has an adjustable depth of cut for accuracy. Safety is important in woodworking, and plunge routers are very reliable in this aspect. But if you are already used to fixed base routers, the plunge router probably won't fit you since you can't adjust it with a router table.
Combo router kits
This kind of router provides a combination of the plunge and fixed base routers. To replace it, all you need to do is to remove the engine from one kind of base and put it on the other kind. Of course, to do it right, you have to go through the owner's manual carefully.
What to look for in a wood router?
It may be difficult to choose the right router for amateur woodworkers. The main question is: what to look for in the tool, which of the features are the most important? So here is a list of what to look for in a wood router that will help you with this challenge.
Power
The capabilities of the router are largely determined by the power of the electric motor with which it is equipped. The optimal value is 1800-2000 W. If you require a router for occasional manipulations in the garage or the household, a 600-700 W model will be suitable.
Spindle speed
The higher the rotational speed of the cutter, the higher the quality of the processed surface. If high accuracy is required, it makes sense to work at lower RPM. The spindle speed of most milling cutters ranges from 20,000 to 30,000 RPM.
Milling depth
The milling depth of a wood router is one of the most important features that demonstrate its functionality. The longer the working cutter stroke, the deeper it can plunge into the material to be cut, the thicker the parts can be processed.
Soft start
Powerful professional routers are often equipped with a soft start system. Thanks to this function, the engine picks up speed gradually, which eliminates a sharp jerk of the rig when switched on.
Overload protection system
If the temperature of the winding of the electric motor exceeds the critical mark, the overload protection system will start working. This function can be implemented in different ways for different models — from a simple light indication to automatic power off.
FAQ About Wood Routers
Choosing and maintaining a wood router is not easy, so people have a lot of questions about them. I have compiled and answered the most popular ones. It is better to be familiar with this information before buying a wood router.
What are the main safety precautions for using a wood router?
Here are the most important safety precautions, but be sure to check the owner's manual for more.
First of all, you can use only sharp cutters. You can even feel the sharpness of the cutter by gently touching the tip of your finger to the tip. If the cutter is sharp, then its tip will stick slightly to the finger.
Every time, before you start work, check whether the power cord, plug, and socket work properly. Also, do not forget to clean your tool from the previous wood dust.
Always wear dust-proof goggles when carrying out any work with the electric hand-held milling cutter. And in production conditions, with large volumes of work, it is advisable to use a respirator, noise protection headphones, and exhaust ventilation.
Also, while starting any milling, you must first set the milling cutter in motion and only then insert this cutter into the wood. Lastly, before replacing the cutter in the device, it is necessary to unplug the power plug from the socket.
How long do budget wood routers last?
It is impossible to foresee the lifespan of a wood router. However, for sure, it depends not on the price but the quality. That is why it is so important to check out all the technical specs and features of the tool before buying it.
Follow all of the safety precautions, and going through the owner's manual will also help your router to last longer. The maintenance is important, so be sure to use the router right and do not overload it.
How deep can a plunge router cut?
Milling depth is one of the most important parameters of the tool. The depth of the cut is always up to a particular model of a wood router. There are some that can plunge up to 2 3/4-inches.
Should I buy a plunge or fixed base router?
Fixed base routers are usually more suitable for beginners, while plunge ones fit experienced woodworkers. So if this is your first router to buy, the fixed base router is a great choice. However, there are still combo router kits that combine both of these kinds.
Find the Best Value Router Tool for Your Budget
It is clear that nowadays, the 'value for money' concept does not work as it was supposed to. There are lots of products, wood routers in particular, that are affordable yet of high quality. My top pick of the budget wood routers is Makita RT0701C, with its great design, power, portability, and durability. Which one have you found as the best option? I hope this review was useful to you. Let me know about your experience with woodworking in the comments. Which budget wood routers do you prefer?