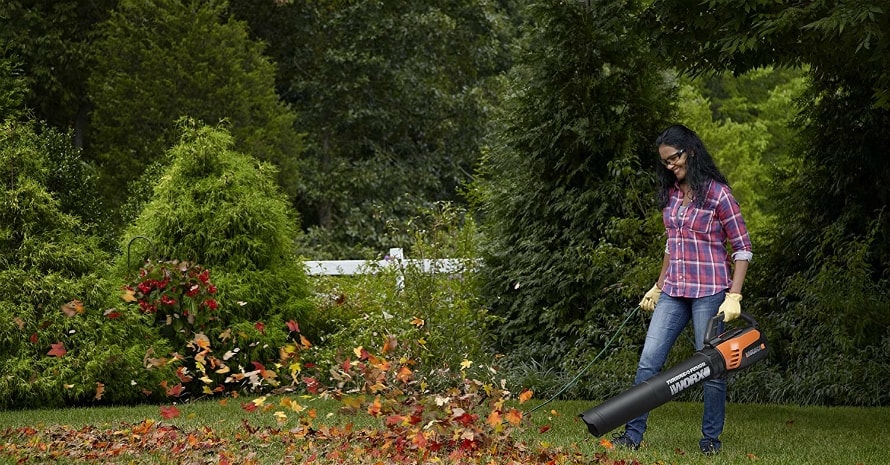 If you live in the suburbs and have a backyard, you probably know that the right garden tools will help make the cleaning process faster and more comfortable. Especially in the fall, when leaves constantly fall from the trees. To save yourself from the exhausting work, you can use a leaf blower vacuum.
With this device, you can quickly collect fallen leaves even from the most inaccessible places, for example, from bushes or flower beds. Some models also have a built-in shredder; crushed leaves can be used as fertilizer.
If you are looking for the right tool for your garden, this article is for you. I have compiled 10 leaf blower vacuum reviews to help you choose the perfect device. There are efficient models on my list that differ slightly in their functions, technical characteristics, and price so that each reader can choose the most suitable machine.
There is also a small but comprehensive buyer's guide that you can use in your search for an excellent tool to deal with fallen leaves, both on the Internet and in offline stores.
Top 10 Best Leaf Blower Vacuum Reviews
To enjoy working in the garden, pick high-quality tools. On my list, you will find only such types of items. In addition to high productivity and functionality, these devices have another important quality — they are all eco-friendly since they run either on batteries or the mains.
1. Greenworks 24322
The weight of the tool with the battery is 5.6 lbs. Thanks to its lightweight and compact size, it is easy to handle. Besides, it emits little noise and vibration, even when operating at the highest speed (there are six speeds in total). The device is suitable for cleaning small areas (up to 1/4 acre) and can handle even wet leaves.
GreenWorks leaf vacuum is equipped with a convenient handle that has all the necessary buttons: on/off, turbo, and a speed wheel. To switch from the blower to the vacuum mode, you need to remove the damper at the bottom of the device and insert the right pipe.
Specifications:
Power Source: Battery Powered
Item Dimensions: 32.5 x 8.5 x 11 inches
Item Weight: 5.6 Pounds
Speed: 185 Miles per Hour
Air Flow: 340 Cubic Feet Per
What's included:
Greenworks 24322 G-Max Digipro Brushless Blower/Vac

40-Volt 4Ah Battery

Charger

Bag

Operating Instructions
It also does a good job of shredding garbage. However, it is worth noting that the impeller is made of high impact plastic, not metal.
---
PROS:
Lightweight;
The battery lasts up to 60 minutes;
Easy to clean.
CONS:
The vacuum mode is not very powerful;
The impeller is made of plastic.
---
2. Worx WG509 TRIVAC
WORX WG509 TRIVAC combines the capabilities of a blower, a vacuum cleaner, and a mulcher. For switching between these modes, there is a convenient switch near the handle; you do not have to change the nozzle or install additional parts to change the mode.
Worx leaf vacuum has only two speeds for different types of surfaces — 75 MPH (for asphalt, and gravel) and 210 MPH (for the lawn). The volume of blown air is up to 350 CFM. This tool works from the mains; however, the power cord is not supplied. It has only a short 12 inches cable, which you will have to supply with an additionally purchased extension cord.
Although this model has an ergonomic design, it is quite heavy (9.4 lbs). The bag has a special shoulder strap that partially removes the load from your wrist to make it more convenient to carry it with one hand. A distinctive feature of this device is a universal curved tube.
Specifications:
Power Source: Corded Electric
Item Dimensions: 20 x 15 x 9 inches
Item Weight: 11 Pounds
Speed: 210 Miles per Hour
Air Flow: 350 Cubic Feet Per
What's included:
(1) – TRIVAC BLOWER/MULCHER/VAC

(1) – DEBRIS COLLECTION BAG
It is suitable for all operating modes, and thanks to a tilting design, it can penetrate even in inaccessible places. A metal shredder effectively copes with garbage of any size, cutting it in a ratio of 18:1. If it clogs, you can easily clean the device with the click of one button.
---
PROS:
A curved tube can penetrate even hard-to-reach places;
There is an auxiliary shoulder strap;
High mulch ratio.
CONS:
A bent pipe may clog more often;
Heavy.
---
3. BLACK and DECKER LSWV36
The Black and Decker leaf vacuum has all the features and functions essential for gardening. A lithium battery (1.5 Ah capacity), a charger, vacuum and blow tubes, and a bag for collecting garbage are supplied with the tool. The machine runs without stopping for about 30 minutes, and for a full recharge, it takes about one hour.
It is a really convenient device. It will be easy for you to manage it since the item weighs only 6.9 lbs (along with a bag for a vacuum cleaner mode), which means that it does not burden the shoulders. The vacuum has anti-vibration technology so that your hands do not get tired during prolonged use. Depending on the type of garbage, you can adjust the airspeed (up to 120 MPH).
Since the device runs on battery power, it is not the most powerful in its niche (it can hardly cope with wet leaves and blows out air with a volume of only 90 CFM), but it can be called one of the quietest.
Specifications:
Power Source: Battery Powered
Item Dimensions: 14.63 x 10.63 x 6.31
Item Weight: 3.06 Pounds
Speed: 120 Miles per Hour
Air Flow: 120 MPH
What's included:
LSW36 Cordless Sweeper/Vacuum

(1) LBX1540 40V MAX* Lithium Ion Battery

(1) LCS36 Fast Charger

(1) Blow Tube
All tools that run on batteries or use cords are considered environmentally friendly. Such a device does not throw any harmful waste into the air. Moreover, you do not need to think about mixing fuel and breathing in unpleasant fumes.
---
PROS:
Works quietly;
Lightweight;
It has anti-vibration technology.
CONS:
Not the most powerful model;
The battery life of only 30 minutes.
---
4. Greenworks 24022
Greenworks 24022 is another great tool from the Greenworks company. Only this model is corded-electric. The maximum airspeed it can produce reaches 230 MPH with a volume of up to 375 CFM. Unlike many other similar devices, this one comes with an extension cord as a set.
So you don't have to burden yourself with finding the right cable. However, the GreenWorks leaf blower vacuum does not have a cable hook, making it possible to pull it out during a sudden movement. For both blower and vacuum modes, there is a two-speed controller.
This model is heavier than most hand tools; its weight is 9.26 lbs. Despite the convenient handle and ergonomic design, such a device will not be easy to carry in one hand for a long time. The tool is powerful enough to pull in small stones.
Specifications:
Power Source: Corded Electric
Item Dimensions: 32.72 x 8.66 x 11.38
Item Weight: 9.26 Pounds
Speed: 230 Miles per Hour
Air Flow: 375 Cubic Feet Per
What's included:
Be careful when handling gravel paths as pebbles can damage the fan. The built-in shredder uses a metal impeller and grinds garbage in a 10:1 ratio. It can chop not only leaves and light garbage, but also small tree branches and even cones.
---
PROS:
Simple to maintain;
High performance;
Extension cord included.
CONS:
There is no hook to lock the cord;
Pretty heavy.
---
5. Toro 51621
The Toro 51621 is a more efficient model compared to the previous Toro product. They are similar in shape and basic characteristics; however, the shredder in this device works much better.
It can grind the leaves into the smallest crumbs and reduce the total amount of garbage by 97%. The device copes well even with wet leaves, and the pipe clogs less. That is why this model is slightly more expensive, but it is the most productive item in this company's entire line of vacuums.
Thanks to a powerful motor, the device accelerates air to 250 mph with a volume of up to 410 CFM. If necessary, you can reduce the speed with the help of a convenient controller depending on the type of garbage you work with.
Tubes for various works and a bag for collecting garbage (it is large enough to store the device in it) are supplied with the device, but you will have to purchase an extension cord separately.
Specifications:
Power Source: Corded Electric
Item Dimensions: 45 x 9 x 14 inches
Item Weight: 8.9 Pounds
Speed: 250 Miles per Hour
Air Flow: 410 Cubic Feet Per
What's included:
The working tube of this Toro leaf blower vacuum is elongated, which is why the device itself weighs 8.9 lbs. If it is difficult for you to hold the device with one hand, you can put a belt from the bag on your shoulder to reduce the load on your arm or carry it with both hands. Unlike many other devices, this one has a fairly large handle.
---
PROS:
Powerful;
Perfectly crushes almost any garbage;
You can hold it with both hands.
CONS:
An extension cord is not included;
Heavy.
---
6. Remington RM1300
The Remington RM1300 is powered by the mains and accelerates 350 CFM's airflow up to 150 mph. The cable is not included. Although it is not the most powerful device, it has several advantages. In particular, it is one of the lightest tools on my list; it weighs only 4.03 lbs.
It has a fairly wide tube that ensures that no debris gets stuck inside. This Remington leaf blower vacuum is excellent for cleaning not only the garden but also apartments from construction waste. This model has a special "sliding" nozzle with small wheels. It glides on flat surfaces and provides perfect cleanliness.
There is a speed switch (the device has a two-speed drive) and a cruise control button to maintain a constant airflow. You do not need to change nozzles to switch between modes; just use the Quick Shift lever to change the blower to a vacuum cleaner.
Specifications:
Power Source: Corded Electric
Item Dimensions: 30 x 10.2 x 17.6 inches
Item Weight: 4.03 Pounds
Speed: 150 Miles per Hour
Air Flow: 350 Cubic Feet Per
What's included:
RM1300 Mulchinator

Vacuum Kit

Attachable rolling nozzle

Operator's Manual
A built-in shredder with a metal impeller cuts debris in a 10:1 ratio. A large bag for collecting garbage (7 gallons) will let you work without stopping for a long time. It is easy to clean thanks to the large zipper at the bottom.
---
PROS:
Lightweight;
The device has a nozzle with wheels;
It features a large garbage bag.
CONS:
Low-power;
A cable is not included.
---
7. WORX WG510
WORX WG510 is a 3-in-1 potent tool. This 9.3 lbs unit can accelerate airflow to 65 mph, but the wide tube provides up to 525 CFM. This indicator is one of the highest on my list.
The WORX company used turbine fan technology in this tool. Thanks to assembly without auxiliary tools and easy care, the machine is very durable. Unfortunately, this model does not have a blocking hook for the wire. So make sure that the cord does not fall out of the socket.
Switching between modes can be done automatically. Collect leaves in one place, using the device as a blower, attach a collecting bag to it, and it will switch to vacuum mode. There is a convenient speed controller on the handle and a two-stage metal chopper that will cut any debris in a 24:1 ratio.
Specifications:
Power Source: Corded Electric
Item Dimensions: 40 x 10 x 13 inches
Item Weight: 9.3 Pounds
Speed: 60 or 90 mph
Air Flow: 525 Cubic Feet Per
What's included:
Blower/vac/mulcher

collection bag
Even though the Worx leaf blower vacuum works from the network, it produces a lot of noise compared to similar models. However, since it provides sufficiently powerful airflow, your working time will be short, which means that the neighbors will not have time to get tired of the noise.
---
PROS:
High CFM;
Easy to assemble and maintain;
Automatically switches between modes.
CONS:
Airflow has a low speed;
Noisy.
---
8. Toolman DB2505
If you are looking for a compact model for cleaning apartments or small areas, then the Toolman DB2505 is a great choice. This electric device combines a vacuum cleaner's functions and a blower, though a built-in shredder, as in previous models, is missing.
To switch between modes, just turn the switch, which is located on a handle. The total weight (including the garbage bag) is 6.14 lbs. This model comes with a built-in 6-foot cable, but you may still need an extension cord for gardening.
Due to its compact size and not very long tube, you can use the item even in narrow spaces, for example, for cleaning your car. It is convenient to take on long trips. Using the small wheel on the handle, you can choose one of six possible speeds. The maximum airspeed is 215 mph, with a volume of about 120 CFM.
Toolman leaf vacuum has two-stage protection. To start it, you need to press two buttons. It comes with several nozzles of various shapes, a garbage bag, and a small rubber tube (11 inches) so you can blow out the trash even from hard-to-reach places.
---
PROS:
Very compact size;
There is a built-in cable;
There are many nozzles and a rubber tube in the set.
CONS:
Not very powerful;
There is no mulcher.
---
9. CRAFTSMAN Corded Blower Vacuum Mulcher Reviews
The Craftsman CMEBL7000 leaf vacuum delivers superior performance at an affordable price. The device accelerates the airflow volume of 450 CFM to 260 MPH. It is one of the most powerful manual blowers/vacuums in its niche. Along with this, it is one of the heaviest tools; its weight is 14 lbs.
The developers designed a bag that can be worn on shoulders like a backpack to ease the load on your hands. You do not have to hold the extra weight (a bag full of leaves) with one hand. By the way, the bag's capacity is 14.5 gallons.
The kit comes with pipes and nozzles for various types of work (including a concentrator nozzle for bottlenecks), but you will have to purchase an extension cord for outdoor work yourself. The device is equipped with a useful anti-clog function, which prevents getting stuck in debris inside.
But, unfortunately, in this model, there is no cord lock. Besides, the mulching rate is not the highest; the ratio is only 12:1. For such a powerful device, it would be desirable to use a metal impeller; however, there is a plastic one.
---
PROS:
Capacious backpack bag;
Extra-powerful;
Reasonable price.
CONS:
The heaviest item on my list;
The impeller is plastic.
---
10. Toro 51619
No products found.
Toro 51619 is a corded model that combines three powerful tools at once — a blower, a vacuum, and a shredder. Thanks to the power from the mains, it can disperse air up to 250 MPH with 410 CFM. The kit comes with several tubes for different purposes and a bag for collecting garbage, but it does not have an extension cord.
At the back of the device, there is only a socket (a male connector) for a cable with a two-prong connection; however, you need to buy an extension cord yourself. If possible, take a long wire so as not to be restricted in moving around your yard.
To change the speed in the Toro leaf vacuum model, you use not a wheel or buttons, but a massive knob, which adjusts the speed for both the blower and vacuum mode. The built-in shredder grinds debris by 88%, depending on the type of material.
A metal impeller is installed inside it, which guarantees good grinding quality and tool durability. As for the level of noise produced, the indicator of this model is rather in the middle range, in comparison with similar tools. Moreover, it is quite heavy; its weight is 8.5 lbs.
---
PROS:
Powerful;
The shredder effectively crushes garbage;
Durable.
---
Leaf Vac Blower Buyer's Guide
For you not to rack your brains on how to choose the perfect leaf blower vacuum for a long time, I have compiled a comprehensive guide. Pay attention to the following characteristics:
Power. The power of a device is determined by two indicators: MPH and CFM. The first shows the speed of airflow, the second — its volume. Both of these indicators are important for efficient and quick gardening.
Motor. The most efficient models run on 12-amp engines. Of course, on the market, you can find 10 and 7-amperes ones, but the power of such devices is much lower. Of course, more powerful machines are more expensive, but they are worth it.
Weight. Such tools are made one-handed for better mobility. Therefore, choose a model that you can pick with one hand. Keep in mind that a full collecting bag gives extra weight.
Speed ​​variations. There should be speed controllers on the device. The device should work at least at two speeds. Not every type of surface needs maximum speed. You can damage the gravel path or suck small stones inside the vacuum cleaner.
Impeller strength. This element is made of either shockproof plastic or metal. A plastic impeller usually lacks strength. If your area has acorns, cones, or small branches, they can damage it. But with such solid debris, a metal impeller will do just fine.
Reduction ratio. It is usually indicated as a rate, for example, 10:1. It means that ten bags of leaves can be chopped so that they fit in one garbage bag. The higher this coefficient, the finer the garbage you will get.
Switching capability. I recommend choosing a model where there is a "tool-free" mark. Such devices do not require auxiliary tools to switch between blower and vacuum cleaner modes. It is enough to press one button or turn the lever for that.
Before buying the device, be sure to check if there are any noise restrictions in your area and at what hours you can use noisy appliances.
What is a leaf vacuum mulcher?
It is a universal 3-in-1 tool: a blower, a vacuum cleaner, and a chopper. It lets you blow away leaves in a particular place and quickly collect them in a bag. A mulcher integrated into a leaf vacuum allows you to grind the collected garbage. Not all leaf blower vacuum models have this feature, but it is very useful. Thanks to shredding, the garbage bag fills up more slowly, which means you can work longer. Besides, shredded leaves, cones, acorns, and branches can be used as fertilizer for your plants.
What types of leaf vacuum mulchers?
There are three types of vacuums: gas, electric, and cordless (battery). The most powerful devices are usually gas ones, but at the same time, they are heavy, produce a lot of noise, and pollute the air. Moreover, you will have to make an oil and gas mix for such machines.
Electric ones are more environmentally friendly and cheaper, but for most models, you will have to buy an extension cord, as it is not supplied. Cordless models give the owner greater mobility, but they work for a limited time, and they need several hours to recharge. Compared to gas tools, electric and battery-powered are less powerful, but they produce less noise.
What tips on choosing the best leaf vacuum mulcher?
In addition to the specifications above, consider the amount of work ahead and the area of ​​your yard. There is no need to overpay for an industrial device if you plan to use it only in your garden. If you have really many trees growing on your site, their leaves can clog in the most inaccessible places. In this case, you need a model that comes with different nozzles.
To ease your hands while working with a leaf vacuum mulcher, choose a device that has an anti-vibration function. Think calmly about your strength. Carrying a few pounds with one hand is really hard. Older people or people with disabilities are better off using the lightest device.
Leaf Blower Vacuum FAQs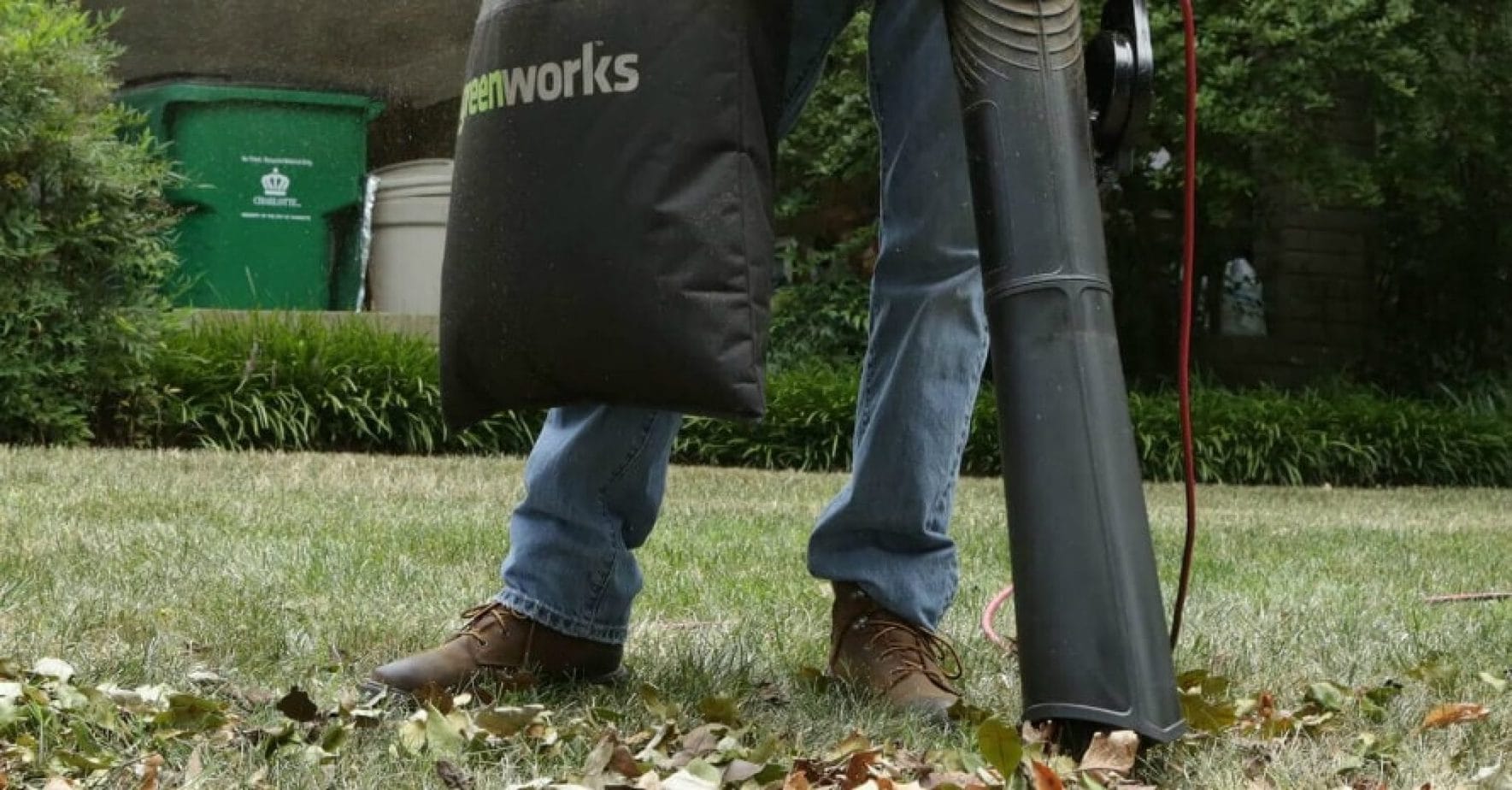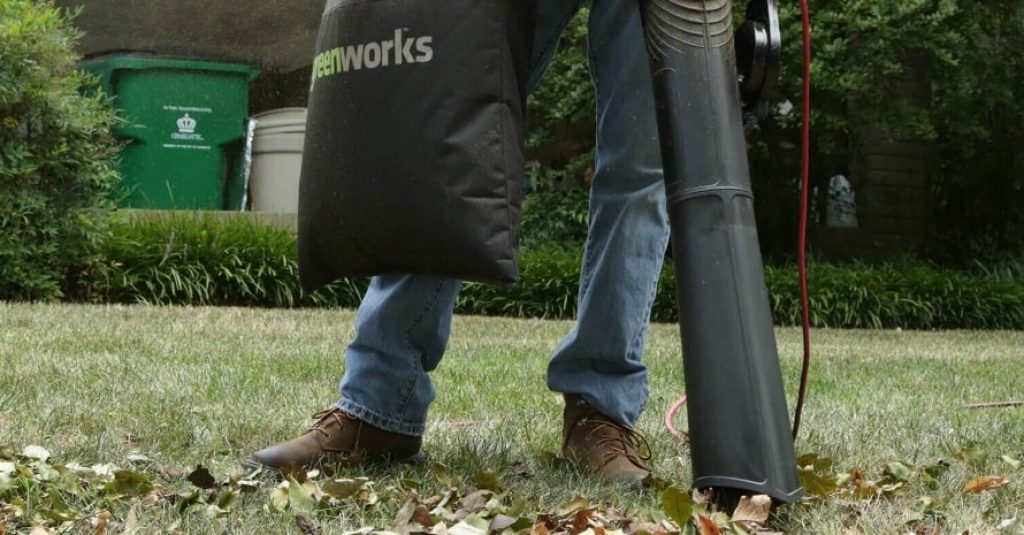 In this section, I will answer the most popular questions about leaf blower vacuums. If you still have questions after reading my article, feel free to ask them in the comments section below.
How to use a leaf blower vacuum?
To get started, get ready for work: charge or connect the device to the outlet, think of an action plan, and put on protective devices (glasses, headphones, gloves). It will be easier for you to remove the garbage if it is collected in several small heaps. Use a blower to blow leaves from hard-to-reach places.
Dry leaves and grass are easier to process than wet ones. Make sure that no stones, gravel, or large tree branches are sucked into the pipe. Do not rush to cover the entire territory of the site at once; move gradually in one direction.
How does a leaf vacuum work?
From a technical point of view, indoor vacuum cleaners' work is not much different from outdoor ones. The only significant difference is that vacuum cleaners for yards are more durable and shockproof.
A powerful engine and fan create a low-pressure area inside the device, due to which air, leaves, and other light garbage are sucked in. Through a long pipe, together with the airflow, they go into a collection bag. So you can quickly clear your lawn, deck, flower beds, and gutters.
What is the best leaf blower vacuum?
Choosing the perfect device depends on your needs, budget, and physical strength. Before buying a machine, evaluate the scale of the work: how many trees are on the site, how many leaves they produce, the processing area, etc.
The power of the device will depend on this. By the way, the most expensive models are not necessarily the best. High-performance appliances can also be found in a budget niche. Choose electric or battery devices. They not only care about nature but also about your wallet. Traditionally, such devices are cheaper than fuel ones.
Enjoy Gardening Only with Quality Tools
Leaf blower vacuums are versatile devices that will become real gardening helpers. They combine the functions of three tools at once: a blower, a vacuum cleaner, and a shredder. Now, instead of buying three bulky machines, you can buy one device.
And thanks to the built-in mulcher, you cannot throw away all the collected leaves, but use them as fertilizer to protect and nourish your plants. I hope my article will help you choose the best leaf collector. Opt for nature-friendly devices that are corded or battery-powered.
Do you use leaf blower vacuums? Do you think such devices (3-in-1) are effective? Or do you prefer to buy three separate machines for each distinct purpose?