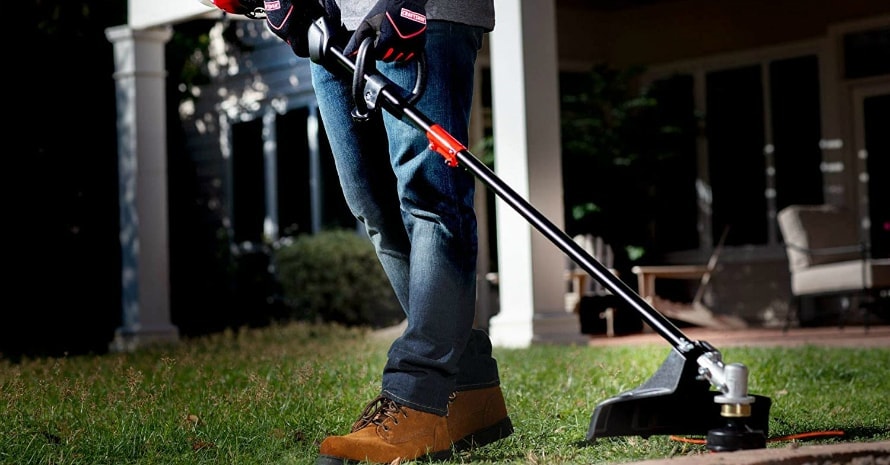 A gas-powered string trimmer is a universal tool for cutting grasstops, weeds, and even thin woody stems. Using this power tool instead or along with your lawnmower lets, you achieve perfect trimming quality even in hard-to-reach areas. A gas engine creates enough force for efficient grass slicing and offers long performance from a single charge as well. By purchasing the best gas weed trimmer for your garden, you achieve enormous cutting power in a relatively mobile form factor.
In this article, I share seven gas trimmer reviews to provide you with a clear idea of different gas trimmer types and capabilities. The market offers light and heavy-duty string trimmers in different price ranges, so you can easily pick up the one that will serve you the best.
While the first type is perfect for lawns and thin weeds, the second can cut even dense underbrush. In the second part of the piece, I share all my knowledge on how to choose and utilize a trimmer properly, depending on your purposes. Read on, and you will be able to shop for your first and best power tool for grass trimming.
Gas Weed Trimmers Reviews – Best Models & Recommendations
For this section, I picked the seven most reliable and cost-effective gas grass trimmer models and wrote a detailed review and recommendations for each one. Read them thoroughly, and you'll be able to choose the best gas weed eater for your purposes without problems.
1. Echo GT-225 2 Cycle 21.2cc – Best Gas String Trimmer
Specifications:
Power Source: Gas Powered 2 Cycle 21.2cc
Cutting Diameter: 14-inch
User-Friendly: Curved shaft 48"
Trimmer Line: 0.95"
Item Weight: 16 Pounds
Echo is one of the top brands on the market of handheld power tools for commercial and personal use. The brand has high-quality support, offers competitive assembly quality, and some of the most reliable 2-stroke engine models with a 5-year consumer warranty and a 2-year commercial warranty. Echo's trimmers are not only powerful but also have low emissions and meet both CARB and EPA standards.
The GT-225 is my favorite lightweight gas weed eater. It combines the compact design of a home-use tool and the heavy-duty sturdiness of a commercial instrument. The weight of the device is just 10 lbs, while the motor power is 21.2cc. It's equipped with a patented i-30 starting technology, which makes it significantly easier to start. The 48" curved drive shart has a sturdy 4-cable drive with a large 16" Rapin Loader cutting head-on end.
What's included:
Echo GT-225 21.2cc 2 Stroke Lightweight Durable Gas Curved Shaft String Trimmer
I recommend this model for all average purposes, including the trimming of large lawns. The curved shaft offers high maneuverability, while the high cutting width lets you cover larger areas in less time.
---
PROS:
Powerful and compact tool;
High maneuverability;
Sturdy 4-cord drive;
Large 16" cutting width;
The lightest gas weed trimmer.
CONS:
The fuel tank could be a bit bigger.
---
2. Husqvarna 128LD 17″ Gas String Trimmer – Powerful Straight Shaft Weed Eater
Specifications:
Power Source: Gas Powered 2 Cycle 28cc
Cutting Diameter: 17-inch
User Friendly:

Tap 'N Go line release feature

Trimmer Line: 0.95"
Item Weight: 11 Pounds
Husqvarna is the largest manufacturer of gardening power tools in the world. This Swedish company has been in business for almost 400 years and has experience in manufacturing not only power tools but also high-quality firearms. Well, this company is older than the US, which is definitely a sign of quality and traditions.
The 128LD is a powerful 28cc straight-shaft machine that comes with a large default 17" trimmer head. The firm string replacement system is a pleasure to use as it lets you change the string fast and painlessly. I think it's a crucial feature for commercial users. Moreover, you can quickly release new cutting lines. Simply tap the trimmer head against the grass to use the feature. I can't say that it works perfectly well, but it's definitely a unique thing to try.
Other benefits of the device include its capability with several attachments, including an edger, a cultivator, and a pole saw. It's an excellent choice for both occasional and professional gardeners who need a bit more power with a straight shaft.
What's included:
128LD Trimmer with T25 automatic trimmer head and manual.
By the way, you can easily detach the shaft for more convenient transportation in your car's boot.
---
PROS:
Straight shaft;
You can release new lines on the go;
COmpatible with different attachments;
2.6-oz of oil is included;
Detachable shaft.
CONS:
The Tap'N'Go feature needs more precision.
---
3. Poulan Pro PR28SD – Best Gas Weedeater
No products found.
Specifications:
Power Source: Gas Powered 2 Cycle 28cc
Cutting Diameter: 17-inch
User Friendly:

Tap 'N Go line release feature, SureFire Fuel Delivery System.

Trimmer Line: 0.95"
Item Weight: 14 Pounds
Poulan Pro is a native American brand and a high-quality sub-brand of Husqvarna. Although this device is based on different engineering approaches than the previous one, it offers the same level of convenience and excellent capabilities. The good news is that Husqvarna shared the Tap'N'Go feature with Poulan so that you can benefit from it with this tool too.
What's included:
While the engine specs are almost identical to the Husqvarna analog, the ergonomics of the model are slightly improved. The shaft holder is much easier to adjust as it doesn't require a screwdriver to release the part and move it to the needed position. It's also very easy to detach the shaft for transportation. This weed eater is excellent for professional and personal use and lets you easily trim hard-to-reach areas.
---
PROS:
Good for hard-to-reach areas;
Easily adjustable hold;
Wide range of settings;
Convenient air purge;
Easy to transport.
CONS:
The warranty could be longer.
---
4. Remington RM25C 25cc – Lightweight Curved-Shaft Trimmer
Specifications:
Power Source: Gas Powered 2 Cycle 25cc
Cutting Diameter: 16-inch
User Friendly: QuickStart technology
Trimmer Line: 0.95"
Item Weight: 13.3 Pounds
Remington is a well-known American manufacturer of power tools that offers excellent quality and reliable support. RM25C is an excellent alternative to Echo GT225 as it offers the same curved shaft and a Husqvarna-style trimmer head with a tap extra line release mechanism.
What's included:
Includes: 1 x Remington RM25C 25cc 2-Cycle 16-Inch Curved Shaft Gas String Trimmer, Orange
It's an excellent device for small and medium lawns as it has low fuel consumption, and you won't get tired by carrying it around without a strap. The only disadvantage is the location of the power circuit switch. Why is it placed away from the handle?
---
PROS:
Lightweight design;
Curved shaft;
16" cutting width;
Adjustable handle;
Tap extra line release.
CONS:
The power switch location is weird.
---
5. Craftsman WS205 25cc – Basic Cost-Effective Solution
No products found.
Specifications:
Power Source: Gas Powered 2 Cycle 25cc
Cutting Diameter: 17-inch
User Friendly: Compatible with the TrimmerPlus multi-yard tool system
Trimmer Line: 0.95"
Item Weight: 16 Pounds
Craftsman is a 93-year-old US-based manufacturer with one of the best customer support services and reliable assembly quality. WS205 is a lightweight device with a small 25cc motor and a wide 17-inch cutting ability. Due to these characteristics and conveniently adjustable design, you can use this trimmer for hard-to-reach places and quick trimming on open areas.
What's included:
The gear head is easy to replace with a variety of nozzles by Craftsman and other compatible brands. However, I'd not recommend using it for brushwood, and similar power-greedy tasks as the engine are designed for grass and dense weeds. Not more. I recommend it to anyone who has a small to medium garden and average trimming purposes. Craftsman offers great value for money and simple exploitation.
---
PROS:
Lightweight model;
Adjustable handle;
Compatible with third-party heads;
Easy to start;
Good price.
CONS:
Warranty length is not mentioned.
---
6. PROYAMA 42.7cc – Gas Weed Trimmer Reviews
Specifications:
Power Source: Gas Powered 2 Cycle 42.7cc
Cutting Diameter: 17-inch
User Friendly: Start system Easy Recoil
Trimmer Line: 0.95"
Item Weight: 21 Pounds
Similarly to COOCHEER, PROYAMA offers an extra-powerful heavy-duty tool with a large variety of capabilities. In fact, it's a full-value brush cutter that can be used as a conventional trimmer. The tool has a convenient U-shaped handle and a full-shoulder strap system that makes it a pleasure to carry the tool the whole day long.
What's included:
1 x 42.7cc powerful main unit
1 x nylon head
1 x 3T Blade
1 x 40T Blade
1 x chainsaw tooth 9″ brush Blade
1 x trimmer line
1 x vibration reduction shoulder harness
1 x ear defenders
1 x safety glasses
1 x protective gloves
1 x tools kit bag
1 x 1.2L fuel mixing bottle
1 x instruction
In addition, the package includes a load of surprising bonuses, including protective glasses, on-ear noise protection, gloves, and 3 extra blades. Using a wrench, you can easily turn the trimmer into a powerful brush cutter with a 40-tooth carbide blade, star-shaped blade, or the monster chainsaw chisel blade that can easily cut through dense brushwood.
---
PROS:
Universal multi-item kit;
Powerful engine;
Brush cutter capabilities;
Good value for money.
CONS:
Metal quality could be a bit better.
---
7. COOCHEER 42.7CC 2-Cycle String Trimmer – Gas Weed Eater Reviews
No products found.
Specifications:
Power Source: Gas Powered 2 Cycle 42.7cc
Cutting Diameter: 17-inch
User-Friendly: Curved shaft 62.2"
Trimmer Line: 0.95"
Item Weight: 22 Pounds
This brutal weed eater is equipped with a powerful 42.7cc 2-stroke power unit and an extra-long 62.2" straight shaft. Of course, the item is notably heavier than the previous models in my review, but it's also much easier to hold. The default package includes an adjustable strap and a 25" two-arm grip with built-in remote controls. The good news is that the package also includes all the needed instruments for assembling and adjusting the tool.
Due to the extra powerful 2-stroke engine, this trimmer is very similar to brush cutters. As a result, you can apply brush cutter blades with this device. The manufacturer recommends using the default star-shaped blade for heavy brush, but I've successfully tested several other nozzles too, By the way, you can already read my reviews of the best brush cutter blades on my blog.
What's included:
1 x Grass trimmer

1 x String trimmer head

1 x 3-tooth blade

1 x Fuel mixing bottle

1 x Tool kit

1 x Shoulder strap

1 x Safety guard

1 x User manual
I recommend COOCHEER's 42.7cc string trimmer for gardeners who look for a powerful combined solution that can deal with anything from grass to dense brushwood. It offers the best value for money as well.
---
PROS:
The best delivery kit;
As powerful as a brush cutter;
String trimmer head and a star-shaped blade included;
Two-hand grip;
Up to 7000 RPM.
CONS:
High fuel consumption;
Rather heavy.
---
Buyer's Guide
How to Choose a Gas Weed Trimmer?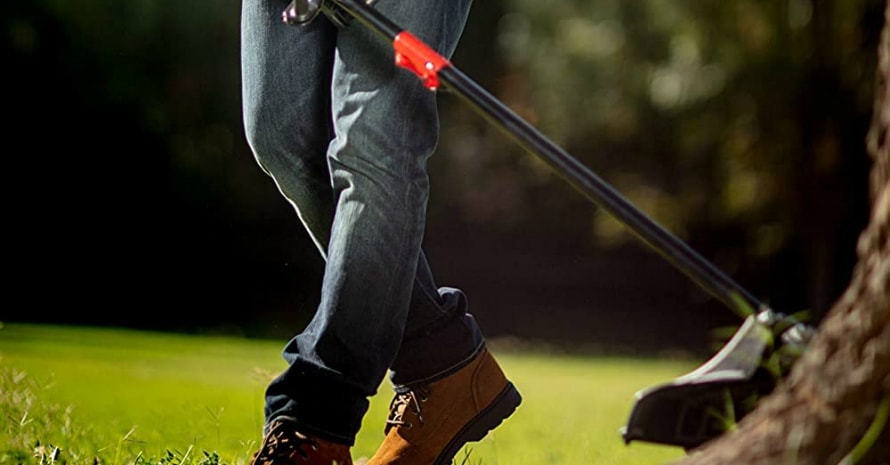 This part can be a bit difficult to remember, but it's crucial for you to shop successfully, especially if you are going to make a purchase online. Study each point below to get a clear understanding of what you need and what's not necessary.
Engine Power
In most cases, weed eaters are equipped with 2-stroke engines that offer an excellent balance between performance and durability. They're notably easier to maintain and include fewer parts, so you can expect them to break very rarely.
Four-stroke engines are much more powerful but require more maintenance, cost more, weigh more, and are more difficult to repair. On the other hand, they're more cost-efficient as the 4-stroke system doesn't lose fuel while operating and uses a separate oil injector, which is a time-saving feature. I recommend this type to professionals and owners of large gardens who need higher efficiency.
Cutting Width
In most cases, the cutting width is between 12 and 14 inches. The bigger it is, the more grass you can cut per second without moving the tool. Low width is perfect for small gardens and smaller machines that offer higher maneuverability. The high cutting width is a must for large gardens. There's no general rule to follow, so you should choose the one that is more comfortable for you.
Trimmer Weight
Average weed eaters are usually significantly lighter than brush cutters, but always heavier than battery-powered trimmers. Gas-powered models can be split into two major weight categories. The first one is designed for homeowners and usually weighs from 9.3 lbs to 10.6 lbs, while the weight of professional line trimmers can vary from around 10.6 lbs to 15.9 lbs. This feature depends on the brand and depends on the tool's length, engine type, fuel tank size, filter size, and other parts. You should understand that the lower the weight, the less powerful your tool can be. Of course, technologies don't stand still, but this dependency remains a general rule.
Length of Shaft
First of all, you should see the difference between the curved and straight shaft types. The straight shaft is better for trimming around and under trees and fences. A long and straight shaft will keep you away from high-speed debris. It also makes it a lot easier to cut underneath hedges, fences, and around bushes. On the other hand, longer shafts are also a bit heavier and require a bit more strength from you to operate. Short shafts require a bit less movement and save you some energy.
A curved shaft is more convenient for trimming grass and weeds on open ground. As for me, it's a bit more difficult to maneuver but easier to choose the proper height while trimming on open ground. Choose this type if that's what you need, but be ready to face heavier attacks of debris if you take a device with a short shaft. You don't need a long shaft if you have a small yard as it may lower your maneuverability, but it's up to you.
Safety Features
Line trimmers spin the cutter extremely fast and can shoot debris at high speed. I recommend you give preference to models that are equipped with guards to save you from shrapnel. At the same time, you shouldn't neglect additional safety measures and wear gloves, eye protection, long pants, and long sleeves. Believe me, you will have injuries if you don't follow these simple rules.
Materials
Gas weed trimmers are usually very durable, and it's easy to maintain them because they have exposed lines. To my mind, you should also look for models that use bump-feeding technology as they're simple and break rarely. In most cases, simplicity is the key to durability. You should also avoid trimmers with too many parts that are exposed to corrosion or easy to break by accident. Besides, you should use strings only of the recommended thickness and length to avoid malfunction.
How to Use a Gas Trimmer?
I've already taught my new neighbor how to master his tool as gas string trimmer reviews never tell about it, so many users face frustration and work slower than they actually can. Here are the rules that I follow to use my wacker effectively.
Mind The Spin Direction
You should always mind the spin direction of the trimmer head as it defines the direction of debris ejection. Depending on this factor, you should position the head of your tool properly to let the clippings eject in the most convenient direction. You don't want the grass to stick to the fence, right? Always walk in the same position to pile up the clippings towards the path.
Practice Cutting Techniques
Unfortunately, cutting the grass with a trimmer isn't as easy as hovering the tool above the ground. You should focus on proper cutting techniques to achieve the needed precision. Your moves should be free, fast, and steady at the same time. There are four main ways to cut:
Tapering – this method is the best for cutting near walls, fences, and trees. You should hold the tool at a slight angle to achieve the same height as the mowed lawn. This way, you can control the length easier and avoid scalping.
Edging – I usually use this technique to achieve the right length on the edges of the lawn that border with walkways. You have to hold the trimmer vertically for this. Don't be afraid to pull up some debris doing this as they will end up totally after a few weeks of regular trimming.
Scything – this one is good for trimming near obstacles or in tall grass. Move the trimmer head in shallow U scythes and overlap the scythes to even the length.
Screeding – this one's good for cutting weeds and grass in cracks. You should carefully choose the angle to touch the grass with the tips and not to damage the strings.
FAQ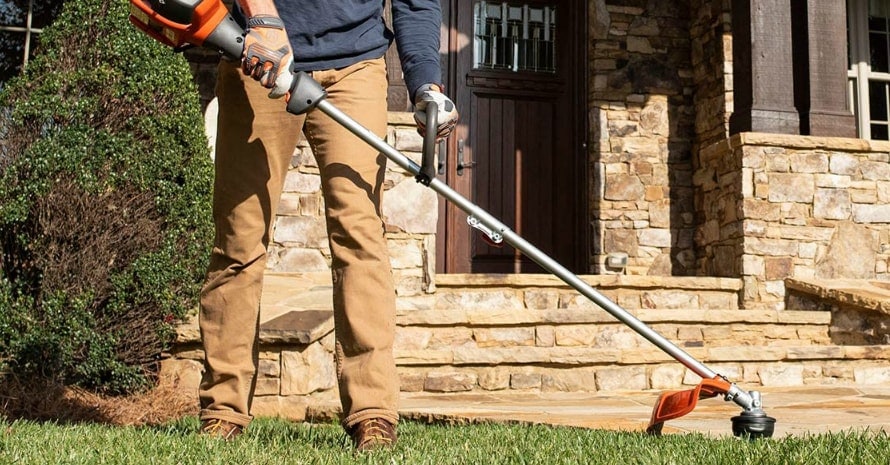 If you still have questions after reading my gas weed eaters reviews and tips, this FAQ will answer them. I picked some of the most common questions from my readers and subscribers on social networks, so they should be helpful if you're new to the topic.
How to start a gas weed eater?
Starting a weed eater can get quite tricky, especially if you're a newbie. It's important to follow several steps to avoid making mistakes:
Use the right gas mixture – two-cycle and four-cycle engines need different fuel types to work without failures;
Seal the fuel tank tight;
Flip the kill switch – this switch is used as a circuit breaker, and you cannot start the engine without flipping it;
Turn the choke on – the choke is used to make it easier to turn the engine on by restricting the airflow. You don't need it if you want to start the warmed-up engine;
Press the purge valve 5-6 times – similarly to the previous step, and this action is needed when the engine is cold. The purge lets you pour some fresh fuel into the carburetor.
Pull the throttle cord up 2-3 times – usually, it's enough to start the engine;
Switch the choke back to the OFF position to let the air flow freely. If you keep it in the closed position, your weed whacker will consume too much petrol.
What kind of gas does a weed eater use?
The majority of wee eaters are equipped with 2-cycle engines that require fueling with a mixture of gas and oil for proper piston lubrication. The required ratio of gas and oil in the mixture depends on the brand. Most machines require 87-octane fuel with 10% ethanol, while the right oil quantity is always mentioned in the user manual.
How to restring a gas trimmer?
This one needs step-by-step instruction. The procedure is similar for one-line and two-line trimmers. Just follow these steps:
Get the line – purchase the trimmer line of the right length. You can find this information in the manual or on the manufacturer's website;
Make sure the engine is off and cold;
Put the retaining cap off the trimmer head – the mechanisms are always different, but intuitive;
Wrap the new line around the trimmer head – make neat rows to avoid jams and snap the ends into the spool retainers.
Put the spool back, line up the retainer with the slots, and pull the line ends through the slot (or slots).
How to clean a gas weed trimmer?
Cleaning your gas grass trimmer, you should stick to safety rules and be careful with the parts to avoid breakages. Here are the main steps to follow:
Disable the power source – you should empty or detach the fuel tank. I leave the fuel inside if I plan to use the trimmer right after cleaning, but I always empty it before storing it;
Remove dirt – take a stiff brush and remove all the debris, dust, dirt, and clippings. You should remove everything to avoid caking. Use warm soapy water if it's too hard.
Clean the filter – do it after every 10 hours of use. Remove the cover, take the filter, and wash it in warm soapy water. Rinse it with clean water and air-dry before putting it back.
Clean the Spark Plug – remove it with a socket wrench, and wash it with a brake cleaner. If the tip of the plug is black, get the new one. If not, put it back.
Get back to work, or move the trimmer into storage.
Still Not Trimming?
Knowing all the answers and things to look at while choosing a gas weed wacker, you can easily pick up the proper model for your gardening needs. I recommend you look for a tool that offers a bit more than you need at the moment so that you were able to do heavier tasks if they appear.
Have you already used weed trimmers before? What models did you have, and were they good enough, or did you need something more powerful? I'll be happy if you share your experience in the comments section below. Do you still have questions after reading this? Leave them below too, and I'll reply as soon as possible.