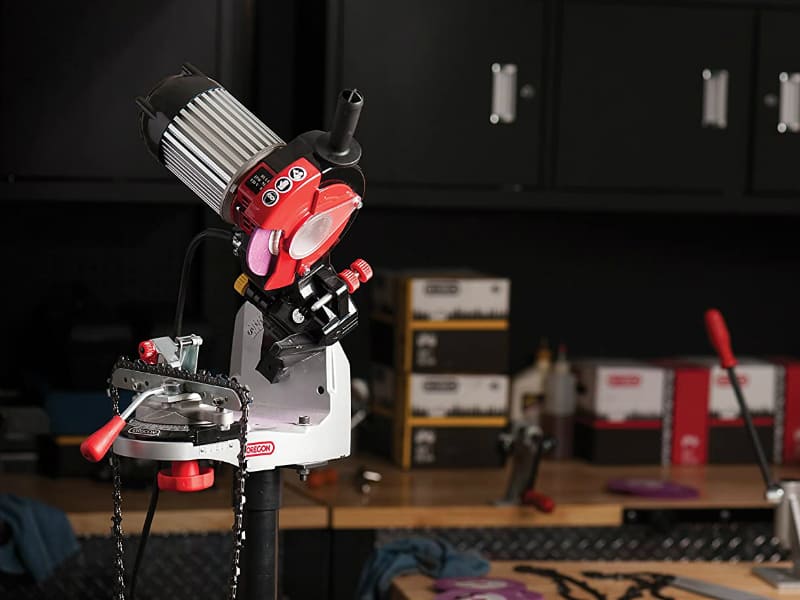 In my work having a sharp chainsaw nearby is an absolute must. But you know, at some point the saw's teeth lose their 'youthful' strength. If at first, you could cut down a whole General Sherman with it, now the thingie can barely handle twigs.
Speedy chainsaw teeth sharpener; Extra safety;Includes three wheels.
One of the cheapest models
6,500 rotations per minute; Built-in LED light; Reasonable price
My Choice
Speedy chainsaw teeth sharpener; Extra safety;Includes three wheels.
One of the cheapest models
6,500 rotations per minute; Built-in LED light; Reasonable price
So, people often remove the blade and buy a new one. But don't retire your old blade just yet — it still can be of service for months and maybe years! All you need is a good electric chainsaw grinder.
What is a chainsaw sharpener? It is a nifty tool that sharpens the blades of a saw. While some are simple and offer about 2,500 RPM max, others can boast of advanced features. There's extra safety, built-in lamps, angle adjusting, enhanced clamps, and sharpening stones of various types.
Hunt for the Best Electric Chainsaw Sharpener
So, today's electric chainsaw sharpener reviews include my top 7 picks. They include both handheld and stationary models. Every model is compatible with practically any chainsaw. Plus, most of them are pretty affordable. So, you can both extend the saw's longevity and save a couple of bucks.
1. Oregon 410-120 Bench or Wall Mounted Saw Chain Grinder: Three Mighty Wheels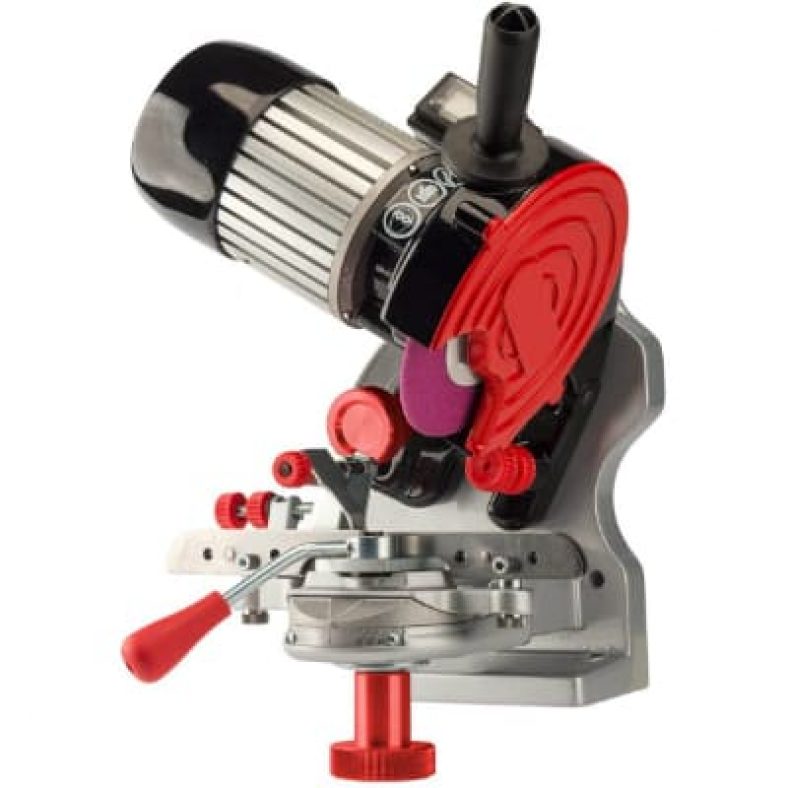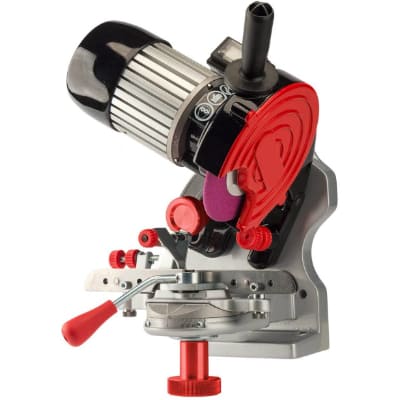 Our first item, Oregon 410-120 is a universal chainsaw sharpening machine. What I like about this tool is that you can put it on both the wall and bench. Why is it important? Well, if your work area is limited to just a garage, it'd be a smart choice.
Oregon 410-120 has three sharpening wheels:
1/4″, 3/8″ Low Profile,
325″, .325, 3/8″,
404″, 3/4″
That means it will provide solid grinding for most of the domestic chainsaws. Besides, thanks to the 'alliance' of three disks and a powerful motor with 3,500 RPM, grinding takes about 2-3 minutes for both sides of the saw. (No matter how dull it is at the moment).
Another feature every handyman will like is the built-in light. Even if your workshop is as well-illuminated inside as the White House on the 4th of July, an extra lamp will never hurt. As a result, you get more control over the procedure. And safety too.
Speaking of safety. Oregon 410-120 is equipped with a one-way motor. This feature greatly decreases the risk of trauma or chain teeth getting damaged. So, unless you put your fingers directly to its wheel, you're well-protected.
The item also has an upgraded sprocket system. That means that compared to older models, this one has bigger longevity. Besides, the sprocket system is one of the cornerstones when it comes to efficiency. You will see it when a new life is breathed into your blunted, 'veteran' tool.
All in all, Oregon 410-120 makes a good impression. It's portable and compact. It does its job well and quickly. And if the sharpening requires precision, it can handle it as well. I highly recommend this sharpener if you live in a remote area and preparing firewood is a necessity. As for me, it is the top medium-price electric chainsaw chain sharpener.
---
PROS:
Speedy chainsaw teeth sharpener;
Built-in light;
Extra safety;
Compactness;
Includes three wheels.
CONS:
Pricier than other models.
---
2. Oregon Sure Sharp 12V: Handheld Electric Chain Sharpener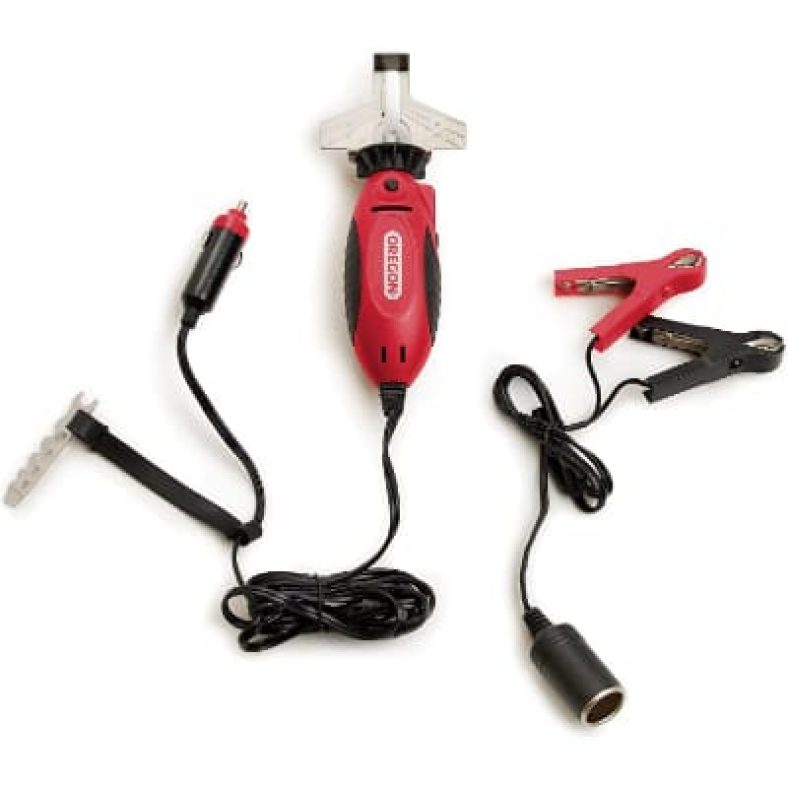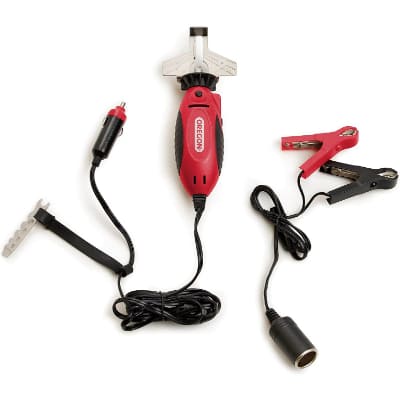 Oregon 575214 is a versatile 'weapon'. According to the manufacturer, you can use it anywhere. It seems legit: the package includes a 12-Volt adapter and battery clips. So, at home or far away, this little gadget will give your chainsaw shark's teeth.
But there's more versatility. Oregon 575214 is accompanied by two sharpening stones: 5/32″, 3/16″ and 7/32″. Not bad, if you ask me. Especially when you know that all chainsaws with pitch up to .404″ are compatible with Oregon's tool.
Sure Sharp also offers some impressive efficiency. It hits a threshold of 25,000 rotations per minute — something that you don't usually expect from a handheld device. Especially the one that weighs just 14,4 ounces — a ridiculously lightweight!
So, with a raging motor like this, impressive compactness, and 12-Volt compatibility, you get a perfect tool to preserve saw sharpness. Especially in cold, northern areas where having a knifelike chainsaw blade is a must.
The only thing I'm not sure about is the longevity of Oregon 575214. I mean, it doesn't look shabby or fragile. But regularly, all handheld sharpeners have a narrow lifespan.
But even if it's true, I wouldn't hesitate to buy another one after it's broken. It's definitely one of the best automatic chainsaw sharpeners that are both powerful and handheld.
---
PROS:
Portable & handheld;
One of the cheapest models;
25,000 rotations per minute.
Two bonus sharpening stones;
Compatible with most of the saws.
CONS:
Vague user's manual;
May have a limited lifespan.
---
3. SuperHandy Chainsaw Sharpener Grinder Work Bench or Wall Mounted Portable Cordless: A Reliable Chainsaw Sharpening Machine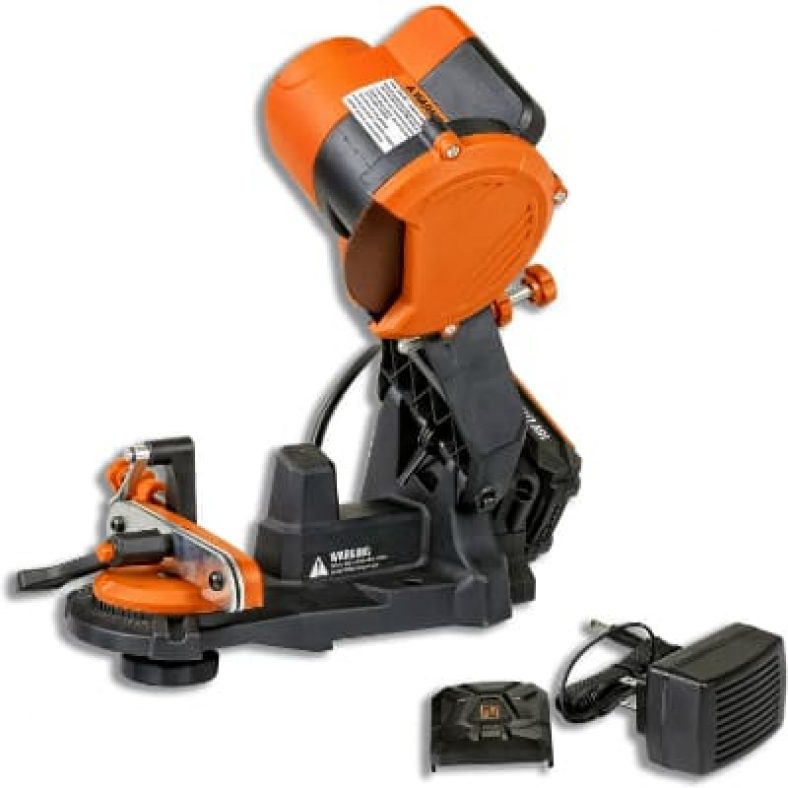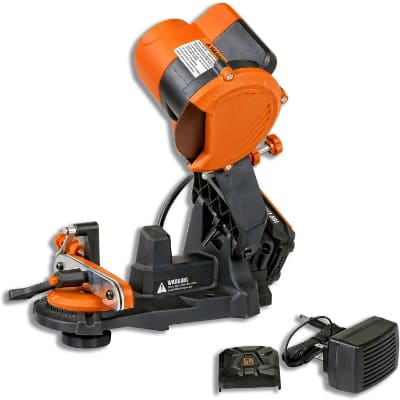 SuperHandy is surely the one to have the job done. It's a lightweight/portable device. And it handles saw grinding pretty efficiently. So, let's investigate a bit more.
First of all, you need to remember that it's a battery-powered sharpener. There's a lithium accumulator inside the tool, so you can't utilize an AC outlet. But I can't really say it's a bad thing, actually.
First, there's no need to struggle with cords and cables. That's especially cool if you plan a rearranging in your workshop. Second, SuperHandy is extremely portable.
You can take it with you if it's necessary and do the job on the go. Its battery lasts for a long time — it can sharpen about 4 chains in a row before dying. Maybe charging isn't as quick as C-type, but still fast enough.
We have an impressive speed here: 6,500 RPM. And the sharpening wheel can boast of a 7/8″ diameter with 108 mm thickness. In other words, it will take good care of your chainsaws without breaking a sweat. Sharpening takes just a few minutes. So, it won't slow the wood chopping down.
All in all, I enjoy the tool's portability. I appreciate its powerful motor. I praise flexible adjustments and a solid sharpening wheel. It'd be great to be able to plug it into a 120V circuit, though.
But even the way it is, SuperHandy will revitalize any old, blunt blades. Definitely worth a try. (Especially if you're on a budget).
---
PROS:
Reasonable price;
Built-in LED light;
6, 500 rotations per minute;
High portability;
Fairly quick sharpening.
CONS:
Constantly needs recharging.
---
4. Oregon 520-120 Bench Saw Chain Grinder: A Speedy Chainsaw Teeth Sharpener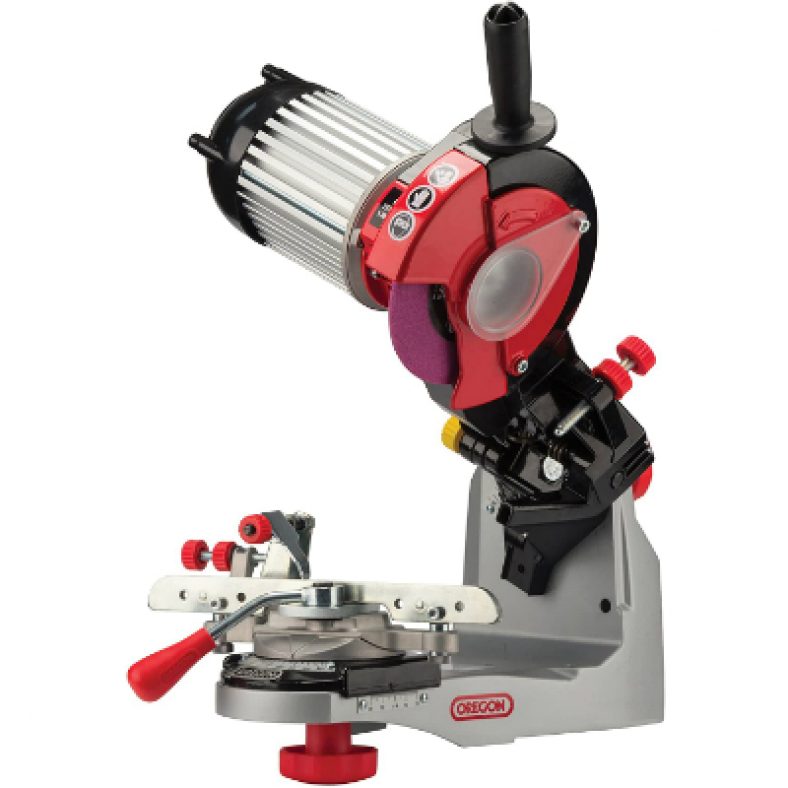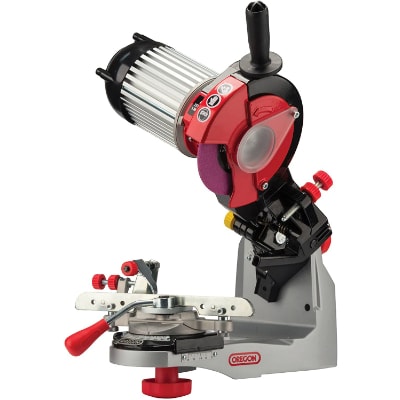 Our next model, Oregon 520-120 is a true monster in the sharpening game. I guess there's no chainsaw in existence that it couldn't handle. It's compatible with:
1/4″, 3/8″ low profile,
0.325″, full profile 3/8″,
404″ pitch chain
Quite an impressive portfolio. So, with this versatility, you can take care of a whole armada of chainsaws. And I bet you will enjoy doing it! Because working with Oregon 520-120 is a marvel. It's quiet, easily adjustable, and fairly quick at completing the work.
It's a stationary tool, so your maneuverability is kind of limited. (Unlike with the handheld grinders). At the same time, Oregon delivers no pain in the neck. It's quite easy to install anywhere you want: from a benchwork to a patio umbrella stand. Whatever suits you best ergonomically.
Typically, for Oregon, this sharpener is enhanced with additional light. While some see it as a trifle, I find it an enjoyable perk. You know how important it is — monitoring the angle and sharpness of every single cutter.
Overall, Oregon 520-120 makes a favorable impression. Even though its price-tag is a bit frightening, you get a highly reliable tool in return. It's not noisy. It does the job in a matter of minutes. And the solid materials it's made of guarantee that the tool will live a long and productive life.
---
PROS:
Quiet work process;
Very fast sharpening;
Solid material quality;
High longevity;
Built-in light.
CONS:
One of the priciest models on the market.
---
5. Oregon 620-120 Bench Saw Chain Grinder: A Pro's Pick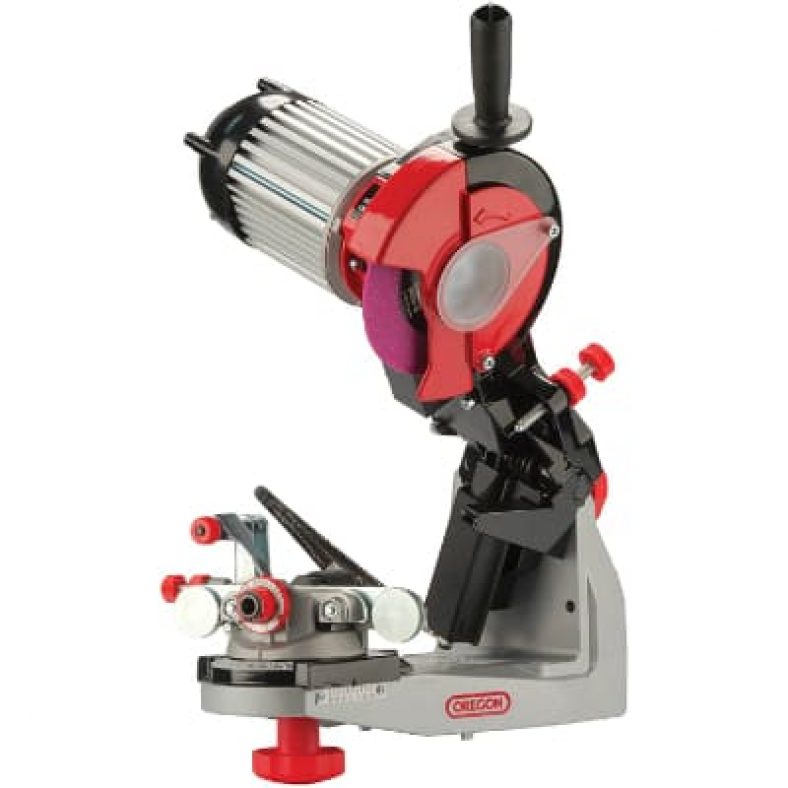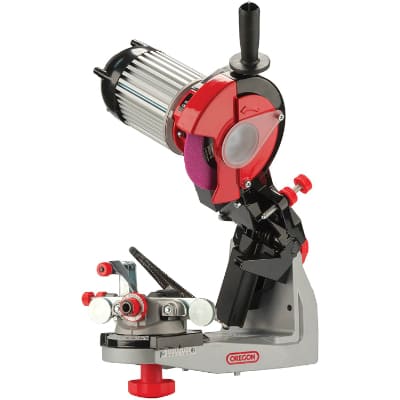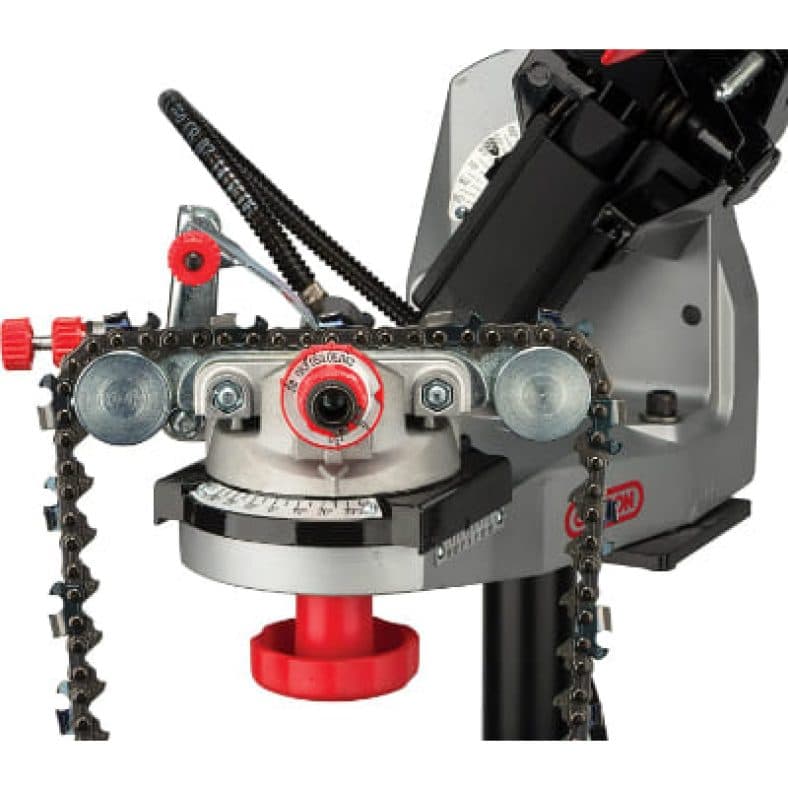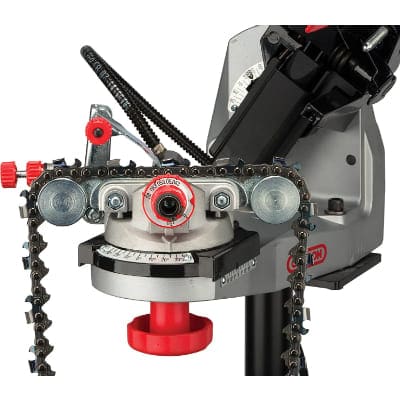 Oregon 620-120 is like an older brother to the previous model. It can do basically the same things. Only better. So, let's see what we have here.
First, with this Oregon product, you can forget about compatibility issues. Essentially, it can sharpen any type of chainsaw. You just need to adjust it to meet your tool's specifications and voilà: the work may begin!
As a special feature, we have a hydraulic clamp. It allows setting up the sharpener much faster and easier. The overall work process goes way smoother and faster as well. It takes merely 3 minutes to finalize the work.
Surprisingly, the machine's plastic handle is a bit shaky. And a few other parts of the setup are made from regular plastic as well. Frankly speaking, these are the only downsides I have found with the tool. It's not like they see much action. Although I'm surprised that a grinder with a $400+ price isn't fully metal.
The device is user-friendly, hands down. As I said, it's a breeze to set up. And once it's ready for action, you can sharpen a whole armory of chainsaws, should you possess one. While doing so, you won't suffer from shriek metal noise or get your fingertips scorched — the machine is fairly immune to overheating.
Its sturdiness is quite impressive too. If you ignore the plastic parts, Oregon 620-120 is meant to last for years and years. Its 'body parts'— from the hydraulic clamp to the single-phase motor — are of excellent quality.
Additionally, on the menu, we have 3400 RPM. Which is enough for the high-volume use. Considering that it can handle any chainsaw type, this sharpener is close to being a state of the art. Or at least a very solid professional tool.
---
PROS:
Compatible with all chain pitches.
Takes very little time to finish the job.
Hydraulic clamp for better performance.
User-friendly.
Sturdy construction.
CONS:
Some parts are plastic;
No built-in light.
---
6. Buffalo Tools ECSS Electric Chainsaw Sharpener: Affordable Auto Chainsaw Sharpener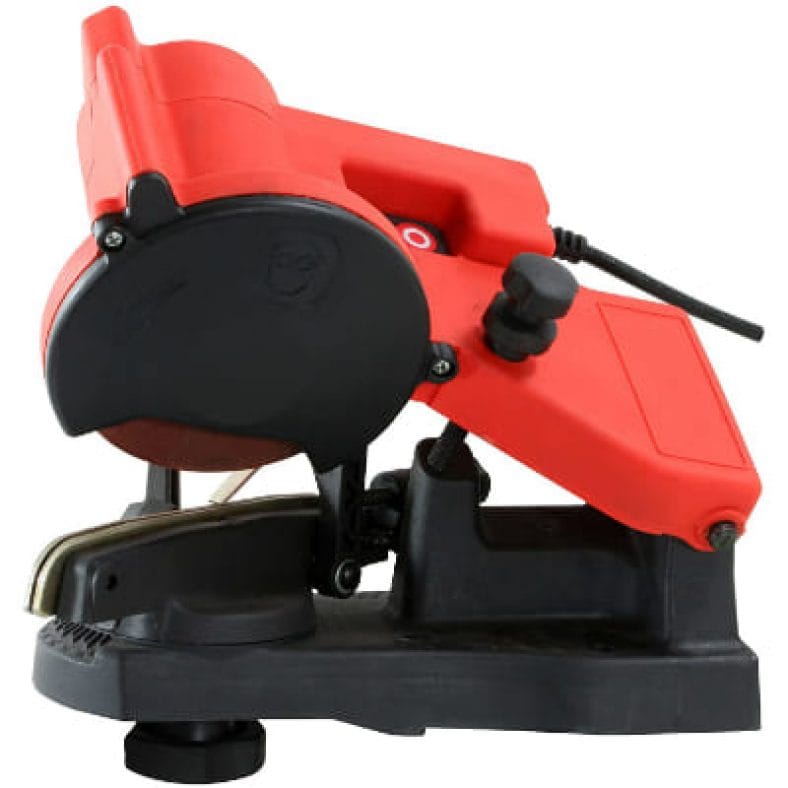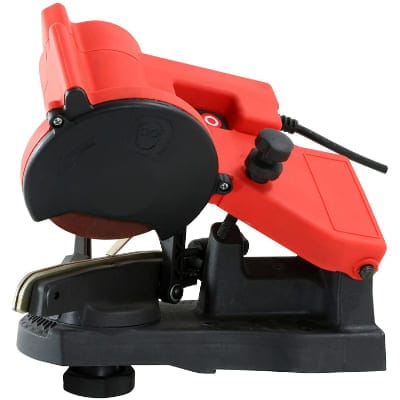 Buffalo ECSS is a peculiar exhibit. It's relatively small when compared to rival analogs. And upon start, it makes a weak, murmuring noise. But don't be fooled by its humble looks: it's a real raging beast with 4,500 wheel rotations per minute! That means, it'll take you merely 4-5 minutes to have the job done.
Also, the sharpener is a true champion in terms of compactness. You can place it anywhere you want benchwork, wall, vise. Just make sure it's firmly attached to the work surface and watch the orange fountain of sparks go!
However, working with Buffalo can be a tad repetitive. The thing is you'll have to move the saw links manually, as there is no automatic adjustment. At least, setting the right cutting angle is a breeze with this machine. And after it's done, the procedure goes without a single hitch.
One downside of the device is that it's crafted from pretty cheap stuff. Its casing and stops are made from plastic — regular type, not even composite.
Of course, it may raise questions regarding Buffalo's longevity. But I think with due diligence and care, it can be a loyal tool for years to come. Or you can change the casing manually to something more sturdy. Like tempered steel or aluminum.
With all these impressive qualities, Buffalo doesn't get too hungry: it requires just 85 Watt. Considering that grinding takes a few minutes, it's pretty much nothing. It weighs merely 7 lbs. So, this little bison is compact + portable. Which again is a great thing if you don't have much free space.
To sum up, I give it a solid A-. It's productive, powerful, and reliable. Add to it the Buffalo's ridiculous price, and you'll see why this beast belongs to your ranch. Definitely, the best power chainsaw sharpener in the low price segment.
---
PROS:
Impressive rotation speed;
Cheap price;
Compact and portable;
Quick process;
Great for occasional use.
CONS:
Casing and stops are made from plastic;
Doesn't really fit 0.043 chains.
---
7. Timber Tuff CS-12V Portable Electric Chain Saw Chain Sharpener: Compact Electric Chainsaw Grinder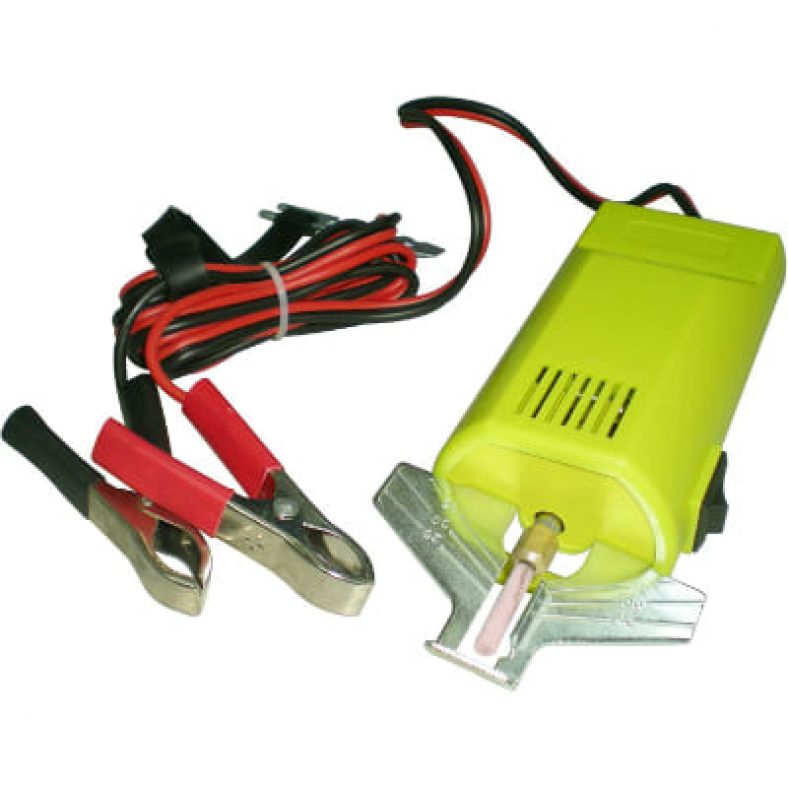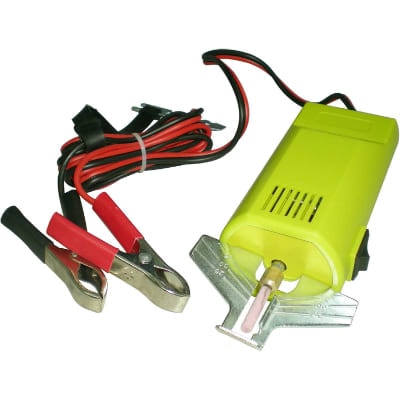 Another humble-looking tool, Timber Tuff CS-12V turns out to be a tough nut. Bad wordplay aside, the tool is stunningly powerful: 20,000 rotations per minute. Considering that the sharpener weighs merely 2,2 lbs, you get a great on-the-go solution.
The package includes three sharpening stones. Sizes are: 3/16, 5/32, 7/32. That means, even if you have a royal arsenal of chainsaws, basically any of them can be 'tuned' with this auto chainsaw sharpener.
There's a little know-how I like about CS-12V. Its casing and stops are made from a specific material. I'm not quite sure which one, but the tool doesn't get red-hot during the work process. Which is great in terms of anti-traumatic safety and the gadget's longevity.
Besides, the material seems to be sturdy. I never vandalize work tools (at least on purpose), so I can't say I tested its anti-impact trait. But my intuition tells me, Timber Tuff can handle falling on the floor.
An important note: CS-12V doesn't get its juice from an AC outlet. As you can see from its title, it needs a 12-Volt car battery to start going. So, as long as you have a truck, van, or even a lawnmower nearby, you can put Timber Tuff to use.
Despite the sturdiness, it's a lightweight model. It doesn't take much space, so you can easily store it in a trunk. And the fact that it gets power from a car battery makes it a perfect tool for lumberjacks and woodchoppers who are 'on tour'.
To conclude, I'm pretty satisfied with this gadget. It does the job fast — about 5-6 minutes. It has 3 cutting stones. (Arsenal of which you can extend later if you please). Some may not like that it wholly depends on a car battery. But if you're searching for a good on-the-go saw sharpener — your quest is over. Congrats!
No products found.
---
PROS:
Lightweight;
Doesn't cost too much;
Three stones;
A monstrous amount of RPM;
Perfect for travelling.
CONS:
Requires a DC power outlet.
---
Buyer's Guide
Well, now you know which models do some darn fine job. But it wouldn't hurt to know what exactly to look after in a good chainsaw sharpener and understand the basics behind its rugged magic. The high-brow tech terms may be frightful, so I'll try to put it simply.
How electric chainsaw sharpener works?
Sharpening is no rocket science. The same principle was used by people many millennia ago. The sharpener has a motor, which puts the grinding wheel in motion. When the chain and the wheel clash, a thin layer of chainsaw metal gets cut off.
The wheel itself, a.k.a. the stone can be made of various materials: aluminum oxide, cubic boron nitride, even diamond. Depending on its parameters — diameter, shape type, wheel grade, grain size — it can handle various chainsaws.
How to sharpen a chainsaw blade with an electric sharpener?
Preparations come first. Before sharpening begins, you need to check if any of the grinders are damaged. If yes, you need to file down the rest of them exactly to that same level. This is how the balance is kept. If you neglect this stage — goodbye productive cutting.
The rest is easy. If you're working with a bench-type sharpener, then:
Put the chainsaw under the tool's grinding wheel.
Switch the motor on.
Grind every cutter repeatedly, but just for less than one second.
Watch if enough metal has been shaved off the cutter.
Stop the motor.
Move to the next cutter.
If it's a handheld grinder, then the mission is a tad harder. Basically, you'll do the same, only:
Keep the needed angle consistently.
Switch off the chain brake.
Move it forward to get to the next section of cutters.
Okay, once you're done with sharpening your roaring beauty, it's time to do some surgical work. I'm talking about the depth gauge — every tool must have one in the package. It's used to adjust the height of the cutters correctly.
Put the gauge against the cutters and make sure the height is alright. If some cutters are higher than the gauge — that's a no-no. Use the sharpener to level them back to normal. Because if you don't, your chainsaw risks losing its efficiency: a lotta noise, but little output.
At some point, the sharpening wheel may become darker. And its grinding capacity will decrease. That means our stone has become glazed. It's no biggie: simply apply some dressing stone, until the dark spot goes away. After that, the refreshed wheel will work even better than before.
FAQ
Why do I need to sharpen my chainsaw at all?
Every power tool needs care and attention. If you neglect it, its efficiency will begin decreasing step by step, until the chainsaw becomes virtually useless. A dull saw will cut the wood much worse, wasting more and more fuel.
Financially, it'd be also unwise to reject sharpening the chainsaw yourself. If you chop a lotta timber, taking your tool to the shop every time can be pricey. And coughing up about 30 bucks each time the sharpness begins to wane — that's just impractical.
Why, if an old chain can still serve if brought back to life? So, consider it as a long-term investment. Which will pay off a hundred times?
Why electric sharpeners are better than manual ones?
Yes, you can use one of those motorless sharpeners. As a rule, they are cheaper than their electric cousins. But there's a good bunch of reasons why you shouldn't do so. So, why electric sharpeners are better than manual ones?
First, it's awfully time-consuming. While an electric tool with like 3,000 RPM will finish the job in 5 minutes max, the manual sharpener will take you at least 30-40 minutes. And there's no guarantee you won't have to sharpen the saw anew.
Second, it's about precision. Manual grinders can never promise satisfying accuracy. They have manual bars that sort of are responsible for precise filing. However, from my own experience, I can tell you that re-sharpening is often needed.
Third, it simply requires way more effort. While a motor-powered beast basically does the job for you, with a manual grinder you will have to put your own muscles to work. Not a charming prospect.
How to set up a correct angle on a chainsaw chain sharpener?
To find out the correct sharpening angle, you will need to refer to your user's manual. (So, don't be too fast to place it in the trash bin).
Another source of information can be the chain pack. But if you still fail to identify the angle — consult the manufacturer. Most of them have customer support via phone. And of course, check their web catalog for specs.
Once you know the angle, simply place the chain in the holding grove. Then adjust the swiveling table so the chain faces the sharpening stone at the required level. I can tell you that most of the chains have the standard 30 — 35 degrees. Perhaps, so does your tool.
How to pick chainsaw sharpeners?
Some do the job faster than the others. So, you must take your saw's specs into consideration. Pay attention to the grinders:
RPM. Rotations per minute. They provide the speed of work and overall sharpening quality. If a tool has a big RPM, then it's just for occasional use. If put to work too often, it will wear out its mechanism too fast.
Chain pitch. All chainsaws are different in terms of the pitch: 32, 38, 40, etc. To know the pitch (or size) of yours, you need to find an engraving of it on the side of a chain. Or on the company's website.
Diameter and thickness. These are the wheel parameters responsible for efficiency.
Angle adjusting. Some chainsaws require a more precise approach. Hence, you may need to do the work at different angles.
Materials. They are responsible for the gadget's longevity. Some sharpeners handle overheating or collapsing much better than their rivals.
Motor. It's best to choose a one-way motor device. First, it won't really damage the saw. Second, it's much safer in terms of getting trauma.
And so on. Also, you should mind the goals you set for the tool in the long run. If you need to put it to work very often, a cheap grinder may pull a muscle and die from fatigue. If you travel a lot, a cordless or 12V sharpener is your choice. If it's needed for a workshop, make sure it's a bench/wall one with a tight clamp, etc.
The Sharpest Tool in the Shed
Now you know why you need a chainsaw sharpener, how to pick one and which models to pay attention to. The tools I reviewed will extend your chain's life. And you'll be able to deal with as much firewood and as many stubborn stumps as you need.
I will review more power tools in the future. Stay tuned if you want to learn how to do the garden, carpentry, and wood work efficiently. Do you have a favorite chainsaw sharpener of yours? Tell us how it won your heart in the comments!