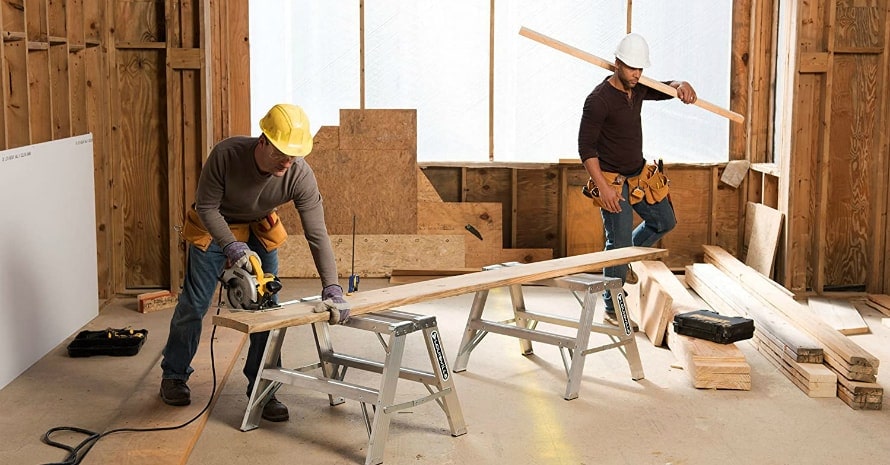 Whether you are a professional carpenter or like DIY activities, you can improve the creating process with the best sawhorse in your working space. This piece of equipment has many purposes. They allow placing planks in the right position to ensure precise cutting. Or you can use the sawhorse as a stand for painting, drying, or any other creative process. In both professional and domestic purposes, you can benefit from a sawhorse and its properties.
Usually, they are used in pairs for decent support for long objects like shelves, doors, and other flat objects. Just uncross the A-frame legs and place a large board on them to get a fast DIY table area. With sawhorses, you can arrange the workshop space anywhere in the yard. This is convenient when you do not have enough room in the garage or house.
Pros
Longer top with material slots.
Premium Choice
Pros
Longer top with material slots.
Planning to buy some piece of equipment online, you should be aware it is not as easy to pick the right product. You do not have an opportunity to touch and test the object, so you need to find another way to make the right choice. In this article, I'm ready to help you with that.
Best Saw Horse Selection: List of 8 Trustworthy Products
Before moving to the actual guide for finding and buying the best folding sawhorse I offer you to take a look at my list of top picks. These 8 products deserve your attention. You can check out their characteristics and define whether any of them suits your needs or not.
Compact Saw Horses: Miter Heavy Duty Stand from DEWALT
Specifications:
Material: Aluminum
Capacity: 1000 lbs
Item Weight: 15.4 pounds
Working height: 36 inches
Length: 32 inches
If you are looking for a simple and compact sawhorse, you can take a look at the Miter Saw Stand from the DEWALT brand. This product is made of lightweight but durable aluminum, which is easy to maintain. This is a great solution for small workshops, storages, garages, etc., where you have to use the space wisely. The stand is equipped with convenient handles for easy transportation.
What's included:
Despite the simplicity of construction and materials, this sawhorse can handle up to 1000 pounds (each piece), so you can place on it any heavy objects freely without worrying they can fall or distort the stand. The additional security is provided by the lock levers on the stand's legs.
One of the common flaws I can spot in numerous aluminum saw horses is the absence of adjusting feature in their legs. However, you know the height of the stand before the purchase, so you can decide whether it is high or short enough for you.

---
PROS:
Lightweight aluminum;
Compact and foldable construction;
Transportation handles;
1000-pound capacity;
Dependable leg lock levers.
---
Aluminum Saw Horses: 3-Foot Stand with Ladder from Louisville
Specifications:
Material: Alloy Steel
Capacity: 300 lbs
Item Weight: 21 Pounds
Working height: 30 inches
Length: 37 inches
Another product with lightweight construction is from Louisville. The remarkable feature of this sawhorse is that it has a wide standing area, so it can be used as a ladder as well. It comes in different heights, so you can pick the one you need for your work. If you need just a ladder, one stand is enough, but for cutting purposes you should buy a pair at once.
The design is simple but elegant, considering the aluminum material. The construction is foldable for easy transportation or a compact storage, which is important if you need it for domestic use. The safety is provided by the sturdy hinges, which keep the legs on the required level, while the rubber shoes ensure non-slip standing.
What's included:
However, there were some complaints about the dirt on the product when it is delivered. The aluminum parts might have grimy spots and stay on your hands and clothes. However, this is not typical for metal lightweight sawhorses, so these cases might be more like an exception.
---
PROS:
Extra-wide standing area;
Elegant design and finish;
Foldable and mobile;
Dependable spreader hinges;
Slip-resistant rubber shoe.
CONS:
Aluminum details might have grime on it.
---
Folding Steel Sawhorse: Portamate Speedhorse from Bora
Specifications:
Material: Steel
Capacity: 1500 lbs
Item Weight: 17.76 pounds
Working height: 30 inches
Length: 45 inches
If you appreciate highly effective and convenient solutions, you will like the Portamate Speedhorse from Bora. This stand with folding legs can set up in 1.6 seconds and be ready for use at once. No need to assemble the parts as the product comes in ready-to-use form. The folding back process is also fast and simple, making this sawhorse compact for storing. The integrated handle makes it easier to transport the stand.
The remarkable feature is the pre-drilled top of the sawhorse, which provides secure fixation. If you buy two Portamate Speedhorse pieces, you can improve your working performance.
What's included:
Ordering things online, we expect the seller to ensure secure shipping with the proper packaging. However, there were some complaints that the box is hollow inside, and there is no protective lining. This can damage even the best sawhorse. I recommend contacting the seller before the purchase and make sure they provide careful packaging.
---
PROS:
Fast setup;
High weight capacity;
Longer top with material slots;
Foldable construction;
Carrying handle.
CONS:
The shipping boxes aren't protective enough.
---
Lightweight Saw Horses: Portable Jobsite Table from Bosch
Specifications:
Material: Steel
Capacity: –
Item Weight: 14 pounds
Working height: 22 inches
Length: 23 inches
This product is a bit different from others here, as it is designed exclusively for the particular table saw model. However, it is still worth our attention.
The construction of this stand is durable, but simple in use. You can set the sawhorse up and fold it back in seconds. Also, in the folded form, it is compact and easy to store, so you do not have to look for a special corner to use it.
The durability is ensured by the all-steel design, as well as the solid gravity center, which guarantees stability during work. At the same time, the stand is lightweight and portable, allowing you to set the working space anywhere you want.
What's included:
(1) GTA500 Table Saw Stand
But you should keep in mind that this is an accessory to the Bosch GTS1031 Table saw. Most metal sawhorses are sold like a separate piece of equipment. But this product, despite all benefits and features, cannot be as versatile as others.
---
PROS:
Easy setup and folding up;
Easy to move and store;
All-steel construction;
Solid center of gravity;
Lightweight.
CONS:
Created exclusively for Bosch GTS1031 Table saw.
---
Foldable Heavy Duty Saw Horses: Portamate Speedhorse 2-Pack from Bora
Specifications:
Material: Steel
Capacity: 1500 lbs (3000 lbs)
Item Weight: 36.8 Pounds
Working height: 30 inches
Length: 45 inches
Here we are with the double-beneficial Portamate Speedhorse from Bora. This product includes 2 pieces of sawhorse stands. This means we have the same advantages but in two sets. The same weight capacity and material slots are now presented in a twice-effective way.
You can use this set to create the 2×4 working space and deal with twice more objects. Both stands have a fast setup feature and foldable design with a convenient carrying handle.
What's included:
One of the features of this folding steel sawhorse is the large weight capacity. But I have found out from comments that the stand can break down with too much weight, so I would recommend avoiding placing too heavy objects on it. Also, a two-in-one kit is more expensive. Sure, the two separate stands would cost more, but not every customer is ready to pay the price at once.
---
PROS:
2-pack sawhorse kit;
Setup in seconds;
High weight capacity;
Longer top with material slots;
Foldable construction with carrying handle.
CONS:
Might have lower weight capacity;
The 2-pack kit might be expensive.
---
Collapsible Saw Horse with 2×4 Support Arms from Toughbuilt
Specifications:
Material: Steel
Capacity: 1100 lbs
Item Weight: 13.34 Pounds
Working height: 30 inches
Length: 42 inches
Another example of the 2×4 support sawhorse is the TB-C500 model from Toughbuilt. The manufacturer points out numerous benefits of this piece of equipment. It is made of steel completely, featuring the 1100 pounds capacity per stand.
The good long-term look is ensured by the powder coating and zinc-plated legs. The height of the stand is adjustable by regulating the position of sturdy legs. In the folded form, the sawhorse is easy to move and transport with the convenient carrying handle.
What's included:
When you look for the heavy-duty sawhorses, you expect them to be made of durable materials. However, in customer feedback, I have found complaints about low-quality metal, which is thinner than expected. That is why its weight capacity might be lower than the manufacturer says. But for some light objects and work, this piece might be okay.
---
PROS:
Steel construction;
High weight capacity;
Powder coating and zinc-plated legs;
Adjustable sturdy legs;
Easy carry handle.
---
Metal Saw Horses: Heavy-Duty Table Saw Stand from DEWALT
Specifications:
Material: Alloy Steel
Capacity: –
Item Weight: 10 Pounds
Working height: 27 inches
Length: 23 inches
If you are looking for a saw stand that will precisely suit your Jobsite table saw, the DEWALT has something for you to offer. Their 10-inch saw stand is made of heavy-duty steel, which ensures long-term and safe performance. It is convenient thanks to its compact, lightweight, and foldable design.
The construction of the stand fits perfectly the DW7480, Dcs7485 60V, and DW745 models of compact table saw. You just need to fasten the tool using the hardware holes, and you can use the saw securely. The stand will absorb the vibration.
The common aspect of most compact saw horses is the low height resulting from the small sizes.
What's included:
That is why many users admit this model is not as convenient as the higher alternatives. That is why, before the purchase, make sure the available size will not only save space in your garage but also will assist you in sawing properly.
---
PROS:
Quality and long-lasting construction;
Lightweight;
Foldable;
Hardware holes for secure saw fastening;
Vibration absorbing properties.
CONS:
The stand might be too low.
---
Saw Horses with Clamps: Custom Stand Brackets from 2x4basics
Specifications:
Material: Wood
Capacity: 2000 lbs
Item Weight: 10 Pounds
Working height: 30 inches
Length: 36 inches
If you want to have the maximum freedom in your work or DIY projects, you can take a look at the offer from the 2x4basics. This is not a typical adjustable saw stand. This product includes only hardware – brackets and stabilizing feet – for creating your version of stand. Applying the quality wood, you can get a highly supporting stand of any size. The construction is simple, and you can easily assemble and disassemble it.
What's included:
4 brackets, and 8 stabilizing feet to make 2 sawhorses
With this kit, you can create two sawhorses with clamps of any size and height. Just apply the suitable wood pieces and a screwdriver to connect the parts. Keep in mind that the lumber is not included in the kit and you will need to find it by yourself. However, this feature offers you plenty of options for adjusting the stand.
---
PROS:
Heavy gauge structural resin material;
High support capacity;
Easy to assemble and disassemble;
Details are enough to make 2 sawhorses.
CONS:
The kit does not include lumber.
---
Best Saw Horse Buyer's guide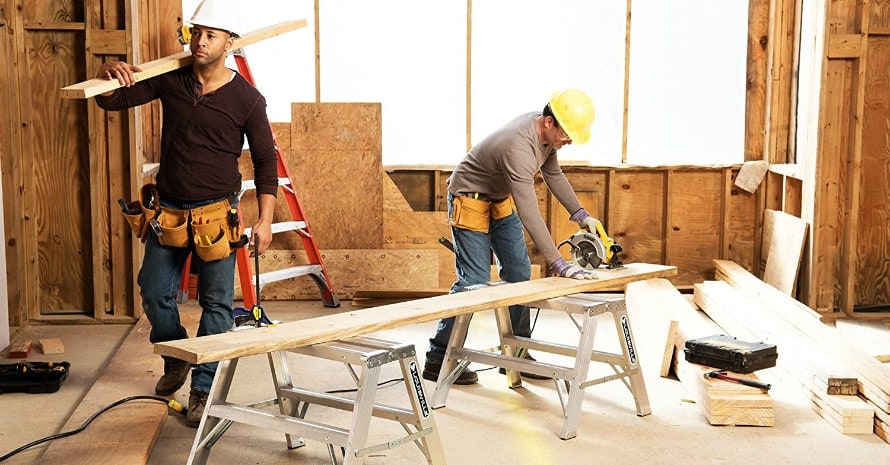 In case neither of the offered options is good for you, you can try to look for it on your own. I will not leave you in this task. To know what you need and to make the right choice, you should follow my professional recommendations. Learn about the types and the main characteristics of the saw stands.
Types of saw horses
Let's define what types of sawhorses we can find on the market today.
Heavy-duty models
The first type includes sawhorses and stands, which are made of metal materials and have sturdy and heavy construction. They are not very portable and usually are used in the workshops with a stable working place. These models have large weight capacity so you can use them when working with heavy pieces of wood and other materials. They are usually used in pairs, mostly for professional purposes.
Foldable and lightweight sawhorses
If you need a sawhorse for domestic use, you do not have to buy something heavy and expensive. Usually, for DIY projects, people look for something light and portable. For example, these can be plastic saw horses or compact aluminum models. They are easy to move around the garage or yard and then fold up till the next use.
Universal and specifically designed stands
There are two other subtypes of sawhorses: universal and designed for particular hardware. The first group is beneficial as it can be used for multiple purposes, whether to support the cutting equipment, wood, or other objects. At the same time, the specifically designed stands, when used with the right equipment, provide a high level of security, as you fasten the hardware on it. Also, these models usually feature shock-absorbing properties.
How to pick the best saw house
As soon as you know the types, you should learn what features to look for in the best portable saw horses:
Material. The sawhorses can be metal, plastic, wooden, or mixed. The material defines the durability and the purpose of the stand. If you need it for some light objects, the plastic might be okay. But for heavy lumber or metal objects, look for heavy-duty models.
Height. Choose this parameter according to your height. If you are not sure what position of the stand will be convenient for you, look for the adjustable models.
Usability and intended purpose. The reason you need the sawhorse defines its features like type, material, height, construction, etc. Decide whether you need a versatile model or the one specifically designed for the table saw or other purposes.
How to use the best sawhorse
The sawhorses are used for supporting objects or hardware. Usually, they are used in pairs for dependable support. You just place two sawhorses with some distance between them and place the object on them. Make sure the construction of the stand and the material is safe for the type of work you are intended to do. Also, adjust the height of the stand to lift the working area and ensure convenient space.
FAQ about Metal Saw Horses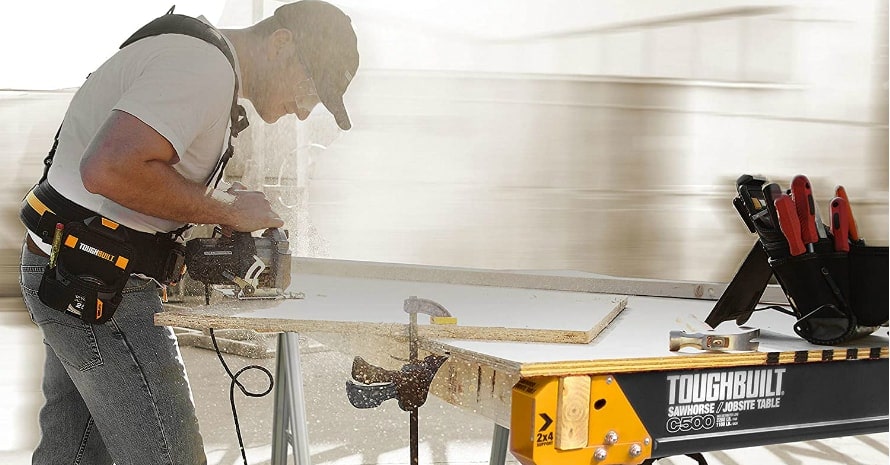 I have prepared answers for some common questions to provide you with more information about sawhorses.
How to build a sawhorse?
If you are not satisfied with the collapsible sawhorse selection on the market, you can make it yourself. Just find the suitable material, whether it is metal, plastic, or wood. For most DIY models, people use wood. For a stand with the 32-inch height and width, you will need 8-foot 2×4 blocks of wood and a set of brackets. Then, connect the details in the form you need and fasten everything properly.
How tall are sawhorses?
The suitable height depends on your height and the purpose of the stand. Most of the sawhorses are of the 31-32-inch high. There are also some adjustable models with up to 40-inch height. If you want to use the stand for various purposes, you should pick the adjustable one.
How to fold up metal sawhorse?
Depending on the model, the process of folding up may differ. In some cases, the legs are folded back into the top part of the stand, while in other cases, you just lift the sawhorse, bringing its two sides together, so the stand becomes thinner for storage or moving.
Take the Most from Your Best Sawhorse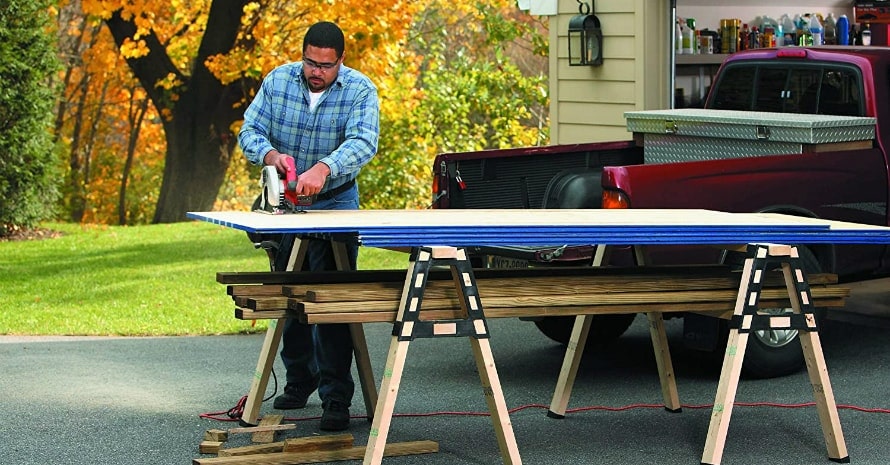 Whether you need a sawhorse for your professional activity or some DIY projects, you have to buy the quality products. You might be tempted with the low price or extremely lightweight construction. But keep in mind that the stand should be durable and maintain the average weight mostly for safety reasons. That is why you should consider all pros and cons and check out the available saw horse reviews to come up with the best option.
What types and models of the sawhorses you have tried? What design is the most convenient for you? Share your experience in comments.