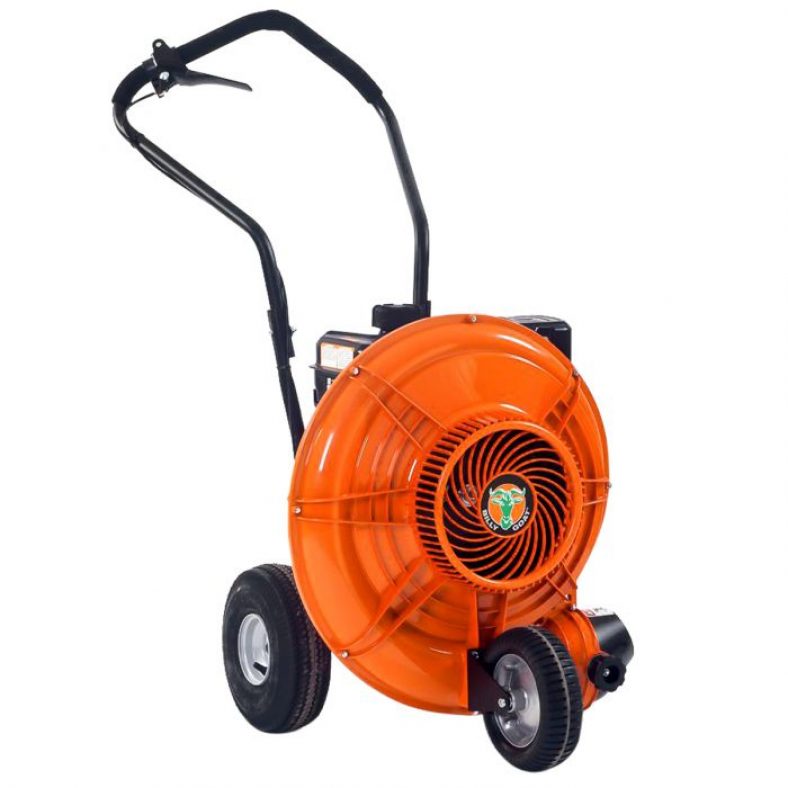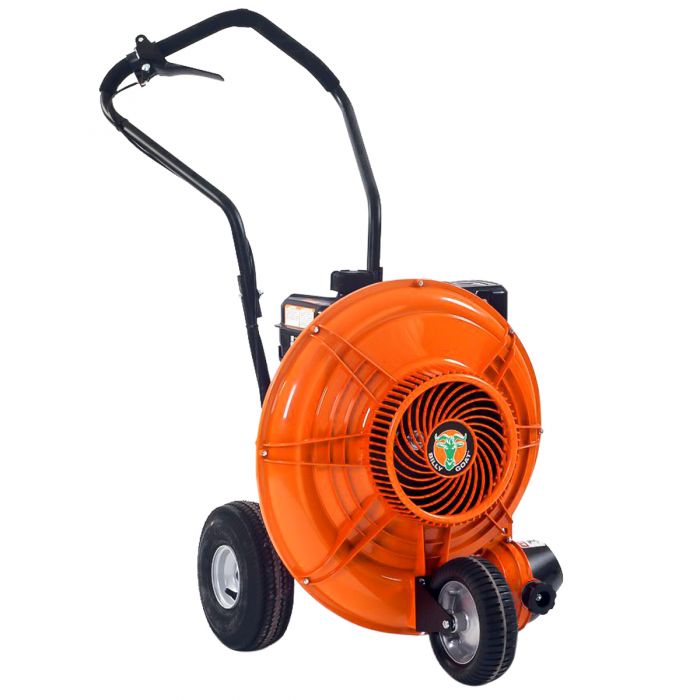 Features for the Billy Goat F601X – Leaf Blower
Trying to muscle around a heavy machine can be a huge pain. But you won't be huffing and puffing when you use the 30% lighter Billy Goat F601X Wheeled Leaf Blower. You can push it with one hand! This unit weighs only 76 lbs, significantly lighter than comparable steel blowers, saving you time and energy when pushing across the turf!
If that doesn't blow you away, try out the Aim N Shoot airflow control, which lets you quickly adjust the discharge chute up or down — very convenient when clearing varying amounts of debris on the lawn. Finally, the lightweight rounded housing allows this unit to provide smooth, powerful flow, while also keeping noise to a minimum, especially around residential properties. If want to get more done, in less time, and with less effort, the Billy Goat F60XS is the blower for you!
Billy Goat's F601 Series Force blowers feature the next level of performance and productivity in push blowers. Forget the fatigue factor associated with heavy metal machines, these models are a remarkable 30% lighter than comparable steel units and weigh only 76 lbs. (F601V, F601S) or 71 lbs. (F601X) making them a breeze to roll around the yard.
Rounded composite housings coupled with 16-blade advanced fan technology eliminate traditional bends in metal housings. This eliminates air voids, reduces noise, lowers weight, and pushes the design envelope for blowing efficiency. There is also no rusting or denting and there is less stress on the engine shaft for longer life. The F601V features a 205cc Vanguard engine and the F601X features a 208cc Briggs & Stratton XR950 Professional engine
The result is a dramatic jump in productivity, ergonomics, and reliability. When combined with industry-leading wheels, ergonomic handle design and the patented Aim-n-Shoot™ airflow technology, the F601 Ser. Is the ultimate property cleanup tool.
XR Pro Series Briggs & Stratton Engine: 208cc Briggs Engine with Dura-Bore™ Cast Iron Sleeve withstands wear and abuse.
Rounded Housing: Provides a smooth, quiet, and powerful flow of air thanks to the F6's smooth housing design. Won't rust or dent and is backed by a 5-year limited warranty.
16-Blade Closed Fan: The advanced 16-blade fan technology provides smooth consistent airflow with twice as many blades as other blowers on the market.
Ergonomic Handles: Lightweight handles provide top-quality comfort.
Low Weight: Finish the job faster and get less fatigued.
Aim N' Shoot: A fingertip control allows you to aim and lock onto wherever you need the airflow to be.
Fan Technology: A single-shot 16-blade closed-face fan provides greater efficiency. Has twice as many blades as other fans on the market.
F6 Warranty: Limited 1-year commercial, limited 2-year residential engines, limited 1-year machine.
Like its brother the F601V, the F601X is identical except for the engine. The F601X is powered by a 208cc XR Pro Series Briggs and Stratton engine. These engines proved to be top-of-the-line engines for a very reasonable price and stand the test of time. They are easy to start and provide plenty of power to get the job done.
The 16-inch single-shot composite fan on the F601X is where the air is going to come from. A 16-blade closed-face design is going to produce air speeds up to 200 MPH and product air volume equal to that of 2.5 backpack blowers. This design eliminates air voids, reduces noise, lowers weight, and pushes the design envelope for blowing efficiency. With the fan being composite, there is also no need to worry about corrosion or denting which offers great longevity than some of its competitors.
Like the F601V, the F601X also uses the patented Aim-N-Shoot design. This design directs airflow to where you need it by using just your fingertips. This will help anybody manage just about any pile of leaves efficiently and effectively in the shortest time possible.
If you are looking for an affordable, but high-quality leaf blower, the F601X is a great option for anyone from homeowner to landscaper.
Dale V.
I've never used a walk-behind blower, but we have tons of leaves, acorns, & walnuts, and was tired of spending what limited time I have on the weekend to blow and rake leaves just to have a well-manicured yard. This blower is fabulous! I've been researching various brands for the last 5 years and I never pulled the trigger because….well, they're expensive. I purchased the attachment that can direct the airflow forward rather than the side.
I wish that came included in the package price. The wheels are good quality, the airflow is very strong it blows sticks and all types of tree nuts with ease. I've used it recently on a lot of wet leaves and it worked great. In short, yes, I'd recommend this blower. Leaf Blowers Direct also shipped it quickly, I think I received it in 6 days. My only gripe is with the instructions on how to start it since it's not that self-explanatory. There are several switches. After about 10 minutes of trying to figure out how to slide the switches (gas flow, airflow, engine rpm, and the on/off switch) I finally figured it out. Mine isn't self-propelled and since I have some elevation and ruts in certain areas of my yard it was a little heavy to maneuver at times, but I think the more I use it I'll get better.
Katie D.