I believe many people have a passion for gardening, but the wrong choice of working tools makes it hard to achieve the desired results. With the huge experience that I got working in a gardening company, I have settled on a choice to share my thoughts on the best gardening companions. Thus, I have prepared a detailed overview of the top 5 walk-behind weed trimmers available in the market, so you could use this article as a guide towards purchasing the right tool.
There is also a review for a portable gasoline trimmer.
But first, let's look at the main features of string trimmers, also referred to as walk behind weed eaters, and metallic blade trimmers. The two are separated based on:
The best walk behind string trimmers uses a monofilament line made of nylon material as the cutting tool. It rotates at high speed, making it easy to chop off grass and weed. The blade trimmer deploys a plastic or metallic blade that oscillates at high velocities for easy cutting.
Such tools mainly operate on either gas or electricity to power up. Gas-powered trimmers may appear heavy to use, while electric ones can be charged and work on batteries. However, the trimmers that use gas tend to be more effective in hard tasks than their electronic companions.
Both metallic and string trimmers come in a variety of designs to fit into your plan. Many are wheeled, making them easy to push and cut grass in pavements or open fields. They contain a long handle that is comfortable to push without having to bend a knee. The trimmers are mainly lightweight to help you carry them to any part of your garden. They are raised a few inches off the ground for protection against hitting rocks which would make the cutting tool blunt.
A push-behind weed eater is efficient in places where it won't be possible to use such big objects as lawnmowers. The string trimmer can cut around stones or trees without causing destruction or damaging plants in the process. They are small in size and fit around sharp edgings. The blade trimmers are more effective in large open fields.
The strength of the chopping tool
The monofilament line moves at extreme velocity. It is efficient, yet it is thin and thus, more prone to damage. The line has a shorter life but is more effective in small areas to trim. The blade trimmers are easy to sharpen again after hitting a hard object. Although the plastic blades quickly get worn out, they are super easy to fix. You can use such blade trimmers when you need help putting down some dense foliage.
Lightweight compared to other trimmers, noiseless, never flat wheels of 14 inches
Premium Choice
Lightweight compared to other trimmers, noiseless, never flat wheels of 14 inches
Now, that we have gone through the distinctive features of different grass trimmers, let's move on to the review. Here are the eleven tools that can help you in taking care of your lawn.
Top 10 Walk Behind Trimmer Reviews
Keeping in mind the main factors of different weed wacker before making a purchase, let's have a look at one of the best options available. The cost, durability, efficiency in use, and maintenance process explanation will help you to settle on a choice that matches your needs. The walk behind string trimmer reviews is created based on my experience of handling these tools.
1. Black+Decker 140CC 4-Cycle Gas Walk Behind Weed Eater
No products found.
Specifications:
Power Source: 140cc OHV GAS ENGINE
Cutting Diameter: 22-INCH
User Friendly: Off-set trimmer head ,folding handle
Trimmer Line: 0.155"
Wheels:14-inch ball-bearing
Push weed eaters is another Black+Decker product on your list. I can recommend a wide range of trimmers from this company simply because I've checked it and I trust them completely. This model runs on gas and is good for tough areas with weeds and grass. It has two 14-inch wheels that move this 78 pounds model with ease. The cutting width is 22 inches.
If you look closely at the model, you will notice the unique shape with curves that are helpful with your flower beds and fences. If you have hard-to-reach areas on your lawn, you will be grateful for this model's offset trimmer head. The diameter of the trimmer line is 0.155 inches.
What's included:
140cc Gas 22″ High Wheel Trimmer – 25A-26S5736
I have tried changing the cutting string on this model, and it was extremely simple. As for the weight, I need to say that you will not feel it with the wheels. Yet, it is better to avoid rocky roads. To start the engine, you need one pull only. You have to clasp both handles as well. Once you let the handles go, the machine stops. It is simple and does not require additional effort.
---
PROS:
Perfect shape for flower beds
Recoil start
Power engine
22-inches cutting width
Reliable wheels
CONS:
If you want to see oil level, you have to buy a long-necked funnel
---
2. Craftsman Walk-Behind 25A-262J793 – Best Walk Behind String Trimmer
No products found.
Specifications:
Power Source: 159cc OHV GAS ENGINE
Cutting Diameter: 22-inch
User Friendly: Off-set trimmer head ,folding handle
Trimmer Line: 0.155"
Wheels: 14-inch ball-bearing
The self-propelled string trimmer was created by Craftsman, an American-based power tools developer. The company was founded almost a century ago. From that time, they provide simple to use tools with innovative technologies. I recommend their products to all amateurs and professionals.
This is a gas-powered walk-behind mower with a 4-cycle engine and 78.7 pounds weight. While this model is slightly heavier than many products on the list, the never-flat two wheels of 14 inches will come in handy. The cutting width is 22 inches, and you can trim the area around your garden, fences, and flower beds.
The handle is slightly bent and folding. It allows you to keep the mower in storage after you finish with the lawn. The trimmer line is 0.155 inches in diameter. The mower has an auto choke. The pack comes with the oil placed in a separate bag.
What's included:
Includes: 1 x Craftsman 159cc 4-Cycle Gas Powered Walk-Behind High-Wheeled String Trimmer – 22-Inch Trimming Mower for Lawn Care, Black
I have tried changing the cutting string on this model, and it was extremely simple. As for the weight, I need to say that you will not feel it with the wheels. Yet, it is better to avoid rocky roads. To start the engine, you need one pull only. You have to clasp both handles as well. Once you let the handles go, the machine stops. It is simple and does not require additional effort.
---
PROS:
Powerful engine of 4 cycles
Comes with a bag of oil
Wheels are helpful
The handle is slightly bent and comfortable
Reliable developer
---
3. Earthquake 37676 M605 Walk Behind Self-Propelled String Trimmer of 60 Pounds
Specifications:
Power Source: 163cc 4-Cycle Briggs & Stratton engine
Cutting Diameter: 22-inch
User Friendly: Tool-less handlebar adjustment
Trimmer Line: 0.155"
Wheels: 14-inch
Earthquake offers a wide range of power equipment for your garden. The company was founded in 1960. They started from a small shop in Wisconsin, and now they are popular around the world. This self-propelled trimmer mower runs on gas and contains a 163cc 4-cycle Briggs and Stratton engine inside. It cuts both weeds and brush. I recommend this one for heavy cases.
Since it weighs 60 pounds, I believe it is one of the most "lightweight" models on my list. With 14-inch solid wheels, it quickly moves around your territory. The steel deck is reliable and durable. You can work for hours using the trimmer. It has a low level of vibration. The cutting width of the nylon line is 22 inches.
What's included:
Earthquake 37676 M605 Walk Behind Self-Propelled String Trimmer of 60 Pounds
You can work with the handlebar knobs, all you need is to tighten them in advance. The tool comes with the starter strings and the engine oil. It has 5 years warranty and 2 years of limited engine service you can receive in the US. Another feature I have noticed working with this trimmer is that it is quiet compared to other models. And while this model offers you to disengage the rotating string head while the motor is still on, I recommend you to turn it off in advance, so you would not get hurt and be safer. Don't neglect the basic safety rules working with such powerful engines.
---
PROS:
Lightweight compared to other trimmers
Noiseless
Never flat wheels of 14 inches
Simple to start
Competitive price
---
4. SuperHandy Self-Propelled Trimmer Mower with Excellent Maneuverability
Specifications:
Power Source: 144cc 4 Stroke Single Cylinder OHV Gas Engine
Cutting Diameter: 21"
User Friendly: Folding handle with 3-postion
Trimmer Line: 0.12"
Wheels: 13,5"
The SuperHandy brand offers different power tools for the home and garden. This mower is ergonomic, with a shock absorption feature that removes vibration and makes it easier to cut the grass in a short period of time. You work in comfort, rolling the model around.
It has 4-stroke cylinders on gas. The maximum power it reaches is 2.5kW. If you want to understand whether this is enough for your lawn, just imagine the power of simple handheld trimmers multiplied 5 times. The rotation speed of the trimmer is 3600RPMs.
The cutting swath of the trimmer is 21 inches which is effective if you need to cut big areas of weeds. It is a one-piece solid construction that can survive shrubs and bushes. I recommend using its power to cut tall grass, lawn, field brush, and a severe level of weeds in the garden.
What's included:
SuperHandy Self-Propelled Trimmer Mower with Excellent Maneuverability
This product runs on octane Unleaded 87+ Gasoline with the capacity of 0.5 liters maximum. I recommend keeping this machine in a barn or storage far from moisture. This product is also EPA Certified. And don't forget to wear protective gloves and goggles during work to keep your eyes and hands safe from the grass. The engine has incredible power, and it may work too fast for unprepared users. Learn how to navigate it before you go near flower beds.
---
PROS:
Almost no vibrations
Ergonomic handle
Simple to navigate
High-quality materials
21 inches cutting path
CONS:
You may find instructions a little bit confusing
---
5. Remington RM1159 – Walk-Behind High-Wheeled String Trimmer
No products found.
Specifications:
Power Source: 159cc 4-Cycle Engine
Cutting Diameter: 22-Inch
User Friendly: Off-Set Trimmer Head
Trimmer Line: 0.155"
Wheels:14-Inch ball-bearing
This push weed eater is gas-powered. It is made for cutting long and tough grass or weeds. The machine is well-positioned off the ground to make movements easy and cutting simple. It is another great wheeled weed eater that can be comfortably moved around a rocky or hilly region.
Many people fear that using a gas-powered trimmer will cost them a fortune in maintenance and fuel prices. But this machine has been made to effectively economize on fuel consumption and maximize in services it is built to undertake. There are no special battery requirements here.
Additionally, the device comes with a user manual for anyone who has never used it before. As for me, I have never experienced any problem with this tool since its fuel refilling and maintenance can be done in a whiz.
Some tall bushes in a piece of land I had acquired were impossible to cut using a lawnmower. It is at that time that a friend of mine recommended this product. Though it was quite expensive, I have reaped a considerable chunk of benefits exceeding the amount I paid.
The wide cutting diameter helps make a big task look simple and takes only a fraction of your time. This is the string trimmer you can use in a hard-to-reach area. Moreover, this tool is big enough to cut all the weeds and comfortable enough to handle them.
That said, I would like to point out a major drawback of this useful equipment. The inability to adjust the handles makes it only efficient to use by people of a certain height. I was lucky that the tool was a match to my height, but I would prefer an adjustable handle to let everyone use this push weed eater. Anyone taller than 70 inches may experience not the easiest weed cutting since they would strain using the tool.
What's included:
1 x Remington RM1159 159cc 4-Cycle Gas Powered Walk-Behind High-Wheeled String Trimmer – 22-Inch Trimming Mower for Lawn Care, Black
To anyone whose height matches the handles, using the tool is not only fast but also enjoyable. The machine's two wheels are high and thin to ensure you do not leave any weeds on your path. The cost is high, but the service paid for will exceed the price.
---
PROS:
Durable
Fuel-efficient
Applicable for use in large lawns
Powerful engine
CONS:
Costly
Doesn't have adjustable handles
---
6. Southland Outdoor Field Trimmer – Best Walk Behind Trimmer for Big Lawns
No products found.
Specifications:
Power Source: 150 cc OHV engine with 5.75 ft-lbs of torque
Cutting Diameter: 22-inch
User Friendly: Folding handle
Trimmer Line: 0.155"
Wheels: 12 inch
This Southland SWFT15022 has a 150cc engine to deal with all types of grass easily and effectively. It has several useful features, such as a 22-inch cutting swath that allows you to cut grass to the roots. It has an unusual curb jumping feature and a powerful engine, which is enough to cut a good-sized lawn.
What's included: 
The Southland edger has three wheels: two in the back, one in the front. These 12-inch wheels provide increased maneuverability and easy use. Its 150cc engine is probably the most powerful engine I've ever seen, but it's also a bit weighty. The Southland tool is also equipped with an anti-vibration folding handle for a comfortable mowing process. It's a nice and affordable lawn mower option. The versatile design and a list of usable features easily make this tool one of the best walk-behind trimmer options you can buy.
---
PROS:
Powerful engine
High maneuverability
Anti-vibration handle
---
7. TAZZ Walk-Behind String Mower – Powerful Push Weed Wacker
Specifications:
Power Source: 

150cc Viper Engine

Cutting Diameter: 22 inch
User Friendly: Folding handle
Trimmer Line: 0.155"
Wheels: 14 inch
This cordless walk-behind trimmer and lawn mower processes your yard, lawn, or any other overgrown area quickly and easily. The four-circle original 150cc engine is one of the main advantages of this powerful tool. The model is equipped with a steel carcass that is probably unkillable. With its strong engine and steel exterior, the unit is quite heavy, but it still has good maneuverability. It deals with grass and weeds on rugged terrain and fairly large spaces. It is not easy to turn the mower, as the drive lever is not very conveniently positioned.
What's included:
1 x TAZZ One-Piece Steel Deck, 22" Cutting Swath, Never Kill, Fold Down Handlebars 35258 Walk-Behind String Mower/Trimmer, 150cc 4-Cycle Gas Engine, Large 14″ Wheels, Green
With one full gas tank, the device processes up to 250 m2 of lawn area. The processing speed depends on the energy of the operator pushing the mower. This is a powerful gas mower, which is able to handle its cost. It is also a good choice for huge yards and gardens.
---
PROS:
Good for uneven terrains
Easy to store
Deals with grass and weeds
---
8. Southland Outdoor Power Equipment SWSTM4317 – The Best Push Weed Whacker
No products found.
Specifications:
Power Source:43cc 2 cycle
Cutting Diameter: 17 inch
User Friendly: Off-set trimmer head, folding handle
Trimmer Line: 0.105″
Wheels: 12″
This is a three-in-one tool that can be used as a mower, edger, or trimmer to help in a variety of gardening works. It is easy to use and assemble and lays very comfortably in your hands. This model is among my favorite options because of its accurate services and durability.
It is an engine-powered machine. This puts it miles away from the electric and cord mowers. In terms of efficiency, it is not intended for cutting dense foliage. It is much more suitable when using it on small and short grass, and this makes it ideal for household work. Low fuel consumption is a plus as the tool comes pretty economical. It contains adjustable handles making it easy to use by any person regardless of their height.
Given the price, it comes at it is a bit expensive as the quality is not up to the mark. I bought mine some time ago, and in less than a year, it had broken down. This was despite having been used in on short grass and as a fence trimmer. This has been its most significant drawback. However, the warranty covered the breakage, and I haven't experienced any additional difficulties with this product so far. Nevertheless, its inability to work on dense foliage came as a shock to me as the grass outgrows really quickly during the rainy season.
Away from the shortcomings, I like the way this product is lightweight. My ten-year-old nephew carries it around and helps me trim the grass as he can easily operate it. It is super easy to assemble, and all information about the exploitation is available in the provided user manual. I have to admit that I enjoyed trimming my four feet long fence with the item. This push weed eater on wheels is effortless to move around.
What's included:
I would encourage you to consider buying this product instead of a single-handled trimmer. It does its work clearly and accurately and can beat such a simple trimmer on the go. If you rarely need a grass trimmer or you have a small lawn to take care of, this lightweight product can be a nice option for you. However, if you are looking for a more universal or multipurpose option, it is worth turning to one of the products I have already reviewed above.
---
PROS:
Lightweight
Low fuel consumption
Easy to assemble and use
Adjustable handles
CONS:
Not the best quality
Won't work for dense foliage
---
9. Earthquake 28463 String Mower – A Useful Weed Eater on Wheels
Specifications:
Power Source: 150cc 4-Cycle Viper engine
Cutting Diameter: 22-inch
User Friendly: Tool-less handlebar adjustment
Trimmer Line: 0.155"
Wheels: 14-inch
In case you have been looking for a powerful lawnmower for all sorts of gardening work, this is the best tool to consider. It is sturdy enough to be used not only in cutting the grass but also in bush trimming. The most exciting of this product is the minimal noise it produces when in operation.
I have experienced a couple of benefits when using this product, and I would like to help you experience it even more. From the strong engine powering the machine to the least noise produced, mowing has never been this fun. I had a pair of ear protection gears when using my previous lawnmower, but there is no need to wear them when working with this string mower.
This sturdy machine is all you need to solve your gardening problems. It consumes the least amount of fuel possible and offers excellent mowing services for its cost.
I have had a thick piece of land, and it broke three of my lawnmower blades with the rocky surface making it extremely hard to push the mower around. Then, I purchased this item lacking any other suitable option. I thought that if it didn't solve my problems, I would quit trimming bushes and find someone else to do it for me. It has been two months since the purchase, and I might even start seeking bush-clearing jobs. The product proved to be made by a company that cares about the quality and durability of the produced equipment.
You can easily adjust the height of the trimmer off the ground to cut even lower weeds. The handles are adjustable to your convenient height. This walk-behind weed eater is fast, efficient, and very strong. The item came under the protection of 5 years warranty, and I haven't had anything spoilt so far. I like the design that makes it easy to use, even in hard-to-reach areas.
What's included:
Earthquake 28463 String Mower – A Useful Weed Eater on Wheels
The only con is the high cost, but since it will serve you for quite a long time, I see no reason why it is not worth paying a bit more once and getting the best quality.
---
PROS:
Durable
Sturdy
Silent
Easy-to-use
Adjustable handles
---
10. Craftsman CMXGCAQ108493 – A Self Propelled Walk Behind String Trimmer
Specifications:
Power Source: Kohler XT675 149cc EPA/CARB approved 3600 RPM engine
Cutting Diameter: 22 inch
User Friendly: Trimmer ball with dual 4-inch heat, folding handle
Trimmer Line: 0.157 inch
Wheels: 14 inch
The Craftsman CMXGCAQ108493 is perfect for tall bushes and tough weeds. The machine is designed to reach places where a typical lawnmower can't trim. It is sturdy enough to cut up to waist-high grass. You can deploy the walk-behind string trimmer in your lawn and save yourself the long hours used to prune unwanted plants. The inbuilt trash collector will help you save raking time.
The product has a wide diameter of 19 inches, which will help you work on large fields in minutes. Whether it is during the rainy season or in the morning when the grass is wet, this engine-powered monster will give the best service and leave your compound clean. It won't stop due to cold weather because of the super powerful motor propelling it.
Beware of dry leaves and dust accumulating on your engine when you use the machine during the summer. However, removing the collected waste is not an issue to worry about. You will do it in a whiz and get back to your job. Long accumulation of the same may cause engine problems, and that is why it is vital to check on it and remove waste timely.
The machine is among one of the easiest-to-use walk-behind weed wacker. It can save you a fortune on the cost and time spent on pruning the hedges. What is more, it is easy to upkeep, and you don't have to worry about the string being pulled out. It is safely fixed in the device.
The two-year warranty makes the manufacturer dependable and boosted my confidence in making the purchase. The product is created and blended in quality, ensuring you get a long period of service without any breakage. This is the main advantage associated with buying already proven products.
The powerful motor operating the machine ensures reliability and efficiency in all your gardening work. The manufacturer guarantees you won't have to spend all your savings on fuel because there is an economical fuel-consumption engine. I find this quite beneficial as there are a lot of fuel-powered tools in the market that spend enormous amounts of fuel on operating. Why go with a general one, when you can have a high-quality weed wacker with reasonable fuel consumption?
This weed eater with wheels is uniquely crafted to trim lawn places where conventional lawnmowers cannot reach. I have been using it to trim around fences, sharp corners, trees, and fencing posts without a hitch. Operating the machine is super easy with the quick start option and fast-to-crank engine stand-by. It is honestly one of the best tools I have ever used. It returns the best value for your money.
What's included:
(1) CMXGCA108493 Wheeled String Trimmer (1) 0.157-in. / 4 mm diameter x 19-in. length cutting line
I profoundly recommend purchasing this item. You will forget about all the trimming problems that have been bothering you with this weed eater. It is a super deal for dense foliage.
---
PROS:
Durable
User-friendly
Easy to upkeep
Simple to use
Powerful engine
CONS:
May appear too heavy to use
---
11. Black and Decker MTC220 12-Inch 20V MAX Lithium Cordless – A Great Push Weedwacker
Specifications:
Power Source: Battery Powered 20V
Cutting Diameter: 12 Inch
User Friendly: 

3 tools in 1, easily converts from mower to trimmer to edger

Trimmer Line: 0.100 inch
Wheels: 5 Inch
This equipment provides the services of a mower, edger, and trimmer. It is a two-handled trimming tool. The long and height-adjustable handles make it super simple to take care of short grass without straining your back. It is lightweight for easy raising, for instance, when trimming a high fence.
I purchased this tool a year ago because the area I intended to clean was too small for general lawnmowers, and this equipment has worked marvelously for me. I was able to trim the large lawn as well as cut grass accurately around my plants in the garden.
The Black+Decker MTC220 12-Inch 20V MAX Lithium Cordless is powered by a large 20V lithium battery giving you some endless usage experience. The power is enough for a full-day trim. Not forget the extra battery that accompanies the product in case the one you are using runs out of charge. I want to note that this push trimmer is lightweight, and I have been using it even on my 4-feet fence.
It is extremely easy to use. In case you have never had such a tool before, you can check out a short user manual that comes with the product to familiarize yourself with its functionality. You can also access video tutorials on the web to learn about its easy-to-apply maintenance process. The mower is well-raised off the ground to keep mud and stones from getting in your way. As it is a push weed wacker, you don't have to worry about the blade breaking. Its small size helps trim grass around a tree without damaging the bark. Since it is a four-wheel pushed equipment, movement is not limited to the surface it is set on.
The only challenge with this machine is that it is not effective when you are working on a large lawn. However, recharging the battery is not as complicated as adding fuel to the gas-powered trimmers. This makes the tool easy to use by everyone.
What's included:
Mtc220 3-N-1 Trimmer/Edger And Mower

(1) LST220 String Trimmer

(2) LBXR2020 – 20V MAX* Lithium Ion Batteries

(1) MTD100 Detachable Mower Deck

(1) AF-100 Spool

(1) Auxiliary Handle

(1) Guard
So far, the product has well-matched my expectations. Even if you are living in a rocky and hilly region, this equipment will work for you great. The cost is affordable to all, and the service you get is superb. My recommendation is to purchase this tool without any hesitation.
---
PROS:
Easy to assemble
Lightweight
Durable
Can work as a trimmer, mower, or edger
CONS:
Not suitable for a large lawns
---
Buyer's Guide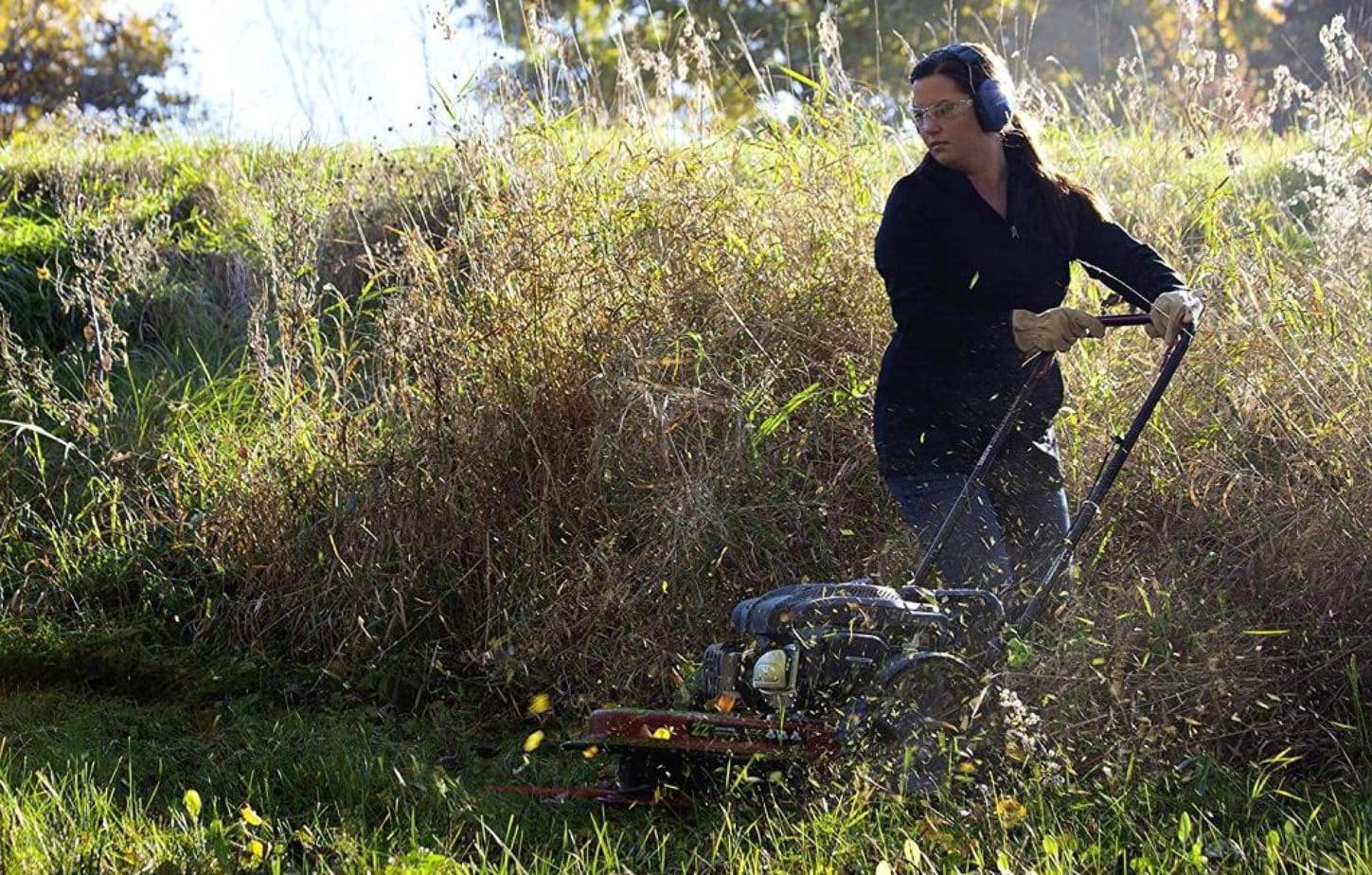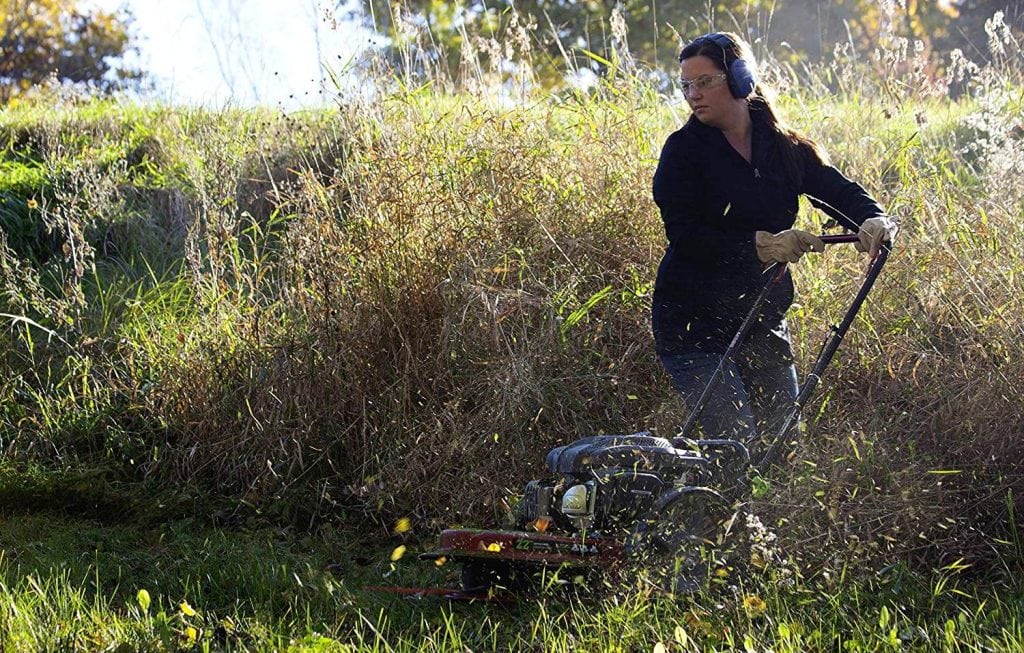 How to choose a walk-behind-wheeled string trimmer?
When choosing a walk-behind trimmer, you should consider power and performance as aspects of key importance. For the maintenance of a garden plot or a standard lawn, you can choose a budget option of a string trimmer that can cope with both weeds and mowing the lawn and will last more than one season. Although its lifespan depends on the manufacturer, the area plays here the most important role. As a rule, most garden keepers tend to choose inexpensive, low-power tools.
The type of cutting tool determines the possibility of using the string trimmer in certain conditions. Despite the string, there should be a metal knife in the kit, which helps to cut down hard shrubs and young trees. You also need to consider who will use the tool. Heavy trimmers aren't easy to move, and the maneuverability doesn't allow you to operate them for a long time.
How to choose the best -gas/battery/electric mower?
Gas-powered lawnmowers and string trimmers can cut grass where there is no power outlet nearby, eliminate the need to lug around a power cord, and are, in most cases, more powerful than electrical appliances. The optimal choice of a gasoline lawnmower is possible only by taking into account one important feature. The fact is that if the engine power is sufficient only for the current lawn care, then when mowing high, thick, or wet grass, the engine speed can drop sharply, which leads to clipping rather than cutting off the grass that does not even reach the grass catcher.
The battery models work completely autonomously. These mowers are well suited for grass in lawns where it is important to maintain a certain stem height. Battery lawnmowers are quiet during operation. In comparison with gasoline tools, they can be called almost silent. The design of these models is simplified and does not require complex and lengthy maintenance. The disadvantages of battery mowers are less power and operating time.
But the second drawback is not so significant. Most battery mowers work for at least an hour, and you can also use an additional battery.
Electric mowers and cutters require connection and are perfect for small lawn care. The only major drawback is the limitation of the service area by the length of the cable.
Walk-behind trimmer vs handheld string trimmers
The walk-behind trimmers are set in motion by the user's muscle power. Such a lawnmower is cheaper, more compact, more maneuverable, and handles difficult vegetation better, but it's less convenient to work with. In particular, considerable effort is required to overcome obstacles while driving.
Handheld trimmers are similar in use, but during the operation of the device, the user can independently determine the cutting height. This makes the handheld trimmer an advantage over a lawnmower, in which the cutting height adjustment is limited to a few knife positions.
If comfort is a priority for you, then you should consider handheld lawnmowers. They are quieter, lighter, and more agile than walk-behind ones. However, the latter is more powerful and tenacious, so the choice is yours.
Which one should you pick – pushed or self-propelled?
A powerful, free-running self-propelled trimmer is perfect for large and difficult areas. Weeds, uneven surfaces, thickets, and mounds can't handle this model. However, a self-propelled mower also requires some necessary skills and careful maintenance. These mowers have a sufficiently wide mowing width, which reduces the number of passes which reduces mowing time. However, the weight and dimensions of these mowers are impressive, which slightly reduces their maneuverability. Self-propelled models can be described by high performance and reliability. They work even on wet grass.
Pushed lawnmowers are mobile devices that are easy to maintain and use. They are convenient to use in small and medium-sized areas. They have a low power level and are great for mowing dry grass of medium height. When choosing a model of a walk-behind lawnmower on a battery, the battery capacity is a crucial factor. It is also worth determining for yourself the necessary equipment and the need for the mulching function or side discharge of the cut grass.
FAQ
To choose the best walk-behind string trimmer option, you have to research all possible questions you might have. This section will help you with this task.
What is a walk-behind string trimmer?
A walk-behind trimmer is a device that cuts grass and small bushes. It copes especially well with its work in difficult places (on uneven and sloping areas, near walls and curbs, along with lawns and fences). A trimmer is a more delicate machine than a full-fledged electric or petrol cutter. And the line trimmer is even more delicate. If it is raining or has just stopped raining, you may get an electric shock when cutting wet grass.
Before using it for the first time, make sure you have correctly assembled the device because some models are shipped disassembled. The precise assembly will protect you from injury and the unit itself from failures and sudden breakdowns. When using the electric trimmer, charge the battery (if the device is designed for autonomous operation). If the battery is not in the device circuit, connect the plug to the socket and start working.
For gasoline models, fill the tank with gasoline (or diesel) without overfilling. Two-stroke trim motors require mixing gasoline with engine oil (not car oil) in a ratio of 1:32 – 1:50. You need to know which oil in what proportion is mixed with gasoline for your model. In four-stroke trimmers, you will need to put oil and gasoline in separate tanks according to the instructions.
How to replace the string trimmer line?
In the trimmer, the string line is one of the main elements, and it's responsible for the productivity of the mover.  It comes in different shapes, types, and volumes. During the operation, it naturally wears out, and after a while, the brush cutter coil becomes empty. But it can easily be supplemented with a new one.
To replace the string, take these steps:
Unwind the required amount of the line from the skein. This distance depends on many factors: the braid manufacturer (namely, on the volume of the reel), and on the thickness of the purchased line.
Next, fold it in half so that one end is about 6 inches larger than the other.
Slip the middle over the spike between the grooves.
Fix it temporarily in the grooves. Then you have to pass the tips through the holes in the top cover. Put it on the base and click it. Put the reel on the trimmer and start mowing.
If the edges of the line are too long, you can bite them off with wire cutters to the desired length.
How much area can be covered?
A good, powerful walk-behind trimmer can easily cover 0,25 acres of a standard lawn or a yard. However, it is more important to think about the vegetation of your area. A nice and eye-pleasing lawn is the result of a huge work and effort invested in it.
Which Walk Behind Weed Whacker Is Worth Buying?
As you have read about these walk-behind string trimmer reviews, I hope you have now made up your mind on the item to buy. My advice is not to wait until the lawn overgrows to the point that any weed trimmer cannot help with the task. Make regular cutting of grass and keep your compound clean. Before you decide on the right working tool to buy, ensure you check on the following:
Cost. Always strive towards buying good things at a cost you still can easily manage. Do not get overcharged because not always the more money, the better the quality.
Quality. You need to look for the best quality based on your budget. Never buy goods in a hurry as you might end up making a regrettable decision.
Purpose. Always buy a product that meets your intended use. Do not waste money only to find out that the tool can't be used for the specific reason or area you needed it for.
That said, I would like to know how you feel about the equipment under review. Are you having problems operating a push weed wacker? Comment on the section below, and I will help you with your queries.
Have you ever used any of the tools mentioned above? Do you have any other products in mind? With the many push weed whacker available in stores, I believe I will have a chance to review more products and help you in making the right purchase. Let me know in the comments if there is a great weed trimmer to take into consideration.