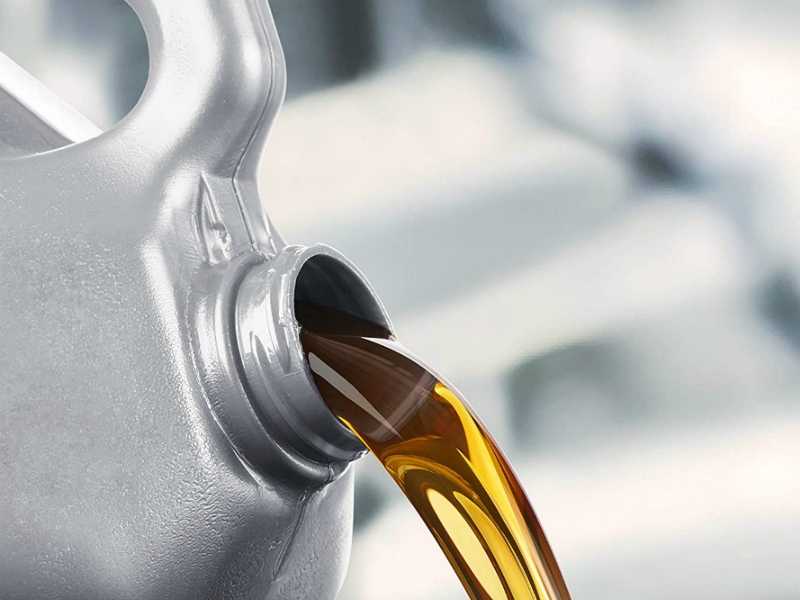 Every portable generator owner wants the device to work smoothly and for an extended period. However, the machine won't perform well if you use low-quality oil, or if the type of oil is not recommended for the model you have. Besides, using the wrong or low-quality oil may even damage the engine, and that's probably something you want to avoid.
For example, oil with less lubrication ability may cause the engine parts to wear rapidly, and it will result in more maintenance costs. Also, you require oil with good viscosity for it to move to all the targeted parts of the engine properly.
It may be hard to determine what type of oil for a portable generator to purchase because of the numerous brands on the market. However, this review will make the work easier for you. I have analyzed the top options that allow a portable generator to perform excellently. Besides, I have evaluated the core features of each product, including its effectiveness, suitability for various machines, and their advantages and drawbacks.
Top 5 Best Oil for Portable Generators Reviews
There are numerous brands of oils available. They are priced differently, and they also deliver different results. Regardless of the machine, you are using, you should always pick the best oil, not only for the performance but for safeguarding the engine. Below are five engine oil options that are excellent for portable generators.
1. Amazonbasics Dexos1-Gen2 – Best Oil for Portable Generator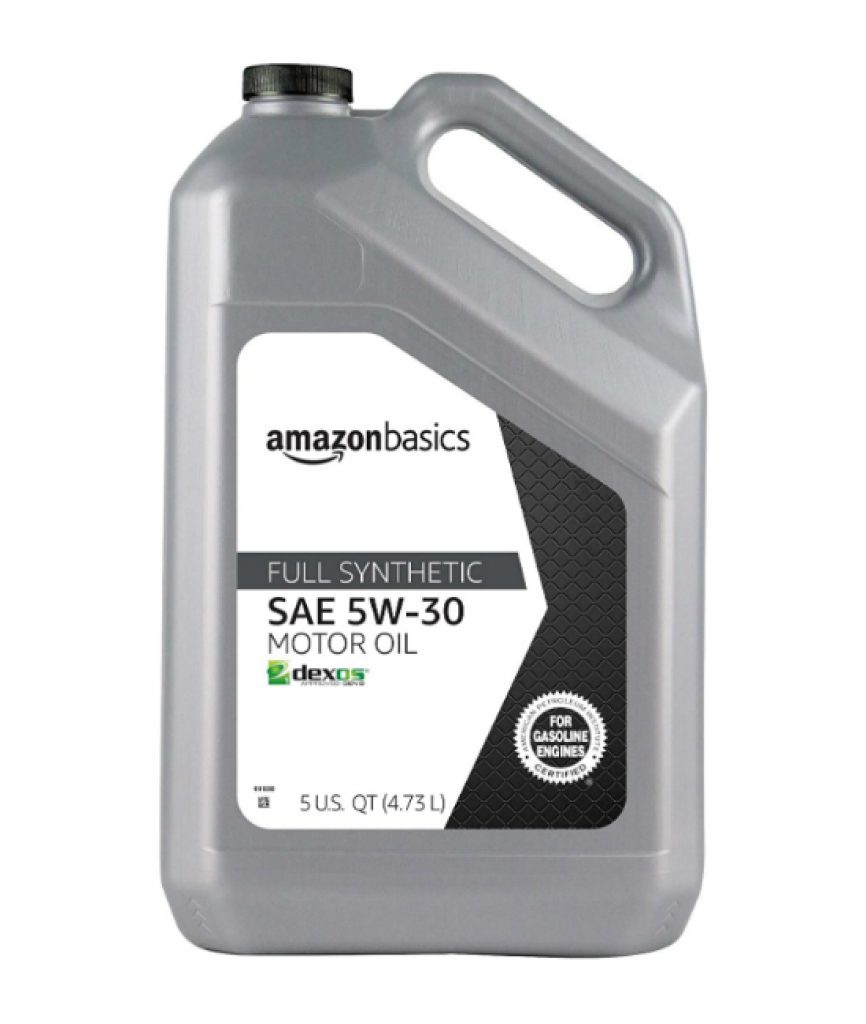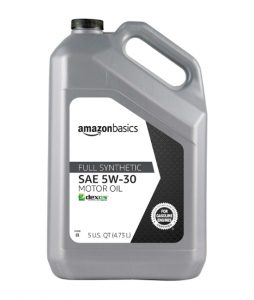 AmazonBasics is a branch of the renowned Amazon company that is dedicated to the delivery of basic home and office tools. Their range of products includes electronics, such as batteries, charging cables, as well as home gym equipment, video gaming accessories, and other items.
The AmazonBasics full synthetic motor oil Dexos1-Gen2 is purposed to protect your engine, even under severe weather conditions. You don't have to worry about the climate of the area where you use the generator.
Though it is retailed and shipped by AmazonBasics, the oil is manufactured by Warren Oil. It is off-brand oil that can perform just as effectively as the best options out there. AmazonBasics acts as a retailer and guarantee of the high quality of products it delivers to the customer. So, you can rest assured of the great performance of this oil.
While using this product, you are guaranteed longer drain intervals, in addition to a top-class blend of engine oils. This option is great for enhancing fuel economy, and it also provides remarkable protection from friction. As a result, you will find that you require less maintenance for your machine, thanks to using AmazonBasics oil, and your portable generator will serve you for a long.
More specifically, the oil has been formulated to limit low-speed pre-ignition. It has also been developed to surpass GM Dexos1-Gen2 requirements. The oil either meets or exceeds stipulations of SL, API, SN, in addition to SN PLUS. It also falls within the standards set by ISAC GF-5 & GF-4.
If you need a high-quality oil for your portable generator for an affordable price, AmazonBasics Dexos1-Gen2 motor oil can be your best bet. It is my pick among the oils available, and I recommend this option to anyone.
---
PROS:
Extended drain intervals
Dexos1-Gen2 compliant
Limits low-speed pre-ignition
CONS:
Hard to figure out the remaining quantity of the oil in the bottle
Not certified by European vehicle manufacturers
---
2. Briggs and Stratton 30W – A Remarkable Option for 4-Cycle Engines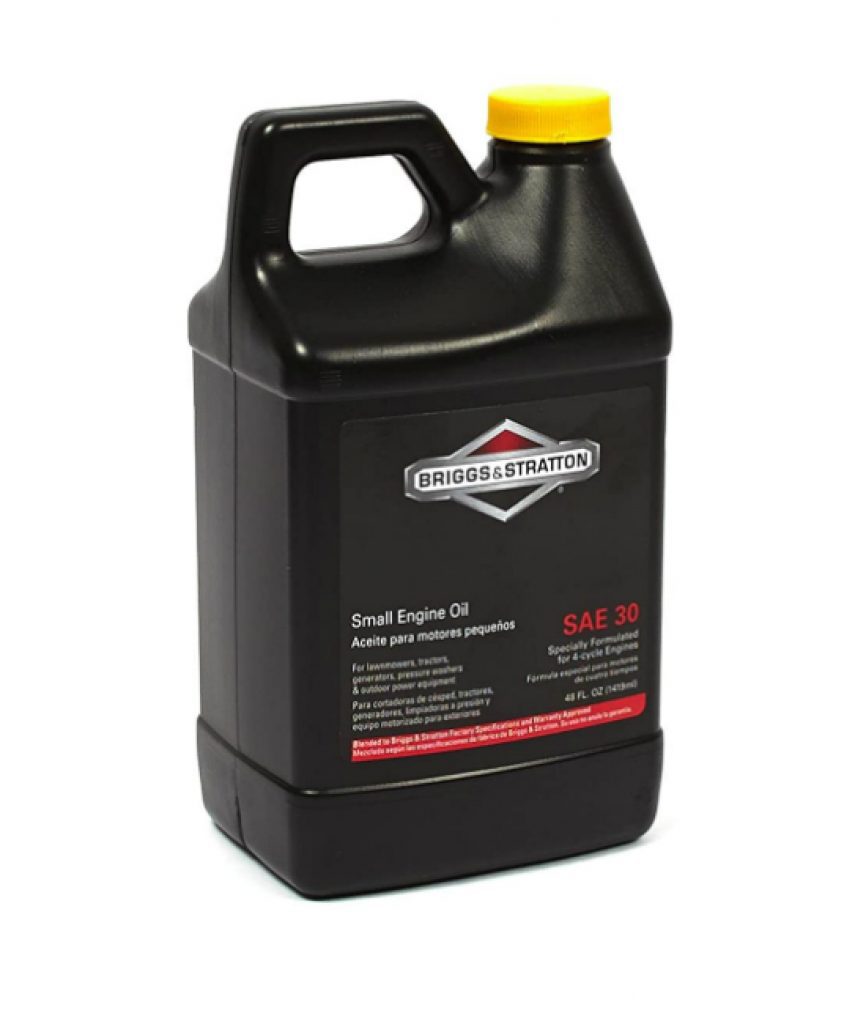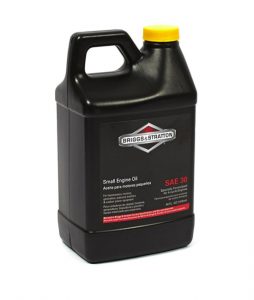 It is a firm that has garnered over 110 years of experience in engine oil production. Currently, the company is trusted by many users around the world for its superior quality products. What's more, this brand has the backing of one of the largest service networks in the motor oil industry.
The firm is the biggest maker of small engines worldwide, as well as the best firm in pressure-washer marketing. What's more, Briggs and Stratton is a top manufacturer of power generation machines and gardening turf and lawn care products.
The company's innovations in motor oil production allowed for the constant improvement of products and increased customer satisfaction. Therefore, you can count on the quality of the products of this brand and purchase this oil for the great service of your portable generator. I want to highlight that the firm is dedicated to addressing the needs of its customers and strives to develop into an even more diversified enterprise.
All oil-based products of this firm have gained the approval of the leading engineers in the industry, and they are recommended in many operator instructions. This particular motor oil has been designed to comply with the hefty requirements of four-cycle engines fully. Moreover, it is a top-quality detergent engine oil that has been classified as SJ/CD through the API.
While using this product in your machinery, it is imperative to keep checking your engine regularly. Air-cooled engines burn at about one ounce of oil per cylinder each hour. While filling or refilling the oil, ensure that you only fill up to the dipstick mark. It is important to avoid overfilling.
I recommend you go through the engine oil types recommended for various engines to choose the perfect one for your machine. The reason is that various oil types work best at specific temperatures. Therefore, you should understand the ideal one to choose based on the temperatures you plan to use your portable generator at.
This SAE 30 variant is perfect for warmer temperatures and is most suitable for small to medium engines. Therefore, it is excellent for portable generators and such machines as lawnmowers.
---
PROS:
Good viscosity
A good lubrication of the machine
Retailed in a comfortable-to-use bottle
CONS:
Oil might sometimes leak off the bottle, despite the safety seal
---
3. Briggs and Stratton 2-Cycle Oil – The Best Oil with Fuel Stabilizer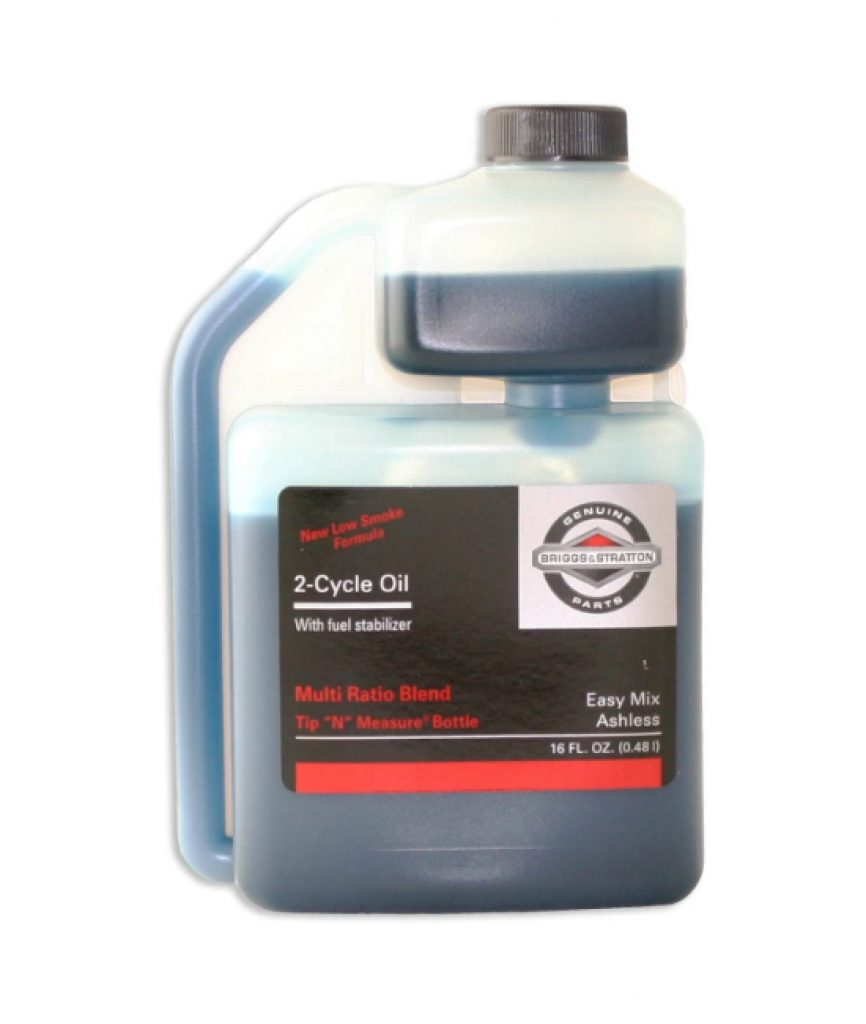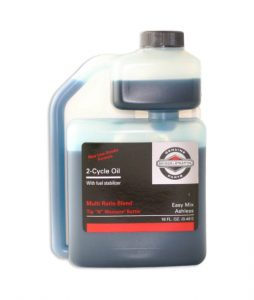 Here is another great oil from Briggs and Stratton, and this option suits two-cycle engines. As I have mentioned, the brand has risen to become among the motor product companies trusted by many users across the globe. Being one of the most popular small engine producers, a top retailer of pressure washers, as well as a leading producer of pore geranium, garden, and lawn care solutions, you can never go wrong with this oil.
This two-stroke engine oil has been created for enhancing working temperatures of motor engines. I am ready to advocate that this motor oil has a better performance compared to a considerable amount of the generic engine oils available on the market today. It is because for this oil, the brand utilizes an innovative semi-synthetic formula.
I want to note that the majority of engine brands can work with this two-cycle motor oil. Moreover, the product reduces the frequency of engine maintenance, thanks to its optimized formula. Also, it guards against cases of plug fouling.
Notably, this oil can perfectly blend with numerous fuel types. Moreover, it stabilizes fuel, thus, enhancing the longevity of your engine. You will surely note a heightening in the performance and stability of your machinery if you adopt the use of this oil for your portable engine.

---
PROS:
Considerably inexpensive
Functions perfectly with numerous two-cycle outdoor engines
Allows a mix ratio of 50:1
Effectively prevents plug fouling
CONS:
Not the most convenient design of the dispenser
---
4. Briggs and Stratton SAE 5W-30 – Suitable for Both Two-Cycle and Four-Cycle Engines

Here is one more remarkable engine oil from Briggs and Stratton. If you are seeking a multi-purpose engine oil that can be used both for two-cycle and four-cycle engines, this oil might be your best option. It is a top-notch detergent-based product that offers superb control over engine wear while maintaining and extending the equipment's life. It performs remarkably under all outdoor temperatures.
The oil has been designed for use in small portable generators, as well as in the engines found in lawnmowers, pressure washers, tractors, and many other outdoor types of equipment. One major advantage of this synthetic oil is that it maintains its viscosity, even while in storage. It also retains clarity, even when used subsequently.
I want to mention that this product never ends up filled with sludge. Therefore, if your machine will be idle for a long duration, the oil will not lose its viscosity and lubrication capabilities. If you have several portable generators with different engines, it is worth going for this option that will fit them both.
Another advantage of this product is that the oil rapidly fires up engines just with one pull, even during hot summer and cold fall. It is ideal for generators, as this oil maintains its clarity for many hours. Although it comes at a high cost compared to other standard variants, this Briggs and Stratton oil minimizes the need to maintain your machine frequently.
---
PROS:
Excellent for all types of two-cycle and four-cycle engines
Available in a convenient 32 oz. bottle
Retains its viscosity, even during storage
Prevents the rusting of engines
---
5. Generac 5W-30 – The Best Oil for Wide Temperature Range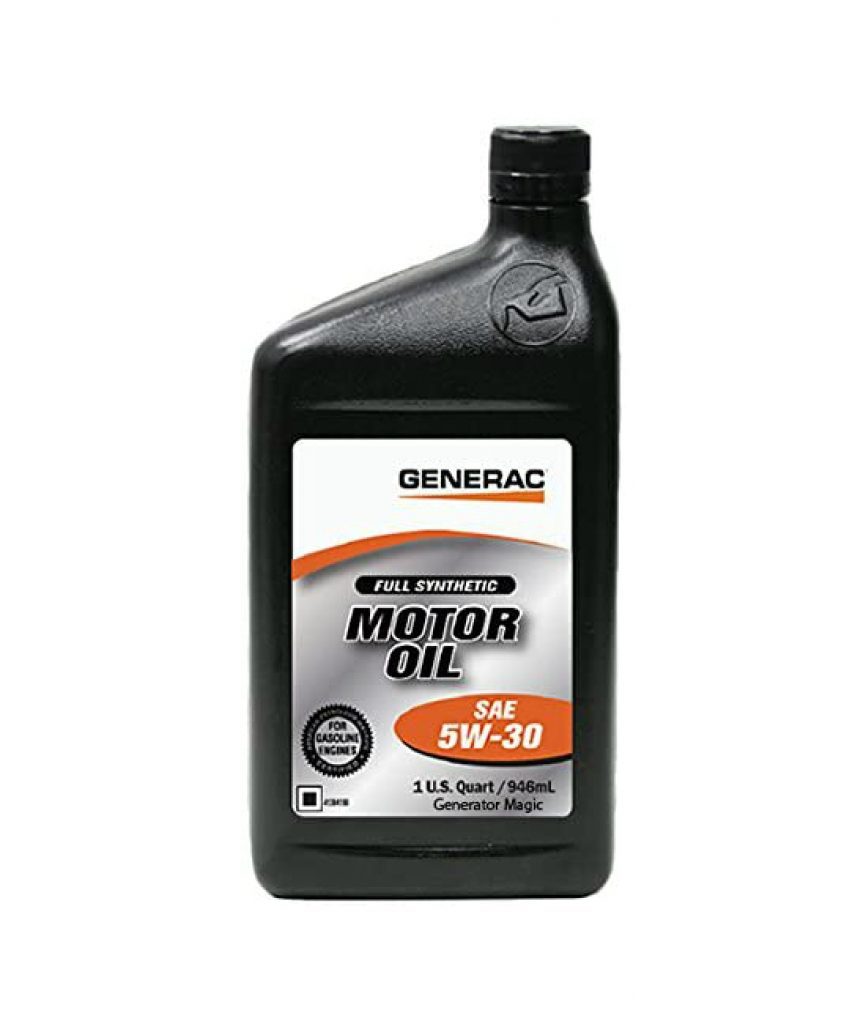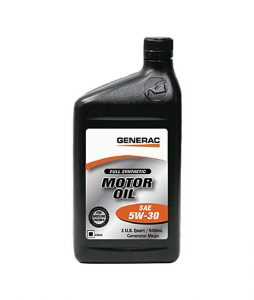 Generac is an engineering factory established in 1959. It was the pioneer company to produce pocket-friendly home standby generators, together with the first engine created especially for the need of generator usage. Currently, the company is the top manufacturer of domestic backup generators.
This company produces the greatest range of power machinery within the marketplace. These products include residential, commercial, and industrial generators. The brand also ranks among the leading manufacturers and designers of fully automated and manual transfer switches, not forgetting the necessary backup accessories for redundant backup power equipment ranging to a maximum of 2MW.
Generac produces top-ranking combination units, powerful light towers, and trailer-mounted portable generators designed for different categories of the most cumbersome environments and industries. The company has also been a pacesetter in the home power washing industry and the engine oils from Generac and widely popular among homeowners globally.
This Generac 5W-30 product is a synthesized oil that quickly became popular among the owners of high-temperature motors and, particularly, generators. The thing is, conventional oils derived from crude oil usually change with time and also thin when exposed to high temperatures. Also, they become thicker under cold weather.
Moreover, if used as lubricating oil, there are a ton of problems that can arise. Thicker oils can't move around the engine efficiently and, thus, may cause the engine to jam. But if you have never experienced this problem, then you have probably used high-quality synthetic engine oils only, and this option is one of such quality offers.
This oil is 100% synthetic and provides value for money. I want to note that it retains its chemical properties even under severe temperature changes. Thus, if you want to attain uninterrupted results when it is hailing, raining, or when it is hot outside, this oil will deliver that possibility to your portable generator.
Taking a closer look at the generic synthetic OEM oil, you will find that it prevents the formation and deposition of varnish and sludge deposits. The top-notch synthetic base that has been fortified with an efficient additive will ensure that you obtain a full shield against any breakdowns caused by viscosity.
Therefore, I would recommend this motor oil for all homeowners that use portable generators at different temperatures, from a hot summer day to cold wintertime. You won't be disappointed with the performance this oil delivers.
---
PROS:
Has been specially created for generators
Great for any temperatures
Protects against any deposits
Good viscosity
CONS:
The pricing is considerably high compared to other oils in the same category
---
Closing Remarks
I hope that this article helped you to learn more about high-quality engine oils one can use for their portable generators, and you have already picked the right option for your machine. Although the price is always a big factor while making purchasing decisions, it is not the only factor to evaluate when selecting a motor oil for your engine.
Therefore, make sure to compare different brands to see the money you can save if you choose a particular brand, as well as the performance you can expect to receive. Bear in mind that high prices don't necessarily mean that the oil will work better than those priced reasonably, and in these reviews, you can find great fairly-priced options.
Also, consider the functionality of the selected engine oil. Some are designed for four-cycle engines, while others are made for two-stroke engines. Check if the brand is recommended for the type of engine of your machine. Note that some oils can be used with both types of engines.
Moreover, pay attention to the viscosity of the oil. Normally, oil thickens when it cools and thins when heated. The more resistance it has to thicken and thinning, the better. Resistance to thickening means that it will flow easily to the engine's moving parts, while resistance to thinning implies that it will maintain a good film of lubrication.
Taking everything into account, I found the AmazonBasics Dexos1-Gen2 to be the best for portable generators. This oil is designed to safeguard your engine even under harsh weather conditions. Besides, it has extended drain intervals, and, therefore, you won't have to change it frequently. This advantage of the AmazonBasics oil will, in turn, save you some money.
What do you normally look for when purchasing an engine oil for your portable generator? Does the oil that you currently use always perform to your expectations? Leave a comment below and let me know about your experience.
You can use these oils for generators such as:
1. 12000-watt portable generator
2. Portable diesel generator