Toro Timemaster Lawn Mower – Personal Pace – 21199 Review 2020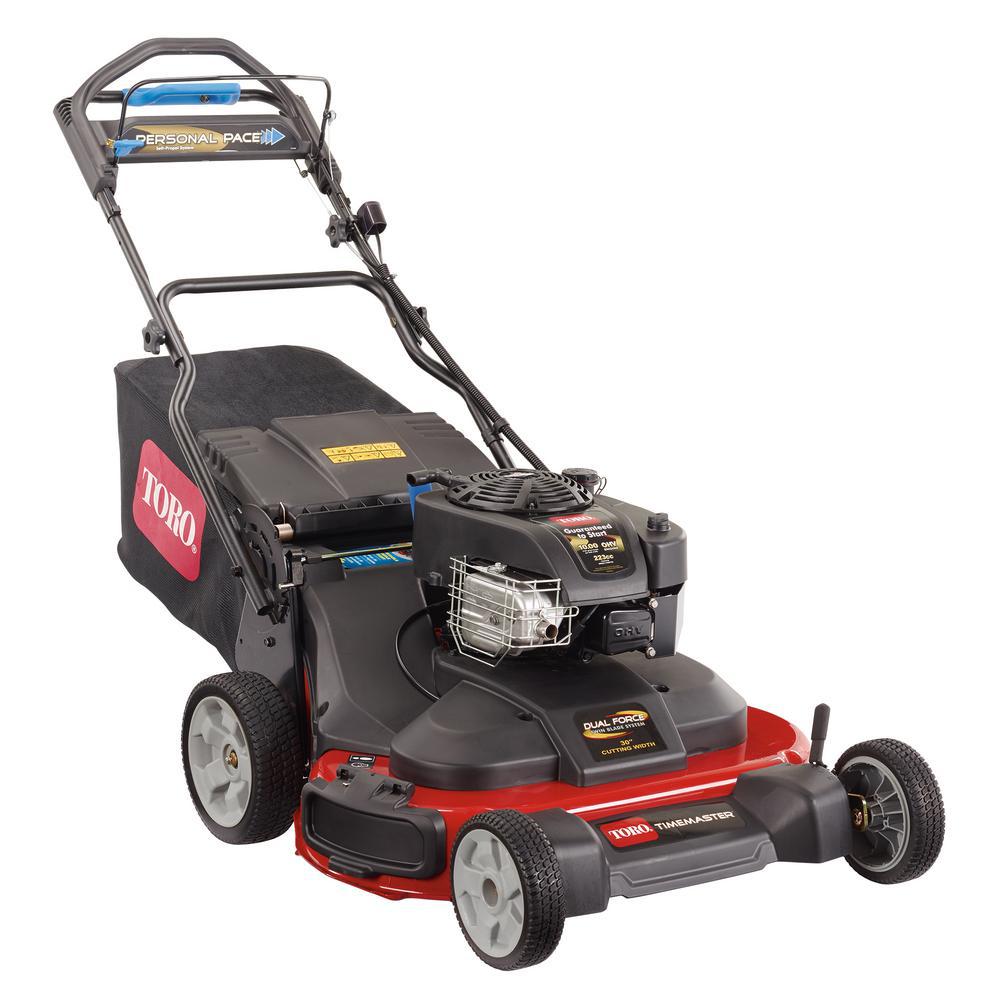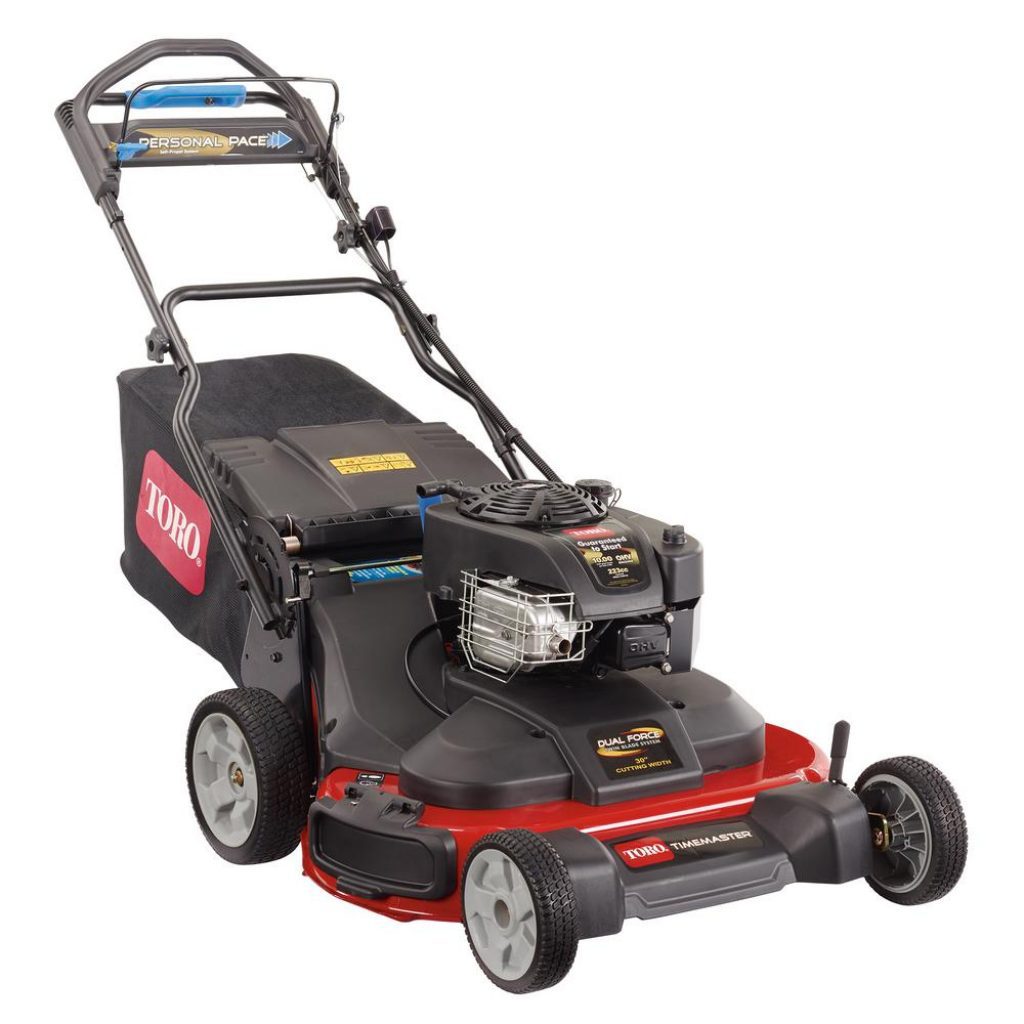 For homeowners with big yards and busy schedules, Toro's TimeMaster covers more ground in far less time. The sleek, lightweight body easily circles trees and shrubs. The TimeMaster makes a big impact with a small footprint, so it won't take up a lot of room in your garage.
10.00 ft-lb Gross Torque 223cc Briggs & Stratton OHV (50-State CARB Compliant): Powerful 10.00 ft.-lb gross torque 223cc Briggs & Stratton OHV engine delivers the performance and durability that Toro is known for.
30″ Mowing Deck: The wide 30″ mowing deck lets you handle large areas of grass quickly and easily, reducing mowing time by up to 40% when compared to a 21″ walk mower.
Dual-Force Cut: The Dual-Force twin-blade cutting system and Toro Atomic blades cut grass into a super fine mulch for the superior quality of cut and a healthy, rich lawn.
Personal Pace Self-Propel System with Traction-Assist Handle: This intuitive technology automatically adjusts the mower's pace to your walking speed. For more challenging areas with uneven terrain, the Traction-Assist Handle can help monitor your speed, and keep you mowing at a comfortable pace.
Blade Stop System: Lets you start it once, then keep it running. Now you have the freedom to step away from the mower to move an obstacle or empty the grass bag without having to restart every time.
Quick-Stow Lever: The TimeMaster has two storage positions for easy compact storage and convenient handle height positions to insure a comfortable mowing experience for any operator.
2 Point Height-of-Cut: You can easily adjust the deck height at 2 points instead of the hassle of walking around the mower to adjust 4 different levers.
Washout Port: Attach a hose to the mower deck to easily clean the underside of the deck.
Features
Briggs & Stratton 10.00 Ft-Lb Gross Torque 4-Cycle OHV Engine
Maximum power and torque with a 223cc displacement
For a non-commercial push mower, this is about as powerful as it gets
Personal Pace® Self-Propel Drive System w/ Traction Assist
Automatically senses and adjusts the mower to your walking speed
The traction assist handle enhances your control on uneven terrain
30-Inch, 2-Blade Mowing Deck
Wider deck size reduces mowing time by up to 40%*
Large 2.5 bushel capacity grass bag for fewer trips to the trash bin
Dual-Force® cutting system cuts grass into a super fine mulch
Blade Override System (BOS)
Step away from the mower without having to restart the engine
Convenient safety feature that stops the blade, but not the engine
Quick-Stow Storage Lever
Allows easy compact storage & convenient handle height adjustment
Reduced storage footprint and easier to transportation
Deck Washout Port
Keeps the grass clippings in the yard, not your shed or garage
Attach a hose to mower deck to easily clean under side of deck
Guaranteed-to-Start Promise
Warranty & Guaranteed-to-Start Promise are both valid for three years
If your mower fails to start on one or two pulls, it's fixed for free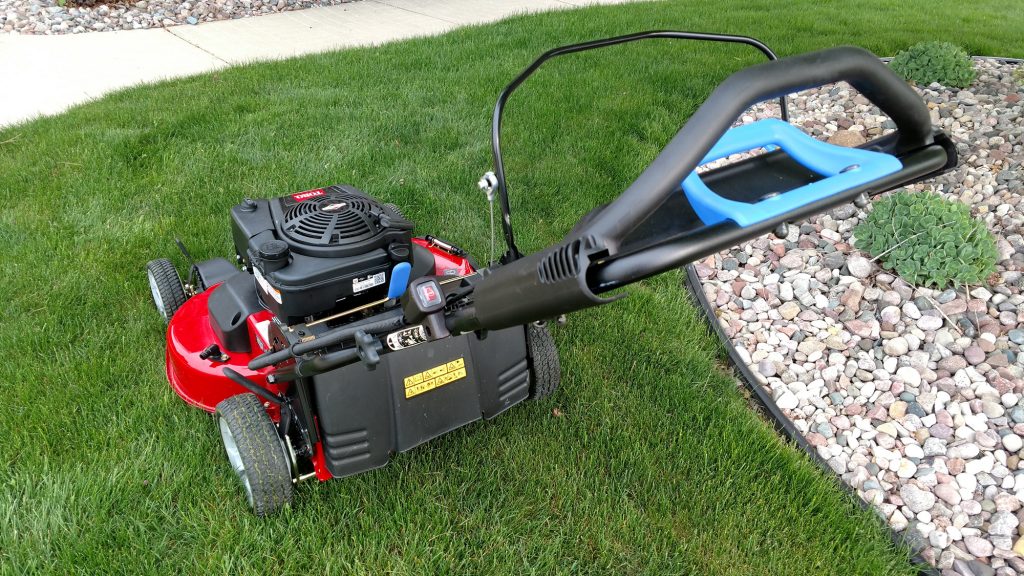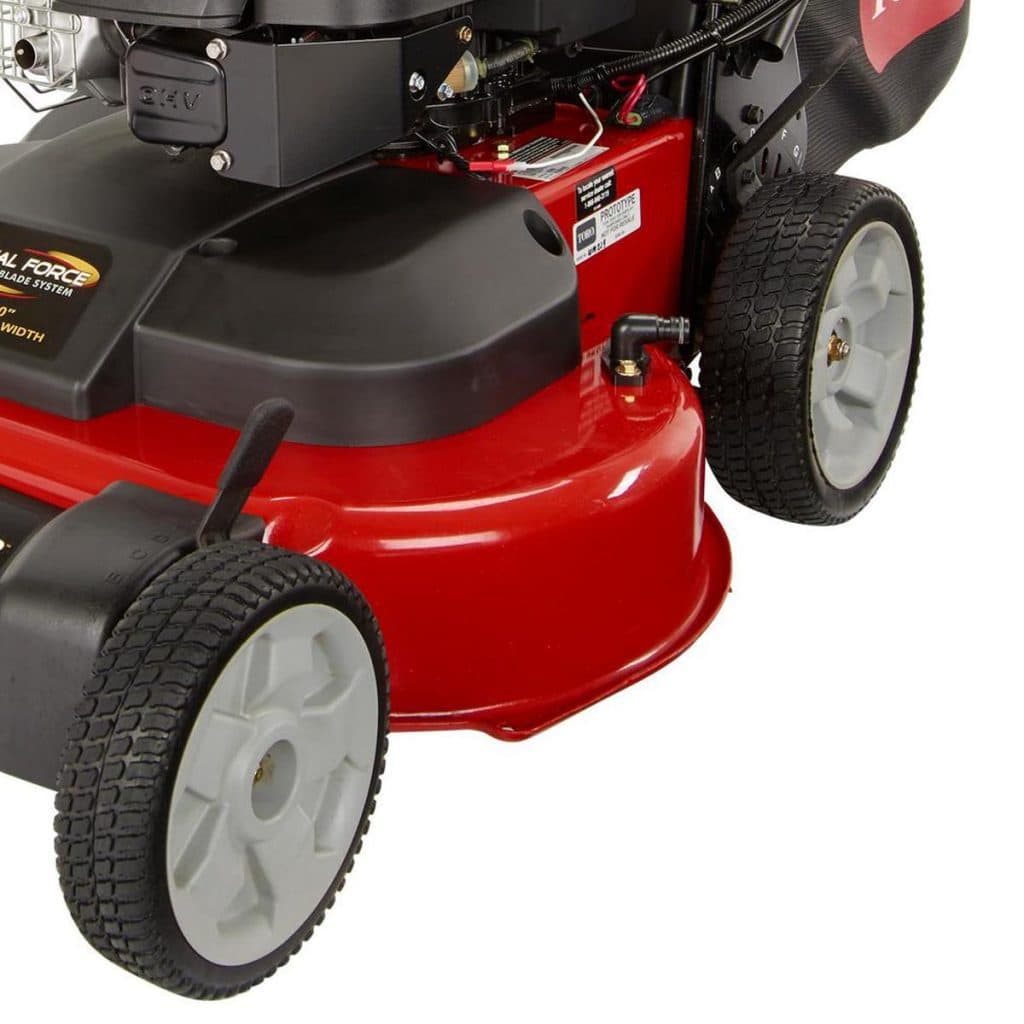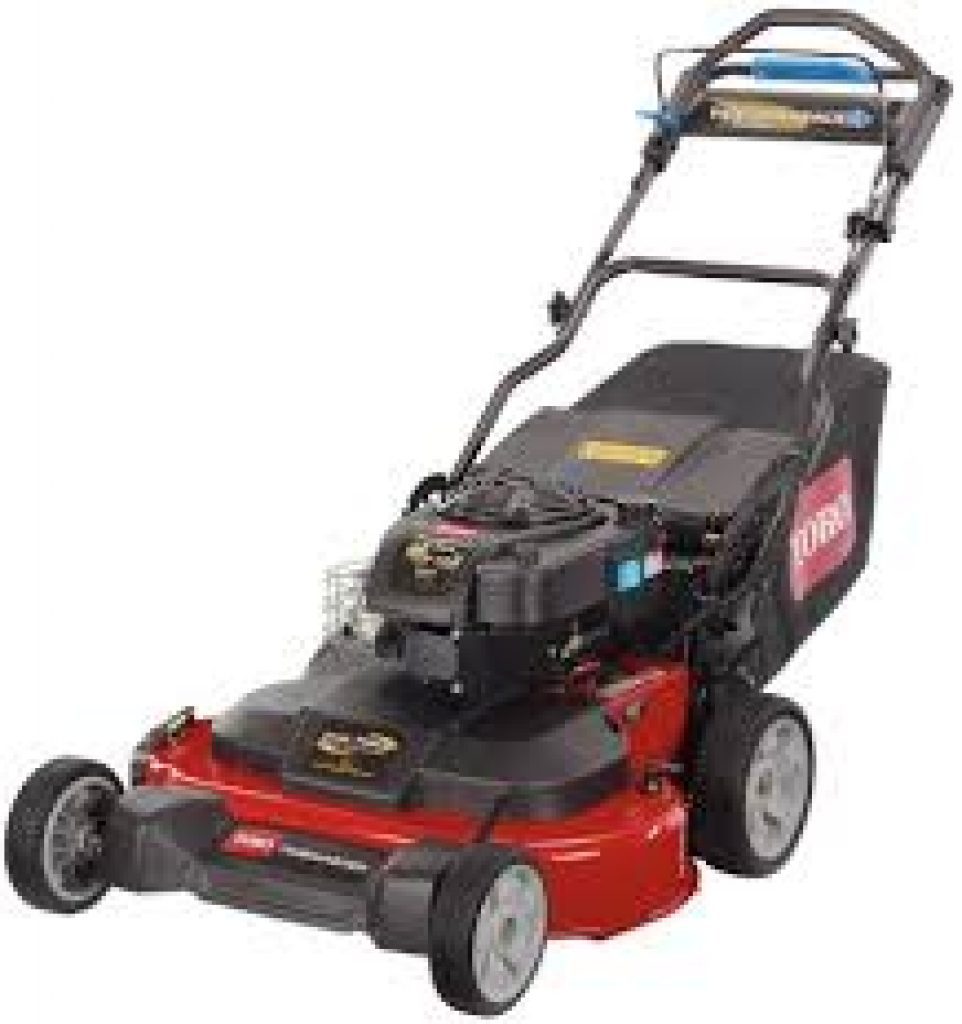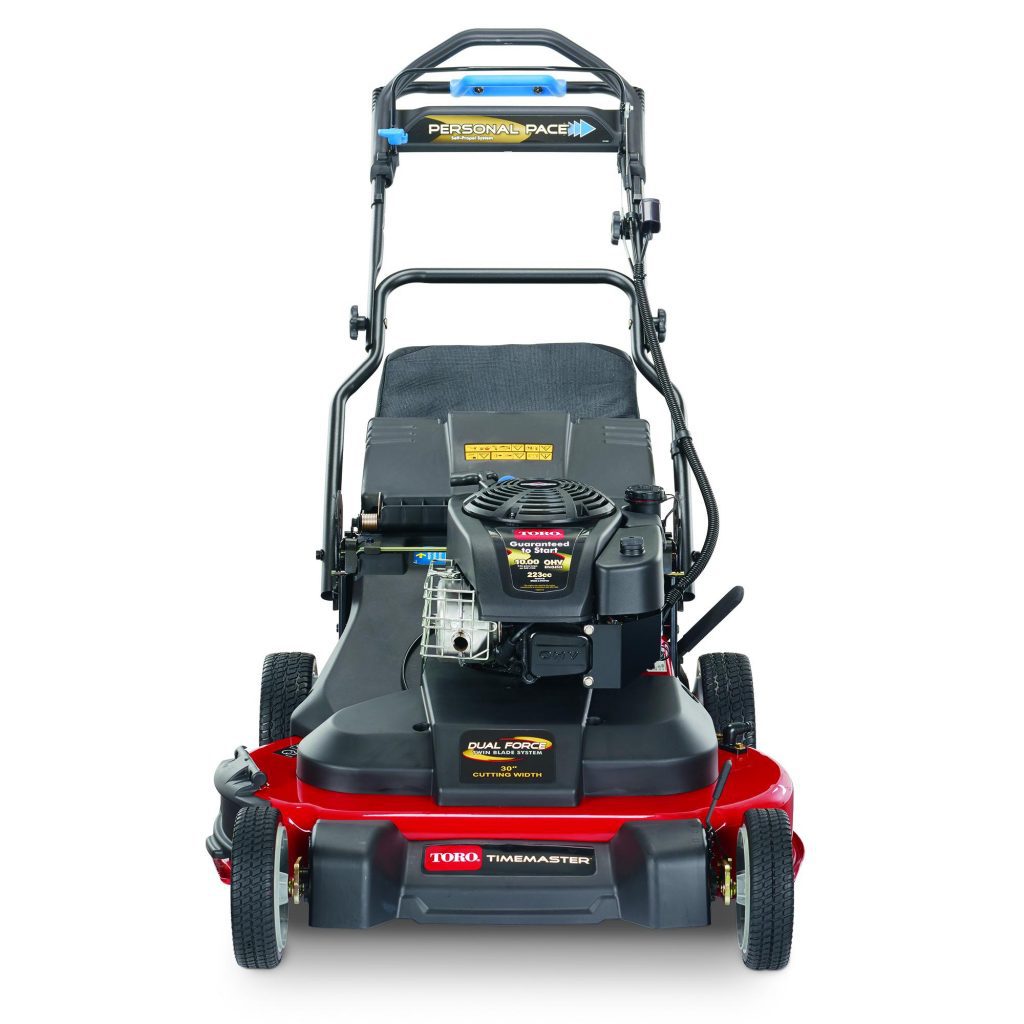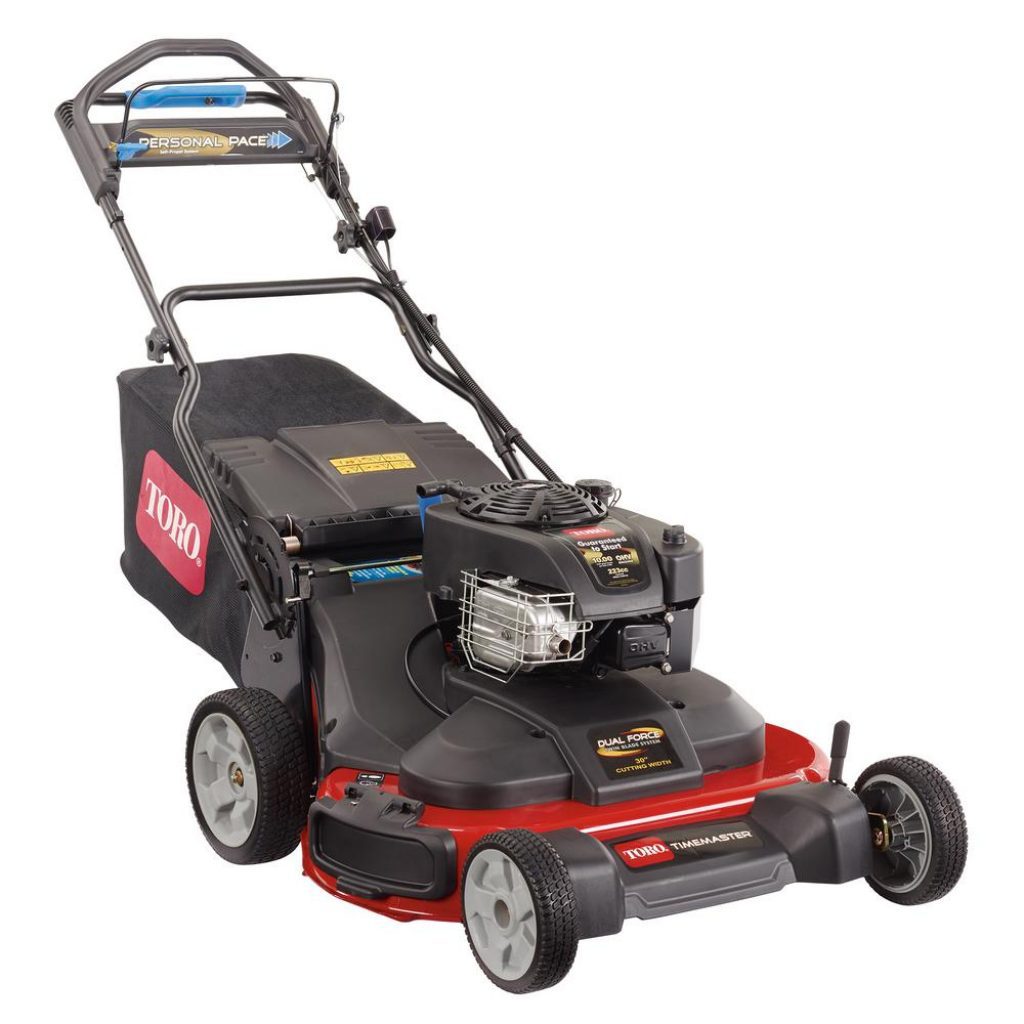 This is a great mower! The pull start is super easy (wanted pull vs electric start to never worry about a dead battery)… automatic choke and throttle, so nothing to adjust or set – just pull. Even though it is a bit heavier than a standard self-propelled walk behind mower, you don't notice the weight (except in one situation, more about that in a moment) because the personal pace system is so intuitive and effortless to use. You might notice the extra weight turning it in tight spaces, but adding a bit of forward pressure to the personal pace mitigates that issue. This mower is the residential version of the commercial-grade Exmark – all the functionality and proven reliability without the weight added to reinforce, needed for commercial operators – and without the cost. The gas tank should be a bit larger, remove the blue sponge so that you can see how much fuel you need to add. I used to have a 33" Cub Cadet es760cc – the Toro mows more yard in the same amount of time, cuts better, costs less, weighs less, easier for the operator to use, and I found myself not as tired as the Cub. I'd suggest no more than a half-acre yard typically mowing up to twice a week. If you have a larger yard and mow less often, you may find this mower quite suitable. I have two friends with this mower on half-acre and three quarter acre lots – they won't own anything else! One of these owners abuses his, throwing it in and out of a truck to also mow his mother's yard, and has had no problems for two years. Again, the only real negative is the smallish fuel tank. Just stop between front and back yard, and fill up in between to avoid fuel starvation. You will not regret this purchase. 
FormerCubOwner 
---
First off, you will need liftgate service or at least 2 stout people (preferably 4!) to get it off the truck safely. It comes in a big box on a wood pallet and weighs over 150 lbs. Imagine getting that down off a trailer that sits over 3 feet off the ground. Unpacking is easy. just cut down two edges of the box with a utility knife and roll the mower out the side. Add the included oil, fill up the tank with fresh gas, and fire it up. The box and other packing materials all broke down easily and went out with regular recycling. Not sure what I'm going to do with the pallet yet but my 6-year-old son loves playing on it. Now to the actual mower. I love the fact that the blade drive system is disengaged by default. This makes starting the mower a breeze (no load) and means I can stop whenever necessary to move things out of the way (branches, baseballs, lawn furniture, etc.) and leave the mower running without having the blades in motion. I would recommend that you pull the lever SLOWLY when engaging the blades. Pulling the lever rapidly can stall the engine and puts unnecessary load on the engine and drive system. This may smooth out with break-in, but for now, I have to remind myself to take it slow. The Personal Pace system is great. It seemed a little touchy/jumpy at first but now I am either getting used to it or it's breaking in (perhaps both) and it's become quite smooth and predictable. I do exercise caution when I come up near obstacles because this thing has enough power to make a serious impact if you aren't careful to ease up on the handle in time. The mower gets great traction due to its weight. I'm able to go up a short but very steep hill that always gave my smaller self-propelled mowers and my rear engine rider trouble. Mobility is good but not great. As expected, there are some narrow areas that I now have to hit with the trimmer instead of the mower (still takes less time overall though.) Tight turns and reversing take some muscle. The wide deck isn't as nimble over lumps and bumps as a smaller walk behind, but that's to be expected. The only area this causes me an issue is when I go over a diagonal drainage ditch near the back of my yard. I end up with a bit of a sawtooth pattern so I usually have to go back over that area either parallel or perpendicular to the ditch to smooth it out. (My rear engine rider actually didn't have that issue because the deck could float at an angle and hug the ground better.) Again, I'm still saving time overall so I'm OK with having to touch up that one area to make it pretty. The actual cutting performance is great. I only plan on mulching, which this mower does very well. I haven't done any side-discharging or bagging. The clean-out port is a neat feature, but it does take me several minutes to get all the clippings off the inside of the deck. I'm not sure if I will always bother with that after every mow. The gas tank capacity is small since the tank is filled with foam. This isn't an issue for my quarter-acre yard (I'm done mowing in under 30 mins) but if you have a larger lawn it will be annoying to have to refuel along the way. I love the fact that the handle can be quickly stowed straight upright or even pitched forward, over the engine and deck. This saves me a ton of space in my tiny shed. The Toro smartphone app is pretty much useless. I'm using an aftermarket hour meter and keeping my own records to keep tabs on maintenance intervals, but it would have been nice if the app was more functional. All in all, I'm very pleased with this purchase. It's the most money I've ever spent on a mower but I'm pretty confident this one will last me many years. Additionally, this particular mower is definitely the right tool for the job. Smaller mowers took too many passes. My riding mower was lousy at getting around the kids' playset, lawn furniture, and other obstacles and it took up way too much room in the shed. The TimeMaster is just right for me and my yard!
Daniel C.
---
I actually bought this mower in April of 2017 but since then I hate how toro created a heavy-duty mower with weak plastic parts! When this mower is fully functional it is amazing and I use it commercially. I used it daily and it is the hummer of lawnmowers lol (gas guzzler). I keep a 5-gallon gas can while I'm working anyway so no biggie. My problems experienced Pros vs Cons:
Cons
– V-Belt gets worn down very quickly
– Drive belt tends to slips at times (tends to last longer than V-Belt)
– Drinks gas like crazy
– Serpentine belt is like $70
– Tires to small for the weight of this mower (bigger tires will increase maneuverability)
– So powerful that the bag fills up so quick (if you are bagging the grass)
– Bag can be stronger
Pros
– Tall grass is no match for this mower (You must bag as you cut)
– Unbelievable power for the price
– Race car self propelled speed (I'm 5'4″ lol)
– Can be used as a powered dolly (to move lawn trash bags)
– Small to medium branches are nothing to run over
– Big yards especially corner lot homes take really no time at all
I could list more and more because I use this mower commercially but overall it handles business so if you know you have a pretty big property this is the mower for you. You will never feel like you did much while using it unless you are just a lazy person period! Buy it and see for your self! Photos are of how this mower gets it down!