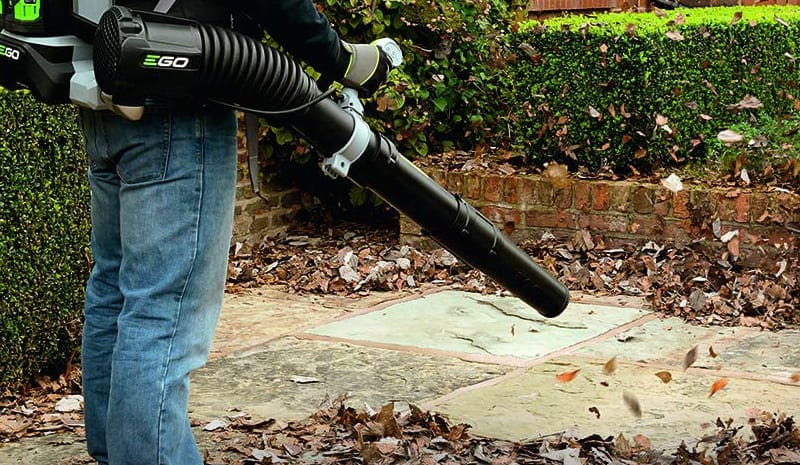 When it comes to cleaning a yard from fallen leaves, dry grass, or sand, everyone wants to do away with it as quickly as possible. In order not to overwork yourself with gardening, use a backpack leaf blower. It is one of the most effective tools for the quick garden, yard, and lawn cleaning. Since many models are more powerful than handheld devices, you can clean any debris from your territory: from light dry mowed grass to heavy wet leaves and sand. Thanks to comfortable shoulder straps and relatively small dimensions, you can carry it on your shoulders, freeing your hands for greater mobility.
Perfect for cleaning large areas
Adjustable speed depending on the type of garbage
My Choice
Perfect for cleaning large areas
Budget Choice
Adjustable speed depending on the type of garbage
Got lost among the vast assortment of companies and models? Especially for you, I wrote this article. I picked the seven best backpack blowers from different companies: from the most popular Husqvarna and Makita to the less obvious, but no less good Craftsman and Greenworks. Since it's not easy to choose a good device online, I did a comprehensive review of each product and included a buyer's guide and answers to popular questions. Hopefully, after reading the article, you can figure out which backpack blower you need.
Top 7 Professional Backpack Leaf Blower Reviews
In this section, I picked several models that largely meet most of the requirements for high-quality backpack blowers. Below, in the buyer's guide, I will dwell in more detail on the criteria that you should pay attention to when choosing the right tool. It was these recommendations that I used in compiling my list.
Of course, it is not easy to find a model with the best performance in all categories. You will have to find a compromise. It is also worth considering such subjective issues as the amount of work to be done, your own strength and stamina, and the cost of equipment repair and maintenance. So, let's have a look at models that, in my opinion, really deserve your attention.
1. Husqvarna 350BT Gas Backpack Blower — My Top Pick
Husqvarna is one of the most renowned manufacturers of gardening and construction equipment worldwide. Their Gas Backpack Blower is my clear favorite. The weight of this device is average – 22.5 lbs. Imagine how difficult it would be to carry it in your hand. But thanks to wide padded straps and a special waist belt for a secure fit, you can work in a garden for a longer time. And don't worry, this harness system is well-ventilated so that even on hot days you will be comfortable wearing such weight on your shoulders.
This best gas backpack leaf blower has a 2.1 horsepower x-torque engine that accelerates to 7500 RPM and generates an airflow of up to 180 MPH and 494.41 CFM. With such power, you can clean your yard even from stubborn garbage. Simultaneously, the unique design of this 2-stroke engine provides lower fuel consumption and reduces emissions by up to 60% (compared with standard engines). Its tank holds 42.27 ounces of gas for continuous operation for several hours without additional refueling. And in this device, dampeners reduce vibration and stress on your back and hands.
Besides, this model has a built-in cruise control system, with which you can change and fix fan speed in one motion. The pipe that directs the airflow is very light because it is made of plastic. Unfortunately, unlike the manual Husqvarna leaf blowers models, it does not have an adjustable length. But it has a convenient handle for more precise maneuvering. And this device also has a special purge function that removes unnecessary air from the fuel system and carburetor for a quick start.
Specifications:
Item Weight: 22.5 Pounds
Power Source: Gas Powered
Air Flow: 692.17 Cubic Feet Per
Product Dimensions: 79 x 19 x 19 inches
Speed: 2200 RPM
What's included:
Husqvarna gas-powered blower
Integrated harness
Manual
Besides, this model has a built-in cruise control system, with which you can change and fix fan speed in one motion. The pipe that directs the airflow is very light because it is made of plastic. Unfortunately, unlike the manual Husqvarna leaf blowers models, it does not have an adjustable length. But it has a convenient handle for more precise maneuvering. And this device also has a special purge function that removes unnecessary air from the fuel system and carburetor for a quick start.
---
PROS:
Eco-friendly;
Comfortable harness;
Perfect for cleaning large areas.
CONS:
The tube is not adjustable;
Pretty noisy model.
---
2. Poulan Pro PR48BT – Budget-Friendly
Poulan Pro Gas Backpack Leaf Blower has a two-cycle engine that generates powerful airflow of up to 475 CFM with a 200 MPH speed. Although these are not the most impressive numbers, it is enough for private use. In general, it is one of the most intuitive models. To start working with it, you do not have to study manuals for a long time. Compared to other gas leaf blowers with similar characteristics, this tool is one of the most inexpensive. It comes with a built-in harness, and adjustable and padded straps for added comfort. Properly tightened belts significantly improve the quality of work.
There are a cruise control function and an option to adjust the airspeed depending on the type of garbage that you blow away (for example, light dry leaves or heavy wet sand). The tank volume is larger than in the previous model and is 49.3 oz. Despite the powerful engine and useful features, the Poulan Pro backpack blower has a fairly compact size (13x17x17 inches) and weighs 22 lbs. However, this is not the smallest model on the market. Its pipe has a convenient handle with which you can direct airflow. Also right on this handle are the on/off, speed control, and cruise control buttons.
Remember that for engines of this type (2-cycle), you should use only fuel without ethanol. Of course, you can make the mixture yourself, but I recommend purchasing ready-made fuel in professional stores. A wrong fuel mix can cause damage to the device; at least it just won't start. In my opinion, it is the main disadvantage of 2-cycle engines. Their 4-cycle counterparts do not need mixed fuel.
Specifications:
Item Weight: 22 Pounds
Power Source: Gas Powered
Air Flow: 475 Cubic Feet Per
Product Dimensions: 13 x 17 x 17 inches
Speed: 200 Miles per Hour
What's included:
This model is quite noisy. Noise restrictions are becoming more common now. In many suburbs, a certain norm is set. Sometimes a time limit, when you can use such devices, is also indicated. Check before buying a device, whether it falls under the ban in your area or not.
---
PROS:
Reasonable price;
Compact size;
Adjustable speed depending on the type of garbage.
CONS:
Noisy; use it only with protective headphones;
Low CFM.
---
3. CRAFTSMAN Backpack Leaf Blower Reviews
No products found.
Craftsman backpack blower is equipped with a powerful 2-stroke gas engine that produces an airstream of up to 410 CFM at a speed of 180 MPH. These are far from the highest rates among other gas blowers. But compared to others, it produces less vibration, which means you do not get unnecessary stress when working with this tool. The model is the lightest on my list; its weight is only 13 lbs. It can be comfortably used even by older people or those who can't lift heavy loads. At the same time, other gas blowers on my list have a much more capacious tank; in this machine, the tank volume is small – only 20 oz. So, you have to add gas regularly.
And although the engine can be started in a traditional manual way, the craftsman backpack blower reviews provide the possibility of electric start using an electric starter, which is sold separately. I think it is a great feature in case you cannot get it manually for some reason. For example, if you do not have enough strength or some kind of breakdown occurs. As with other models, an ergonomic control handle is located on the right side of a tube. You can adjust the airflow rate and switch to cruise control for a fixed speed.
Also, there is engine oil suitable specifically for this type of engine in the kit. The back of the device is made of thin mesh fabric to make you comfortable working even on a hot day.
Specifications:
Item Weight: 17.6 Pounds
Power Source: Gas Powered
Air Flow: 32cc 4-cycle gas engine with air volume and speed up to 460 CFM/205 mph
Product Dimensions: 61 x 17 x 20 inches
Speed:

180 Miles per Hour
What's included:
(1) CMXGAAMR32BP Blower 2-cycle oil
Soft straps and a wide waist belt ensure even weight distribution throughout the body. The device not only hangs on your shoulders but also rests on your hips.
---
PROS:
Easy to use;
Lightweight;
Low vibration level.
CONS:
Small tank capacity;
Quite pricey.
---
4. Makita EB5300TH
Makita EB5300TH 4-stroke backpack blower is one of the lightest models; its dry weight is 19.7 lbs. This device generates an airflow of up to 516 CFM and speeds of up to 184 MPH. To minimize vibrations, the manufacturer installed special absorbent mounts between an engine and a blower frame. The device is equipped with adjustable shoulder straps; however, there is no waist belt in this model. In my opinion, such a belt is really needed. Under the weight of the device, the shoulder straps have an unpleasant tendency to slip.
Makita backpack blower uses an innovative 4-stroke engine developed directly by Makita. It means that you do not have to bother yourself with mixing fuel and oil in the correct proportions. Only unleaded gas should be poured into the tank (capacity 60.9 oz). Such an engine not only simplifies the operation of the device but also provides more power. Due to it, this model is considered to be an industrial leaf blower. As a rule, 4-stroke engines burn fuel cleaner and more efficiently than 2-stroke analogs. Studies show that emissions are 90% lower, and fuel consumption is 20-30% lower.
There is a filter installed on the air intake to prevent small debris from entering the system. It is easy to remove and replace. An adjustable air tube is equipped with a handle for controlling the flow rate and maneuvering.
Specifications:
Item Weight: 19.62 Pounds
Power Source: Gasoline-Powered
Air Flow: 516 CFM. / 184 MPH.
Product Dimensions: 22.2 x 15.08 x 25.43 inches
Speed: 184 MPH
What's included:
End Nozzle (454896-5)

Flat Nozzle 90 (454916-5)

End Nozzle 90-70 (455128-3)
This model, unlike the previous ones, has several interchangeable nozzles, including a flat one, so that you can blow out the garbage even from hard-to-reach places.
---
PROS:
You don't have to mix oil and gas;
Powerful engine;
Produces less noise compared to other gas blowers.
CONS:
Uncomfortable harness;
Heavy;
A bit pricey.
---
5. EGO Power LB6000
This leaf blower differs from previous models on my list in that it does not work on gas, but on a lithium battery. In general, EGO specializes in the production of power tools for various types of work, which is why you can be sure of the reliability of their devices.
The battery lasts for 30 minutes of continuous operation in maximum mode (or up to 180 at the lowest speed), so this backpack blower is more suitable for owners of small yards and gardens. Or you can purchase an additional battery and change it when the first one discharges. What is convenient, EGO produces universal batteries that fit in any device of this company. Keep in mind that the battery and charger are not included; you will have to get them separately.
The Ego backpack blower runs on a brushless motor and provides adjustable airflow from 320 to 600 CFM at a speed of 145 MPH. For maximum turbo speed, there is a separate button. As you can see, CFM is significantly higher than in previous models, but the airspeed is not the highest. But using a brushless engine provides a long service life for the device and low vibrations that affect your body. According to the manufacturer, this engine is quieter than most gas models by eight times.
The model has compact dimensions, while it is quite heavy – 25 lbs. However, thick straps and waist belts reliably hold this weight on your back and shoulders. The speed lever and turbo boost button are located on a convenient handle.
Specifications:
Item Weight: 12.5 Pounds
Power Source: Battery Powered
Air Flow: 600 Cubic Feet Per
Product Dimensions:

 

52.2 x 17.9 x 6.7 inches

Speed: 145 Miles per Hour
What's included:
By the way, in this model, the tube has an adjustable length. Also, it is worth noting the excellent build quality of the tool and its weather-resistant construction. So don't worry if it starts to rain during your work.
---
PROS:
Environmentally friendly;
Pretty quiet;
Replaceable battery.
CONS:
Charger and battery are not included;
Low MPH.
---
6. Echo PB-580T
Echo backpack blower has a two-stroke gas engine that can disperse air to 215 MPH and 510 CFM. With such high power rates, you can quickly get rid of even the most difficult garbage in your yard in a short time. It is noteworthy that this model has ventilation openings so that air circulates around you, preventing sweating and increasing working comfort. The back and adjustable shoulder straps have soft padding.
This model is not the most lightweight in its niche; it weighs 22.6 lbs. But the harness is so comfortable that this weight is evenly distributed over the shoulders and body, so you hardly notice it. But it is not surprising that this model has such a big weight, given the powerful engine and an increased tank capacity of 62 oz. So the ratio of weight and characteristics is quite reasonable. The device is not overloaded with additional functions, which is why it is so simple and intuitive to use. The pipe has a comfortable handle with a throttle for maneuvering and steering.
The case of this leaf blower is made of thin plastic, due to which it seems not too strong. But it is equipped with protective meshes and air filters that do not let leaves and other small parts enter the device. It helps you to avoid unwanted damage and unnecessary money spent on repairs and increases the product's life. Besides, the engine starts easily. One or two pulls are enough to start it.
Specifications:
Item Weight: 22.7 Pounds
Power Source: Gas Powered
Air Flow: 510 Cubic Feet Per
Product Dimensions:

24 x 16 x 20 inches

Speed: 215 mph
What's included:
As this model is really powerful, I highly recommend the use of safety glasses, a mask, and earphones while gardening. It even easily throws away stones. They can rebound from a fence or house walls and hit you.
---
PROS:
Powerful model;
Has ventilated back panel;
Produces little noise.
CONS:
Plastic case;
Its weight is on the heavy side.
---
7. Greenworks BPB80L2510
Greenworks exclusively produces eco-friendly and green tools. Among the entire product range, they have a lightweight Greenworks backpack blower model, which weighs only 14.64 lbs, although it does not have the smallest dimensions. The device uses an electric-powered brushless motor that produces an airstream of up to 580 CFM at a speed of 145 MPH. A fully charged battery lets you work continuously from 20 to 30 minutes, and it takes about 30 minutes to recharge it fully. A 2.5 Ah battery and a charger are included.
The carrying system is very convenient; straps are wide and soft. Given this, as well as being lightweight, this model is perfect for users of any size and stamina. Unlike gas models, electric leaf blowers start very quickly – at the touch of one button. The air intakes are located on the sides of the housing. There is a handle on a tube to direct the airflow, as well as a speed controller and a turbo button. The tube is attached to the body with a flexible elbow that can rotate at an angle of 90 degrees, including vertically upwards. Due to this, the device takes up little space during storage.
Specifications:
Item Weight: 14.64 Pounds
Power Source: Corded Electric, Battery Powered, Air Powered
Air Flow: 580 Cubic Feet Per
Product Dimensions: 22.4 x 9.4 x 18.1 inches
Speed: 180 Miles per Hour
What's included:
backpack

blower

battery

charger

operator's manual
There is an option of smooth speed control among convenient functions depending on your needs, as well as cruise control for fixed airflow. Remember only that the higher the blower speed, the faster the battery discharges. To enable maximum speed, just press a special button. True, when the turbo-boost is on, it seems that the outer edges of its airflow are doing a little worse.
---
PROS:
Low noise;
Lightweight;
No emissions.
CONS:
Not as powerful as gas models;
Low runtime.
---
Backpack Leaf Blower Buyer's Guide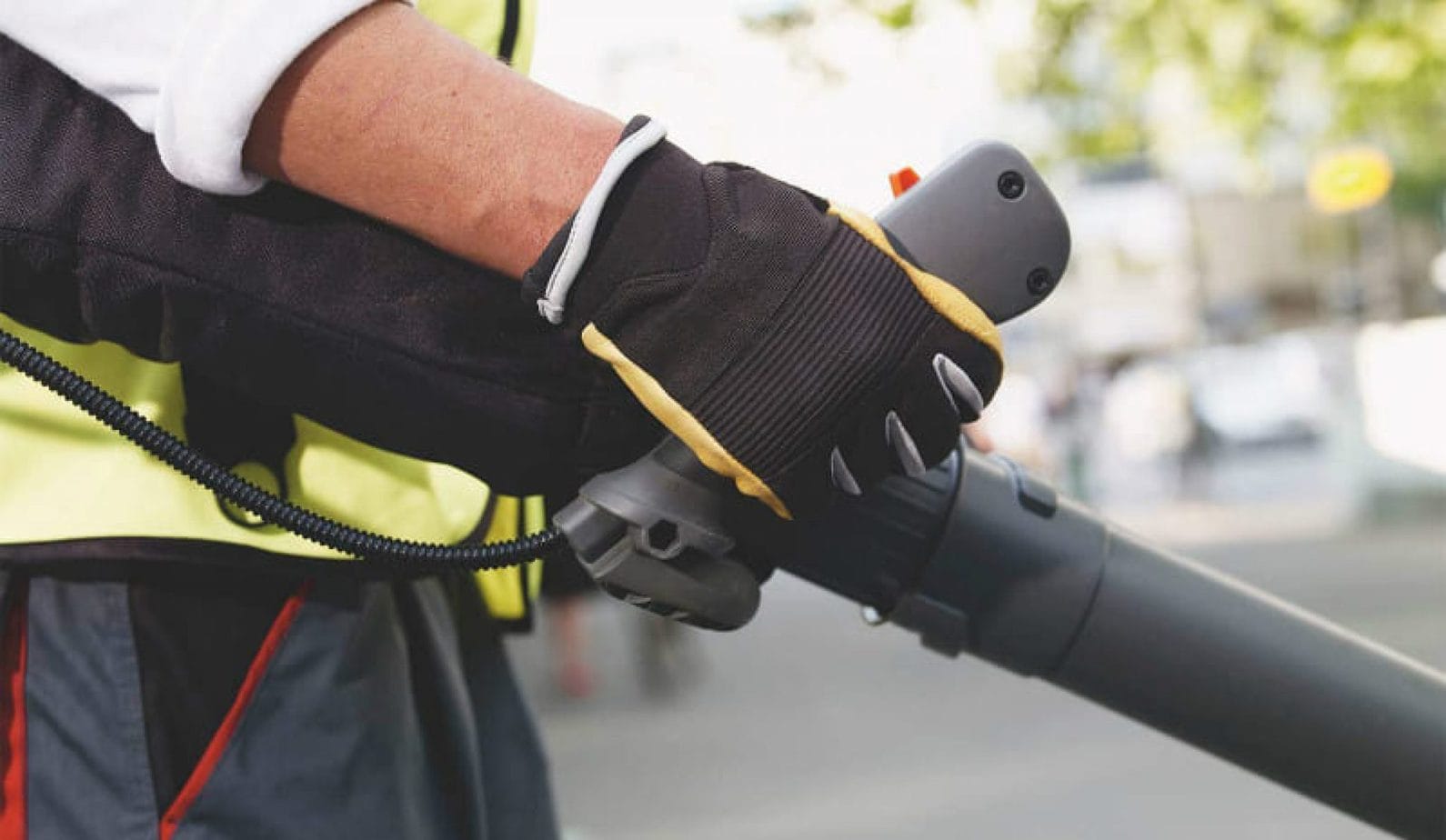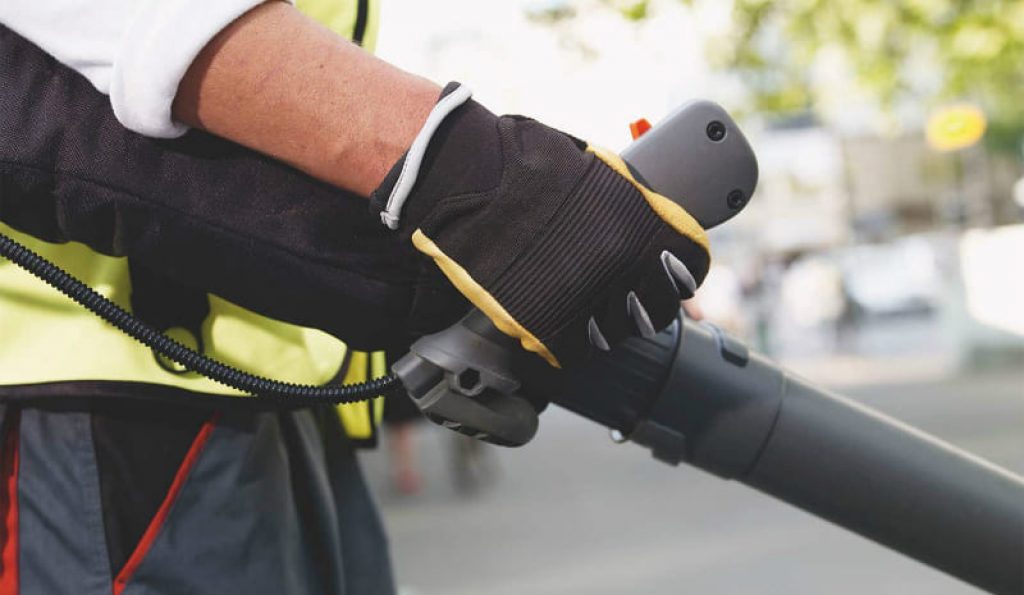 So that a tool perfectly copes with the task, does not cause inconvenience during work, and has served you for many years, pay attention to the following parameters:
Weight and dimensions. Please note that you will have to carry the device on your own shoulders. A tool should have not only shoulder straps but also a waist belt. It will be useful to work out at home with some object of similar weight to understand how comfortable you are with it.
Cubic feet per minute (CFM) and miles per hour (MPH). These parameters show the power of the device (airflow and airspeed, respectively). Keep in mind that a theoretical maximum may differ slightly from actual numbers depending on weather conditions. It happens because most models are tested in ideal laboratory conditions.
Power source. There are models that run on gas, electric, and cordless ones that run on batteries. Each has its own advantages and disadvantages. So, gas leaf blowers are usually more powerful and productive, but noisier and not eco-friendly. Electric models are more environmentally friendly, light, and quiet, but less powerful.
Engine's type. Leaf blowers are equipped with electric or gasoline engines. If you are looking for an electrical tool, it is better to pick a model with a brushless motor, as it is more resistant to loads and provides a longer run time. Gasoline engines can be two-stroke and four-stroke. The last ones are a bit easier to use.
Noise and vibration. Some devices produce really a lot of noise and vibration. Given that you will have a blower behind your back, a too-loud tool can be uncomfortable.
What is the best backpack leaf blower?
The answer to this question is exclusively subjective: it all depends on your set goals. If you plan to cultivate a large area with a lot of trees or dry grass regularly, most likely, you need powerful (even industrial) leaf blowers with a gasoline engine. Cleaning such a site will require high speed and high productivity. If you are willing to sacrifice power for environmental friendliness and silence, then choose electric blowers. For cleaning a small house area, productivity (CFM) is more important than the airflow rate.
What is a bare tool-only backpack leaf blower?
The term "bare tool only" is used to refer to electrical appliances that run on batteries. If you see such an inscription when choosing a backpack leaf blower, this means that a device is supplied without a battery. It can be convenient if you already have some other device from the same company, and you can use its battery and charger. Moreover, most manufacturers produce universal batteries. It allows them to reduce the cost of items, and you can save some money.
What is the most powerful backpack leaf blower?
Traditionally, the most powerful and top-rated backpack leaf blowers are those powered by gasoline engines. It is the first Husqvarna 350BT Gas Backpack Blower on my list. This device offers the best ratio of airflow and airspeed, as well as additional speed control and system purge function. Besides, it has one of the most comfortable harnesses, which fixes the device on your back reliably.
Leaf Blower FAQs
In this section, I will answer the most popular questions of my readers. I hope they will be useful for both potential buyers and advanced users.
How to use a backpack leaf blower?
Before starting work, make sure that your device is fully charged or full of fuel. Remember that the right mix of fuel and oil is important for two-stroke engines. Be sure to use protective equipment: glasses, headphones or earplugs, gloves, and masks. Work in long pants to protect your legs from flying stones and trash. Blow away garbage in one direction and lay a tarp in a place where you are going to blow off leaves, so it will be easier to remove them. Keep family members and pets away from your working area because of a rebounding danger.
How to start a backpack leaf blower?
Electrical appliances are turned on very simply – with a click of a button. With gasoline ones, the starting process is a bit more complicated. It can vary by model and manufacturer. After refueling, place your instrument on a clean, level surface, slowly press a fuel pump button several times, and turn a choke lever to a "full choke" position. Pull a starter cord once or twice, move the choke lever to a middle position and pull the cord several more times. Let the engine run for a while (about 10 seconds). After that, move the choke lever to an open position and start working.
What backpack leaf blower should I buy?
One of the best devices in this area, not only in my opinion but also in the opinion of most buyers, is the Husqvarna 350BT Gas Backpack Blower. It has an impressive capacity, and at the same time, it has a low percentage of carbon dioxide emissions in comparison with analogs. However, if you want to eliminate air pollution completely, opt for cordless devices like EGO Power + Backpack Blower. It has the best features among its battery-powered counterparts.
Summing Up
Backpack blowers are a great alternative to hand tools. They are much more powerful, which means they weigh more. But thanks to a convenient harness system, weight is evenly distributed on your shoulders, back, and hips, so that you can work for a long time without getting tired. As you can see, there is a number of models on the market with different characteristics and configurations. I hope my backpack leaf blower reviews will be useful to you and will help you choose the right model.
Do not forget to care for the device properly and store it in a dry place. If you use a tool really often, some parts may require a daily check. Fortunately, you don't have to keep this in mind, most of the instructions include a maintenance schedule, just follow it.
If you still have questions, ask them in the comments section below. Tell me, what device are you using now? Do you prefer gas or electric blowers?