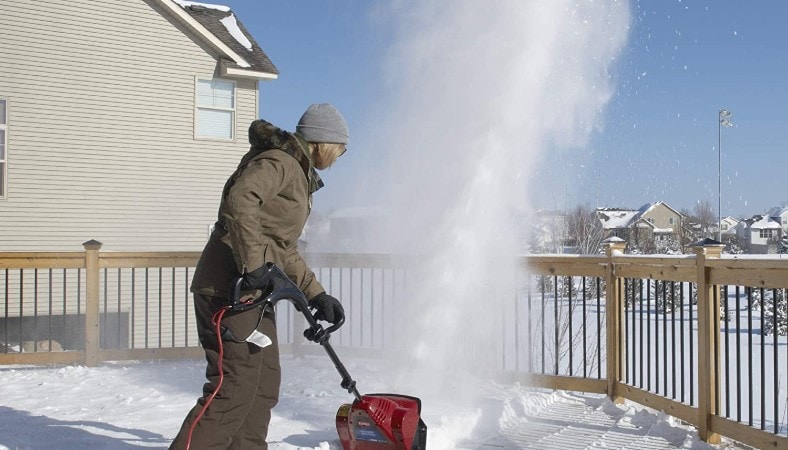 The best electric snow shovel selection starts with stopping for a moment and wondering whether these devices exist at all (thank God and science!) It was not long ago that I, for the first time, felt too tired of cleaning after snowfalls. These were the times I hoped that the threat of global warming would one day come true! (According to NASA, it will). The device that helped me come to terms with the weather was an automatic snow shovel.
If you have never seen one (like I had at the moment), it's somehow similar to a lawnmower, doing to snow that a lawnmower does to grass. Much less muscle power is involved, no need to list the benefits. The snow is thrown far enough, so it doesn't fall back to the path you make. A battery (if there is one) is powerful enough to provide you with enough work time to still get tired.
A little spoiler: maybe it's enough for you to start. The 16-inch one by Snow Joe is so great that you may read other electric snow shovel reviews only if you want something specific. Otherwise, I'd recommend it with no hesitation.
Powerful motor and auger cuts.
Wider and deeper than the average item.
The battery may last longer than stated.
Top Pick
Powerful motor and auger cuts.
Wider and deeper than the average item.
The battery may last longer than stated.
1. Snow Joe 323E: A Top Pick Electric Snow Shovel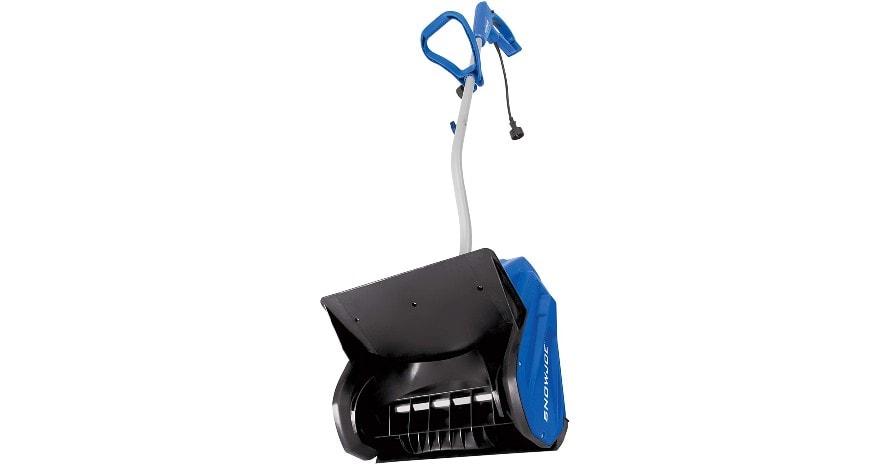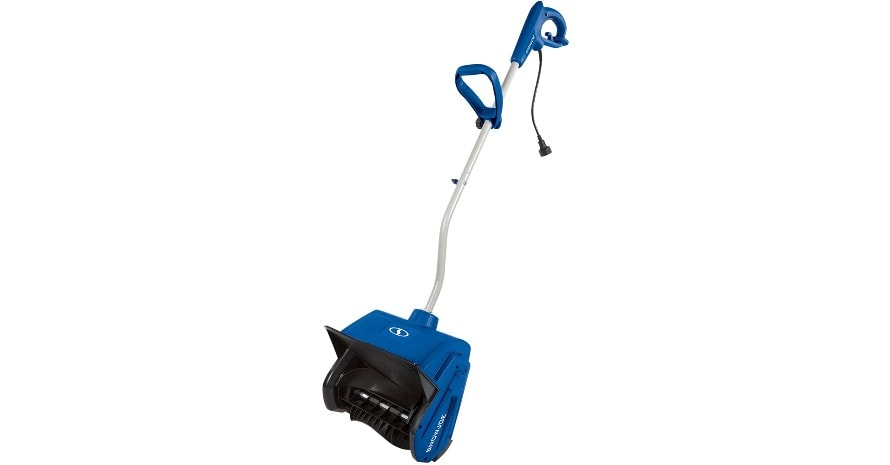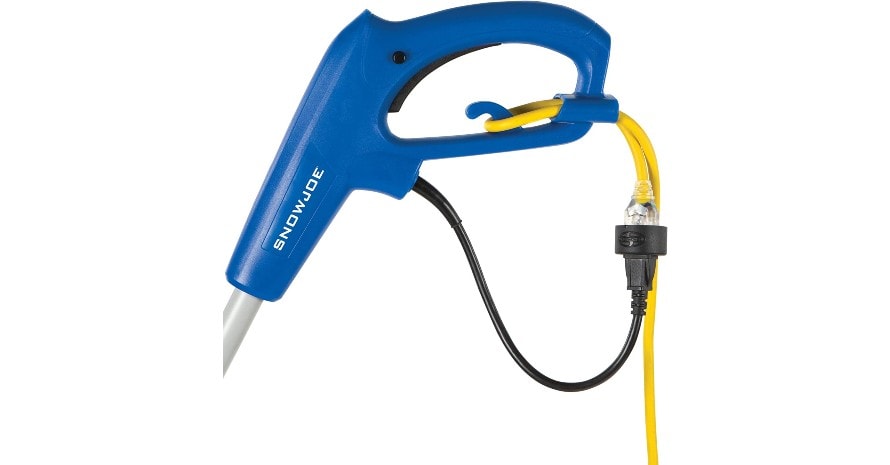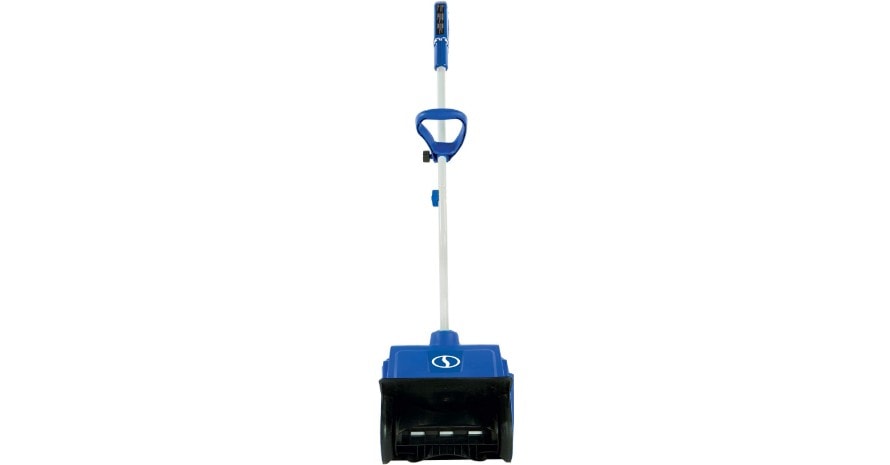 That's how we solve problems in the XXI century. Snow Joe, unlike Jon Snow, knows something: it is the company founded in New Jersey in 2004, and now it's quite a major manufacturer of various outdoor tools. The company also owns brands like Sun Joe or Aqua Joe – everywhere bad weather went; Snow Joe was sure to go. This is a starter electric snow pusher that does the job but takes some attention.
323E is quite an affordable device that does a big job. The path it makes in the snow is 13 inches wide, enough for one adult person (for two, you'll need to make another round to widen it). This width is versatile, though, both for large yards and for narrow passages and stairways. To make it easier, the device has an optional extra handle. Made of plastic, it doesn't feel cold even with the gloves off.
It's quite a powerful machine, with its 10-Amp motor and serious two-blade paddle auger cuts. They bite six inches deep, shredding through the crust and the compressed masses under. If the snow is deeper, maybe it will take another go. The shredded snow is thrown away at 20 feet, far enough to make sure it doesn't slip back. Make sure, though, you don't run into stones or metal parts: the auger cuts are plastic, stronger than snow, but not undamageable.
Specifications:
Weight: 6.2 Kilograms
Item dimensions L x W x H: 35.5 x 149 x 37 cm
Power Source: corded electric
Colour: blue
Maximum throw distance: 6 m
What's included:
However, with great power, comes great inconvenience. The shovel is corded; that means you have to drag the extension cord behind. If your yard is not large, that's okay. In addition, the manufacturer offers special decently isolated 50-ft cords, as well as covers and replacement parts. You also get a two-year warranty and a quick replacement. Given the affordable price of this device, it's the first option to consider.
---
PROS:
Powerful motor and auger cuts;
Versatile width;
Accessories by the same brand are available;
Easy to start and handle;
Great price.
CONS:
Corded shovels give less freedom;
The auger is plastic, and vulnerable to stones and metal.
---
2. Earthwise SN70016: A Power Shovel for Wide Paths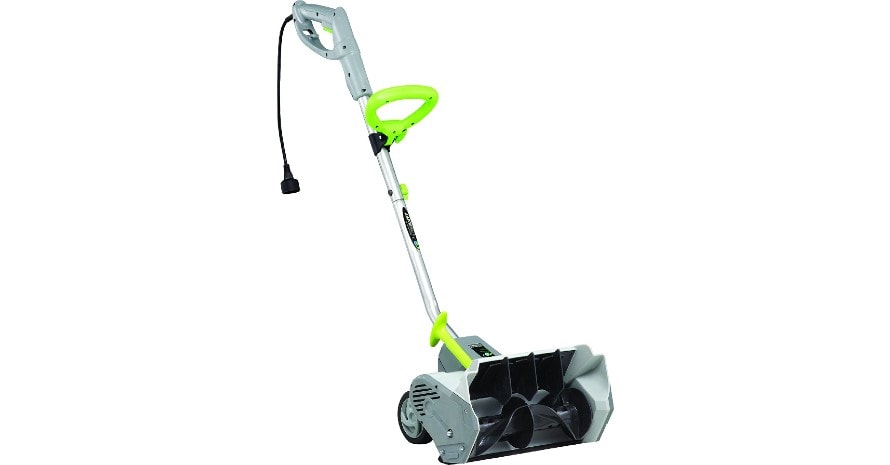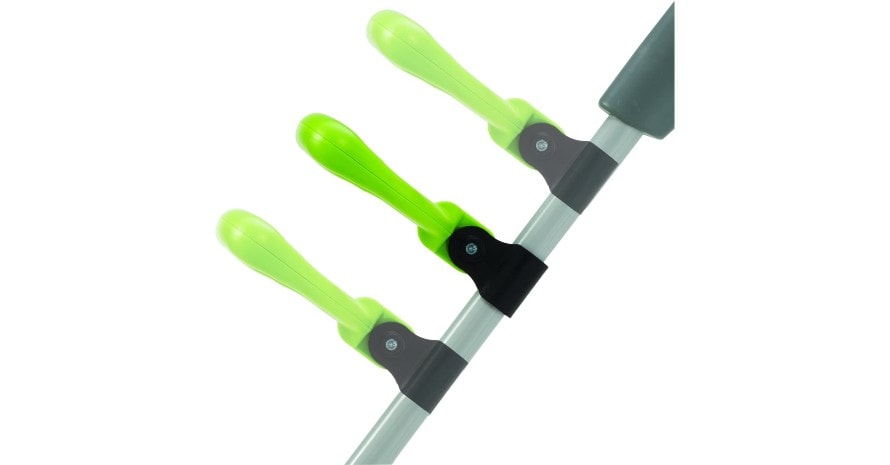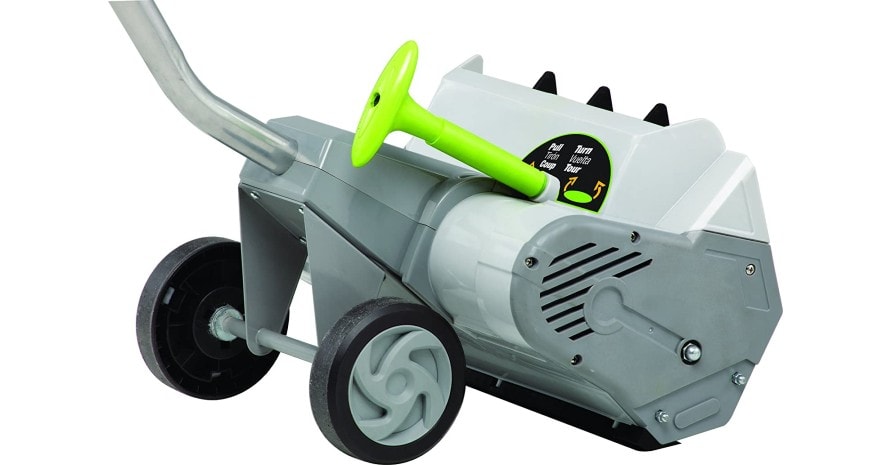 Here comes another American brand; but, unlike the upstart Snow Joe, it has a respectable history, operating since 1895. While Earthwise is better known for its lawnmowers, surely it's not hard for a lawnmower manufacturer to make decent electric snow brooms as well.
Slightly more expensive than the previous one by Snow Joe, though still budget, this one has a certain advantage that may be crucial for some. It is noticeably wider, making paths 16 inches wide as you push it. With its depth being 8 inches, this power shovel is a better choice for locations where heavy snowfalls are frequent.
Its motor is also more powerful than that of 323E, being 12 Amp – and no wonder it throws snow 30 feet away if you have these 30 feet ahead. The weight of the device is just 16 lbs – not that much more than that of 323E. It's also equipped with rear wheels, so in theory, you would have to apply even less muscle power to keep it going. In fact, though, it still requires considerable effort.
As it's a corded shovel, you'll have your extension cord following you. To keep control of it, you can use the special hook, as well as a secondary handle to find your perfect grip. The grip is important because you need to keep the trigger pressed to keep the device working. It cannot be locked when turned on, probably for safety's sake.
Specifications:
Weight: 7.2 Kilograms
Item dimensions L x W x H: 104 x 40 x 96.5 cm
Power Source: corded electric
Colour: grey
Maximum throw distance: 9.1 m
What's included:
Corded 16″ Wide 8″ Deep 12-Amp Snow Shovel, 120V/60Hz 400 RPM Motor Throws 430 lbs of Snow Per Minute
It's the width that may become a killing feature and a dealbreaker, depending on your demands. Otherwise, it's a powerful device that handles the snow brutally; but if snow is scarce in your area, SN70016 would be an overkill.
---
PROS:
Wider and deeper than the average item;
Sturdy-built design;
Powerful snow shredding and disposing features.
The battery-powered version available;
Affordable price.
CONS:
Not as good for narrower passages;
Still requires much muscle force/
---
3. Greenworks 2600802: The Greenest Path Maker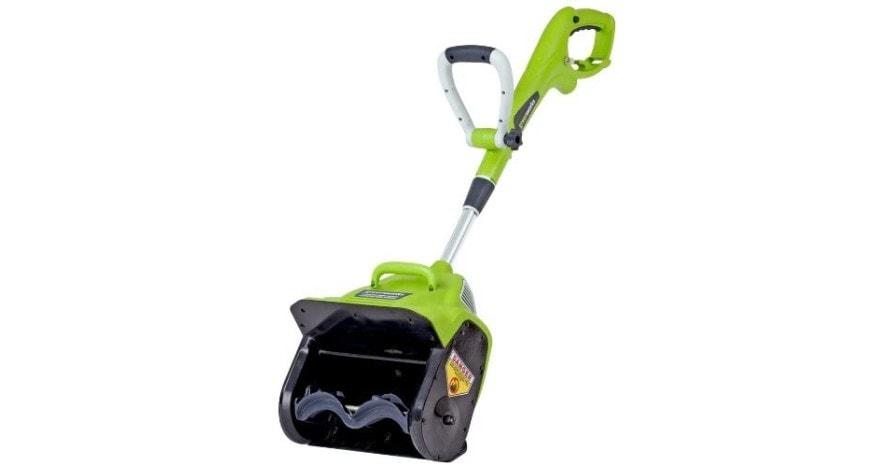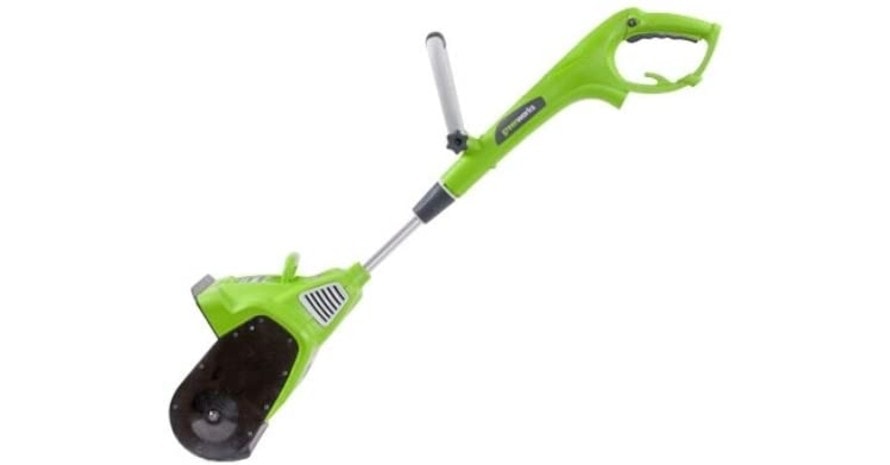 Greenworks is quite a new name on the market. Despite that, the manufacturer claims supremacy, and it shows as you look at the price tag. Not boasting of great power or large size, this one has other reasons to be higher rated.
Technically, it's weaker in every aspect than the two devices reviewed above. Its motor is only 8 Amp; it can only clear the snow 4 inches deep and 12 inches wide, and the distance at which it throws the shredded snow is just 20 feet. It's also corded, with no battery, but presents the necessity to drag the extension cord behind. Using special winter cords that don't get stiff is common advice, but necessary, as the manufacturer does not offer branded ones.
On the other side, the device is made of quality materials and comes with a four-year warranty. It's advertised as a zero-carbon emission product, eco-friendly and clear. Its plastic parts are green, this being a slight hint.

Greenworks 12-Inch 8 Amp Corded Snow Shovel 26012
Powerful 8 amp motor for high performance
Specifications:
Weight: 0.45 Kilograms
Item dimensions L x W x H: 36.5 x 25.4 x 118.1 cm
Power Source: corded electric
Colour: green
Maximum throw distance: 6 m
What's included:
It's also very easy to move, especially compared to the one by Earthwise. Despite having no wheels, this shovel just slides over the snow. Due to this, it's easier to maneuver than with its 16-inch alternatives. So, it's a clean and green snow-removing machine, a bit more expensive than its rivals, and still corded, but way easier to handle in any possible way.
---
PROS:
Easy to move and control;
Lightweight;
Consumes less power;
No carbon emission.
CONS:
Requires more work when the snow is above 5 inches;
Quite pricey.
---
4. Toro 38361: The Lightest Electric Snow Shovel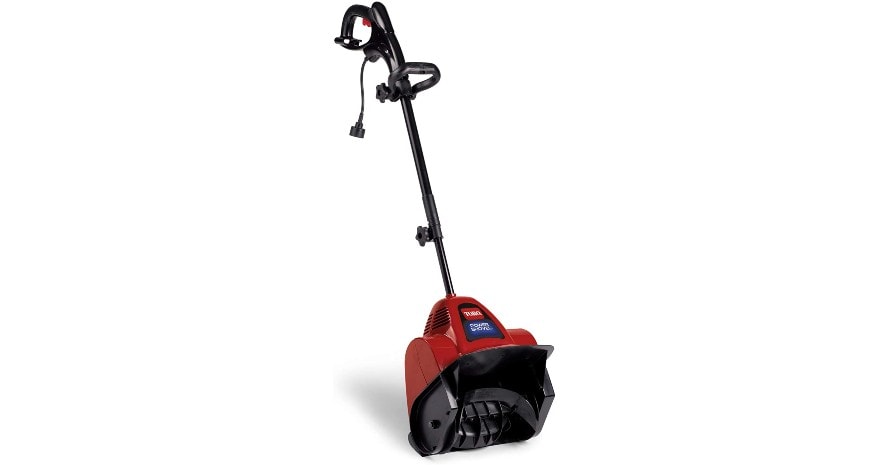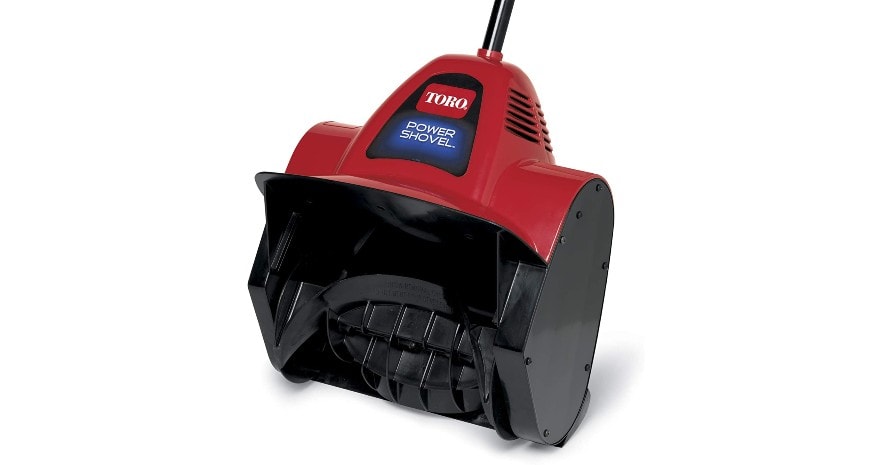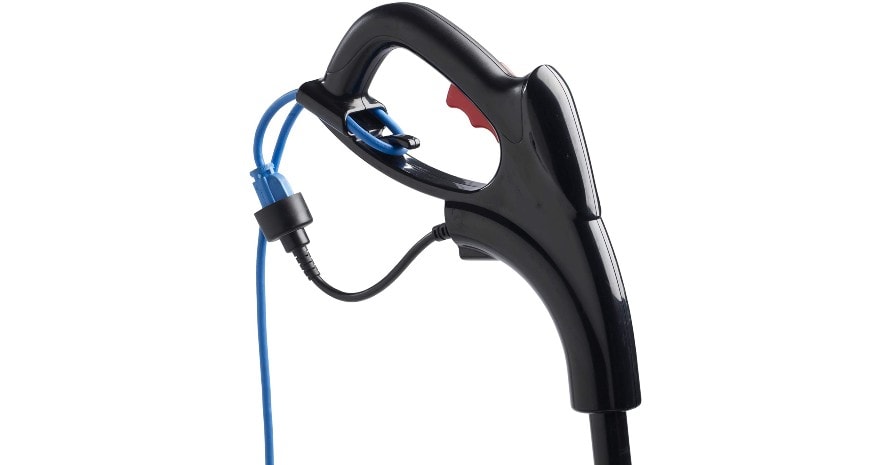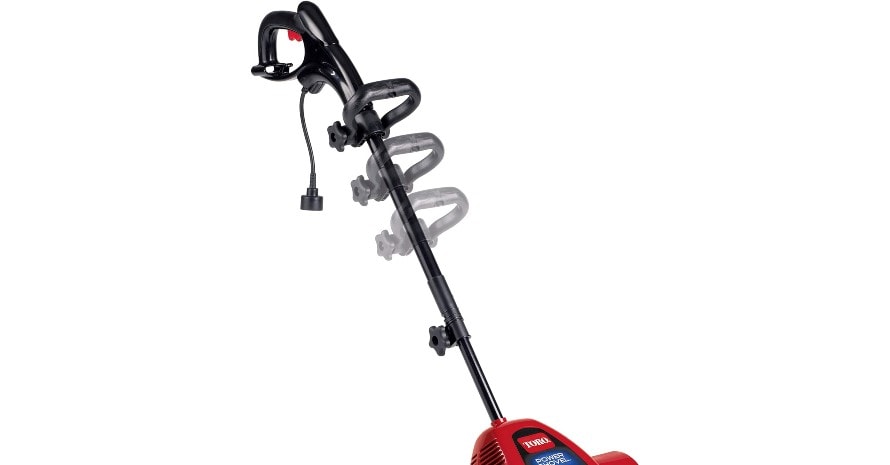 Toro is too much of a brand in the world of outdoor equipment that it doesn't have to participate in the power race. The power shovel I review now is even more modest (in terms of numbers) than the power-saving one by Greenworks. Its motor is only 7.5 Amp, while the width is the same 12 inches, and the depth the same 4 inches.
On the other hand, you do not need a powerhouse of a snow shovel. What you do need is a device that removes snow before you efficiently, making a walkable path through it. And this moderate Snowpiercer gets the job done.
The most attractive thing about it (for me) is its shape used to throw the snow away. The 38361 has an inverted funnel housing that helps to throw the snow away without extra clogging. Particularly, almost none falls back where it just was.
If you push it a little harder, you may remove 6 inches of snow in one go. To adjust it to your height and manner, you can make use of its telescopic handle and movable second handle with adjustable height and angle. Its own weight is slightly above 12 lbs, easy to carry and operate.
Using plastic parts in snow-throwing devices makes sense. They do not feel as cold as metal ones and are easier to adjust in the cold; they can be painted bright and seen from afar, and they are rust-resistant, no matter how wet they get. Just like in the case of Snow Joe 323E, you need to be careful and avoid stones and metal objects before the shovel. But that's the way it is.

Toro 38361: The Lightest Electric Snow Shovel
Specifications:
Weight: 5.8 Kilograms
Item dimensions L x W x H: 38.1 x 30.4 x 132 cm
Power Source: corded electric
Colour: multi
Maximum throw distance: 6 m
What's included:
The device only comes with a two-year warranty, like most of these. Not the four-year one by Greenworks. But this one is significantly cheaper. There is a trick, though: the electric cord is not included. Finding a standard one is not an issue, but its price adds to that of the shovel unless you already have one.
---
PROS:
Lightweight and easy to maneuver;
Power-saving;
Decent snow-throwing system;
Rather affordable.
CONS:
With heavier snow, you'll need a more powerful shovel;
Vulnerable to metal and stones;
No cord included.
---
5. Snow Joe 24V-SS11-XR: A Battery-Operated Snow Shovel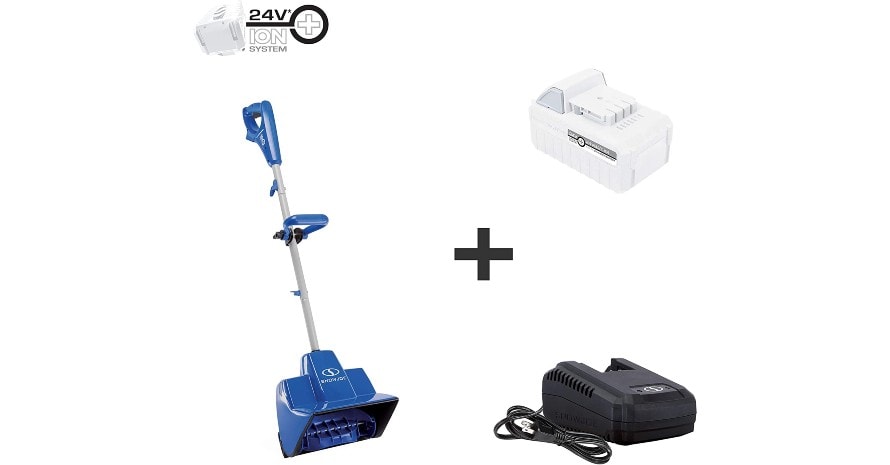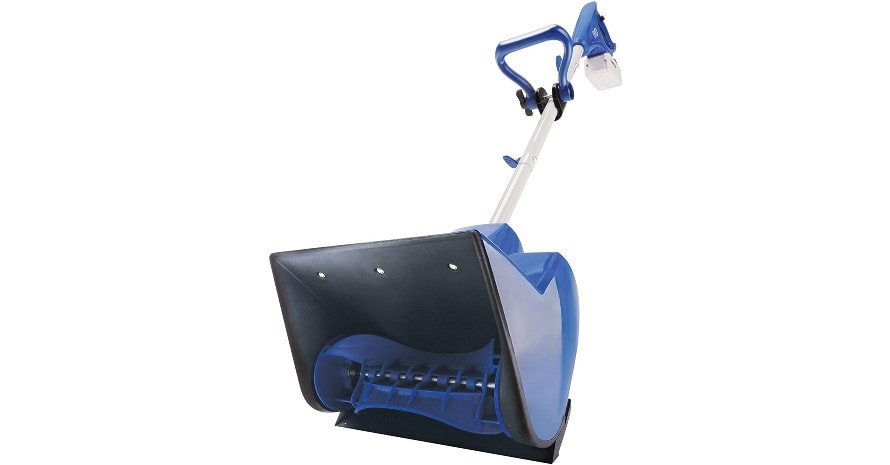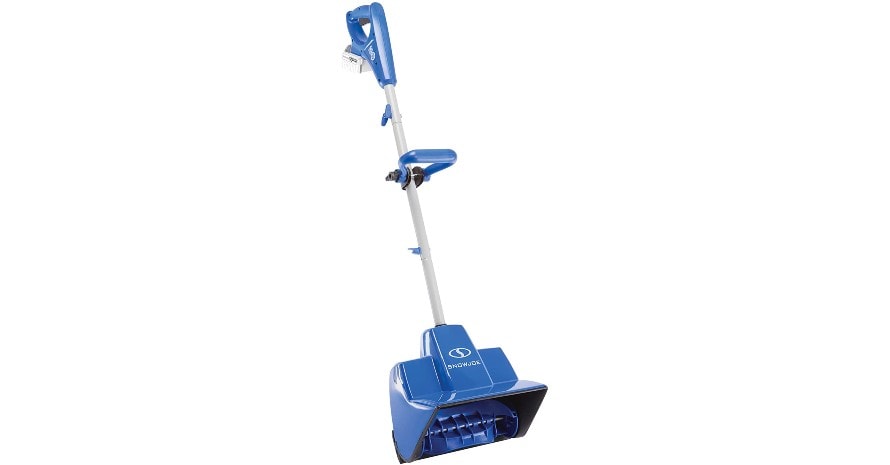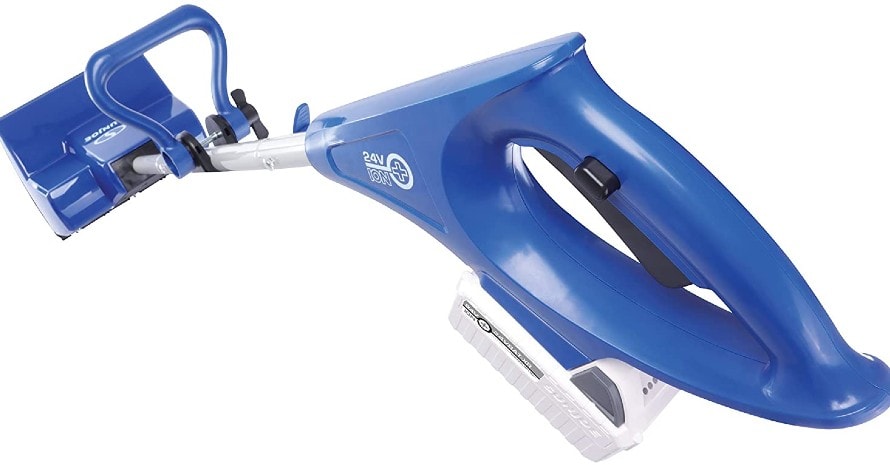 If the previous four reviews made you dream of cord-cutting, here is another one by Snow Joe. This time it's a kit that includes a snow shovel itself and a battery that makes it completely autonomous. With this battery-operated snow shovel, you can remove snow even in areas too distant to reach with all your extension cords.
The shovel itself is less than 12 lbs, with an adjustable lower handle familiar with another Snow Joe device reviewed above – and most of them, frankly speaking. The battery is attached below the top handle, which makes it easier to install it and detach it for charging.
The performance of this kit is lower than that of corded ones – just like one should expect from a cordless snow shovel. Comparing numbers doesn't seem favorable for the cordless one: while 323E can remove 400 lbs of snow per minute, this one can only do under 100 (or rather even 75) lbs per minute. Still, one fully charged battery can power it for almost half an hour, and it's enough to clean quite an area.
You need to realize, though, that it makes a narrower path: just 11 inches wide. As for depth, it's quite decent 7 inches, but you better expect it is hard to work that deep. You better go the same route twice than sweat the device.
As for its paddle auger, it's also made of plastic, so you better avoid gravel or metal. On the other hand, plastic blades don't suffer from moisture or cold. The same is with handles: made of plastic, they don't feel cold even if you don't have your gloves on.
Though it comes in various package options, I'd recommend the one with a 5Ah battery and a quick charger. You never know when you need it after usage, especially if snowfalls are frequent in your location (though you can check the weather history here). The price is quite reasonable and not to be compared with corded ones: this is quite a different class. If you suffer from snowing too frequently and too much, it may make sense to have both a corded and a cordless shovel.
Specifications:
Weight: 5.44 Kilograms
Item dimensions L x W x H: 55.88 x 33.02 x 27.94 cm
Power Source: battery powered
Colour: blue
Maximum throw distance: 6 m
What's included:
---
PROS:
Battery!
Cold-protected snow-throwing mechanism;
The size is quite compact;
The battery may last longer than stated.
CONS:
The performance is quite low;
Still requires some muscle work.
---
6. Snapper XD 82V MAX: A Powerful Cordless Snow-Shovel for a Lot of Work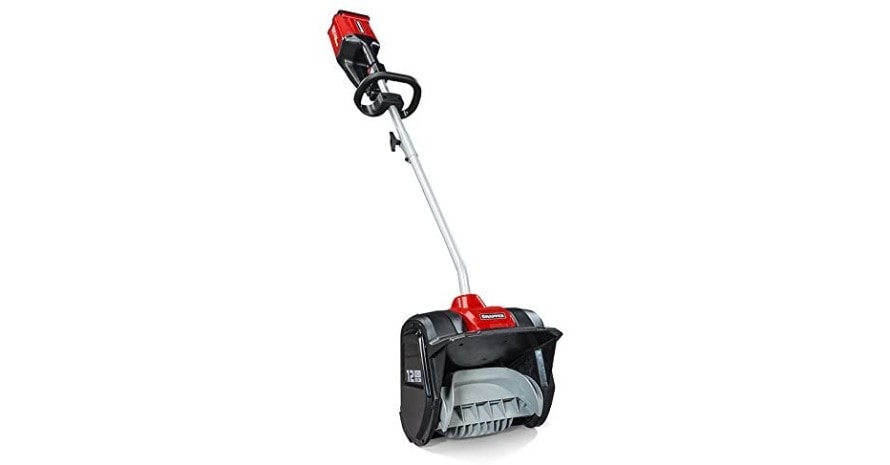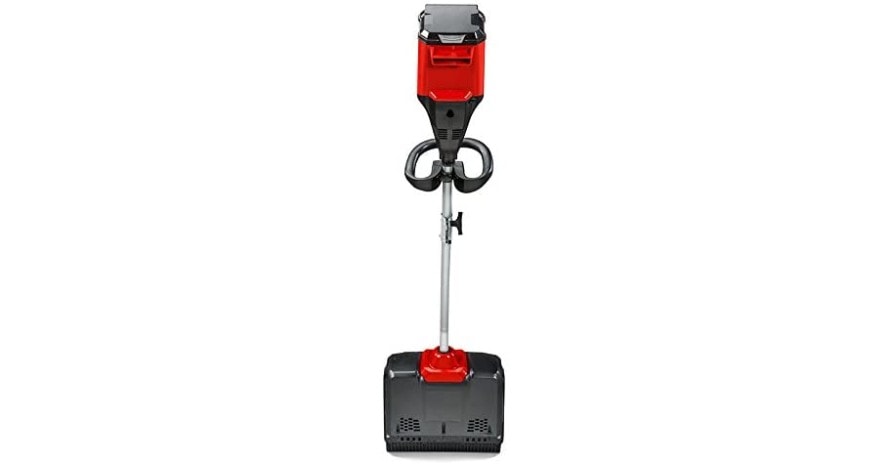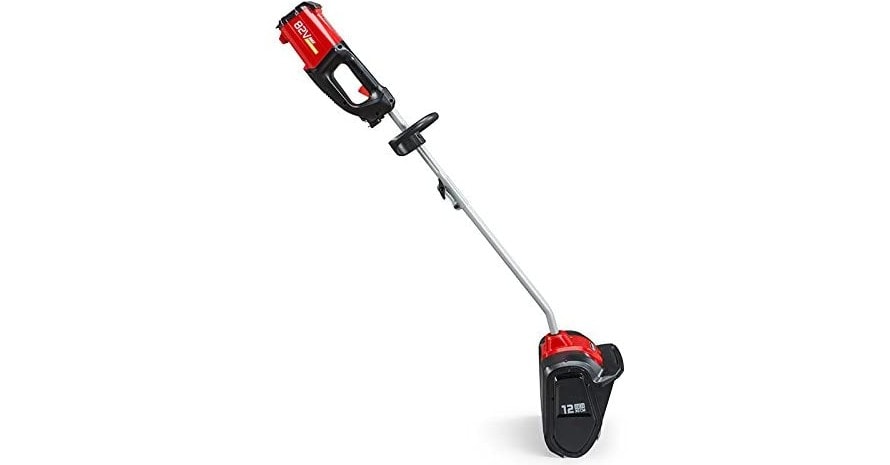 Snapper is another brand with a history that includes, for example, the first self-propelled lawnmower in the world. Making snow shovels is a demanding art! Now, this manufacturer offers just two models of snow shovels: a self-propelled one and a manual-propelled version.
Again, it's a battery-electric snow shovel. Its size is similar to the one by Snow Joe: its clearing width is also 12 inches, and the depth is 4 inches. The weight of the device, though, almost reaches 20 lbs, unlike the lightweight one by Snow Joe. It feels more solid, and the weight is well distributed to make the motion smoother, but it's still heavy.
Another feature one needs to grow accustomed to is that it only throws the shredded snow forward, not to the sides. There are no installable deflectors to change it. Alas.
As for its battery, its capacity is slightly higher, and a fully charged one powers the shovel for 45 minutes. Charging the battery itself is only 30 minutes, so you can rest along with the shovel if the work takes longer than expected.
Specifications:
Weight: 8.6 Kilograms
Item dimensions L x W x H: 153.6 x 35.5 x 30.4 cm
Power Source: battery powered
Colour: red\black
Maximum throw distance: 6 m
What's included:
This one also comes in varying packaging options. You can opt for just the shovel (for less than $200) or add a battery and a charger to it, adding $100 to the price. If it's your first one, you better prepare to spend around $300.
---
PROS:
Battery-powered;
A powerful snow throwing system;
Breaks crust and ice easily;
Quite expensive even if you already have the accessories;
Heavy.
CONS:
Only throws the dispersed snow forward.
---
Buyer's Guide – Selecting Your Perfect Power Shovel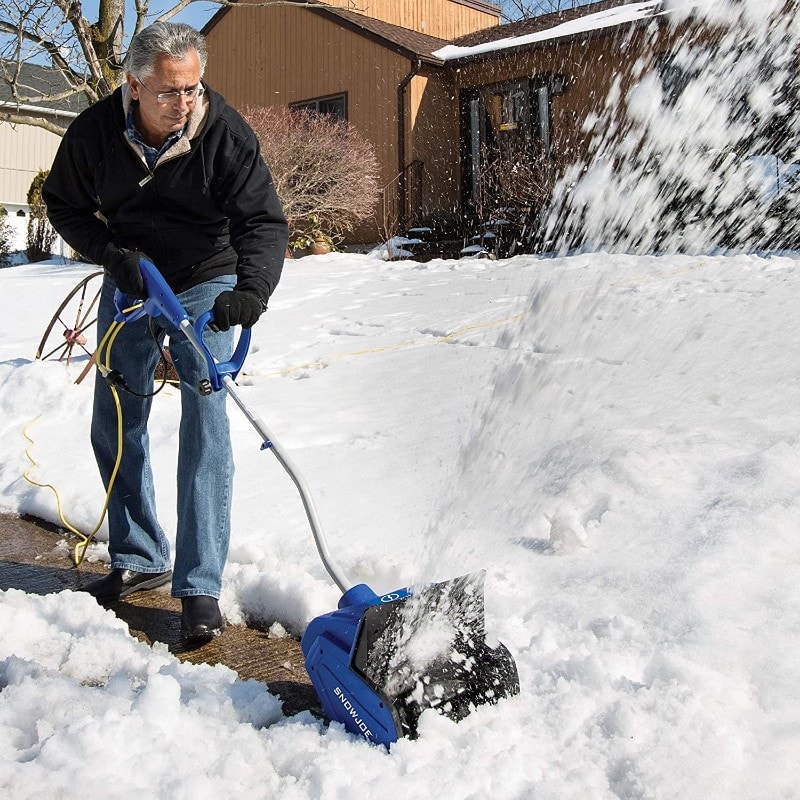 After all these reviews, let's summarize what we have learned. It's the experience and the reasonable comparison that helps us make the right decision.
So, what is a power snow shovel?
As you see, a power snow shovel is an electric device that does the job of a regular shovel better by shredding the hard snow and throwing it further than you probably could. These machines are irreplaceable if snowfalls are a recurring disaster in your area.
What's the difference between power snow shovels?
There are many parameters for classification. Here are some of them:
Propelling power. If you need to push them manually (like all of these I reviewed here), they are manual-propelled. Ones set in motion with a built-in motor are self-propelled. These are more expensive and (as a rule) less eco-friendly.
Power source. Some require to be constantly connected to the socket: these are corded. Ones with an onboard battery are called (you must have guessed) cordless. Corded ones are stronger and more affordable, but with a cordless one, you can do your work where your cords can't reach.
Features. They may include (or not include) adjustable handles, headlights, wheels (four, two, or none), and so on. These are too individual to sort out here, so look at particular models to see whether you need that.
How to use an electric snow shovel
All the shovels reviewed above require you to put them before yourself and drive them before you – just like you do with a lawnmower. But there are some specific moments.
Move the device carefully in front of you. It should require some effort, but if you feel it's too hard, you're doing it wrong. Apply less pressure if so.
Watch the surface. As I have pointed out, many paddle augers and other details contacting snow are made of plastic. A little stone or a metal piece can be enough to break them.
Make sure the cord is well-fixated and protected. There are special hooks on many power shovels for the cord to remain safe.
The ones I review require some muscular effort in order to move. If you want a self-propelled snow shovel, it will cost you way more (though this device can save some damage to your back). Reviewing that sort of device requires another guide.
How to choose your perfect electric snow shovel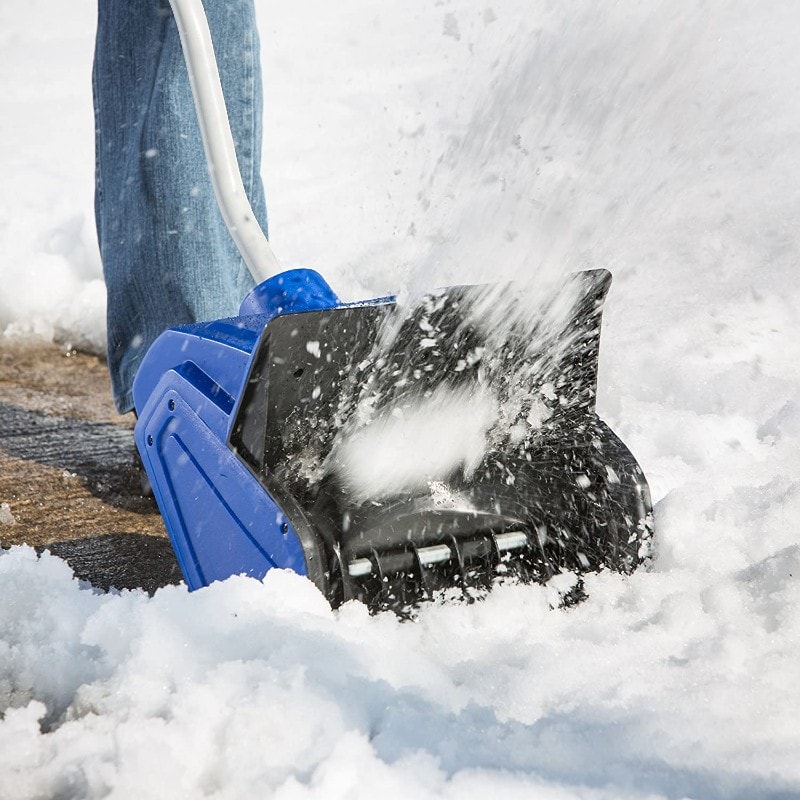 Among all those devices I have reviewed, there are no two identical. You may trust them, but if you have a chance to compare them in real life, don't neglect it. Here are the factors that you should consider before buying:
Weight. If the shovel is too heavy for you, you should take a lighter one, no matter how much you like the rest of it. You should also remember that in real life any of these babies will be heavier than in a store demo zone: the snow will contribute.
Cord or Cordless. This is crucial if you need to clear distant areas that you cannot reach with all the extension cords you have. But if these areas require a lot of work when snowed up, maybe you better buy a longer winter cord. So you better check the snow6 stats by NOAA before choosing between power and mobility.
Blade. Opt for a metal one if your ground is covered with hard objects like gravel. They will still be an unpleasant obstacle, but at least not a bomb.
Ease of use. It's mostly about understanding. Can you get the handle the most comfortable way? Is it easy to press and hold the power button? Is the place for the cord or the battery right for you?
If you have any doubts, buy it and try it in the right season. So, if you're disappointed, you can return the shovel within the term and get yourself another one.
Are electric snow shovels worth it?
The question should have been "Is your health and your time worth it?" With an electric snow shovel, you save your time and waste much less effort.
Let It, Snow!
Yes, let it snow, let it snow, let it snow. With a good tool for clearing it, you can hold back your irritation and fully enjoy the beautiful white sight. The winter is coming, but if you're prepared, it will not be dark and full of terrors. An electric shovel is rather a recent invention, but it seems to me I have always had one… or two.
Which of these power snow shovels have you tried? Did you like the experience? Got any other models to recommend? If so, drop a comment: let's discuss. Having a good talk is such a warm thing.