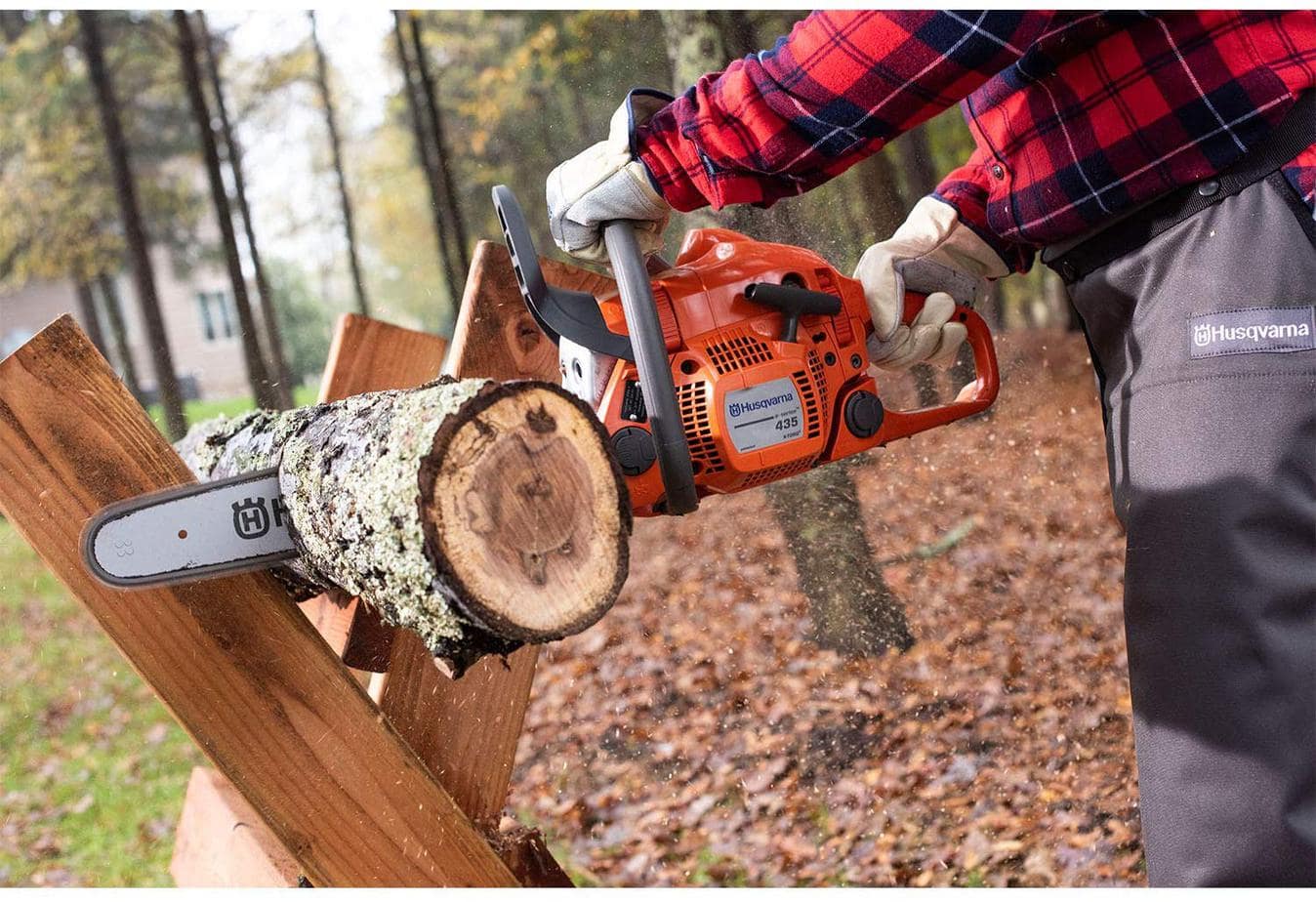 For those who repair their homes and yards, a chainsaw is a tool that comes in handy. It is crucial to keep your household organized. I am well-informed concerning garden hoses, lawnmowers, and chainsaws. In this article, I shall be discussing chainsaws, particularly those powered by gas.
For those who need chainsaws or already have the machine, you need to know that you should have them in different sizes to ensure you can conveniently deal with the various home projects.
The 16-inch chainsaws are ideal since they are neither too big nor too small. They can help you conveniently. They are growing in popularity among people. Therefore, it is important to know what to purchase and what to expect from these tools.
Pros
20% lower fuel consumption
You can use different guide bars
the machine cuts properly
Budget Choice
Pros
20% lower fuel consumption
My Choice
Pros
You can use different guide bars
Premium Choice
Pros
the machine cuts properly
12 Best 16 Inch Chainsaws Gas Worth Your Money
Here is my compilation of the 12 best 16-inch gas chainsaws. Go through it, note the pros and cons of each chainsaw and choose one that you find best for you.
1. Poulan Pro PR4016 – Economical 16 in. Gas Chainsaw
Poulan Pro is a relatively new subbrand of the Swedish industrial giant Husqvarna that holds the highest sales amongst all chainsaw manufacturers. PR4016 is one of the best chainsaws by Poulan Pro as it offers both extreme performance and low fuel consumption in one device.
The engine of this model is designed with a proprietary OxyPower technology that reduces fuel consumption by burning fuel better. As a result, the 40cc unit consumes around 20% less fuel than the majority of its 16-inch competitors, while performance is still on a similarly high level. Moreover, it offers rarer maintenance works due to the superior air-cleaning system that prolongs the filter's life by around 30%. If maintenance is really needed, you can do it right in the workplace as the saw comes with a scrench attached to the bottom of the right-hand hold.
The oiling system has a gear-based mechanism that ensures regular lubrication without any effort from you. Just keep an eye on the oil tank volume and work. It's also great that this saw comes with an additional spark plug and a replacement chain so that you can start working without the need to shop for emergency items.
---
PROS:
20% lower fuel consumption;
Reduced vibration;
Simplified easy-pull starter;
Additional chain and spark plug;
Compatible with chains by different manufacturers.
CONS:
No soft cover on the handle.
---
2. Husqvarna 120 Mark II – 16 inch Gas Chainsaw
Husqvarna is the most popular chainsaw brand in the world, and there are many reasons for that. You can find this device absolutely anywhere around the world as they offer professional performance and universal capabilities.
120 Mark II is a superior 16-inch device that's designed for domestic and professional use. It's equipped with a customizable tensioning system that lets you easily replace the guide bar and use an 18-inch bar, or a smaller one if you need it. Although the X-torque engine of the tool is 38.2cc, it can cut firewood and do pruning works effortlessly. Along with the LowVib system and reduced fuel consumption, you will enjoy using it for your domestic and professional tasks.
The air filter is covered with a plastic guard that keeps all the debris and dust from damaging the filter too fast. At the same time, the air system can remove the air from the carburetor and the fuel system to make starting much easier.
It's an excellent solution for medium-difficulty works as it's easy to carry and handle, doesn't need frequent maintenance, and can be easily upgraded for different purposes. It's a choice of both professionals and occasional users. Unfortunately, it's not the best solution for hardwood as there are more powerful analogs for that purpose.
---
PROS:
Easy to start;
You can use different guide bars;
Low fuel consumption;
Protected air filter;
Bar cover and oil included.
CONS:
A bit more expensive than similar competitors.
---
3. Remington RM4216 Rebel – Best 16in Chainsaw for the money
If you have ever thought of investing in a saw that can serve you well, then this is it. The model can be used by people who are not experts in this field, given that you can easily operate it. Provided you can locate the on/off button, you are good to go. The creators have designed it in a way that this saw is strong and has excellent performance when it comes to cutting.
16 chainsaw is meant for those who have trim occasionally or have light pruning duties to perform. The manufacturer warns against using it to cut logs that have diameters beyond 12 inches. As a person who has used his machine, I can say it easily cuts 10-inch limbs. If you want to cut things beyond that diameter, then this saw is not the one to choose.
Are you a person who does not like handling heavy and difficult-to-operate machines? This brand is definitely for you! Even though it may not always be available on the market, Its handles are cushioned so that you can easily grip it during work. The anti-vibration system also makes it easy to use. The machine performs perfectly since its chain moves fast; its speed is approximately 19 meters per second.
For the best performance, you should clean it after usage to keep it in good condition. Keep the chain at the right tension so that it does not slip. During use, ensure the chain is taut and sharp before you begin cutting with it.
Does the saw have any safety features? The ON/OFF switches work efficiently and operate according to what you need. It has a throttle switch, which prevents it from accelerating unexpectedly. There is also a handguard at the front to protect your hand from injuries if the saw slips while in operation.
---
PROS:
the machine cuts properly;
easy to work with;
adjustable oiling system.
CONS:
is a bit heavy for some people.
---
4. Husqvarna 435e II – 16-Inch Chainsaw
As a person who has used the model, this is the best 16-inch chainsaw gas. Its usability and performances are excellent. You do not have to be a professional in this field to handle it. The saw has a motor rated 40.9cc and 2.2 HP power output. That ensures it operates easily, conveniently, and cleanly.
The highest speed of the machine is estimated at 9,000 RPM. Therefore, you can cut professionally. With X-Torq technology, there is an efficient use of fuel. Besides, this technology ensures the emission of non-toxic smoke. That feature enables the operator to use it in an enclosed environment without the fear of damaging your health because of the accumulation of toxic substances.
It has a strong guide bar that ensures you can use the machine at a high speed of 9,000 RPM. If you do not like the design of this guide bar, you can remove it and replace it with the one you are comfortable with. In terms of user, friendliness, this chainsaw does not disappoint. Its handles are large and padded with rubber. Therefore, you can hold it comfortably and work with it for a long. The anti-slip feature enables you to use the 16 gas chainsaw in wet areas. Moreover, it generates less vibration. That makes it comfortable to use as you do not get fatigued easily.
Does the chainsaw have safety features? There is a handguard made of strong and durable plastic. It protects the hands of the operator from accidents that occur from accidentally handling the chain. The air purge enables the user to remove any accumulated air from the machine easily.
---
PROS:
a long-lasting machine since it is excellently built;
easy handling because of the ergonomic handle and anti-slip;
an excellent air purge system;
comfortable to use because of low vibrations.
CONS:
more expensive compared to the other Husqvarna brand.
---
5. CRAFTSMAN 16-Inch Gas Chainsaw – Ergonomic & Lightweight
This fuel-powered craftsman 16 chainsaw review by CRAFTSMAN combines a lightweight design with a surprisingly simple setup and handling. It's equipped with a powerful 42cc 2-cycle engine and a sturdy 16-inch guide bar that provides stability to the proprietary low-kickback chain. At the same time, the chassis is made of durable polymer plastic. Due to this, you can obtain and control a powerful tool without the need to train your upper muscles. In addition, the body of this chain is perfectly balanced and doesn't vibrate too much. For even better grip, the saw comes with a soft polyester cover that will set you free from calluses.
I also like the starter system of this device as it never fails to turn the engine on and has a short cord, which makes ignition effortless. The oiling system is also stress-free as it features an automatic flap that keeps the chain lubricated all the time. However, you can easily change the amount of oil with a turn of the knob.
I recommend this chainsaw to both occasional users and professionals. The first will enjoy the combo of low weight and outstanding power, while the second will be happy about simple handling, maneuverability, and smooth performance. This model provides low vibration and kickback even when you cut hardwood.
---
PROS:
Adjustable automatic oiler;
Economical 42cc engine;
Lightweight design;
Low kickback and vibration;
Surprisingly soft igniter.
CONS:
The softcover isn't very durable.
---
6. Echo Chain Saw CS352 16in
Echo is a US-based manufacturer that's been developing chainsaws and fuel-powered gardening tools. It uses a patented 2-stroke engine technology and provides up to 5 years of warranty for all its products. Echo CS352 is known as a solid mid-range tool that will help you to do all the gardening works and clean your territory after heavy destructive winds, floods, etc.
Taking this device out of the box, you will notice excellent assembly quality. It literally feels tough. Although this model is designed for 16" cuts, you can use it for cutting thicker trees by making double cuts. This saw provides surprisingly smooth performance, and it's not as loud as the majority of competitors. Besides, you can calmly use it to cut hardwood, firewood, and softwood.
While the manufacturer is rather modest on boasting with features, I want to highlight one of the lowest kickbacks and stainless engine performance. The balance between the saw size and the engine power is perfect, which means that it can cut through thick trees like a hot knife through a piece of butter. It's also the only device on my list that can be officially purchased after refurbishing works. In fact, I have a ref model, and it's been working perfectly well for over 2 years already.
---
PROS:
Sturdy and powerful tool;
The longest warranty on the market (5 years);
Easy to operate;
Lightweight design;
Cuts through hardwood.
CONS:
No chain bar cover included, and I cannot find it anywhere.
---
7. Hitachi 16-Inch Chain Saw
Those who need the best 16-inch gas chainsaw should not overlook this machine. The saw is from a renowned company that also produces Tanaka brands. The power: weight ratio of the machine is excellent as it is one of the lightest brands at 11 lbs. The lightweight offers easy handling to users. The other feature that makes the machine ideal is the anti-vibration system, which makes it comfortable to use.
For the best results and increased comfort, you are directed to use it for 35 minutes and take a 25-minutes break every hour. Moreover, it is especially good when being used with anti-vibration gloves. The brand is designed for both home and professional use.
Many gas-saw users complain about the difficulty in starting these machines. From my experience with this brand, that should not worry you when using this chainsaw 16 inch. It is easy to make it ready for use; flick ON on the ignition switch, place the choke lever into its frightful position and pull the recoil starter.
Its 92 dB(A) noise level is not dangerous to the users. However, do not expose yourself to the sound for a long time. If you intend to use it for prolonged periods, the experts recommend that you should use ear protection devices.
The design of the chainsaw makes it suitable for light to medium-level cutting. It is appropriate for woods of 10-inch diameter or less. Anything above that causes overheating of the saw.
The saw has fantastic safety features. First, it has a chain catcher that prevents the user from being hit in case the chain accidentally slips or breaks. Second, there is a handguard that protects the user's hands. Third, it has a lockout system that prevents accidents from the throttle trigger. Lastly, the spiked bumper ensures stability when cutting.
---
PROS:
easy to start;
light and convenient to use;
the oiling system is automatic.
CONS:
can overheat when used for heavy cutting;
may have instances of oil leaks.
---
8. Worx WG303.1 – Best 16-inch Corded Chainsaw
Worx is a well-known US-based power tool manufacturer that offers high-quality outdoor power tools for relatively low prices. Worx tools are usually optimal for household needs. WG303.1 is the brand's most popular 16 inch electric chainsaw. It's equipped with a powerful 14.5-Amp motor that drives a chain on a 16-inch bar with great speed, which is enough for cutting through softwood and hardwood.
The tool weighs only 11 pounds and has rubberized handles, so it's very convenient to use it for both vertical and horizontal cutting. The construction is also very solid. I didn't notice any excess vibrations even though I tested a chainsaw that had already been in frequent use for several months.
The chain brake is very easy to activate in case of necessity as it's placed very close to the upper handle. If a heavy kickback occurs, you will push the guard instantly. Large dog spikes on the bumper prevent kickback effectively, while the automatic tensioner keeps the chain rotating smoothly and prevents it from slipping off the bar. Finally, the saw lubricates the chain automatically, so using it takes almost zero maintenance. A blade cover is included as well.
---
PROS:
Lightweight design – just 11 lbs;
Automatic lubrication and tension;
14.5-Amp instant torque engine;
Toolless maintenance;
Affordable model.
CONS:
The cord affects portability.
---
9. WEN 4017 – Excellent Budget Runner
WEN has been supplying the American market with high-quality budget power tools since 1951. The brand is also known for developing several proprietary technologies that improved the way we use outdoor equipment significantly.
WEN 4017 is a super-lightweight 16-inch chainsaw. It weighs just 10lbs with a full oil tank, so it feels like a feather, especially if you know how a conventional chainsaw feels. Its features are very similar to the tool by Worx but have some minor differences that you should consider.
First, it comes with a 12-Amp motor, which is powerful enough for making quick cuts, but there are options with more powerful motors amongst 16-inch corded saws on the list. There's also no automatic tensioning system. All other features, such as automatic oiler and handguard with a chain brake, are present.
I recommend this tool for occasional use across your household. It lets you tackle all the tasks that conventional 16-inch saws do, but at a significantly lower price, without complicated engine maintenance, and without fatigue.
It's the most reliable budget 16'' chainsaw that I've ever tested. It also comes with a sturdy plastic blade cover and a 2-year warranty, which is great for such a cheap piece of equipment.
---
PROS:
One of the cheapest chainsaws;
Extra-lightweight design;
Toolless chain tensioning;
Automatic oiler/blade cover;
Good power/bar length balance for occasional use.
CONS:
Lacks resin handle coating;
Not enough power for everyday usage.
---
10. Makita ChainSaw 16in. – Best Professional Corded Chainsaw
Makita is a well-known Japanese manufacturer of professional electronic and gas-powered instruments. They've been competing with American manufacturers since the early 50s. Unfortunately, this brand cannot offer such a low price margin as the previous two, but it provides superior Japanese quality aimed at tackling heavy-duty tasks on an everyday basis.
This corded chainsaw can rotate the chain up to 2900 feet per minute, so it makes cuts around 15% faster than the previous two. The chain brake can be activated manually by pushing the handguard, but the electronic brake will make it much easier, safer, and faster.
Such features as a large smooth-start trigger and rubberized handles make operating this 14-lbs chainsaw a pleasure. Due to a heavier and longer design, it feels more like a conventional chainsaw but doesn't overstrain your hands. This device also comes with a heavy-duty UC4051A chainsaw and a sturdy blade cover. It's a great instrument ready for big professional projects, but be ready to pay more.
---
PROS:
Heavy-duty construction;
Built-in current limiter;
Large oil tank with auto oiler;
A 30-day full refund guarantee + 1-year warranty;
Trigger switch with a smooth start-up.
CONS:
Too expensive for occasional use;
Short warranty (1 year).
---
11. EGO Power+ CS1600 – Optimal Cordless 16'' Chainsaw
EGO Power is a young brand focused solely on green power tools. The brand has a proprietary line of Li-ion batteries. CS1600 is my favorite battery-powered 16'' chainsaw as it combines a powerful 56V motor with the performance of a conventional chainsaw. It easily makes up to 6800 RPM with a professional ⅜'' pitch chain and doesn't lose the tempo until the battery drains completely. A full battery usually provides around 280-290 medium cuts. That's enough for the vast majority of household tasks. Full recharge time is promised to be 40 minutes, but I'd recommend waiting around 50 minutes.
The oiling system is, of course, automatic, but the tensioning is only manual. Fortunately, you don't need any tools for that. All electronic parts are protected from weather, so the tool won't stop working after a short, mild rain shower. Still, it's not waterproof, so avoid leaving it outside and store it only in a dry place. This tool is a great investment if you need a mobile cutter with a long-lasting battery. It's not the cheapest option, but the quality and performance are excellent.
---
PROS:
Powerful brushless 56V motor;
Reaches up to 6800RPM;
Weather-resistant construction;
Supports 40-50 minute fast charge.
CONS:
Dog spikes are short and plastic;
Charger and battery are not included.
---
12. Greenworks G-MAX 40V – Great Value Cordless Chainsaw
Greenworks is currently one of the most popular manufacturers of cordless tools worldwide. The brand supplies its tools with proprietary batteries that provide long work sessions along with highly efficient cutting.
This G-MAX chainsaw is equipped with a 40V brushless motor that can make up to 150 cuts on 4×4 lumber, which is quite a lot as for a 40V battery pack. This is a great result if you consider the high cutting speed.
Safety features include reduced vibration, which is 70% lower than on gas-powered models, an instant chain brake, and a quick-release trigger. The last feature stops the chain almost immediately if you release the trigger, so it's very safe to use.
---
PROS:
High-torque motor (11 m/s);
Makes up to 150 cuts per charge;
Affordable green power;
Weighs slightly over 12lbs with a battery on.
CONS:
Battery and charger sold separately;
Less powerful than CS1600.
---
Buyer's Guide
In this block, I want to tell you what you should pay attention to when choosing a chainsaw for your needs. There are quite a lot of aspects, so you should be attentive not to miss something important. Save this instruction if you are going to shop for the saw in a gardening store.
Guide bar length
The length of the blade defines the thickness of trunks you will be able to cut. It varies from 6'' to 42''. For the vast majority of work around your household, you're not likely to need a bar longer than 20''. If you know how to use the saw properly, you can make cuts twice the length of the bar. 16''-22'' models are the most popular and versatile. Some manufacturers offer saws compatible with different bar lengths.
Power source
Conventional chainsaws are gas-powered, and they are still the most suitable for heavy-duty works. Gas-powered chainsaws provide you with great mobility and power independently from the saw size. On the other hand, they're always heavy and require more complicated maintenance work. If you work away from electricity and need as much power as possible, look for gas chainsaws.
The next type is the corded tools. Unlike battery-powered and gas models, it provides unlimited work time. In addition, it's significantly lighter and requires minimal maintenance. The downside is that you may cut the cord by accident, and there's no way to take it to an unelectrified site. Still, it's the cheapest type.
Battery-powered tools offer great mobility, relatively low weight, and considerable power. However, they're also quite expensive and have the shortest work session from one battery. It's a great option for occasional use and if you can purchase extra batteries to work quietly and without interruptions.
Kickback
Well, I haven't seen a manufacturer who'd say, "we have a high kickback." They all want to sell their products, after all! You should read user reviews attentively to understand which chainsaw really has low kickback. This feature cannot be measured, so just look for low-kickback models and chains.
Safety features
These should include:
Low vibration – if you use the saw frequently, constant vibration may harm your body and cause 'vibration white finger' or 'hand-arm vibration syndrome.' Look for models with reduced vibration;
Chain brake – this one is installed on any chainsaw and can be activated by pushing forward the handguard or automatically;
Safe start-up – this one won't let you start the saw until you release the throttle trigger.
Extras
It's nice to have these extra features on your chainsaw:
Automatic oiler – lets you forget about lubrication for a while;
Automatic tensioner – this one keeps the chain properly tensioned all the time;
Blade case – excellent add-on for transportation and storing;
Warranty – the longer it is, the healthier your saw will be in the long run.
FAQ
You ask me lots of questions about chainsaws in the comments, so I decided to gather the most frequently asked of them to save your time. Skim them through to get deeper into the topic.
How often should you replace your chainsaw chain?
There's no strict rule on how often to replace the chainsaw chain, but you can detect the right time to do it without difficulties. The easiest one is cutting quality. If you notice that your saw cuts worse than it used to, most probably, the chain got dull. But don't hurry as it's much cheaper (or even free if you DIY) to sharpen it. If sharpening doesn't solve the problem and you notice that the chain is too loose all the time, it's time to change it for sure. A frequently used and properly maintained chain can last up to 5+ years.
Are electric chainsaws more dangerous?
The truth is that all types of chainsaws expose you to the same level of danger. You should stop thinking of electric chainsaws as powerful toys as they are equipped with totally the same rapidly spinning chains that can rip hardwood effortlessly. Even battery-powered models are tough. On the other hand, electric chainsaws are a bit easier to control due to their relatively low weight. Use this advantage to secure yourself better.
Should I get a 16 or 18-inch chainsaw?
If you need a chainsaw for a moderate use frequency rather than for occasional works around your yard, then I recommend you to consider 16'' and 18'' chainsaw models. This size is suitable for the vast majority of average cutting purposes. Both sizes are of great use when you need to cut thick branches. If your budget isn't too tight, I'd recommend you to take an 18'' model as it's a bit more versatile and more universal.
Ready to Purchase? Here Are Other Things to Consider
There are a few things you need to consider before you purchase. The hacksaws are highly rated when it comes to power and convenience in use. However, a few adjustments are varying from one brand to another. Your personal preferences play a significant role in determining the one you opt for.
It is important to choose a hacksaw that you can comfortably maintain. For gas engines, you should know how to reduce air accumulation. The brands described above have elaborated safety features making them usable for everyone.
For homework, I choose a Husqvarna 120 Mark II 16 in. Since it has can use different guide bars to a larger size 18 inch or 20 inches.
Whether the hacksaw you need is for light maintenance of your landscape or heavier tasks, these brands will surely meet your needs. In a bid to choose the best 16-inch gas-powered chainsaw, cautiously pick what is useful in your specific situation. You should not be in a hurry. What characteristics do you look for when buying a gas-powered saw? Have you used any gas saws that you liked? Share your opinion with us by commenting below.
In conclusion, I want to add that for prolonged use of the chainsaw you will need a chain sharpener and chainsaw oil that needs to be mixed with gasoline.