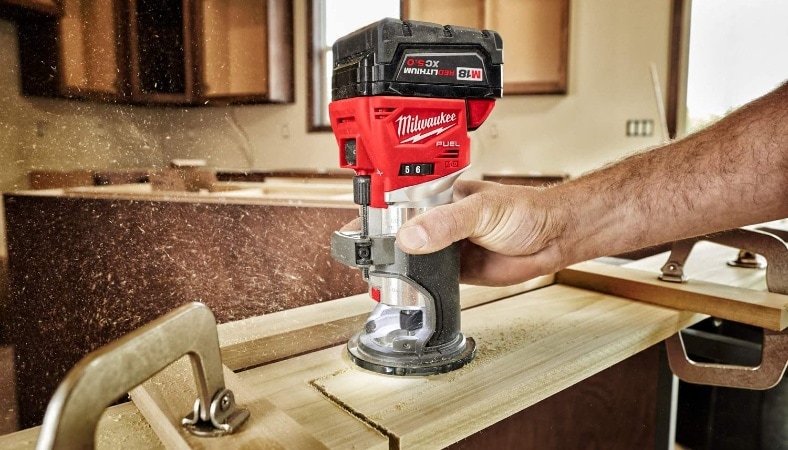 A hand router is useful when you need to route through wood or hard plastic. It can be modified with a variety of cutters (router bits) for edging and different cutting patterns. These are also powerful tools that cut really fast, even if you take the smallest model. In his book "The Incredible Router," Jeremy Broun says that routers are the most versatile tools in the world.
But what you need to know to choose the best wood router for your needs? In this guide, I want to share all I know about these excellent tools!
Pros
Sic-speed dial, up to 31,000 RPM
Guide fence, wrench, profile guide, dust port, circle pin, and profile guide included
Highly accurate height adjustments
Top Pick
Pros
Sic-speed dial, up to 31,000 RPM
Great Value
Pros
Guide fence, wrench, profile guide, dust port, circle pin, and profile guide included
Premium Pick
Pros
Highly accurate height adjustments
My guide includes the ABCs of hand routers and the answers to all the questions that will pop up in your head on your way through the guide. I gathered all the facts and wrote reviews during 2020, so it's one of the most actual and comprehensive guides you can find for now.
I also provide 10 detailed experience-based wood router reviews of the most reliable models that are available on the market today. If you're in a hurry, I will disclose my top pick right here. It's the cordless Milwaukee 2723-20 M18 FUEL. It boasts a good price, portability, and power.
What is a Wood Router?
A wood router (or a router saw) is a powerful tool with an electronic engine designed to make straight or shaped cuts on flat surfaces. Routers of different types are capable of a variety of cutters that make it possible to hollow out various shapes and patterns on hardwoods, softwood, plywood, and laminates. Plunge routers are highly convenient for making holes and grooves of the needed depth, while average single-hand routers can be used for edging works under different angles and with different patterns. As you see, it's an indispensable tool for any woodworking shop or a DIY garage.
Router Tool Reviews: Top 10 Models
As I promised, here are my reviews with wood router comparisons. Each of them includes only the approved facts about the tools and experience-based advice to help you figure things out quickly. You're welcome!
1. Milwaukee 2723-20 M18 FUEL – Best Router Tool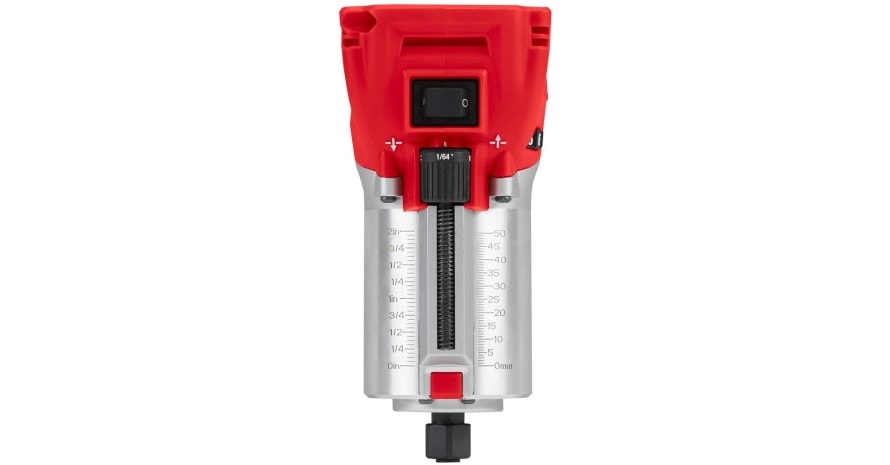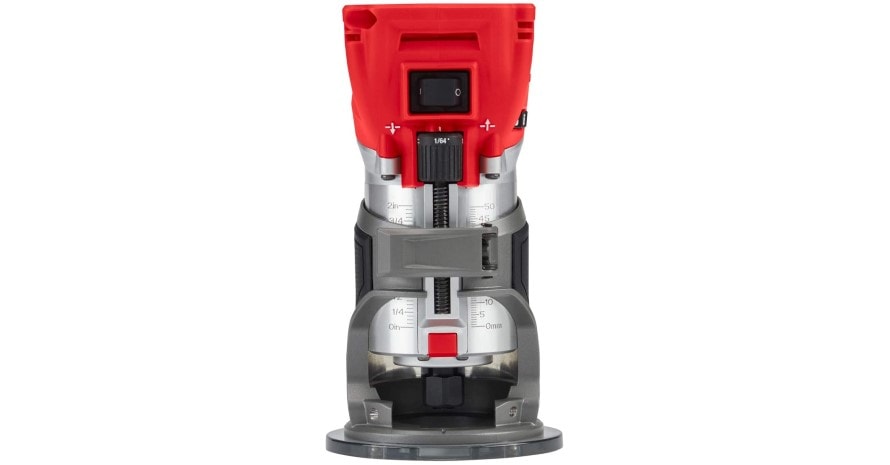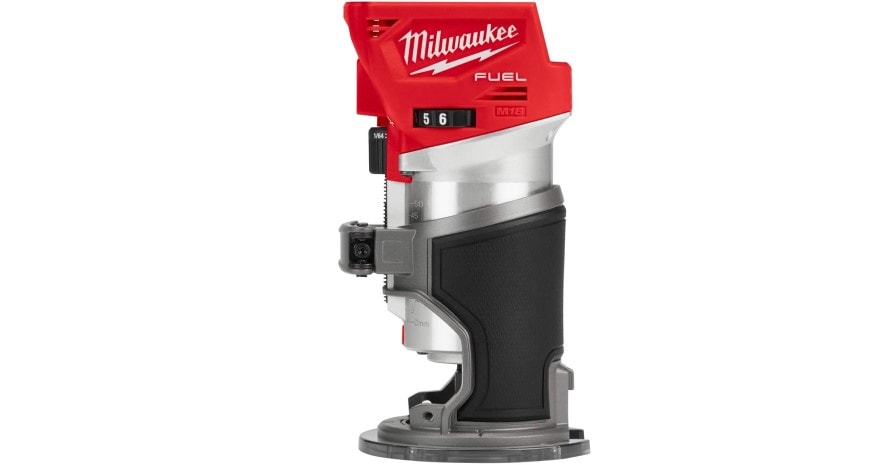 Milwaukee is amongst the oldest and most reliable power tool manufacturers in the US. The brand has over 95 years of experience in providing both professionals and DIYers with high-quality tools. The brand entered the market in 1918 with the lightest one-handed drill. The technologies have been developing every year since then. Now, I'd like to introduce the best woodworking router I've had.
The Milwaukee 2723-20 M18 is a compact yet very powerful tool. Weighing around 3 pounds, the tool feels great in my hand and offers surprising performance. Even though it's a cordless model, the Power state brushless motor makes a whopping 1.25HP, which is a similar result to pro-grade corded models. At the same time, it's cheaper than Bosch professional line routers with similar capabilities.
Using the 6-speed dial, you can adjust the bit speed from 10,000 to 31,000 RPM, which lets you achieve the required level of control on longer distances with lower speeds and to make the smoothest finish quality possible at the highest. The control quality is also very high due to a 4" sub-base plate that provides a stable stand and even sliding.
The basic package includes the adjustable fixed base, a collet, and a sub-base plate for stability. The battery and charger are sold separately, so don't forget to order them along. If you are taking this tool for professional remote work, I recommend ordering 2 batteries to avoid pauses when you run out of charge.
---
PROS:
Compatible with different Milwaukee router bases;
Sic-speed dial, up to 31,000 RPM;
Compatible with ¼" shank router bits;
Easy one-hand operation;
Battery-powered. Makes up to 250 ft. of ⅜" oak routing.
CONS:
The plunge base and battery aren't included.
---
2. WEN RT6033 15-Amp – Best Plunge Router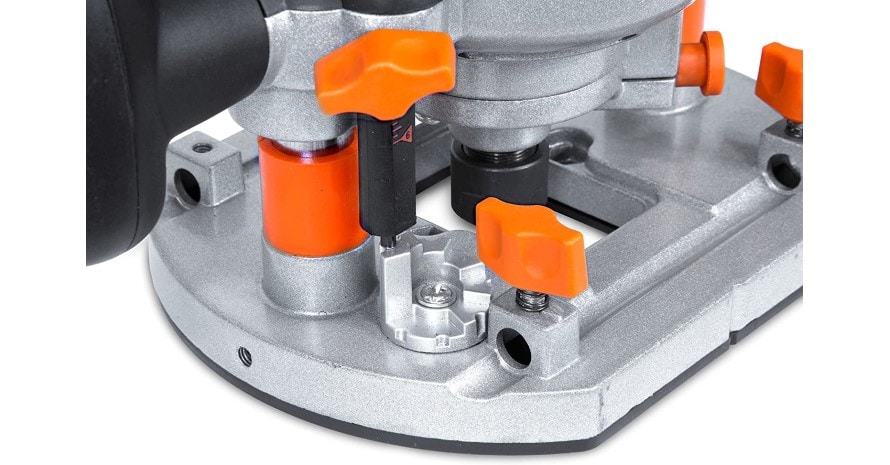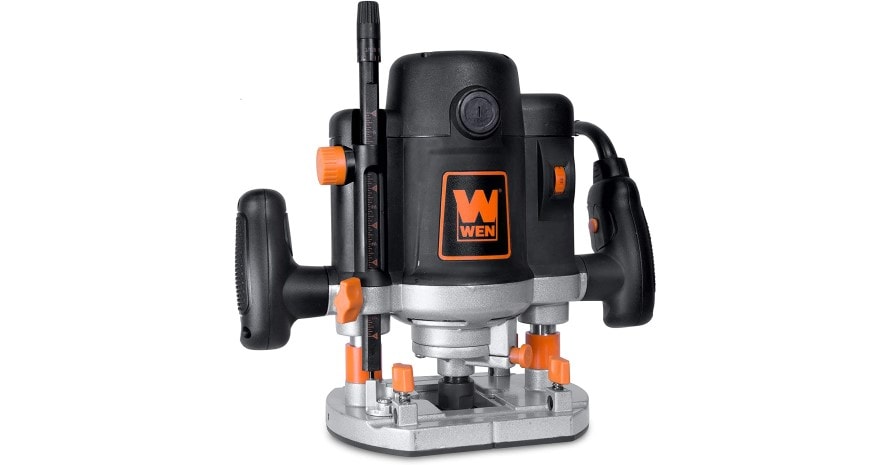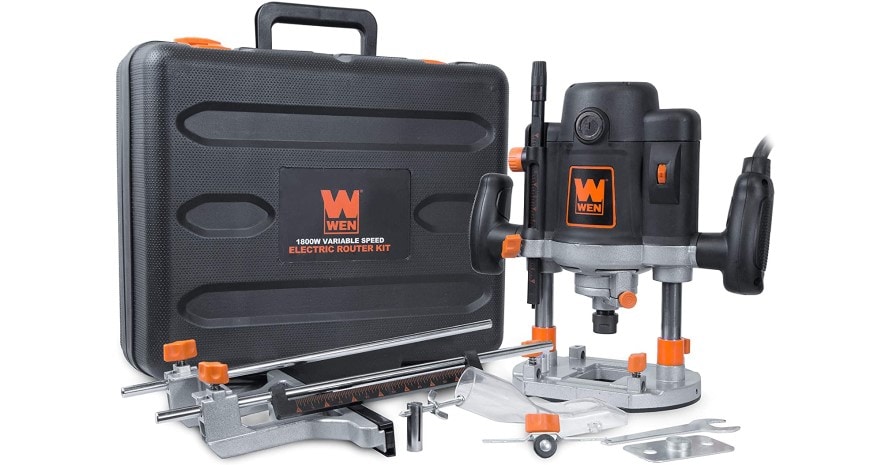 Nick Anton found WEN in 1951 and made it one of the largest manufacturers of chainsaws, engravers, jigsaws, routers, and a whole bunch of other power tools. I like that this brand offers pretty awesome quality but keeps the prices for professional-grade tools quite low. The RT6033 tool is a great example of their approach to this business.
This router comes with a powerful 15-Amp motor that spins the nut at 8,000 to 23,000 rotations. But it weighs 20 pounds and spins slower than the Milwaukee's 3-pound buddy, you'd say. Yes, that's right, but don't forget that a larger nut requires more time to rotate, so it usually makes fewer revolutions because of that, even while the motor is more powerful. The motor of this one also has a soft-start feature that reduces the risk of kickback at the start.
The collet accepts ½" and ¼" bits, and it's very easy to replace them as the nut is accessible directly. The plunge frame is highly durable and supports fine adjustments so that you can make high-precision holes and grooves without difficulties. The maximum plunge depth is 2-⅜," and you can adjust the needed depth quite easily, using the 7-stop turret and the micro adjustment dial.
Making this plunge router review took me a while as it was a pleasure to have fun with the tool. It provides smooth motion, versatility, and a great hard case with almost all the accessories you need to start, including a parallel guide fence, circle-cutting pin, dust port adapter, profile guide, nut wrench, and template guide. That's great value for any DIYer and professional carpenter.
---
PROS:
Powerful 15-AMP motor (from 8,000 to 23,000 RPM);
Guide fence, wrench, profile guide, dust port, circle pin, and profile guide included;
Great value for money;
Convenient design with large handles;
Plunge and fix the router in one.
CONS:
The plunge base isn't replaceable;
Rather heavy (20 pounds).
---
3. Bosch 1617EVSPK Combo Kit – Best Compact Plunge Router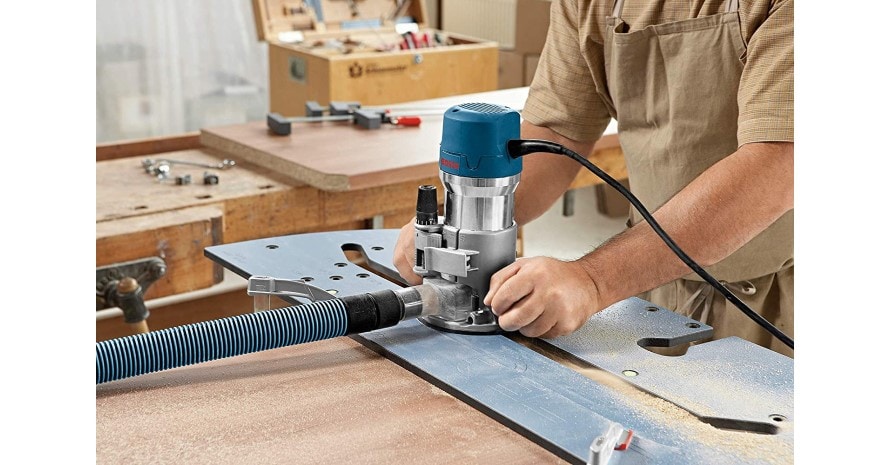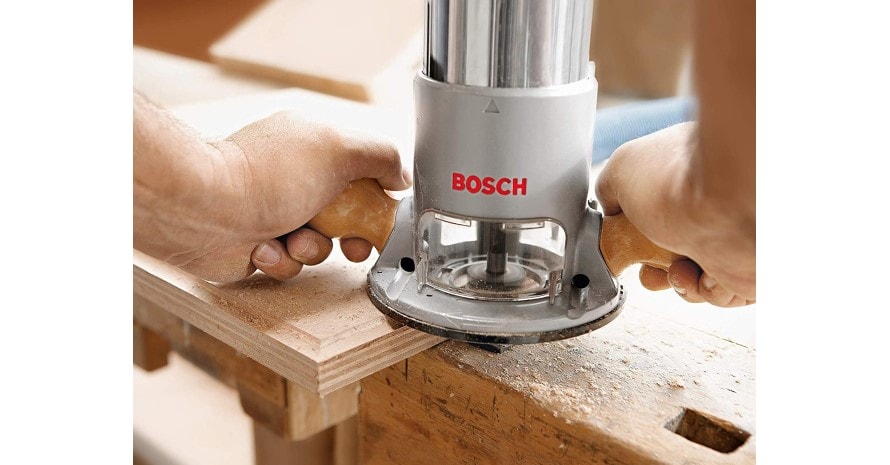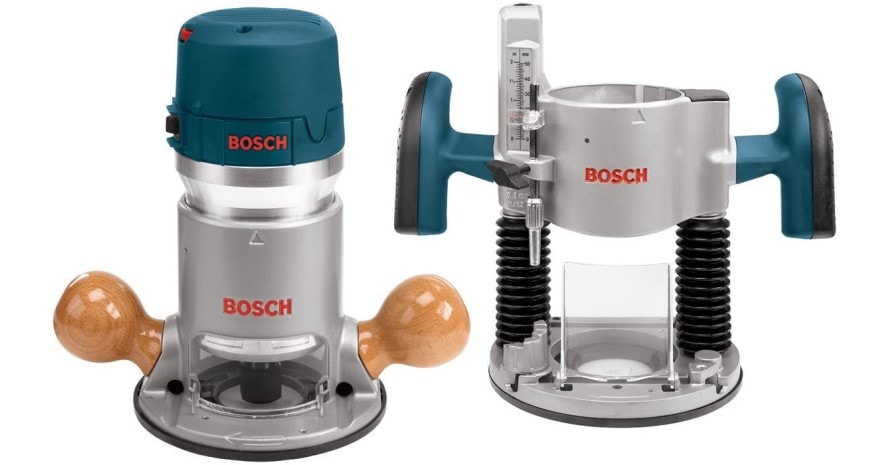 Bosch is an old German company that supplies the entire world with some of the best professional-grade power tools and accessories for any labor. These tools are usually more expensive than American analogs, but the quality and features are always at the top.
This plunger router combo kit offers a bit more portability than WEN's 15-Amp model without losing power. Its 12-Amp motor can actually spin the nut even faster, up to 25,000 RPM. Due to this, the finish quality is a bit smoother when you use the top speed. The motor includes a technology that supports the rotation speed at the set level when you strike the material. It's also 1.2 pounds lighter (18.2 pounds).
But why did I choose this one as a more compact model? All due to the convertibility. The tool comes with two bases, including a fixed base and a plunge base. Both parts let you adjust routing depth with accuracy up to 1/64", which is highly important for some projects.
While the plunge base comes with ordinary plastic handles, the fixed base is equipped with large lacquered wooden handles. I was really surprised by such a conventional solution, but it actually feels so much better than anything else and provides great control.
The tool is ready for being used as a router table core as the bases already come with mounting holes. The patterns are compatible with most ready-made and custom tables. Other pleasing extras include a self-releasing collet, a pair of wrenches, chip shields, and a case. Finally, this router is very easy to use.
---
PROS:
Highly accurate height adjustments;
Two bases and a set of tools are included;
Spins the nut up to 25,000 RPM;
Accepts ½" and ¼";
Consistent RPM (supported by smart electronics).
---
4. DEWALT DW616 – Top-Rated Wood Routers With Fixed Base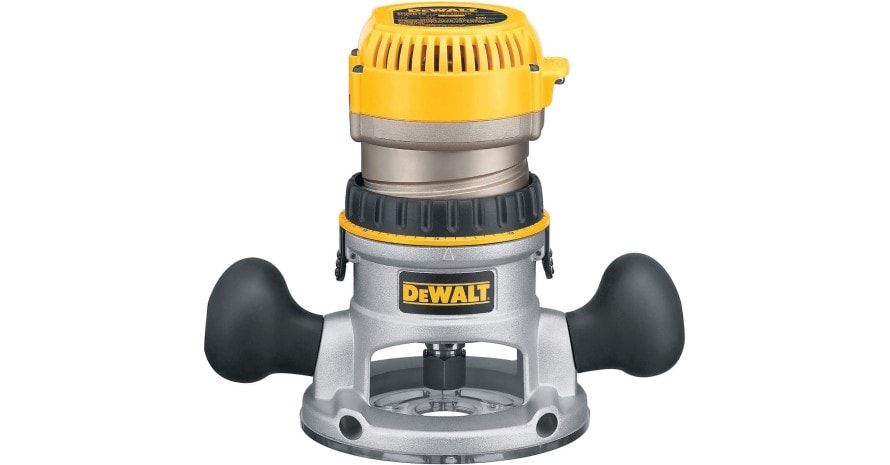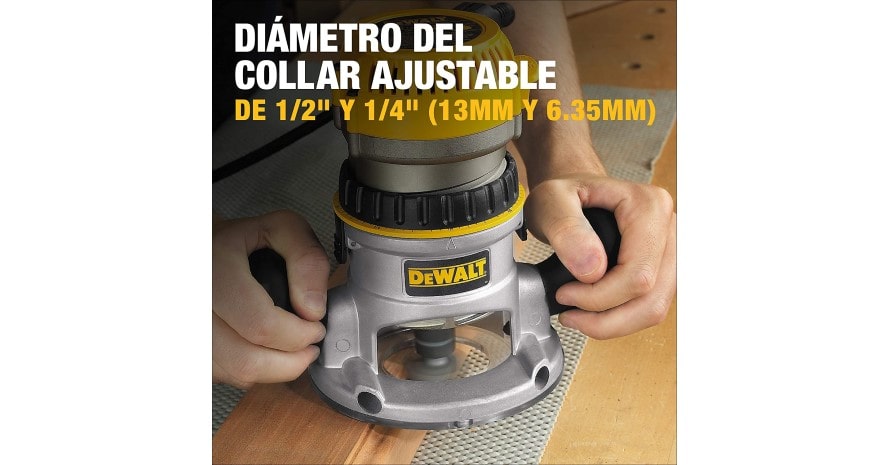 DEWALT is a 100 y.o. American brand with assembly lines right in the US, so the prices for these professional-grade power tools are very good. These tools are also amongst the most durable. That's why they are so popular in various industries and DIY areas.
The DW616 fixed-base router is designed for tackling heavy-duty industrial challenges without overloading the operator. The whole tool is only 6.2 pounds and has a broad base with a concentricity gauge, so it's very easy to move over the workpiece with high precision. The default base is convenient for both right and left-handed users due to adjustable switch and cord location.
You can also easily adjust the depth with a convenient adjustment ring. The grooves on the motor pack work like a screw, which makes it possible to adjust depth in 1/64" increments without tools. The motor pack can also be quickly released for base replacement. The nut is compatible with 1/4- and 1/2-inch collets, which is a standard range for medium-duty models. I think it's enough for the majority of purposes.
This DEWALT router offers excellent value for the money it costs if you consider not only its performance and durability but the full 3-year warranty with a 1-year free maintenance contract. They will replace any part if it wears off during normal use.
---
PROS:
90-day money-back guarantee, 3-year warranty, and 1-year free maintenance contract;
Industrial-grade durability;
Removable base with a concentricity gauge for extra precision;
1-3/4HP motor for all wood types;
1/64" adjustment accuracy.
CONS:
Only one base in the package.
---
5. Makita RT0701CX3 – #1 Professional Carpentry Router Kit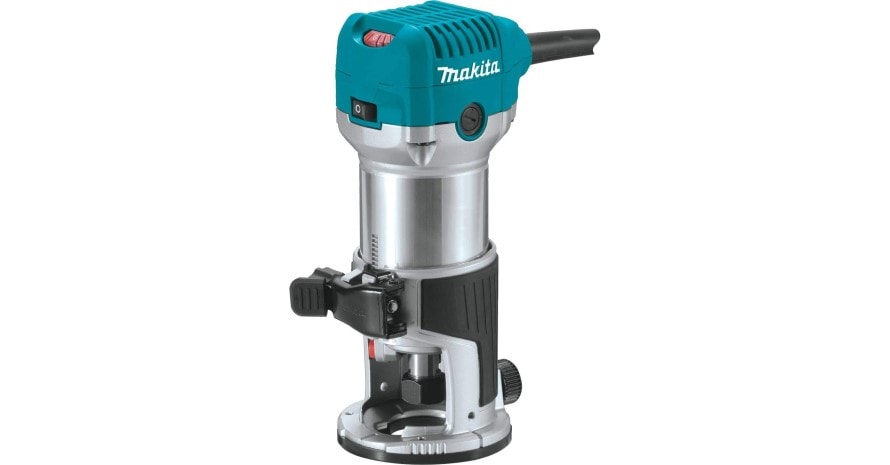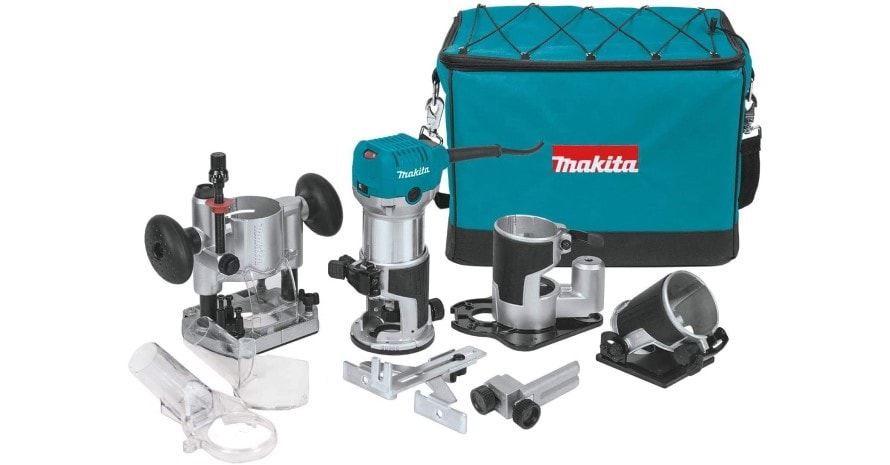 Makita is a top-notch Japanese power tool maker with high-quality assembly lines in the US. The brand is an absolute leader when it comes to simplicity and durability. Their routers are quite affordable yet extremely versatile for in-shop projects.
The routers by Makita are currently the best-sellers on Amazon and some other marketplaces as they are designed to be compact and withstand heavy workloads at the same time. The lightweight RT0701CX3 is most popular for the single-hand use convenience, but it can be converted into a 2-hand plunge router in seconds.
The great thing is that this model's default set includes 2 types of fixed vertical bases (for straight and circular cutting as well as a slanted base with adjustable angle (from 30° to 45°) and a patented plunger base. The last lets you adjust the depth with micro increments.
The motor of this tool is probably the most energy-efficient on the market today. With only 6.5 Amps and 1-1/4HP "under the hood," this pal makes from 10,000 to 30,300 revolutions per minute. I tested it on my friend's kitchen-making workshop. He uses the tool to make extra-smooth edges on composite solid surfaces. I tried to repeat his works, and it was a pleasure to do with this compact machine.
There's a minus that I've noticed, though. When you do the edging works, it feels a bit too lightweight, so it's quite easy to lose control if you catch a kickback. Hold it firmly.
---
PROS:
Compact and powerful (up to 30,000 RPM);
3 extra bases in the kit;
Professional bag with all the needed tools and accessories;
Compatible with 1/4″ shank routers bits and smaller;
Accepts all universal template guides.
CONS:
It's lightweight but lacks stability a bit when you do edging.
---
6. Avid Power 6.5-Amp – Good Wood Router With Fixed Base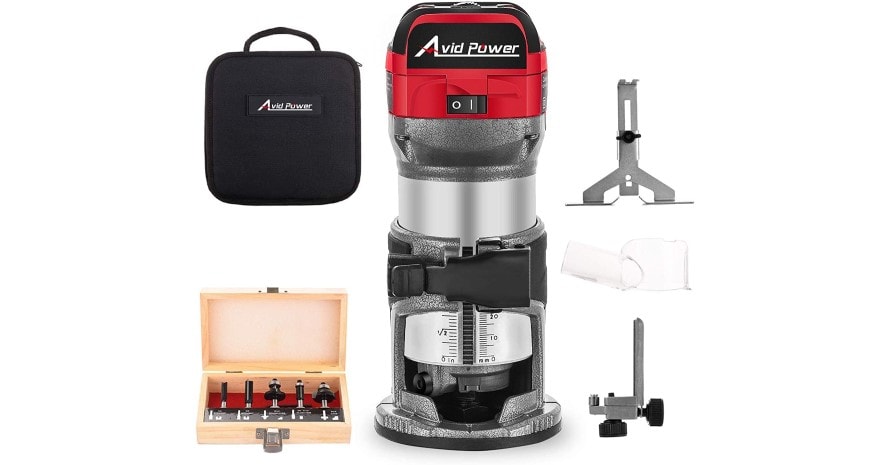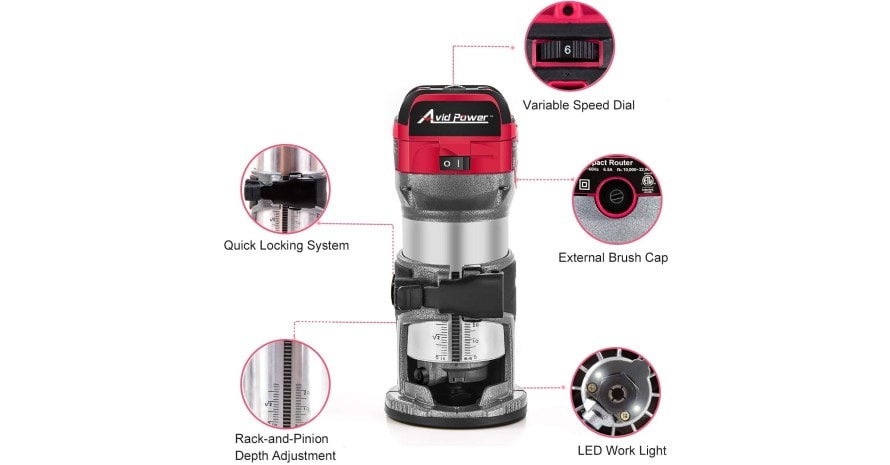 I don't know much about the Avid Power company as it's one of those new Chinese manufacturers that don't tell a lot about themselves but make superb cheap tools. Avid Power focuses on light and medium-duty tools for carpentry and outdoor power tools. I'm not sure if they have good customer support as they are based only in China, but 90% of reviews and my personal experience are positive.
For slightly more than $110, you are offered a 6.5-Amp motor pack that performs similarly to the Makita's motor. It even runs 2,000 RPM faster at the top speed mode but doesn't have a smooth start feature, so you have to hold it really well and get used to the kicking torque. On the other hand, it's a way to make extra-smooth stuff. The nut accepts 1/4 and 3/8-inch collets, which isn't quite typical for tools of that size.
As usual, the Chinese kit includes a lot of useful things. It's not as large as Makita's but still includes an edge and roller guides, dust vacuum nozzle, nut wrench, 5 most popular router bits, and, suddenly, a pair of poor-quality gardening gloves. They provide extra grip anyway. Finally, the soft case is very nice for storing and transportation.
This compact buddy is definitely a great catch for masters on a budget, carpentry beginners, and anyone else looking for a cheap and versatile tool. It lets you do a ton of different works right from the box. It's probably one of the best options to start with and for completing occasional tasks.
---
PROS:
Makes from 10,000 to 32,000 RPM;
Excellent default kit;
Precise and versatile;
Accepts 3/8" and 1/4" collet sizes;
Affordable and comprehensive for beginners.
CONS:
I couldn't contact customer service.
---
7. PORTER-CABLE PCE6435 – Excellent Laminate Trimmer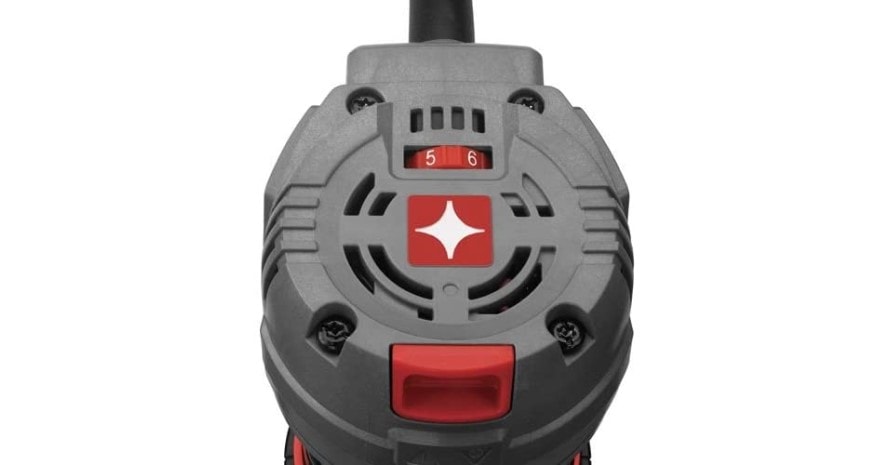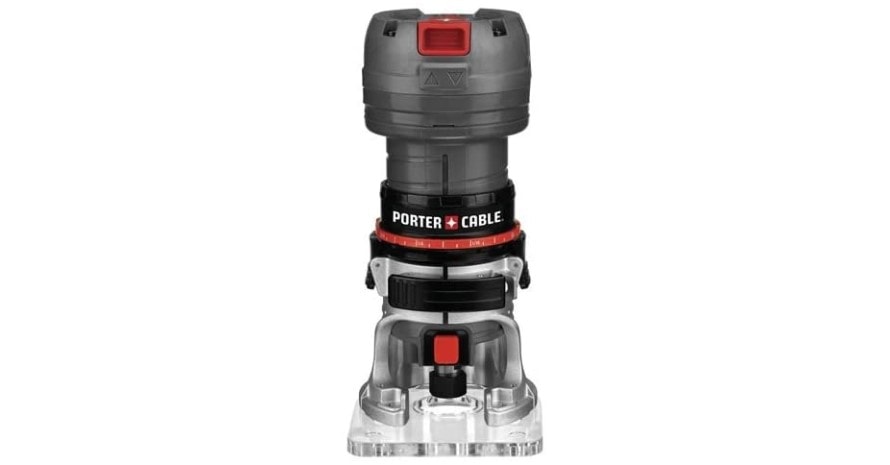 Porter-Cable isn't very well-known in the world, but it's actually one of the oldest American power toolmakers that have been holding a significant position in the business since 1906. It stands behind the invention of a portable belt sander, portable band saw, and a helical-drive circular saw.
The brand's PCE6435 is a high-quality tool with a 5.6-Amp motor that's tuned for ultra-fast output. The speed controller lets you switch from 16,000 to 35,000 RPM, so it's not the best one for long slow passes, but great for smoothing out the edges of any hardwoods and solid surfaces.
The base of the instrument is made of cast aluminum, while the sub-base is of solid transparent plastic that reduces weight and smoothes out every movement you make. It's a good combo with a precise height-adjustment ring that runs really smooth.
The only complaint I have about this tool is the number of plastic parts in the construction. I'm sure they could make the motor shell of aluminum instead of plastic as the cost covers it in spades. This would reduce the heating a bit.
---
PROS:
Full 3-year warranty;
Great for getting a smooth finish on the edges;
Precise depth-adjustment ring;
Makes up to 35,000 RPM;
Quite lightweight (5 pounds).
CONS:
Only a fixed base is available;
The motor shell is fully plastic.
---
8. Ryobi P601 One+ – Reliable Inexpensive Cordless Wood Router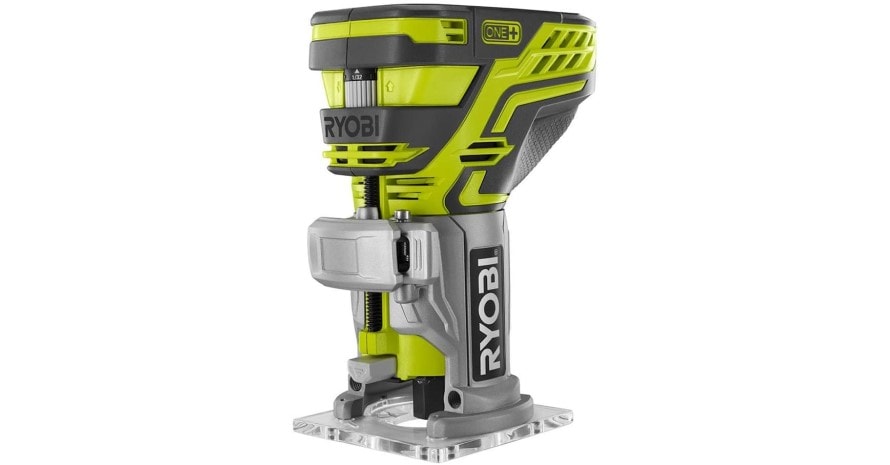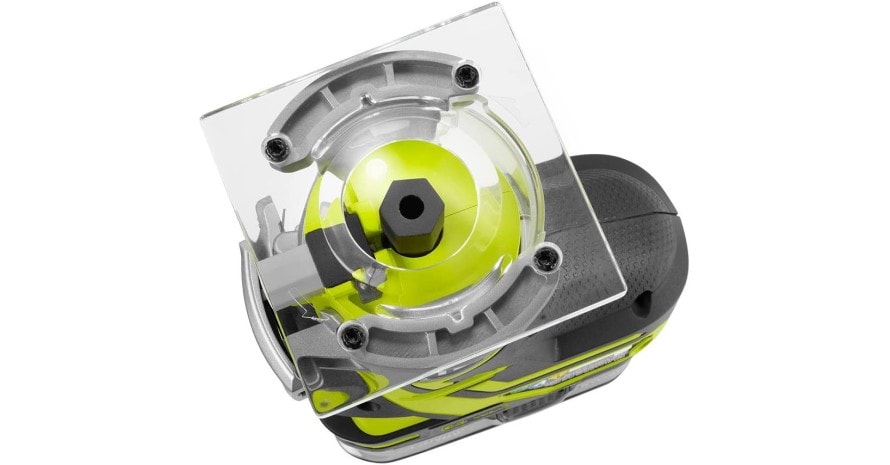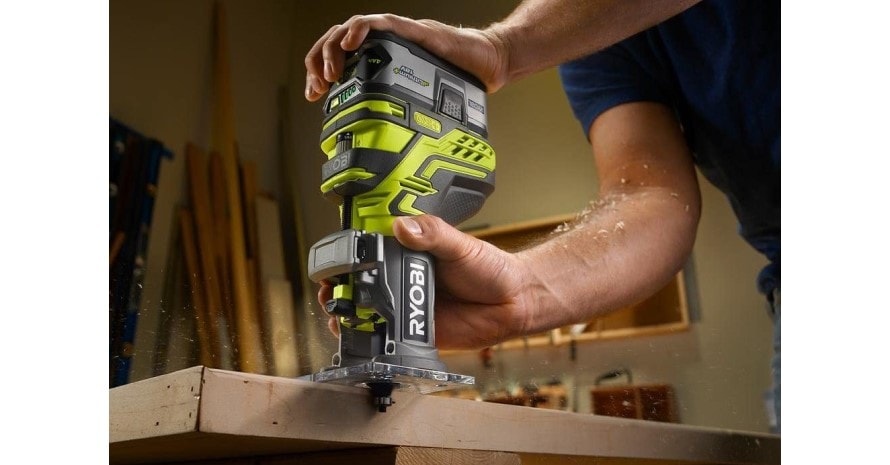 Ryobi is a multi-industry manufacturer of components and electronic equipment with over 75 years of history in Japan and over 50 years of success in the US. Most of their tools are manufactured in OEM factories that also supply parts for Milwaukee, AEG, Vax, etc. The brand usually offers modest pricing for excellent features and quality.
The P601 One+ router is an affordable battery-powered tool that works with 18V batteries and makes up to 29,000 RPM. That's a great result for such a lightweight cordless tool. The design is made as simple as possible to make it convenient for DIYers who don't need pro-grade devices for their projects. The tool accepts ¼" shank router bits and provides similar performance to my all favorite Milwaukee Fuel router.
Another good point is an option to micro-adjust the depth of the bit simply by rotating the dial. If you need to replace the bit, it's quite easy to release it with a single push of a button.
Unfortunately, the tool comes without a battery, but it's compatible with all Ryobi power tool battery packs from P100 to P108. You can just take a battery from another tool by the brand if you have it. The tool easily makes it on most home projects for less than $90, and it's very easy to use.
---
PROS:
Convenient, lightweight design (3.3 pounds);
Affordable battery-powered tool;
Precise depth adjustment;
Quick bit release button;
Cutting zone LED light.
---
9. Skil RT1322-00 – Good Convertible-Base Router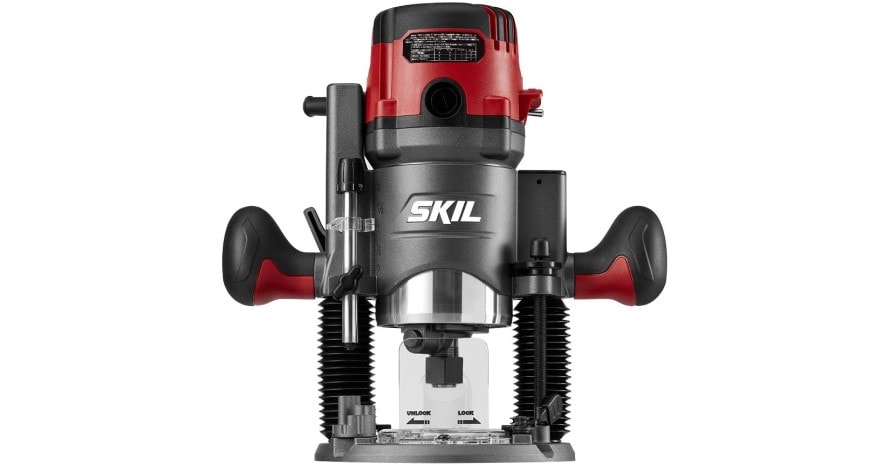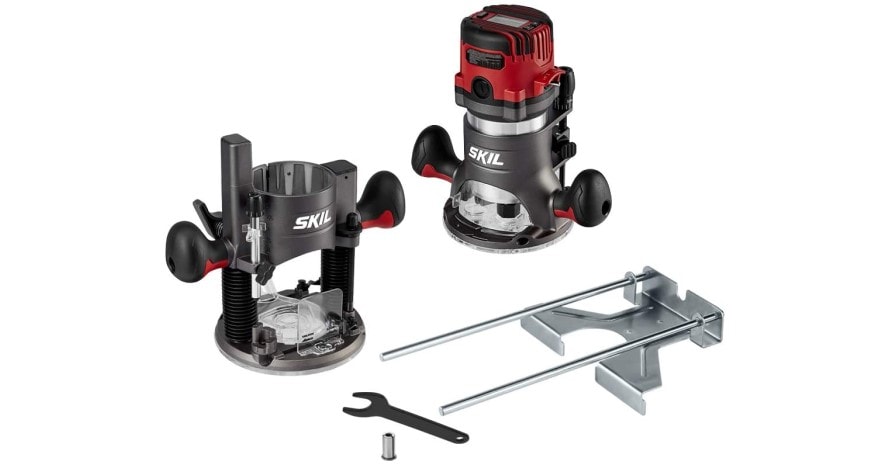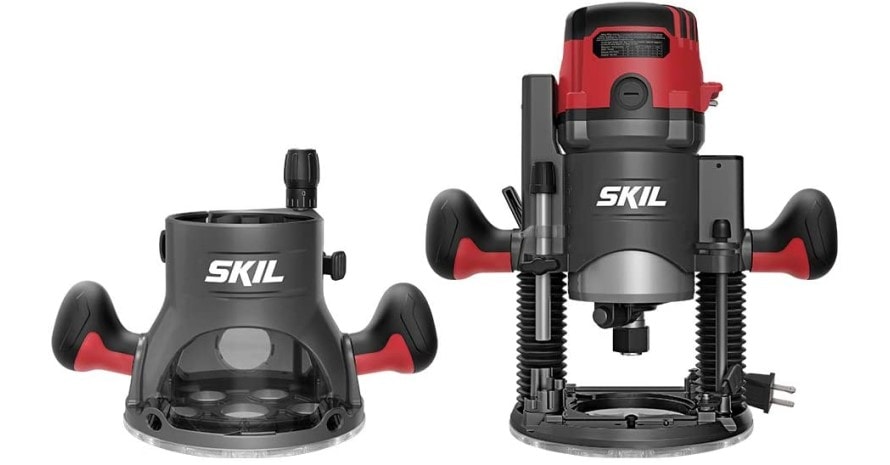 Skil is a legendary US brand, the inventor of the popular heavy-duty Skilsaw Model 77. It's now called "The saw that built America." Other tools by the brand offer the same level of durability and professional-grade performance.
RT1322-00 is a combo router with a replaceable base so that you can use it as a plunger and a lighter fixed-base router. Both modes support precise depth tuning with micro increments.
The medium-duty 14-Amp motor makes from 10,000 to 24,000 RPM at a consistent speed no matter what the load is. I think it's using the same speed controller as Bosch's device. The nut accepts 1/4″ and 1/2″ collet without performance downgrade when you take the largest one.
Unlike alternative tools, this one has a bright LCD display on the top panel so that you can see what speed is enabled and adjust it with a push of a button. The display will tell you what type of wood can be treated with the chosen speed and show the acceptable collet size.
The reason I didn't choose it instead of Milwaukee is that it weighs notably more (the full pack is 17 pounds. Finally, it's a corded tool, so it doesn't fulfill my need for extra mobility. If you don't care about that, you will definitely like the tool very much.
---
PROS:
LCD display with wood type suggestions;
Accepts 1/4″ and 1/2″ collet sizes;
Speed consistency controller;
Two base types included;
Soft start feature.
---
10. Bosch PR20EVS – Powerful Single-Hand Tool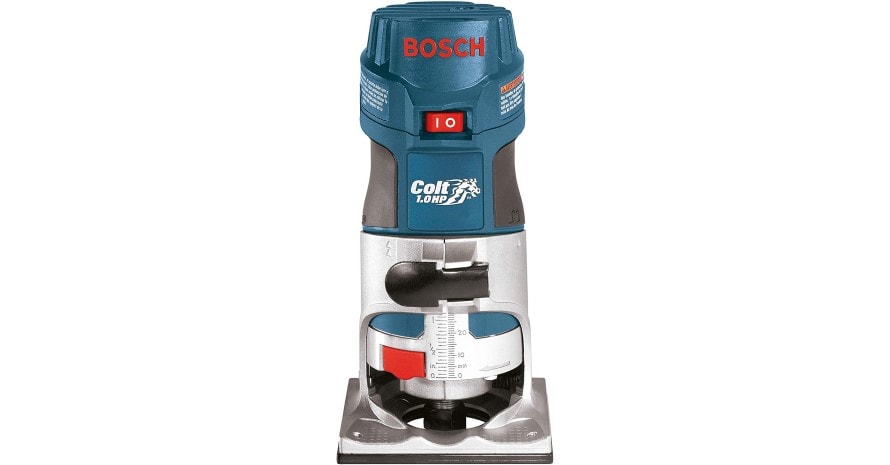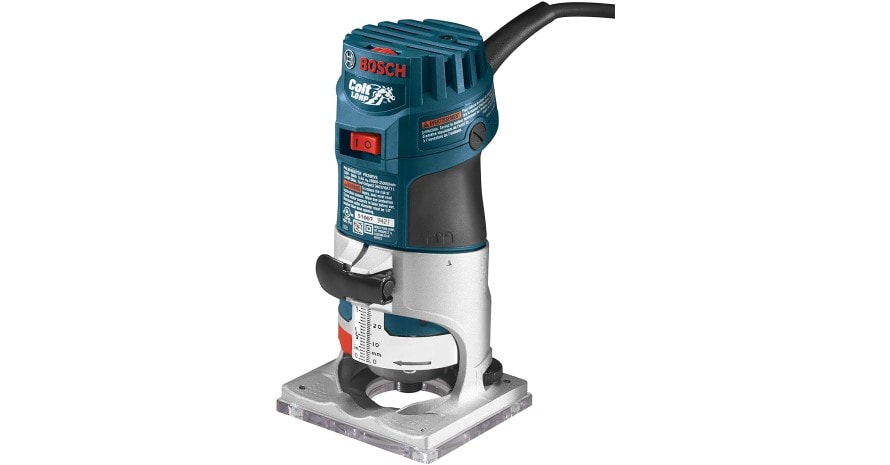 Last but not least, the 1HP Colt router is a compact and powerful tool that makes from 16,000 to 35,000 RPM. It's a highly convenient one when it comes to edging and laminate trimming. The tool makes an exceptionally clean and smooth finish, so I'd recommend it for all kinds of edging works that require 1-5/16" and smaller bits. There are 6 variable speeds and a quick height adjustment option that enables micro and micro tuning for routing small details with top precision.
Similar to other professional Bosch routers, this one has a sturdy aluminum core and a quick bit release mechanism. You don't need any tools to replace the bits, which is very helpful when you do design projects that require multiple bits to be used in a short period. Despite the small size of the motor pack, it includes all the pro-grade features, such as smooth start and Constant Response circuitry that maintains the speed on the set level independently from the workload.
---
PROS:
Excellent for edging and trimming;
Toolless bit replacement;
Compact size for works at small objects and detalization;
Reaches 35,000 RPM for additional smoothing and laminates;
Lightweight design (3 pounds).
CONS:
Incompatible with a plunger base.
---
Types of Wood Routers
As you can already understand, there are different types of routers for particular purposes. Let's take a closer look at each of them to see what you actually need.
Plunge routers
The construction of these routers makes it possible to move the housing of the tool up and down in order to achieve the needed cutting depth. These tools are the best for making grooves, dadoes, patterns, and template preparation. They are also usually heavier and bigger and other tools of the kind, so you have to hold them with both hands.
Fixed Base Routers
These tools look very similar to plunge routers, and they're usually operated with both hands too. They don't let you adjust the length of the bit and have a fixed metal base, but this makes them more convenient for edging works.
Duty of the Router
Routers can also be split into categories by their duty, which represents the amount of power and the size of the tool. Heavy-duty hand routers provide over 1.5" collet size. They are usually designed for heavy workloads that professional woodworkers have.
Medium-duty models are good for more delicate and precision-demanding tasks. They have a maximum collet size of 1.5" and usually aren't able to tackle heavier jobs. Finally, the light-duty models are the best choice for DIY masters who don't need to process large batches of wood every day. The collect size is usually limited to ¼" or ½", so they are convenient for routing tiny workpieces with extra precision.
How to Choose the Best Wood Router?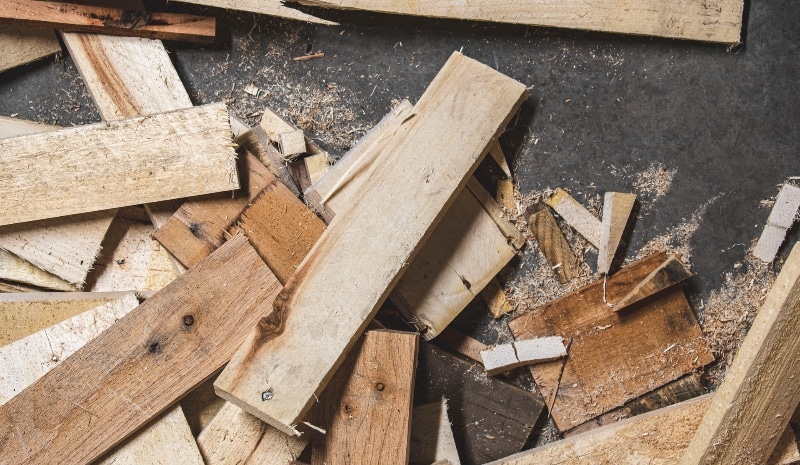 Choosing a wood router for your projects, you should consider several features to understand whether the tool provides enough freedom for you or not. Here are them.
Collet Nut Size
The size of this part determines the maximal bit size you can use with your tool. Actually, some larger bits may fit into smaller collets, but you shouldn't think of it as a random benefit as it will definitely burn the tool's motor by overloading it. Small DIY'er tools work with ¼" or ½" bits, medium-duty models accept up to 1.5", and heavy-duty professional-grade tools are capable of cutting with 1.5" and larger bits.
The Base Type
Generally, there are fixed-base and plunge routers, and I've already described them in two paragraphs above. In short, words, use plunge models to be able to make vertical holes of the needed fixed depth and apply fixed-base models for routing at a set depth. It's also better to take one-handed tools if you need to complete edging works. Some manufacturers like Bosch offer replaceable bases for higher versatility.
Peak RPM & Adjustability
If you need more flexibility, look for a router with adjustable rotation speed and the highest peak speed. It's not usually necessary as many operations require you to drop the speed in order to achieve higher accuracy. On the other hand, higher speeds provide a smoother finish.
Power Source
Most routers (especially heavy-duty) are corded, and it's totally fine as you're not likely to carry this monster far away from the workbench. However, you can choose to buy a cordless model too if it matches your power requirements. The obvious benefit of this choice is portability. It's very nice to be able to carry the tool to hard-to-reach places and remote worksites.
How to Use Wood Router?
For the safety use tips, read the next paragraph. Here, I will briefly tell you about the sequence of actions you need to make to start working and make a good cut safely. Here are the steps to undertake:
Unplug the tool to avoid sudden turn-ons of the engine;
Turn the tool upside down and let it stand like that if possible or just hold it;
Press the spindle lock button and loosen the collet nut by rotating it a bit with a wrench;
Insert ¾ of the bit into the collet;
Tighten the collet firmly while holding the spindle lock button pressed;
Return the tool into the working position;
Adjust the routing depth according to the user manual attached to your particular model as it may differ;
Set the right routing speed;
Plug the tool back and test it on a piece of scrap material;
Get the job done!
Safety Tips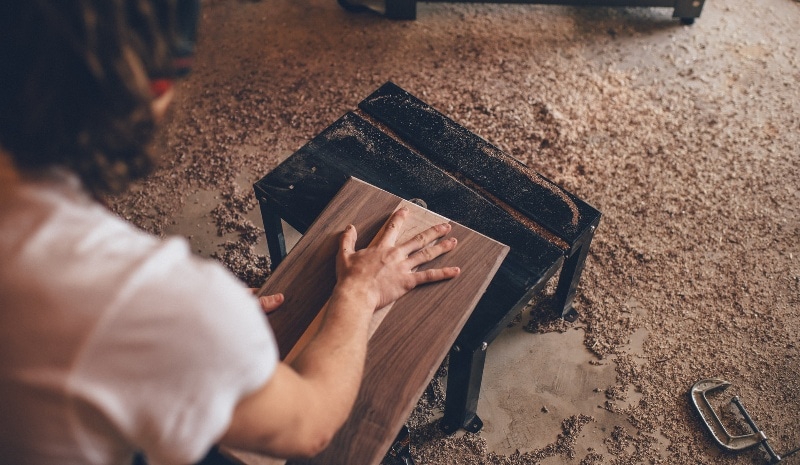 Although routers look so safe due to the small size of the cutter, they work at high RPMs and can easily make you a deep scar for life or tear away your finger if you neglect the safety rules. Read below to prepare for work correctly.
Secure the workpiece
Unless you are working with some heavy furniture or cabinets that can stand still on their own, you have to clamp the workpiece securely to avoid shifting. You can also add a friction mat underneath to the workpiece for extra stability. If you need to process narrow pieces that cannot be clamped, secure them with bench dogs to achieve a steady stand.
Keep Hands Away From the Bit
If you are using your router as a part of a DIY router table, you should not operate the workpiece with bare hands. Gloves are not enough to feel totally secure either. I recommend using push sticks or push blocks to move the workpiece around with your hands away from the cutting area. You can also use a feather board for pressing the part against the table.
Unplug Before Adjusting
It's highly important to always unplug the toot or remove the battery when you need to make adjustments to the tool. No matter what you need to do, this simple rule will save your hands. When the adjustment is made, don't plug the tool until you make sure that the switch is in the off position.
Install the Bit Correctly
Before installing the next bit, take a look at it to check for damage or dullness. It must be smooth and clean. Insert the bit into the collet until you cannot move it deeper, then pull it out for around 1/16". Otherwise, it may loosen and become a sharp metal bullet. Even with short bits, keep at least 3/4" inserted. Next, don't over tighten the nut as it has to be opened without too much effort next time. Finally, you must NOT use bits, burrs, or anything else if it's not designed for a router of your type. You will face cutting issues or trauma if you do.
Use Safety Gear
Finally, you should never start working without proper safety gear. Dust and chips come from under the bit at a dangerous speed, so it's highly important to wear eye protection and dust protection to avoid inhaling wood or plastic dust that can reside in your lungs. Don't wear any jewelry and choose clothes that are not loose enough to get under the bit by accident.
Routers Power Tool FAQ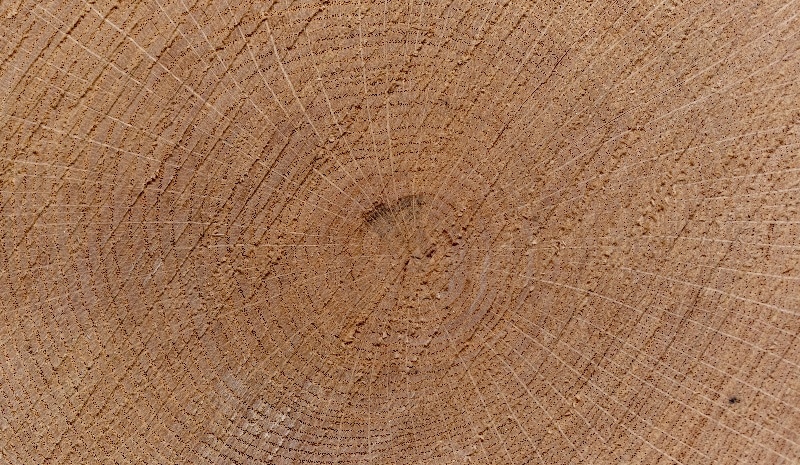 You've been asking me so many questions about wood routers over the last year, so I gathered the most popular of them here to answer once and for all. Hope I got all things covered.
How does a wood router work?
Wood routers rout out or hollow out any area of your workplace. The rapidly rotating router bit cuts wood of other material very neatly due to high-RPM direct-drive engines, so they're very good for fine works. They provide the needed effect only on flat surfaces.
What is a wood router good for?
Depending on the type of router you have, it can be successfully used for:
making accurate holes and grooves of any shape and depth in any spot of the surface;
edging pieces of wood under an angle and with a smoothing effect;
cutting any shapes in the wood for achieving particular functional or cosmetic benefits.
There are also special-purpose models, such as biscuit joiners for making elongated narrow slots and a laminate trimmer for, ha-ha, trimming laminate.
What is the difference between a wood shaper and a router?
The major difference is that wood shapers and routers use different types of cutters. Actually, routers win here as the range of router bits includes over 30 different profiles. Routers are also much smaller, which makes it easier to transport them and lets you work on more delicate workpieces. In addition, a smaller cutter diameter enables greater RPM, which results in cleaner cuts. Shapers are good for processing large batches of work with a relatively low vibration level and rarer cooling pauses. It's an excellent tool for heavier shaping works.
Do you push or pull a router?
The rule of the thumb is to always push the router forward. Otherwise, you expose yourself to the risk of being hurt by a tool that falls from your hands after a sudden strong kickback. On the other hand, it's very inconvenient to push it forward in some situations. Well, I cannot recommend you do this as it's against the safety rules, so don't do it unless there's objectively no other option.
Why is my router bit burning the wood?
This has happened at least once to perhaps any woodworker. The thing is that router bits gather dust and resins, which causes them to get hot quite fast. If you overheat the bit and don't clean it on time, the material may start burning. On the one hand, that's quite inconvenient. On the other hand, you will be motivated to clean the bit regularly, which will save the carbide bit (if you are using one) from excessive heat impact and keep it sharper much longer. By the way, a dull tip will put the wood on fire much faster than a sharp one.
Can you use a router on plywood?
Plywoods include glue in them, which may cause the router bit too dull faster than if you cut only solid types of wood. That's not what you should worry about if you are only cutting some parts for a single small project. You should also inspect the plywood for voids to make neat cuts.
Don't Cut Your Fingers!
Again, remember that a wood router is quite a dangerous tool that requires a knack and attention. Consider one of the tools from my listing, depending on your average scope of work, or use your knowledge from the guide to choose a tool elsewhere. My favorite pick for my cabinetry projects is the Milwaukee 2723-20 M18 FUEL. It's battery-powered, fast, and easily adjustable, so I left it for regular use after testing the whole bunch. Getting to work, don't forget about safety (see safety tips above) and cooling to make your tool serve long.
How did you like my reviews? Were they helpful enough for you? You're welcome to ask me questions in the comments section below if something remains unclear. I'd also be happy to know what tool you decide to purchase after reading. If you already have one of them, I'll be grateful if you share your honest opinion about it. This will help other readers of my blog to have more confidence. Thank you for reading, and stay tuned for more useful guides and reviews!