It is a challenging job to find the best 2000-watt inverter generator that will suit your needs perfectly. Since any inverter generator costs you some money, it's unlikely you want to waste it on something you will not even use.
Pros
Eco-throttle system saves gas
Premium Pick
Pros
Eco-throttle system saves gas
This is why I have created these 2000-watt generator reviews, based on my personal experience and reviews from my friends. I consider these 8 generators as top products, and I hope I can narrow down your search. Inverters have numerous benefits compared to the open-frame models. However, you still need to pay attention to the quality, features, noise level, portability, and other peculiarities of each product before you order anything.
Main advantages of 2000-watt inverter generator
While a 2000W generator might not be powerful enough to provide electricity to a big house throughout the day, you still can use it at home for at least 8 hours in a row. I have gathered only the best models on my list. They all have their advantages. Check the most popular of them:
You can use them at any emergency, including tailgating, RV, and recreational needs;
Such 2000 W generators cost less than products with more wattage;
They are easy to use. Usually, you need to press the button to start and make sure that there is gasoline in the fuel tank; that is all;
Inverters do not provide much noise; they are lightweight, and fuel-efficient;
Inverter generators save the ecology and your money with low gas consumption.
Top-8 Best 2000-watt Inverter Generators
Here is my list of top inverter generators with advanced features. You might not need all these features and can pick what you need the most. All the models are durable and reliable. Additionally, you can search for comments of other buyers who use these generators in their daily life.
1. WEN – CARB Compliant 2000w Inverter Generator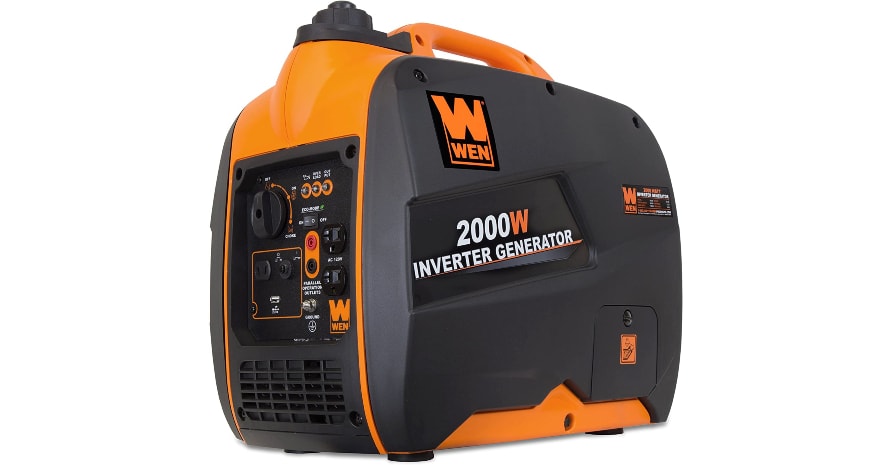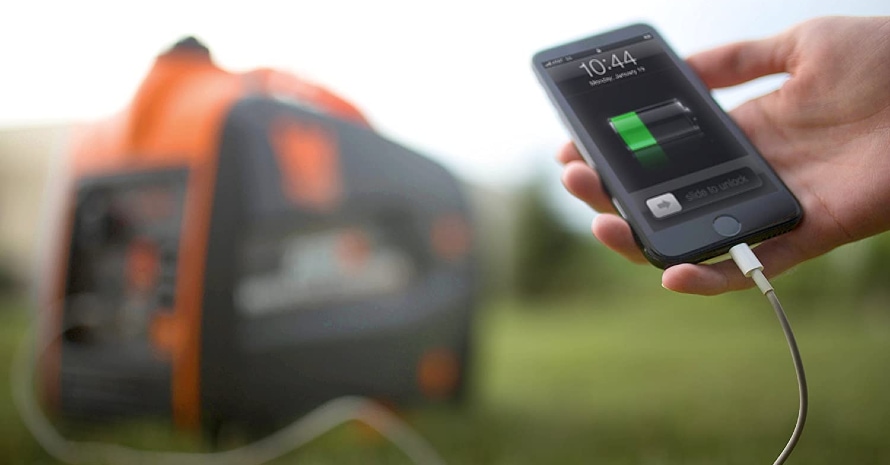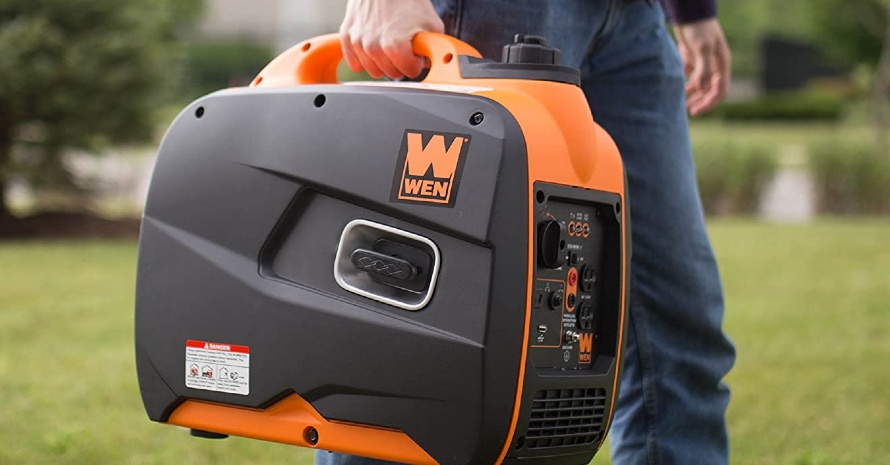 Read Full Review: WEN 56200i Review: Everything You Need to Know
The model is available in two variants: 2000 watts and 2250 watts. I recommend you to go with the classic 2000-watt option. If you need to add a magnetic oil dipstick, parallel connection kit, or synthetic oil (1 quart), you might order them from WEN together with the generator. Pay attention, that by choosing 2000 watts, you actually have 1600 watts running.
This model weighs 48 pounds, which is not weightless, but you can still carry it around. It has a handle attached. The box of 18x11x18 inches looks compact. I also appreciate the 53 dBA noise level during its work, which is extremely quiet compared to other generators. The power it produces is clean and safe to charge even the most sensitive devices like your phone or tablet.
This generator has one 12 V DC receptacle, one 5 V USB port, and three-prong 120 V receptacles. If you are concerned about nature nearby, you can turn on the eco-mode, which adjusts the consumption of the fuel so that it consumes less gasoline and saves your money.

---
PROS:
Simple to carry around;
Safe for small electronics;
Reliable;
Affordable price;
Eco-mode.
CONS:
It has only one 12 V DC receptacle.
---
2. Westinghouse – 2000-watt Super Quiet Inverter Generator on Gas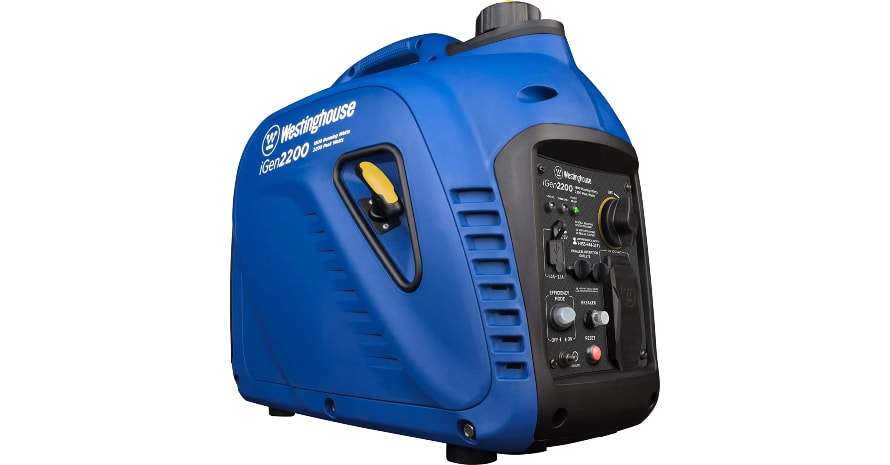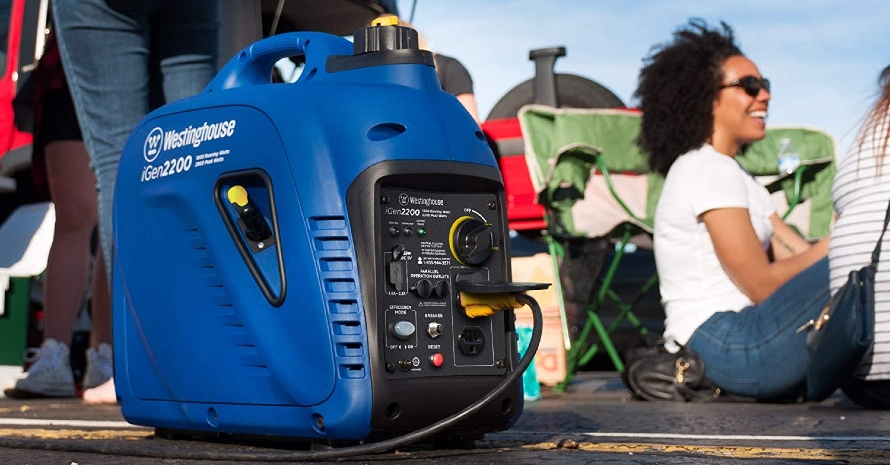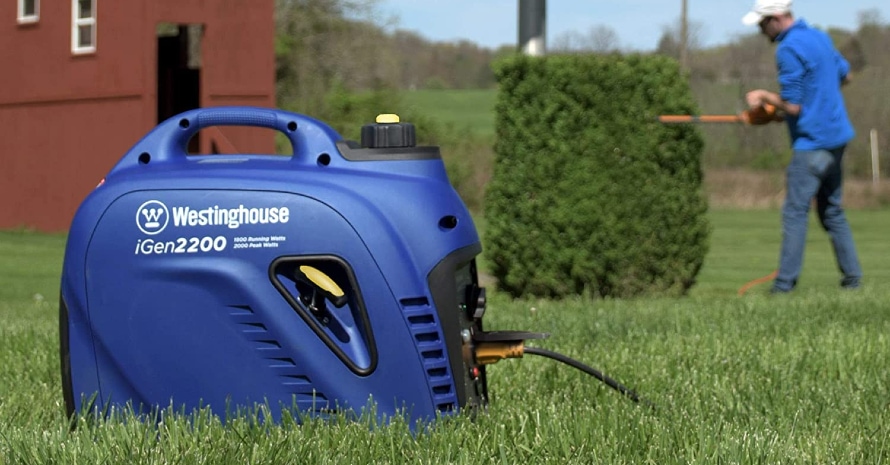 The name of Westinghouse has become a real sign of quality. They offer you the 1200-watt and 2200-watt models. The whole device weighs 46 pounds. The tank volume is 1.2 gallons, which I find convenient, as it is enough for 12 hours of running in the economy mode. It can safely power your laptop, phone, and TV by producing stable power.
There are two outlets on 120V 20 Amp and 2 USB outlets. The device has a 52 dBA noise level, which is pretty quiet for a running generator. There is a parallel capability that allows you to combine this model with other generators of Westinghouse so that you can increase the amperage and wattage. Moreover, each generator from Westinghouse has been fully tested, matched CARB, and EPA demands, providing 3 years of service warranty. I recommend using the item outdoors and taking it with you on a camping trip.

---
PROS:
1.2 gallons tank volume;
Lightweight;
Works for 12 hours in a row;
Low level of noise;
2 outlets on 120V and 2 USB ports.
CONS:
When you change to run mode from the choke, there might be a clicking sound.
---
3. Honda – Compact Generator with 2000-watt Capacity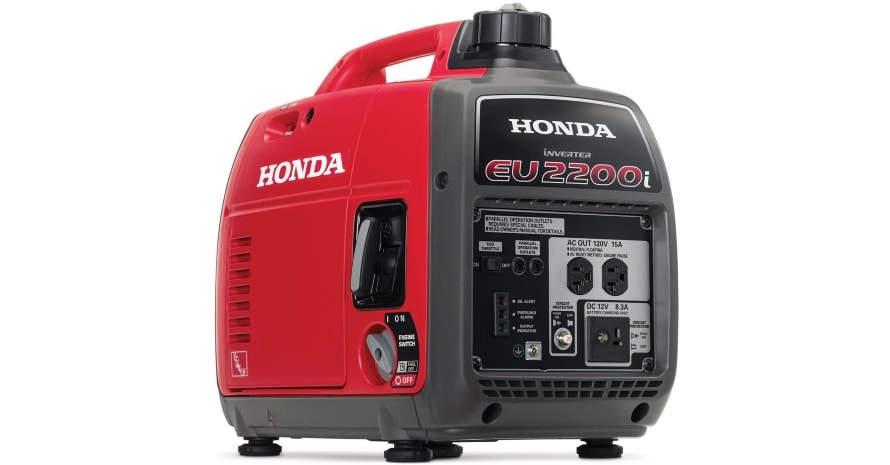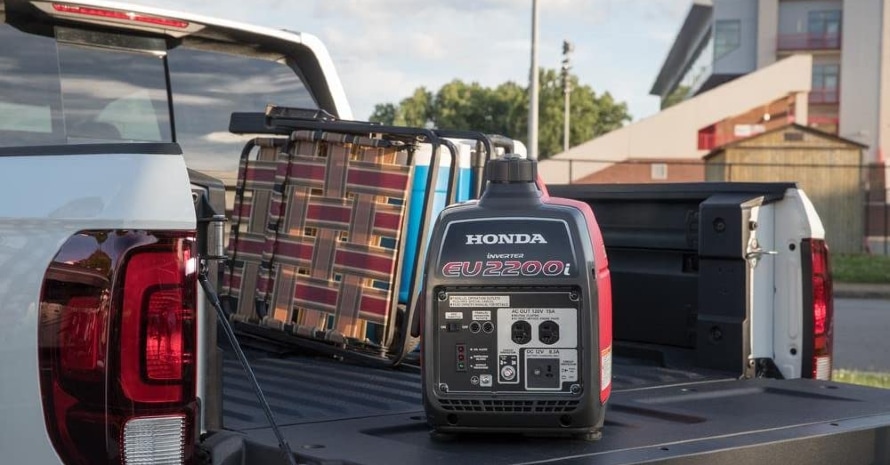 Honda is well-known for its attention to all the details when it comes to power devices. This model provides 2200 watts and can be extremely helpful both at home and outdoors. This model produces from 48 to 57 dBA noise levels when it works. Therefore, your neighbors aren't likely to hear anything. If you need more power, you always might add another generator, using the cable or the cord. In total, you will receive 4400 watts.
The fuel efficiency is also pretty decent. There is an eco-throttle system that allows saving gas and money. Depending on the load, it can run for 9.6 hours. If you need to keep the power on for the whole night, this generator can cope with the task. I recommend you to keep an extra fuel somewhere near, in case you need to recharge it. Besides, don't forget to check the generator in advance. I like the extra ventilation system inside the generator. It significantly prolongs the life of this model, cooling it during work.

---
PROS:
Quiet work;
Transportable;
Eco-throttle system saves gas;
Clean power for small devices;
2200 watts.
CONS:
It works less compared to other models on the list.
---
4. Pulsar – Potent 2000-watt Gas Generator for Any Household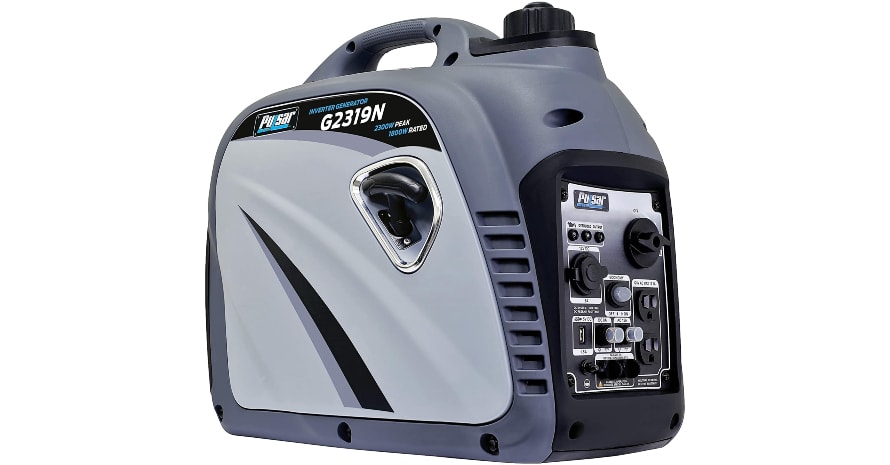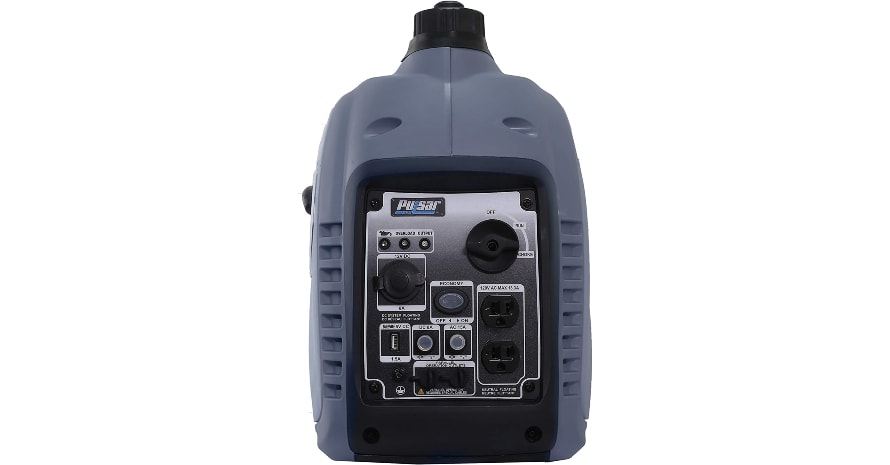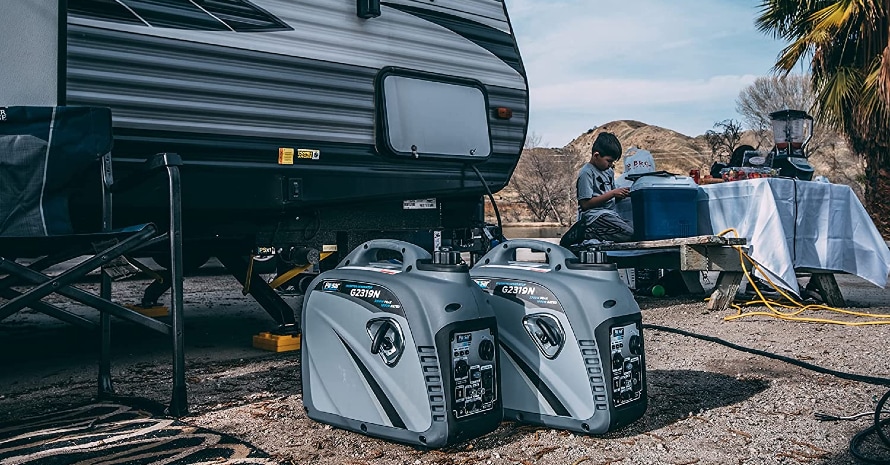 This model from Pulsar offers two color options; you can pick between gray and white. You can also choose the wattage between 2000 W, 2300 W, and 4500 W. Since not everyone requires 4500 W for personal use, I recommend picking 2300 W. You might also select the kit, which includes the cord or parallel adaptor. This model weighs only 47 pounds and has a handle to carry it. Its tank volume is 1.18 gallons.
While the tool offers 2300 peak watts, it actually runs 1800 watts, to make it clear. In a half-load state, it operates for 4.8 hours. Though it is not the biggest amount of time possible, it might be enough to run the device for the whole night. My advice here is to keep it fueled and check the level of fuel after every use. The sine-wave stable technology provides clean power for sensitive devices like iPhones and laptops. And the level of noise here is up to 59 dBA.

---
PROS:
Dual outlets on 120V;
WAVE stable sine technology;
Indicator of the low oil on the generator;
Easy to carry around;
Low noise level.
CONS:
Some models on the list can work longer.
---
5. A-iPower – 2000-watt Portable Generator of a Small Size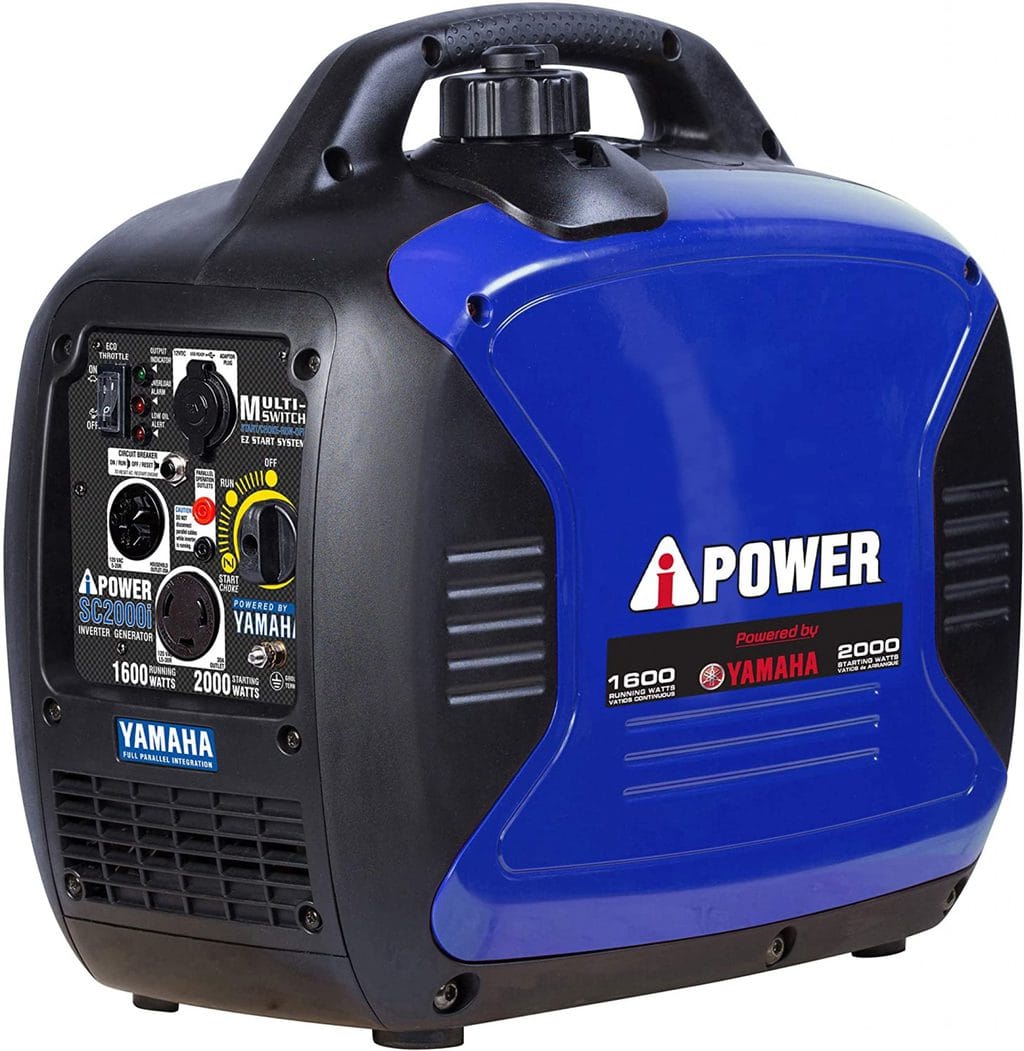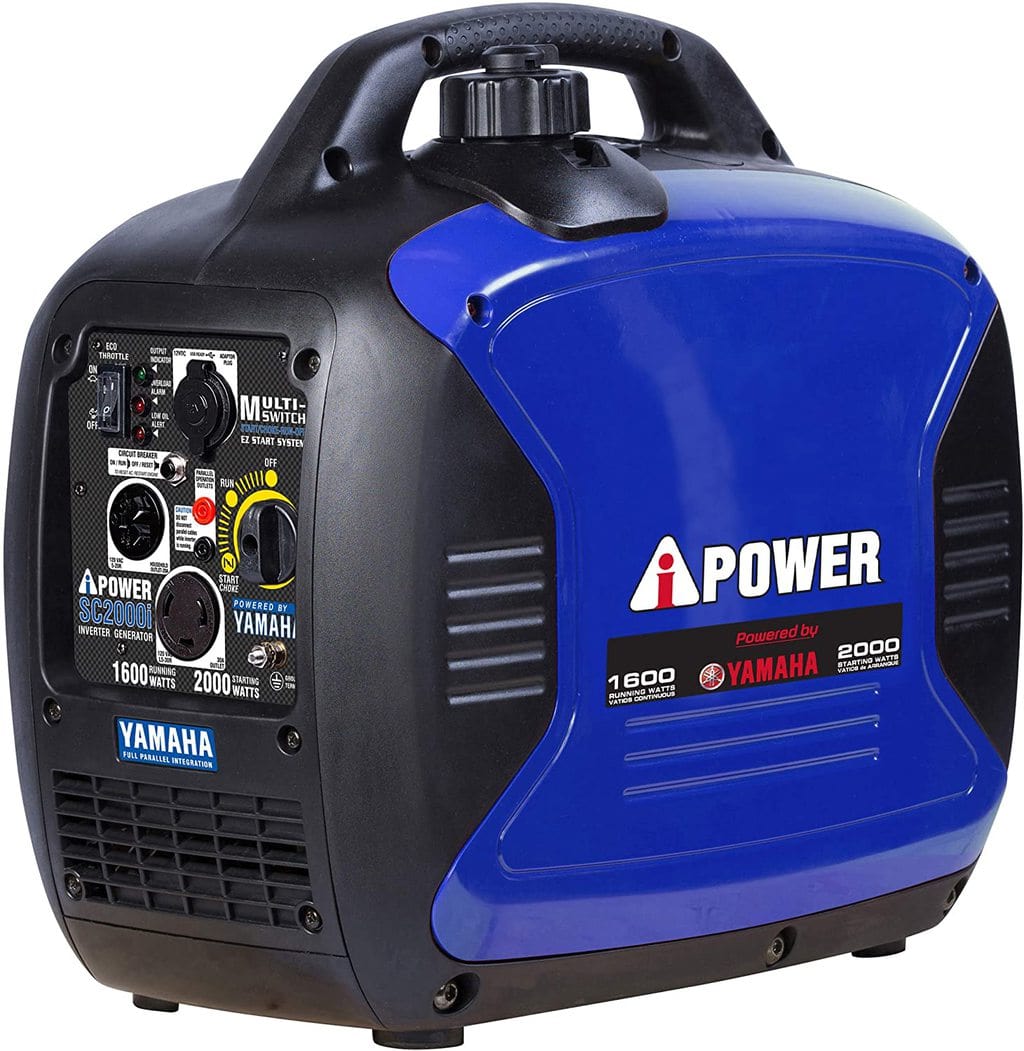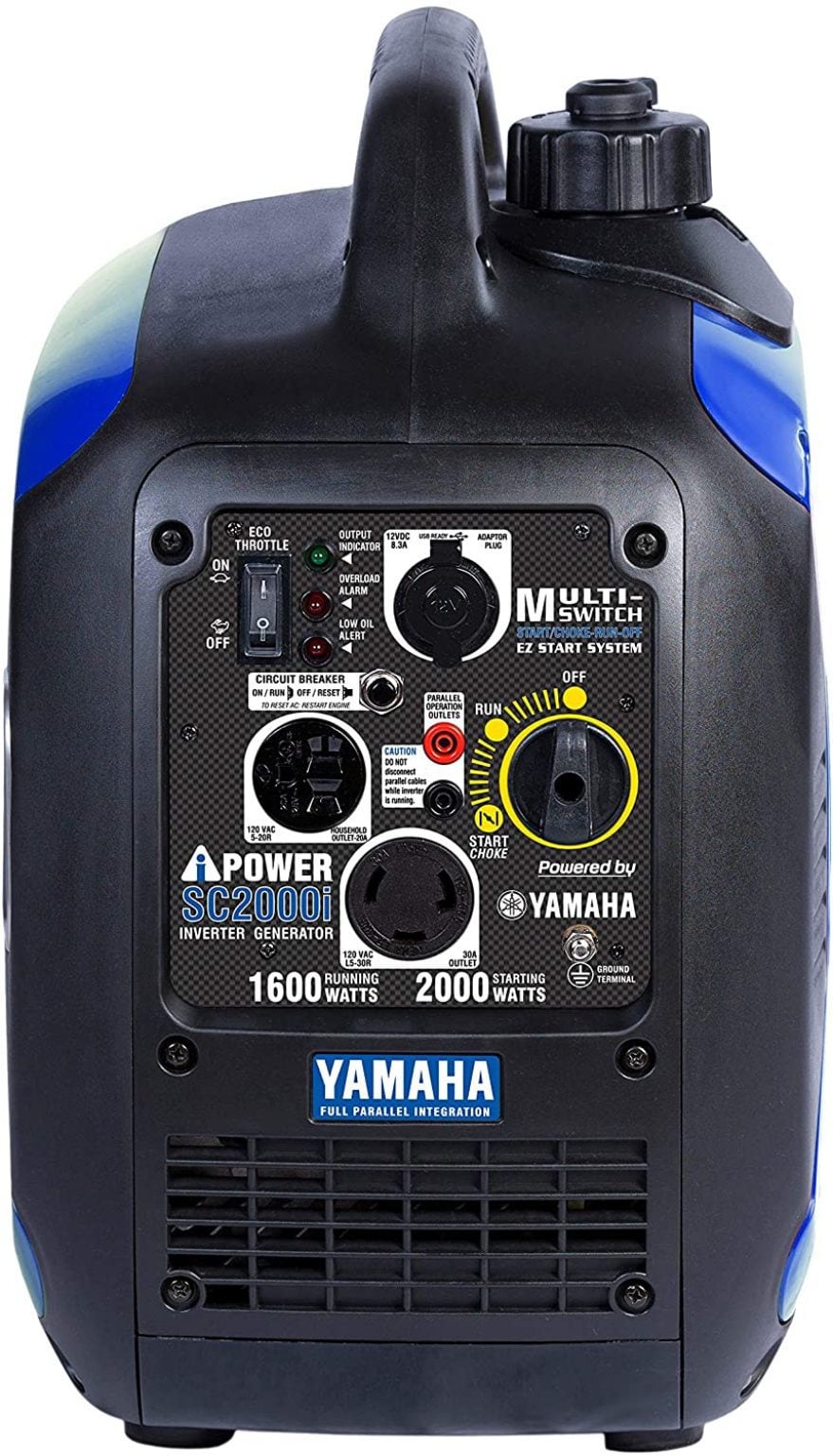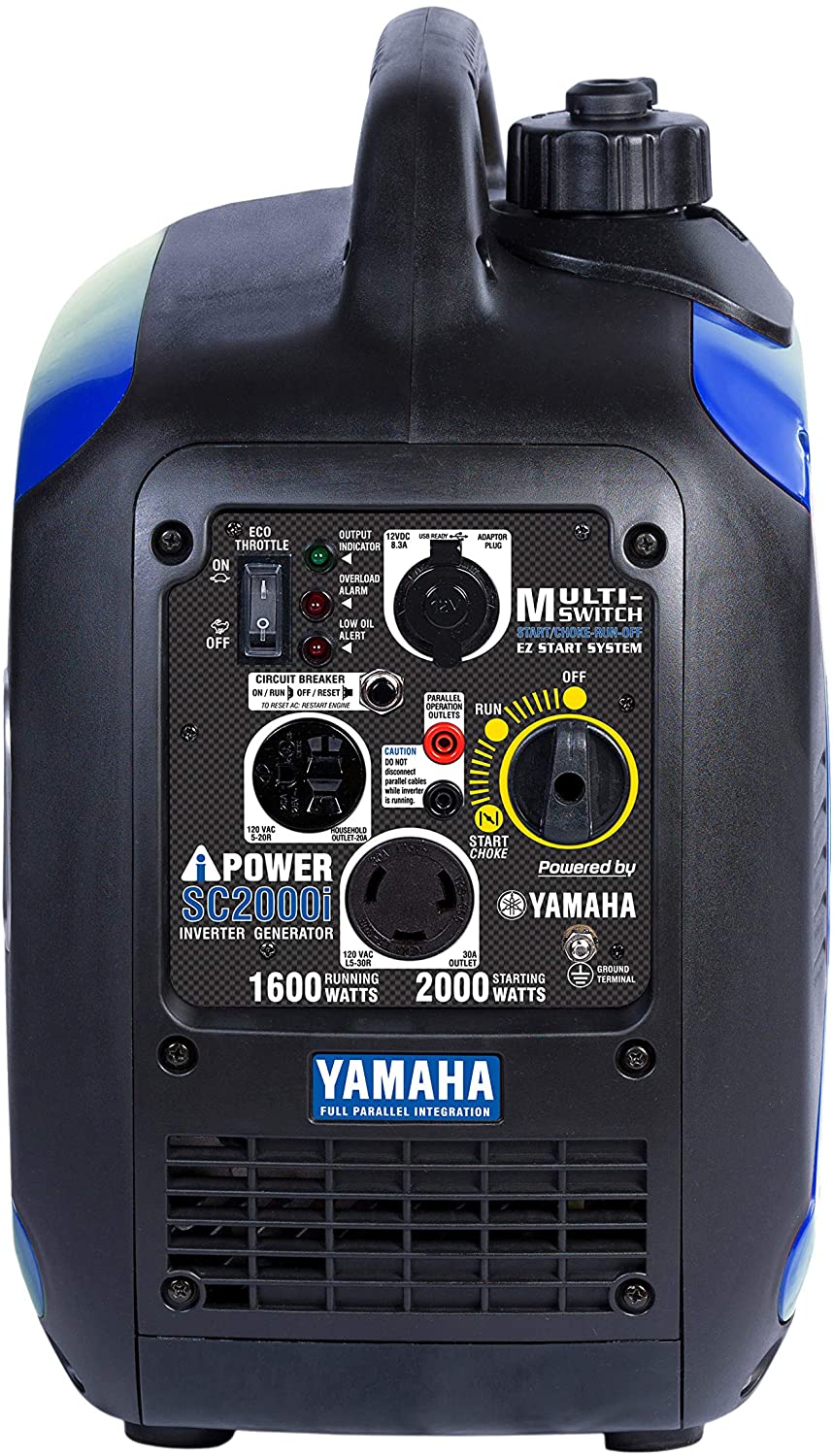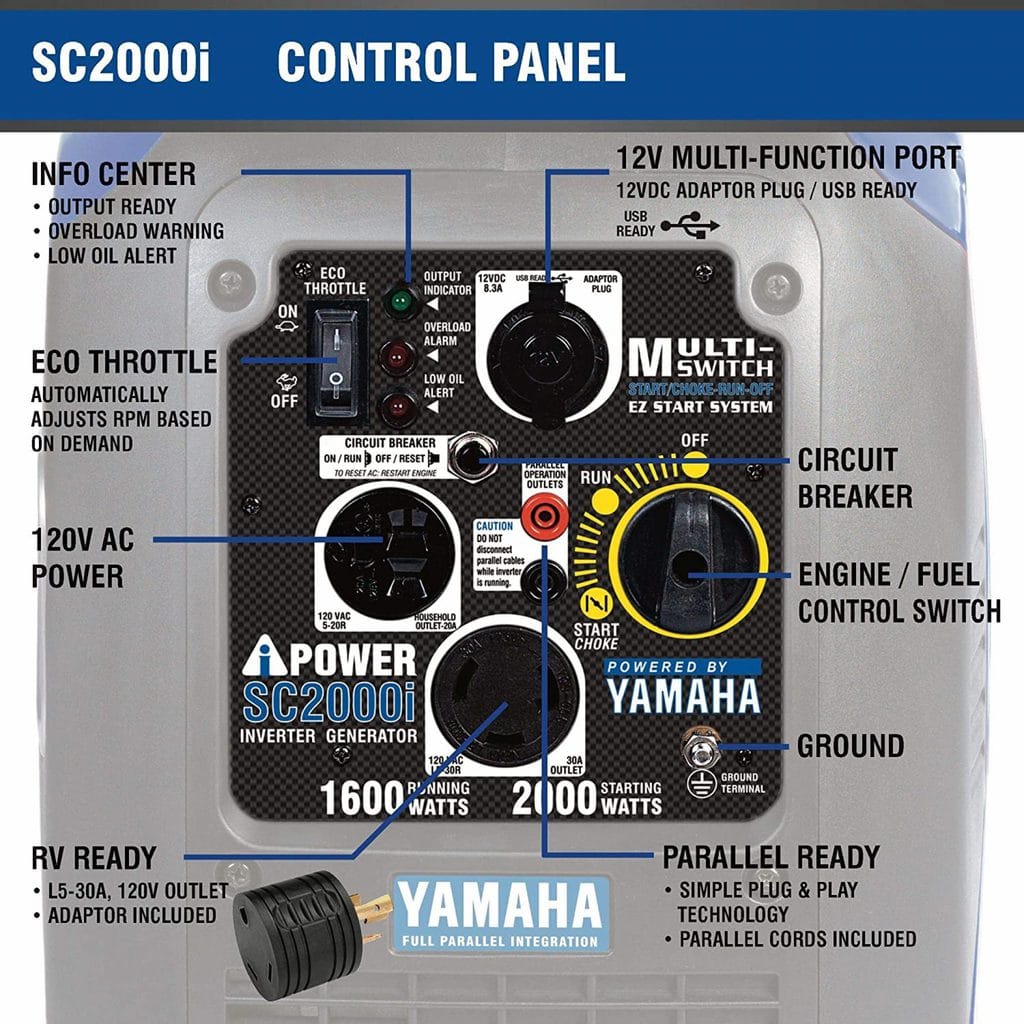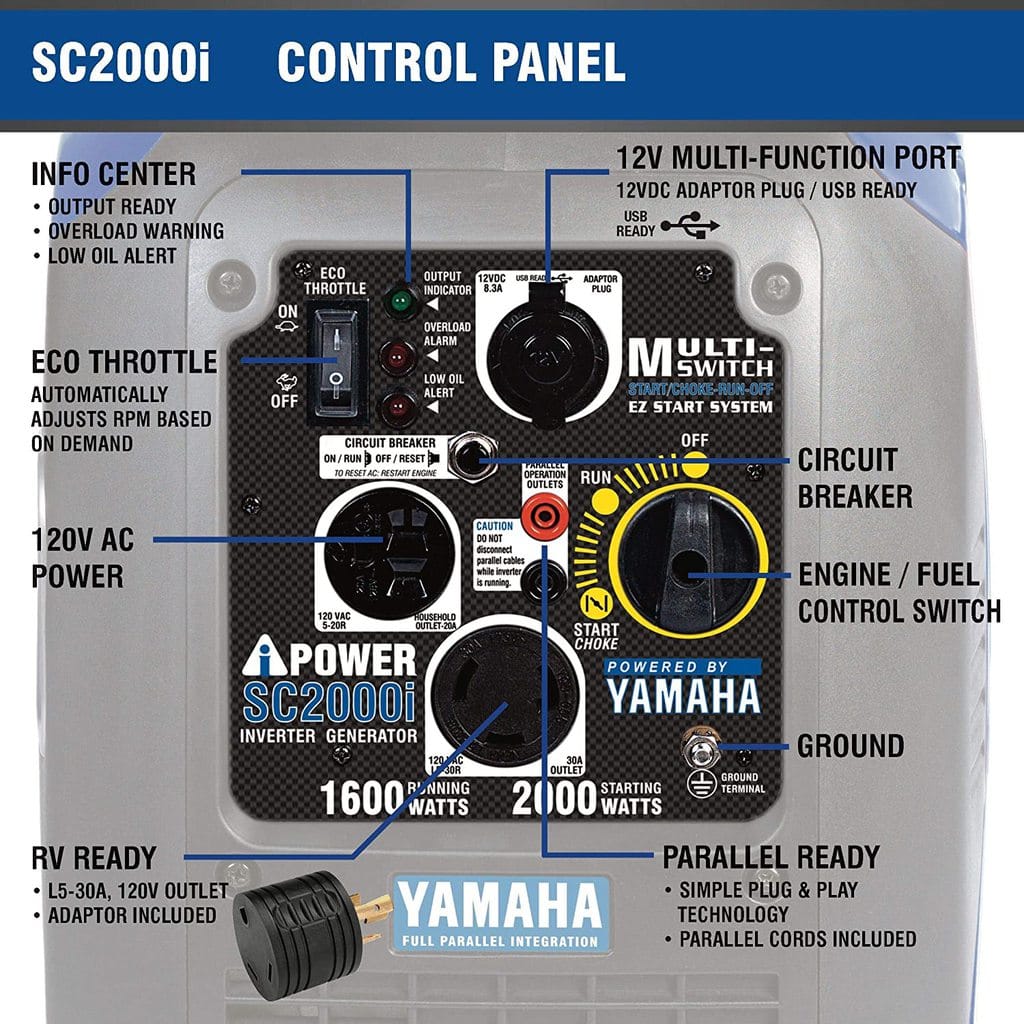 A-iPower offers various models of generators of 2000 W, 2250 W, 4000 W, 4500 W, 5000 W, 6000 W, 7000 W, and 12000 W. It is unlikely you will need more than 2000 W for personal use. However, if you have other requirements, you might pick one of these generators. Some models work on gas or the gas and propane mix. Here I describe a 2000 W gas generator which I consider the most suitable for home use. This generator is relatively small: 21×12.5×19 inches. It weighs 46 pounds, so it is easy to transport the device by holding the handle.
There is a low-idle technology that allows you to use the model for 4 hours at the 100-percent load and 7 hours at the 50-percent load. The best part is that you don't need to constantly check the fuel. This model has a low oil alert system with auto-shutdown that extends the life of the generator. As for the noise, it provides a maximum of 58 dBA while working.
---
PROS:
Portable due to the small size;
Extended run time;
Quiet work;
Low fuel amount alert;
Affordable price.
CONS:
It does not run RV air conditioning units.
---
6. Generac – Inverter Generator with Extended Run Time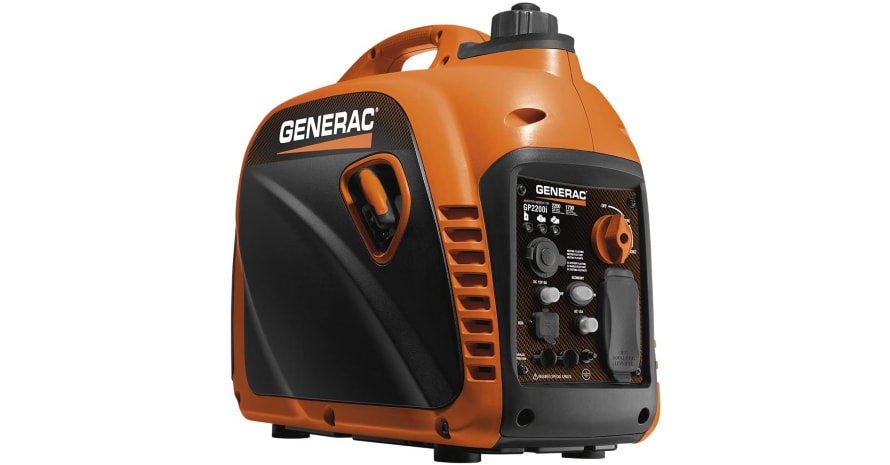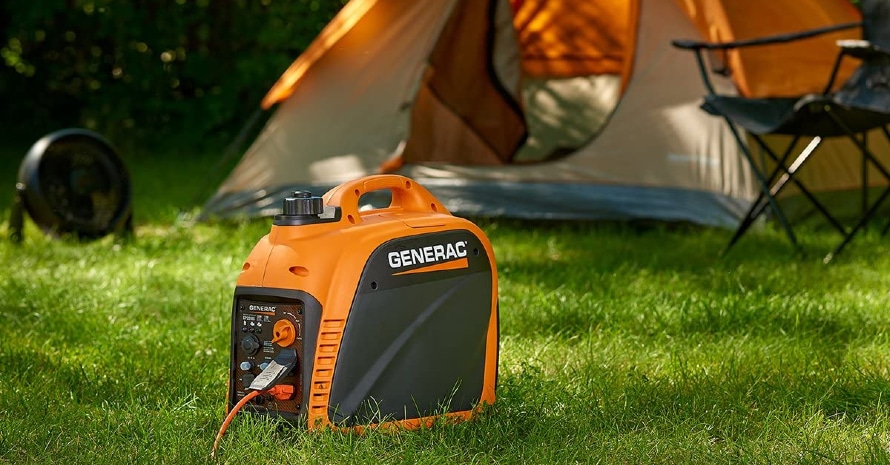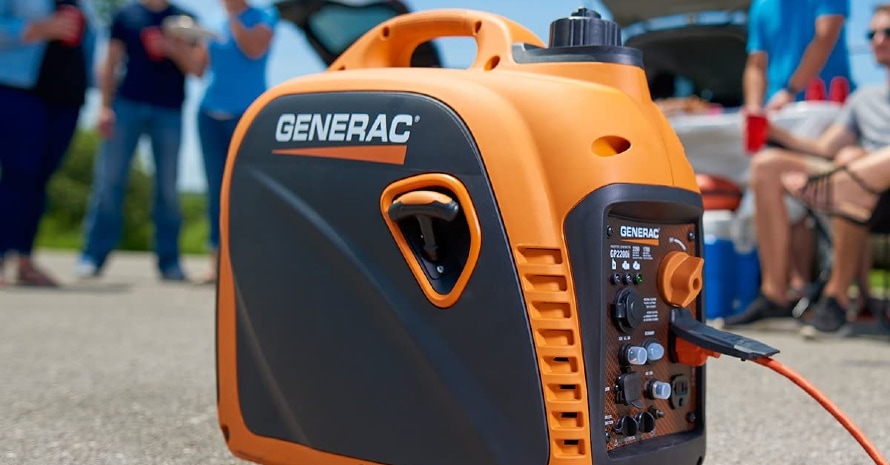 I like its stylish orange and black design which makes this model noticeable to find it easily around the house or in the field. While it might be slightly pricey compared to the previous model, I believe any house owner can afford it. This product provides 1700 watts of running output and has a 1.2-gallon fuel tank. Fill it with high-quality fuel, and you will receive 10.75 hours of work with at least 25 percent load. Sounds quite impressive, doesn't it? Another great thing is it's relatively lightweight, 46 pounds. You can transport it with ease around your territory.
I like that there is a Truepower technology to charge the most sensitive devices like phones and computers so that they don't get burned. To start its work, simply press the "Run" knob. You can do the same to shut it down. If you want to save some gas, you need to choose the economy mode. Using this mode, you will also decrease the noise from the generator. If you need to increase the power, you can connect two inverters with a parallel kit.

---
PROS:
Quiet engine;
1.2 gallons of fuel;
Easy to start;
Lightweight;
Extended run time.
CONS:
Not the cheapest option on the list.
---
7. Champion Power Equipment – Extra Light and Powerful Inverter Generator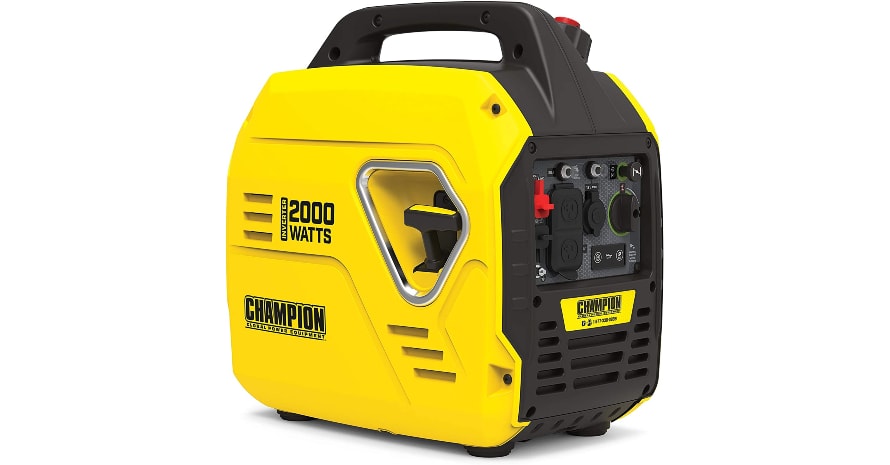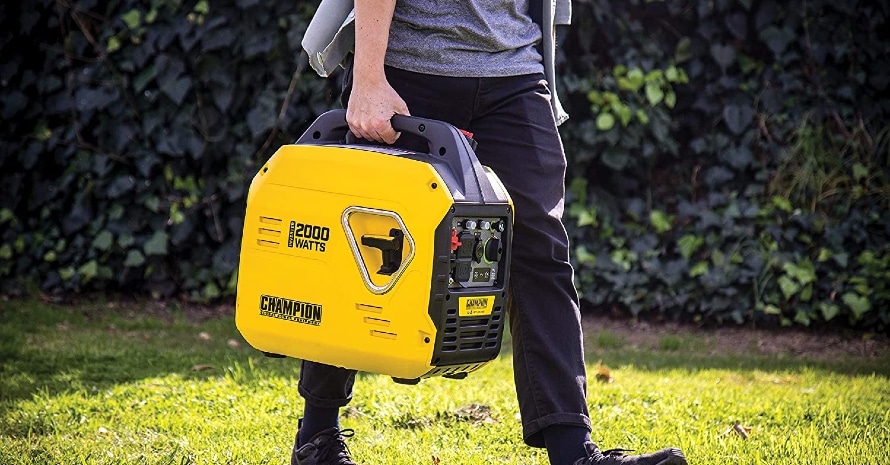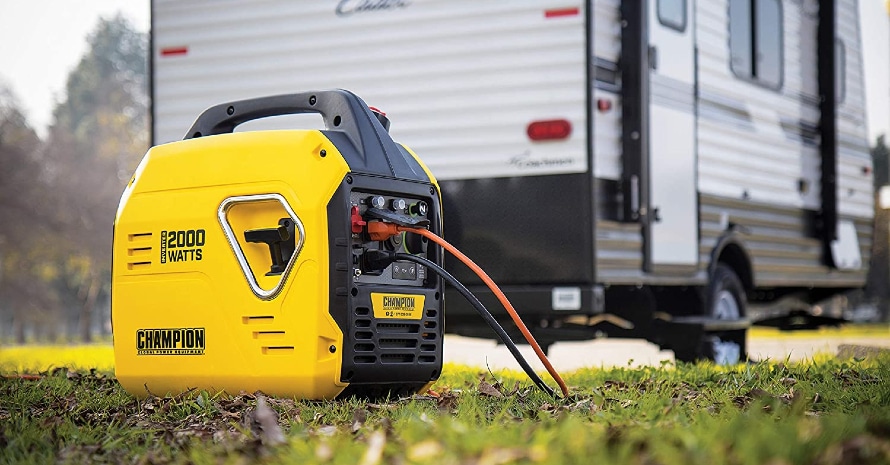 This model weighs only 39 pounds, which is great news for anyone tired of carrying and holding heavy things. There are versatile variations of the same model, including dual-fuel, 2500 W, and 4500 W options. If you want a remote start, you can get it by paying slightly more. I am ok with the manual start, gas, and 2000-watt model. This product produces 58 dBA, which is more than in some models on my list, but it is still not as loud as ordinary generators. Its run time is 11.5 hours.
You can connect the model to another one using the parallel kit for extra power. Clean power is crucial for big and small electronics, and this model provides it. The developers offer a 3-year warranty for this device, which is a nice benefit to a quality product.

---
PROS:
Super lightweight;
Runs up to 11.5 hours;
Compatible with other models;
Clean power;
3-years warranty.
CONS:
Noisier than some other models on the list.
---
8. Yamaha – Stylish Inverter Generator with 1600 W Output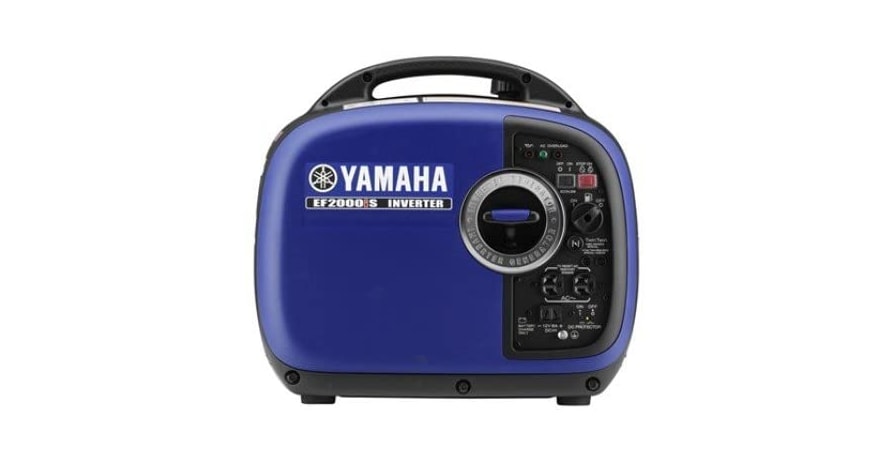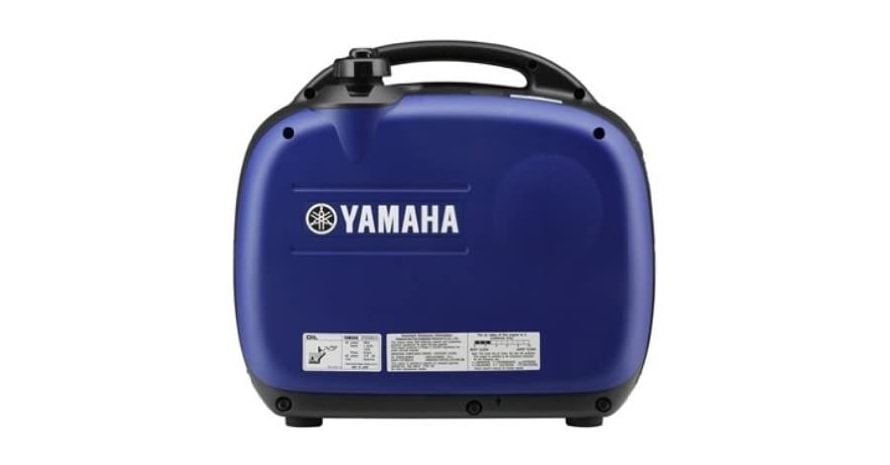 Yamaha is a well-known manufacturer of power tools and electric generators. They provide high-quality and lightweight products. This is the last product in my 2000-watt inverter generator comparison, but I believe it will suit anyone who requires a powerful tool for the house. It has a 1600 W running output, works at 120V, and is only 51.5 dBA loud. There is a fuel economy mode that also cuts the noise. The system has PWM control.
Another great thing about this generator is the navigation panel neatly placed in front of you. This generator runs for 10.5 hours in a row without the need to refuel it. And since it is compact, you can store it almost anywhere in the house or barn. Meanwhile, I recommend you keep it far from the moisture.

---
PROS:
Works for 10 hours in a row;
Not noisy;
Compact model;
Easy to carry around;
Reliable developer.
CONS:
More expensive than other generators on the list.
---
Buyer's Guide on 2000-watt Inverter Generator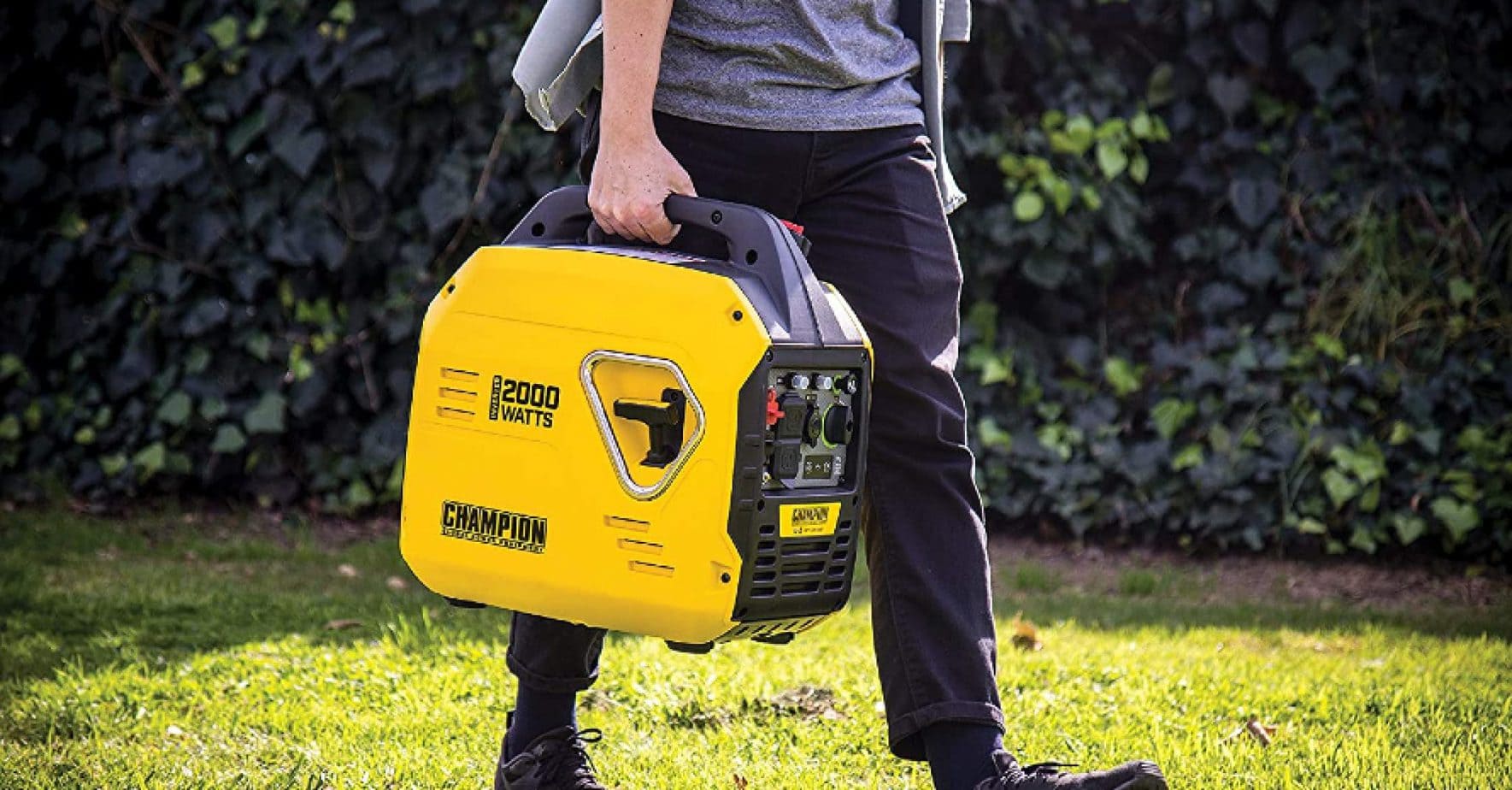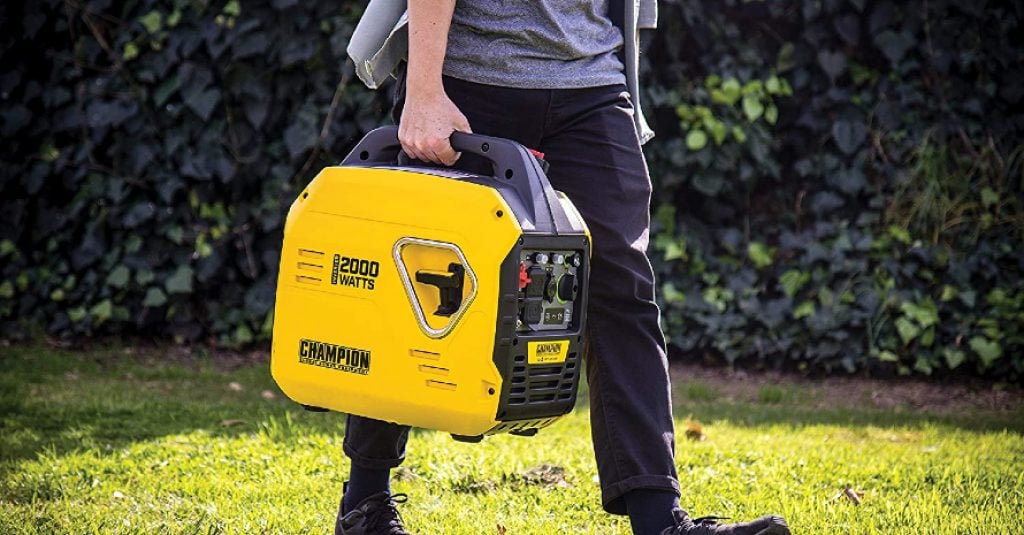 You can't be prepared for everything; however, with a 2000-watt inverter generator, you can protect yourself and your family from a sudden power outage. Generators are a must-have for anyone who lives in areas with an increased level of natural disasters, like hurricanes and storms. If you still can't decide on the most helpful model, read this detailed description of inverter generators.
What to look for when choosing a generator?
Here is the list of features that are considered to be vital in a 2000W inverter generator. Pay attention to them and decide which one you need the most. Read this guide before you order any generator.
Fuel type
Most generators of 2000 watts are powered by gasoline. Some of them have dual-fuel options. With this feature, you can also run your model using propane. If you don't have gas, you can always use propane, which may be stored for years in your garage. It provides extended run time and is cleaner. Yet, gas provides a higher energy density.
Capacity of engine
Check out whether the engine of a generator is powerful enough for your needs. If you want to use it to charge your phone and laptop, you might use generators with lower capacity. However, for bigger devices, like ACs or refrigerators, you need something more powerful.
Control
Pay attention to the buttons on the control panel. They should be functional, though understandable. Every feature of the panel has to be visible and located close to each other. Advanced generators come with power outlets, USB ports, on/off buttons, and odometers.
Run time and fuel tank
Make sure that the generator you intend to buy can run the time you need with a full tank. Average 2000W generators do not have big tanks. The best option is a model with 1.2 gallons and slightly more. With this volume, a generator is still lightweight and works for 10-12 hours. Always check the amount of fuel that is left and add it before use.
FAQ About 2000-watt Inverter Generator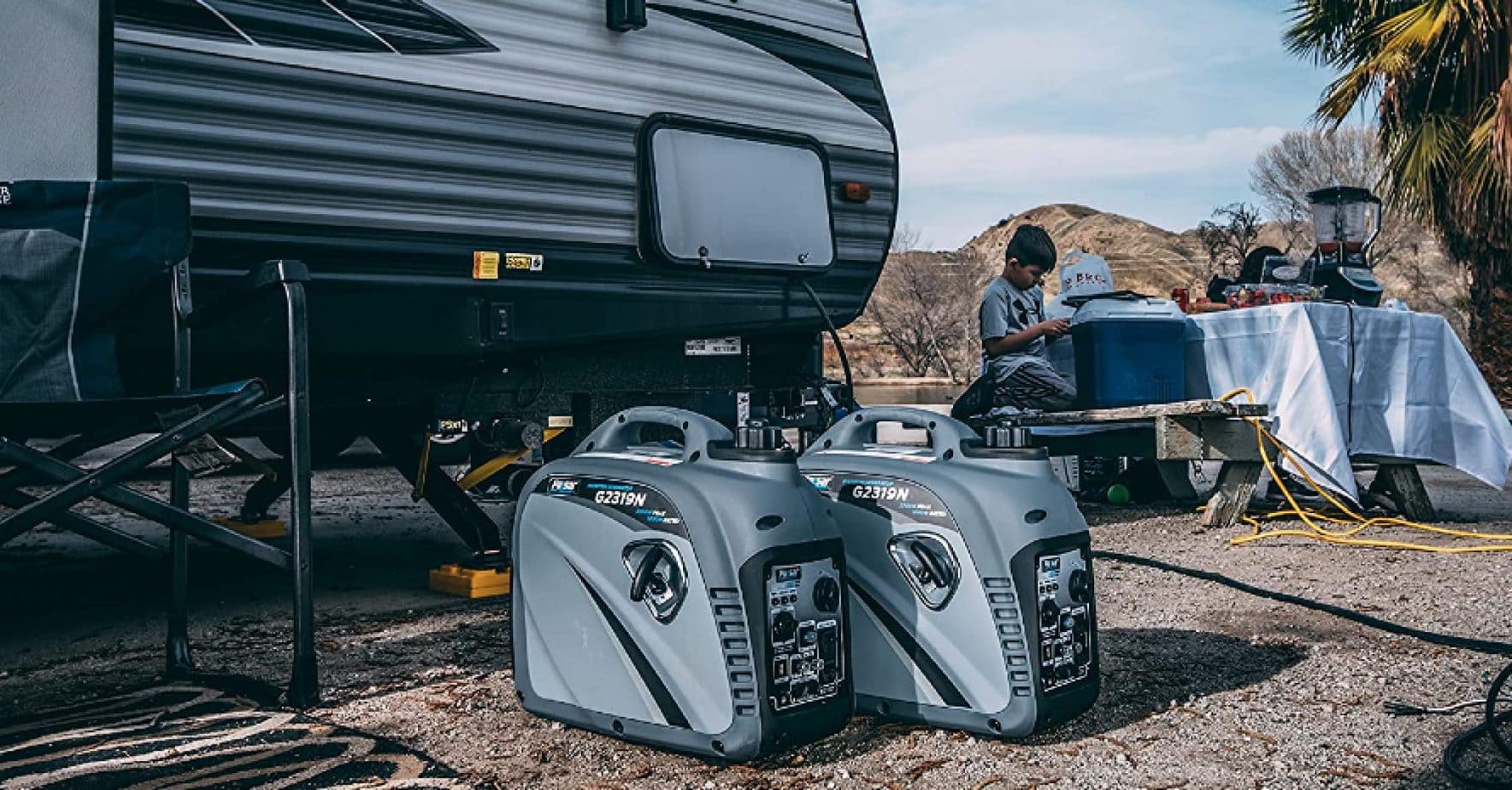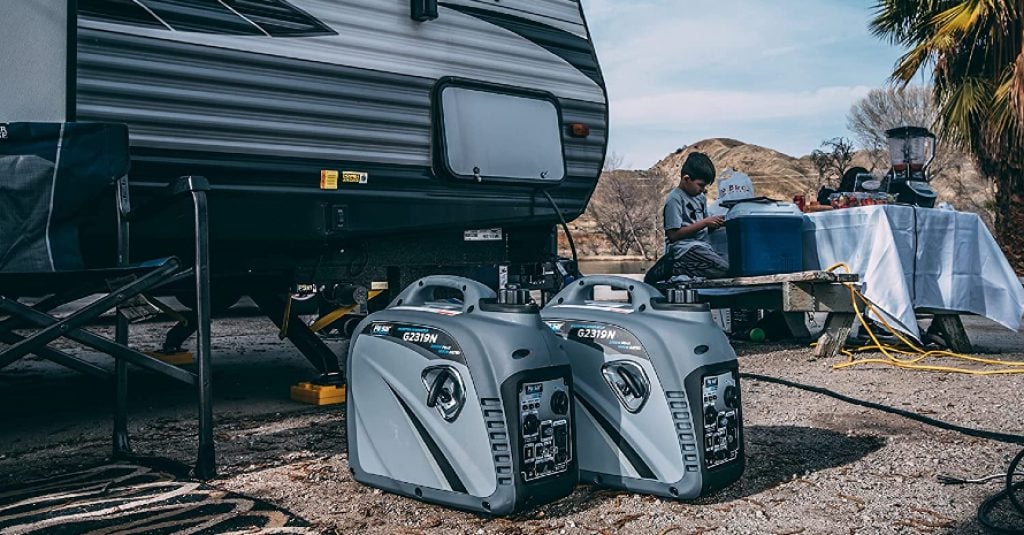 Here are some frequently asked questions from the customers. Check them out as you might find your answer among them.
What is the quietest 2000-watt inverter generator?
All the models on my list are considered to be pretty quiet and almost noiseless. Inverter generators are famous for the absence of loud noises. The average level is 52 dBA. You can also find 58 dBA, which is not loud at all. The Pulsar generator is a little bit louder than others on my list, producing a 59dBA maximum. Meanwhile, Honda's generator can work on 48 dBA. According to the noise chart made by the American Academy of Audiology, every sound below 60 and above 50 dBA is considered being moderate.
What is a 2000-watt inverter generator good for?
These generators can be used for household issues. They are not too powerful for commercial use. You might feed your laptop, TV, phone, and even fridge. You can use electric instruments outdoors with the generator. All you need is to keep in mind general safety rules while running the generator.
What can a 2000-watt generator run?
You can run almost all the devices in your household, including the light, heaters, coffee makers, and microwave ovens. You can also charge the fridge and vacuum cleaner with its power. You can adjust how to use the generator in the house to your needs.
Useful Generator for Your Household
Although the choice of the most suitable inverter generator is up to you, I recommend picking one from the most decent options on the list. I have checked all of them and found them worth every penny they cost. I have several models to use not only inside the house but in my garden and barn where I keep electric instruments. If you already have one of them or used them in the past, share your opinion in the comments. How do you like them? Was your model noiseless? Which advantages or disadvantages would you like to highlight?