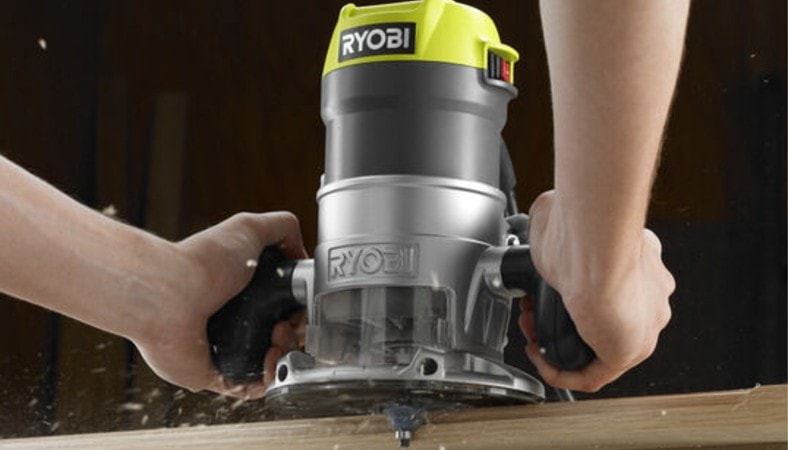 It's been said that good professional tools are the best choice for beginners inclined to advance. So if you're entering the world of woodworking, the best wood router for beginners should be great for you to evolve with.
Great for various tasks, from making plunge grooves and holes to smoothing the edges, this tool is necessary to master if you're about to make cabinetry or whatever fine woodworking.
While (predictably for pros) the tool of choice is Makita XTR01Z 18V LXT, a cordless router with all the benefits of corded analogs, there are others that might be preferred for anything, from available accessories to simply price. It may also depend on what feels better in your hands, or what accessories you already have.
Pros
Work area exposed to view
Top Pick
Pros
Work area exposed to view
You may want a simpler or a more advanced tool, it's up to you. While some extra features can be sacrificed, what we are not inclined to drop is quality. So all the tools reviewed here are worth at least a look.
Wood Router Reviews: Get the Edges Smooth
While they all might seem the same to an amateur who is just looking at that water, for those stepping into it the differences become more significant. Here is a wood router for beginner reviews that will help you select the right tool for you. While they all are supposed to provide about the same result, the working process will be different.
The first reason for that is that no router is an island; they are all a part of a continent named ecosystem, and compatibility is not as versatile as we'd like. Ergonomics is another point of difference. Finally, the price matters too.
1. Makita XTR01Z 18V LXT: The Top Pick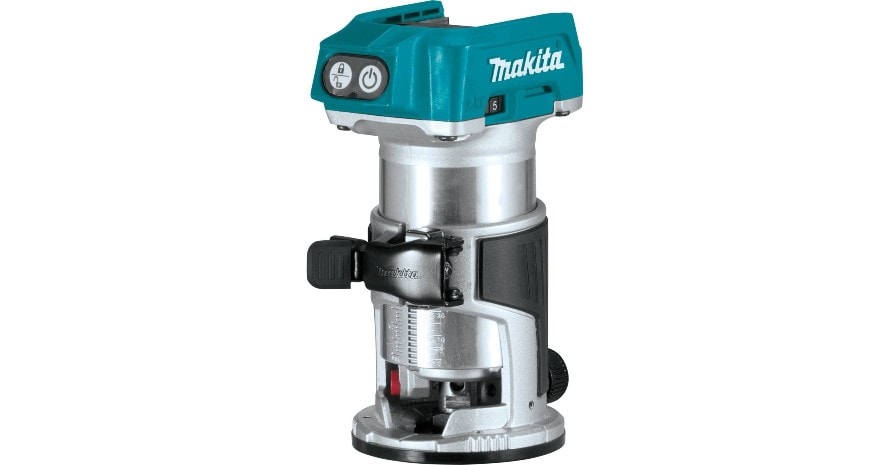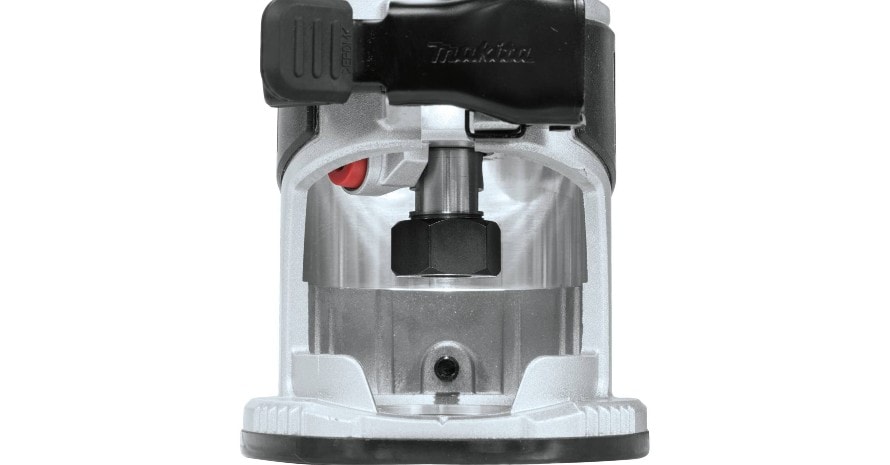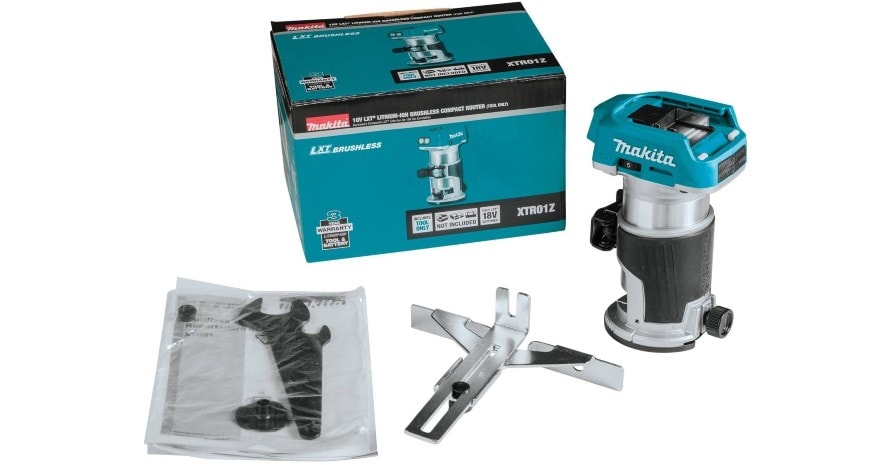 One of the most famous electric tool manufacturers in the world, Makita still maintains the reputation of Japanese Quality™ while the consumer electronics pole shifts westwards. The XTR01Z 18V LXT model is a cordless version of a similar corded router, its battery being strong enough for about 200 metric feet of grooves or edges.
It has all the benefits of the original, from the transparent case with LED lighting around the work area to convenient grip and buttons. It's the easiest to set the depth of the route due to the unique knob adjustment system or the speed with a built-in switch. It's compatible with Makita vacuums to keep the surface clean.
Given its price well under $150, it's among the ultimate routers for beginners as well as for pros. It's very popular, so there are lots of video and photo illustrations on how to use it. If you already have a park of Makita accessories, this one should be a no-brainer.
---
PROS:
Cordless;
Compatible with Makita accessories;
Safe start;
Work area exposed to view;
Reasonable price.
CONS:
Requires Makita ecosystem to unfold its power.
---
2. Ryobi 8.5 Amp 1-1/2 HP: The Runner Up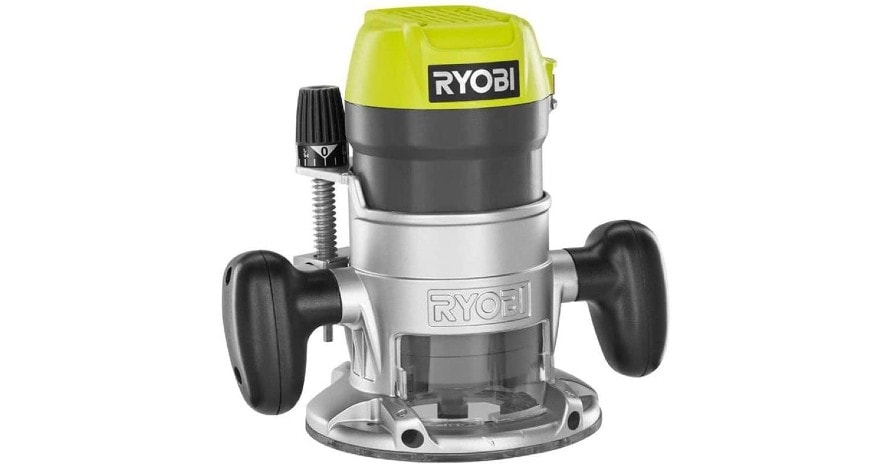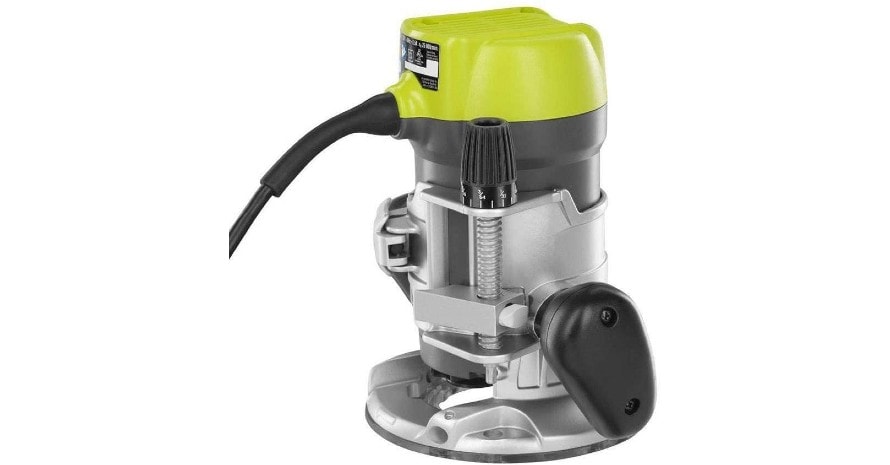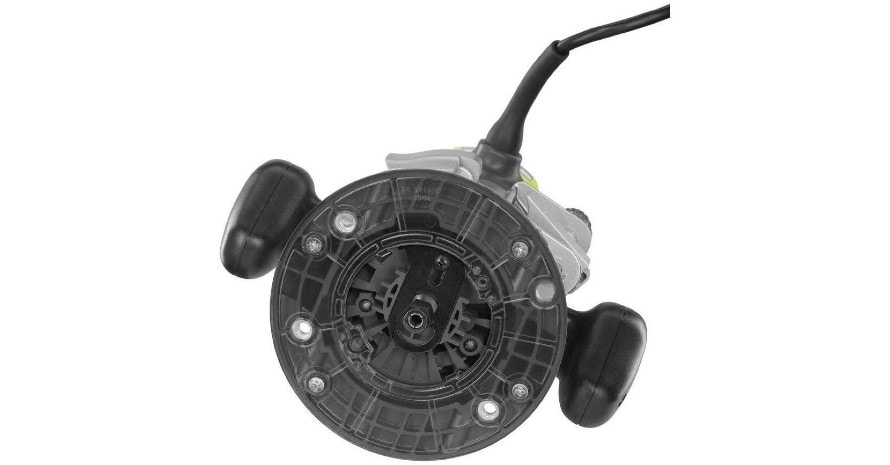 That's another Japanese vendor; not as famous as Makita, it's still very popular among DIY fans as well as among contractors. This item by Ryobi has all it takes to be a beginner's choice. This affordable router is also very popular, though not as functional.
Like a modern router should, it has a protected but viewable working area, several bases available for adjusting the depth down to 2 inches, replaceable bits, and ergonomic grips.
Being corded is only a drawback when next to the previous one by Makita; the cord is designed not to get in your way much. But the price is definitely a pro.
As Ryobi is a popular vendor with lots of devices on its roster, it leads to having lots of accessories compatible within the Ryobi ecosystem, from bits and bases to fully-fledged worktables. If you are building your workshop from scratch or already have some Ryobi accessories, this router will make a good addition to it.
Last but not least: you can find a used item refurbished and sold as such. This one will cost much cheaper, though its condition is still doubtful. Yet if you trust the ref program by Amazon, you may consciously opt for this sort of bargain and get one for under $100. A good deal for an authentic Japanese tool!
---
PROS:
Manufactured by a well-known brand;
Easily adjustable;
Compatible with Ryobi accessories;
Comes with three bits;
Affordable price.
---
3. Bosch 1617EVSPK: The Premium Pick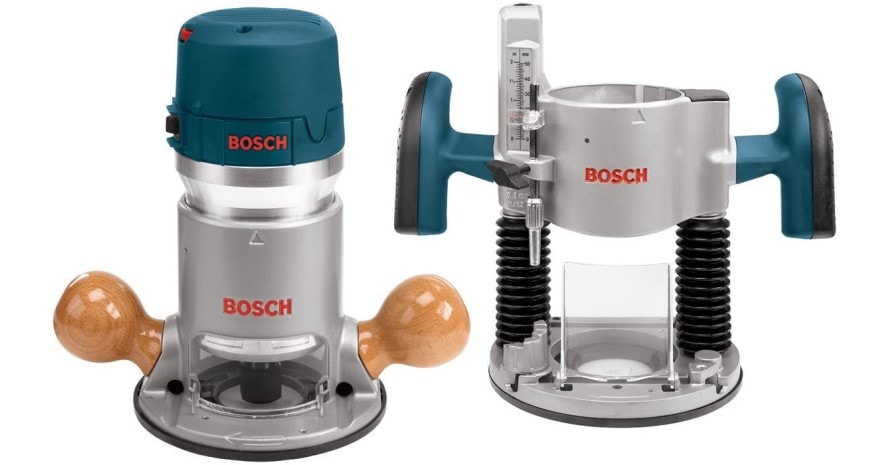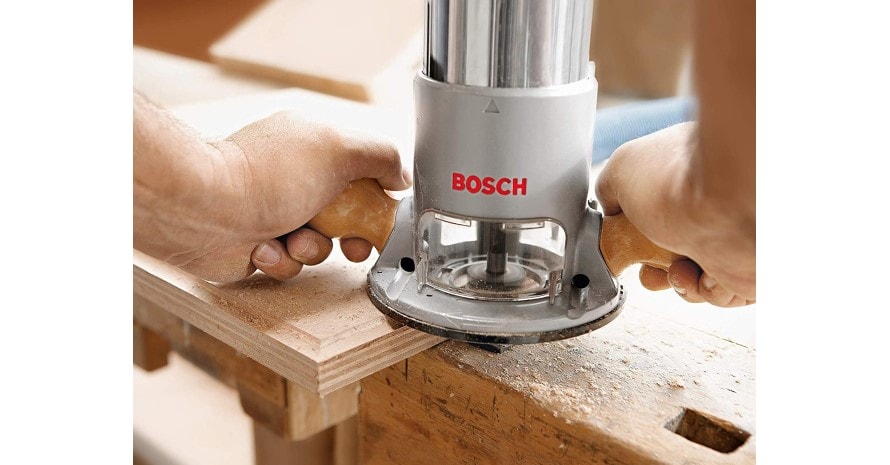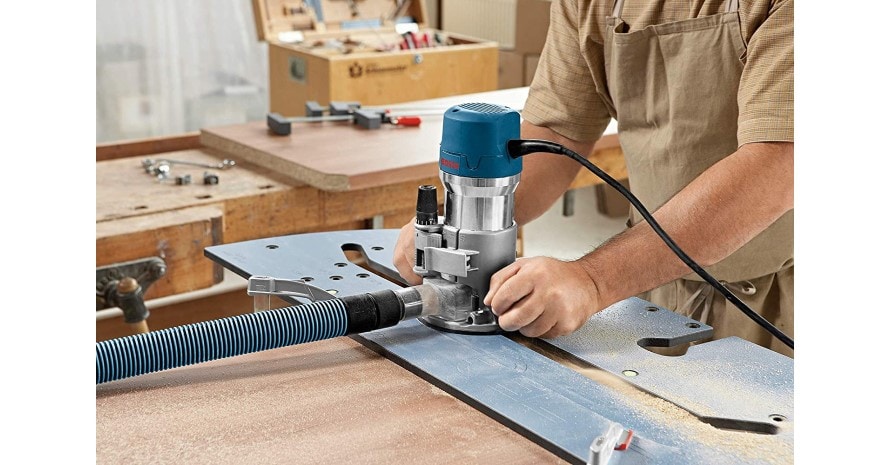 When it comes to German industry, Bosch is always mentioned among the first. Famous for both work tools and household devices, it succeeds at both. The wood router by Bosch looks premium and feels the same way, with its aluminum body and solid plastic grips.
Its multiple purposes, from cutting holes and grooves to smoothing edges, depends on selected bits and chosen adjustments, and both are great. It comes with a precision plunge base and a fixed base which lets you plunge, cut slots, shape edges, and do very various works.
Alas, the instructions do not cover all the operations you can perform with it; luckily, there is YouTube.
Real wood lovers (you must be one to do the woodworking yourself) will love this router for its wooden handles. They extend your contact with wood and provide you with reference to what your own work should feel like.
What it can be hated for is accessories and attachments that you will have to buy separately – well, Bosch is the industry's Apple, and its price of about $250 is another reason for that. Not that it makes the model the best beginner router… unless you are confident enough to invest and master.
---
PROS:
Great quality;
Rich kit;
Precision settings;
Wooden handles;
Adjustable speed.
CONS:
Quite a premium price;
Poorly written instructions;
Requires Bosch ecosystem.
---
4. DEWALT DW618PKB: An American Take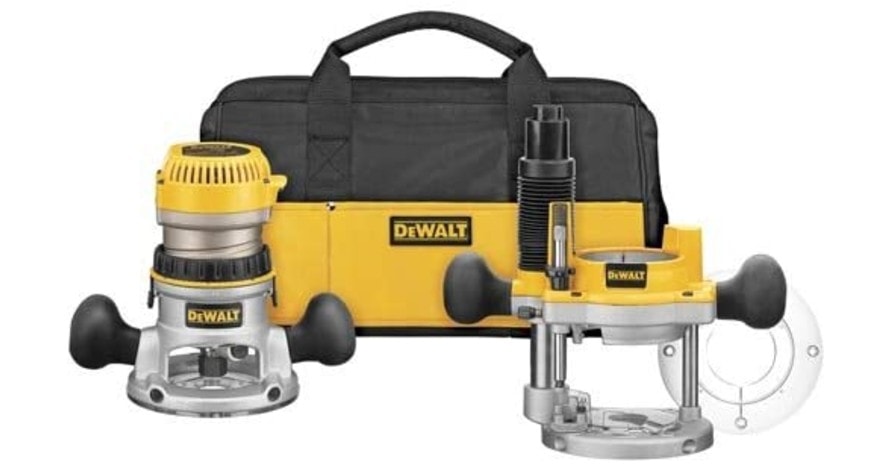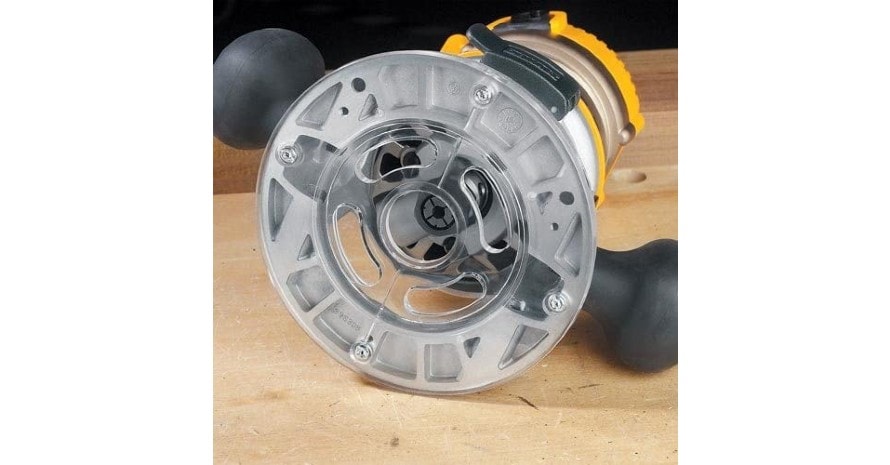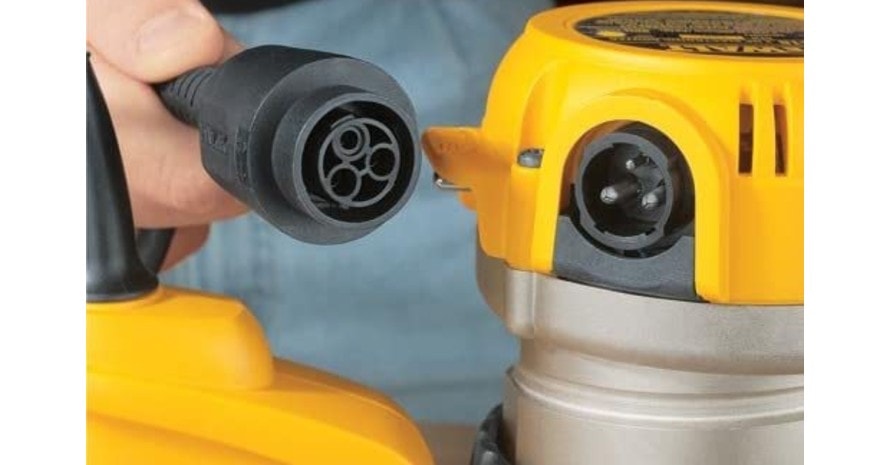 When we say "American tools", we mostly imply it's DEWALT. The router by this famous manufacturer is standard in its shape, with traditional industrial yellow plastic on top of durable aluminum. It features variable speed and replaceable bits like any router should.
Among its unique features, there is a soft-start that makes the launch more controllable. The speed can be changed within 8,000-24,000 RPM. It takes just one wrench to change the bit. Versatility is increased due to dual collets that make it compatible with various bits. Depth adjustment is among the finest, so you can set the depth of the groove or a hole as precisely as you want.
It comes with a plunge and a fixed base, a good set of bits, a sub-base, and a vacuum adapter. You can optionally purchase its version with a template guide kit or with a dust collector and a universal edge guide, though the extended kits will, of course, be more expensive – given that the basic one is about $200.
---
PROS:
American quality;
Rich kit selection;
Soft start;
Compatible with most third-party bits;
Finely adjustable.
CONS:
Requires a guide to make straight cuts;
Quite expensive due to branding.
---
5. Makita RT0701CX7: Corded but Still Makita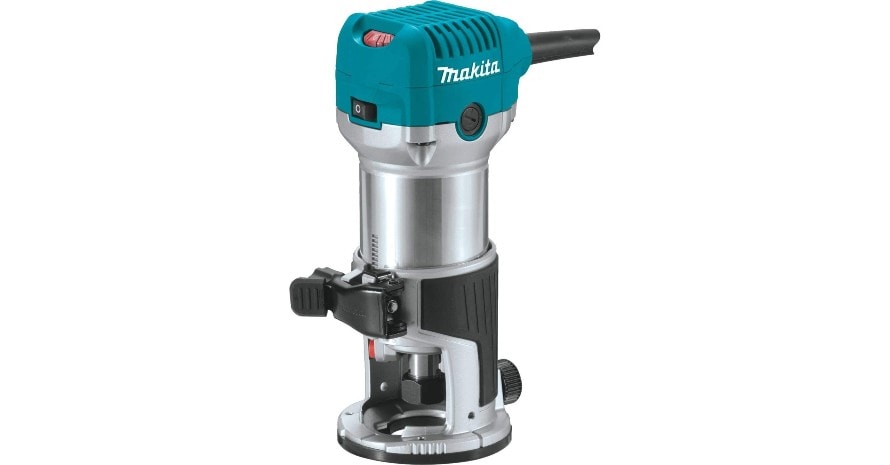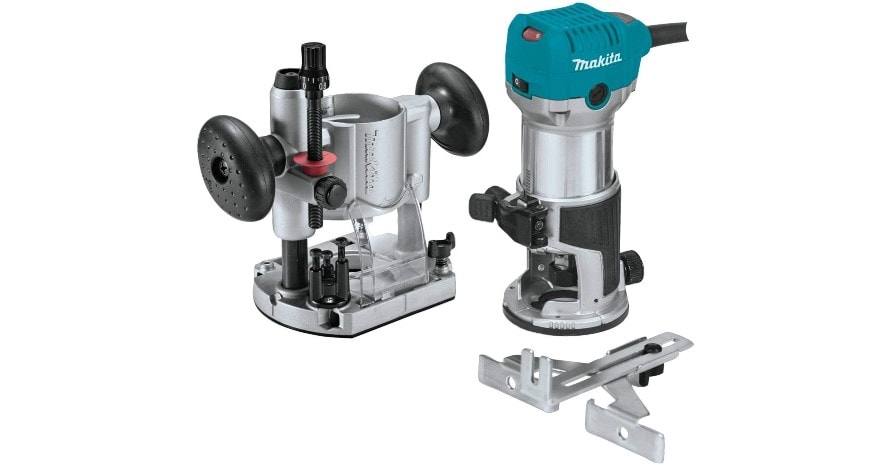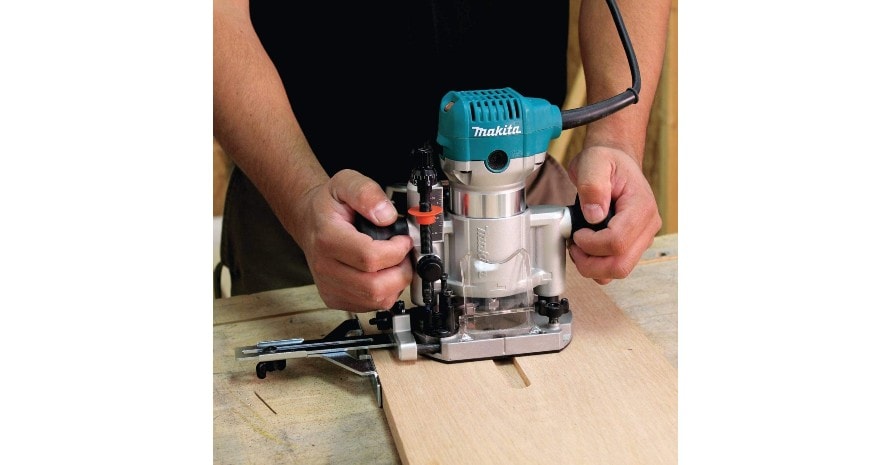 If you want something simpler by Makita (maybe you already have a set of accessories or a worktable by this vendor), RT0701CX7 is a good option too. It's one of the most powerful on our list, able to reach 30K RPM. This speed and power are easier to control due to convenient grips and soft start feature.
Just like you have seen, Makita makes the perfect view for the work area with a transparent cover. The body itself is durable but lightweight. The cord will only be a big obstacle if you have been using the cordless version for a long. But as we are speaking of wood routers for dummies, I suppose that's not the case. So being corded is okay. Anyway, you will probably connect a vacuum as well.
While the tool itself is quite affordable (under $80), you will need a base anyway. The kit with the basic base (pun unintended) will double the price. So it may make sense to opt for a 3-base kit (including an offset one, a tilt one, and a plunge one) that triples the price but provides you with bases and accessories for all sorts of work. If you later decide to switch to the cordless router, the bases will remain usable.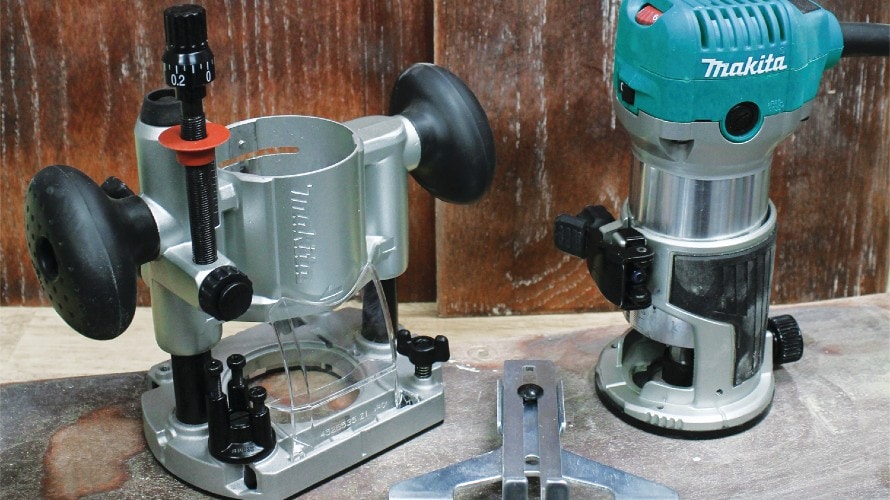 ---
PROS:
Makita quality;
Compatible with Makita accessories;
Various bases available;
Compact size;
Reasonable price.
CONS:
Only compatible with 1/4 and 3/8 shank bits;
Requires Makita ecosystem.
---
6. Avid Power MW104: Bang for a Buck with a Little Luck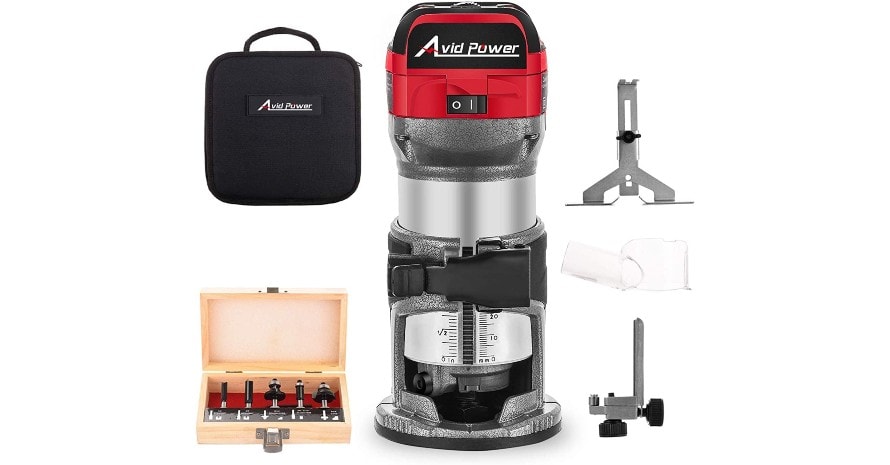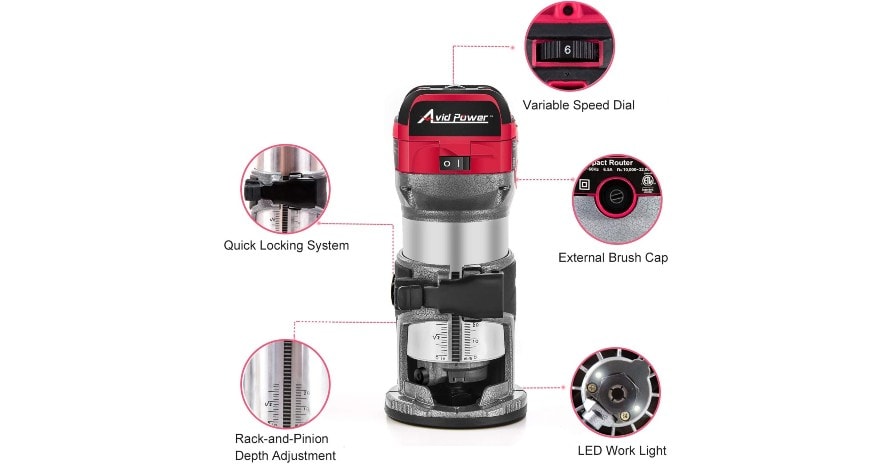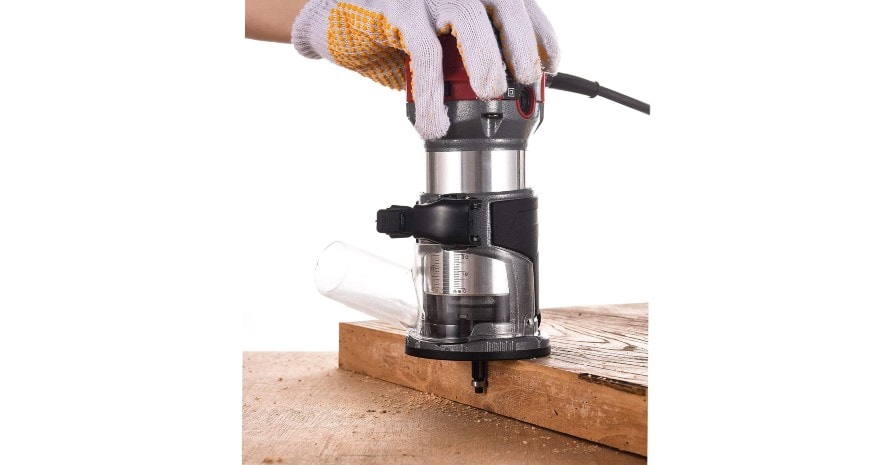 Little is to be told about this vendor. On its official site it says that it was established in 1998 – but in fact it says nothing. The languages on the site are English and German, which says little too. So it's better to take a good look at the tool itself which is advertised as a compact router for fine works. Its similarity to Makita RT0701C makes me suppose it's indeed from one of those countries where copyright issues are not issues at all.
It's quite an affordable device that comes with a decent set of guides, collets, and bits included, which makes this a standalone product. No matter which tables and bits you intend to use, this one will work with it. The owners of the original Makita, though, will be pleasantly surprised to see that most accessories and details are perfectly compatible.
Among its features, I'd highlight the speed that can reach 32,000 RPM. While the power is decent for a compact model (1,25 HP), it can be used on various materials, including hardwood and plywood. You must realize, though, that it's good for rough works first of all.
Fine woodworking will require a more precise tool; still, if you are just mastering the art, this will do. Its similarity to Makita will also make this one a good simulator if you intend to upgrade in the future.
The biggest downside to these Chinese clones (hey, did I really say that?) is that the quality is very unstable. You can get a decent kit for under $100 (cheaper than just a tool by Makita), or you can just waste them if the item is defective. Still, among these numerous tools from China, this is probably the most decent, so it's listed here.
---
PROS:
Good speed and power for a compact router;
Comes with a decent kit;
Does not depend on your ecosystem;
Yet compatible with Makita accessories;
Very affordable.
CONS:
The manufacturer is not so well-known;
The quality is a lottery.
---
7. Skil RT1322-00: The Most Computerized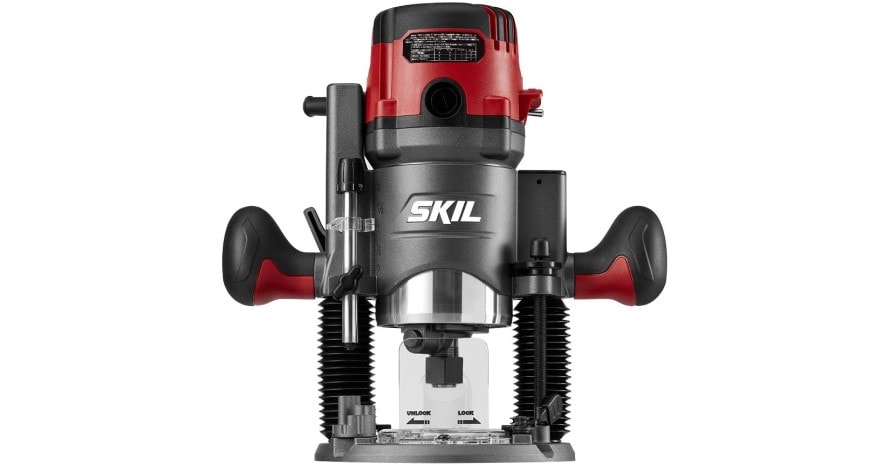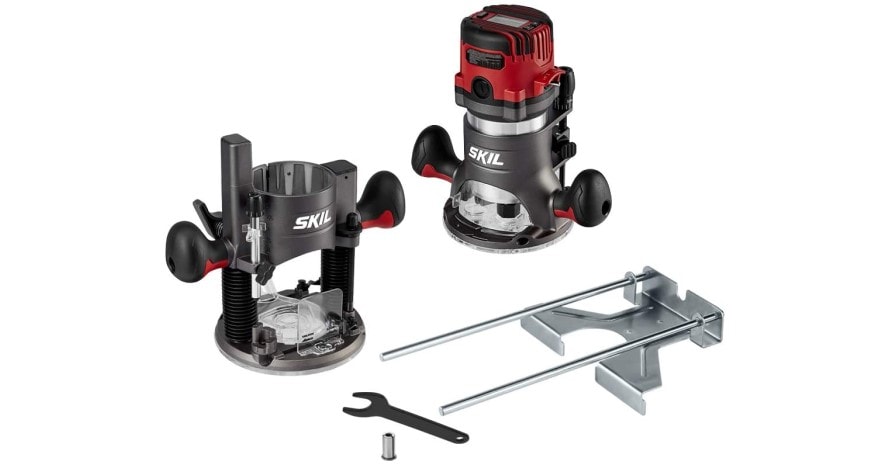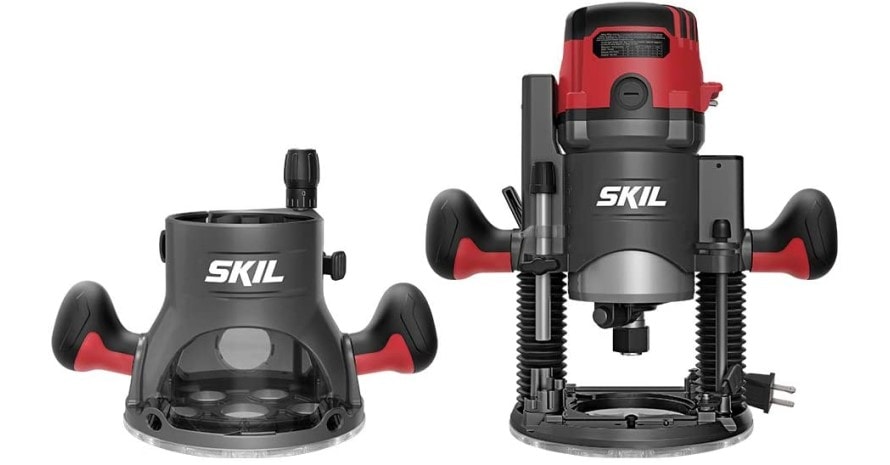 Skil (sic!) is a strange hybrid: an American-based company established in 1924 that makes its tools in the USA but is owned and controlled by a Chinese company.
We have gotten more used to seeing the contrary – Chinese manufacture under an American or European brand. But times change. Skil does not conceal its current state of affairs, so it must be very confident about both its quality and its marketing power.
As for this particular router, it's a corded one with a fixed and a plunge base included, which makes it ready to go right out of the box. It has a soft-start feature that is demanded when you have 2.5 HP under the body that speeds up to 25,000 RPM.
Microadjustment settings allow you to select the desired depth down to 1,75 inches (when on a fixed base) and down to 2,125 inches (when on a plunge base). As for collet adaptors, it has a 1/2" and 1/4" ones.
Among all the products reviewed, it looks the most XXI-century. Instead of mechanical controls used in most routers, it controls the speed with a switch and a LED display on top. It's easy to see the current speed and the parameters of the material it's meant to process. The indicator also shows the power status to ensure safety.
Like any computerized devices, though, it may require a reset, and that's the most confusing part of it. Luckily, turning it off and on helps, though it may get you off the work rhythm. Given its price at about $140, quite typical for this sort of device, it's your chance to stand out.
---
PROS:
Digital adjustment system with a display;
A powerful device;
Micro adjustments;
Comes with a decent kit;
Reasonable price.
CONS:
Like any digital tool, it may hang up;
Not as versatile compatibility as promised.
---
8. Bosch GKF12V-25N: Living on the Edge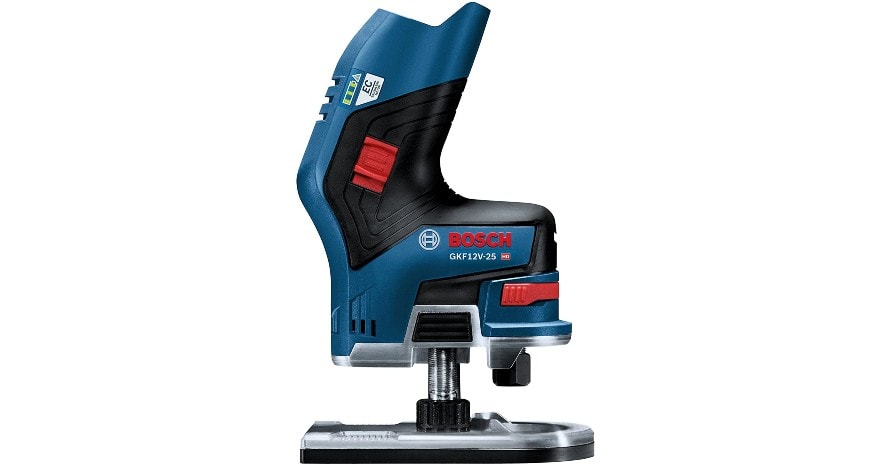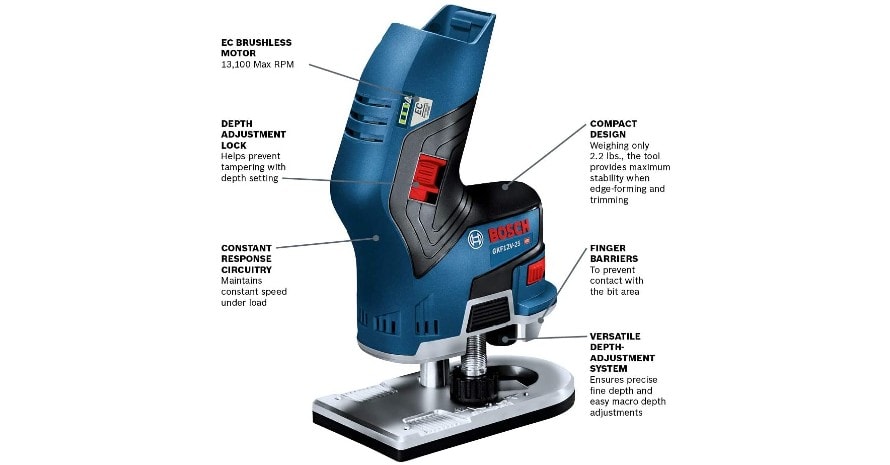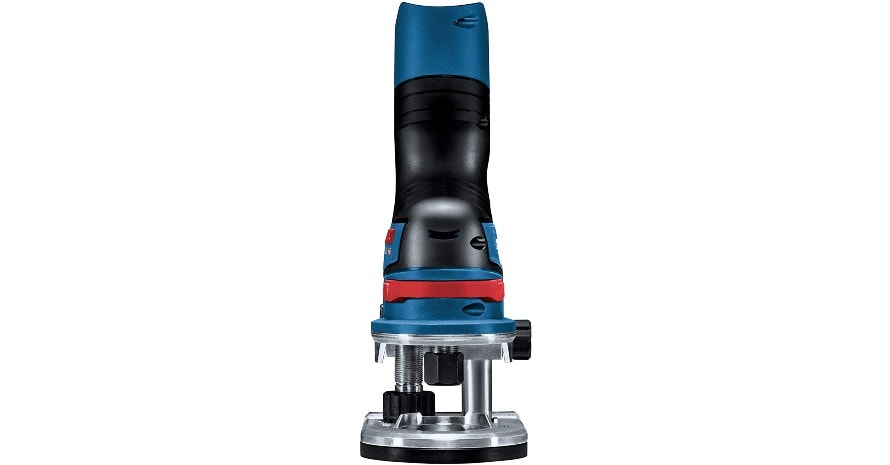 Here comes another product by the German vendor, and this one is way simpler but still worth a look. First of all, it's one of the rare cordless models that adds much to its convenience. It's lightweight, though, and thus even easier to work with.
Its brushless motor provides rather a moderate speed, up to 13.000 RPM, so it's not to be used on the hardest materials. Yet, it makes it even better for fine woodworking, given its precise micro-adjustment system.
Given that it is mostly advertised as the device for trimming edges, it makes sense. It's equipped with a depth lock that prevents failures. Changing bits is easy with just one wrench to rule them all.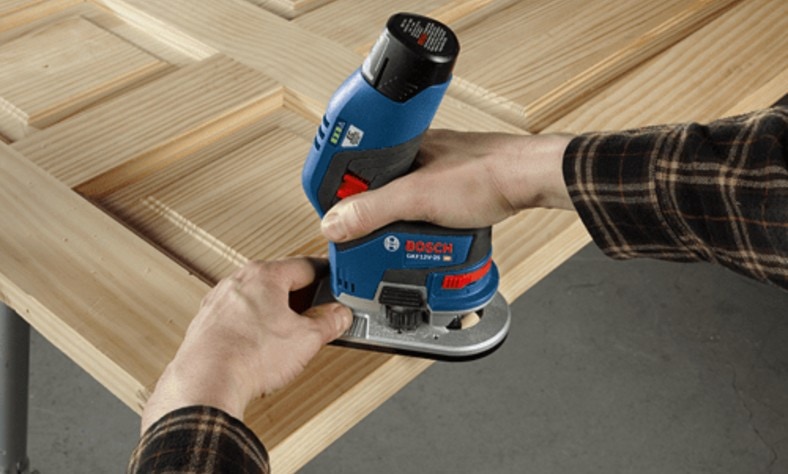 As it's meant to be used on edges mostly, it has no vacuum hole. The dust is supposed to fall right onto the floor instead of staying in the working area. It highlights its narrow specialization. Even if you think of using it for plunge works, it will be hard (if possible) to find a base for it.
It depends on your intentions, whether it's the best router for a beginner woodworker. It looks too specialized and meant for fine works rather than doing everything with the right settings, especially given its price of around $130-150. But if you plan to go for edge trimming and routing rather than plunge works, this one is definitely worth a try.
---
PROS:
Cordless;
Very lightweight;
Comfortable to use;
Compatible with various bits;
Great for edge processing.
CONS:
Specializing in edge trimming and routing;
No template compatibility;
No vacuum connector.
---
9. DEWALT DCW600B: A Cordless DEWALT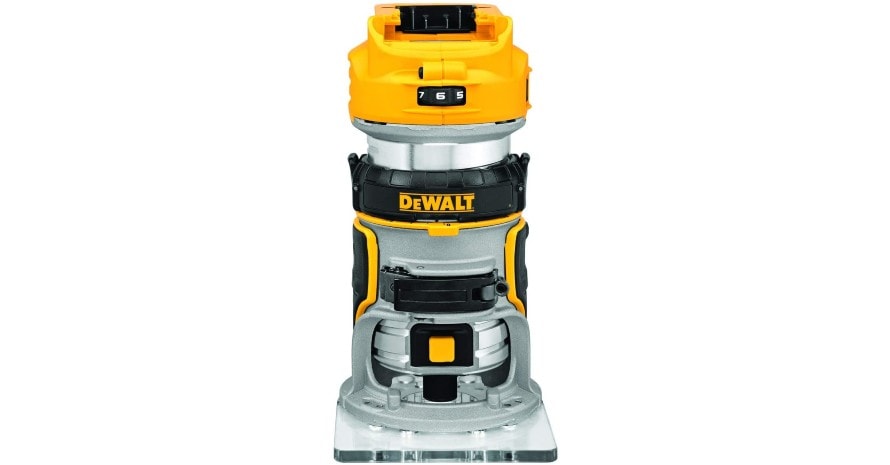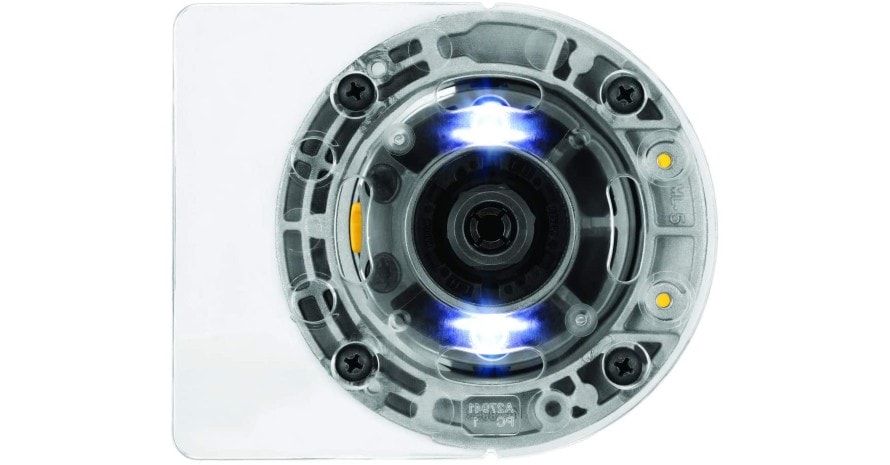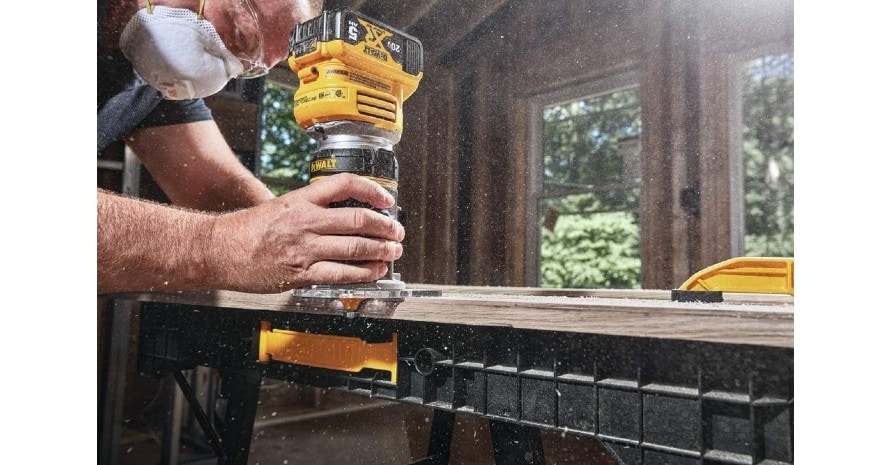 The last of routers to review is strikingly similar to the first one – it's also a cordless router with a powerful battery, featuring easy adjustments and transparent working zone coverage with two LED lights under it. The router has a soft start brushless motor that provides speed from 16,000 to 25,000 RPM and a smart electronic brake that activates as you shut down the device.
To adjust the depth, you just need to roll the speed-dial on the body. The rest is done by selecting the right bits and bases, thus providing the right profile and depth. It's applicable to both edge shaping and plunge routing. Due to a compact size and DEWALT standards, it's only compatible with 1/4" bits.
As for the price, with a little luck you can find the tool only for less than $200, but the most common price with no discounts is about $220-230. But chances are you will want a plunge base or an edge guide unless you already own them.
---
PROS:
Cordless;
Lightweight;
Compatible with DEWALT accessories;
Soft start and electronic brake;
Easy depth micro adjustment.
CONS:
Rather expensive;
Only compatible with 1/4" bits;
The tool comes without accessories.
---
Buyer's Guide and FAQ
If you are just building up your home workshop, chances are you need a wood router (otherwise, you would have already bought one). Here are the basic things you need to know about wood routers and whether you need them, and (if you do) what else it takes to process the workpiece the way you want to.
What does a router tool do?
A wood router is a device for making hollow areas in wood and other hard materials (but primarily it's wood and its derivatives). This can be used for various purposes: making accurate holes (like you do with a drill), making prolongated grooves, cutting out wood fragments to reduce the weight, profiling the edges or just smoothening them, and so on.
If you are making a door, for example, you need to cut some wood where the hinges will be installed. The router is the tool for that.
This tool is, in fact, an ancient hand plane that evolved after electricity entered our lives. The idea is the same: you operate the device that rests on the workpiece, with the blade (or, with a wood router, the bit) gets a bit deeper into it. With a plunge base, the height of the motor (and so the depth of the plunge) can be adjusted in real-time.
There are various bits available for most routers, produced by either the router manufacturer or by third-party vendors. For any particular model, though, there are bits of various shapes and length, great for making grooves and shaping edges.
Given these numerous combinations of bases, bits, templates, and stuff, no wonder some woodworking fans say that nearly everything can be done with a router.
And yes, these hand routers can do relatively little next to, say, a CNC Router that is, in fact, a computer-controlled carving machine. Yet precision and adjustments our hand tools have would be impossible before the digital era.
Types of wood router
While the routers are based on the same principles, there are some principal differences that may make you prefer one to another. Some are about comfort, others are about performance. Here are the parameters routers may differ at:
Grips. Some of them are D-shaped, some are double-knob handled. It's just a question of comfort which one to choose. But don't neglect your comfort during the work: it's more important than some might suppose.
Power. It's usually measured in horsepower (HP). The more HP the router has, the tougher materials it can handle. If you only deal with the most popular woods, plywood, or linoleum or laminate, you don't have to chase the strongest motor. But if you're working with tougher materials like metal or hardwoods, you need the one the Force is strong with.
RPM. The bigger is the bit, the higher speed it requires to operate. For a bit up to 1 inch in length (that is depth), you better choose 24,000 RPM. For 1 to 2 inches, the optimal speed is 18,000 rpm, and so on. If you are plunging 2 to 2.5 inches deep, you'll need 16,000 rpm, and with a 2.5 to 3.5 inches deep 12,000 RPM is enough. It's a rough calculation, of course, but it lets you understand the basics. So decide what sort of work you will do, and select the device that supports the necessary speeds.
Cords. While corded routers are the most popular, there are cordless ones that are considered more comfortable – simply because the cord does not follow them along the workpiece, making the process both easier and safer. There is a little downside to them, though: cordless means battery-operated, and the battery makes the device heavier. There are lightweight battery-operated routers, but if you're aiming at one, make sure its capacity is enough to do the required volume of work without recharging. In addition, it always takes a compatible battery. Finally, cordless routers usually are less powerful.
Versatile vs. Specialized. Most routers reviewed here are versatile, so changing the base or installing a guide changes the way you use it too. Accessories are widely available, so changing the base or the bit changes the way the device operates. There is just one specialized model on our list – Bosch GKF12V-25N, designed for edge profiling by routing (but it's so attractive!)
When it comes to plunge-or-fixed, though, it's not about the router itself. It's about the base that can be attached to any particular model. For most of them, there are both fixed and plunge bases available (though we'll return to it a bit later).
How to choose a wood router?
First of all, you must be sure about what type of work you are to do with it. Despite being a specialized tool, a wood router is widely used in various types of woodworking.
The primary parameter in your mind should be the type and the size of the grooves. This defines the power and the speed you need from the router. Then you need to select the base: the plunge one will provide more freedom, but the fixed one will let you work more accurately.
Other parameters are optional. You may choose the type of grips you prefer and decide whether you need a corded or a cordless one, and so on.
You must also acknowledge that any serious manufacturer supports its own ecosystem. So if you somehow lost your Makita router and still have its bases and bits (or someone who presented them to you), you better choose a Makita again. The same is with Bosch, DEWALT, SKIL, or any other, though there are versatile accessories.
Wood router tips for beginners
It's hard to overestimate how router tips for beginners may help those only in the beginning.
Even "a beginner router" is a serious tool that needs setting-up right. So read the manual before you start using it!
Use only the bits in good condition. Dull or damaged ones belong in the garbage bin.
Only turn it on when you are ready to work, and your workpiece is fixed right.
First start the router, then let the bit contact the workpiece. Not vice versa!
Feed the workpiece against the rotation of the bit.
Watch YouTube! No matter which model and vendor you select, there is always someone sharing their experience. Don't neglect it. Lectures are good, but if they show you the real working process, that's what you should absorb.
Plunge vs. Fixed Base
One of the most common questions about using a wood router for beginners is about base types. Amateurs may wonder about the difference between the two types of bases.
In fact, the question about whether the fixed or the plunge base is better makes no sense. These base types are meant for different types of work. Fixed bases are usually used for making straight routes or holes. Fixation lets you move the router with your hands firmer.
With a plunge base, you can make a route in the middle of your workpiece, with no need to align into edges (though you may if you need to). It is reached by the construction that lets you move the body of the router up and down the base, thus enabling you to start routing wherever you need to by manually plunging the bit into the workpiece. That's when you need a transparent workspace around the bit the most.
There are various sorts of work (fluting, routing, making rebates and grooves, mortices, and so on) that are better to do just with a plunge base. On the contrary, virtually any job that requires a fixed base router can be done with a plunge base, but a fixed base provides much better precision and accuracy.
If you are planning to do complex works that require various applications of a wood router, you will probably need both bases, plus an edge guide for making straight plunges (like you are enabled with a plunge saw guide).
Frequently Asked Questions
While mastering a router will certainly take time, I hope to save you some by answering the most common questions. With this, you can avoid some frequent mistakes and make a surer start.
Can you use a router on plywood?
Yes, most wood routers are just as applicable on plywood. But you should select the bit and the RPM parameter according to the hardness of the plywood. It should be in the instruction for your tool.
The only issue I have to stress is that the glue that plywood contains will dull the bit a bit quicker than ordinary wood would (hope you won't sentence me to any punishment for this sentence made of puns).
What are the safety precautions for a wood router?
There is a precise instruction issued by Emory University. It contains the basic safety rules, like the following:
Secure the bit position
Secure the workpiece before starting the job
Do not your hands or loose sleeves and other clothing get in the way
You better do several slight cuts instead of 1 deep one if the material is hard or the route you need to make is deep
Use only authorized accessories with your router (and maybe clones like Avid Power Tools to Makita, if the quality is proven decent)
While these instructions are mostly defined by common sense, they are very reasonable. We have a little more to add. First, if your router has a vacuum connector, you better use it. Second, if you use a corded router, make sure the cord cannot be accidentally pulled out of the socket.
What else is a wood router good for?
It's a highly specialized tool, so using it for simply cutting wood or routing metal or stone would be a waste of time. You will either waste too much time or break the device for very little effect. More than that, there are specialized edge routers, great for rounding edges but useless for plunge routing.
Can you round wooden edges without a router?
Yes, there are some ways to do it. A good old hand plane (from which today's router has evolved) can work wonders if operated by a pro. Artisans used to succeed at it long before today's routers were invented.
En Route to Mastery
So, a wood router is a must for any workshop if you're into woodworking. There are various tools, and, though to me Makita XTR01Z 18V LXT is the one with the power, others are also worth a look.
Still, I would recommend you trust your hands. If there is an opportunity to try a router or two (at a store, or in your neighbor's workshop), don't miss it. Your hands have as much say as your brain or your wallet.
If you have had any experience with any of these routers, or you know a decent option I somehow missed, I'd be glad to read it in the comments. Namedropping is welcomed: name the routers you prefer. Stories are also fun to read. And if you attach pics of the masterpieces you have created, you will make your stories come alive. That's magic!
By the way, you can share it on your Facebook or Twitter instead of simply bookmarking. Thus you will see which of your friends can also be into woodworking. Maybe they will join you in this art; maybe they have something to recommend or some experience to share too.