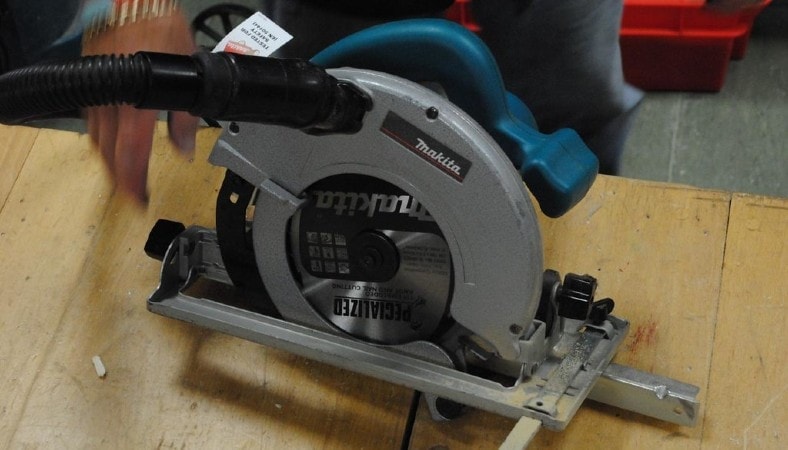 Even if two circular saws look the same, they may have different requirements for the blades. If you have a 6" circular saw, it won't work with 6.5-inch circular saw blades or bigger. It's also important to be able to choose the best 6-inch circular saw blade for your cutting purposes as wood, metal, and concrete require different types. Read these reviews and buyer's guide attentively to pick up products that will really match your needs. I selected the most reliable models of several blade type so that you could gather a universal set after reading.
Withstands up to 12000 RPM
Works with dry and wet wood
Patented shoulder for lower kickback
Top Pick
Withstands up to 12000 RPM
Budget Choice
Works with dry and wet wood
Premium Choice
Patented shoulder for lower kickback
6-inch Circular Saw Blade Review: My Top 8 Picks
I've tested many blades over the years of woodcutting works. It's just impossible to get by with one diameter, as every saw requires particular blade sizes for different purposes. Fortunately for you, I've already made a comprehensive selection of the most reliable 6 inch blade.
1. Freud D0640X Diablo – 6 inch Saw Blade
My first blade by Freud was a 5.5" Diablo, and it's my favorite 5.5" model. You can find its review on the blog too. The 6" Diablo appeared to be a perfect solution too. Despite a relatively small diameter, it has as many as 40 teeth with ultra-durable grain carbide tips with thin kerf, which makes the blade light and thin enough for battery-operated saws.
On the other hand, the plate is durable enough for up to 12000 RPM with low vibration and high accuracy. Due to the protective coating all over the blade, it won't gun up and corrode while you cut wet materials.
---
PROS:
Withstands up to 12000 RPM;
Non-stick coating;
Expansion-resistant design;
Laser-cut shape and arbors;
40 grain-carbide tips.
CONS:
Not for ferrous metals or masonry.
---
2. Bosch DCB624 6-1/2 In. – Best 6.5 inch Circular Saw Blade
If your saw is also compatible with 6 1/2 blades, this item by the German giant Bosch will do well. It has 24 ultra-sharp C3/C4 micro-grain carbide tips that offer smooth and fast cutting along with supreme durability at low speeds. It's a perfect solution for battery-powered saws used for general purposes.
The thin steel plate guarantees stability at low speeds up to 6000 RPM. It's also compatible with 2 arbor types, including 5/8" and a relatively rare 13/16" arbor. I recommend it for cutting wood, plastic, composite decking, and plywood. It will serve you really long if you apply it right.
---
PROS:
German quality;
Ultra-durable for general purposes;
Thin kerf;
Antifriction finish;
Patented carbide alloy.
---
3. Overpeak 6-Inch Circular Saw Blade – Best 6" Circular Saw Blade After Diablo
Overpeak offers an excellent alternative to the 6" Diablo blade. It's a bit less durable but offers perfect general-purpose cutting capabilities at up to 10000 RPM. Due to the laser-carved silencers, this item makes notably less noise than the majority of competitors, while the alternate-top bevel teeth make straight cuts smoothly and without kickback.
Unlike Diablo, this model isn't covered with an anti-stick layer, so it's better to use it on dry wood if you want to reduce sticking. It deals well with OSB, Plywood, and laminate. The cuts will be quite thin and smooth due to 40 teeth with thin kerf.
---
PROS:
Excellent for general purposes;
Thin and smooth cutting;
Low noise level;
Cuts quite fast;
Durable carbide alloy.
CONS:
Not the best for wet cutting.
---
4. DEWALT DW9196 – 6.5 Circular Saw Blade
DEWALT manufacturing has been supplying the market with some of the best blades for over 90 years. The DW9196 blade is an excellent finishing tool with ultra-thin kerf and an anti-friction rim that lets you achieve the highest cutting quality on medium RPM (up to 7000).
The proprietary DEWALT carbide along with the smoothened surface provides additional resistance to temperature and corrosion so that you can work with wet materials without difficulties. The expansion slots are filled with resin to let you cut wood for long hours in a row without overheating.
---
PROS:
Excellent longevity;
Best accuracy for finishing;
Ultra-thin kerf;
Patented shoulder for lower kickback;
Proprietary carbide alloy.
CONS:
Limited to 7000 RPM;
Fits only 5/8" arbor.
---
5. WEN BL6542 6.5-Inch 42-Tooth – Best for Track Saws
This 6.5" model is designed for precise cutting with professional track saws, including popular devices by Festool, Makita, WEN, DEWALT, and other manufacturers.
Although this blade has a very thin 1/17" kerf, it's also highly durable and lets you make deep and precise cuts really fast. Carbide tips are placed by the ATAFR technology, which means Alternate Top Alternate Face with Raker.
If you have a WEN Plunge Cut Track Saw, then there's almost no need to experiment with other 6.5" models. Just take a new BL6542 when it wears out.
---
PROS:
The toughest amongst thin-kerf blades;
Up to 9000 RPM;
Alternating tops and sides of tips;
Fits most track saws.
CONS:
Only for 20mm arbor;
No anti-gumming coating.
---
6. Makita T-01410 40T – Best Crosscutting 6 1/2" Blade
This 40-teeth 6.5 inch saw blade is designed especially for battery-powered saws to let you make more cuts on a single charge. Due to the high number of teeth and thin kerf, this item doesn't waste too much material and makes very precise cuts independently from the material you work with at the moment.
I recommend 6.5 saw blade for dry finishing works that may take a long time to complete. The blade is extra durable and has large expansion holes so that you don't have to worry about cracks. Still, it's a bit noisy.
---
PROS:
Excellent for finishing tasks;
Low resistance model;
Durable design;
Clean cutting;
Ultra-thin carbide kerf.
CONS:
Only for dry works;
Only for cordless saws.
---
7. Oshlun SBW-060024 6-Inch – Aggressive General-Purpose Cutter
The SBW-060024 blade is my second blade by Oshlun after a 5.5" diameter. It's a reliable solution for all general-purpose dry works for which you need a fast and durable blade.
At the same time, it has a relatively low kerf and durable micro-grain carbide alloy on the tips for extra longevity. It unleashes the potential to the fool when you cut plywood, softwood, and even hardwood.
Despite the medium number of teeth, the cuts are quite clean and precise. I recommend it for rough general works that should be done clean.
---
PROS:
Durable micro-grain carbide alloy;
Thin kerf for extra precision;
Lowers energy consumption;
Expansion-resistant design;
Max 9500 RPM.
CONS:
No coating for wet works.
---
8. Diablo by Freud D0641X – Best for Plywood Finishing
Here is one more Diablo blade in my listing and my 3rd Diablo blade overall. I've been using it on my Milwaukee M18 saw for a couple of years already.
I'm satisfied with the superior cutting quality, great heat-resistance, and longevity. The only downside of this product compared to the 6" model (1st review in the listing) it the RPM that's limited to 10000 RPM. You can apply it for fencing, decking cutting plywood, and fascia.
---
PROS:
Resistant to corrosion;
Works with dry and wet wood;
Wide range of settings;
Excellent stabilization;
Drag and gumming protection.
---
How to Choose the Best 6-inch Circular Saw Blade
There are 4 main types of circular saws, including handheld, tile saws, table saws, and metal-cutting chop saws. A 6 circular saw blade is usually used on handheld devices as they accept 4 ½" to 7 ¼" blade diameters.
Blade Materials
All circular saw blades are made of steel, but the tips and the covering can be different. Most 6" blades have Tungsten carbide tips that provide high cutting ability and exceptional durability.
On the other hand, you should be a professional to sharpen them properly, and it's almost impossible to use them if a tooth chips. It's the most popular option anyway.
Some blades can also have diamond edges for cutting metal or an abrasive coating made of aluminum oxide or silicon carbide for cutting concrete and sometimes metals.

Number of Teeth
In general, the number of teeth defines the smoothness of the cut. For example, the cut of a 6 1/2 circular saw blade with 12 teeth would be notably rougher than if you use the same blade diameter with 24 teeth. This characteristic also affects the gullet size that's responsible for the amount of waste removed during each rotation.
You should also consider the hook (rake) angle of teeth. A positive hook is more aggressive and lets you make faster but rougher cuts. It also pulls the material in, so I don't recommend you to use this type for cutting metals or concrete. The negative hook with a neutral angle is much safer and lets you make smoother cuts. It's also a bit slower.
Bevel Angle
The smoothness of the cut also depends on the angle of teeth perpendicular to the blade's spine. If you need a smooth cut or you work with composite materials, a high angle is needed. The angles can also alternate, be flat, and have other configurations for particular purposes.
Kerf
This number determines the width of the teeth and cuts. Thicker kerf means higher resistance and sustainability to hard materials, which makes it good for operations with hardwood. Thinner kerf blades with the right vibration reduction let you make thinner cuts with less effort for stabilization.
FAQ
In this section, you will learn the specifics of usage and installation of circular saw blades. Read on for more useful information.
How to install a circular saw blade?
To do this procedure right, you should follow these crucial steps:
Wear protective gloves to avoid cuts;
Unplug the saw or remove the battery – you don't want the tool to start all of a sudden;
Ease the nut – use a wrench of the right size (usually comes with the saw) to ease the nut and be able to remove the blade;
Slide the blade off smoothly – be careful not to drop the blade or cut yourself;
Put a new blade and make sure that the teeth are in the right direction – it's usually marked on the blade side.
How thick should be a circular saw blade?
The blade should be thick enough to withstand the average RPM of your circular saw. The RPM of thin blades is usually limited to 6000-7000, while thicker blades let you work on 9000-11000 RPM. High thickness also means higher heat resistance and lower warping and wobbling.
When to replace a circular saw blade?
Replacement is needed if you see that one or more carbide teeth have chipped, or it's impossible to sharpen them anymore. It's also time to throw your old blade away if it loses straightness and causes more vibration than it used to.

Choose Wisely
Now you know everything to choose the right 6 in circular saw blade for your projects. Always learn the specifications of the saw to be able to match them with blade features. Otherwise, you won't be satisfied with the result or even make your power tool potentially dangerous.
Have you already used any of the blades from my listing? Or maybe you know some worthy solutions by other brands? I'll be happy to see your comments below. If you still have questions, I will answer them as soon as possible.