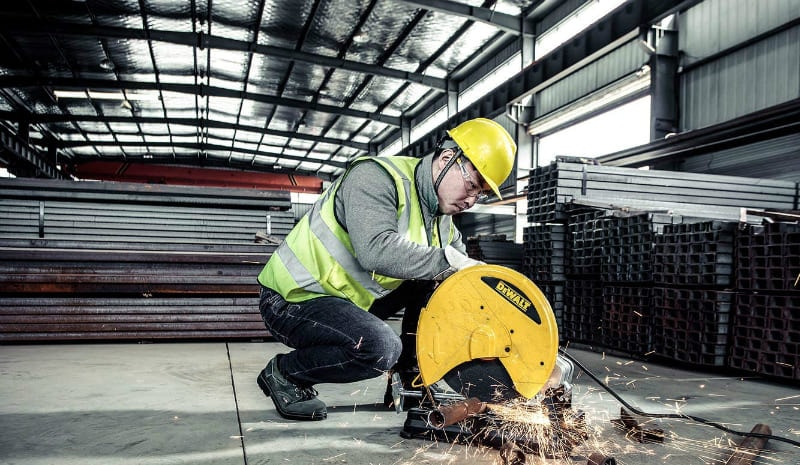 Having spent a great deal of time working with wood and constructing household comforts for myself and other people, I've concluded that it requires two things: real zeal and knowing your equipment. A chop saw is one of those items that can prove most useful since you can utilize it for your indoor and outdoor projects, renovating your flat or premises, or simply fitting the door in the doorway.
Choosing the truly good chop saw for personal use online is very difficult for both an amateur and a professional builder. For instance, how do you know whether a gas saw can be applied to indoor projects? How electricity-consuming is your tool going to be when working with 10 square feet of pure oak boards? All those functions and dimensions, blade properties, and fuel types can be quite confusing.
And for this, I've come up with a chop saw review list of the greatest saw products I've come across so far. Each of them possesses pros and cons that make it unique and indispensable in its way. Make sure to choose wisely so that the item can fit your needs as you're about to buy a guarantee of efficiency and comfort.
TOP 7 Best Chop Saws for Personal Use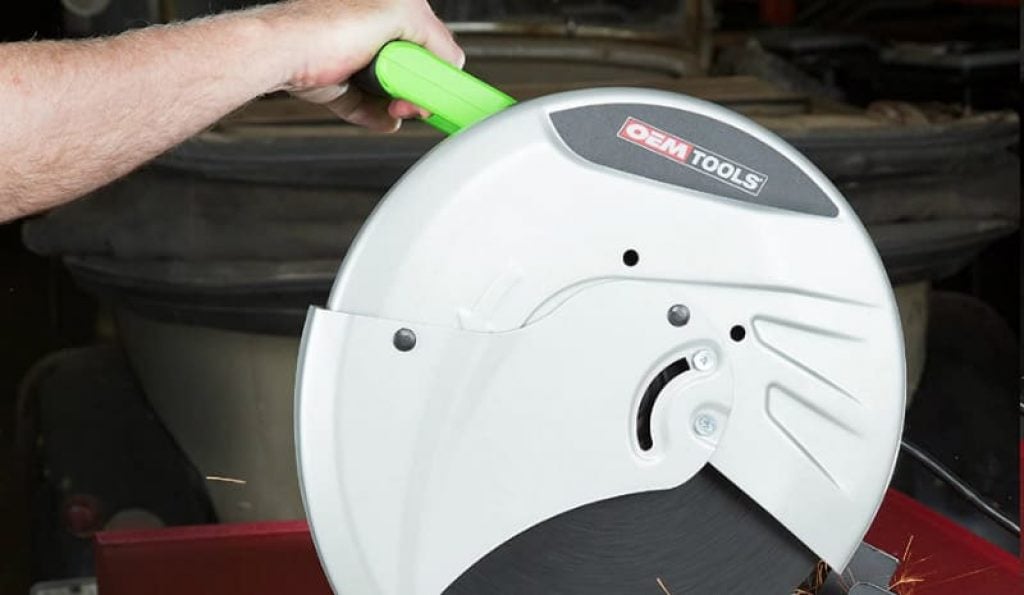 Chop saws vary in size, function, and purpose, which makes them a very diverse set of tools that surely come in handy in your household. Before deciding which one to acquire, you need to realize the purpose of its usage and your needs. Pay attention to the material a saw is capable of processing since not all prototypes are meant for both wood and metal. Moreover, the strength and abrasive power of a particular metal or saw can be suitable for steel but damaging for aluminum.
Now, after taking all the variables into consideration, let's dig in and find the perfect tool for you!
1. DEWALT D28730, 14-inch — Good for Metal, Plastic, and Wood Chop Saw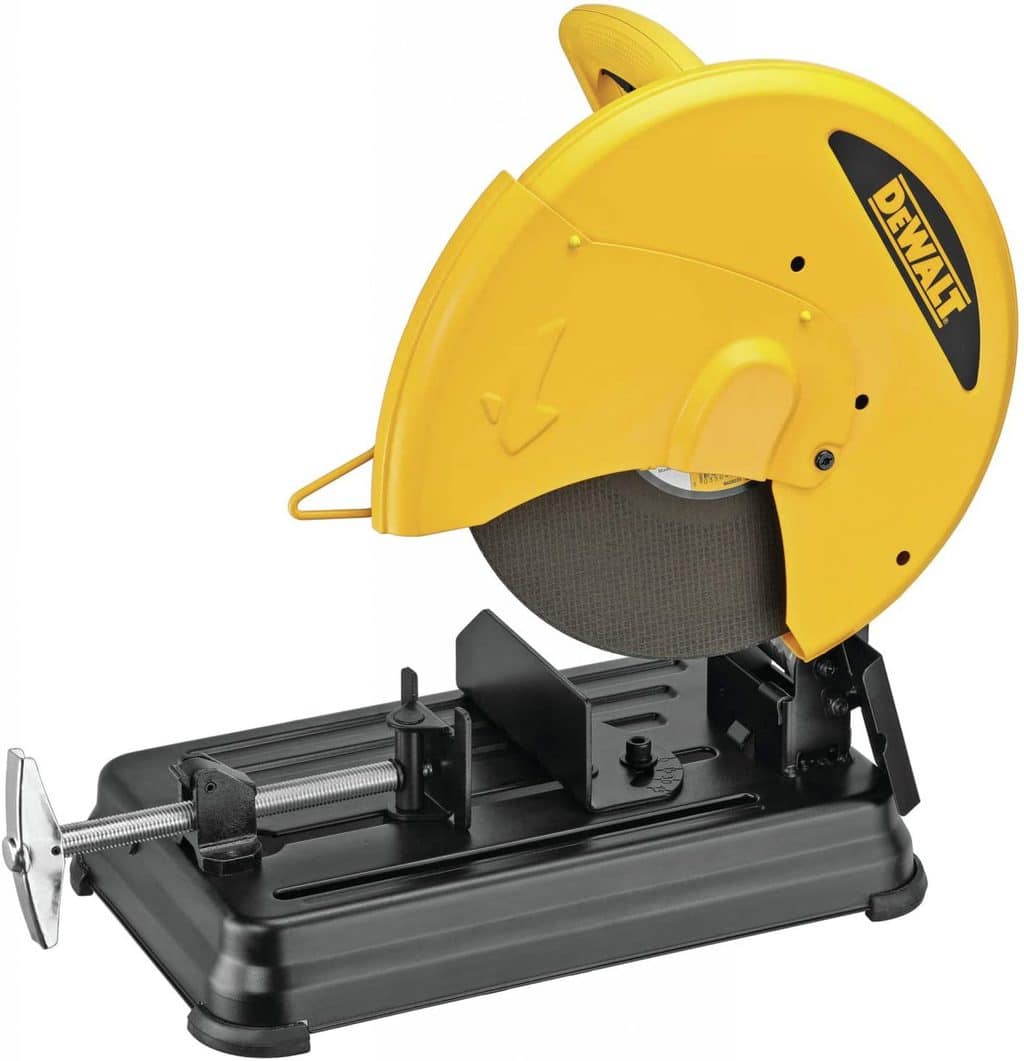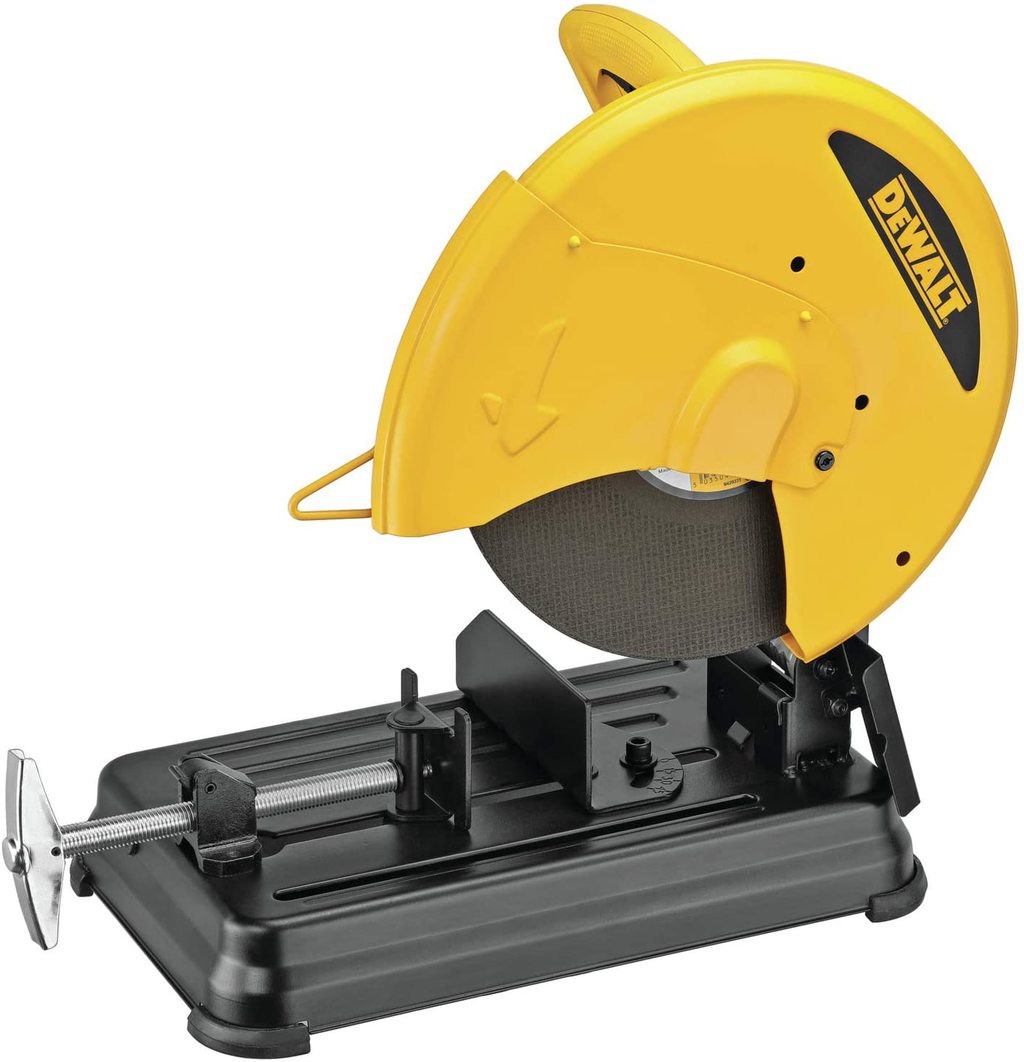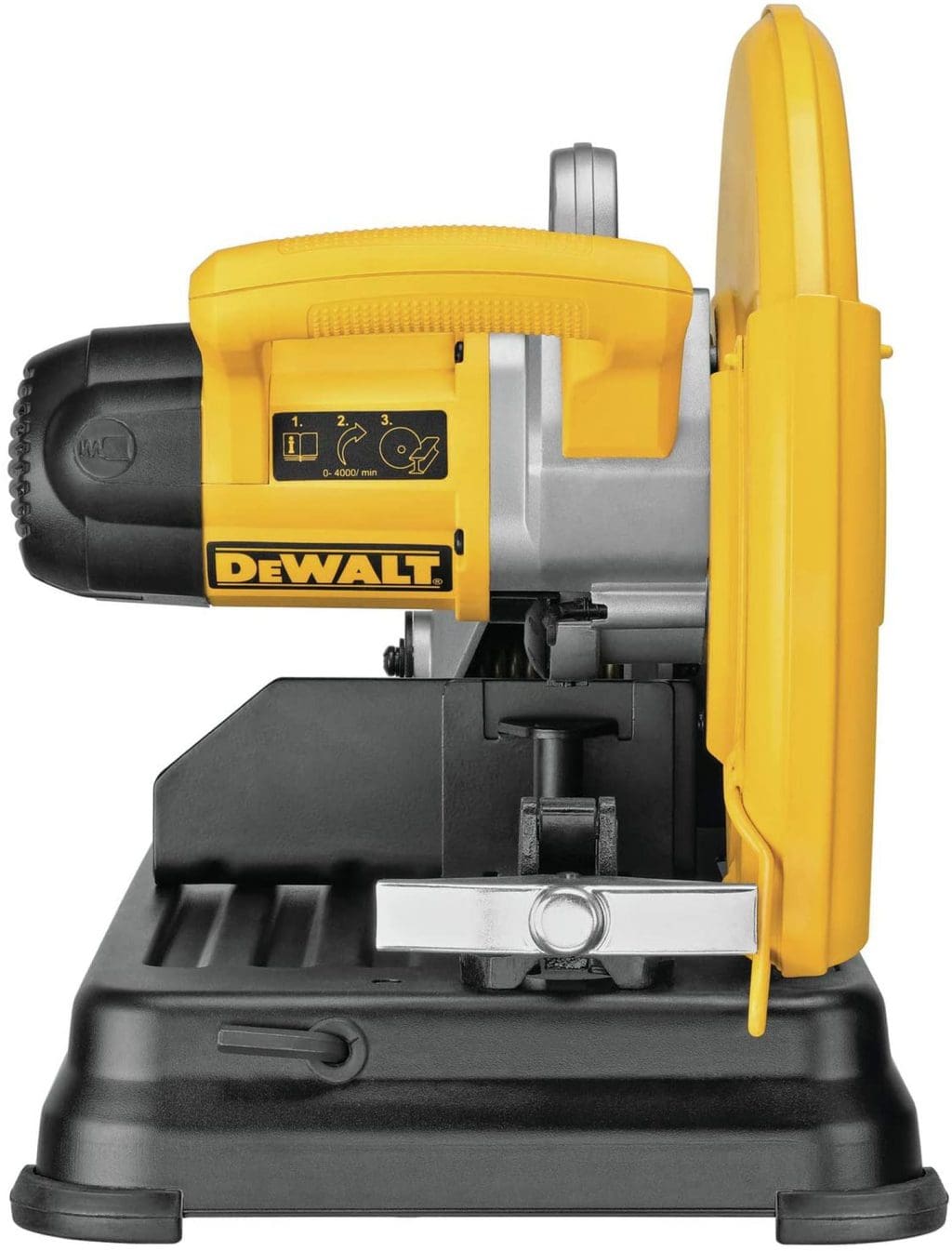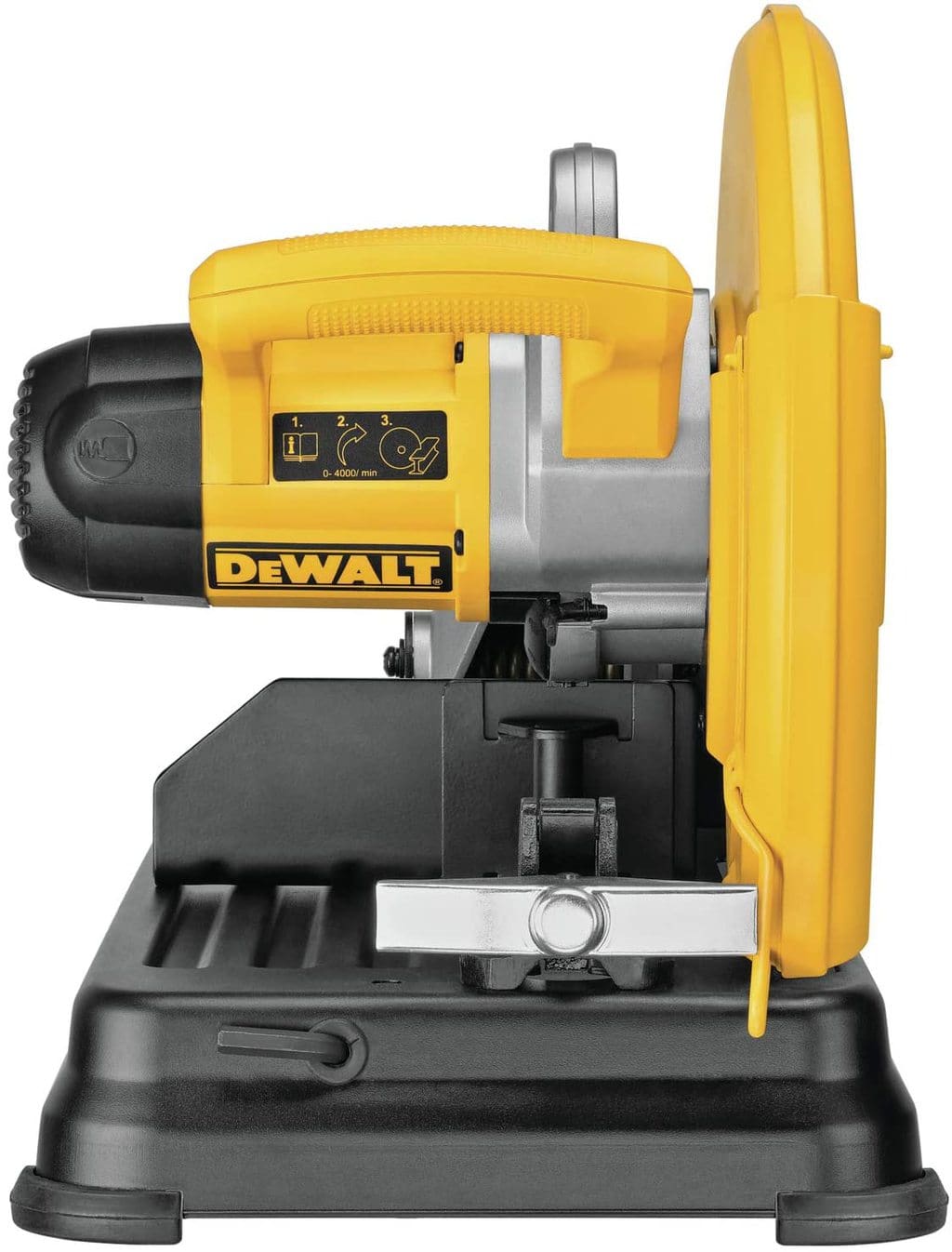 Specifications:
Blade Length: 14 Inches
Speed: 2300 RPM
Cutting Angle: 45 Degrees
Feature: 

Quick-Lock vise of the metal cutting saw allows for fast clamping on different size materials

Power Source: Ac/dc
Despite including truly good-quality products on this list, I still believe that the Dewalt chop saw stands out among all of them as the best chop saw ever. Why? Well, that's easy. It's all about the features.
First, thanks to the size shy of 15 inches, the saw is very movable and fits perfectly in a cabinet or on a shelf. The body is equipped with a nice, hand-shaped handle to carry the unit effortlessly when changing locations. Don't worry about the weight, although slightly heavier than other models, this saw uses the heaviness to its own advantage. It stays balanced on almost any surface by steadily fixing it with the steel base. Hence, no wobbling or tilting usually comes with cutting.
Second, I've used this unity for a large construction project recently, and it proved useful because of the functions. As you're processing metals, wood, or pipes, you start noticing how powerful the device is with over the 2000-Watt motor that can grind through anything.
What's included:
(1) D28730 14 in. Chop Saw; (1) 14 in. Abrasive Wheel; (1) Wrench
Third, the vise is very balanced and doesn't shiver while processing. It moves gently forwards and backward as you're cutting wood or metal, and gives you complete control over the process. When you're done cutting, it's easier than ever to get rid of the piece simply by using a specifically designed freeing mechanism located on the back of the product. Rotate the valve anti-clockwise to make the spot available for the next piece.
---
PROS:
Almost completely silent;
Versatile;
Comfortable and compact;
Surgeon precision;
Firm and heavy-duty.
CONS:
Might require an adaptor.
---
2. Evolution Power Tools RAGE4 7-1/4-Inch — More Than Just Steel Cut Off Saw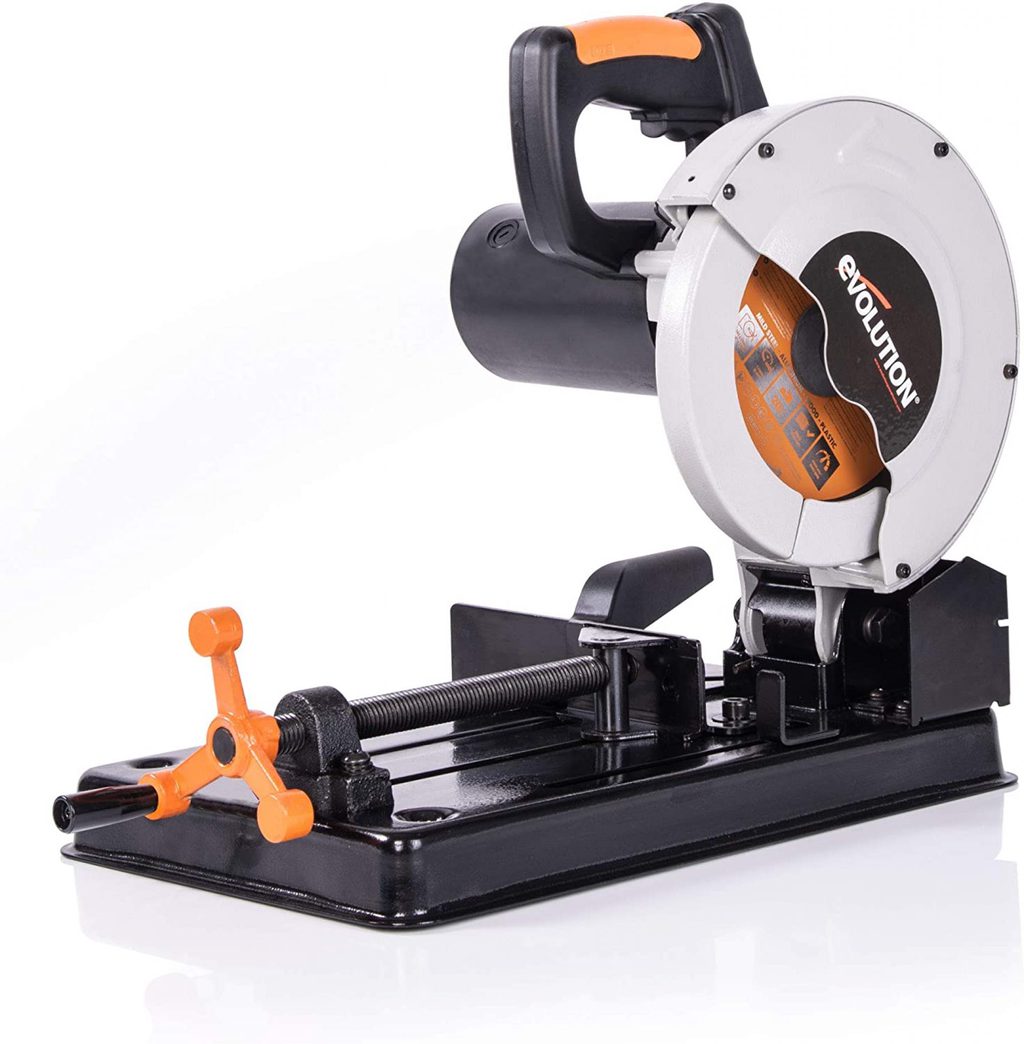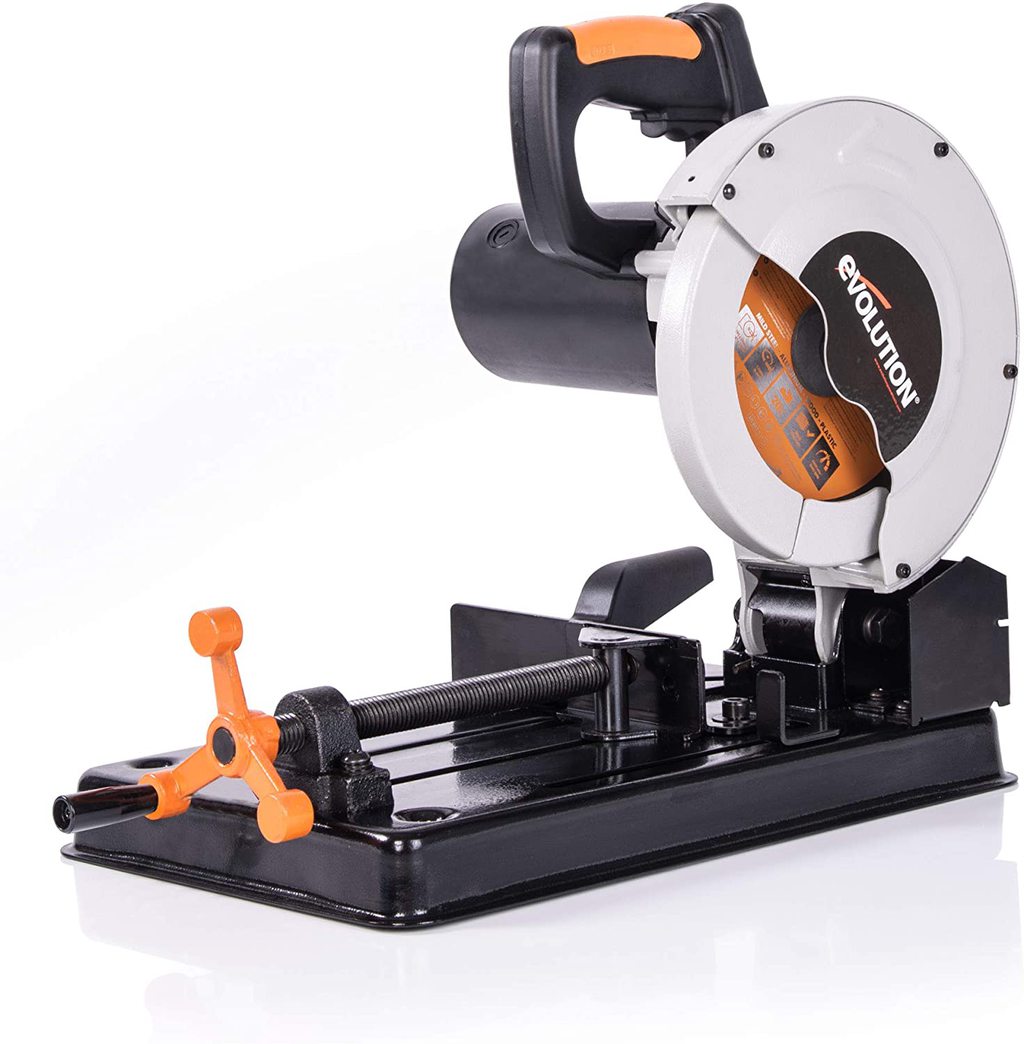 Specifications:
Blade Length: 14 Inches
Speed: 2300 RPM
Cutting Angle: 45 Degrees
Feature:

No heat build-up when cutting steel

Power Source: Corded Electric
If you're looking for a multipurpose item that can be used for a whole variety of materials, from soft to bulky or iron-cast, this tool may be the perfect fit.
Created by Evolution, which is a relatively new company, this chopping saw is based on a blend of functionality and sturdiness. Using a voltage of around 130 Volts, the item is great for both small indoor mendings and large-scale outdoor projects.
Thanks to the dimensions of about 20 by 15 inches, the weight of the product is less than 20 pounds of pure, reliable steel. This lightweight and the compact machine come in a nice jam-packed case that makes carrying a pleasure when disassembled. It doesn't take longer than 5-10 minutes to put the tool together, simply by adjusting the parts and screwing a few bolts where they belong.
Made of durable and iron-cast metals, the product stands out with its sturdiness. Neither the blade itself nor the processed materials will do much damage to the item as it's designed to serve long enough. Grounded by the rubber feet, the whole body stays stable and can endure any heavy cutting without scratching the surface it's placed on.
What's included:
It's also fascinating that the saw is great at dealing with a whole array of materials. Not only does it cut cleanly steel armature or chop wood logs in two with a single move, but it's also good with plastic. As the tool causes no burning or melting, it easily slides down polypropylenes, as well as copper, aluminum, and others.
---
PROS:
Multifunctional;
Sturdy and well-built;
Rubber-based;
Doesn't melt the plastic;
Effortless to operate.
CONS:
Needs bushing for 5/8 blades.
---
3. Ironton Dry Cut Metal Saw — Great Steel Cut-Off Saw Option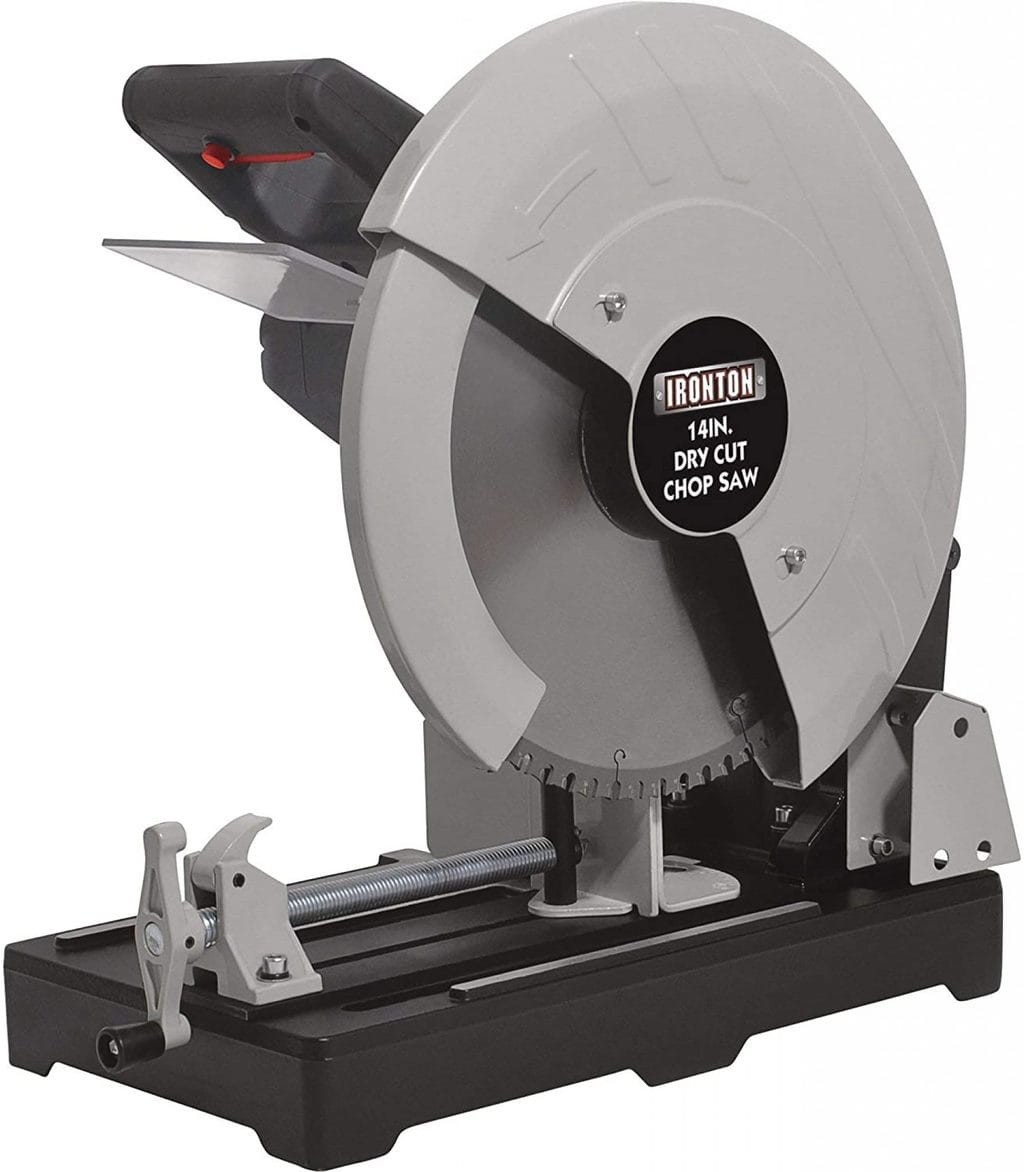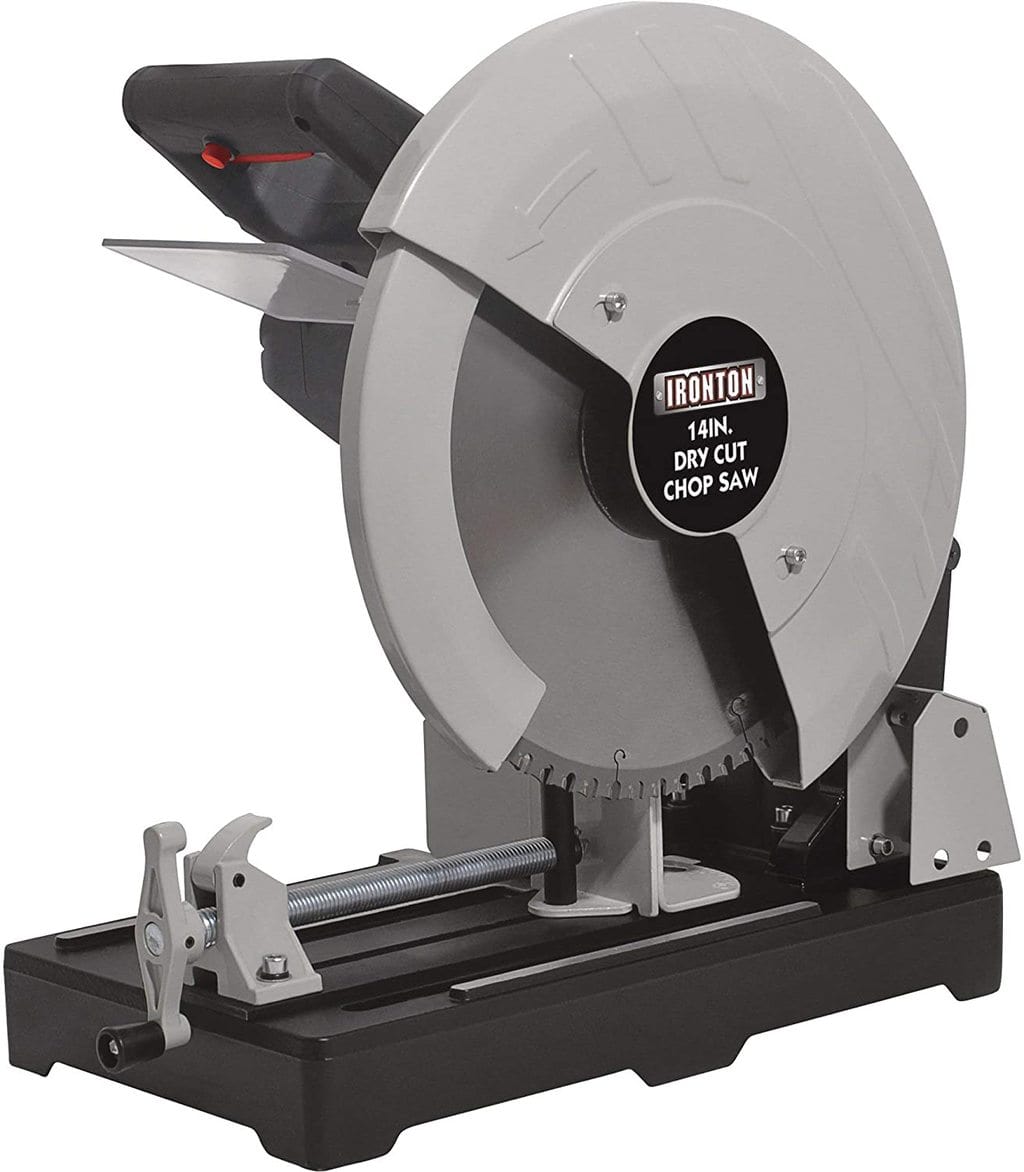 Specifications:
Blade Length: 14 Inches
Speed: 1450 RPM
Cutting Angle: 45 Degrees
Feature: Heavy-duty cast aluminum base for stability
Power Source: Electric
Perfect for working with metals of all kinds, this Ironton saw proves most useful for big constructions and small garage processings.
Having a more capacious size of 22 inches in length, 13.5 inches in width, and 19 inches in height, the tool is made to be heavy-duty and process strong metals. Due to this, the approximately 45-pound weight doesn't make it the most lightweight metal chop saw you can find but the most long-lasting one.
There are quite a few features that other tools for such purposes lack, which make it one of the safest on the market today.
First, the lever by which the blade is held is made in the shape of a human hand that prevents sliding or unnecessary motions while using. Second, the device is secured with a safety button under the lever to control the saw and exclude any chance of accidental starting. Third, below the button, there is a nice metal sheet that acts as a protective shield to isolate metal particles and prevent them from shooting at your fingers. Fourth, the base and the lock are equipped with a manipulation plate for setting up the proper angle (from 0 to acute) while cutting unusually shaped pieces.
What's included:
(1) 14in. dry cut metal saw

(1) Carbide-tipped blade
The device comes with a warranty that you can use in cases of manufacturing deficiencies or insufficient operation. However, both the device and the blades are made of strong materials, so you won't have to use them anyway.
---
PROS:
Effective with most common metals;
Long-lasting and durable;
Costs reasonably;
Clean and nice cuts;
Stable.
---
4. PORTER-CABLE PCE700 — The Handiest of Steel Chop Saw Products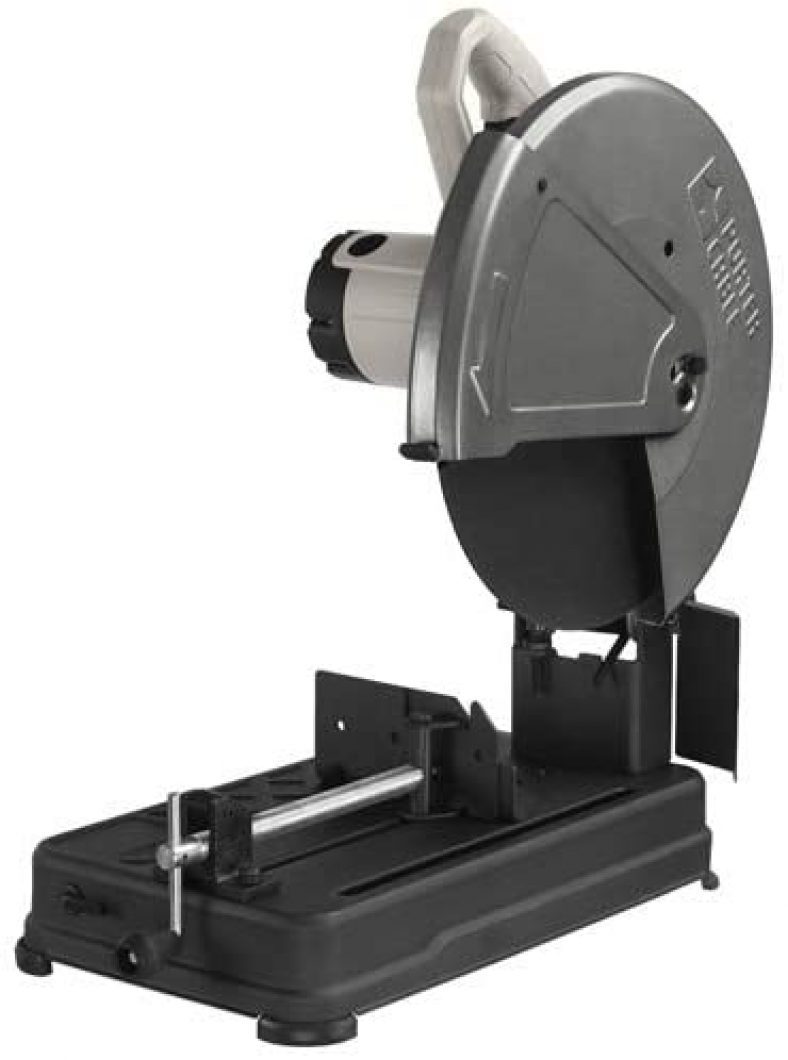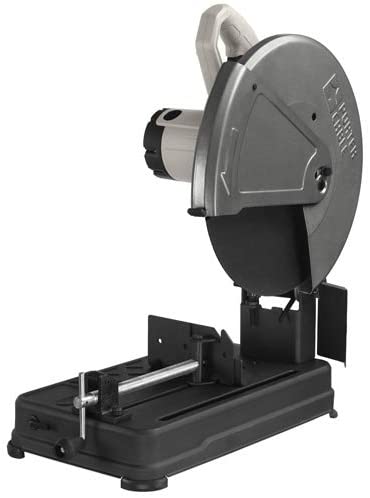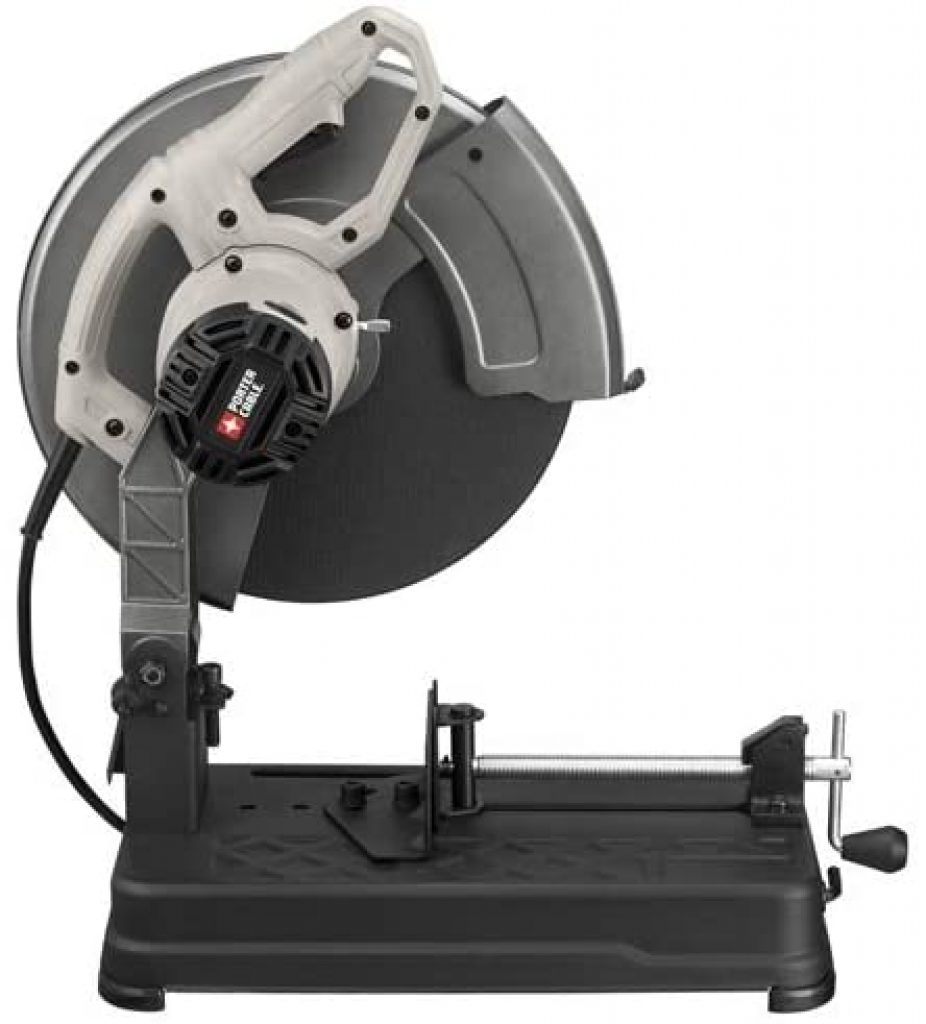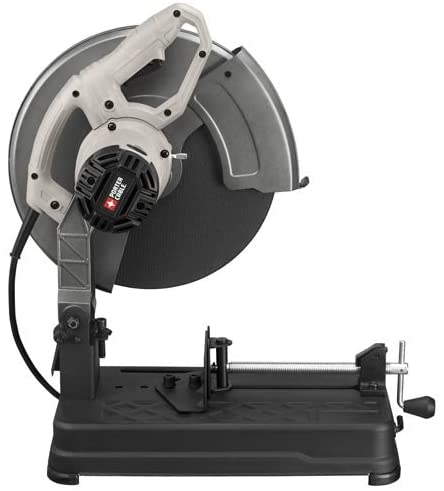 Specifications:
Blade Length: 14 Inches
Speed: 3800 RPM
Cutting Angle: 45 Degrees
Feature:

Spark Deflector Provides Safety And Clear Line Of Sight For Cutting

Power Source: Corded Electric
Are you wondering if there are smaller, more portable prototypes of those heavy-duty cutting saws? There are such, and Porter-Cable is a company that aims at mediating between strength and mobility. I've received a ton of positive reviews about this item, and all of their authors claimed that their household mending routine had changed ever since.
Smaller than most metal cutting chop saw options, this product is only 1.2 feet high and weighs around 30 pounds. Thanks to these dimensions, the item is extremely easy to carry around and can fit in the trunk of any vehicle. The blade wheel is of the same size as the saw itself, which makes it balanced and firm when placed.
Though the axle is only 1 inch long, it's more than sufficient to ensure the safe and effortless use of the blade. With a long enough plug-in cable, it can be utilized at a distance of more than 7 feet from a power source; and doesn't require any additional charging.
Among the many great traits of this product, I find the prime mover very resultful. As you plug in the device, the mover rotates with a power of approximately 16 AMP that enables the blade to process the harshest materials there can be. Also, its strong lock creates enough pressure to fix even the roughest and most unlevel metals clinging to the grooves and dents.
What's included:
Blade Guard, Blade, Chip Deflector
I'd gladly advise you to obtain the device just to try out the in-built modified spindle that makes blade changing easy and safe.
---
PROS:
Doesn't produce much noise;
User-friendly, easy to handle;
Can operate at different angles;
Lengthy power cable;
Reasonably priced.
CONS:
Not secured from sparks and hot particles.
---
5. OEMTOOLS 24497 — Versatile Cheap Chop Saw
Specifications:
Blade Length: 14 Inches
Speed: 3800 RPM
Cutting Angle: 45 Degrees
Feature: Chop saw motor stops running when the trigger is released for additional safety
Power Source: Corded Electric
Though there is an array of versatile chop saws, you might want to take a look at the Oemtools steel chop saw as a possible add-on to your tool kit. Oemtools specializes in creating heavy-duty, already-assembled products for minor and major constructions.
As one of the most compact modern chop saws, this prototype has common dimensions of 23 by 13 by 17.2 inches in length, width, and height. As you unpack the box, the unit is completely put together, so you don't need to waste time assembling it at all. It comes out ready to be used simply by plugging in. Since the prime mover is as strong as such of a big chop saw, it can handle all kinds of materials without stumbling or bugging. To ensure proper and comfortable use, there is a hex wrench provided by the manufacturer for frightening bolts of the blade holder or replacing the blade itself.
Based on the combination of alloyed steel and sturdy plastic, the saw can become one of the most long-lasting tools in your garage. Steel gives strength to withstand heavy cutting, scratches, processed material jumping, and wobbling, as well as a firm base to hold on to while running. On the other hand, plastic prevents corrosion and rusting of the devices that can be caused by garage dampness. Also, it protects electricity-conducting parts from water and rain that otherwise might lead to blackouts or electrification.
What's included:
14″ Chop Saw, 8 mm Hex Wrench, Cutting Blade, and 6 ft Power Cord
By making clean cuts, this steel cut-off saw doesn't dent or damage the metals but prepares them for the following processing.
---
PROS:
Multi-purpose;
Safe and durable;
Doesn't create much smoke.
Comes completely assembled;
Has a nice wrench as a bonus.
---
6. Evolution S355CPSL — Modified Wood and Steel Chop Saw
Specifications:
Blade Length: 14 Inches
Speed: 1450 RPM
Cutting Angle: 45 Degrees
Feature: Dry-cut, Cool to touch, burr-free cuts
Power Source: Corded Electric
The Evolution S355 is great for people who prefer modern and cutting-edge utilities over old, time-proven ones. Yes, it's not a cheap chop saw, but it possesses all the basic characteristics of a typical chop saw and adds more to it.
As for application, the saw is equipped with a nice slide and a lock to firmly fix the processed material. On the top, the blade is embedded into a wheel-shaped lever, which is tenaciously designed for accuracy and precision. By applying slight force to the lever, the blade makes surgeon-like, clean cuts and is extremely easy to manipulate. Unlike many other chop saws, the blade doesn't dig in the material but makes cuts guided by the pressure of your hand, hence no ripping.
To add efficiency to the unit, the manufacturer has embedded the base of the saw with a longer ledge to accommodate larger materials. Moreover, the product isn't limited only by processing wood or metal. Now, it can cut plastic materials evenly without melting them or setting them on fire, unlike other similar products.
Besides, it deals nicely with tubing and soft metals like aluminum or copper.
What's included:
Blade Guard, Blade, Chip Deflector
Apart from this, the fast-release feature allows you to drop freshly processed metal pieces right under the working surface. Now, you don't have to waste your time readjusting and releasing the lock but can simply press a button and move to the next one.
---
PROS:
Effective and fast;
Controllable;
No smoke;
Safe and cool-keeping.
---
7. DEWALT DW872, 14-inch Metal Cutting Saw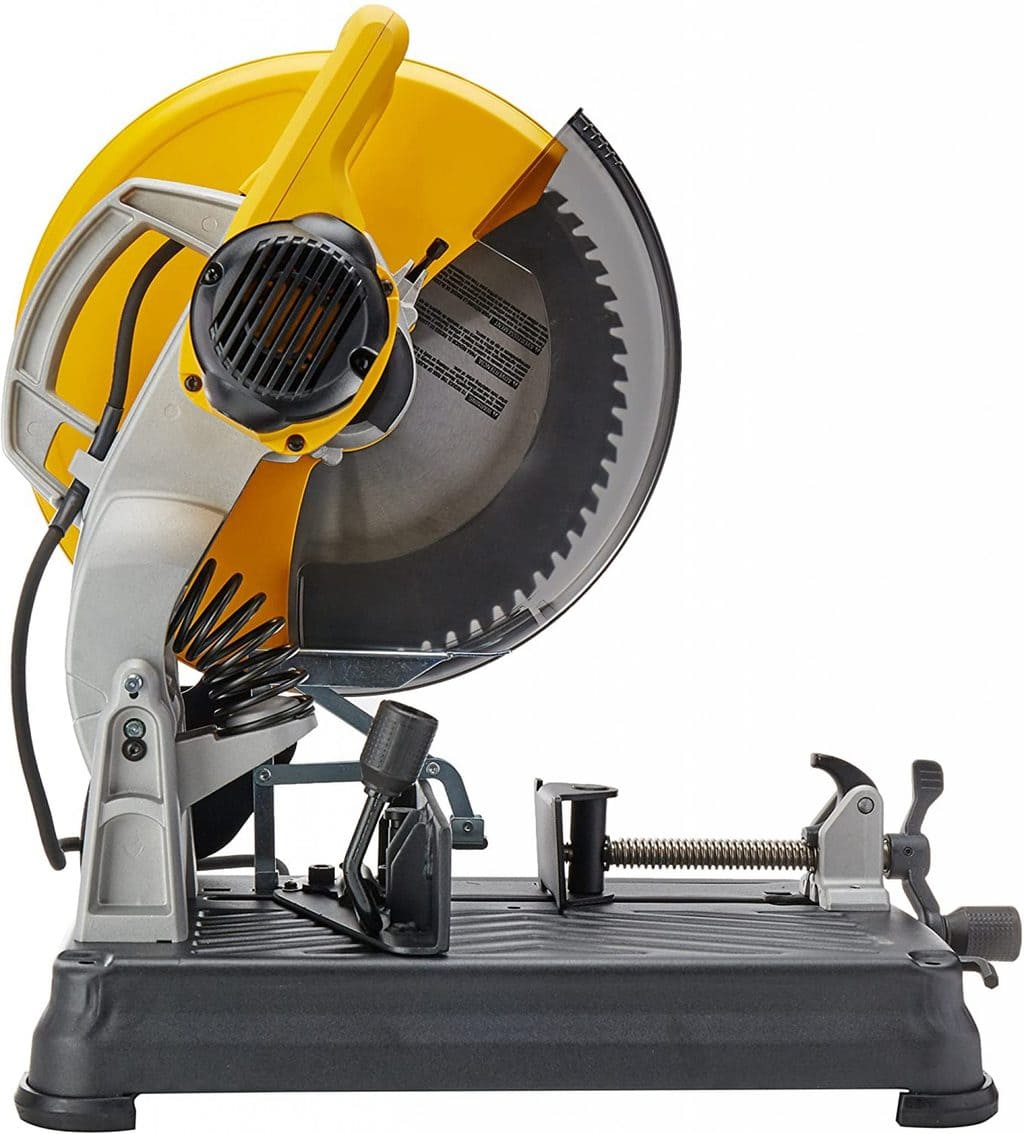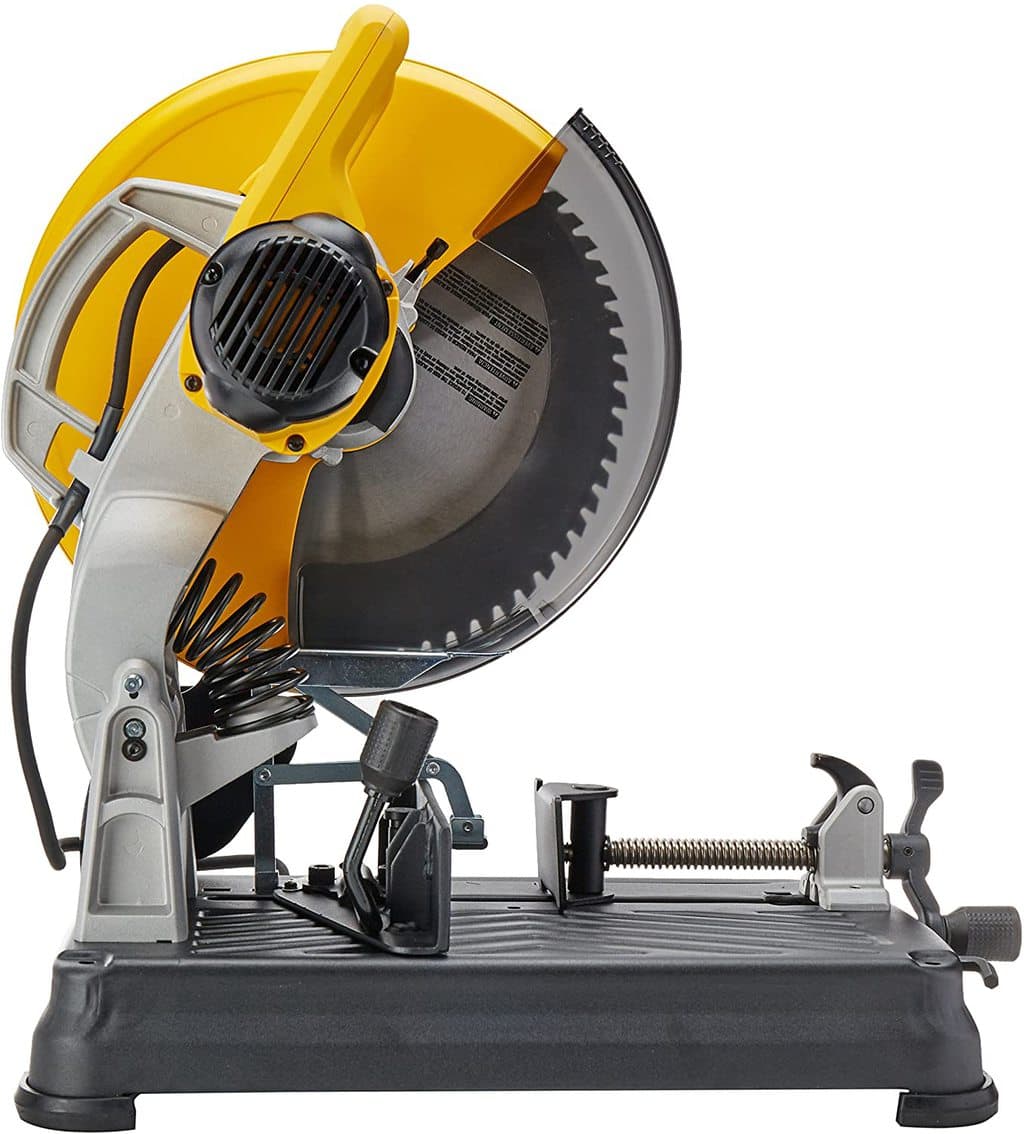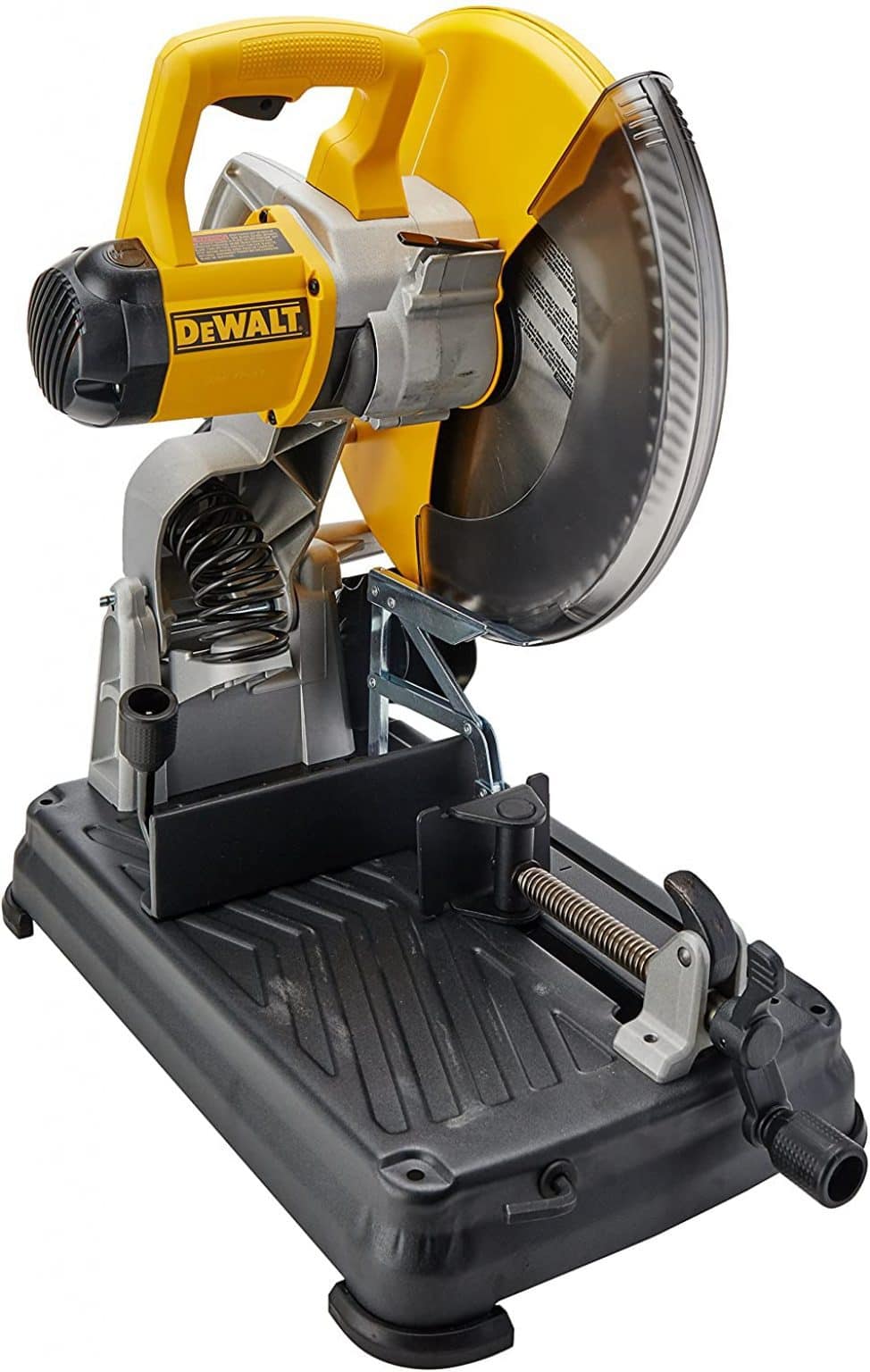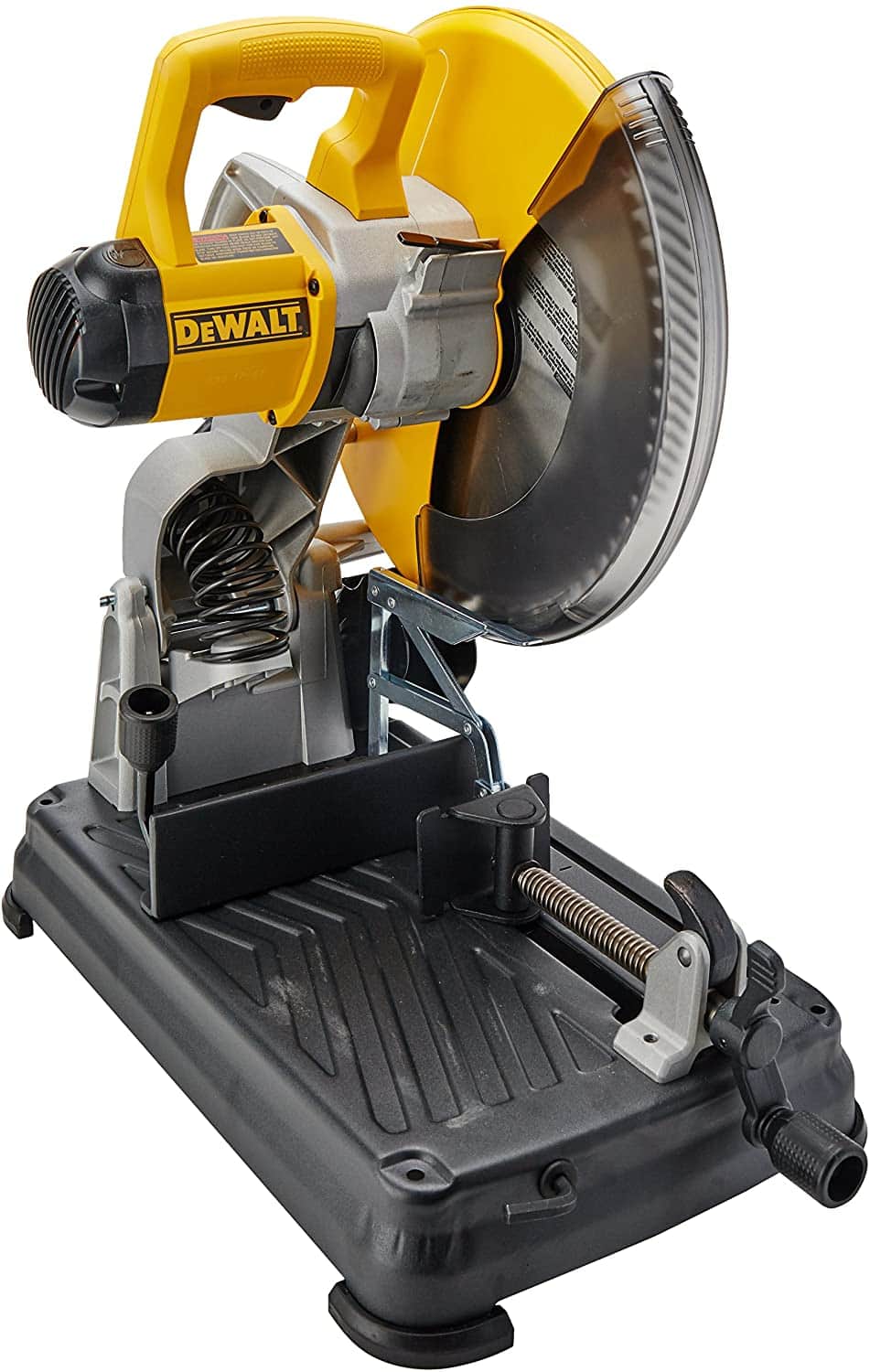 Specifications:
Blade Length: 14 Inches
Speed: 1300 RPM
Cutting Angle: 45 Degrees
Feature: Dry-cut, Cool to touch, burr-free cuts
Power Source: Corded
The overall weight of the product is less than 48 pounds. It puts the unit between the tiers of medium and heavy-weight machines. Matchable with standard-size blades of all kinds, the product can process materials of up to 5 inches in depth.
Whether you need to trim bolts, level wood logs, or simply fit plastic pipes, you can gauge accurately using an in-built degree scale. Unfolding up to 45 degrees precisely, it becomes childlike easy to adjust the piece in the lock. Firm and steady bolting will ground even the most uneven material you can find and support it through dep cutting or jewelry-like fitting.
Unlike others, the chop saw doesn't require any additional cooling utilities. The top-quality blades can cut through about 5 inches of thick metals, like iron, copper, steel, etc. While sliding down the material, the product doesn't cause sparks or fire combustion due to the insulated friction. Moreover, creating no heat, the saw stays safe to the environment and the user as it's incapable of causing any fire damage.
What's included:
14-inch carbide-tipped blade

Wrench

Vertical clamp
Because manufacturers have provided the most durable and easy-to-handle materials for this part, changing a blade has become even simpler than it was before. Along with that, the first blade is entailed in the initial package, so you don't have to order it separately.
---
PROS:
Adaptable spark and chip protector;
Equipped with a handle to carry;
Not bouncy when using;
Capacious.
---
Buyer's Guide – How to Find a Good Chop Saw?
Looking for a chop saw for your personal use online or in a shop without any prior experience can leave you confused among myriads of products. For starters, let's get to know the product generally.
What is a chop saw?
A chop saw is a piece of equipment utilized as an ultimate, clean-cutting device that is meant for processing a whole variety of materials. Despite being completely automated, such utilities require human hand manipulation to control the power and cut by applying force to the handle, or vice.
A saw is normally equipped with an abrasive wheel that acts as a cutter. A blade is rotated on the axle and powered by electricity conducted through an extension cord. As pressure is applied to the axle, the blade cuts through a material placed on the foundation. Since the abrasive is really tough and, when rotated at high speed, can grind down anything, the foundation is normally made of hardened steel or a steel alloy. Acting as a precautionary measure, the material is firmly fixed by a metal lock. This ensures the safety and comfort of use.
Application
To activate the saw, we plug it into a power source using a power cord. Before turning the device on by pressing the safety button normally located under the handle, it's essential to check its readiness.
When you're sure that the utility is good to go, you need to place the material that you want to process between the vise and the lock by rotating the valve to its firmest. Generally modified with a degree scale or even a ruler, it's important to adjust the angle at which the material is to be cut.
After all the preparations are complete, switch it on and gently move the handle toward the material. Don't push too strongly just let the blade cut through it smoothly and naturally.
Purpose
Well, a typical chop saw can perform a wide range of material processing functions. Used both at large-scale construction sites and small households, this device is meant to simplify the cutting of harsh matter, such as timber, steel, plastic, or tubing. Providing fast single cuts through them, a saw can facilitate a project construction or give a solution to processing already made products that require fitting.
It's essential to remember that there can be a wood cut-off saw, a metal saw, or a versatile one. To find out what kind of materials your product is good for, check the instructions or contact customer support.
Characteristics
Dimensions, blade type, weight, and tons of other characteristics all matter for this kind of device. On the other hand, if you have the exact purpose of how you're going to use it in your mind, then browsing becomes more like Christmas gift shopping.
To narrow down your choices, let's see what makes up a good chop saw, what properties matter, and what functions it can perform for you.
Dimensions and weight
The size of a chop saw normally determines the capacity it can handle and how heavy-duty it is.
If you're looking for a handy garage device, then you might want to get yourself a 10 to 12-inch saw. Such dimensions make it compact and not space-consuming. However, a smaller chop saw can be a disadvantage since it might not be spacious enough for processing large, bulky materials. Moreover, a minute device is normally made of cheaper stuff or embedded with plastic which makes it less costly, as well as less durable. In spite of this, it's perfect for casual home or household chores.
On the other hand, a bigger, 14-inch saw is a great option for large-scale renovations. Based on strong steel and hardened metal alloys, such products can serve you well for longer and be more functioning. Also, bigger dimensions make a saw more comfortable to use as they offer enough room for processing large objects, including pipes, plastic products, or uneven metals.
The same thing is true for the weight of your future-to-be purchase. A saw's heaviness determines its possible capacity and durability. Heavier and thus bigger devices can handle large and excessively tough materials that are otherwise unprocessable for a regular lightweight saw. If you're sure that your work, mending, or reconstruction is mainly going to be about bulky items and heavy cutting, then a chop saw over 45lbs might just do the trick.
My advice to you is that if you're looking for an item for general backyard maintenance, then you might find a simple 12-inch product that is effective enough for a reasonable price.
Blade info
Considering the versatility of most modern chop saws, each of them can handle a range of blades that vary in size, material, and purpose.
As for the material that a blade is made of, there are two rather different matters:
Abrasive. This is the most common blade that is used for metalwork and light to medium cutting. Based on the blend of diamonds and metal particles, the blade is suitable for cutting all kinds of metals. Depending on the softness of the processed material, the blades vary in their density. Weirdly, but the softener the metal is, the harder a blade has to be. Regardless of the density, the blade wears out with time and requires a replacement.
Carbide. Unlike the previous ones, these blades are a less popular option due to their higher price. An extremely hardened metal put in the foundation of the product makes it faster, more durable, and better for working with tougher metals. Moreover, such wheels are hard to change and require precise calibrations to set them perfectly.
Apart from the material, another important piece of information to be aware of is the size.
Designed with specific and highly accurate parameters, the blades are meant to completely fit in the wheel. Not only does the accuracy of cutting depend on it, but also the safety of the user.
Normally, the blades are manufactured with 90-750 mm on the outside and 21 to 26 mm on the inside. The outer diameter is responsible for the blade's cutting capacity, whereas the inner one is meant to firmly fix the blade to the wheel's spindle.
Mind that if a blade doesn't fit properly, it's highly unrecommended to use the saw as it can be dangerous.
The last component to choosing the right blade is the density and number of teeth circling the blade.
Since the number of teeth determines the smoothness of cutting, the higher the number, the easier the blade goes through. Ranging from 14 to 80, blades require around 80 units for the most precise and least damaging processing, whereas the ones with 14 and more teeth are meant for heavier chopping.
Power
Sharp teeth and proper fitting aren't enough for sufficient work since their effectiveness is designated by the power input. The power is responsible for the velocity of a saw which results in the capacity of processing soft or hard materials.
Chop saws with a powerful motor of around 1200W are good for regular, once-in-a-while chores and usually aren't meant for heavy-duty cutting. On the other hand, motors that can induce up to 2300W can cut through the toughest, most hardened materials without melting or cracking them.
FAQ: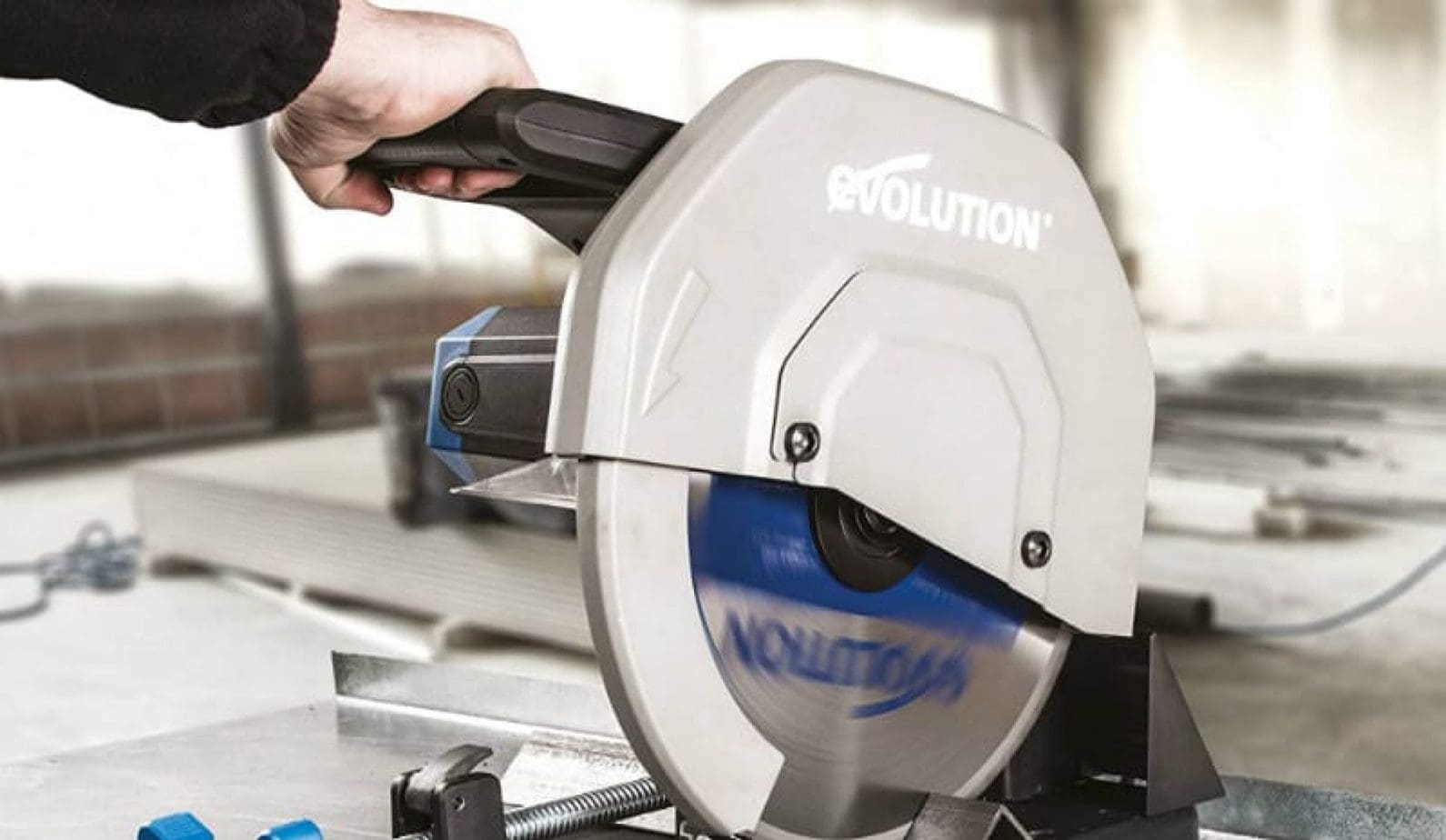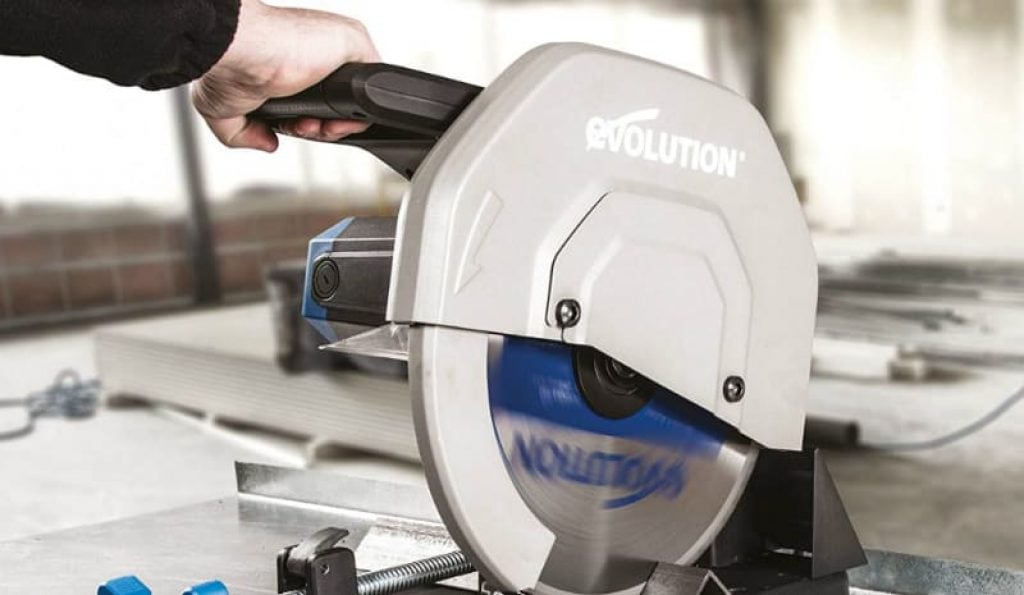 How to unlock a chop saw?
Put slight pressure on the top part of the saw, push the body down, and open the safety knob. This way, you can unlock the saw. Do the actions in reverse to lock the saw again after using it.
How to use a chop saw safely?
Turn the saw off and disconnect it from the power source before replacing the blade.
Follow the indicated safety marks on the handle while holding the head. In case there are no such marks, don't move the fingers closer than 7 inches towards the blade while cutting.
Use protection equipment while operating the device, including thick gloves and eyewear.
Wait for the wheel to completely stop spinning before moving closer to it.
Can a wood chop saw cut a metal object?
Theoretically, it can. But I wouldn't do that. Because wood blades are softer and less metal mesh-hardened, cutting metal with a wood chop saw would likely cause sparks, chipping, and smoke. In the worst-case scenario, it can dent, break apart, or cause a blackout.
Bottom Line
A chop saw is a tool that will save you a lot of time, money, and effort when working with metals, wood, or plastic. Useful both for personal and professional applications, the device is a true companion for any handyman or just a crafty person.
Choosing a steel chop saw by yourself is quite intimidating, especially if you're doing it online and without any special experience. Therefore, I really hope that you've found this article helpful, and you're aware of all the underwater currents you might stumble upon while shopping for one.
So, have you already found your chop saw? Do you think it's better to overpay a bit and get yourself a carbide blade, or is it wiser to stick to the old abrasives? Make sure to comment down below!