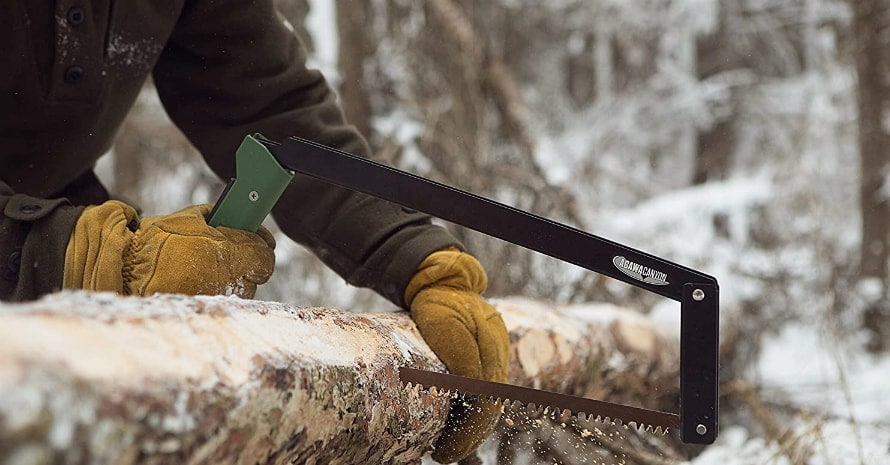 This tool is widely used among experienced gardeners who do not like to carry heavy instruments around their garden. And while picking the best folding saw may require some time from you, you will quickly notice all the benefits of a lightweight, simple to fold saw in your toolbox. The top product has a small weight, simple to use, versatile, and as sharp as any other saw of a full size.
You may easily hold and work for hours with a folding saw, unlike a classic heavyweight saw. I created my own list of top tools for anyone who is searching for reliable instruments with affordable prices and high-quality performance. My folding saw reviews are detailed, containing both benefits and faults that I've noticed. There are some of my recommendations and personal experience, which I hope may be useful as well.
Pros
The razor has extra sharp teeth.
Top Pick
Pros
The razor has extra sharp teeth.
I recommend you get acquainted with all the products on the list, check out the most frequently asked questions and answers before buying anything. There are thousands of folding saws on the market, but only dozens of them may be worth your attention. Based on your personal preferences, pick the one that you need the most from the list, and don't forget to leave the comments.
Top-10 Folding Saws
Before I give you the list of these top saws, I have to underline that it is my personal opinion, based on the experience I had while using them. Some of these saws I use in my garden and for my woodwork hobby, and all of them I recommend to my friends and relatives. Pay attention to the description of each of them, as they have unique features.
1. Corona RazorTooth Folding Saw – The Best Folding Pruning Saw with 10 Inches Blade
There are 7 and 8 inches blades available as well, but I still recommend ordering a 10 inches length of a razor, as it is universal and cuts wide limbs of trees. The teeth of this razor are 3 sided and more effective than standard ones. I cut 6 inches wide branches with this tool.
The handle is comfortable to hold due to its ergonomic design. It is not slippery and does not cause pain while you are pressing the saw to the wood. You may latch the razor after the work is done.
Corona Company produces multiple tools for gardening, and I use many of them due to their reliability. The company has existed since 1928 and produces gardening instruments that become bestsellers. The curved blade on this tool provides faster cutting. There are 6 teeth at a 1-inch area for smooth and professional work. Besides, the folding blade is replaceable.

---
PROS:
The ergonomic design of the handle;
The razor has extra sharp teeth;
The blade cuts through 6 inches of branches;
High-quality materials;
Affordable price.
CONS:
If you need to cut wider branches, you may need other tools.
---
2. Silky Professional BIGBOY 2000 Folding Saw – Portable and Lightweight Folding Hand Saw
Silky Professional BIGBOY 2000 Folding Saw XL Teeth
Aluminum handles with yellow Gom non-slip rubberized overlay offers a sure grip, even for the most challenging projects.
The blade of this saw is 14.2 inches long, which is one of the widest among folding saws. It gives you an opportunity to cut wider branches. The total length of the saw is 29.9 inches. The tool weighs only 1 pound.
This is why I love to take it outdoors with me, and still consider it as one of the best folding saws for backpacking. There is a rubber non-slippery handle attached to the blade, and since it is easy to fold down after woodworking is done, I can put it in my pocket without any risks to cut myself.
The blade is made of high carbon steel, 1.4 mm thick. The teeth are impulse hardened and dense. In the 1 inch area, Silky developers placed 5.5 teeth. You may have heard of Silky Company. They are using Japanese cutting technology for this saw.

---
PROS:
Extra sharp;
Long blade;
High-quality steel;
The high density of teeth per 1-inch area;
Rubber handle for better grip.
CONS:
The saw costs are slightly higher than similar products.
---
3. Flora Guard Folding Hand Saw – Professional Small Folding Saw with Sharp Blade
Despite the small size of the blade, which is 7.7 inches, this tool is extremely powerful. It cuts small, medium, and large-sized branches, and you will find it a durable and reliable helper. Developers offer black, orange, and green colors of ergonomic handles, but I don't find it vital. Choose any color you want. The total length of the saw is 10.6 inches. It is 2.91 inches wide and 0.8 inches tall.
The blade is made of hardened high-quality stainless steel. The teeth are made in triple cut technology. It is foldable and has an anti-rust cover. Flora Guard offers a warranty for this tool. The company is originally from Shanghai. They have supplied their instruments to the USA and around the world since 1995.

---
PROS:
Small size;
The blade cuts through the large branches;
Anti-rust hardened stainless steel;
Affordable price;
Ergonomic non-slippery handle.
CONS:
The company developer is not from the USA.
---
4. Silky Katanaboy Folding Saw – Extra Large Foldable Saw
While almost all foldable saws are known for their small size, this one is an exception. It is great for woodwork, tree cutting, trail building. Wood that you can't cut through with smaller or shorter blades is not the problem for this tool. Its total length is 46.3 inches, and the blade is 19 inches. One inch of razor contains 4 teeth. The saw weighs 2 pounds.
The blade was made of high carbon steel. Silky Saws Company is located in Japan. They are well known for the use of high-quality steel and rich history of over 100 years. This saw is also foldable and comes in the carrying case.

---
PROS:
Extended blade;
High-quality steel;
Extra sharp;
Foldable;
Reliable developers.
CONS:
Slightly more expensive than similar saws.
---
5. Bahco Laplander Folding Saw – The Ultralight Backpacking Saw for Versatile Materials
This folding saw may surprise you with its extra sharp blade, which cuts through not only wood, but plastic, and even bone. The blade is 7 ½ inches long with a medium density of teeth: 7 teeth per inch. The blade is made of stainless steel with anti-rust protection. However, the handle is made of plastic, so make sure you hold it firmly.
The saw blade is foldable, lightweight, and was originally designed for camping and hunting. There is a lock for your safety in and out. Don't forget to use it if you carry it in your pocket or backpack. Bahco offers durable tools for gardens and wildlife activities. This folding saw weighs only 7.1 ounces.

---
PROS:
High-quality blade and teeth;
Safety locks;
Lightweight;
Cuts through versatile materials;
Affordable price.
CONS:
The handle may be a little slippery after several hours of work.
---
6. Hooyman Extendable Tree Saw – Lightweight and Folding Wood Saw
Best hunting saw for both professionals and amateurs. It is available in 5 foot, 10 foot, and 16-foot style. If you don't know which one to choose, I recommend you to start with a 5 foot saw. It weighs 2.3 pounds, foldable, and durable.
It collapses to 12 inches and extends for 5 feet. It is made from aluminum. The blade is high carbon steel with a 4 edge tooth. Hooyman offers a lifetime warranty for the product.

---
PROS:
Compact size;
Durable construction;
Simple to use;
Foldable;
Perfect for hunting.
CONS:
You may need gloves for a comfortable hold during the work.
---
7. Agawa Canyon Folding Bow Saw – Universal Collapsible Saw for Versatile Works
This tool is extremely handy for any type of woodwork, The length of the blade is 21 inches which is long enough to handle thick trees. It weighs 1.2 pounds, and is lightweight to transport, while you are hiking, camping, or hunting. I use it for trail clearing around the house, but you may do everything you want.
You can open it in one move. Choose the position of the blade, and lock it before work. The handle is ergonomic and non-slippery, so you can use the saw outdoors during the winter season as well. It has an aluminum frame, handle from fiberglass nylon, and blade from stainless steel.

---
PROS:
Long blade;
Simple to extract and work;
Comfortable handle;
Lightweight;
High-quality materials.
CONS:
Slightly more expensive than similar saws.
---
8. Opinel Folding Saw – Fold Up Saw of High Carbon Steel
I have to confess that I picked this saw at first because of its wooden handle that I found a little bit nostalgic and reliable. This saw turned out to be extremely handy in all my adventures around the garden and up in the mountains during the hiking. It is only 3.58 inches long, so you can imagine its pocket size. It weighs only 3.6 oz and you can carry it around in the pocket.
The blade is made of carbon steel and covered in an anti-rust coating. The Opinel company is one of the oldest developers of gardening tools. The safety ring was created in 1955. It is a French company that was created in 1890.

---
PROS:
Lightweight;
Famous manufacturer;
Stainless steel;
Wooden handle;
Affordable price.
CONS:
It can't be kept in damp places.
---
9. Silky Professional PocketBoy Folding Saw – Folding Tree Saw with Large Teeth

Silky Professional Series PocketBoy Folding Saw 170mm Large Teeth
Red aluminum handles with Gum non-slip rubberized overlay offers a sure grip, even for the most challenging projects.
There is a 6 ¾ inches blade that can be easily folded and carried into the backpack or pocket. The saw with the handle is 14.76 inches long. The razor is covered with an anti-rust, hard chrome coating. The teeth are impulse hardened sharp enough even for the extra-large trees. One inch area of the blade is covered with 7 teeth.
The handle is ergonomic. However, I still recommend you use gloves to avoid sliding. The saw comes in a case. It also has locks, which are vital for the safety of your hands. Don't forget about them when the work is done.

---
PROS:
Large teeth;
Sharp blade;
Steel is covered with anti-corrosion coating;
Lightweight;
The price is affordable.
CONS:
You have to wear gloves while you are working.
---
10. Samurai Ichiban Pruning Saw – Curved Folding Limb Saw with Long Blade
The blade of the saw is 13 inches long, while the whole saw is 20.5 inches long. The handle is curved, which makes it easy to hold even for several hours of work. I love the ergonomic handle, covered in pleasant to touch, slightly cushioned rubber. Besides, the saw comes with a sheath of extraordinary design. So, if you have friends who love woodwork, this is the best gift possible.
Teeth are impulse hardened and sharp for any wood. It weighs only 12.3 ounces. There is a lifetime warranty.

---
PROS:
Sharp teeth;
Ergonomic handle;
Long blade;
Lightweight;
Affordable price.
CONS:
You need to be careful with extra sharp teeth.
---
Buyer's Guide and FAQ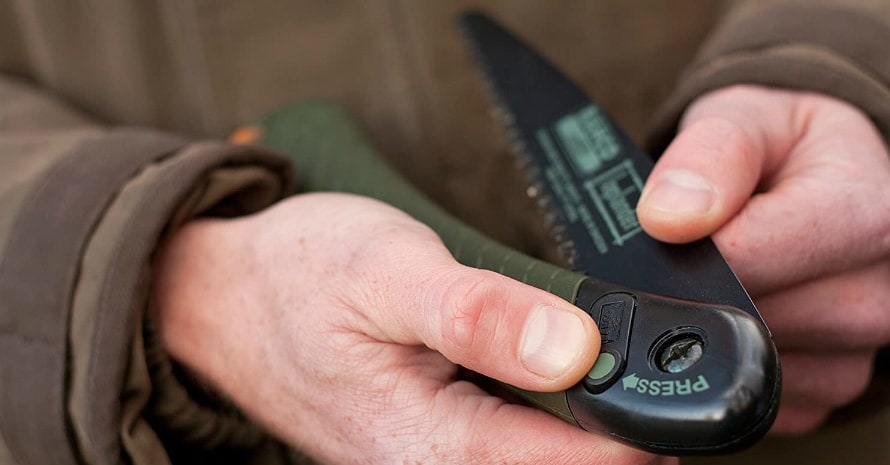 There should be no rush when you search for the most suitable folding saw. Take your time and consider all the features we've discussed in reviews. If you are doubtful about the instrument, you may order several of them, they are useful in the household.
Things to consider before buying a folding saw
Here is my own list of features you have to check before buying the saw. Pay attention to even small details that may be crucial for you. You may also check out reviews of other buyers, looking for specific features.
Purpose of the saw
Woodworking is a broad term. Besides, some folding saws are good for plastic and bones, apart from the wood. You may use it during the trees cutting, curving, hiking, camping, or hunting. Depending on your activity, you will need different tooth density, cover, and even a handle. To cut bone or metal, you require a high tension of blade, so the material must be of great quality. Although pruning is one of the most common purposes of each folding saw, the materials are different. Stainless steel is great for cutting the wood.
Folding saw type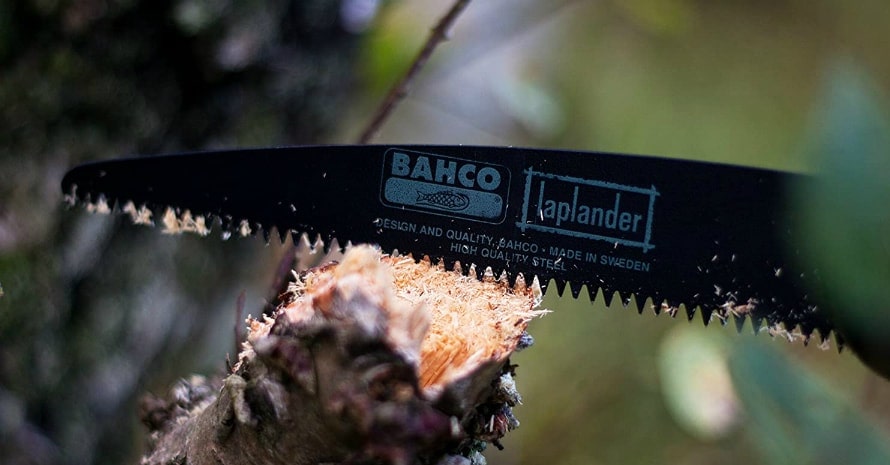 The folding saw is different from the classic one by the blade that can be folded. It is also lightweight and simple to hold. Based on the purpose you can separate various types of these saws:
Tree cutting folding saw;
Folding saw for hunting;
Folding saw for camping;
Bow folding saw for universal purposes.
Weight
Weight is one of the most important things to consider. All the products I reviewed are lightweight. However, some of them are heavier than others. Heavier does not mean worse. On the contrary, you can perform works that require more power with a heavier folding saw, while lighter saws are more transportable. The average weight of the folding saw is 1 pound. However, there are numerous saws that are lighter and weigh somewhere near 0.8 pounds, while there are several items on the list that weigh slightly over 1 pound.
Material
The main two materials that are used for the blade are stainless steel and carbon steel. They both are good, reliable, and durable. They can handle several hours of work and versatile materials. Depending on the thickness, anti-corrosion coating, you may choose one that you need the most.
If the coating does not contain an anti-rust feature, you have to make sure it is kept in a dry and protected place. The handle is usually made from aluminum, fiberglass, plastic, wood. It is covered with rubber for a better grip. Check out whether the handle is ergonomic if you need to work for many hours using the tool.
Ease of use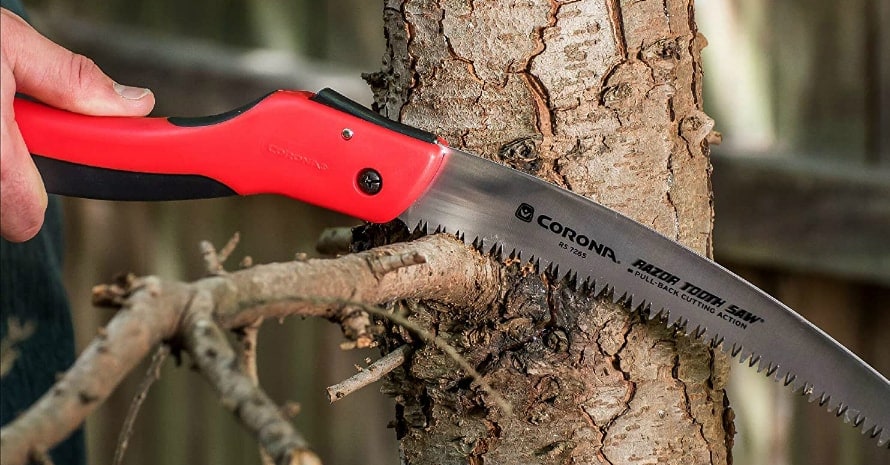 You don't have to use all your strength to cut through the material with the folding saw. The teeth of the saw have to be not only from high-quality material but extra sharp. Make sure that they are dense enough for your purposes. The handle must be comfortable so you could work longer without feeling tired.
Safety features
All folding saws on my list have a secure handle, and they are simple to fold. Some of them do not even require your hands to fold down the saw. However, I still recommend you use gloves, keep your hands at a distance with a blade, and make sure that it is locked after the work is done.
Durability
Check out whether the folding saw comes with a warranty. It must be made from top materials, covered with several layers of coating. Look through recommendations from clients who already bought the saw.
FAQ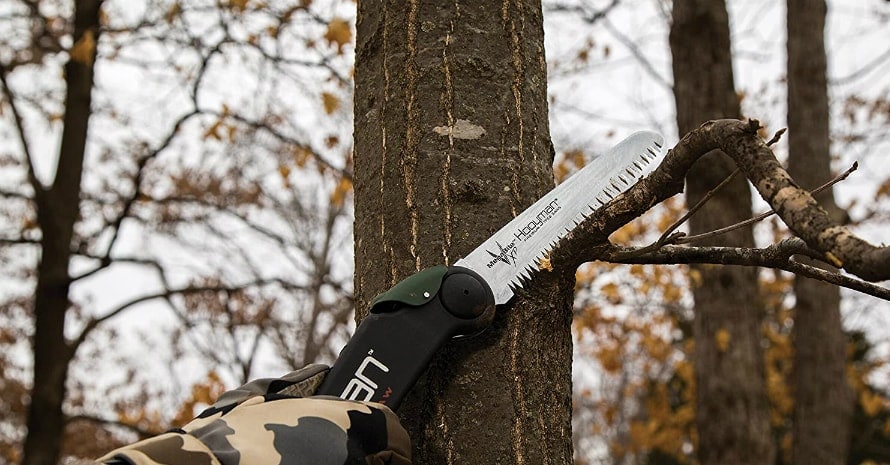 What size folding saw best for camping?
The best folding saw for camping is the one that can be carried in your pocket or backpack. I recommend using the average length of the blade as well, as you unlikely will need to cut through something big. I believe a 7-12 inches long blade will be enough.
How to sharpen a folding saw?
Normally these saws do not require sharpening for a long time. But when the time comes, you can clamp it to the surface or in a special vise. Make sure that the saw will not slide anywhere even without your hold. Take the file. Start from the rear and move to the tip. You can sharpen the edges of each tooth from the center to the end. Before you do this, read the saw policy and learn basic safety measures.
How to brace folding sawhorse?
You can make folding sawhorse yourself. It will not take a long time. All you need is wood, nails, and instruments. Or you can buy one in the store. For the folding saw, it may be not required, since the tool was created specifically for mobile activities. But when you are using it, make sure that it is reliably locked.
What folding saw should I use for bushcraft?
Take the lightweight and small folding saws with you. It must be only a few inches long in a folded state. The tooth must be sharp and of a high density. Get familiar with the guide on protective measures for woodworkers in advance.
Which Folding Saw to Choose?
If you still find it hard to decide which tool you need, buy several for various occasions. Buy the saw for camping, bushcraft, woodwork, and hunting. If you don't usually perform all these activities, cross out the saws you don't actually need. This is how you will find the perfect solution for you.
Take into consideration the main features of every saw. Pay attention to the materials, covers, length, and weight. Don't forget to check out the price and developers. If you have tried one of these saws from the list, share your opinion about it in the comments below.