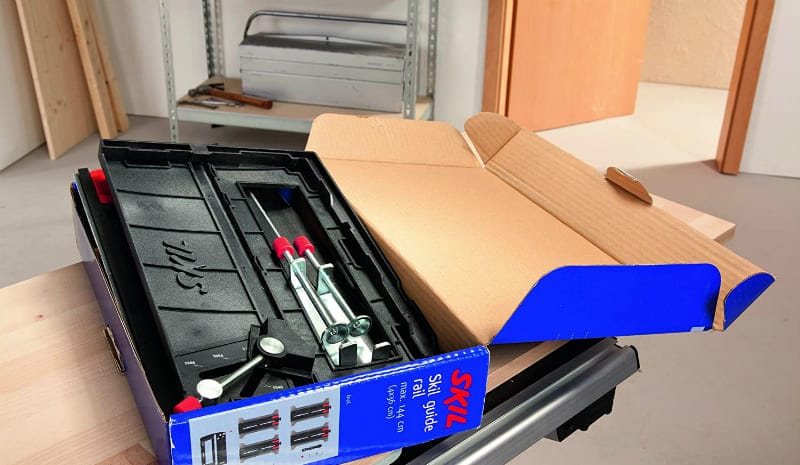 In my practice, I often deal with different woodworking equipment that helps me to stay productive and also saves time. Although, there were unlucky times when I experienced some issues while using a certain tool. Despite a large number of available instruments for gardening and woodworking, sometimes it can be hard to select the product that will serve you well over many years.
The Circular saw guide rail system is no exception. There is a great number of circular saw guides on the market. Usually, people purchase those in order to make accurate cuts and, as a result, get a nicely-cut piece of MDF, plywood, or panels. In addition, if you are on the hunt for a guide rail for a circular saw, you can find purchasable kits that will provide you with extra attachments for speeding-up the cutting process and improve the quality of the final product.
The kit has some useful instruments
You can choose the size of the tool
You can dismantle the guide rail within a few minutes
Popular Guide Rail
The kit has some useful instruments
My Choice
You can choose the size of the tool
Good Choice
You can dismantle the guide rail within a few minutes
While selecting the circular saw guide, you need to pay attention to the weight of the tool, its size, the availability of additional components (clamps, carry bags, etc.). Among other important things is the ability to disassemble and assemble the tool that will help you to not take up a lot of space.
Choose The Best Circular Saw Guide Now!
Since I've tried many circular saw guides, I decided to name the top 9 tools in order for you to easily select the one you like. Almost every saw guide rail comes with unique kits, has an individual weight, and is made of different materials. In addition, a lot of products from the circular saw guide reviews below do not cost much, so if you choose just one, you will not spend a lot of money.
1. Kreg Rip-Cut Circular Saw Guide: A Nice Choice For A Good Price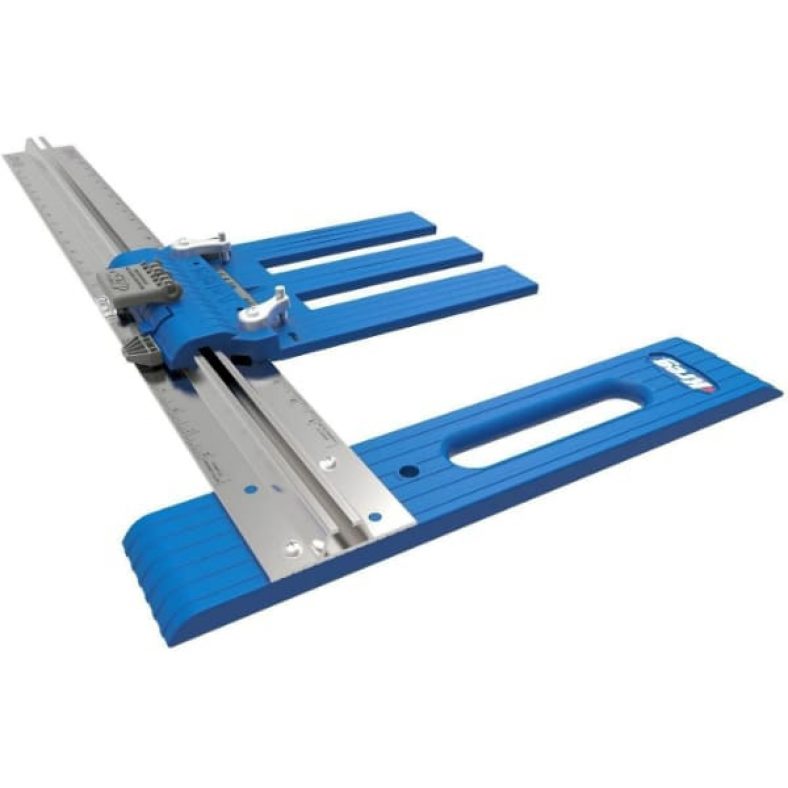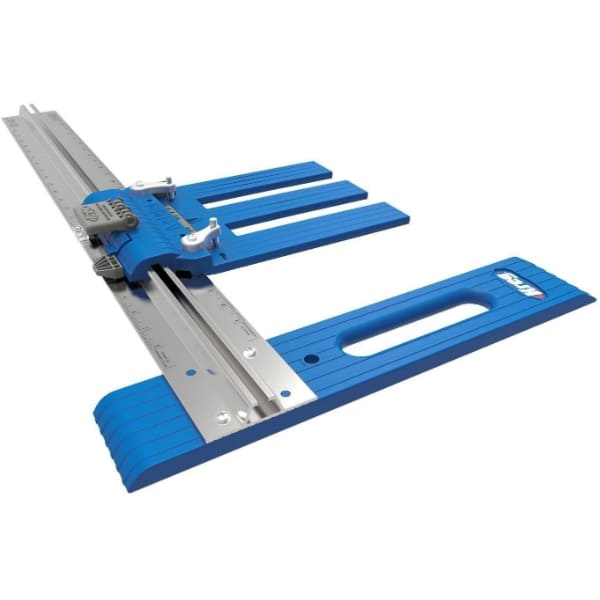 This one is a nice rip saw guide with a basic kit that allows woodworkers to do crosscuts and rip cuts with a few simple moves. The guide uses a metric measurement system and also has a 90 days warranty. Kreg Rip-Cut is made of metal. Its size is pretty common for many circulars saw guides: 30.88 x 8.75 x 2.5 inches.
The measuring scale comes with a guide by default. It allows you to save your time and swiftly mark your cuts. I like Kreg Rip-Cut because it is much cheaper than similar products on the market, including the ones in this review. It also allows you to attach both rights and left blade saws. However, the clamps are made of plastic. Thus, there is a chance to damage them.
All in all, I think that this Circular Saw Guide is a nice choice and is definitely worth your attention. It does not cost much and, at the same time, provides you with all the required functions.
---
PROS:
Affordable price;
Measuring scale included;
Most of the right and left blade saws are attachable.
CONS:
Clamps are made of plastic.
---
2. Circular Saw Track: The Affordable Guide Rail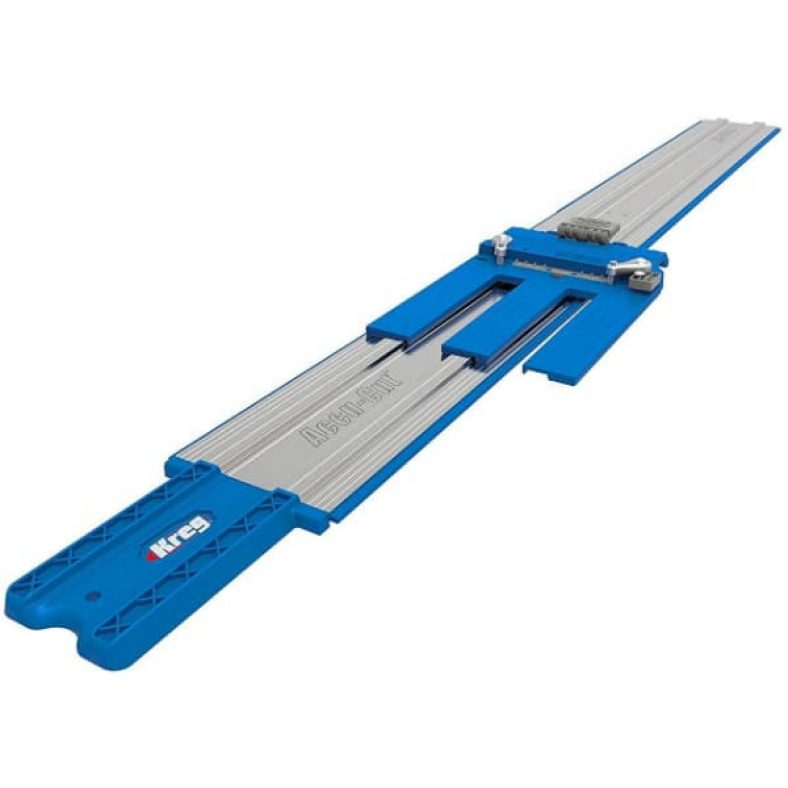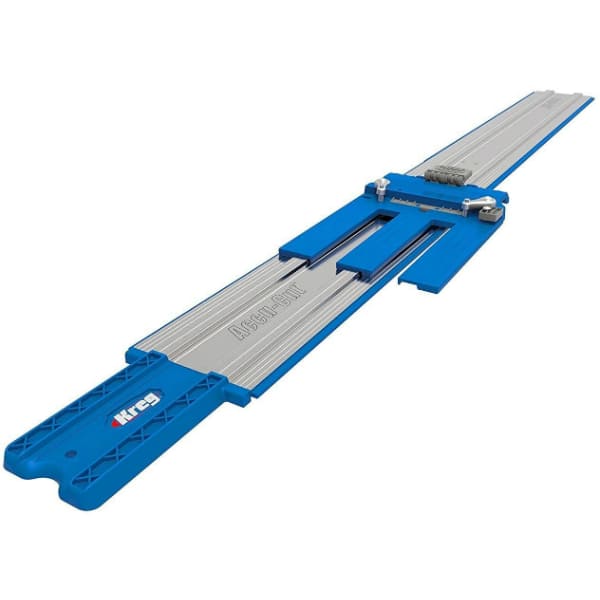 This is probably the universal circular saw guide rail in the sense that it is cheaper and more popular than the previous device. This Accu-Cut rail does not have a Square-Cut included in the kit. The Multi-Mark is also not present here. However, it performs the same functions as Accu-Cut XL.
This guide track is made of aluminum and uses a metric measurement system. As a bonus, customers get a 90 days warranty. Despite the price, you can select additional kits if you need more instruments. For example, there is a kit that offers a circular saw with a guide rail but for a higher price.
---
PROS:
Costs less than similar tools;
You can select additional kits;
Simple in use.
CONS:
Does not have the Square-Cut or Multi-Mark in the kit.
---
3. DEWALT DWS5100 Folding Rip Guide: The Cheapest Go-to Choice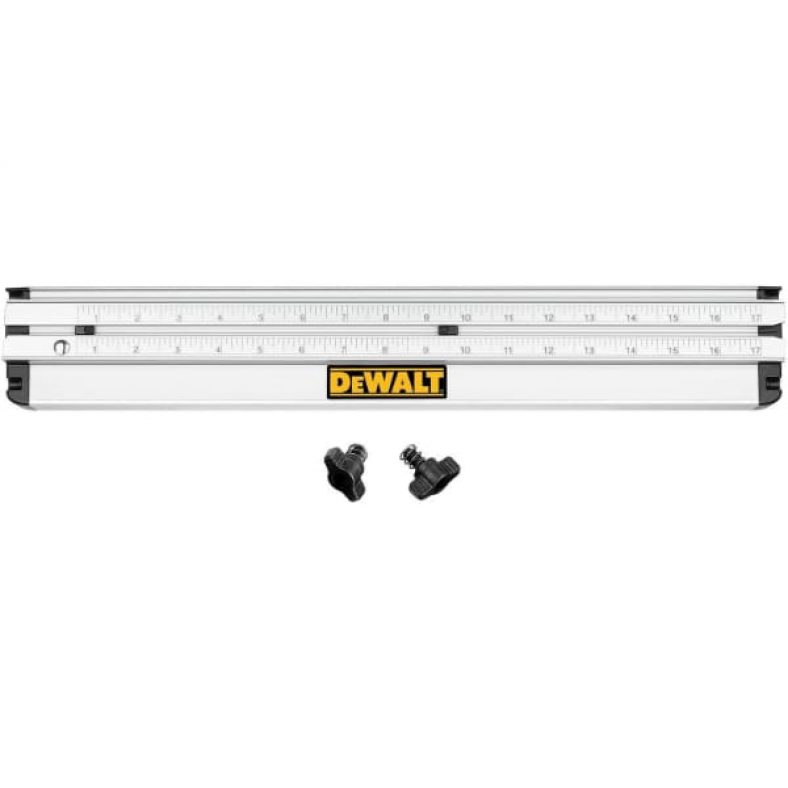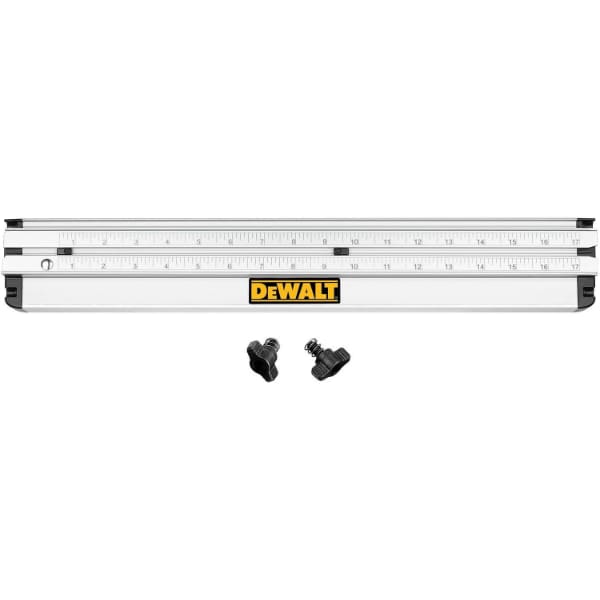 Dewalt DWS5100 is the cheapest rip guide in today's review. The weight of the tool is approximately 1.2 pounds. So if you need to take it with you, you will not experience any difficulties. At the same time, the length of the tool is 19 inches, which is significantly smaller compared to other products.
The rip guide is made of aluminum, so you should not worry about the instrument's durability. The seller also offers a 3-year warranty. It is worth mentioning that the price of Dewalt DWS5100 is affordable because it is the cheapest product on my list. The guide has full compatibility with Dewalt Circular Saws.
---
PROS:
Small Price;
Light Weight;
Made of aluminum;
Compatible with all Dewalt Saws;
3-years warranty available.
CONS:
It is not the biggest rip guide.
---
4. Kreg Accu-Cut XL: The Best Circular Saw Track System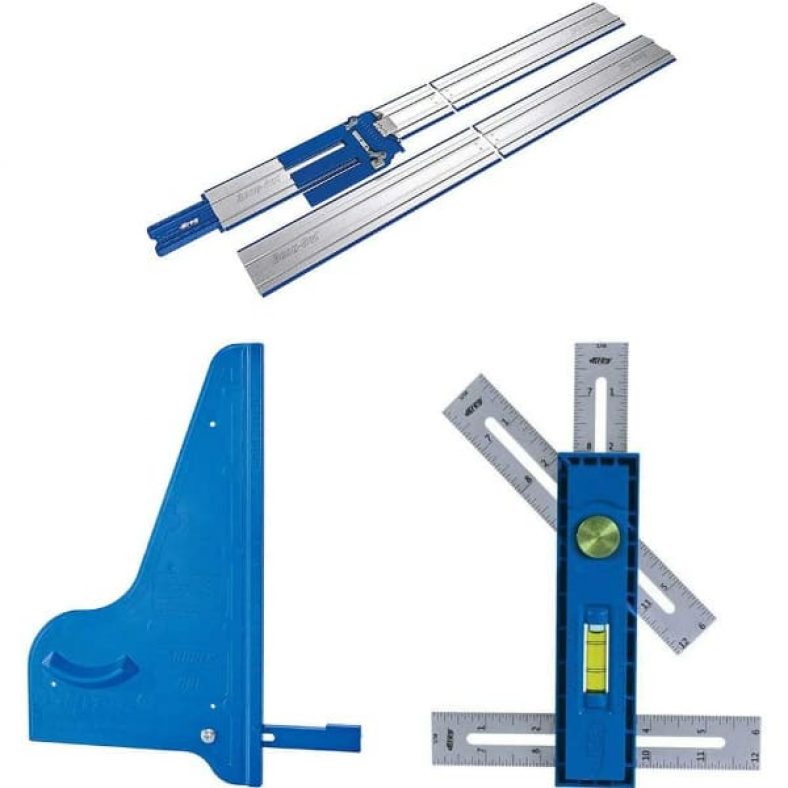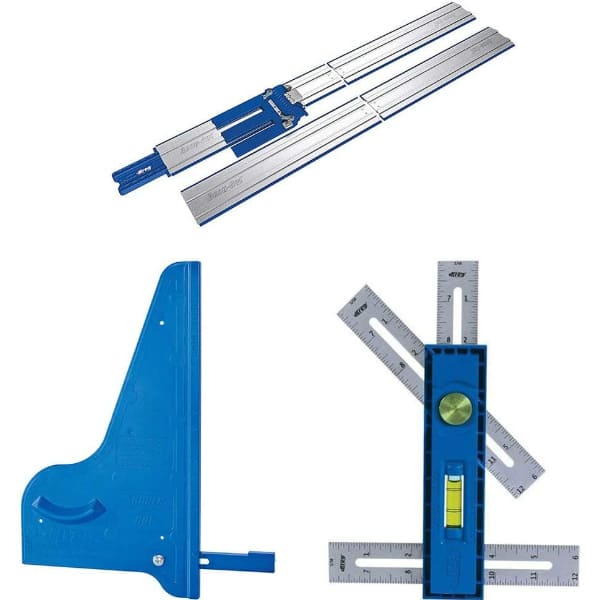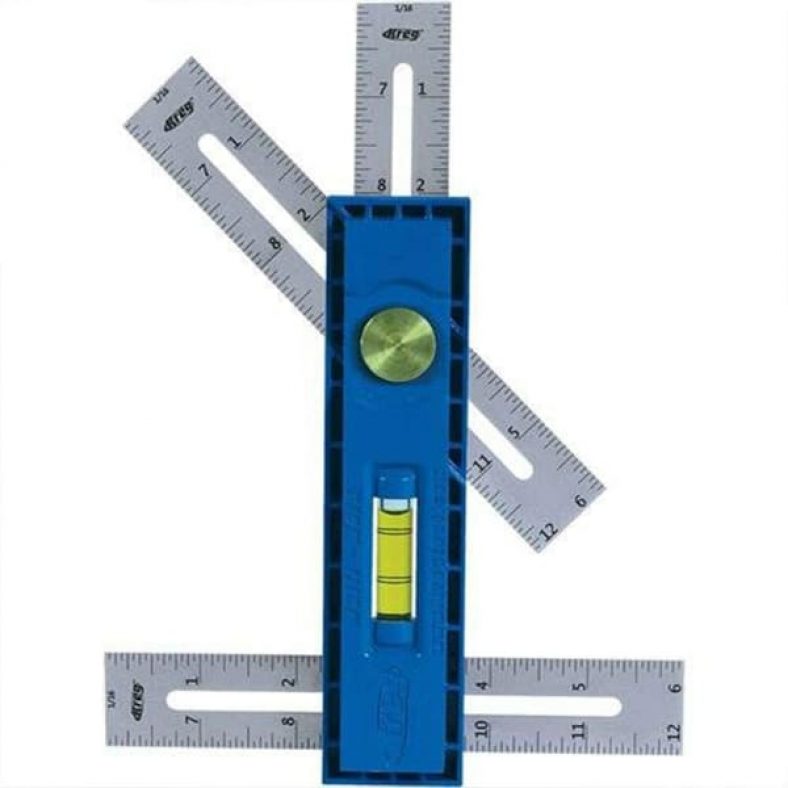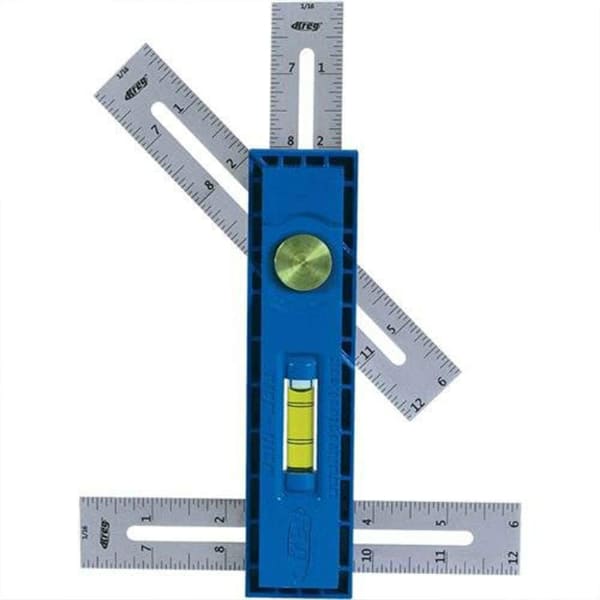 Kreg Accu-Cut XL is a pretty popular instrument among the woodworkers that is manufactured by the famous Kreg Company. This company creates different woodworking tools, such as tools for measuring and cutting. You can also find various accessories for precision machines.
The approximate weight of Kreg Accu-Cut XL is 12 pounds, including the kit. Kreg Accu-Cut XL is pretty simple in use, and you can easily make straight and accurate cuts. The maximum value of cutting capacity is up to 100″. The kit also includes some useful accessories.
First of all, you can use a Square-Cut that can help you to make repetitive square cuts. It also has a guide-arm that can be used with both jigsaws and circular saws. With its help, you do not need to mark the wood and try your best in order to do a straight cut. Just put the Square-Cut and start working!
Another thing that comes in the kit is a Multi-Mark measuring tool. It offers both imperial and metric scale and also has a built-in torpedo level. It is a portable item that does not take up a lot of space and is lightweight.
Personally, I enjoy using Kreg Accu-Cut XL because of its simplicity. However, this product is pretty expensive, compared to other items in today's reviews.
---
PROS:
One of the most popular circular guide rails;
Compact size;
The kit has some useful instruments.
---
5. Makita 55-Inch Guide Rail: A Circular Saw Guide Rail Worth Your Attention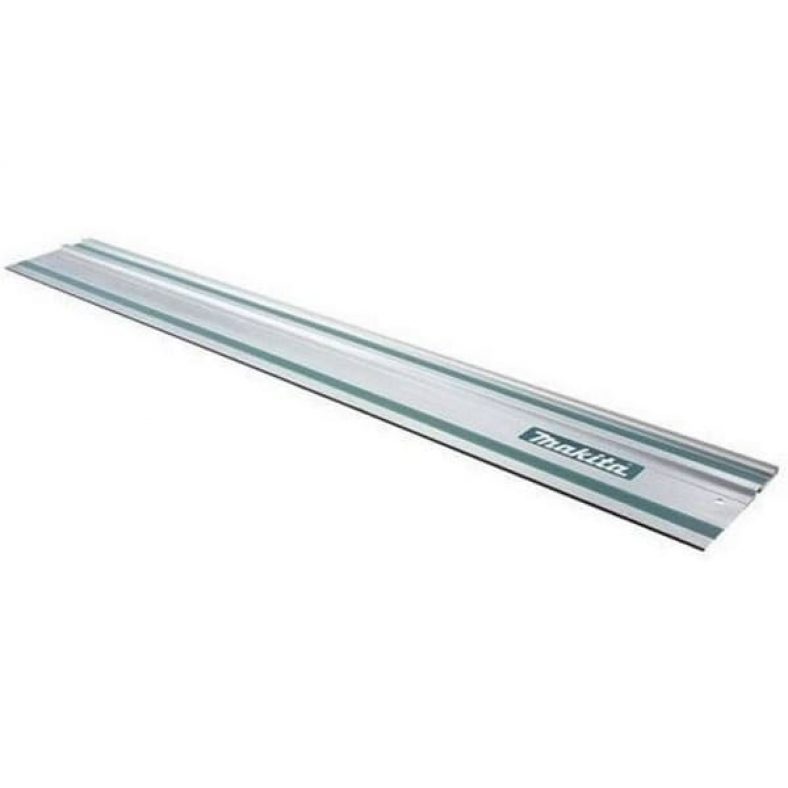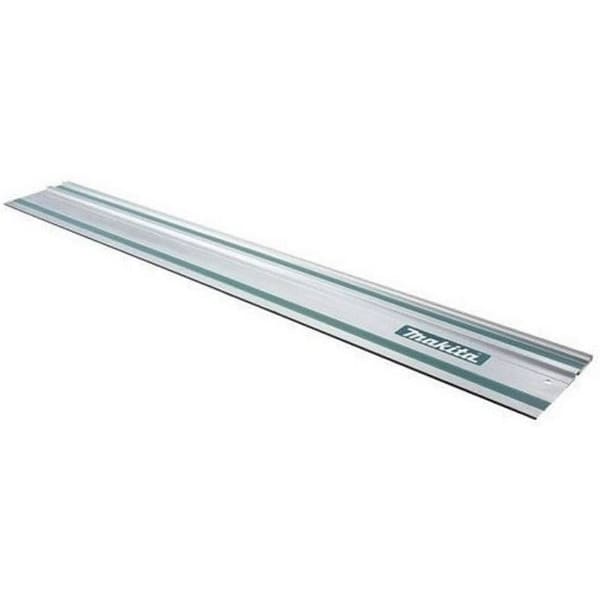 Makita 194368-5 is a nice choice for owners of Makita saws because this guide rail is 100% compatible with them. The size of this tool is 55.11 x 7.28 x 0.43 inches. However, you can find longer or shorter versions of the guide rail.
The price of the tool is a bit higher than that of other items on this list, but Makita 194368-5 is still pretty cheap. In addition, it uses an inch measurement system, and its weight hardly reaches 7 pounds. You can easily connect your saw with Makita 194368-5 and make accurate cuts. The only small disadvantage is that you might damage the edges of this circular saw guide rail since there is no protection on them.
---
PROS:
Compatible with Makita saws.
Small price.
You can choose the size of the tool.
CONS:
No protection on the edges.
---
6. Evolution Power Tools ST1400 Track/Guide Rail: A Compact And Portable Guide Rail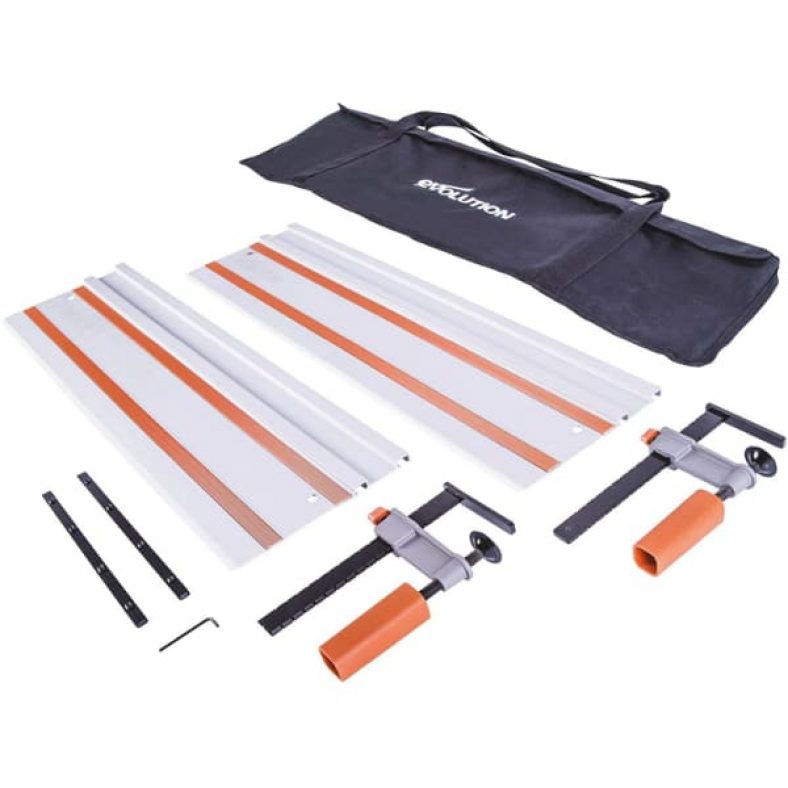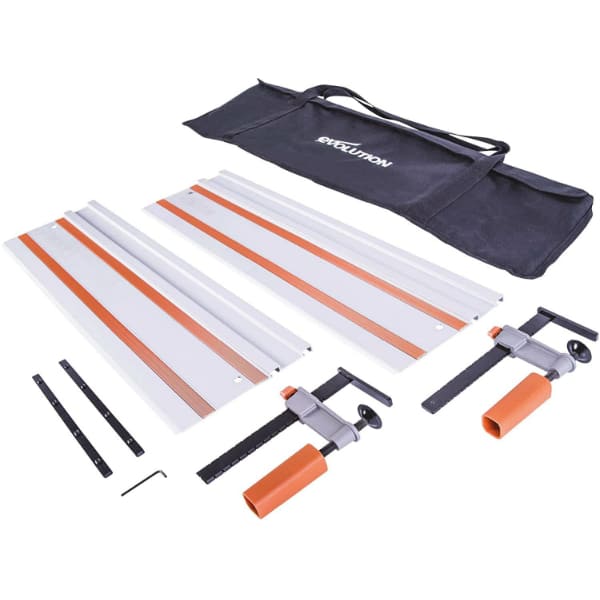 I really like Evolution Power Tools ST1400, especially because of the kit and the portability of the guide. First of all, the device comes with a bag and a few clamps. The clamps make it easier to cut perfectly straight lines.
The guide rail is made of aluminum alloy, and its size is approximately 55.12 x 7.48 x 0.43 inches. However, the good thing about this instrument is that it has a few built-in connectors. That means that you can dismantle the guide and get two tracks of ~27.5 inches each. It makes it easy to transport them.
The bag is also pretty durable, and I'm sure that it can hold more items alongside the circular saw guide and clamps. And of course, this product is pretty cheap, so you do not have to spend a lot of money on the kit.
---
PROS:
Clamp and carry bag included;
You can dismantle the guide rail within a few minutes;
Affordable price.
CONS:
You cannot purchase additional items in the kit.
---
7. Kreg KMS8000 Precision Track and Stops Kit: Make Precise Cuts Without Effort!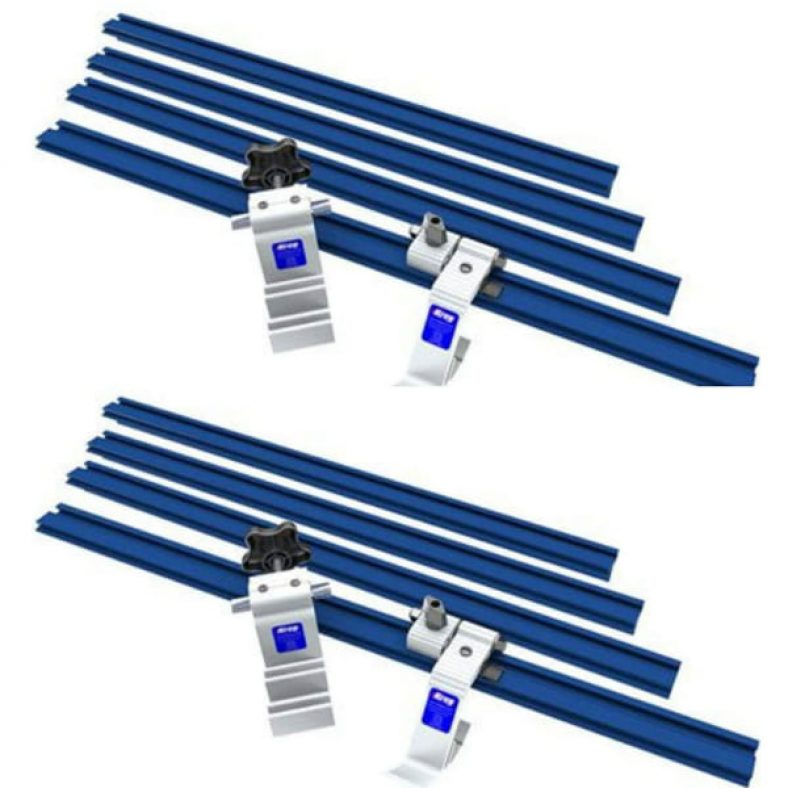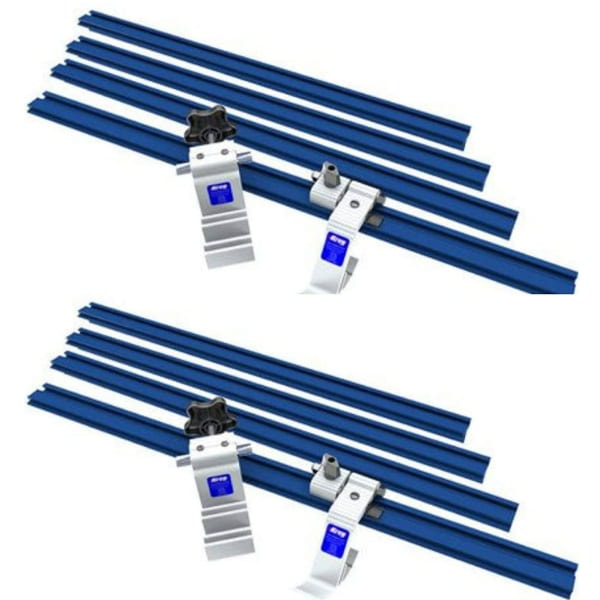 I like Kreg KMS8000 because it allows you to measure and set the length by simply putting a stop on the required area of the track. The precision track has a built-in measuring system, so you should not experience any difficulties while using the product.
Kreg KMS8000 is made of aluminum, which makes it hard to break the product. The cutting capacity reaches approximately 8 feet. In addition, you can select the package quantity while buying the tool. However, the only disadvantage of the Kreg KMS8000 is its price. Nevertheless, if you decide to buy this precision track, you get a durable device for woodworking that is made of quality materials.
---
PROS:
Allows you to easily make accurate cuts;
Stops included;
It is hard to damage the tool.
---
8. Skil Circular Saw Guide Rail: Light And Compact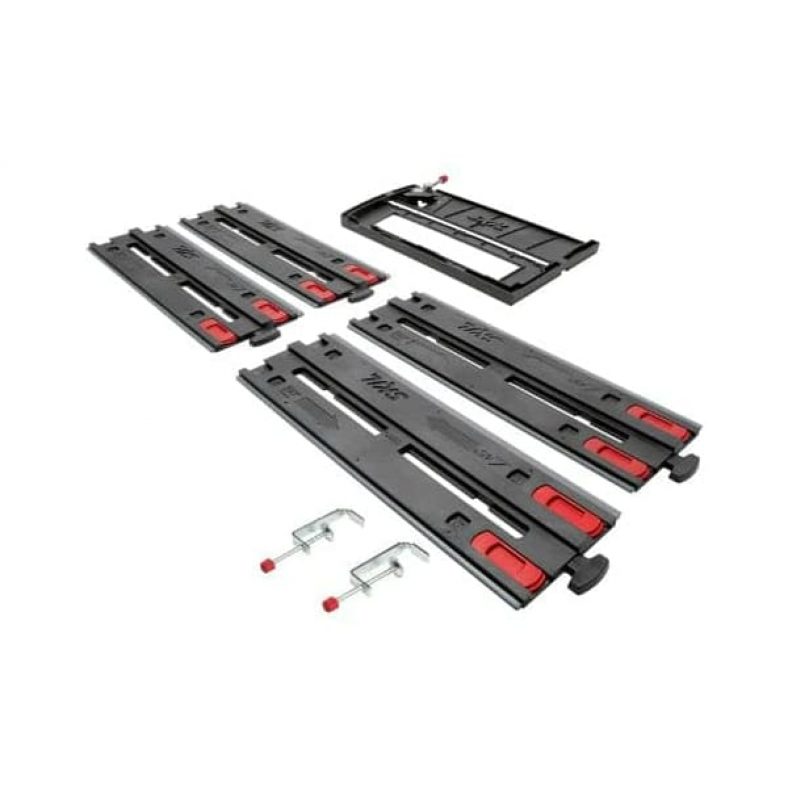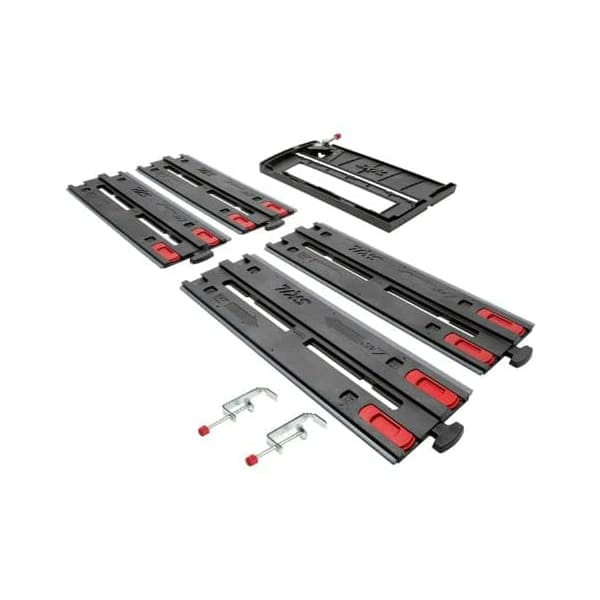 This guide rail is a bit expensive. Nevertheless, the quality of the guide rail is nice, and it will not be hard for you to make accurate cuts with it. The weight of this product is approximately 5 pounds. At the same time, the length of the rail reaches up to 56 inches.
The good thing about this product is that the rail is connected with special connectors so you can divide it into four parts if needed (for example, if you have to carry it somewhere else). Each part has an approximate length of 14 inches.
In addition, you get two nice clamps in the kit. They perfectly do their job and are made of metal. Unfortunately, there is no carry bag in the kit, so you will have to pack the guide rail into the product package or look for another container that will help you to transport the tool.
---
PROS:
Easy to make straight cuts;
You can dismantle the rail in order to save some space;
Clamps included.
CONS:
The price is high;
There is no carry bag in the kit.
---
9. Festool Guide Rail: Quality Instrument With A Simple Kit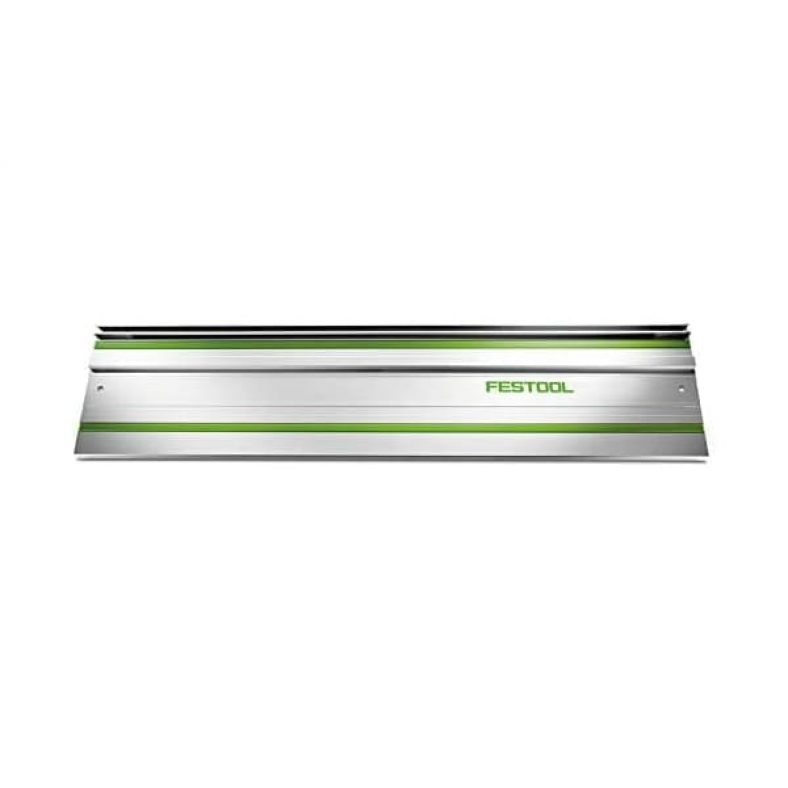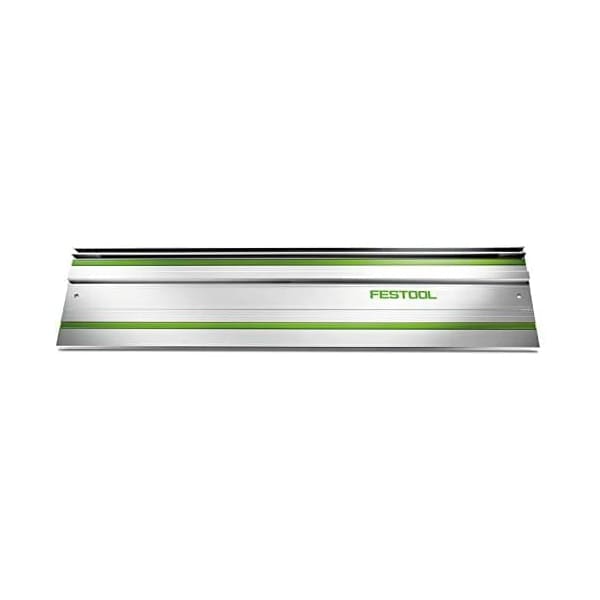 Festool FS-1400/2 is a circular saw guide rail that is made of metal and weighs approximately 5 pounds. You can easily attach any Festool saw to the guide rail. In addition, customers can choose the length of the instrument while buying.
The price of FS-1400/2 is not very high. You will not regret purchasing the product because it is durable and will stand still while cutting the wood. Unfortunately, not all the circular saws from other brands are compatible with this device. You can also get a 3-year warranty when buying the instrument.
---
PROS:
You can select the length of the product;
Made of metal;
3-year warranty.
CONS:
Not compatible with saws from other brands.
---
Buyer's Guide
Now you know some good products that can do the job well. However, you should also pay attention to important details in order to purchase the guide rail you need. For example, always pay attention to the instrument`s size, length especially. The longer instrument is, the more wood you cut at a time. It can also take some time to assemble such products. The shorter guide rails are more compact. Usually, the length of such woodworking devices reaches approximately 40-50 inches.
However, there are many products of different sizes, so it will not be hard for you to choose shorter or longer instruments.
Pay attention to the material. Guide rails that are made of metal or aluminum are more durable than those that are made of plastic. Nevertheless, the plastic variant is usually cheaper.
You should also mind the splinter guard. The thicker the splinter guard is, the straighter cuts you can make. All in all, the saw tracks in my reviews are portable, are made of nice metal, aluminum, and plastic.
How does a circular saw guide rail work?
First of all, your circular saw should have the slots that can be connected to the guide rail. People usually use the tool when they need to make straight cuts at different angles. Simply start cutting and move your saw forward. The track will hold your saw still, and you'll make zero mistakes!
The above-mentioned instruments have splinter guards (anti-splinter protection). Splinters are small pieces of wood that can occur while cutting. The anti-splinter protection helps you to make a cut with straight edges and without any wood damage.
Sometimes the saw guide is not 100% accurate. Usually, that happens when you use a hand-made tool. Besides, some devices from poorly known brands can mess up the woodcutting process. Keep in mind that clamps also help you to keep the wood steady.
However, nowadays many guide tracks do not require any clamps. They have special built-in anti-slide strips at the bottom that prevent the tool from moving.
Nevertheless, if you are lucky to use one of the best straight edge clamps, you might not even need the anti-slide strips anymore.
How to set up a circular saw guide?
The setting up process often depends on the guide you have. Let's take the Accu-Cut as an example. This instrument has an additional sled that can be attached to your circular saw. In our case, the device can be used with both the left blade and right blade saws. However, this option is not always present, so you need to be careful while buying a certain product.
You'll want to put the sled on the track and then attach the saw to the sled using the screwdriver. However, the track does not need any clamps in order to stay still. It has the anti-slide strips that prevent it from shifting.
Other saw guides can be different. For example, the sled can be compatible ONLY with a right side blade or left side blade saws. And of course, sometimes you may need clamps if the anti-slide strips are not present.
It should be mentioned that many guides have different ways to attach the product to the piece of plywood or MDF, so this process can slightly differ depending on the device you use.
Which circular saw guide rail is best for woodworking?
While choosing the guide rail, you have to pay attention to the following details:
The size of the tool. The market is full of guide rails that have different lengths, so it should not be hard for you to select one.
The kit. Pay attention to the additional items that come in a kit. Clamps and carry bags are important. However, they are not always present. You can also find kits that allow you to purchase a circular saw with a guide rail. Of course, this kit will have a higher price.
Material. As it was mentioned, metal and aluminum tracks are more durable, but plastic ones cost less.
Portability. Nowadays, many guide rails are connected with special connectors. Thus, you can dismantle the device in order to transport it. Some short guide rails might not have such features.
Price. You have to know the amount of money you are ready to give for the instrument. After that, find the product that meets your requirements.
When you consider the above-mentioned details, you are able to purchase the best guide rail for woodworking.
FAQ

How to use a circular saw guide?
You need to connect the saw with a sled that usually comes in a kit. After that, place the saw guide on the piece of plywood or MDF that you want to cut. Tighten the clamps if you have them. Then simply move your saw forward while cutting.
How do you measure a circular saw offset?
Open the blade guard and measure the distance between the tooth of the saw and the edge of the circular saw shoe. Doing this helps you to understand what the circular saw offset you have. Then you can place a mark on the wood.
Can you turn a circular saw into a track saw?
The answer is yes. You can easily turn the circular saw into a track saw. Simply attach the sled that comes in a kit with a track guide to your saw and put the sled on top of the track guide. After that, you can mark the wood and start cutting.
Can I change the anti-splinter protection?
If you do not like your splinter guard or find it too thin, you can always find the thicker splinter guard on the market and change it. However, you need to be focused on when doing this. Carefully tear off the strip and clean the surface with alcohol. After that, you need to take the splinter guard you bought and stick it on the required place.
Pick the Right Product
Now you know how to select the guide rails and what details you should pay attention to when selecting the above-mentioned tool. What is your favorite circular saw guide rail, and what do you like the most in it? Tell more about your woodworking experience in the comments down below!