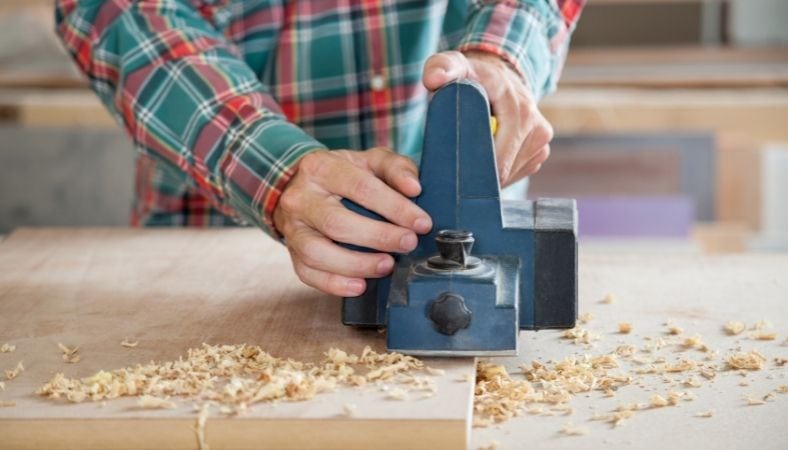 To achieve the perfect results you need to have the best hand planer. The more you learn about woodwork the more advanced tools you require. Wooden hand planers are widely used by real professionals who want to make their projects superior. If you need the finesse and smoothness of high class, you need to buy a hand planer tool. I provide detailed reviews on the most obvious and popular choices. If you want to do the same job faster, you can pick an electric planer. While it costs more, you receive a reliable helper with advanced features.
If the lumber can't fit into the planer machine or if your work requires extra delicacy, you have to use a hand planer. This is the tool checked by millions of carpenters through the centuries. Some layers of wood are simply irremovable by machines and require your attention. You will quickly learn how to use it since it is quite simple and understandable for everyone. After some time you master your skills and be able to create extraordinary woodwork. If you want to achieve positive results you have to find the most suitable tool for you. Take a look at each hand planer on the list, and read its pros and cons. Make sure you need all the features I describe.
Best Hand Planer – Reliable Options
Check out this list of top products I have gathered for you. Think about the benefits you want to see in your work. Compare each tool before you decide to buy anything. Make sure you've read all the electric hand planner reviews here.
1. Porter-Cable 6 Amp Tool – Top Pick Electric Hand Planer
This Porter-Cable hand planer has a heavy-duty motor of 6 amps and 16,500 rpm. It makes precise cuts and works fast enough and even handles the whole day of work. I trust not only this tool but the whole Porter-Cable company which has an incredible 100 years old history on the market. In 1906 the company opened its first store of tools and jobbing machines. This is a trustable American-based company that survived in the market and remained one of the leaders there.
Features:
6 Amp motor;
3 advanced chamfering grooves;
The 11.5 inches cast an aluminum shoe;
Depth knob.
As for the hand planer, I like the simplicity of its work. I recommend this tool for newbies since you don't have to learn much about how to use it. Control the depth with the knob on the instrument. There is a dual-side dust extraction that clears your vision during work. Apart from that, you will achieve smooth results in no time thanks to the high quality. Since the motor has 6 amps in it, I recommend watching out for your hands. Apart from that, the price of this tool is quite affordable compared to other powerful electric hand planers. I've been using the same model for years, congratulating myself on the decision to buy it in the first place. I recommend using it for both amateurs and professionals.
---
Positives
Simple navigation process;
High-quality materials;
Trustable brand;
Affordable price;
Smooth cutting.
Negatives
You have to watch out for your hands.
---
2. Craftsman CMEW300 – Electric Wood Planer Runner-Up
This bright red and black tool has a 6 amp as well. It cuts through 0.07 inches and has a carbide cutting blade of high quality. Its 16,500 rpm allows the tool to work fast, and I also want to underline that it is quick enough to cut your fingers without you even noticing, so always keep basic safety rules. I'm not sure whether I need to tell you something about the Craftsman brand, since it is quite popular around here and everywhere in the world. The company was founded in the 1927 year by Sears. It is a USA company with a rich history and billions of tools and other equipment for handymen.
Features:
The 10 steps depth knob for better control;
3 chamfering grooves;
The aluminum shoe;
6 amp power;
2 dust extractors on both sides.
The instrument cuts equally smoothly through the soft and hard materials. Yet, I don't recommend using it on huge blocks. There is an 11.5-inch aluminum shoe for a better finish and dual extraction of the dust for clear vision during the process. There is a 10 steps depth knob so you can easily pick your step and change it during the work. Since the whole item weighs nearly 7 pounds, it may be hard to handle it for a long time without proper skills. Still, I can easily work with this planner for 4-5 hours non-stop. I believe you don't need more since it works incredibly fast and saves you from spending a day cutting through the hardwood.
---
Positives
Stylish design;
Powerful tool;
Dust control;
Cuts through hardwood;
Reliable company.
Negatives
Weighs slightly more than other similar products.
---
3. Makita XPK01Z – Power Hand Planer of Premium Choice
This tool is one level higher than other power tools. It is reliable, strong, powerful, and cordless. You can achieve unbelievable results whether you use it for your own hobby or for your work. Makita is a well-known company that produces electric instruments for every house. While it is not an American brand I've been trusting this Japanese manufacturer for many years. I believe even my father and grandpa used their drills on batteries. While this hand planer is costly, compared to the rest of the products on the list, you will never regret your choice when it comes to Makita. Believe me, they did not pay me for the ad, I've just been using this tool for many years.
Features:
14, 000 rpm fast motor;
5/64 inches deep cuts;
Adjustable depth;
Sharp blades of carbide;
Cordless.
It cuts through the hardwood with ease you can't expect to see in handheld instruments. In a single move, it can deal with a plant of 5/64 inches deep and 3-1/4 inches wide. The blades are made from high-quality sharp carbide for the perfect finish. It weighs 7.4 lbs so you can handle it for quite some time while you are working. The motor is 14,000 rpm fast. There is also a depth adjustment knob from 0 inches to 5/64 inches. I recommend you check out the material you have to work on before you change the depth.
---
Positives
Cuts fast;
Adjustable depth;
Sharp blades;
Does not have a cord;
Easy to hold.
Negatives
Slightly more expensive than other options on the list.
---
4. Ryobi HPL52K – Best Handheld Planer with Kickstand
This Ryobi model is perfect for long working hours. It is almost weightless with 3.25 pounds of total weight. It is simple to hold mainly because of the ergonomic handle covered with rubber. Ryobi is always a great idea for woodworkers since the company takes care not only of the style of its instruments, which look slightly dollish in my opinion but of high-quality performance. This is another Japanese developer that I trust a lot, to have numerous tools in my arsenal. This company was founded in 1943, and since then it opened numerous departments around the world, including here, in the US.
Features:
16,500 rpm;
Depth adjustment from 0 1/8 inches to 1/96 inches;
Lightweight;
6 ft cord;
Rubber handle.
You can adjust the cutting depth with a big black knob in front. You may choose from 0-1/8 inches up to 1/96 inches in depth. Oh, unlike many advanced tools with all the sharp blades, this model also has the lock-off button which I believe is a lifesaver for those who can occasionally turn on the tool. Apart from that, there is a kickstand made from plastic. It will serve you for years, don't worry. I recommend you put the tool there instead of wood. As for the speed, the model is one of the quickest here with 16,500 rpm. The dust bag can be attached from both sides. Pick the one you need right now. The cord is 6 ft long, which is more than enough for anyone.
---
Positives
Weighs only 3.25 pounds;
Tight grip;
16,500 rpm;
Kickstand;
Trustable developer.
Negatives
The cord is 6 ft which may not be enough for some of your projects outside.
---
5. Makita KP0800K – The Best Handheld Power Planer with Case
I recommend this set as a birthday gift for a special person. It will serve for many years without the need to replace anything. The hand planer comes in a creative box that also protects the tool from damage. Apart from that, it is simple to carry the tool around with you. Makita is a sign of quality for every woodworker and handyman. This Japanese company has been creating helpful tools both for professionals and amateurs for many years. While it is slightly more expensive than similar tools, I suggest you consider it as an investment in the future.
Features:
The depth of cut and width are adjustable;
Quick speed;
Lightweight;
High durability;
No vibrations.
The motor is 6.5 amp. You can arrange the depth up to 3/32 inches and the width to 3-1/4 inches. With this motor, it is almost a miracle to find out that the tool provides you with 17,000 rpm. The speed allows you to finish the work fast and smoothly. There are two blades of high-quality carbide. They are protected with a spring-loaded plastic stand. I believe it was originally created for professional woodworkers who have to install wooden doors and window frames. If you have not noticed the vibration while you are using it, don't worry, the balanced planner drum was specifically designed this way.
---
Positives
No vibrations;
Comes with the case;
17,000 rpm;
Adjustable cutting depth;
Simple to perform.
Negatives
It costs more than similar tools from other developers.
---
6. Bosch Bare-Tool – Reliable and Cordless Hand Planer for Professionals
This tool works great with any wood projects you create. While it is not the lightest one and weighs 5.9 pounds, it works fast and smoothly. There is a long run of the battery which allows you to take it with you outside. You may pick even the best position for the single blade, at the most appropriate angle to make precise cuts. Bosh offers the German quality of its tools and 135 years of history. The company creates reliable and durable instruments for your house.
Features:
Cordless model;
Up to 16,500 rpm;
A single blade that can work under any angle;
Adjustable depth.
For newbies, Bosch created the guide fence on its tool. You can easily make accurate cuts without getting far from the line. The model runs on a lithium-ion battery with quite long life, but you may need to buy a new one sooner or later. It offers 18 volts of power. The handle is made of high-quality rubber, so you will not lose the planer even if your hands become slippery. The fully charged model can offer you 16,500 rpm.
---
Positives
Different angles;
Tight grip;
Cordless;
Simple to work with;
Well-known developer.
Negatives
The corded model from the same company can provide higher rpm.
---
7. Skil Corded Planer – Electric Tool for Any Type of Wood
If you want an affordable hand planer for your house use, you may start with this model from Skil. Skil is a subsidiary of a Chinese-based company Chevron. It produces power tools in Illinois. The company was founded back in 1926. Since that time it has released numerous electric tools on the market around the world. This particular model comes with the spanner, parallel guide, dust bag, and planer itself. You may find the rebate fence highly useful as well.
Features:
Affordable price;
Runs quickly;
Works with a different type of wood, including bevel edges and lumber rough pieces;
Comes with a dust bag;
1-year warranty.
This tool runs smoothly and quickly. It weighs 7.66 pounds which is not that much, but anyway you will not be able to hold it for many hours. The planer cuts through the 3-1/4 inches depth and creates the flattened surfaces you need. There is a one-year warranty that comes together with this instrument. My friend has used it for over four years and still does not need any warranties. However, you have to keep taking care of the planer after you switch it off. Make sure you keep the instrument far from moisture and in the special bag. I recommend you buy either a waterproof bag or a plastic case.
---
Positives
Affordable price;
Cuts through thick wood;
Sharp blade;
Contains dust bag;
Rebate the fence for precise cuts.
Negatives
Weighs 7.66 pounds which is more than other products on the list.
---
8. AOBEN Electric Hand Planner – Reliable 7 Amp Woodworking Instrument for Home
This model is the most affordable on the list. It looks simple and it works simply and it's effective. If you want to start somewhere, you can do it with this tool. AOBEN is a Chinese-based manufacturer, which you don't hear much about. Instead, it provides multiple power tools affordable for every household. While it does not cost much, it still works quite well, don't worry. The tool offers 18 000 rpm.
Features:
The 18 000 rpm speed;
7 amp powerful engine inside;
Adjustable depth of the cut;
The kickstand prevents the tool from scratching the surface.
This model cuts through 3-1/4 inches of wood. The depth is adjustable. You can also go for 5/66 inches maximum. It has a 7 amp motor inside that can work nonstop for hours. The bottom is made of high-quality aluminum with chamfering grooves for comfortable use and a better finish. You can choose different angles there. This model is lightweight and you can hold it for as long as you like. Yet, in my opinion, the handle can be slightly sleepier during work. You may attach the dust bag to the outlet on the tool. There is a kickstand for the model that you can keep it once the job is on pause. After you have done it, don't forget to hide it in the bag.
---
Positives
Powerful 7 amp motor inside;
The 18 000 rpm speed;
Adjustable depth;
Kickstand;
Affordable price.
Negatives
This model is not as famous as other tools on the list and it's made by a less famous company.
---
9. Metabo HPT Handheld Planer – Helpful Tool With Re-Sharpenable Blades in Case
This model is compact and stylish, and with its 5.5 amp motor, it works miracles. Don't make its compact look fool you, this planer is not the lightest on the list, with a total weight of 6.1 pounds. This tool was created by the German company Metabo, which you may also know as Metabowerke GmbH. Long story short, this company has been creating and supplying power tools since 1924. You may have already used some of their tools like a hand drill for example. This model is one of their most popular offers too.
Features:
Compact size;
It comes in a durable plastic case;
It provides 17 000 rpm;
Blades can be re-sharpen.
The tool comes with a super sharp blade that can be re-sharpened whenever you need it and serve you for eternity. The motor of 5.5 amp might be not the most powerful on this list but can run up to 17 000 rpm speed which grants you clean cuts. The maximum depth of the cut is 1/16 inch. You can adjust the depth using the knob in front of the tool. This model comes with a useful kickstand so you would not scratch the wood. It has a case for advanced transportation and preservation. Each detail is packed in the bag as well, so they would not be damaged. Plus, you receive the dust bag for the dust entrance, so you can leave your working space clean.
---
Positives
Multiple additions to the tool;
The 17 000 rpm speed;
Re-sharpenable blades;
Dust collection;
Kickstand for surface protection.
---
10. Makita 1912B Hand Planer – Powerful Tool With 16 000 RPM
I have already recommended one of the Makita models here, so you know my personal love for this Japanese developer. I do like their power tools due to the high level of reliability and trust in my friends and my experience. While the cover of the instrument is made of plastic, don't worry it is a durable material. The tool has a 7.5 amp motor that provides 16 000 rpm. This is more than enough for anyone who works with wood.
Features:
It contains two powerful blades of steel;
Durable high-quality cover of plastic;
The box contains a sharpening holder;
The tool can produce 16 000 rpm with a 7.5 amp electric motor.
The model looks lightweight. Yet, it is not. It weighs 9.3 pounds, which may be hard to hold for many hours. If you need to take a rest, use the lock-on button on the instrument. It will help to keep your wood and finger safe. I also recommend you check the front shoe. Do you see the V-groove? It is made for simplified chamfer cutting. The base is made of high-quality aluminum, while the blades are made of sharp steel. There is a sharpening holder that comes in the pack. I recommend using it anytime you finish your work.
---
Positives
Two sharp blades;
The 16 000 rpm speed;
V-groove on the shoe;
High-quality aluminum base;
Reliable company-developer.
Negatives
The price is slightly higher than other models with similar features.
---
Buyer's Guide and FAQ to Hand Planers
I hope these power planers' reviews I've made were helpful for you and now you can choose the one that is the most suitable for your specific case. If you can't decide, you may need more information about hand planners. Read this brief guide.
What is an electrical planer and why is it good for woodworking?
A hand planer is a popular tool among woodworkers. This tool was invented thousands of years ago and continued to evolve with the appearance of electricity and materials. Its main purpose is to provide the perfect shape to the wood by taking off it piece by piece until you reach your goal. The tool can be with 1, 2, or 3 blades, highly sharpened and quite dangerous for your hands. In one pass you can remove nearly 1/8 inch of wood, depending on the model and your own skills.
This instrument allows you to work faster, provide precise cuts, and deal with different types of wood. It saves the time and energy you can spend on other parts of the project. This tool is widely used for wooden doors and frames.
How to choose a wood planer:
Model type. Think about the wide range of models I've described here. They are all-electric since I believe electric hand planers are easier to work with. Some of them have one blade, others two. Some of them have cords, and others are cordless. Almost all have adjustable depth. Choose the one you need the most;
Size. I don't recommend choosing a model that will be too heavy to hold or too bulky. This is why I picked only compact sizes and lightweight options compared to other offers on the market. Think about the time you will spend using the planer and which one is not too heavy to hold for you;
Cutter head style. There exist two types of cutter heads: helical and traditional straight. Helical models have easy-to-replace cutters that are placed in rows. A straight knife comes with several blades and is quick to work. Helical models usually cost more and I believe they are more comfortable for professional use;
Motor. Think about the power and speed you need for your work. I described here the most popular choices with motors of 6-7.5 amp on average. This is not the lowest number or the highest one. However, they can be helpful for most types of woodwork.
FAQ
I have gathered here the most frequently asked questions about hand planers. You may find this information helpful for you. I recommend reading it before you choose any tool from the list.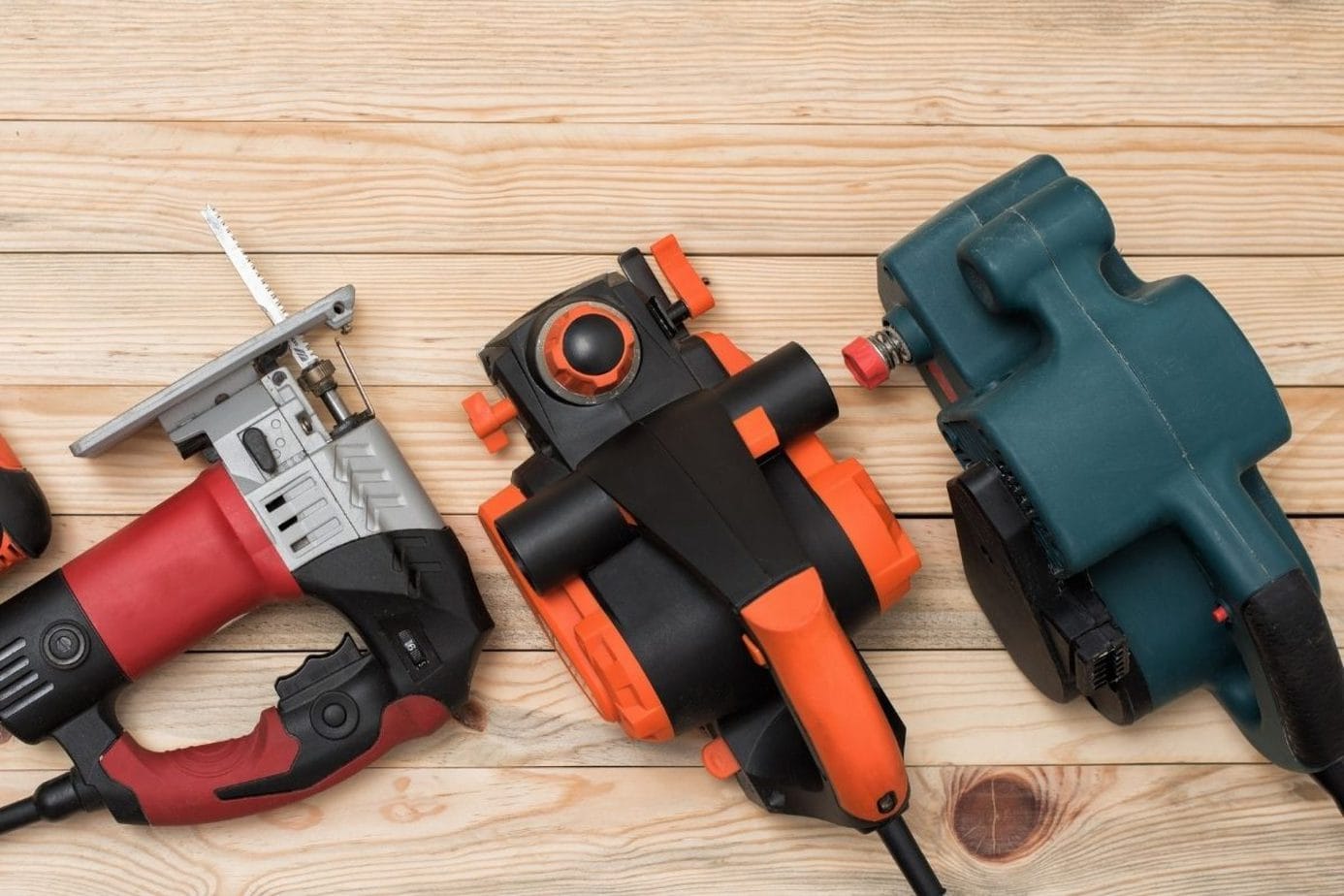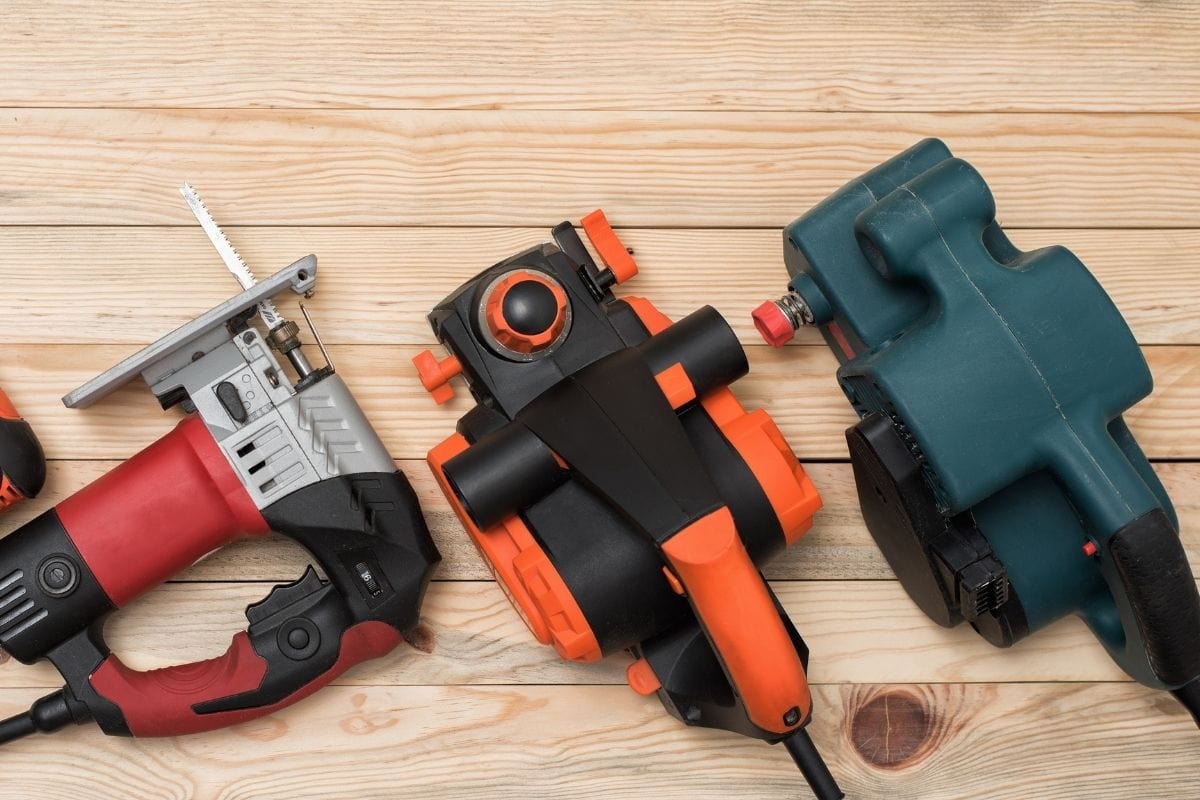 Are hand planers effective?
Yes, hand planers are effective for many types of woodwork. You can use them to make or fix doors, frames, cabinets, and other furniture. Hand planers allow you to cut the rabbets and chamfer edges to achieve the angles you want. Your wooden projects will look professional with a hand planer.
What hand plane should I buy first?
I don't recommend buying a highly expensive and professional model if it is your first-hand planner. Instead, you need to focus on the depth you can cut with the planer and the simplicity of use. Read the manual on safety measures in advance. The motor also must be taken into consideration since you don't want to get stuck in the middle of your work. If you need Kickstarter, search for the specific models. Pay attention to the speed and whether the model has a cord. Think about features you may need. Make sure that the brand is reliable and the blades are sharp.
Can you use a hand planer for wide boards?
Yes, the hand planers I recommend here can be used for wide boards based on how you set the tool too. They need to be electric and have a powerful motor with a high rpm level. Usually, electric planers of high-class work is similar to stationary machines.
What is the most versatile hand planer?
All the tools I recommend here are versatile. My top option is the Porter-Cable 6 amp model, which handles wide boards and can work for a long time non-stop. It is simple to use as well if you know how to plane the wood, of course.
Working With Pleasure
Once you pick the perfect hand planer you will be able to have fun while you are working. After some time you get used to the new tool and master multiple skills. You will appreciate the high quality of the instrument and the way it helps you with your task. Pay attention to the developer of the hand planer and make sure there are positive reviews from other customers before you buy anything. If you have more recommendations you can share them in the comments. Why do you prefer to use a hand planer? Which tasks did you perform with its help?