Best JigSaw – A Must-Have Tool for Every Workshop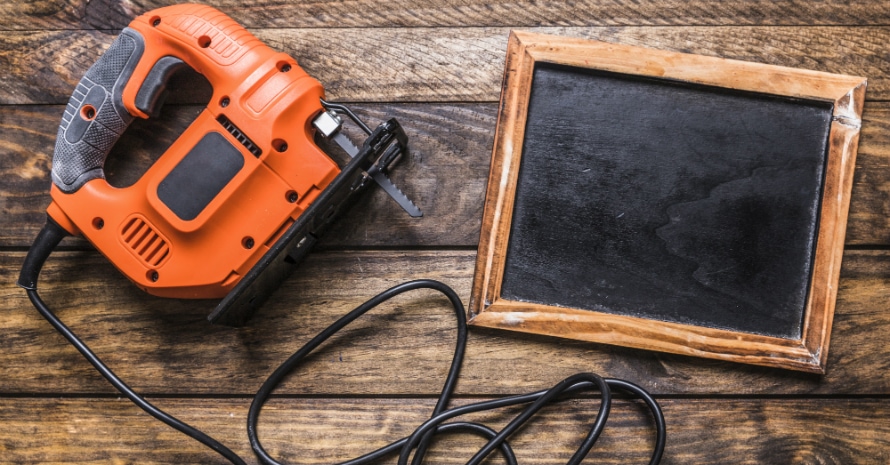 You know that I devoted my life to gardening and woodworking and I like to learn about new instruments and gardening approaches day by day. I have an idea about the tools needed for each woodwork and gardening, e.g., chainsaws, land mowers, jigsaws, hoses, pruning saws, etc. Today I want to point out why it is useful to have a jigsaw at home and how it can help you in the yard.
Jigsaws are one of the most useful power tools that you can have at home. This equipment is very easy to use, and it does not require any special training. Just some of the things that you can do with a good jigsaw include cutting, carving, drilling, bevel cuts, and much more.
I love this device and have one at home because it can help with cutting not only wood but other materials. When I put the right blade into my jigsaw, I can cut fiberglass, steel, and drywall. Who would not want to have such a multipurpose tool in their workshop?
Jigsaws is originally produced with cords, but there are a lot of newer cordless models on the market. It makes using the tool even easier! You don't have to drag cords around or keep checking on what angle the cord has fallen not to cut it accidentally. With the cordless model, you can move the tool and wander at any angle you need. However, corded tools have their benefits as well.
Therefore, take a look at the top-rated jigsaws reviewed below. I have prepared a list of the most useful options to help you to choose the right tool for your needs.
What's the Difference Between a Jigsaw and an Orbital Jigsaw?
A jigsaw and an orbital jigsaw are not as two different tools, as they might seem at first glance. The second one is a standard device with an auxiliary function in the form of an orbital swinging (or pendulum) action. Usually, a blade moves up and down strictly perpendicular to a material, which gives a perfectly straight cut. Activation of this feature causes the blade to swing and make translational movements toward the material. It is done to increase the cutting speed, albeit at the expense of a slight loss in cut quality. This function is convenient for tasks of large volumes. Most modern devices are equipped with pendulum action, which expands the scope of their application.
Top 10 Best Jigsaw Reviews
From the list of these jigsaw reviews, you will learn about the uniqueness of each tool and how it can fit your needs. Read through and let me know which one appeals most to you and which one you are likely to purchase. I will be happy to know that my article has helped you in making a choice.
1. Black and Decker Jigsaw BDEJS300C – My Top Pick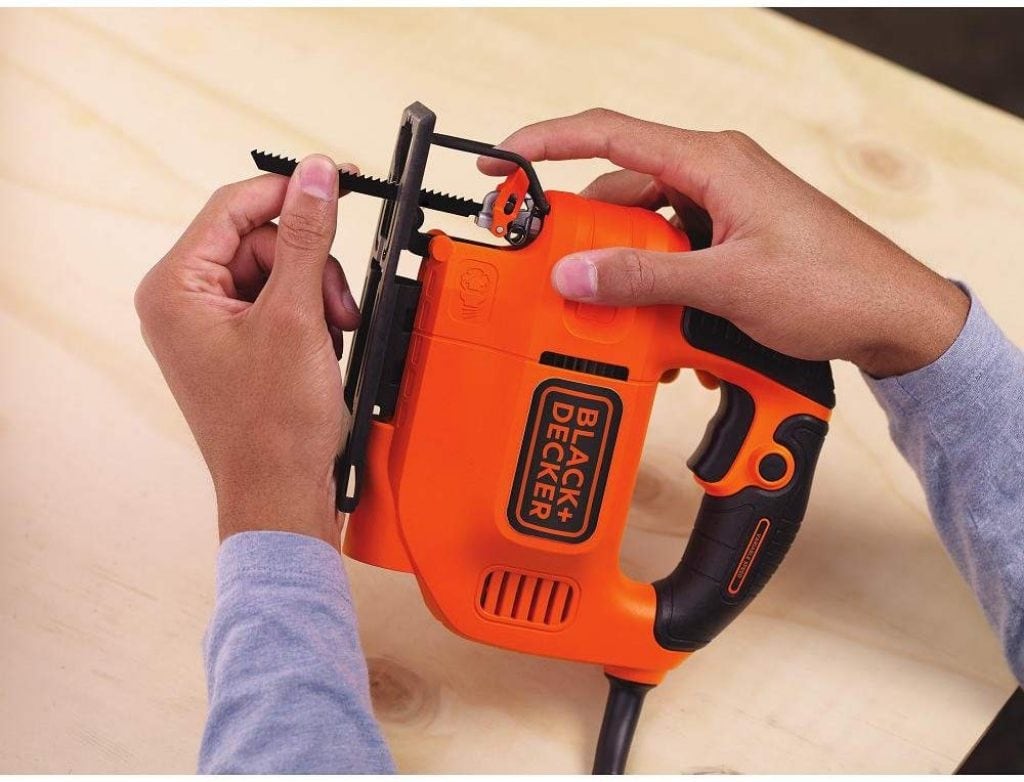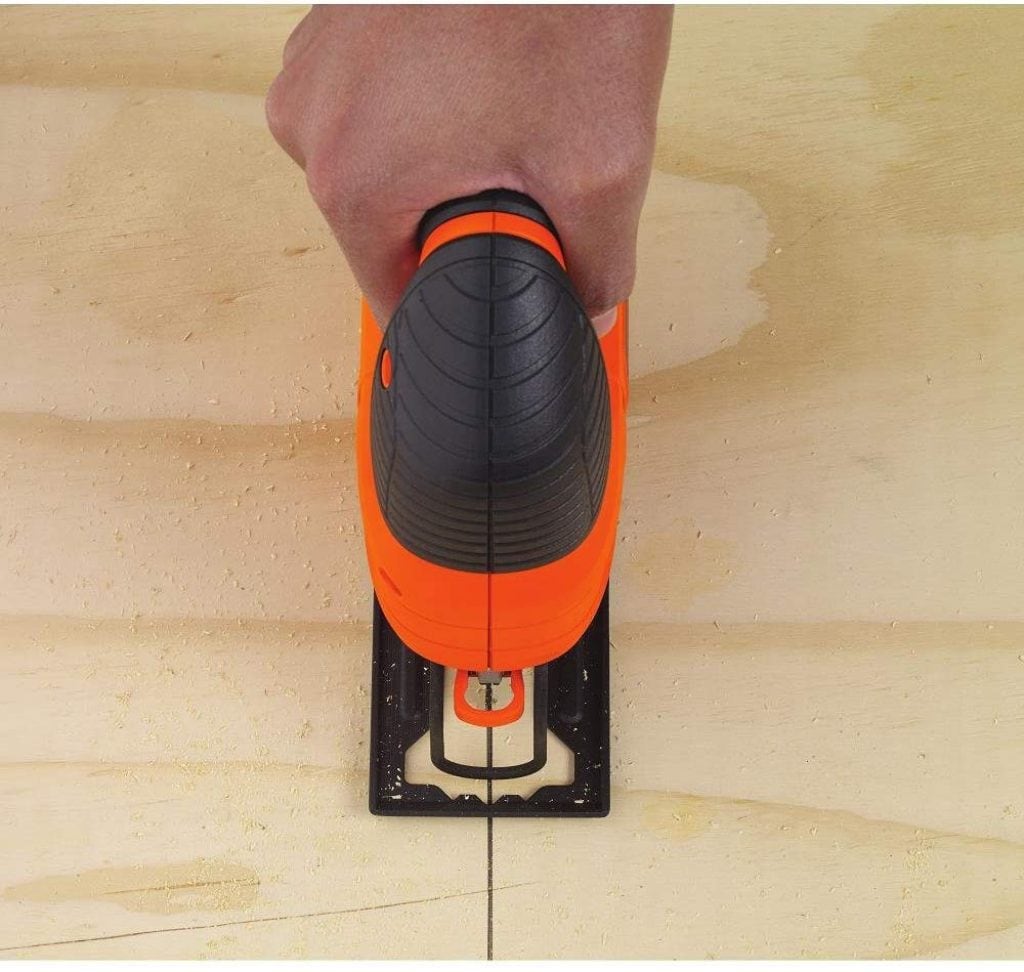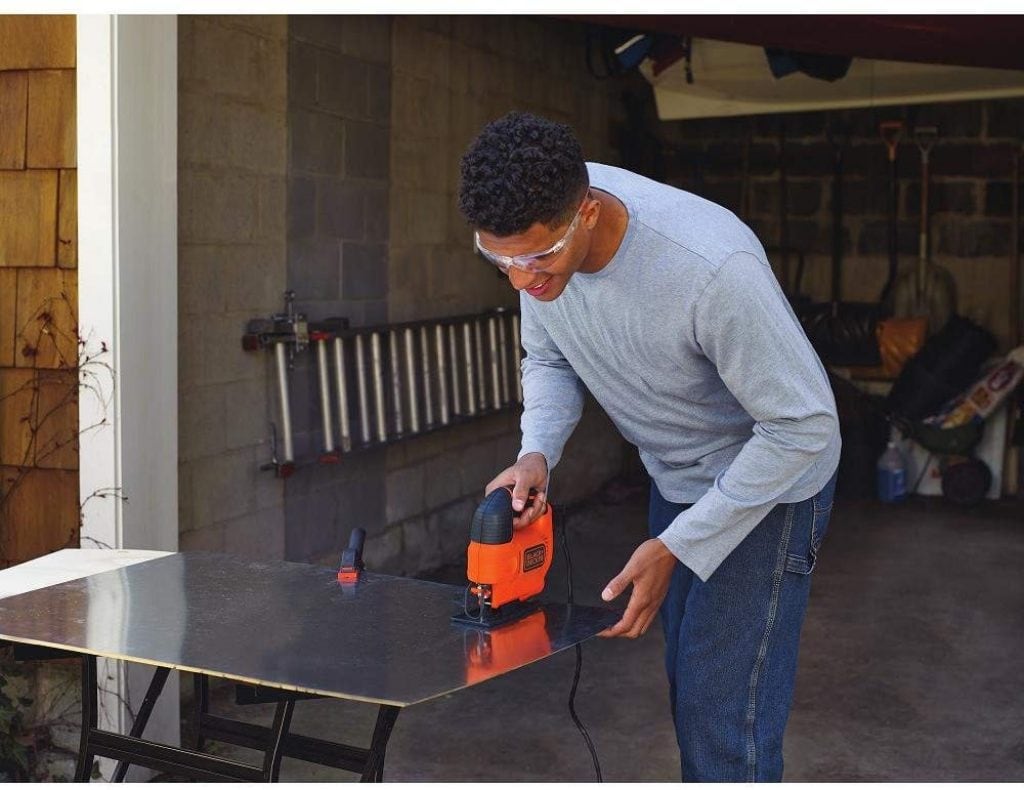 Specifications:
Number of Teeth: 10
Power Source: Corded Electric
Speed: up to 3,000 spm
Power: 4.5 Amp
Bevel Angle Range: 45 Degrees
Are you a DIYer on a budget and need the best jigsaw tool that will not cost much, yet deliver effectively? Why don't you turn to the Black & Decker jigsaw? It comes with a 4.5-amp motor, which will not be as effective as tools with amps starting from 6. Still, it can achieve a lot. This is the reason why I said it would work best for a DIYer or a beginner.
This jigsaw can be used to tackle light jobs around the kitchen, garden, etc. With its wire-guard sightline channel, accuracy, and visibility, you can create pretty accurate cuts. Also, there is an adjustable shoe that helps with the stability of the material while cutting.
What's included:
With a dust blower that comes in the package, you can work on it without dust and debris and see your lines without obstruction. I truly love this machine because of its price and quality. It's nice to mention that this tool accepts T-shanks and U-shanks. The downside to this device is that it does not have a secure clamping system, and it has only one blade. You will have to purchase more blades and accessories that are compatible with the machine.
Read more about its features below:
The handle is compact and allows for easy handling of the device.
The corded electric device is easy to maneuver.
It can reach up to 30000 SPM and efficiently cut through wood, metal, or plastic when you install the right blade.
It weighs 4.45 pounds and has dimensions of 11.5 x 3.4 x 9.2 inches.
In the table below, you can find the summarized pros and cons of this model:

PROS:
Affordable
Has a wire guard sightline channel for better visibility and precise cutting
Useful for light work
Fits beginners
CONS:
No casing
One blade in the package
2. Makita – Best Cordless JigSaw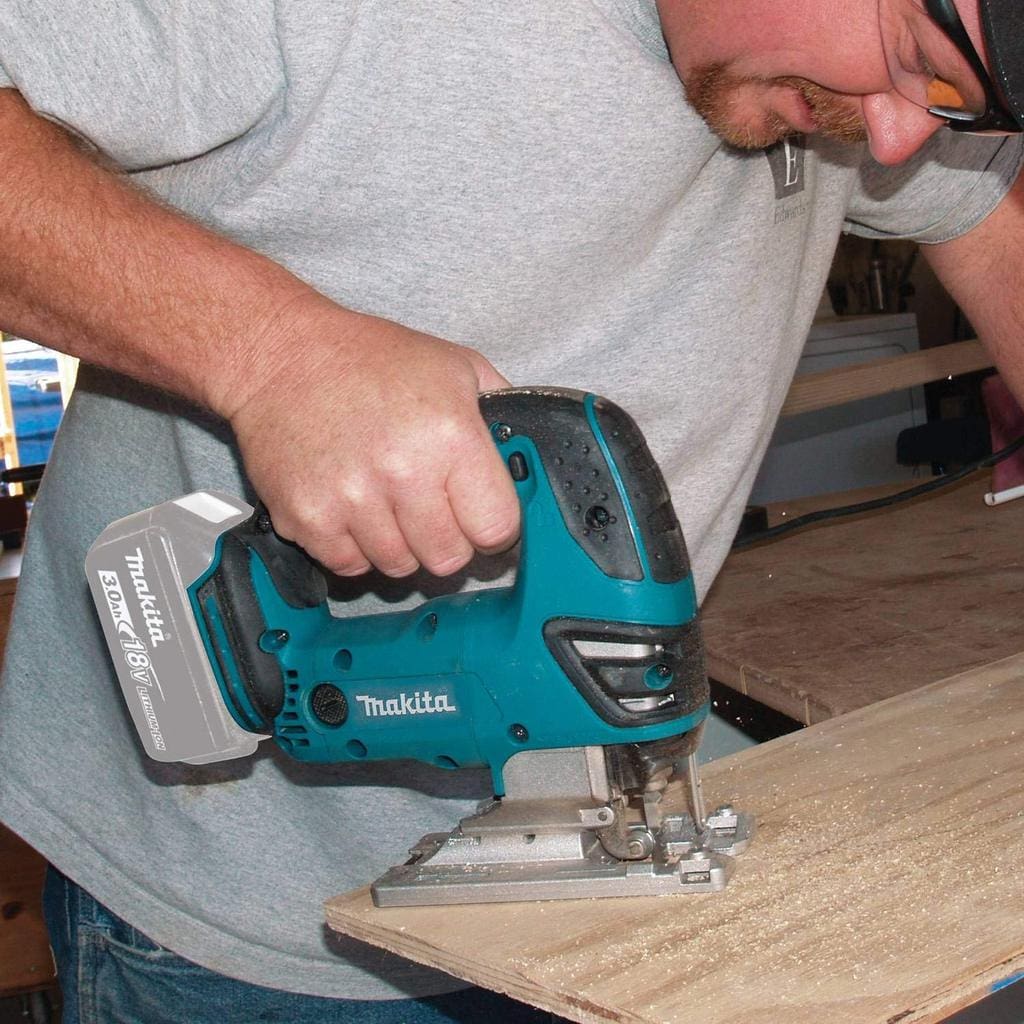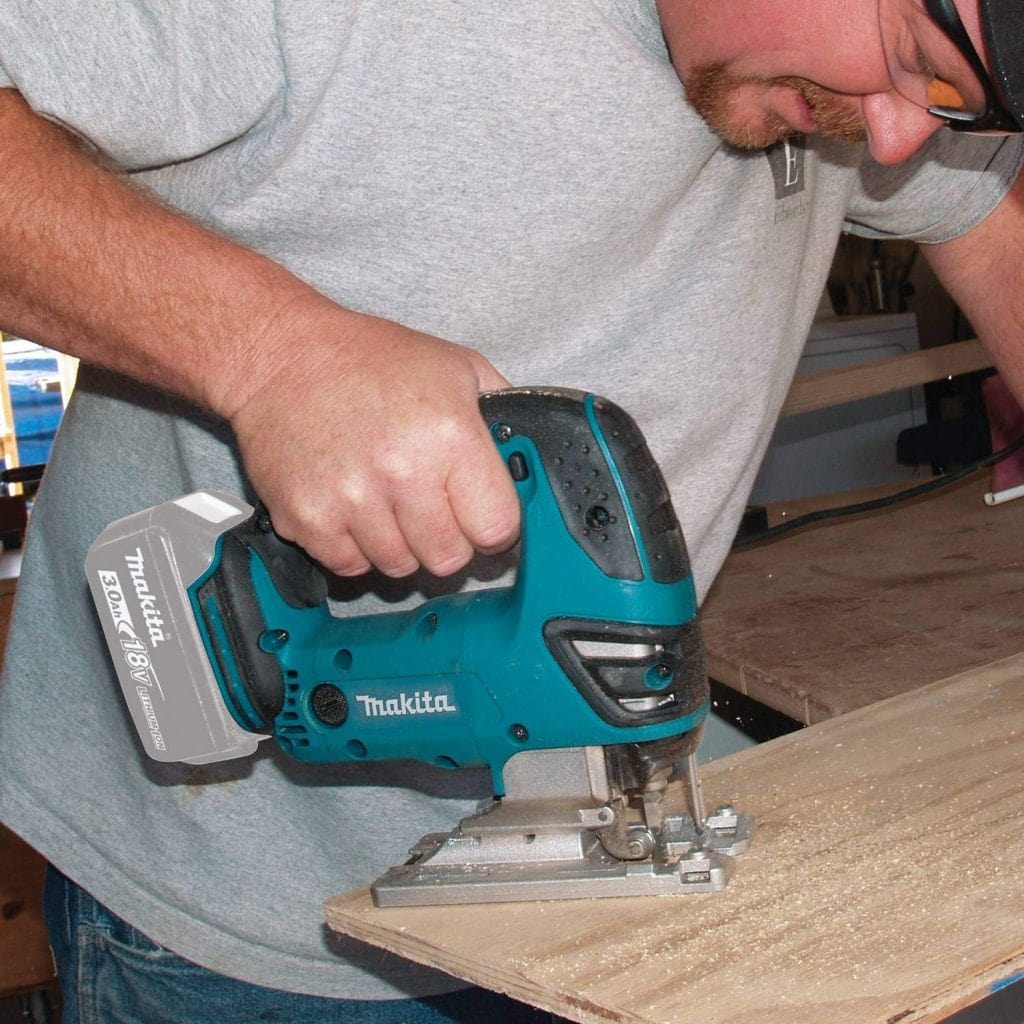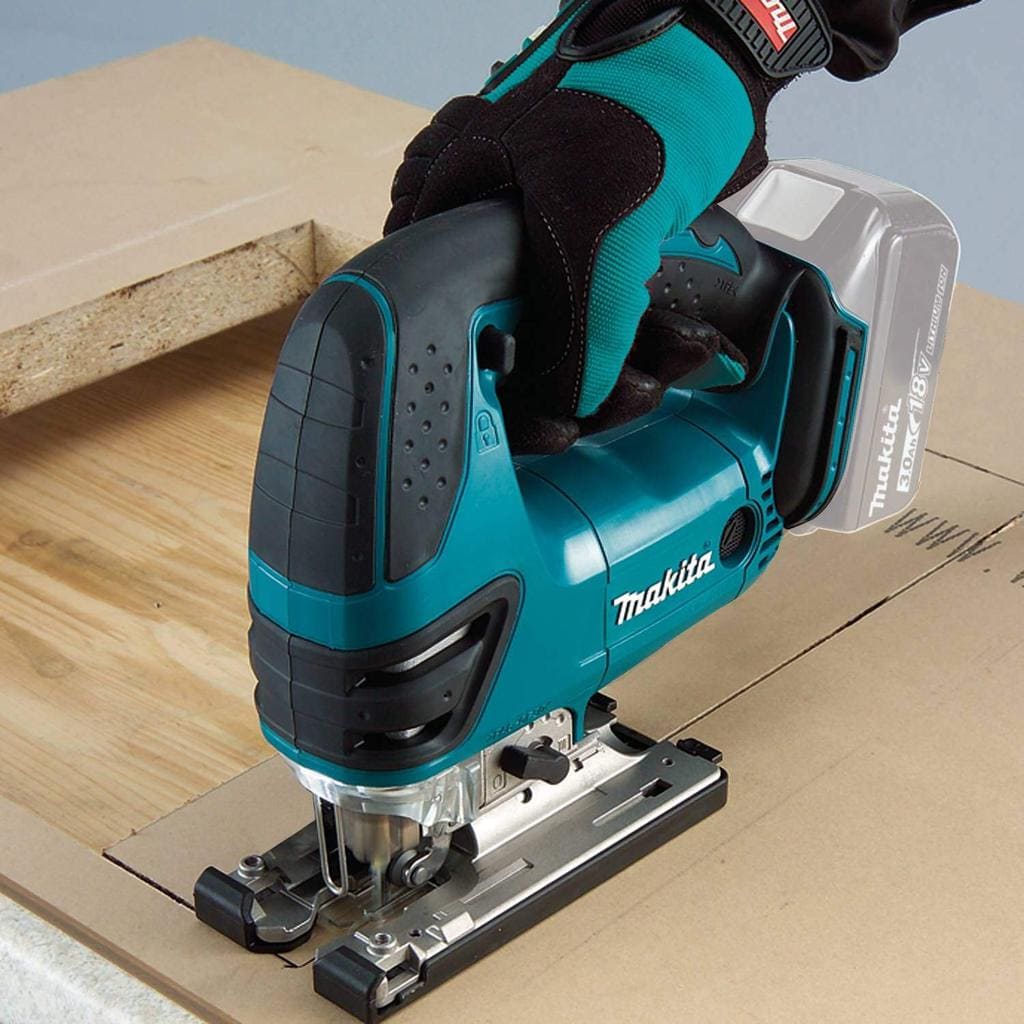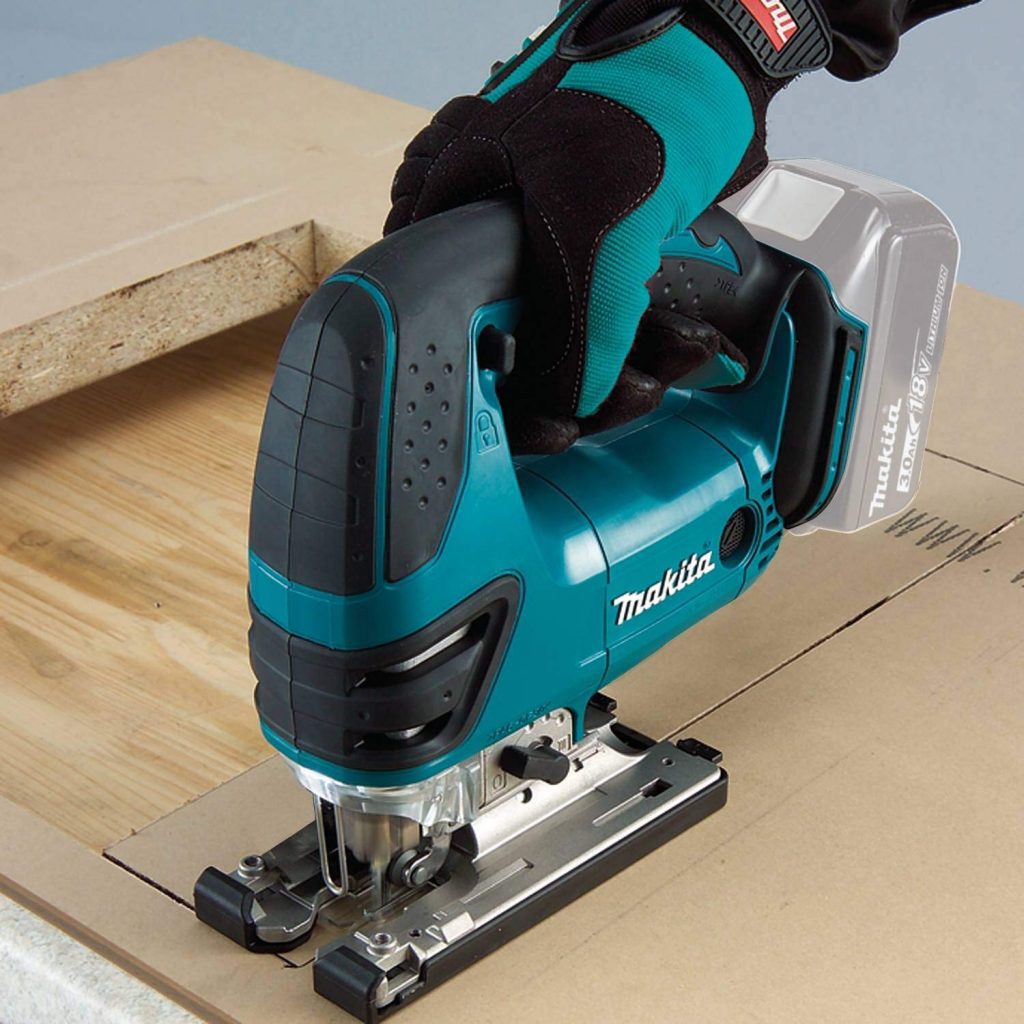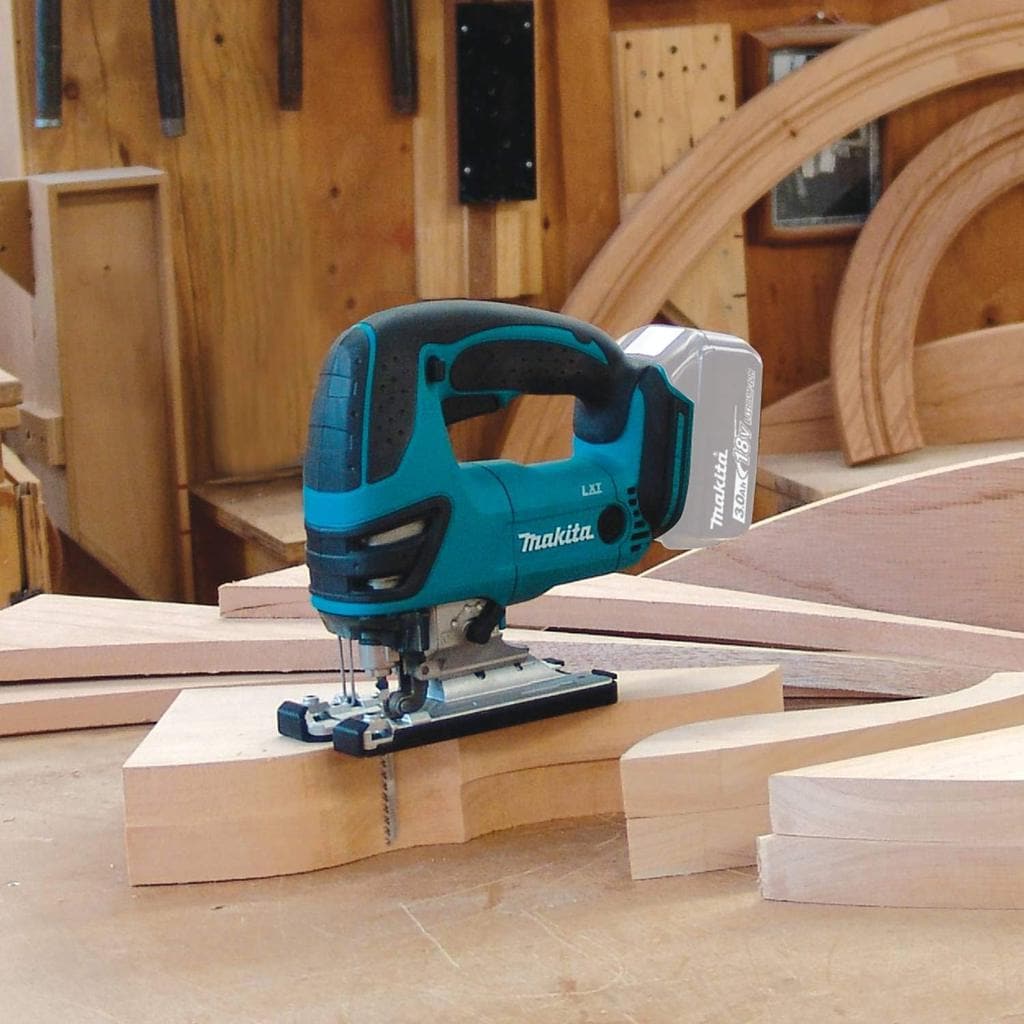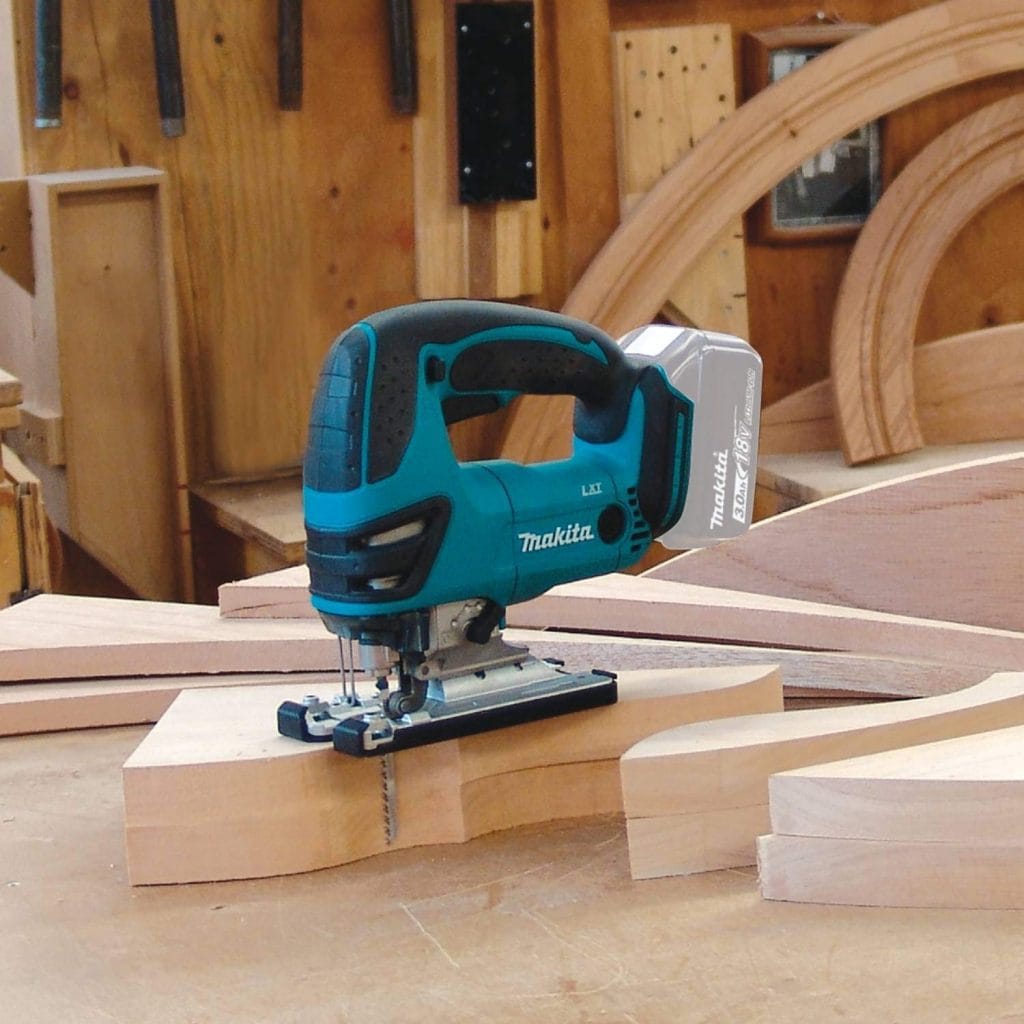 Specifications:
Number of Teeth: 4
Power Source: Battery Powered 18V
Speed: up to 2,600 spm
Power: –
Bevel Angle Range: 45 Degrees
Do you want a powerful tool that you can use both at home and at work? Then, this is the best option for different kinds of jobs. Customer reviews show that Makita 18v jigsaw is the top-rated jigsaw among available options in the market. Even though it is a bit pricey, it is worth every penny.
Why I love this tool is that its precision is 100% accurate. What is more, you can choose what output level of strokes you need, depending on the material that you are cutting. You can select from 0 to 2600 maximum strokes per minute, that's a pretty wide range.
What's included:
Tool Only (battery and charger not included)

4-1/8″ 9TPI Jig Saw Blade

Cover Plate
This model does not have wires which can be quite disturbing when you need to cut something. I think it is expensive enough to come with its charger and battery, which are actually not included in the package. Besides that, it works effortlessly in full power and cuts with the utmost precision.
Here are the main features of this model that I want to point out:
Changing a blade is very easy on this device. The toolless blade system allows you to remove and install blades quickly and effortlessly, thereby increasing productivity.
It comes with an in-built light-emitting diode to illuminate your work area. It is extremely useful when the lighting is poor, or you have bad eyesight.
The handle is made of rubber to create comfort when you are working with this tool.
It is packed with the Star Protection computer control system to prevent overheating, overloading, and over-discharging of the battery power.
It was designed to reduce vibration and noise to give you more control of your work.
It weighs 5 pounds only and has dimensions of 13 x 4 x 10 inches.
Besides that, let me highlight the pros and cons of this item:
PROS:
Heavy-duty performance
No wires to disturb
Lightweight
A star protection computer control system can withstand overloading, overheating, and discharge
3. Porter-Cable Jig Saw – A Tool with the Best Rating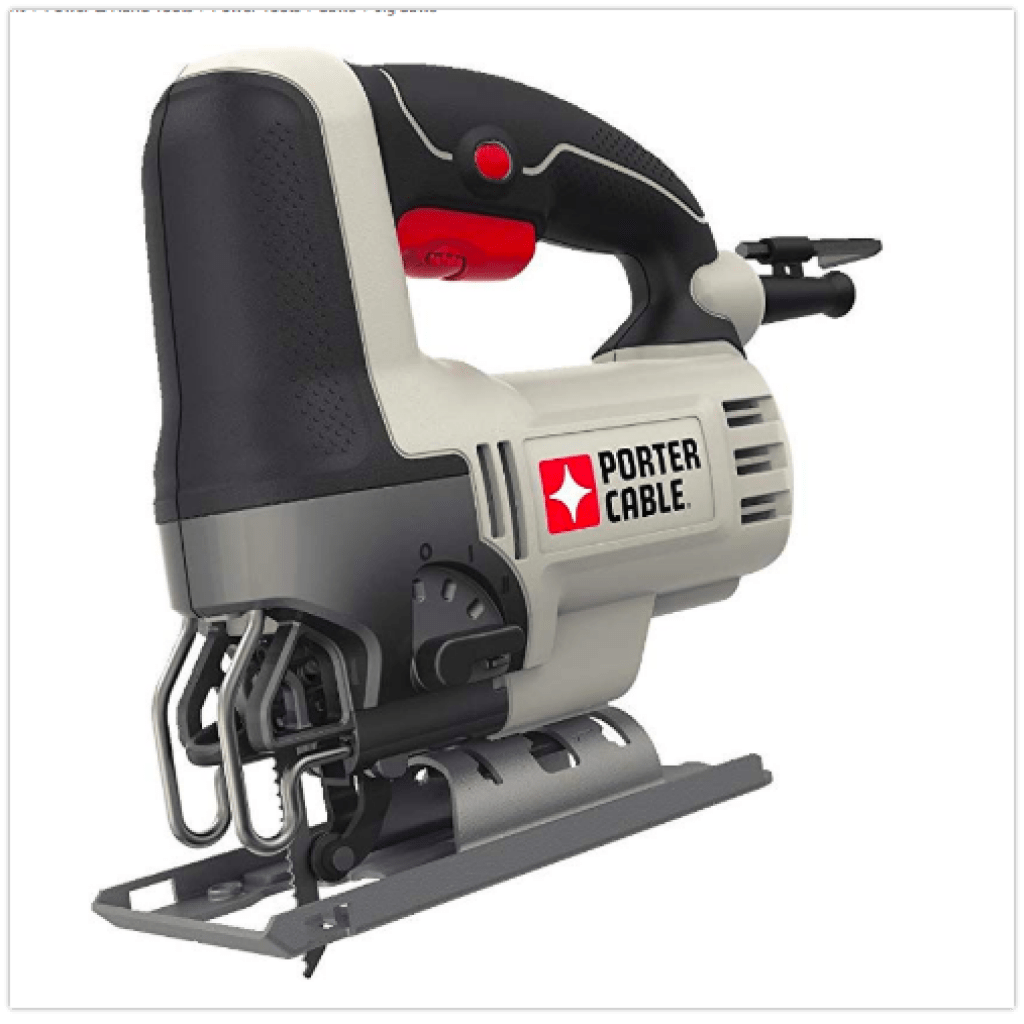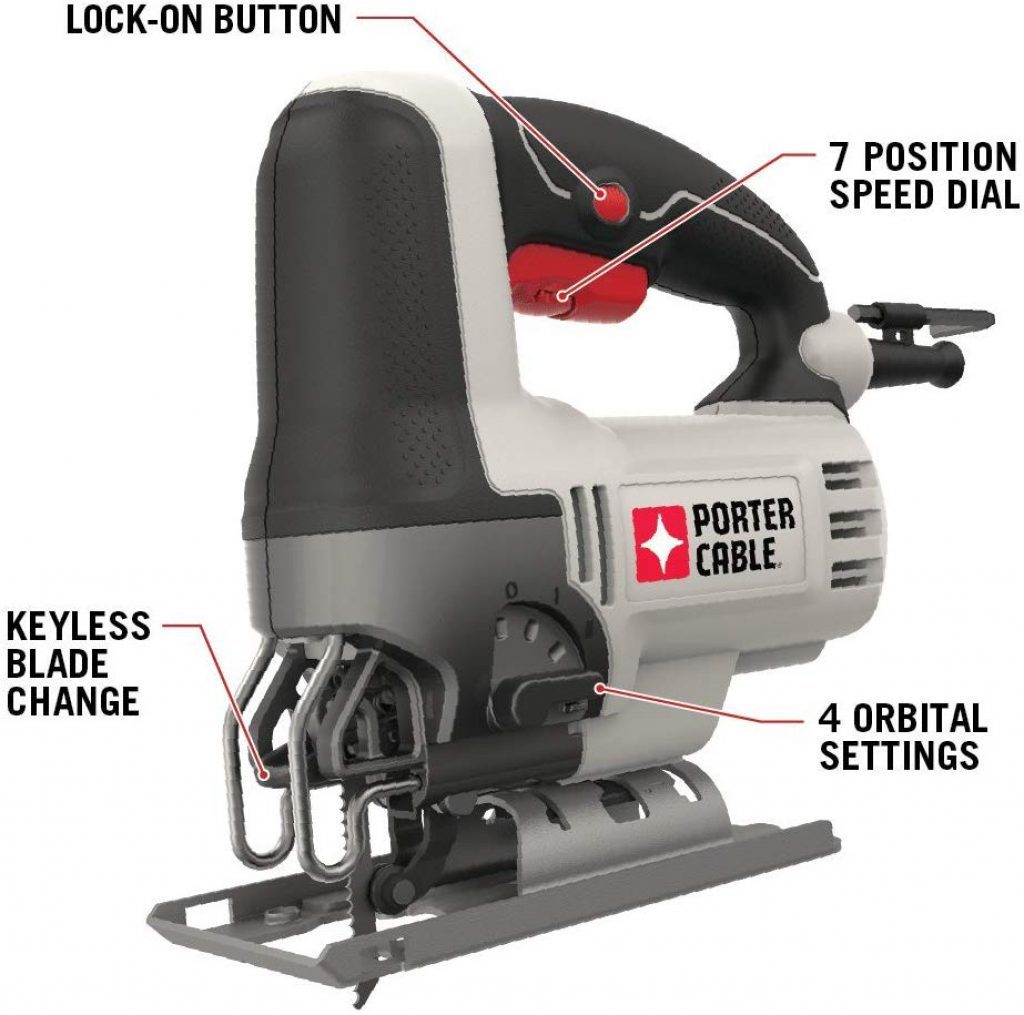 Specifications:
Number of Teeth: 4
Power Source: Corded Electric
Speed: up to 3200 spm
Power: 6 Amp
Bevel Angle Range: 45 Degrees
When you decide to purchase a jigsaw tool, you look for the one to solve certain needs. Every user wants to be sure that no matter how much money they invest in purchasing one, it will perfectly serve the initial purpose. And here comes the Porter-Cable tool which is not the kind of jigsaw that you would purchase and regret about.
This corded model is one of the tools with the best jigsaw ratings. Its resources are not so fantastic, yet, it delivers enough power for basic woodwork. It has a 6 amp motor, yet reaches up to 3200 SPM. Super, right?
The tool has a 7-position dial system. It means that no matter the kind of material that you are working on, whether it is metal, wood, or glass, you can increase or reduce the speed level to suit your needs.
What's included:
This jigsaw has handles with excellent grips that will keep your hands comfortable and less stressed throughout your work. The LED light will help to lighten up your workspace, especially when the lighting condition is not great around.
Note more features of this great device:
The orbital setting allows you to choose the best cutting performance to enable you to accommodate different tasks.
If you will be using the device for extended periods, use the lock-on button so that you can release your hands from the trigger and be more in control of your work.
Keyless blade change.
Seven-position speed dial.
It uses a 6 amp motor for delivering more power.
It is 6 pounds heavy, with dimensions of 9.5 x 3.2 x 8.5 inches.
And below, you can find the major advantages and disadvantages of this jigsaw model to consider:
PROS:
LED lighting
Easy to replace blades
High power and performance delivery
CONS:
No case to storing blades
4. DeWalt 6.5-Amp DW331K – Best Woodworking Jigsaw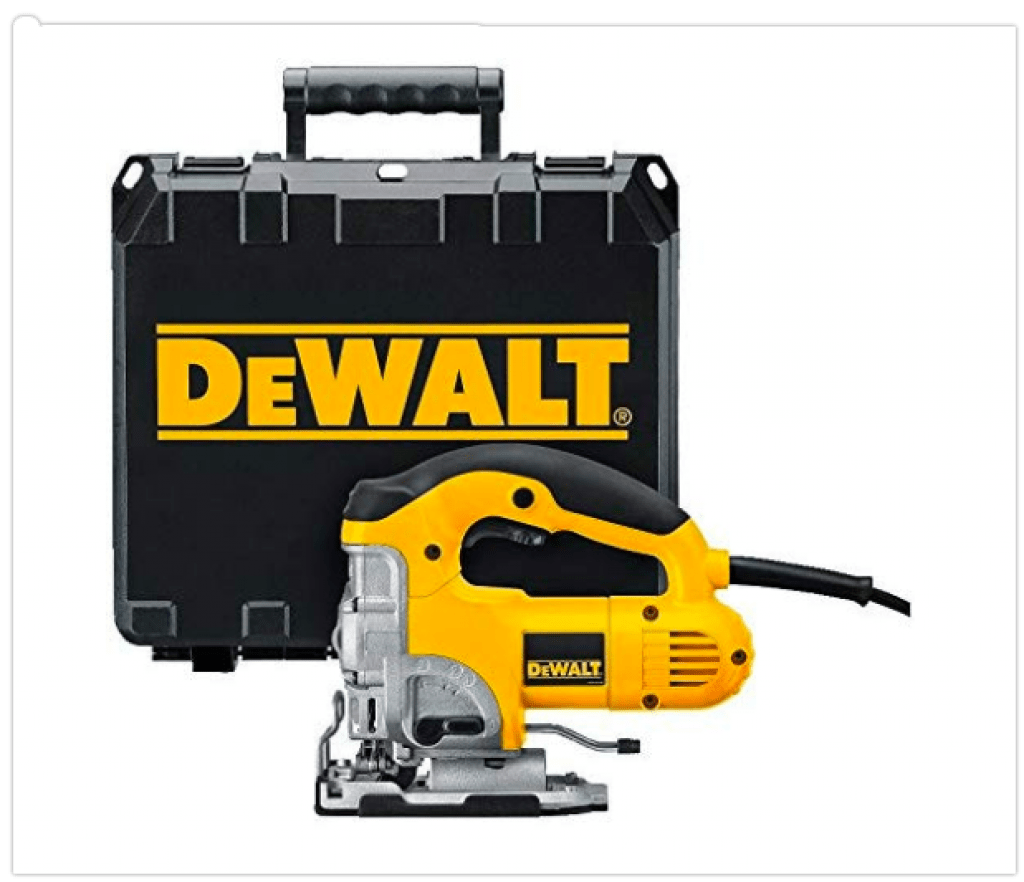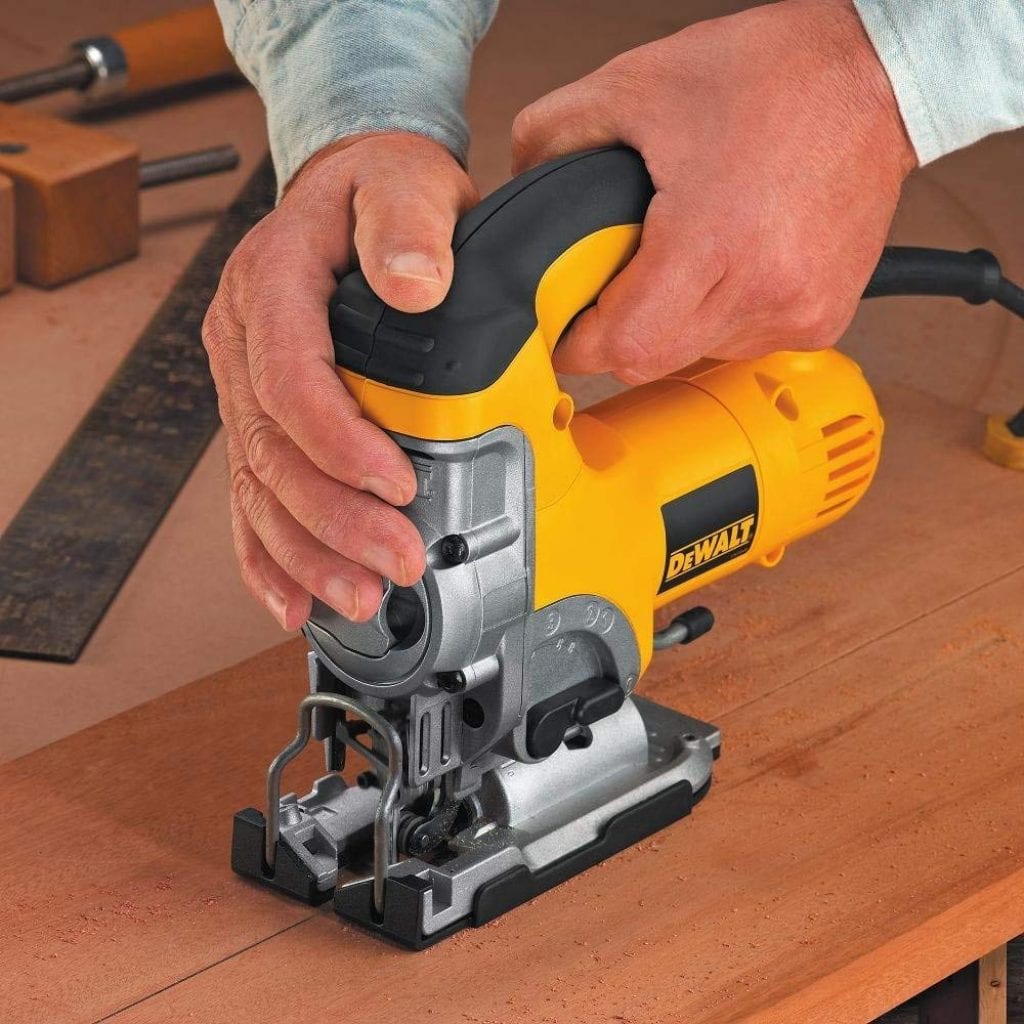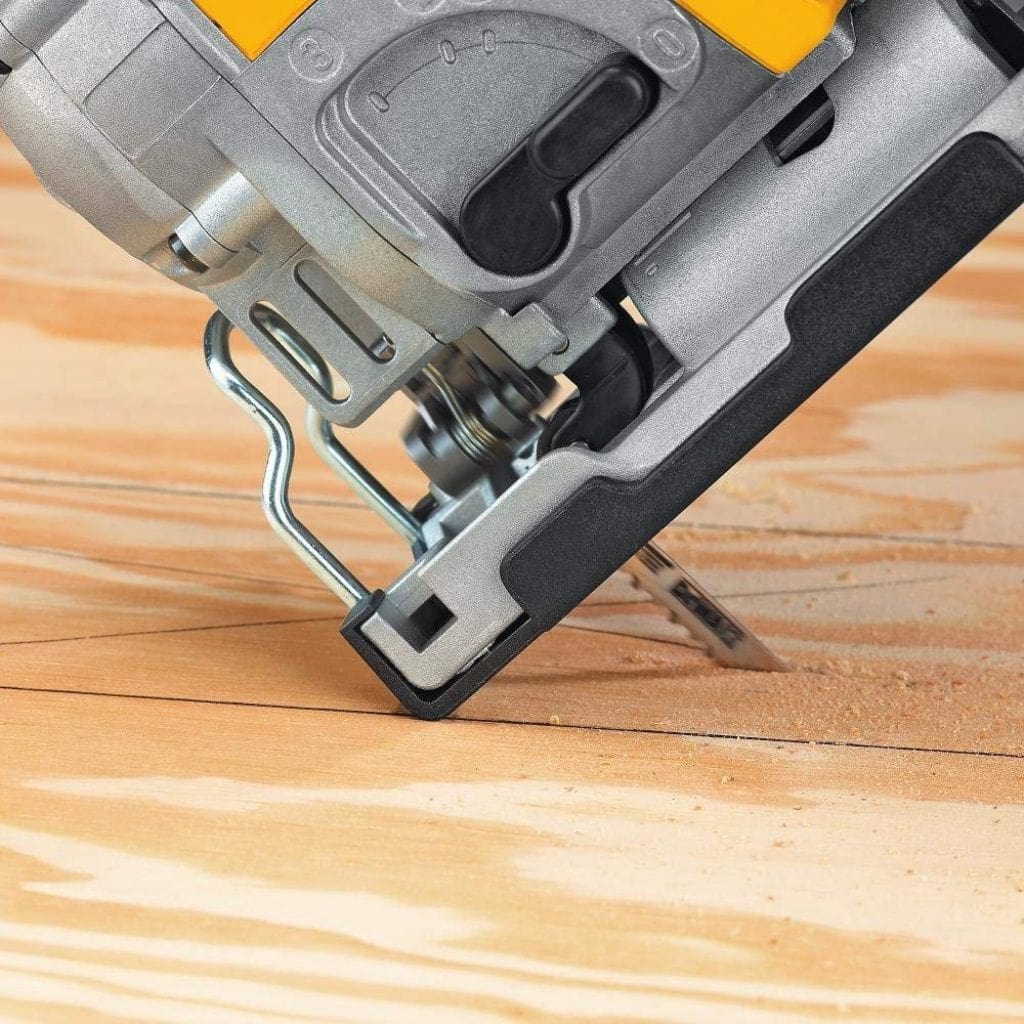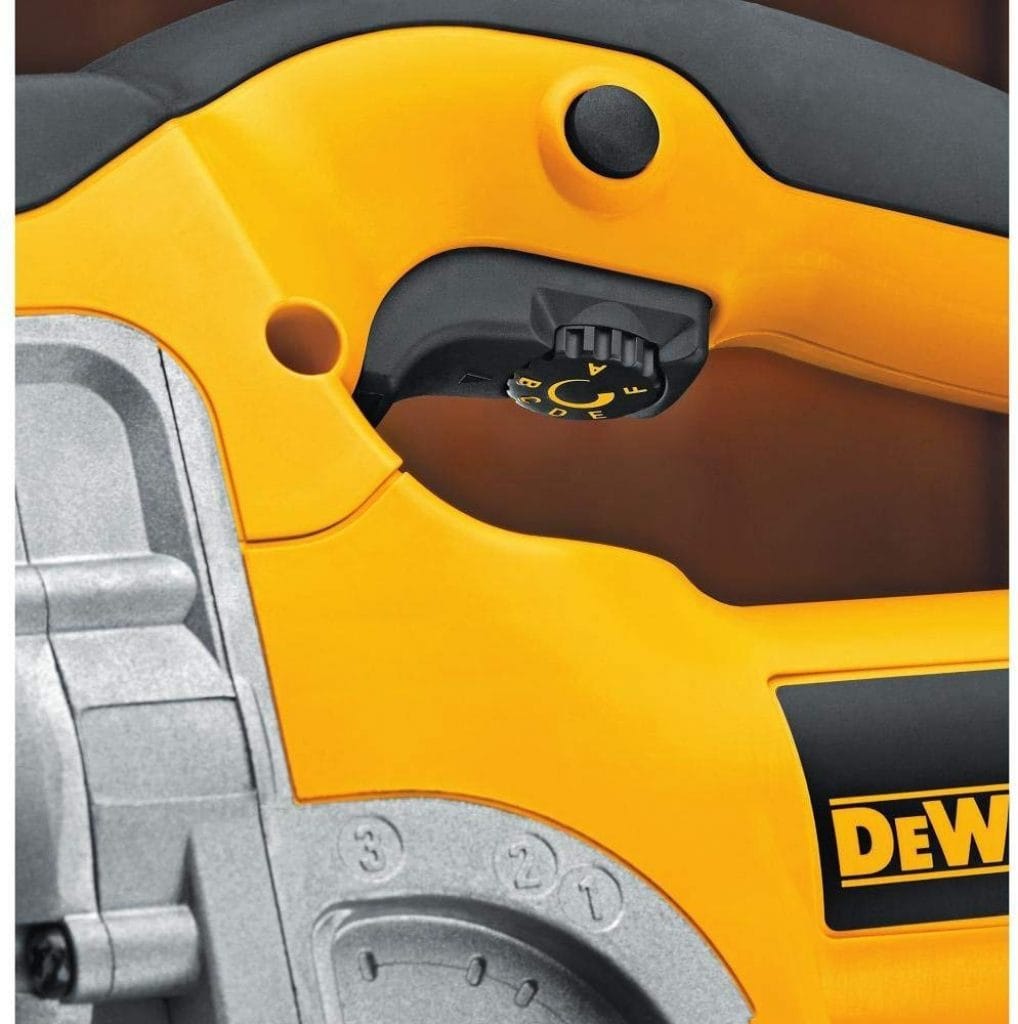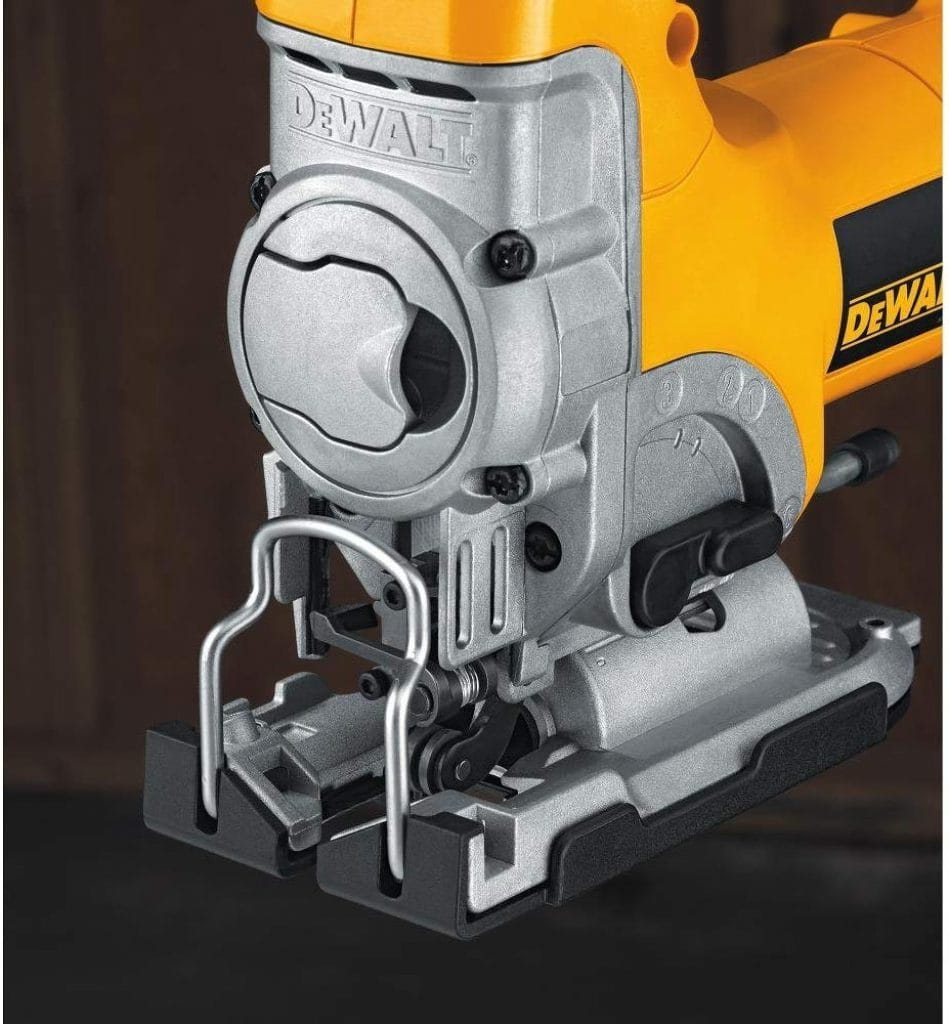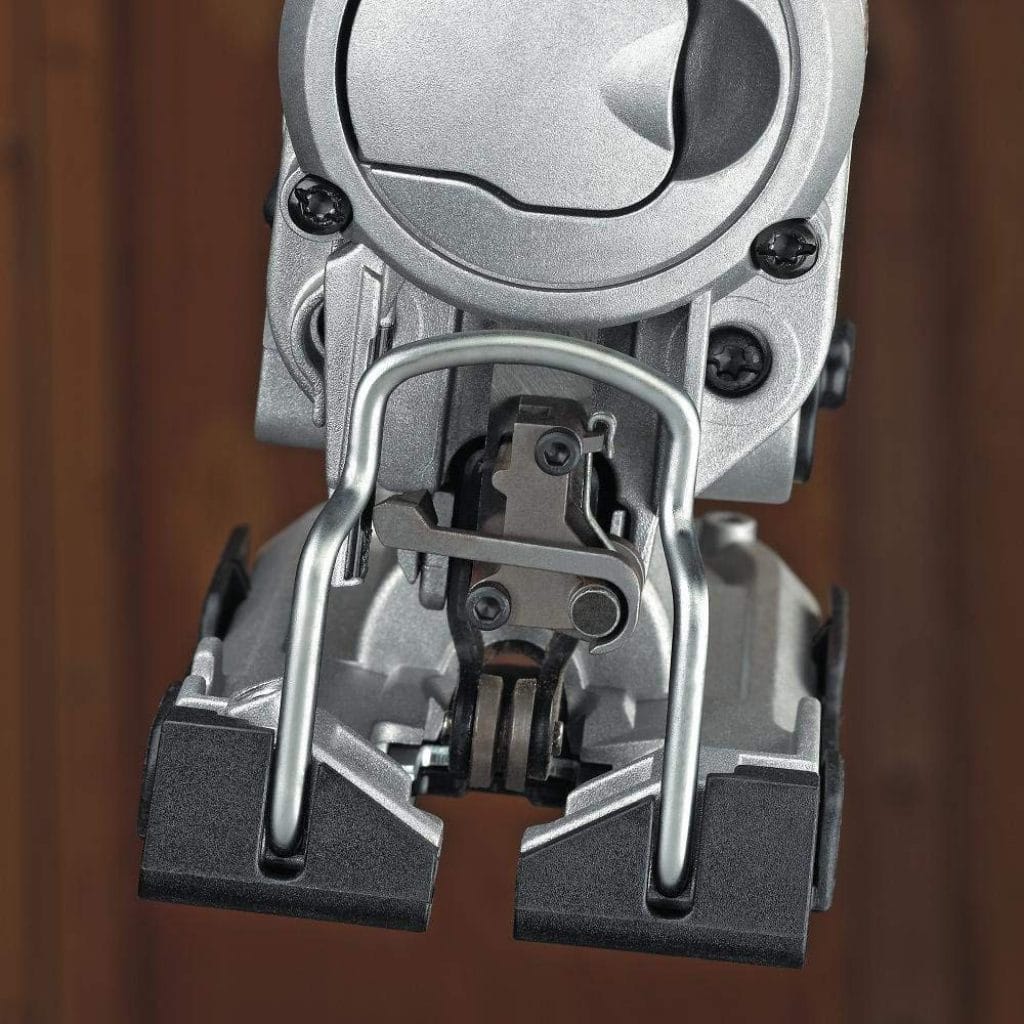 Specifications:
Number of Teeth: 5
Power Source: Corded Electric
Speed: up to 3,100 spm
Power: 6,5 Amp
Bevel Angle Range: 45 Degrees
If you look through any jigsaw reviews, you would realize that the DeWalt jigsaw tool always features among the ten best jigsaw power tools. This machine is durable with a 6.5 Amp motor that runs between 500 to 3100 strokes per minute. It is tough enough to cut through even the toughest materials. It can be used at home or at the workshop.
Vibrations from such machines can easily get your hands tired and cause aches, but that's not the case for the DeWalt DW331K. It comes with an extra-large rubber handle that suppresses vibrations to allow you to have a firm grip and control over the tool.
If you need to switch different blades while working, you won't have an issue with this item. Chaining a blade is very easy, and secure, and does not require using an additional tool.
What's included:
DEWALT Variable Speed Top-Handle Jigsaw, and kit box.
Some people have a negative bias against the products made in China. However, I don't see a problem with purchasing high-quality products regardless of the country of production. A large number of the world's products are manufactured in China, and if it works well, why should anyone care about where it was manufactured. The model proved to work fine for more than a year for me, and that's all that matters.
Note the specifics of working with this jigsaw:
When you are cutting material, you need to see the cut lines clearly. A sawdust-filled working space may defeat that need. The DeWalt jigsaw has an adjustable dust blower to keep your workspace clean and clear enough for you to see the cut line you are working on.
The device delivers speed within 500 to 3100 SPM per minute for the best cutting result.
It allows up to four different degrees' accuracy of 0°, 15°, 30°, and 45° common angles.
Instead of trying to hold on to the material to cut it and steadying your hands on the trigger button at the same time, you can use the lock-on feature that allows locking down the material and focus on getting an accurate result.
Here are some good and bad sides of this model highlighted:
PROS:
Ergonomic handle
Up to four different degree angles for bevel cut
Comes with anti-vibration properties
The lock-on feature allows you to focus on getting a precise cut than on holding the machine trigger
CONS:
Accepts T-shank blades only
5. Bosch JS572EK – Best Jigsaw Model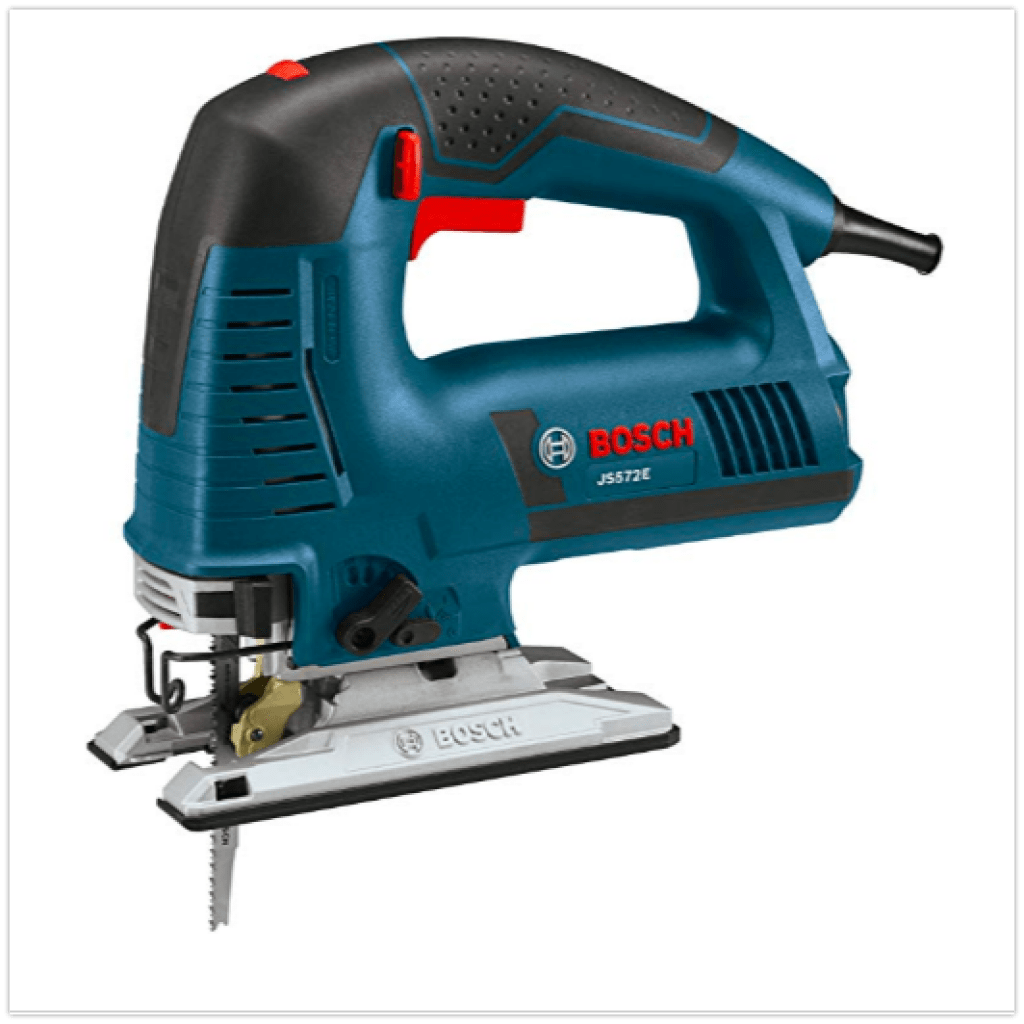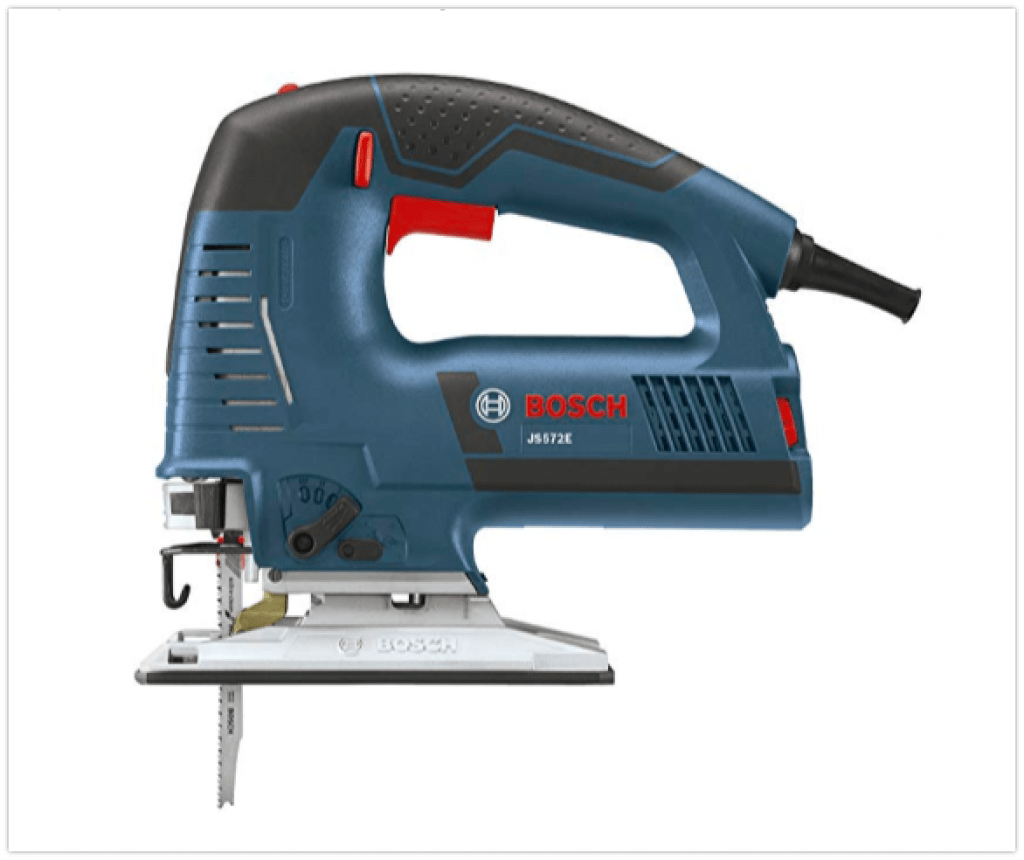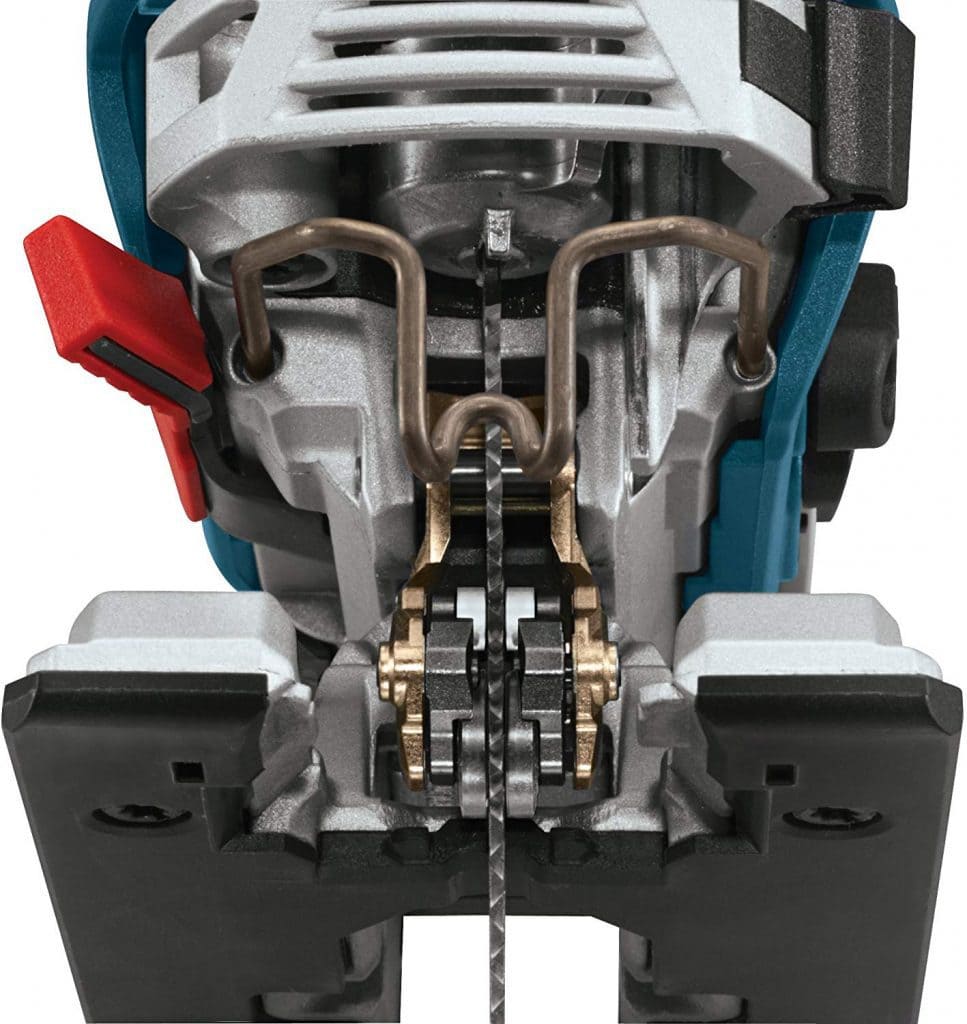 Specifications:
Number of Teeth: 10
Power Source: Corded Electric
Speed: up to 3,000 spm
Power: 7,2 Amp
Bevel Angle Range: 45 Degrees
If you are looking for the best professional jigsaw with a cord, then I strongly recommend the Bosch jigsaw kit. Its motor runs on a 7.2amp, which results in a powerful performance and a longer run time compared to other similar products. It can handle massive loads and still function perfectly, making it the top tool for professional use.
Your hands may get tired when you are working with a jigsaw for long hours, especially if the tool produces a lot of vibration. However, this corded device has an anti-vibration system that suppresses the vibes and allows your hands to work and cut with precision.
Changing the blades on this tool is very simple. All you need to do is to push the lever to the side, and it pops open. Once you remove the old blade, move the lever to the side, fix it in the new blade, and release it. That is all! I was pretty amused when I figured out that it takes less than a minute to change blades on this model.
What's included:
(1) JS572 Jig Saw

(3) Assorted Jig Saw Blades

(1) Anti-Splinter Insert

(1) Plastic Shoe

(1) Carrying Case
The batteries are not included in the package, so you would have to purchase that separately. The Bosch kit comes with a jigsaw machine, three different blades, a plastic shoe, a carrying case, and an anti-splinter insert.
Among other useful features are the following:
The tool comes with an adjustable dust blower to keep your work area clean and free of sawdust.
To let you see your work area, the device comes with LED lighting that can be turned on or off.
Blade change does not require any additional tool.
The Bosch power tool comes with a huge die-cast aluminum footplate with a no-tool adjustment for speedy and easy alterations.
It weighs 5 pounds and comes with dimensions of 9.2 x 4 x 8.5 inches.
Here are the good and bad points of this model:
PROS:
Anti-vibration system
Ideal tool for professional users
Can easily cut through very tough woods
Creates precise shapes
CONS:
The cord can limit movement and will only work where there is a socket
It is not compatible with U-shank blades
6. Worx Jigsaw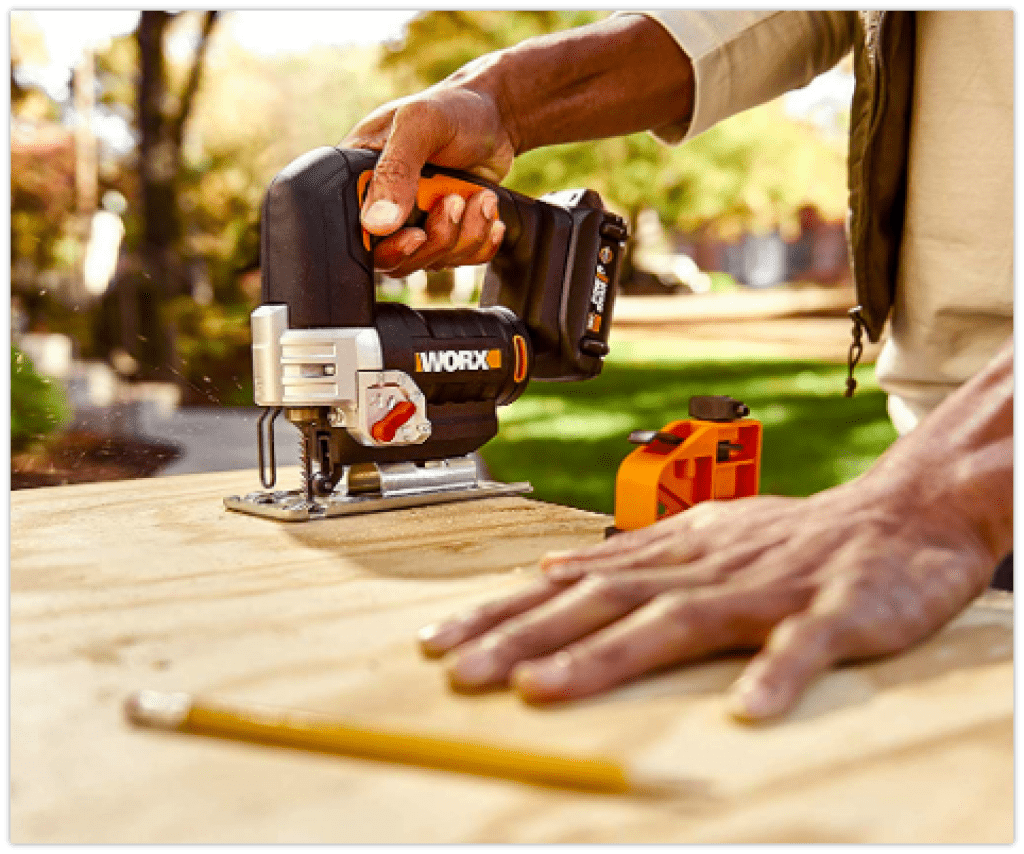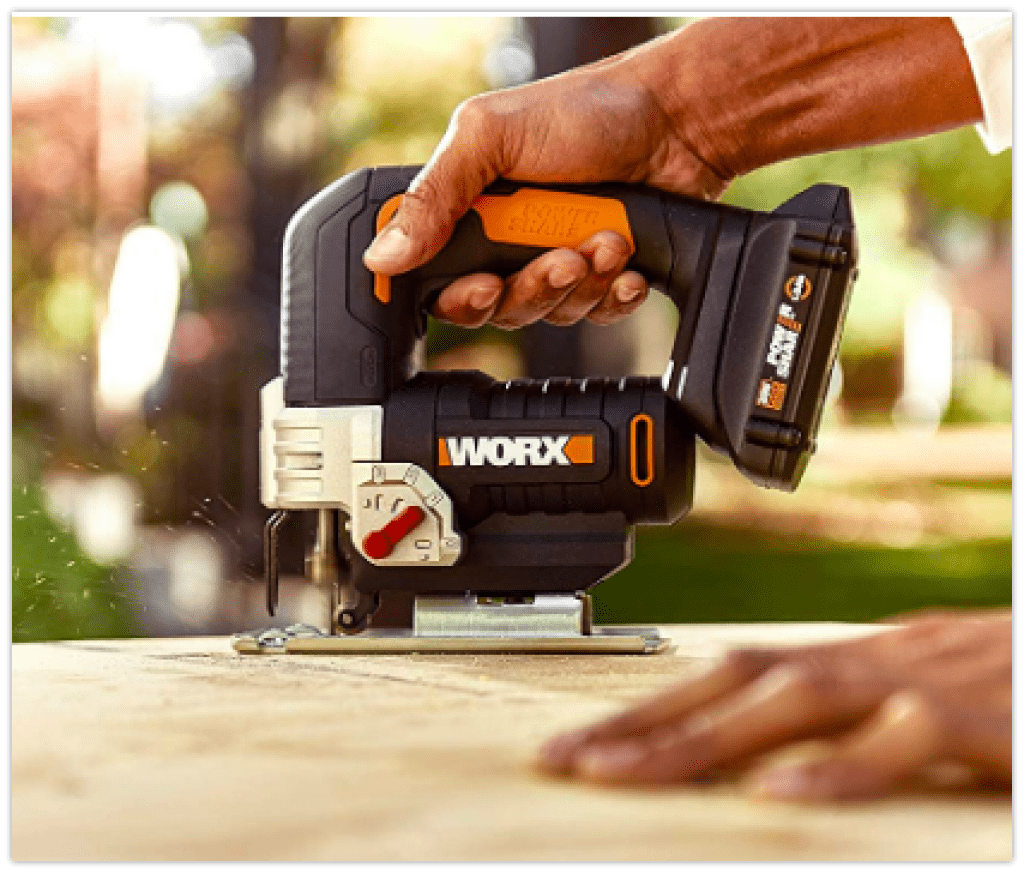 Specifications:
Number of Teeth: 5
Power Source: Battery Powered 20V
Speed: up to 2,600 spm
Power: –
Bevel Angle Range: 45 Degrees
This is definitely the Worx jigsaw review power tool for non-professionals. This incredibly light device can be used in and all around the house. Reviews from people who have used this tool proved that it is very handy and not heavy at all. You can use it to create a light board, craft a mini shelf, or for anything that needs to be drilled, cut, or carved at home.
Worx 20v jigsaw comes with a dual handle for your convenient use no matter what material you are working with. The handle was designed to reduce vibrations and strain on the hand that is holding the tool. You can switch to different speeds, depending on the type of sheet that you are cutting.
What's included:
1 blade, 1.5Ah 20v battery, 1 charger
Did I mention that this jigsaw is cordless, which makes it easy to work with from any angle? It comes with an orbital mode that can be used during tough reciprocation tasks. The speed triggers help you gain control over the material that you are cutting, giving your work the precision it needs.
So, if you have little work around the house that needs drilling or precision cutting, then, this is the way to go. I want to highlight the main features of this tool to keep in mind:
You can work from different sides with this tool thanks to its rotational mode.
It is powered by a 20V max lithium battery that can be shared with other similar tools of the same voltage. Here is how you are getting major value for your money.
You can change blades depending on the type of work. This way, you don't need to have a bunch of similar one-purpose tools around. Simply remove one blade and install another, that's simple.
Talking about the pros and cons of this cordless jigsaw, check out the table below:
PROS:
Lightweight
Has an orbital mode
Cordless
Cost-effective
CONS:
May not be suitable for tough jobs
The battery can become weak shortly
7. Black & Decker BDEJS4C – JigSaw for Home Use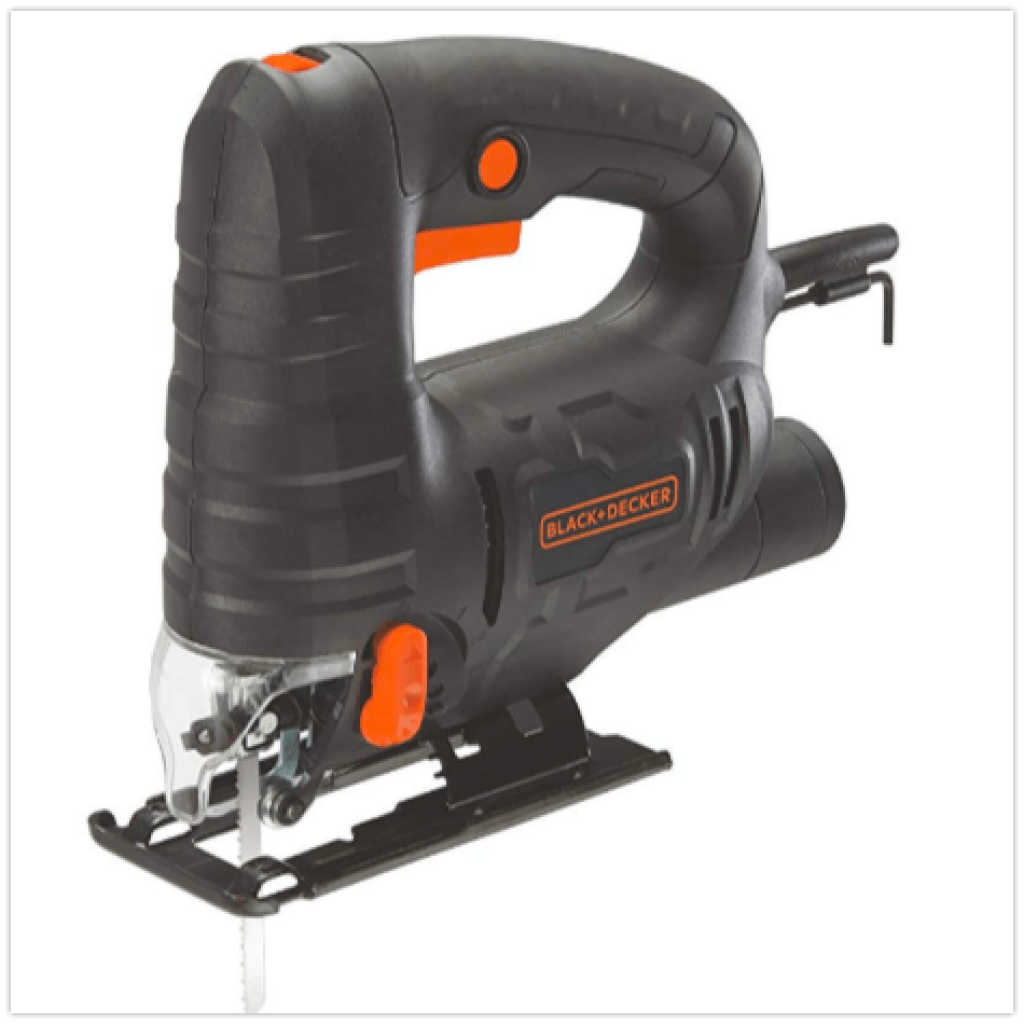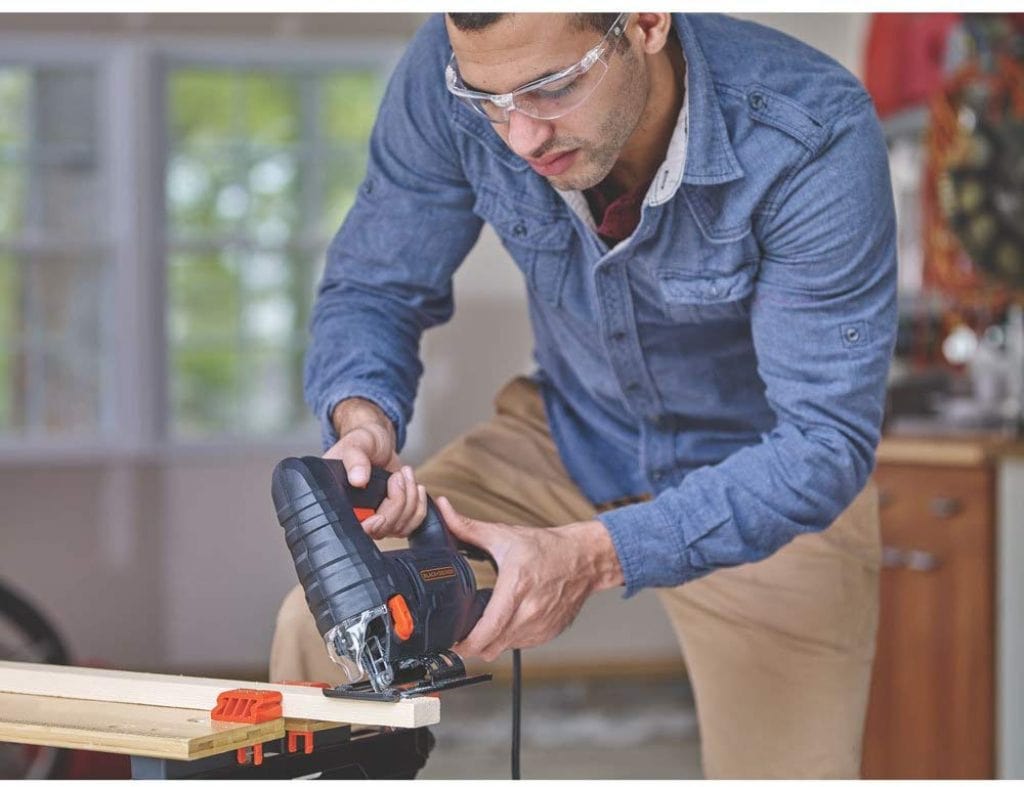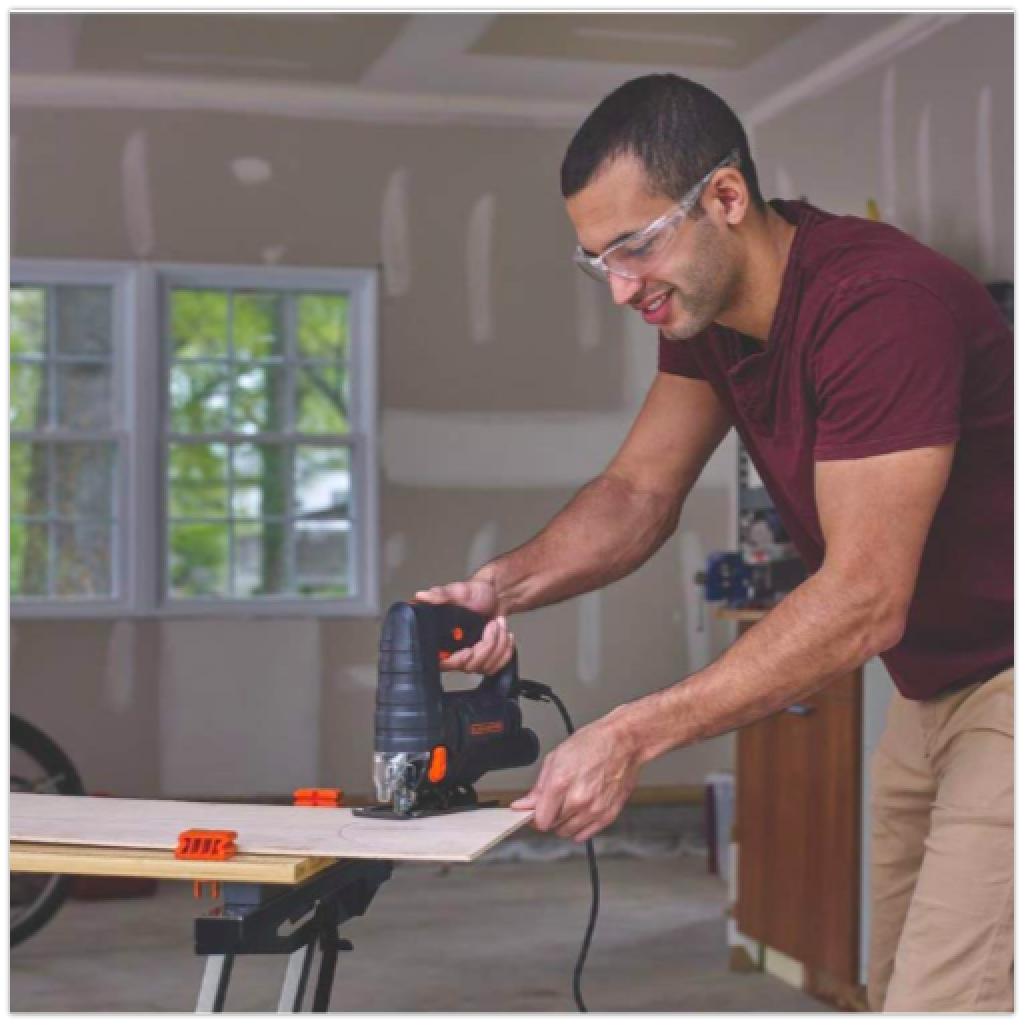 Specifications:
Number of Teeth: 10
Power Source: Corded Electric
Speed: up to 3,000 spm
Power: 4,0 Amp
Bevel Angle Range: 45 Degrees
If you are looking for a good jigsaw that will not cost you an arm and a leg, then the Black & Decker jigsaws power tool is what you have been looking for. Do you want to create a mini door for your pet? Or to cut boards for your kitchen shelves? Or carve out kitchen chairs? In this case, you don't have to spend a lot of money to do such work.
With this machine, you can cut or drill into any material with precision. It is a 120V corded electric device with an orbital blade that lets you cut quite tough materials accurately. Additionally, a tilting base pale can cut up to 45 degrees of the bevel.
I want to note that this tool is super affordable. Even though the amperage capacity does not meet up with professional jigsaws, it still does a pretty decent job and can be used inside the house for heavy work.
What's included:
(1) BDEJS4 Jigsaw(1) Wood cutting blade(1) Vacuum adaptor(1) Hex Key
Within the package, you get the Black & Decker jigsaw, a vacuum adaptor, a wood cutting blade, and a hex key.
Here are more features for you to take into consideration:
With its 4-amp motor, the jigsaw produces a maximum speed range that extends to 2500SPM and beyond.
The handle is easy to hold since the device is lightweight.
This jigsaw weighs 4.45pounds and has dimensions of 10.7 x 3.6 x 8.9 inches.
Below you can find the advantages and the only disadvantage I find about this jigsaw:
PROS:
Orbital blade for faster cutting
Comes with a vacuum adapter
Lightweight
Ideal for home and around the house
8. Ridgid R8832B – Cordless Jigsaw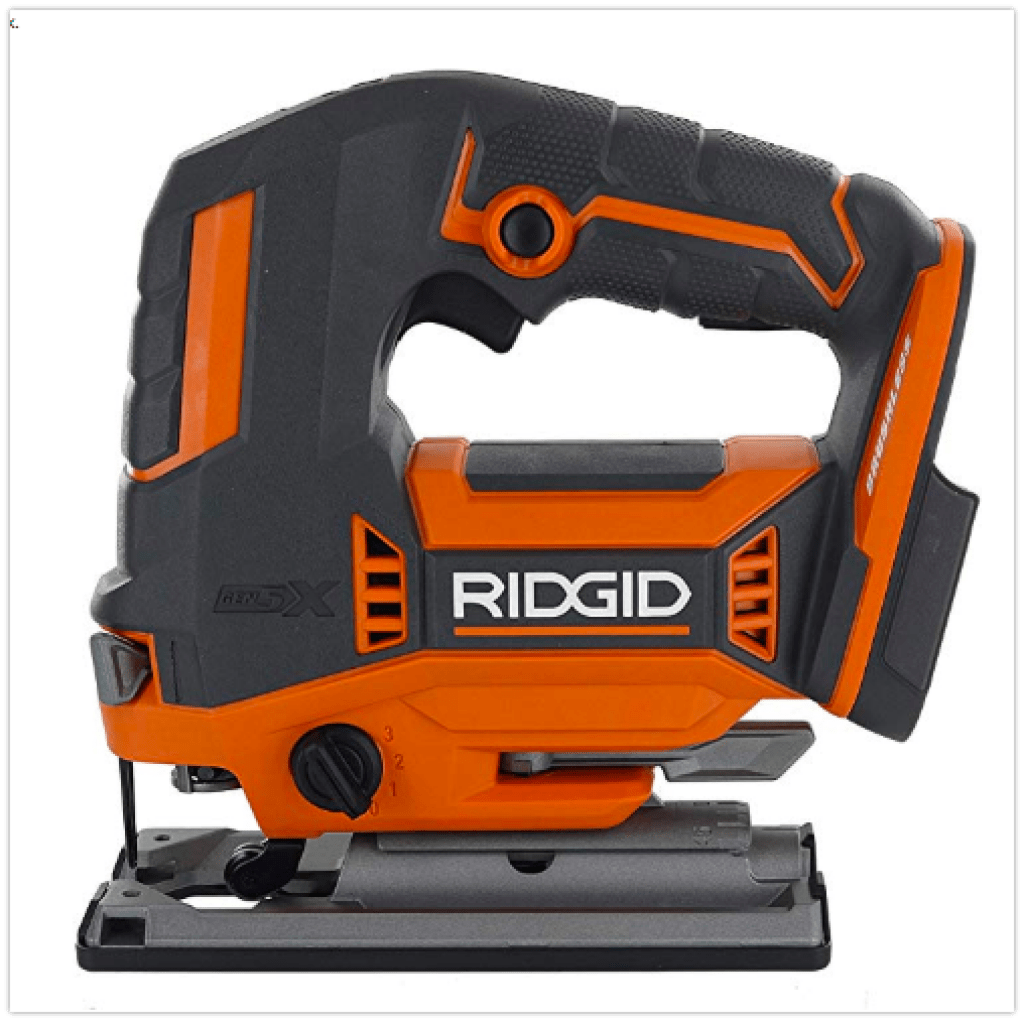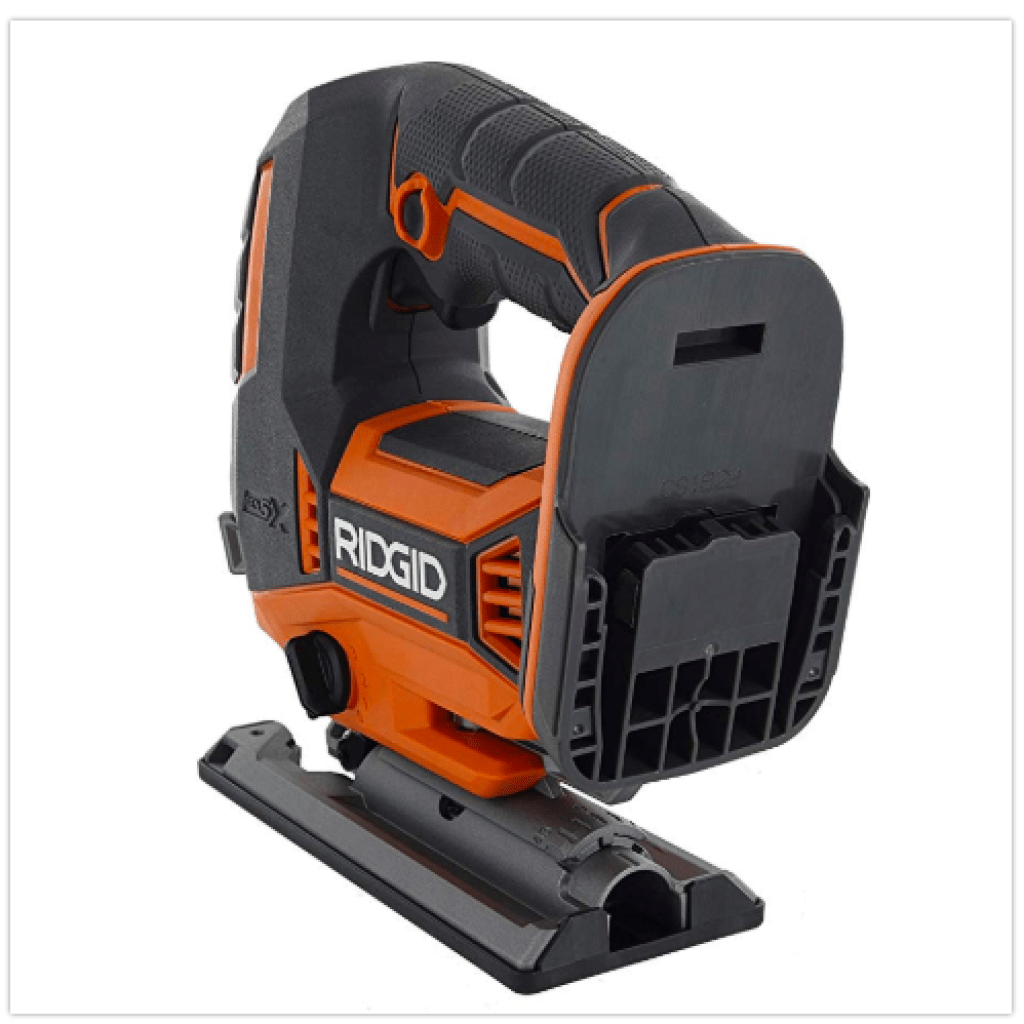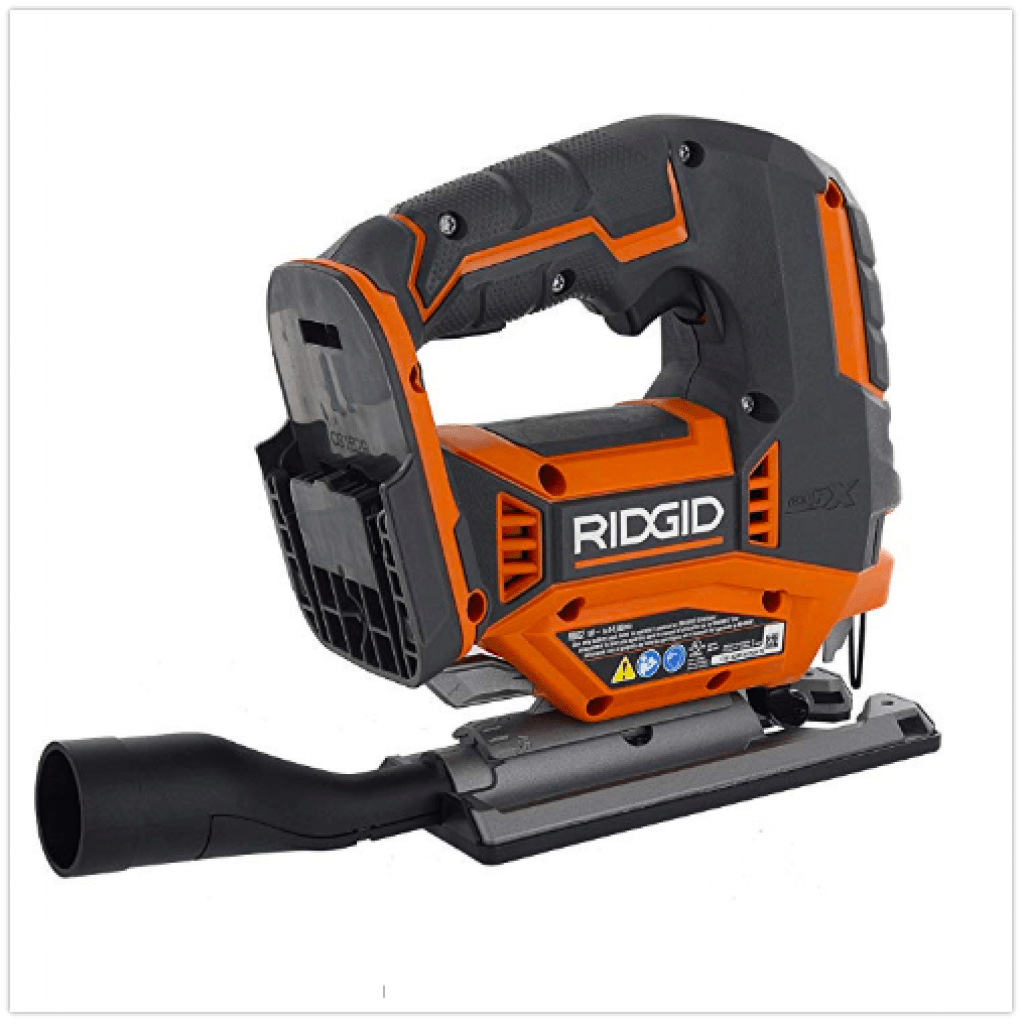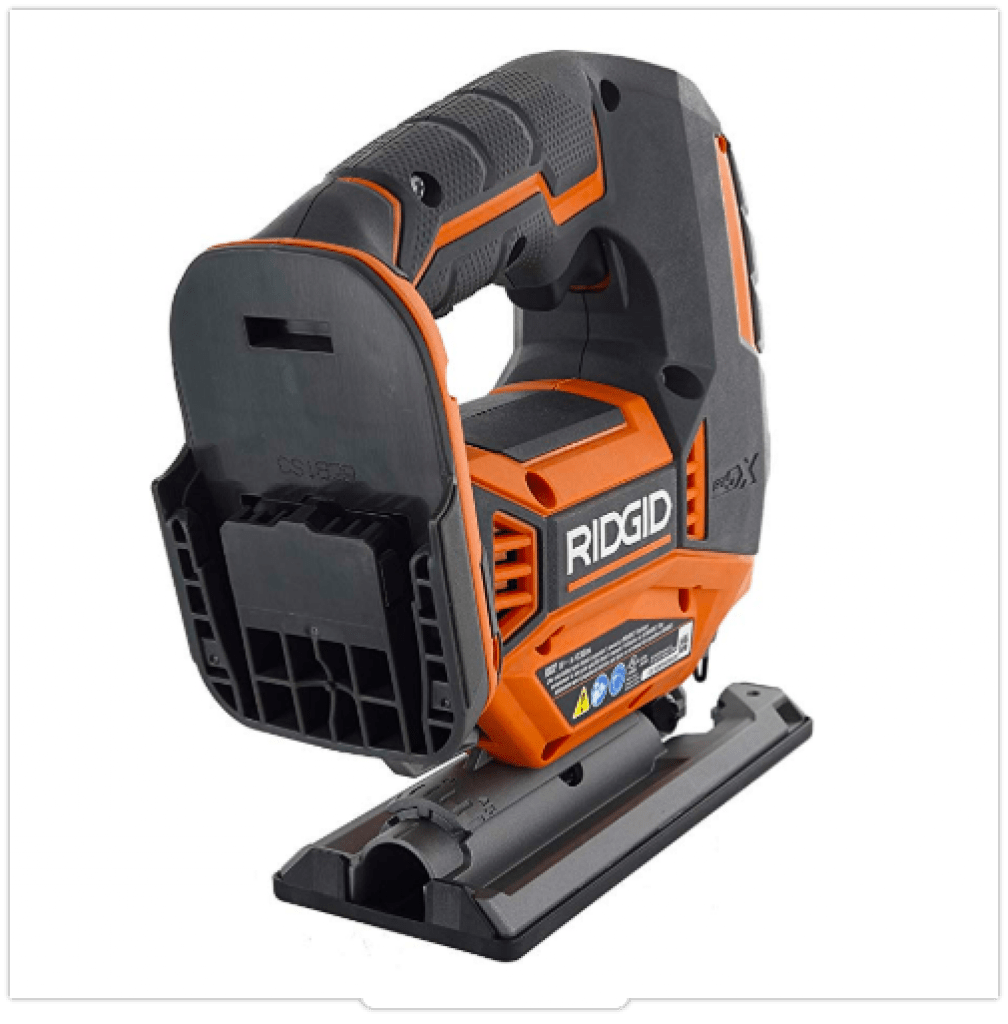 Specifications:
Number of Teeth: 10
Power Source: Battery Powered 18V
Speed: up to 3,500 spm
Power: –
Bevel Angle Range: 45 Degrees
If you are looking for a jigsaw that would not trade quality for anything, this can be seen in the Ridgid cordless jigsaw machine. Although pricey, this device will give the best woodworking precision. Whether you need it to carve out designs for kitchen aesthetics or serious woodwork, it will provide you with the results you were looking for.
With this device, cutting through materials can be done without breaking a sweat and with 100% precision. The sightline dust blower ensures a debris-free working environment.
The line-start feature starts slowly and increases gradually to full speed. You don't have to constantly press the trigger button if you are working for longer hours as it results in tiredness and numbness of the hands. You can simply use the lock button to hold down a pre-cut material, release your hands from the trigger and work easily.
What's included:
(1) R8832 OCTANETM Brushless 18V Jig Saw, (1) Jig Saw Blade, (1) Vacuum Attachment, and Operator's Manual
I have worked with this tool before, and I want to say that it is a must-have if you are serious with your woodwork. If you have a budget to invest in a top-notch jigsaw that will stand the test of time, then consider purchasing this one.
Here are the features I find essential to mention:
LED lighting appears as soon as the saw is on to light up your workspace, especially if the light condition is bad in your workshop.
The rubber handle grip helps to gain control and stability while cutting.
With the onboard blower, dust will be kept out of your workspace.
The orbital mode permits fast cutting across different materials.
The brushless motor of this device aids it to last longer and run faster.
The device weighs 4.15 pounds and has dimensions of 10.2 x 9.4 x 3.9 inches.
Consider these advantages and the only disadvantage of Ridgid R8832B:
PROS:
Has LED lighting
Lightweight
Orbital mode
Uses brushless motor
Fits beginners
9. SKIL 20V 7/8 Inch Stroke Length – A Powerful Cordless Jigsaw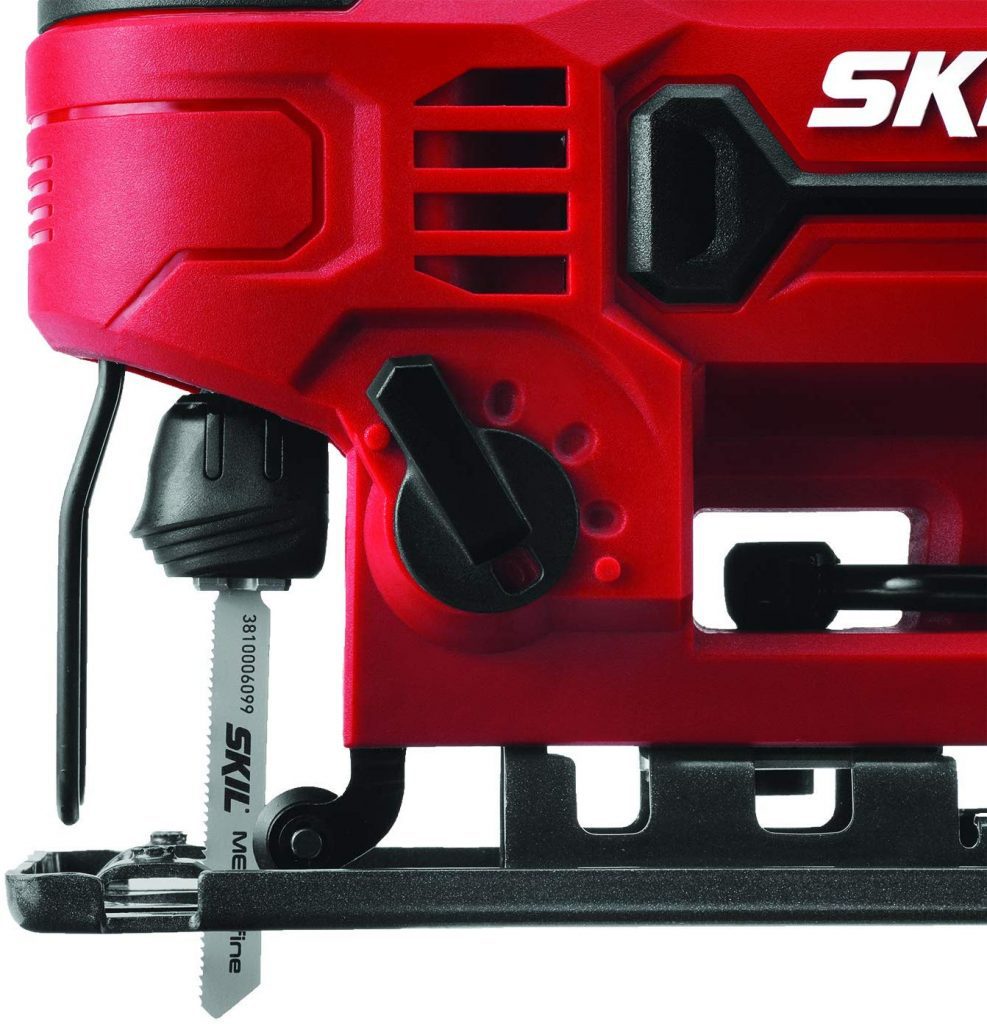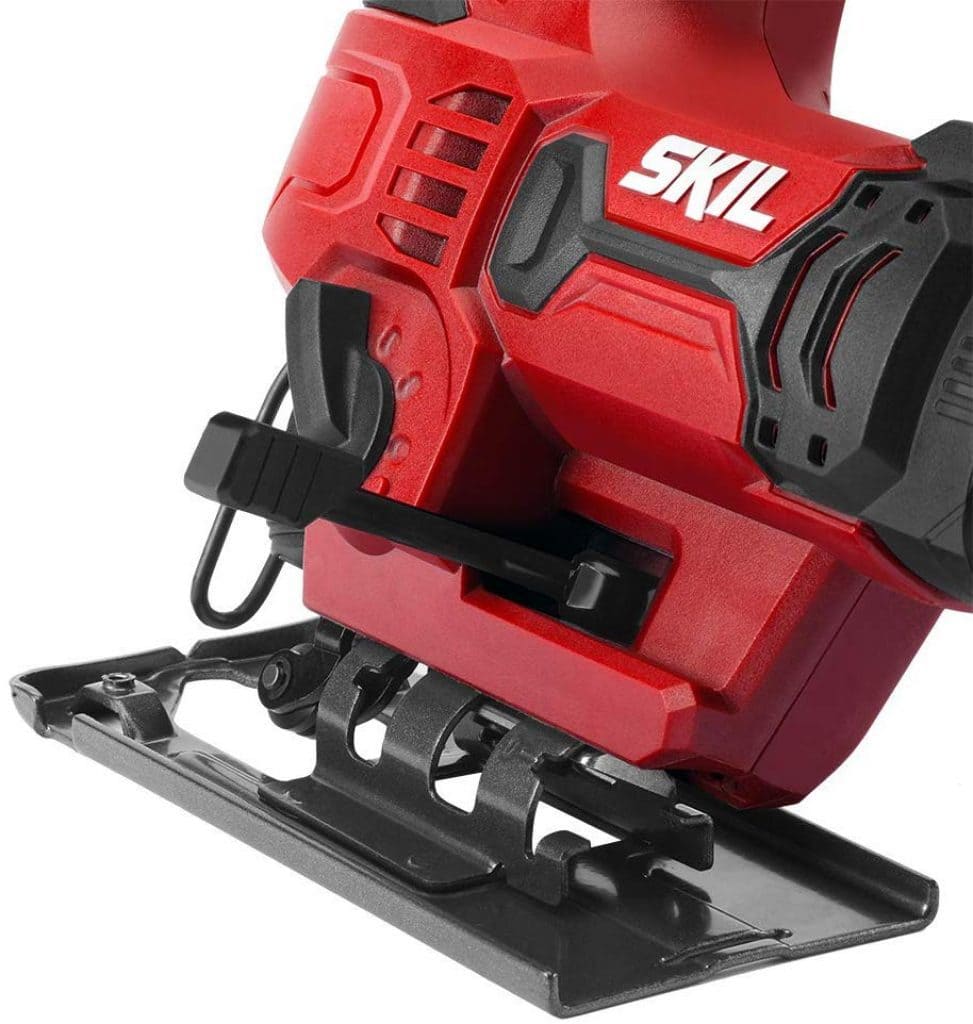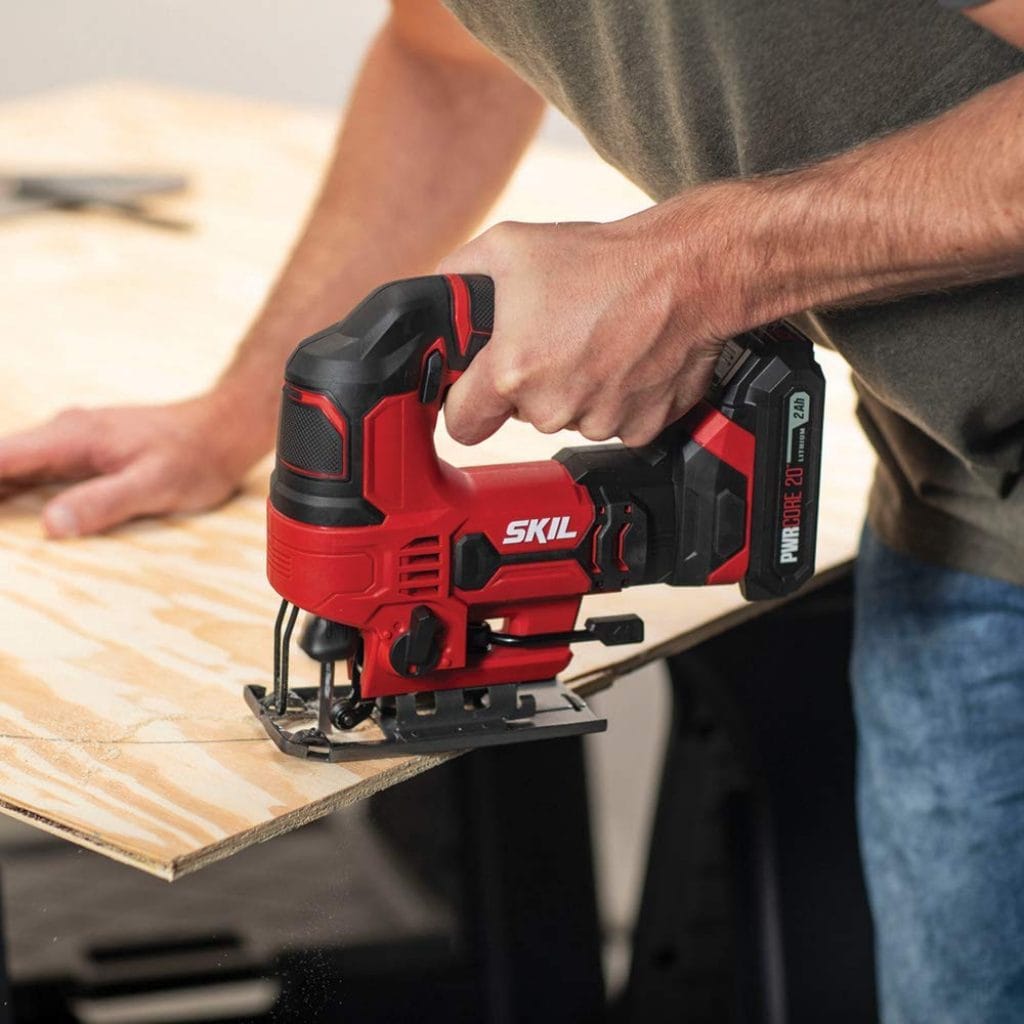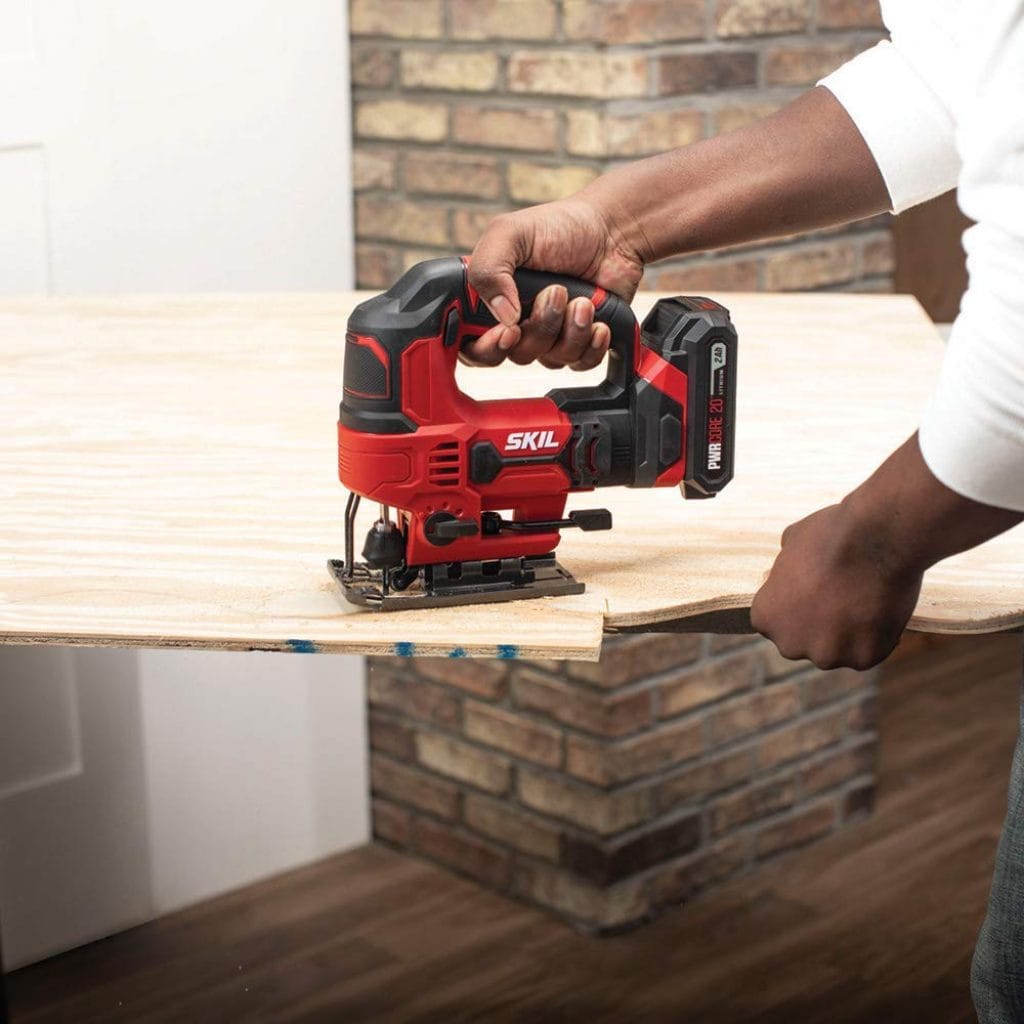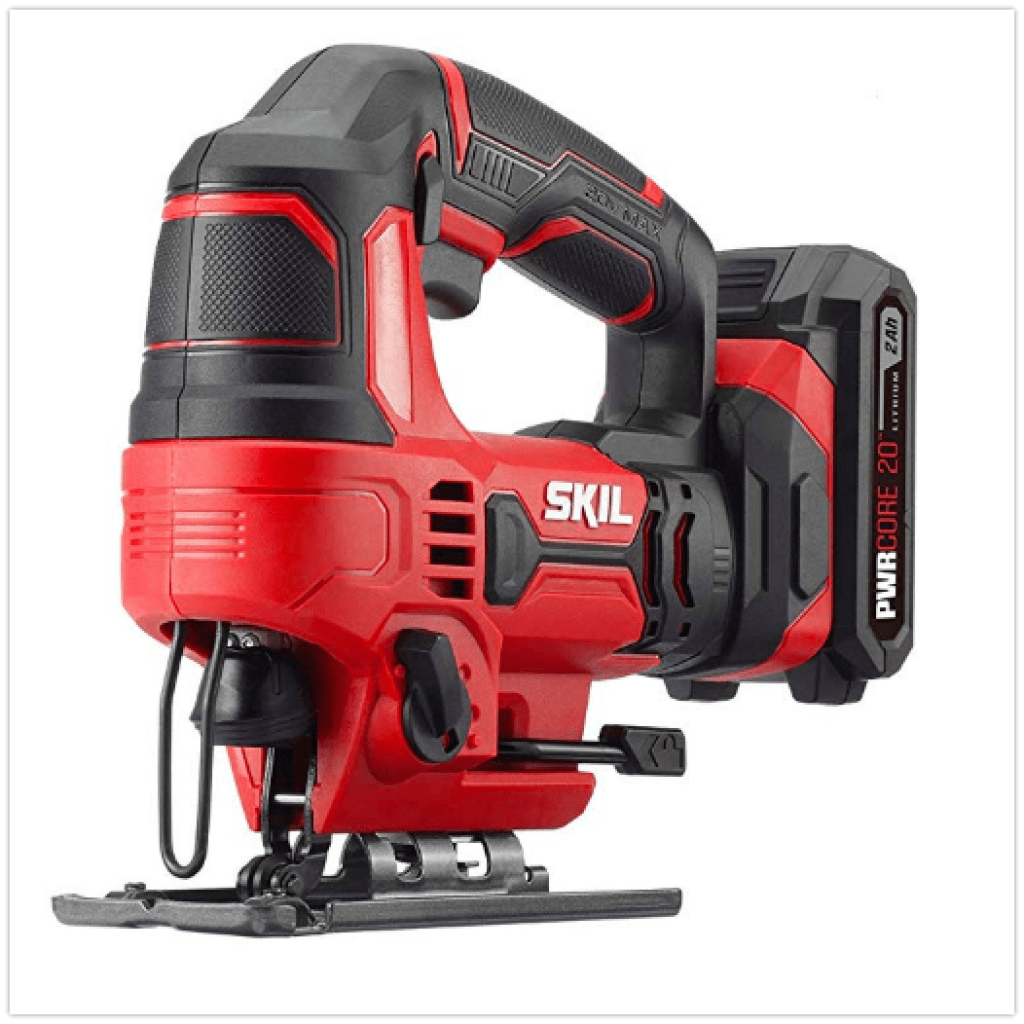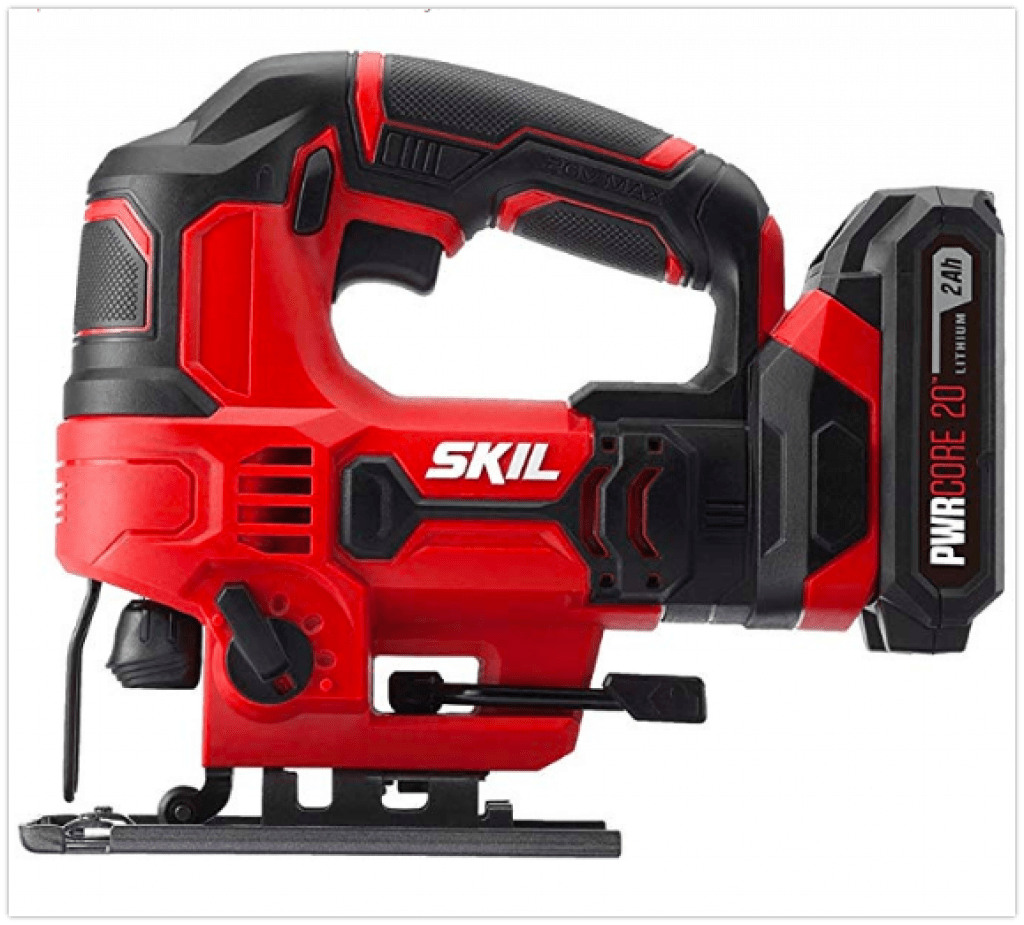 Specifications:
Number of Teeth: 10
Power Source: Battery Powered 20V
Speed: up to 2,800 spm
Power: –
Bevel Angle Range: 45 Degrees
Whether it is your first time handling a jigsaw or you are an expert user, this tool is safe-to-use and will serve you well. This tool can be used for both straight and complicated cuts. Anyways, always ensure that you take precautions ad read instructions properly to avoid making mistakes. I usually advise everyone to try test-cutting before cutting the original thing that has been set out.
The device is cordless, which means that it runs on a battery. The more energy the battery consumes, the hotter the device gets. The hotter it gets, the lower the battery life. However, this cooling system will help to cool the heated device, thereby extending its battery life, so everything is kept in balance.
What's included:
Jig Saw

2.0Ah Battery

Charger

Wood Cutting Blade

Metal Cutting Blade
A friend of mine uses this device at home, garden, and workshop. He praises this jigsaw, especially the cooling system. He recently bought his first home and made almost all furniture from scratch, starting from the shelves and decorations to the dining tables and chairs. He agreed that SKIL jigsaw was the easiest tool he has ever worked with compared to all the other previously used items.
So, here, I want to highlight a bunch of useful features you can get from this model:
You can easily remove and replace blades.
The orbital mode of this device provides up to 2800 strokes per minute.
It comes with a dust blower that has an on/off switch.
While working, you can lock down your material, so that you can release your hands from the trigger button and gain more control of your work.
It comes with LED light to better illuminate the space you work at.
Its cooling system allows the battery life of the machine to last longer.
It weighs 5.98 pounds, with 8.3 x 2.8 x 8.3 inches product dimensions.
Here are the main pros and cons highlighted by a friend of mine:
PROS:
Comes with a cooling system
Suitable for straight and complex cuts
Very easy to use
CONS:
LED precision is not always accurate
10. Tacklife Upgraded 6.7 Amps 3000 Rpm – Best Jigsaw with Laser Guide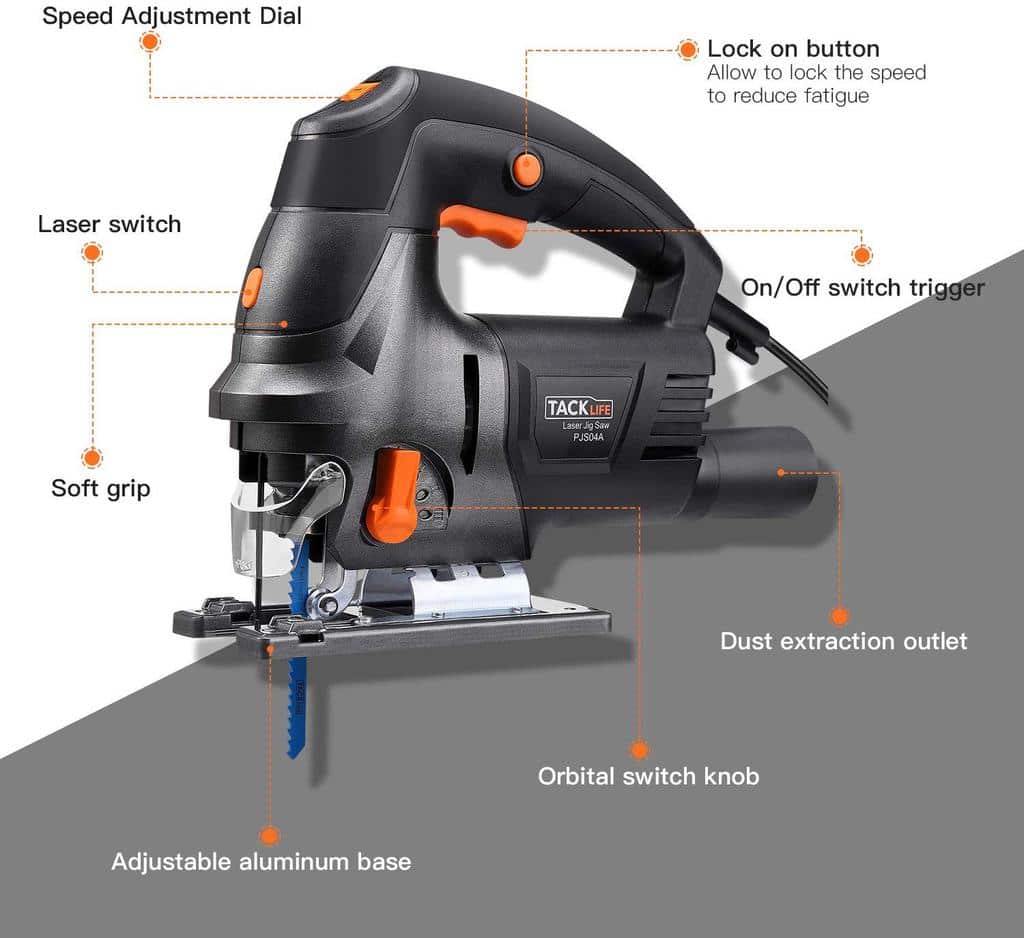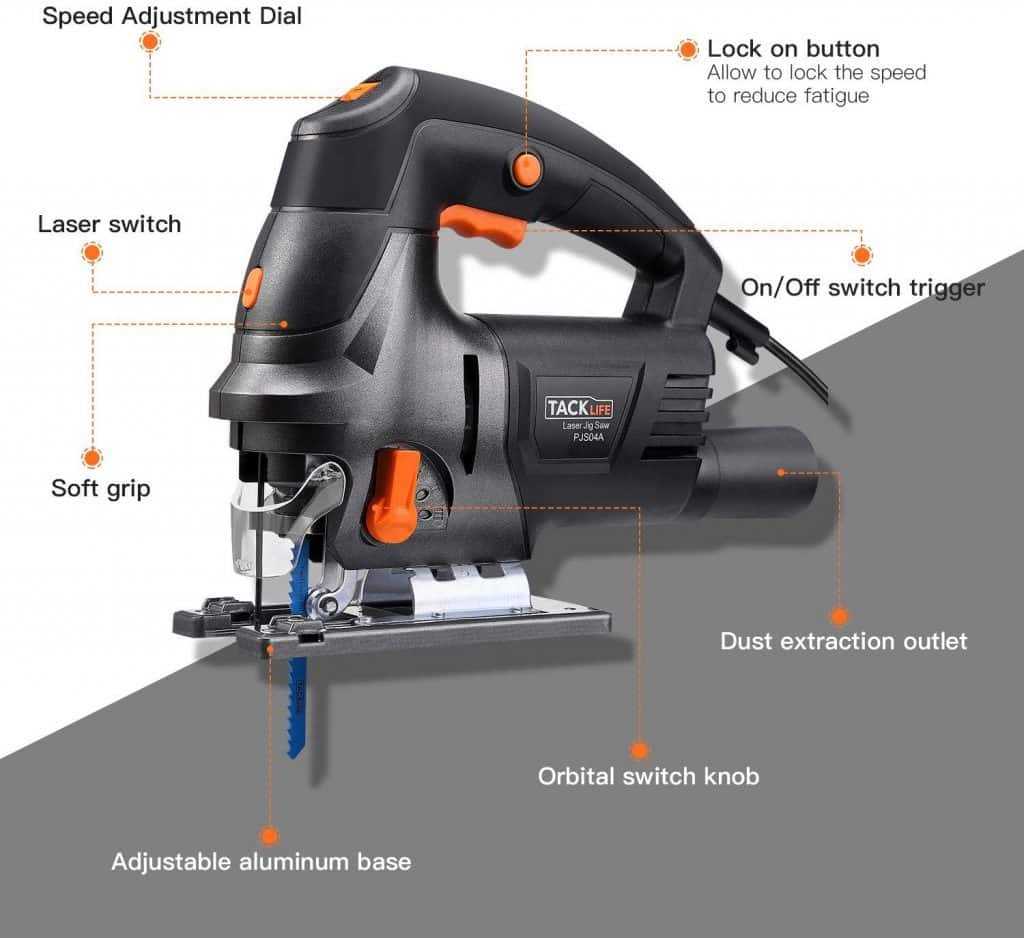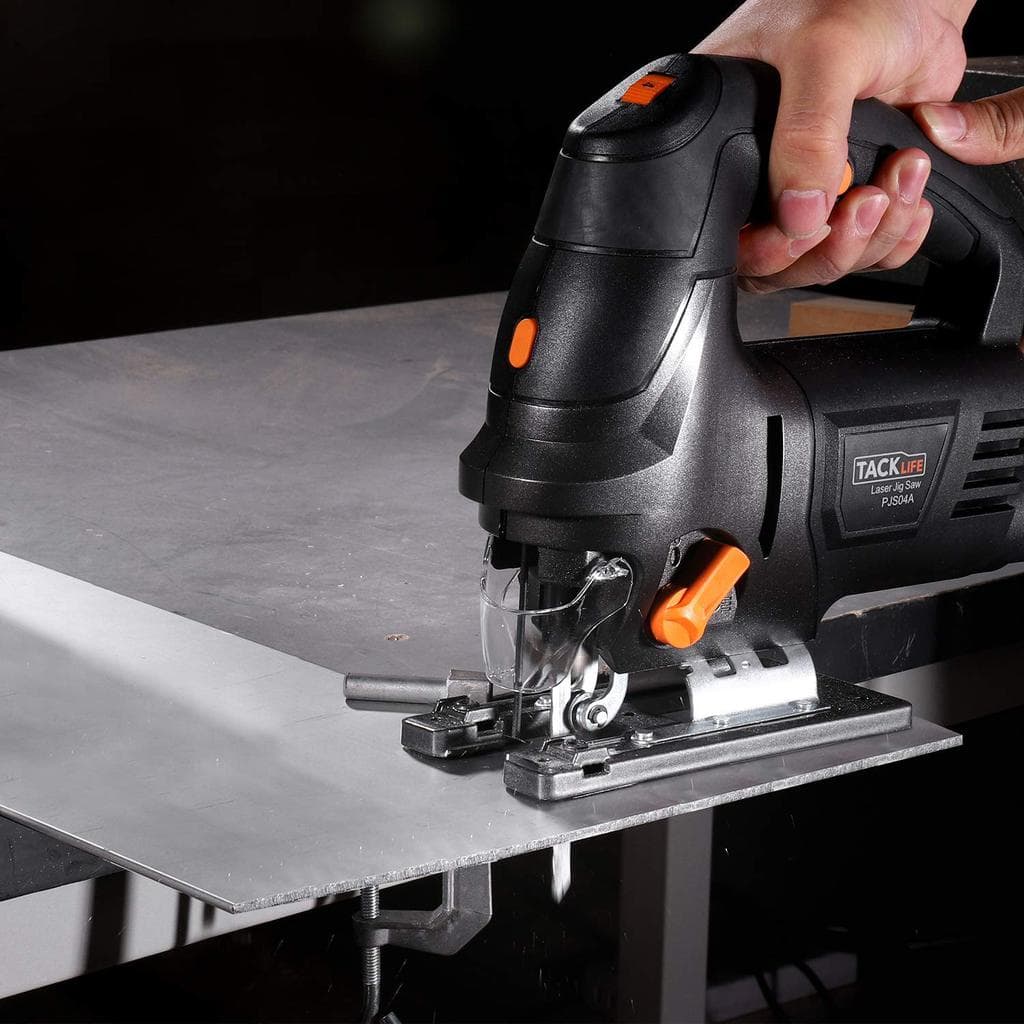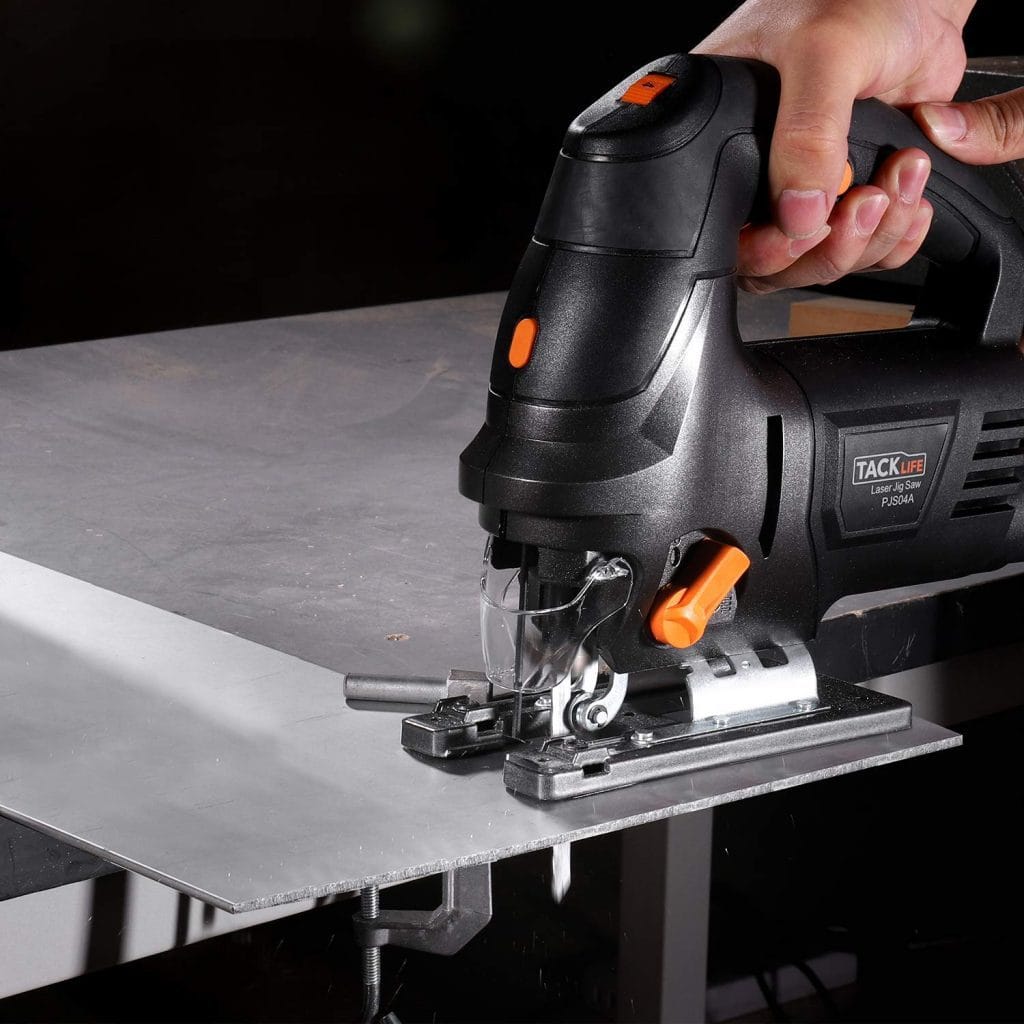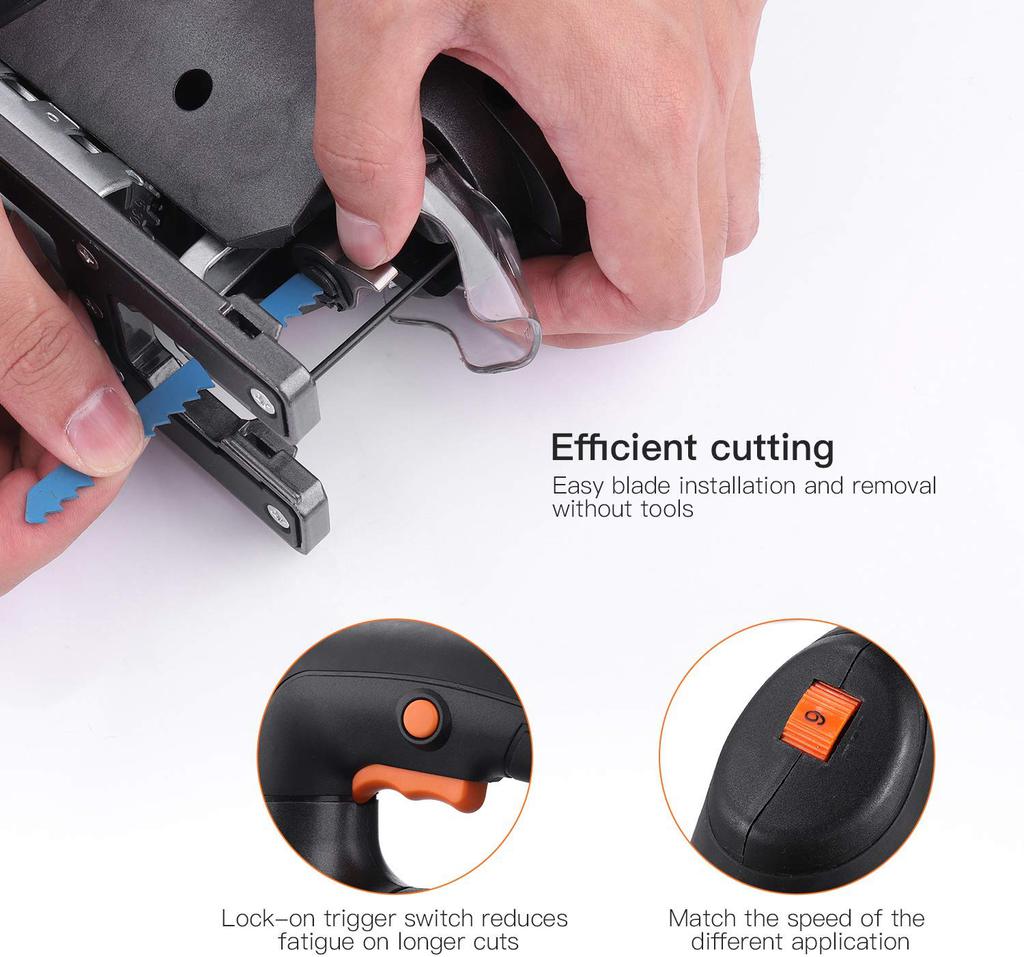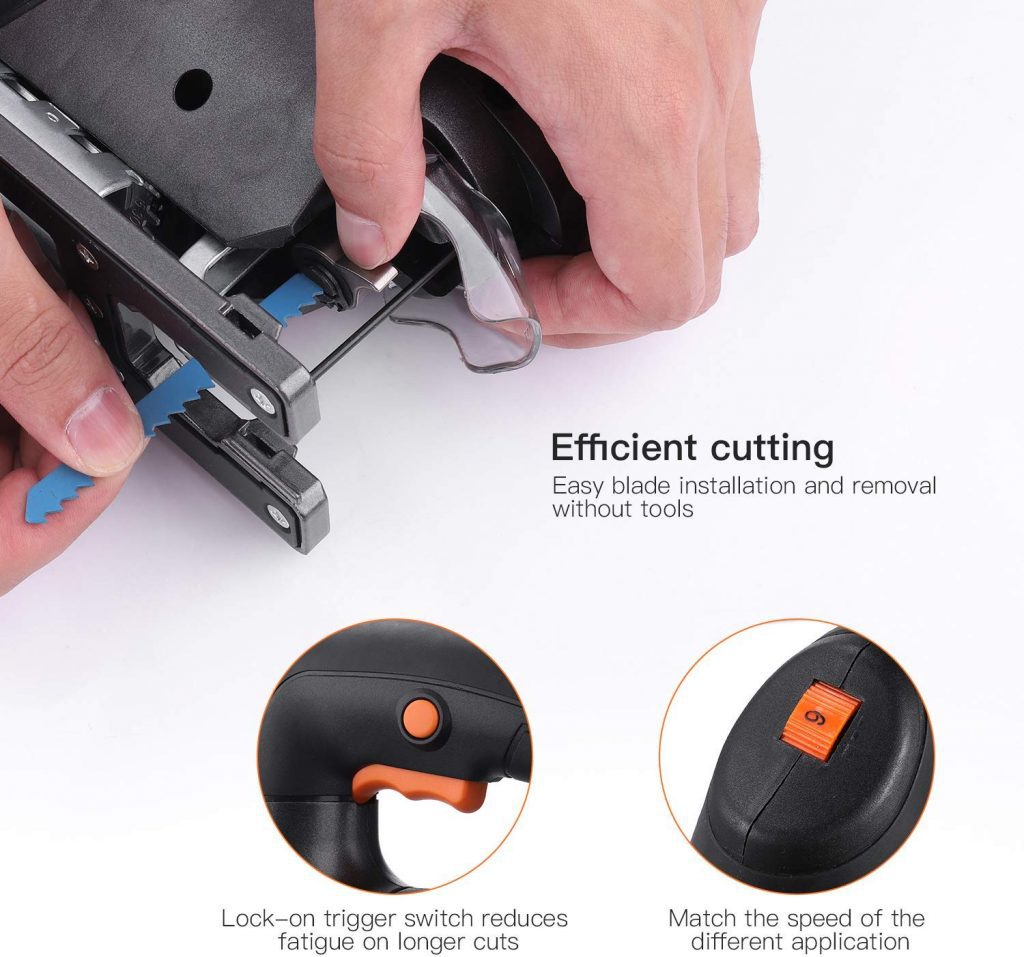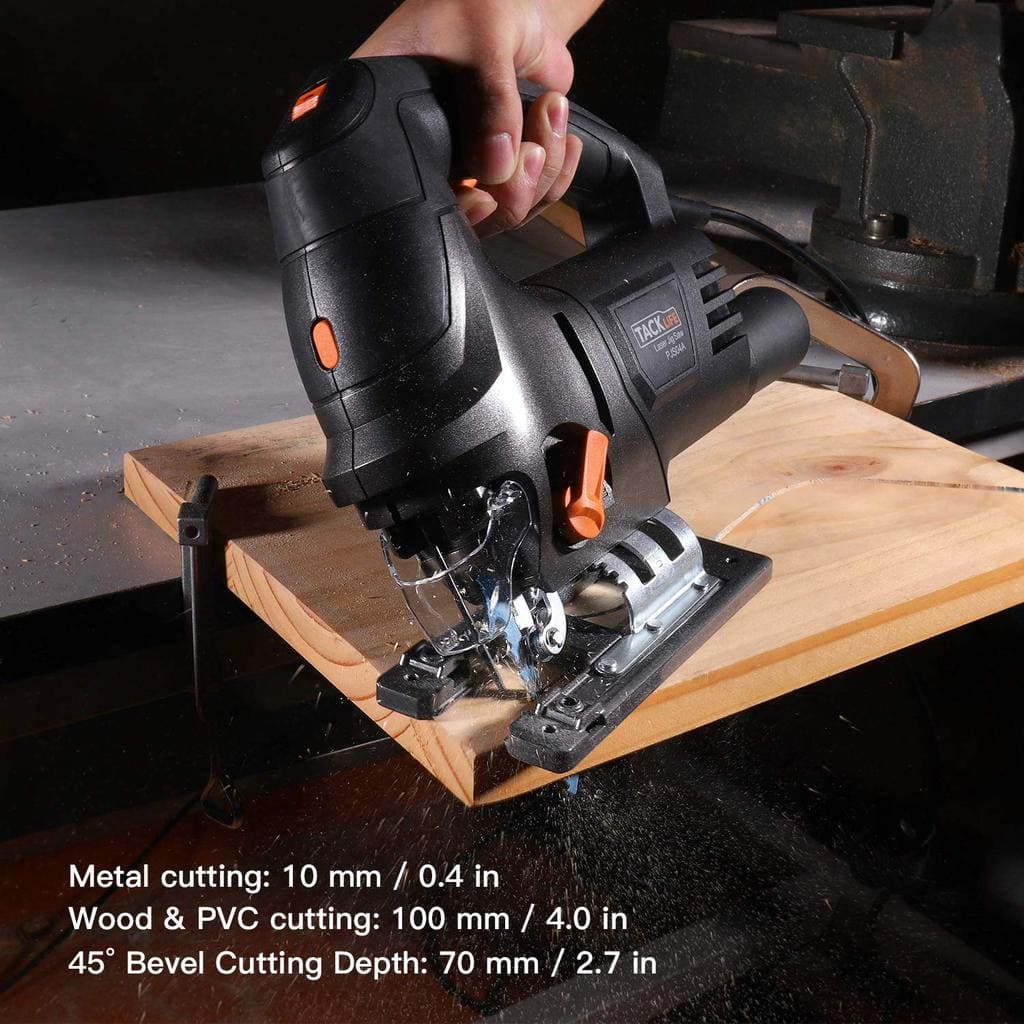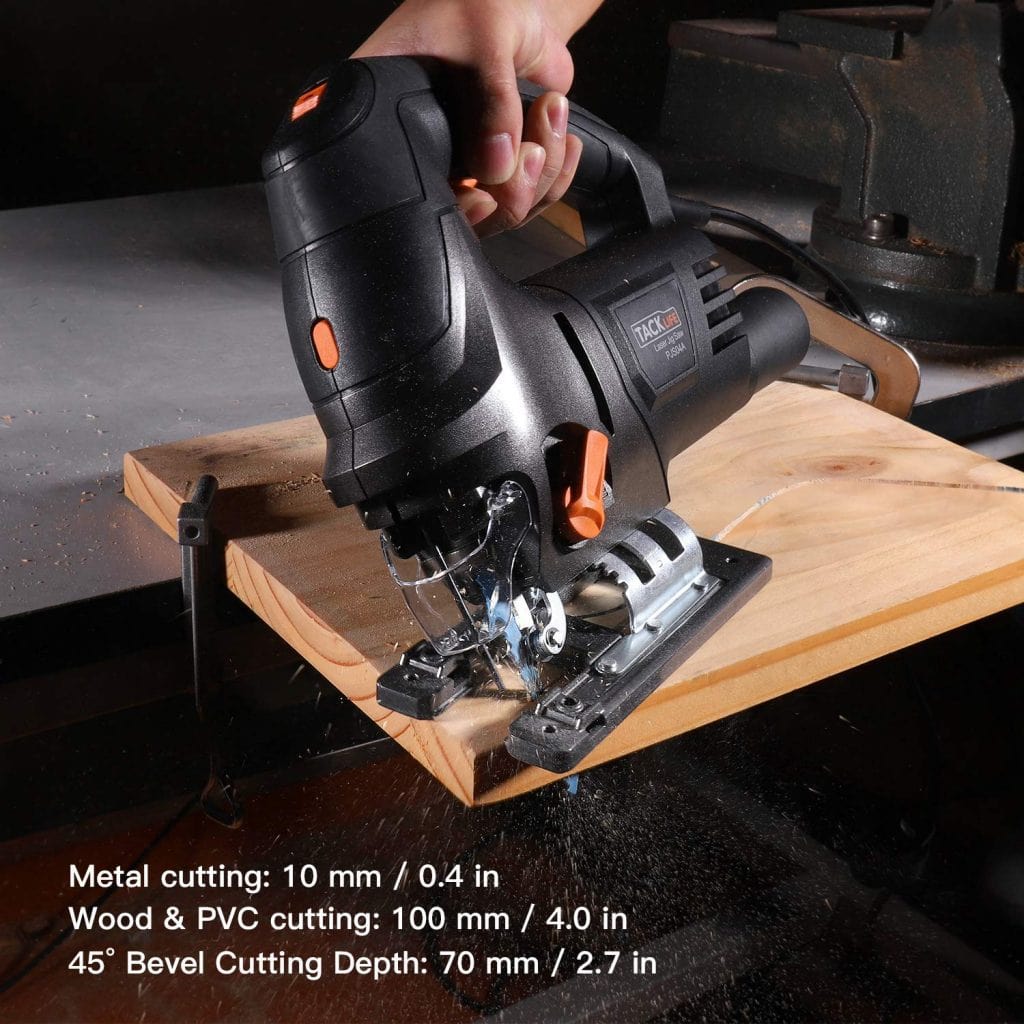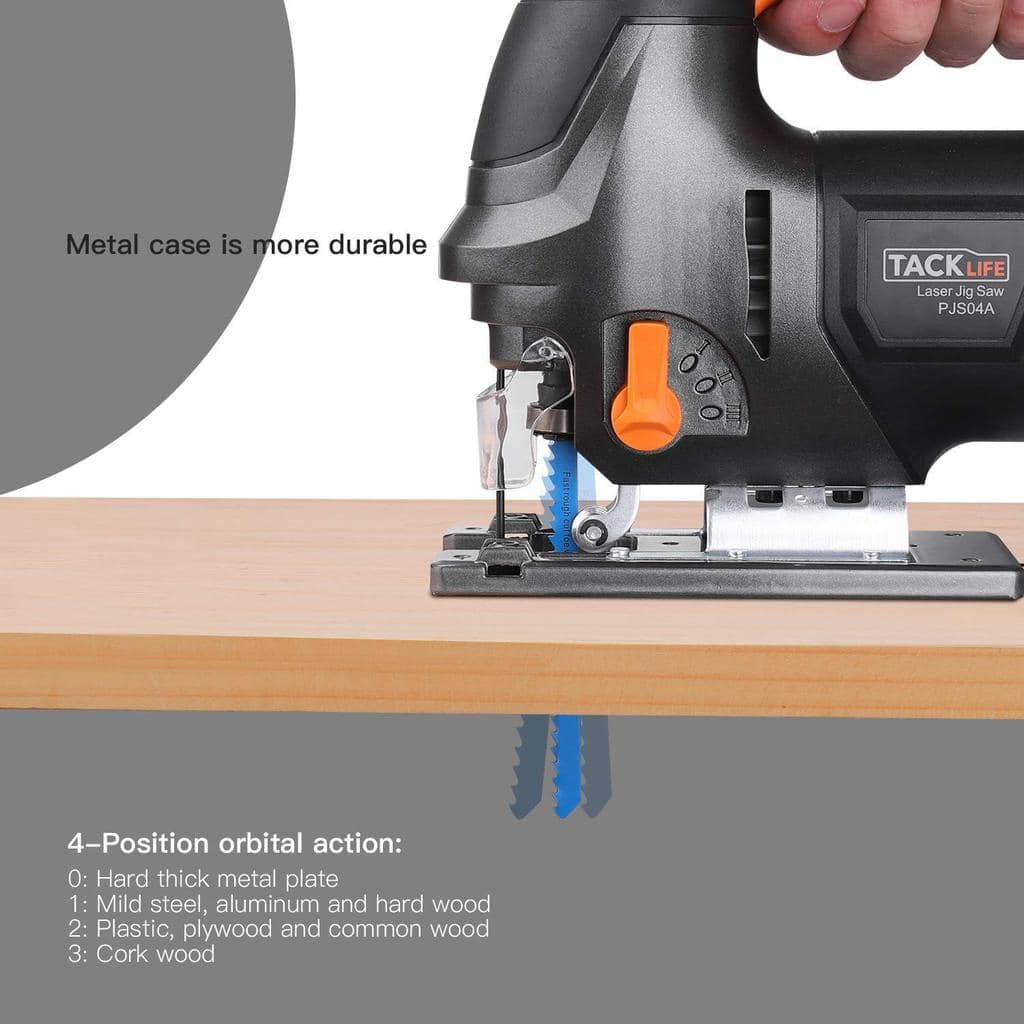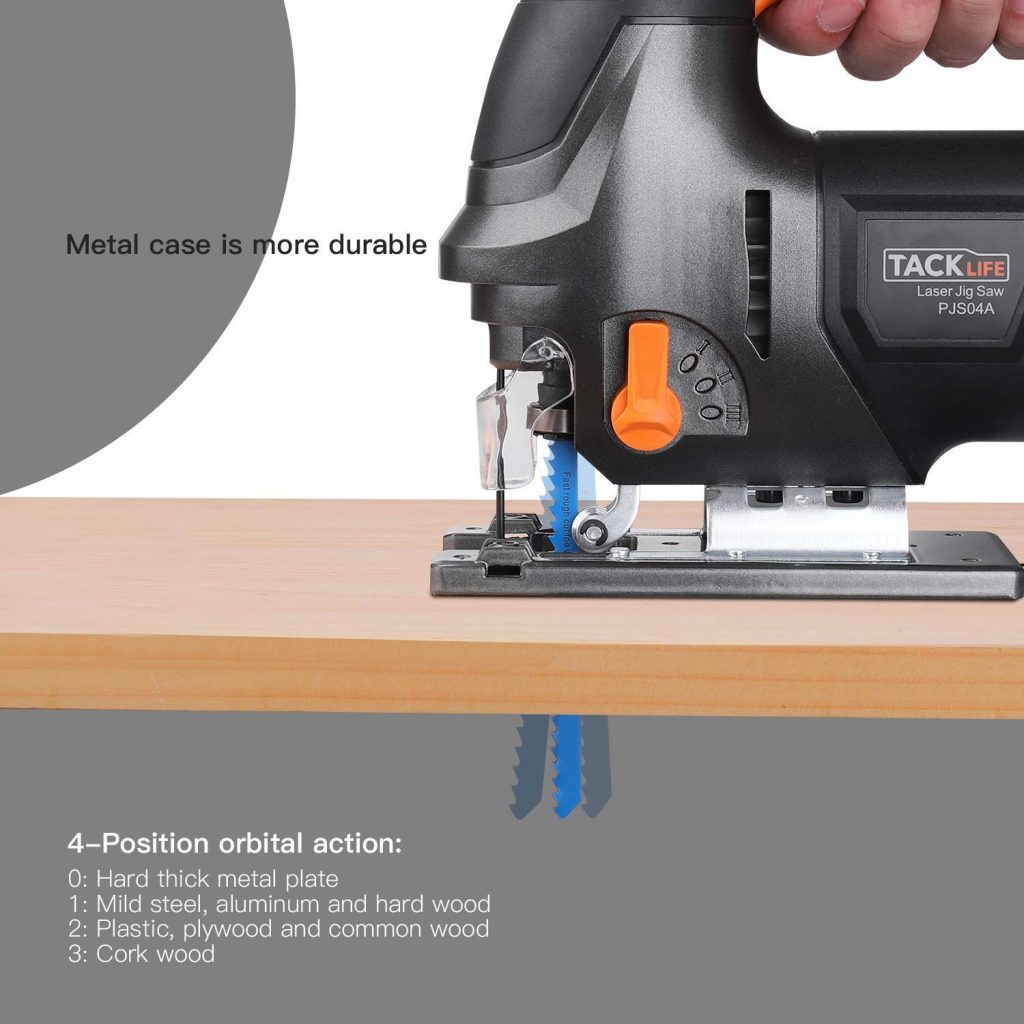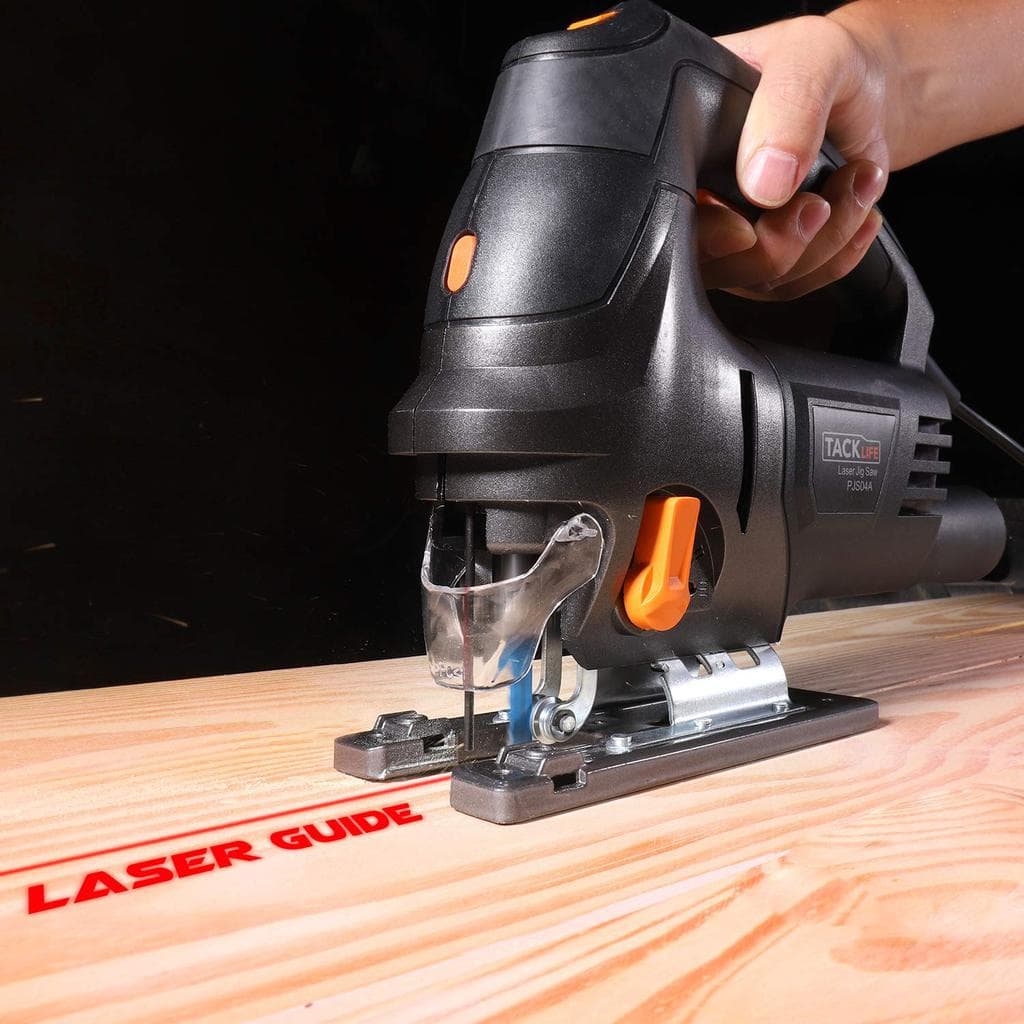 Specifications:
Number of Teeth: 6
Power Source: Corded Electric
Speed: up to 3,000 spm
Power: 6,7 Amp
Bevel Angle Range: 45 Degrees
Every jigsaw in this overview is powerful and easy to use. However, when people read that jigsaws can cut through wooden materials, metal, aluminum, and plastic, they do not pay attention to the fact that not every jigsaw can perform those duties. If you buy a device without checking the description of whether it can cut through metal or not, you may destroy it with metalwork right away. Fortunately, there are multipurpose options such as the Tacklife jigsaw model.
With Tacklife's orbital 4-position cut control, you can cut through different materials. All you need to do is to choose the operational level depending on the thickness of your material. Keeping in mind the kind of material to be cut, you can switch from 0 to 3 levels. Level 0 allows you to cut softwood like plywood; level 1 cuts hardwood, aluminum, and low carbon steel; level 2 works through a more rapid curve including aluminum and low-carbon steel; and level 3 cuts larger curves in hardwood.
Your hands can get all busy, trying to hold on to the trigger while focusing on getting an accurate cut. Tacklife jigsaw has a lock-down feature that allows you to stabilize a position and free up your hands to avoid twitching fingers.
I am sure that you will appreciate the laser feature that adds extra precision to what you need to cut out, especially if the lighting is poor in your workspace. The laser shows you a clear outline of your work. It can be turned on or off.
What's included:
The tool-less blade change system allows you to change blades fast without having to use any complicated tools additionally. It is especially convenient for people that are working with multiple devices.
Check out a few more useful features of this product:
It has a port to connect with a vacuum cleaner to extract debris.
The non-slip handle ensures that the device is safely placed in your hands when working.
It has a lengthy 10-foot cord that will accommodate the movement of the device around the work area.
And here are the pros and cons of this jigsaw tool to consider:
No products found.
PROS:
Tool-free blade change
Non-slip handle
Laser guide for clearer precision cut
CONS:
The blades are not the sturdiest ones
Jigsaw Buying Guide
Now that you know which saw models are the best, I will tell you in more detail what criteria you should pay attention to when choosing the right tool for you.
Cutting speed
The number of revolutions per minute determines the power device's speed. It affects the rate at which tasks are completed and the cut quality. The higher the RPM, the smoother the cut will be. For working with soft materials (e.g., wood), I do not recommend using tools with an index higher than 2500 RPM. If you work with metal and stones, choose powerful devices with about 3100-3500 RPM speed. Those craftsmen who deal with different materials in their work should choose machines with various speed settings. It can also be useful if you have to make complex and curved cuts.
Power source
Jigsaws are of two types, corded and cordless. The former is powered by an outlet, so you are limited in your radius of movement. But they are more powerful and effective. With their help, you can handle the hardest and densest materials. The latter is battery-operated and allows you to move around freely. It is convenient if you often work outside, where you do not always have access to a power outlet. It's slightly less powerful than its corded counterparts (although technology has stepped forward now), but it lets you cut in hard-to-reach places.
Blade style
There are several types of blade shanks worth looking out for. The following markings can be found: T-shaped, U-shaped (universal), M (for Makita), and F (for Fein). Also, depending on the characteristics of your work, you should look at the TPI (teeth per inch) indicator. The higher it is, the finer materials a blade can cut.
Also, look at the position and shape of the teeth. For delicate tasks, it is best to choose a blade with teeth down. If the quality of a cut is not very important for you, you can opt for the one with teeth up; it will cut more aggressively. Those blades with teeth turned in both directions give moderate results.
Grip
There are two types of grips: top and barrel-handle. I would say that choosing a specific kind is more a matter of personal comfort. I recommend trying both to see what's best for you. In my experience, most users prefer top-handle instruments for their convenience and wide viewing angle. At the same time, a barrel grip, in my opinion, is more suitable for working on inclined surfaces because it gives you more control over your device.
Dust blower
The opportunity to connect to a vacuum cleaner will help maintain cleanliness, and save you from breathing the smallest and most harmful dust. I really recommend looking for models that come with a debris removal tube. It will save you from serious respiratory problems if you deal with various materials regularly. Also, the presence of a dust blower is significant for the quality of work since an efficiently working sawdust removal system ensures good visibility of a cutting line. This option is especially good if you make curved cuts of higher complexity.
Laser guide
A built-in laser guide, like a dust blower, guarantees the best quality of work. Of course, it will be helpful if you do straight cuts; it is not needed for curved ones. With it, you can be sure that you make even and accurate cuts. Besides, this function helps to significantly save time on marking, especially if you have a large amount of work. Of course, it is not mandatory; experienced users can do their job perfectly well without it. However, it increases the comfort of using a tool, especially for beginners.
Jigsaw FAQ
I have told you everything I know about jigsaws and their parameters. In this block, I will answer common questions from my readers. There you can find additional information on using such a type of tool.
How to put a blade in a jigsaw?
There is no universal way. The process may differ depending on the attachment type. On toolless systems, you simply pull a lever to open a lock, insert a blade into a hole, and release the lever. If your device is not equipped with this feature, you need to open a protective cover, then use an Allen key to loosen a blade-holding screw, insert the blade, and tighten the screw. After that, do not forget to put the protective cover back.
What is the best jigsaw for home use?
In my opinion, the tool from Worx is the perfect option. It is battery-operated, so you can use it both indoors and outdoors. It is truly an ergonomic device. It is lightweight, compact, and equipped with a comfortable grip. Changing a blade will not take much of your time since it can be done without additional tools. You can adjust the speed, pendulum action, and tilt angle. If you already own 20V Worx instruments, this model will be a great addition to your collection.
How to change the blade on a jigsaw?
You need to change the blade regularly; otherwise, a dull tool will simply ruin the working material. The most convenient in this regard are devices with toolless systems. Locate a lever at the tool bottom and pull it to release the old blade. Gently take a new one, insert it into a hole, and release the lever. If there is no such system, you will need an Allen key. Flip the protective cover, loosen a screw holding the blade, remove the old one and insert the new one in its place. Tighten the screw back, but not too hard, as it might affect the cut quality.
How thick must the wood be for a jigsaw to cut it?
The answer to this question depends on three factors: the motor power, the characteristics of a blade, and the density of wood (it is easier to work with soft types). The more powerful your device is, the deeper the cut it can make. Also, this indicator is influenced by the blade length and the number of teeth per inch (the fewer there are, the thicker the material you can cut). To roughly determine the thickness of wood your saw can cut, subtract one inch from the length of your blade. You can also process thicker materials, but it will have to be done in several steps.
Have You Already Picked the Best Jigsaw for Yourself?
So, which of the tools mentioned above has appealed to you? Is it corded or cordless? I am sure that you are now curious, about which is the best jigsaw tool from the list, in my opinion. In fact, within the jigsaws I have reviewed here, there is no best or worst tool. It solely depends on what you want to achieve with it.
A person who just needs a good jigsaw for light woodwork at home may not need to purchase a tool for heavy work. When selecting a jigsaw, make sure to check out for certain features like power consumption, blade storage, anti-vibration feature, cordless/corded option, dust blower, the weight of the equipment, etc.
The trick about getting a jigsaw is to consider the kind of material that you want to work with. Some blades from these jigsaws were created to tackle not only wood but metal and plastic. Note that you must get blades specifically designed for metals, instead of improvising with what works for either wood or ceramics.
If you can or have the means, invest in a pricey jigsaw that will last longer and can be used for multiple projects. Have you ever purchased an expensive jigsaw tool? What was your experience? Did it meet your expectations or exceed them? Share your story with me in the comments below!