Westinghouse WGen7500 Review & Buyers Guide
About the Westinghouse WGen7500
I hope this Westinghouse 7500 generator review may help you decide which generator you need the most. Personally, I like many things about this extra source of power, and considering the prolonged time of its action, I believe it can easily handle any unpredictable outages at home. It has a remote start, which may be an extra bonus if you don't want to leave everything you are currently working on and go look for a generator. Use the key fob. You can also use the recoil and electric start, which I've mentioned earlier.
The generator runs on gas, and you have to make sure that the 6.6-gallon tank is full before you start to work. I recommend always keeping the tank filled up, just in case. There is no dual fuel option, like in the Westinghouse WGen7500DF model. If you want to use both propane and gasoline, you can order WGen7500DF. Yet, I prefer the WGen7500 version among all Westinghouse generator reviews for its simplicity in use, advanced features, and competitive price. While it is more expensive than WGen5300s, WGen5300v, and WGen6000, it is cheaper than WGen7500DF, WGen9500, and WGen9500DF.
The weight of this machine is not as lightweight as you may expect to find in a portable generator. It weighs 192 pounds. However, don't worry about transportation. On both sides of it, you can find never-flat wheels and a handle with a foam grip. So, basically, all you need is to pull out the handle and roll the generator in front of you or behind you anywhere you want.
The device runs on gasoline. You can use fuel cans or tanks to keep the gasoline for this machine always available. You have to learn the rules on storing petrol safely in advance, as gasoline is flammable. It offers 7500 running watts and 9500 peak watts. You can easily illuminate the house for 11 hours with a full tank. After that, just add more gasoline. The generator has an automatic low oil shutdown to prevent any possible problems with its work and overheating.
This tool has 2 GFCI, which are 5-20R 120 V household duplex receptacles and L14-30R 120/240V twist-lock receptacles. The outlets are covered in rubber for your own safety. There is a user manual added to the package as well. I recommend reading it before you push any button. Don't forget to keep an eye on the digital hour meter, so you will not miss the deadline.
As for the noise level, you can't possibly expect to receive a completely noiseless generator. This one offers 72 dBA. It is not loud to the extent that you can't handle it. My personal advice, don't use it in the same room or area with sleeping people.
Control panel
To make it even easier for you, I want to describe the control panel of this generator. You will find there:
Push button for electric start. Don't try to push it with all your strength; I've done this mistake before.
Push it gently, or you will lose it;
Port for charging the battery;
Shut off the switcher;
The smart digital panel shows you volts, frequency, and hours of work. Check out the hours that the generator has already been working, so you know when you will need the fuel exactly;
There is a switcher outlet below the digital panel;
The main breaker with an On and Off marks, so you don't have to worry whether you start the engine or not;
Outlet with the rubber cover on 120/240V;
Two outlets with the rubber covers of 120V GFCI;
Between these two outlets, you can see circuit breakers of 20A.
Now, let's talk more about the developer who makes Westinghouse generators. Westinghouse Electric Company does not need my introduction to be an experienced electrician. It is a well-known American company, founded in 1886. The company works with nuclear power. It makes reactors and generators and sells them internationally. Besides, it creates numerous electric devices, like air purification systems, batteries, versatile cookware, chargers, and even heated blankets. Over 130 years of history is more than enough for many companies to stop existence or lose popularity. So, I find it extremely impressive to see that Westinghouse constantly grows the audience, extending innovative technologies, and offering new products.
About start key fob
I've mentioned this function previously. While the generator is not weightless, it can be hard to move it back and forth any time you need to use it. And there are numerous unpredictable situations. Sometimes you may need to ask other members of your family to turn on the generator because you are far away from this machine. To avoid this situation, you can use remote control. Start the generator from a distance of 260 ft away, in the farthest. This is a perfect option for those who keep the generator outside the house and can't leave it at the very second. Besides, if you decide to use a generator in your trailer, you don't even need to stop using the remote control.
How to tie the generator?
Here is simple guidance you can also find among the instructions that come in a package. All you need to tie the generator to your house is the transfer switch. Use the twist-lock L14 30R 30 A 120/240V outlet to connect the generator and the house. After that, just push the button.
Warranty
The company's name itself is a guarantee of the high quality of all its products. However, they still offer a 3-year warranty for this generator and lifetime technical support. I recommend you to find out when the closest Nationwide Customer Service Network is. All the generators are tested before the release. They are CARB and EPA compliant. They may contain the minimum residual oil.
My recommendations on use:
I definitely advise you to use this generator outdoors, so you can work in a barn or in the field;
You can use it during electric outages in the house;
Perform any works with electric instruments without using general electricity in your house;
You may use it in your travel trailer.
Westinghouse WGen7500 Specs
There are numerous useful features of this portable generator. It is crucial to find a reliable generator that will work when you need it the most, including outdoors, and during an electric power outage. Therefore, I've made this table for your convenience.
Product Information
Details
Power
7500 running watts, 9500 peak watts;
Type of fuel
Gasoline;
Hours of work
11 hours with a full tank;
Outlets
1 - 120/240V AC 30A L14-30R;
2 - 120V AC 20A 5-20R GFCI;
Tank width
6.6 Gallon;
Starter
Remote start key fob, recoil start, electric start;
Weight
192 pounds;
Dimensions
27.2 x 26.1 x 26 inches;
Warranty
3 years limited, and lifetime technical support;
Smart technology
VFT display with voltage, frequency, hours of work;
Noise
72 dBA volume during the active work;
Safety
Rubber covers on outlets, automatic low oil shutdown, automatic regulation of voltage, protection from overload;
Extra features
Two never-flat tires;
Comfortable to hold the handle of foam with a tight grip;
A push-button is right in front of you;
Detailed instructions.
Westinghouse WGen7500 vs. Cat RP7500E
There are several alternatives, which, in my belief, can also be helpful. I will add their detailed reviews as well.
Cat RP7500E is a powerful, quiet 7500-watt generator similar to WGen7500. It provides 7500 running watts and 9375 starting watts. This generator works for 11 hours as well as WGen7500. It weighs 192.6 pounds, but it has two rubber wheels and a comfortable handle like the WGen7500 machine, so you can easily move it around.
Unlike WGen7500, this generator has 6 outlets, which include 240 v 30a twist-lock receptacles and 120V. The generator comes with engine oil, funnel, and assembly tools. You still have to add gas to start the engine. There is no remote control similar to WGen7500. However, Cat offers an electric start. I recommend checking the control panel with the LED light illumination.
Cat is a well-known American company that produces engines, machines, generators, and tools for versatile areas of use. It is one of the biggest manufacturers of construction equipment around the world. The company was founded in 1925. They produce reliable devices, and their warranty for Cat RP7500E covers 3 years. It is also CARB-compliant.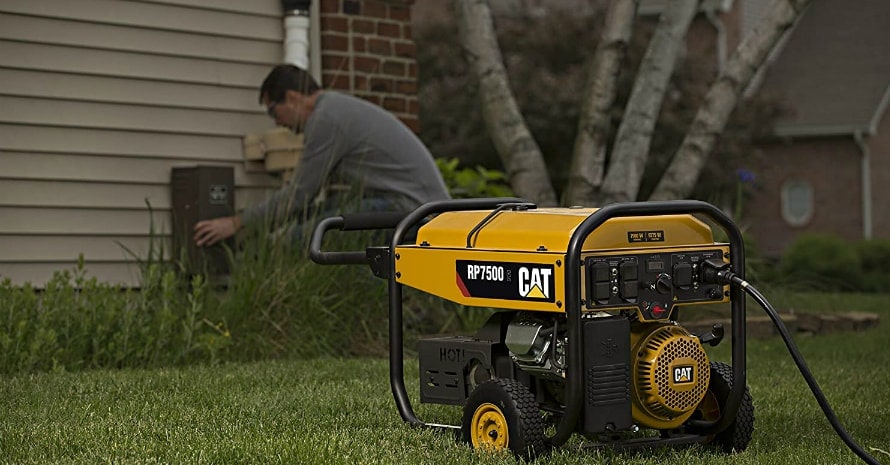 I believe this generator is one of the best options as it has many similar features to WGen7500. You may also trust the reputation of Cat. While the company does not publish the sound information, the noise from the working generator is somewhere about 70-85 dB. I also must warn you that this generator is slightly more expensive than WGen7500.
Similarities:
Power;
Weight;
Gas-powered;
11 hours of non-stop work;
Smart display;
Portable due to strong never-flat wheels and a comfortable handle;
The level of noise is similar and equal to somewhere near 70 dB;
Both are produced by well-known companies;
Both devices have 3 years warranty and are CARB compliant.
Differences:
The Cat generator costs slightly more than Westinghouse;
Westinghouse offers remote control;
Cat has 6 outlets.
Westinghouse WGen7500 vs. WEN GN9500
Compared to the Westinghouse generator WGen7500, WEN GN9500 has a similar price range and numerous beneficial features. It has a single fuel option like both WGen7500 and Cat RP7500E. And like WGen7500, it also has a remote electric start.
The generator provides 7500 running watts and 9500 starting watts. You can navigate this machine from a distance of 160 feet away, which is great for portable generators. However, you can control WGen7500 from 260 ft away maximum. The distance may be crucial in some cases.
There is one 30 amp 120V/240V NEMA L14-30 outlet for backup in case of emergency. The main panel also contains 4 standard outlets of 120V 15 amp, 1 12V DC outlet, 1 RV 120V 30 amp TT-30R outlet, and 1 outlet of L14-30R. The amount of outlets is larger than what WGen7500 offers. There is also a digital panel created to ease your life. You can check the hours of work, voltage, and frequency, like in WGen7500.
There are rubber wheels that make it easier to move. The handle has a comfortable grip. You will find all these features in both generators. The gas tank is made for 6 gallons, which is pretty similar to WGen7500. The engine is CARB and EPA III compliant.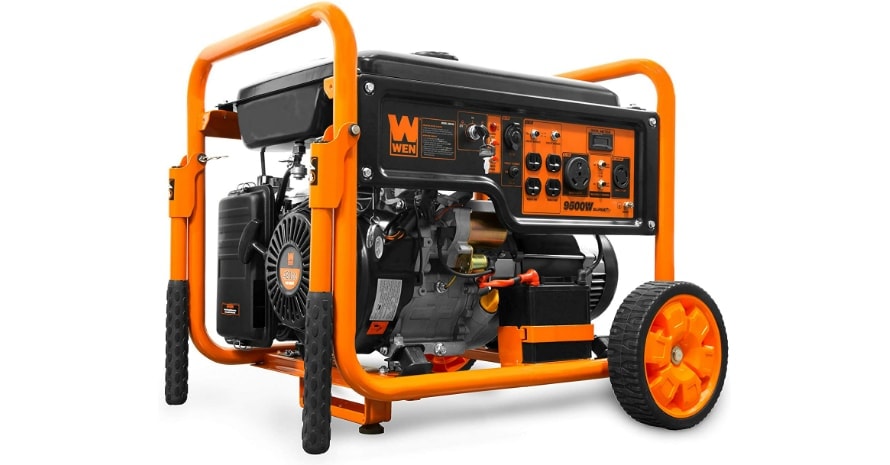 Unlike WGen7500 and CAT, WEN GN9500 has only a 2-years warranty, instead of 3. Yet, there is no doubt that the generator is durable and reliable. Like WGen7500, it also has a low oil shutdown, which extends its life for more years.
Similarities:
The power is the same;
The same tank amount and the same type of fuel;
Smart digital panel;
Remote control;
Handle and wheels;
Similar price.
Differences:
It has more outlets than WGen7500;
It weighs 209 pounds, which is more than WGen7500 weighs;
It has only a 2-years warranty, instead of 3.
Advantages and Disadvantages
I want to start with advantages, but rest assured that I am going to mention disadvantages as well. I hope that my experience-based comments will be helpful to you.
Advantages
I have said it above, but I don't mind repeating that WGen7500 is my top pick choice. I have used this power generator for many years, and I hope to do this for more. While you may find it subjective, I can offer you only my personal experience here. And my point of view is that this generator is a perfect match of multiple features combined with a pretty competitive price on the market. Even the noise is quieter after you checked all the options with the same technical features.
This generator can be easily started. All you need is to push on the button on the side panel or use the remote option. It starts immediately; you don't have to wait. It runs smoothly with great outputting power.
WGen7500 offers 7500 watts continuously and 9500 watts peak. It can easily output 31 amps on 240V and 39 amps at 240V peak. Basically, you can illuminate your garage, barn, trailer, or half of a big house. The fact that it works for 11 hours straight makes it a perfect machine for unexpected outages.
I also enjoy the ease of its connection to anything I need. I can simply connect it with the house when I need back-up power. There are two 120V duplex outlets, 1-L14-30 120/240V outlets. And the whole process is incredibly quick since all the outlets are located in one place, on the main panel.
Remote control saves me not once. Since nobody likes to go out while it is raining, and the electric outage can happen at any time, I always use the remote control. It covers up to 260 ft area. I have not seen such distance in other generators, no matter how hard I searched.
I enjoy the way I can transport this generator. WGen7500 is not that lightweight, like all generators. I have done my research and found that almost all portable generators weigh 200-250 pounds on average. So, it is a pleasant bonus that this generator is a little bit lighter. The 192 pounds is something you can't hold for long. This is why the never-flat wheels of high quality are lifesavers. The handle usually reaches your waist, and you don't have to bend, rolling the generator around. Yet, you don't have to move it as often as you may think.
Reliability is something I had to mention before. I like the cast iron sleeve, durable 420 cc 4-Stroke OHV engine, and hardened-steel frame. The handle is made of reliable non-slippery foam. The wheels are big and can easily roll up the hill if you have enough strength to push them there.
There are portable generator safety measures that some of you may appreciate as well. The rubber covers on all outlets may be crucial for houses with young children. The generator is also protected from water and can be placed in your garage or barn. There is an automatic shutdown when the level of oil is low. The voltage is also regulated automatically by a smart machine, which protects the whole generator from overloads.
The warranty is also there. You can use it for 3 years. I doubt that you will need it anyway. This generator is for ages. However, just in case something happens during transportation, you may immediately contact the nationwide customer support service.
Disadvantages
I have to be fair and mention a few gaps I don't like about the generator. It is easy for me since I am extremely picky when it comes to the tools I use. You may find these disadvantages I mention more bizarre or irrelevant.
The engine produces noises of 72 dB during its work. It is not that extremely loud, but it can be annoying if you work close to it. Sometimes it feels like 90 dB if you are bending over it. Don't do this unless you have to put the cable in the outlet or navigate something. The further you go away from the generator, the quieter it sounds.
As for the WGen7500 weight, I need to specify something here. This is true that it weighs 192 pounds. However, this is a number of pounds without fuel. Once the machine is full, it weighs slightly more than 200 pounds. Do the math! The tank is made of 6.6 gallons of gasoline. Full of oil and ready to work, Westinghouse WGen7500 weighs more. The wheels help a lot; this is true. However, it is still hard to push it through the grass, on the hill, or through the sand. The generator must be placed in one particular place without multiple transportation. You can also transport it on your track, but for this, you need to lift it.
Choosing Your First WGen7500
Many experienced owners of Westinghouse WGen7500 say that this portable generator is worth every penny. I suppose I am one of them. Still, I can understand people who want to save money, trying to find a cheaper tool from China or from an unknown company without any buyers' reviews online. In the end, they have to pay more, throwing away cheap generators of poor quality, and ordering Westinghouse. In case you don't trust my opinion, I have two alternatives for you mentioned above. Yet, I believe you will be satisfied with Westinghouse.
In the detailed Westinghouse WGen7500 review, I have described the specs of this powerful and portable generator. The machine is potent, reliable, safe, and a little bit noisy. This generator will be required during electric outages, outdoor repairs, any use of the electric instruments, or even traveling trailer support. It is still on top of sales among portable generators. You can take it with you to the fields. Just make sure that you are strong enough to carry around 200 pounds on two never-flat wheels.
If you have already used this generator, please share your opinion in the comments below. How do you like it? Which benefits do you enjoy the most? Which are useless in your opinion? How long have you been using it?