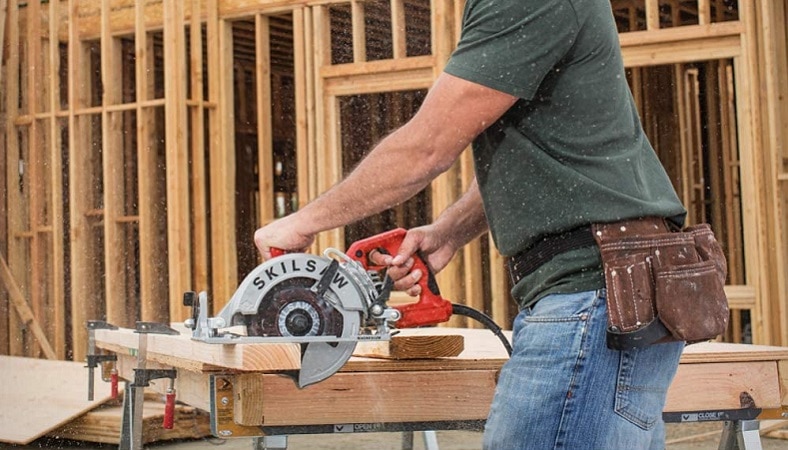 Just look at this saw. Does it look different from average circular saws? At first sight, they're the same! That's because the real difference is in the performance of both tools. Worm drive saws have greater power that's notable by significantly higher torque along with lower average RPM. Even the best worm drive saw cannot do over 4,500 RPM. But believe me, it's more than enough for cutting a wide range of tough materials. Torque and extended durability of the tool are the aspects that really matter.
Affordable German quality
Runner Up
Affordable German quality
In this article, I decided to clarify what features of worm drive saws are important, so I made up a guide with a brief tool description and a comprehensive list of variable features. Read them through, and you will be able to select a tool that will cover your current needs or maybe even become your main cutter for years. Pay attention to each specification and hazards, as they can be critical. I also included 7 top tool reviews with links so that you can see how the best models look and work, or buy one right after reading.
Worm Drive Saw Reviews: Top 7 Models
Below are the most reliable worm saw models that I've ever used. Even though they're all very good, they have pros, cons, and unique features that you may need or not need at all, so read these worm drive circular saw reviews attentively and don't hurry.
1. Skilsaw SPT77WML-01 – My Favorite Worm Gear Saw
Skilsaw's engineer Edmond Michelle is an inventor of the worm drive gear system, so Skilsaw is famous as the original worm drive saw the brand and one of the most trusted manufacturers out there. The company has been around for almost 100 years and continues to work under Chevron Ltd.'s command. This was the first heavy tool brand that I tried in my dad's garage, and it hasn't changed a lot since then. Dad's Skilsaw still works, by the way!
This worm drive saw is equipped with a 15-Amp motor that drives a 7-1/4-inch blade at a peak RPM of 5300. That's a lot more than the industry standard promotes, so you can expect enormous cutting power. These motors are made by the Duel-Field technology, which is claimed to run cooler than other motors. I didn't compare the peak temperature of different motors, but this one can run for hours without overheating.
You can easily adjust the bevel angle and set it from 0° to 45°. Some saws provide a wider angle, but 45 is usually enough. Depth of cut at 45° is 1-15/16″ and 2-3/8″ at 90°. There's also an option to adjust cutting depth accurately, which is very convenient when you cut on a workbench or need a more accurate cut in thick material. The adjustment bar has depth markings for more convenience.
The tool is rather lightweight as for a 7-1/4-inch blade runner. It weighs only 11.5 pounds. It's a great aspect if you suffer from quick fatigue. I don't recommend bearing it as it may lead to trauma in the long run. The tool also meets OSHA silica requirements, which is very important for professional workers. The tool has a magnesium housing, which is lightweight, durable, and corrosion-resistant. Finally, the spindle lock is very easy to access, which is important if you are going to change the blades frequently.
---
PROS:
180-day guarantee and 1-year warranty;
Makes up to 5300 RPM;
Relatively lightweight design;
High-torque, cool-running 15-Amp motor;
Adjustable bevel (0-45°) and cutting depth.
CONS:
Bevel could be a bit more flexible.
---
2. Dewalt Flexvolt DCS577X1 – Best Worm Drive Circular Saw (Cordless)
Dewalt is one of the oldest original American power tool manufacturers. The brand has been providing excellent quality and professional performance since 1922. It became one of the leading industrial brands in 1992. The Flexvolt line of tools was introduced in 2016, and it was a revolutionary launch.
Flexvolt motors are brushless and powered with a super-powerful battery with adaptive voltage. For this worm drive saw, the battery switches to 60V and makes it run at 5,800 RPM. That's a crazy result for a cordless saw. The output power can reach up to 2400 Watts, depending on the material you cut. The cutting speed is comparable to the Skilsaw device above, but there's no cord to limit your movement.
The tool weighs slightly over 11 pounds with the battery inside, so it's quite really easy to carry around if you work on a large construction site. The reduced weight is achieved due to magnesium shoe, aluminum motor socket, and the lightweight but durable plastic cover of the motor. It doesn't get too hot during long cuts. You can use this one for everything wrong hardwood and plywood to concrete, metal piping, and rebar.
You can toggle the bevel angle from 0° up to 53°, which provides higher flexibility. The cutting depth at 0°(90°) is 2-7/16 inches. You may also notice that this saw is worm-style, but not exactly a worm drive saw. Nevertheless, it's marketed as a worm saw, and it has the required high-power output for cutting solid materials. The default package also includes a fan-cooled 20V fast charger, a premium-quality carbide-tipped blade (7,5 inches), a wrench for blade removing (built-in), and a convenient bag. Finally, a good thing is a 3-year warranty with very responsive customer support.
---
PROS:
Makes up to 5,800 RPM;
3-year warranty;
Powerful cordless tool;
Excellent for ripping and framing;
The 9.0 Ah battery makes up to 2400 Watts.
CONS:
It's quite expensive, but not too expensive for professional use.
---
3. Bosch CSW41 – Lightweight Professional Cutter
You probably know a lot about Bosch. This German company isn't as large as, say, Makita, but it offers exceptional quality for modest prices. Even though it's shipped to the US from the EU. It's also a leading technology inventor with over 5400 patents all over the world. They've been supplying Europe with high-quality tools since 1886!
CSW41 is amongst Bosch's best-selling circular saws as it provides exceptional power for a relatively low price (varies from $189 to $220). The 15-Amp motor makes up to 5,300 RPM without load, and the torque feels sharper than on Makita and DEWALT saws. The kick on the start occurs very rarely and not by the device's fault. The arbor has a built-in clutch that reduces the risk of heavy kickbacks. Similar to Makita, the tool has a patented gear lubrication system that keeps the system in excellent condition longer. Thousands of reviews and my experience prove it.
The ratio of power and weight in this particular model may seem imperfect as it's quite light for this RPM, but it's not the case. The tool feels very stable on short and long distances. It's very convenient to hold due to a handle with rubber inserts from the inner and outer sides. The space in front of the handle is also big enough for workers who have bigger hands and wear thick industrial gloves.
Excellent stability also adds up precision. The bevel can be tilted from 0° to 53°, and, thankfully, the protractor scale is highly detailed and has engraved divisions that will never be erased.
The particular model I tested comes with a 7-1/4 In. A 24-teeth blade that provides you with great framing capabilities from the box. The good news is that you can also choose to order a smaller 6-1/2″ model with a handle at the top and a larger 8-1/4″ model to deal with thicker materials.
---
PROS:
A high-precision instrument with a default 24T blade;
Affordable German quality;
Magnesium housing and shoe;
Up to 5,300 RPM (no load);
Available in 3 size versions.
---
4. Makita 5377MG – Powerful Japanese Corded Saw
Masaburo Makita founded his electric generator workshop in 1915. Today, it makes over 30 billion in income. This brand is one of the most trusted power tool manufacturers amongst contractors and large building company workers. All the tools are manufactured in Japan and Europe so that you can be sure of the quality.
5377MG is a classic worm drive saw with a powerful 15 Amp motor. It spins the blade at the average speed of 4,500 RPM and provides excellent torque on the start. Actually, it can even kick a bit because of that, so be careful.
The saw is very convenient to adjust as there's a flexible bevel and cutting depth. Using a large rubberized lever, you can change the bevel angle from 0° to 51.5° (2-3/8 in. at 0°). The cutting depth can be adjusted by changing the bevel or by tuning an additional depth lever. The saw is very precise, so it's a pleasure to use for framing works on a variety of materials. The framing blade with 24 M-shaped carbide-tipped teeth is included.
MG stands for magnesium shoe of the saw. You probably expect it to be relatively lightweight due to that fact, but it's not lighter than the competitors. The full weight of the tool with a blade on is 13.2 pounds. As for me, it feels quite heavy, but this also adds a bit more balance when you make those long cuts on oblique surfaces. The clearance between the blade cover and the handle is bigger than on most saws of the type, so it's a good choice if you have big hands and other tools feel small when you're wearing gloves.
I've been using the tool for several months already, but it's not long enough to ensure its longevity. However, the manufacturer promises less maintenance due to the sealed gear housing and the patented oil bath technology that keeps the gears evenly oiled longer. The hypoid gears are heat-treated for better longevity as well, so it's a worthy tool for tackling industrial tasks.
---
PROS:
High-torque 15-Amp motor with heat-treated hypoid gears;
Sealed gear housing for better oil retainment;
Magnesium shoe;
3-year warranty plus 30-day money-back guarantee;
Framing blade and wrench included.
CONS:
Rip fence and blade brake not provided;
A bit heavier than most alternatives (13.2 pounds).
---
5. Dewalt DWS535B – Powerful Lightweight Saw
Here is one more excellent tool by DEWALT. This worm drive saw offers excellent performance in a lightweight design with lots of sturdy plastic and magnesium parts. This corded device comes with an industry-standard 15-Amp motor that provides 4,800 rotations per minute, with the average rotation frequency at around 4,300-4,500 RPM. The motor also provides powerful torque so that you can cut into thick materials without difficulties.
Similarly to Makita's saw, this one can appear a bit too heavy for many users. The weight with the blade on is 14 pounds. It's also quite loud and doesn't feature an electric brake. On the other hand, the tool's price never gets over $190 if you buy it directly from the manufacturer's Amazon page (I included the link). Other specs are really good for such a price! The quality of the parts and assembly, in particular, is very high. As for the electric brake, newer versions have it, but you can't be sure that you will get exactly the one with the brake. I didn't!
The adjustments on the tool are pretty basic but flexible anyway. You can change the bevel angle from 0° to 53° and slightly tune the cutting depth within a short amplitude. The rules for making quick markings are included, but it's not as detailed as the one on Makita's tool.
What I really like is how accurate this tool is. It's compatible with a variety of framing DEWALT's framing blades so that you can gather a decent setup for neat framing jobs. I think that the default blade could have more than 18 teeth, but it's ok for the price.
---
PROS:
Includes magnesium parts for weight reduction;
Excellent balance and high cutting precision;
Magnesium and aluminum parts;
Newer version comes with an electric brake;
Adjustable bevel angle (0°-53°).
CONS:
Lacks an electronic security brake (newer models have it);
Quite heavy (14 pounds).
---
6. Big Foot Tools BF-UG – Large Pro Framing Saw
Big Foot Tools is an original US-based manufacturer. The brand's founder has been working as a framer and carpenter for over 30 years, so these guys really know what we need. Big Foot isn't amongst the most popular brands, but the brand's industrial saws are really worthy. The company is mainly focused on heavy saws, and BF-UG isn't an exclusion.
It's a perfectly balanced 17-pound framing saw that's designed for extra precision and longevity. The device comes with a 10 ¼" framing blade that cuts 4×4 lumber in a single pass. It has 36 carbide-tipped teeth. Despite the large size, the kerf of the blade is thinner than on many models of the smaller size. This feature results in less load on the engine while cutting thick solid materials.
The product description states that it can cut any material of this thickness in a single cut. I tested this promise, and it appeared to be true. The bevel angle can be adjusted and changed from 0° to 45°. The cutting depth at 0°(90°) is 3-7/8″, and it reduces to 2-3/4″ at 45°.
The 15-Amp motor makes up to 5,300 RPM without load, so the average RPM during cutting is above 4,000 RPM for sure. I judge by the average cutting speed, which is similar to what Flexvolt provides, but with a bigger blade diameter.
I recommend this saw if you lack the standard cutting depth of other models. It's rather expensive, but the sturdiness of the construction and high efficiency justify it. It doesn't have any extras, but the fact that it's compatible with Big Foot SBFX blades is great. These are some of the best deep framing blades you can find on the market.
---
PROS:
Tough industrial construction;
Excellent for precise framing on thick goods;
High cutting depth (3-7/8″ at 90°);
Newer version comes with an electric brake;
Saves a lot of time on thick goods.
CONS:
Weighs 17 pounds with the blade on;
The protractors and ruler could be more detailed.
---
7. Skilsaw 3M SPT77W-22 – Heavy-Duty Classic Tool
Last but not least, this Skilsaw tool is a great alternative to my favorite lightweight model. This one comes for less than $160, which makes it one of the most affordable saws in the category.
It comes with a classic Skilsaw Dual-Field 15-Amp high-torque motor that makes up to 5,300 RPM without load. That's a cool result for such a budget tool. Similar to other tools on the listing, a thick one lets you adjust the bevel angle. The bevel isn't the most flexible and lets you tilt the blade from 0° to 45°. The cutting depth at 45° is 1-31/32″ and 2-13/32″ a 90°.
This tool is considered one of the sturdiest on the market. It has a stainless steel shoe, and all other metal parts are made of relatively lightweight aluminum alloy. The full weight with the blade is 14.2 pounds, which isn't too much for most users, but notably heavier than my favorite Skilsaw model (see the first review).
This circular saw is a good choice if you need the sturdiest tool for the lowest price. It offers all the standard features that can cover the needs of most contractors and DIY enthusiasts. They could make it a bit lighter, but that would cost a bit more. If the weight is crucial to you, take a look at SPT77WML-01, which has a magnesium foot instead of steel.
---
PROS:
Makes up to 5,300 RPM;
Comes with a tough 24-teeth Diablo framing blade;
180-day money-back guarantee + 1-year warranty;
One of the sturdiest tools out there.
CONS:
Quite heavy (no magnesium parts.
---
What is a Worm Drive Saw?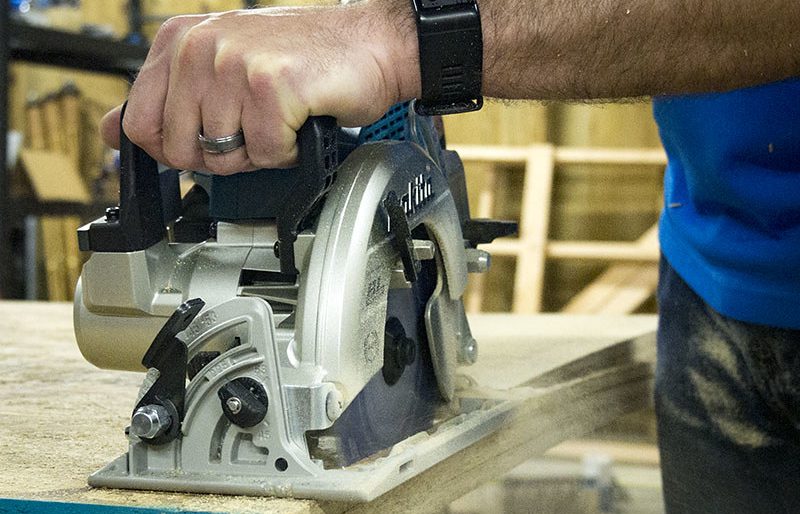 The worm drive saw is a type of circular saw that has the motor at the rear of the tool and gears oriented at 45°. Such construction of the mechanism sacrifices the number of rotations per minute in order to provide higher and more consistent torque. Worm power ratings usually vary from 3500 to 4500 RPM, but some manufacturers offer over 5,500 RPM for heavier tasks. The invention belongs to the Skilsaw company that rolled out the first saw of the type in 1924, and it remains an industry standard.
Worm Drive vs Circular Saw
You already know what is a worm drive saw, but do you know what makes a regular circular saw different? The second type has a side-mounted motor that lets the engine drive the blade without additional gears. In plain words, it's called a direct drive. Compared to worm drive, the direct drive can reach a higher peak RPM of up to 6,000 and sometimes more.
On the other hand, they have lower torque power and are considered to be less durable as they have smaller blade teeth and cannot cut as many tough materials as the thicker-bladed brother. At the same time, worm saws are notably heavier and less portable. It's an advantage when you make long cuts on descending surfaces, but it's harder to carry. That's why professionals usually have both types.
It's better to have a choice. Sometimes you have to work in narrow spaces, which can be impossible with a heavy and cumbersome worm drive tool. That's where a relatively lightweight sidewinder will cover you up. If you need to make heavy tear cuts on solid materials, a worm drive saw is a better choice.
Things to Look For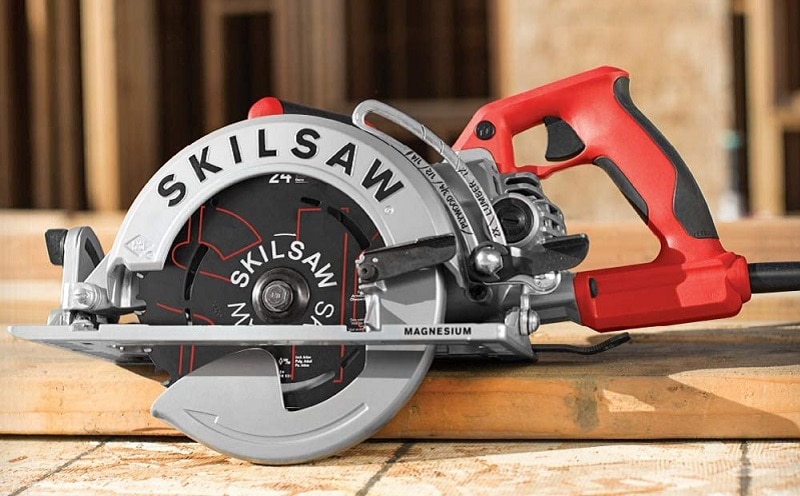 Below are the most important aspects that you should take into account while choosing a saw model that will tackle your average tasks. Be attentive and save the article to bookmarks not to lose the guide if you are going to buy later.
Power Source
You can choose between corded and battery-powered tools of this kind. Obviously, a cordless worm drive saw provides you with higher mobility as you don't have to manage cords and can carry the tool anywhere you need. The downside is that batteries drain rather quickly, which is inconvenient when you have big projects. The cutting power of such saws is also usually lower. If you need autonomy more than unlimited work time and power, the battery-powered tool is for you. They have rather narrow use but can come in handy. The exclusion is Dewalt Flexvolt (second in my reviews). This chainsaw beats corded models by power.
Safety Features
The only safety features that come with hand-operated circular saws are handles. They let you hold the tool firmly and stop it immediately if something goes wrong. Unfortunately, there are many potentially dangerous situations that may occur, so you must always watch over your tool and make sure that there are no loose parts and untightened bolts. First of all, check the blade, but before you plug the tool.
Size
Larger tools are usually really good for cutting through tougher materials as they're designed to withstand a higher workload at once. However, that is achieved by sacrificing precision and adding weight. It will be much harder for a medium-sized saw to cut through thick metal, but it will succeed anyway. It's only a matter of time. Finally, small worm drive saws are quite limited on what they can cut, and it usually takes longer for them to rip stuff.
Angle
Most saws have an adjustable bevel angle. You are free to choose any angle between 90° and 45°. Some models even let you toggle the angle up to 55°. Only a few models have a fixed angle, and there's always a reason for that.
Weight
Both light and heavy tools have downsides, depending on the conditions you put them in. Heavy tools cause fatigue, it's difficult to balance them, and you definitely cannot use them with one hand. If you're a contractor, moving from one customer to another can be really annoying. Still, if the tool is too lightweight, it can be a bit of a challenge to control it. The best solution is to take a medium model or a couple of differently-sized tools to have an alternative.
Cutting Depth
This feature mostly depends on the blade diameter, but also on the design of the tool. Some models let you adjust cutting depth directly or by adjusting the bevel angle. Unfortunately, installing blades of smaller diameter than the default blade can be dangerous, so I cannot recommend doing so. Think well about what you are going to cut to choose a tool with the best cutting depth.
Cord Length
Should I even tell you about this? You should always have an extension cord as there's no manufacturer that can guess the optimal cord length for each user. If you work in a small garage, a long cord may feel annoying, but I don't think it's a problem to manage it neatly.
Warranty
The rule of thumb is the "the longer, the better" However, most manufacturers offer from 2 to 3 years of warranty. Each brand may also offer different conditions, so it's important to check out the warranty documents before clicking the 'pay' button. It's also nice when the seller offers a 30-day money-back guarantee that lets you return the tool if it didn't match your expectation or comes broken.
Useful Tips
When you buy a new tool, don't forget to change the oil after around 10 first hours of work. After that, change it every next 50 hours of work or more often, depending on the thickness of the materials you cut.
Think Well
Now take all the considerations and use them to compare the tools on the listing once again. I recommend purchasing a tool that offers the biggest number of advantages for your particular cutting job type. Otherwise, you're not likely to be satisfied. However, sometimes the right choice is the cheapest as you may not need all those extra features. Once delivered, enjoy the power and don't forget about circular saw safety rules as it's a dangerous piece of equipment. Have you ever used it before? If yes, please, share your experience and opinion about particular models. If not, you're welcome to ask me questions in the comments to know more. I hope you liked my worm drive saw comparison!