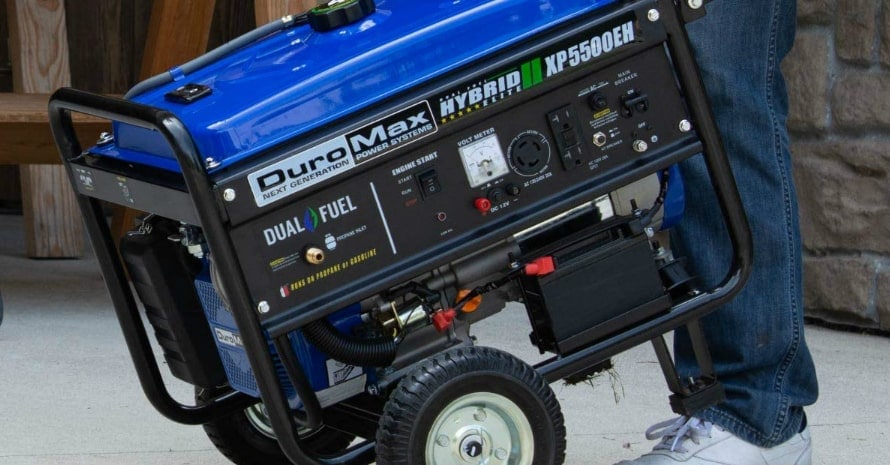 Duromax XP5500EH Review & Buyers Guide
Duromax XP12000EH Review & Summary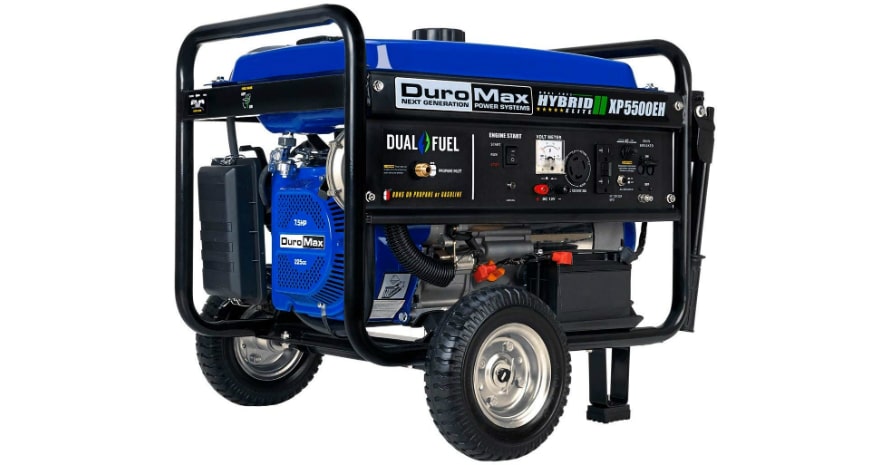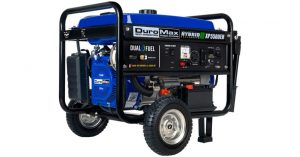 Product Name: Duromax XP5500EH
Product Description: This is a dual fuel 5.500W hybrid propane/gasoline generator powerful enough for many home appliances and tools. The generator model has an electric starter, so you can start the engine with a single button without the need to recoil it. Due to the hybrid use of propane and gasoline, its fuel consumption is significantly lower than that of diesel or solely gasoline models.
I have been comparing different models of generators to choose the best one for my house, as well as helping a few of my friends with their choice. In this Duromax XP5500EH review, I would like to describe probably the most user-friendly generator from the classic American manufacturer.
Noise Level

Reliability

Value vs. Cost

Ease of Use
Summary
The Duromax 5.500 Watt portable generator is small and easy to handle. From my experience, I know that it also has a long service life. The engineers behind it used several technological novelties in this model's development. For example, the robust metal frame is equipped with cushioned four engine mountings that dampen the vibration. Some engine elements are made of natural cast iron, which also extends the service life. Duromax XP5500EH is convenient, as it allows you to charge the batteries separately with a 12V socket. At the same time, big soft wheels with a handy handle on the frame make it easy to transport the generator from one place to another. You don't have to pull the cord to start the engine, as the generator has a start button.
Overall, Duromax XP5500EH is a very economical and environmentally friendly 5000 Watt RV generator. It may be one of the best generators in terms of price, quality, and economy.
About the Duromax XP5500EH
Duromax XP5500EH is an EPA and CSA certified hybrid engine generator that can run both on gasoline and propane. Due to this, the total autonomy of operation reaches almost 15 hours. The generator can run on gasoline up to 9 hours and on liquid propane at 50% load — up to 8 hours. This model was developed not only to increase autonomy and reliability but also to reduce exhaust emissions. You may already know from my other Duromax hybrid generator reviews that this technology makes this device environmentally friendly, making it popular among the eco-heads.
Duromax brand was founded in 2003 in California. In a few years, the company has managed to develop several unique technologies and implement them in its energy products.
The 4-cycle air-cooled engine with spark ignition and 7.5 HP is quite reliable thanks to its cast-iron sleeve. The manufacturer provides 60 months of the full warranty, but in practice, the engine and electronics can run consistently for 5-10 years without any breakage or maintenance difficulties.
You don't need a duromax XP5500EH manual to start the generator, as the process is pretty much intuitive. However, if you opt for detailed instructions, feel free to browse through them. To start the engine, just fill one or two tanks and connect the generator to the mains (e.g., at home or on wheels). Then, you need to switch on the starter and start the engine manually with a button or a cord.
The unique features of this generator model include:
The capacity of the gasoline tank is 4 gallons, which is more than that of similar models;
The presence of a voltmeter and a circuit breaker;
Zero environmental damage;
Capacities over 4 kilowatts for 120/220/12 volts for different devices;
Convenient control panel with indicators;
Quiet operation thanks to a built-in silencer with a flame arrestor.
The noise level of this generator is conveniently low (it's eco-friendly, remember?) The manufacturer declares the maximum noise level of 69 decibels although I've never heard it working so loudly. If you compare the Duromax XP5500EH gas/propane powered dual fuel portable generator to other similar models, you'll find out that the noise level is pretty the same with these tools. However, Champion generators are slightly more expensive, so it is more profitable to buy such a quiet device from Duromax.
A low noise level is provided by a silencer with a flame arrester. This means that the generator is not only environmentally friendly, but also safe in terms of fire protection. The engine is additionally equipped with an OHV active cooling system, so you don't have to worry about overheating the power unit. This makes it possible to use the generator even in nature or in a ventilated wooden room, eliminating the risk of fire.
Despite the high power, the generator has a small weight of 124 pounds. You don't have to carry it manually or call your neighbors for help. It comes with two bigger wheels and has a built-in handle. Due to the center of gravity in the middle, you won't have any difficulty moving this generator. The overall dimensions of the model are 25x22x22 inches. Although a bit larger than its fellow Duromax models, it's much more powerful.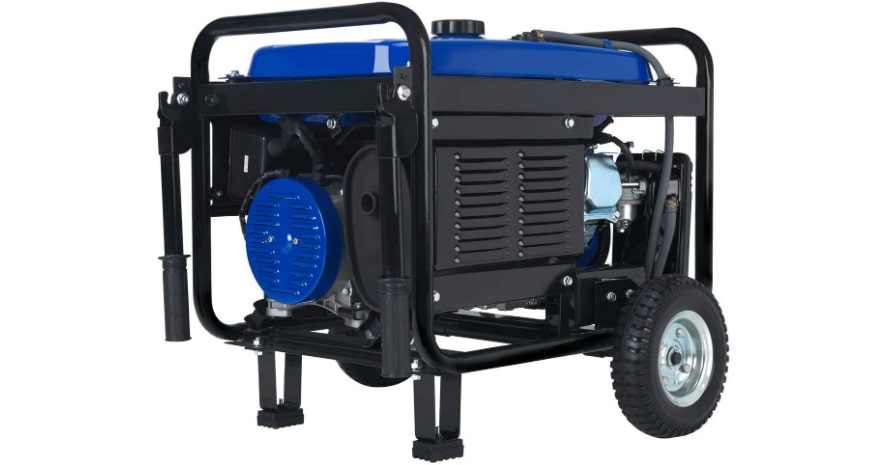 The generator is also convenient due to the simple control panel, which has all the necessary indicators. This is especially important for emergency situations when you need to turn the generator on as quickly as possible. If I chose a simpler and cheaper model with a manual starter and no control panel, I could get confused trying to pull the cord to start the engine correctly. I was also pleased that the Duromax XP5500EH run time both on propane and gasoline is agreeable for a 5500-watt portable generator.
Its control panel has a mechanical voltmeter that shows the number of volts in the network. The panel also has inscriptions in large print with pictures explaining how to use the hybrid engine. You can easily check if the generator has enough engine oil at any time. If you need to add it, the corresponding indicator will light up on the instrument panel.
You can reset from 120 to 220 volts with a single click of the switch. The case has two full sockets as well as a socket for the battery. There is also a socket for heavy equipment with a capacity of 30 amperes. For example, you can connect a heater, air conditioner, kitchen hob, or anything else with high energy consumption.
I haven't experienced any problems with the Duromax XP5500EH troubleshooting. This model is equipped with a safety system that blocks the engine at a critical low engine oil level. If the oil runs out suddenly, the engine will stop. You will need to refill the oil in a special tank and restart the generator. The procedure is simple even for a novice. There are propane and gasoline level indicators on the instrument panel to help you always control the situation. By the way, there is a special hose for filling the tank with propane. You do not have to buy anything separately. The kit also includes a special cable to charge the battery and connect it to a 12-volt socket on the generator.
The Duromax XP5500EH generator is the optimal choice for different life situations:
For owners of motorhomes and trailers, who prefer to go out into nature and travel around the country;
For homeowners who do not want to be left without electricity even during a storm or emergency situation;
For professionals who want to work with electric tools in any weather conditions.
Another useful feature of this model is the guarantee from the manufacturer. Duromax has a research center in the USA where all models of generators are developed. The devices are produced in other countries as well. However, each buyer receives a 1-year warranty with the possibility to replace the broken parts or factory defects. Within the first 30 days of purchase, you can completely replace or return your alternator and get the money back.
Duromax also has other models of generators. But the XP5500EH model is unique due to its hybrid engine. The manufacturer's range includes cheaper and more powerful generators that run on diesel fuel or on gasoline only. But when it comes to environmental friendliness and durability, I advise you to give preference to the hybrid version.
Duromax XP5500EH Specs
| Product Information | Details |
| --- | --- |
| Voltage | 37.50A / 18.75A |
| Power | 7.5 HP |
| Fuel type | Propane/gasoline |
| Engine volume | 225cc |
| Noise level | 69 dB |
| Operation on gasoline, hours (at 50% load) | 9 |
| Operation on propane, hours (at 50% load) | 8 |
| Size | 25" x 22" x 22" |
| Maximum load | 5.5 kW |
| Optimal load | 4.5 kW |
This generator has enough power to operate any home or household appliances, power tools, lighting, and so on. If necessary, you can buy a cylinder with propane and connect it to the generator with a hose. Remember that gas is more affordable and has cleaner fuel. You can always keep your propane tank at home for spare, so you can connect it to the generator in a couple of minutes if necessary.
I'd like to outline a few characteristics that make this model stand out from the rest. Firstly, it is way smaller and more lightweight than all of its competitors. Then there's a quick-start option and a noise-damping system. In this case, my Duromax XP5500eh review will be no different from others: I loved it.
Duromax XP5500EH vs. Champion 76533
To learn more about the features of the Duromax XP5500EH generator, you should compare it with competitive models. Most customers choose between the Duromax XP5500EH and Champion 76533.
Champion 76533 is a gasoline generator with a maximum power of 3800 Watts. It is a bit smaller than the Duromax model, although the latter costs were cheaper than the option with less power. The Champion model can also run on propane or gasoline with a handy switch. It includes not only a hose for gas but also engine oil for the first fill-in. Another advantage of Champion is that it also has an integrated surge protection system.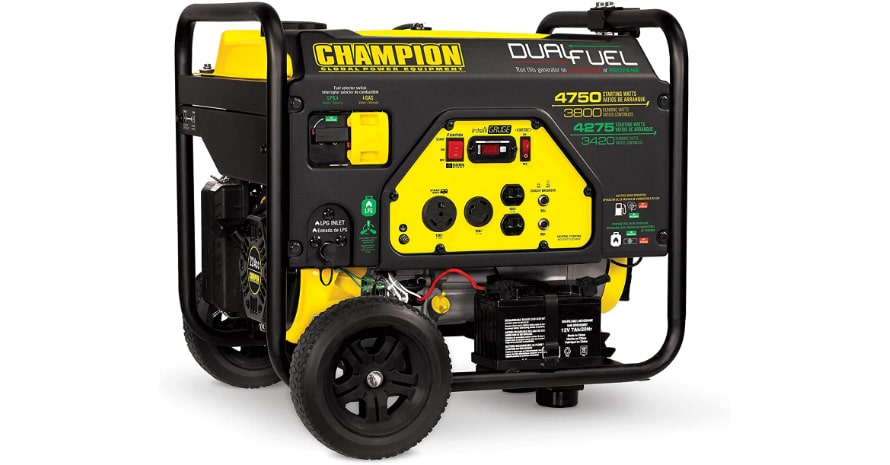 I also appreciate the quality of the Champion 76533 generator, as the manufacturer provides three years of free maintenance in all circumstances. However, Duromax XP5500EH has a significant advantage with the presence of 220V and 12V sockets, while Champion 76533 only has model 120V sockets. So, when choosing between these two generators, I would have chosen the Duromax XP5500EH. This American generator from Duromax has a wider functionality. For example, I can easily charge the battery with the help of a generator away from home.
If you do not need outlets for 220V and 12V to charge batteries and small appliances, Champion 76533 will seem quite convenient and functional. This is indeed the case if you consider the additional warranty and three-year free service. In general, both the Duromax XP5500EH and Champion 76533 generators have received very good reviews from customers, confirming the practicality and durability of these devices.
Duromax XP5500EH vs. WEN DF475
There's another competitor to this smart little generator: WEN DF475. Many customers compare WEN and Duromax before making a purchase. This is correct as the alternator models are very similar to each other in terms of specifications, price, and even appearance. The WEN DF475 generator runs on propane and gasoline with an engine power of 4750 watts at maximum load. All in all, it's pretty similar to Duramax, although I'd choose the latter for its power.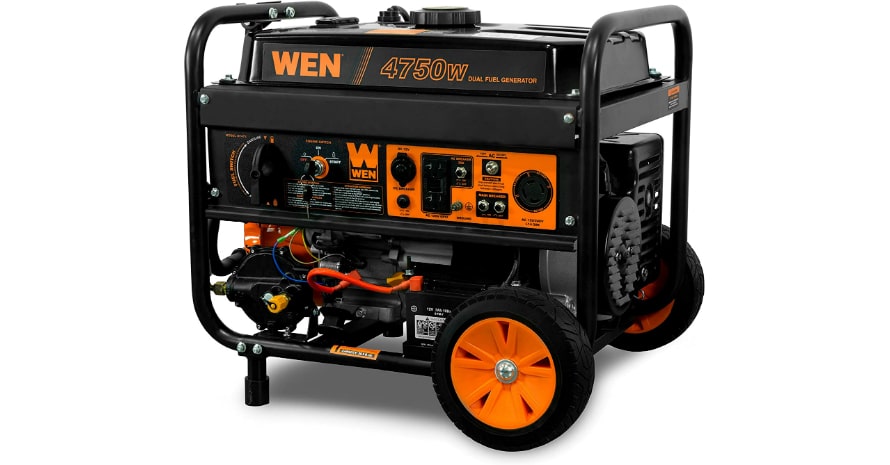 In WEN DF475, cheaper and less durable materials are used. Because of this, the generator model has a lower score among users on Amazon and other sites. The Duromax XP5500EH is really more reliable and powerful. But if you don't need to use a generator frequently and have a small set of tasks for it, you can stick with the WEN model.
As for technical characteristics, Duromax XP5500EH and Durostar DS4850E, and WEN DF475H are not that different. The generator from WEN with a hybrid engine has sockets for 120V and 240V, which distinguishes it favorably against the background of another competitor, Champion 76533. The noise level muting also works similarly in these models. However, the WEN generator is almost 40 pounds lighter due to the materials used. But at the same time, this makes it less durable.
Advantages and Disadvantages
Despite the optimal balance of performance, functionality, and cost, the Duromax XP5500EH generator has some disadvantages. They are easy to identify if you make a detailed comparison with competitive models. I would like to see a longer warranty period. With the Duromax XP5500EH, it is only one year with the option to replace or return the device within 30 days after purchase. But some competitors in this price range have a 3-year warranty and free maintenance.
One of the drawbacks is the lack of engine oil in the generator set. You will have to buy the oil 10W-40 or another brand on your own. This may create some difficulties in operation, especially for new users.
However, these are all the shortcomings noted by many other users and from my personal experience. The Duromax XP5500EH is a very efficient model. You should not be afraid of the higher cost compared to the generators with the same fuel capacity. Hybrid technology is much more expensive in production, but it is very reliable, durable, and environmentally friendly. You pay extra for the long life of the generator without the need for repair or complicated maintenance. All you have to do is watch the engine oil level and refill it in a special container if necessary.
This model of generators from the U.S. manufacturer does not have serious breakdowns when used correctly. The engine is made of patented technology with cast-iron sleeves. This is very reliable even at a high intensity of use.
During the use of the generator, it is not necessary to use special sound-absorbing covers. This model does not have any external cover, which would protect the surrounding people from the noise of 69 dB. But the engine runs smoothly and quietly. The sound of this working generator is reminiscent of the sound of other power tools: a drill, a grinder, and a perforator, but with a noise level sufficiently reduced. If you put the generator in your backyard, you will not hear any sounds when staying inside.
Let us take a closer look at all the advantages and disadvantages of the Duromax XP5500EH generator on propane and gasoline:
---
PROS:
Compact housing with sturdy tubular frame;
Soft wheels for easy transportation;
Cast iron sleeves for 4-stroke motor;
Quiet operation;
Operation on propane and gasoline;
12 months absolute warranty;
Information control panel with oil and fuel sensors;
Electronic start.
CONS:
There is no engine oil in the package;
A bit on the pricey side.
---
FAQ
The functionality and practicality of the generator are determined by the real conditions of its operation. The answers to some popular questions about the Duromax XP5500EH generator will help you learn more about the main features of the device.
What is Duromax XP5500EH run time on propane?
The running time of this propane generator model depends on the load of the volume of the tank you use for gas. At a load of 50% (approx. 2.5 kW), the generator will run for 8 hours on one 20-liter propane tank. At a maximum load of up to 5.5 kW, the generator will last about 4-5 hours on a full tank of propane. You can also use smaller or larger gas cylinders to extend or reduce the running time of the generator.
Do I need to use the regulator/hose provided?
You need to use a special hose with a propane gas reducer only to connect the cylinder to the generator. The fuel selection regulator is on the control panel. Switch between gasoline and propane, depending on the selected fuel type. There is no need to buy any additional tools. Please, pay attention that it is recommended to start the generator on gasoline or propane for a change, alternating fuel. It is necessary that all parts of the fuel system work properly and do not idle for a long time.
Can you use synthetic oil with Duromax XP5500EH?
Yes, you can use 10W-30 oil for this generator, regardless of the selected fuel type. In addition, the device can operate on semi-synthetic oils 5W-30. You can choose any brand of motor fluid that you prefer. The main thing is that the oil should be of high quality and purity.
What is needed to run electronics with this generator safely?
This generator has a built-in protection system against voltage spikes. So you can easily connect it to your refrigerator, air conditioner, oven, power tools, lighting, and so on without risking anything.
Can you run two generators in parallel?
Yes, you can easily connect two generators in parallel to get higher power. This will allow you to connect devices with a load of approximately 9 kW (all depending on the connection conditions). The generator user manual has information on how to do this.
Reliable Generator with Hybrid Engine
Many people want to provide energy independence for their homes in case of a power outage. The best way to do this is with a reliable and powerful generator.
According to many buyers, the Duromax XP5500EH generator is one of the best in its price range. Hybrid engines are a relatively new technology, which is becoming popular among US users due to their convenience! This generator model has no problems with the engine and regulator. The instrument panel is informative and concise. It would be easy for you to use this hybrid generator, even if you never operated such devices.
In this Duromax XP5500EH hybrid review, you have learned about the technical features, advantages, and disadvantages of this model. Do you have any other questions about the conditions of use of this generator? I would be happy to answer them in the comments box.