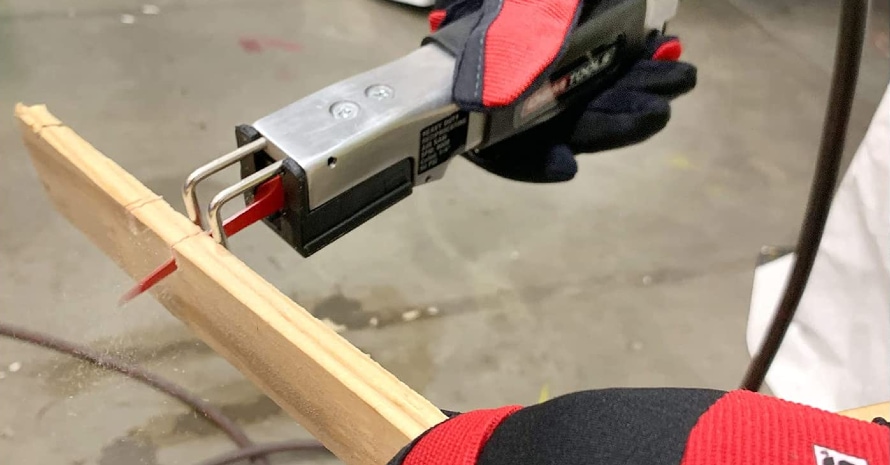 An air reciprocating saw is a must-have tool for every DIY worker, contractor, woodworker, or carpenter, from amateur to professional one. The blade of this type of saw moves due to the pneumatic motion generated by the tool's air compressor. This is why this air-powered saw is also called a pneumatic reciprocating saw. A pneumatic air saw is made for cutting delicate metals while offering vibration reduction features, so it's no surprise that this tool is so popular.
Pros
Powerful with the speed of 9000 strokes per minute
Provides vibration-reducing system
High quality of construction
Top Pick
Pros
Powerful with the speed of 9000 strokes per minute
Premium Pick
Pros
Provides vibration-reducing system
Great Value
Pros
High quality of construction
With a great variety of options on the market, finding the best air reciprocating saw might be tough. There are lots of famous brands and companies that specialize in saws, so you definitely need to do some research before purchasing it. It matters since the wrong saw can cause damage to your projects. However, don't worry: I have done the required research and picked the 7 best models so that you can find the one that fits you the most among them.
7 Best Air Reciprocating Saws Reviewed
Since researching the market while looking for a saw might be time-consuming and confusing for beginners, here's the list of the top 7 air reciprocating saws. Every item is worth your attention.
1. Astro 930: Best Pneumatic Reciprocating Saw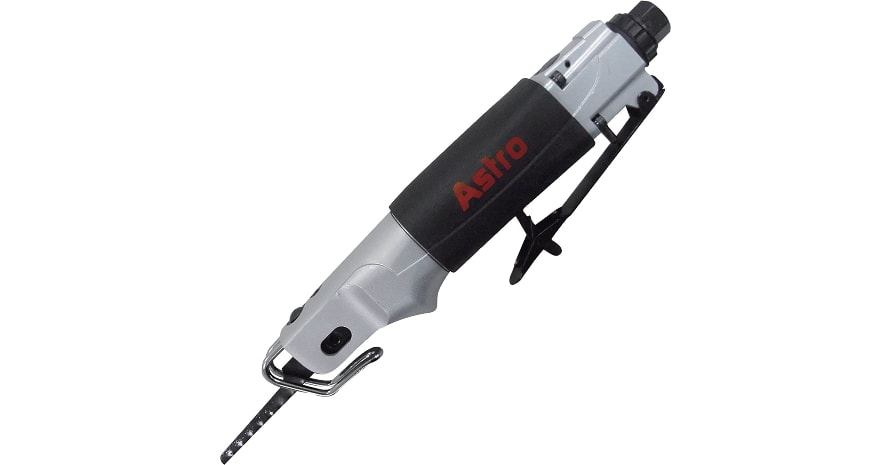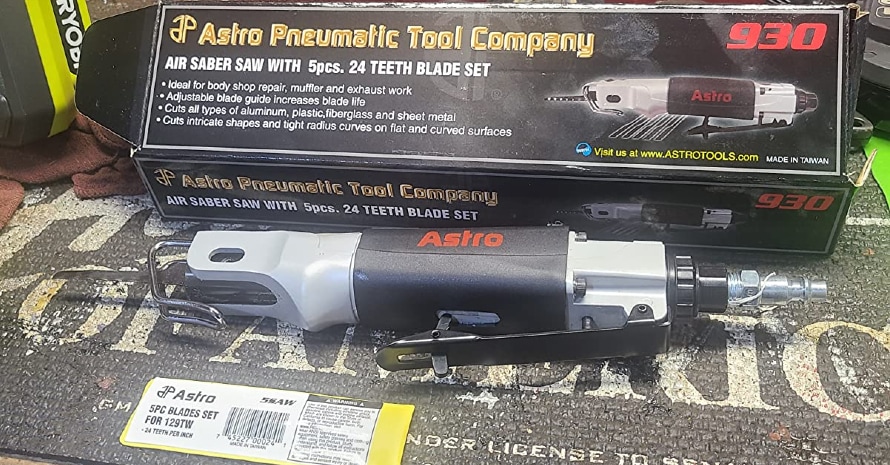 Astro Pneumatic Tool is a US-based company that provides different kinds of automotive aftermarket tools. It has been on the market for around 40 years and has made a name for itself since that time. Astro products are known for their high quality and reasonable price.
After analyzing several devices in this equipment category, I came to the conclusion that this model is the best-rated reciprocating saw on this list. The first thing that you notice about this saw is how small and lightweight it is. The dimensions are 9.5 x 2 x 3 inches, and the weight is 1.65 pounds, so the saw is as handy as it comes. Therefore, if you don't have a lot of room in your studio or have to move the saw a lot, this will really help.
Despite its small size, this Astro saw is quite powerful with a speed of 9000 strokes per minute. It's great at cutting all types of plastic, aluminum, sheet metal, and fiberglass. This model can also cut radius curves and some intricate shapes on flat and curved surfaces. Such versatility is a great plus for any saw. The blade guide of the Astro saw is adjustable, which helps with its durability and prolongs the blade's lifespan.
I have noticed only one minor drawback in this item. It's a little louder than most of the other saws, and there is no vibration-reducing feature. You might feel it during work, which might be somewhat distracting.
A great plus, though, is that with all of its advantages and great quality, this model occupies the cheaper side of the price range. You don't have to spend a fortune on a good saw as this one is quite affordable.
I have rated this particular product as a top pick because I've been using it for a long time and was satisfied with it the most. All of its features: size, power, quality, and price, make it the best air reciprocating saw to recommend.

---
PROS:
Compact and lightweight
No vibration-reducing feature
Powerful with the speed of 9000 strokes per minute
---
2. Ingersoll Rand 429: Compact Metal Air Saw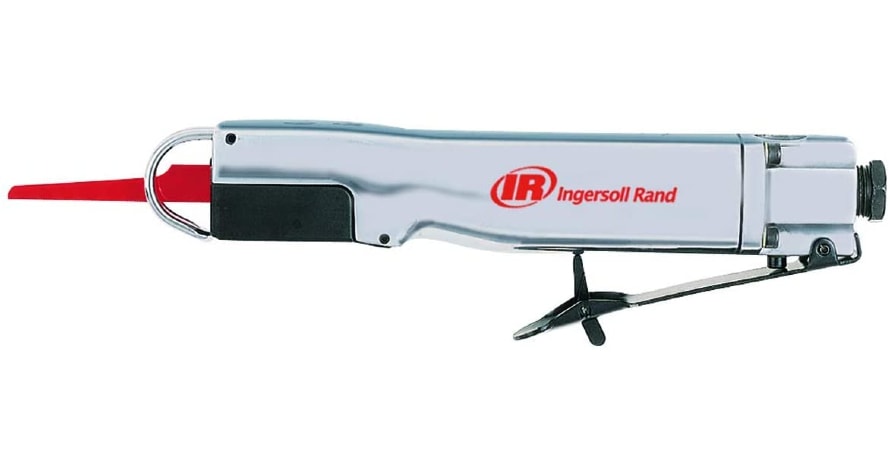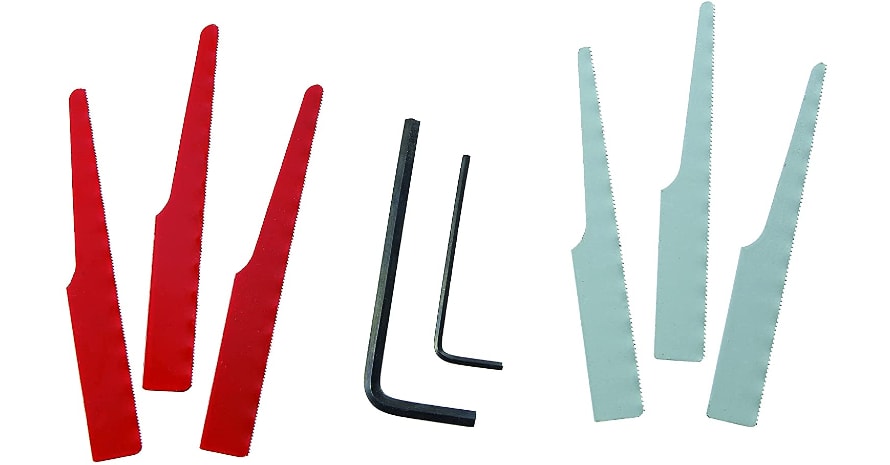 Ingersoll Rand is an American company that has been an industrial equipment provider since 1859. It is a world-known manufacturer of fluid, energy, air, medical, and specialty vehicle technologies. You could've previously heard about this brand under the name Gardner Denver. There are lots of their products on the market that are known for high quality. No surprise that one of the best saws I've encountered is produced by Ingersoll Rand. This 429 Air Reciprocating Saw is my second best for a reason.
Lightweight and portability are the two features that make this saw remarkable. Its size is 2.7 x 10.1 x 3.3 inches, and its weight is 1.32 pounds. You basically get an amazingly compact and light tool that is easy to maneuver. The saw can effortlessly get into unusual angels and some challenging, tight places. You can also cut any type of complex shape and radial curves on different surfaces.
The saw provides clean and fast cuts with a speed of 10000 strokes per minute. It is capable of cutting a lot of materials, like sheet metal, aluminum, fiberglass, plastics, and composite materials.
Another great feature I'd like to highlight in this Ingersoll Rand saw is a vibration-reducing mechanism. Though it is not essential in this type of saw, it makes the working process more pleasant. Adjusting the blade guide and positive blade retainer contributes to the tool's safety and durability.
What could have been better in this product is the price. It is a little expensive, and not every beginner is ready to spend a lot on such a tool. Otherwise, this Ingersoll Rand saw would be an ideal device.

---
PROS:
Lightweight and small
Somewhat pricey
Provides vibration-reducing system
CONS:
A speed of 10000 strokes per minute
---
3. Neiko Air Tool Saw: Best Value for Money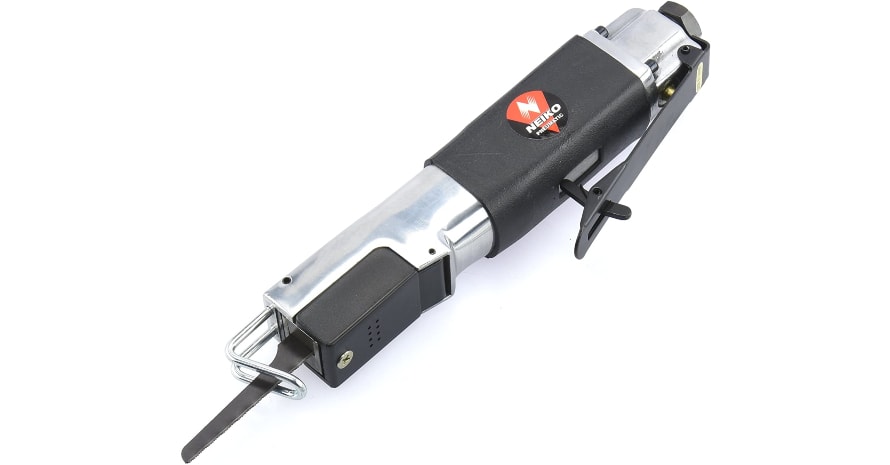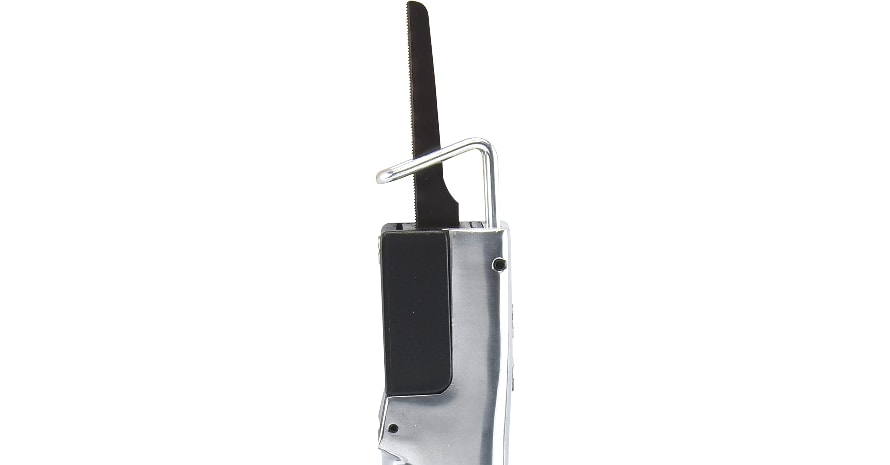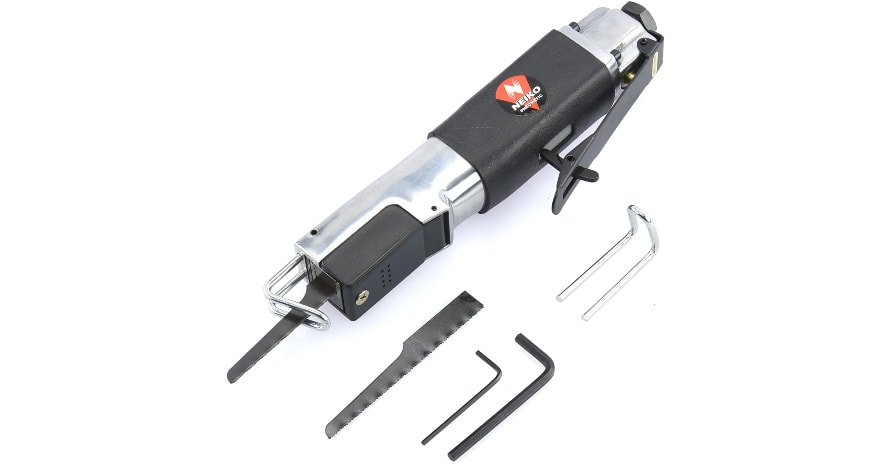 Despite the fact that the Neiko company has been on the market only for 20 years, its products are worth mentioning. They started from a small family business and now can offer a variety of tools of nice quality and pleasant prices. This Neiko Air Saber Body Saw is an amazing example of such a combination.
The saw is small yet powerful. It weighs 1.5 pounds with dimensions of 11.1 x 3.11 x 1.77 inches. Its speed is 10000 strokes per minute, just like the previous model's, but this one is cheaper. Due to its power, you can easily and smoothly cut metal sheets and aluminum, fiberglass, plastic, etc. Similar to other products mentioned on this list, this one can also cut some intricate shapes and curves, and the small size is definitely a helper here. Moreover, the device is very precise; its cuts are neat and clean.
The price is also great. This item is quite cheap, even though it's as powerful as other saws on the list. However, as expected, the quality of such an affordable product isn't that perfect. The issue here is with the blades. Some users claim they are too fragile in a number of reciprocating saw reviews. People say they might break during work. The process of replacing and changing the blades is pretty complex too. So I wouldn't use this saw for some serious professional projects. However, it's still great for amateurs. At the end of the day, the quality of the saw itself is great, and with such a price, it offers the best value for money.

---
PROS:
Affordable
High quality of construction
Powerful
CONS:
It might be challenging to change the blade
Some users claim the blades are fragile
---
4. Chicago Pneumatic CP7900: Professional Pneumatic Metal Saw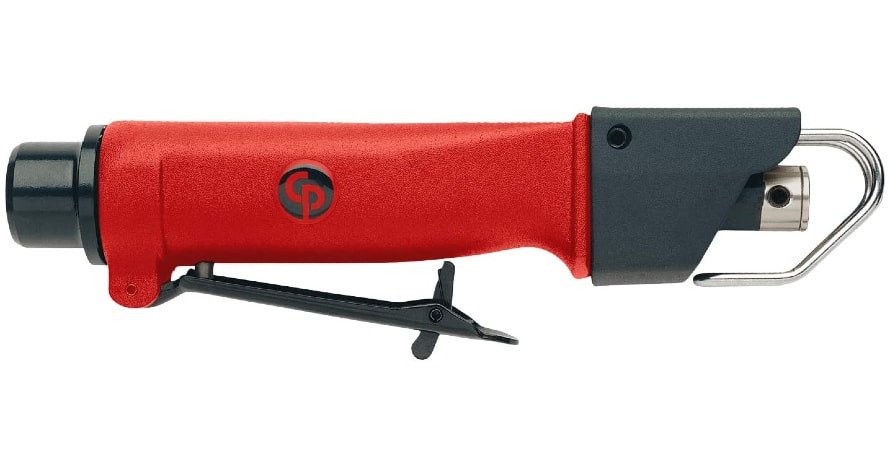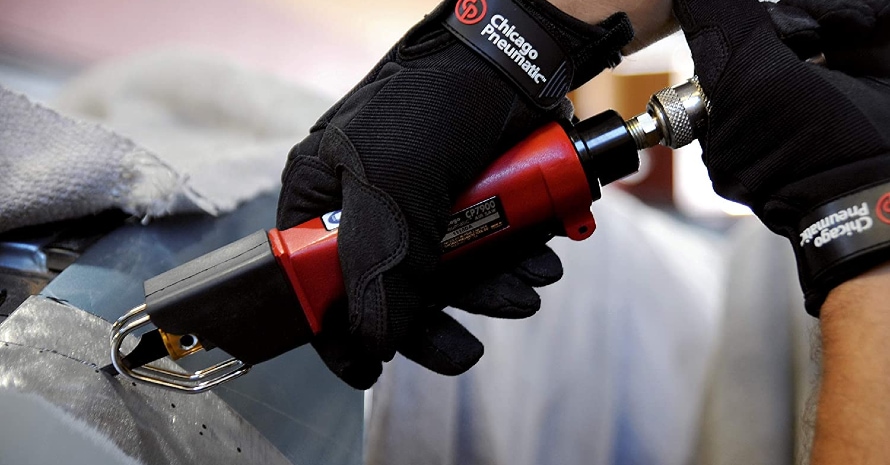 Chicago Pneumatic is a famous company founded in 1901. It specializes in power tools, light towers, generators, hydraulic equipment, and air compressors. Due to a great amount of experience, this brand is capable of providing professional tools of amazing quality.
The CP7900 reciprocating air saw is very powerful with a speed of 10000 strokes per minute. Such a speed allows it to cut different types of materials easily. It is also incredibly lightweight, only 0.1 pounds. The size is also remarkable — 9.5 x 6.8 x 2.7 inches, making this tool light, compact, and maneuverable.
The body of the saw is made of metal, which adds to the durability of the tool. It comes with three additional blades (18T, 28T, 32T). They are all made of high-quality material, so you don't have to replace them often. Many users appreciate the long lifespan of the tool.
The Chicago Pneumatic company offers an opportunity to buy some parts of the saw to replace them separately. However, this kind of quality and professional product costs a lot. It is on the expensive side of the price range, and not everyone is ready to invest such money into a single tool.

---
PROS:
High-quality materials
A bit expensive
Fast
---
5. Ingersoll Rand 429G: Best Auto-Body Saw with Variable Speeds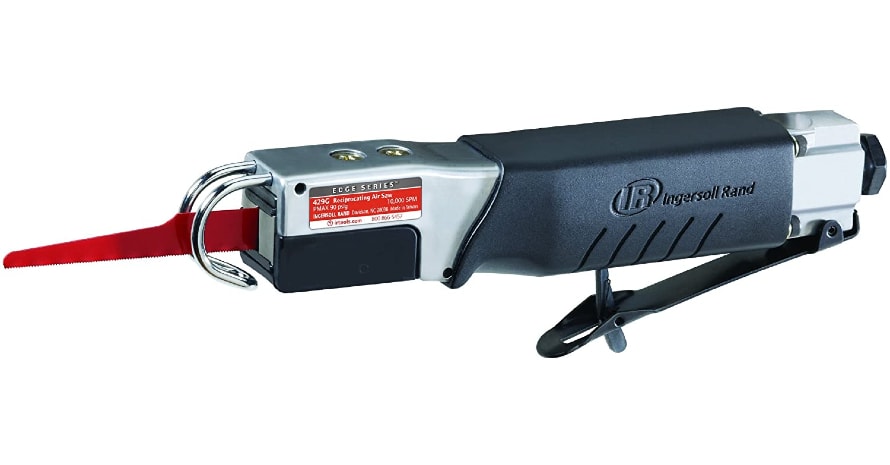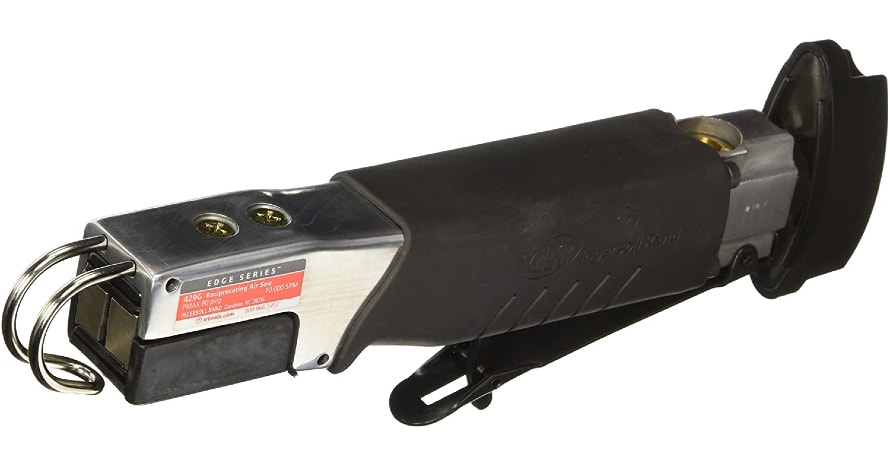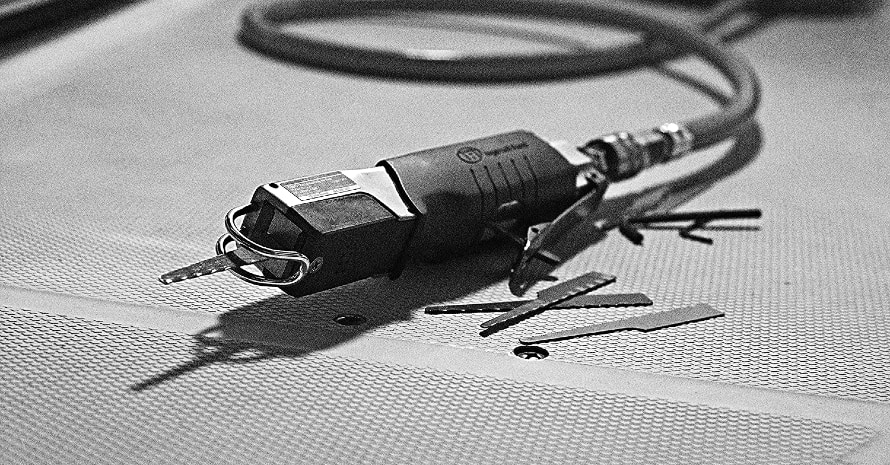 The Ingersoll Rand company, which has been on the market for more than 160 years, is known for its high-quality tools. One more product I would like to examine is this 429G reciprocating air saw.
This saw is small and portable, just like the previous items. It weighs 1.8 pounds, and the dimensions are 10.7 x 3 x 2.1 inches. Therefore, it's slightly bigger than the Ingersoll Rand's saw I've already reviewed here. Still, it's quite maneuverable and easy to work with. It is a heavy-duty instrument that can cut a variety of materials with ease. It works especially smoothly while cutting plastic aluminum, fiberglass, and sheet metal. Due to the speed of 10000 strokes per minute, you can use it for cutting different complex shapes and angels, so some challenging projects that require intricacy won't be a problem.
The saw comes with 6 blades of 4-inch length. So you can replace the blade when needed. Another great feature is the reduced vibration system. It makes the usage process much more comfortable and not exhausting since it reduces your fatigue. It also helps while working on muffler work and exhaust, body shop repair, and sunroof installation.
This Ingersoll Rand product features variable speeds, so you can change the speed in accordance with the requirements of the project you are working on. A lock-off throttle, an exhaust system, and an adjustable guide make the saw more convenient to use.
I enjoyed using this saw. The speed, the comfortability, the results were all worth the price I've paid. So even though this product is rather expensive, I'd totally recommend it.

---
PROS:
Variable speeds
On the expensive side
Compact
---
6. OEMTOOLS 24409: Best Pneumatic Body Saw for Amateurs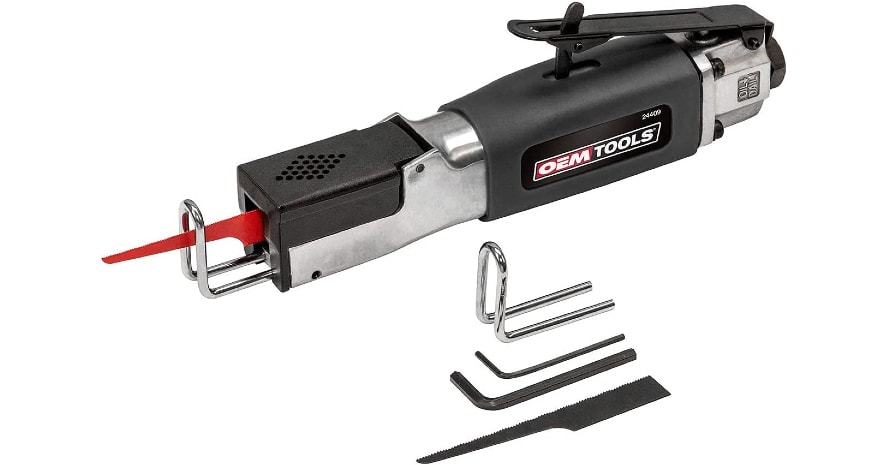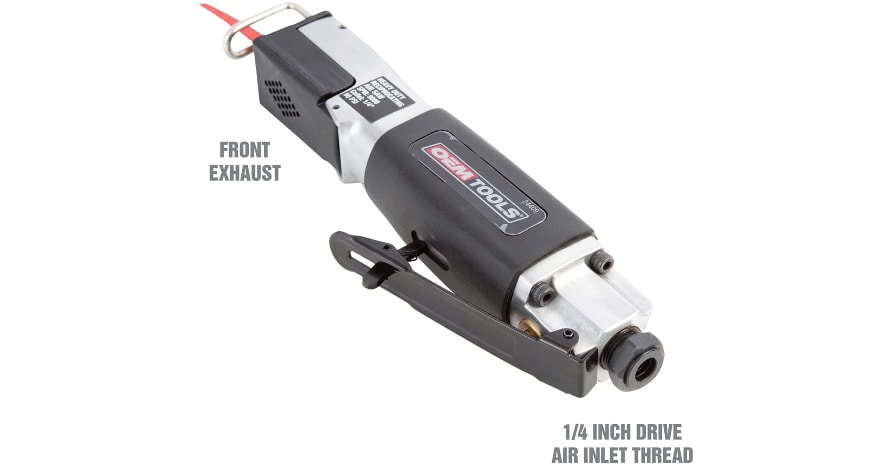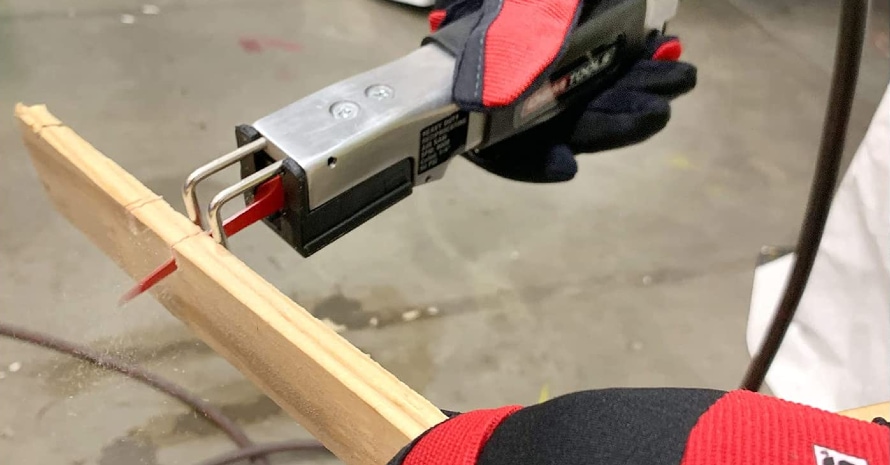 OEMTOOLS, an American company from Detroit, is not as famous as most of the previous brands mentioned here. However, it doesn't change the fact that their products are of high quality. One of the examples worth your attention is this OEMTOOLS 24409 Heavy-Duty Reciprocating Air Saw.
This saw is one of the best options for amateurs searching for a saw for some DIY projects. It is quite powerful, providing 9000 strokes per minute. It is more than enough to cut through materials like aluminum, steel, and sheet metal. With this speed, you can also saw wood, fiberglass, brass, Sheetrock, etc. It is also easy to maneuver due to its small size of 11.8 x 3.3 x 1.9 inches. The weight of only 1.7 pounds makes it pretty lightweight and portable. With this tool, you can cut precisely and neatly even in tight places.
User's safety is guaranteed by a blade guard and a trigger safety lock. Due to this design, you won't hurt yourself during work. It is also comfortable to use the saw since it offers vibration-reducing technology. The package includes 2 hex key wrenches, 2 replacement blades, and 2 blade guards.

---
PROS:
Safety adjustments (a blade guard and a trigger safety lock)
Shifting the blades could have been easier
Lightweight
---
7. Berkling Tools 7102: Versatile Air-Powered Reciprocating Saw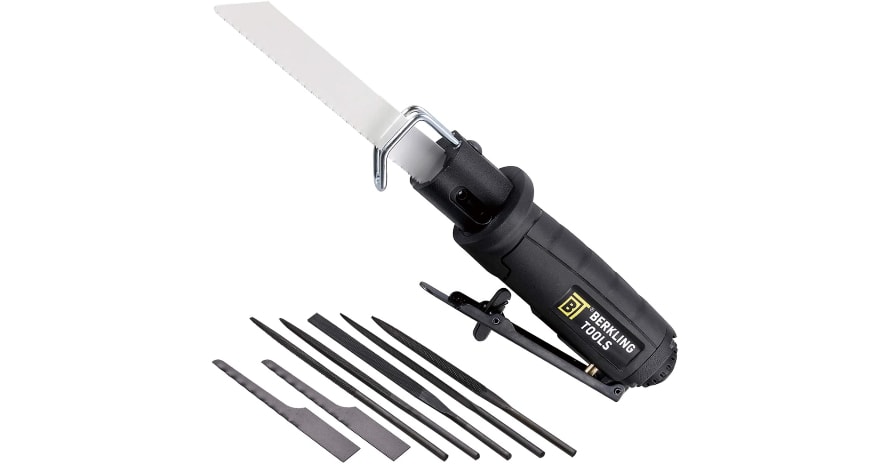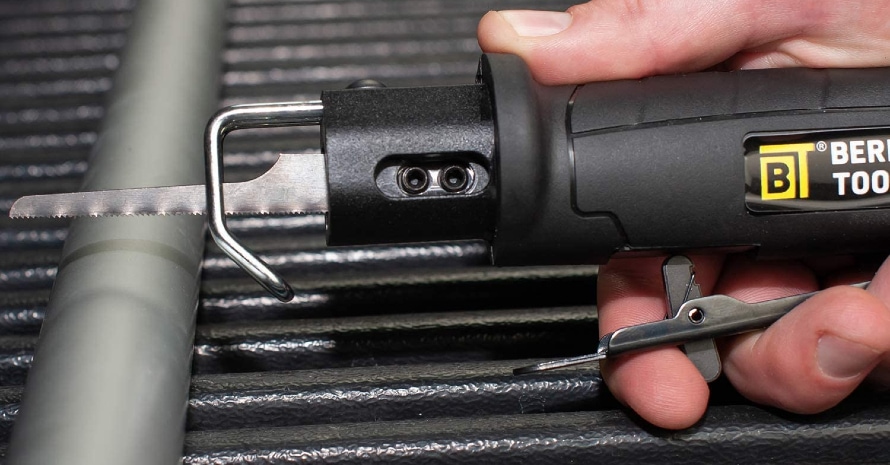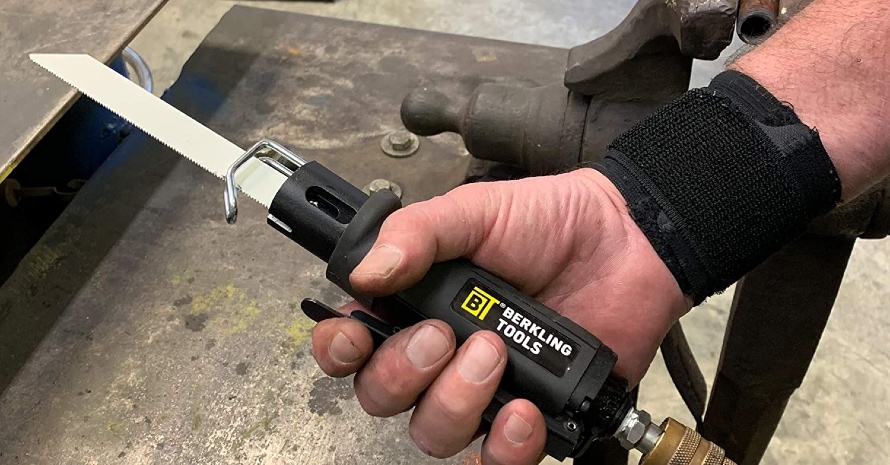 With the company's 30-year experience, Berkling Tools offer products of high quality. Their pneumatic tools are known worldwide. The 7102 air saw is a professional-grade tool remarkable for its versatility. It makes woodworking, fabrication, and sculpting easier.
You can use this saw both as an air saw and an air file. You can also apply it for sawing, deburring, grinding, and filing. You don't need to buy separate tools since this one is multi-purpose and versatile enough. However, it is still very small and portable with a weight of only 0.9 pounds.
The device is quite powerful with a delivered speed of 9500 strokes per minute. It's very comfortable to use since the noise isn't a problem at all. Moreover, the vibration-reduced system helps with convenience, making it much easier to work with the tool. The design decreases fatigue too; this product's grip is rubberized.
The package comes with 1 reciprocating saw blade, 2 air saw blades, 5 different files in various shapes and sizes, and a wrench for repairs.

---
PROS:
Affordable
The quality of other products on the list is more solid
Versatile (used for sawing, deburring, grinding, and filing)
CONS:
Compact (only 0.9 pounds)
---
Buyer's Guide on Air Reciprocating Saw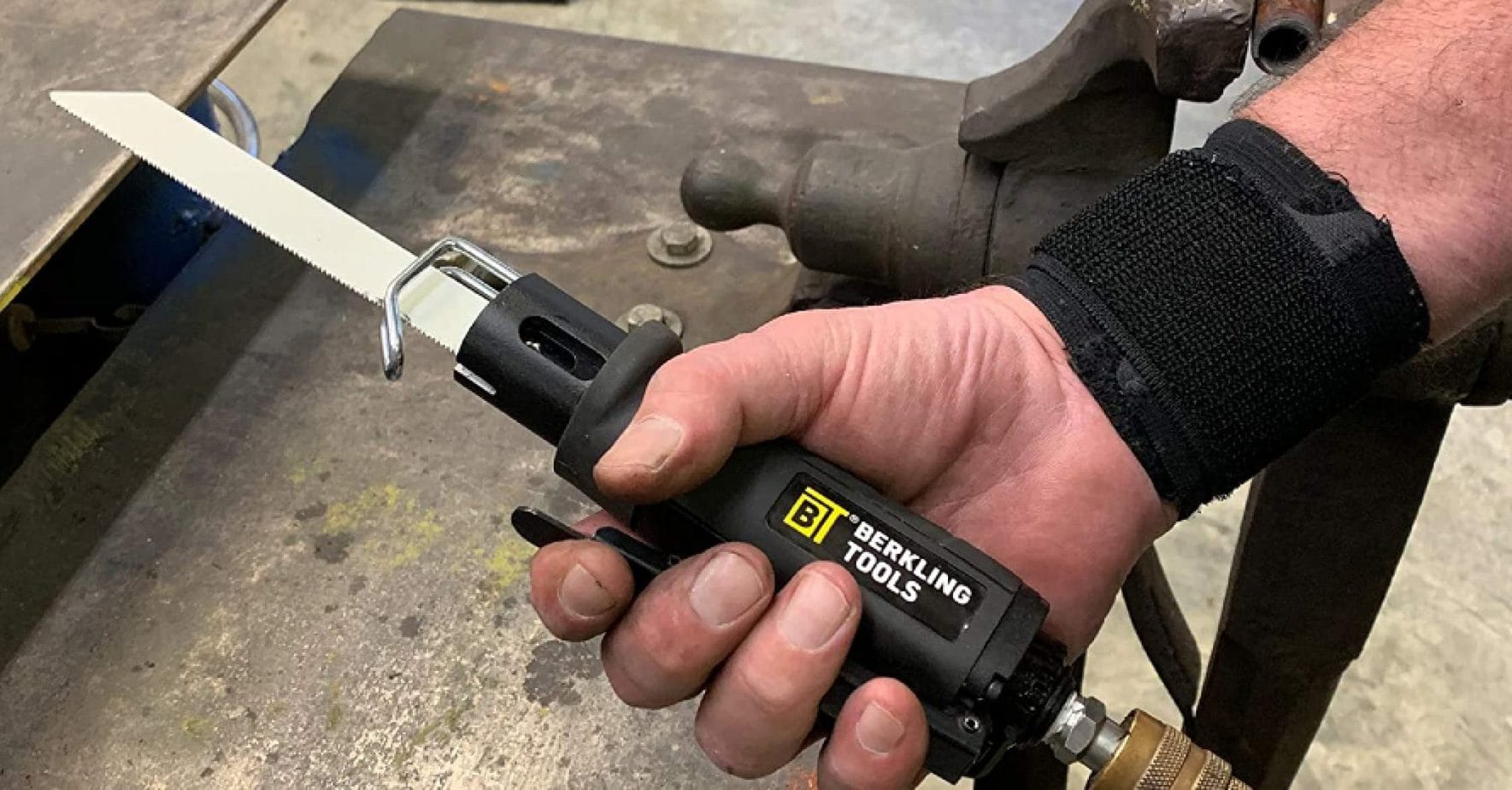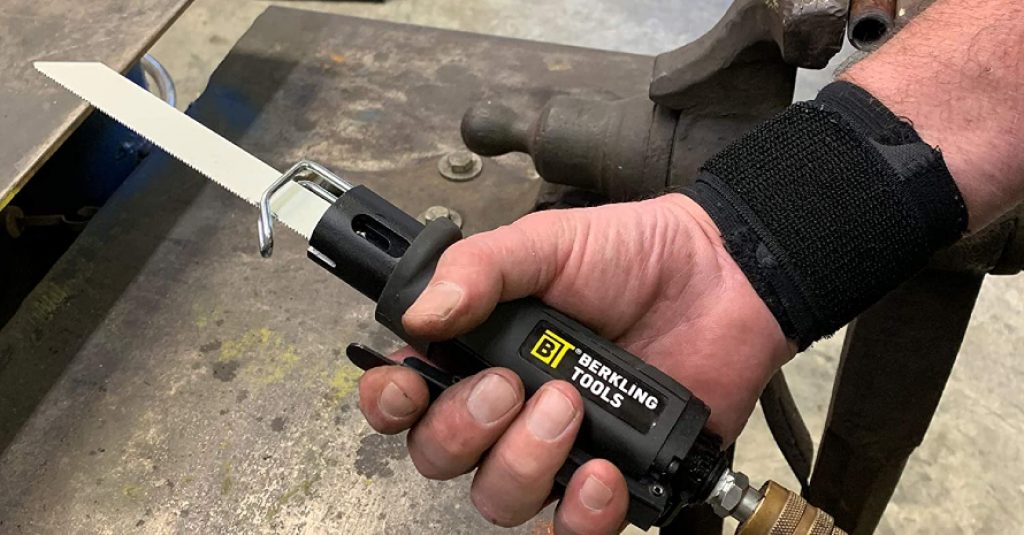 While looking for a suitable saw, you might stumble on various famous brands that claim their products are the best. So you need to know how to choose the saw and which features to pay attention to. To make it easier for you, I have made this buyer's guide on what to look for in the saw that will suit you.
Cutting speed
The cutting speed is measured in strokes per minute (SPM). This parameter is probably the most important one since it shows how powerful the tool is. The saw's speed usually varies from 9000 to 10000 strokes per minute, which is just perfect. With less than that, the power of the tool isn't enough to cut most of the materials. Instruments with the capacity of 9000 and 10000 SPM can easily cut aluminum, metal sheets, plastic, fiberglass, wood, etc.
If you choose between the saws with the speed of 9000 and 10000 SPM and don't know which one to purchase, don't worry. The power provided by both tools is almost the same, so you can focus on other characteristics.
Variable speed control
An air reciprocating saw doesn't often feature speed controls. However, if you want your instrument to be more versatile, it's better to find a saw with a speed control function. It is usually located on the side of a saw.
A variable speed trigger lets you choose the correct speed, so you can use it when you don't want to rip through the material at a very high speed. This option will help you use low speed for doing the more accurate job with neat cuts for some intricate and complex projects. At the same time, you can use the top speed when you need to do fast cuts.
Blade
A quality blade is essential to cut through any material. Here are the most vital criteria to remember when examining a certain saw's blade:
Teeth
Blade's sharp tines are called teeth. Various types of materials require specific sets of teeth. You can notice some numbers with the acronym TPI. That means teeth per inch that range from 2 to 24. The more teeth there are per one inch, the slower and smoother the cut. With the lower TPI rate, the cut is rougher yet faster. To cut wood, use blades with lower TPI, and adhere to blades with higher TPI to work with metals.
Material and design
The reciprocating air saw blades are usually made of high carbon steel or high-speed steel. You might also find the mixed version, which is called the Bi-Metal blade.
The most common blade is high carbon steel. This type is usually affordable. These blades are very flexible and can easily bend without breaking. They are mostly used for softer materials, including plastic and softwoods. However, they are not that durable.
Another type is a high-speed steel blade. Such blades are harder and less flexible, which makes them perfect for some metals and hardwood types.
A mix of these two options is called a Bi-Metal blade. It is both durable and flexible, so its lifespan is quite long. The price is the only drawback here since this blade is a bit expensive.
Blade changing
Some saws come with a few spare replacement blades, all of which are usually of the same size and type. The process of blade changing might vary from one model to another. A key feature is that it shouldn't be difficult. It's better to check on that information before buying the tool. Changing the blade here is more complex than on other saw options, so make sure that you can do it on your own. The process should be quick and not struggling.
First, you need to turn off the power and unlock the blade clip. Make sure that the blade fits and is suitable for cutting a particular material. Then, put it in and relock the blade clip. Test if it's secure afterward.
Design
When it comes to design, look for unique features that are useful in such saws. The priority for the tool's design is its comfortability. Some saws offer an anti-vibration system. It is quite challenging to eliminate vibration or so-called chatter, but some manufacturers manage to do it. Its importance is obvious: constant hand-arm vibration does not only exhaust you but also can harm your health. Such systems decrease fatigue since the working process is more comfortable.
Another detail worth mentioning is a safety lock. Every reciprocating saw should be secure since this feature is vital, especially for beginner contractors and DIY workers. A safety lock offers you more control during work as it restricts the tool from accidental startups. It's even more important when you have a child around while working on your project.
Before buying the tool, check out the design of the saw handle. Though it might seem not that important at first, after working with the tool for some time, you'll realize how essential it is. The handle provides proper control and comfort during work. Some cheaper saws are made of plastic, which has nothing to do with comfort. The best air reciprocating saws come with a handle covered with softer materials like foam or rubber.
Durability
We all buy the tools hoping that they will last a long time. No matter how much you are willing to spend on the saw, witnessing its break and the need to buy another item in a few months is too frustrating. Therefore, ensure the saw you're about to buy is high-quality. Don't purchase the cheapest option, consult with a sales assistant or do your own research beforehand. It would be perfect to find the saw made of aluminum that comes with a few replacement blades.
Weight
The usability of the saw highly depends on its weight. Since the sawing process might last for long, a lightweight tool won't cause any fatigue or exhaustion. If you're an amateur and don't use a saw often, a heavier device won't be a problem. The saw weight mostly concerns professionals who spend more than a few hours per day working with this instrument.
Another reason for buying a lighter tool is its portability. If you need to get into some tight places and do more intricate work, the low weight will make it much easier to maneuver the saw.
FAQ About Air Reciprocating Saws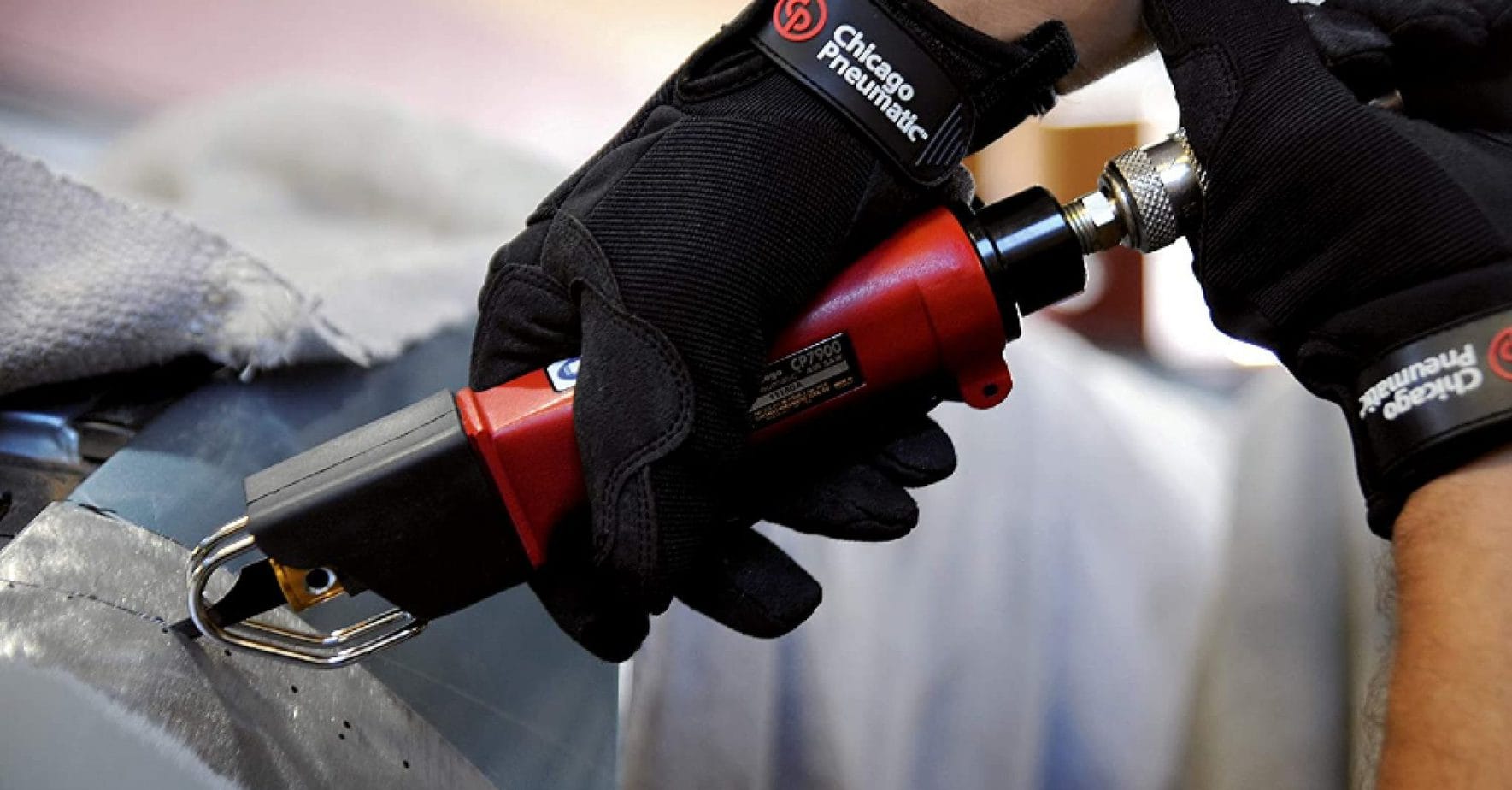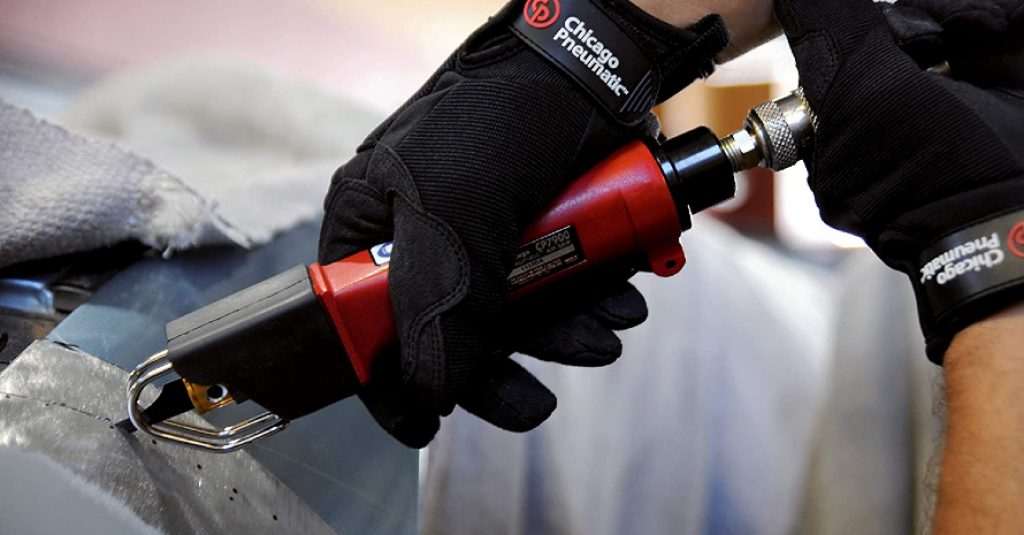 Here are my brief answers to the most common questions about air-powered reciprocating saws.
What is the most powerful reciprocating saw?
If you are looking for a potent reciprocating saw, the products below might suit you:
Ingersoll Rand 429 Air Reciprocating Saw — a compact yet powerful model
Chicago Pneumatic CP7900 Reciprocating Air Saw — a great option for professional work
Ingersoll Rand 429G Reciprocating Air Saw — a device with variable speeds
All of these items not only have the speed of 10000 strokes per minute (which is a criterion for a powerful reciprocating saw) but also feature quality blades. My favorite device is the Astro 930, which is a great combination of power and affordability.
Are reciprocating saws dangerous?
Reciprocating saws can easily cut through different types of construction materials including metal, wood, plastic, etc. You need to use them carefully since, otherwise, you can hurt yourself. However, most of them feature a safety lock to restrict the tool from accidental startup.
What are the best reciprocating saw blades?
There are a few types of blades according to the material you need to cut. The most versatile one is a Bi-Metal blade. It is made of both high carbon steel and high-speed steel. These blades are a little pricey but durable and flexible enough.
Which one is better, air or electric reciprocating saw?
It's totally up to you and your preferences. I recommend the second option as a pneumatic model is much lighter and easier to carry. Electric ones are more likely to overheat and prone to accidental breaking. Electric saws also need to be constantly charged and cooled down, which takes a lot of time.
Choose the Perfect Saw with Ease
You need to consider a lot of important factors to find the perfect air reciprocating saw, like its speed, blades, size, weight, and design. According to my research, the best product to buy is the Astro Pneumatic Tool 930 with its power, compatibility, and affordable price.
I hope this article was useful for you. Which company saws do you prefer? Have I mentioned it on this list? Which features do you find the most useful in this kind of tool? Share your opinion on my top pick in the comments section!