Best Electric Chainsaw: Expert's Reviews to Help You Pick the Ideal Saw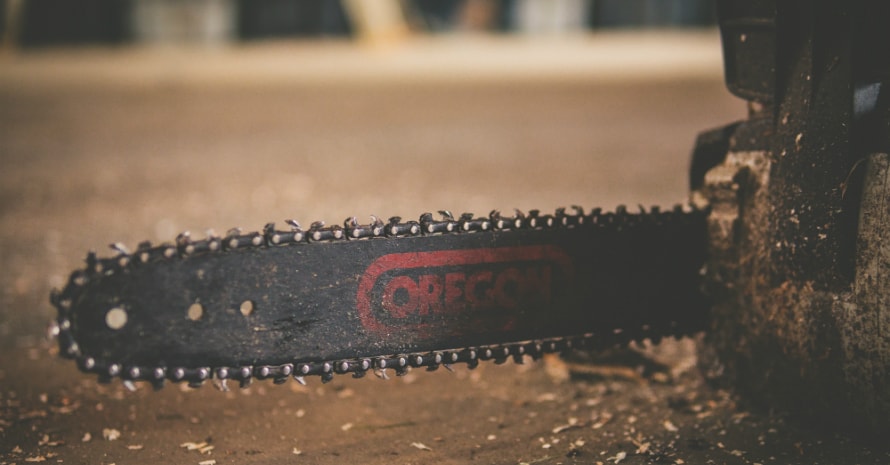 Do you want an electric chainsaw for home use? My in-depth reviews will help you identify and choose the best electric chainsaw that meets your specifications. However, before we get into the assessments, allow me to tell you something about myself. Primarily, my name is Ronnie Collins, and I have been passionate about gardening and woodworking.
My love for these activities made me pursue an MS in Botany at the University of Maryland. Upon completing my studies, I started working at a gardening company immediately, thus, getting an opportunity to put the knowledge and skills I had acquired into practice. Now, given my background, I have learned so much about dedicated equipment such as lawnmowers, garden hoses, and so forth. Most importantly, I know all about chainsaws, in essence, fuel and electric chainsaws.
Has an industry-leading self-sharpening function
My Choice
Has an industry-leading self-sharpening function
Today, I will focus on the latter. So, what exactly are electric chainsaws? These are a type of chainsaw that can be connected to electrical sockets or a rechargeable battery for power. They differ from gas-powered chainsaws in four ways. First, they are quieter and thus more suitable for backyard gardening. Second, they are much lighter because they do not have a gasoline engine attached to them.
Third, they are easier to power on as you only need to press a button as opposed to pulling a string. Fourth, they are easier to maintain, as you will only need to unplug and store yours in a dry place, no need for emptying the fuel tank or cleaning filters. However, even with that said, if you want to cut massive logs, go for gas-powered chainsaws since they have more power.
If you buy a cordless electric chainsaw, you will need to recharge from time to time. Today, most of these saws use lithium-ion batteries with recharge durations of between 30 minutes and five hours. All said electric chainsaws are suitable if you are working in your backyard.
Reviews of 10 Best Electric Chainsaws
Below are my reviews of the ten best electric chainsaws in the market. Each evaluation consists of an item description, information on main features, and a table of the product's pros and cons. That said, here are the chainsaws covered.
1. WORX WG304.1 Chainsaw: Best Budget-Friendly Buy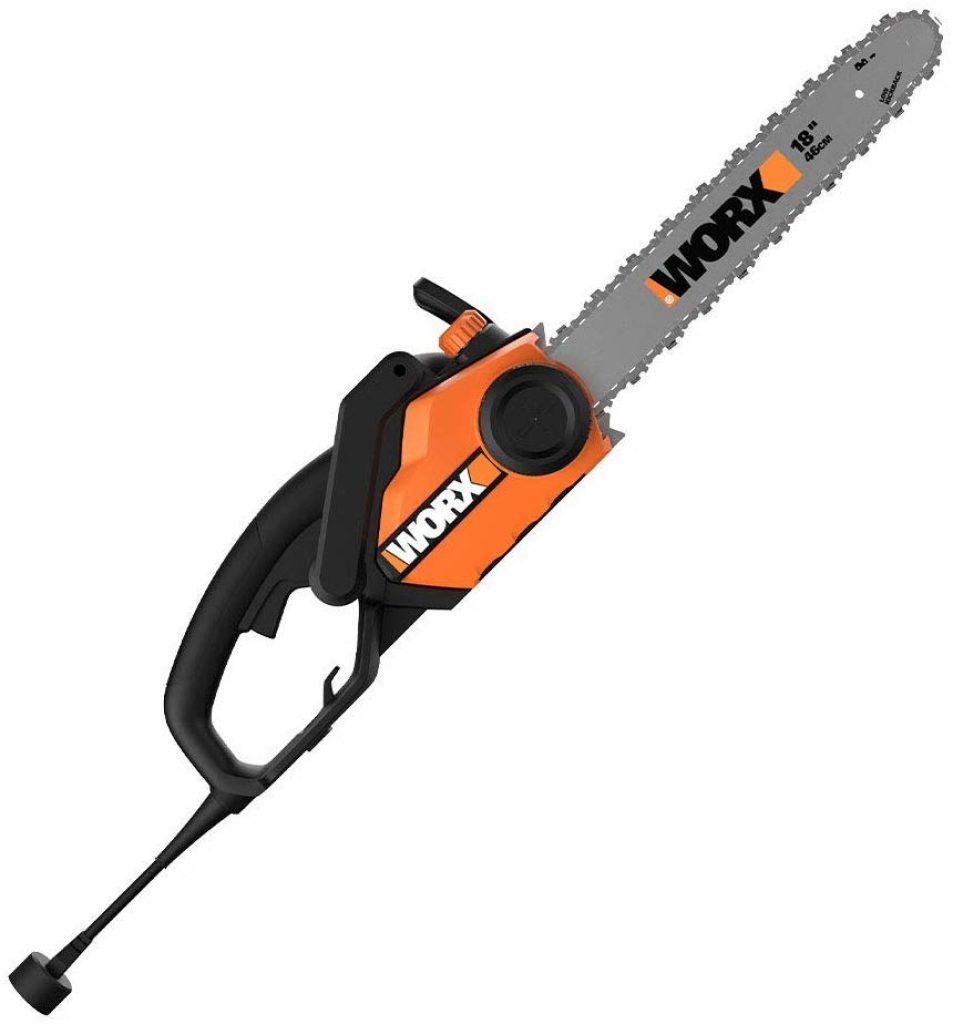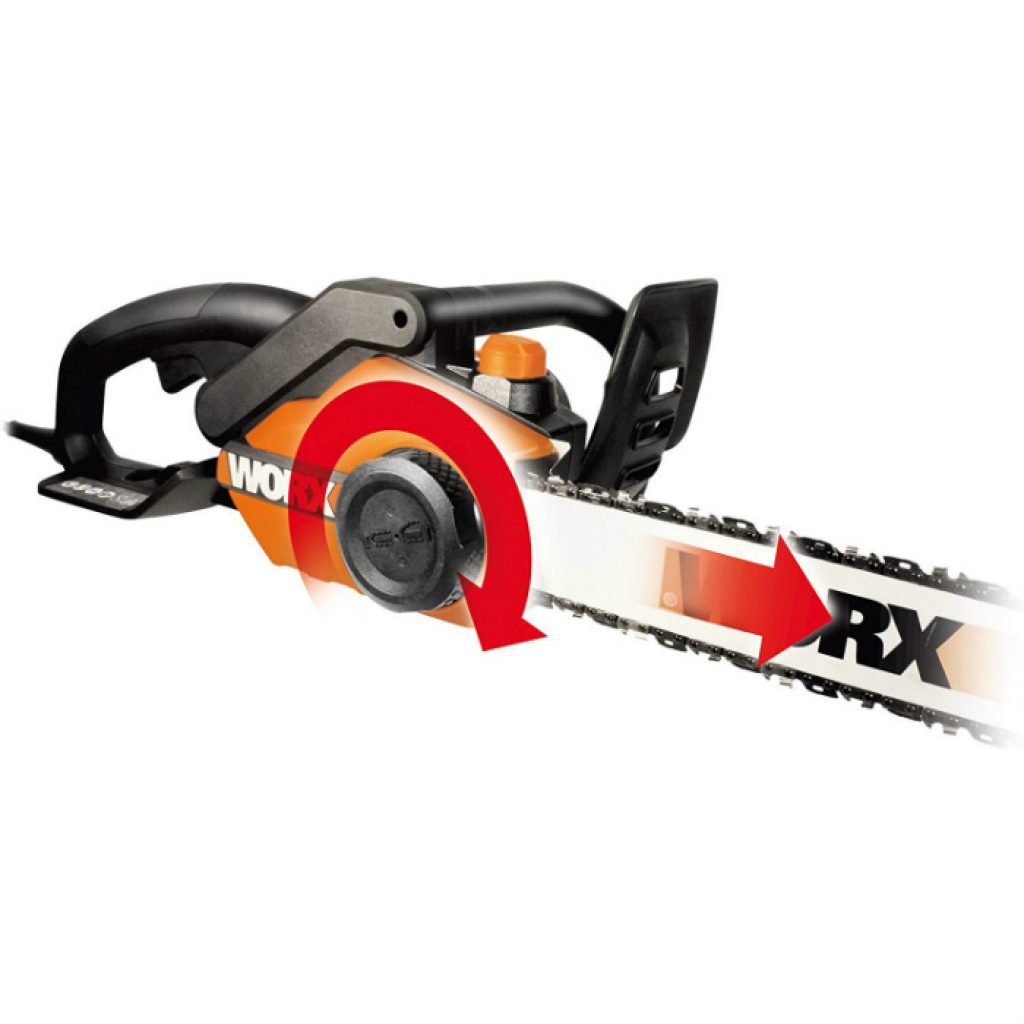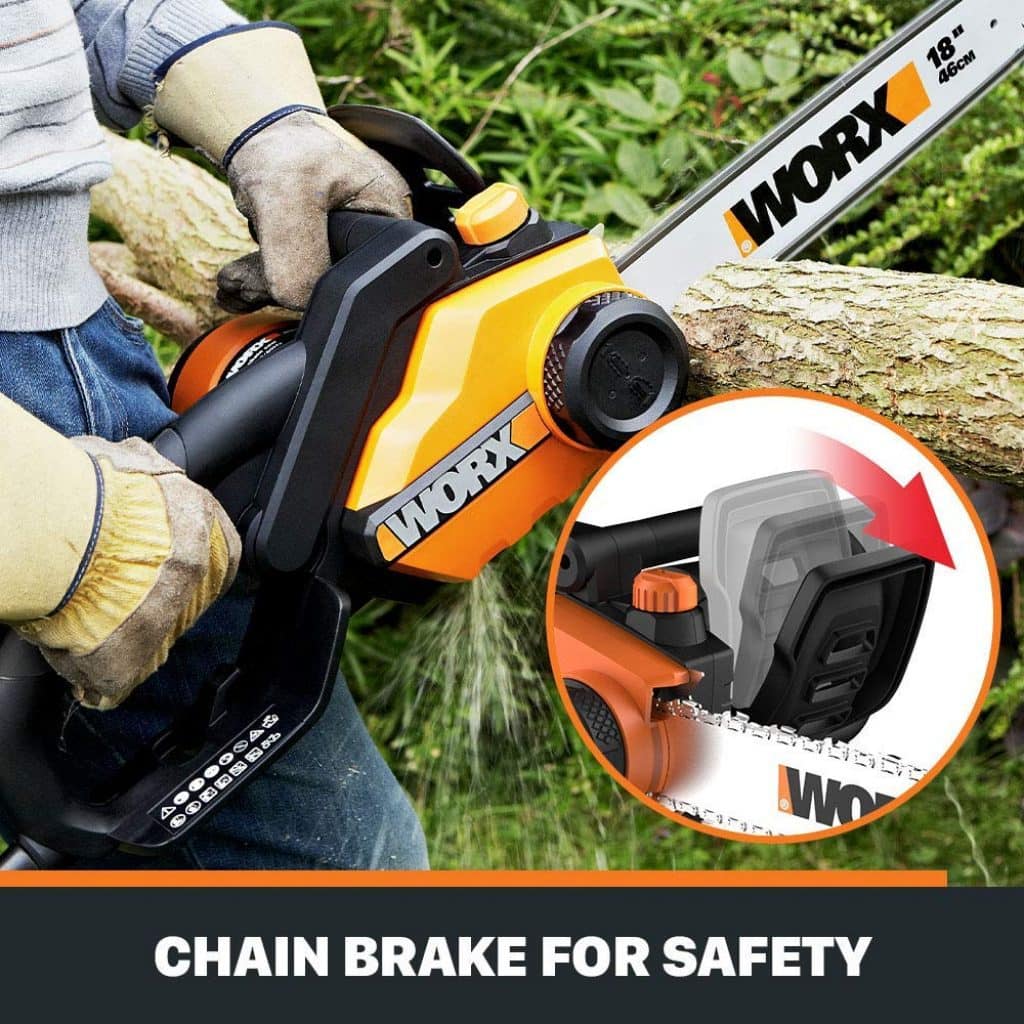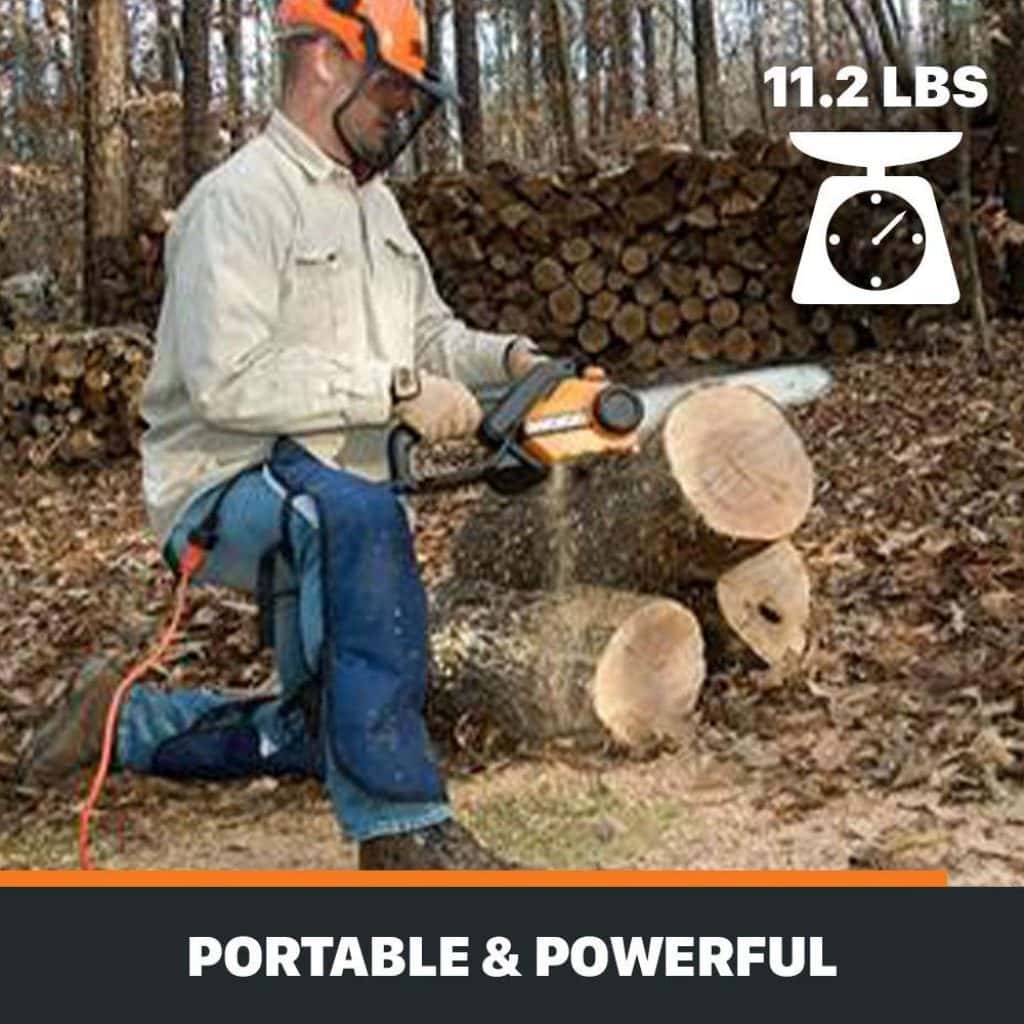 The WORX is a lightweight electric chainsaw that is quite easy to maneuver, making it an excellent saw for cutting trees around your backyard. It comes with a patented automatic tensioning system that bars the tool from over-tightening. This system has one big knob that helps secure the chain and the bar while also automatically keeping the necessary tension whenever you use the saw. Moreover, the auto-tension mechanism lengthens the life of the chain and the bar by hindering over-tightening.
It has several metal dogs at the base of the bar that provides better stability when using the saw. The WORX offers a 4.0 horsepower and even higher, which makes it perfect for tough jobs around your garden. It has a 6.75-ounce oil tank with a level indicator. When it comes to safety, this electric chainsaw shines.
There is also a chain brake for safety, and it's designed to keep you away from harm if there is a kickback. Also, the chain brake halts the chain fast whenever there is unwanted contact. If there is a need, the bar can be extended by up to 18 inches to ensure better usability and reachability is attained. To prevent any wear of metal parts, there is a built-in oiler that helps you to keep the bar and the chain lubricated and always ready for use. Also, there is a sprocket that can be lubricated at the top of the bar to increase the longevity of the tool.
I was quite impressed with the 15 Amp motor this chainsaw comes with as it delivers gas-like power to enable you to work in your backyard without any issues. The machine is also easy to use as there are comfortable grip handles that make it take hold. There is a molded handle at the back and a full-wrap gripping area to ensure maximum control and comfort when operating the machine.
The product measures 20.6 by 14.6 by 8.1 inches and weighs 11.3 pounds. When I opened the packaging, I confirmed the presence of the listed items, in essence, the electric chainsaw, user guide, a casing, and a bottle of chain oil. Here are some essential instructions for using the chainsaw:
Take the oil cap off and return it right after using the saw. It will reduce pressure when oiling.
Always cool the WORX before storing it.
Get the oil out before storing the device.
Clean the sprocket and parts around it.
Utilize the right amount of oil for your activity.
Other WORX electric chainsaw key features fifteen Amp motor output, eighteen-inch bar, and a 200ml oil reservoir.
PROS:
Chain brake to improve item safety
Automatic oiling to ensure constant lubrication
Fully assembled in the packaging
Three-year warranty
Maintains the proper tension for many uses
CONS:
Suitable for suburban gardening and woodwork only
2. Greenworks: Best Electric Cordless Chainsaw for Usability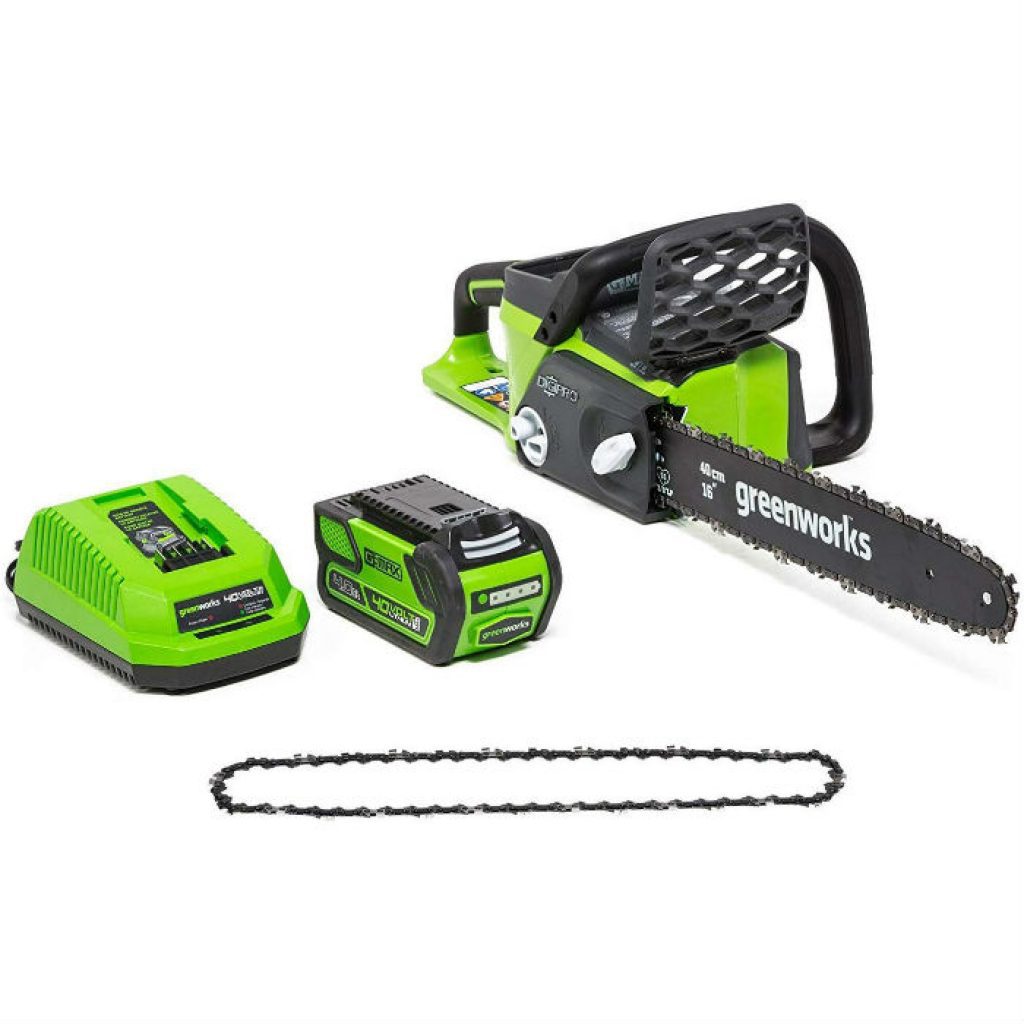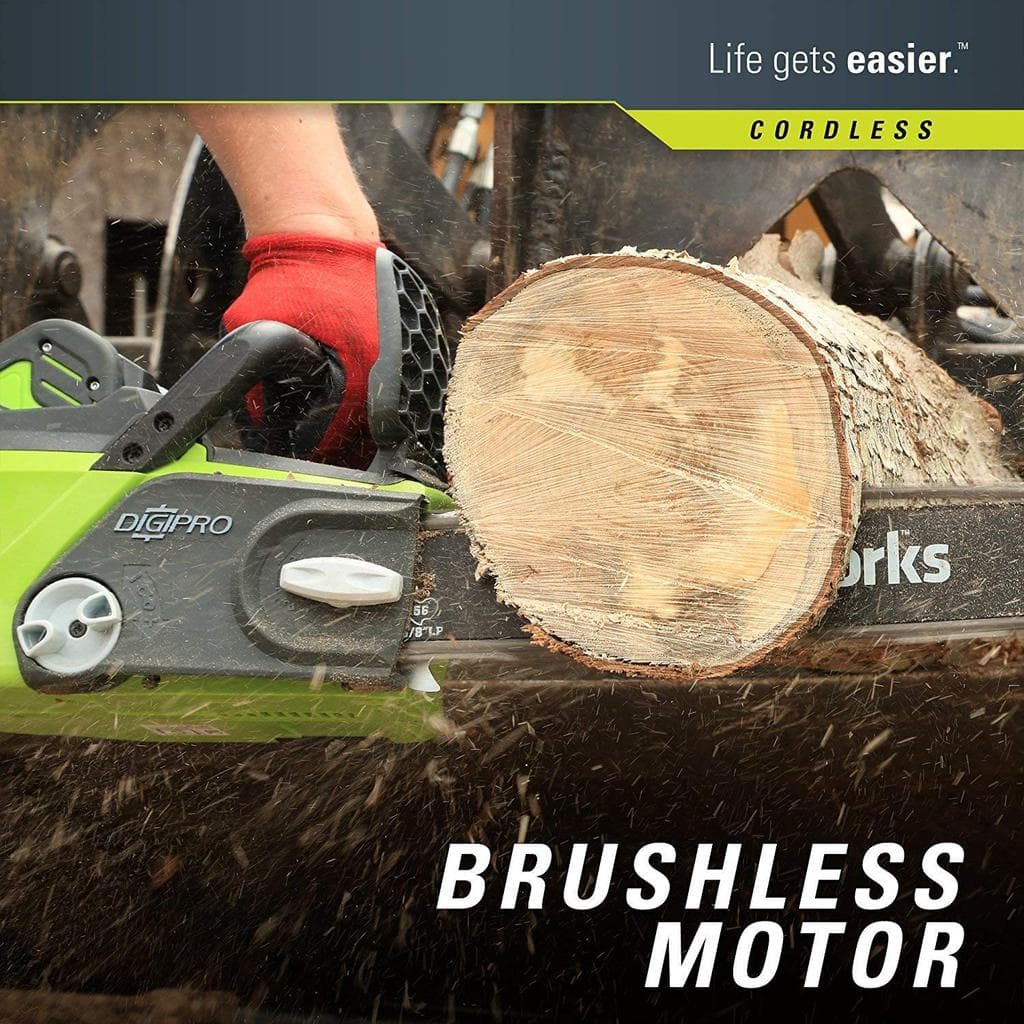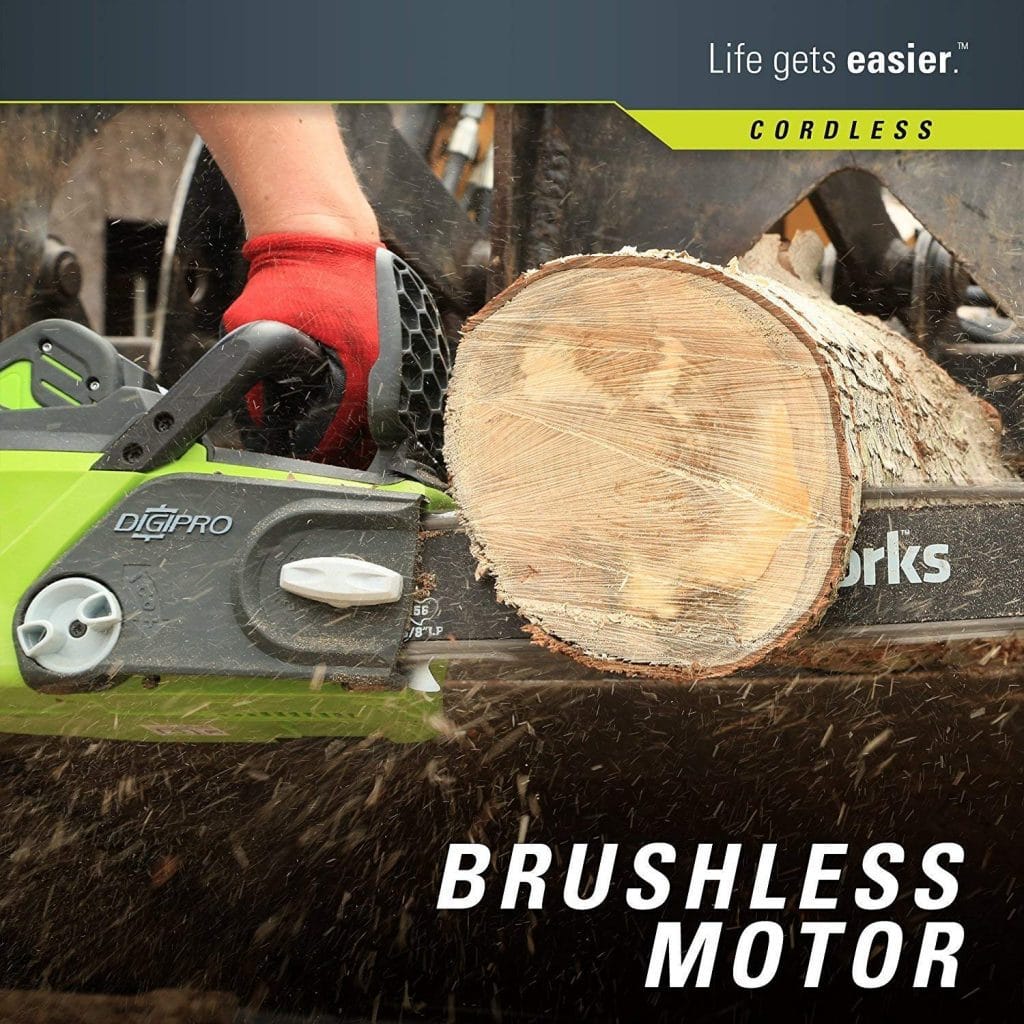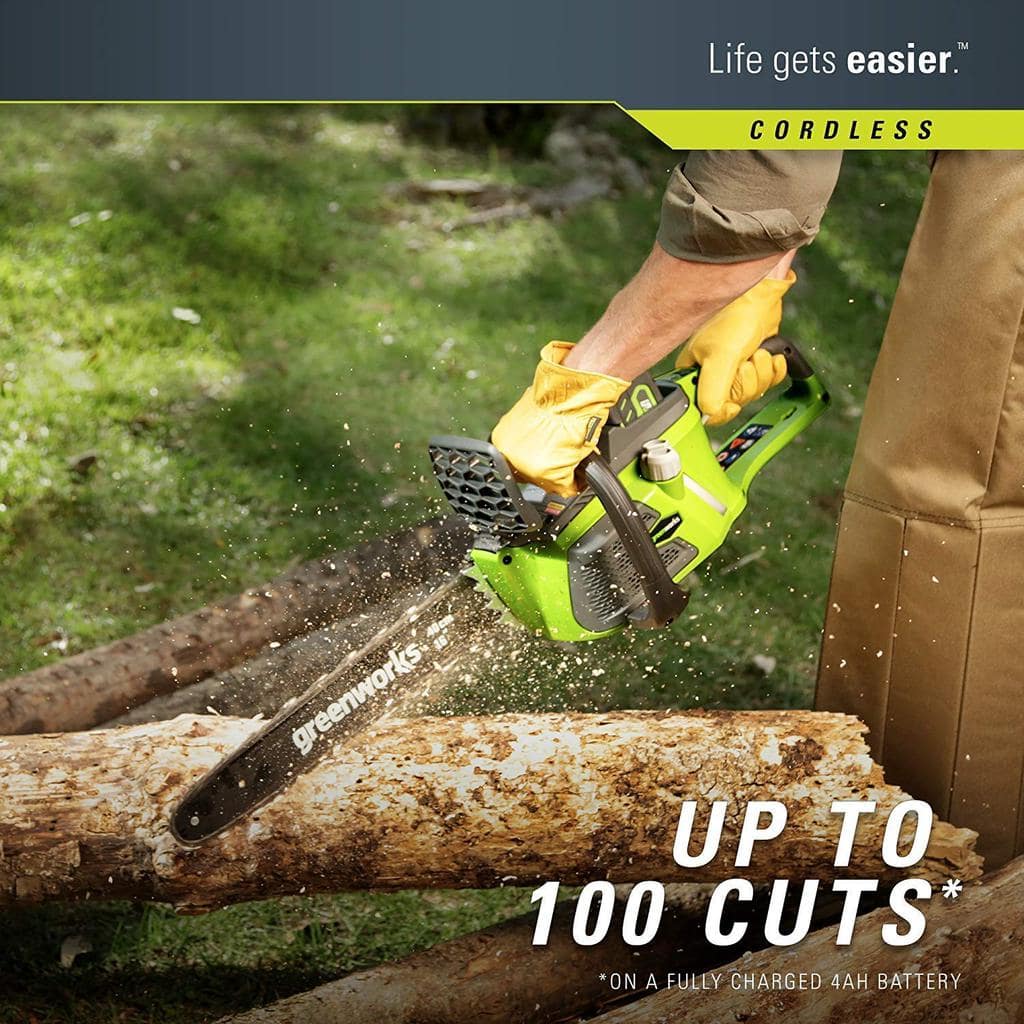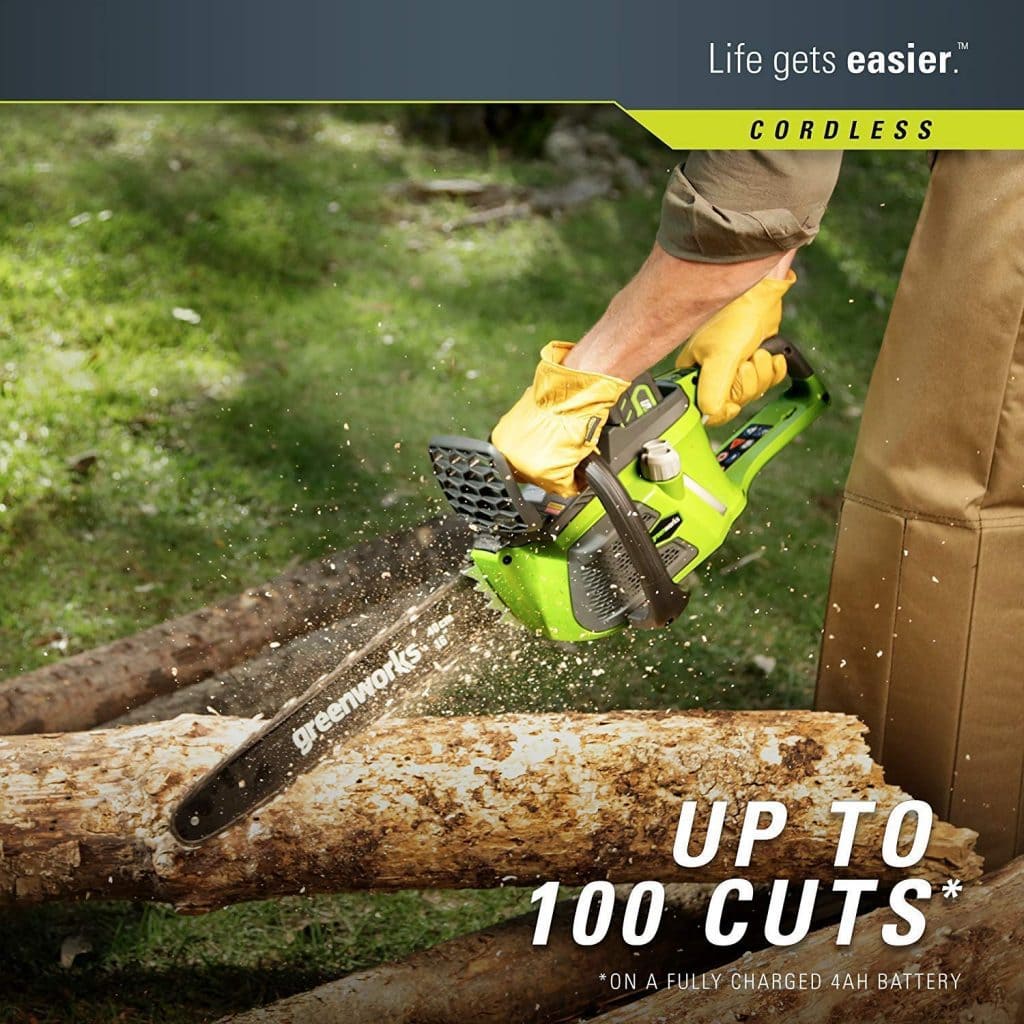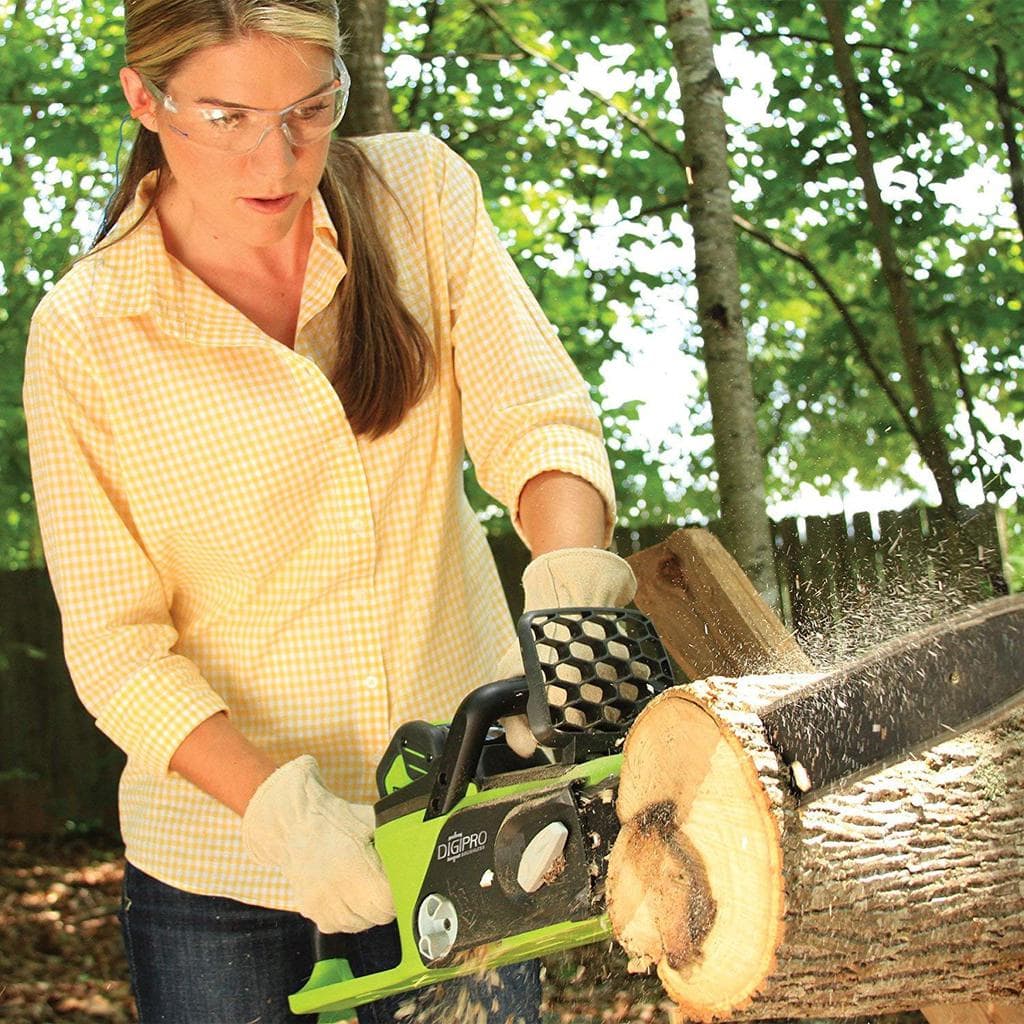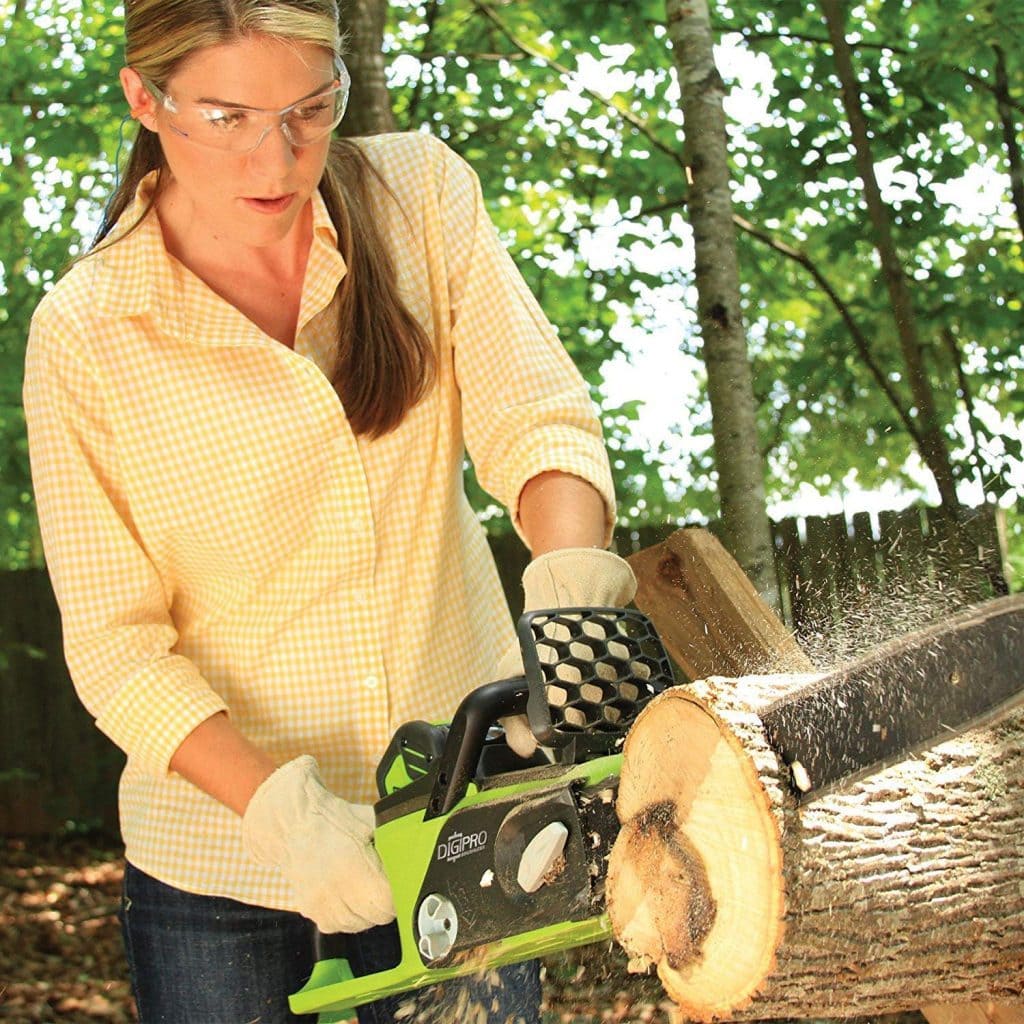 Manufactured by Sunrise Global Marketing, the Greenworks is the best electric chainsaw cordless if you want an advanced and easy-to-use alternative to a gas-powered chainsaw. It is a 16-inch chainsaw that boasts of an effective brushless motor mechanism that helps to increase the longevity of the machine by eighty percent. Apart from that, this mechanism ensures that you get thirty percent more torque that enables you to carry out your gardening and backyard woodwork activities with much ease.
It is the best cordless electric chainsaw to use if you live in a residential area because it has less noise and low vibration. This capability is what makes this chainsaw a suitable alternative to any gas chainsaw for home use. Greenworks is right for users of all skill levels. Beginners can quickly get accustomed to using the tool in seconds. There is nothing complicated about managing the machine's cords, oiling, and so forth.
It comes with a highly functional bar, chain, chain pitch, brakes, auto-oiler, and metal bucking spikes that make it run smoothly. The Greenworks chainsaw is an excellent tool when doing some work around your home or even clearing up after a catastrophe. It comes with a 40V 4Ah lithium-ion battery and is compatible with fourteen lawn tools to provide you with satisfactory garden work.
The item weighs 18.35 pounds and has dimensions of 32 by18 by 9.8 inches. You will need a single lithium-ion battery (included in the packaging) to power the chainsaw. All said, it is the ideal choice if you are after a lengthier runtime, peak performance, more energy, and unrivaled versatility.
Here are some instructions for using the Greenworks chainsaw:
Have a good footing and a work area free from clutter before using the machine.
Ensure that children, pets, and bystanders are not in the activity zone.
Avoid heavy clothing as they may lead to fatigue.
Keep the saw away from the rain.
Greenworks electric chainsaw characteristics: brushless motor, chain brake, low kickback chain for better safety, and 40V lithium-ion system.
PROS:
Has a long runtime
Has a high torque
Has more power
It is safe to use
Has low vibration
CONS:
It leaks bar oil when the same is not removed
3. LiTHELi: Best Cordless Electric Chainsaw for Safety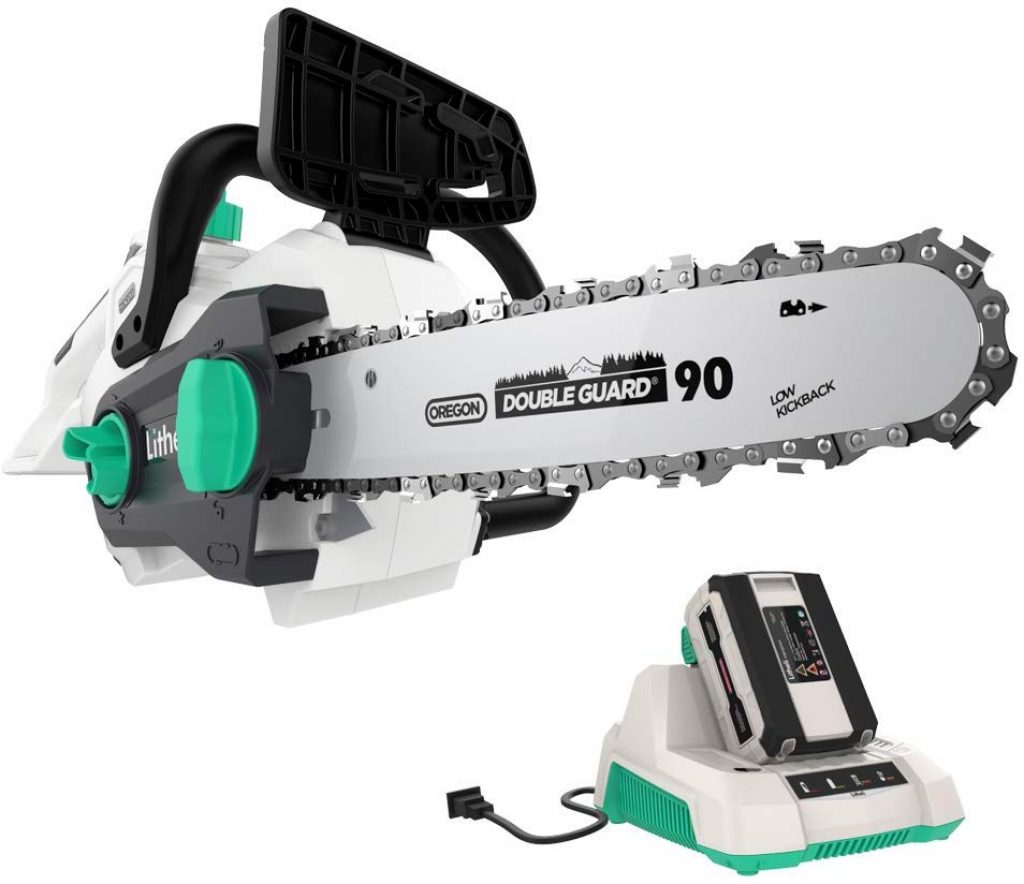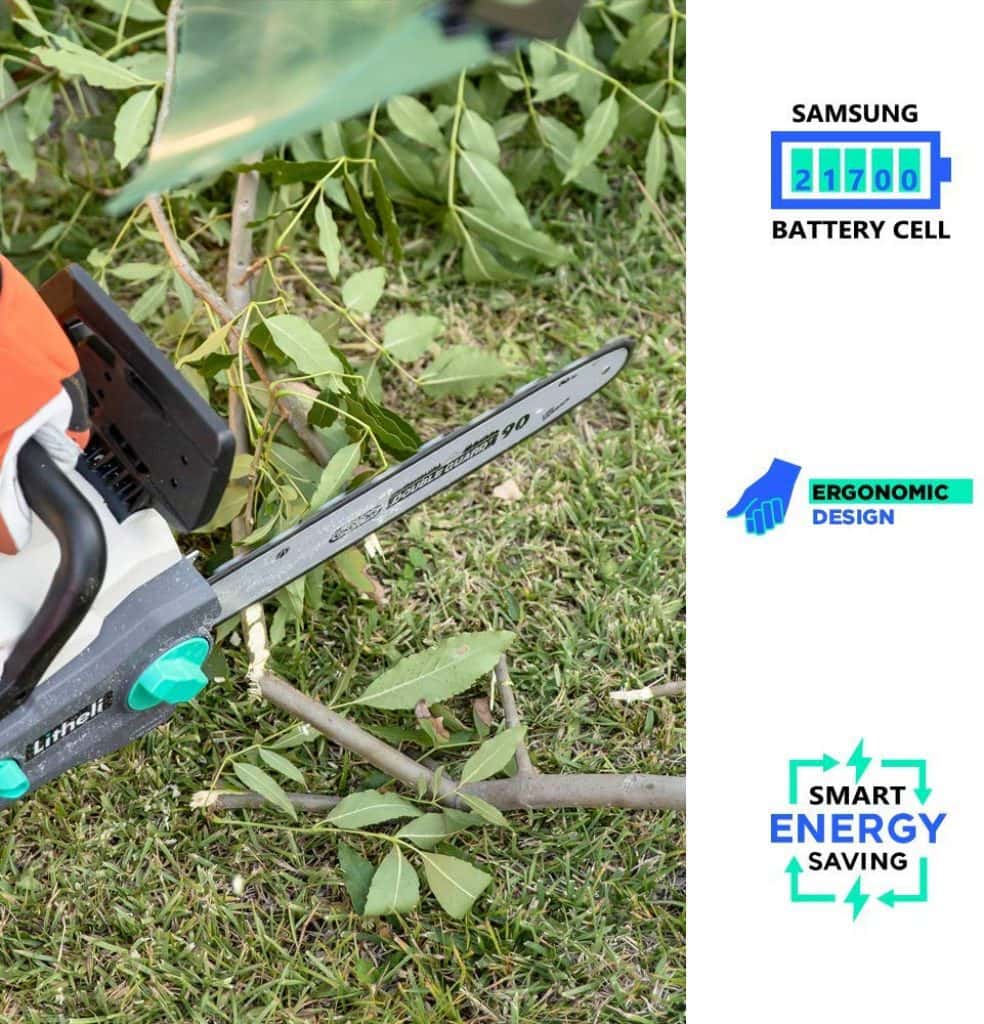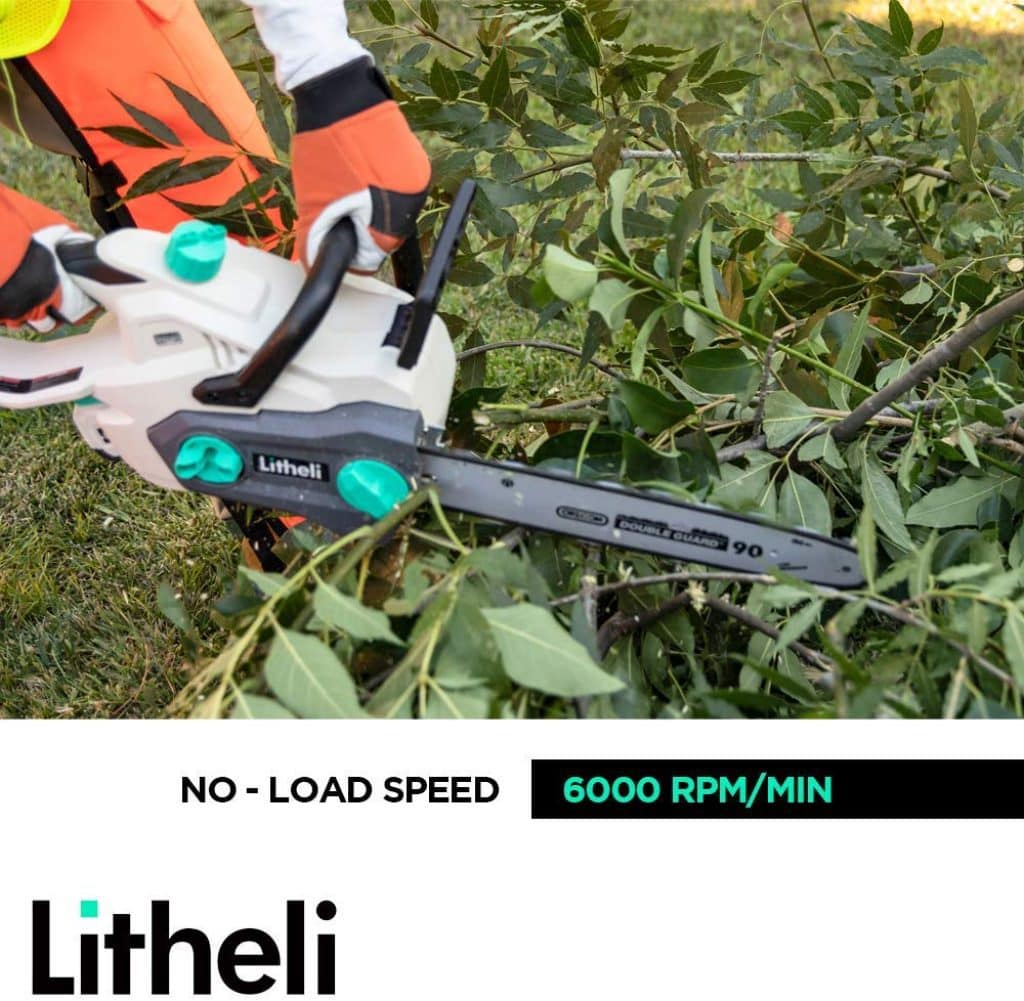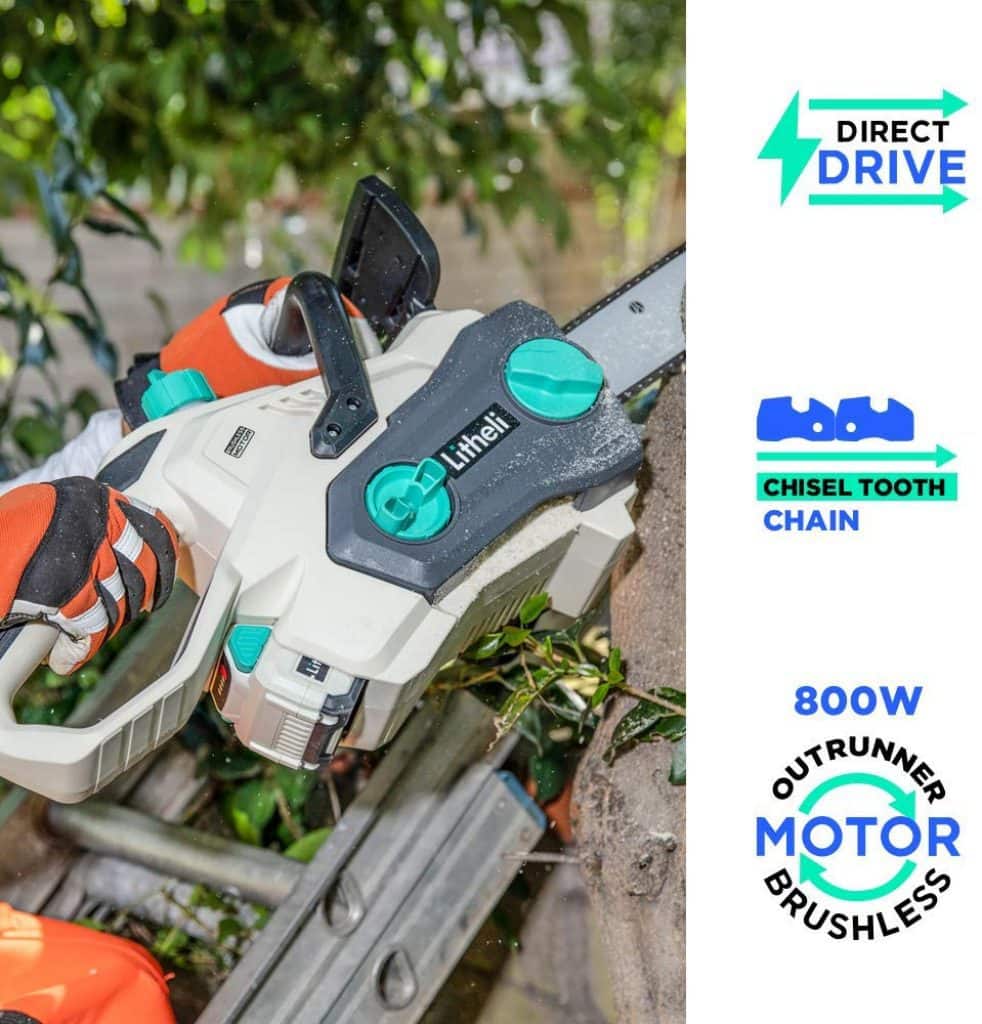 Manufactured by LiTHELi, this electric chainsaw comes with industry-leading safety features that enable you to use it without running into security concerns. It comes with a comfortable front handlebar that allows you to control the machine without any hassle. I also want to point out its great chain-tensioning tool that allows for fast and on-the-spot maintenance.
When using the product, there is no need for manual oiling. The LiTHELi has an auto-chain oiler that dispenses oil to the chain, thus increasing the longevity of this part of the chainsaw. To know about the level of oil remaining, peek on the translucent oil-level meter and plan any long activities around your home.
I loved using this chainsaw as it has less noise compared to traditional gas-powered machines. It is quite straightforward to install the blade on the chain at the front and easy to tidy up after use. The LiTHELi starts immediately and has a safety switch that goes a long way in helping avoid unnecessary starts. To leverage this functionality, be sure to use the brake guide before pressing the brake button.
Perhaps its most notable feature is the super brushless motor. It ensures manageable noise, effective operation, and low costs of maintenance, longevity, and limited interference. When running, the chain attains a high speed of 11m per second. It weighs 11.7 pounds and has dimensions of 31.3 by 11 by 4.9 inches. Some of the things you can expect in the product's packaging include a user guide, one lithium-ion battery, and a warranty. For better use, be sure to maintain the saw according to the manual provided.
LiTHELi chainsaw key features 180ml oil pot, 800 watts brushless motor, auto-lubricating chain and rod, and safety switch.
PROS:
Has less noise and is smooth to operate
A single charge offers long-lasting power
Has more torque and power
It's designed ergonomically
Mechanical and electronic chain brakes enhance safety
CONS:
Its chainsaw is only 14 inches long
4. Oregon CS1500: Best Chainsaw Sharpener Electric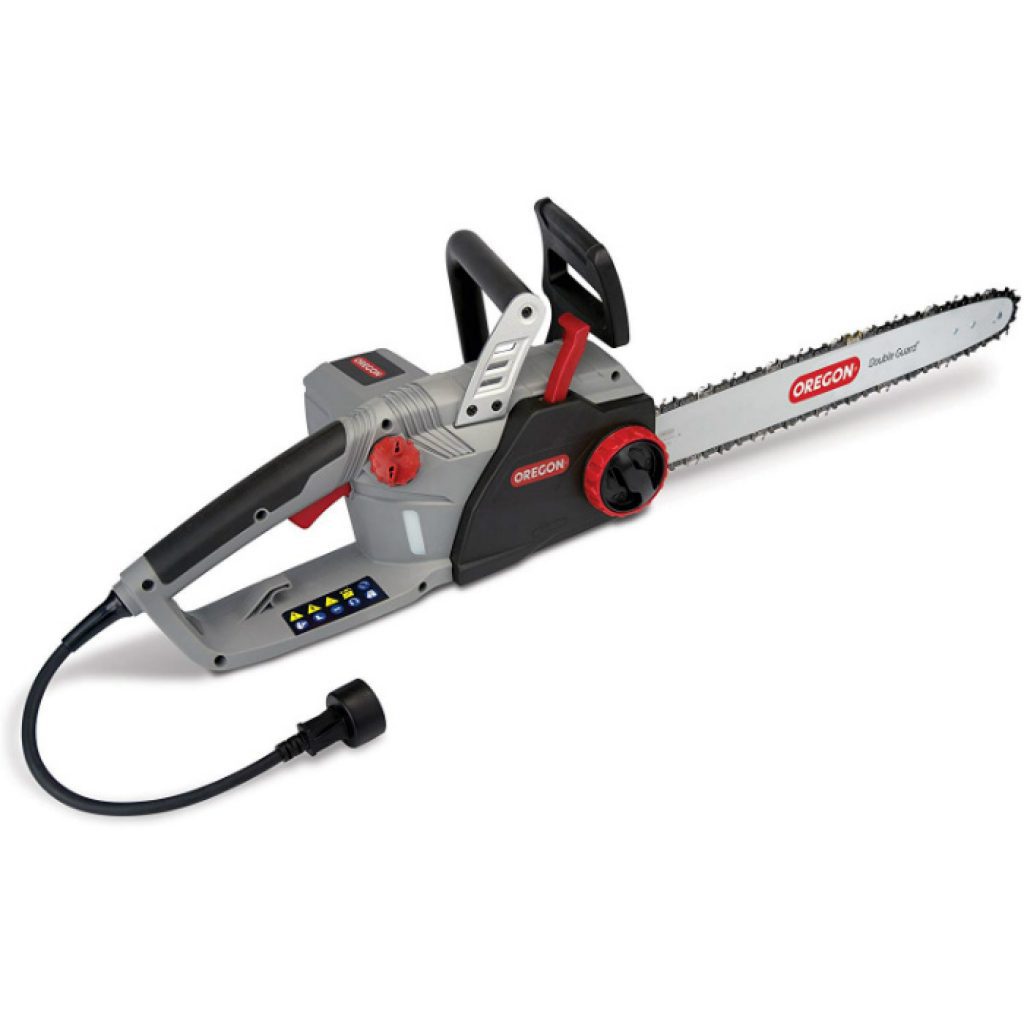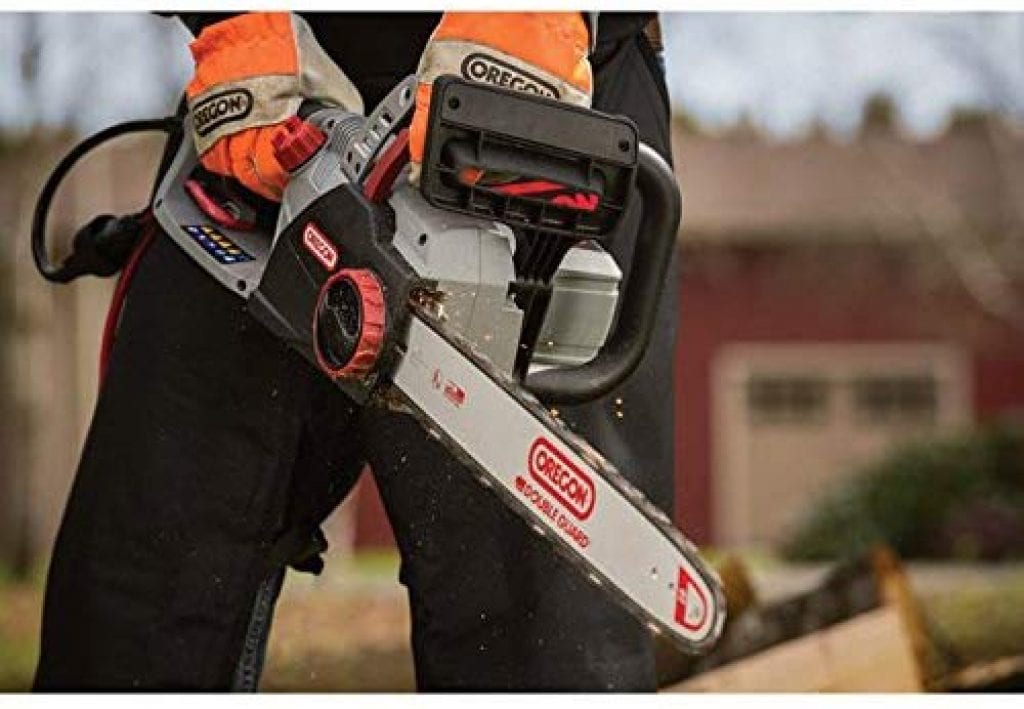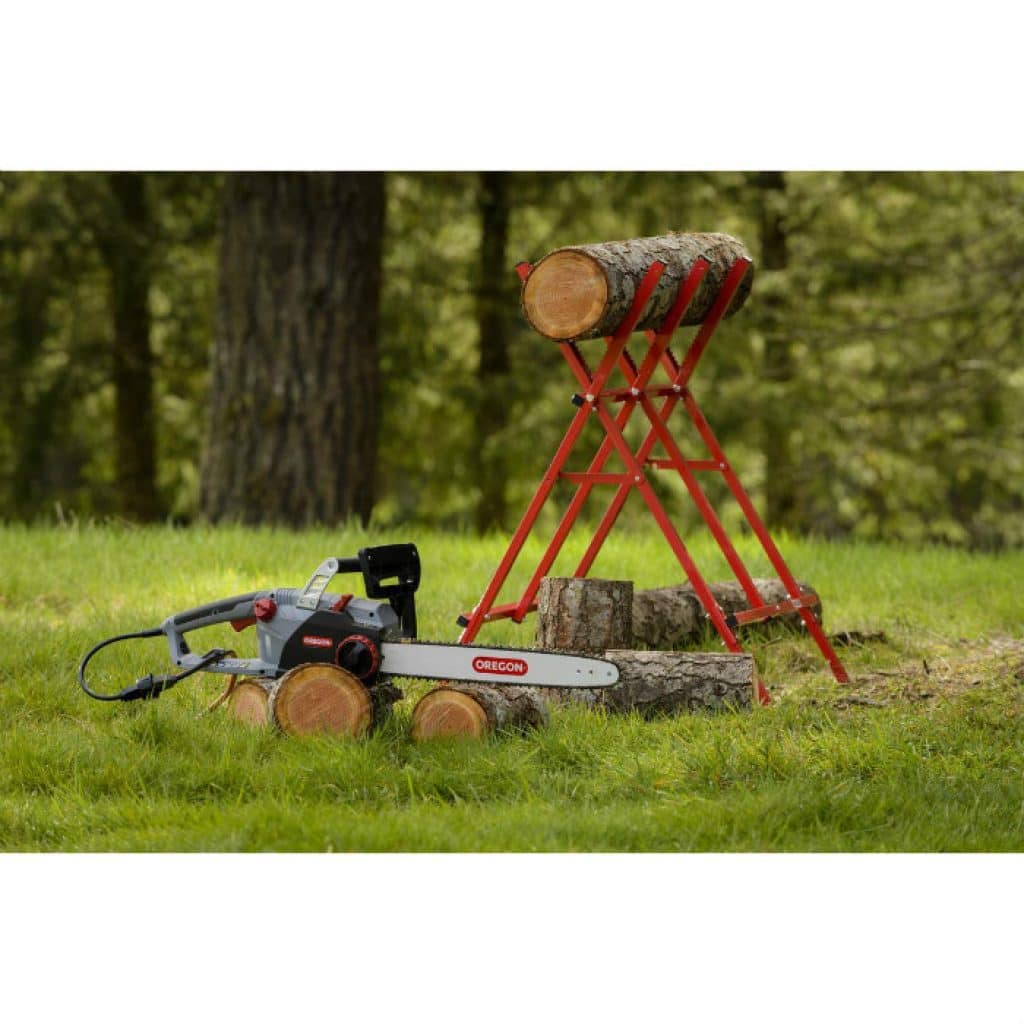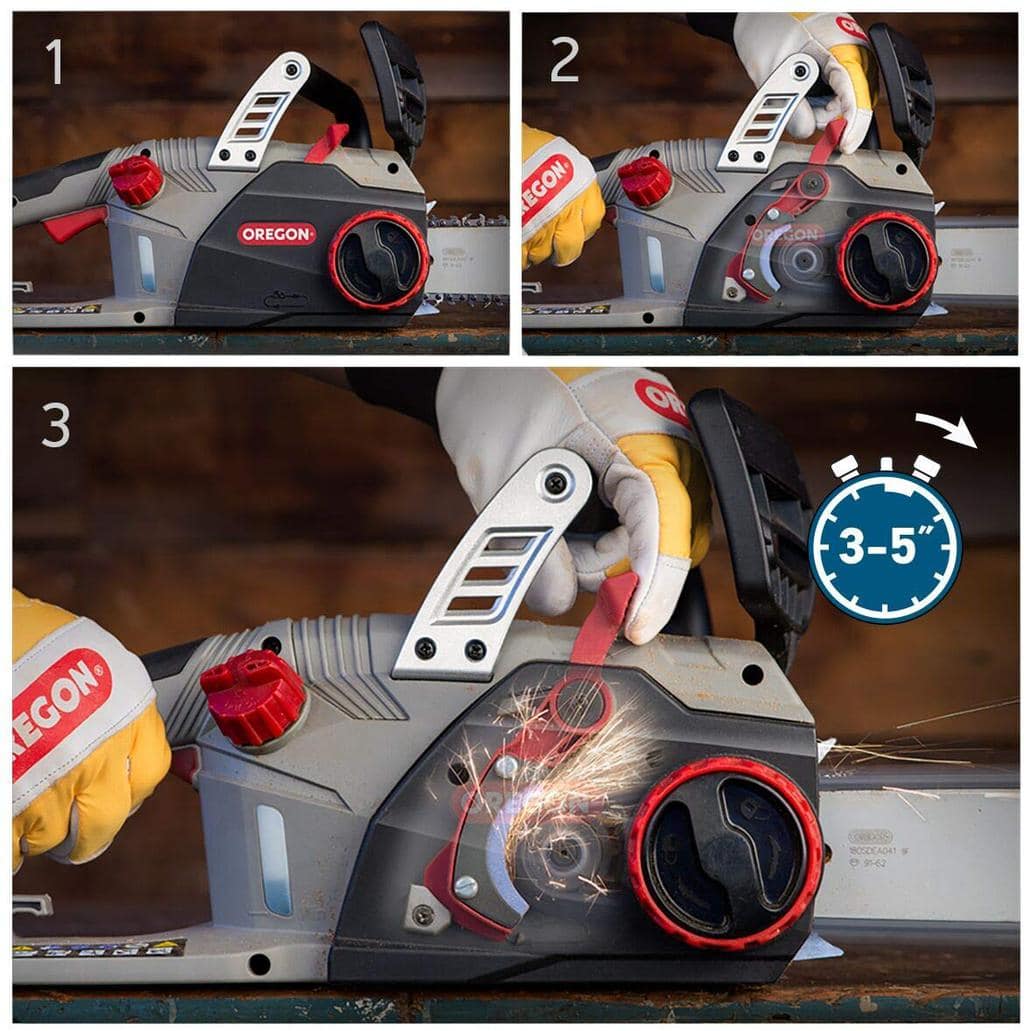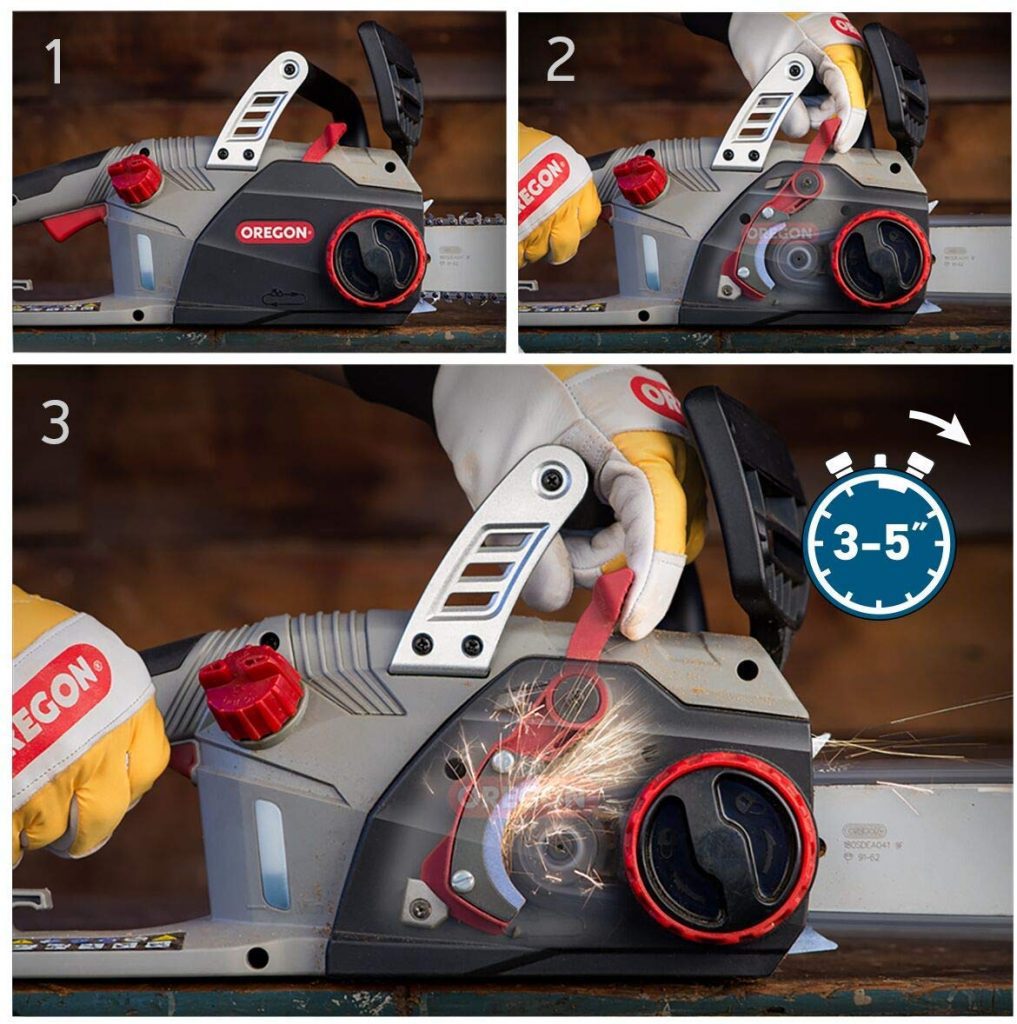 The Oregon CS1500 is a self-sharpening electric chainsaw and is recognized for being the only and best electric corded chainsaw you can find today. I like this tool because it packs all the functionalities of a typical electric chainsaw, in essence, immediate start, low costs of maintenance, less noise, and silence between cuts. Nonetheless, it goes on to make everything worthwhile by integrating a highly effective chain-sharpening mechanism.
Another thing I loved about this chainsaw is its reachability. With a 45cm (18mm) bar, you can cut big trees while maintaining a safe distance. Apart from that, there is a tool-less chain tensioning mechanism that can be easily turned on by rotating a red knob. It has an auto-oiler that is translucent to allow you to view the oil level, thus helping you plan your logging activities effectively.
It is one of the best corded electric chainsaws given its fairly manageable weight of 12.6 pounds and measurements of 18 by 37.5 by 10.5 inches. Many electric chainsaws review best suggest it for its self-sharpening ability. It comes with a warranty that covers various manufacturer defects.
Why is Oregon considered to be the best corded electric chainsaw? Here are some essential features this saw comes with: chain brake for improved safety, low noise, and instant start.
PROS:
It is silent in-between cuts
It is easy to set up
Has an industry-leading self-sharpening function
Has an auto-oiler
It is lightweight and balanced
CONS:
Works well only if the chain is properly lubed
5. DEWALT DCCS690M1 Brushless Chainsaw: Best for Variable Speed Trigger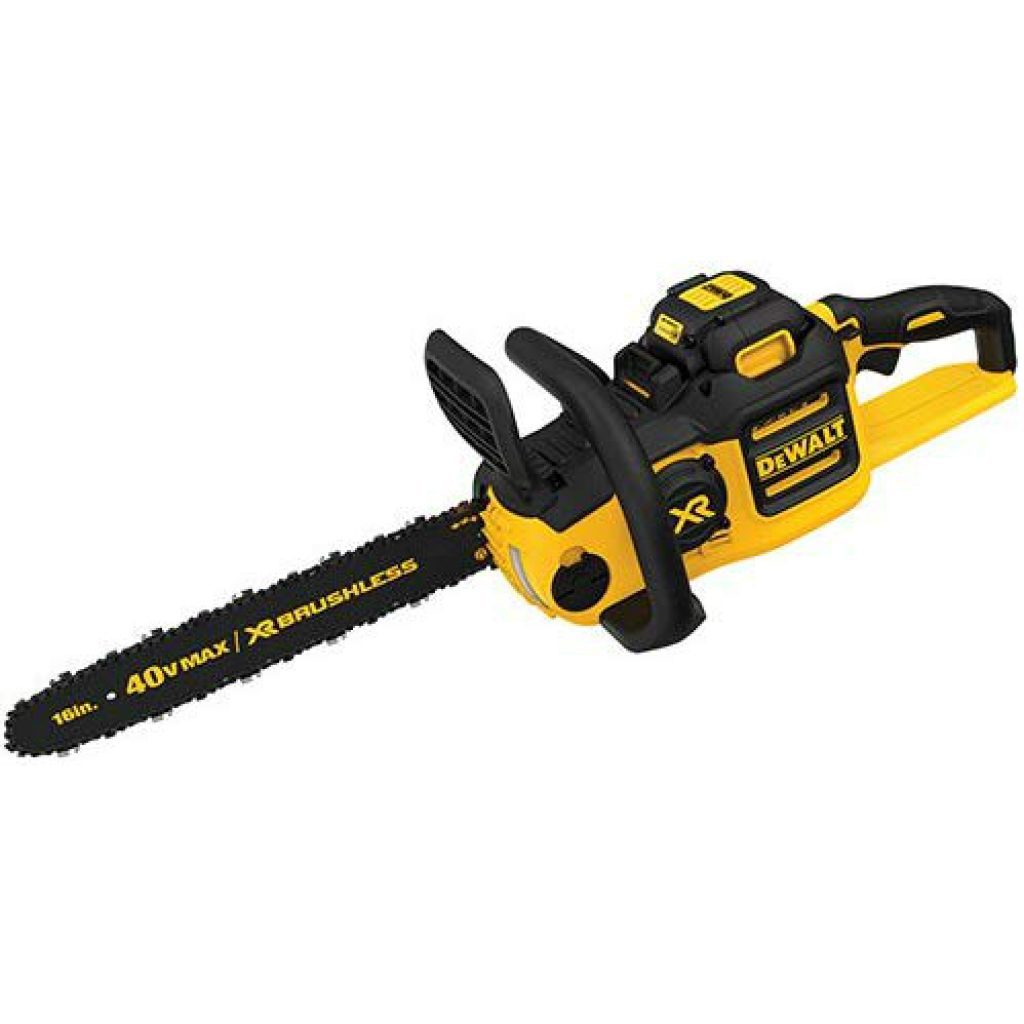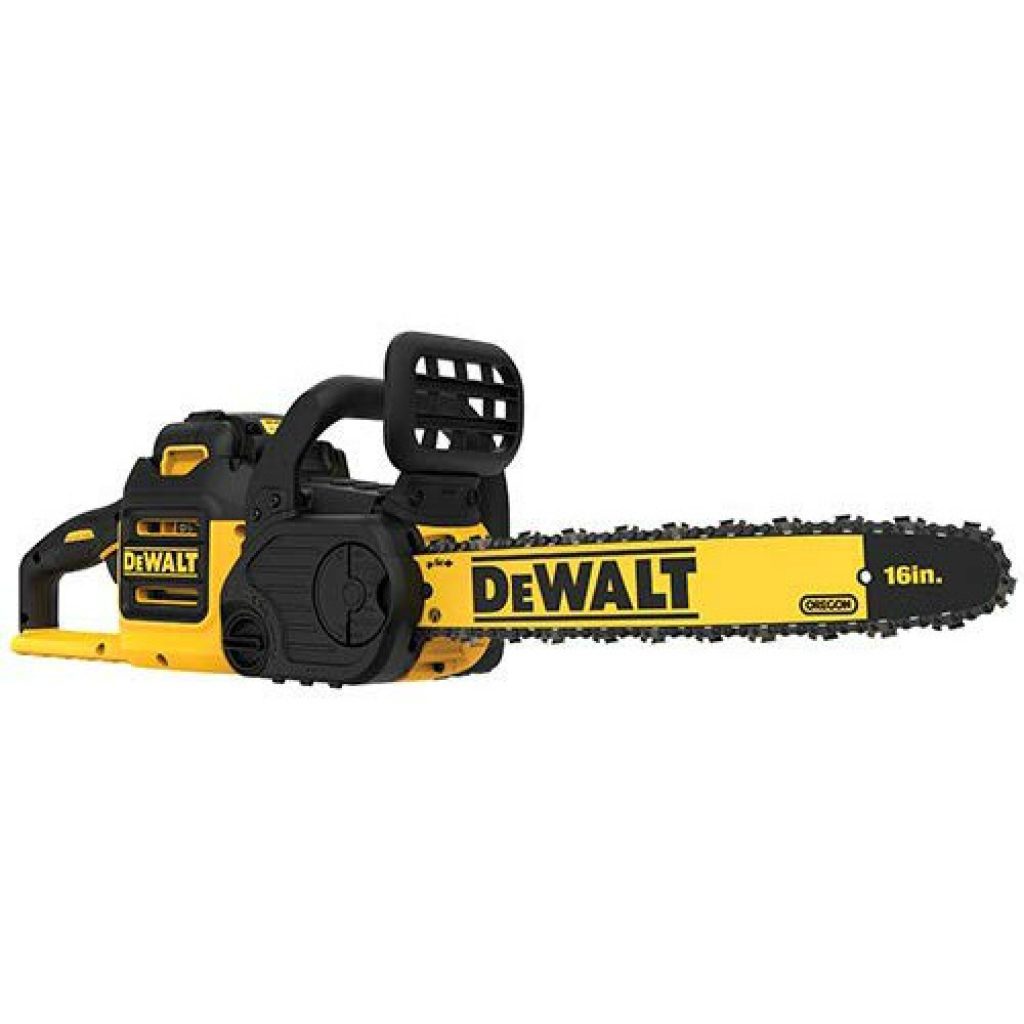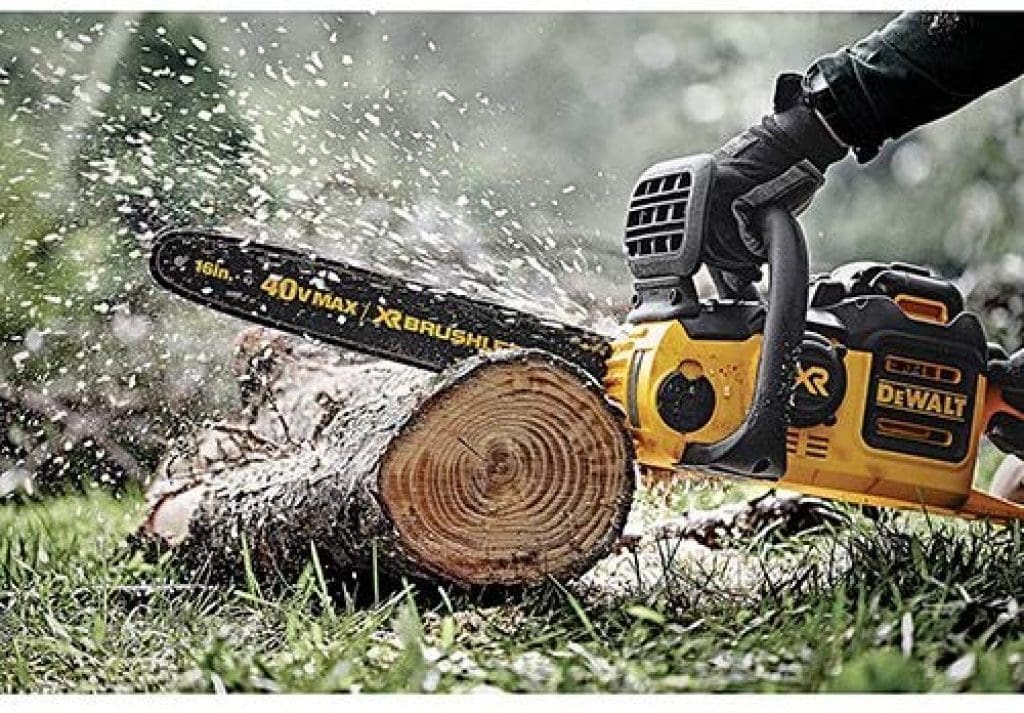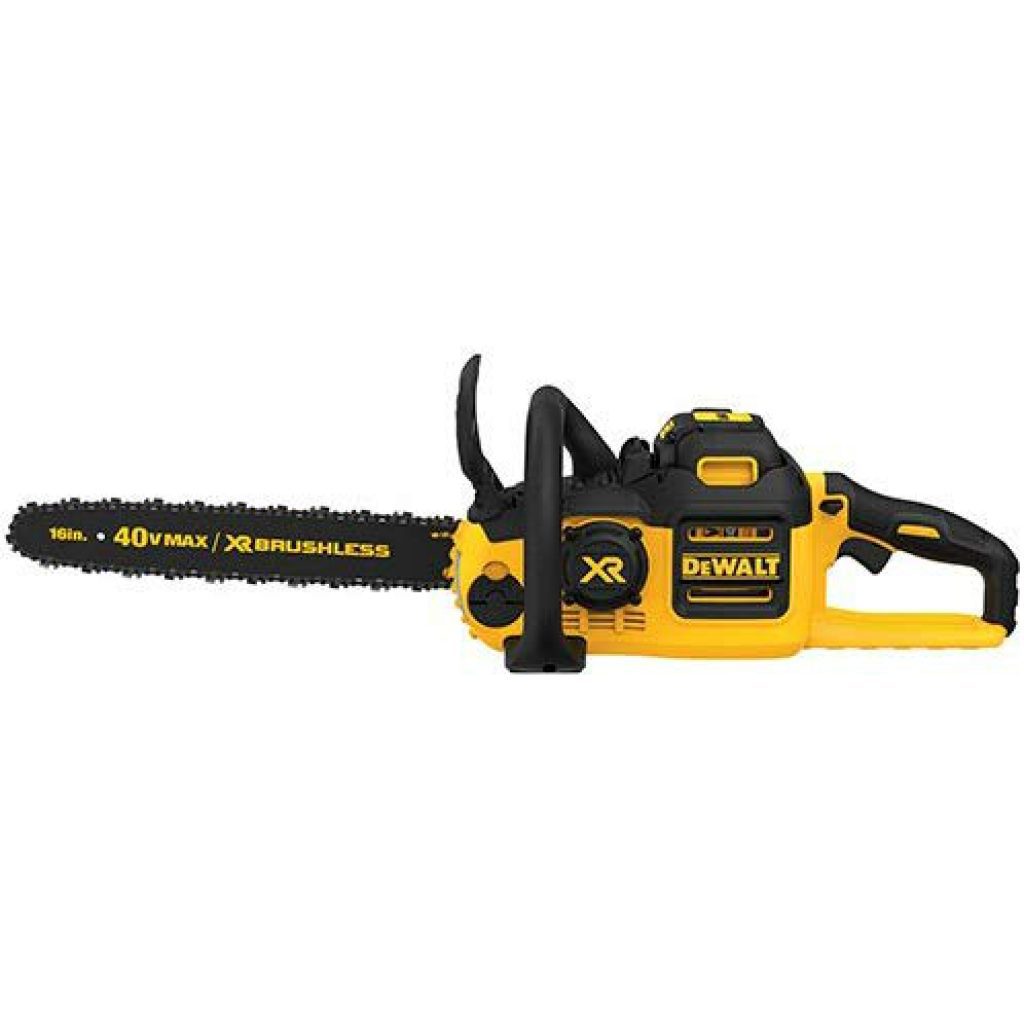 DeWalt is a renowned manufacturer of garage tools, and the DCCS690M1 Brushless Chainsaw is an excellent addition to the company's portfolio. This electric chainsaw comes with either a four- or six-Amp hour system. So, if you have heavy tasks ahead of you, it is best to go for the higher product as it will offer more power.
Its primary selling feature is the variable speed trigger. With this capability, I was able to set the speed with my finger and thus, attain greater control over the machine. Moreover, it enabled me to reduce vibrations while operating the saw. Like many other cordless chainsaws in the market, the DeWalt DCCS690M1 comes with a brushless motor that needs less maintenance from the user. Apart from that, it has an auto-oiler that ensures the saw's chain is kept in excellent condition for a longer time. Also, there is a chain tightening capability that makes it easy to operate the machine without the need for additional tools.
The DeWalt electric chainsaw weighs 18.74 pounds, has a 16-inch bar, and has dimensions of 9.4 by 36 by 9.3 inches. If you order for this saw, you can expect one lithium-ion battery, a chainsaw, a user manual, and a product warranty in the packaging.
PROS:
Chain brake to improve safety
Auto-oiler system
Tool-free tightening
Low noise
Many battery sizes are available
CONS:
Oil may cease to flow after extended use
6. Zombi ZCS12017: Best Price Electric Chainsaw for Home Use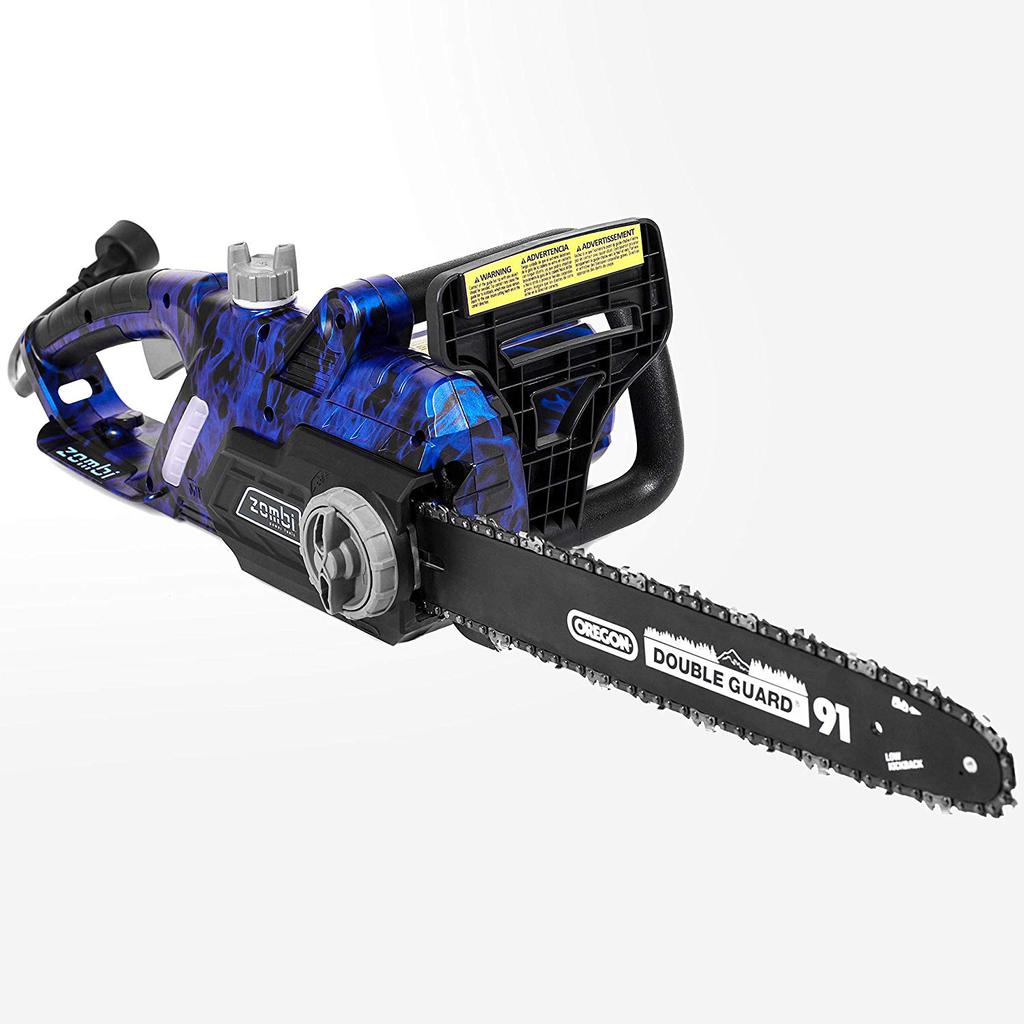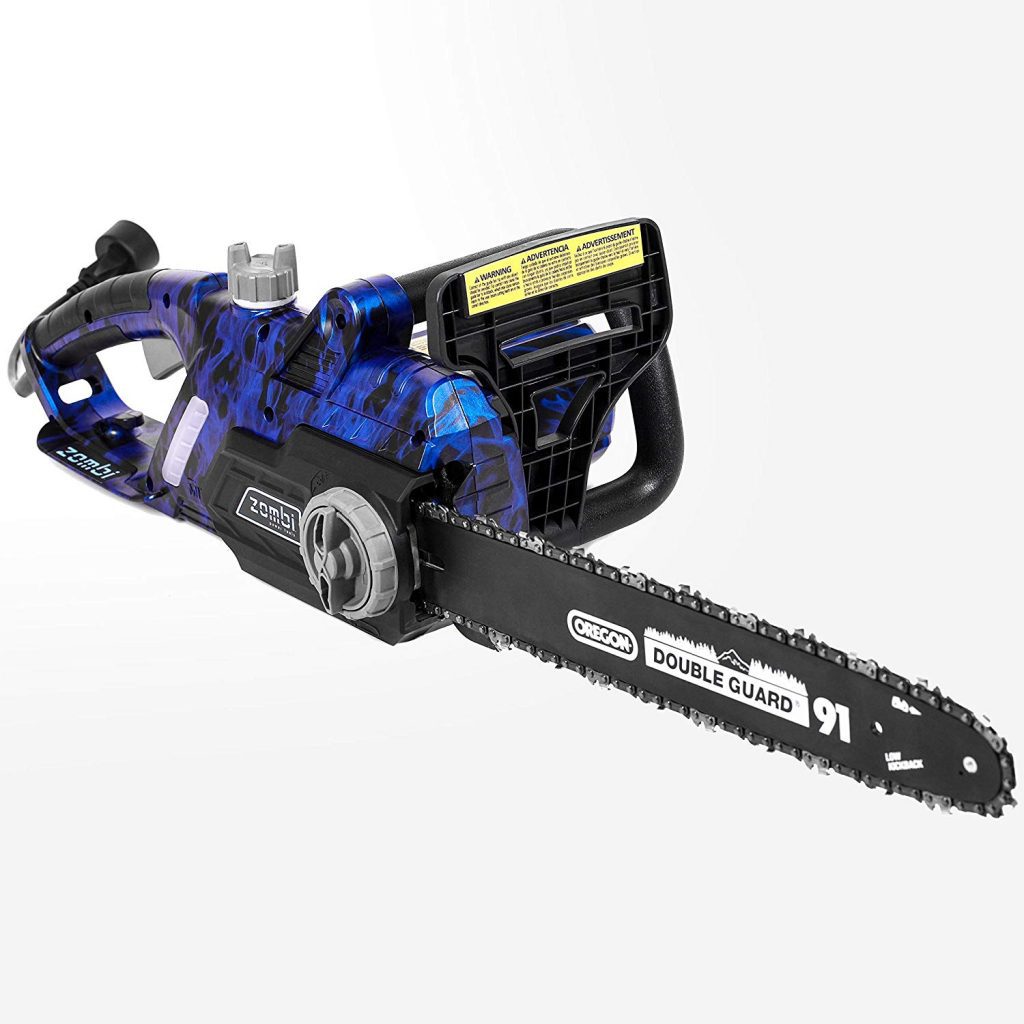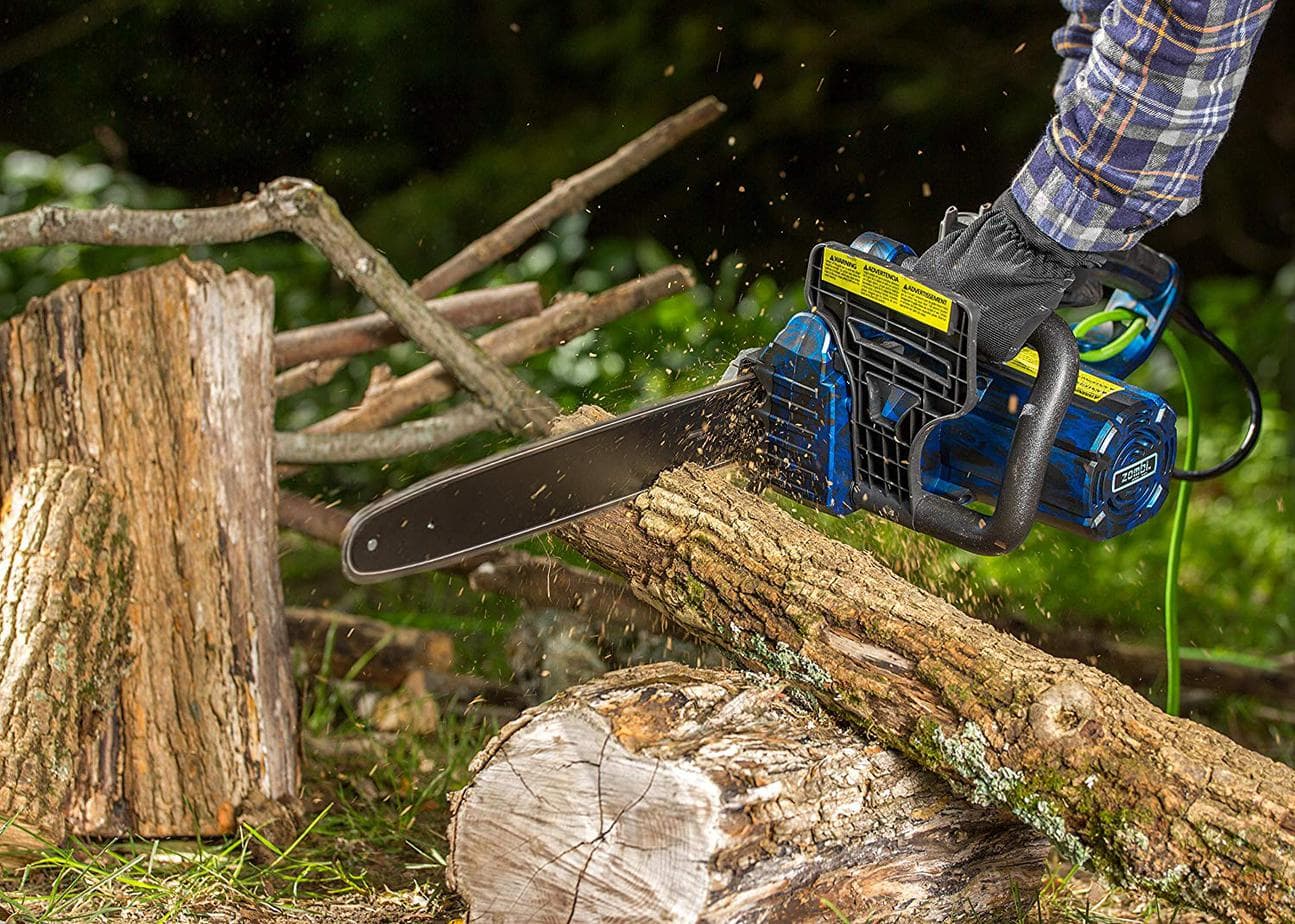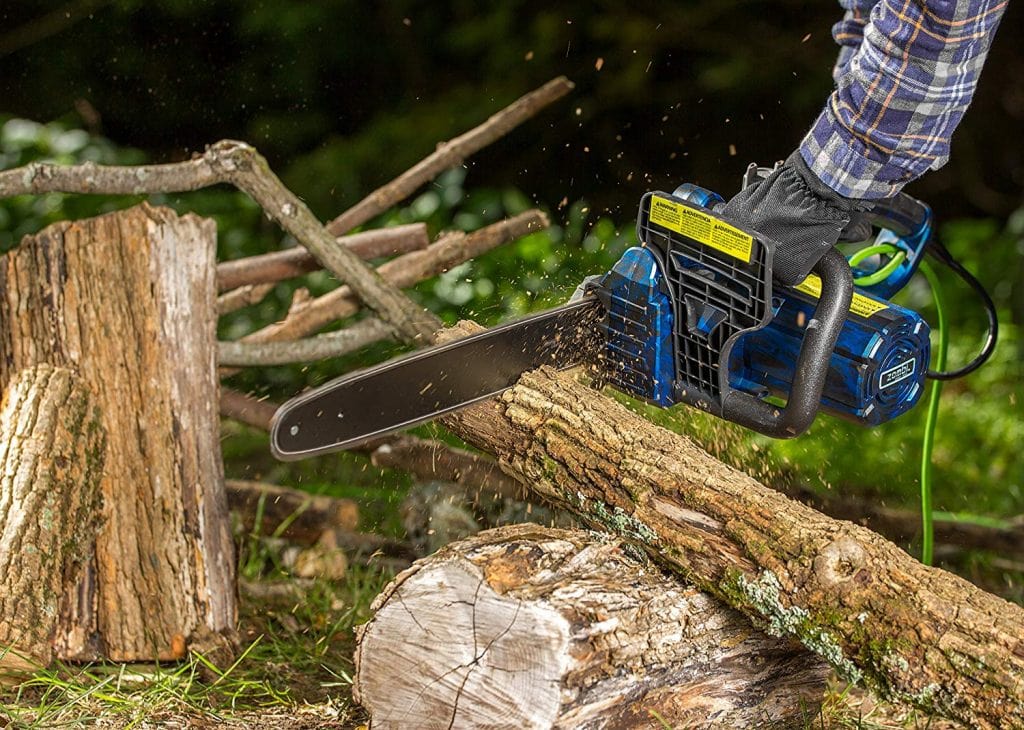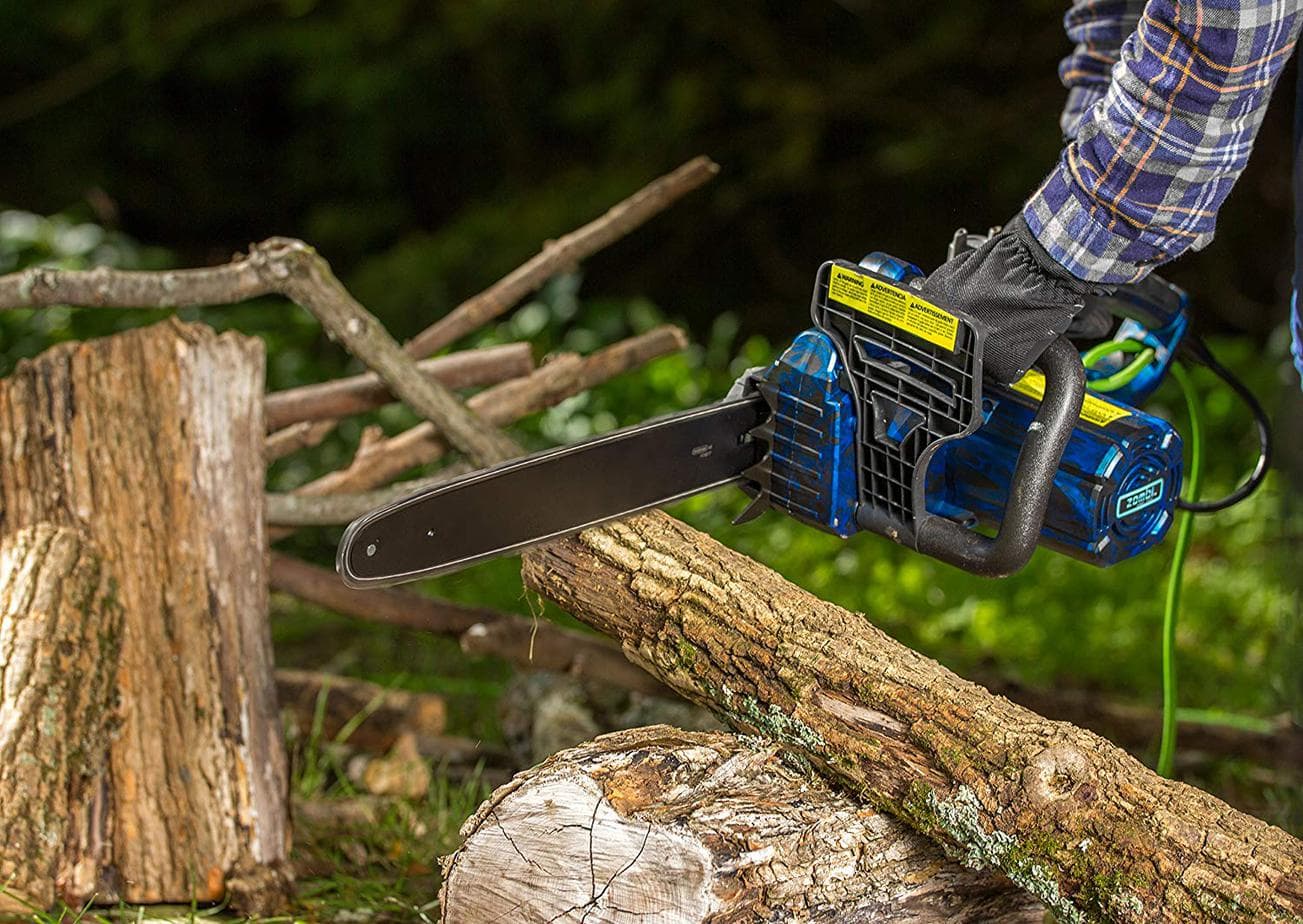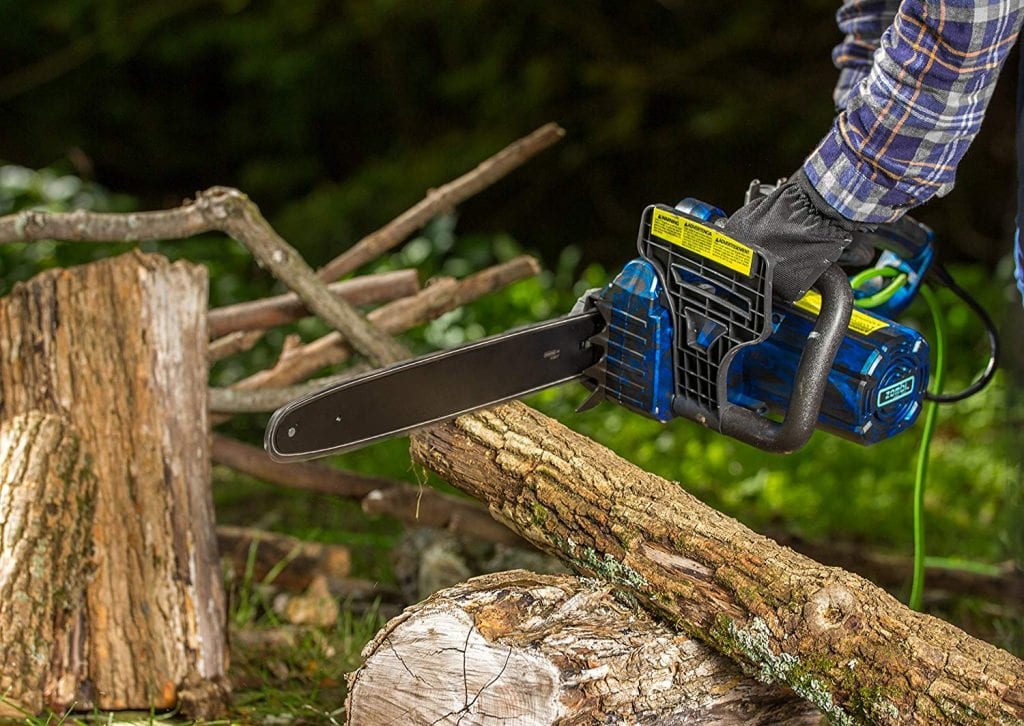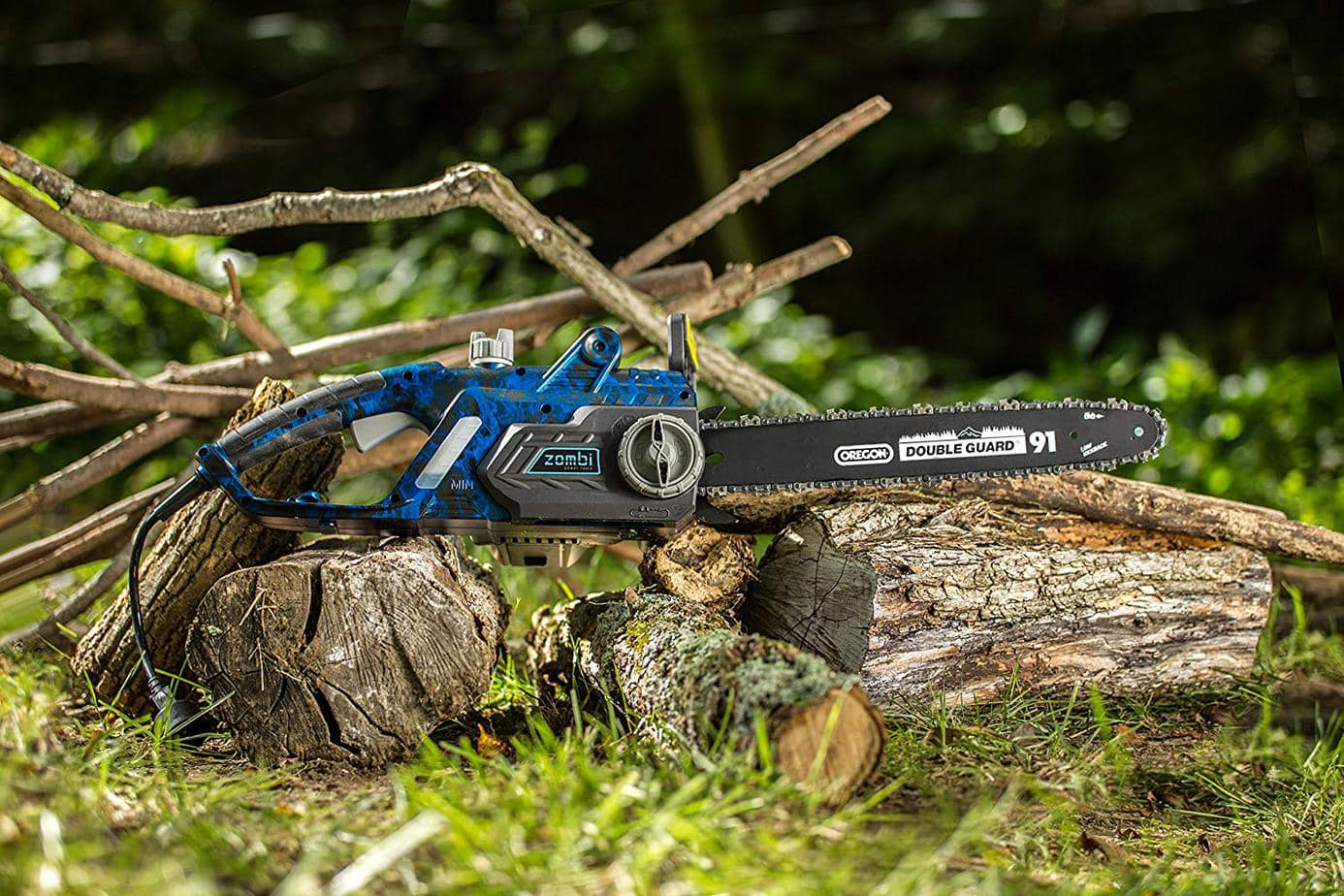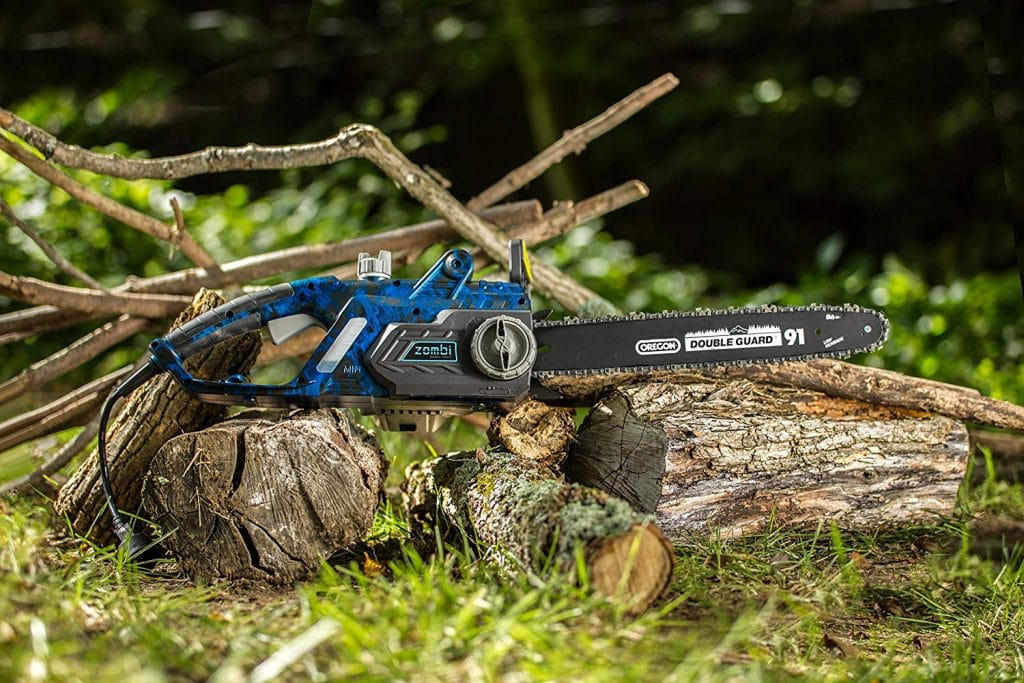 If you're in the search for a powerful tool for your DIY projects, then this electric chainsaw is right for the purpose. With 13AMP power, you can pretty much do any projects with it at home. This machine comes with a very stylish design and can cut through most things. While it is not specially designed to perfect much tougher professional jobs, it can still be used for light-duty jobs that are within this machine's limits.
Measuring 35 by 10 by 11 inches and weighing 2.2 pounds, this saw is quite light and one of the best electric chainsaw for home use. That means it is easy to move it from one place to another or carry it around while doing your cutting chores at home. It features a 15-inch chain and Oregon Bar that auto lubricates itself.
The best thing about the Zombi ZCS12017 is that it does not need assembling. You, therefore, don't need to have prior skills on putting together an electric chainsaw. All you need to use it is to connect it to a power source, and you are good to go. To use this tool, you don't require gas. Just connect the double insulated electric cord on the device to an extension cord and plug it to a power source to start cutting. It also comes with a tool-less chain tensioner. So, you can tighten the chain without the help of an added tool.
This chainsaw is also designed to deliver comfort to the user. The molded handles are covered with a layer of rubber to make sure you have maximum comfort when using the tool. I loved that it didn't leave my hand feeling sore after hours of use. Furthermore, I found that it had an excellent grip.
When shopping for a chainsaw, you also have to think about safety. Zombi ZCS12017 has features that help to keep you safe when in use. It comes with a safety start button, which protects you from accidental starts. It also has a front handguard, which protects your hand from the chain as well as flying debris. If you are looking for something lightweight that still does the job well and is easy to maintain at a fraction of the market price, I bet you will love Zombi ZCS12017.
PROS:
Comfortable & lightweight
Automatic lubrication
Safety lock button
No assembly needed
7. TECCPO Electric Chainsaw: Best Buy Electric Chainsaw in Design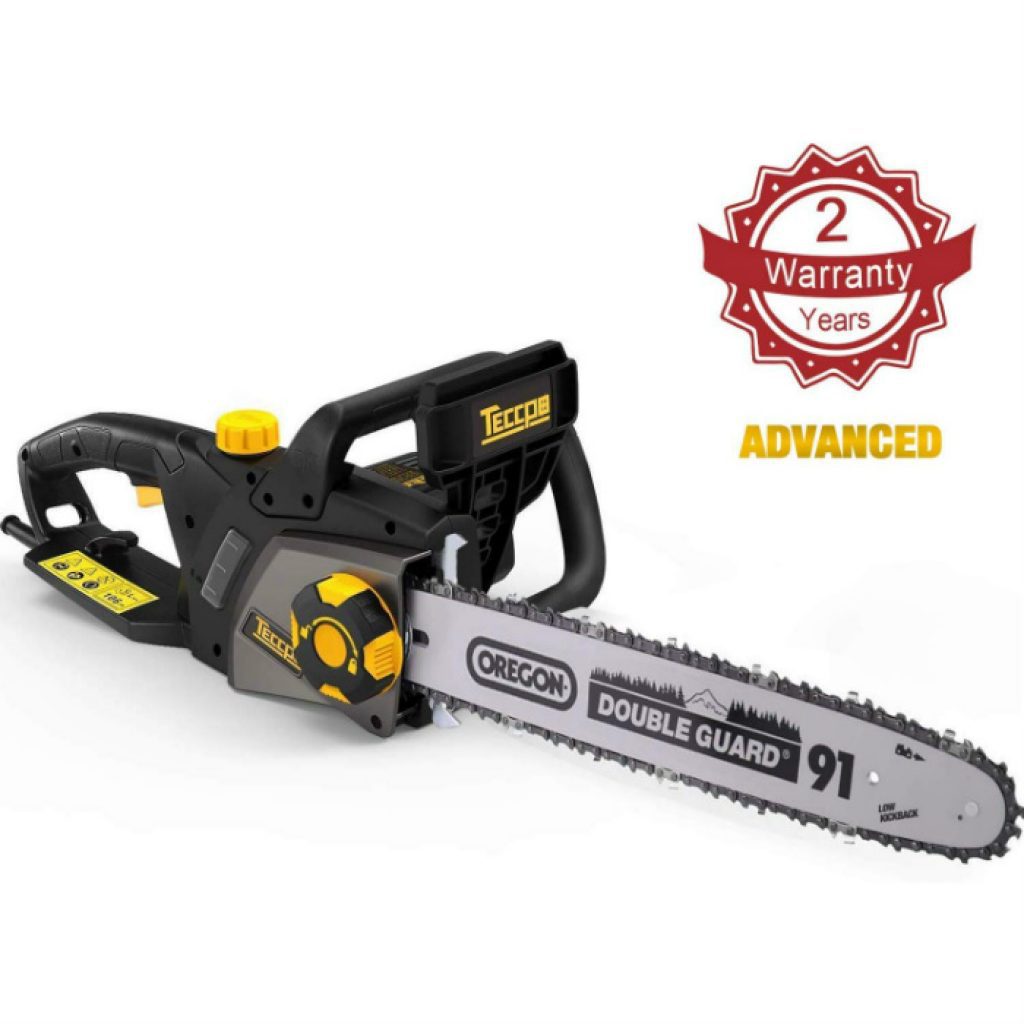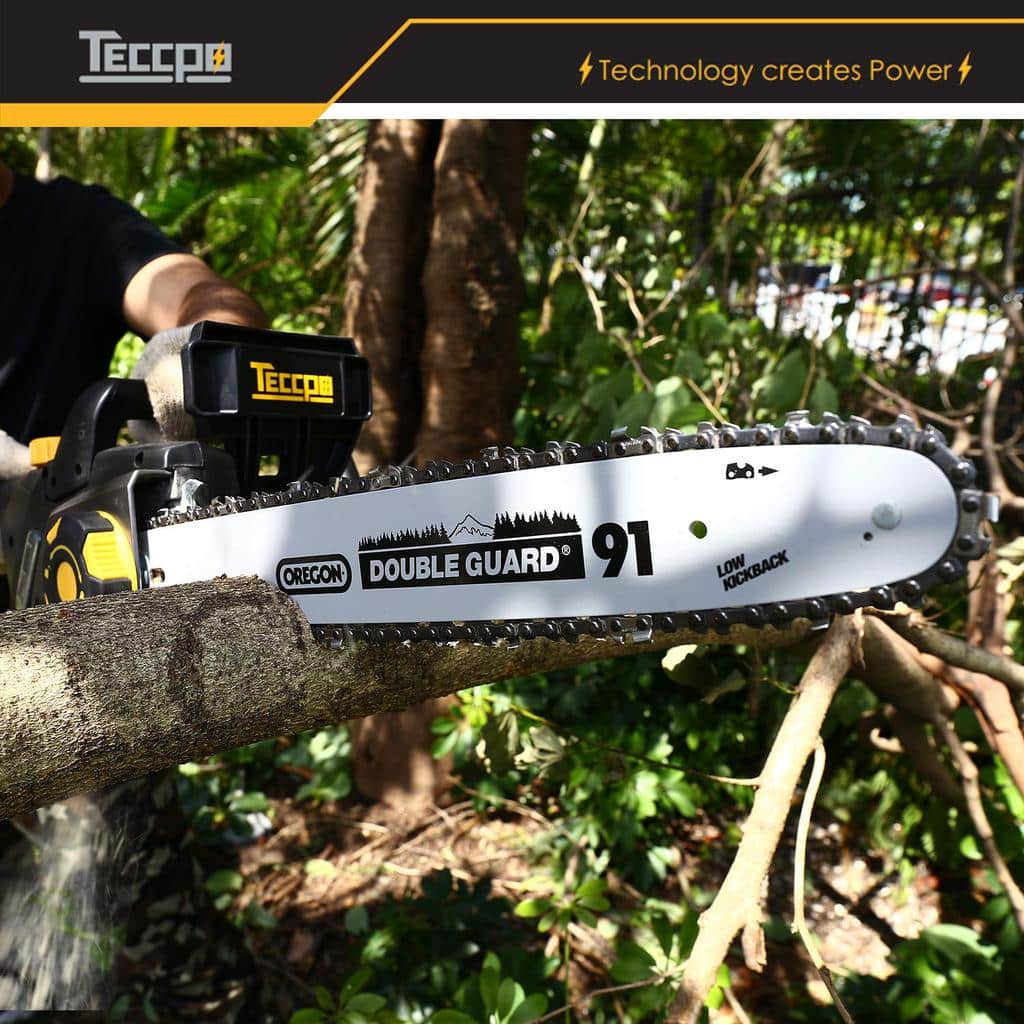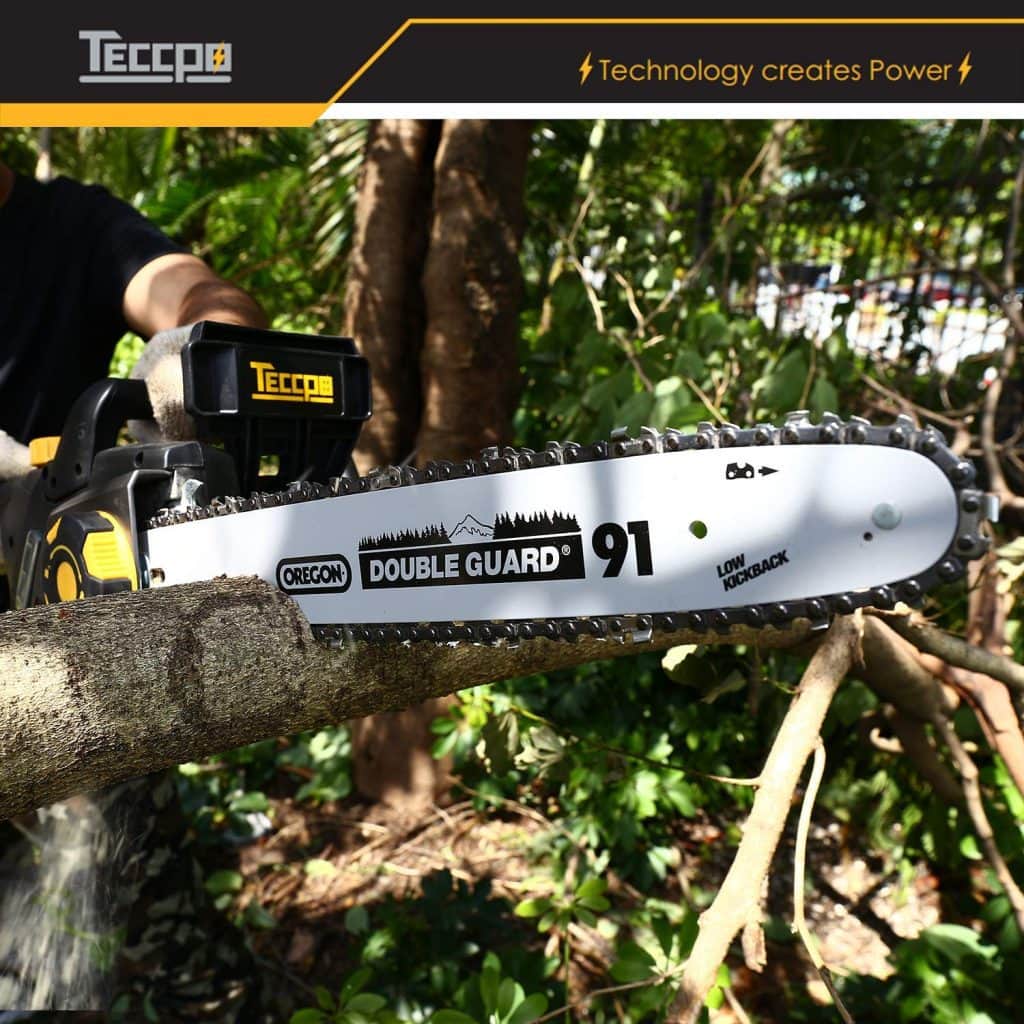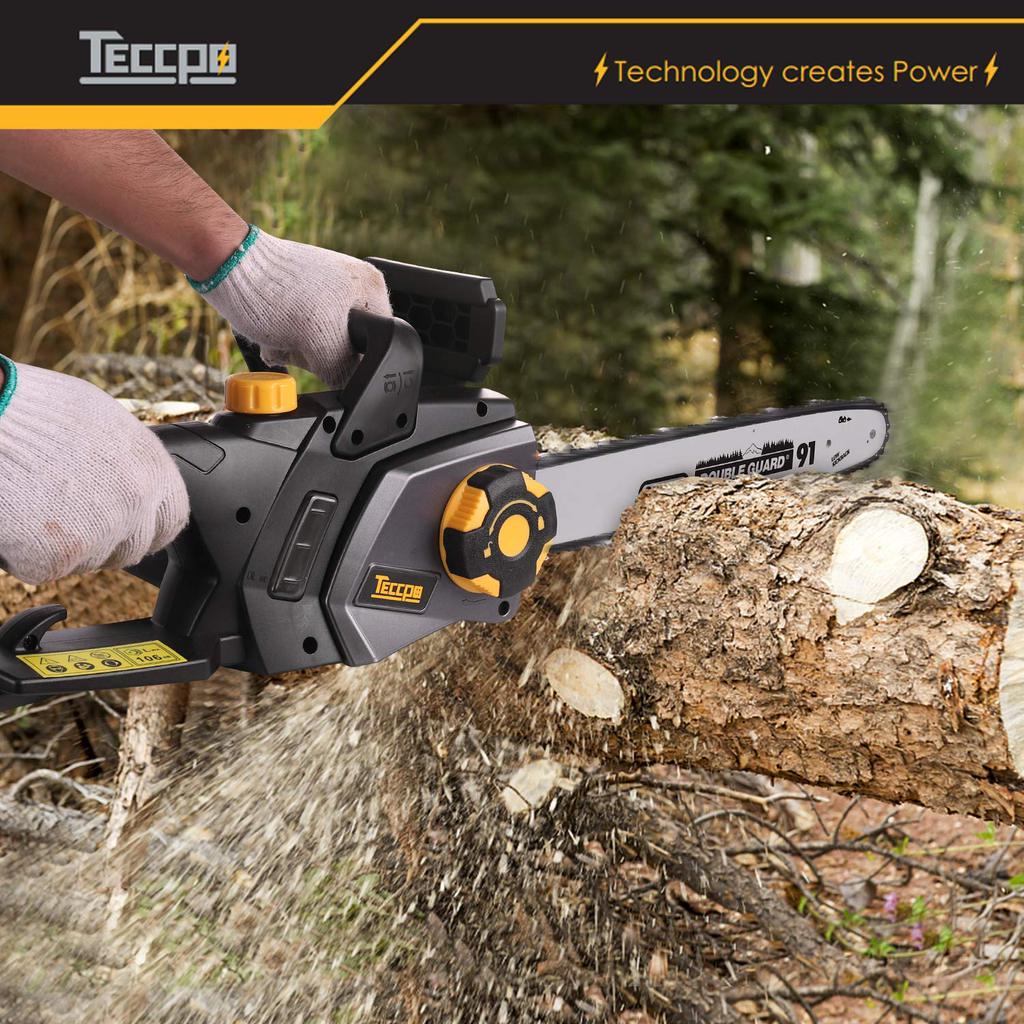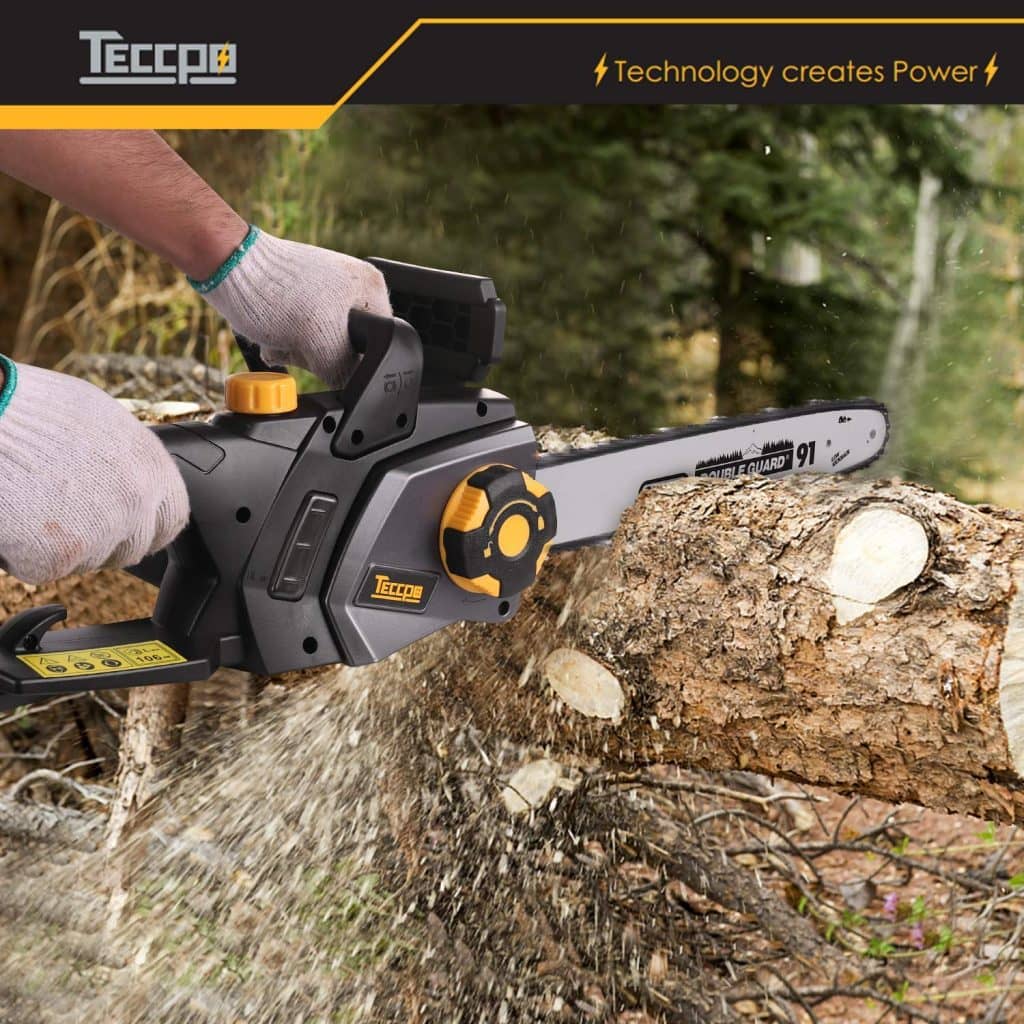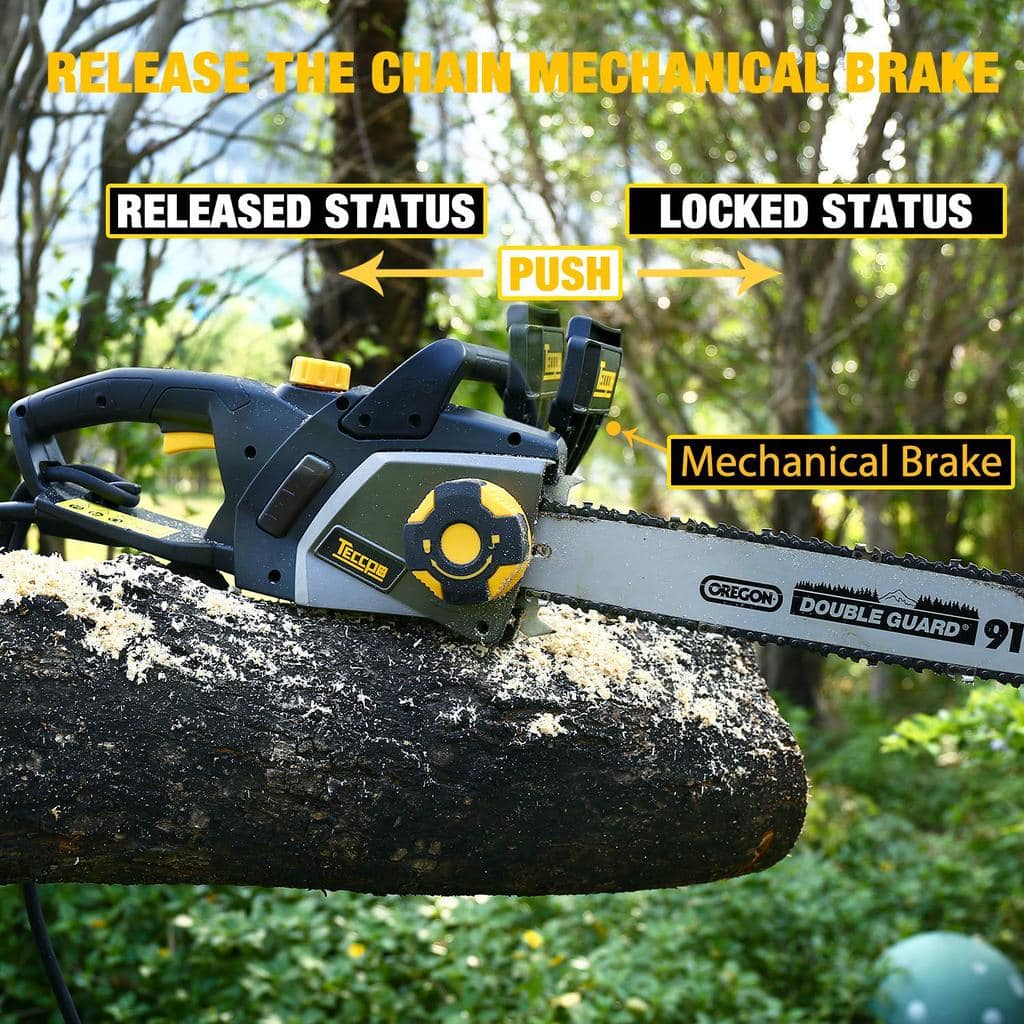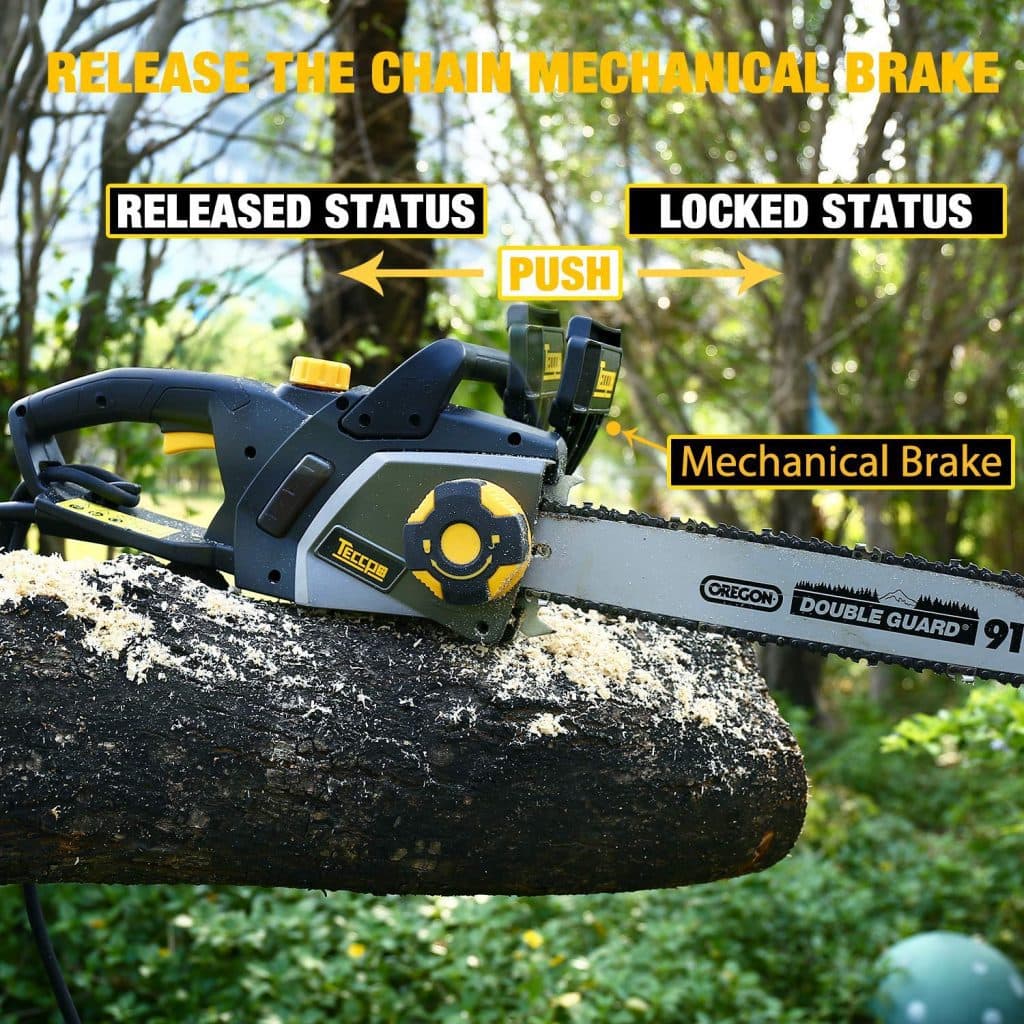 If you are looking for a fast and safe chainsaw, then one of your top considerations should be the handy TECCPO electric chainsaw. With a 49ft/s chain speed, this tool is one of the quickest in the market. This tool comes in a lightweight 10.52 pounds body, which makes it easy to handle even during prolonged usage.
I found the TECCPO quite suitable for most of my yard and farm work. It has an inventive design and is relatively more straightforward than other tools I have used previously. The 15A power motor makes it powerful enough for most woodcutting jobs. I could also adjust the chain according to the demands of my chores without tools. You turn the dial to your preference. It, therefore, saves you not just time but also ensures you don't hurt yourself trying to tighten the chain.
The oil tank comes with a transparent window that enables you to look at how much oil you have left and plan. It can hold up to 120ml of oil. In addition, this chainsaw has an automatic lubrication system, which makes your operations more comfortable and smoother (you don't have to keep stopping or worry if the chain is lubricated enough).
In terms of safety, this chainsaw comes with dual protection. First, it comes with a mechanical brake that halts the machine at any time. It also includes a safety button that helps you prevent any accidental starts that may very well lead to injury. When you release the safety button or push back the brake, the chainsaw stops immediately. This electric saw also provides cord retention, which means that it doesn't unplug accidentally while in use.
I also like that this chainsaw has a wood chips removal system, which protects the user from chips produced during woodcutting. It is also quite comfortable on the hands and does not vibrate much during use. It is, overall, the best electric chainsaw for anyone looking for a simple to use, quick, and safe tool for home or professional use.
PROS:
Tool-free chain adjustment
The wood chips removal mechanism
Mechanical break & safety button for double protection
High-power motor
CONS:
Designed for occasional use only
8. Earthwise CS33016 Electric Chain Saw: Simple to Maintain & Reliable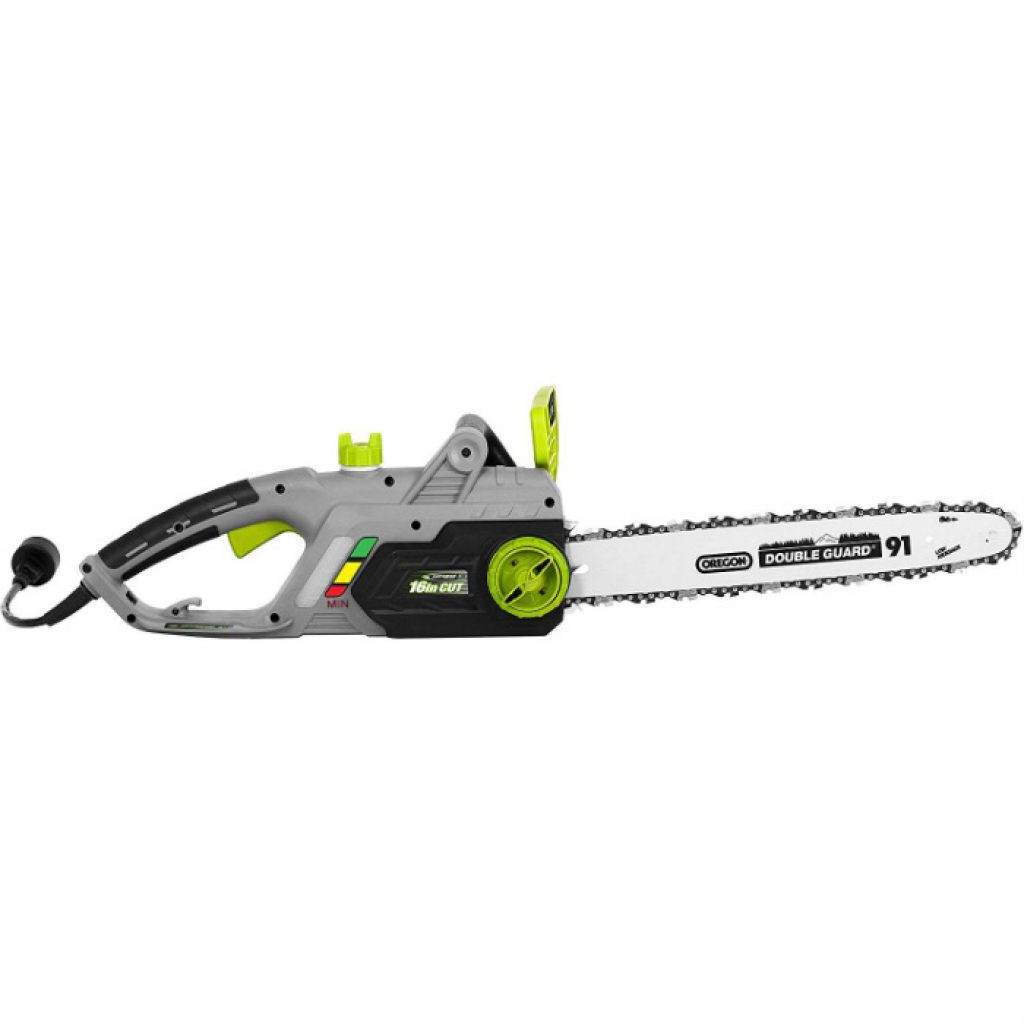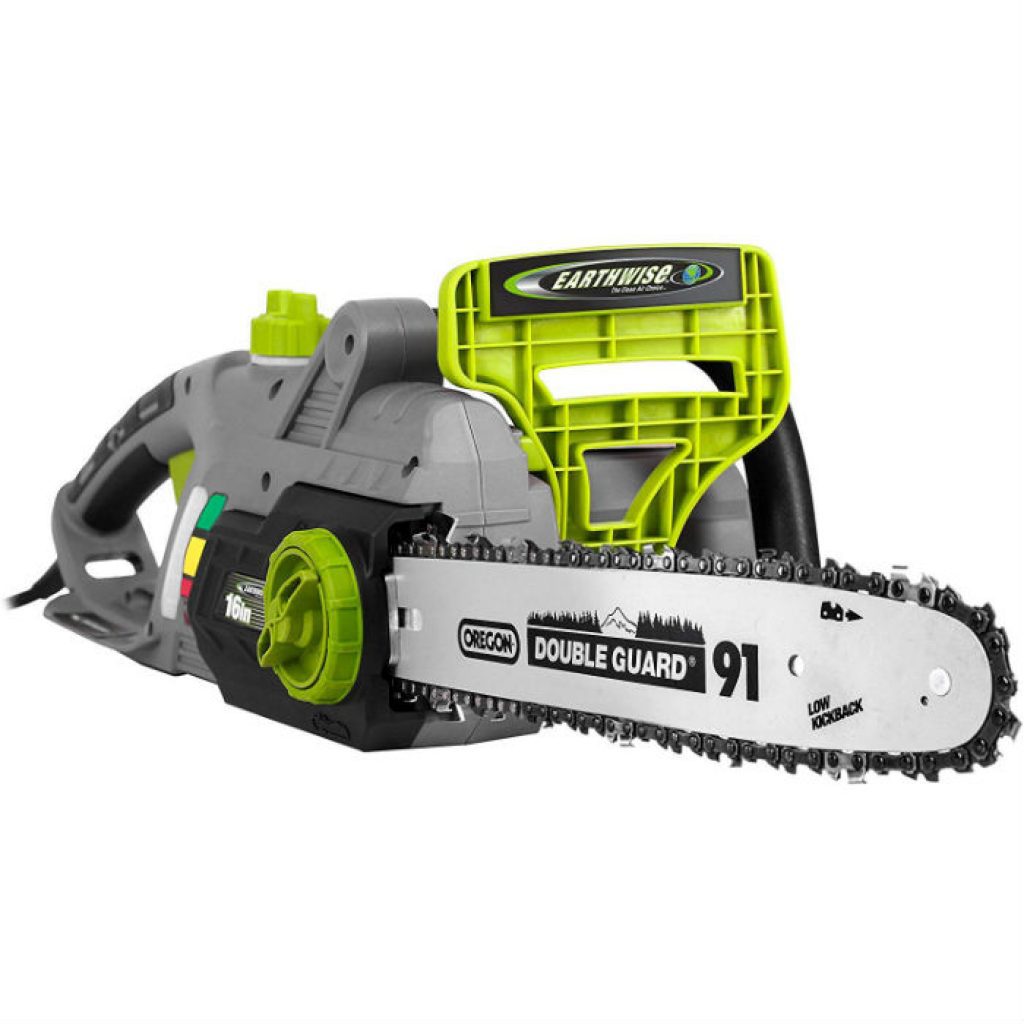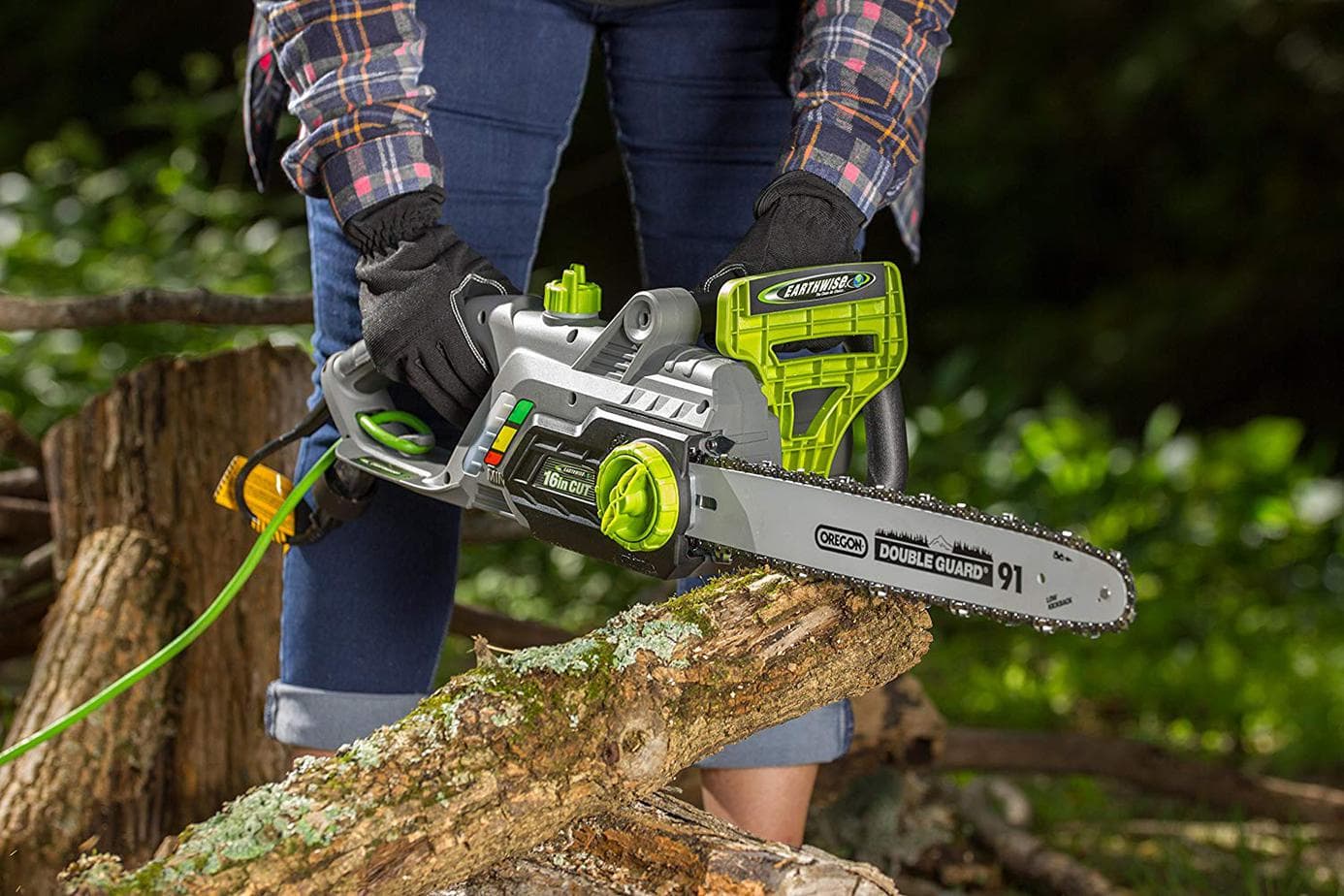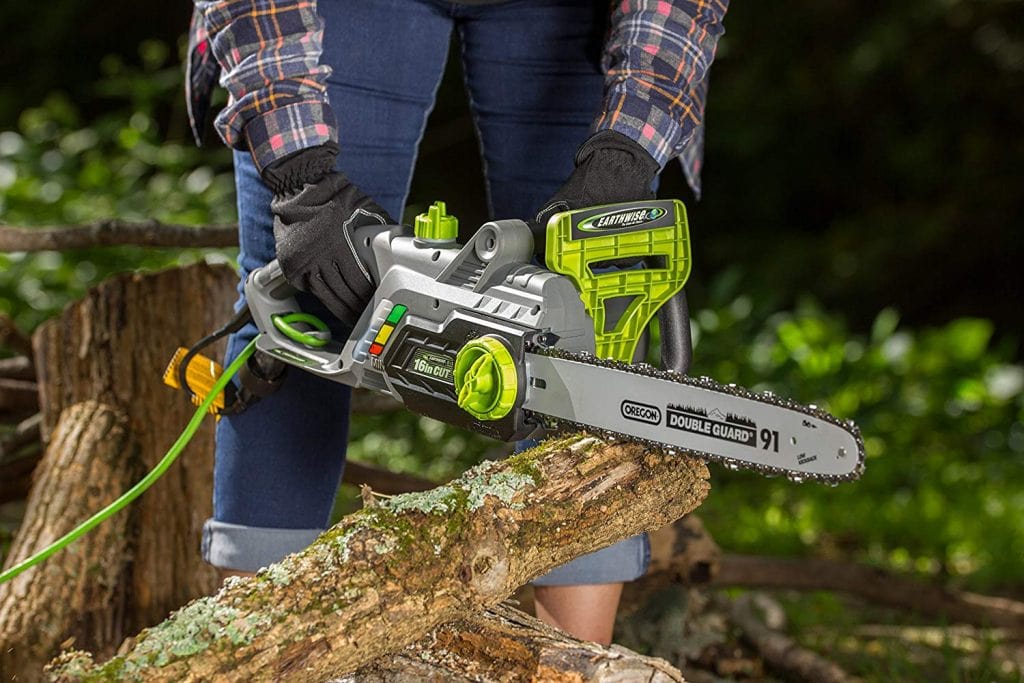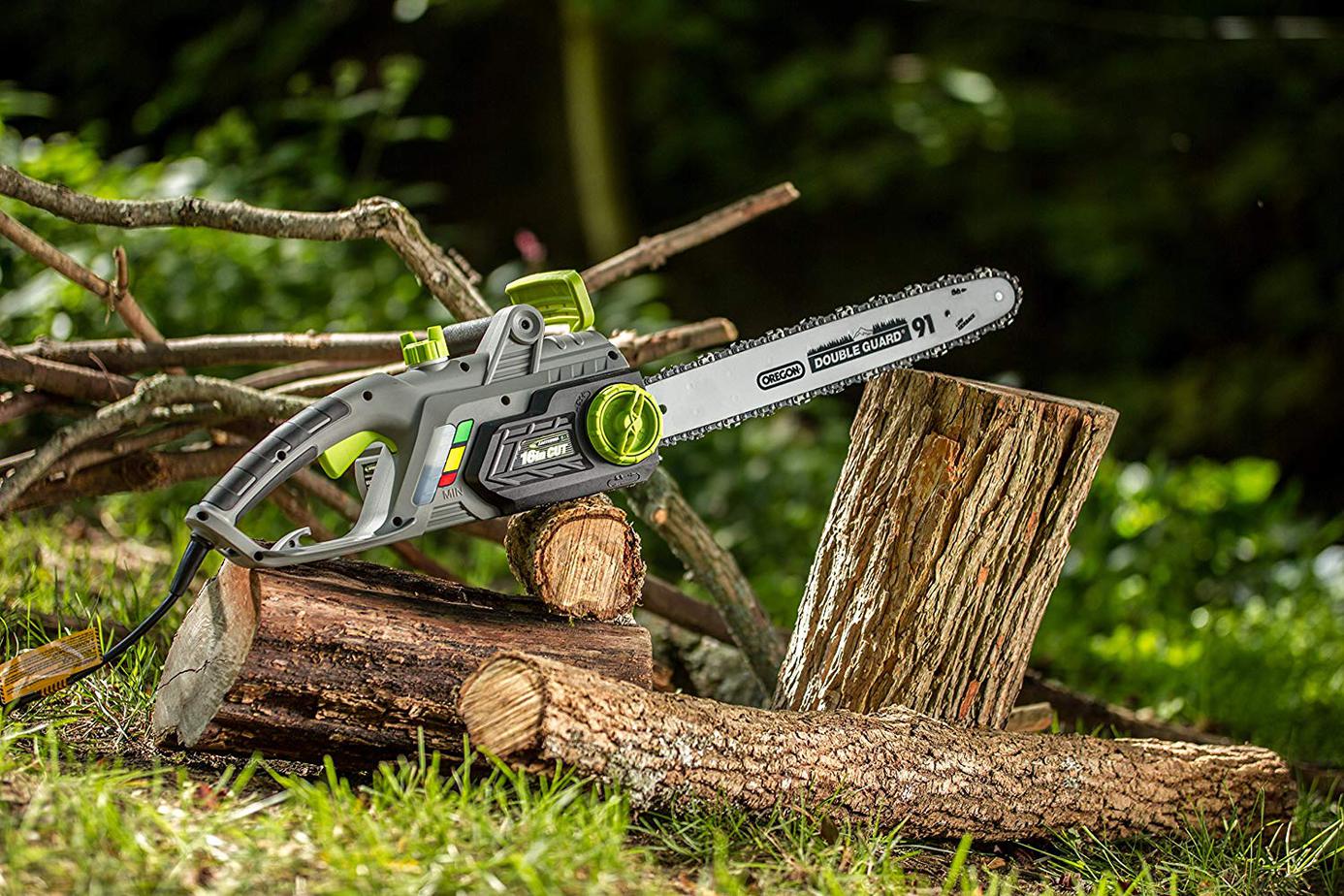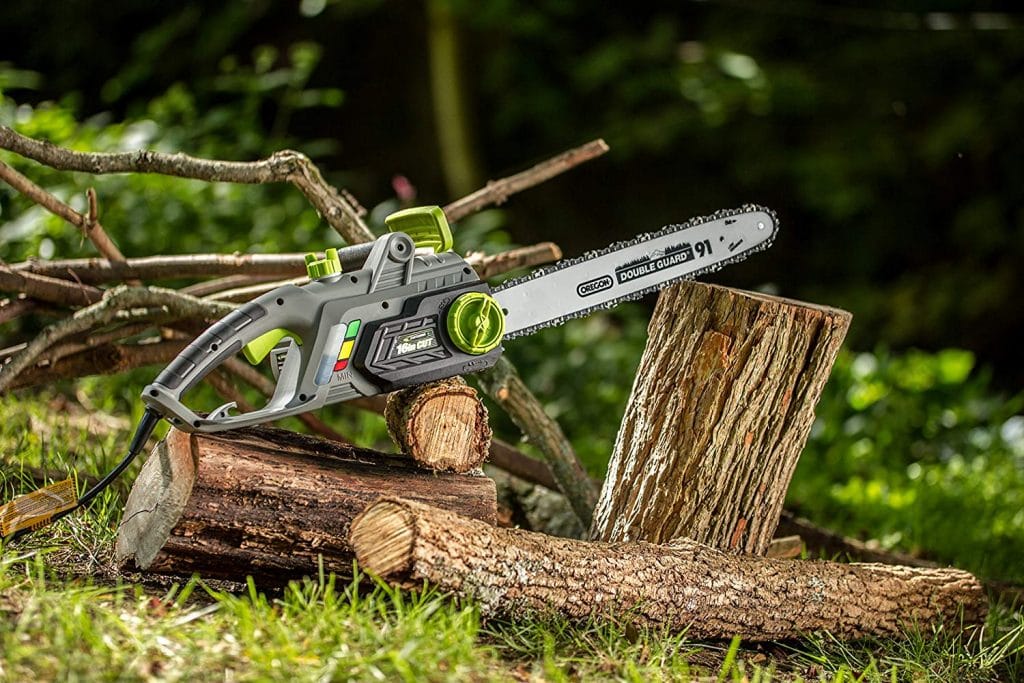 Earthwise CS33016 is a corded electric saw that has the power to slice through medium-sized wood and branches quickly and smoothly. One of Earthwise's Pro-Cut series, this machine is designed to perform most electric chainsaw basics effectively. It is green corded, has an elegant design, and comes at a very reasonable price.
It features a 16-inch chain and bar as well as a 12 Amp motor. It also comes with a plastic bar as well as an overall appealing design. This machine is also lightweight (at about 9.9 pounds) and therefore easy to carry. It doesn't cause any significant muscle fatigue after long usage. This chainsaw also features a handle that is molded with rubber to make it easy on your hands and give you a comfortable and steady grip.
The Earthwise electric saw has a bar and chain cover as well as a safety button for protection. It comes preassembled. So, you don't have to be an experienced user to power it up.
I was pleased with this chainsaw's easy-to-use features. To start using it, you'll only need to plug it to an electric power outlet and add oil into the tank. This chainsaw lubricates the chain its own and comes with a level gauge that enables you to look at how much oil you have remaining. Given that its chain tensioning system doesn't require tools, you can change the tension of the chain conveniently, and without having to take it apart. Since it is corded, it will only go as far as your extension cord can go. However, it does deliver a continuous and smooth operation.
If you need a convenient tool for pruning trees, cutting through logs, and other common yard tasks that is low maintenance, then the Earthwise CS33016 is a good electric chainsaw for you. It competes quite well with other machines in its class and is probably one of the cheapest electric saws that you will find.
PROS:
Affordable
Light body
Fully assembled on purchase
Comes with a chain & bar cover
CONS:
Takes longer to cut through larger wood/trees
A little noisy- but quieter than gas chainsaws
9. Oregon Cordless CS300-A6: Best Electric Battery Chainsaw in Quality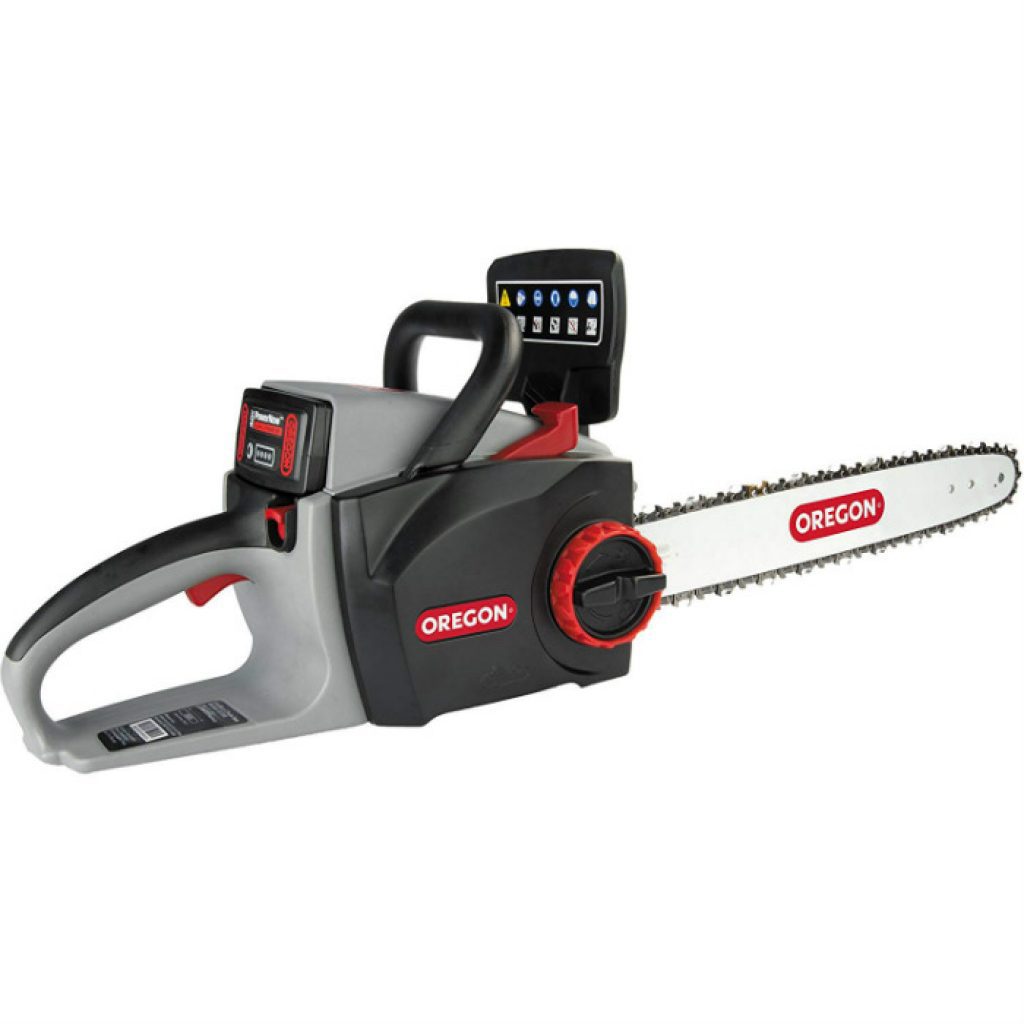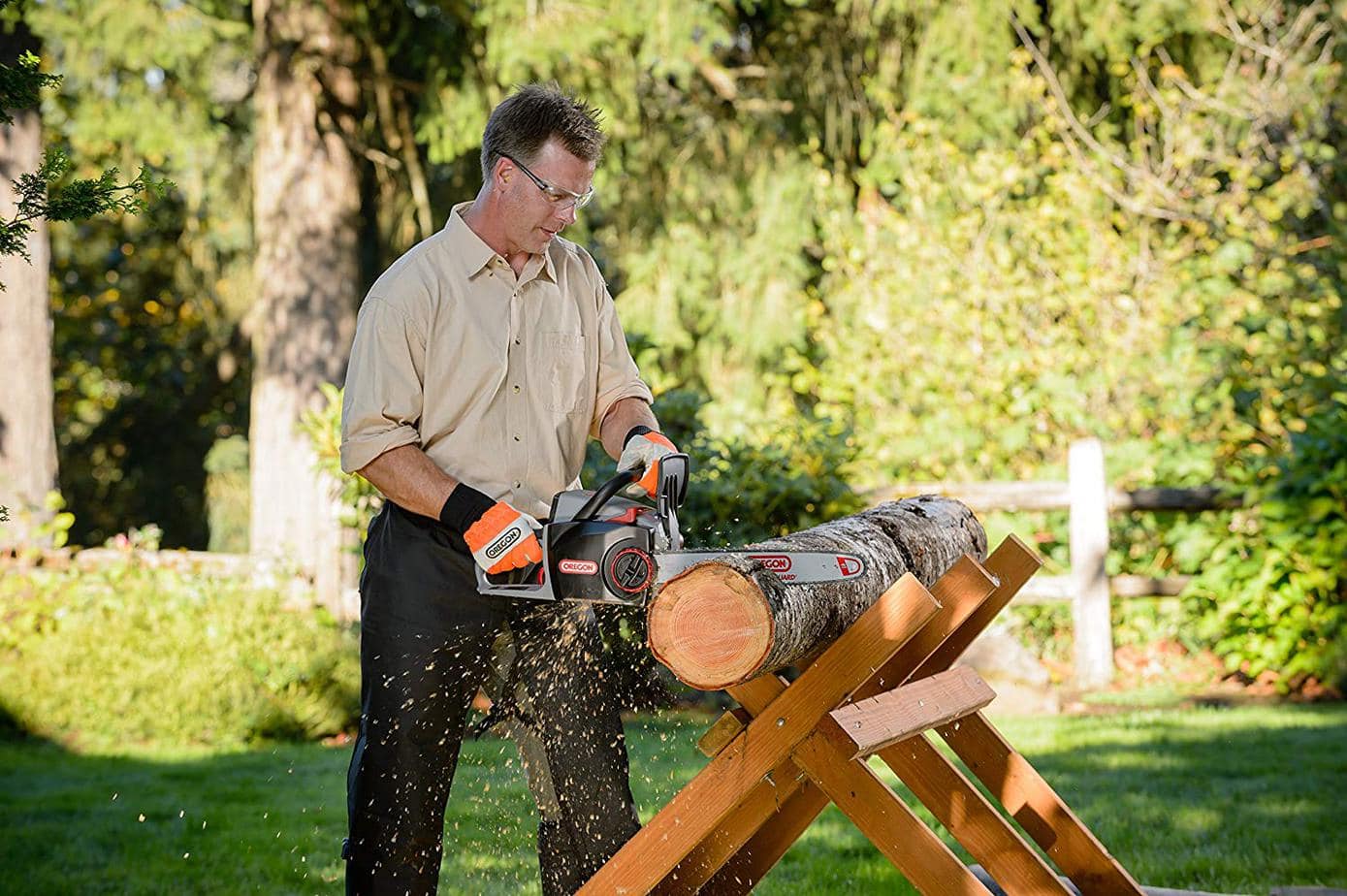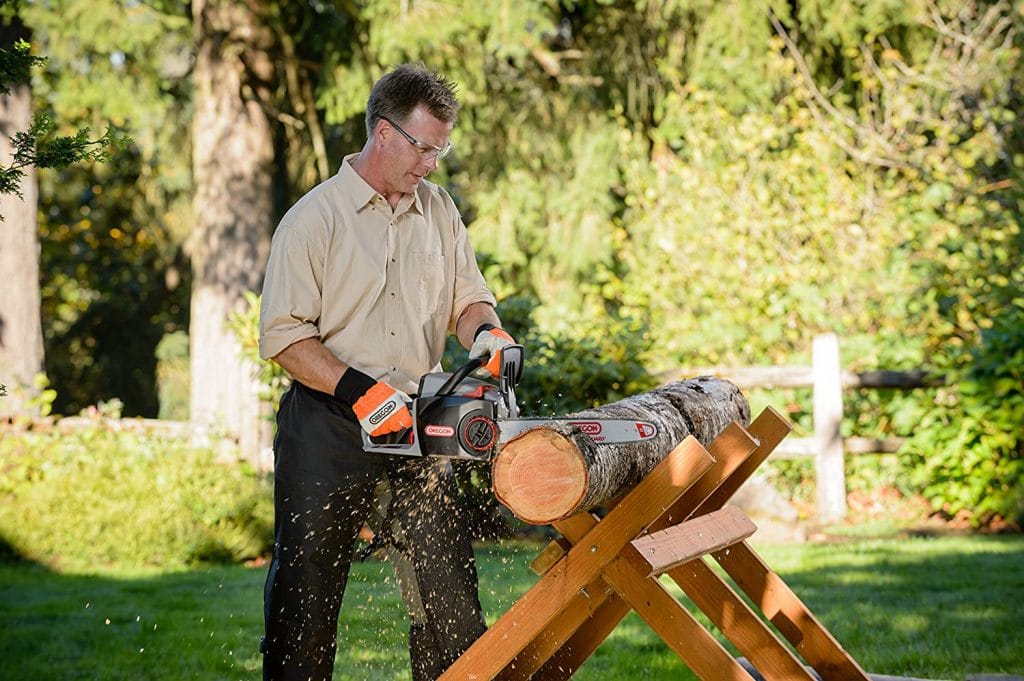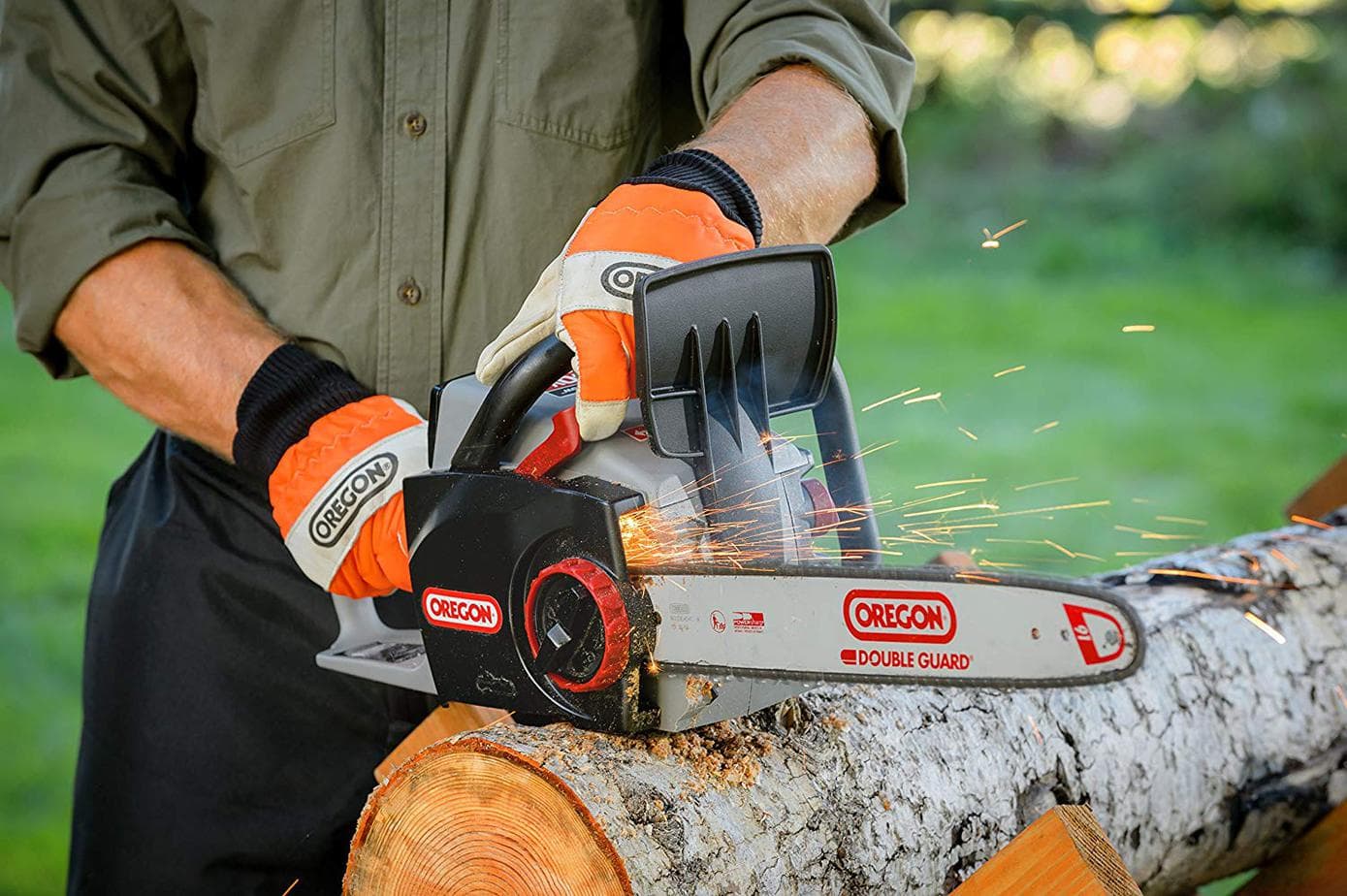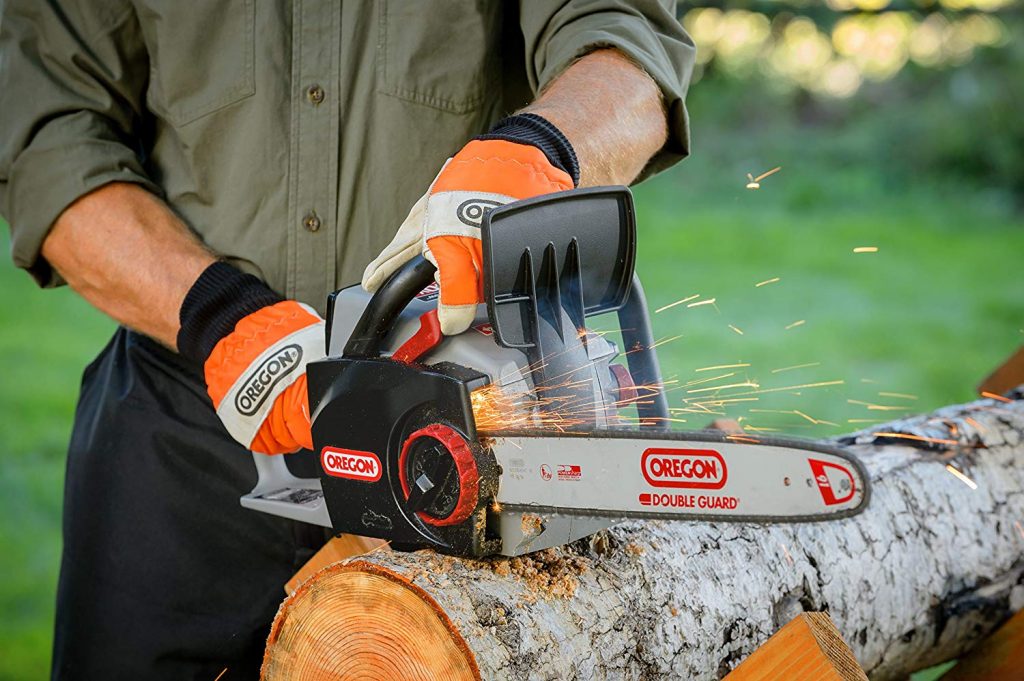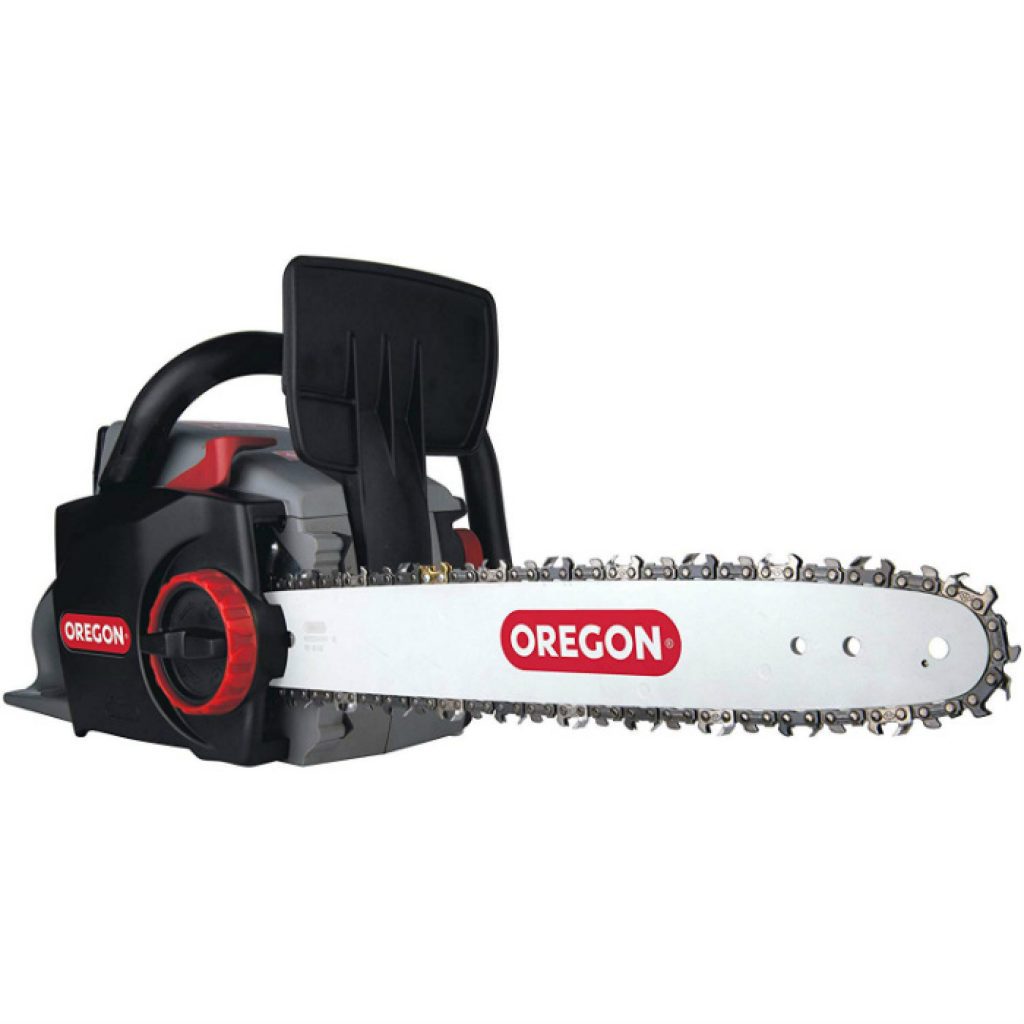 For high performance and super-fast cutting power, the Oregon Cordless CS300-A6 Chainsaw is unmatched. An upgrade of the highly-rated Oregon CS250, this machine comes with more power and many wonderful features. It powers up immediately and can cut through most trees and wood.
The CS300 has a brushless motor, which is more efficient than brush motors. Unlike corded chainsaws, the Oregon CS300 does not restrict your movement. It comes with a 40.0Ah battery. How long the battery lasts will depend on the task you are doing. Heavy-duty work tends to consume more battery power. However, a single charge can cut 400 tree branches of 2-3 inches. The battery is fade-free, which means performance remains at optimal levels even as the cost goes down. A charge level indicator shows you how much charge is in the battery.
You can use the saw in cutting small and medium trees, bucking logs, and pruning. You can still use it to cut larger trees occasionally. On testing this chainsaw, I found that it could easily cut trees of up to 10 inches in diameter. However, it is indicated that it could go up to 15 inches.
This Oregon saw is also less noisy than gas saws (though you should still wear hearing protection if you intend to use it for prolonged periods) and has low front and rear handle vibrations. It is, therefore, more pleasant to use and more comfortable to operate. It also has less fatigue.
This saw has a 16-inch bar plus chain. The guide bar has a narrow nose, which holds low-profile chains and reduces kickback. You will also find a self-sharpening mechanism, which saves you the time, hassle, and sometimes money for having your saw sharpened. For safety, this saw has a chain brake, chain catcher, safe starter, and handguards (front and rear).
If you are searching for a medium or light-duty saw to perform a variety of chores, the Oregon Cordless CS300 (A6 version) is an excellent choice. It is a high quality, durable, and powerful saw for home and professional use.
PROS:
Efficient brushless motor
In-built chain sharpening system
Fast cutting power
Has no emissions
CONS:
Costly
Longer charging time
10. Scotts CS34016S Corded Electric Chainsaw: Powerful & Affordable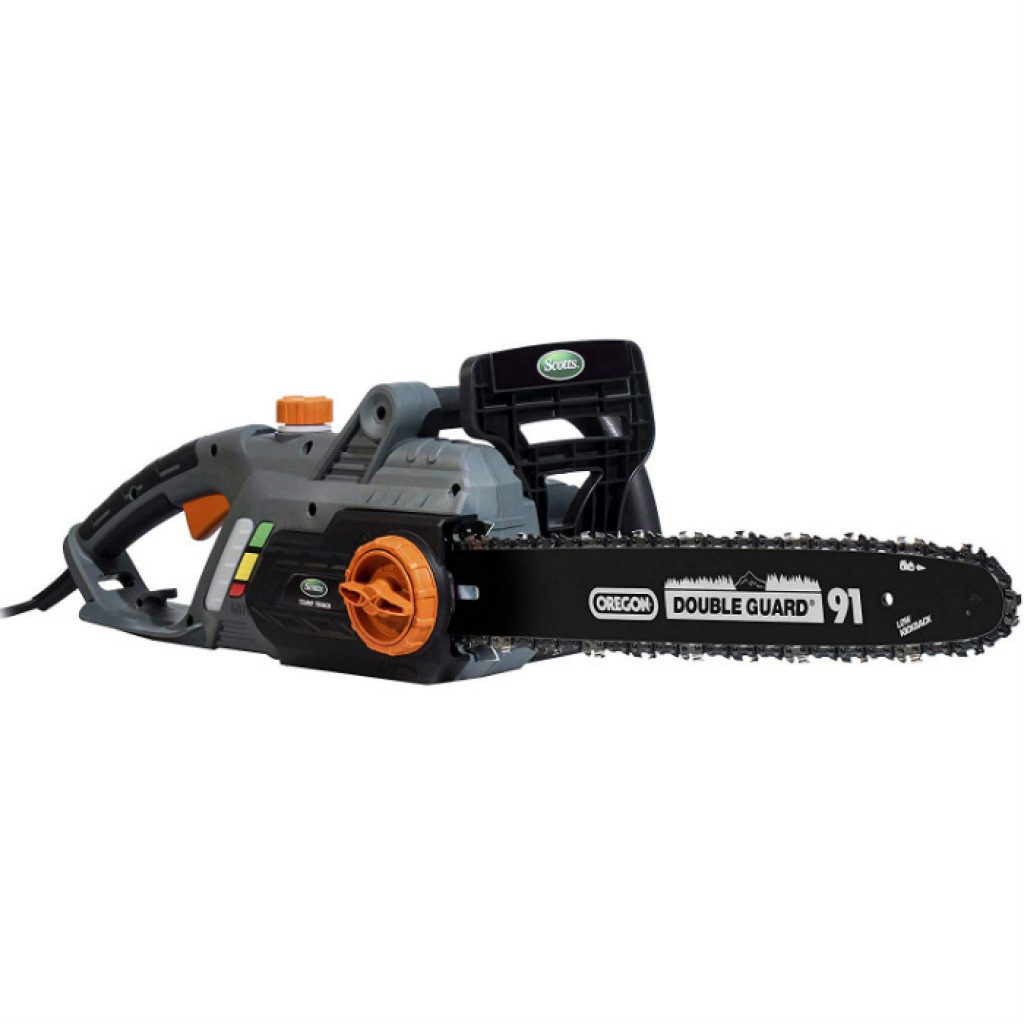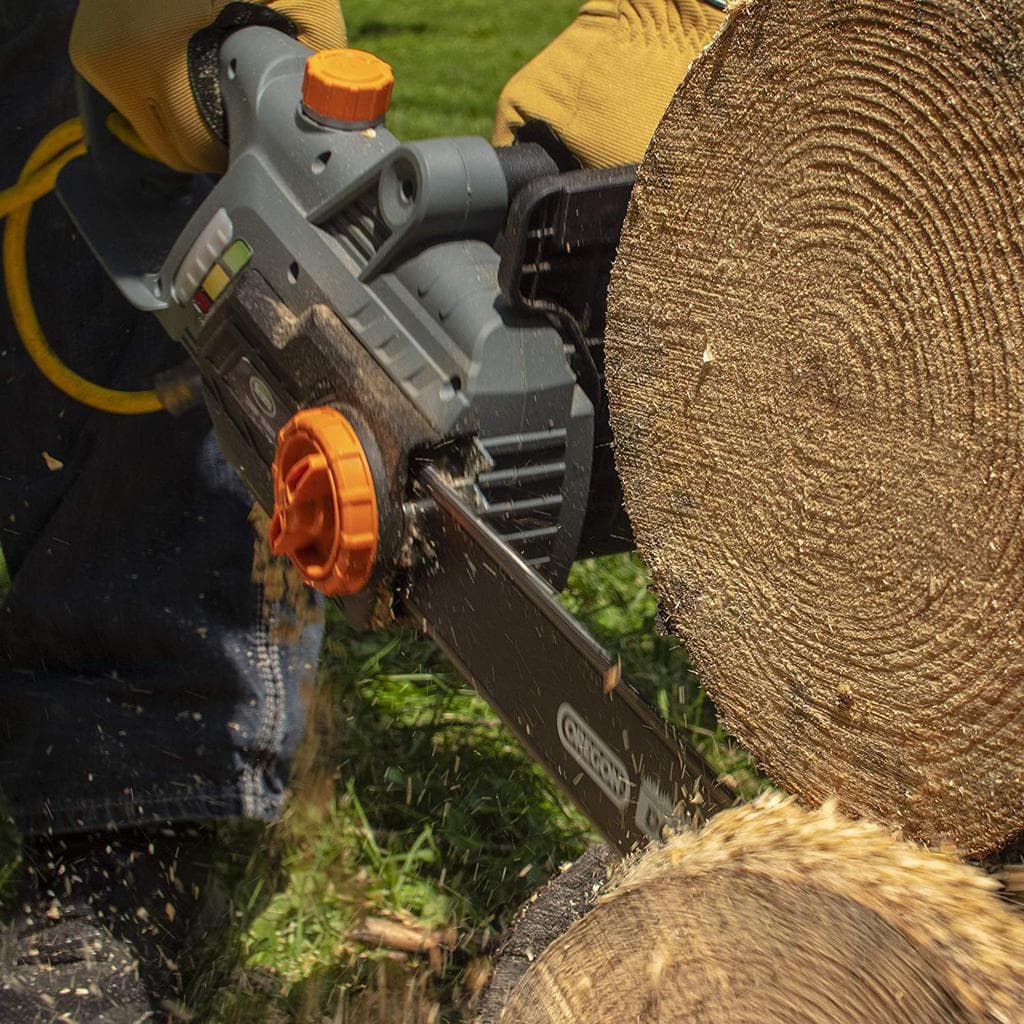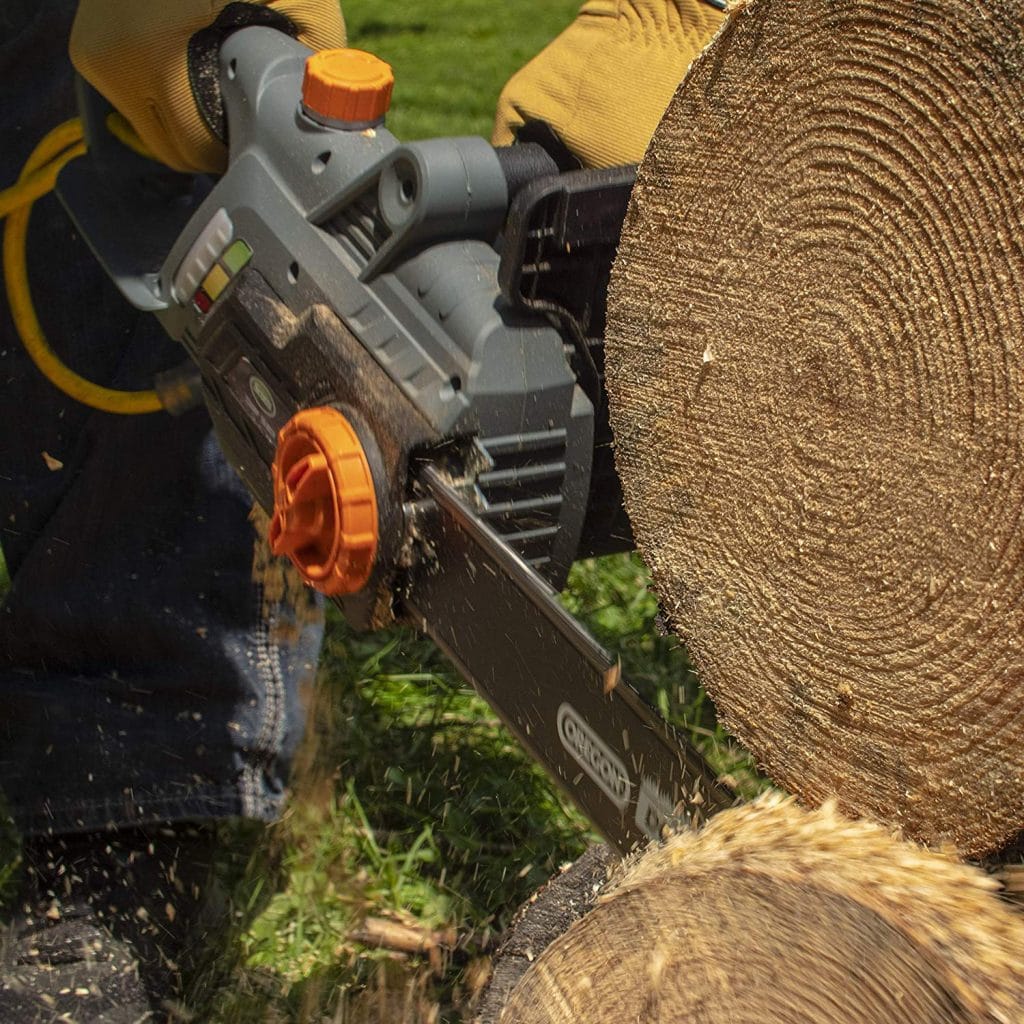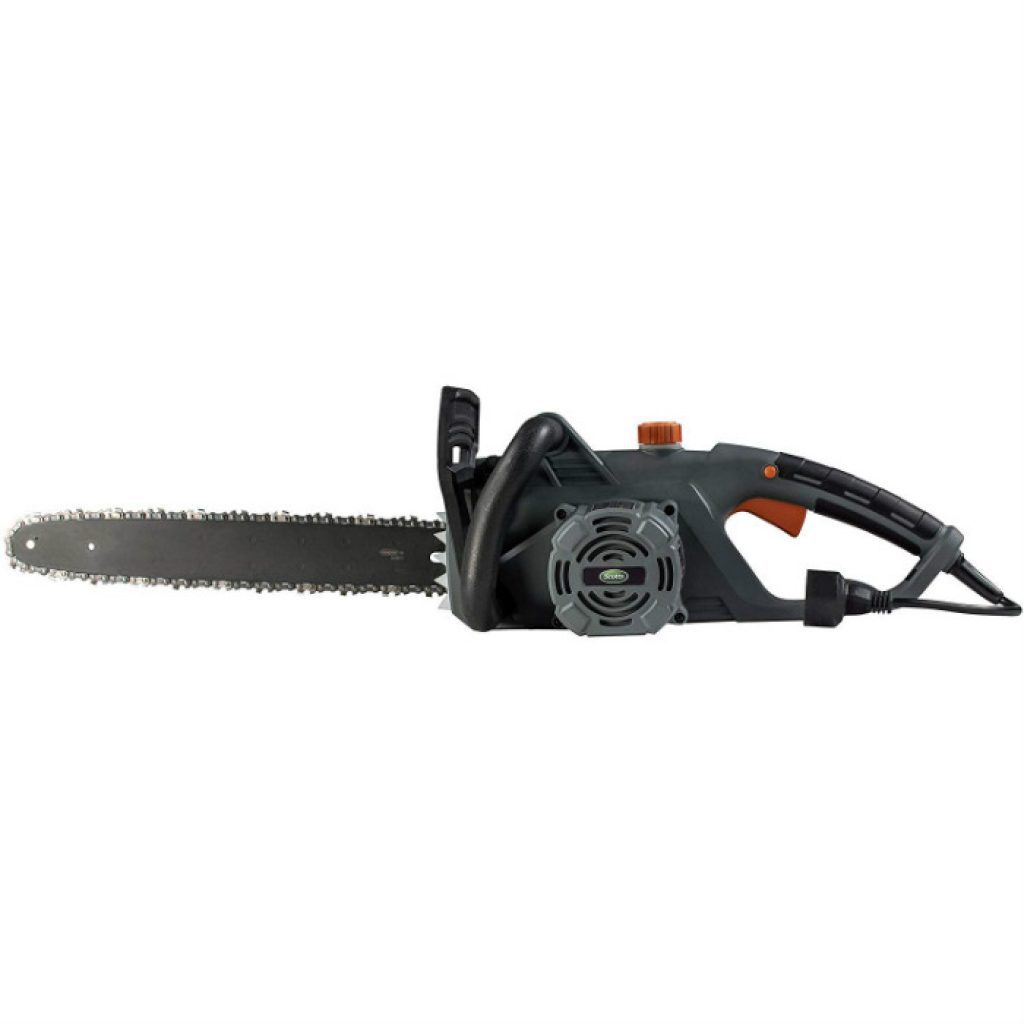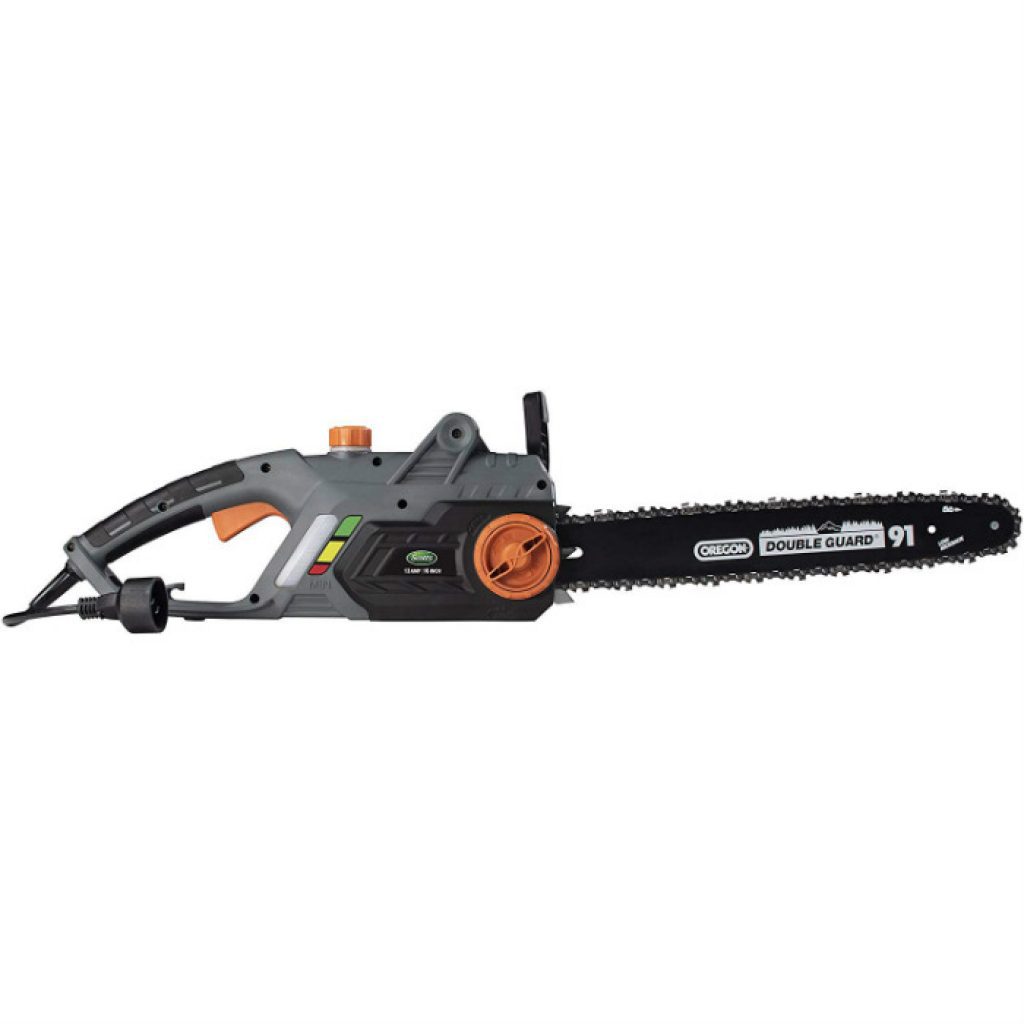 Scott's corded electric chainsaw is the best-rated electric chainsaw that delivers both power and precision. It is easy to use and ideal for light and medium cutting. It is powered up with electricity through a cord connected to a power outlet. Thus, it doesn't produce fumes or mess, and it is a great eco-friendly option.
Though it is not as powerful as a gas chainsaw, it does come close. It features a 13 Amp motor and a quality 16-inch bar and chain. The chain is super sharp when new and can cut for a long time without sharpening. The motor, although powerful, doesn't make much noise. You can cut 5-8 inches of wood with no problem. This saw is also quite stable and stays in place during operation.
It also has a window on the oil tank to help you monitor the oil levels and an automatic oiling mechanism. To start using this equipment, connect the cord on the machine of an extension cord. You can adjust the tension of the chain by simply by turning the tensioning wheel. There is a handguard near the front handle that protects your hand from the chain during operation.
A blade cover and an instruction manual are also included in the packaging. If you want a chainsaw that cuts wood fast and clean at a budget-friendly price, you should try Scott's corded electric chainsaw.
PROS:
Comfortable rubber handle
Oil level window
Ready to use on a purchase
CONS:
Doesn't have a chain break
Conclusion: Which Electric Chainsaw Is Best for You?
From this best electric chainsaw review, you can choose a saw that works best for your needs and budget. Remember, a good chainsaw should perform the job right and have your safety in mind. All the models I have reviewed are safe to use and undertake light to medium cutting tasks (some may do heavy but occasionally). They are also from reputable brands and are well-reviewed by users.
If you need an electric chainsaw that can perform all basic features effectively, then the less expensive varieties like Scotts, Earthwise, TECCPO, and WORX are perfect. For added quality, durability, and performance, you could go for more costly chainsaws like Greenworks and Oregon.
So, are electric chainsaws as good as gas? The answer depends on what you are looking for. For frequent, heavy-duty use, gas chainsaws tend to outshine the electric ones. However, gas chainsaws are heavy, noisy, and messy. They are, therefore, best suited for professionals and people who have a bit of experience. Electric chainsaws, on the other hand, are usually light, much quieter, and produce no fumes. They are eco-friendlier and easier to use and carry. You also don't need much experience to handle an electric chainsaw, especially if it comes pre-assembled like the ones I have mentioned here.
Remember, even though these machines come with some safety features, you also need to take care. Ensure you have protective clothing, including a helmet, ear protectors, work gloves, goggles, and chaps. Ensure you choose the best chaps for an electric chainsaw to protect your legs in case of an accident. Most importantly, work in a well-lit and clean area- cluttered and dark areas increase the likelihood of accidents.
A chainsaw sharpener will come in handy for you if your chain is dull or saws a tree poorly.
Have you tried an electric chainsaw and would like to share your experience? Which chainsaw do you prefer from this list? Share which chainsaw you think is worth investing in.