Best 12000 Watt Portable Generator In 2020
A generator isn't on everyone's purchase list, but if you are running a business that's highly dependent on electricity, it should be the high time you consider an appropriate backup. Fortunately, many firms are selling good generators, although this brings about problems when selecting your ideal match.
However, you shouldn't worry about this anymore, as this blog has all your concerns covered. I have prepared a list of the best performing 12000 Watt generators to ensure your buying process is easy, and you end up with non-regrettable purchases. Before that, bear in mind that there are essential considerations to make before buying a portable generator.
These include ensuring the tool's handle is sturdy, and the wheels are ideally made for frequent ferrying. Other than that, the device should have multiple output receptacles to enable you to connect to as many appliances as possible.
Amazon Bestseller
Top 7 Best 12000 Watt Portable Generators for Sale
To help you choose the best 12000 Watt portable generator for your specific needs, I have extensively analyzed the upcoming 7 choices in terms of portability, ease of use, efficacy, and cost. I can assure you they are the best options to consider. The devices are arranged in order of popularity to ensure you pick the best option with ease.
Westinghouse WGen9500 – The Best Portable 12000 Watt Generator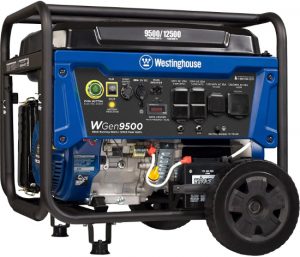 This generator is manufactured by a company well known for delivering quality machinery. Fortunately, the device here is no exception, and it gets almost a 5-star rating when it comes to its quality. At 270 pounds, portability might be an issue for some people, although the incorporated heavy-duty wheels ensure that ferrying the piece is the least of your concerns.
In terms of power, the device will definitely exceed your expectations. It is powered by a 457cc 4-Stroke OHV engine and produces 9500 Watts during normal running and 12500 Watts at its peak. The power is enough for any commercial use, and this makes the piece an ideal backup option.
Besides that, this heavy-duty generator has a 6.6-gallon fuel capacity, which enables it to run about 17.5 hours without stopping. So, in the event of extreme power outage cases, you have nothing to worry about as the machine will serve your needs to perfection. The engine is also perfectly shielded from any damage.
But you might be wondering if the oil you applied will last the 17.5 hours. Well, the generator is automated to shut down any time the oil level is low. There is, however, a meter where you will take the oil's reading and know when to add oil so that you can prevent regular shutting.
Besides that, all the necessary accessories are conveyed during item acquisition, including a 12V battery. The generator has a total of 6 receptacles to ensure you power as many appliances as possible. It possesses a remote powering feature, and its start key is conveyed upon item purchase.
Finally, assembling the piece is the least of your concerns. The seller includes an assembly manual when you purchase the generator. You also get a 3-year limited service warranty, and there are different models available, especially if you need a low power generator.

---
PROS:
Electric switch and remote start feature
17.5 hours runtime
The device shuts down if the oil level is low
It is powered by a 457cc 4-Stroke OHV engine
3-year limited service
CONS:
It is slightly loud, although tolerable
It is heavy at 270 pounds
---
Westinghouse WGen9500 Heavy Duty Portable Generator - 9500 Rated Watts & 12500 Peak Watts - Gas Powered - Electric Start - Transfer Switch & RV Ready - CARB Compliant
9500 Running Watts and 12500 Peak Watts; Remote Start With Included Key Fob, Electric and Recoil Start; Up to 17.5 Hours of Run Time on a 6.6 Gallon Fuel Tank With Fuel Gauge
Features Two GFCI 120V 5–20r Standard Household Receptacle, One Transfer Switch Ready 120V L14-30R, One RV Ready 120/240V 14–50r, and Two 5V USB Ports; All Outlets Have Rubber Covers for Added Safety
Powered by a Heavy Duty 457cc Westinghouse 4-Stroke OHV Engine Featuring a Long-Lasting Cast Iron Sleeve With Automatic Low Oil Shutdown and Digital Hour Meter
Plug-and-Play: Comes With a Remote Start Key Fob, 12V Battery Charger, Oil, an Oil Funnel, a Tool Kit, and a User's Manual to Get You Started Right Out of the Box (Minimal Assembly Required)
EPA and CARB Compliant; Backed by 3-Year Limited Service, Labor, and Parts Coverage with Nationwide Customer Service and Support Network at 1-855-944-3571 or [email protected]
DuroMax XP12000EH – Your Top DuroMax Choice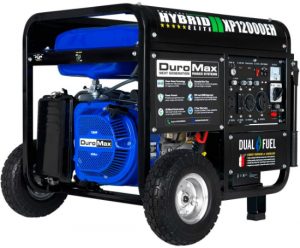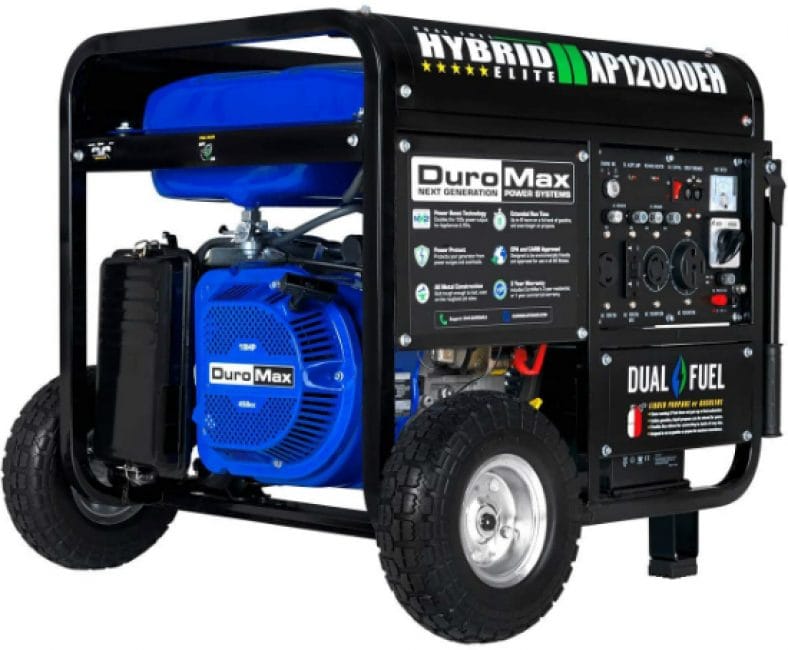 There are over 8 DuroMax generator models to choose from, meaning that it is super easy to get a machine that meets your demands and one that fits under your budget. However, the unit under review is powered by an 18HP, 457cc engine, meaning the power output is enough and, in most cases, beyond your demands.
All in all, the machine is suitable for commercial application, home use, and usage as an ideal back up plan. In terms of fuel consumption, the piece offers you unbelievable flexibility, as it uses propane or gasoline, depending on your budget. It produces over 9500 running watts, and it has an incredible 12000 starting watts.
Full power is only accessible through the use of one of the 120V receptacles at a time. However, there's a choice to use the receptacles simultaneously, especially if you don't need maximum power to run your appliances. Away from that, your portability concerns are ideally solved by the available heavy-duty wheels.
It has an 8.3-gallon fuel tank, suitable to offer a full-day service without refilling. It is also made of high-quality metal to ensure it lasts long without damage. There are 5 outlets to enable you to power several devices when using the tool. Finally, powering the machine is stress-free, all thanks to the fused electric start technology. It is also covered by a 3-year warranty.

---
PROS:
3-year warranty
Dual fuel technology
8.3-gallon fuel tank
Heavy-duty construction
CONS:
Misses automated low-oil lockdown feature
Lacks an oil gauge meter
---
DuroMax XP12000EH 12000-Watt 18 HP Portable Dual Fuel Electric Start Generator,Blue and Black
POWERFUL DUROMAX ENGINE: The XP12000EH is Powered by a DuroMax 18HP, 457cc DuroMax OHV Engine
PLENTY OF POWER: With 12,000 starting watts and 9,500 running watts, this unit can handle heavy loads from lights and a refrigerator to a home air conditioner and high amperage power tools
DUAL FUEL TECHNOLOGY: This generator runs on gasoline or propane giving you the freedom and flexibility of fuel choice.
MX2 TECHNOLOGY: With DuroMax MX2 technology, get the maximum power from each of the 120 Volt receptacles; Choose between operating the generator at both 120V and 240V simultaneously, or at 120V only with full power
LOW OIL SHUT-OFF: Protects your investment by automatically shutting the generator off when it senses that the oil is low.
All Power America APGG12000 – 12000 Watt Portable Generator with Electric Start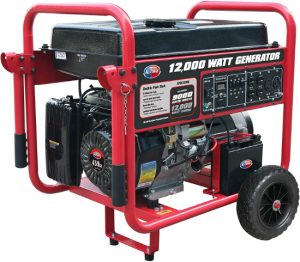 With three sizes and models to pick from, getting the ideal fit for your needs here is equally simple. The generator is powerful, and it perfectly suits all house applications. Besides that, you can use it for commercial powering, as it has a peak output of 12000 watts and a running power of 9000 watts.
However, the 9000 running watts are slightly lower than the items reviewed above, although the difference in price might turn the piece to a bargain. The device also has an electric start feature; therefore, you have a stress-free starting procedure. Its engine is slightly powerful, compared to the above-reviewed generators, as it is an 18HP, 459cc OHV air-cooled engine.
Its fuel capacity is 8 gallons, and in terms of noise produced, the product is slightly loud. The machine's runtime is a bit low, at 10 hours. However, it has an hour meter reader that will help you know the oil and fuel readings. All essential accessories are included upon item purchase, and two of these are unique.
The upkeep-free battery and flat-free wheel kit are ideal bargains. These mean that you will have zero worries when it comes to starting the machine and zero-concerns when it comes to ferrying it. There are a total of 7 outlets, including 4 120V outlets and 1 12V DC outlet. Finally, it weighs about 240 pounds, but the wheels are perfectly made for the most convenient ferrying.

---
PROS:
459cc air-cooled engine
It comes with an upkeep-free battery
You receive a flat-free wheel
8-gallon fuel tank
Has an electric start feature
CONS:
It is loud
It has a short runtime
---
Sale
Rainier R12000DF – A Quiet and Powerful Tool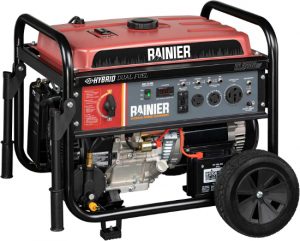 With three models to pick from, getting a good fit for your budget must be so easy to achieve. Luckily enough, this isn't the only advantage to benefit from this great generator purchase, as you get a dual fuel device, which offers flexibility in terms of fuel to use. Enjoy up to 12000 peak watts and 9500 running watts when using gasoline.
However, when you use propane gas, the peak watts reduce to 10,800, and the running watts stand at 8550 watts. Fortunately, the power is enough to use in the home and commercial stores, so you have nothing to worry about irrespective of the fuel you use. Away from that, the machine has a 6.6-gallon fuel tank to store enough fuel for full-day use.
There's a fuel gauge in place, and its automated set to shut down when the oil level is low. It is powerful, all thanks to the 457cc 4-Stroke engine powering it. It will serve you for up to 17 hours when you use about a quarter of its output channels. There are many outlets to ensure the utmost convenience when using this machine.
It's quiet, producing about 72 dB noise. There's an electric start feature to ensure the utmost smoothness in operation. The fitted recoil start is there as a backup option. Unlike other items under review, the generator has a display feature to ensure you see its runtime hours, volts, and frequency.
There's also a control panel, and the item is under a 3-year warranty from the manufacturer. It is surely a fitting choice for many and a non-regrettable purchase option.

---
PROS:
Low oil and overload protection features
Dual fuel
Comfy handles
Electric start
Quiet
Data display feature
CONS:
Short runtime when on half load
---
Rainier R12000DF Dual Fuel (Gas and Propane) Portable Generator with Electric Start - 12000 Peak Watts & 9500 Rated Watts - CARB Compliant - Transfer Switch Ready
Dual Fuel – 12000 Peak Watts and 9500 Running Watts (Gasoline); 10800 Peak Watts and 8550 Running Watts (Propane); 6.6 Gallon Fuel Tank with Fuel Gauge and Automatic Low Oil Shutdown
Electric Start – Convenient One-Touch Power Switch with Back-Up Recoil Start
VFT Display – Volts, Frequency, and Lifetime Hours; Full Control Panel Featuring Two 5-20R 120V 20A GFCI Household Outlets, One L5-30R 120V 30A Outlet, One L14-30R 120V 30A Outlet, and One 14-50R 120/240V 50A Outlet; Two Grounding Ports
Powerful – 457cc OHV 4 Stroke Rainier Engine; Up to 17 Hours of Run Time at 25% Load; Operational Volume as Low as 72dB
EPA and CARB Compliant; RV Ready – Includes Wheel Kit with Two 10 Inch Wheels and Two Foam Grip Handles for Your Convenience
Pulsar G12KBN – An Amazingly Portable Model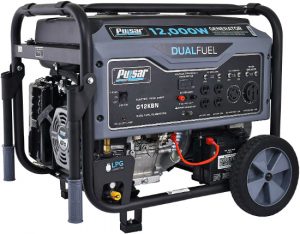 With the item having an ideal handle and perfectly crafted wheels, it unquestionably passes the first test, which has to do with portability. Secondly, does it make among the best 12000 watt portable generators? Well, its features, especially its power output, will show if the piece fits under this category.
So, the generator is powered by a 457cc engine, producing 12000 peak watts and 9500 running watts on gasoline. It also yields 10800 peak watts and 8550 running watts when using propane gas, given the way it is a dual-fuel model. The output is enough to power all home and commercial appliances, thereby making the item ideal in terms of electric production.
But does it have the outlets to feed all these channels or appliances? Well, there are 7 outlets, including 4 120V outlets, so there are enough channels to power your devices. Lastly, does the generator have the capacity to run for long without shutting? The machine has an 8-gallon fuel tank.
It provides over 12 hours of running time when the generator is on half-load. Sounds short? Well, that's more than most machines under review; therefore, the running time is perfectly great. There are also additional features that might excite you, and these include;
An electric start shielded by a resilient powder coated frame.
Comfy drop-down handles
10-inch flat-free wheels
Low-oil shut off feature
Propane pip
Auto voltage regulator
Digital meter
---
PROS:
It is a dual fuel generator
Contains flat-free wheels
Long runtime when using gasoline
Large fuel tank
An ideally shielded electric start
---
Pulsar G12KBN Heavy Duty Portable Dual Fuel Generator - 9500 Rated Watts & 12000 Peak Watts - Gas & LPG - Electric Start - Transfer Switch & RV Ready - CARB Compliant
12, 000 peak watts/ 9, 500 Rated watts (gasoline) & 10, 800 peak watts/ 8, 550 Rated watts (LPG)
Dual fuel capability allows you to choose between gasoline & LPG fuel sources; great for emergency situations or natural disaster as LPG may be more readily available and easy to store
The 457cc, single cylinder, 4-stroke, air cooled, OHV engine with electric start is protected by a durable powder coated frame
A 8 gallon fuel tank gives you up to 12 hours of continuous operation at half load when running on gasoline
(4) 120V 20A AC outlets, (1) 120V/240V 30A twist-lock outlet, (1) 120V/240V 50A outlet, (1) 12V DC output provide ample space for powering appliances, tools, and other devices
WEN DF1100T – Your Multioutlet Helper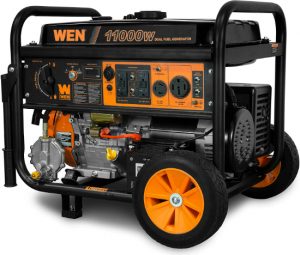 The generator contains dual fuel and electric start features. Besides that, there are wheels to ease your ferrying concerns. The generator is powered by a 457 cc 4-Stroke OHV engine, which is turned on by the use of a key. There are also other two options to consider, including a 9500-watt single fuel and 13000 watts dual fuel generator.
When using the machine under review, you will get up to 11000 peak watts and 8300 running watts when using gasoline, while propane gas will help you get about 9500 peak watts and 7500 running watts. These are enough to power most home appliances, although they are slightly low compared to the other items under review.
Easily double your power from 120V to 240V when using the device. Enjoy up to 8 hours runtime when the generator is half loaded. Get multiple power outlets anytime you use the generator, and have every appliance running without hindrance. That said, you will get numerous gifts when you purchase the piece, including;
A cigar light plug
A bottle of oil
A 47-inch LPG connecting pipe
2-year warranty
Finally, there's an LED hour counter and an automated voltage regulator. You are also protected from overload.
---
PROS:
Uses gasoline and propane gas
Easy to start
2-year warranty
Multiple outlets
CONS:
Up to 7500 running watts when using propane gas
---
WEN DF1100T 11,000-Watt 120V/240V Dual Fuel Portable Generator with Wheel Kit and Electric Start - CARB Compliant, Black
Switch between gasoline (11,000 surge watts, 8,300 running watt) and propane (9,500 surge, 7,500 running) with the simple turn of the selection dial
Voltage easily goes from 120V to 240V, perfect for transfer switches and emergency backup
Electric start powers the 457cc 4-stroke OHV engine with the turn of a key
6.6-gallon tank provides up to 8.5 hours of half load run time
Includes four 120V GFCI outlets (5-20R), a 120V 30A twist lock outlet (L5-30R), a 120V/240V 50A outlet (NEMA 14-50R), a 12V DC cigarette-lighter-style plug, a bottle of oil, a 47-inch LPG connection hose, and a two-year warranty
Pulsar 12,000W – The Most Powerful Item on the List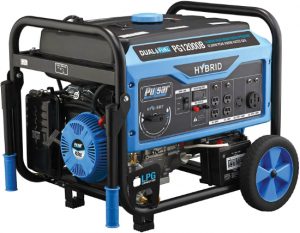 The generator produces about 12000 peak watts and 9500 running watts when you use gasoline, compared to 10800 peak watts and 8550 running watts when you use propane gas. This fueling flexibility makes the device easy to use and affordable. With the unit being the biggest among the components sold by the company, there are several smaller pieces to purchase if your budget is low.
Like most of the reviewed generators, it is powered by a 457cc OHV engine and has 7 outlets, including 4 120V outlets. It has an electric start and a transfer switch making it super easy to use. It is perfectly made to ease your ferrying concerns, all in the account of the drop-down handles and flat-free wheels.
There's also an incorporated digital meter, and the generator has a unique sturdy design. The support service is great and highly responsive, which will save your day if the generator develops an issue.

---
PROS:
Powerful in gasoline and propane modes
Has an electric start and transfer switch
It is easily portable, thanks to the well-build handles
Durable make
CONS:
Inconsistent power output
No warranty
---
Pulsar 12,000W Dual Fuel Portable Generator with Electric Start and Switch & Go Technology, CARB Approved PG12000B
12,000W Peak/ 9,500W Rated (Gasoline) & 10,800W Peak/ 8,550W Rated (LPG)
457cc, OHV Engine, CARB Approved
(4) 120V Outlets, (1) 120/240V Twist-lock Outlet, (1) 120/240V 50 Amp RV Outlet, & (1) 12V DC Output
Switch & Go Capability with Electric Push Start and Recoil Back-up
3 in 1 Digital Meter, Drop-down Handles and 10" Never-flat Wheels
Essential Considerations before Buying a Generator
Having gone through the best quality 12000 watt portable generator reviews, you might have noticed that it might be a tough choice picking from hundreds of such products that are available for sale.
However, market saturation shouldn't pose any purchasing problems if you understand the essential features of the item you are looking for, and that's why I have prepared this section to ease your purchase hassle. The section entails a brief look at the ideal features to consider during the 12000-watt generator purchase.
Transfer Switch
It offers the utmost safety when using a generator as your backup plan. It also bolsters your powering ability and protects your generator from damage. You can choose between a manual and automated transfer switch, although the automatic one is slightly expensive.
Noise
Running the generator at home or in a busy office might make you realize how noisy some machines can be. Fortunately, there are quite quiet generators that produce as low as 55 dB at half-load. Such devices are the ideal choices to consider. However, a 70 dB sound might also be tolerable, as this is in the range of a normal conversation.
Upkeep Needs
A generator is a machine that requires regular checks to run ideally. One important factor you should always check is the oil level, although this has been simplified by the automatic shutdown feature that's incorporated in most devices. All in all, check the fuel level and keep it clean. Replace the filters with time.
Local Laws
Are there regulations prohibiting the use of generators in your state? Well, understand the rules of the land, as some states might consider your machine as a sound or air pollutant.
Wrap Up
Conclusively, you might have gone through the reviews and saw OHV engines and wondered whether it's an essential consideration feature. Well, Overhead Valve engines are more efficient and reliable, so why not go for them? Away from that, you must have seen that most generators have an electric start.
What you never saw in all is the upkeep-free battery, which ensures your machine never fails to start. So, go for the machine with an up-keep free battery. Low oil levels cause engine damage, and that's why almost all generators under review have an automatic low oil shutdown feature.
Finally, the load protection and automated voltage regulators are essential as they protect your appliances from damage resulting from high voltage. So, are you wondering if there are other essential consideration features during the generator purchase? Well, you will get more assistance if you share your buying concerns with me.