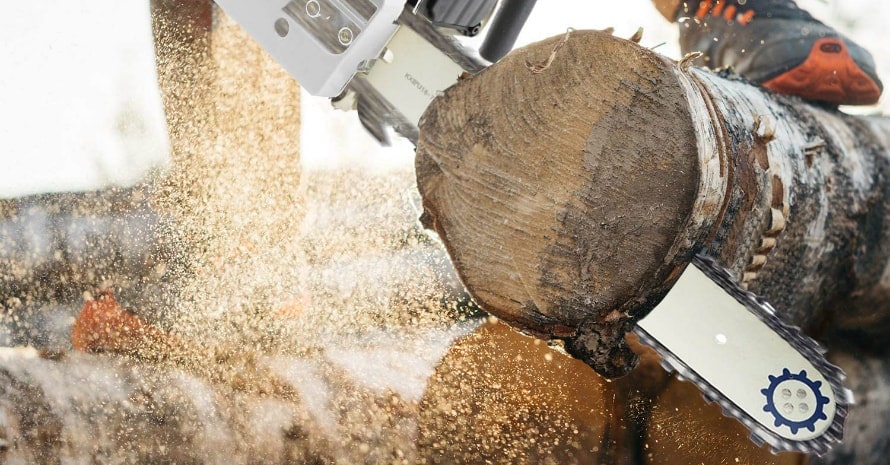 Unfortunately, there's no such a chainsaw that can be used for any purpose without limitations. However, the 18-inch bar is considered a universal solution amongst many homeowners and professionals. This bar length is enough for a wide range of tasks and lets you cut almost anything from average branches too thick hardwood trunks. Actually, it's the shortest type of heavy-duty professional blade, so you can usually expect pro-level performance and high cutting power.
In this article, I share a concise shopping guide that will help you to select the best 18-inch chainsaw model from my listing or the nearest gardening store. In the end, I have also answered some of the most frequently asked questions on the topic to provide you with the comprehensive knowledge needed for selection and effective application. Before you continue reading, I want to encourage you to learn chainsaw safety rules to minimize the risks after you push the starter button.
18-inch Chainsaw Reviews: Top 10 Models
If you already know your needs and how to choose the right chainsaw type, read my experience-based 18-inch chainsaw reviews to make the final solution. I include all the important details and recommendations for each model in the listing.
Oregon CS1500 – Best 18 inch Electric Chainsaw

chain chisel that's still widely used today. This design was inspired by the larva's teeth.

CS1500 comes with an upgraded PowerSharp chain that can be sharpened right on the saw in around 3 seconds. In addition, you can block the chain with a quick chain brake for extra safety. The tool makes very low noise compared to gas-powered analogs and needs very little maintenance when the work is done. You can find more in the maintenance guide.

You don't need to warm it up or disassemble for cleaning. Besides, the lubrication of the chain is fully automated. The chain tensioning system doesn't require any tools for even higher mobility. This chainsaw is perfect for a wide range of woodworks, including logging. However, I'd not recommend it if you do only logging as the cutting ability of a 15-amp engine is a bit limited. The best way to unleash its power is to cut thick branches and similar objects. The combination of lightweight design, simplicity, and power makes it the best 18-inch chainsaw for homeowners.

---
PROS:
Lightweight design;
Effective in any circumstances;
Easy to maintain;
Built-in sharpener;
Increased run time.
CONS:
Not as mobile as gas and battery models.
---
Poulan Pro PR4218 – Best 18 Chainsaw with 42cc Engine
PR4218 is a heavy-duty tool equipped with a powerful 2-stroke 42-cc engine. It offers excellent cutting ability along with 70% lower emissions due to the patented fuel-efficient OxyPower technology. The system includes a SuperClean air filter that provides better fuel combustion.
Although the engine is quite heavy and very powerful, I enjoyed the surprisingly low vibration level. It's relatively easy to handle it for hours of logging work without heavy fatigue. The tool feels really modern and lets you fell trees, cut firewood, and clean-up after medium storms.
There are also some nice extras, including an onboard scrench. It's clipped to the handle bottom for easy access and fast tensioning. Due to the spring-assisted pull cord, you can start the engine in a single pull. The package comes with a durable carry case, a replacement chain, and a bottle of 2-stroke oil.

---
PROS:
Powerful 42-cc engine;
Easy to start;
Automated oiling system;
70% fewer emissions;
2-year warranty.
---
Husqvarna 18 Inch 455 Rancher – Best 18 inch Gas Chainsaw
The 455 Rancher is a high-power 55.5-cc chainsaw that supports both 18" and 20" guide bars without cutting ability losses. The package includes 6 ounces of 2-cycle fuel, but I recommend you to get the chain oil beforehand as it's not included.
Despite heavy-duty characteristics, this saw is really easy to maintain as the tensioning system is mounted on the side, and you can adjust it with a 2-sided scrench that's included in the package. By the way, it's quite easy to carry all the needed items due to the durable carry bag.
Starting the work is stress-free due to the choke/stop control. It lets you block the air from the engine to simplify cold starting and reduce the risk of engine flooding. The x-Torq engine uses similar technology to Poulan Pro, which provides fewer emissions due to lower fuel consumption. I recommend this tool for all sorts of heavy-duty tasks as it offers excellent cutting ability along with the option to install a 20" bar for thicker trees.

---
PROS:
Quick-release air filter;
Reduced fuel consumption;
Versatile power;
Air choke for a faster start.
---
WORX WG304.1 Chain Saw – Best Oregon CA1500 Alternative
The 15amp engine can reach 4.0 peak horsepower, which makes it a robust emission-free alternative for gas chainsaws. Of course, it doesn't have such a high cutting speed but saves a lot of time on daily maintenance chores. Just plug it in and work as long as you need it without stopping.
The package comes with an extra bar, replacement chain, and a thick plastic blade cover for secure transportation. The cord is very short so that you don't need to manage it at all. I recommend this saw to both homeowners and professionals who don't need extreme power and want to reduce maintenance routines.

---
PROS:
3-year warranty;
Automated tensioning system;
Almost zero maintenance;
Large oil tank and auto lubrication;
Up to 4 horsepower.
CONS:
The cord restricts mobility.
---
Echo CS-400 18″ – Excellent Mid-Power Tool
CS-400 is my favorite 18" chainsaw by the brand as it's equipped with a cost-effective 40.2cc engine that can tackle heavy-duty tasks at high cutting speed. The digital i-30 ignition system reduces the amount of effort needed to start the tool. It's also surprisingly lightweight as for a gas-powered chainsaw. The weight of the tool with filled oil and fuel tanks is only 11.5lbs. You can make it a bit lower by installing a 16" bar if you want.

---
PROS:
Lightweight design;
Compatible with 16" and 18" blades;
Low-effort start;
Reduced air filter maintenance.
CONS:
Not the most powerful 18" model.
---
Greenworks Pro 80V – Best 18 inch Battery Chainsaw

on the battery-powered equipment niche in less than 10 years.

Pro 80V is a powerful battery-operated chainsaw with a 2Ah 80V battery and a DigiPro Brushless motor that delivers surprisingly high performance. The cutting power of the unit is equivalent to a 45cc gas chainsaw. The 2Ah battery lets you make up to 150 cuts. If you purchase an extended mount, you can use multiple batteries and work longer. It takes around 30 minutes to charge one, which is really fast, but I recommend you to purchase 2 batteries to avoid waiting. The charging station is included.

---
PROS:
Power is equivalent to a 45cc gas engine;
Up to 150 cuts per charge;
Rapid 30-minute charge;
Auto chain tensioning;
Lightweight model.
---
ORCISH 52cc 2-Cycle – Best Kit of Addons
I recommend this model for household owners who need a lot of power for occasional works as this 52cc tool comes without a warranty. At the same time, it's ready for chain customization and withstands long hours of work. You can't wish more power for such a low price.

---
PROS:
Cheap and powerful;
52cc engine;
Multiple items in the kit;
Thickened protection baffle.
CONS:
Relatively heavy;
The chain isn't installed by default.
---
Remington RM4618 Outlaw 46cc – Best for Time-Taking Tasks
It's one of the most expensive models on my listing, but you can be sure that it will help you to clean up any storm without failures. It weighs less than most chainsaws with a similar engine (16.4lbs) and has a 5-point vibration reduction system to let you work longer.

---
PROS:
Low vibration level;
Lightweight 46vv engine;
High hardwood cutting speed;
Automated lubrication;
Chain oil included.
---
Craftsman 41AY4218791 – Best PR4218 Alternative
---
PROS:
Low kickback;
Reduced vibration;
Economic engine;
Easy filter cleaning.
---
Sun Joe SWJ701E – Best Electric Chainsaw for Occasional Use
It requires very low maintenance, and you don't have to follow almost any storing rules. If it wasn't a corded saw, I would call it the best home chainsaw overall.

---
PROS:
Low maintenance required;
The lightest 18'' model;
Blade cover included.
---
Things to Consider Before Buying an 18-inch Chainsaw
Before buying the right chainsaw for your needs, you should learn the difference between types and features. Actually, a chainsaw 18 inches bar is the last (but not least) thing you should be looking at. Here are the things that really matter in short words.
Power source
Gasoline chainsaws are the most powerful type that lets you make the fastest cuts and keep working for long periods of time. On the contrary, it's the heaviest and loudest type that requires the most complicated maintenance, and it produces around 7% of national emissions from lawn and garden equipment. I recommend it for regular heavy woodworks away from electricity lines.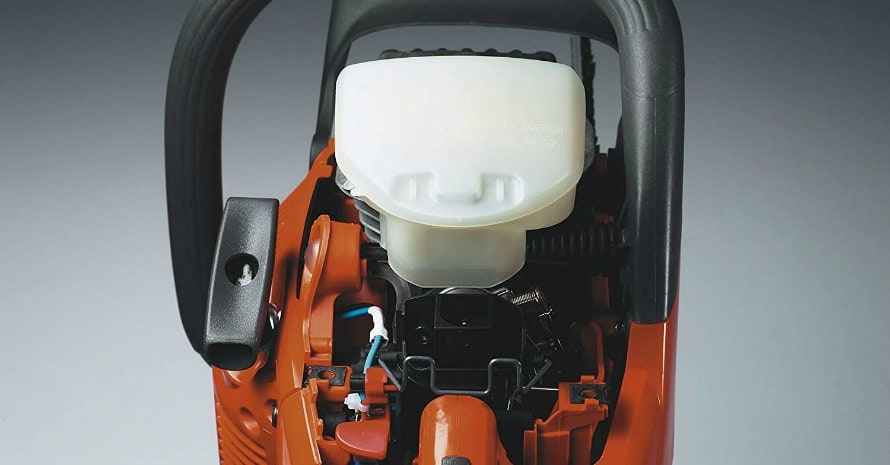 Corded chainsaws provide unlimited and quiet performance as they're powered by an exterior energy source. The tool takes just a push of a button to start, and you can carry it with ease as there's no fuel tank or battery pack. On the other hand, the cutting power and speed are notably lower compared to gasoline engines. Besides, the extension cord can be really annoying.
I also like battery-powered chainsaws as they offer the same portability as gas-powered models, but they're still as quiet as corded tools. They require little maintenance and provide the same cutting power as corded devices. The downsides include limited cutting time (usually 30-90 minutes) and long battery recharging time. It's also the most expensive type.
Power of the motor
The vast majority of gas chainsaws are equipped with 2-stroke engines. The power of the motor is measured in cubic centimeters. The formula of cutting power is simple: the more cc your chainsaw has the faster you cut. However, more power also means higher fuel consumption and more emissions.
The power or corded and battery-powered tools are measured in Amps, and this characteristic affects the cutting ability similarly to cc. Take more for faster cuts. That's a rule. But if you want a battery-powered tool, remember that higher power consumption means faster battery draining.
Weight & Storability
Weight depends on the type and power characteristics of the saw. Gas chainsaws are usually the heaviest, while corded models are always the lightest as they don't have an attached power source. Battery-powered saws can also be quite heavy if you install a multiple-battery holder. Gas chainsaws storing requires you to go through many routines as you need to remove fuel and find a dry cold place for them. Other types are less demanding and need only bar and chain protection and dry storing.
Safety Features
All chainsaws are equipped with an emergency chain break. You can push it anytime if something goes wrong. It can also be quite easy to switch the power button off. Corded devices are quite safe, but you may cut the cord accidentally, so make sure to manage the cable properly.
FAQ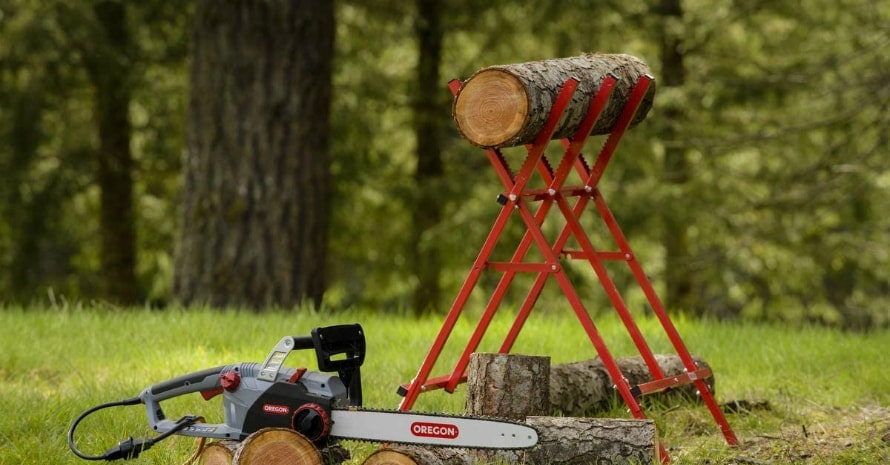 Here are the answers to questions that usually bother both new and experienced chainsaw users. My readers asked them so many times that I decided to give a comprehensive reply for the last time.
How many drive links in an 18-inch chainsaw?
The average number of drive links on an 18-inch chainsaw can vary. This characteristic depends on the overall chain length and pitch (the distance between links). The number of links is usually different as manufacturers use this difference to tell chainsaw chains one from another without confusion. You should also know that this number is usually not marked on the guide bar of the chainsaw, so you may have to count it yourself.
How long is an 18-inch chainsaw bar?
The length of the bar is stated in the name of the chainsaw model. If your chainsaw is sold with an 18" mark on the bar, it means that the actual bar length is 18" as well. The true length of the bar is longer as the base of the bar is not considered an active part, so it's not counted. The measurements of the active part may not fall at an exact number, so manufacturers usually round up the real numbers to the next even number. For example, the length of a 17¼" blade is 18".
How big of a tree can an 18-inch chainsaw cut?
I usually recommend choosing a chainsaw that has an active (called) cutting length that's at least 2 inches higher than the thickness of branches or trunks you need to cut. For example, if you want to cut an 8-inch branch, you need a 10-inch chainsaw. Based on that, you can count that an 18″ chainsaw can cut branches and trunks that are up to 16" thick. Small exceedance is allowed, but it will overload your tool.
How to cut up a fallen tree with an 18-inch chainsaw?
This one doesn't really depend on the length of your guide bar, but on the techniques you use. First of all, you should avoid cutting with the tip of the blade as it may cause heavy kickback. You should cut with the middle of the lower or upper part of the bar, depending on the circumstances.
Pick Attentively
Knowing all the essentials, you have to keep them in mind while choosing a new 18-inch chainsaw for your needs. All the models in my listing have different capabilities and limitations. Select the right motor power to avoid overpaying for fuel, as well as to keep being productive enough to complete your work on time.
At the same time, I want to recommend you opt for a bit more power than you are planning to use. This golden rule will boost your saw's longevity and let you tackle more complicated tasks without the need to buy a new power tool. Have you already used 18in chainsaws? Share your experience below or ask questions if something isn't clear enough from my article.