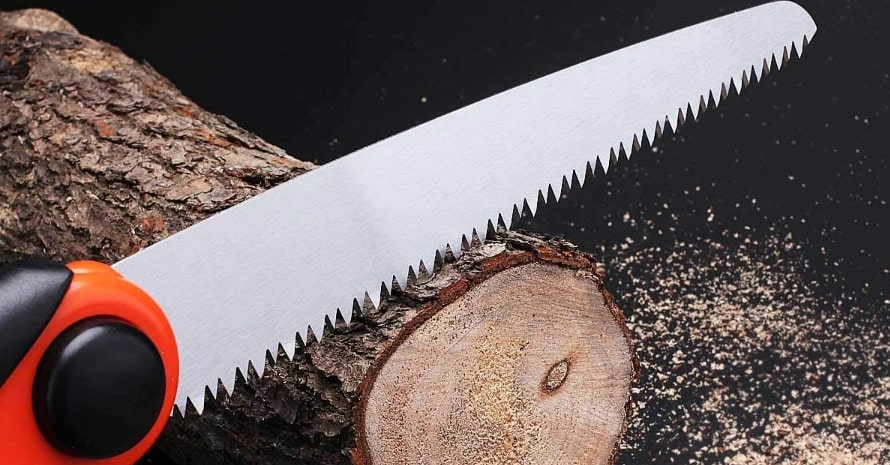 There are hundreds of great saws offered for the backpacking kit, and only one is the best backpacking saw for you. How to pick the one and only tool that you will use for years? Nowadays, compact hand saws are made of high quality and sharper than ever. However, there are several other demands the saw has to meet. These tools are helpful when it comes to hiking and camping. You put it in your bag or pocket and do not feel any weight. This is an ideal instrument to have while building a fire, temporary shelter, or clearing the way across the woods.
Pros
Durable rust preventive blade
Premium Pick
Pros
Durable rust preventive blade
These saws are compact, simple to keep and carry around. You will barely notice them inside the backpack. I don't want to tell you that they all are similar or made for ages. There is a difference between them, like between many other products on the market. The high price is not the leading sign. I have gathered instruments that are pretty affordable but still considered to be the best of their kind here. Pay attention to the dimensions, sharpness of the blade, the comfort of the handle, and developers. Learn everything about these saws before ordering one.
Top 10 Great Backpacking Saws
I have made this list for everyone who wants to buy the perfect backpacking saw. No matter whether you are an amateur or professional, you will find the tool here. Check out for the peculiarities of each saw, and don't forget to look for the possible disadvantages. This is my personal opinion I put in the review, and if you have something to add, you can do it in the comments below.
1. Sven-Saw 15 inches – Best Folding Saw for Backpacking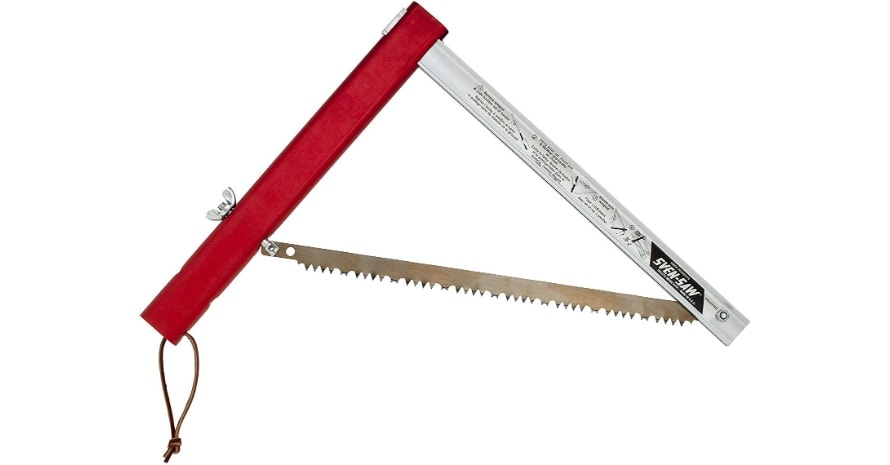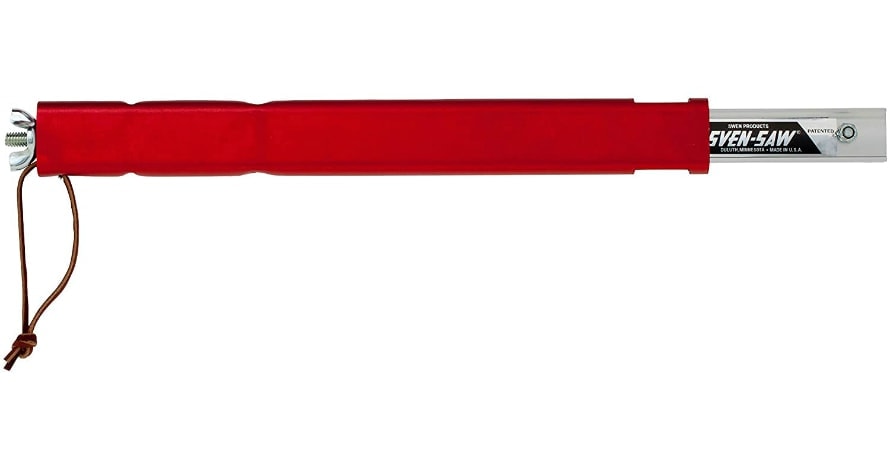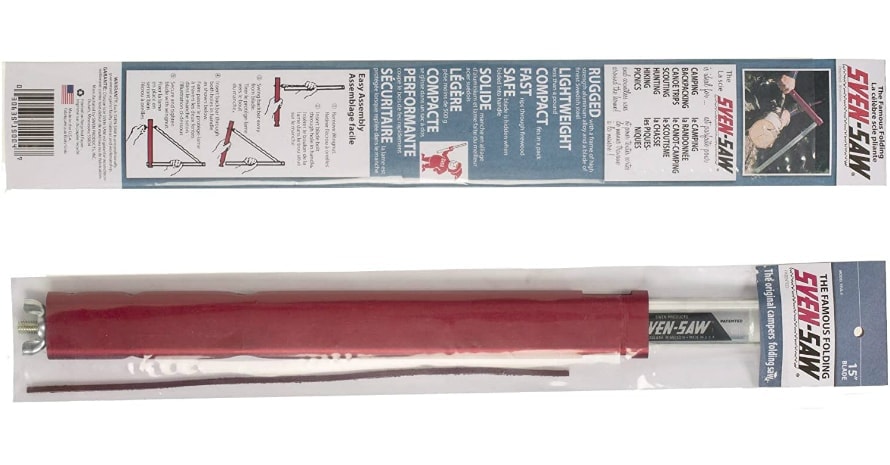 Features:
Dimensions: 17.38 x 1.5 x 0.62 inches;
Materials: Swedish steel blade, anodized aluminum handle;
Weight: 11.1 oz;
Works for yard work, gardening, hiking, hunting, camping
This 15 inches saw is lightweight and sharp. It is made of high-quality metal that handles the wilderness and yard work. This saw is 11.1 ounces only, so try not to forget it anywhere. For this purpose, developers created a bright red handle of the tool to make it visible even from a distance. Don't forget to fold it after use. Despite its prime materials, I still recommend taking care of it each time you use it. Keep it somewhere far from the moisture, and rub it with a soft cloth before folding. This simple procedure may protect the metal from rusting and prolong the life of the tool.
Sven-Saw is an American-based company that develops versatile tools for the outdoors. They produce saws for over 60 years. Their instruments are bestsellers around the country. The developers believe that this particular folding wood saw is great for camping, hiking, hunting, and various yard work.
What's included:
The blade is made of Swedish steel. The handle is made of aluminum, which does not rust or corrode. Basically, the handle is the sheath for the blade. This is why it is so important to fold it back once you've done work. To use it, simply remove the wing-nut, pull the blade from the handle. Open the blade. Push it and back the bar into the handle. Now attach the wing-nut back. After the work is over, wipe the blade, and repeat the procedure backward.
---
PROS:
Lightweight;
Incredibly sharp blade;
Visible from afar;
Affordable;
Well-known developers.
CONS:
Aluminum handles may turn slippery in cold weather conditions.
---
2. Sportsman Pocket Tool – Lightweight Saw of 36 inches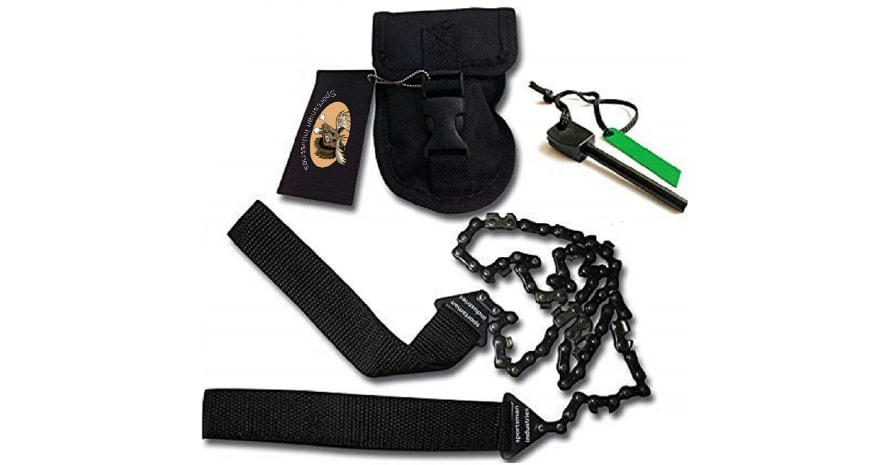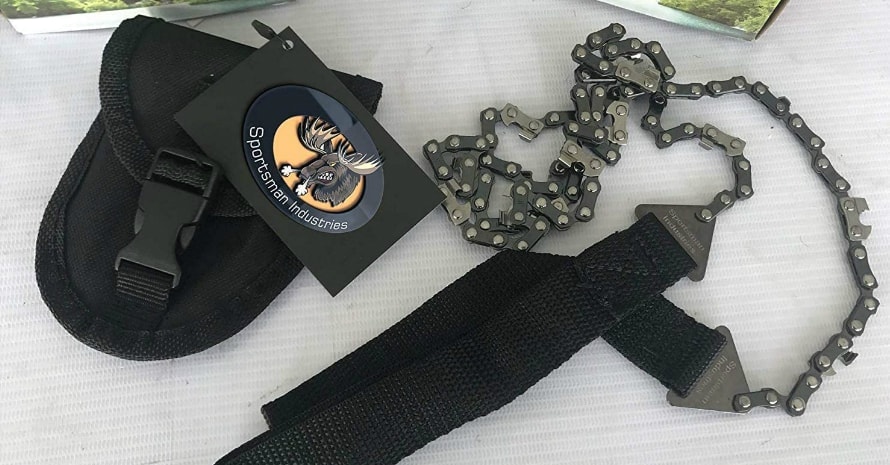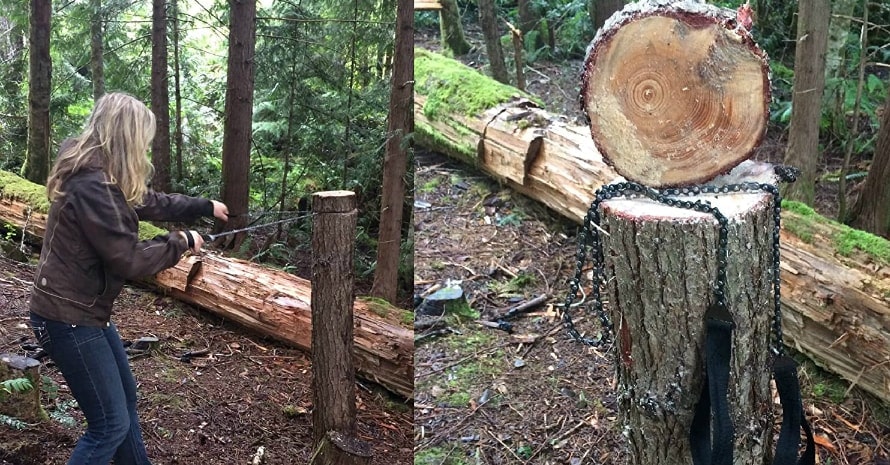 Features:
Dimensions: 4.7 x 3.4 x 1.8 inches
Materials: carbon steel;
Weight: 4.9 ounces;
Extra features: nylon heavy-duty carrying case, fire starter in the package.
The folding saw is made for hunting, camping, and survival gear. It can easily replace the pole and pruning saw. You can cut through the logs with ease. And the most beneficial part is that you can put it in your pocket. There is a 36 inches chain, which is more helpful than standard 24 inches saw that can be too short. This chain works in both directions equally sharp.
The 65 mn carbon heat-treated steel is durable and reliable. Razor-sharp blades cut through the thickest woods. The handles are tight, and I advise you always to keep them firmly while working or you will be cut. These handles are heavy-duty rugged life-savers when it comes to cutting through the thick tree trunks. If you feel that the blades are not sharp anymore, you can re-sharpen them with a chainsaw file.
Sportsman Industries offers a lifetime guarantee. The company was founded in 2013. They are well-known US developers of outdoor tools for camping, hunting, and hiking. They add an 8 mm magnesium Fire Starter to every saw. The handles are reliable and not slippery.
What's included:
After the work is done, you can fold the chain and put it in the box. You may easily cut higher branches. All you need to do is pull a chain and wrap it around the tree you want to cut. Hold the handles, pull it back and forth. The 3 inches of wood will be cut in 10 seconds.
---
PROS:
Cuts through the thickest tree trunks;
Sharp 2-side blade;
Foldable in a small pack;
Simple to use;
Affordable price.
CONS:
It does not have any protection for your hands.
---
3. Bahco 396 LAP – Laplander Folding Pack Saw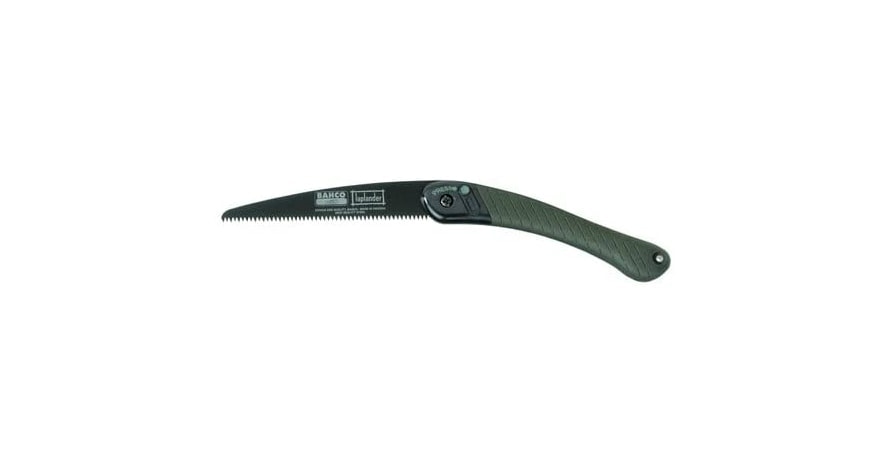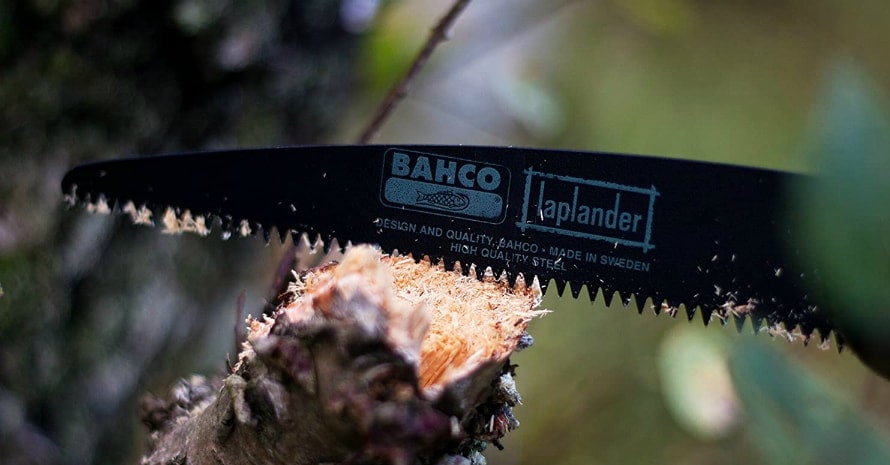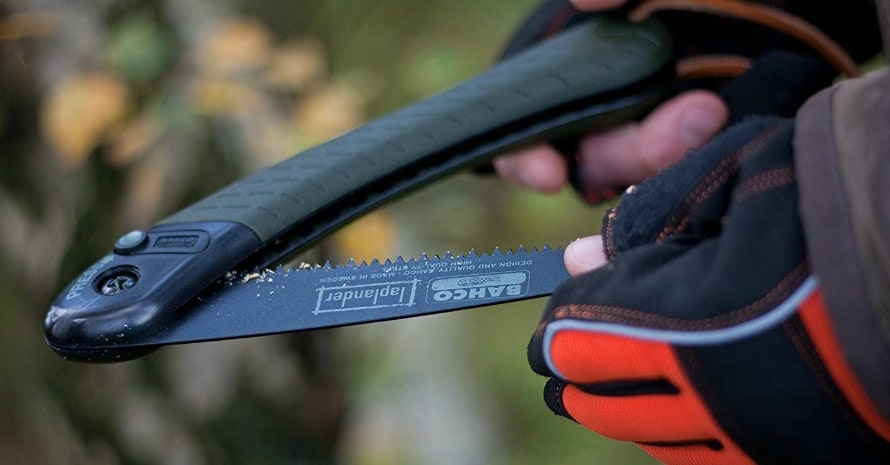 Main features of the saw:
Dimensions: 7.87 x 7.87 x 11.81 inches;
Materials: high-quality steel blade coated in rust prevention formula, and plastic 2 component handle with locks;
Weight: 7.1 ounces;
Purpose: it cuts through the small and medium-size tree trunks, plastic, bones.
The 7 ½ inches blade allows this saw to cut through small and medium length tree trunks. The collapsible bow saw works well not only on trees but even on bones and plastic. Every inch of the blade has 7 teeth, which is not too dense but perfect for yard work. The best part, if you ask me, is that the whole blade is coated in rust protection.
Yet, I recommend you keep it far from the moisture, just in case. I don't recommend keeping any instruments in areas with a high moisture level. Although there is a plastic handle, don't worry, it is not slippery. The handle has a leather strap and a perfect grip.
What's included:
This saw was created by Bahco, a famous Swedish developer of hand tools. They have sold their products since 1886. This brand is quite popular around the States, so you may have heard about it before. The saw is perfect for campers, hunters, and gardeners. There is a safety lock that holds the blade pressed to the handle when you don't use it. I recommend always locking in this saw, as it is extremely sharp. If you need spare blades, you can order them from the same developer. The blade provides low friction.
---
PROS:
Durable rust preventive blade;
Cuts through plastic and bone, apart from wood;
Ergonomic handle;
Safety locks;
Price is affordable.
CONS:
Does not cut through the thick tree trunks.
---
4. Samurai Ichiban – Hiking Saw for Pruning Trees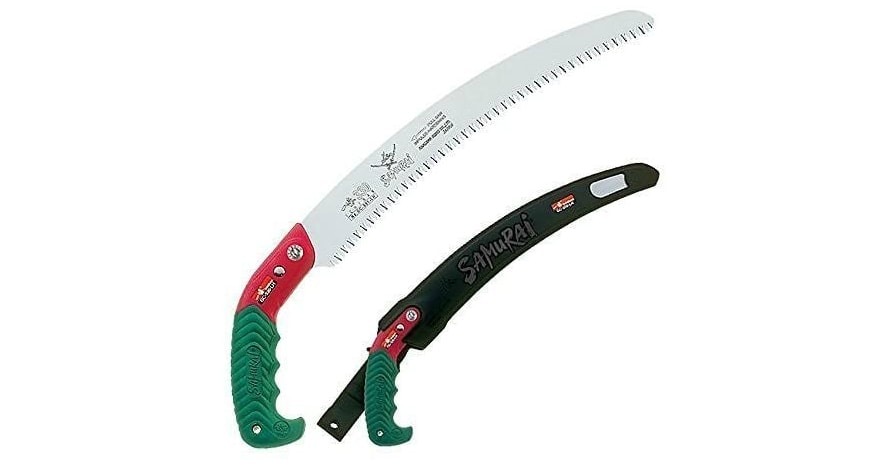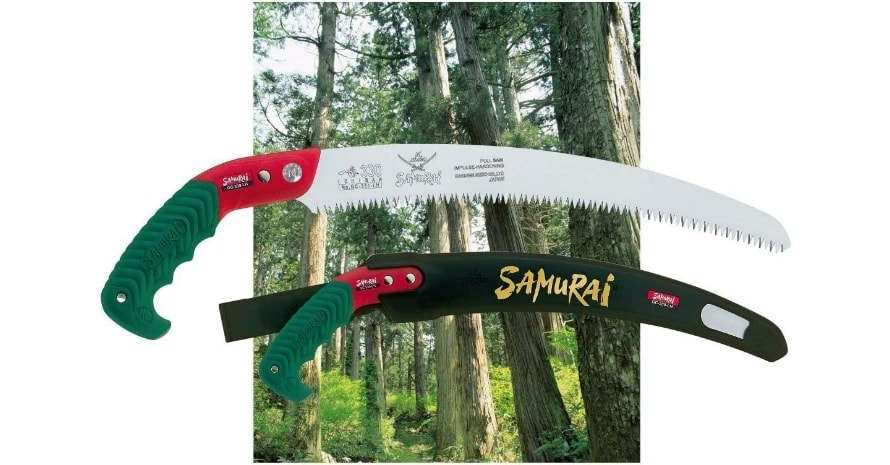 Main features:
Dimensions: 20.5 x 5.12 x 1.57 inches;
Weight: 12.3 ounces;
Materials: chrome coated high-quality steel blade, rubber-coated handle, plastic scabbard.
The 13 inches blade cuts easily through both dry and green branches. However, unlike most of the products on the list, this one is not completely foldable. Instead, it has a protective sheath with the belt loop, so you have to keep in mind not to leave the blade uncovered.
The teeth are impulse hardened, made of high-quality steel, and you can easily hurt yourself, pressing the blade. There is a 0.16 inches tooth pitch. However, I find its handle incredibly comfortable to hold. It is ergonomic, made with a soft rubber coating. It is not slippery, so don't worry about your fingers while you trim the tree. Tapered blade easily resists binding.
You don't need to re-sharpen the teeth, as they are durable and don't lose the quality for a long time. The blade is covered with chrome plating to avoid rust and resist pitch. You still need to clean the blade after every procedure. Do it with a soft fabric. Make sure that the blade is not wet before you hide it in the sheath. The scabbard is made of hard plastic.
What's included:
Samurai is a Japanese company that specializes in pruning tools. They were creating tools for over 1500 years. This saw is useful not only for camping or hiking but for gardening as well. If you are cutting the branches above your head, don't forget to watch your hand, so they wouldn't touch the blade.
---
PROS:
13 inches sharp blade;
Impulse hardened teeth;
Rubber cushioned handle;
Plastic sheath;
Not expensive.
---
5. Corona RS 7245 – Small Folding Saw with Curved Blade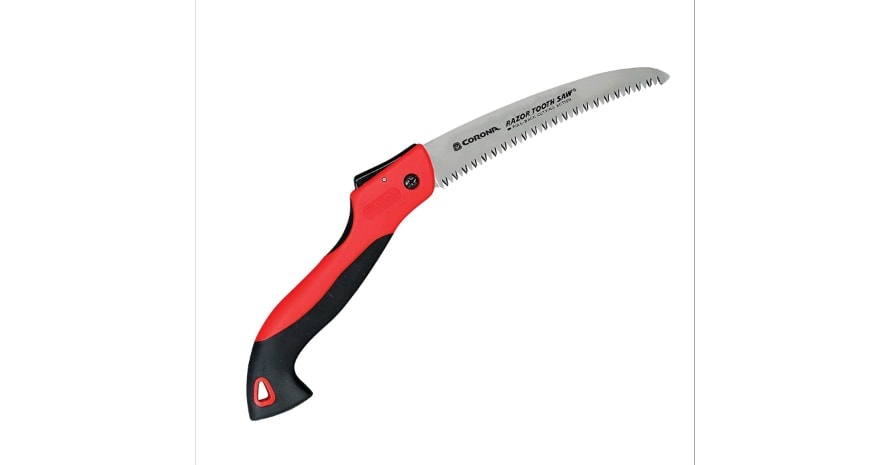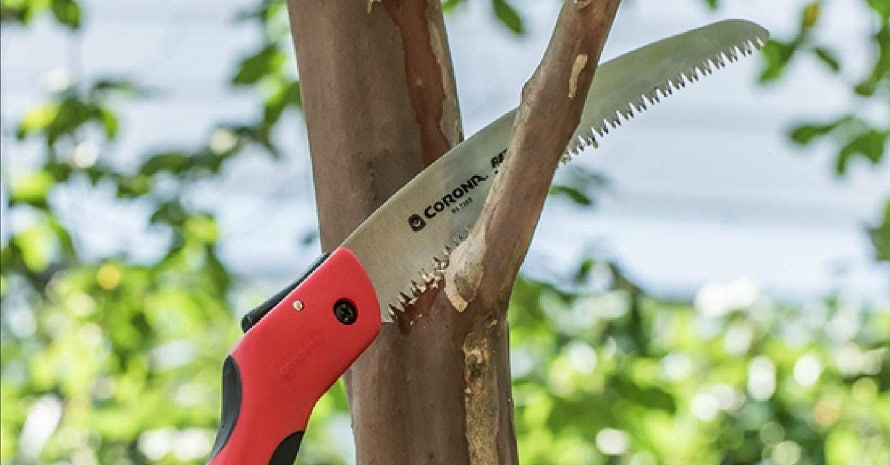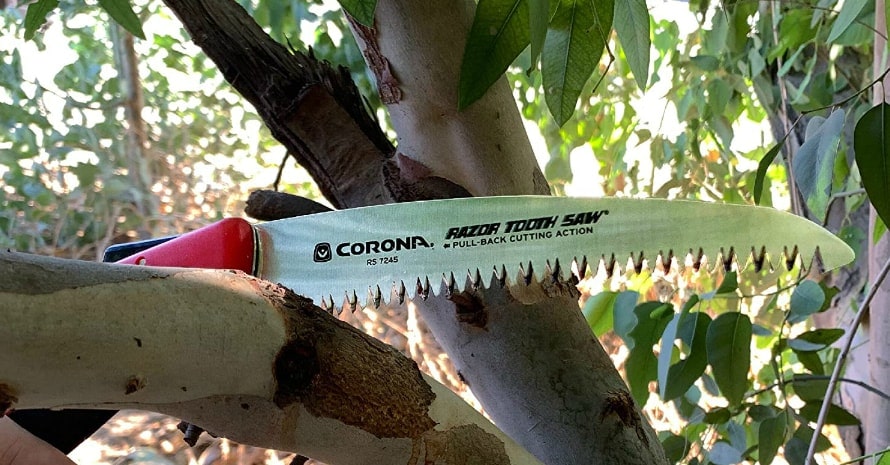 Main peculiarities:
Dimensions: 8 x 15.5 inches. The length of the blade is 7 inches;
Material: sharp Japanese SK5 steel with a carbon coating, plastic handle with a rubber;
Weight: 8.6 ounces
Extra features: it cuts through 3 inches diameter wood. The handle is made in pistol shape for a better grip.
You can choose whether you want a 7-inch, 8-inch, or 10-inch blade. I recommend starting with 7 inches for easy backpack trips. This blade is good for cutting even branches of 3 inches in diameter, which is more than enough for any camping activities. The handle is also surprisingly pleasant to hold, as it is ergonomic and a little bit folded. You can hold this saw as a pistol with the rounded finish, so it will not slip away from the hand.
The blade is worth extra compliments, as it is made of Japanese High Carbon SK5 steel. You don't need to re-sharpen it, and it works longer than classic saws. It has 6 teeth for a one-inch area, and you can easily perform cross-cut with it.
What's included:
Small or medium-sized branches are an easy target for this saw. It handles the wood twice faster than other saws. The chrome blade is also self-cleaning and resistant to corrosion. Yet, you may need to buy an extra sheath for this tool. Corona is a Californian company that has produced hand tools since 1928. The company is known for the high quality of the instruments and affordable prices for them. I also recommend paying attention to the toolboxes to keep this saw safe and far from children or pets.
---
PROS:
Simple to use;
Sharp, durable teeth;
Ergonomic handle;
Well-known developer;
Competitive price.
---
6. Silky Professional BIGBOY – Ultralight Backpacking Saw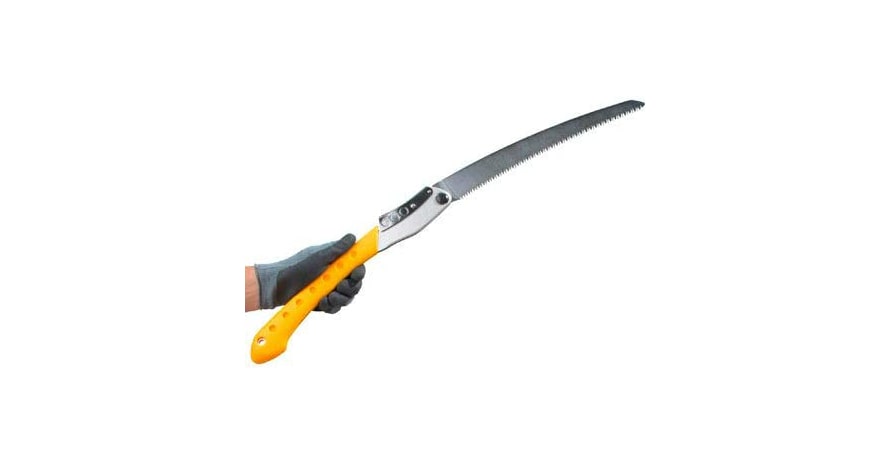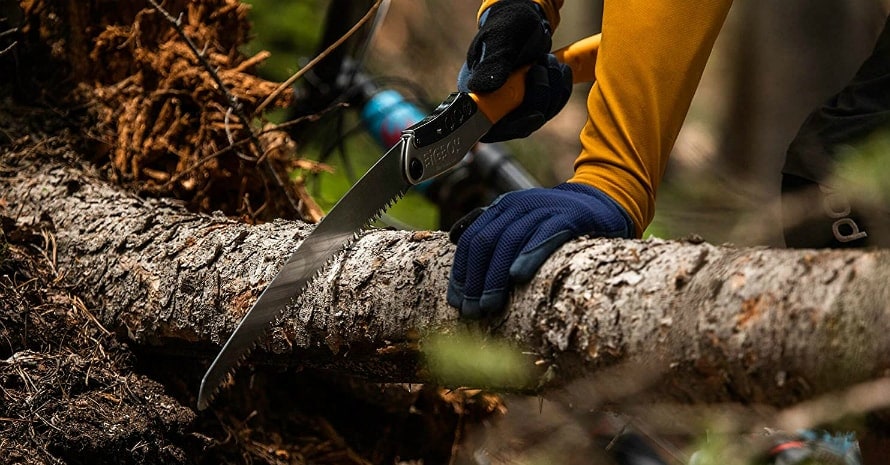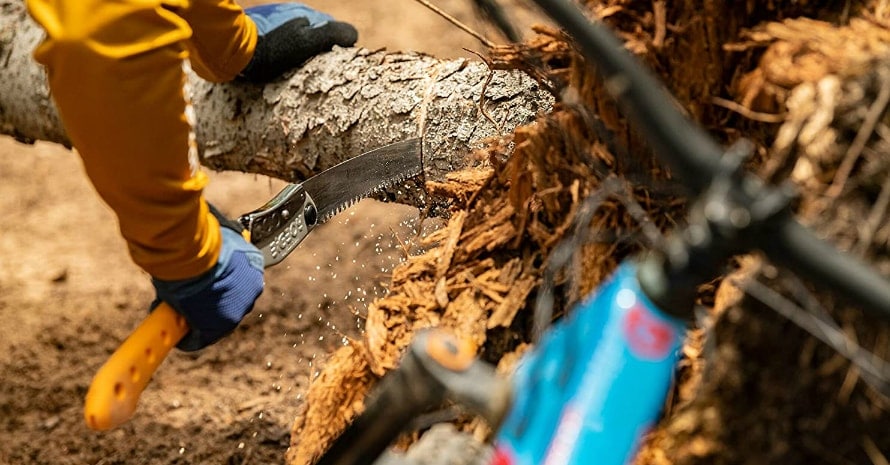 Features of the saw:
Dimensions: the blade is 14 1/5 inches, 29.9 x 3.5 x 0.8 inches;
Weight: 1 pound;
Material: the blade is made of SK4 high-quality carbon still, the handle is a mix of plastic and rubber;
Extra features: 5.5 teeth per 1 inch, long handle.
This is a folding saw for you to carry in your backpack all day long. It weighs 1 pound and does not take too much space in your bag. The handle is ergonomic, long enough so you can keep your fingers far from the blade, but I find it a little bit slippery. I recommend wearing rubber gloves for a tighter grip. Since the handle is also made of rubber, your hands will be more secured.
The saw was created to perform versatile jobs, from trimming and pruning to cutting the branches for a campfire. You can take care of the garden with ease using the saw. The blade is made of carbon steel. The teeth go smoothly into the wood without getting stuck inside. It keeps its sharpness way longer than similar classic saws.
What's included:
Silky uses Japanese technologies in its tools. The design looks so smooth; it is hard to guess the real power behind it. The teeth were made with the use of the impulse hardening technology, so they do not require re-sharpening. They are made of the SK4 quality carbon-coated steel, 0.04 inch thick. Per inch, there are 5.5 teeth in a row. The density is high enough that you may think that there are two rows of teeth.
No products found.
---
PROS:
Extra sharp blade;
Corrosion-resistant;
Cuts through thick wood;
Durable;
Lightweight.
CONS:
Price is slightly more expensive than for other saws.
---
7. Coghlan's Professional Instrument – Lightweight Fold Up Saw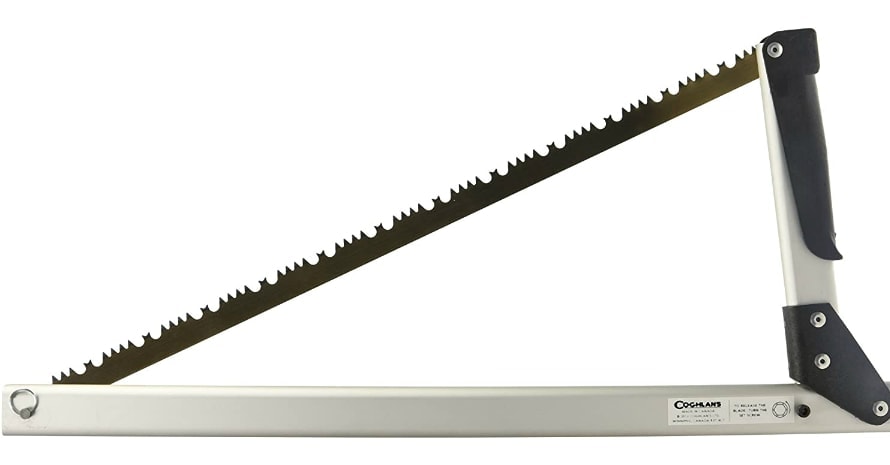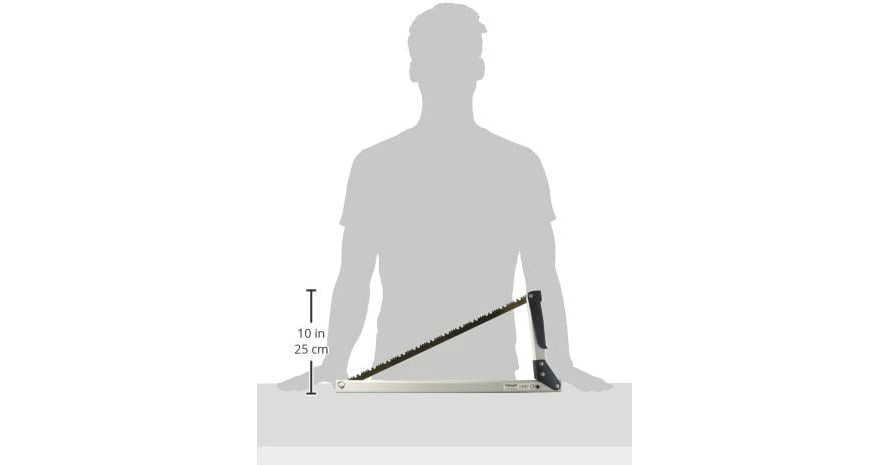 Main features:
Dimensions: 1 x 1 x 1 inches, 21 inches blade;
Weight: 16 ounces;
Materials: the aluminum frame, high-quality steel;
Extra features: durable.
The rectangular form of the saw allows it to use a 21 inches blade. The aluminum anodized rugged frame can hold several more blades. When you don't need it anymore, you can easily fold down the saw and put it in your backpack. The instrument weighs 16 ounces.
Before you start working, secure all the locks on the frame. The length of the blade is long enough to cut even big branches on your way. It can be used for gardening, as well as backcountry treks, camping, hiking. The blade is multifunctional and can be used for wood, metal, and even meat.
Coghlan company offers more than 450 versatile tools for hiking, camping, hunting, and fishing. You may find the cooking gear, tent repair, and fire starters besides the backpacking saw. The company warns that this product contains chemicals like TDI, which in some states like California is considered being dangerous to your health. After you use the saw, put it into the sheath.
What's included:
I have used this saw for many years, and it still works well, reliably, and is a life-saver in my garden. Before you fold it, make sure the blade is clean and dry. Wipe it with soft cotton just in case. I also recommend wearing gardening gloves every time you use it. Just pick those that are not slippery. There is no tight grip handle, so you may need rubber gloves with strong fixation.
---
PROS:
Cuts through wood and metal;
Extra blades;
Weighs 16 ounces;
Sharp teeth;
Price is affordable.
CONS:
There is no ergonomic handle.
---
8. Hooyman Extendable Tool – Best Folding Camp Saw of 5 Foot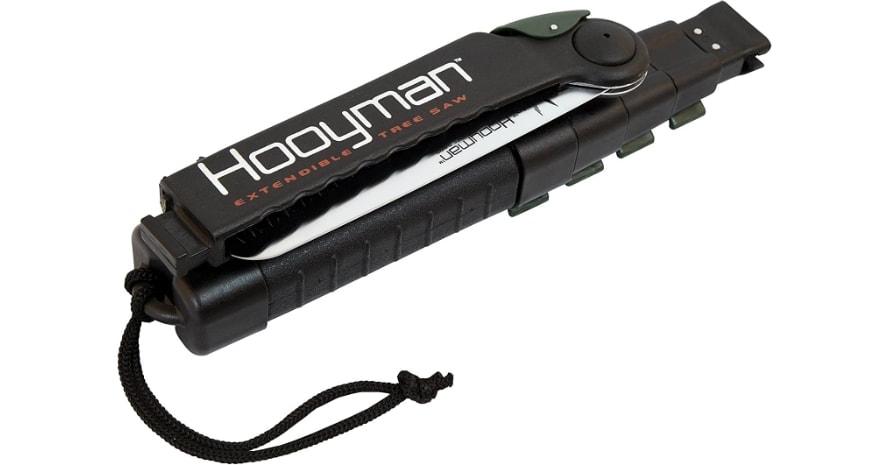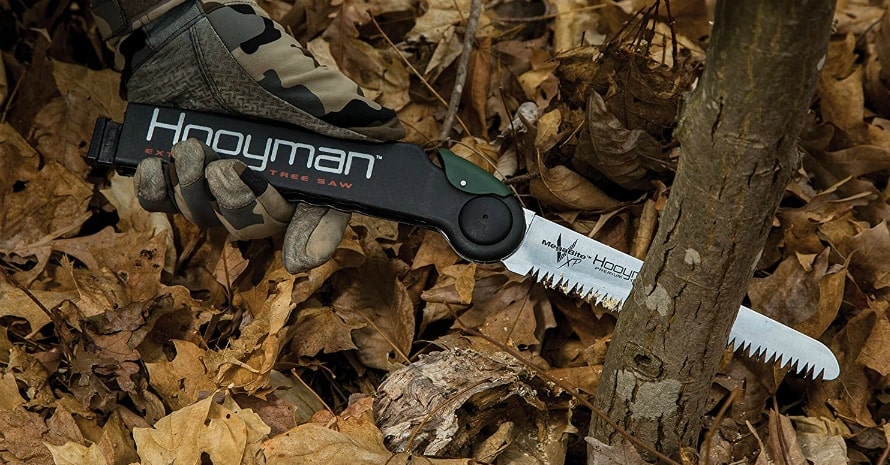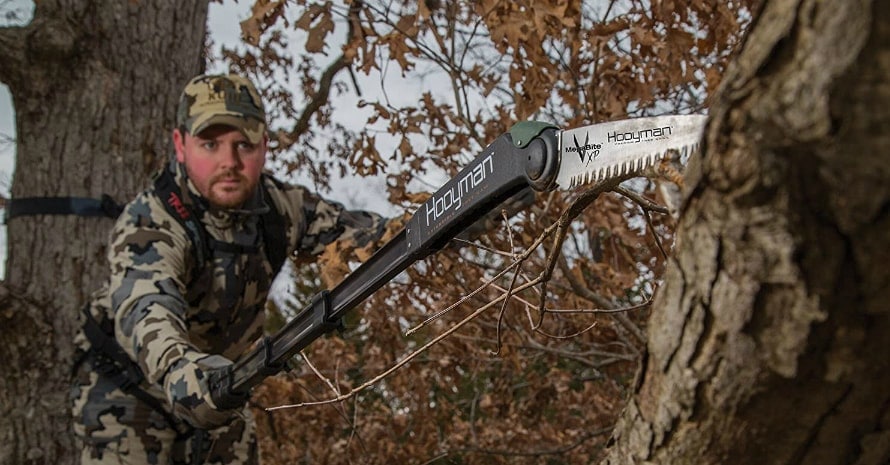 Main features:
Dimensions: 14 x 5 x 3 inches, collapses to 12 inches, extends to 5 feet;
Weight: 2.3 pounds;
Materials: high carbon steel SK5, aluminum construction;
Extra feature: incredibly sharp teeth and a lifetime warranty.
This tree cutting saw is compact, easily foldable, and multitasking. It can be used for cutting, hunting, trimming, camping, and hiking. It has reliable locks and weighs only 2.3 pounds. However, due to its small length, only 5-foot extension, you can't cut big tree trunks. You will unlikely need it during the camping. However, there is also a 10-foot tool offered by the same company.
If you want to buy the saw for gardening, you can choose the 10-foot option. The design of the saw is compact, smooth. The saw is made of high-quality aluminum. The blade is SK5 steel with high carbon. The teeth are impulse hardened and 4 edges. You receive an everlasting sharp razor.
Hooyman offers a lifetime warranty for this blade. I did not check it, because my saw still works flawlessly after 5 years. The company was founded in Wisconsin by father and son. It appeared on the market back in 2008. Since that time, Hooyman has produced multiple tools for the outdoors.
What's included:
If you need to use an extension arm for this tool, it will be easily locked there, don't worry. I also recommend holding the handle of this saw with special gloves for a more secure grip.
---
PROS:
Extra sharp teeth;
Everlasting, durable blade;
Reliable fixation;
High-quality materials;
Lifetime warranty.
CONS:
Slightly more expensive than similar products on the list.
---
9. Fujiwara Tool – Pruning Camping Saw with 8-inch Blade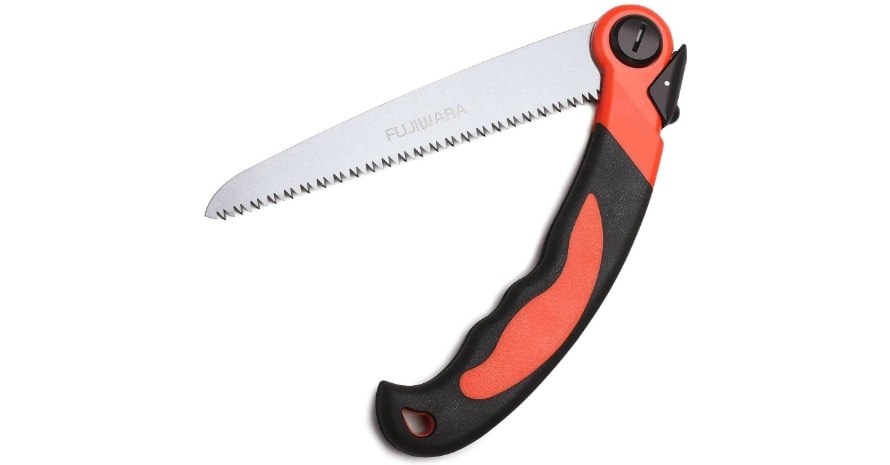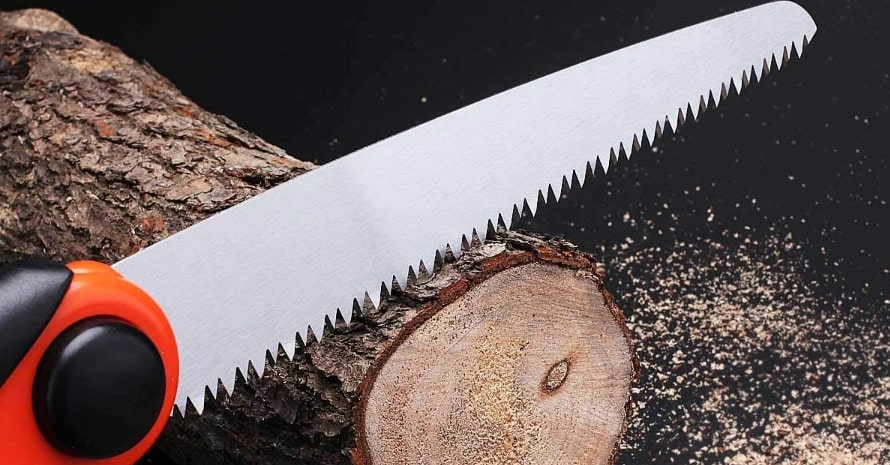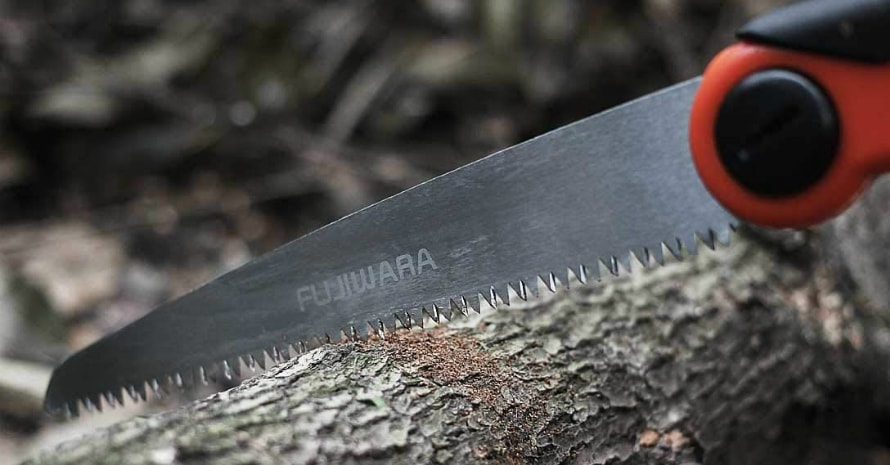 Features:
Dimensions: the length of the blade is 8 inches, closed length 9 inches, open length 17 inches; 11.5 x 3.54 x 0.94 inches;
Weight: 7.2 ounces;
Material: Carbon SK5 steel, ergonomic handle;
Extra features: security lock.
The steel blade of SK5 quality is among its main advantages. Sharp teeth are good for cutting small and medium-size branches, trimming, hiking, backpacking, and camping activities. The blade stays sharp for many years without the need to re-sharpen or change it. What I like most about the saw, apart from the easiness of cutting trees, is its strong grip.
The handle is anti-slippery, with a curved design. The minutes you spend holding your hand with this saw above your head, cutting the tree, are less painful due to the ergonomic design of the handle. And don't forget about the locking system each time you need to fold it back. To use them, just press the gear lock and hold it down to close the saw.
What's included:
Fujiwara developers offer to replace the tool if you find any flaws in it. You can also receive refunding. Their hand tools are bestsellers around the world. The blade of this saw is coated to prevent rust or friction. The length of the blade is 8 inches, which makes it not long enough for big tree trunks, but comfortable for medium branches. It is also lightweight and has a secure lock, which makes it useful in any hiking or camping adventure. I recommend you always check whether the blade is locked before you put it in the backpack.
---
PROS:
Extra sharp teeth;
Blade is protected from rust and friction;
Ergonomic handle;
Security lock;
Affordable price.
CONS:
It is not suitable for big trees.
---
10. Rexbeti Tool – Survival Folding Saw of SK5 Steel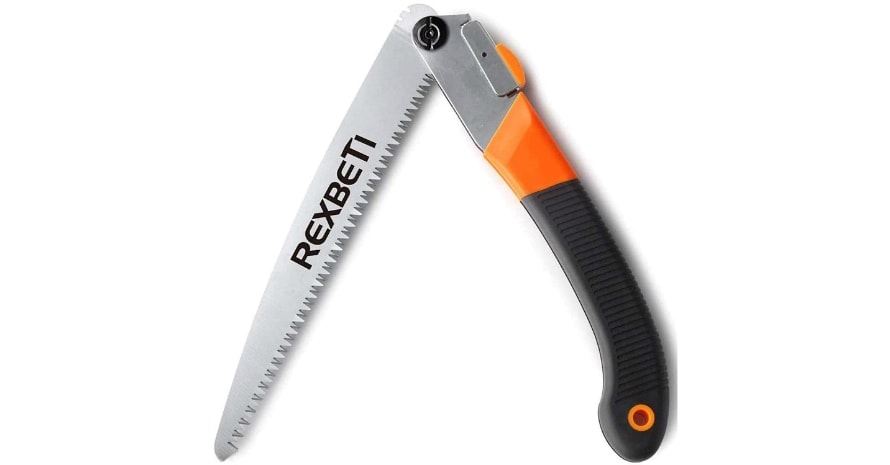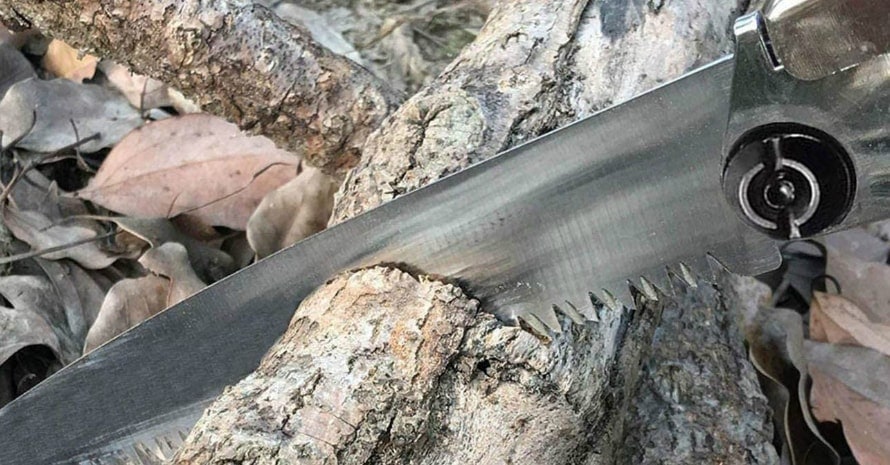 Main features:
Dimensions: 11 inches long blade, 12.9 x 4.1 x 1.3 inches
Weight: 14.8 ounces;
Materials: SK5 steel with a carbon coating, polymer, rubbery handle;
Extra features: it cuts through 7 inches diameter of the branch.
Long and the heavy-duty blade is perfect for hunting, as well as camping, and gardening. Its length is 11 inches, which allows cutting through the 6-7 inches diameter wood, dry or green. The long rubbery handle is not slippery even in the extra moisturized air. Inside the handle, there is a high-quality polymer, so it is quite reliable and everlasting.
The blade is made of SK5 durable steel. As for the teeth, they are 7TPI and aggressive-staggered. After you finish your work, I advise you to wipe it and fold it together. There is a safety lock, so you have to secure it. Pay attention! The teeth are really sharp and cut smoothly through the wood, so they can cut you in no time.
What's included:
Rexbeti is a company that develops hand tools of high quality. By the way, they also sell amazing toolboxes. I'm just saying. If you don't have where to put the saw, you can pick something. This developer is popular in the US, Canada, and Europe. I had an accident with this saw once, trying to half-close the blade while holding the handle. And while my fingers are still in-tact, I advise you against repeating my mistake. If you can, use the gloves during the work with this saw. The saw is sharp enough to work splendidly for years.
---
PROS:
Long blade;
Cuts through 7 inches diameter wood;
Lightweight;
Tight grip;
Affordable price.
CONS:
You have to be careful with sharp teeth.
---
Backpack Saws Guide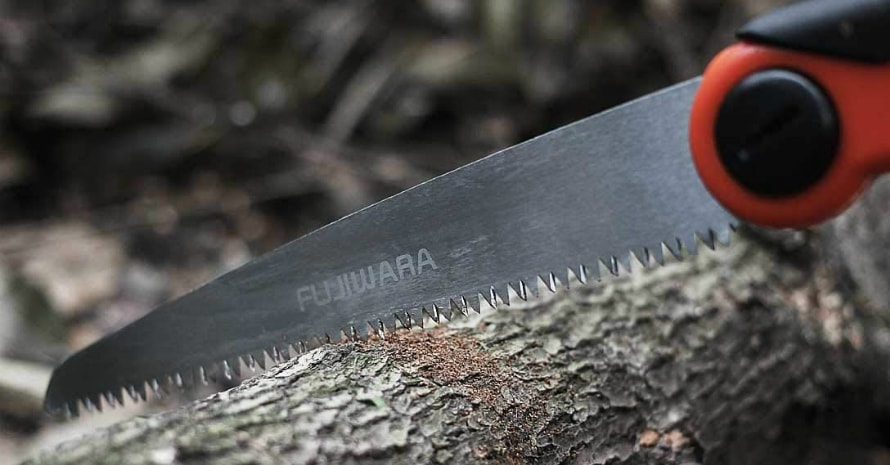 All backpacking saw reviews I've provided here contain the main features of each tool. I hope that you will consider them all before picking the best backpacking saw for your travels or even a few for multiple activities. But what to do if you don't know which feature is more beneficial? In this case, read this detailed guide.
Types of backpacking saws
You may have noticed already that there are several types of saws on my list. Not all of them are similar. I have picked different types on purpose to make your options wider. There are three forms of camping saw, each with different pros and cons. Check them out:
Pocket chainsaw. This type is one of the most convenient for hiking and camping. It is like a small version of your chainsaw, just without an engine or standard handle. You hold fabric-made handles and pull the chain in the middle back and forth until the tree trunk or branch is cut. After that, you can fold it up and hide it in your pocket. The chains are usually wide enough to cut even the big trunk. However, you have to be extremely cautious with it! This chain is extra sharp, and you can easily cut yourself. You may sharpen chainsaw teeth with the same tool you use for the chainsaw.
Folding saw. This type is similar to the classic saw when it is extended. The cutting ability is similar to the standard saw, with sharp teeth. It is lightweight and easy to carry around. Once it is folded up, it looks like a folded knife you take camping with you. On average, the blade is pressed into the handle in the folded state. So the handle becomes a sheath for the saw. It extends the life of this tool. Besides, you won't need to re-sharpen the blade for many years. They are good for small and medium-thick wood of 6 inches and smaller. However, they are not good for thicker logs.
Bow saw. A bow saw is not new for the gardeners and even newcomers. It is a traditional instrument we use for backpacking for years. Yet, this old classic does not fail if you pick the right tool. It has a frame with the blade from the widest ends. If you need to apply pressure on the wood or even metal while you are cutting it, this is your choice. However, you will unlikely be able to put it in your pocket so easily. The frame is rarely foldable.
How to choose the best backpacking saw?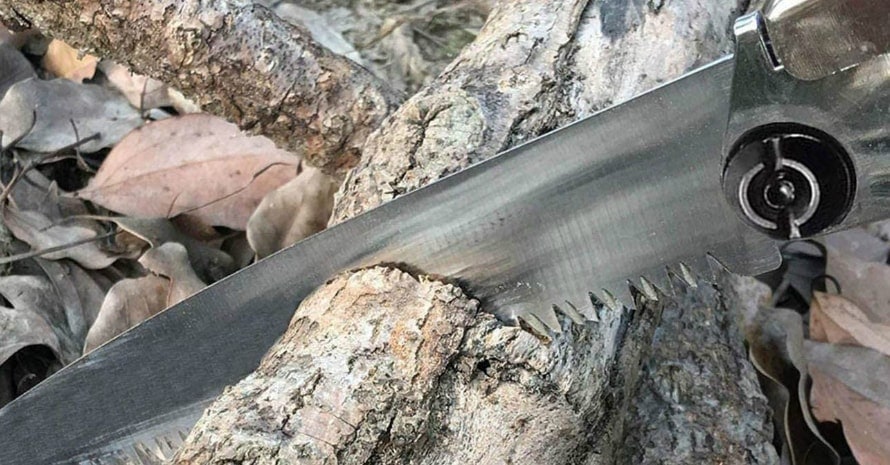 Once all folding saw reviews are read, you have to make the decision on which tool to order. Here are all the main features for you that must be considered, in case you want to buy the best instrument. Take into consideration the next characteristics
Length
Based on your usual activity, you can choose whether you need an extended blade and can use a pocket chain saw or cutting small branches is enough for you, so you can use a folded saw. If you need the saw for the medium size of wood, you may choose any of the saws from the list.
Weight
This is a backpack saw we are talking about. It means that you can't possibly think of carrying a basic chainsaw in your bag all day long. The lightest saw on the list weighs 4.9 ounces. The average weight is somewhere near 6 ounces and 1 pound.
Blade material
The most popular choice of material for the blade is carbon steel or stainless steel. It must be covered with an anti-corrosion layer. Besides, there must be SK5 quality mentioned.
Blade edge
Cutting efficiency is an extremely important feature. It allows you to calculate how many moves you have to do to cut the branch and how long will it take. Multiple cutting edges on teeth will work well for extra efficiency.
Safety features
Locks on the blade are vital when it comes to your safety. If it is a folded saw, it must be folded in the handle right after the work. You have to buy a sheath if there is none. The handle can't be slippery or you may cut yourself during the work. There are numerous injuries from saws you can get.
Ease of use
Ergonomic handle, sharp teeth, lightweight are all important features for ease of use. Take into consideration that you may need to work for several hours using this tool. It can't be too heavy or slippery.
Durability
All saws on the list are durable. They don't require re-sharpening for a long time. But just in case, you need to have a sharpener among your working tools. Don't forget to keep the blade clean and dry. Always fold the saw after you've used it. Extend the life of the instrument by using it properly.
How to use a backpacking saw
The correct way to use the saw is based on its type. It is extremely important to always remember the safety rules. If you decide to cut the tree above your head, wear protective glasses, apart from gloves. Apply enough pressure based on the sharpness of your saw. And if you are using a pocket chainsaw, try to get used to pulling back and forth the chain with sharp razors, holding two handles from both ends.
Safety tips
Safety is what matters the most when you are using the saw outdoors. You don't want to search for the emergency kit in the middle of the forest. It is not only about the right attitude towards the sharp blade, but also proper calculations of where the branch or tree is going to land. Don't stay in its path.
Always wear protective gloves, no matter how ergonomic and comfortable the handle looks. the gloves will protect your hands from cuts and splinters. It will secure the grip. Wear the goggles to secure your eyes if you need to.
FAQ on Backpacking Saws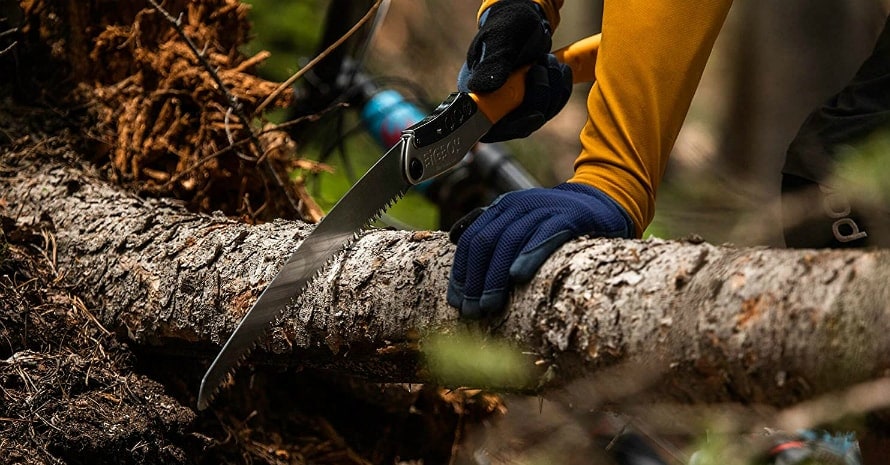 I have noticed that there are some questions on this tool that people ask the most. I have gathered them here. I hope my answers will help you.
How to clean a backpacking saw?
Always clean your backpacking saw after you finish the work. Use a soft towel or piece of fabric. Don't fold it if the blade is dirty and dull. All the saws on the list are resistant to corrosion, but you still can use gun oil on its blade once in a while. Take care of the handle as well. I recommend using the sheath for the saw.
What does "TPI" mean in backpacking saws?
TPI is a tooth per inch. It is the density of teeth located on the blade. The higher TPI, the smoother the cut is. However, the lower TPI is, the faster you cut through the wood. Based on your goals, choose one of the options, or go for a medium density.
What's the difference between a straight or curved edge saw?
Straight edge saws can be picked by people who need this tool to cut through the numerous logs. This is a perfect tool for trail work on the mountain. But for the thin branches, the curved edge blade will be beneficial. Curved saws are usually picked by beginners who find their ergonomic design extremely comfortable.
How to carry a bow saw for backpacking?
Always fold up the saw before you put it in the backpack or pocket. Fasten the locks. If the saw is not foldable, put a sheath on it. Make sure that the saw will not open in your bag.
The Perfect Backpacking Saw
The list of backpacking saws that I've made for you is not that big to cause you problems with a choice. Yet, there are all three main types of backpacking saws on it. I recommend not limiting yourself to only one saw if you are involved in multiple types of activities and need to cut versatile types of trees and branches. The price of each saw is pretty affordable and allows you to order several types instead of one. However, if you are looking for a specific saw for a specific purpose, you have to decide which one answers all your demands.
Pick the most appropriate type, length of blade, weight, materials, price, and developer. If you have previously used or currently are using one of these saws, tell about them in the comments below. Which backpacking saw is your favorite? How long do you use it? Which type of activity do you usually use it for?